If you landed here you must already know about El Nido's gorgeous islands, forming a fringe of adventures ringing around the town, ripe for day trips.
El Nido's popular island hopping excursions are organized through a popular series of tours that have fixed routes, named A through D. During my time in El Nido, I wanted to experience the more popular side of it, yet attempt to get away from the crowds, if and when possible. El Nido's Tour B isn't quite as popular as A or C, which precisely makes it so great.
Here's what to expect if you do Tour B, both as a private or organized island hopping tour:
The Stops on Tour B
Entalula Beach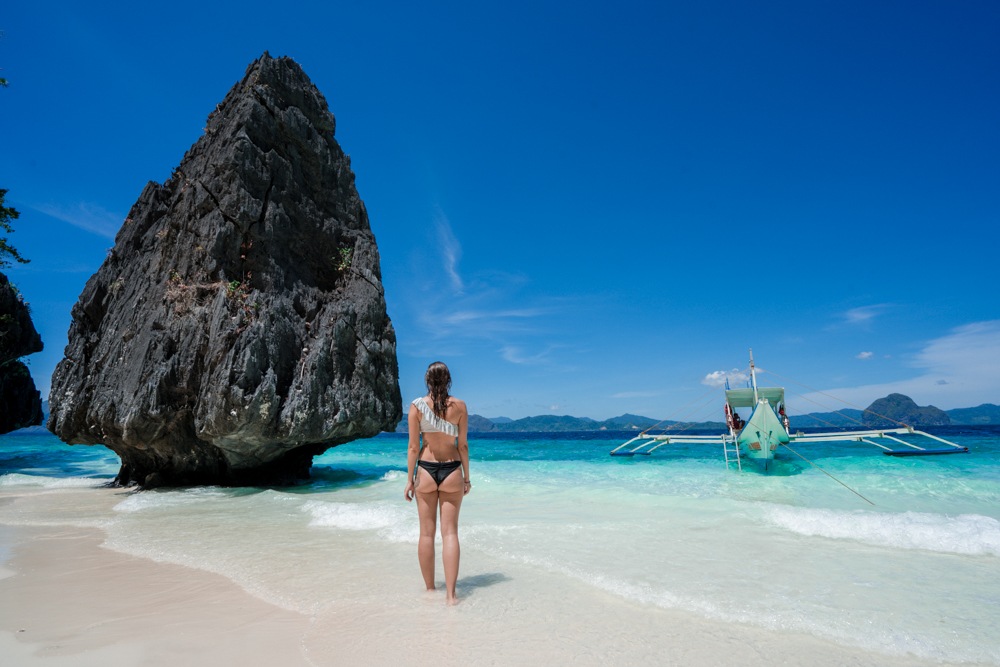 Though parts of this beach have been privatized by a resort, you can still enjoy a small cove of white sand with a free-standing diamond shaped rock. There's also great snorkeling here, particularly the farther out you go. Just make sure you're keeping an eye on your distance from the shore and current strength.
Snake Island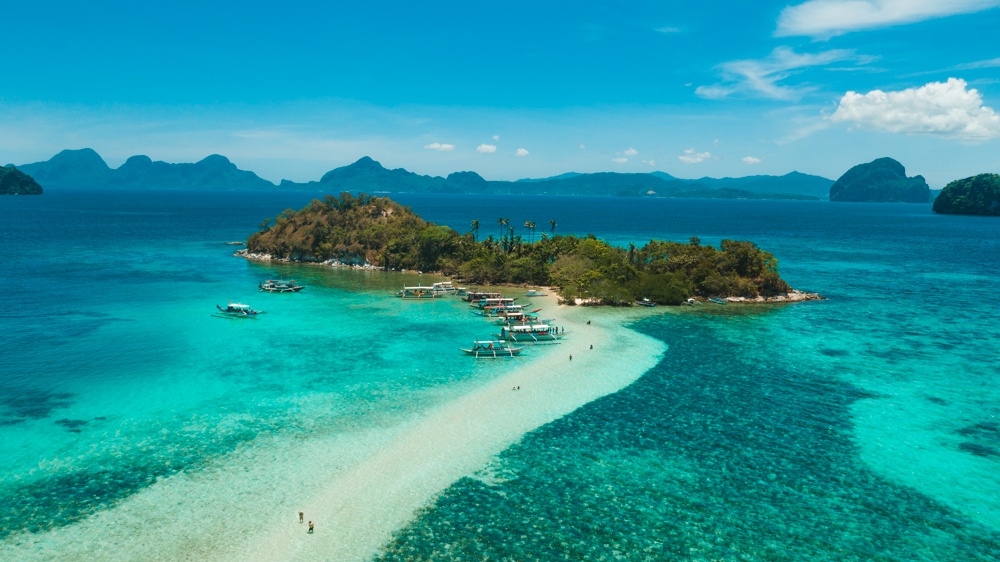 Typically the lunch stop on this tour, Snake Island is named for the long sandbar that stretches from the island clear across to another. Though these shots are with a drone, you can hike up to the top of Snake Island and get a pretty good vantage point of the crystal clear water.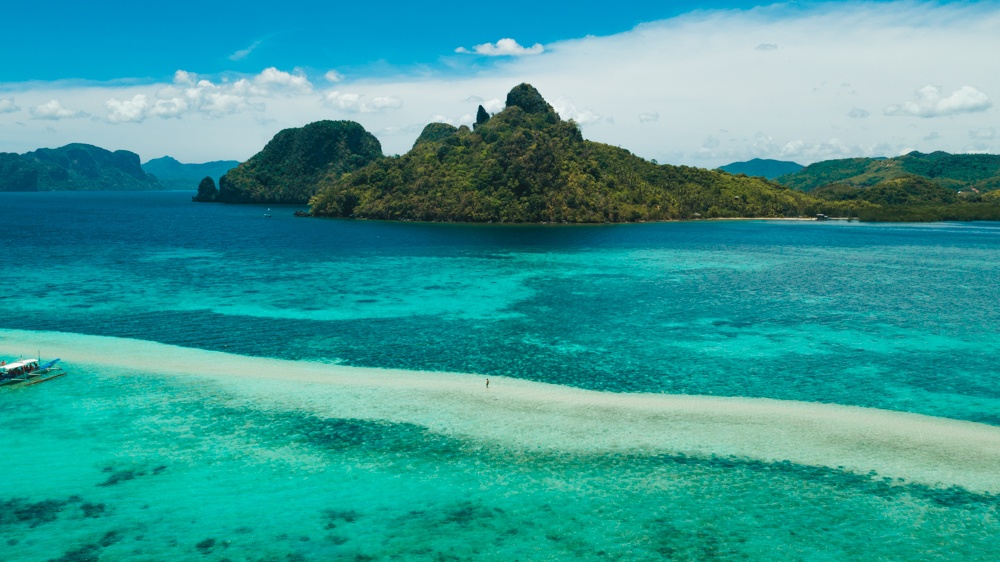 As a sandbar enthusiast, this stop is what made me want to do Tour B. I wasn't disappointed! Even at high tide, this one is gorgeous.
Cudugnon Cave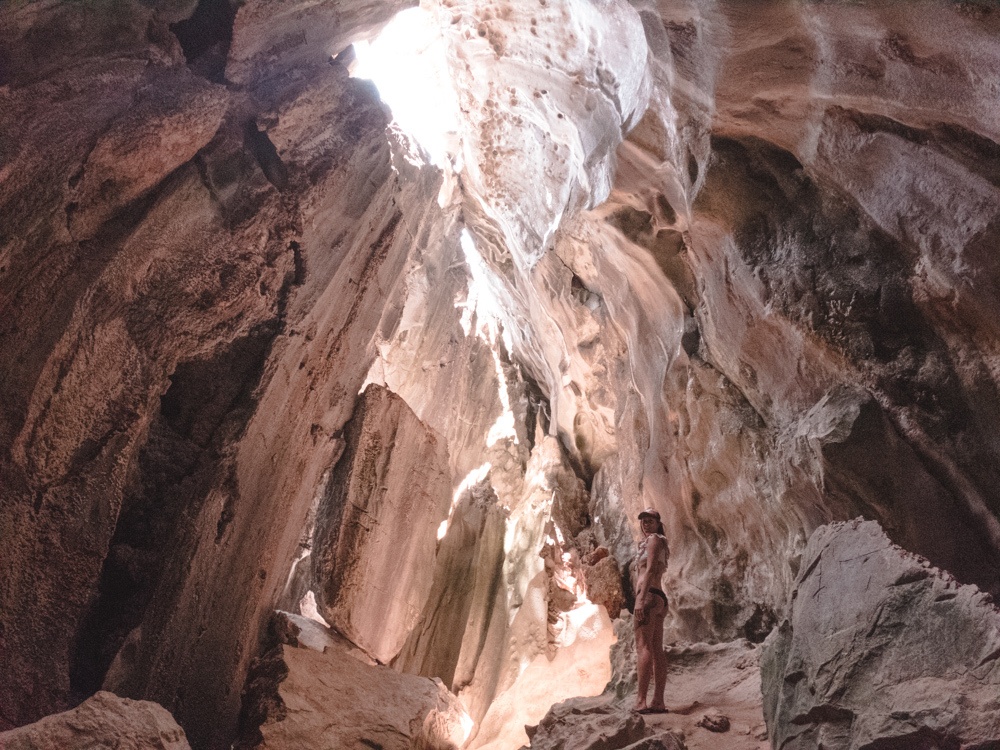 Tour B is known as the 'cave' tour since it includes this cave and the next one on the list. It's not a tight, enclosed caving experience but rather an open, well-lit cave that isn't particularly big.
If you've been to Black Island in Coron this one doesn't boast that awesome swimming hole, but it's still cool to check out the inside of these limestone cliffs and get a different point of view of El Nido's islands. There's also a nice beach on this island worth spending some time enjoying.
Cathedral Cave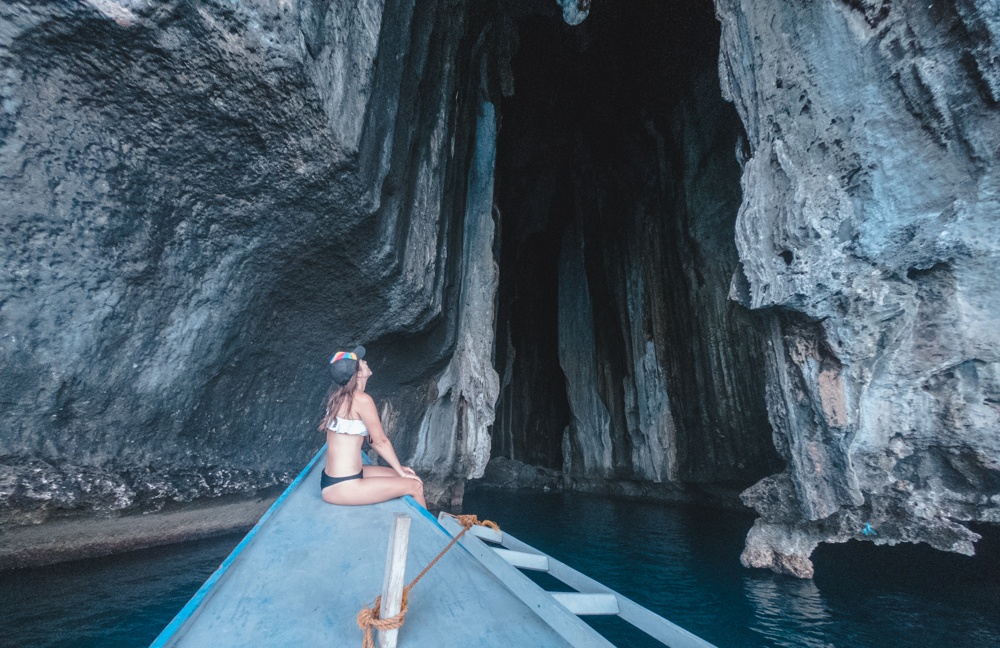 This is a short stop just to look up into the cavern-like cave formed in the cliffside of one of the islands. The only way to visit it is by boat, though most of the tour boats are too big to venture very far inside. We spent about 5 minutes here – just long enough for a few photos while our guides struggled to hold onto the ropes on the cave's walls to keep the boat from hitting the rock.
I'm unsure if they can anchor and let you swim inside, but it could be worth asking if you book a private tour what the options are.
Pinagbuyutan Island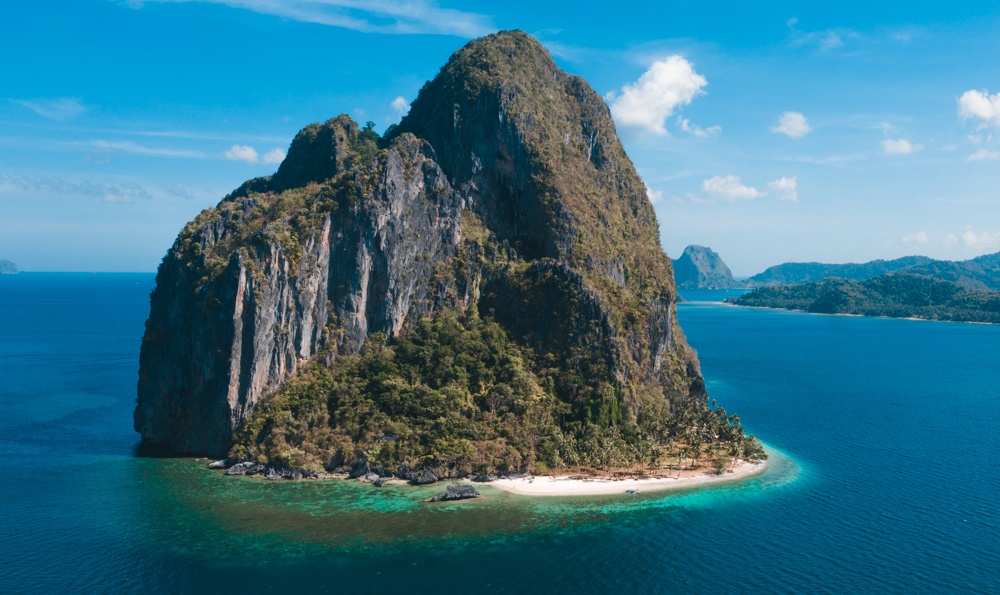 I loved the unique shape of this island, and the fact that when we went in the morning, there wasn't anybody else there. Most tours end here, but if you do a private tour and go in reverse, it's possible to head here first and get it all to yourself, as I did. The current was strong when I was there but it does have a reef you can snorkel if you have better conditions.
It's worth noting that overall, this is less of a snorkeling tour and more of a cave/sandbar tour than Tours A and C.
Costs of Tour B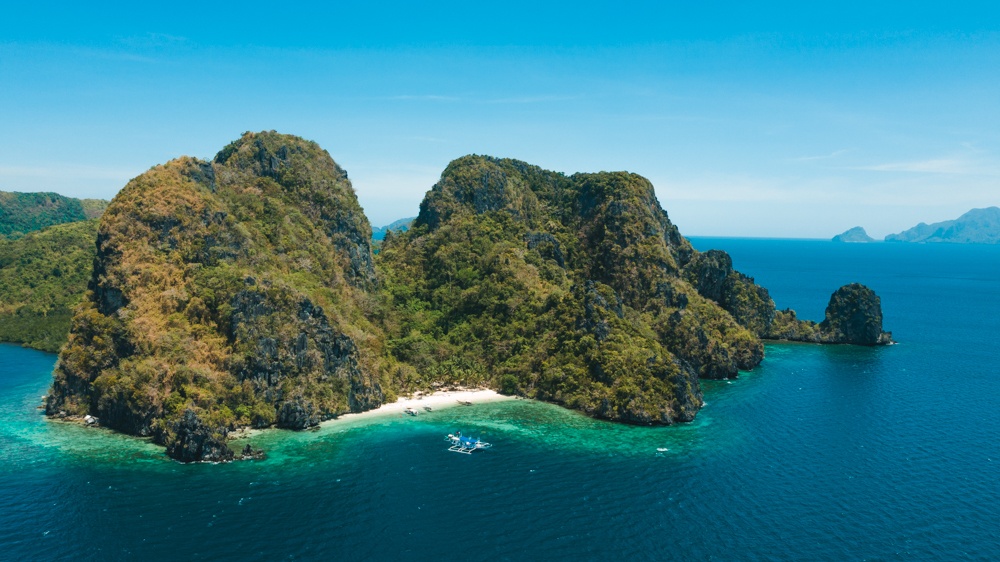 These days all tour prices are fixed in El Nido for group tours, with Tour B priced at 1300 pesos per person. There's also a 200 PHP environmental fee required for doing any island hopping tour in El Nido, which is good for 10 days. If you've already paid it for another tour, you're good to go.
I also did Tour B as a private tour after a crowded Tour A the previous day in hopes of having a more secluded experience (more on that later). I paid 5000 PHP, without lunch, for the tour. You may read reviews online or on message boards discussing prices and the possibility of negotiating directly with boat owners. However after asking at about 15 places in town it's clear to me that prices have doubled from just 2 years ago for private tours, and you won't be finding them in the 3k or 4k range anymore. The best way to save money is to bring your own lunch, which cuts out 1500 pesos of the tour fee. That's how I got the private boat for 5k. I booked at my accommodation, El Nido Overlooking, which had the cheapest price out of everywhere I looked. The rooms are great there too with an amazing view!
Where to Book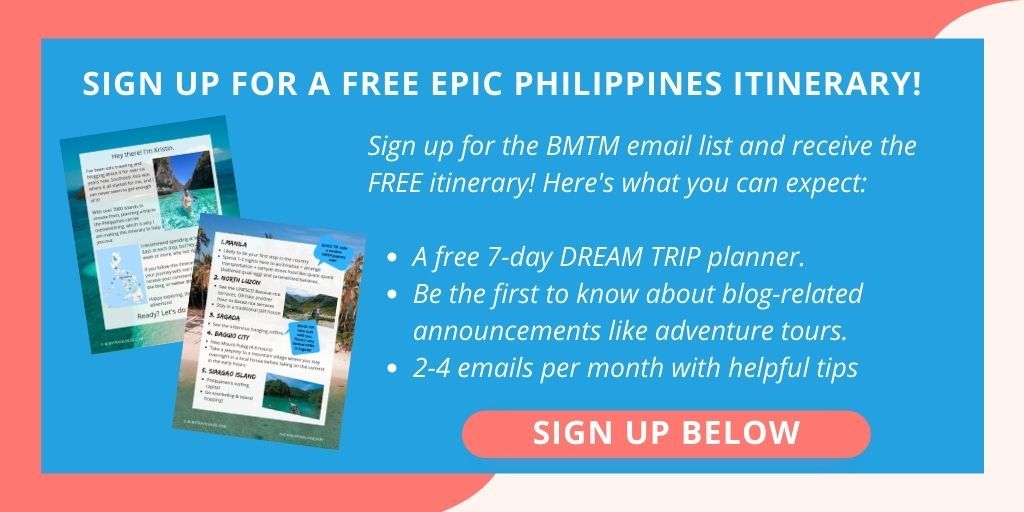 Since everyone seems to make calls to agencies rather than owning their own boats (unless you're staying at a hotel that has its own), it doesn't really matter who you book with. I found that Klook actually has lower prices and great reviews, so if I had done a group tour, I would have gone that route. You can book Tour B here.
Is a Group or Private Tour B Better?
I'm sorry to say that I didn't have the absolute best experience with guides in El Nido. Since you're required to have one, it wasn't as simple as rocking up to the shore and negotiating directly with a boat owner and going where we pleased, like I could do in Romblon.
In my review of Tour A, you'll notice the guide tried to cut out two stops, and despite my best efforts to connect and be friendly, he just didn't seem like he wanted to be there. I get it, everyone is going through their own stuff, but it was my worst experience with boat guides and captains in the Philippines to date. That said, you never know what you're going to get since who you book with probably doesn't own the boats and by the time you're face to face with the guide, you're probably 2-3 people removed from who you originally booked with. This presented some issues like what was and wasn't included, such as snorkeling gear and transport, but overall I would still do the private tour since it gave me much more solitude, and allowed me to have some time at the caves, beaches, and islands to myself. That's just not possible on a group tour.
For me, it boils down to what you can afford. Tour B is less crowded in general, so doing the itinerary in reverse from what the tour boats do could afford you some alone time in an otherwise very touristy El Nido. It just depends on how many people you're splitting with and if the extra cost is worth it to you! You can also customize the stops a bit more, if you'd like to switch out some things for others from different tours.
What to Bring
Most group tours will include lunch and water, though you may want to double check that they will have water for you to refill your bottles with. In theory El Nido is trying to cut down on single use plastic, but not every tour provides water.
You'll also want to bring along snorkeling gear, which you can rent for 150 pesos for a mask and snorkel and 150 for a set of fins. I brought my own mask from home and would suggest you do the same. You can be more sure of the quality and won't have to pay the equivalent of 3 US dollars every single day that you go island hopping. I didn't use fins during my El Nido experience and didn't really feel they were necessary, but I would base your decision on that on how strong of a swimmer you are without them. There are plenty of places in town where you can rent, or most of the tour operators will have gear as well.
It can also be a good idea to bring along a dry bag (I use this one) if you want to be able to take photos, especially if kayaking in the lagoons. All of these photos were shot with a GoPro HERO7 Black, and my DJI Mavic 2 Pro. You can read more about my camera gear here.
Also be sure to bring along sunscreen, as you'll have your back to the sun often on this trip. It's also helpful to bring along your own beach towel.
Overall, Tour B was a less crowded, more secluded experience than Tour A, with beaches and islands that were just as amazing, if not more so. That said, I'd still spend another day in El Nido on either Tour A or C, or both, for a chance to do more snorkeling and to see the Big Lagoon.