This post was written by Ashley Yap, BMTM's Director of Brand Relations.
The Philippines is one of the most expensive Southeast Asian countries to travel in, based on my personal experience from traveling extensively in all Southeast Asian countries. Its geological nature makes logistics complicated and costly at times; food and drinks are not as cheap as Thailand or Vietnam; and island hopping tours tend to be comparatively costly. That being said, The unforgettable Filipino hospitality, stunning beaches, incredible limestones, beautiful weather and availability of adventures make it worth every peso, but I am definitely more mindful with my expenses when traveling in the Philippines, including my recent trip to El Nido.
I spent an average of $80/day in El Nido, which included accommodation, transportation, food and island hopping. Many travel guides (including our own cheapest travel destinations guide) swear that you can travel in the Philippines for less than half of what I've spent, however, that means sleeping in hostels and eating mostly cheap street food. I stayed in a mix of mid-range and budget hotels, ate in both local and international restaurants, went on 3 island hopping tours, and rented a bike to get around. If this sounds like your travel style, read on for a detailed breakdown to help plan your trip to El Nido:
How to get to El Nido: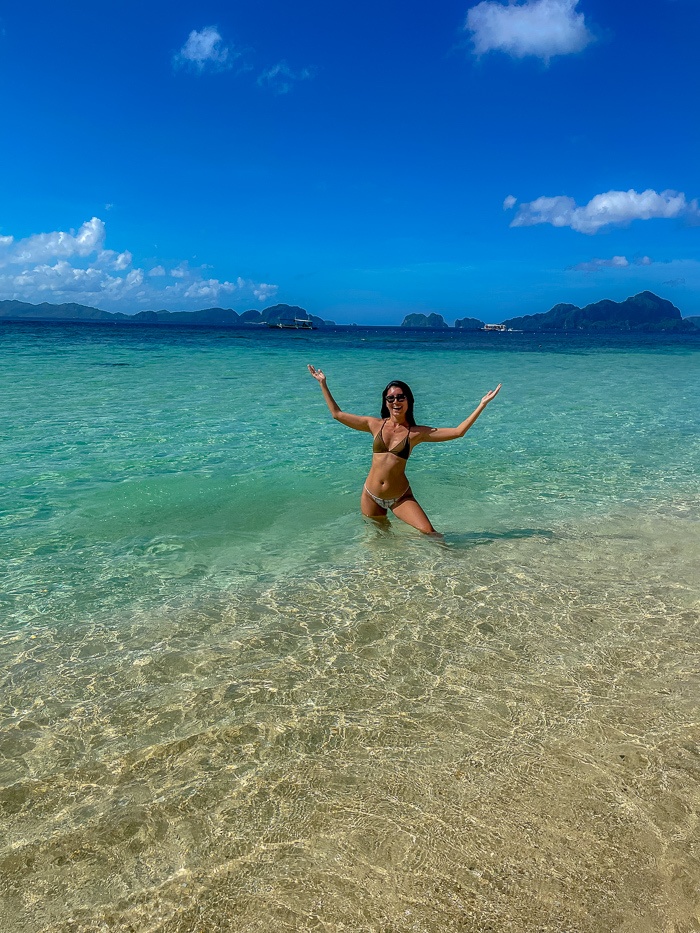 From Manila: Fly in with Air Swift, a local airline that flies to Lio Airport in El Nido several times daily. It is the most expensive option, but I have to say that I was very impressed by the airline. The air crafts were new and clean, the service was great, and the flight was enjoyable. My flight from Manila to El Nido cost $120. Lio Airport is about 4KM from El Nido Proper. Many mid-range and luxury hotels offer complimentary airport transfers, but you can also book one in advance- just ask about it in your accommodations.
From Puerto Princesa: You can fly in or take a bus or van to El Nido from Puerto Princesa. A shared or private van can be booked on Klook for only $13 or $180. If you are looking at this option, read here for a detailed guide with pricing.
From Coron: You can take a ferry, though I can't say I recommend it. I took the ferry from El Nido to Coron and felt like I was in a washing machine for the entire 5+ hours. If you are up for the challenge, a ferry ticket costs about $54 and takes 4-6 hours, depending on the weather. The other option is a flight with Air Swift, which takes about 40 minutes. If you book ahead, the flight ticket can be as low as $20.
Accommodation in El Nido
budget hostels: $7-$20
basic bungalows: $10-$50
mid-range hotels: $36-$80
luxury hotels: $80 and above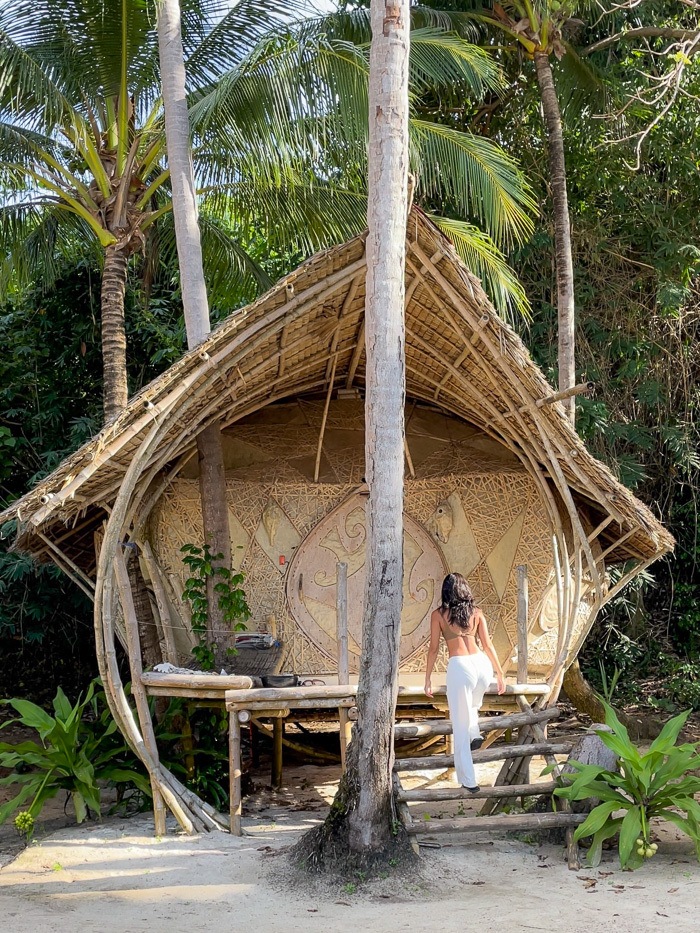 El Nido has many accommodation options, from bare-bone hammocks to a 5-star resort. I stayed in 4 different properties in El Nido to get a taste of everything (click here to read my honest review!). The most expensive was Dryft Island at $130 per night, which was a remote and exclusive glamping experience, and the cheapest was Erlittop Eco Garden at only $19 per night. The higher-end hotels typically include breakfast, free airport transfers, stable electricity, and Internet connection, and are strategically located. At most budget stays like Erlittop, electricity only comes on at certain hours, and hot showers are usually unavailable, but you will get a more local experience. I liked that I got to enjoy the best of both worlds, and I would recommend you do the same.
Transportation in El Nido
Scooter rental: $9/day
Tricycle taxi: About $5 for a 15-minute ride
Airport transfers: $7 per person in a shared van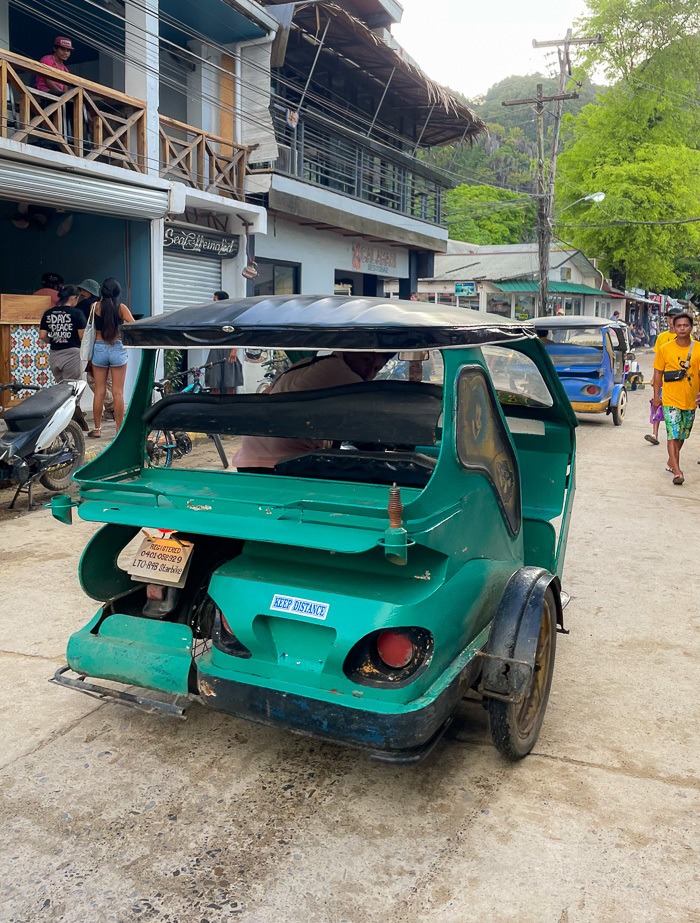 There's only one main highway on El Nido, and the road condition is fair. Some small roads get rather bumpy but manageable. If you are used to riding a scooter, a scooter rental is the best and cheapest way to get around town. I rented a bike from 3 different places and had no problem. Be sure to check the scooter's condition, take photos of any existing damages to avoid any possible drama, and wear a helmet on the road. The rental company is likely to ask for a cash deposit.
I also took a tricycle ride a few times when moving from one accommodation to another with my luggage. Some drivers asked for more, but I could always negotiate it down to about 300 PHP per ride. This is also a good option to get around if you are not comfortable riding your own bike. I saw that you can also hire a private driver for the day for about $80, but I don't think it's necessary.
If your hotel does not offer complimentary airport transfers, you can easily order one for about $7.
Food in El Nido
Local street food: $1 for a meat skewer with rice
Local restaurant: $5-$8 for a meal with drinks
International restaurant: $8-$13 for a meal with drinks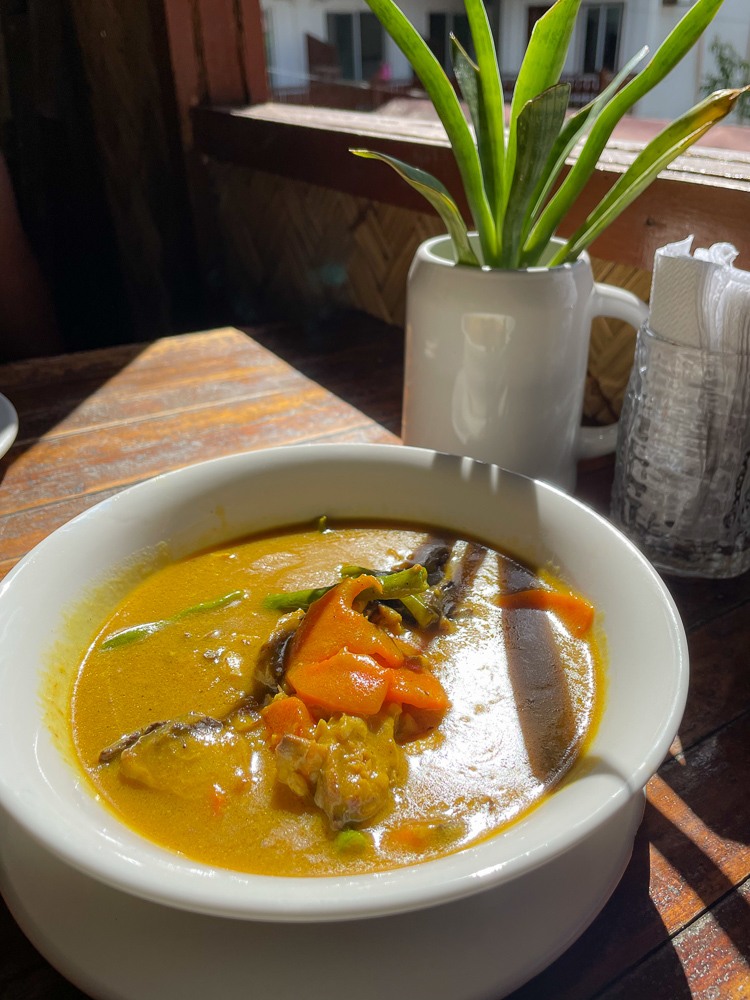 Unfortunately, I have heard of so many stories of upset tummies and food poisoning prior to coming to El Nido, and have experienced it firsthand on my first day in town, so I shied away from the delicious street food for the rest of the time. If you have a sensitive stomach like me, it's best to stick with mid-range restaurants.
Personally, I find food in El Nido slightly more expensive than other Southeast Asian island destinations I have visited, but since most of my accommodations provided breakfast and all of the island hopping tours provided lunch, I really only had one meal per day to worry about. I dined in a mix of local and International restaurants, and here are some of my favorites:
Sam's Canteen: Located on Lio Beach, this family-run place serves very good Lechon pork for about $7.
Art Cafe: One of the most popular cafes right in El Nido Proper. It is also one of the few that accept credit cards. It's right by the main pier, making it a great stop before or after your island hopping trip. Expect healthy options like salads, fruit bowls and homemade cheesecakes. After a full day of island hopping, I ordered a cheesecake or a smoothie and spent about $6 each. For a full meal, expect to pay about $8-$10.
Kusina ni Maya: I stumbled upon this new restaurant one night and really enjoyed it! The service was great, and the food was delicious. It's a high-end restaurant by the island's standard, and a meal with drinks costs about $10-$13.
Happy Home Restaurant: My favorite for an affordable local meal! Remember to show up earlier, as food takes about 30 minutes to be served. I enjoyed a bowl of fish curry, a glass of mango smoothie, and a Mango Flambe (they ran out of bananas that day) for just $9.
Erlittop Eco Garden: This is where I had the best Sisig (a local dish with a mix of meat and vegetables on a sizzling plate). If you are staying at Erlittop, be sure to order this from their restaurant.
Island Hopping in El Nido
Group tours: $22-$26
Private tours: $100-$120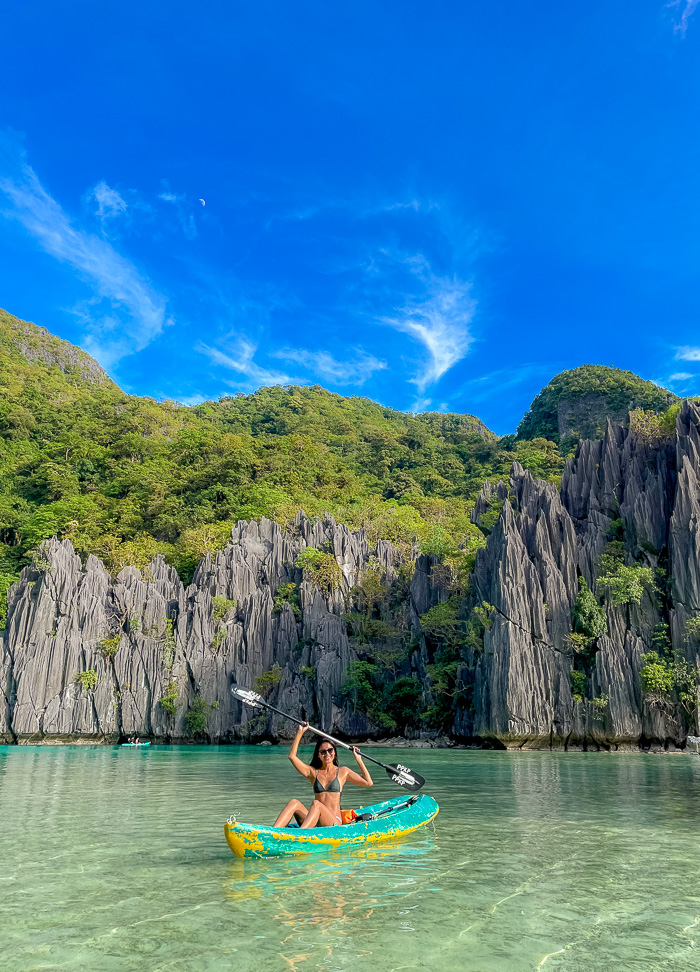 For group tours, you have four options: tour A, B, C, or D. I went to A, B, and C and enjoyed all three of them. You can read my detailed reviews and price breakdown here:
On average, each tour costs about $24, including environmental fees and kayak rental. The group tours also include a buffet lunch. If you want to save money on these tours, bring your own snorkelling gear, which costs about $3 to rent. Group tours typically start at 8:30am and end at 4:30pm.
If you prefer to island hop privately, be prepared to fork out much more money. A private island hopping tour costs about $100-$120 and can be split by eight people. Since I was traveling alone, this was not a possible option, but taking a private tour may make sense if you are traveling in a group.
Other Expenses in El Nido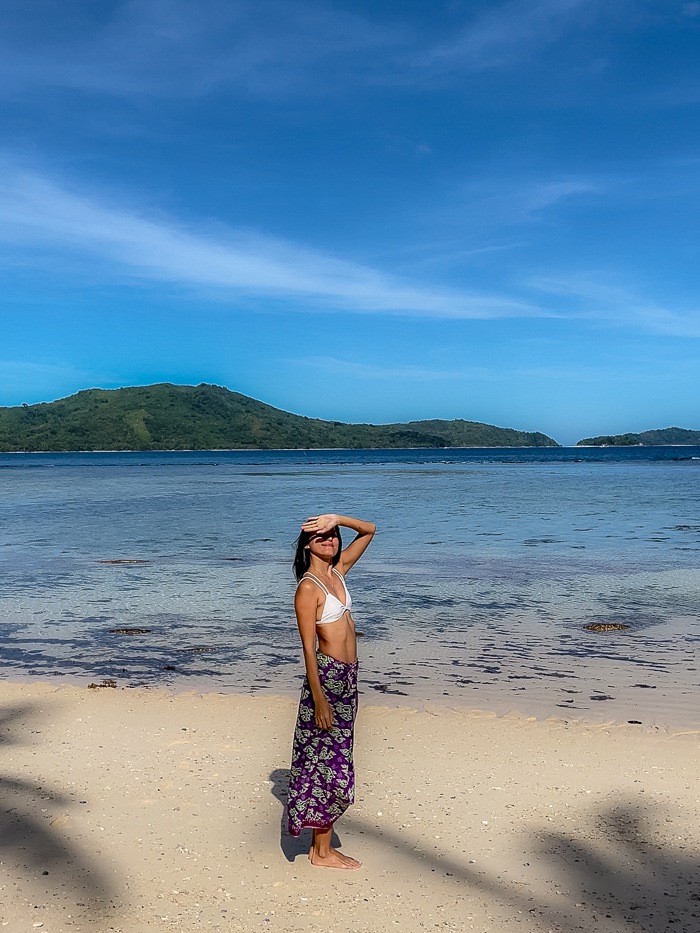 Be sure to bring sufficient cash with you to El Nido! While there are plenty of ATMs in town, they do not always work and could be out of cash during the busy holidays. Only a handful of establishments accept credit card payments. I learned this the hard way when I had less than $10 worth of pesos and had to resort to exchanging currency at a horrible rate.
Tips are not compulsory but are always welcome. There will be plenty of locals coming up to you on the beach and by the pier to try to sell you pearl jewelry and snorkeling gear. If you are not interested, say no politely, but there's no need to be rude or angry – they are just trying to make a living.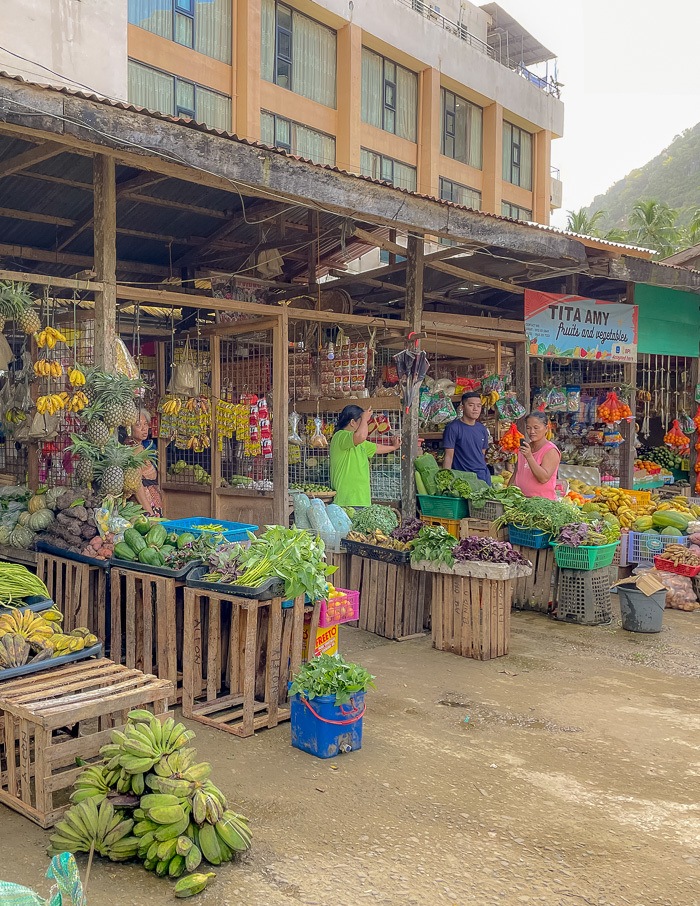 There's not much shopping in El Nido, though you will find some souvenir shops in El Nido Proper. There are also supermarkets and a public market if you want to buy your own groceries. Bring items like sunscreen, contact lens solution, and sanitary pads from home because they are very expensive to buy in town.
I hope this El Nido budget guide is helpful to you! While it's not exactly an affordable destination by Southeast Asia's standard, it's absolutely worth it.