El Nido is a popular destination in the north of Palawan, approximately 230 kilometers from Puerto Princesa. Known for white-sand beaches, coral reefs, and stunning limestone formations, you've probably seen photos showcasing the jaw-dropping beauty of this Filipino treasure.
There are multiple ways to get from Puerto Princesa to El Nido including a shuttle van, bus, and even direct flights.
The goal of this post is to give you all the resources you need in order to make the best decision for your trip and be on your way!
Van: The Most Popular
Time: 5-6 hours
Price: 500-600 PHP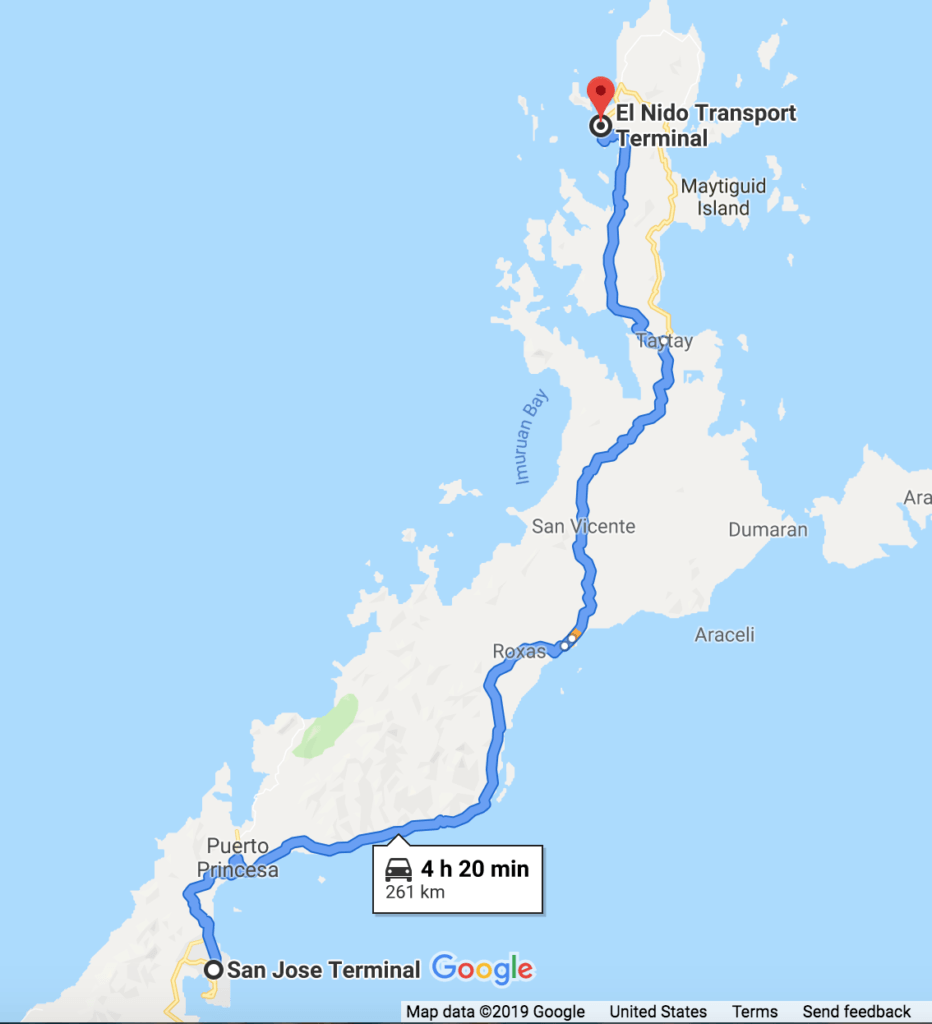 Many travelers opt for the shuttle van service between Puerto Princesa and El Nido because of the convenience factor and the shortened travel time compared to the unpredictable bus.
When you step out of the airport in Puerto Princesa, you're likely to be approached by van drivers who are looking to fill their vans and depart for El Nido. Opting for this means you don't have to search for a van, but keep in mind that many drivers will keep you waiting until their van is full, which can take an undetermined amount of time – potentially even until the next flight lands.
The two main providers for the van trip between Puerto Princesa and El Nido are Lexxus Shuttle and EULEN JOY Express. If you are not departing directly from the airport, both of these providers offer a hotel pick-up option.
The Lexxus Shuttle can be booked here for 600 PHP. They have vans running throughout the day, but it's best to book your ticket in advance to ensure a spot. They also have a booking option through their Facebook page.
EULEN JOY Express is available to book online here, costs 600 PHP, and gives the option to select either airport or hotel pick up.
If you prefer not to book online or in advance, you can show up at the San Jose Terminal where both buses and vans are available. There are more van services than the two I've listed above, but those are the most popular and reliable. The less prominent operators are viable and will get you where you need to go – it just takes showing up at the bus terminal to have direct communication with them.
Disclaimer: Although the van is the faster option for ground transportation, van drivers do their best to fill vehicles to their maximum capacity, which some travelers (especially taller folks) may find uncomfortable. If this is a concern, the bus may be your preferred option for space. However, most vans are air conditioned and general comfort, of course, depends on the age and model – if you're picky about this kind of stuff, you can ask to see the vehicle before booking.
Bus: The Longest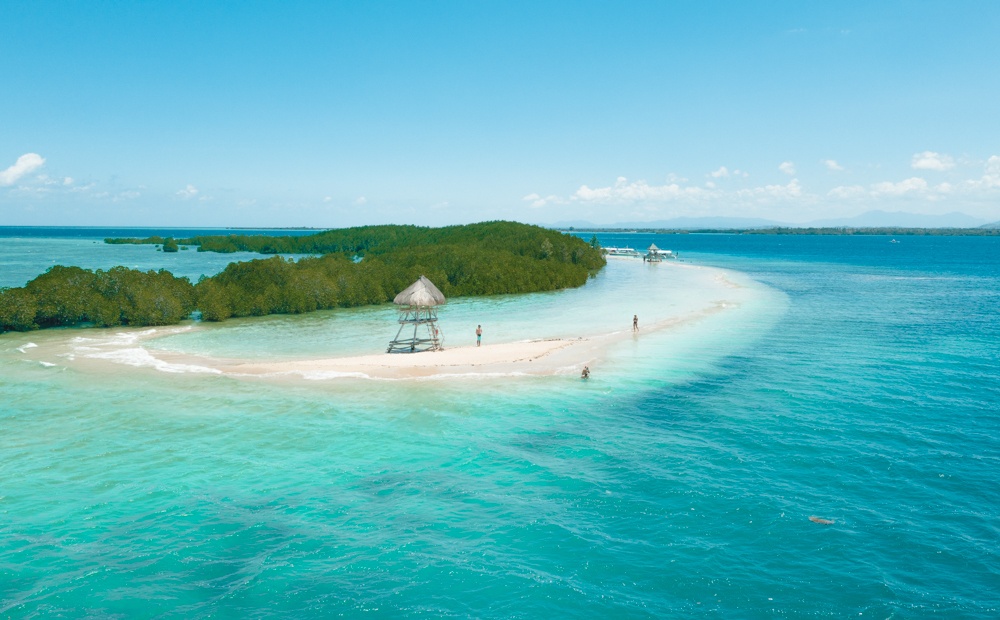 Time: 6 to 9 hours
Price: 380-480 PHP (non-air con vs air con)
It is a common assumption that the local bus is always the cheapest way to travel, but after accounting for the transportation cost to get to the bus station, in this case the prices of bus vs. van become nearly identical. The fact is the bus will take longer. Factoring in the time of day and frequency of stops, the bus can take up to 9 hours from Puerto Princesa to El Nido. The drivers will pick up any and all locals along the route, which adds to the time discrepancy. You may get lucky and arrive in 6 hours, or you may be on the bus longer. But hey, the journey is the destination!
Buses do offer wider legroom and bigger breathing space overall compared to the vans, so if this is important to you, the bus is a great option.
There are two companies to choose from when it comes to taking the bus from Puerto Princesa to El Nido: RoRo Bus and Cherry Bus, both of which operate from the San Jose Terminal located 7 kilometers from the airport. They both arrive to El Nido Transport Terminal in Corong-Corong. From there you'll be able to take a tricycle to El Nido town proper or directly to your accommodation.
The following are the timetables for each bus service:
The Flight: The Fastest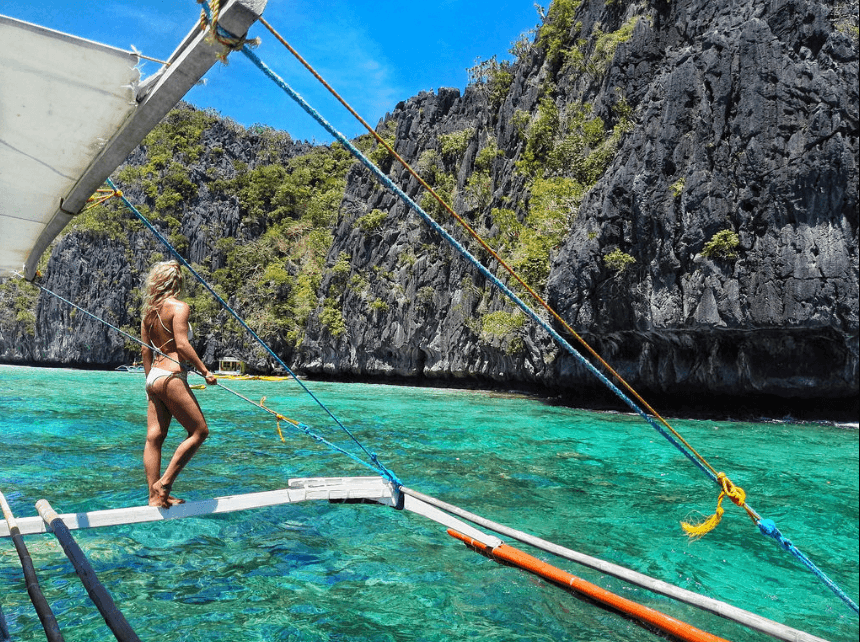 Time: 50 minutes
Price: Approximately 2,000 PHP
If time is of the essence and money is less of a factor, the flight between Puerto Princesa and El Nido may be the best option for you. Or, if you just want to skip the chaos of buses and vans and get straight to the beauty and adventure that awaits in El Nido, I certainly don't blame you!
El Nido has its own airport, Lio Airport, but the short runway prevents most airlines from landing here with relatively big planes. AirSWIFT offers direct flights from Puerto Princesa to El Nido but fares and schedules fluctuate, so it is important to plan accordingly.
This is the option that I picked since I had spent the previous week on jeepneys and ferries in Romblon Island and the surroundings and just wanted to have a quicker and easier journey to El Nido. In hindsight I might have even skipped Puerto Princesa and gone straight from Manila to El Nido, which you can do on the same airline. If you're dying to see the underground river or want to island hop in Honda Bay, which you can read more about here, then it could be worth the stop in PP, but if I had it to do over again I'd probably skip it for reasons I note in the linked post.
Either way, when traveling in the Philippines always remember that delays are part of it, and keeping calm and enjoying the journey are the best things you can do. Happy travels! It's always an adventure.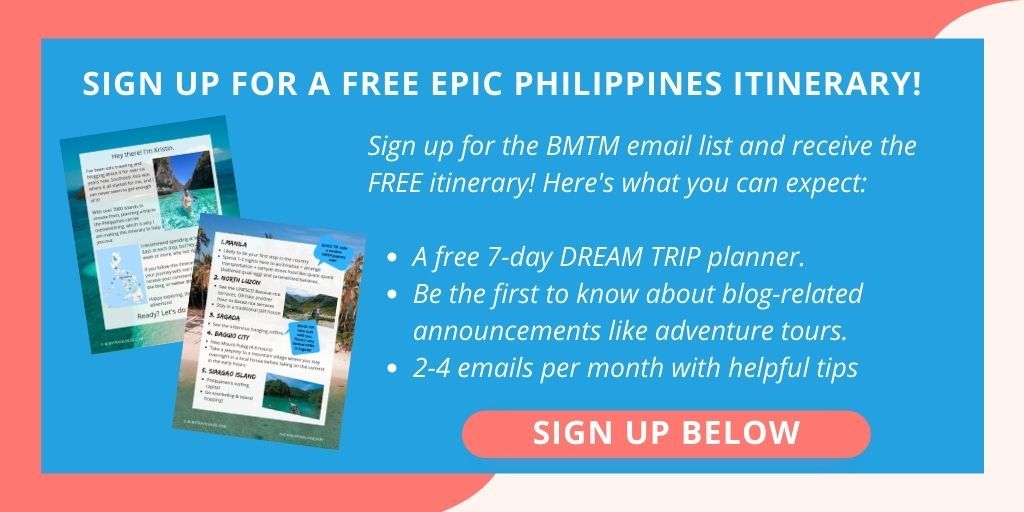 READ MORE