Oregon definitely earns its spot as one of the best road trips in the American West, as there's so much to see both inland and on the coast. Driving through the state gives you the opportunity to see all its natural and manmade sights, but with the flexibility of a travel plan catered to your interests.
While this itinerary only covers a few of the highlights, these 10 places — from mountains to beaches to hipster cities — are a good summary of the state.
Note: The itinerary goes from south to north, so be sure to reverse this if you're coming from Washington State!
Crater Lake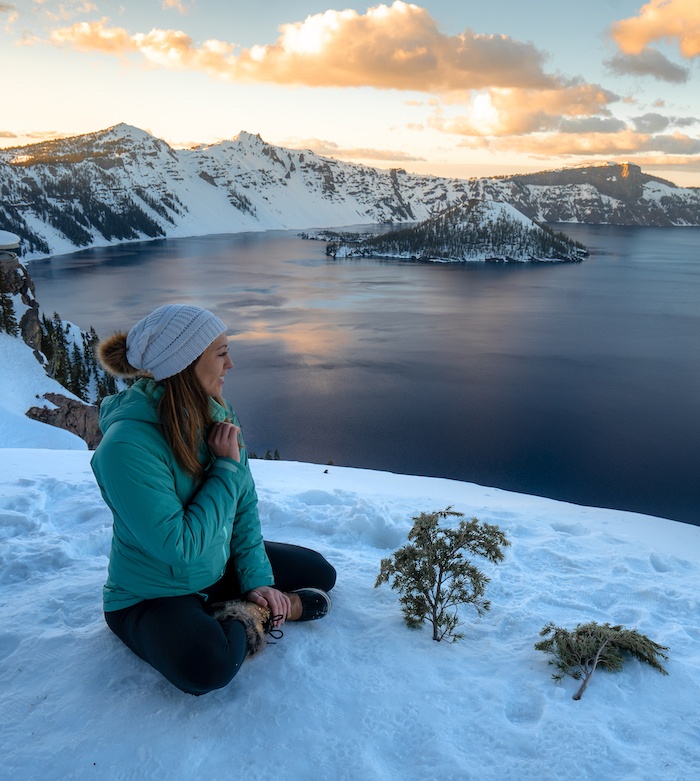 For the first stop on your road trip, head to Crater Lake National Park. The round lake formed over 7,000 years ago, when an eruption caused a mountain peak to become the deepest lake in the country!
You can take in views of the lake from numerous angles, thanks to the Rim Drive. This 33-mile route highlights the perimeter's landscape and has 30 overlooks for the perfect view.
The best time to go to Crater Lake is during the summer, as winter clouds may make the lake hard to see. You can always check the National Park Service's Crater Lake Webcam to see if it's visible. It's worth spending a day here, but finding nearby accommodation will be difficult, as the lake is in the middle of a national park. However, camping is always an option if you're a fan of the outdoors.
North Umpqua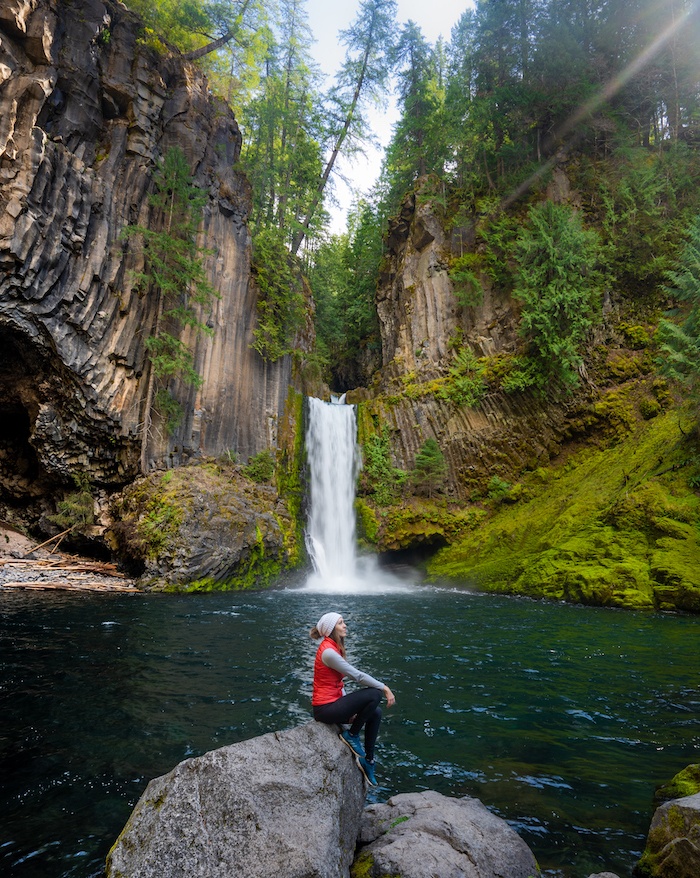 Drive about an hour northwest of Crater Lake and you'll be along the North Umpqua River. This region has a variety of waterfalls and other natural attractions, but here are a few that make it worth visiting:
Watson Falls – With a drop of nearly 300 feet, this is one of the tallest falls in the state! You can easily see the falls while walking along a 0.4-mile trail.
Toketee Falls – The hike to these falls is less than a mile round-trip, and the views are well worth it! Note: You may find a bent fence along your hike, the result of people scaling it to get to the bottom. The National Park Service advises against crossing the fence, due to safety concerns.
Umpqua Hot Springs – Here you can soak in the forest atmosphere from the comfort of a naturally heated pool.
Bend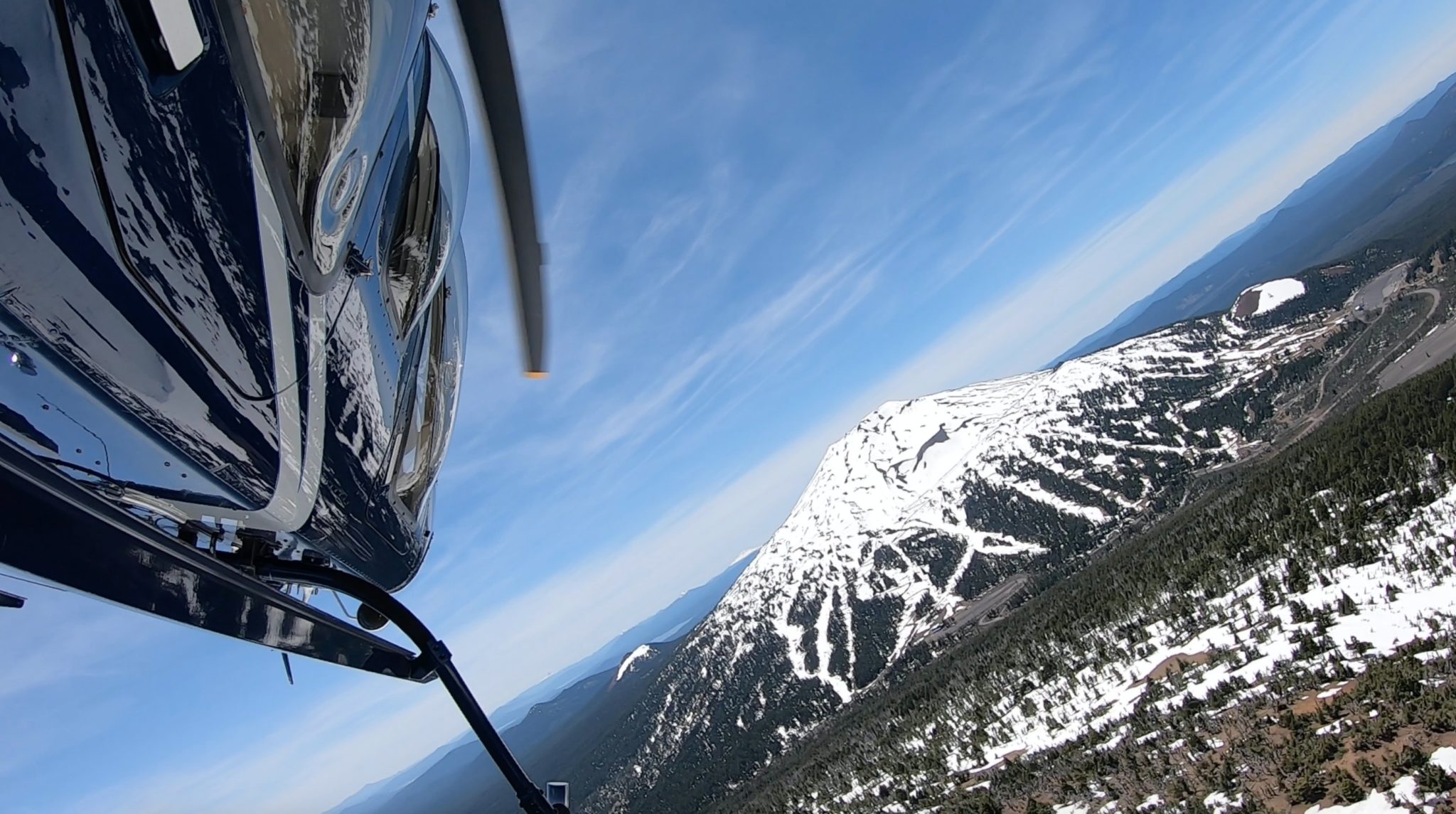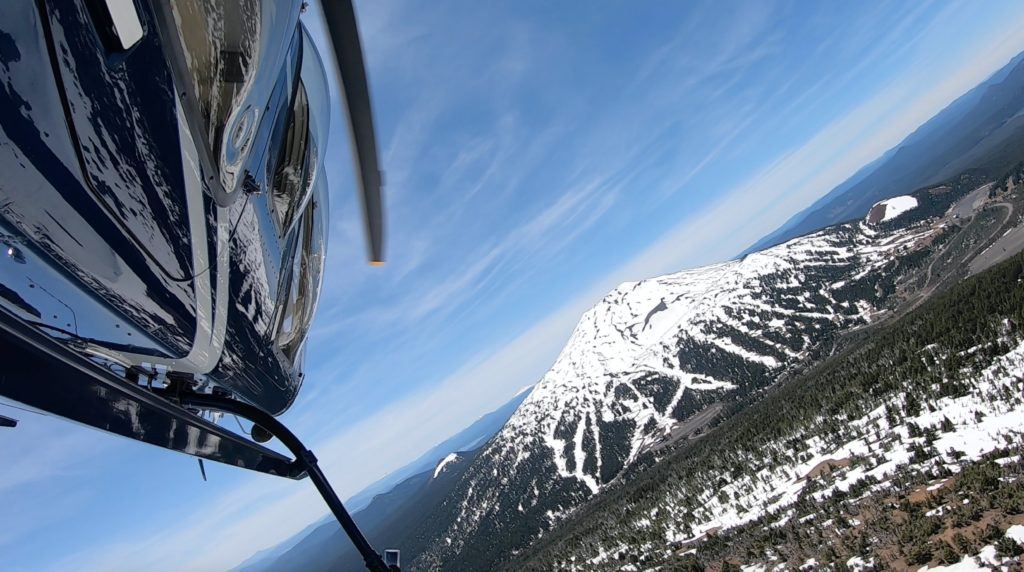 Drive about two hours north and you'll be in Bend. With around 20 breweries, this town of 100,000 people is perfect if you're into the craft beer scene.
If you want to explore more of what the area has to offer, take a drive southeast through the Cascade Lakes National Scenic Byway. This 66-mile drive has plenty of stopping places for you to admire Mt. Bachelor and some of the Cascade Lakes. The complete road is open seasonally, so summer through early fall is the best time to drive it.
One of the best ways to see the mountainous landscape, though, is by air, on an airplane or helicopter tour.
John Day Fossil Beds National Monument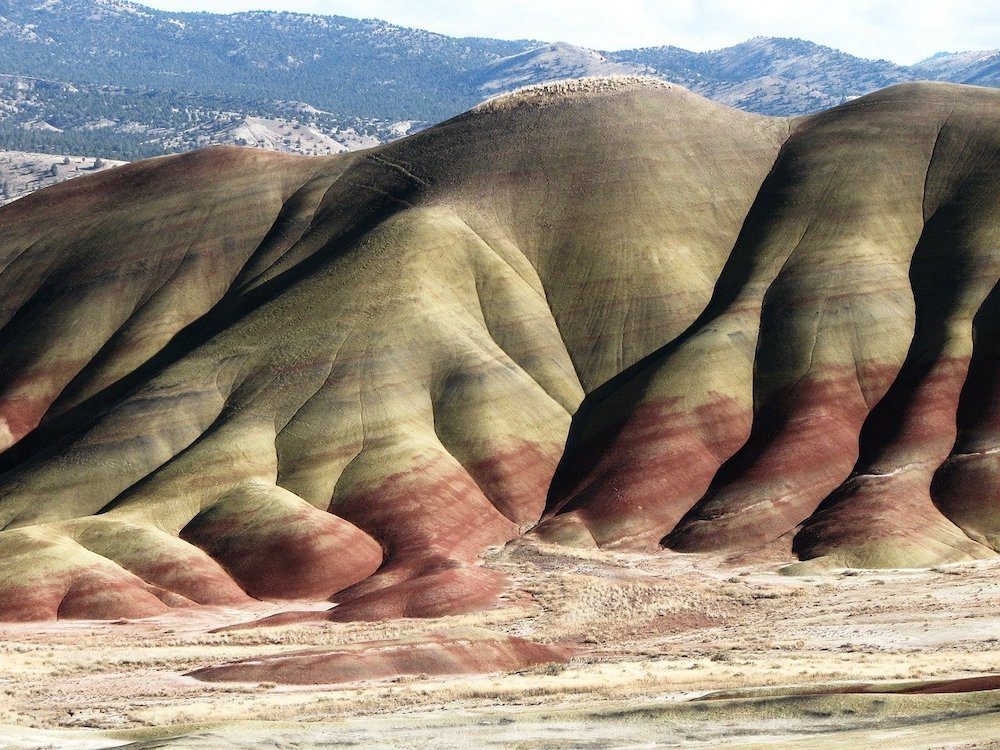 About two hours northeast of Bend are the John Day Fossil Beds. This national monument is a record of 40 million years of history packed in colorful rock. These unique formations contain animal and plant fossils, plus geological evidence of past climates and ecosystems.
The monument has three units: Sheep Rock, Painted Hills, and Clarno. Each has its own unique features and hiking trails for an immersive experience. They are around 1-2 hours away from each other, so make this a multiday stop to get the full experience!
Also, through exhibits and a working lab at the visitor center, you can learn about and interact with Oregon's natural evolution.
Mt. Hood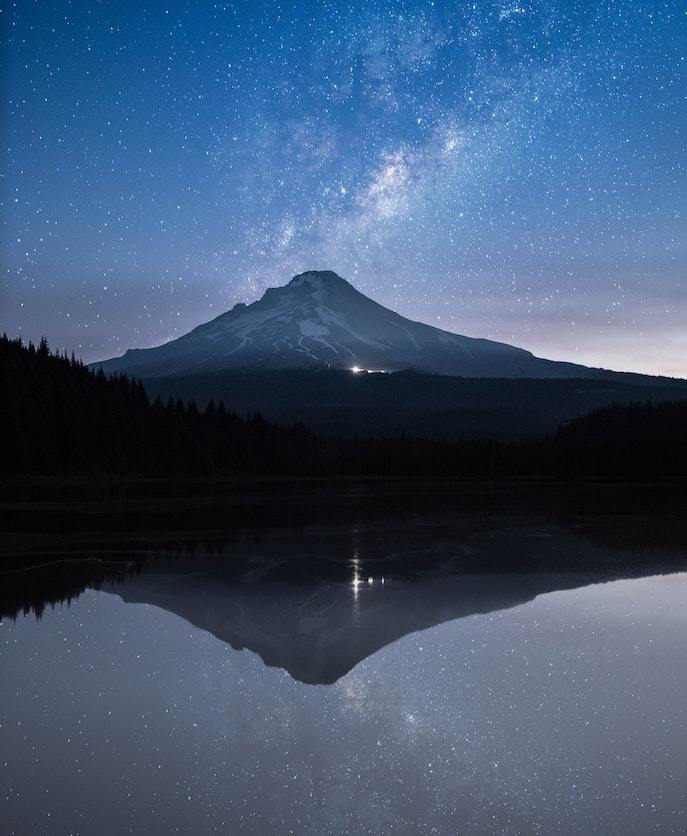 Drive about 2.5 hours west and you can visit Mt. Hood, Oregon's tallest mountain. See it and many beautiful waterfalls along the Columbia River Gorge by doing part of the Mount Hood Scenic Loop, which connects Portland, Hood River (known as the windsurfing capital of the world), and the Mount Hood National Forest.
There is plenty to do in the area, which has the country's longest ski season and many trails for mountain biking and hiking.
Silver Falls State Park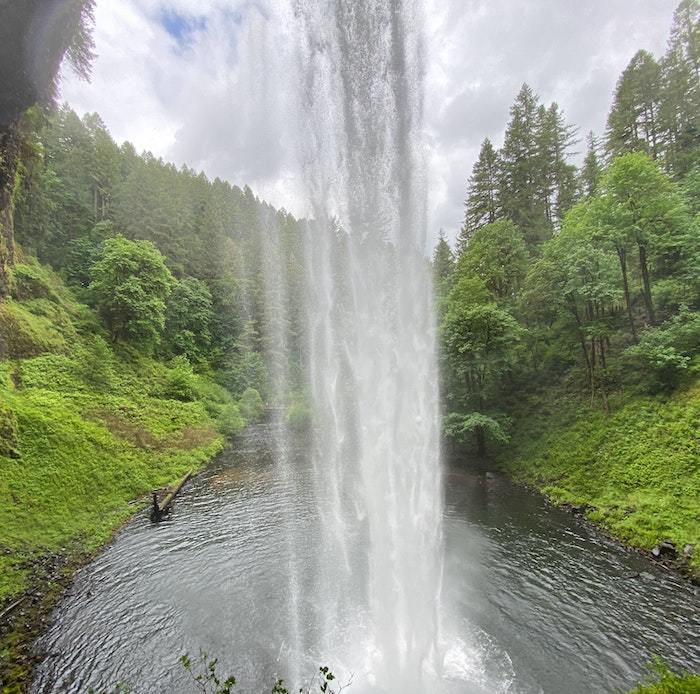 After Mt. Hood, head about two hours southwest to Silver Falls State Park, one of the most renowned destinations in the whole state. And with so many waterfalls packed into more than 9,000 acres of land, it's easy to see why. Here are a few of the hikes you can traverse to access the waterfalls:
Maple Ridge Loop (2.6 miles) – This short hike starts above the 177-foot South Falls and continues until the Lower South Falls. You can walk a one-mile version of this loop by turning back at the bottom of South Falls.
Winter Falls Loop (5 miles) – This loop gives you access to seven falls, including Double Falls, Drake Falls, and Middle North Falls.
Trail of Ten Falls (7.2 miles) – As this is the longest of the three loops, you'll see some of the best waterfalls the state has to offer by walking this one! The 7.2-mile loop takes you past 10 waterfalls and is mostly unpaved. It's a moderate hike popular with travelers, with around 800 feet of elevation.
Cape Kiwanda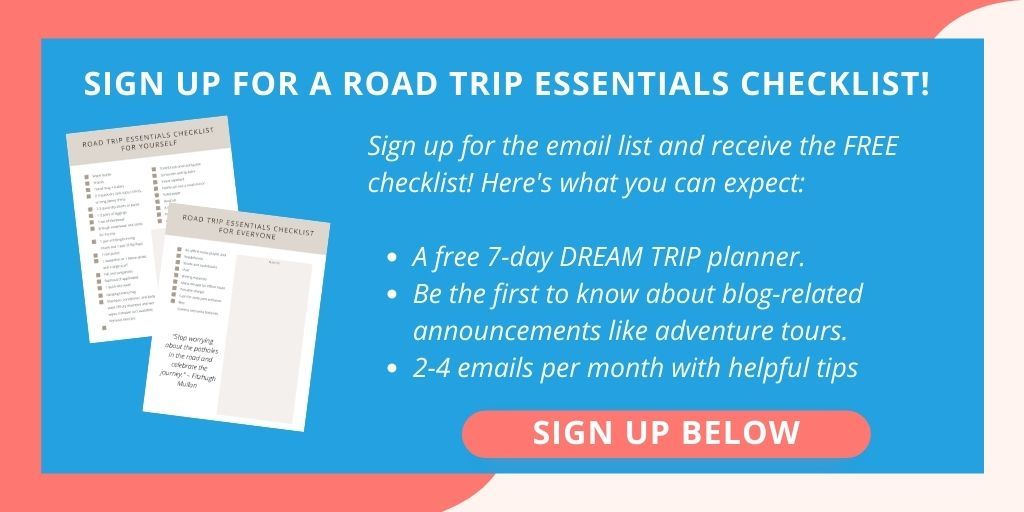 Now that you've enjoyed a lot of what inland Oregon has to offer, head about 2 hours west to see what the coast's all about. On the northern coast, you will find Cape Kiwanda, a part of the Three Capes Scenic Loop. This cape is most known for its amazing year-round waves, but it also offers hiking trails, ample space for hang gliding, and places to eat and drink.
Cannon Beach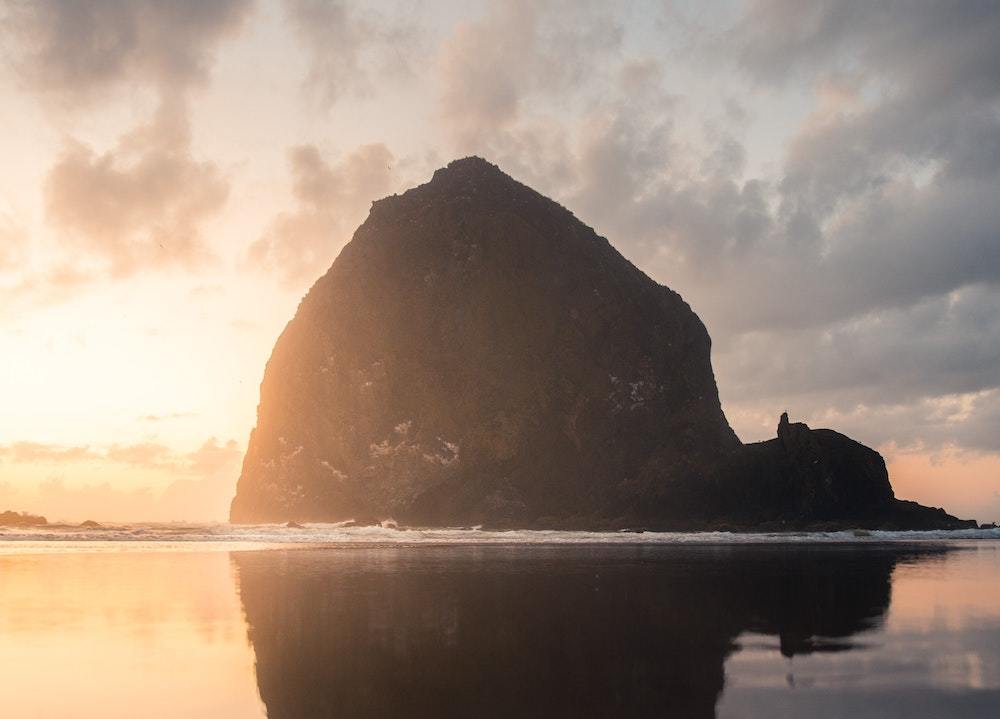 If your ideal Oregon road trip includes a picturesque sunset on the beach, Cannon Beach is a must-see, about an hour and a half up the coast from Cape Kiwanda. You can easily spend a couple of days here visiting any of the four state parks or recreation areas near the beach. You'll also have just as good of a time relaxing on the beach and admiring the scenery. While you're here, be sure to visit the 235-foot Haystack Rock, one of the state's most prominent landmarks. Add on more coastal stops as part of a Highway 101 road trip.
Astoria
For a look into the past, you only need to travel 30 minutes from Cannon Beach to Astoria, the oldest city in Oregon. Explore the historic riverfront by riding the Historic Trolley or by walking along the Astoria River Trail. As the backdrop for The Goonies, movies are a part of the city's culture, so explore films made in Oregon by visiting the Oregon Film Museum. Historic downtown Astoria also offers plenty to do, with breweries, local restaurants, and independent shops for a classic small-town coastal experience.
One thing you definitely don't want to miss is the Astoria Bridge, which is the continent's longest continuous truss bridge!
Portland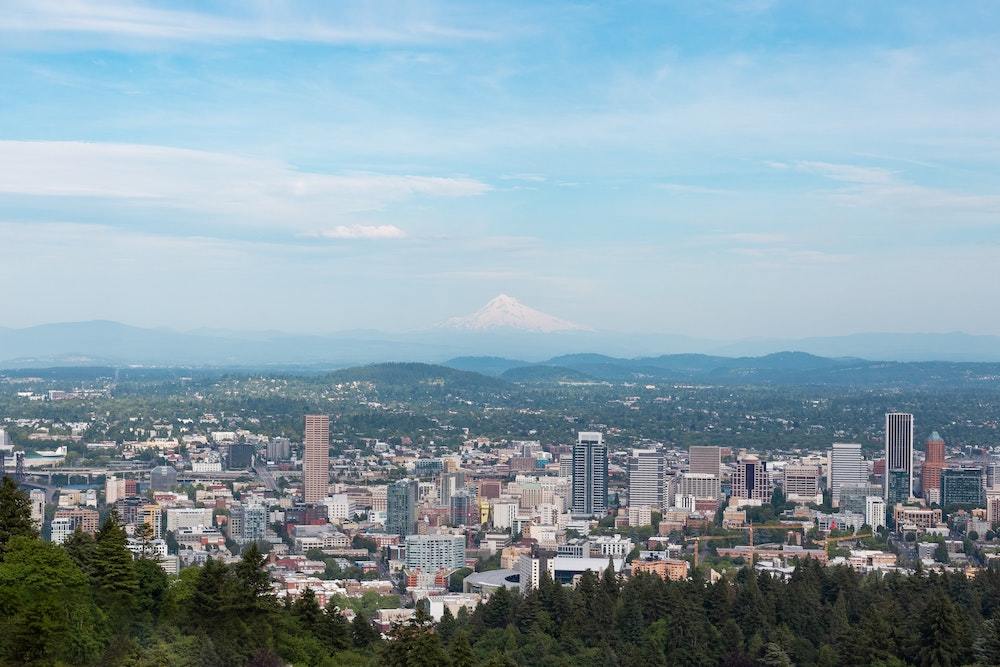 For the final stop, drive around 2 hours along the Washington/Oregon border to get to Portland. While Salem is Oregon's political capital, Portland stakes its claim as the hipster capital of the Pacific Northwest. Considering the city's motto is "Keep Portland weird," you are bound to find many unique and exciting things to do in town.
Sites like the city's Japanese Garden and Chinese Garden are great if you still want a taste of nature in the middle of the hustle and bustle of city life. Here are a few other ideas for your Portland itinerary:
Powell's Books – This bookstore is heaven for a voracious reader, as it's the largest independent bookstore in the world.
The Grotto – This Catholic outdoor shrine is located in northeast Portland and features a variety of statues, as well as a botanical garden.
Bridges – Portland is home to 12 bridges, each with a special look. If you have the time to marvel at some of the city's urban creations, check out the Hawthorne Bridge, Fremont Bridge, or Tilikum Crossing (which is the largest car-free bridge in the country.)
A unique way to see the city is through Portland's 4T trail (which stands for trail, tram, trolley, and train.) Though this self-guided path is about 4.5 miles long and can be difficult to navigate, it will give you a self-guided city experience like no other. If you really want to explore the nature of the area, a short 30-minute drive from the city will take you to Multnomah Falls, where you can see the beauty of nature by marveling at the 611-foot waterfall; trails and vantage points will complete your experience.
Pin me for later: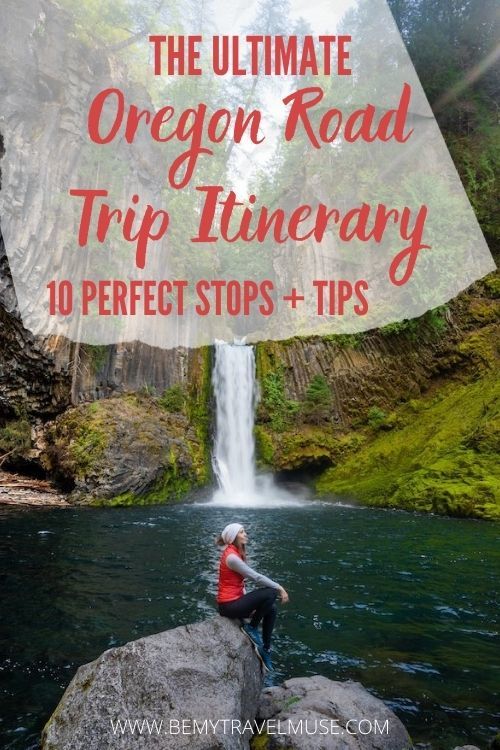 As you can see from this itinerary, Oregon isn't a one-stop state! There is tons to see, so definitely carve out time for this special part of the country. Is there a must-see location in Oregon? Let me know!