November is a magical time of year. In fact, it might be the most magical, even more so than Christmas. After all, Thanksgiving is hands-down the best food holiday, and that's a hill worth dying on.
November is also a lovely time to travel as well. As long as you avoid traveling during Thanksgiving, flights are relatively inexpensive if you plan ahead. Road trips are also great in November, because the vibrant fall colors are still intact in the northern states, and at their peaks in the deep South. In some places in the northeast, it has already started to lightly snow, while down south, it's still warm yet mild.
Here are 25 best places to travel in the USA in November:
West
1. Kauai, Hawai'i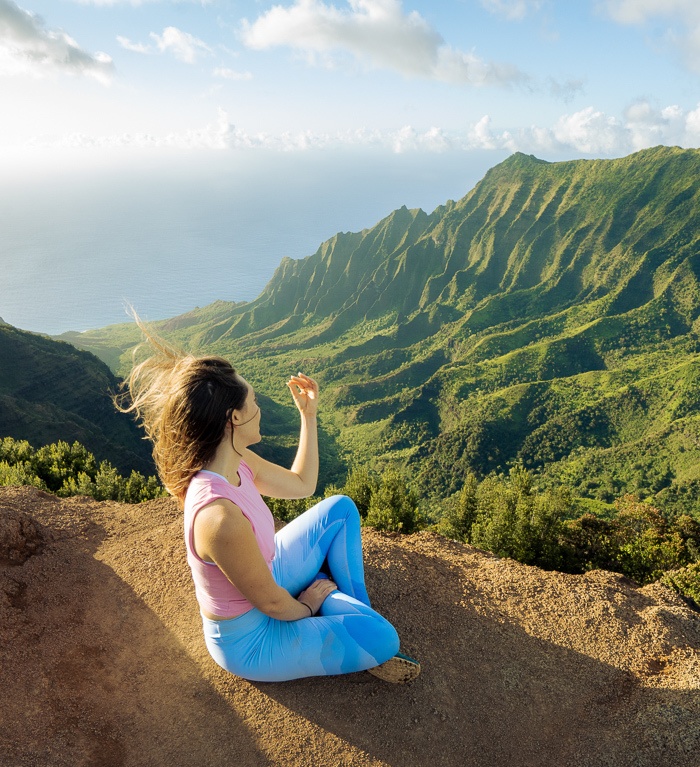 Who doesn't need a heavy dose of tropical weather before winter sets in? Treat yourself to a trip to paradise during one of the most affordable times of year. Flights and accommodations to Hawai'i are cheapest in early November and after Thanksgiving, and the weather is perfect in Kauai during this time of year. Temperatures are slightly lower than average, and it's the end of hurricane season.
Kauai is home to some of the state's most impressive scenery, like the Na Pali Coast and the Waimea Canyon. For the ultimate guide, check out our magical things to do in Kauai post.
2. Columbia River Gorge National Scenic Area, Oregon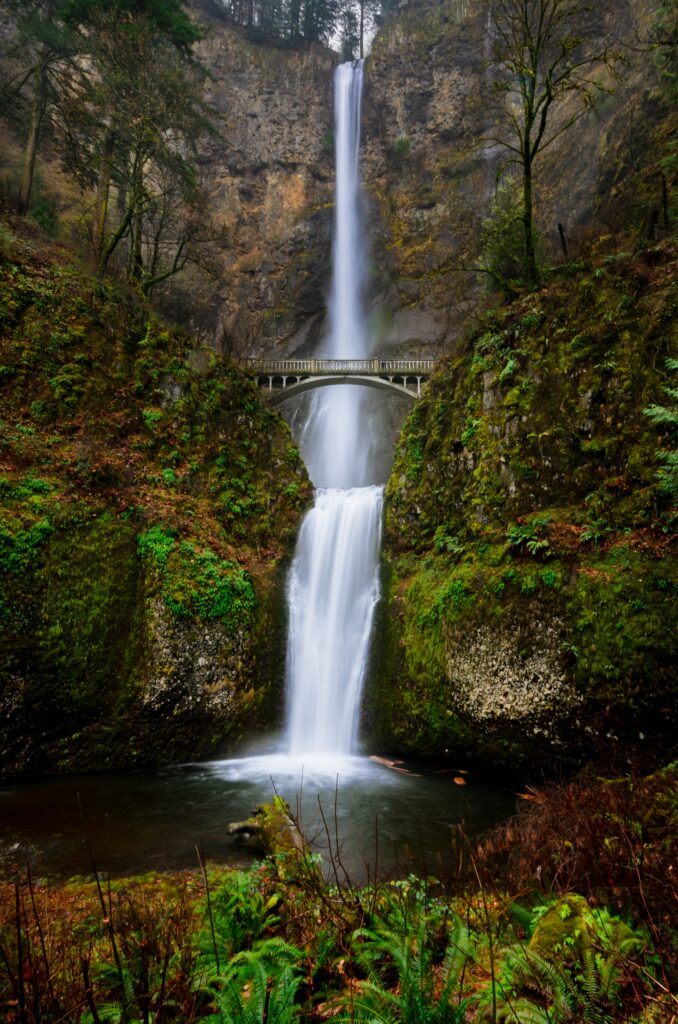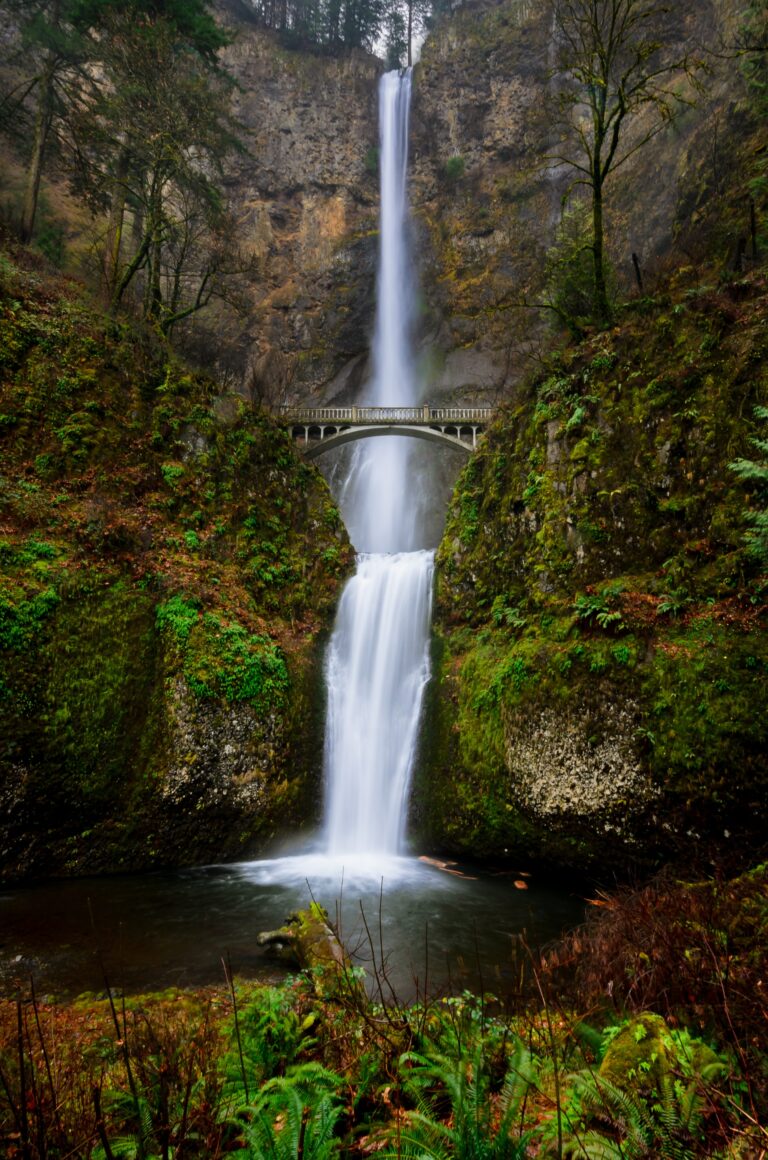 November kicks off the chilliest months in the Columbia River Gorge, but that doesn't mean it's not worth visiting during this time of year. Fall colors pop and waterfalls are flowing in this incredible national scenic area — so consider a road trip! Not only are there some of America's best waterfalls here, but you'll also enjoy jaw-dropping vistas throughout the Cascade Mountains.
If you are thinking about visiting the Columbia River Gorge while staying in Portland, this small group tour is a great option for a quick trip. Hike to Multnomah Falls, mountain bike along the trails, or explore the other car-free options for getting around the park.
3. San Francisco, California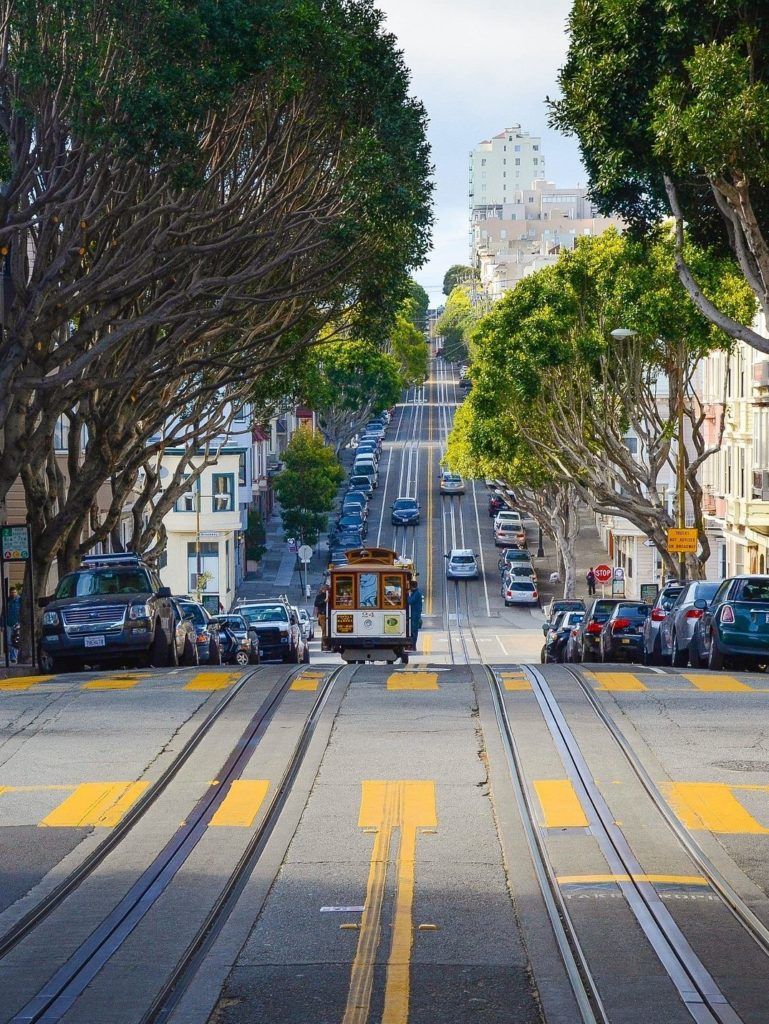 Although a visit to San Fran, California, is wonderful any time of year, November is surprisingly one of the more pleasant months, making it an ideal time to visit. The clear weather and mild climate are ideal for strolling through the city, hanging out along the bay, and visiting parks. Plus, it's low season for tourism, so you can avoid the crowds at most popular attractions.
One of the best ways to take advantage of the awesome November weather in San Francisco is by renting a bike and crossing the Golden Gate Bridge. Talk about an epic cycling adventure! Try a guided bike tour to get the most out of it.
4. Death Valley National Park, California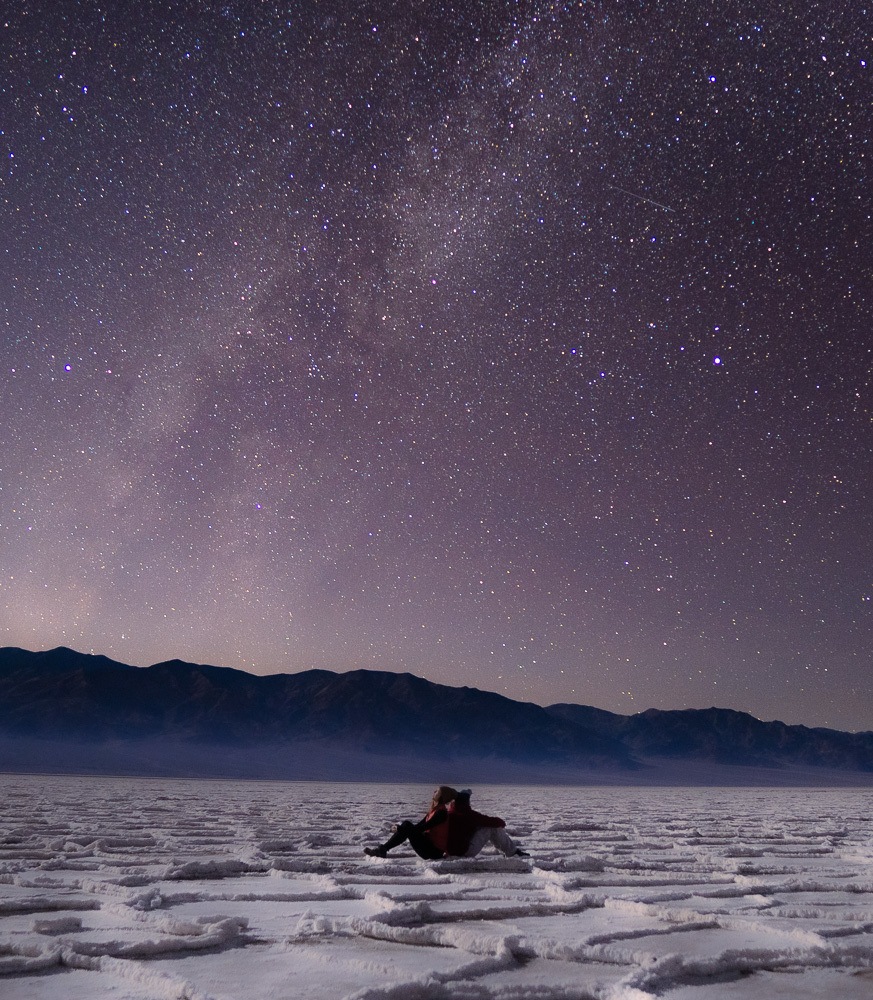 Been dying to visit Death Valley (see what I did there?) but worried about the scorching temperatures? You're in luck with a November trip to this jaw-dropping California natural wonder. November temperatures typically peak around 77 degrees Fahrenheit, making it an ideal time to visit.
The landscapes of Death Valley are unlike any other place in the world, featuring sand dunes, salt flats, colorful volcanic rock formations, and more. There are plenty of places to see and things to do in Death Valley and it's also a neat place to camp! Clear skies will give you the stargazing show of your life, too. (Read more on camping in Death Valley here.)
Southwest
5. Havasupai Falls, Arizona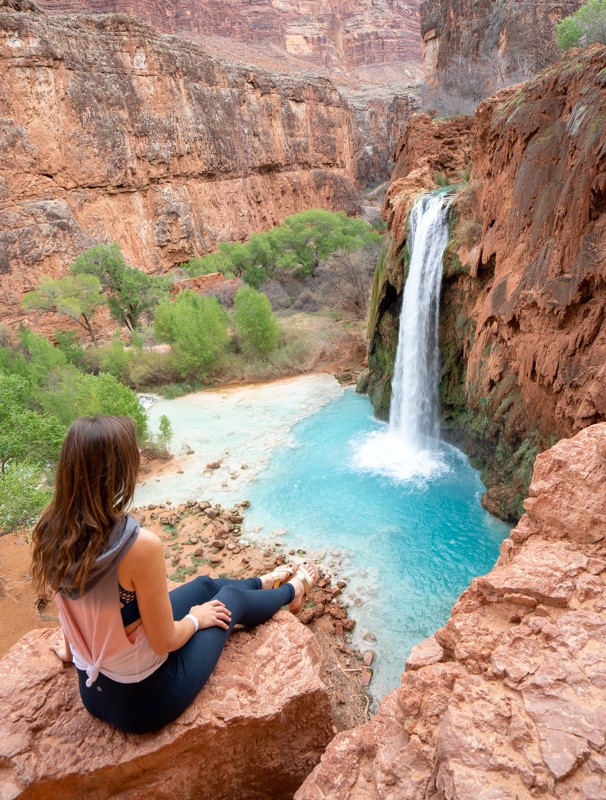 Havasupai Falls is one of those places that is sure to take your breath away as soon as you set your eyes on the bright blue water. Although it's about a 10-mile hike to get to the falls, the trip is totally worth it. While temperatures might be too cold to enjoy swimming in the water in November, you might still be able to take a dip if you're feeling brave.
The main reason why November is ideal to visit Havasupai Falls is that the usual Arizona heat is much milder. Considering the length of the hike, you'll be glad to enjoy those cooler temps.
The area is closed during the winter, starting in December, and both October and November see many fewer visitors. Less visitors = more opportunities for moments of solitude like the one in the photo!
6. Sedona, Arizona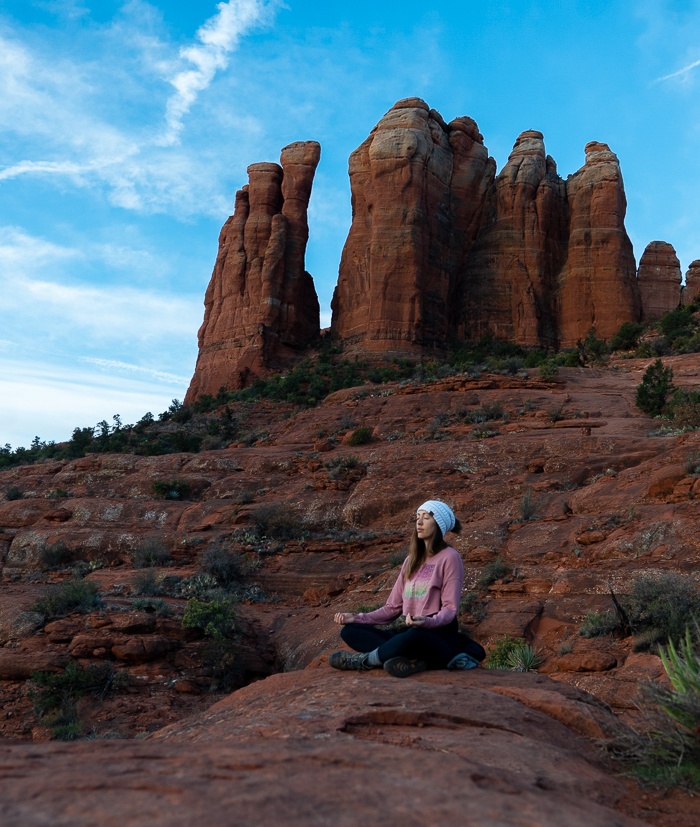 Have you been dying to visit Sedona but a little wary about the Arizona heat? Try visiting in November! Late fall is a mesmerizing time to visit this gem of a city, and the weather is perfect for a daytime hike or even a full-on backpacking adventure. Temperatures are mild during the day, hovering around 65 degrees Fahrenheit, and cool at night.
With fewer people out on the hiking trails around Sedona, you'll enjoy some peace and solitude among the red rocks. Besides hiking, there are plenty of awesome things to do in Sedona. Since this vibrant city is known for its energy vortexes, it's also a cool place to learn about and try energy healing.
7. Zion National Park, Utah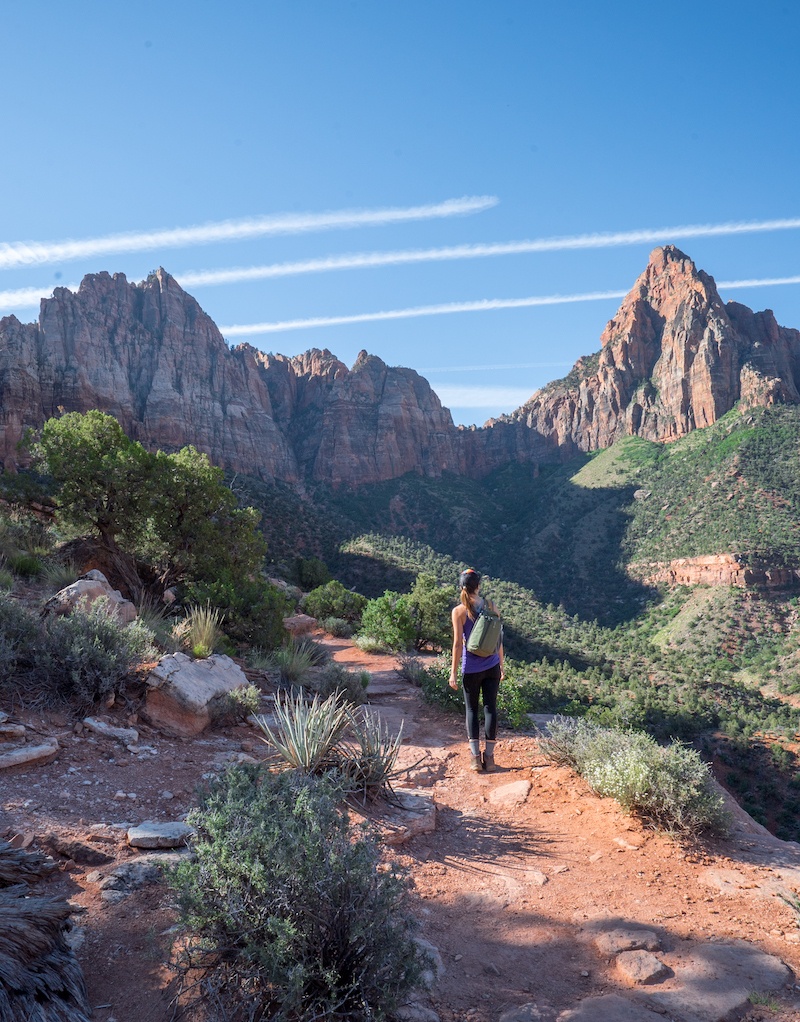 If you want to experience the wonders of Zion National Park without the crowds, November is just the right time to do it. Not only can you have parts of this incredible place to yourself but you'll also enjoy mild temperatures and clear skies. Admire the still-colorful late autumn leaves while you embark on one of many awesome hikes in Zion National Park. Want to take your fall colors tour to the next level? See the changing scenery from the air on this helicopter tour!
Nights are chilly in November, but camping in the park is totally doable with the right preparation. Even if you're not a fan of camping, the dazzling night skies of southern Utah in November will make it worth it.
Traveling to Zion solo this November? Don't miss out on our solo travel in national parks guide.
8. Santa Fe, New Mexico
Santa Fe, New Mexico, is sure to capture your heart. Known for its artistic vibe, this quirky southwestern city, home to the Georgia O'Keeffe Museum, has a unique character that makes it stand out from other places in this region of the USA.
November is a great time to visit Santa Fe, as temperatures are only mildly chilly and the days are sunny. Consider heading out on an epic New Mexico road trip and stopping at loads of other sweet spots along the way!
9. Boulder, Colorado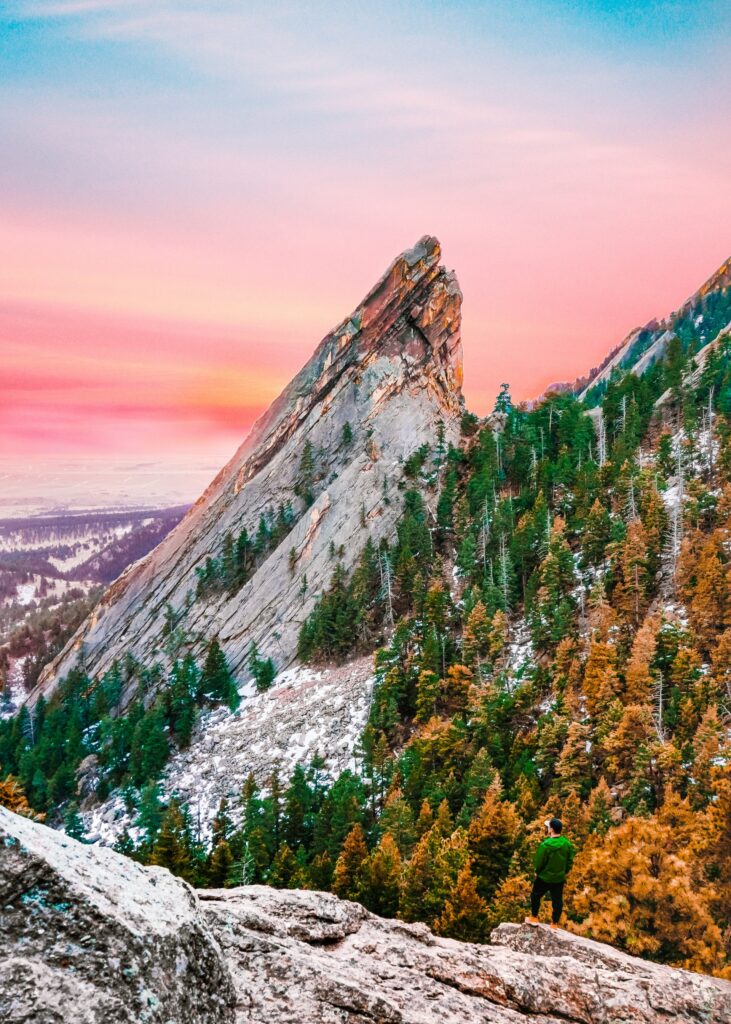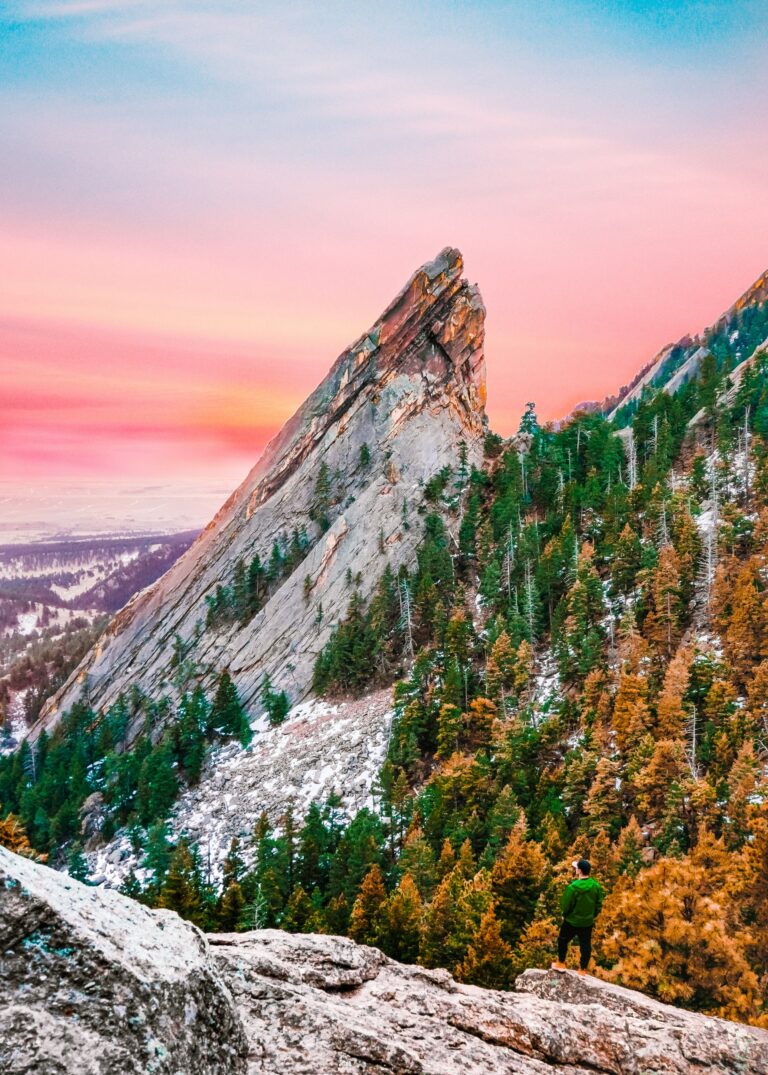 If you don't mind a bit of chilly weather with a small risk of snow, November is a great time to visit Boulder (or go on a road trip!). Maximum temperatures average from 58 degrees Fahrenheit early in the month to 47 degrees just after Thanksgiving — so, cold but not unbearable. Holiday festivals and markets start up in November, so you'll be able to enjoy the seasonal cheer early in Boulder!
The city has an artsy, eclectic atmosphere that is especially colorful in November. NoBo Art District hosts a First Friday self-guided tour of studios and galleries, which is a fun way to get a taste for Boulder's art scene. November is also a great time to get outdoors for a hike in and around this mountain town.
10. San Antonio, Texas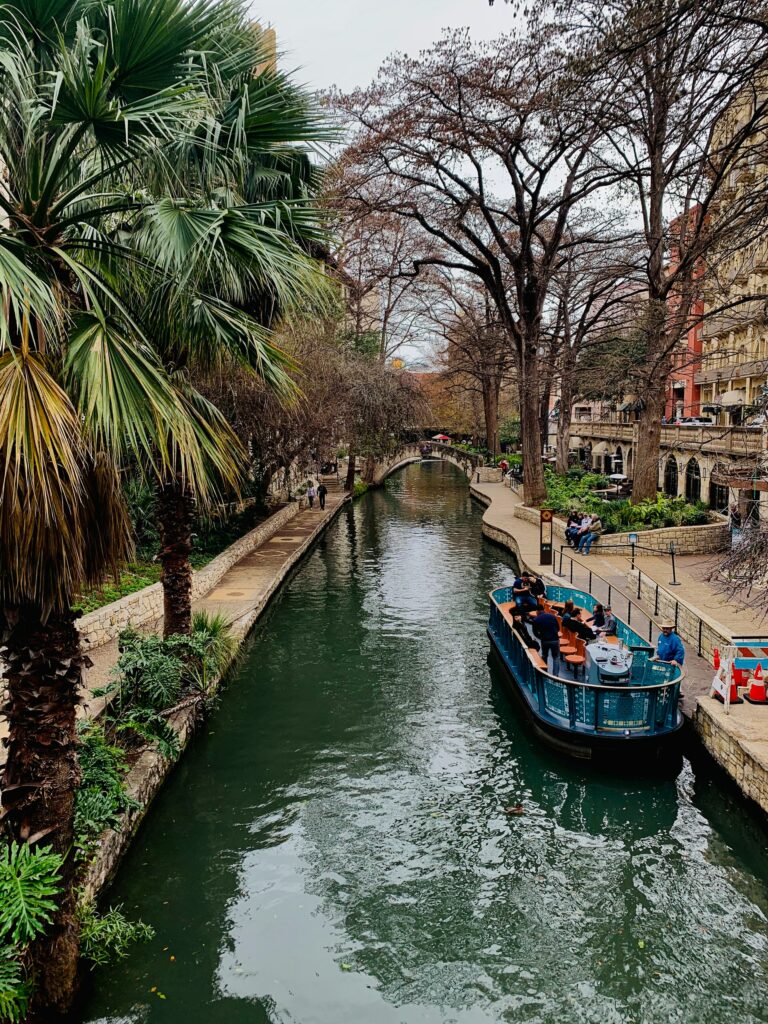 Not only does San Antonio have a wealth of history to learn about, it's also bursting with Mexican culture. If you can get there by the first or second of November, you'll be able to catch the epic Día de los Muertos celebrations, which are spectacular.
If you can't make it for that, you can still get in on a spooky adventure with this Haunted Walking Ghost Tour. You also won't want to skip out on seeing the city's Mexican market, El Mercado.
With sunny days and temperatures reaching the low 70s during the day, November weather in San Antonio is absolutely perfect.
Midwest
11. The North Shore, Minnesota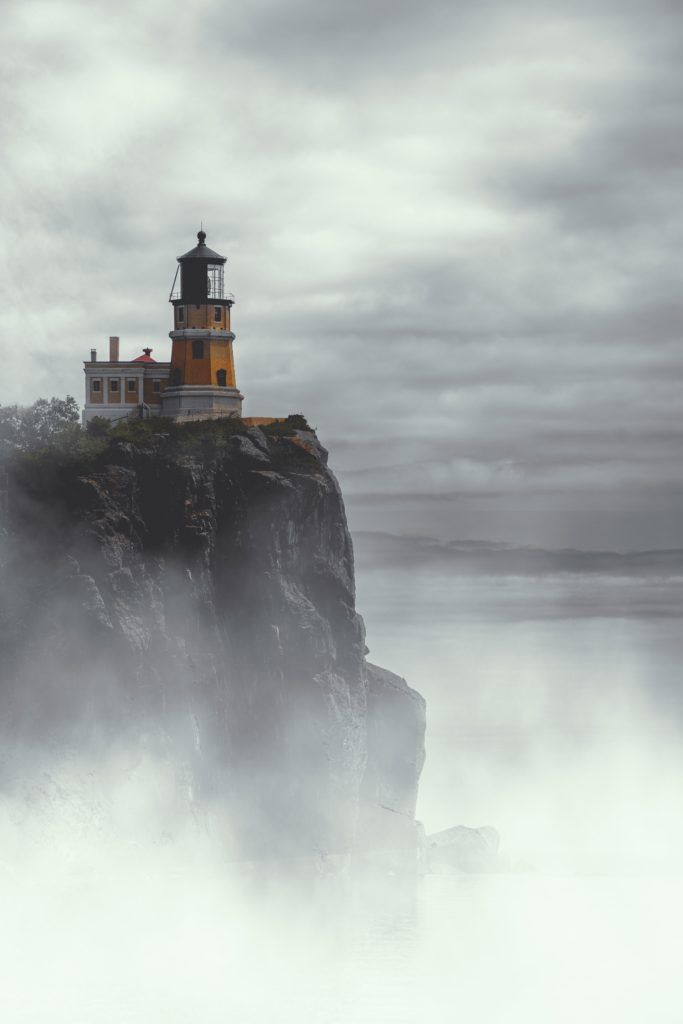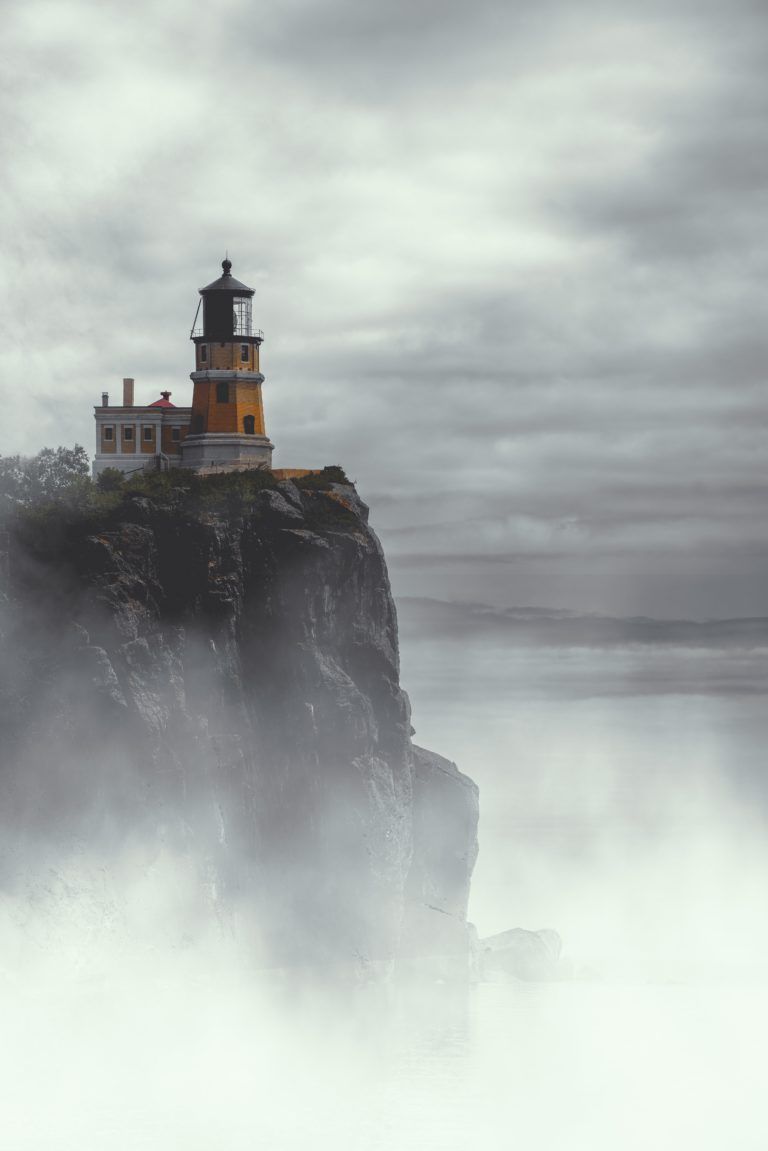 This might not be a super specific destination per se, but it's definitely worth a mention. Minnesota's North Shore is a stretch of about 110 miles between Duluth and Grand Marais, an excellent road trip in the fall. While you won't be able to swim in the frigid waters of Lake Superior during November (unless that's your thing), this journey is totally worth it.
You'll catch the end of the autumn colors, plus the downward dip in tourism means cheaper accommodation if you choose to stay overnight along the route. This road trip can be as short or as long as you'd like, and there are plenty of incredible places to stop along the way. You'll see gushing waterfalls, quaint lighthouses, pebbly beaches, and more!
12. Wisconsin Dells, Wisconsin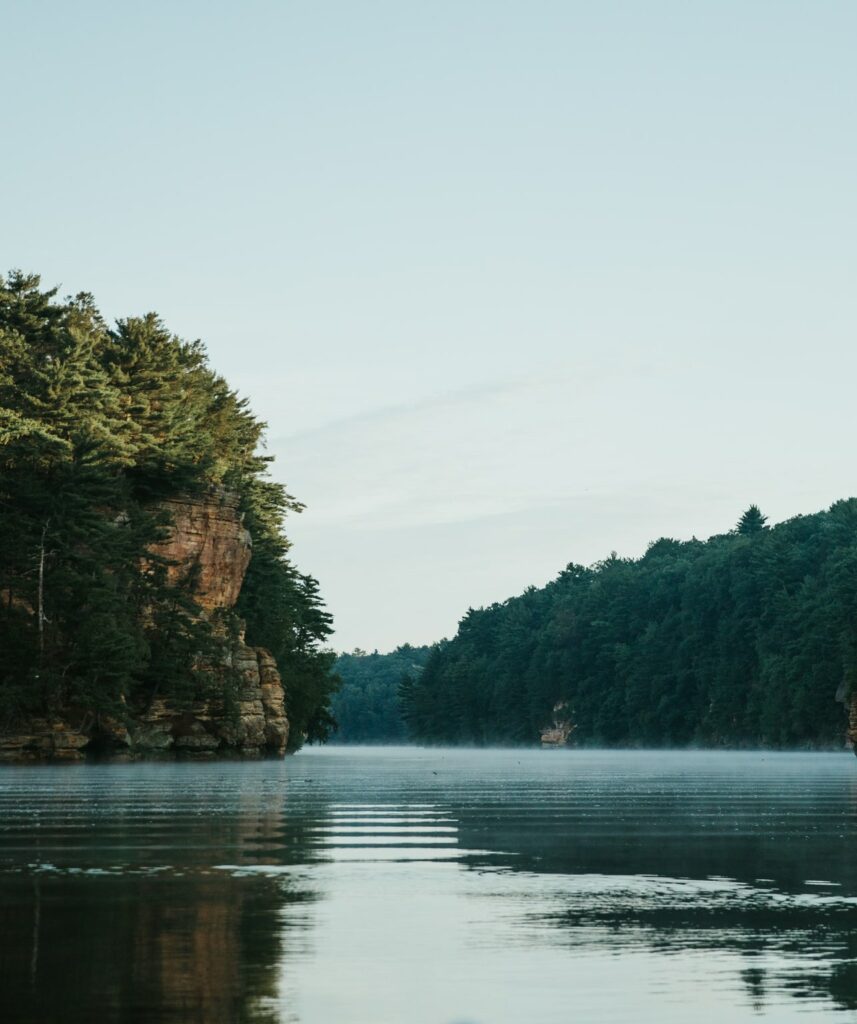 The Dells is a theme park-filled city in Wisconsin just north of Madison. You'll find some of America's best water parks here, plus some wonderful outdoor adventures and neat museums. November is a spectacular time to go, not only because of the down dip in tourism but also for the crisp fall air and colorful trees.
If you're headed to the Wisconsin Dells this November, be ready to unleash your inner child. With so many fun things to do for kids and adults, you'll be entertained for days. Choose from go-kart tracks, boat tours on the river, and the quintessential "duck" rides, which are motor vehicles that can put away their wheels and become boats. Yep, real Transformer vibes!
13. Chicago, Illinois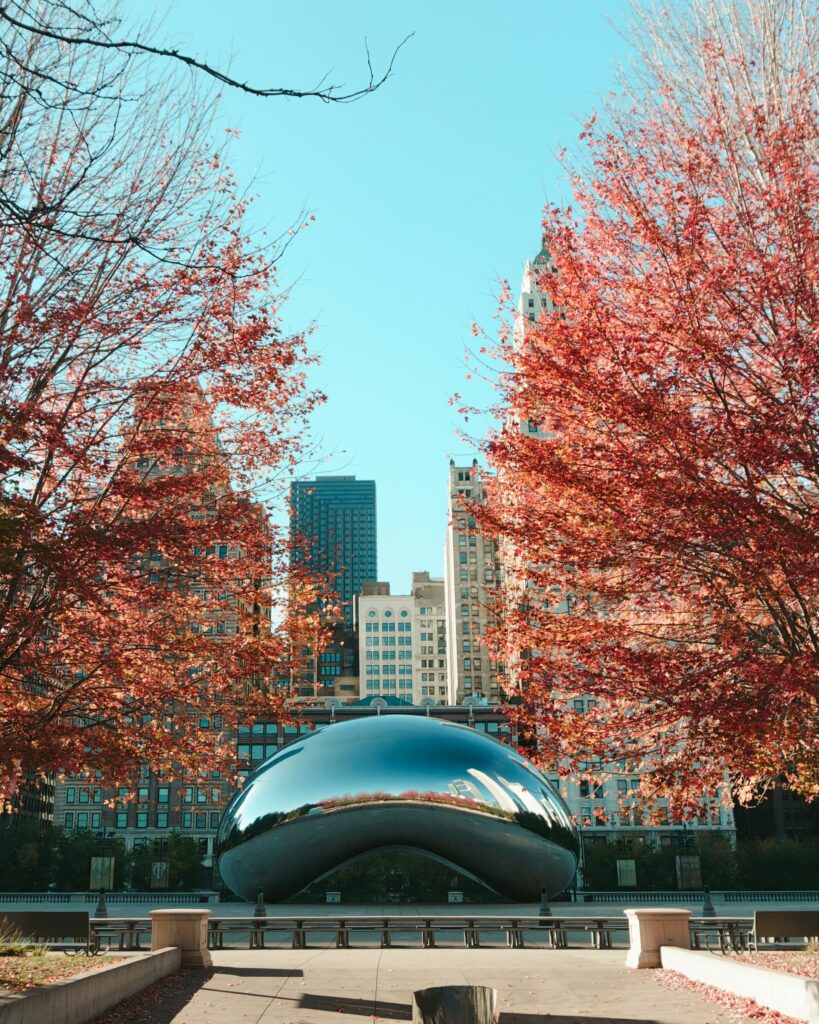 With fall winding down in the Windy City, get a head start on the holiday festivities and enjoy much lower prices on accommodation during this quieter time. Chicago tends to get its Christmas decorations out by mid-November, transforming the city into an even sparklier and dazzling wonderland. Visit toward the end of the month to catch the beginning of the glorious Christkindlmarket.
Since it's pretty chilly by November, you'll want to take advantage of the selection of indoor activities, like museums, theaters, and galleries. Get a lay of the land on this hop-on-hop-off tour.
You can also take advantage of a bunch of free things to do in Chicago, which means more room in your wallet to take advantage of Chicago's incredible food scene. Don't skip the deep-dish pizza, either. Take it from a Chicago native: Lou Malnati's is the best.
14. Traverse City, Michigan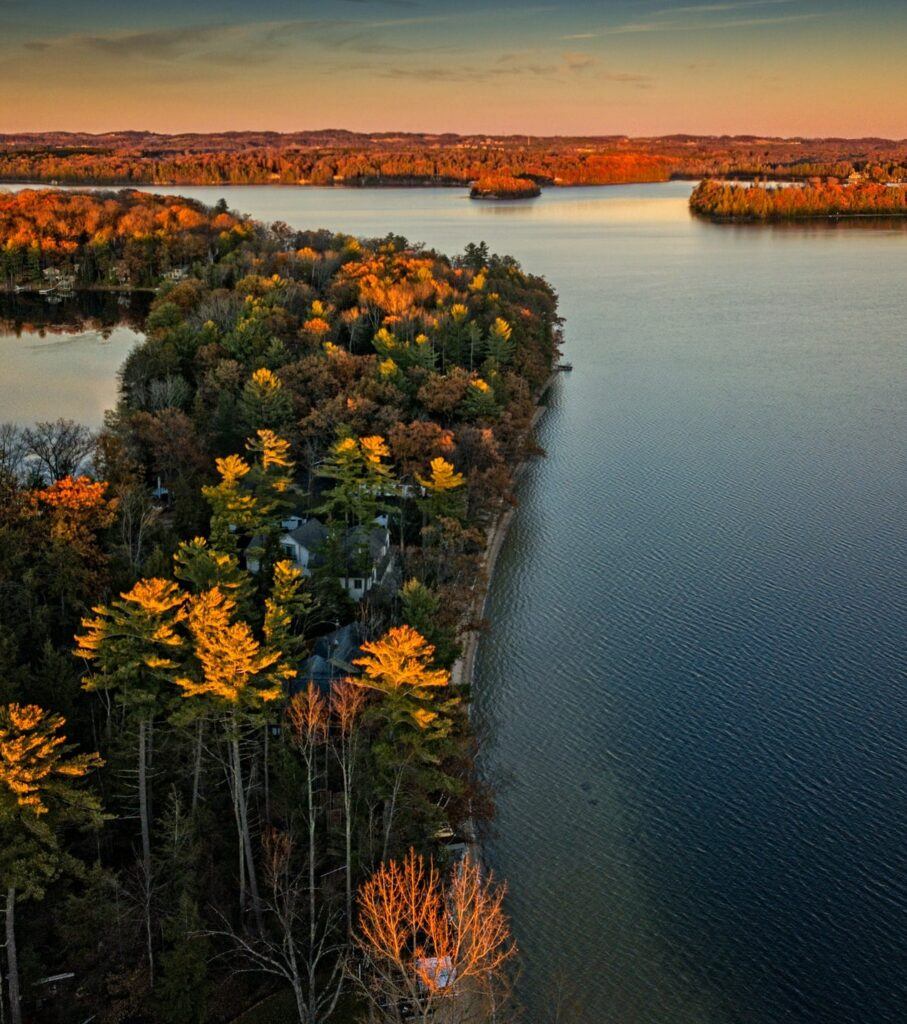 There are few places in the USA that are almost equally fantastic to visit during all four seasons. Traverse City is one of those — it has awesome things to do during any time of year.
You might think that a lakeside city is only worth visiting in the summer, but late fall is just as picturesque! The foliage in and around Traverse City is still mostly intact by November, so a road trip around the area to take in the scenery is a dreamy daytime activity in itself. Plus, Sleeping Bear Dunes National Lakeshore, a quick drive away, is gorgeous in the fall.
South
15. Louisville, Kentucky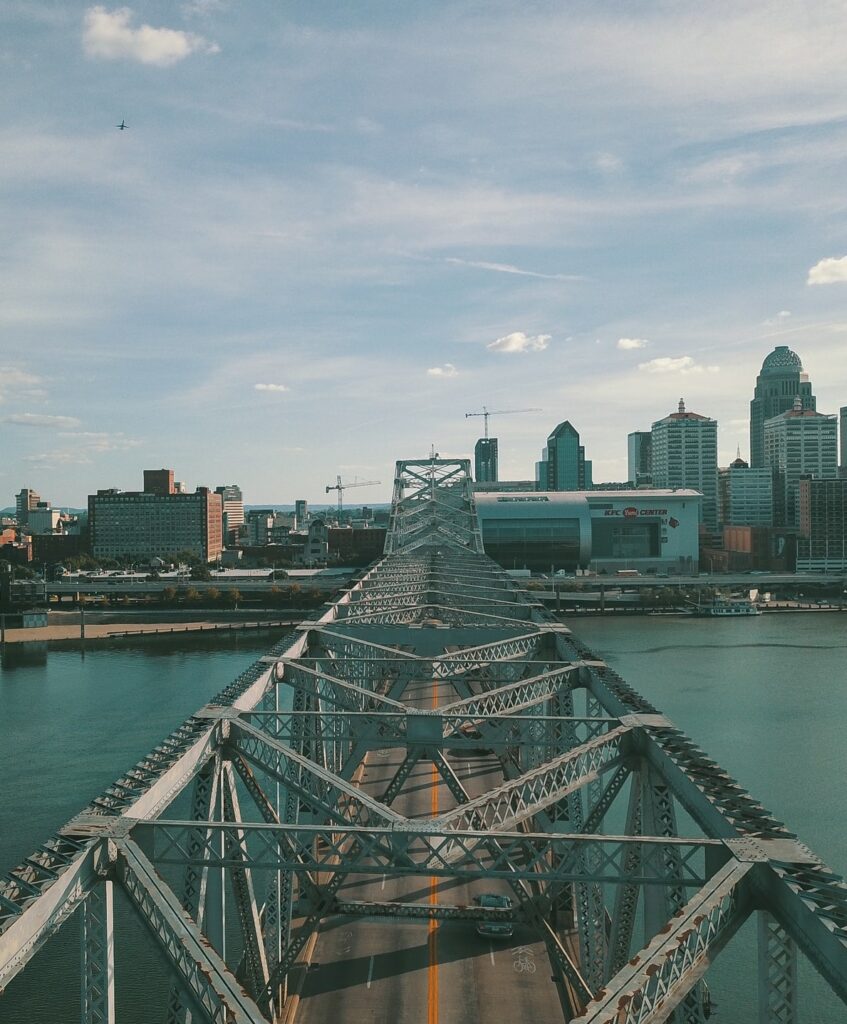 Louisville sort of feels like an underdog city. It's often overlooked, and it's about time to change that! It's full of captivating history, quirky art, and cultural gems. It's also a severely underrated food destination and has a delightful selection of cafés, diners, distilleries, and more.
November offers mild temperatures, ranging between 51 and 63 degrees Fahrenheit, rarely dipping below the 40s. You'll get the best sweater weather without the chill of more northerly states. It's perfect for enjoying all the amazing things there are to do in Louisville!
16. Great Smoky Mountains National Park, Tennessee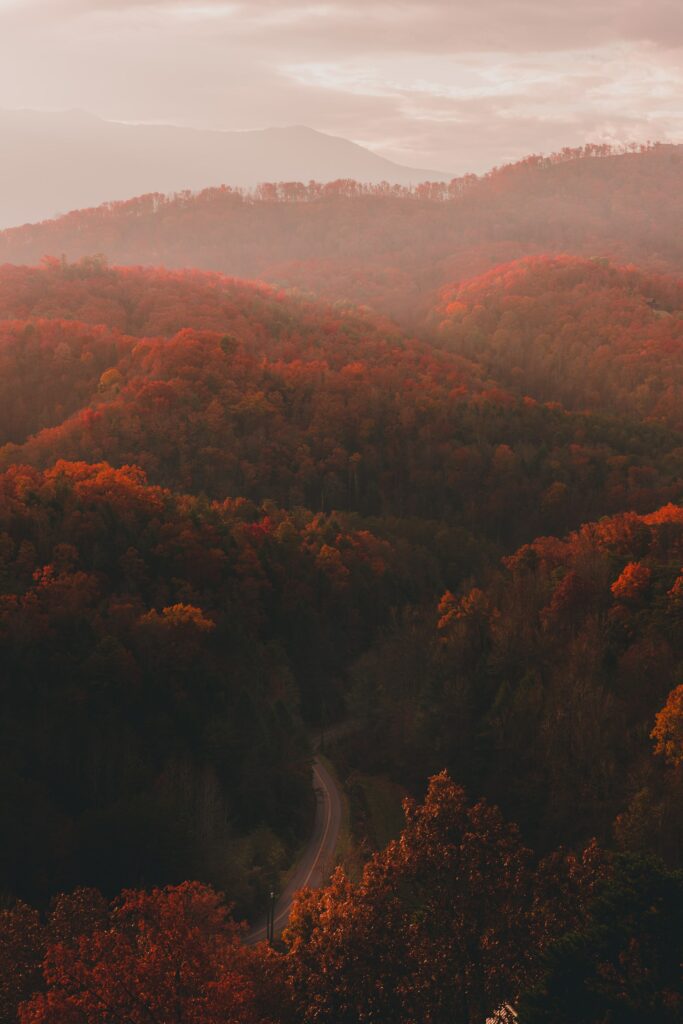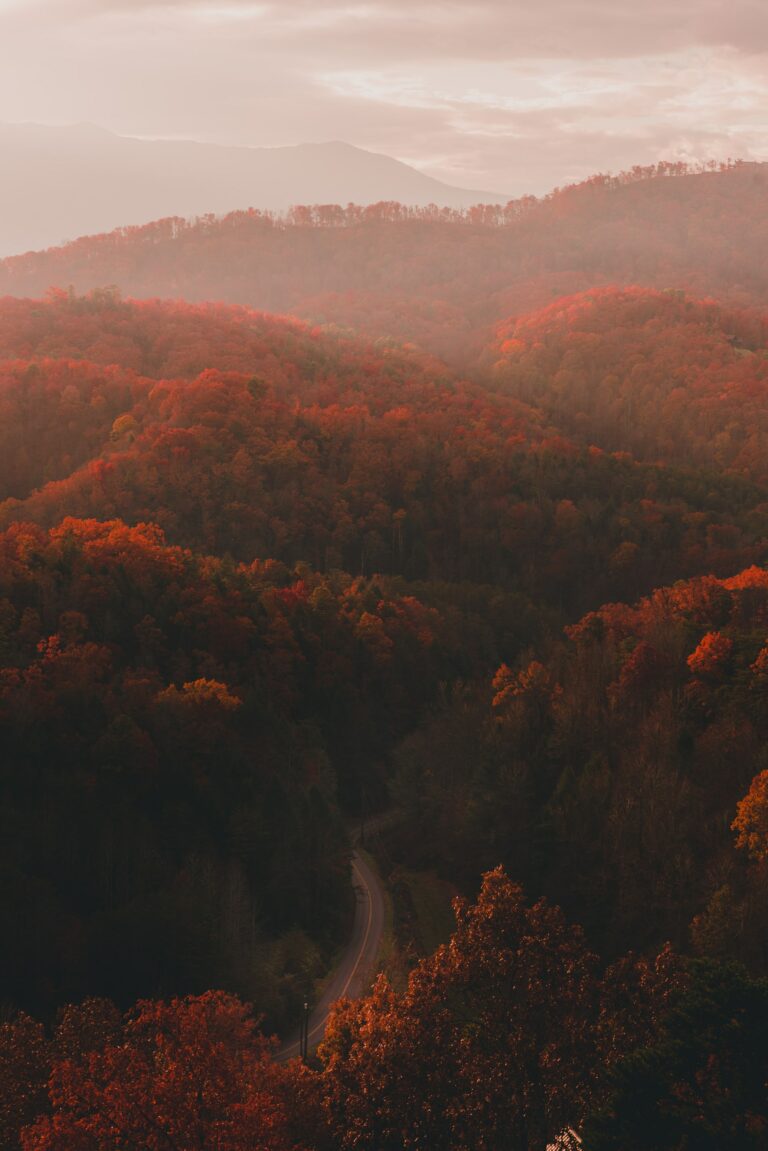 While October attracts crowds to check out the fall colors in Great Smoky Mountains National Park, November brings many fewer visitors while still having great fall foliage to admire. Hiking trails are plentiful in the park; the best ones to check out during this time of year are Alum Cave Bluffs and Rainbow Falls for their stellar views.
A fun way to see the park is to take a three-hour guided Jeep tour. It starts in Pigeon Forge, climbs up to Newfound Gap, and finishes off with an adrenaline-pumping off-road adventure. This is an awesome way to get the lowdown on the park's history, geology, and more while having a blast!
17. Savannah, Georgia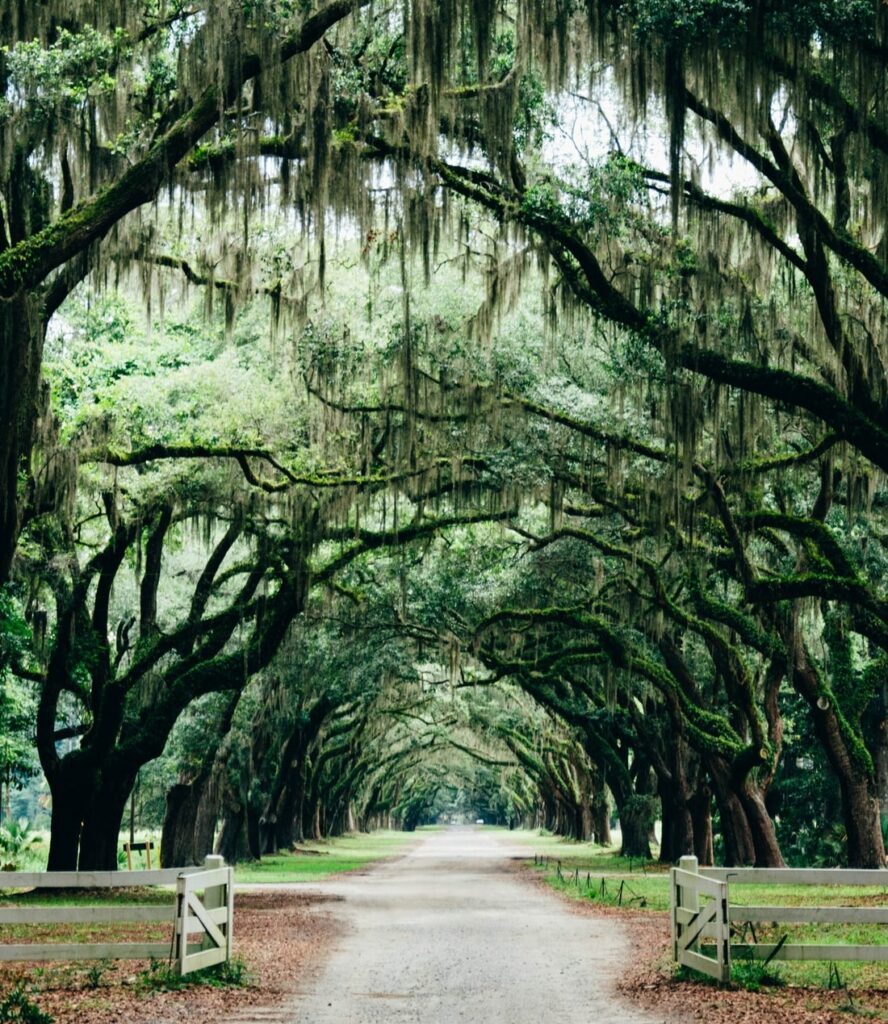 You might associate Savannah with insane humidity, and if that's a turn off for you, autumn brings good news! November there means low humidity with the least average rainfall, making it your best opportunity to visit. Take advantage of the lovely weather to stroll through the Historic District, or take a hop-on-hop-off trolley tour.
While you take on Savannah by foot, trolley, bike or car, check out Factors Walk, River Street, and Jones Street. Want more ideas? We have you covered with a complete Savannah travel guide.
18. Florida Keys road trip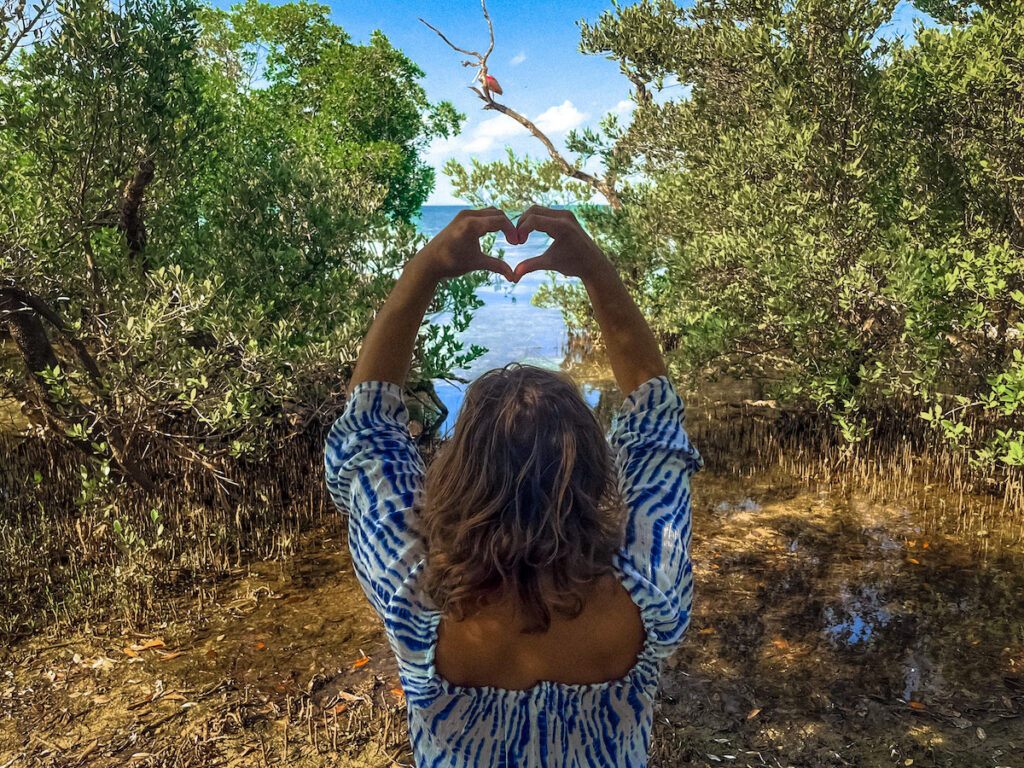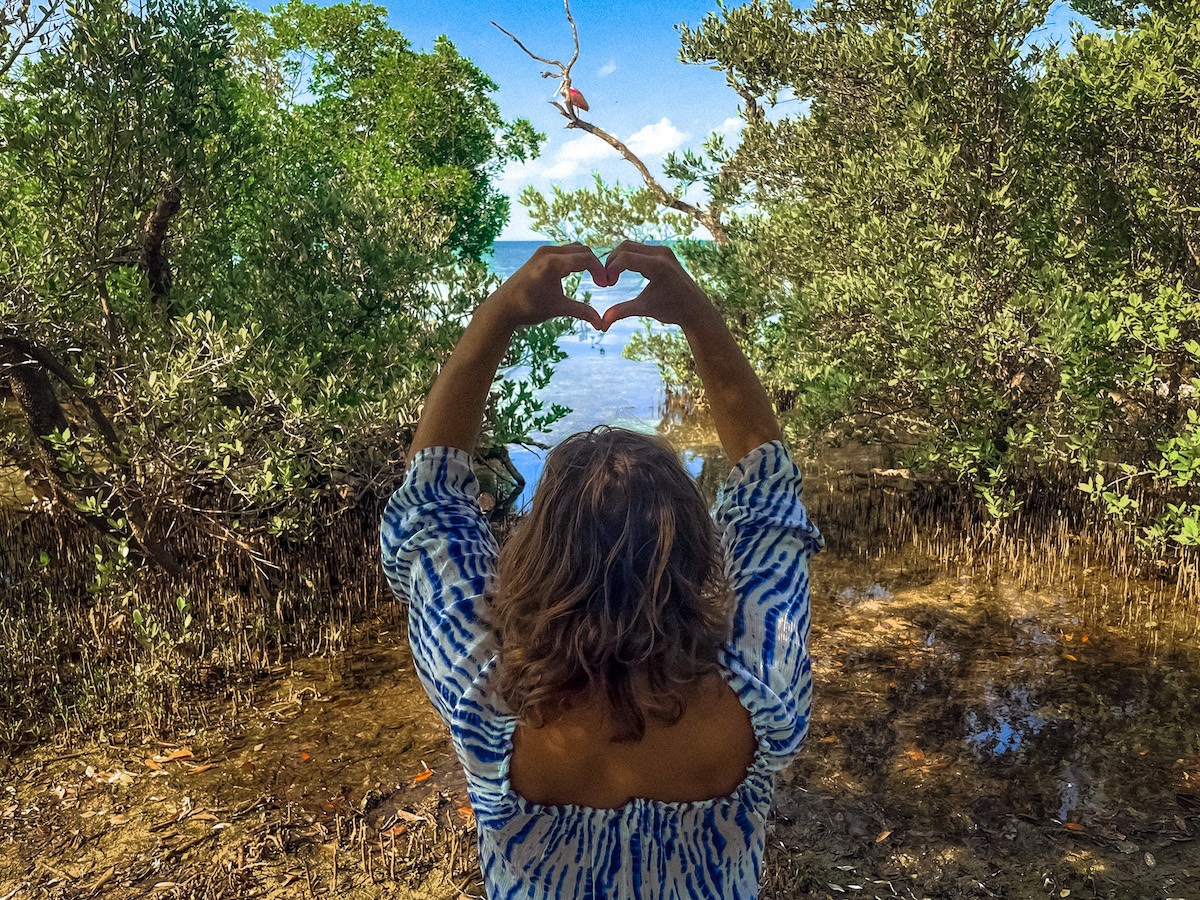 The Florida Keys are the ultimate destination for a taste of the Caribbean, and November is one of the best times to go. Take a one-week road trip from Key Largo to Key West and hit all these amazing things to do along the way.
The Keys are definitely a water-oriented destination, and because of the Gulf Stream, the sea is still warm, so you can go still do things like go snorkeling in Key Largo, hop on a sunset cruise in Key West, and explore the mangroves on eco-tours in Islamorada. (If you're new to Florida, we have a solo female travel guide to help you get oriented.)
While it's still hurricane season, they are more rare in November. As a result, you'll probably have beautiful weather, smaller crowds, and lower prices.
19. Everglades National Park, Florida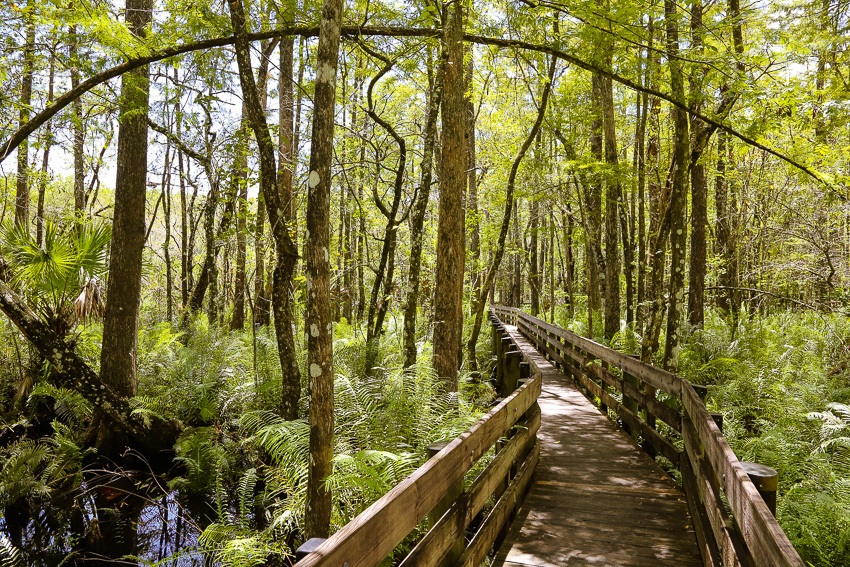 If you're an avid BMTM reader, you might be thinking "Girl, you tell us to go to the Everglades on every post like this" — and you're not wrong. The reason that Everglades National Park makes it onto so many of our lists is because it's truly a national treasure.
The Everglades has a whole host of neat hiking trails that show off the park's epic scenery and wildlife. It's also essential to take at least one airboat ride through the wetlands.
November marks the tail end of hurricane season in southern Florida. It's also less hot and humid as it is in the summer months, plus there's the added bonus of being less crowded: a win-win!
Northeast
20. Washington, DC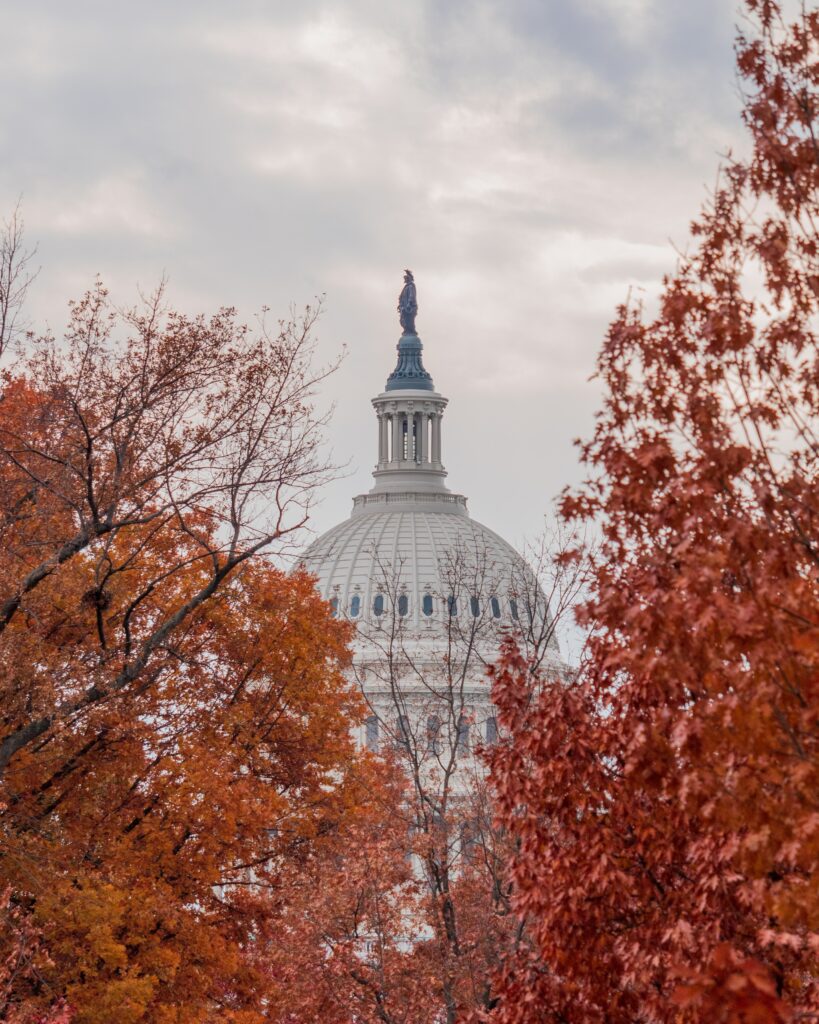 Maybe last time you visited DC you spent way too much time waiting in lines to enter your favorite museums. We've all been there! This time, try visiting our nation's capital during the month of November, when there are far fewer tourists. Plus, if you visit at the end of the month, you'll be able to catch the beginning of the Downtown Holiday Market.
A fabulous way to get acquainted with the sights in Washington DC is to take a tour when you arrive. This Moonlight Nighttime Trolley Tour not only will take you to some of the city's most important landmarks but gives you a sense of how DC comes alive in a totally different way at night.
21. New Hope, Pennsylvania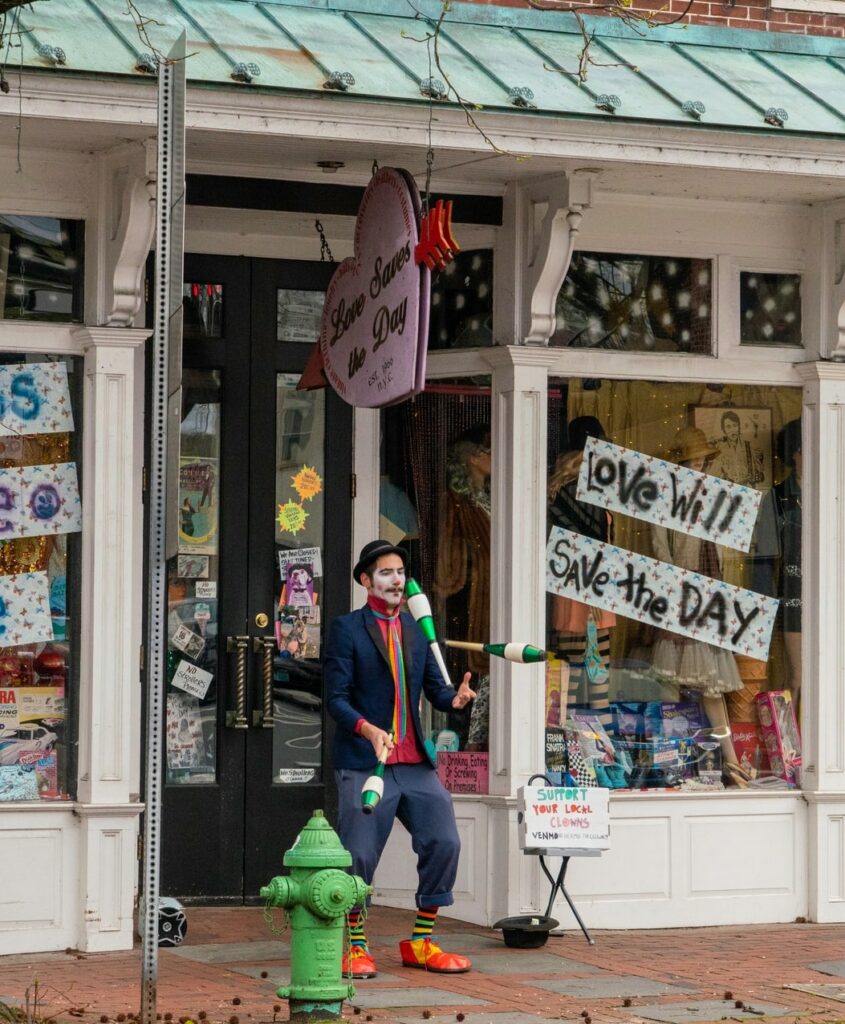 Small towns have big personalities, and New Hope, known for its quirky shops, art galleries, and overall bohemian vibe, is one that you'll want to get to know.
Stroll down Main Street to get a feel for New Hope's unique flair, making sure to stop in at one of the many restaurants with a riverfront view. This time of year has beautiful fall colors, and there's even a wildflower preserve nearby where you can see which blooms are in season in November.
Add New Hope to your East Coast road trip or make it a quick weekend getaway if you're based nearby.
22. New York City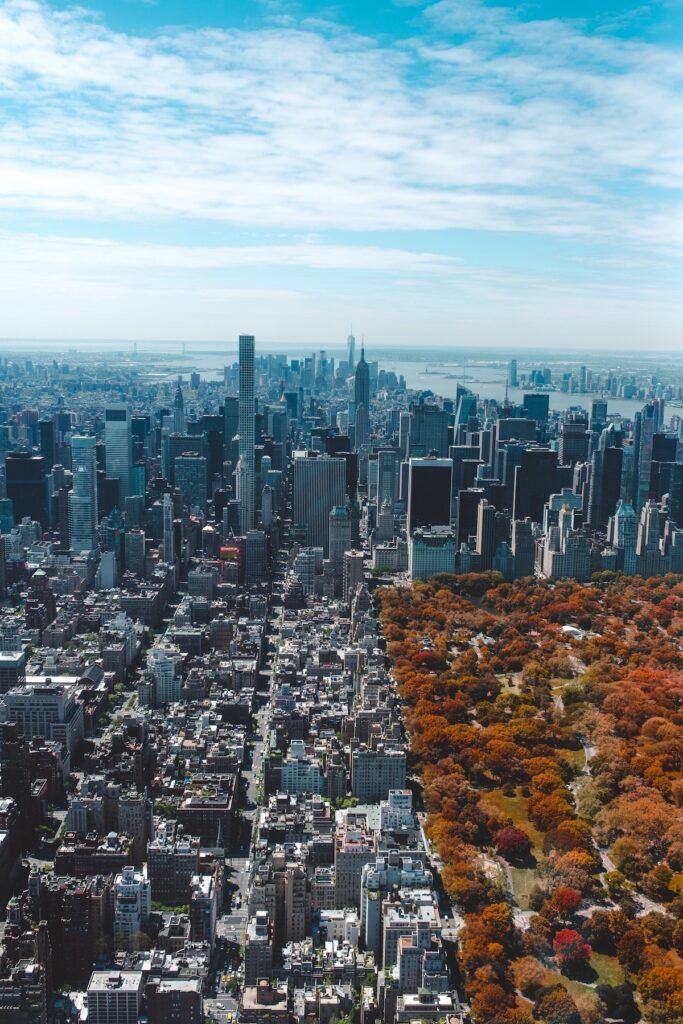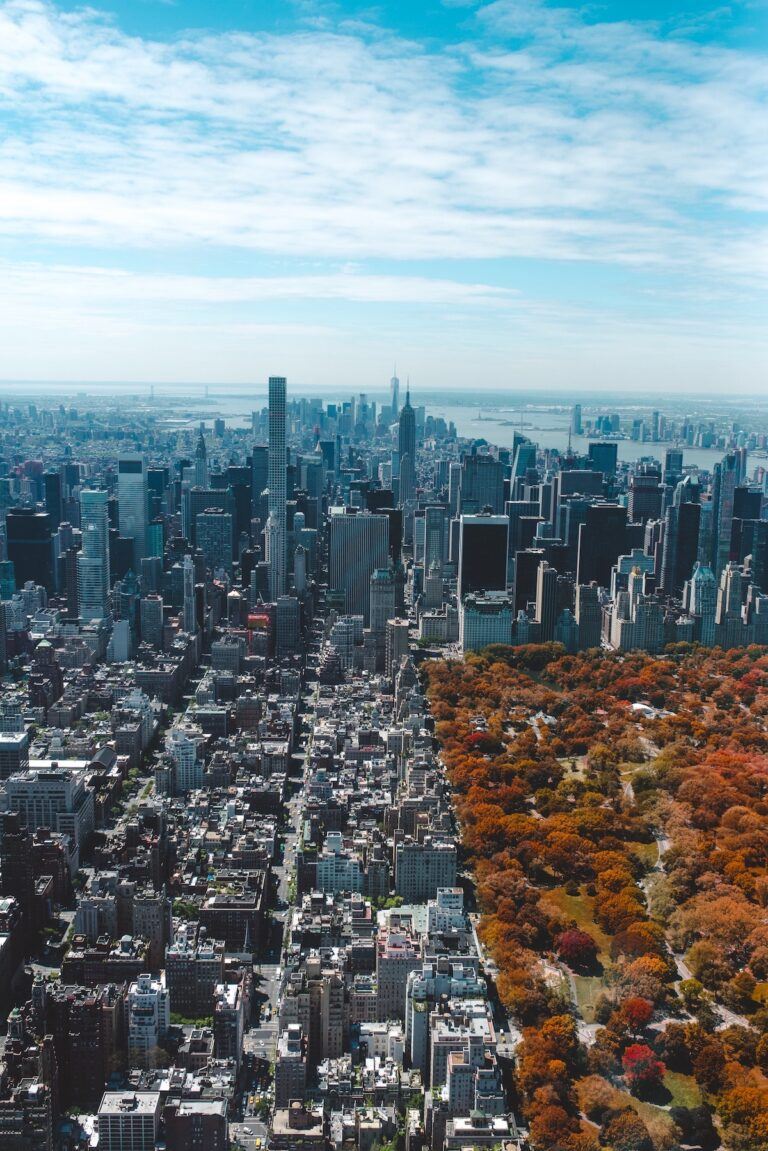 Similar to Chicago, NYC is gearing up for the holidays as early as the first week of November. Enjoy the seasonal charm before the madness begins in December by getting a head start. You'll also be able to take in the fall colors in Central Park, where you'll find the dark orange and yellow leaves still hanging on to the trees.
The crisp late-fall weather gives the whole city a cozy atmosphere. Take a walk across the Brooklyn Bridge at sunset to see the fall foliage complemented by golden rays of sun. Talk about a When Harry Met Sally… moment! This kind of stroll is one of the many free things to do in NYC, so take advantage of the freebies while you visit.
23. Newport, Rhode Island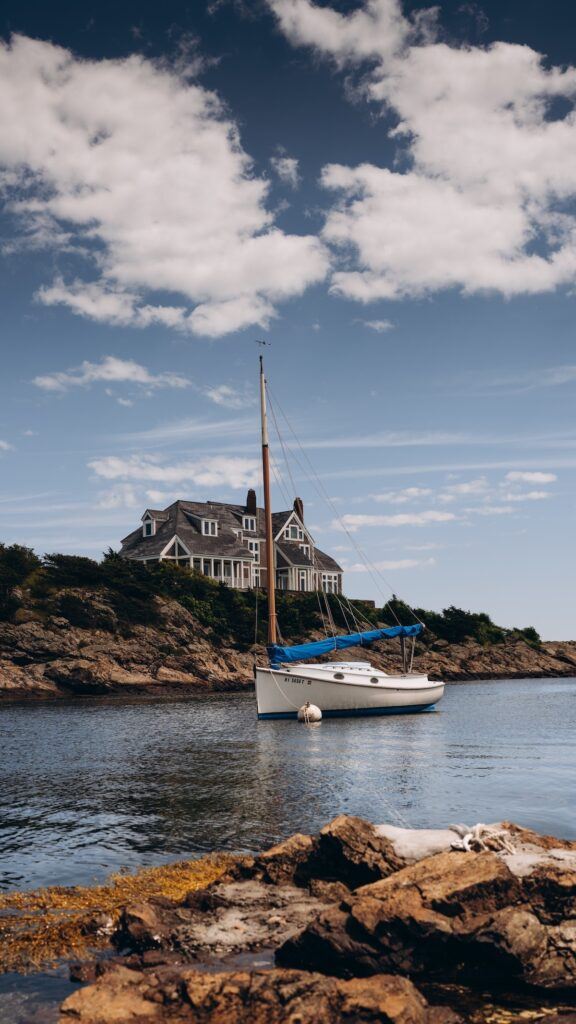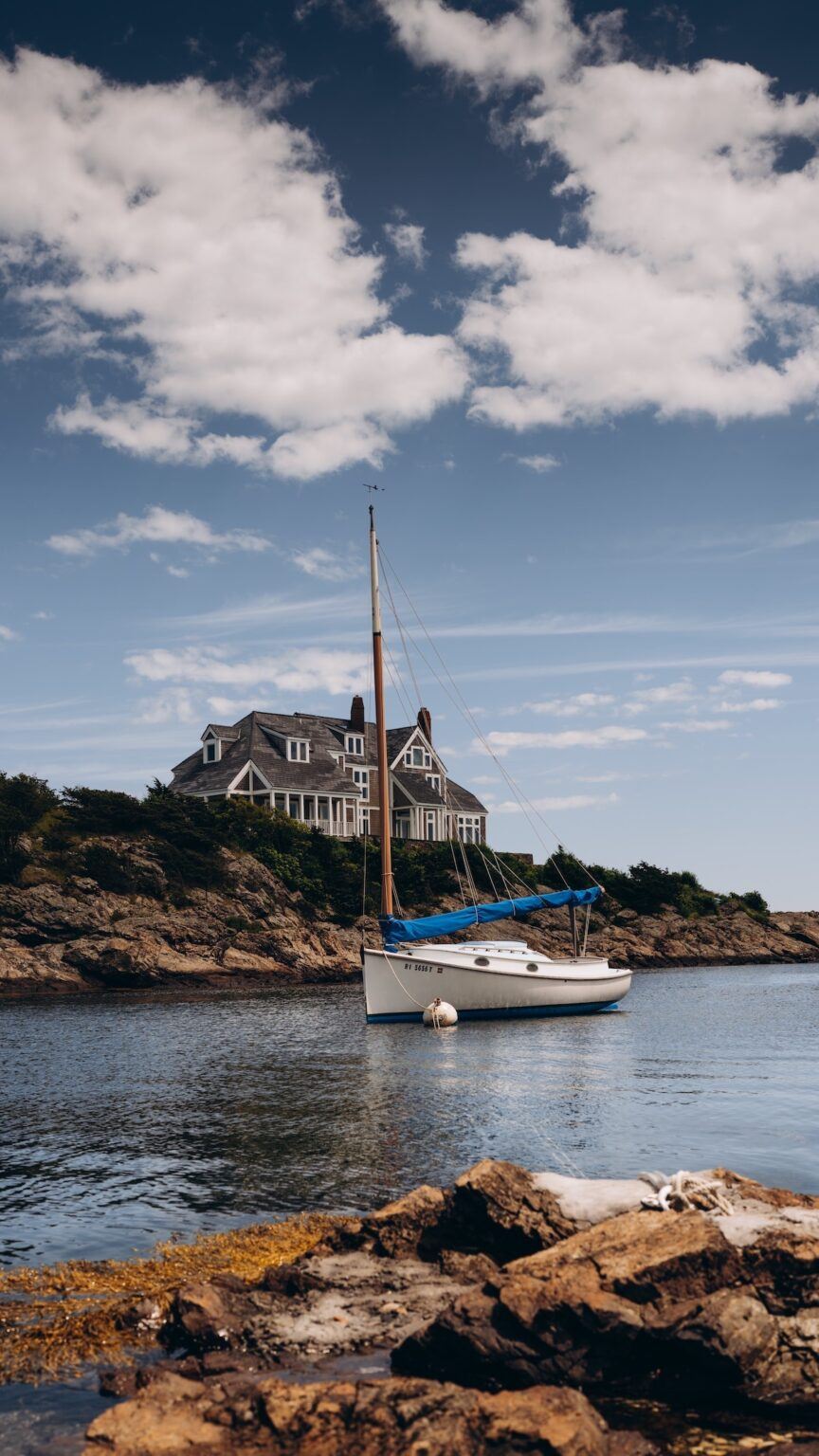 Although Newport is America's yachting capital, the chilly November air isn't ideal for getting out on the water. However, this charming seaport city is just as lovely in late fall as it is during high season in the summer. Newport is home to extravagant mansions from the Gilded Age and a bustling downtown full of artsy shops, boutiques, and restaurants.
Late November marks the beginning of holiday festivities in Newport. The Preservation Society of Newport County puts up remarkable decorations inside and outside of the city's most notable mansions, taking holiday cheer to a whole new level. The holiday decorations are fun to see from a trolley tour through town as well!
24. Salem, Massachusetts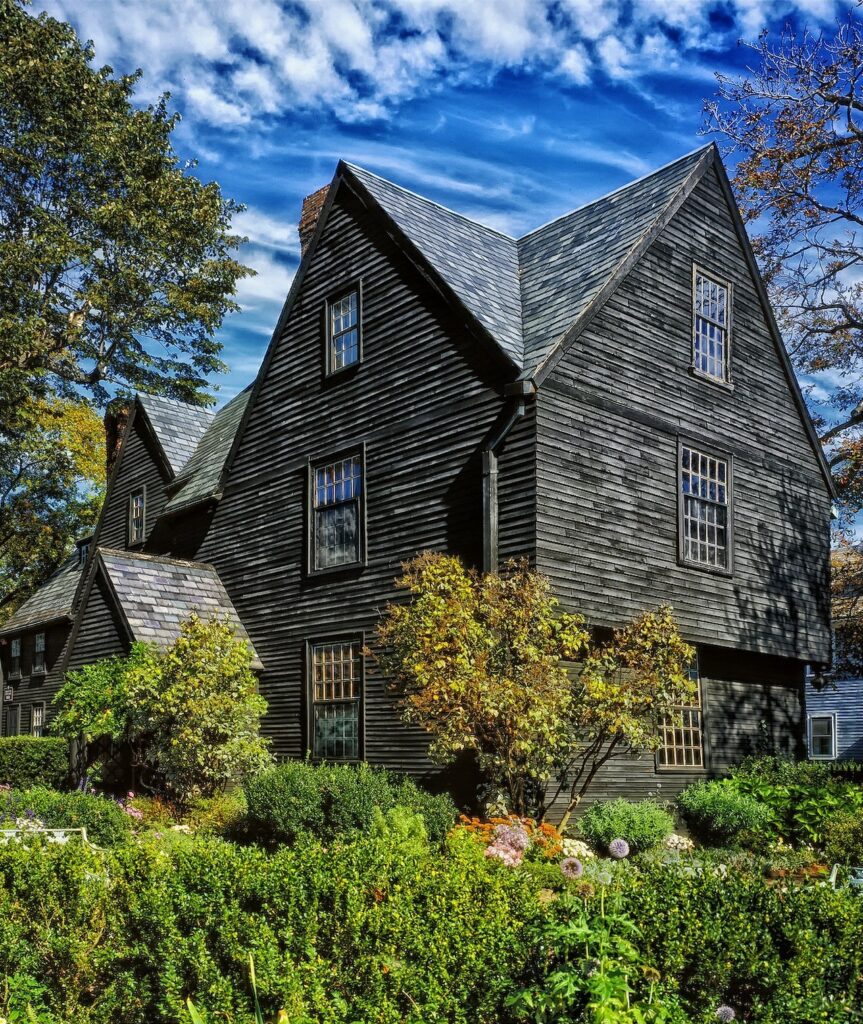 If you want to experience one of the world's most popular Halloween destinations without the crowds, head to Salem in November. By the first week of the month, you'll still be able to appreciate the spooky essence of the place without the hoards of Halloween tourists.
Don't miss out on a stop at the Salem Witch Museum to learn about the town's notorious history. Can't get enough of the paranormal? Go on a guided ghost tour, which features a haunted cemetery and the Witch House!
25. Plymouth, Massachusetts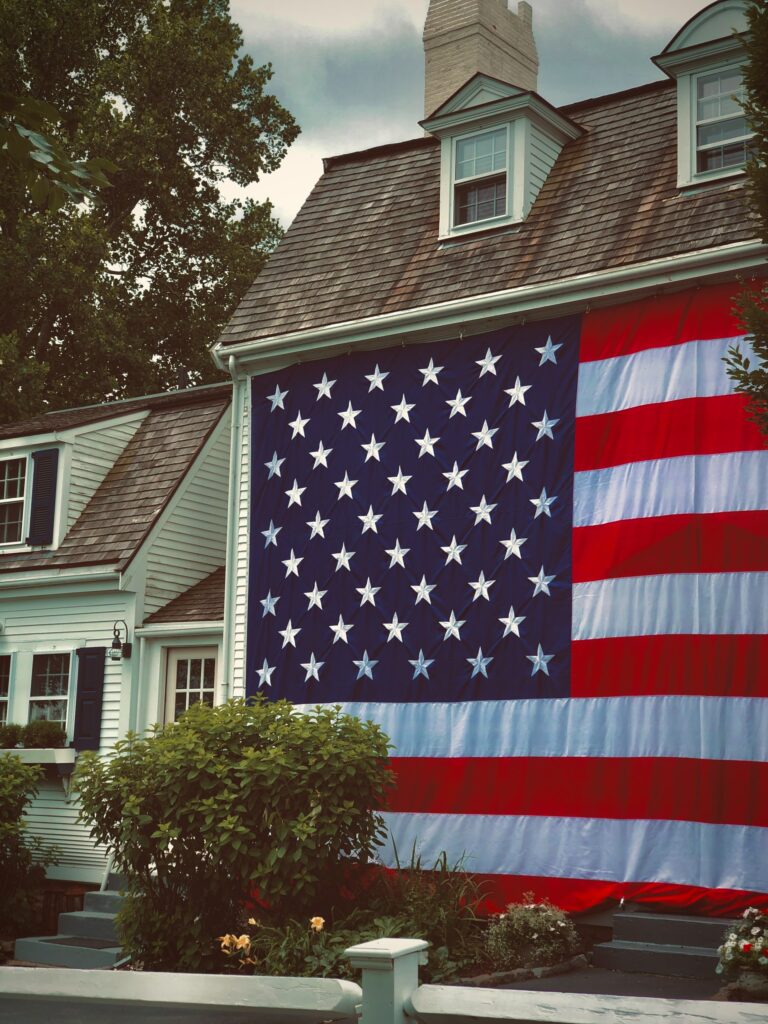 I know that you have a hometown, but did you know that the USA does, too? Yep! It's Plymouth, Massachusetts. This quaint town is the site of the first settlement of the first English pilgrims to arrive in what we now know as the United States. It's also the site of the first-ever Thanksgiving, so visiting in November is fitting.
Although the first Thanksgiving didn't exactly go down the way we learned about it in history class, Plymouth is still a site worth paying a visit. Each November the town hosts a Hometown Celebration, complete with an enormous parade that ranks second only to the Macy's Thanksgiving Day Parade in size.
***
You're now finally ready to address that travel itch you've had since summertime with all of these fantastic options for November travel. Making time to do a quick trip this month can be a great alternative to longer holiday trips, or simple a nice refresh and recharge moment before the holidays.
Are you traveling this November? Let us know where you're going!