Picture white sands, stunning sunsets, otherworldly rock formations, and hardly any crowds, and you've got New Mexico. Admired by artists like Georgia O'Keeffe and popularized by Breaking Bad and Better Call Saul, this is the land of red and green chiles, Native American history, and surprises around every mountainside and bend.
New Mexico is a place of deep contrasts – the light and the dark, the lush and the desperately dry. In a state that doesn't get nearly as much PR as Arizona or Utah, we set out on a 2 Week Road trip to find out what New Mexico had to offer. If you're embarking on a similar journey, prepare to fall in love. This is the perfect Itinerary:
Las Cruces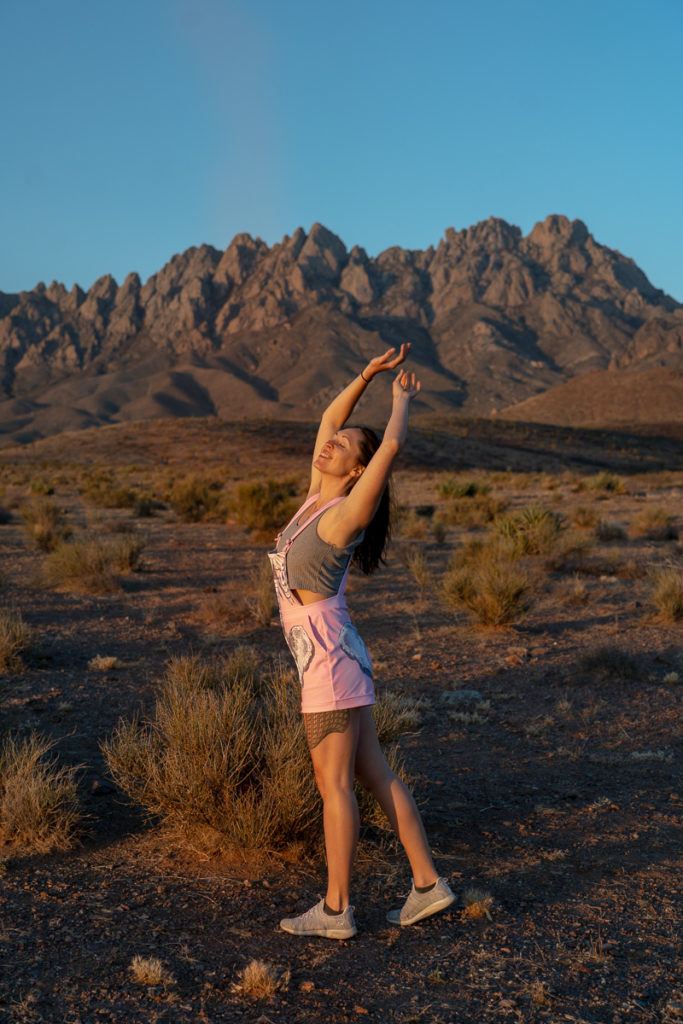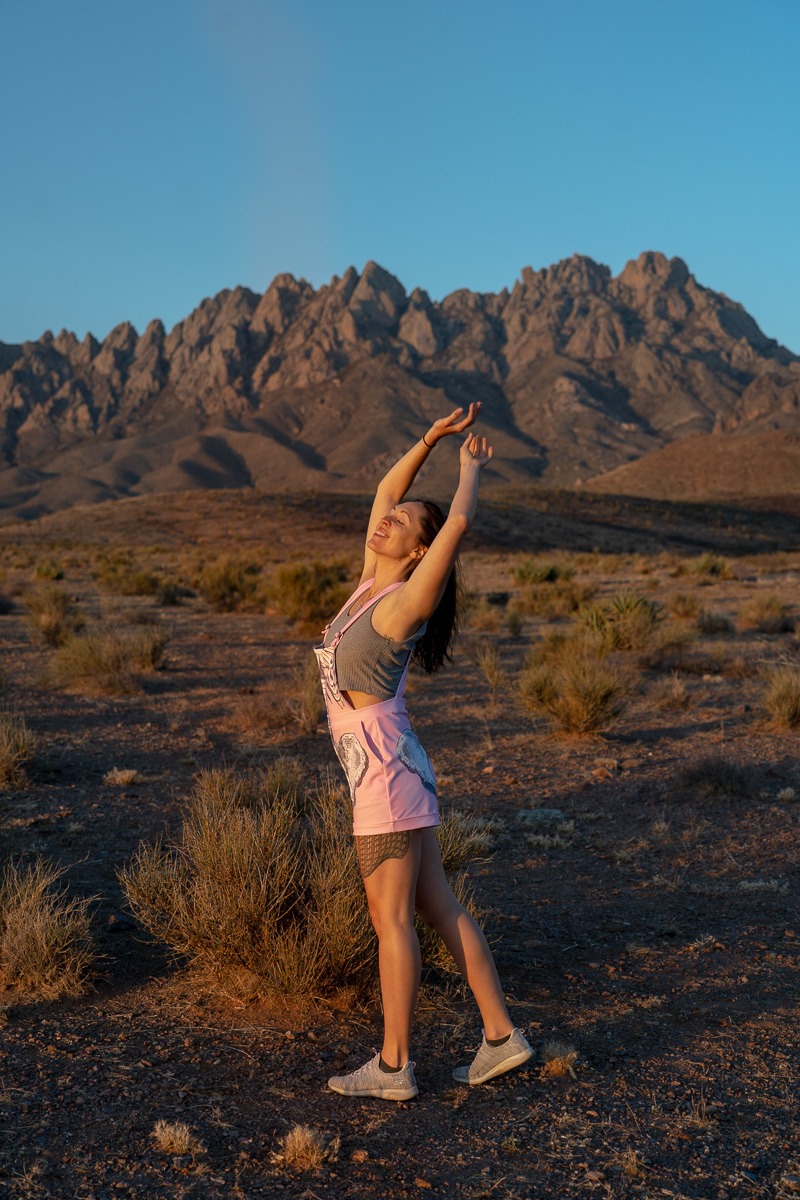 The southernmost major city in New Mexico, Las Cruces is the jumping off point for White Sands National Park and the dramatic Organ Mountains – Desert Peaks National Monument.
I loved watching the sun light up the Organ Mountains, which look like a set of teeth. When the sunset is just right, it paints them red. Watch from sunset hill or on the way to the Dripping Springs Natural Area, which is great for hiking.
Eat:
The Shed: A local favorite Serving up French toast made with cranberries and locally grown pecans. But that was not enough for me, oh no! I needed to have the banana pancake drops as well, which are essentially bananas wrapped in cake batter, then dunked in maple syrup. When it's carb time, why not go all in, amiright?
Spotted Dog Brewery: Another local favorite with delicious sandwiches and (probably) delicious beer for the beer lovers out there.
Stay
We LOVED this Airbnb just south of the city. It's an historic building from the '30s, plus it has a hot tub, gorgeous outdoor area, and the cutest doggos ever.
White Sands National Park
White Sands National Park truly is as mesmerizing as you imagine it will be. It's a gypsum sand field in the middle of the desert covering over 275 square miles – the largest of its kind in the world.
The golden hour and sunset out there were one of the most spectacular I have ever seen. But there are some important things to know about visiting, like adequately preparing, bringing a sled so that you have something you can slide down the dunes on, and knowing about opening and closing times. You can read my full White Sands guide here.
Carlsbad Caverns National Park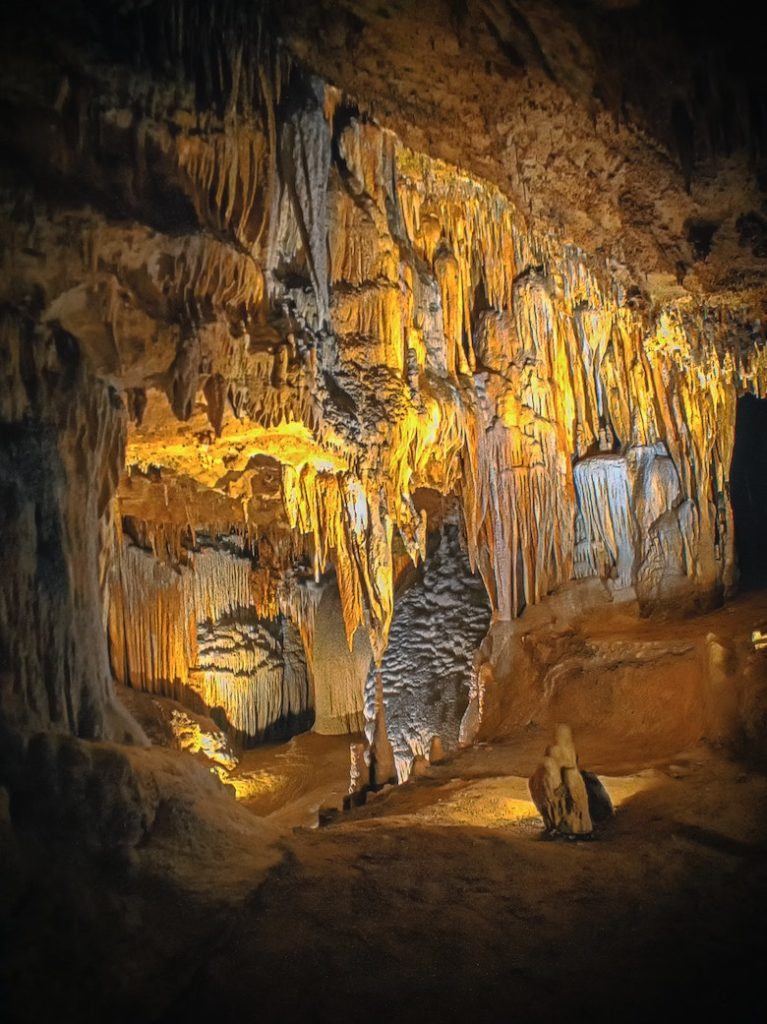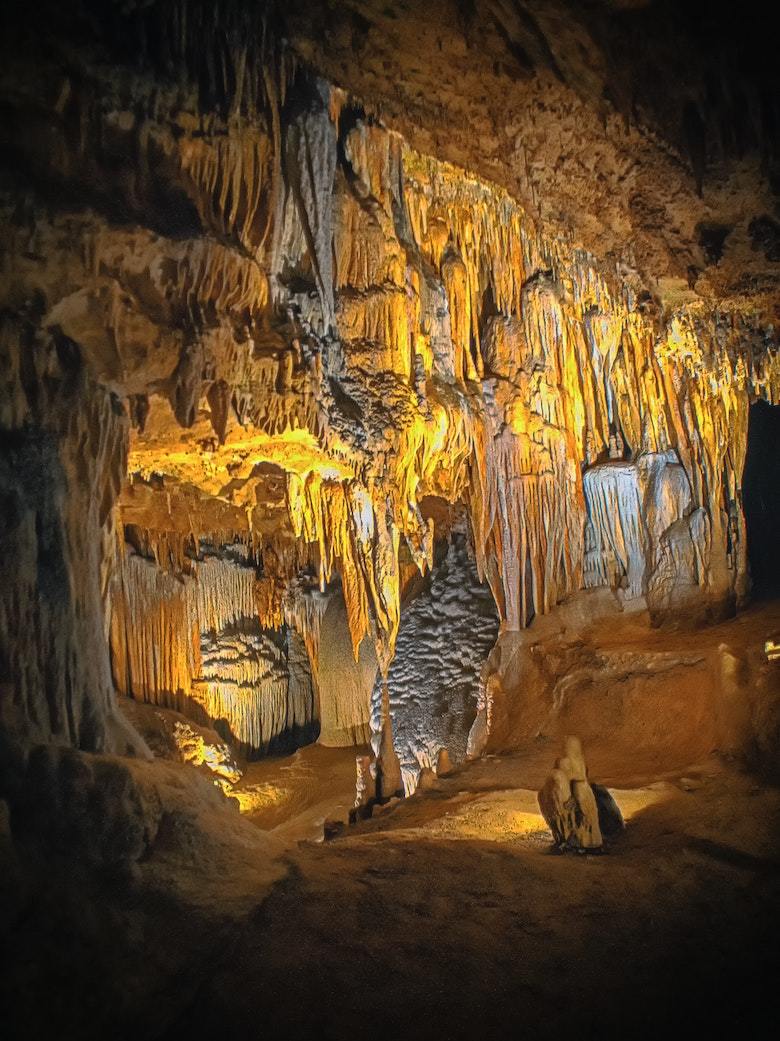 Carlsbad Caverns National Park features over 119 caves that were formed when sulfuric acid dissolved limestone, leaving behind caverns of all sizes. To this day bodies of water keep being discovered within the caverns, making it a wonderland for geologist types. There's plenty beyond them as well, with lots of wildlife to look at.
Truth be told this is the only thing on the list that I didn't do. Everyone recommended it, but I couldn't justify the detour when I'm not that into caves. Everyone assured me I had made a mistake, so next time I come through New Mexico, I'll be checking out Carlsbad Caverns as well as Roswell.
Keep in mind that you need reservations to go into the caverns. You can learn more here.
Truth or Consequences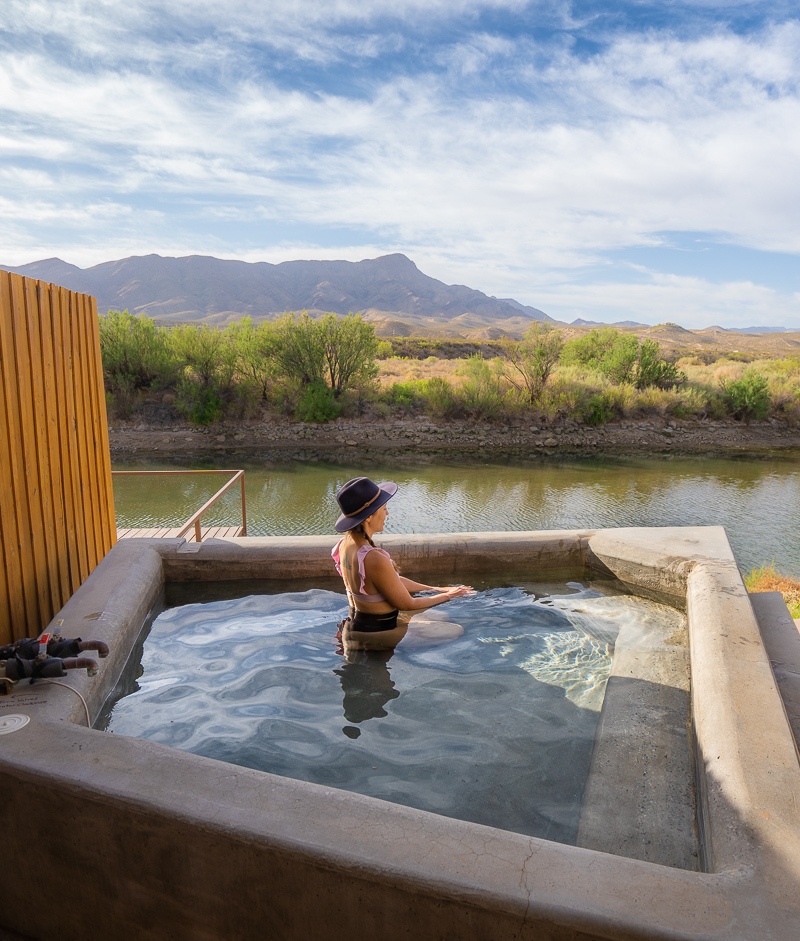 Heading north on the 25 freeway, if you're a hot spring enthusiast like I am, then you will love Truth or Consequences.
This little town isn't the bougie hot spring destination that I expected. It's a low-key, salt-of-the-earth type of place with a couple of commercial springs that have made it famous with visitors. The highest-rated is Riverbend.
We ended up booking an Airbnb that had its own Hot Spring right on the Rio Grande. I was blown away by how much animal life there was! Just the sheer number of birds made it a delightful experience. Imagine filling up your own hot spring while the sun rises and an Osprey dives down into the water to catch a fish. This really happened to me!
Eat:
Tony's Mexican Restaurant is where it's at. Truly, it's the most happening place in town!
Stay:
This Airbnb is a bit pricey, but it was worth it. Alternatively, rent something cheaper and visit Riverbend!
Albuquerque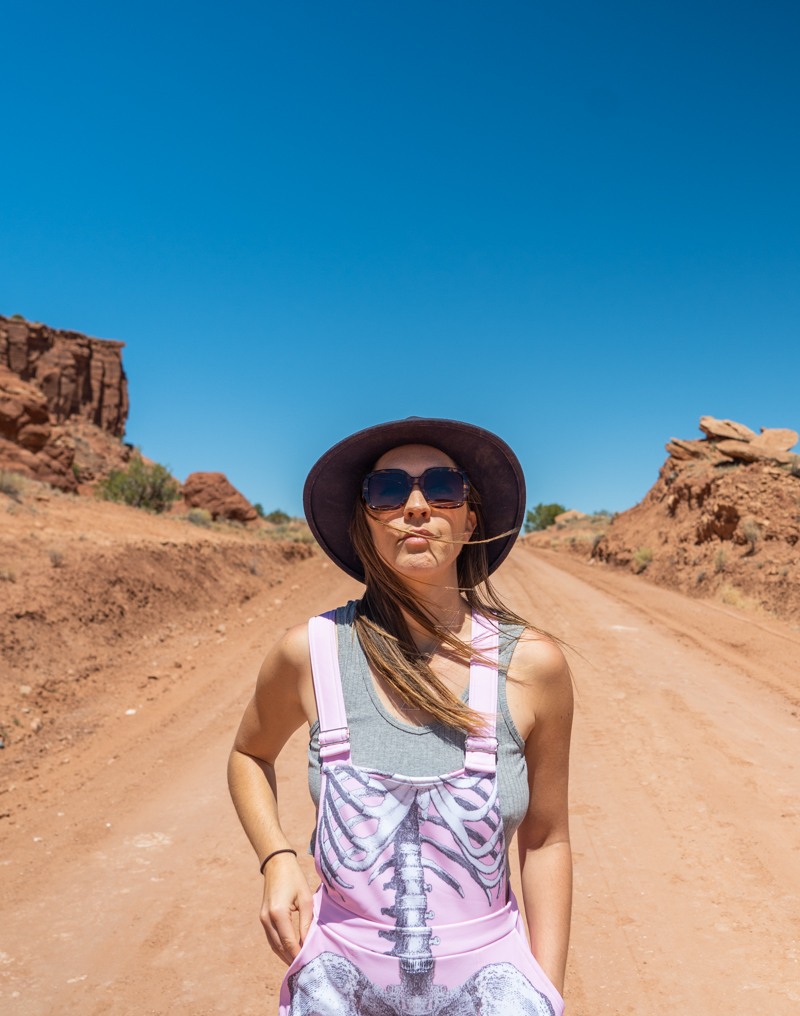 I hope I don't offend any New Mexicans when I say that Albuquerque was the least-descript place we visited, with more of a typical American city feel and less of the uniqueness than the other places on this list.
That's not to say we didn't love it! As a big fan of both Breaking Bad and Better Call Saul, Albuquerque for me was all about exploring the filming locations and geeking out over the show. Following the filming locations led us to the Grove for brunch, Java Joe's for delicious coffee, and a few other surprises in between.
Turquoise Trail with Stop in Madrid
On your way to Santa Fe, you could take the 25 freeway, but why do that when you can take the Turquoise Trail? This scenic drive between Albuquerque and Santa Fe meanders through rolling hills and artistic communities. Be sure to stop by the Bottle House for a personal tour from Leroy before arriving in Madrid.
Madrid was once a ghost town that artists moved into to breathe new life into it. These days you'll find plenty of galleries with jewelry, sculptures, rugs, and crystals. This was such a friendly town that was bustling over the weekend! I recommend eating lunch at The Hollar and exploring the galleries on foot before you head onward to Santa Fe.
Santa Fe
Santa Fe seemed like the more upscale, artsy and design-focused part of New Mexico – and I loved it! While all of New Mexico had its own character, Santa Fe served up that quintessential Southwestern vibe that I think most people picture when they think of New Mexico. This is where you'll find some of the finest restaurants, Georgia O'Keeffe Museum, art galleries on Canyon Road, and the IAIA Museum of Contemporary Native Arts (MoCNA).
The Meow Wolf Museum was a trippy wonderland, and the galleries of Canyon Road had me enchanted. Be sure to watch my one day in Santa Fe itinerary above to hit all the best Santa Fe has to offer, including chocolate!
Eat:
Kakawa Chocolate House for some inventive hot chocolates and delicious truffles!
Palacio Café has delicious brunch that I have to say was the best we had in New Mexico!
Zacatlan: Get the short rib for sure, although most reviewers rave about the tacos. Reservations recommended.
Stay: Galisteo
There are plenty of upscale hotels that you can stay in Santa Fe, and I totally understand if you want that experience. Most people don't put this stop on their road trip, but this historic area has pueblos dating back to the 1200s-1300s.
We stayed here instead of in Santa Fe in order to have a more unique, truly New Mexican experience. This Airbnb is over 100 years old, and the owner's family lived in it for generations before turning it into a rental! It's also a great value in an other wise bougie Santa Fe.
Jemez Springs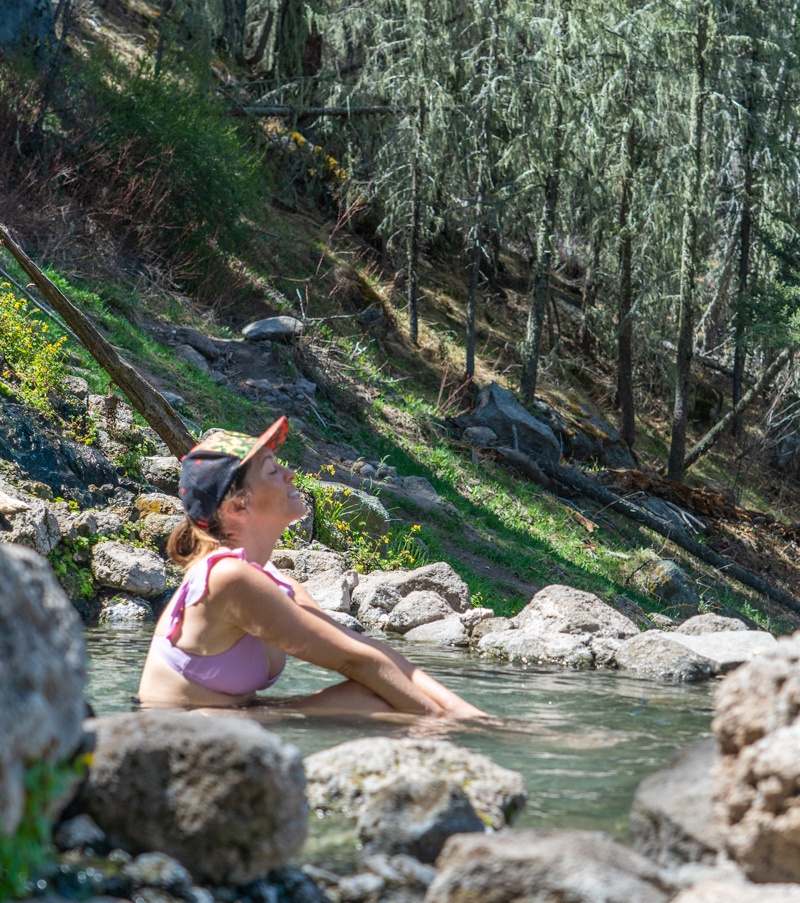 The Jemez area, including Valles Caldera National Preserve, is covered in pine trees and is the perfect hiking destination. Although there are plenty of wonderful hiking trails like Battleship Rock and the Cerro Grande, I had my sights set on San Antonio hot springs.
This is one of several hot springs in the area, including Spence and McCauley, as well as the developed, first-come-first-served Jemez Hot Springs.
I loved the terraced look of the San Antonio Hot Springs, so I hiked to them even though it was over 5 miles each way. This is not always true, as the road is sometimes open although in the spring time when it tends to be muddy, you can count on it being closed.
Watch more here:
Bandelier National Monument
If you're hoping to see some historic cave dwellings, then put this on your list. Human settlements in this area date back over 11,000 years, and exploring these dwellings is both fascinating and entertaining! I loved imagining what life was like back then. And I admired how clever it was to establish residences in the rock, which is porous and easy to carve.
We visited on a warm day in April, and the temperature in the caves must've been at least 20° cooler. I imagine the opposite is true in the winter. If you have a national parks pass, this will give you free entry to the national monument.
If coming from the North, you'll also pass by the Puye Cliff Dwellings, which are another impressive set of cave dwellings and structures to explore. Be sure to check their website because like many things on Native lands, these are closed due to COVID at the moment.
The Kasha-Katuwe Tent Rocks National Monument is another amazing site, I'm sure. It is also temporarily closed, but check to see if it has reopened by the time you're reading this, because it looks soooo cool!
Taos – Earthship Biotecture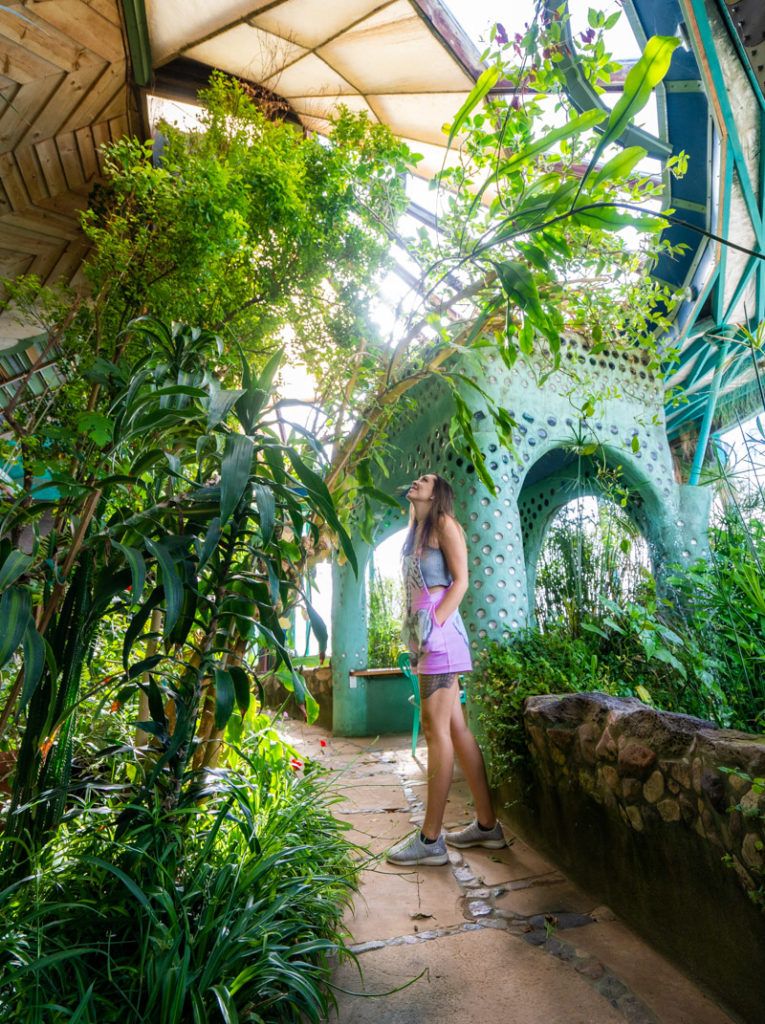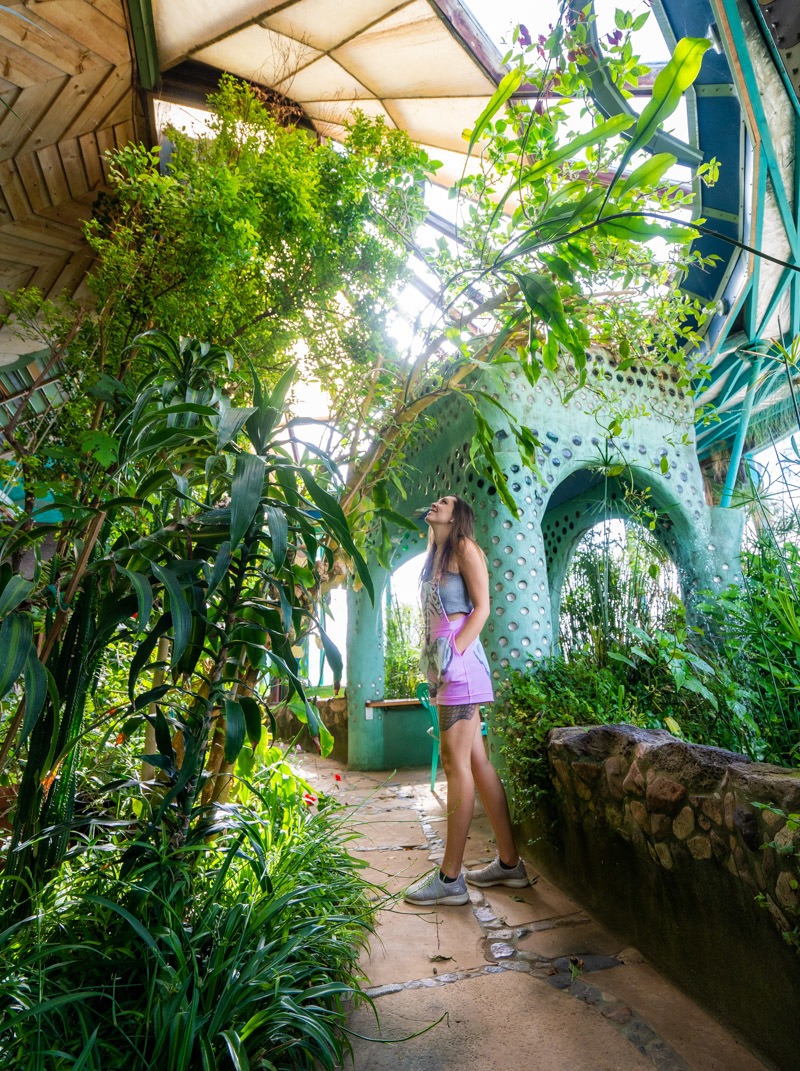 Imagine a community of over 70 earth houses that are completely off the grid. Not only that, but they are designed to be amazing, trippy designs using old tires, bottles, cans, and adobe.
It is completely self-contained, growing its own food, creating its own energy from the sun, subsisting on rainwater that is filtered and reused four times throughout the structure, and is self-heating, in harmony with its environment. After spending time here, you might ask yourself why every structure isn't built this way.
I stayed in two Earthships during my New Mexico road trip, and candidly seeing this for myself was one of my biggest motivators for visiting the state in the first place! You can read more about the experience, both the good and the bad, here.
Even if you don't end up staying in one of the earthships, you can check out the visitor's center where you can take a tour of one structure and see how the systems work. While this is cool, it only gives you a taste of the experience. So I recommend that you stay overnight in one! This is the Airbnb I recommend.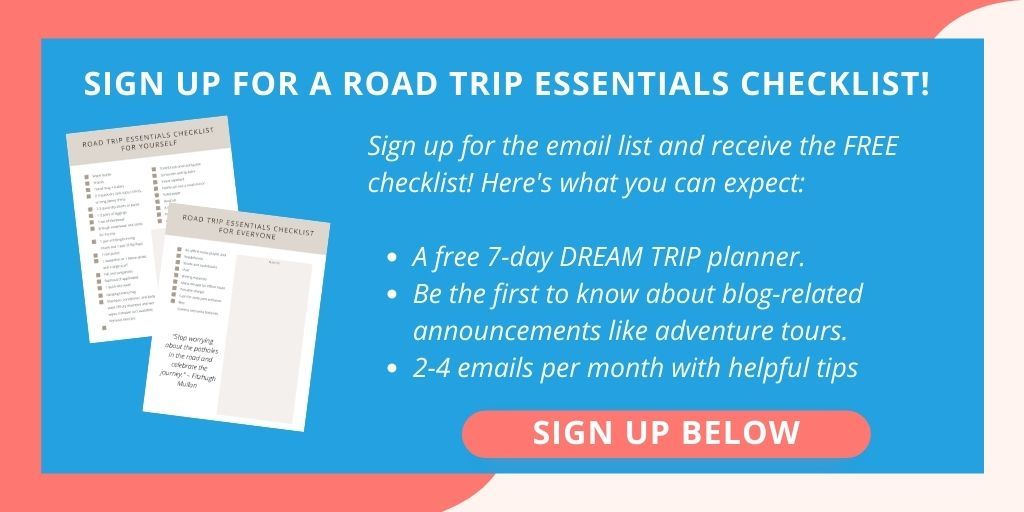 Bisti Badlands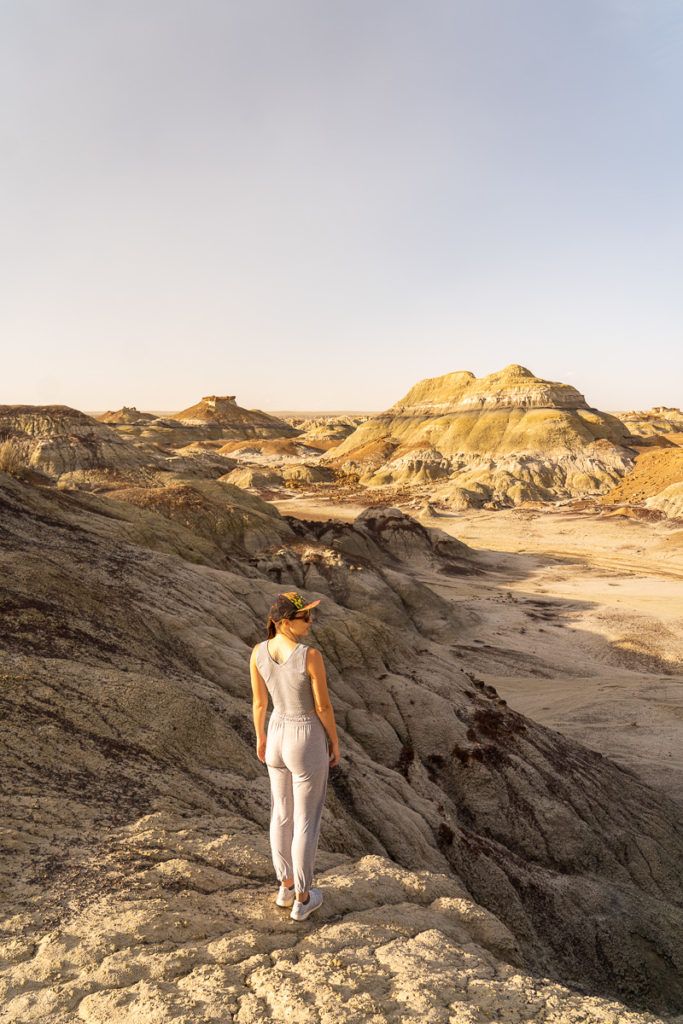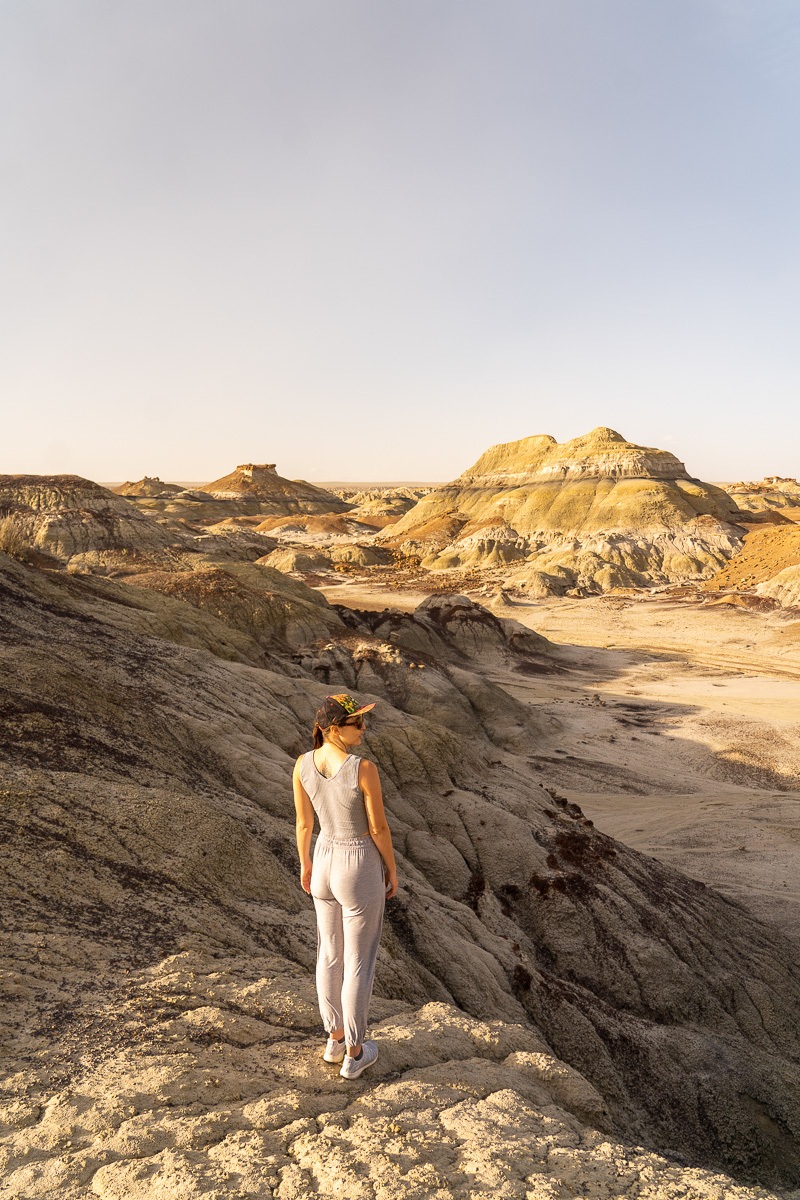 Unless you're coming from northeastern Arizona, the Bisti Badlands will be a detour, but it's a worthy one.
The sheer volume of different rock formations that you will see is mind blowing, from the 'alien throne' to the 'alien eggs', the badlands, and all of the rocks in between. Every twist and turn presents a different rock formation, and since there's no set trail, you can just go out there and get lost. But that said, be careful and make sure that you are orienting, because it is the true middle of nowhere.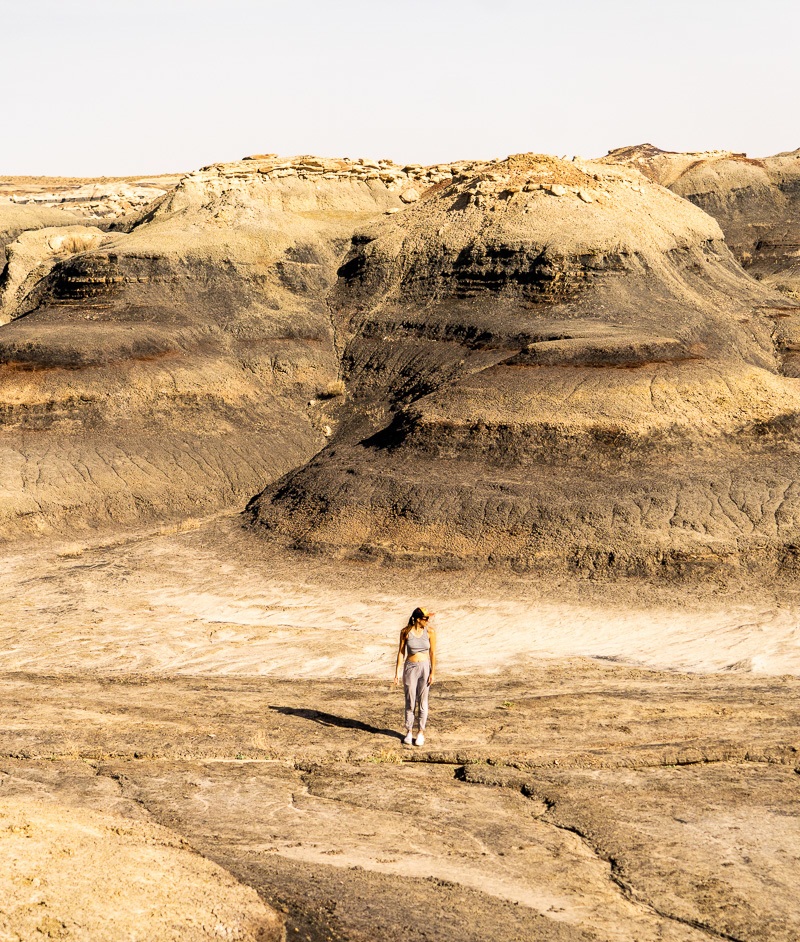 In the same area you'll find the De-Na-Zin wilderness, and just south the Ah-Shi-Sle-Pah wilderness. You can camp overnight in the parking lot of all of these areas, and in each you'll find unique rock formations.
Off of the same freeway, the 371, there's also the Chaco Canyon and Fajada Butte. The Chaco Canyon features ruins that were occupied around 900 to 1250 A.D.. We would have loved to see these, but most of the reviews emphasized the importance of a high clearance, four-wheel-drive vehicle. So we will be sure to bring our truck next time!
There are a couple of towns to the north – Farmington and Bloomfield. We stayed on a farm in Bloomfield and it was a great value.
Pin me for later: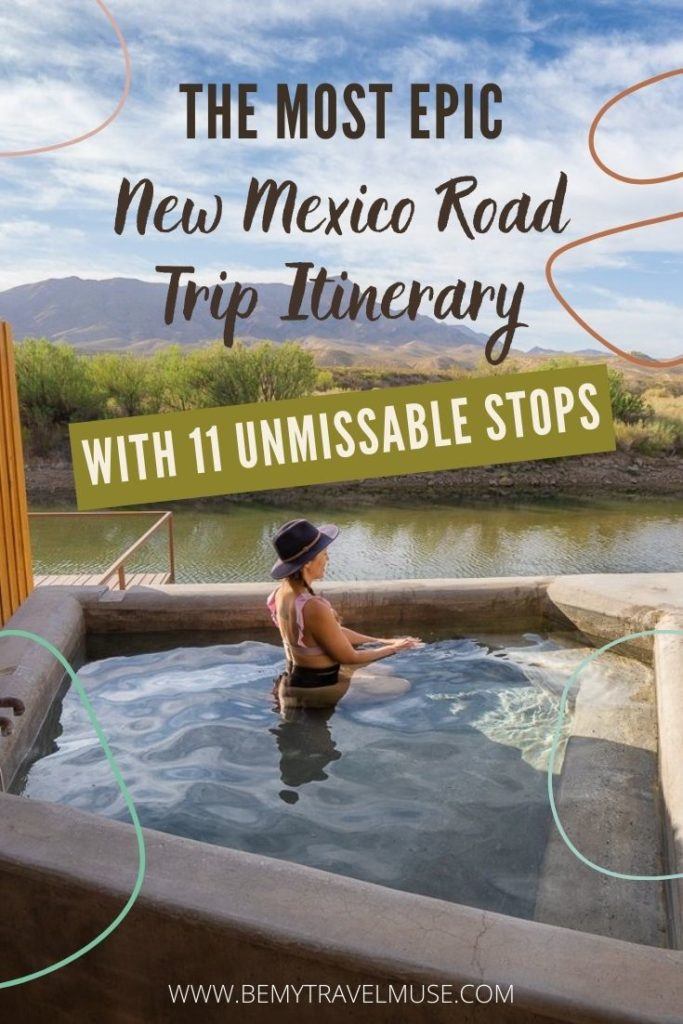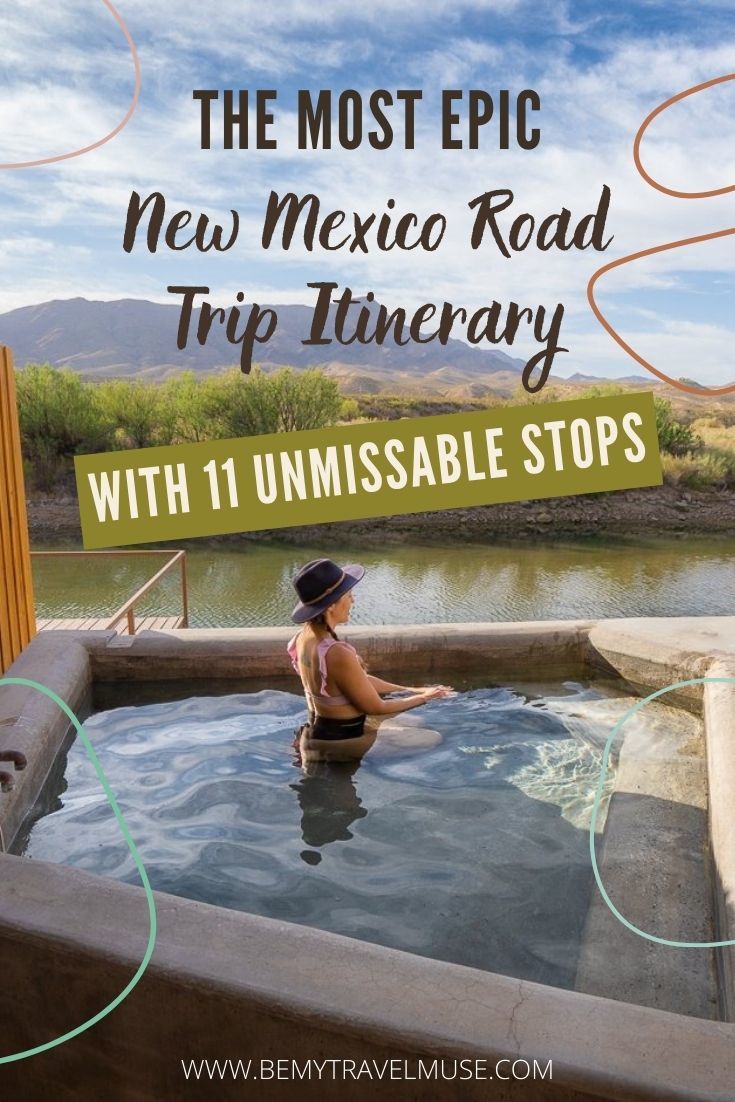 If you want to do this road trip just like us, give New Mexico at least three weeks. You could do this itinerary in two weeks, or of course you can cut out parts of it that are a bit more remote. That said, it was the remote things that I loved the most! Either way, enjoy the adventure in this beautiful, underrated state.