I had actually never properly been camping until I was almost 20 years old. I loved hiking and the outdoors, but I always wanted a comfortable room to go back to at night. Then I tried camping and realized that being outside with the sounds of nature, the unbelievable stars, and incredible landscapes I could have access to were often places where there weren't any buildings.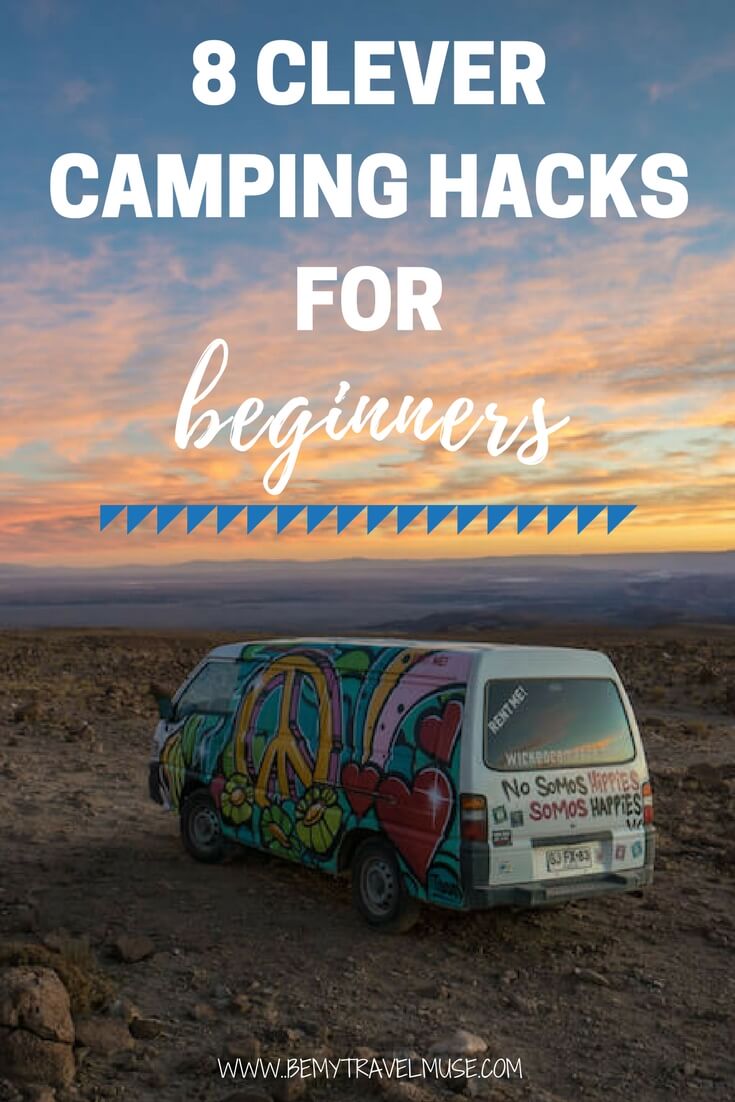 Since getting my first taste, I've camped all over California, slept in a tent for over a month on safari in Africa, did long-term backpacking trips in Patagonia, and camper van trips in Europe. Camping opens up a whole new world of adventures!
I used to worry that camping would feel dirty or uncomfortable, but it's actually pretty easy to be comfortable and enjoy it with a few tips. If you're a beginner, or even if you know a thing or two about camping, these hacks make it easier and more fun:
Turn bottles into lamps
Giant and heavy camping lamps are great for weighing things down that you don't want to lose, and wonderful when it's windy, but for a smaller and easily portable option, try bottle lights, which fit perfectly into empty water and wine bottles to create beautiful little fairy lamps.
Just recharge them using the USB plugin in your car or portable charger.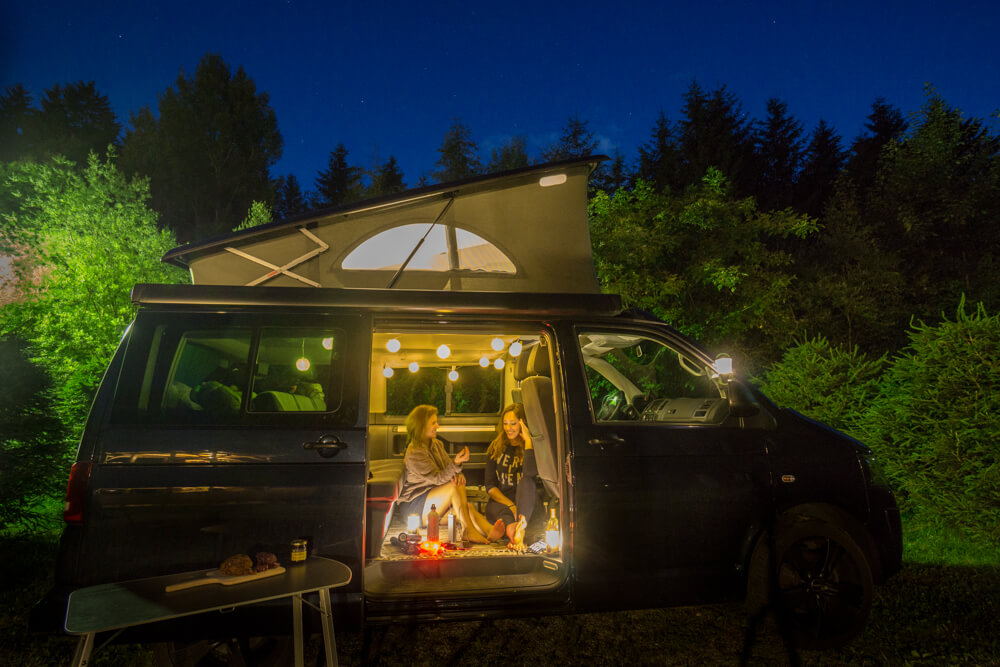 Hobo stew is delicious and easy to make
Hobo stew is my favorite easy camping meal because it's fresh, delicious, healthy, and so easy to make and clean up!
It's just a mix of your favorite vegetables cut into bite-sized pieces, ground meat (optional), a few squeezes of barbecue sauce to taste, and a splash of whiskey. Arrange it on a square of tin foil with the things that tend to take the longest to cook at the bottom, and wrap it up into a little package. Then throw it on the grill to cook for 10-20 minutes, checking every so often for doneness.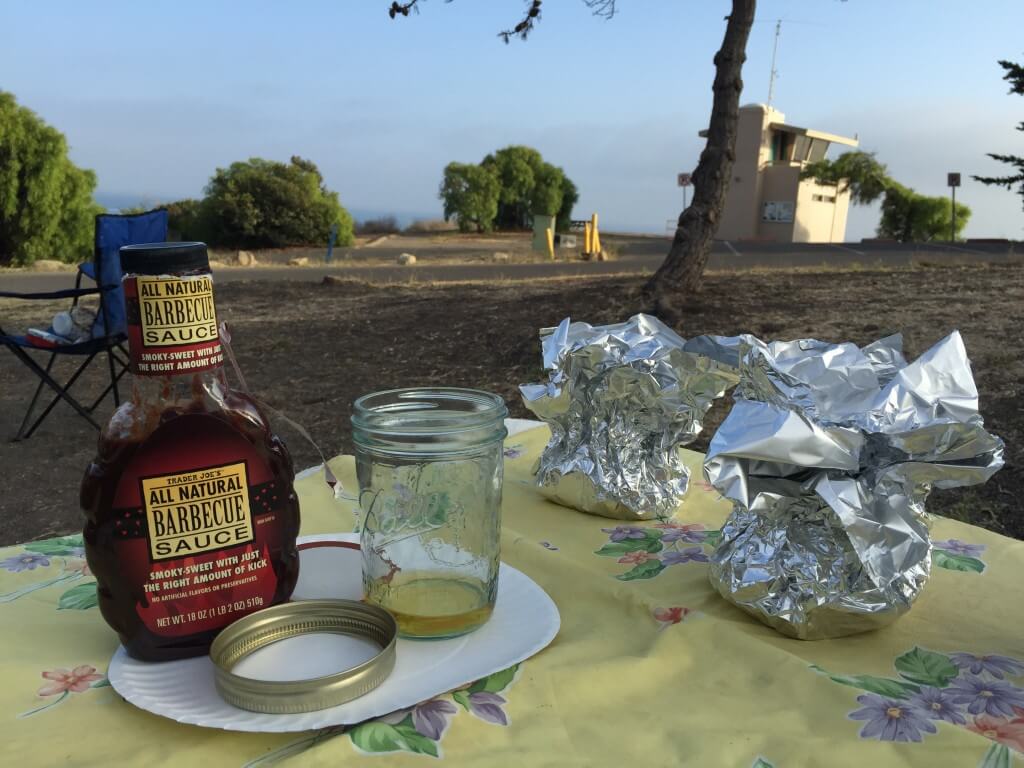 I personally love adding thinly sliced sweet potatoes, plantains, squash, zucchini, a layer of onion (great for flavor and liquifies for cooking), peppers, mushrooms, and/or broccoli.
Clean up is super easy. Just ball up the foil and throw it away or pack it back out with you.
Easily make camp fires
Making fire is one of those fun, primal things that makes camping feel cozy and social. Plus, it's helpful for eating, and s'mores!
If you don't have kindling, the next best thing is chips like Fritos or Doritos! You can also prep ahead of time by stuffing toilet paper roles with dryer lint. Both are great DIY ways to make fire starters.
Just make sure you're allowed to have fires, which will depend on how easily the surroundings could be set on fire, and that you're allowed to collect fire for burning. If you're in a national or state park, there's often firewood for sale if picking up branches to burn is not allowed.
Use wipes for washing
Wipes can feel pretty luxurious when out camping or hiking, especially if you don't have access to a sink and bathroom with running water.
I really like Essential Wipes (coupon code to get 10% off: bemytravel-fresh), which are made from renewable bamboo, essential oils, and natural ingredients and just need a tiny bit of water to hydrate. When hydrated with hot water they're a nice steamy towel at night, or when with cool water, a nice relief on a hot day.
When I was camping in a van in the Atacama Desert, the driest desert in the world, water was limited and had to be conserved, and normal wipes would have dried out immediately, which is why Essential wipes were perfect. They would be perfect on longer term backpacking trips like the circuit in Torres del Paine, Chilean Patagonia, where weight is a significant consideration as well.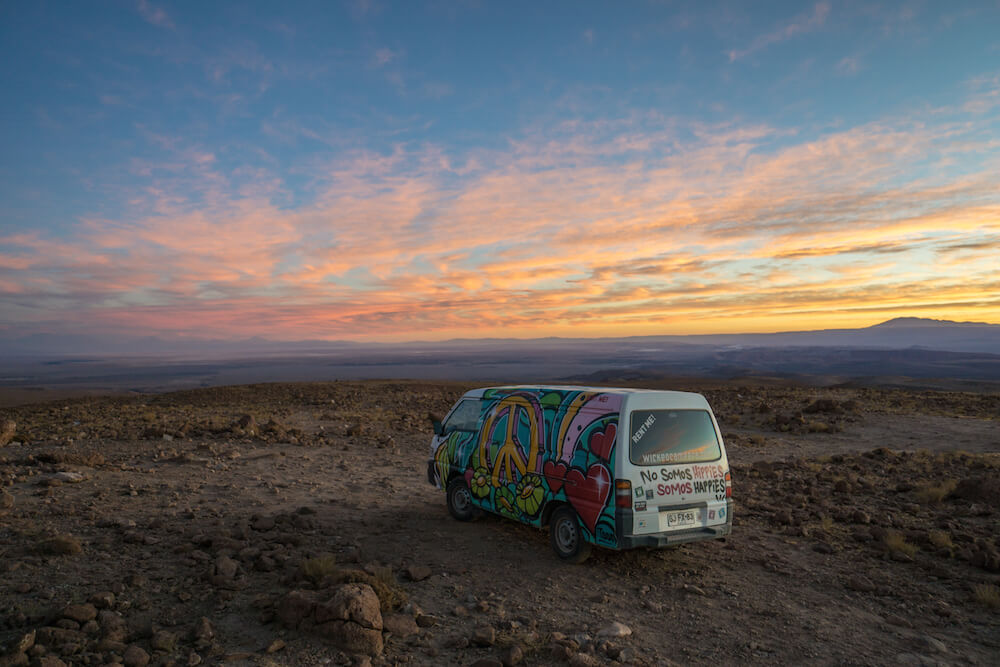 Make toothpaste dots
Instead of bringing a tube with you, make toothpaste dots by squeezing some toothpaste onto foil, sprinkling it with baking soda, and letting it rest for 3 days or so. Then? Boom, lightweight toothpaste.
If camping with a tent
There's no rule that says you have to be uncomfortable or cold when sleeping in a tent. If you're driving up to the campsite and weight isn't a consideration, bring lots of comfy blankets, pillows, and blow up mattresses and it'll be almost as comfortable as at home!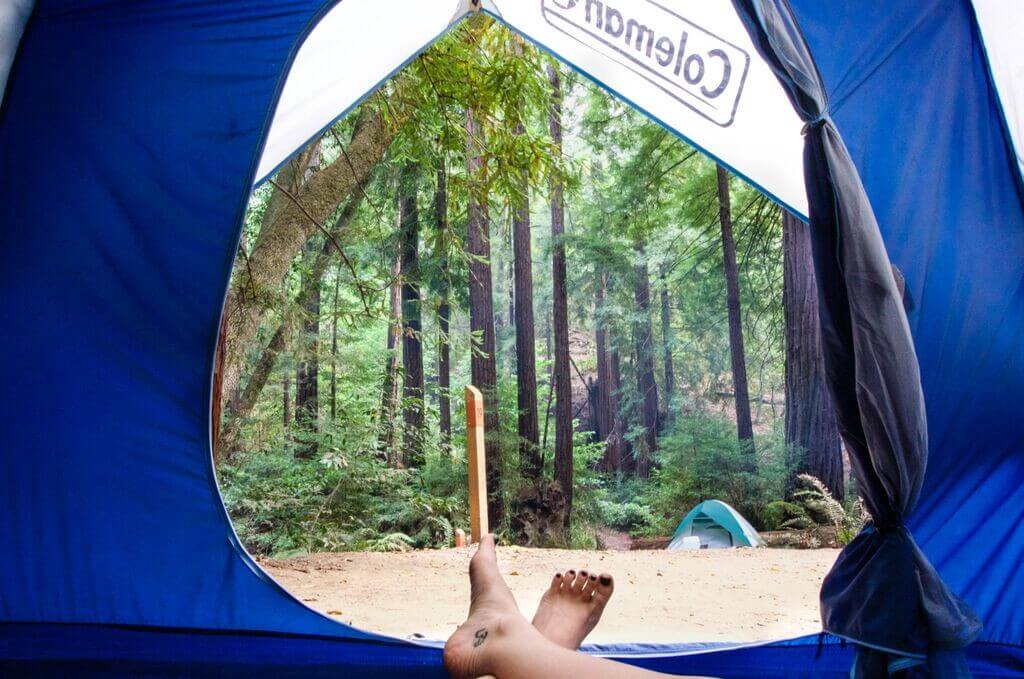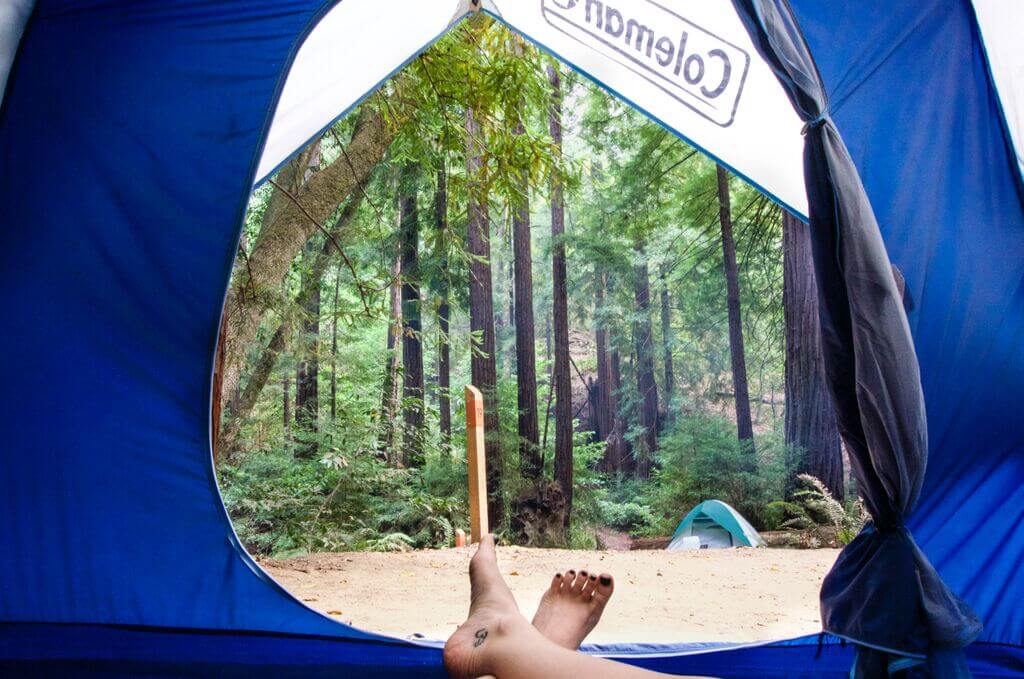 If you're hiking it in, consider the following:
Use a sleeping mat or lightweight blow-up mattress to add warmth and comfort and rough ground will be way more bearable.
Get a sleeping bag that's truly suited to the environment. Use the comfort level as your guide when considering what to purchase. If it could get below freezing, you will definitely want to have a sleeping bag with a comfort level that is at least five degrees lower. The price will go up as the temperature and weight go down.
Zip the bag up all the way and put it over your head when it's cold so that you're all warm and toasty
More layers inside of the sleeping bag does not equal more warmth, contrary to what would seem logical. The warmth would have to travel through all of those layers both ways to heat the bag, so it's less about more layers, and more about getting a bag that's meant for the temperatures.
About critters
If you're worried about insects and/or animals, remember that keeping your tent zipped up is the best way to keep everything out that isn't welcome. As long as it's a solid tent that doesn't have holes, mosquitoes, spiders, and anything that doesn't come in with you shouldn't be able to get in. You can also use sage in your camp fire or citronella candles to ward off mosquitoes
Remember not to keep food or trash in your tent. In places with mice, hanging it up on a nearby branch is the best way to keep them out of your tent and provisions. In places with bears and other large animals, use the bear boxes provided and keep food far and away from your tent.
Bring comfy shoes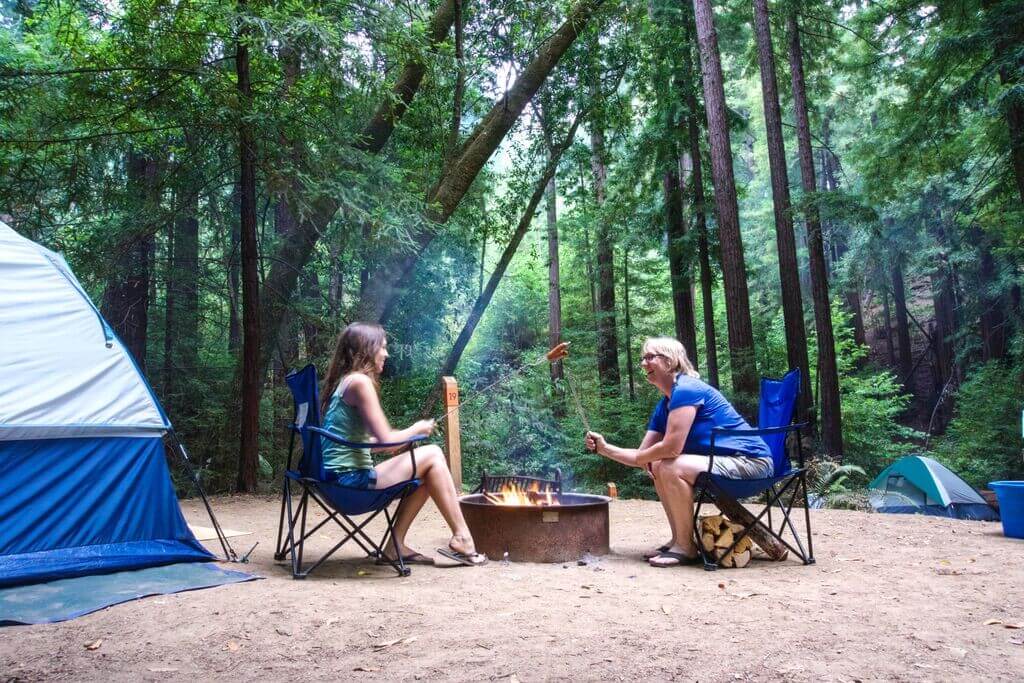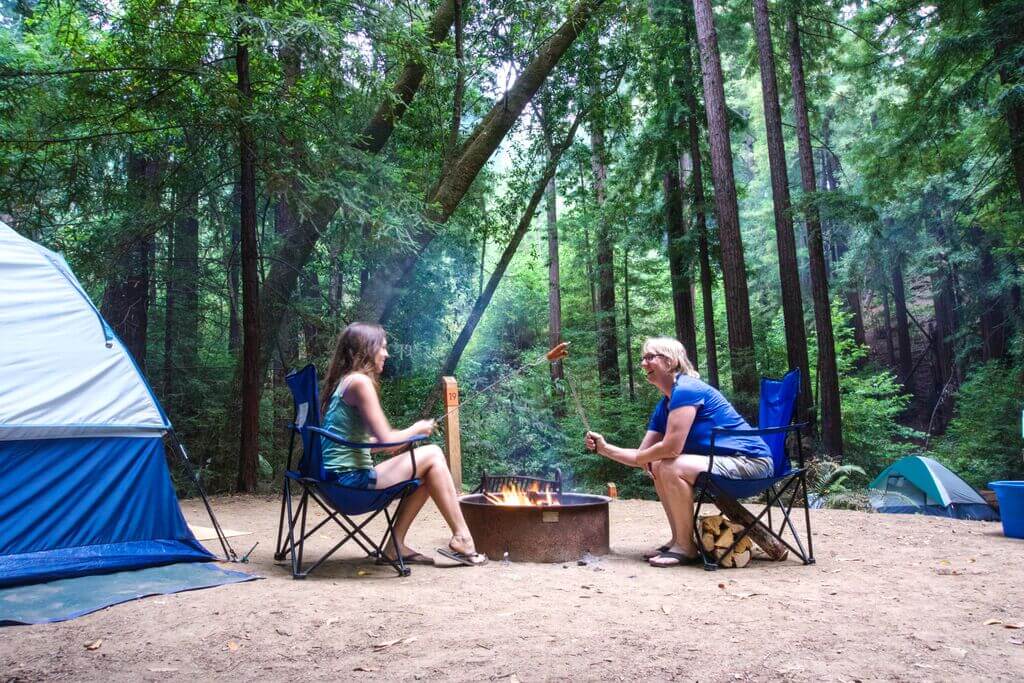 Whenever I'm hiking a lot, the last thing I want is to have to hear my hiking boots in camp. My feet just want to be free at that point!
I almost always bring along soft, foam flip flops (with thick socks on if it's cold) to wear in the evenings, and my feet are grateful for the break.
Whether camping in a van, from a car, or while on a longer-term backpacking trip, these hacks have all helped me to enjoy myself more and to have fewer worries when sleeping under the stars.
Even if you're a beginner who has never camped before, these tips can help you feel like a pro, whether in the Alps, Andes, the beaches of California, or the deserts of Chile.
*Some of these links are affiliate links to products I use and recommend. Any purchase you make through these links supports this site at no extra cost to you. Happy camping!
Click to read more posts about