The first time I visited Zion National Park was in June 2007 right after graduating from college. I remember doing the Angel's Landing hike and being wowed by both the trail and the end viewpoint. It was just as notorious then for its chain-link hand-holds and incredibly narrow trail in places, plus the switchbacks to get up there.
The risk was worth the reward for me. Once I came to the top I was surrounded by the orange walls of Zion Canyon and greeted with a view that seemed to go on forever into the distance. It made an impression as one of the most magnificent sights I had seen in my young life.
There were a few other people up there with me, but it wasn't yet the fan favorite that it is these days.
Since I was in Zion National Park 10 years ago, the visitor numbers have nearly doubled from a yearly 2.7 million to 4.3 million people!
Remembering the precarious trail and desiring to try something new, when I returned in this May I opted for the Observation Point trail this time instead of Angel's Landing. I'm left feeling that Observation Point is actually the better out of the two hikes for several reasons: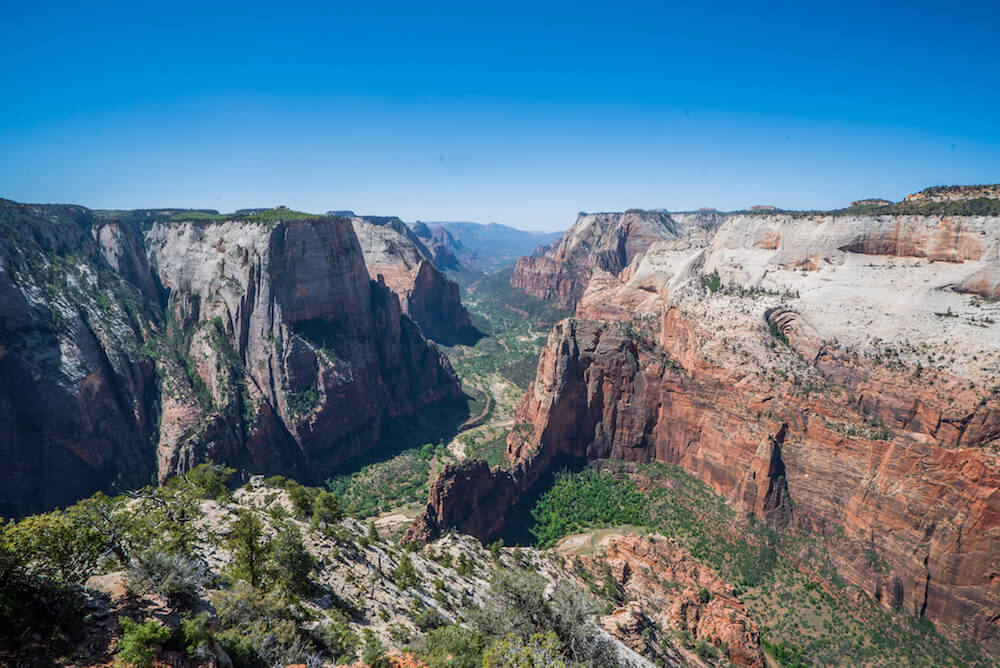 Though it's tougher, it's less narrow
The Observation Point trail is less dangerous and terrifying than the Angel's Landing hike. Though there are some cliff edges, there are no narrow, exposed edges that will leave you clinging to the rock or chains, but the overall hike is actually longer and more strenuous.
Both hikes can be quite exposed in the sun (I recommend starting early so that you can be in the shade if hiking in the warm months), both are out-and-back day hikes, both are on well-maintained and popular trails, and both will involve switchbacks. Neither require a permit and both are accessed via the park shuttle.
Here are the stats:
Trailhead:

Angel's Landing: The Grotto
Observation Point: Weeping Rock

Distance

Angel's Landing: 5 miles (8 km)
Observation Point: 8 miles (12.9 km)

Elevation gain:

Angel's Landing: 1488 feet (454 meters)
Observation Point: 2100 feet (640 meters)

Hiking time:

Angel's Landing: 2-5 hours
Observation Point: 3-7 hours
Even though Observation Point is technically more strenuous and longer, I think it's a better pick for those who are scared of heights or aren't as sure-footed, but who still want to go on a solid, challenging day hike. My 61-year-old mom wasn't interested in Angel's Landing 10 years ago but she was all for Observation Point this time around for this reason!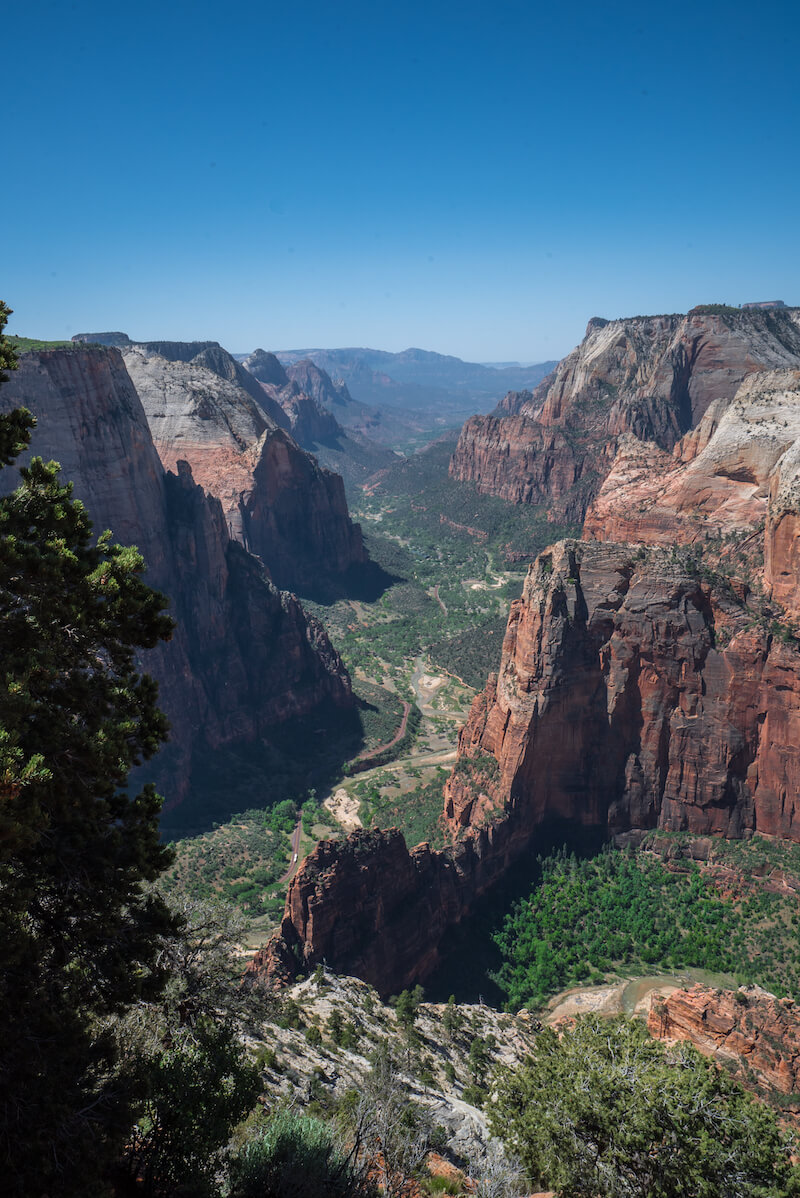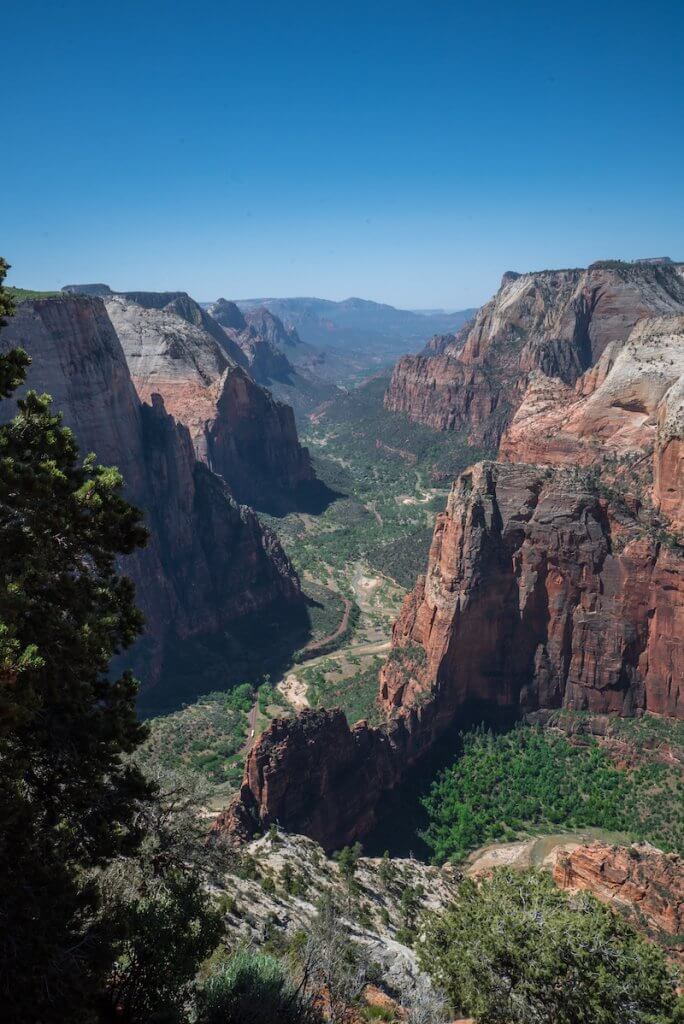 At the end viewpoint, you are actually looking down on Angel's Landing
Angel's Landing is famous mainly for the amazing view at the end of the hike. It earned its name because it was said to be so high that only the angels could reach the top. While that view is undeniably amazing, you can actually see more from Observation Point.
Since Observation Point is even higher than Angel's Landing, you are actually looking down on the Angel's Landing viewpoint and not only can you see the top of the canyon walls, but you can see even more of the canyon itself from up above.
Angel's Landing feels a bit more like you're down among the giant rocks and cliffs, and Observation Point feels a bit more like you're above them. While I think both have their benefits, I find that the view from Observation Point is just a bit more spectacular.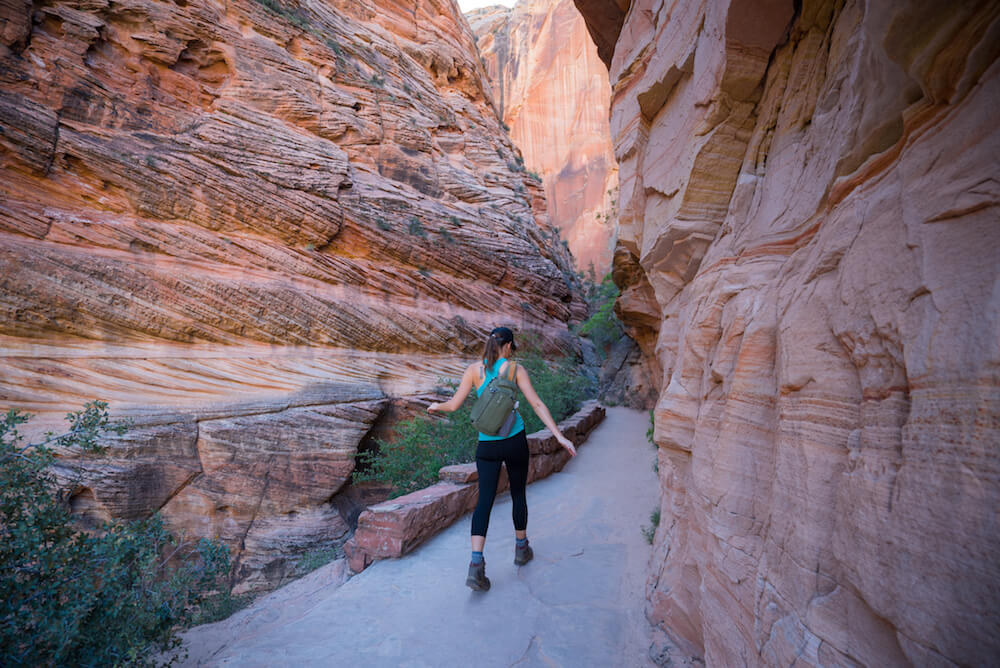 The hike itself is more beautiful
I recall the trail being more of a means to an end than an enjoyable hike when I did Angel's Landing. The trail from weeping rock up through the canyon at the beginning of Observation Point is quite beautiful in contrast. I kept stopping for photos of the way that the morning light beautifully reflected on the orange canyon walls as I made my way up.
Both hikes do have switchbacks that will, at some point, put you right in the heat and sun and both are steep, but overall I found the Observation Point trail to be just a bit more beautiful.
It's considerably less crowded
Angel's Landing is one of the most popular hikes in Zion National Park, though both hikes are ranked in the top 10 things to do in the park on Trip Advisor. Both are incredibly popular, and you'll be waiting in a queue at the viewpoint of both if you want a selfie with the view, but Observation Point is a bit less crowded between the two.
For thinner crowds overall, opt for the shoulder seasons or go early in the morning or later in the afternoon for either hike. That way, you'll avoid the hottest and most crowded times. Both hikes are safer and more enjoyable that way!
Pro tip: Often, there's another great viewpoint very close by that everyone is missing by taking photos at the main viewpoint. Take a look around at the top, and you'll find less crowded areas.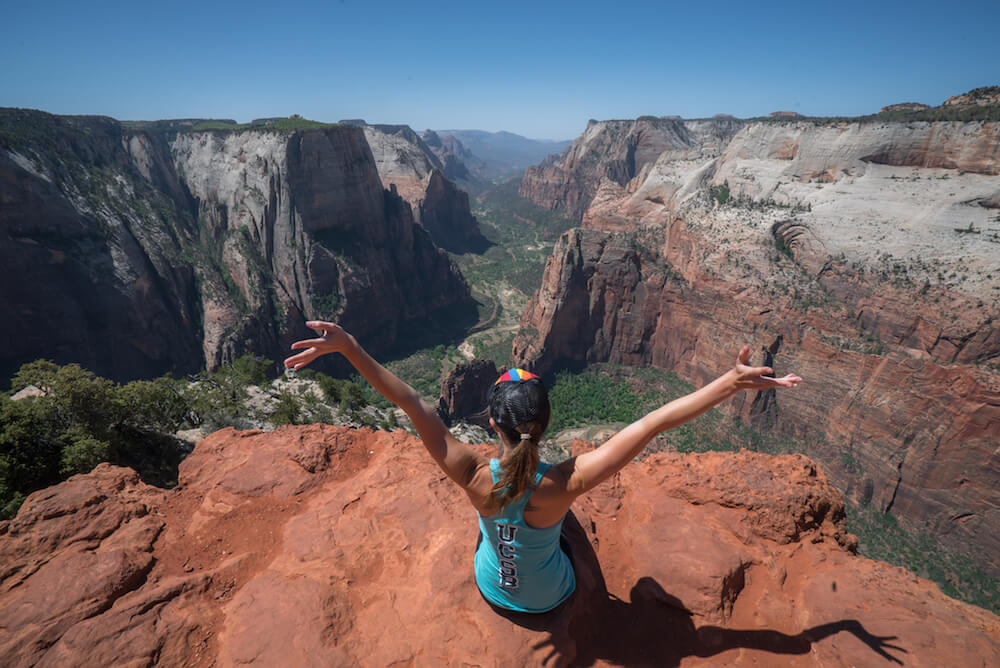 Things to remember:
You can't really go wrong either way, whether you only have time for one hike or want to do both. Here are a few things to remember before embarking on your hike:
You cannot drive to the trailhead yourself without a special permit from March to November. Zion Canyon has a bus line that runs from the visitor center every 10 minutes. Start and end times depend on the season.
If you hike in the morning you won't be in the sun on the way up, and you'll also have a view of the canyon without shadows if you aim to arrive around noon. However, the light will wash out the color in your photos.
Bring all the water that you'll need (at least a couple of liters per person), there isn't running water on the trail.
For tips for first time hikers, click here.
If you have a hard time finding camping options in the park, the Quality Inn parking lot has camping options. Ask for a spot near the river – they're nice! I also recommend a camper van, which is what you saw in the video above.
Like most of the American Southwest, Zion's warm orange rock will have you in awe and the views will take your breath away. Regardless of which hike(s) you choose, you're going to see something amazing. It'll just be that much more amazing if you make it to Observation Point!