Kauai, like each Hawaiian island, has a character all its own. Nicknamed the Garden Isle, this island gets more rain than the others, and has dramatic cliffs, lush forests and waterfalls, and of course, gorgeous beaches. In short, it's paradise.
These are some of the best things to do when you visit, from north to south! Grab a rental car and be ready for an adventure:
1. Sail through the Nā Pali Coast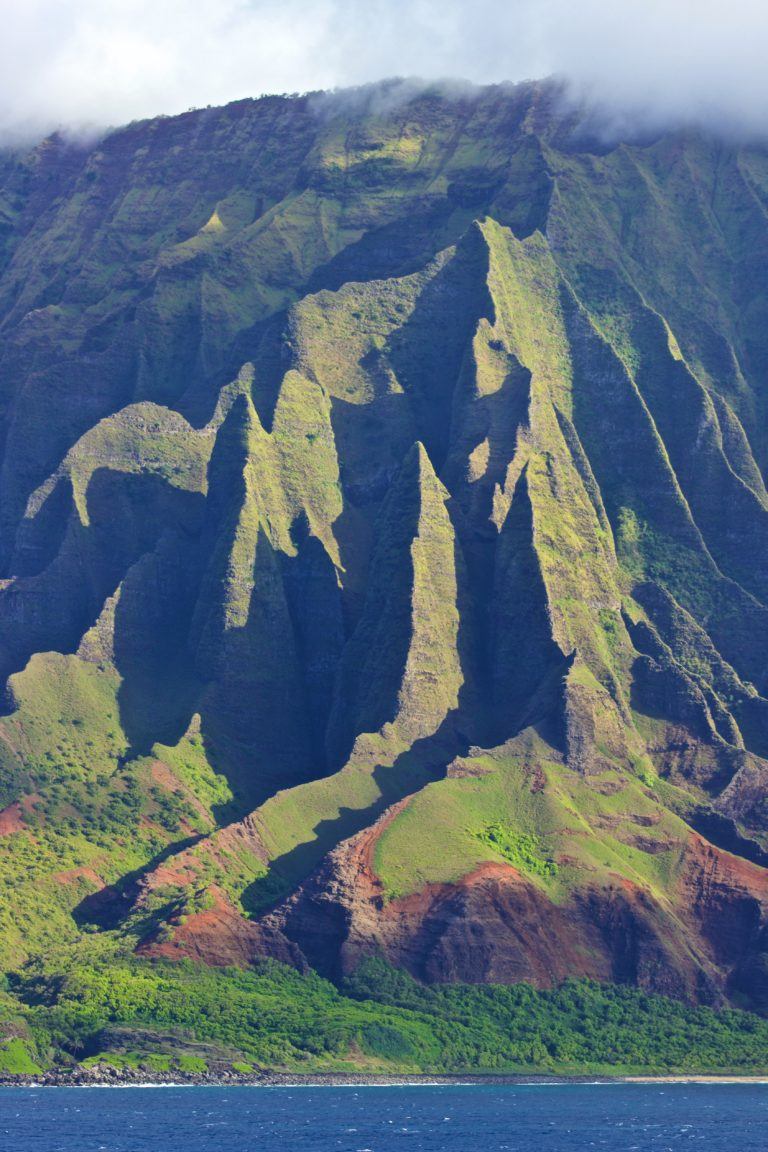 Situated on the northwest corner of Kauai, these gorgeous shores can only be seen by hiking in, kayaking along, or sailing along them. This area is known as one of the crowned jewels of Kauai, and for good reason.
I did the sailing, snorkeling tour when I was 17, and remember being wowed by the dramatic, jagged mountains and lush greenery. It's a sight to behold that is unique in this world. You can also book a sunset cruise for a romantic end to your day. This snorkeling tour also takes you close enough to see the island of Niihau.
It has such a unique landscape that it was one of the primary locations where Jurassic Park was filmed. While you won't find any dinos, there is a chance you might see whales and dolphins while you sail!
(Update: swimming with Hawaii's spinner dolphins is now banned. source here)
2. Paddle and Camp Along the Nā Pali Coast
Next on my list is to kayak along the coast, camping along the way. Usually this involves kayaking one way, with the wind at your back, and getting picked up at the beach on the end. These trips are booked out months in advance, and are offered by Kayak Kauai and Napali Kayak Tours.
3. Hike the Nā Pali Coast (Kalalau) Trail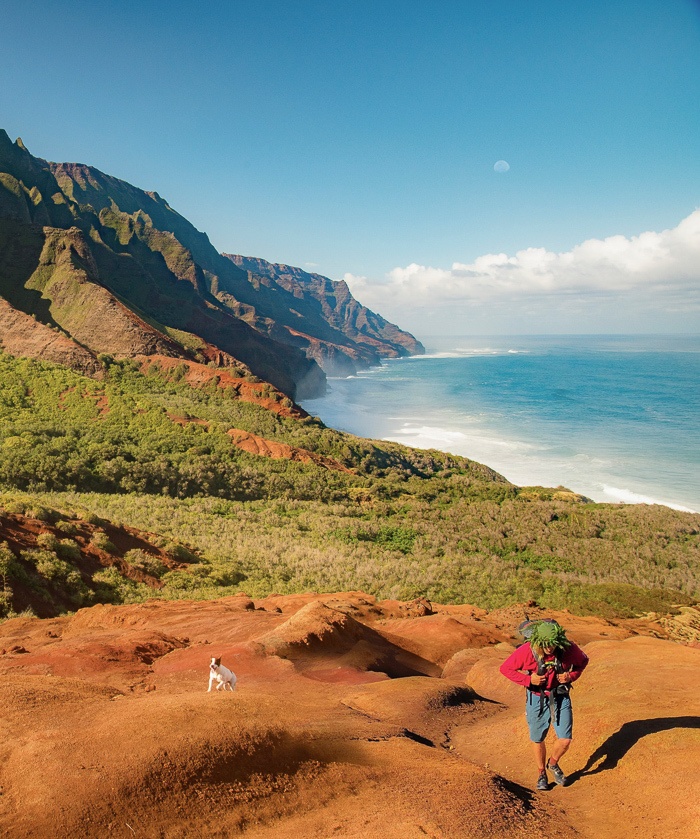 This is one of the most popular things to do in the Nā Pali coast and one of the most popular hikes in Hawaii. This 22-mile round trip trail is tough, with waterfalls along the way and camping at a remote and beautiful beach at the end.
I was dying to do this one, but permits tend to get snatched up months in advance. You can make camping reservations here.
Even if you only do part of the trail, you'll still need a parking permit, which is also in high demand. You can get it here.
4. See Hanakāpī'ai Falls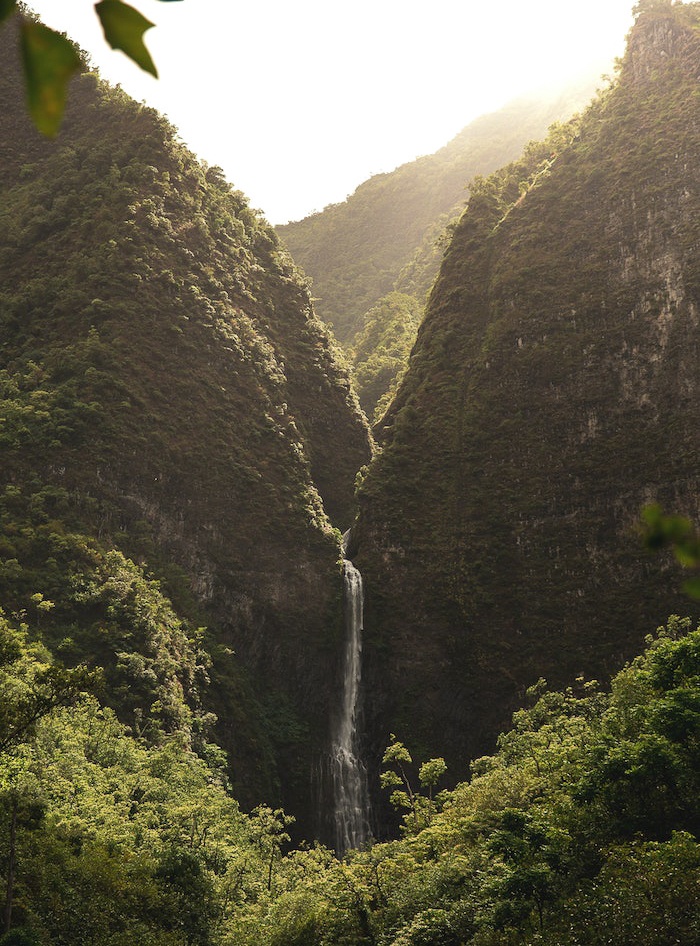 This 8 mile hike departs from Ke'e Beach and as one of the most popular hikes on Kauai, you'll need the same permit for the Kalalau trail to access this one.
The hike is difficult and can be muddy, but this 300-foot tall waterfall is a sight to behold. This is high on my list for next time!
5. See the Nā Pali Coast from the Air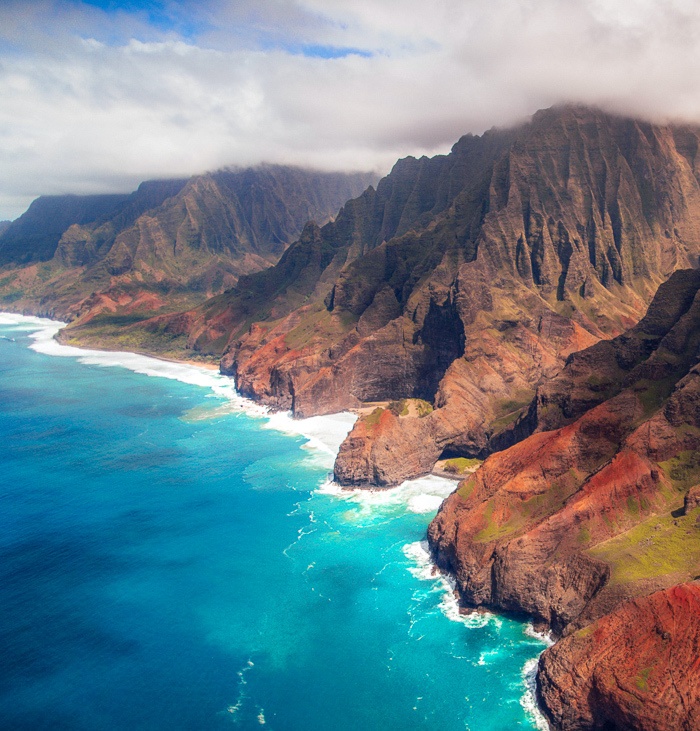 One of the best things to do on the Islands is to check out the gorgeous Nā Pali coast by helicopter or sea plane (the cheaper option if you have a group – book here). The plane is the cheapest, and the most expensive is a doors-off helicopter experience.
Other helicopter tours available:
I did the in between, with the doors on helicopter back in my teens and I remember being completely wowed by the beauty. We even did a landing that gave us a sense of what it's like to be in the Nā Pali coast without having to hike. This gives you aerial views of locations that you just couldn't get to otherwise.
Note that flights take off from Lihue airport.
6. Kēʻē Beach
I remember loving this beach as a kid. It's as idyllic as it gets, at the end of the road up against the Na Pali coastline, and accessed through my favorite part of the island – Hanalei.
During the winter, the beach can have dangerous conditions from the waves, but when I have visited in the summer, it was perfect. This beach is located within Hāʻena State Park and therefore a parking permit is necessary. Like the previous entries on this list, this one is popular and can book out quite far in advance. You can get permits here.
7. Wet Cave/Blue Room
A bit inland from Kēʻē Beach, the wet cave also requires the state park permit, but if you get one, be sure to check it out on the way to the Kalalau trail! There are a few caves along the drive, including the Maniniholo dry cave a few minutes south.
8. National Tropical Botanical Garden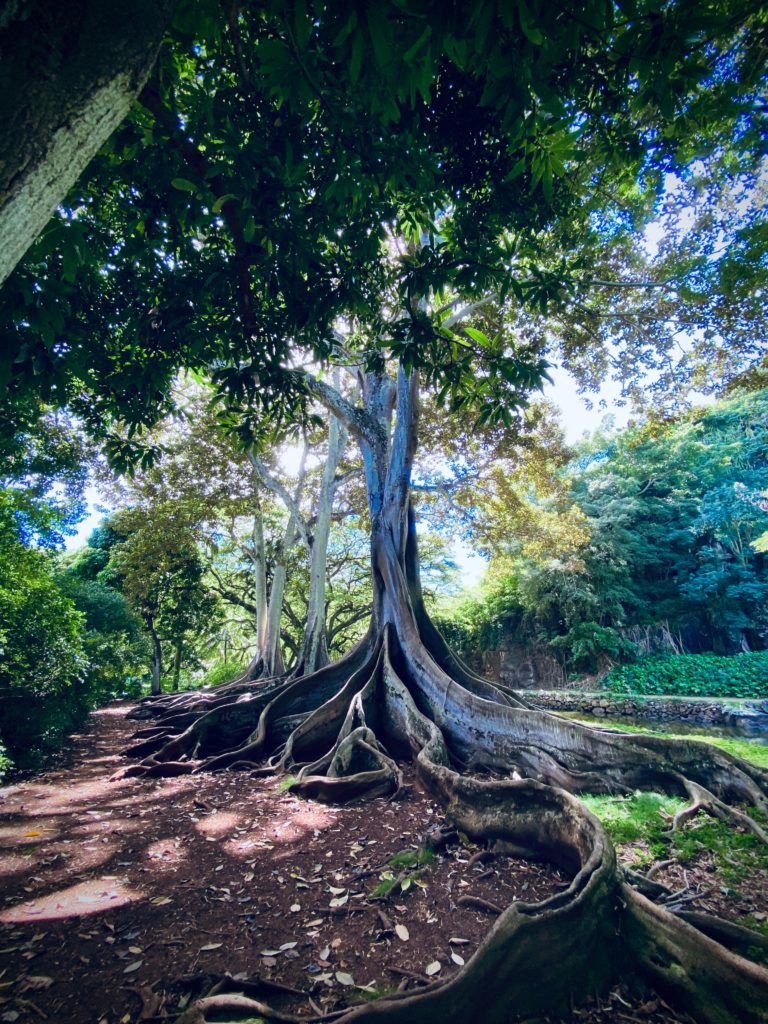 You can explore all the greenery that Hawaii has to offer simply by taking a walk in nature. There's so much beauty to behold on the islands. If you want to learn more about the flora beyond what you can find out in the open, check out the National Tropical Botanical Garden on Kauai where you can immerse yourself in all things conservation, reforestation and plant science.
Make a reservation to explore while you're in the Hanalei area here.
9. Tunnels Beach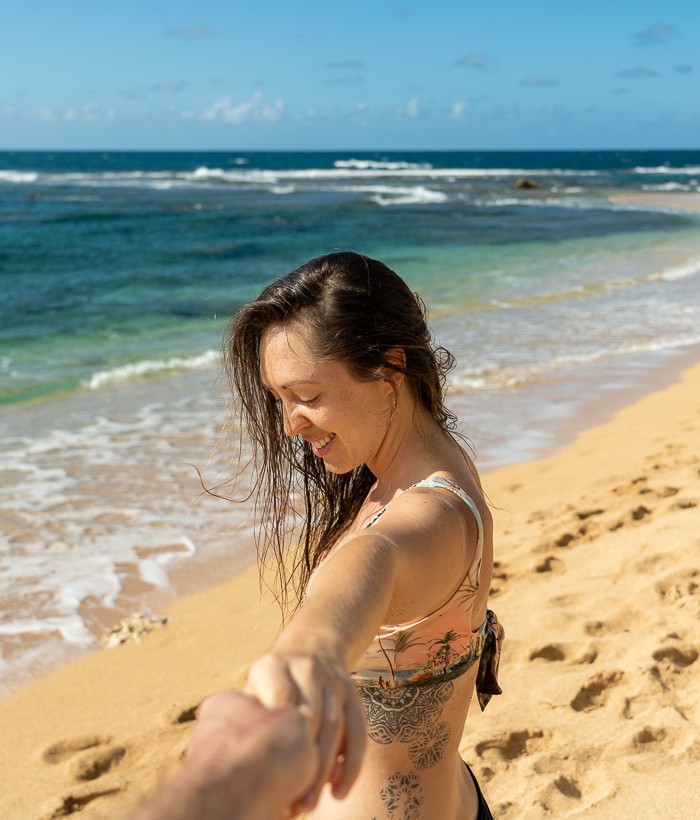 I loved this area for an afternoon in Hanalei. It's popular with kite surfers and snorkelers, famous for its reef and sometimes, its wind.
But on the sand under a palm tree, I hardly felt the strong wind. Although I'm not exactly sure how much area Tunnels Beach covers, the little Cove that we were in was easy to access with some roadside parking and with the limited crowds, we were able to find a spot on a Saturday afternoon down Alealea Road.
10. Hanalei Bay Sunset or Surf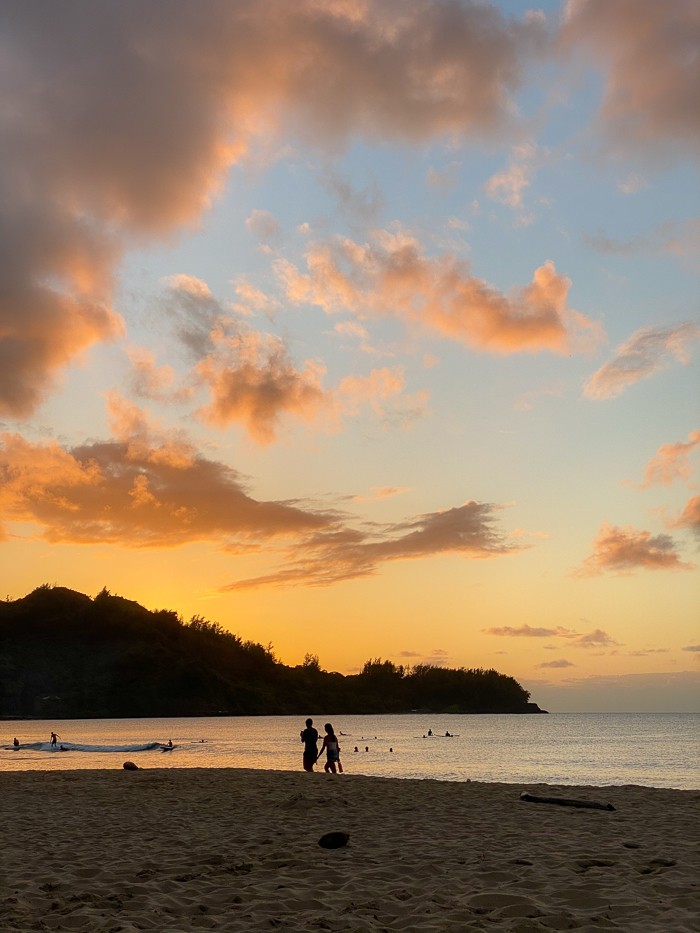 For gorgeous eastward views of a cascading waterfall, and westerly views of the sunset, I love the location and crescent shape of Hanalei Bay.
This area is popular with surfers and paddle boarders, and is close to the action where you can find places to eat, shop, and hang out in Hanalei.
Right now, due to a landslide, access is limited to Hanalei and beyond to certain hours. On Sundays, there are no restrictions but this is ever-changing. You can check the current road conditions here.
11. Wishing Well Organic Iced Coffee (and Jar)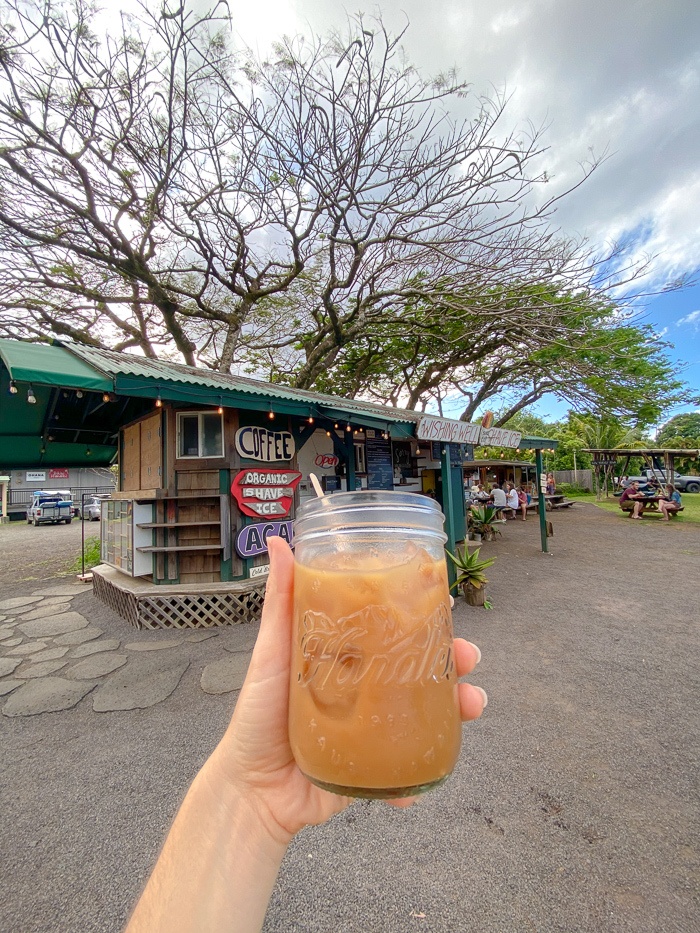 In the town of Hanalei, you'll find a few shacks and food trucks serving up Poke, juice, and in the Wishing Well's case, organic coffee, ice cream, shave ice, and açai bowls.
I loved that with the purchase of the iced coffee ($7), I got this Hanalei mason jar for free! On the other side, it says slow yourself down. What a fun souvenir!
12. Kayak or SUP the River Behind Hanalei Bay
If you're like me and you were hoping to kayak the Na Pali coast, but didn't get reservations in time, kayaking or paddle boarding the river behind the Hanalei Bay is doable last minute and in the afternoon! Enjoy views of the waterfall cascading down the Na Pali coast line as you go.
13. Nourish Hanalei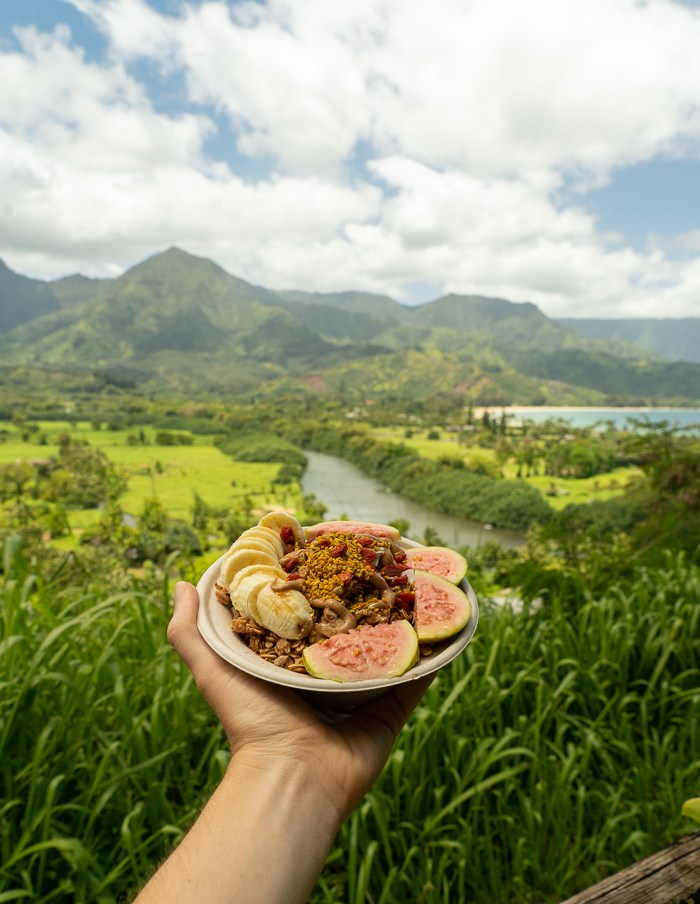 For gorgeous views overlooking the Hanalei Bay without having to wait in the queue to get there, stop by nourish for lunch. They offer juices, healthy savory bowls with pork and veggies, and açai bowls. It was started by three local sisters who offer up health conscious food.
The view enough is worth checking it out, but the food is pretty good too! They're only open for a few hours per day on select days of the week, currently from 11am – 3pm on weekdays only.
14. Sunset at Pu'u Poa Beach
I will always remember the gorgeous view from eating dinner at the Princeville resort, which is currently closed and under construction to open as Hotel One Hanalei. I was initially disappointed that the hotel was closed, until realizing that we could still access the beach, and that there would be fewer people there too!
You'll find a staircase to the left of the construction leading down to this beach, which has some gorgeous sunsets and is just across the river from Hanalei Bay.
Keep in mind that parking for the speech and Hideaway Beach are both extremely limited. I recommend staying in Princeville so that you can access these two easily, and then move to other parts of the island for the later part of your trip. The island is bigger than it seems!
15. Hang at Hideaway Beach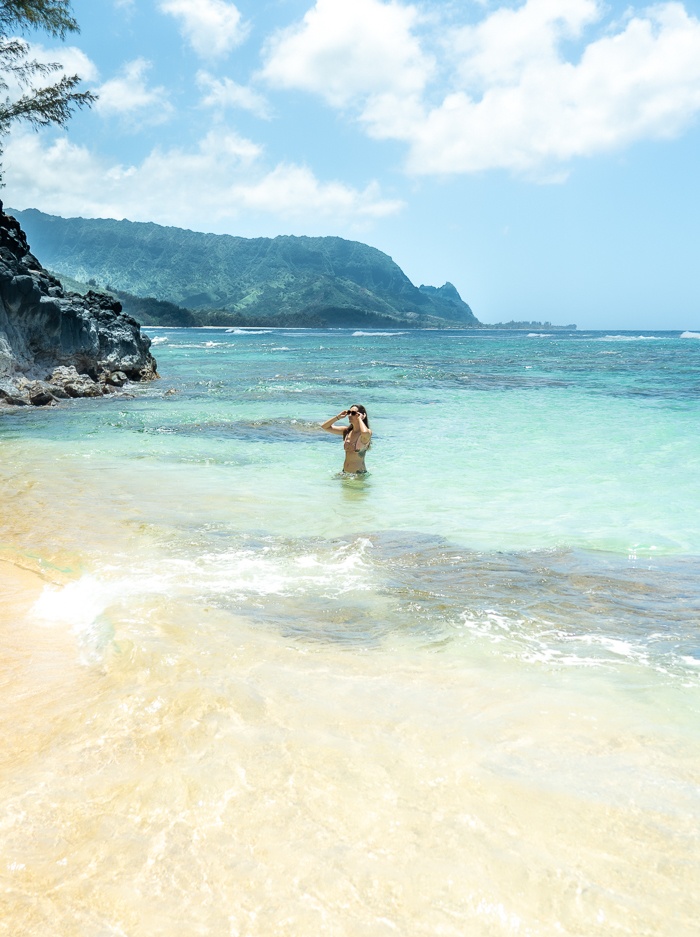 I spent two solid days at this little cove while on Kauai, enjoying the views and monk seals that would swim by from time to time! Be sure to bring your snorkel as there are some tropical fish and the occasional sea turtle here (please be kind to turtles and don't touch or chase).
You'll need to go down some steep steps in order to access the beach, that I can imagine would turn quite slick after it rains. There are ropes to hang onto for your descent. As mentioned before, parking here is extremely limited.
16. Queen's Bath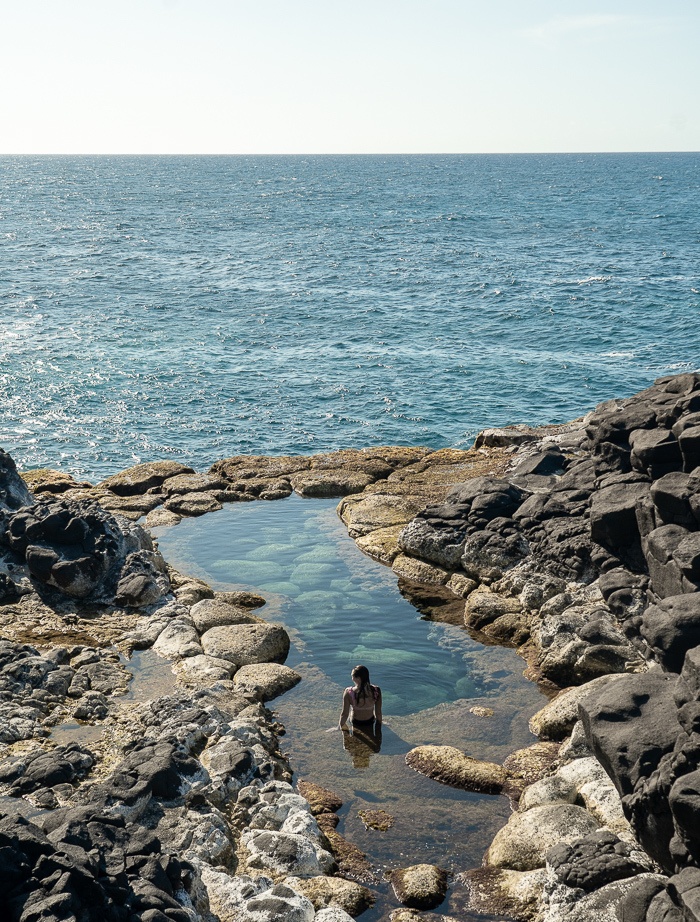 The Queen's Bath is a pool formed from lava stone on the north side of the island, in Princeville.
But there's not just one pool to check out, there are numerous little pools, cliff jumps, and hiking all along the way. I loved checking it out in the late afternoon, seeing all of the sea turtles along this stretch of coastline.
The Queen's Bath is accessed from a sometimes-muddy trail with limited parking. Keep in mind that during times with high surf, this area can be dangerous, and people die by getting swept off the rocks by waves. Be sure to go when the surf is low and the tide is out, this changes every day and you can check the surf report to see the best conditions. Typically, the spring and summer months are better for calmer seas.
There were plenty of accessible pools when I went, as the surf was only at 2 feet and the tide was completely out, but use your best judgment and only go in these pools if there aren't waves crashing on them.
17. Soak Up the Sun at Anini Beach
Known as one of the most beautiful beaches on the island, it's surprising that this one tends to be less crowded than the southern beaches.
Anini beach is located on the North Coast, fairly close to the Kilauea Point National Wildlife Refuge. It's one of the best places to spend the day relaxing, snorkeling, and wading through the calm waters. This Beach has services, including a parking lot, bathrooms, showers, and a boat launch nearby.
18. Catch the sunrise at Kīlauea Point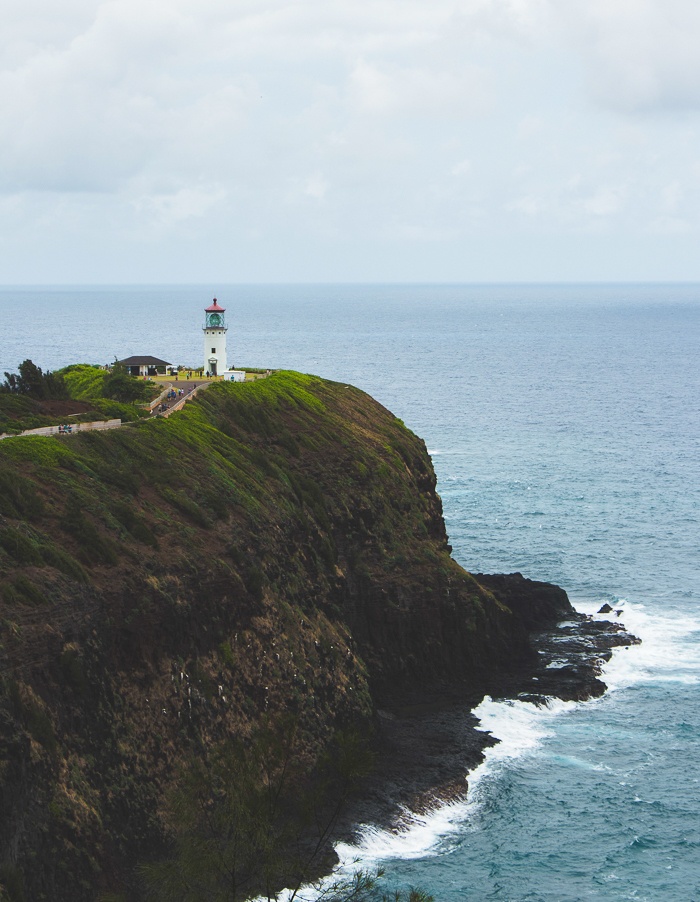 The lighthouse on Kīlauea Point towers 52-feet over the coast and is the perfect place to catch a sunrise on Kauai because of the incredible views. While you can't actually get into the park where the lighthouse is during the sunrise itself, you can still get a great view of the sunrise just outside of the park.
Once the park opens later on, you can explore the grounds and the lighthouse itself. Advance reservations are required and available here.
19. Explore Kilauea Point National Wildlife Refuge
Another great place to visit at Kilauea Point is the National Wildlife Refuge there. While you keep a lookout for local wildlife, you can also learn about their conservation efforts. In the wintertime, you might even be able to see dolphins and Hawaiian monk seals in the waters below!
Due to the pandemic, the park requires a reservation to visit so make sure to plan ahead.
20. Hike the Sleeping Giant East (Nounou Mountain)
For gorgeous views to the east, check out the sleeping giant hike. It's a 3.2 mile trail that is quite popular near Kapaʻa and offers views to the ocean, as well as cave photo ops and cool rock formations. You'll get gorgeous views of the surrounding mountains as well. The beginning is steep, gaining nearly 1000 feet in elevation over the course of the hike, but it's a great, short one with a nice payoff.
21. Take a Chocolate Tour at Lydgate Farms
Did you say chocolate?! There are several chocolate farms on the island of Kauai, and you'll drive by several as you explore the island. But this one offers a farm-to-bar tour and interactive tasting experience. It costs, a pretty penny, though, at $95 per person. Book here.
22. Eat at a Food Truck in Kapaʻa
There's a stretch of road in Kapaa town that has plenty of delicious and inventive eats. You'll find a matcha bar, breakfast joints, places for juice and Kauai kombucha, but you haven't really experienced it without eating at a food truck!
There's a nice variety in this area, including Namaste Indian, Shave Ice by the Bay, and El Taco Feliz.
23. Kayak the Wailua River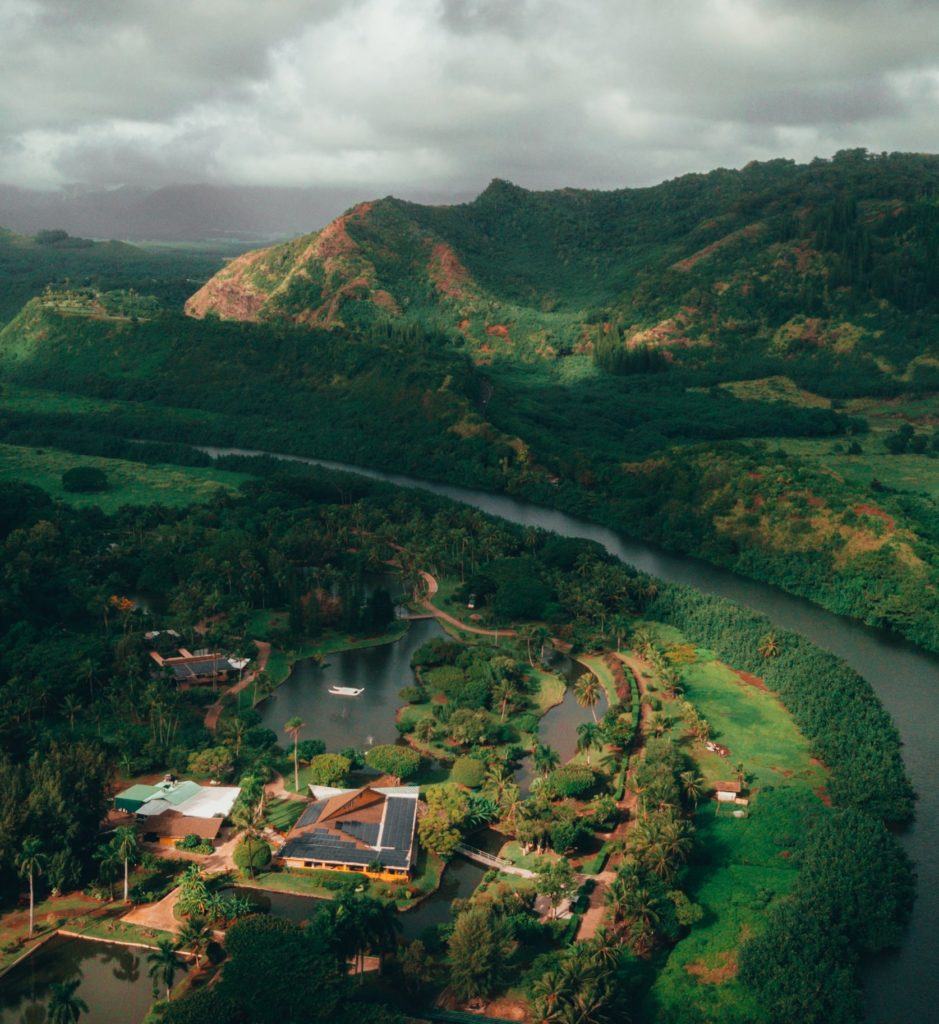 If you want to get on Wailua river in a more adventurous way, you can rent a kayak and move down the river at your own pace. This is such a great way to get out on the water and see the natural beauty of the area. Wailua River is about 20 miles long, making it the longest river on Kauai and the third longest in Hawaii, so there's plenty of river to enjoy!
24. Opaeka'a Falls Overlook
One of the most accessible waterfalls on Kauai, this is just a quick drive to an overlook, just like the next one on this list. You'll find it via a short 5 minute drive up the Kuamo'o Road (rt. 580) from the Kuhio Highway (rt. 56). The falls are surrounded by lush greenery. Unfortunately there is no hiking access to these falls.
25. See or Hike to Wailua Falls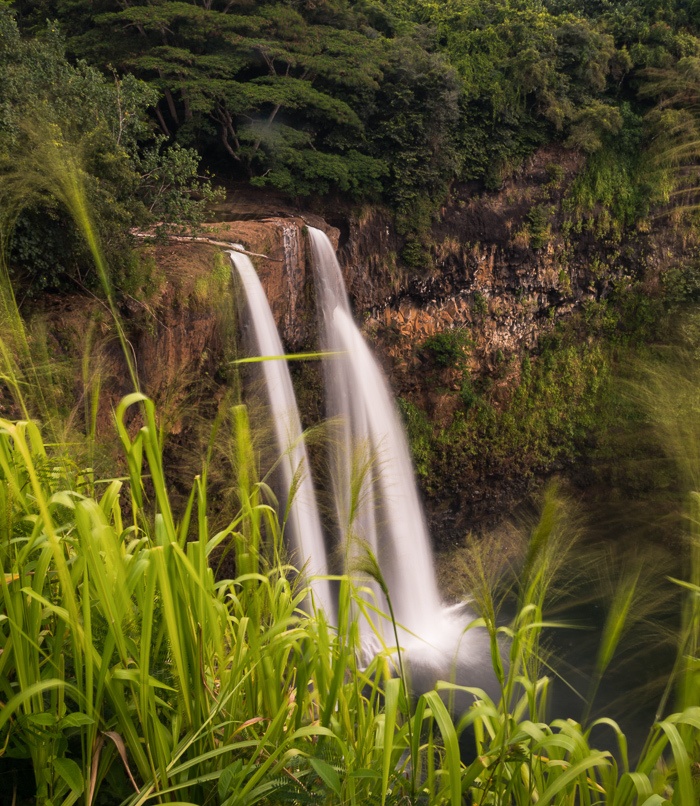 The same as waterfall, or rather twin of waterfalls, as easy to access via Maalo Road overlook and apart from the detour, it only takes a couple of minutes to look at it. That said, you can actually hike to it, which sounds like even more fun! Read more about the hike to the waterfalls and pool here.
26. Kayak and Hike to Uluwehi Falls (aka Secret Falls)
Although not so secret anymore, the secret falls are a visitor favorite and you can access them by foot and kayak rental partway. The kayaking takes about 45 minutes up the river, followed by a 20-minute trek through the lush rainforest along the floor of the Wailua River Valley.
There are many tours that you can take, although this one is easy enough to do on your own. Keep in mind the tours do not operate on Sundays and it may also be difficult to get the kayak rental on Sundays. That said, if you have your own kayak or paddleboard, Sundays might be the best time to visit, as there aren't any tours!
27. Go for a Riverboat Cruise at Wailua River State Park
Not down for a hike or a kayak? Wailua River State Park is located in a lush river valley on the East Shore of Kauai. It's a treasure trove of natural wonders, including a fern-covered cave in the middle of a tropical garden.
The park has a riverboat cruise available, which will take you through the park at a leisurely pace so you can take it all in.
28. Tube Down the Canals in a Sugar Plantation
Check out the Lihue Plantation, where visitors can rent a tube and leisurely float down the old canals of an abandoned 19th-century sugar plantation.
It's known for its interesting history. Did you know that it once encompassed almost the entire town of present-day Lihue? It was the first commercial sugar plantation on the Hawaiian islands, clocking in at over 170 years old.
Expect to see green expanses of grass, towering trees, and even some ancient stone arches from the abandoned structures. It's perfect for living out your ultimate Indiana Jones fantasy, if you ask me!
29. Drive through the Tree Tunnel on the Way to Poipu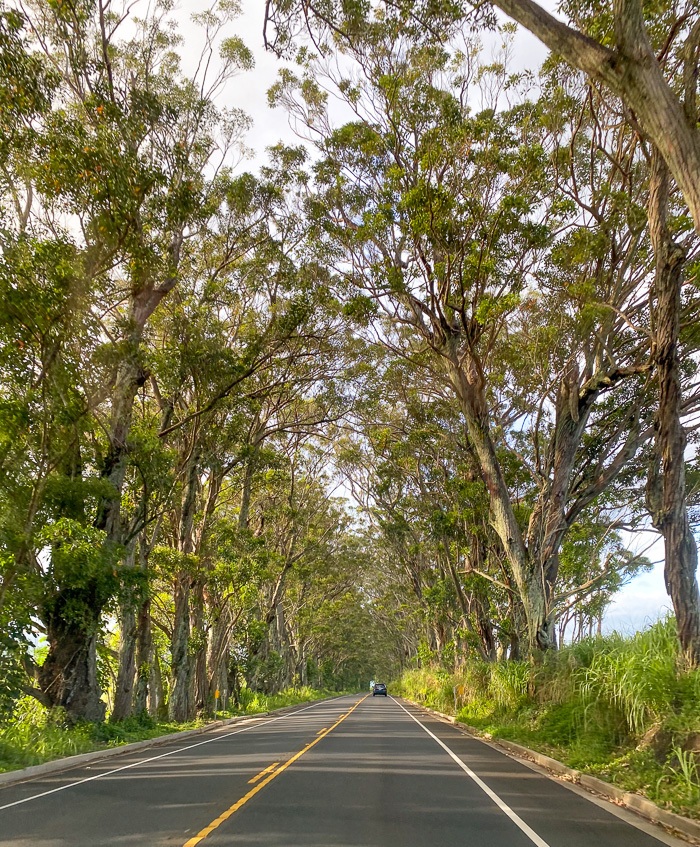 From the main highway to turn off to Poipu, you'll drive through the tree tunnel, full of giant Golden Pothos vines growing all along the tunnel of tropical trees, through what used to be a sugar plantation.
Normally, I love to get out and take photos in the middle of roads like these, but this is a pretty busy drive without anywhere to pull out, so I recommend just enjoying this from within the vehicle.
If you've been to the other islands, like the big Island, this isn't the only tree tunnel in Hawaii!
30. Hike the Maha'ulepu Heritage Trail
This 3.7 mile hike is an easy one on the bluffs along the ocean in Poipu, stretching from Keoneloa Bay to Kawailoa Bay. There's a ton of history and cultural sites here, including the Waiopili Heiau, which you can read more about on the Poipu Beach foundation website.
Be sure to pack a hat and sunscreen, as this hike is uncovered and you'll experience lots of sun! But the good news is, you can jump right into the ocean when you finish.
31. Marvel at the Spouting Horn blowhole
A lesser-known place to visit in Kauai, this impressive blowhole is the most dramatic one you can find on the islands. It's located on the South Shore and is one of the easiest and quickest blowholes to access, making it a quick stop.
When the blowhole erupts, the water is blasted up to 50 feet in the air. This one in particular is known for the unique sound that it makes, so keep an ear out for that!
32. Watch Cliff Jumpers at Shipwreck Beach
The beach in Poipu has showers and bathrooms, as well as a beach with plenty of shade from the pine trees. You can also begin the heritage trail from here. These waves are also popular with surfers, and there is a cliff jump on the left side of the beach. I was advised not to jump unless I see other people doing so successfully, it's a tall jump, and there can be a rip current, so use your best judgment, or just watch from the shore like I did!
33. Visit the Makauwahi Cave Reserve
Also in Poipu, you'll find the Makauwahi Cave Reserve with your cave fix on the southern side of the island.
You'll find a massive cave that you'll have to do some hand-and-knee crawling on to enter, but once you do, you'll be greeted with a limestone cave, and some tortoises nearby.
34. Snorkel with Sea Turtles at Poipu Beach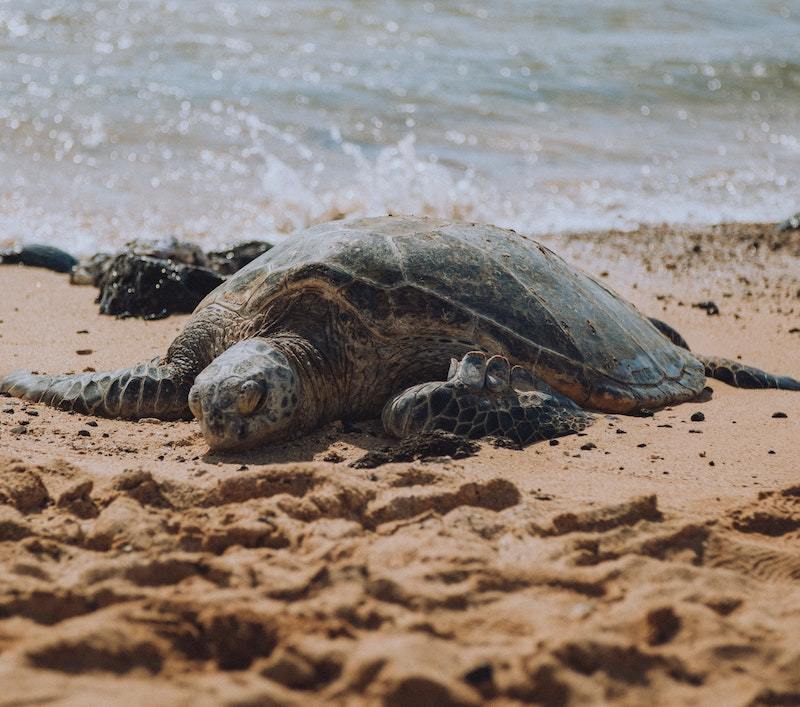 There are hundreds of places to snorkel in the Hawaiian islands, so it might seem daunting to choose the best one. Poipu Beach is known on Kauai for being the absolute best place to see sea turtles while snorkeling. Check out this list of places to snorkel in the area.
It's important while interacting with the sea turtles to keep a respectable distance. Never approach a sleeping turtle on the sand, and leave a good distance while swimming in the water with them. 6 feet or more is appropriate. The sea turtles are endangered, so please never touch or get close enough for the coveted turtle selfie. It's not good for them!
35. Grab a bite and shop at Warehouse 3540
If you're around Poipu, make sure to stop in at Warehouse 3540 where you can find a variety of local artisan stalls selling handmade goods. It's a great alternative to the mass-produced souvenirs you'll find at bigger stores on the islands. Here you'll also find a few food trucks outside which sell all kinds of delicious food, including vegan poke!
36. Buy local produce at a farmer's market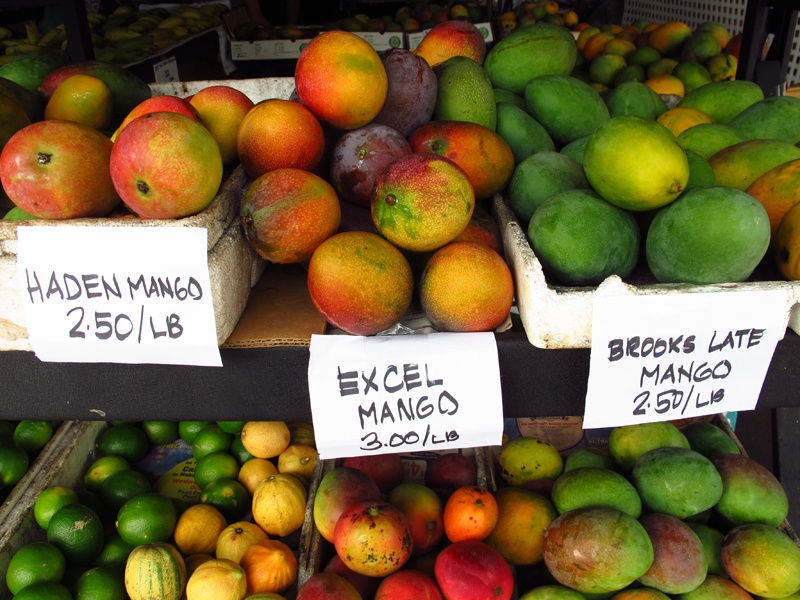 If you've been to Hawaii before, you've probably noticed that prices at the grocery store tend to be much more expensive than the mainland due to the extra cost of transport. Shopping at a local farmers market is a great alternative to a grocery store visit because it helps support the local economy and generally the produce is fresher and more delicious.
A few great ones to check out are Kukui'ula Kauai Culinary Market in Poipu on Wednesday evenings and Hale Halawai Farmers' Market in Hanalei on Sundays.
37. Visit Glass Beach
Candidly I have not been to this beach, but like the one in Fort Bragg, California, the sea glass on this beach has been worn down by the ocean to create an intriguing, man-made beach sand in an otherwise industrial area that some out there might find interesting!
This place gets mixed reviews, with some people saying there is a weird vibe and others saying there's not that much about it that is exciting. You also get people collecting the glass, making it hard to find unless you go at low tide.
38. Explore Waimea Canyon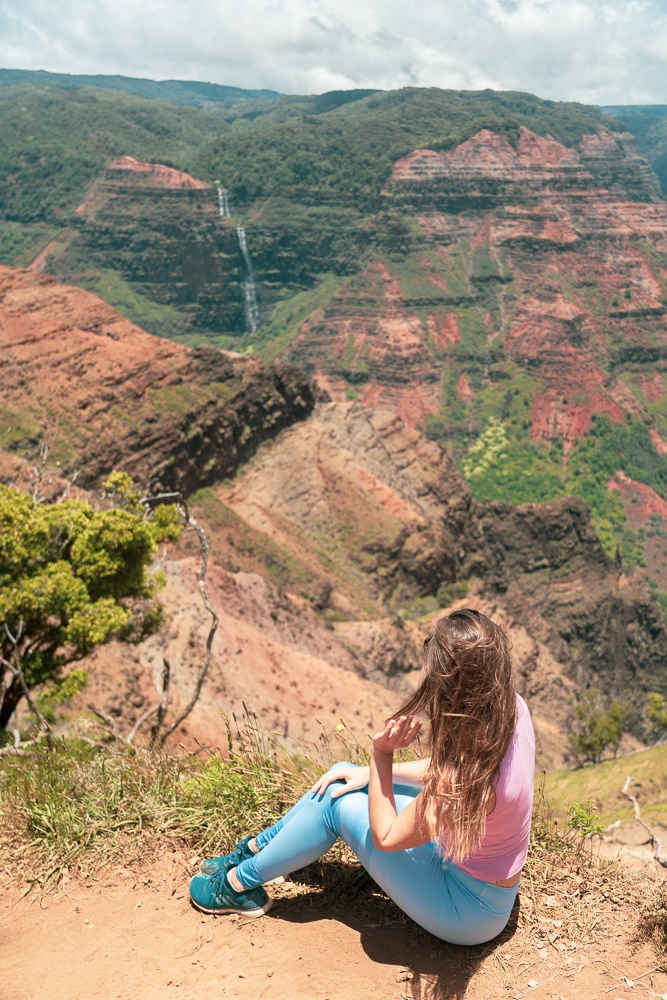 Now we are making our way to one of my favorite parts of the island, back around to the other side of the mountains that you get to enjoy from Princeville and Hanalei. It's kind of crazy that you can only access them by driving all the way around the island, but for a view of this gorgeous nature that doesn't require an advance permit, definitely check out Waimea Canyon and beyond.
Known as the "Grand Canyon of the Pacific," this natural wonder is a must-see on Kauai. As you drive on Waimea Canyon Road, you'll find plenty of scenic overlooks where you can snap a legendary pic or simply take in the views. From the main Canyon Overlook, you can even catch a glimpse of the 800-foot Waipo'o Falls!
39. Hike the Waimea Canyon Trail
This hike is about 2-4 miles, roundtrip, as some hikers only go as far as Waipoo Falls along the Canyon Trail, while others only take the short walk to the end of the Cliff Trail. This only takes you to the top of the waterfalls, which does disappoint some hikers.
Read on for some even better, albeit steeper and more narrow, hikes.
40. Hike the Awa'awapuhi Trail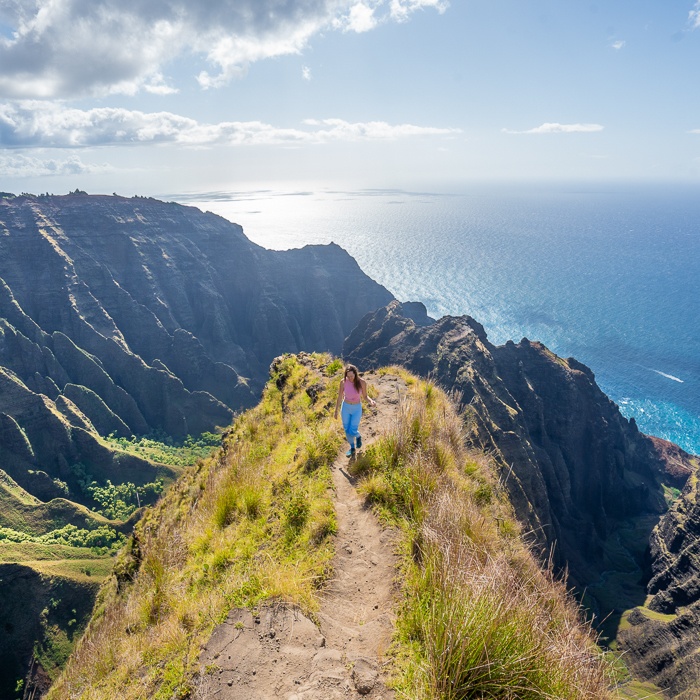 I thought this hike was awesome. It is well shaded, well marked, and although it can get slightly muddy, it wasn't as bad as some of the other hikes in Kōkeʻe State Park.
The hike seems super easy at first, descending 1500 feet to the viewpoint below. In order to get the full experience, you'll have to continue down a steep, somewhat loose dirt overlook to a narrow trail. I could see how this would be very uncomfortable for people who don't like heights, although I think that you'd be missing a lot of the payoff for this trail if you didn't at least go down a little bit. That said, many of the trails in this area are steep and you're enjoying these for use at your own risk.
Remember to pack plenty of water, because you'll be climbing all those 1500 feet back up!
41. Hike the Kalepa Ridge Trail
I wish I had done this one, as I later heard, it's the best one in the area. It's only a 30 minute hike, but there are signs warning you not to go, just like you will find on some other popular places on Kauai, including a hidden beach. If you do choose to go, I know that the trail has steep drop offs but the payoff is gorgeous views.
42. Check out the Pu'u O Kila Lookout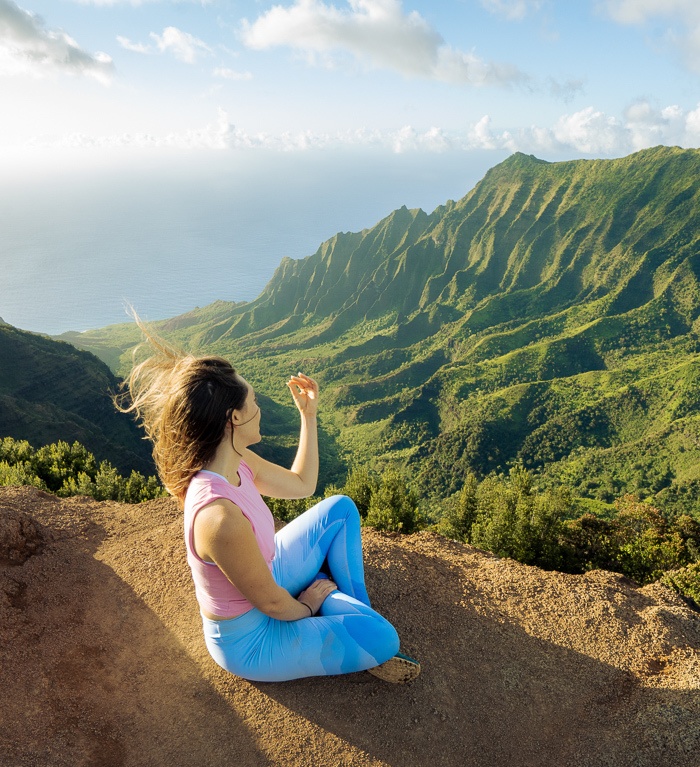 This is easily one of the most impressive views on the island, and maybe in Hawaii and even the entire USA. If you don't get a chance to do the helicopter ride or the Kalalau Trail, this overlook is the closest you can get to experiencing the grandeur of the Na Pali coast.
Best of all, it's easy to get to, at the end of the road in Kōkeʻe State Park. Just park and walk to the right for a few yards for these gorgeous views.
43. Look out for Manawaiopuna Falls from a helicopter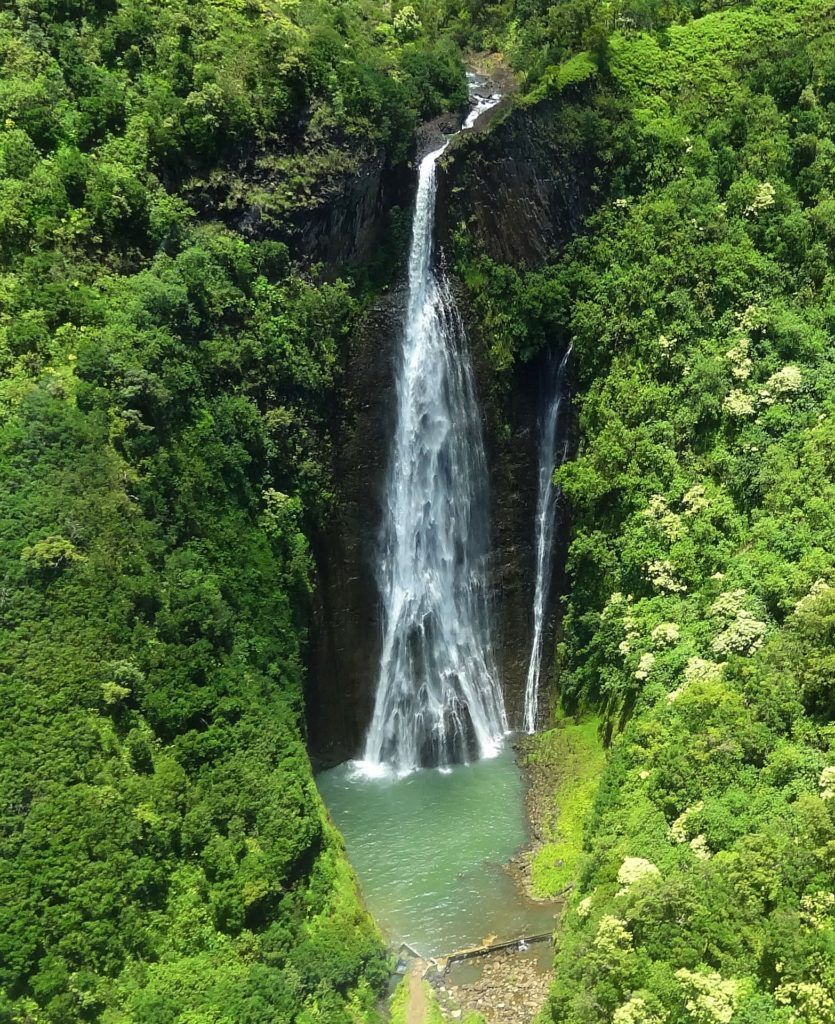 Manawaiopuna Falls is one of the most impressive waterfalls in Hawaii, towering 400 feet in the air. You may have seen it in the 1993 Jurassic Park movie! Because of how remote this natural wonder is, the only way to see it is from a helicopter tour. This tour can actually take you to the base of the falls where you can feel its incredible energy and see it from a whole new perspective.
More helicopter tours in Kauai here:
My third visit to Kauai only served to remind me of what made me fall in love with it as a teenager 17 years ago. It is lush, dramatic, full of adventures, with beautiful beaches and a friendly vibe. I love every Hawaiian island, and they are each so unique, and what I love most about Kauai is that even though it is small, it is chock-full of adventures. I hope that this list helps you scratch the surface!
Pin me for later: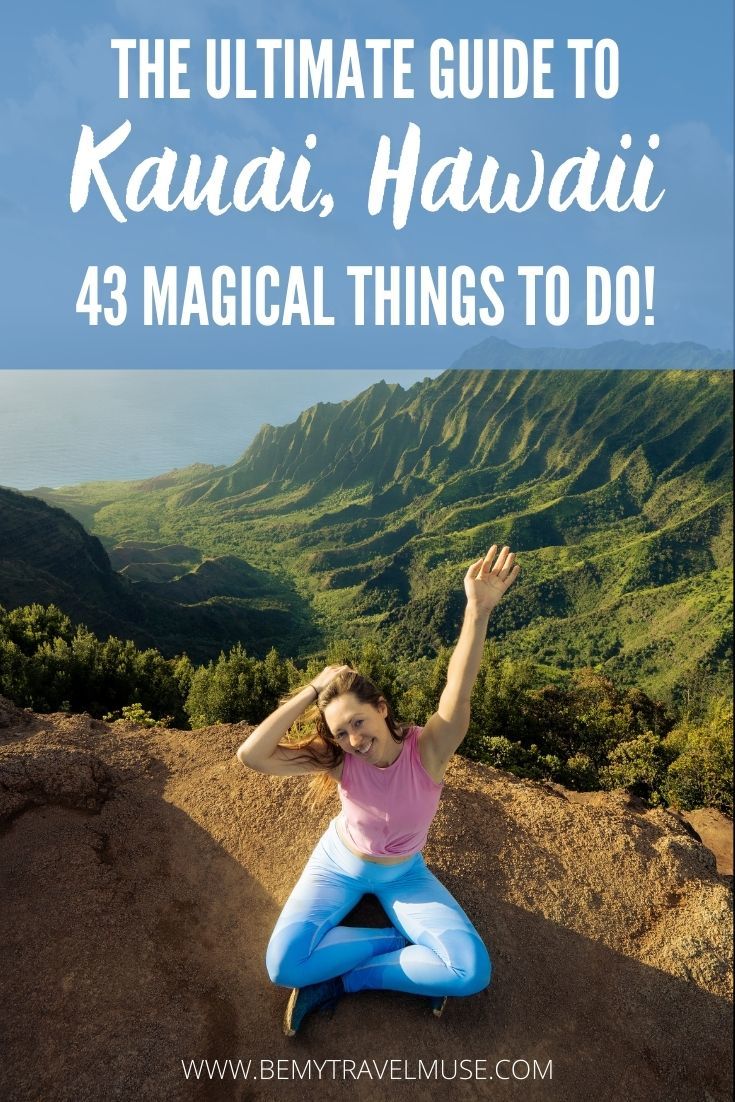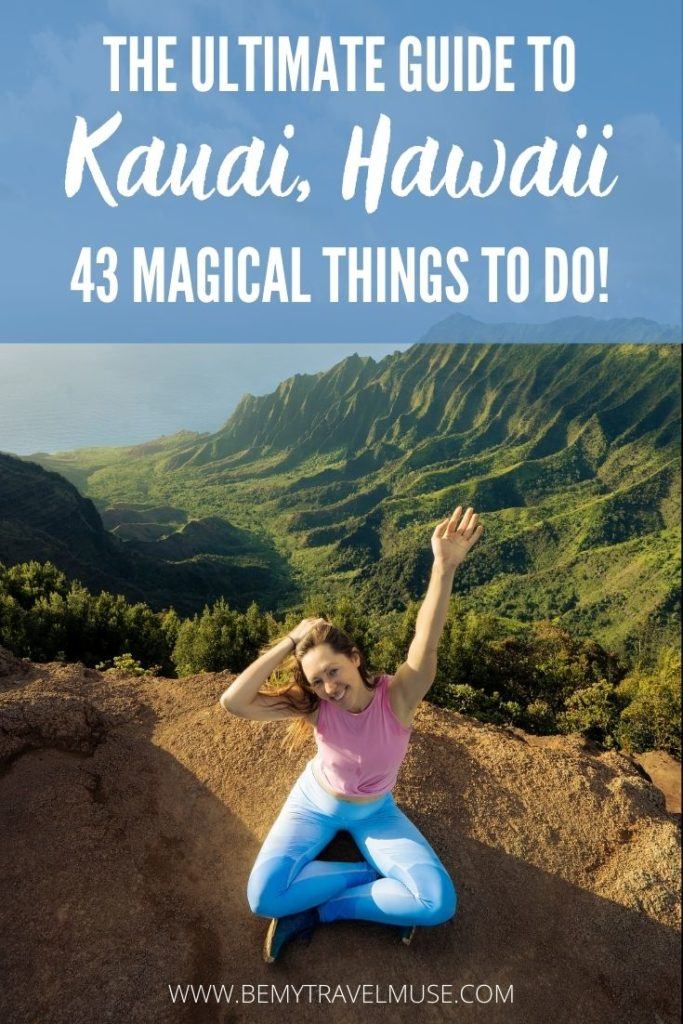 Planning a longer trip? Check out our complete Hawaii guide for more inspiration!