It's easy to get carried away while dreaming about our next international adventure in some faraway land. We often seek out unfamiliar foreign places because we deem them more exciting and perhaps more worthy of our attention. I sometimes forget that there are plenty of destinations within my own country that are just as beautiful and unique as the picture-perfect ones abroad that litter my Pinterest feed.
Whether you call the United States your home or are looking to pay a visit, here are the 38 most beautiful places the country has to offer:
38. Kenai Fjords National Park, Alaska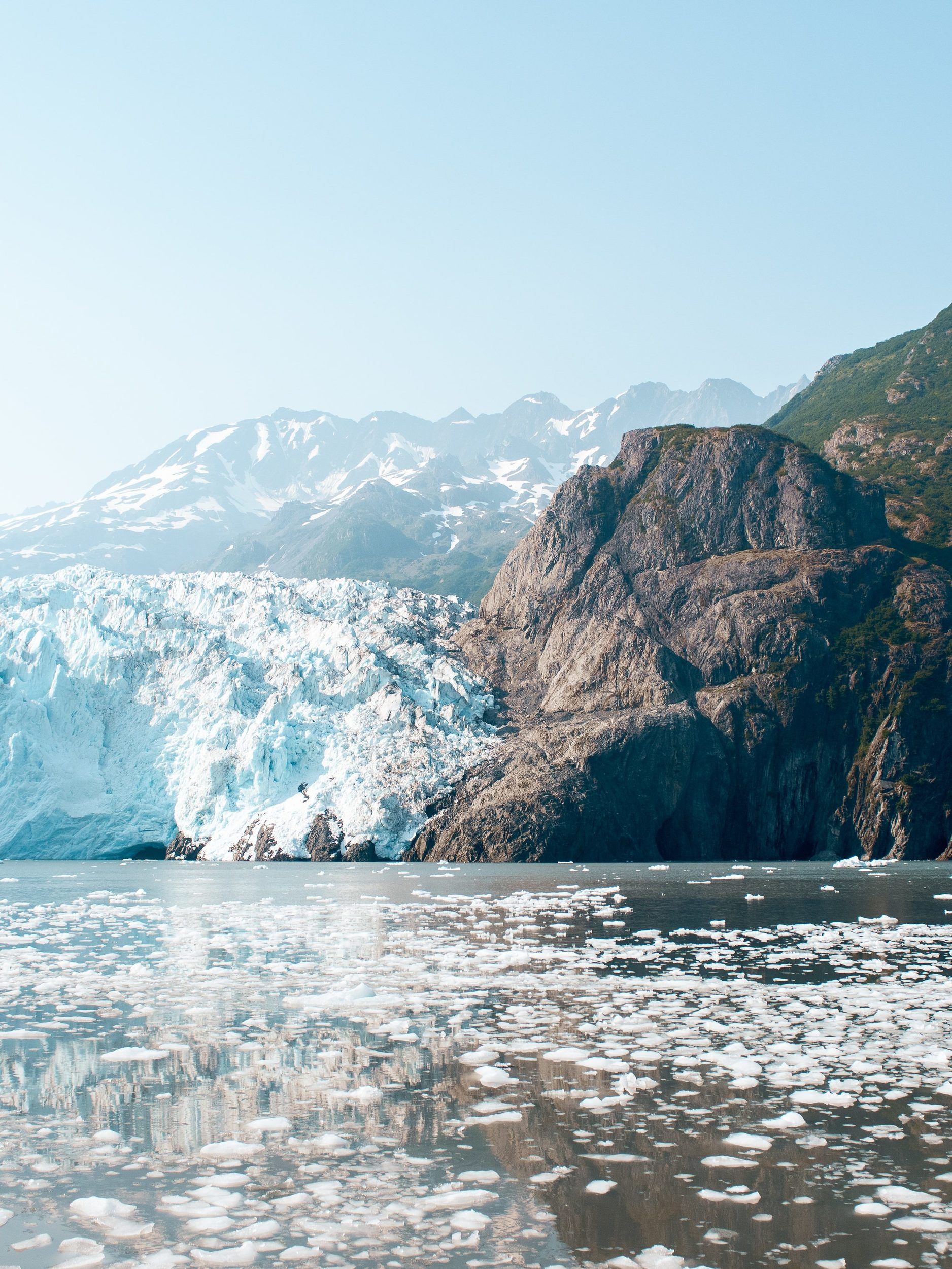 Alaska is home to the most beautiful icy landscapes in the United States, hands down. Kenai Fjords National Park is where the rugged mountains, vast expanses of ice, and icy ocean waters meet. This combination makes for the most beautiful fjords in the country.
Most of the national park is only accessible by water, so taking a boat tour allows visitors to see as much of it as possible and is the best way to soak up the fjords' beauty. This is also a great way to spot orcas, gray whales, and other marine life.
Choose from a half-day or full-day tour, and the boat captain will take you to as close to the glaciers as possible, where you are likely to observe some glacial activity. Some tours include getting off the boat to kayak or even to explore an island, whereas others focus on wildlife watching.
37. Road to Hana on Maui, Hawai'i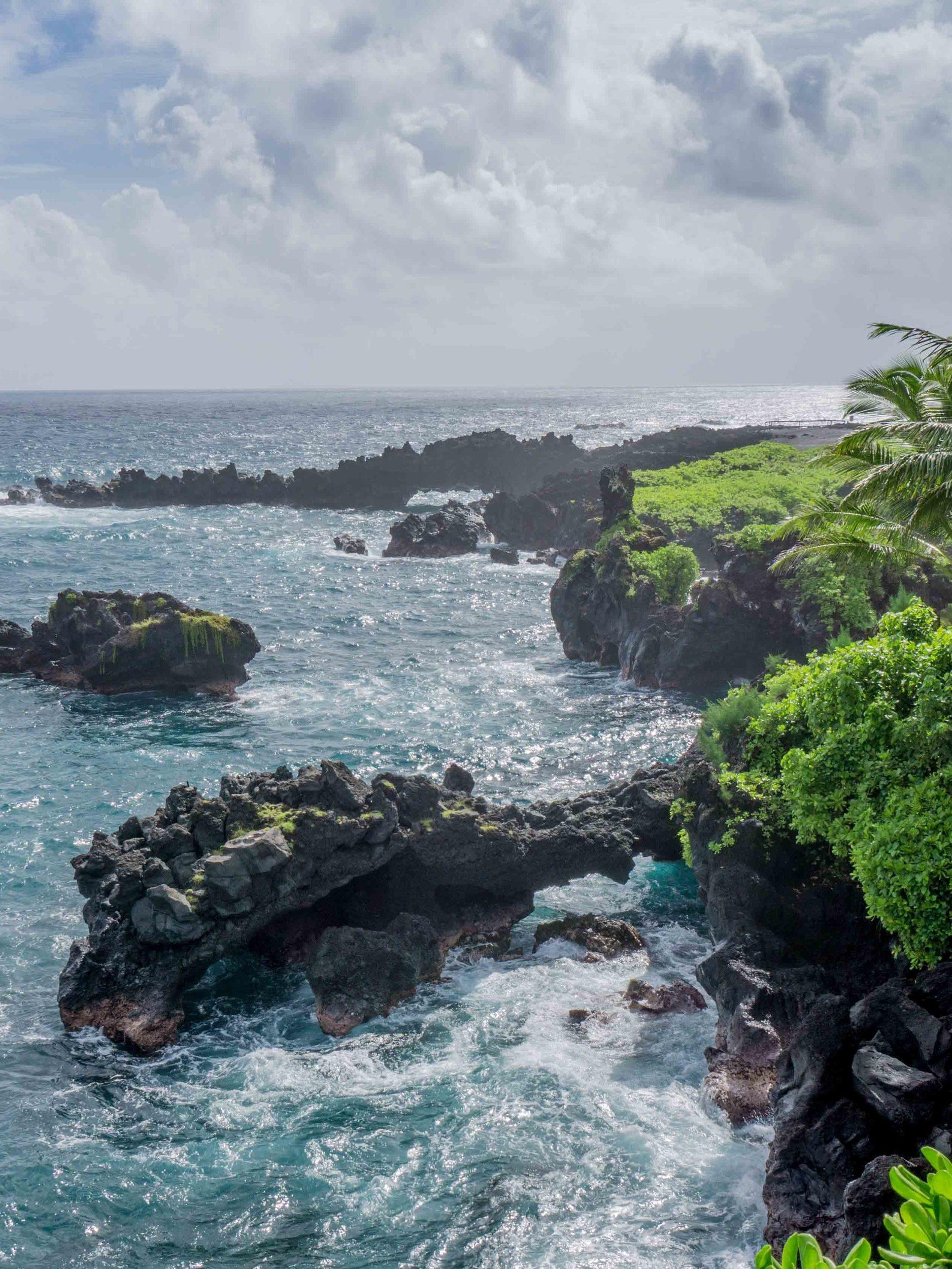 This 64-mile road on Maui is one of the most breathtaking stretches of highway that you can drive in the United States. This epic journey is full of twists and turns that include waterfalls, beaches, small towns, and dense jungle.
The road to Hana includes stops at the Keanae Peninsula, where jagged volcanic rock coupled with crashing waves makes for a unique scene. You'll also encounter Waianapanapa State Park, which features a picturesque black-sand beach and even some cool sea caves. These are just two of the many incredible stops on this route.
36. Nā Pali Coast on Kauai, Hawai'i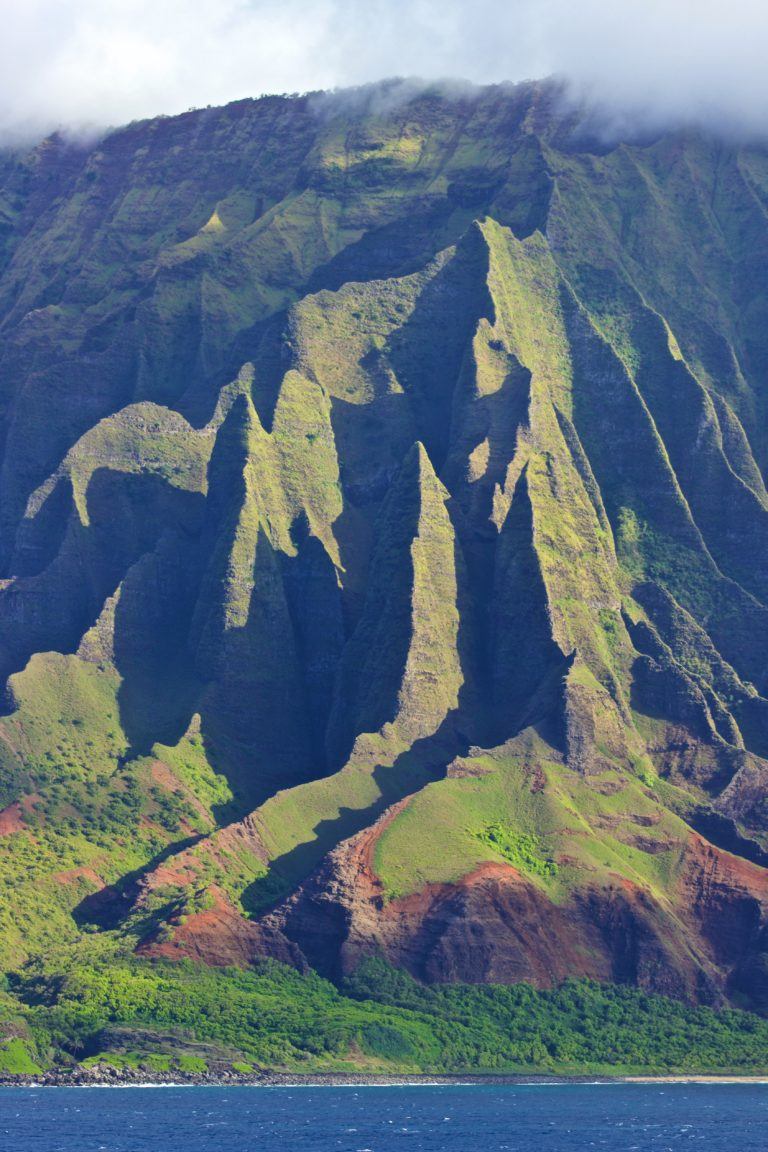 Another Hawai'i favorite, the Nā Pali Coast has Kauai's most spectacular scenery. It's situated on the northwest corner of the island, and the shores can only be seen by hiking in or sailing along them. Because of its beauty, it was one of the primary locations where Jurassic Park was filmed.
To get the best views of the Nā Pali Coast, Capt. Andy's has boat tours that include stops to snorkel and explore caves. You can also book a sunset cruise for a romantic end to your day. No matter how you choose to explore it, it's completely worth the trip!
35. Mount Rainier National Park, Washington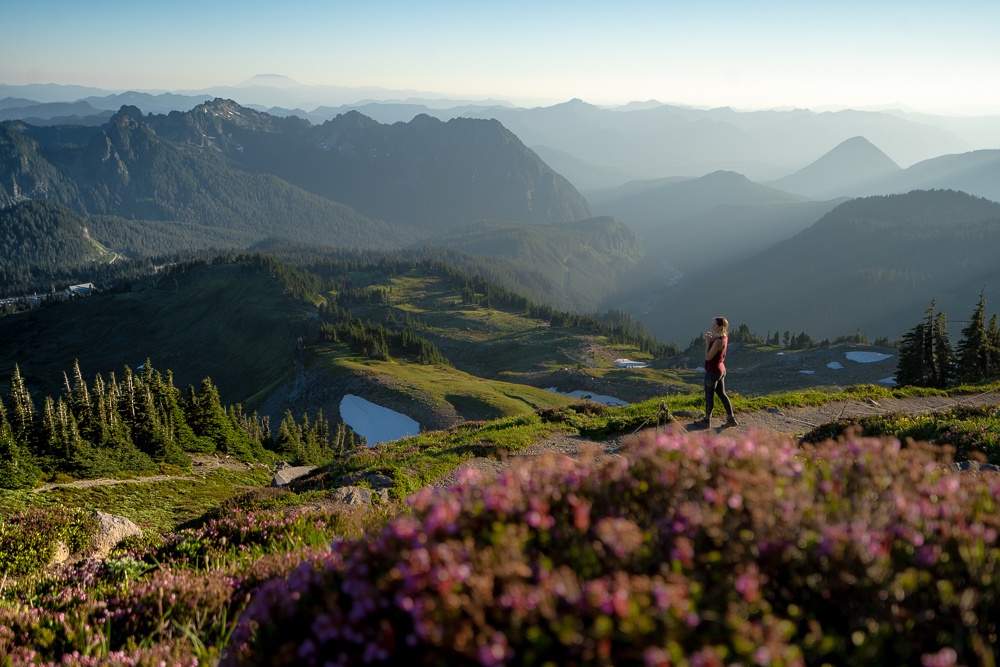 If you're hitting up the national parks in Washington, Mount Rainier is likely at the top of your list already. The gigantic Mount Rainier in itself is a sight to behold, but that is only the beginning of what else there is to see there. From catching a sunset on the Skyline Trail to watching the sun rise over the Reflection Lakes, the amount of breathtaking scenes at Mount Rainier National Parks seems endless.
Although you could spend a week or two, perhaps even more, just a couple days in the park is enough to see some of the best and most beautiful places. Check out this guide for how to spend 48 hours in Mount Rainier National Park.
34. Oneonta Gorge, Oregon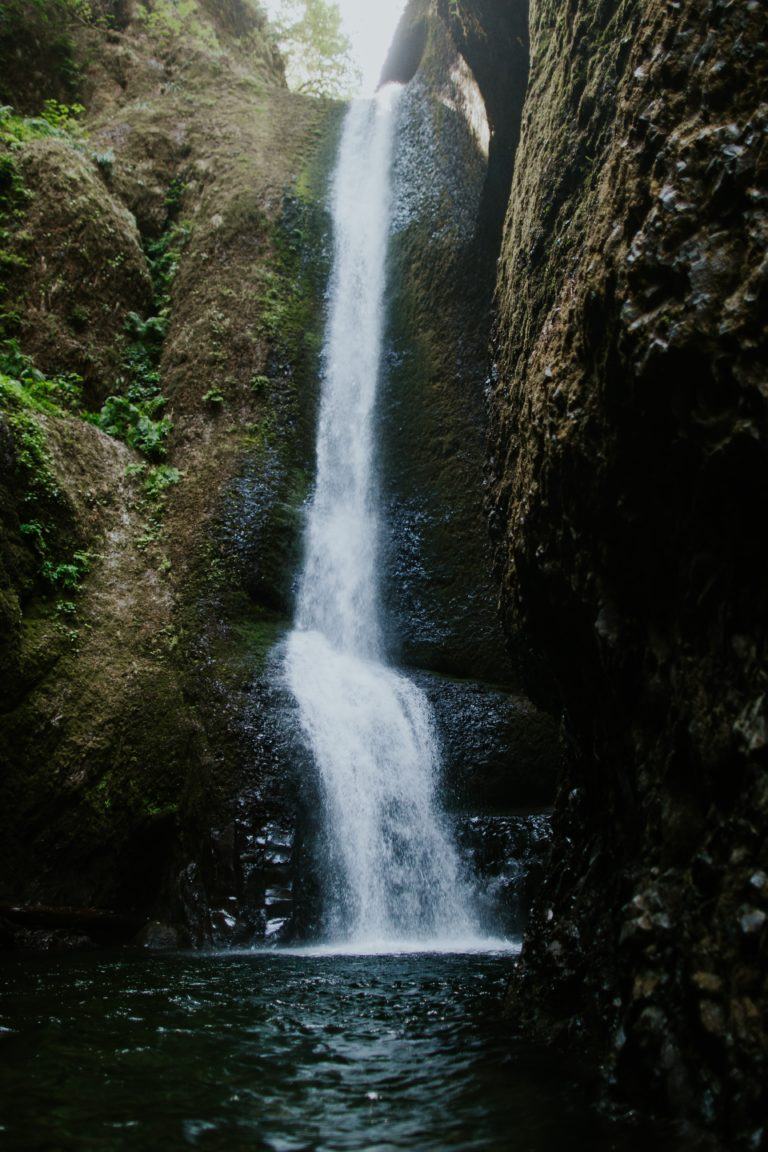 If you're looking for a lesser-known spot to visit, Oneonta Gorge is the perfect off-the-beaten-path destination for gorgeous waterfalls and lush forests. It's located right next to uber-popular Multnomah Falls, which is also worth a visit. The mossy rocks in the gorge boast bright green hues while you make your way through the chasm along the creek trail.
The hike is part of a 2.7-mile loop along which you'll find waterfalls and streams. There are a few offshoots from the main trail leading to Oneonta Gorge that will take you to waterfalls such as the 120-foot Triple Falls, which is worth the extra 1.8-mile hike.
33. Crater Lake, Oregon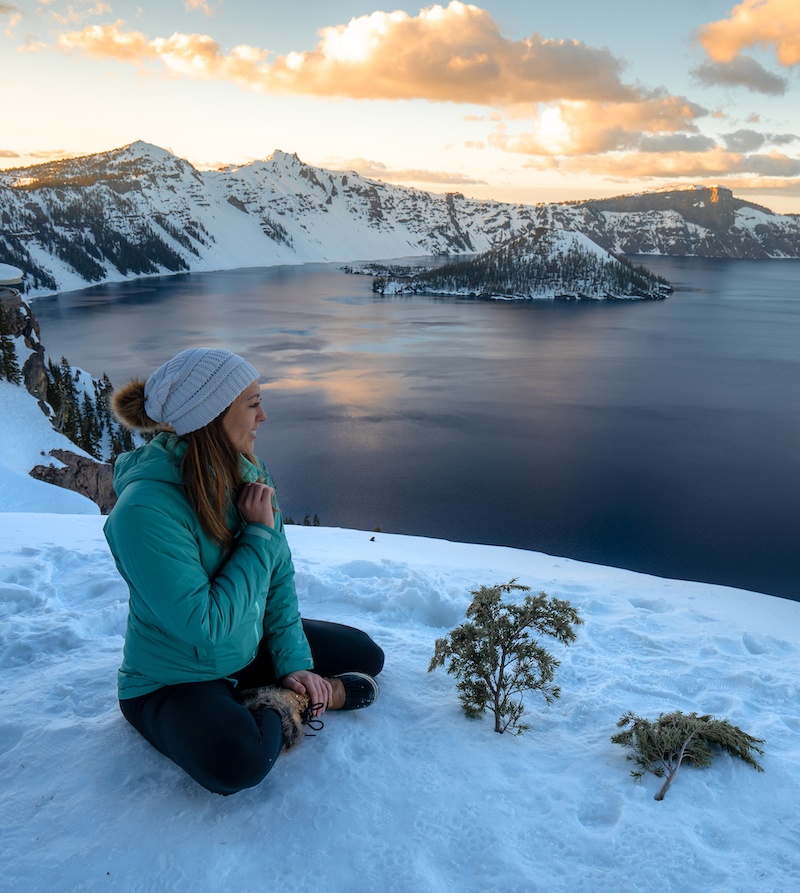 Crater Lake is on our list of the most spiritual places in the USA. Considering that beautiful places in nature can have a deeply meaningful–even spiritual–effect on us, it's no surprise it's on this list, too. Crater Lake is the deepest lake in the country and is the main attraction at Crater Lake National Park in Oregon.
One of the most impressive things about Crater Lake is that it is stunningly beautiful in any season. Visiting in the summertime means you get to see the surrounding mountains in all their lush green glory, while visiting in the winter gives you a completely different scene. Either way, you're in for a treat.
32. Sequoia and Kings Canyon National Parks, California
This national park is one of the most beautiful forests in the United States. The giant sequoia trees that are native to the area are a treasure to behold. Some of them live to be thousands of years old, and many are so tall that it is difficult to see the tops of them from below.
These massive trees alone make Sequoia and Kings Canyon National Parks worth a visit. However, there is even more than just the trees to discover here: you'll also encounter canyons, caverns, foothills, and mountains waiting to be explored.
31. Big Sur, California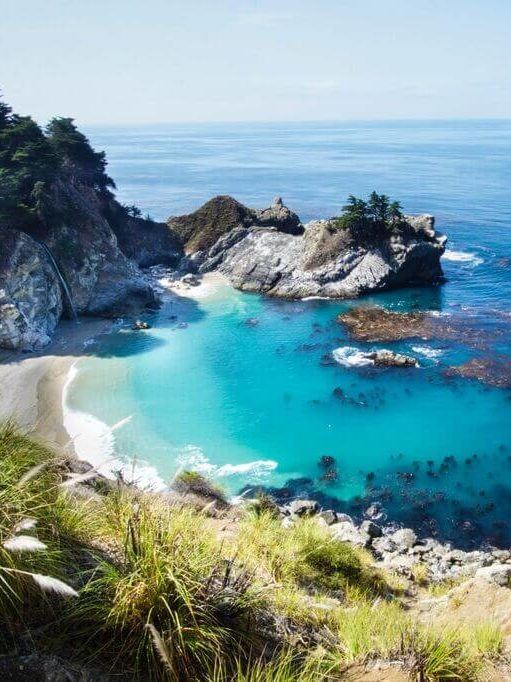 If you want to see the USA's most awe-inspiring cliffs, head to Big Sur in California. The coastline here is sure to make its way onto your California bucket list because of its spectacular views. The Big Sur area is also home to McWay Falls, a waterfall that flows right into the ocean when the tide comes in.
It also contains some hidden gems, like Pfeiffer Beach, which has purple sand! Of course, no trip to Big Sur would be complete without visiting the famous Bixby Bridge in the northernmost part of the area. You'll notice all kinds of beauty in Big Sur, from the quintessential bluffs to the giant redwoods and plenty in between.
30. Death Valley National Park, California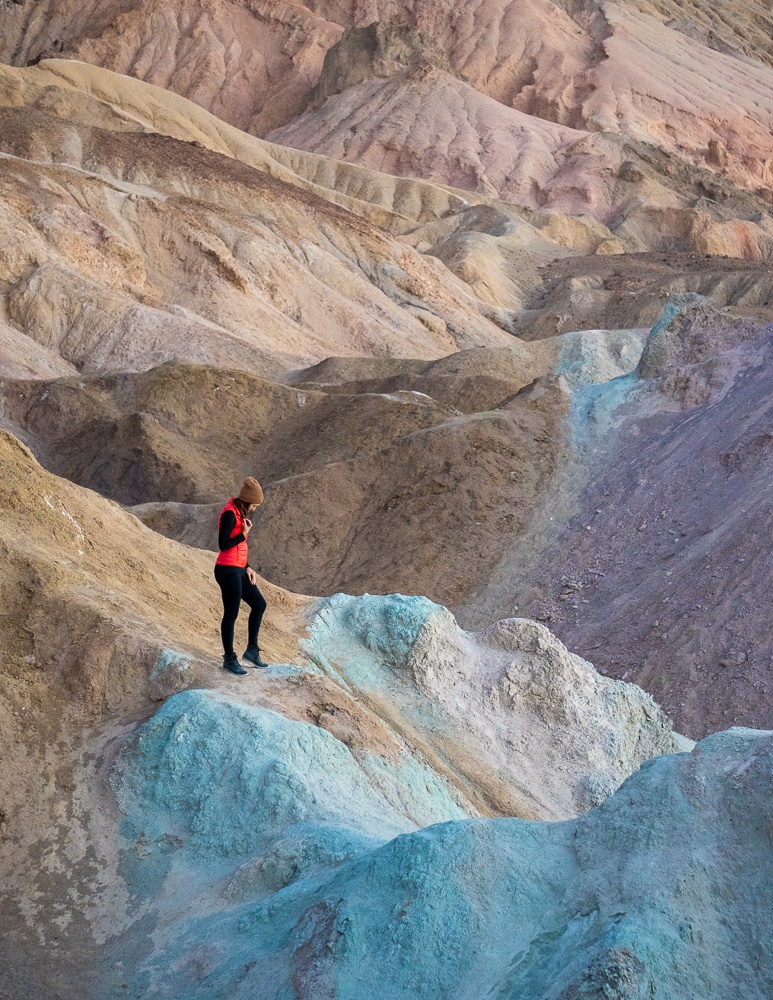 It's no secret that BMTM loves Death Valley. While this destination is best known for its scorching temperatures, it also has some of the most beautiful desert hikes in the United States, as well as impressive land formations and salt pans.
The most famous trail at Death Valley is the hike to Golden Canyon, which is known for the color-changing effect the daylight has on its layers of rock. However, make sure to bring plenty of water with you and avoid visiting in the summer, as the temperatures are borderline dangerous. The best time to go is in December or January, and even then it's warm!
Besides Golden Canyon, there is plenty to do in Death Valley National Park. Check out our guide on where to stay and camp there!
Watch our vlog on how to spend 48 hours in Death Valley National Park here:
29. Lake Tahoe, California and Nevada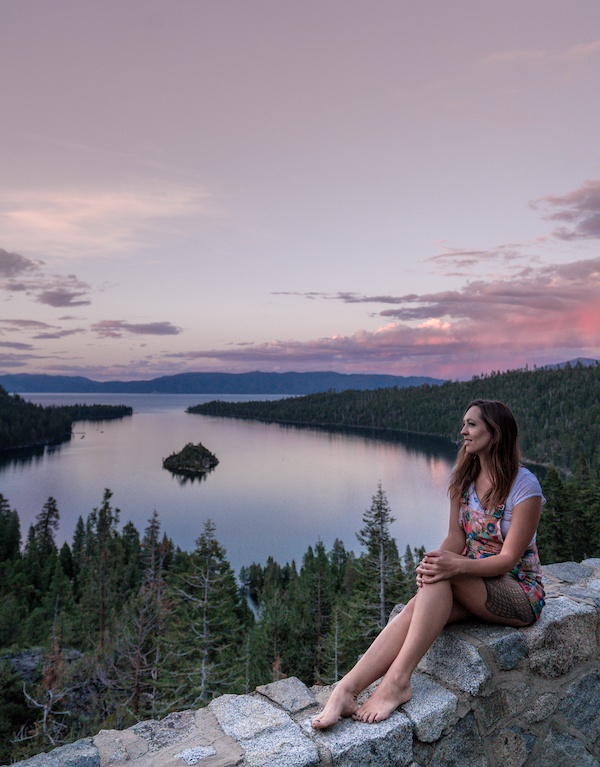 Lake Tahoe is easily one of the most photogenic places in all of the United States. It's one of the largest alpine lakes in the world, and its vibrant blue water against the backdrop of the surrounding mountains makes it wondrous to behold.
On the Nevada side, check out Mount Rose, whose mountaintop boasts incredible views of both Reno and the lake. Another great spot to see the lake from above is Chickadee Ridge, which is also an excellent birding spot. On the California side, stunning Emerald Bay features the best sunrises, and it is beloved for its beauty.
There is plenty to do on Lake Tahoe, no matter the season.
28. White Pocket, Vermilion Cliffs National Monument, Arizona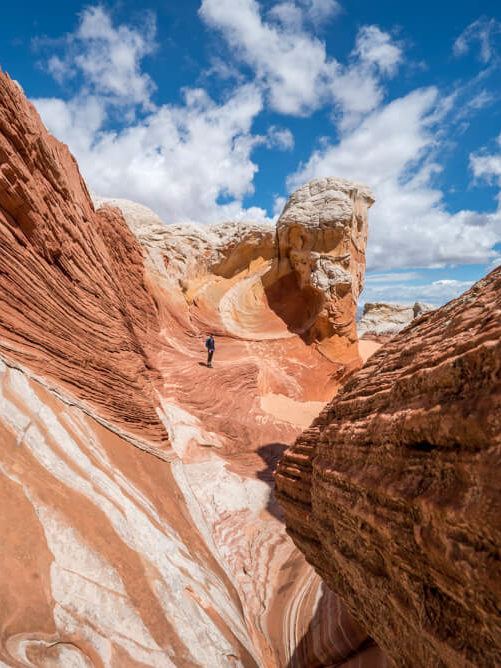 Speaking of otherworldly places, the White Pocket at Vermilion Cliffs National Monument is one of those that will have you stumped to think of anywhere else on the planet — let alone the USA — that is even remotely similar. The White Pocket gets its name from the swirls of white rock within the quintessential orange rocks that this park is known for.
In this case, the rocks are the star… (Get it, rockstar? Poor joke, but I had to.) The intricate geometric patterns that are created from the swirling of white and orange are a fascinating sight, as are the staggering rock formations that shoot up in every direction.
The famous Wave is located nearby, which often overshadows this beautiful part of the Vermilion Cliffs National Monument. Since the Wave is trickier to get a permit for, White Pocket is an excellent back-up plan, because it doesn't require a permit to visit. Check out our White Pocket guide for more ideas.
27. Antelope Canyon, Arizona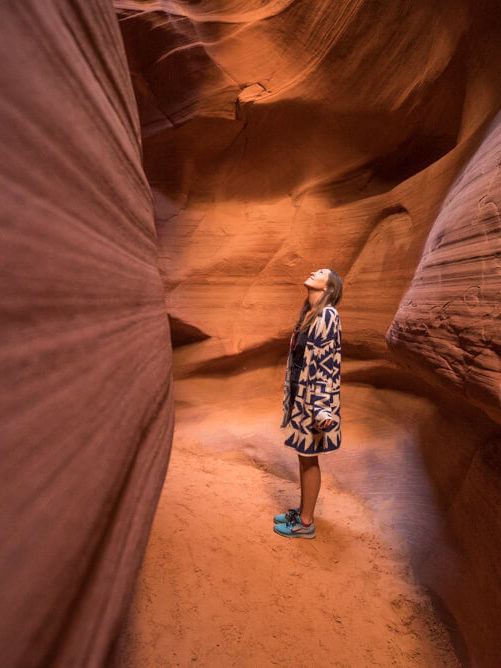 This Navajo sandstone canyon in Arizona was carved by flash flooding and erosion and features bright orange striped rock that is sure to take your breath away. The canyons swirl and curve into a topsy-turvy corridor that feels like it's leading you to the depths of the Earth.
There are two distinct parts of Antelope Canyon that are accessed through different points: upper and lower. The only way to see either canyon is by taking a guided tour led by a Navajo native guide. This is due to the fact that the canyons are both on Navajo land.
For a full rundown on how to visit this site, see our guide on visiting Upper vs. Lower Antelope Canyon.
26. Carlsbad Caverns National Park, New Mexico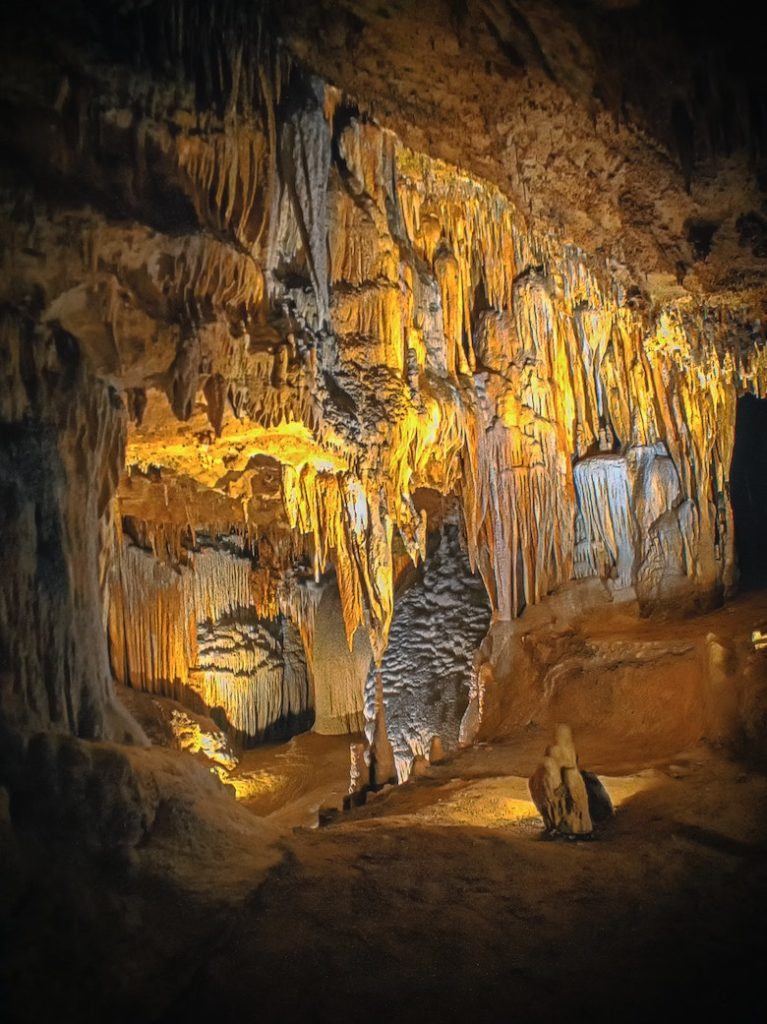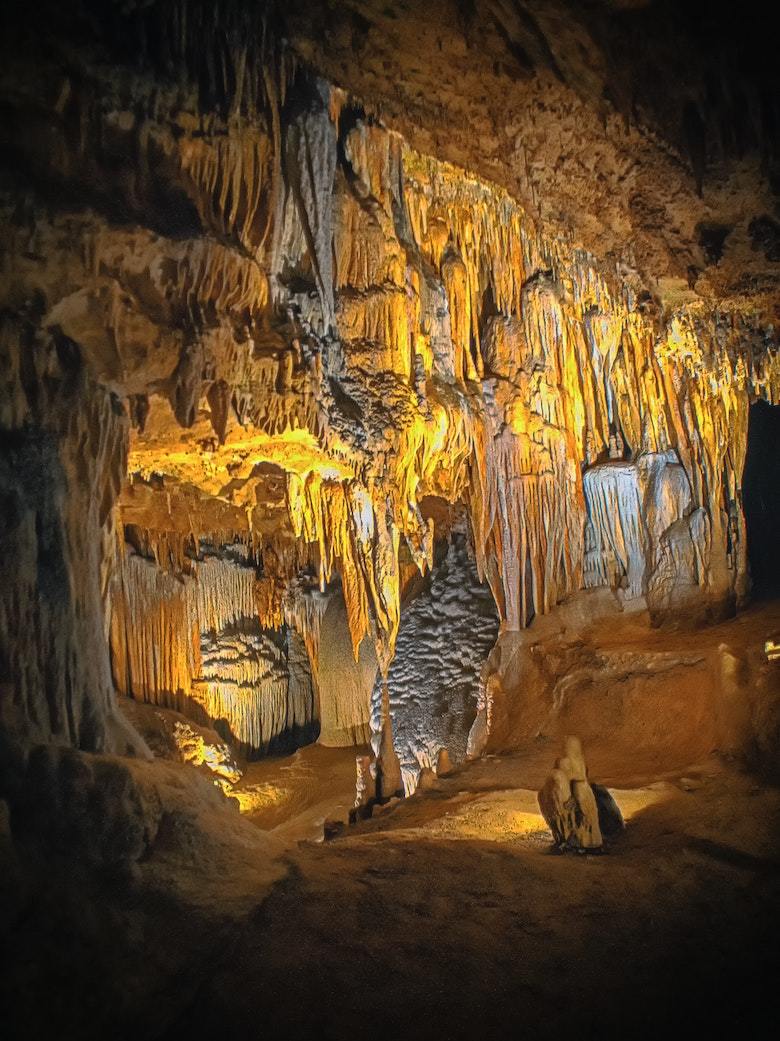 Often referred to as the "Grand Canyon with a roof on top," Carlsbad is the ideal destination for budding geologists and nature enthusiasts alike. The park has over 119 caves that were formed by the erosion of the limestone by sulfuric acid, which created different-sized caverns.
This underground wonder requires a reservation to see, so make sure to plan ahead. Carlsbad is a must-stop on any New Mexico adventure, so don't miss it!
25. White Sands National Park, New Mexico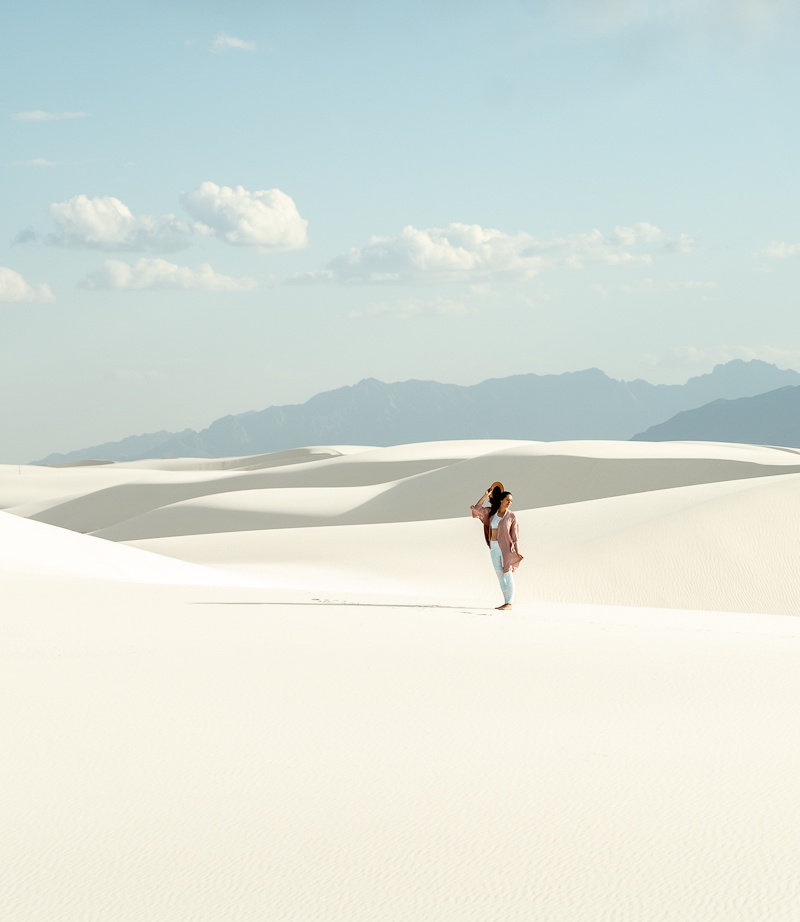 White Sands is another place on this list that is a bit off the beaten path but totally worth a visit. This national park gets its name from the 275 square miles of desert that feature rolling hills of white gypsum sand. It's truly a wonder to see and strangely not as popular as it ought to be.
Grab a sled and find the most epic dune to glide to the bottom of or simply explore the area. The sunsets over the glistening white sand are remarkable — and locating that perfect spot to watch it is an adventure in and of itself. Check out our list of essential things to know before you head to White Sands National Park.
24. Grand Tetons National Park, Wyoming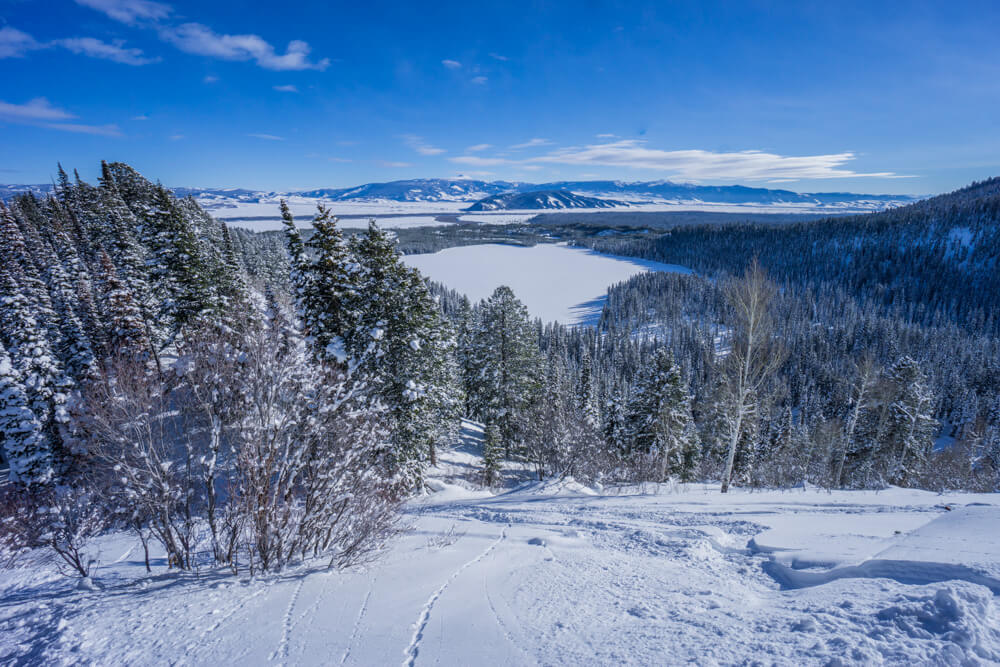 Considering that Wyoming has the lowest population in the USA and the most wide open spaces, it's no wonder why it has so much natural beauty. Grand Tetons National Park is the perfect place to get the most out of this wild state, with different activities available for every season. You can enjoy the hiking trails in the summertime, or strap on some snow shoes in the winter to get a totally different glimpse of the park.
Whenever you decide to enjoy Grand Tetons National Park, you're sure to fall in love with its remote landscapes and astoundingly peaceful scenery.
23. Red Rocks Amphitheatre, Colorado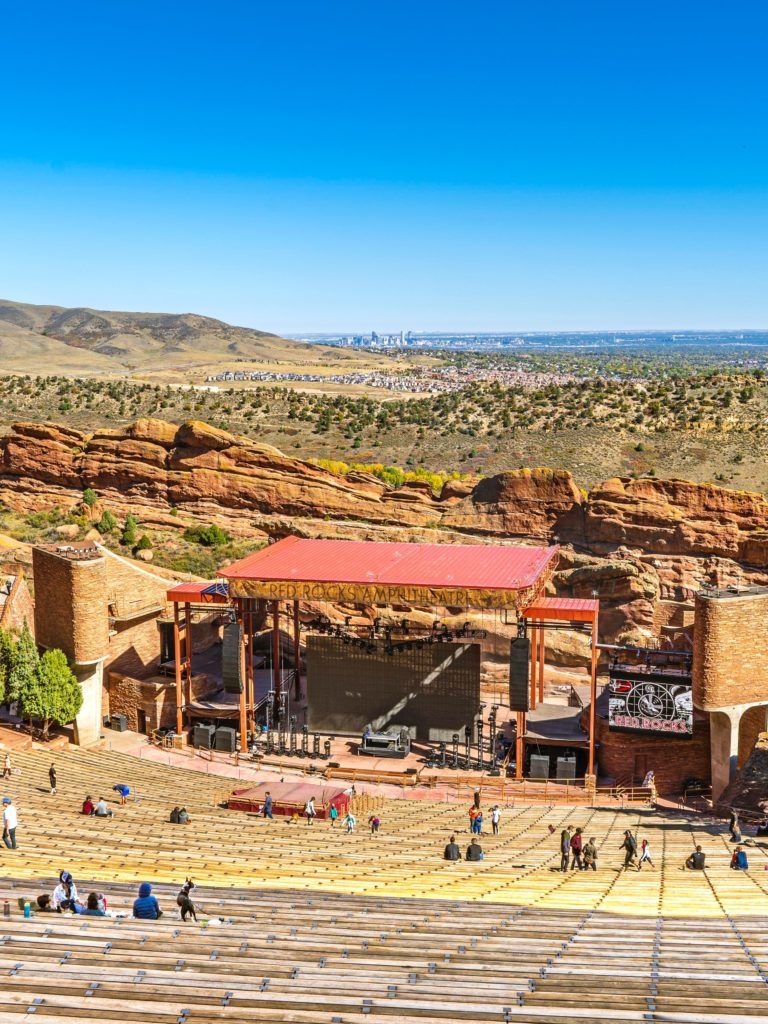 This massive amphitheater is easily my favorite music venue in the entire world. This treasure is truly one of a kind — there's nothing exactly like it anywhere else in the world. The geology of Red Rocks is fascinating; the two 300-foot monoliths, Ship Rock and Creation Rock, are worth seeing even if you aren't visiting for a concert.
Red Rocks Park is part of the Denver Mountain Parks system and has plenty of short trails to explore. The area is just a 30-minute drive from Denver, but it feels a world away from the city.
22. Angels Landing, Utah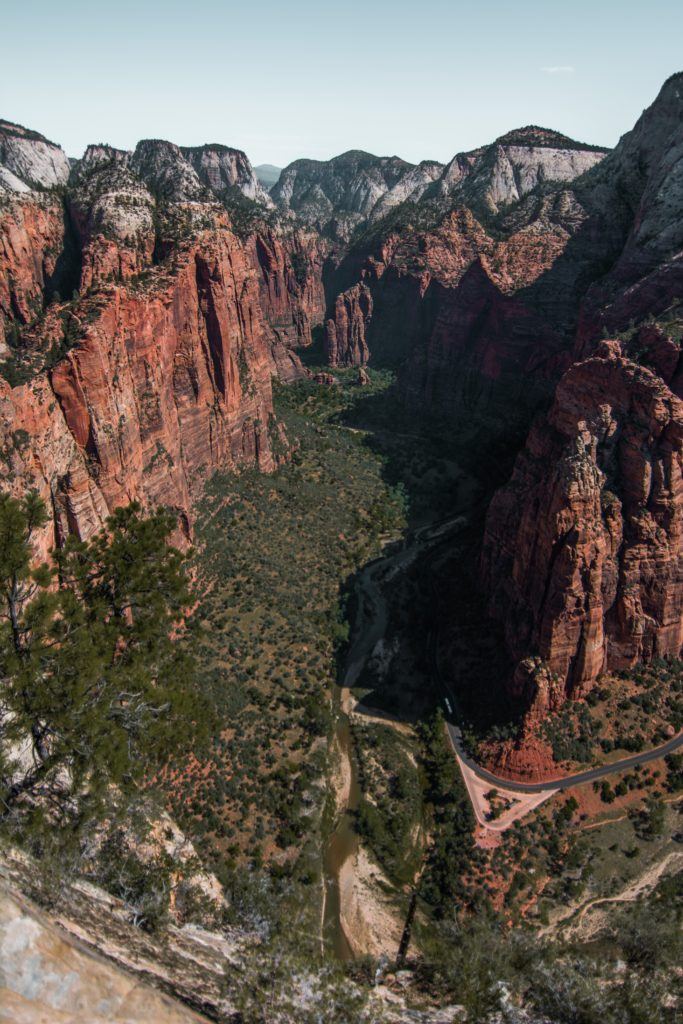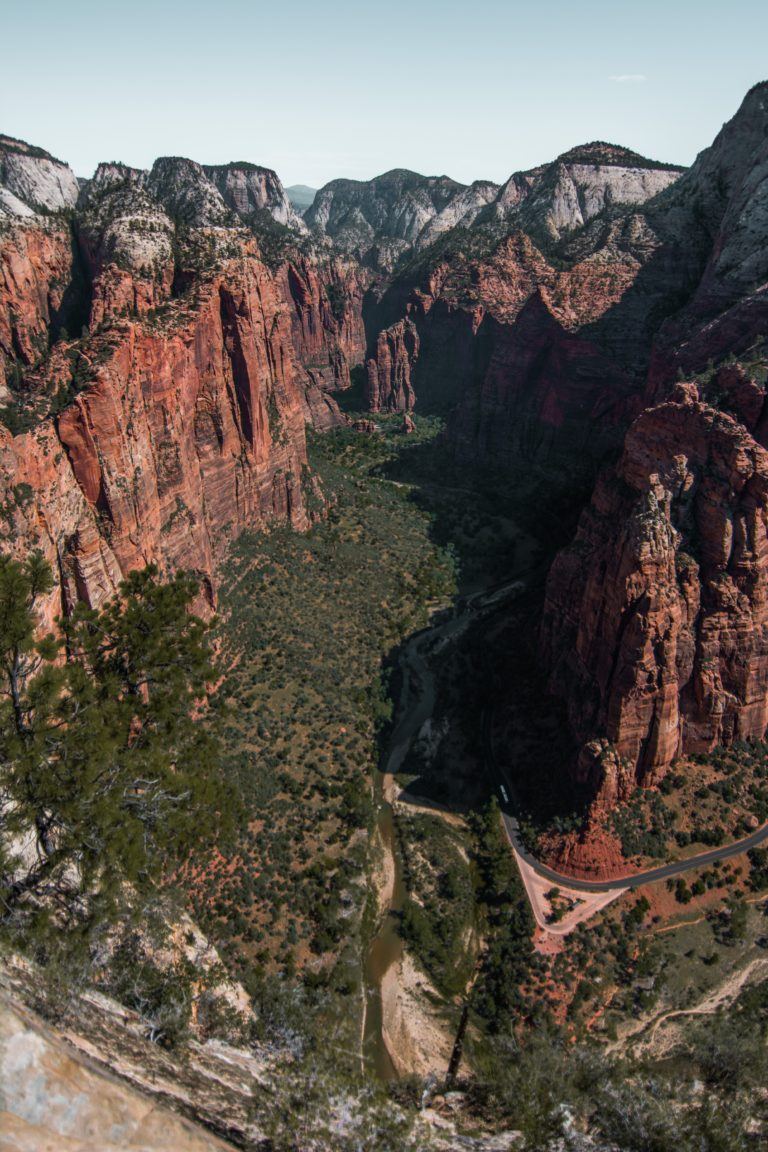 Angels Landing is easily one of the most beloved spots in Zion National Park, and for good reason. In comparison with the Observation Point hike, the Angels Landing hike is quite narrow and can be difficult at certain points. However, the view from Angels Landing makes it totally worth it. This lookout point actually gets its name because of its height — so high up that only angels can reach it.
The warm orange rocks that Zion is famous for are even more spectacular from above. You'll have an angel's eye view (ha, see what I did there?) of the cliffs and teeny-looking trees that is sure to blow your mind. Although this spot is one of the most popular in the entire park, getting an early morning head-start will put you at the scenic viewpoint in time to see the early afternoon sun light up the valley below.
21. Bonneville Salt Flats, Utah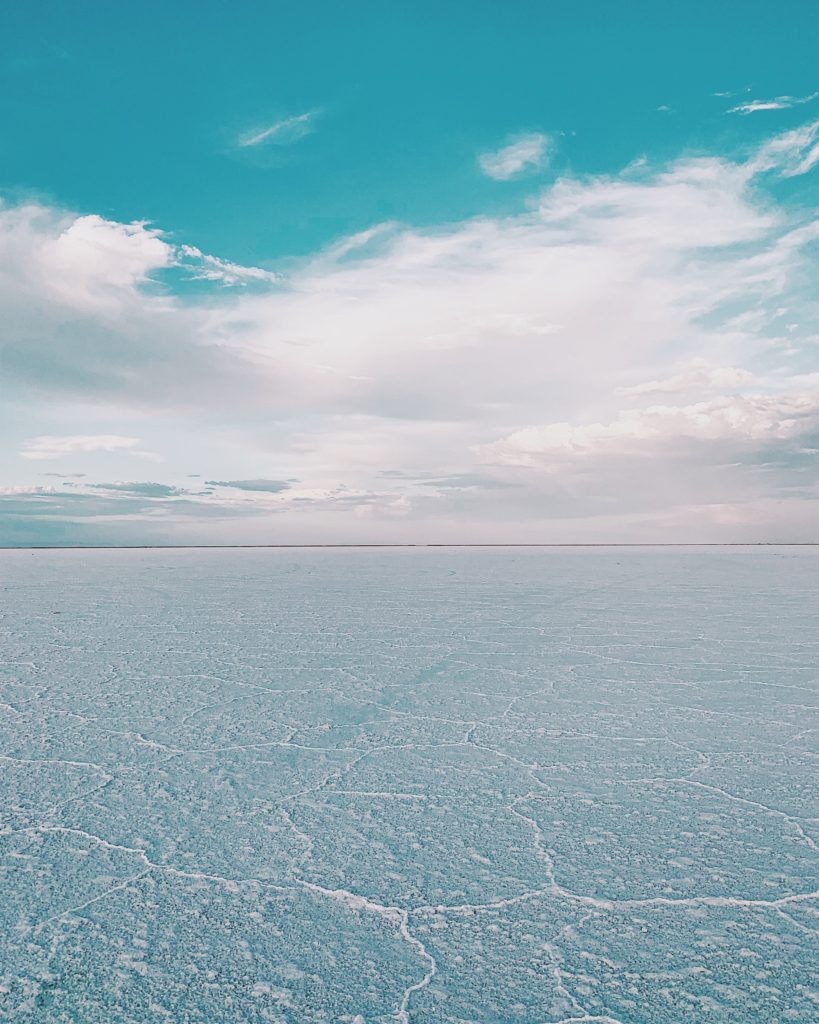 The Bonneville Salt Flats are said to be so flat and expansive that it seems like you can see the curvature of the earth. As it's such a barren landscape, visitors often describe it as otherworldly. Maybe this is how we imagine Mars to be?
These salt flats are contained within a 12-by-5 mile stretch of Utah's pristine western desert. The salt crust itself ranges from a few inches to a whopping five feet thick in some areas. Here you'll find some of the most incredible scenery Utah has to offer. It makes a great stop on any American Southwest road trip itinerary as well!
20. Shoshone Falls, Idaho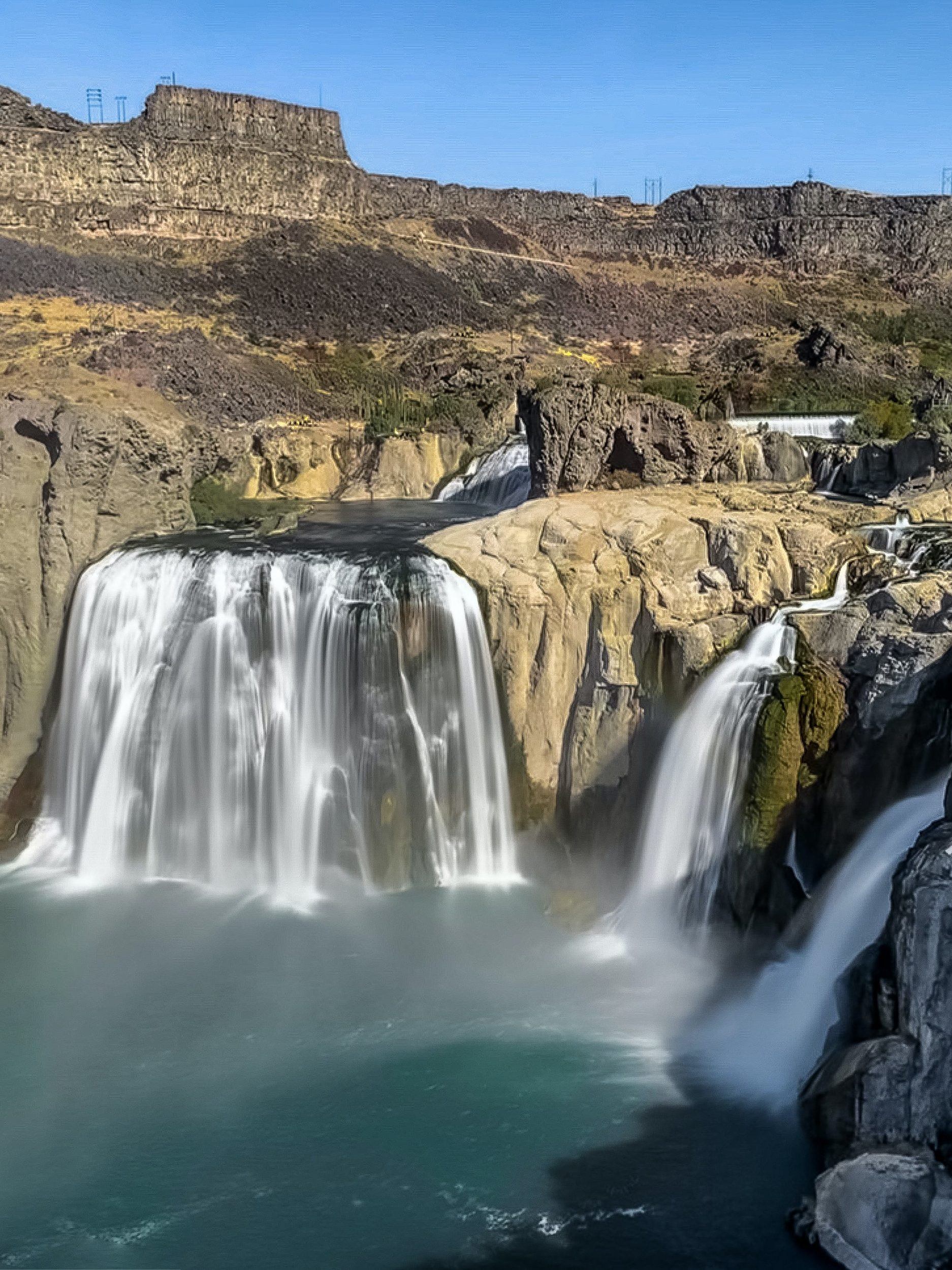 This incredible site is known as the Niagara Falls of the West, even though it's actually taller than Niagara, at over 200 feet tall! It's quite impressive that Shoshone Falls exists at all with its enormous size.
To truly take advantage of the falls' beauty, the surrounding area has hiking trails, a swimming area, and a scenic overlook. You can even paddleboard to the bottom of the falls along Snake River! The view from the bottom is arguably even more incredible than it is from the top, so why not try both? Without a doubt, this natural wonder should be at the top of everyone's Idaho bucket list.
19. Box Canyon State Park, Idaho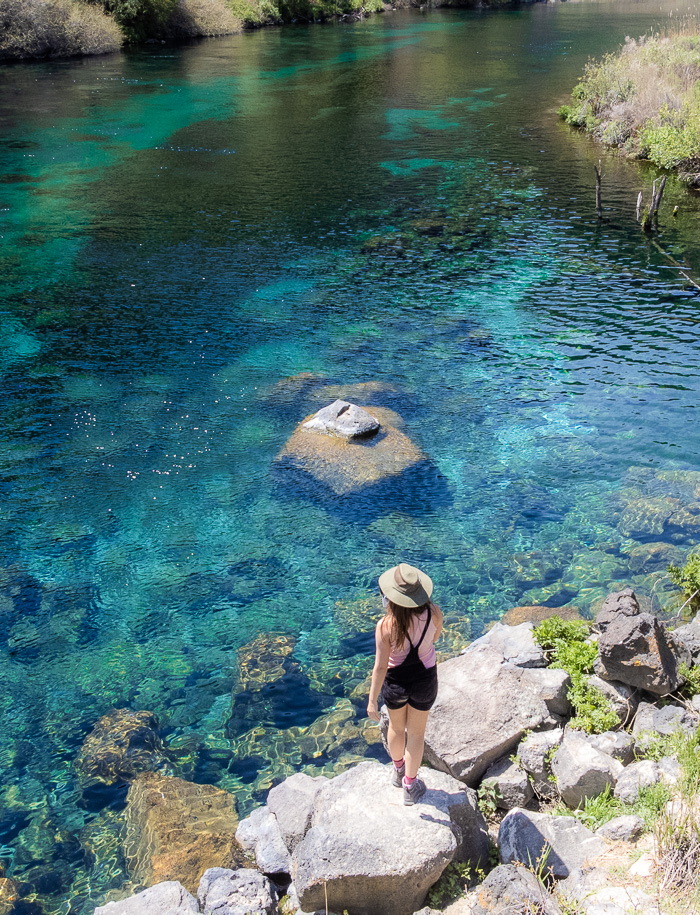 With pools of water that are some of the clearest you'll find out west, Box Canyon State Park is perhaps one of the most underrated places on this list. I mean, have you heard of it until now? This magical place is one of many in Idaho that make the state such an enticing destination for nature lovers.
At Box Canyon State Park there are several waterfalls and swimming holes, with hiking trails and tons of incredible lookouts. The views alone are enough to earn it a place on this list and the bright blue pools are just the cherry on top.
18. Glacier National Park, Montana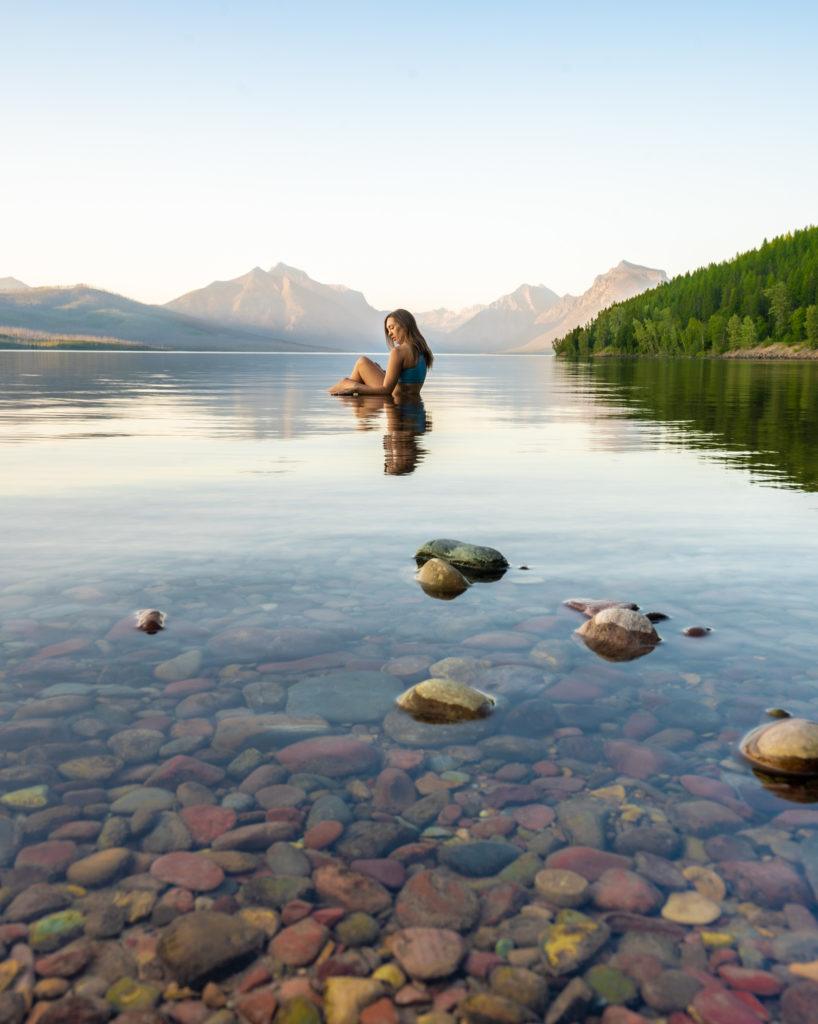 Glacier National Park in Montana is one of the only spots in the lower 48 states where you can see glaciers, making it truly awe-inspiring to visit. Its crystal-clear lakes, rivers, and streams are delightful during any season.
The park is known as one of the best wilderness areas in the United States and has abundant wildlife around every corner: bears, bighorn sheep, mountain goats, and beavers all call Glacier home, just to name a few.
Some particularly gorgeous spots are Lake McDonald for epic sunrise and sunset views, Hidden Lake for the best stargazing, and Highline Trail for an unforgettable hike. Need more inspiration? Check out our list of things to do in Glacier National Park.
17. Badlands National Park, South Dakota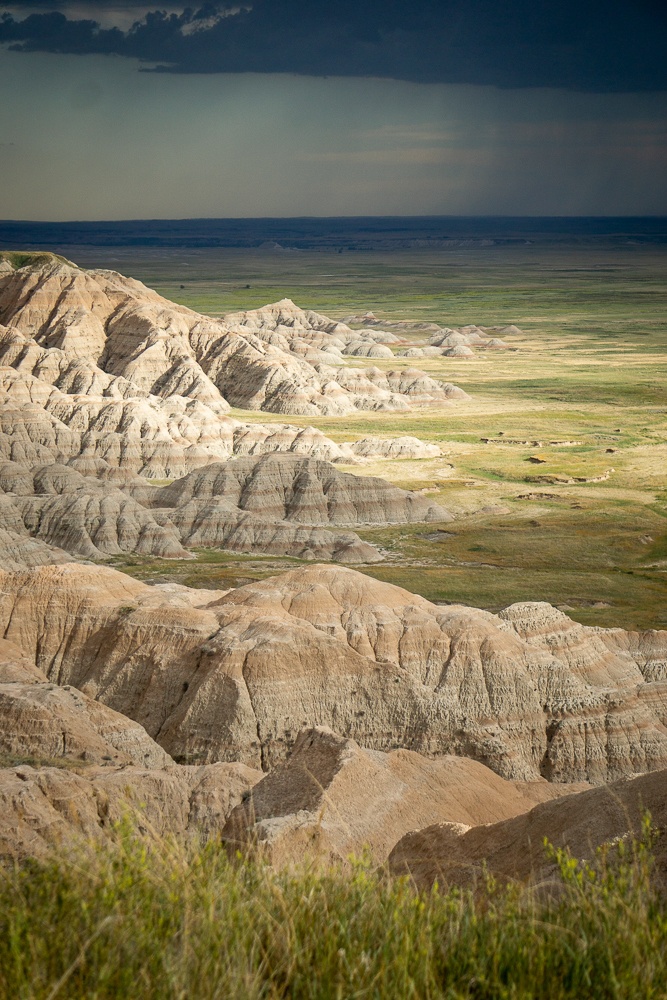 Badlands National Park in South Dakota is home to some of the United States' most unique landscapes, with vibrantly colored rock formations dropping into bright green prairies. In fact, The Badlands has the largest mixed grass prairie in the US.
One of the coolest aspects of this national park is its open-hike policy, which means you can explore the entire park on or off the trails. Be careful, though, as this is prime rattlesnake country! If you prefer to stick to the trails, consider the Window Trail, which leads to a natural rock "window" that overlooks a stunning canyon. Similarly, you can take Door Trail to a natural door-like opening in the cliffs that takes you into the canyon itself.
Add Badlands National Park to your South Dakota road trip!
16. The North Shore, Minnesota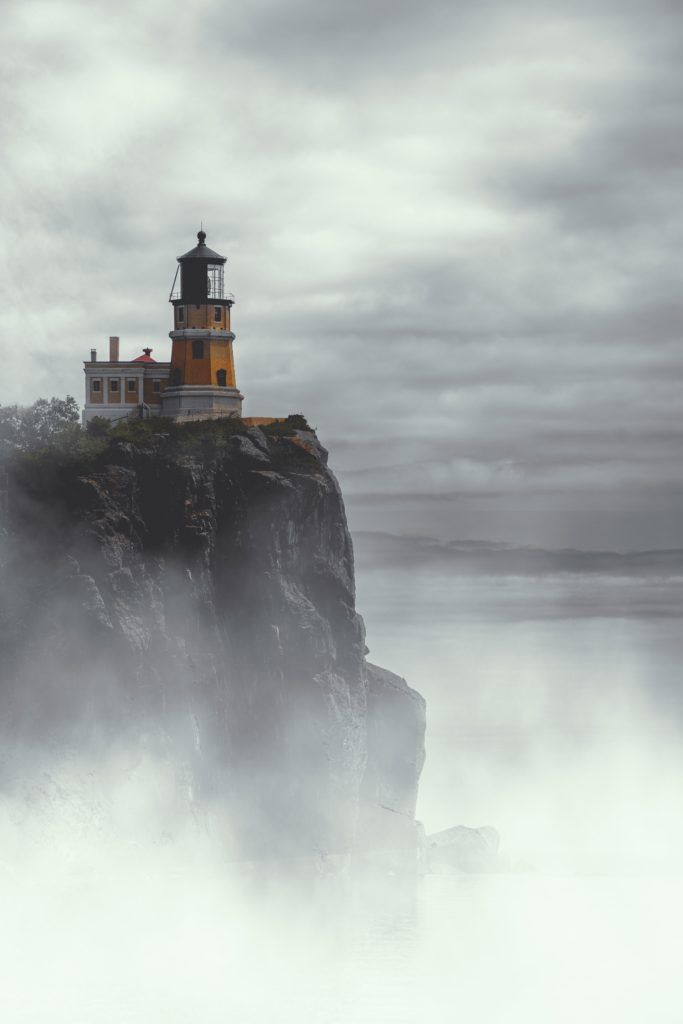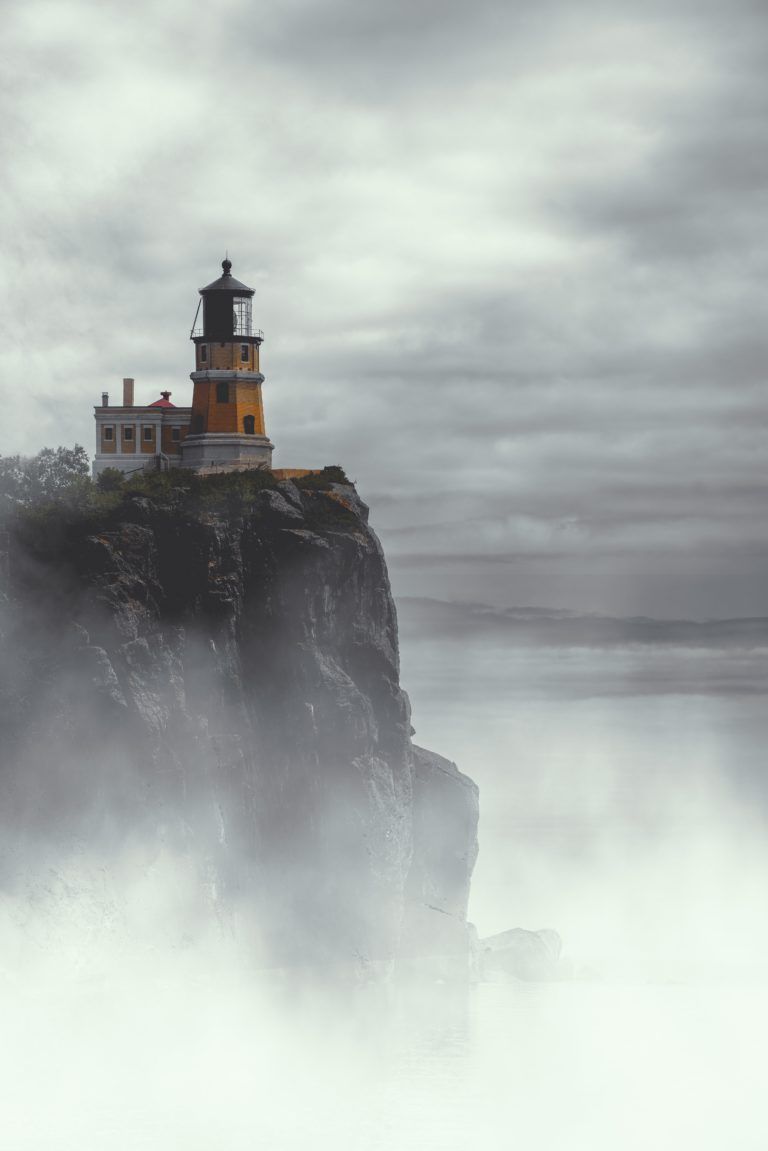 Minnesota's North Shore is one of the most underrated road-trip destinations in the United States, let alone the Midwest. Lake Superior's tree-lined shores are full of quaint small towns, classic lighthouses, and hidden beaches. You'll also find rivers flowing into the lake that feature some killer waterfalls and some great places to hike and explore.
We've got more ideas on how to plan your perfect Minnesota North Shore road trip itinerary, with a breakdown of many neat sites along the way.
15. Middleton, Wisconsin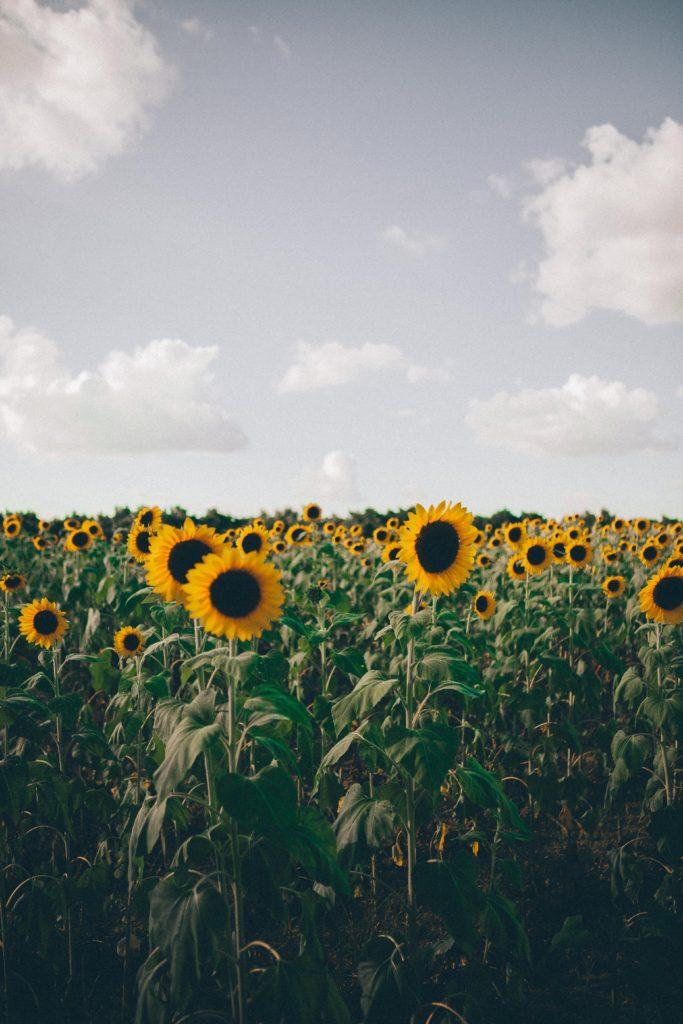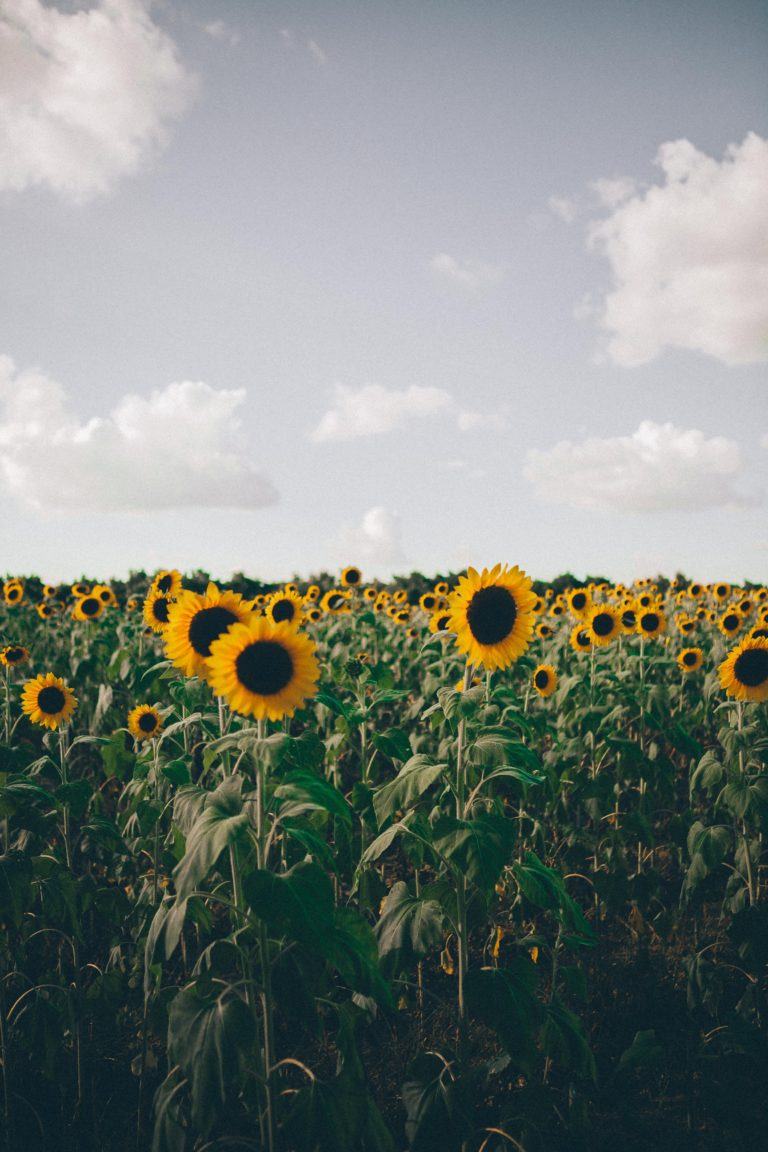 Do you, too, dream of frolicking in a field of sunflowers? Middleton, Wisconsin, is the absolute best spot to do it. The blooms are at their peak in the summertime, and the town even hosts a sunflower festival where you can truly admire their beauty.
The field itself is within the Pope Farm Conservancy, encompassing 10.5 acres of sunflower-filled land. There's also a trail system to explore and plenty of sweet picnic spots.
14. Apostle Islands Sea Caves, Wisconsin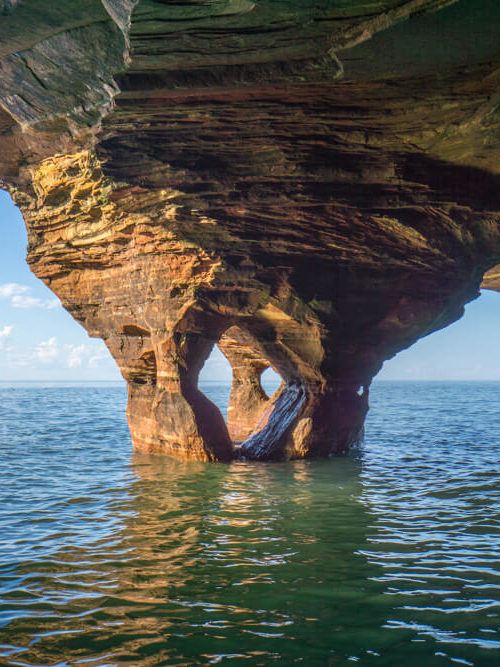 Imagine trippy rock formations sloping into caves whose orange and reddish hues make you do a double take. That's exactly what you'll find at the Apostle Islands Sea Caves in Wisconsin. These small islands are surrounded by the fresh waters of Lake Superior, the largest freshwater lake in the world, by surface area.
The best way to take in the beauty of the islands is by sailing through them, stopping to climb into the many caves along the shores. If this is your plan, make sure to go when the weather is warm, as the waters around the islands freezes over in the winter.
13. Mackinac Island, Michigan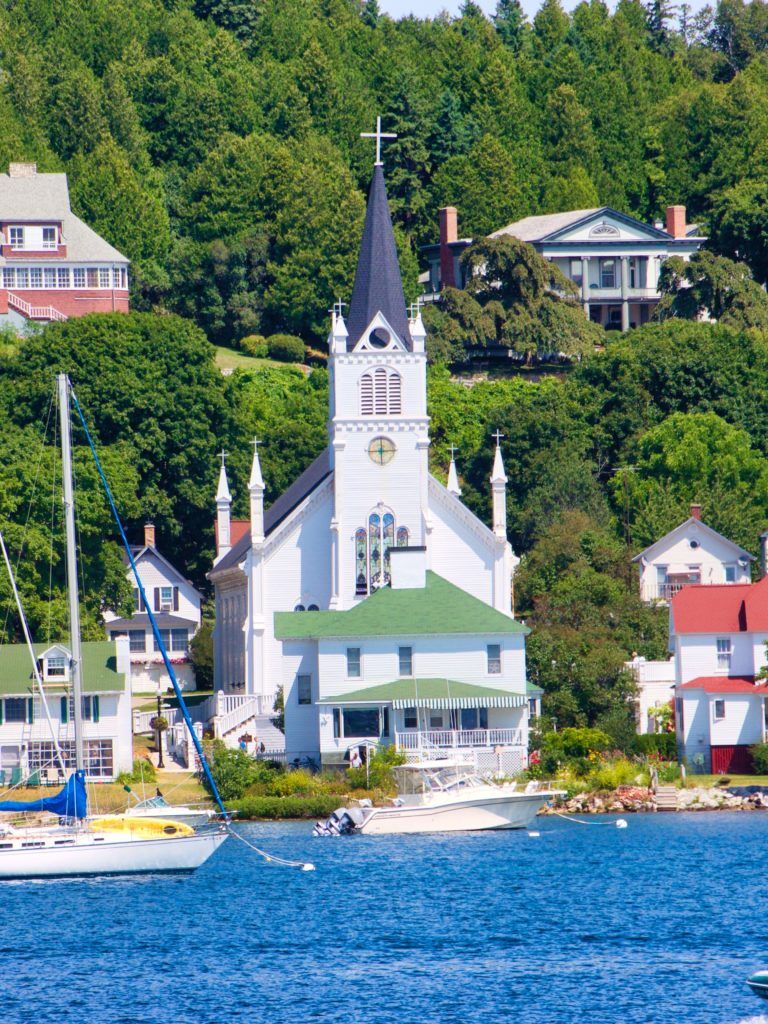 Mackinac (pronounced Mackinaw) Island in Michigan is arguably the most charming island in the United States. It's the perfect spot to relax and recharge. What makes it unique is that despite its popularity as a tourist destination, it doesn't have a single chain hotel, and there are no cars. In fact, most people — locals and visitors alike — get around by bicycle.
You can also explore Mackinac Island by boat, horse-drawn carriage, or bike, or on foot. To get there, you'll have to leave your car at Mackinaw City or St. Ignace, where you can take a ferry to Mackinac Island.
12. Watkins Glen, New York
Situated in the Finger Lakes region of upstate New York, Watkins Glen is a prime destination for anyone looking to bask in nature's beauty. Watkins Glen State Park is the perfect getaway, with 19 waterfalls in just two square miles.
This region is also widely known for its vineyards and wine. The innovations and flavors have some say the wine from the Finger Lakes is just as good as wine from Italy. Looks like you might just have to go and see for yourself!
11. Letchworth State Park, New York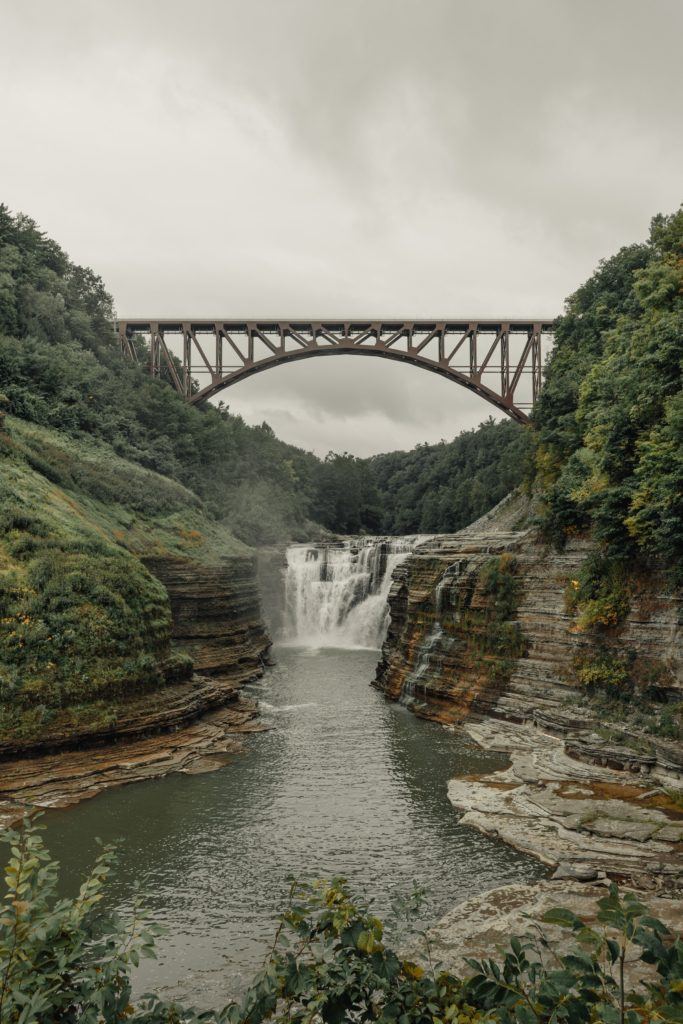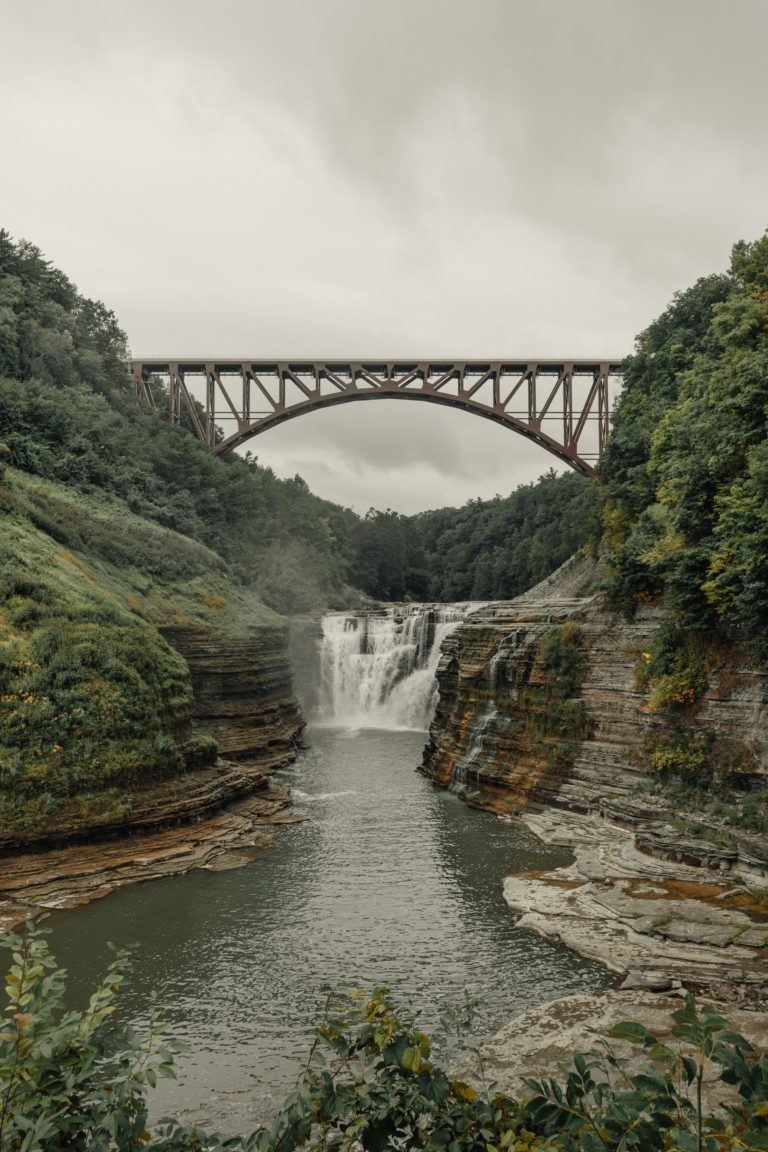 Often referred to as "the Grand Canyon of the East," Letchworth State Park is one of the most scenic places in the US because of its roaring waterfalls and steep, rocky cliffs. After all, that's how the park got its nickname. The Genesee River flows through a gorge that features 3 spectacular waterfalls, with cliffs reaching as high as 600 feet tall.
The park features over 60 miles of trails through lush forests and along the river from which visitors can catch the jaw-dropping views of the falls. Better yet, you can take a hot-air balloon over the park to get an even better view. It's no wonder why USA Today calls Letchworth State Park the best state park in the USA.
10. Cades Cove, Tennessee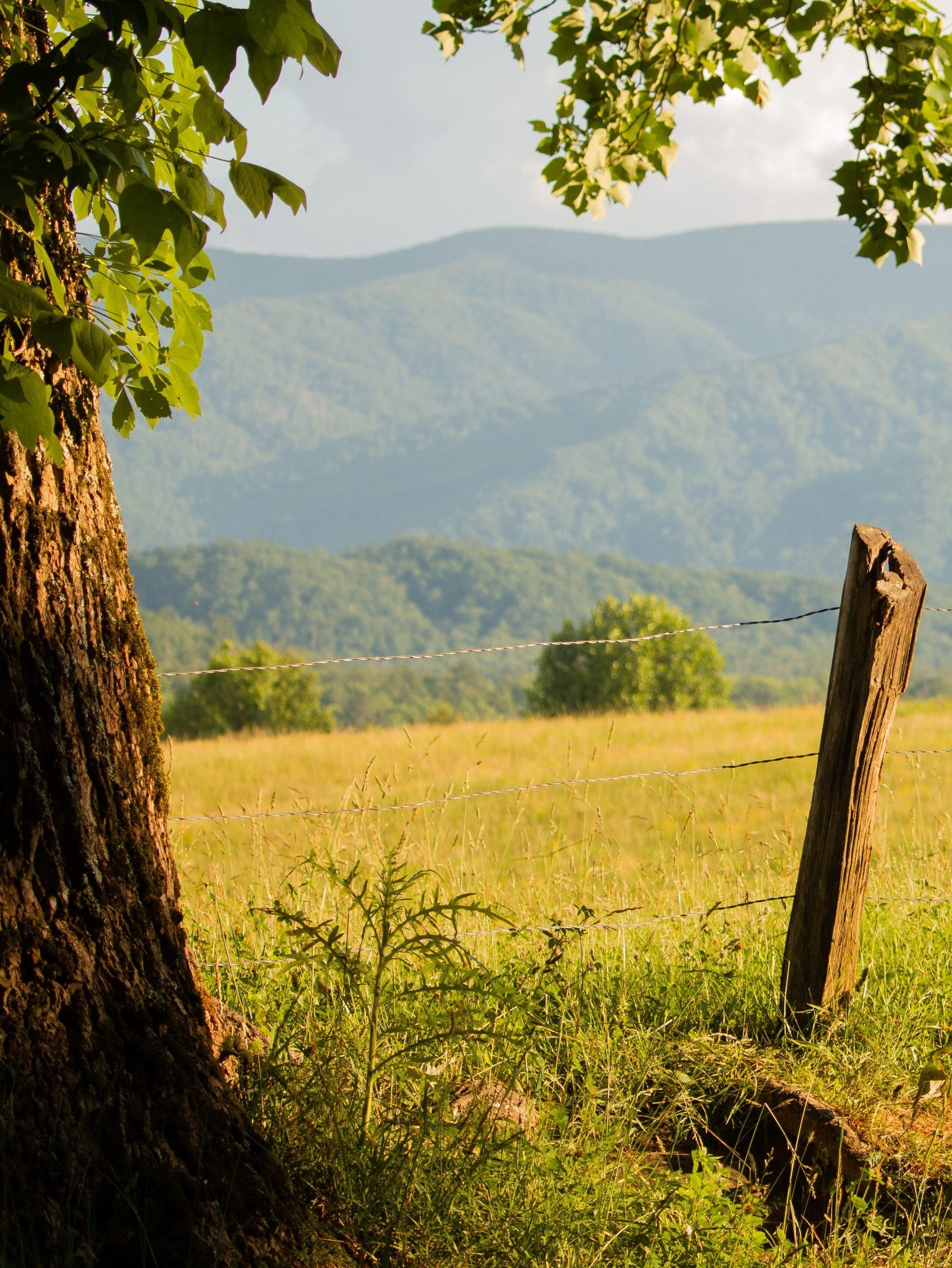 Tucked within the Great Smoky Mountains National Park, Cades Cove is an expansive valley with green mountains surrounding it. As one of the most popular destinations within the park, it gets plenty of traffic from visitors who
who come to admire its beauty. It's also one of the best spots in the whole park for wildlife sightings, as black bears, deer, coyotes, and other animals frequently pass through.
There is an 11-mile loop around Cades Cove, which you can drive along while you take in all the sites. There are also many trails that go through the valley.
9. Blue Ridge Parkway, North Carolina and Virginia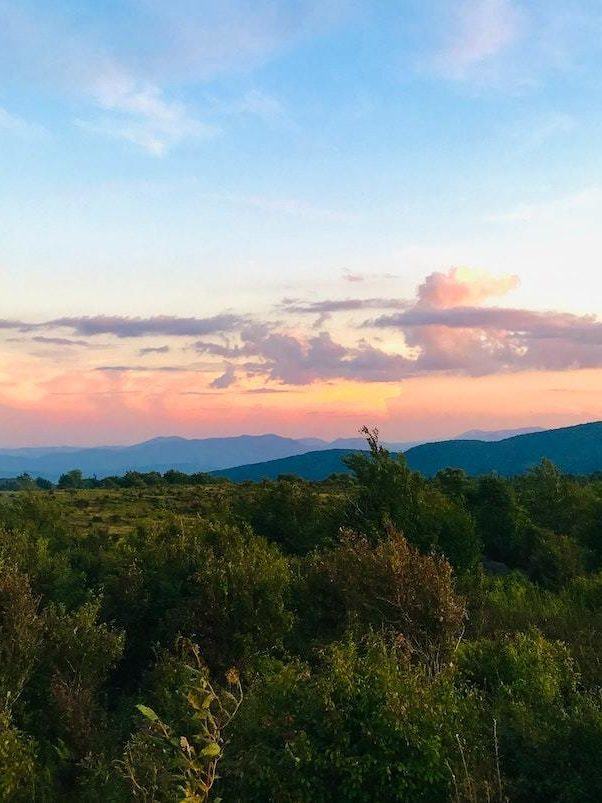 This 469-mile parkway runs through North Carolina and Virginia's Appalachian region, connecting spots like Asheville and Virginia's Shenandoah National Park. This long stretch of highway is beautiful all the way through, and especially picturesque in the fall when the leaves are changing color.
One of the best ways to enjoy the scenic Blue Ridge Parkway is to get off the road and out into nature every so often and camp. We've got a comprehensive guide on the 8 campgrounds on the Blue Ridge Parkway to help you plan your trip.
8. Outer Banks, North Carolina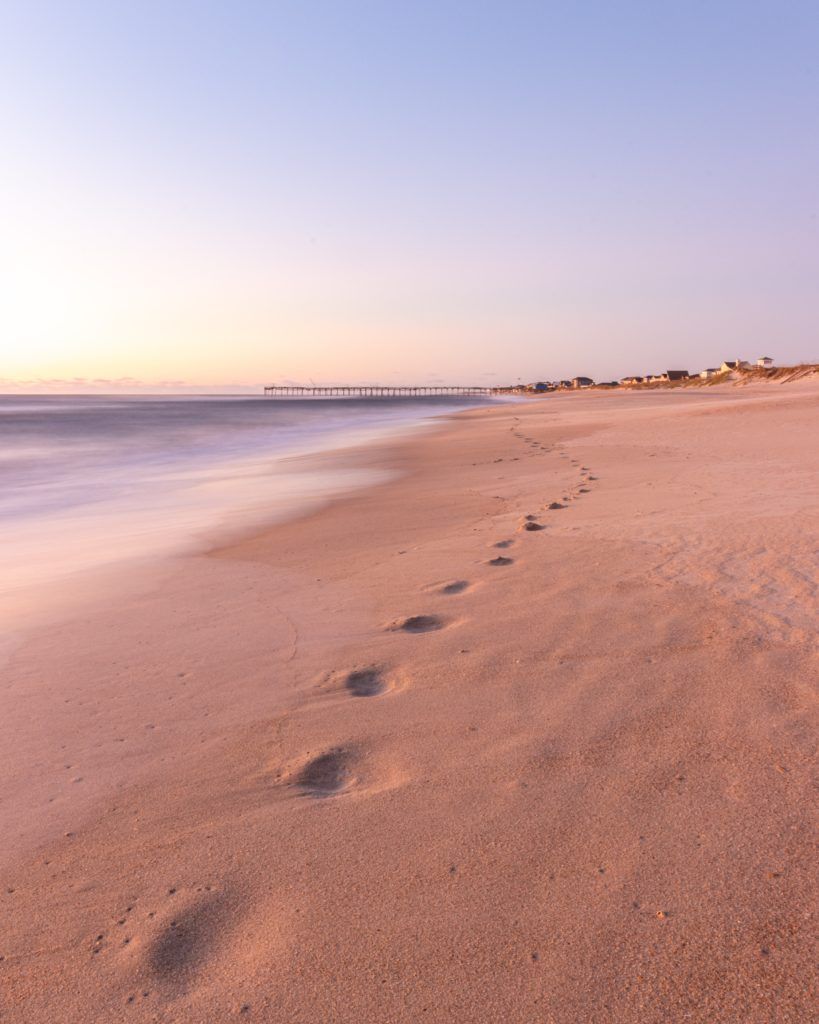 If you're looking for an epic East Coast road trip, the Outer Banks is perfect for exploring. Following the Outer Banks Scenic Byway from north to south takes you through a series of islands on the coast of North Carolina, with plenty of wildlife and beaches along the way. The islands have the perfect balance of Southern charm and laid-back beach vibes, making it an awesome place to relax.
What makes the Outer Banks unique from other beach destinations is not only its pristine beauty but also its truly untouched nature. There are no big cities along the way, just small villages and wide-open coastline.
7. The Angel Oak Tree in Charleston, South Carolina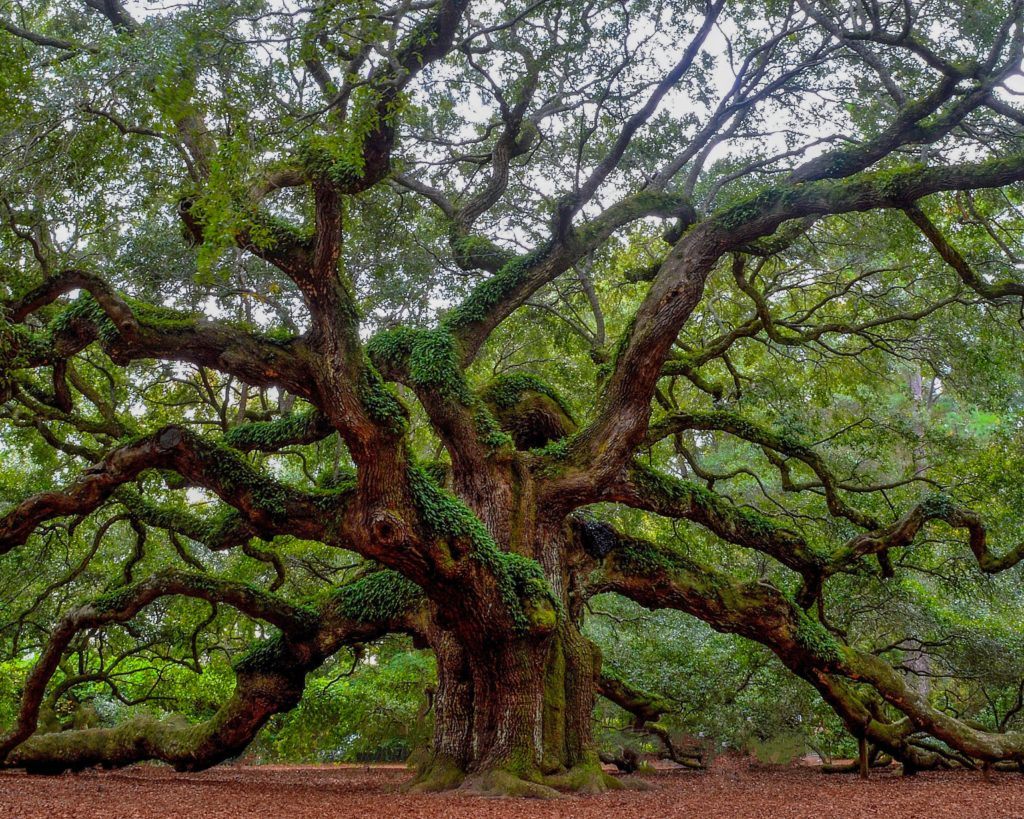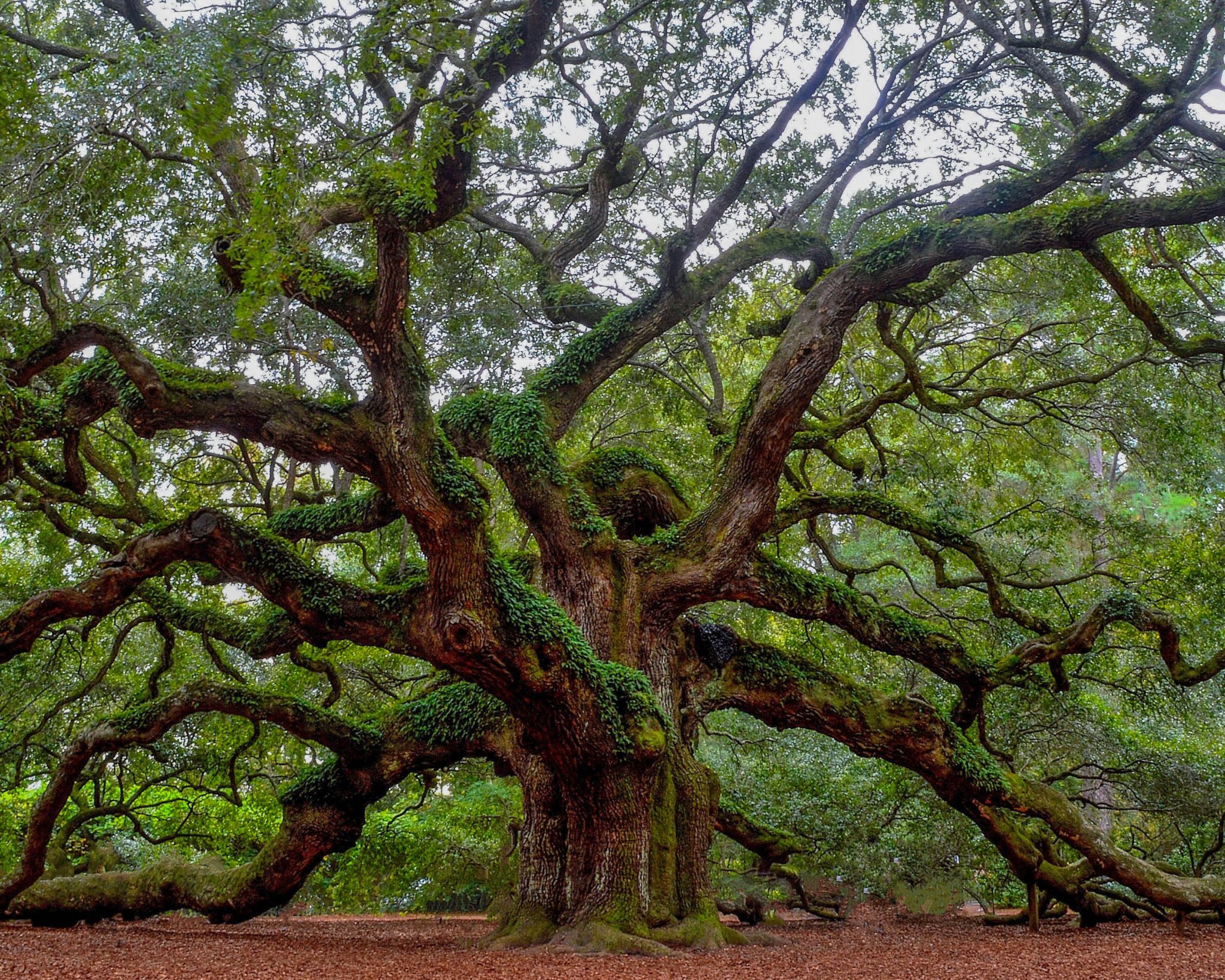 Yes, a literal tree has made the list of the most beautiful places in the USA. Can you blame me for including it? I mean, just take a look at its fairytale-esque splendor! This massive tree in Charleston is estimated to be 400-500 years old, making it one of the oldest living oaks east of the Mississippi River.
These trees typically grow upward, but due to its age, the Angel Oak Tree has expanded both upward and outward in every direction. It is 65 feet tall and has a 28-foot circumference, with its largest branch reaching 187 feet in length. If you get as excited about trees as I do, this one should definitely be high on your list.
6. Big Bend National Park, Texas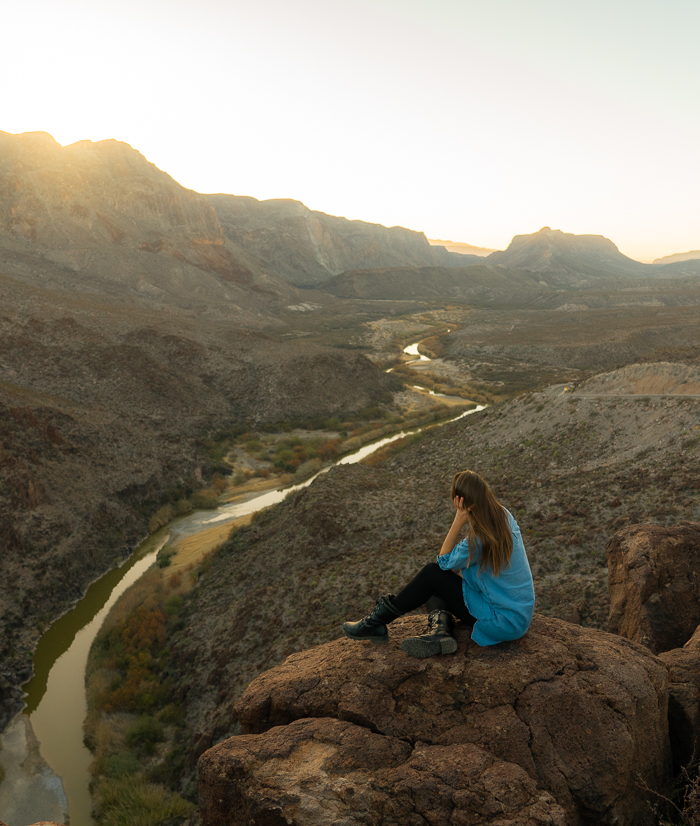 Even if you have only 48 hours to explore Big Bend National Park, it's well worth a stop. One of the reasons why it's one of the most beautiful places in the USA is that its beauty is totally unexpected. When most people thing of West Texas, they think of endless flat stretches of farmland and plains. However, Big Bend has towering mountain peaks with orange hues, deep valleys with flowing rivers, and some incredible views to enjoy.
Drive through the park on one of the many scenic routes, or pack a backpack for a long hike. No matter how you choose to experience it, Big Bend National Park is an absolute joy to visit.
5. Hamilton Pool Preserve, Texas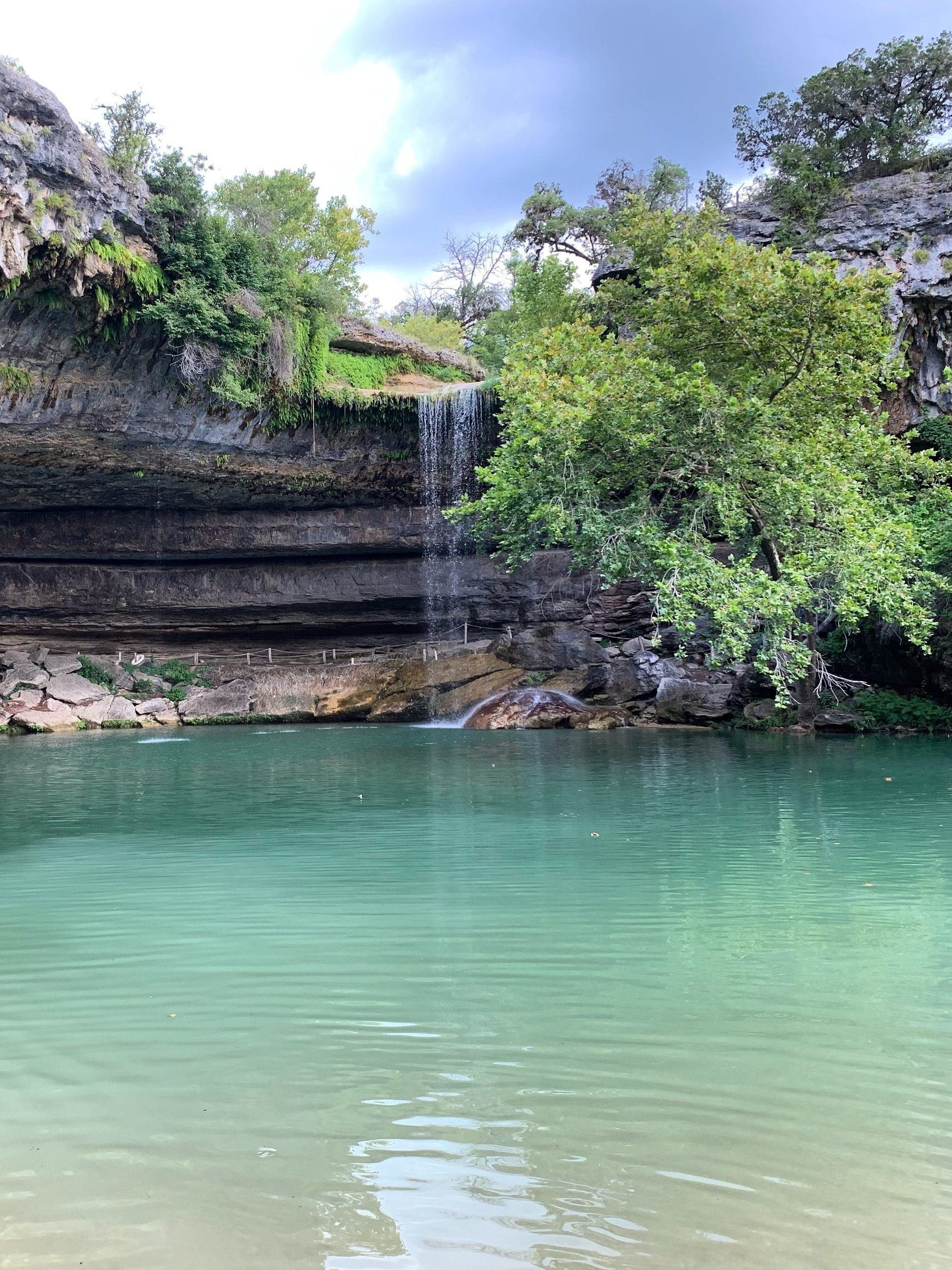 Hamilton Pool Preserve in Texas is yet another testament to the fact that Mother Nature is the greatest designer of all time. This natural swimming hole is actually a box canyon underneath a 50-foot waterfall that fills it up with cool water, perfect for a midday swim.
At just about an hour's drive from Austin, Hamilton Pool Preserve is the perfect day trip. The trails throughout the preserve are great for connecting with nature as well. Make sure to make a reservation ahead of time, as it is required to enter the preserve.
4. The French Quarter in New Orleans, Louisiana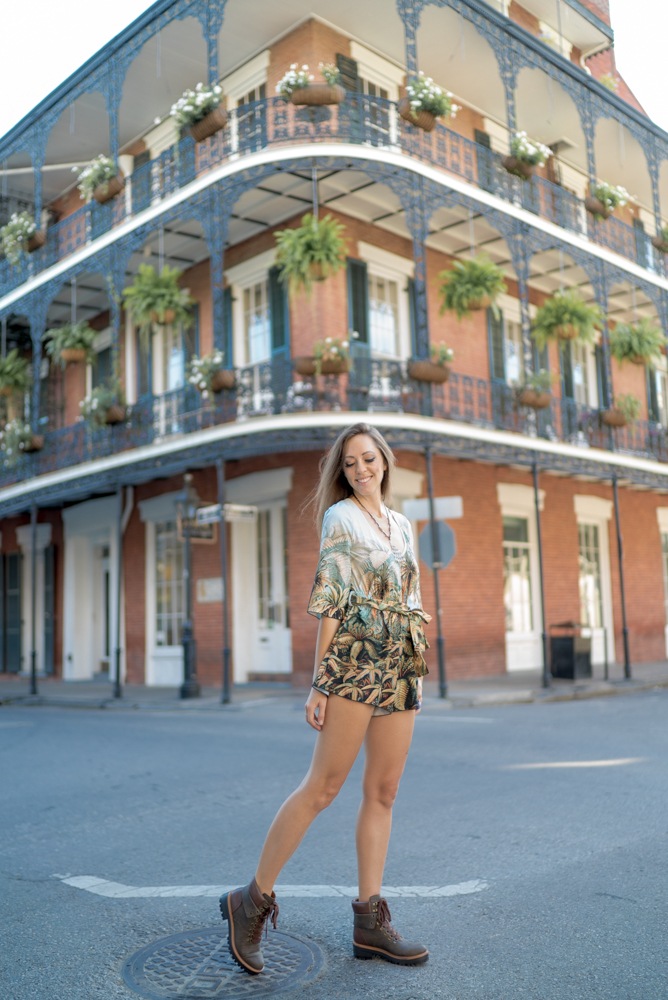 The French Quarter in New Orleans is one of the United States' most hip and happening destinations. Not only that, the kitschy decor and iconic architecture also make it one of the most beautiful. The cast-iron balconies over the bustling streets is the perfect example of how antique flair mixes with modern style.
This historic area of NOLA is the top spot in the city to shop, eat, and explore. Catch a jazz show or check out a grand old church, like St. Louis Cathedral. Traveling solo? New Orleans is actually fabulous to visit alone.
3. Natchez Trace Cypress Swamp, Mississippi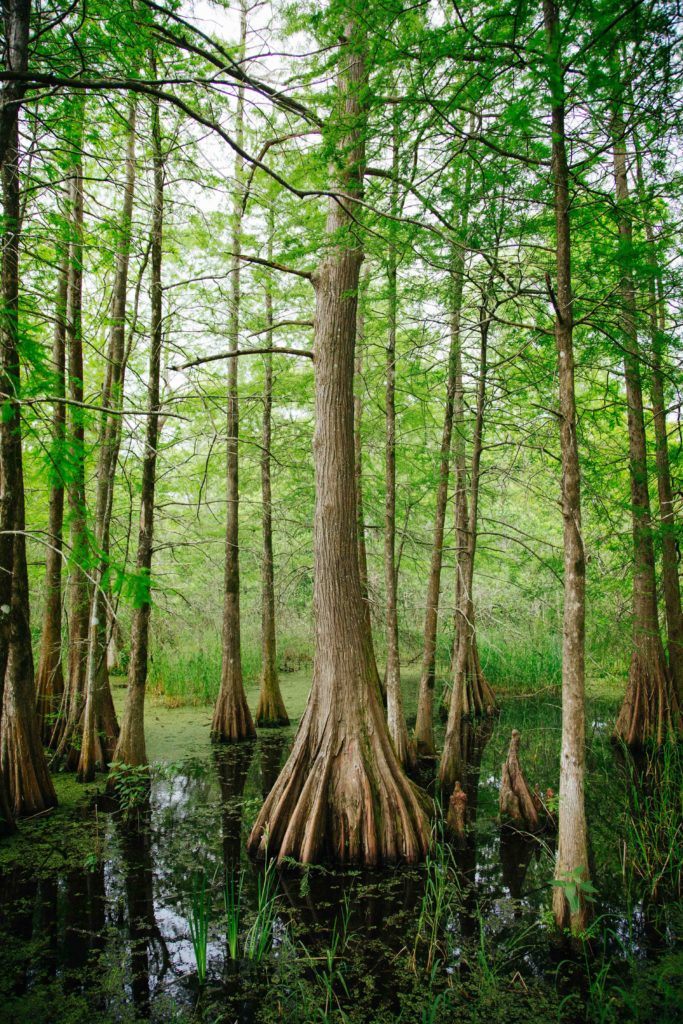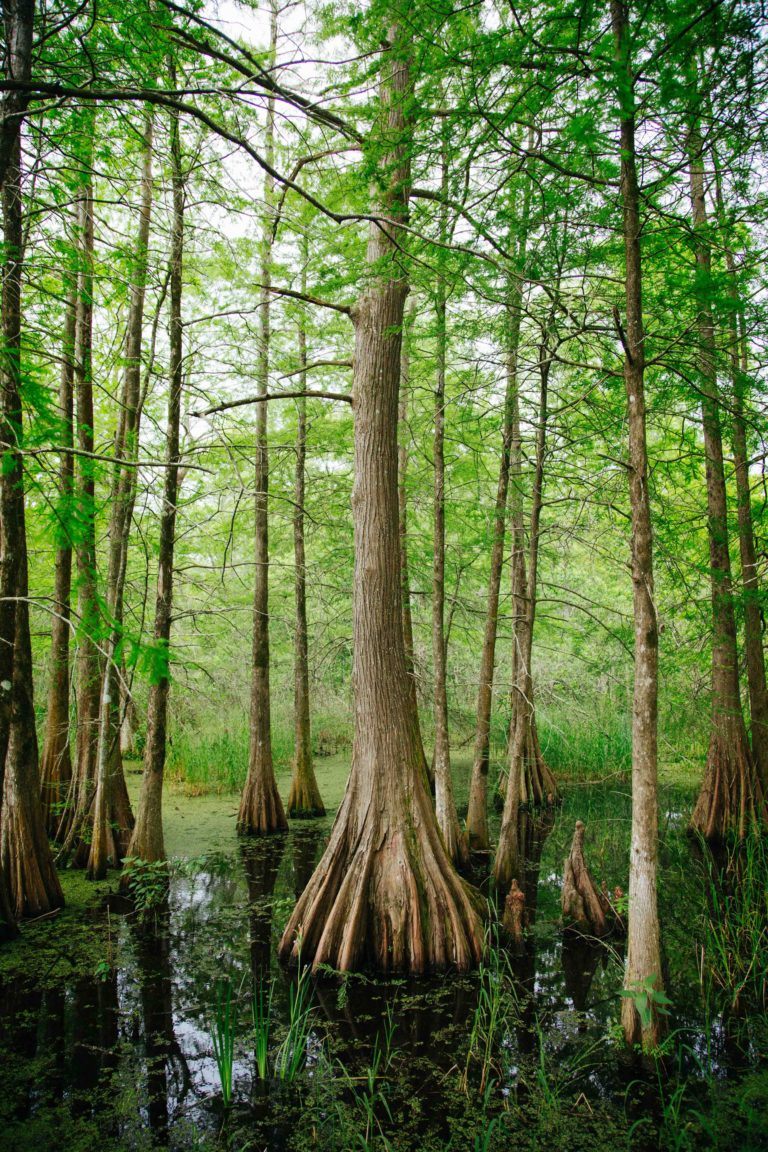 Is this girl really trying to tell me that a SWAMP is one of the most beautiful places in the US? Oh yes I am. Just like thousands of people flock to the Everglades every year to bask in the beauty of the Florida wetlands, the Natchez Trace Cypress Swamp in Mississippi attracts nature and wildlife enthusiasts as well.
The swamp is home to water tupelo and bald cypress trees that thrive in the wet environment. They have unique root structures and help create the perfect habitat for various species of frogs, alligators, and snakes, to name a few.
2. Crystal Springs, Florida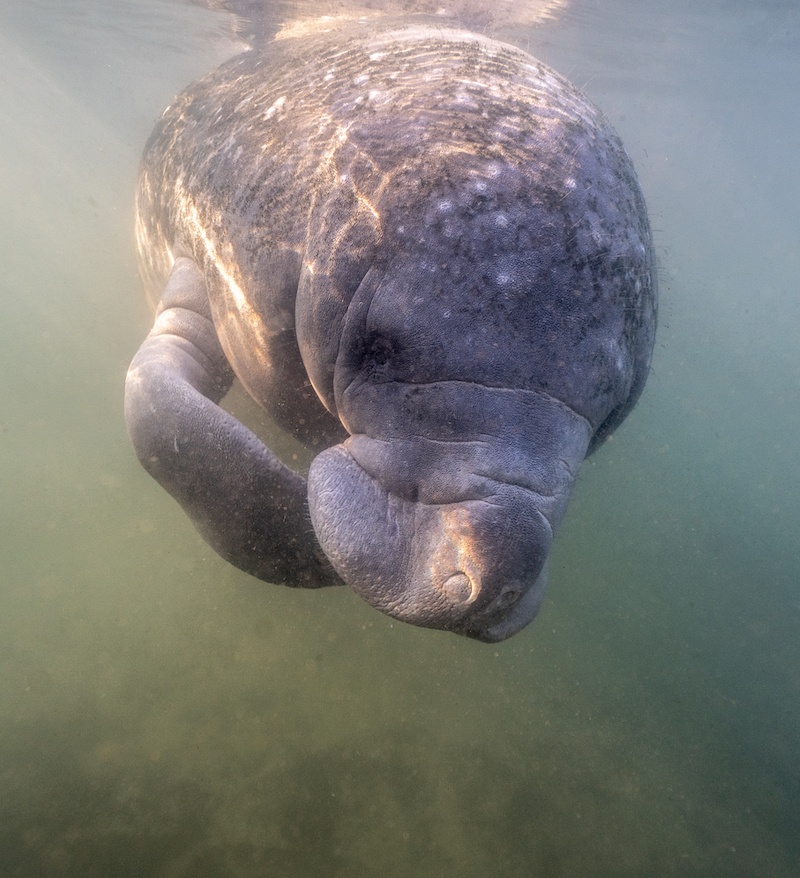 Virtually all of the natural springs in Florida are beautiful, with deep blues and amazing clarity, but in the winter months at Three Sisters Spring, you have a chance to swim with the Florida manatee. It's the only place in Florida where this is allowed, and it is wonderful!
It's amazing how curious and gentle the manatees are, often floating over to say hello. Though you are not supposed to touch the manatees, sometimes they decide to give you a little hug.
They say the best morning to go out and see the manatees is on the coldest day of the year right around sunrise, so that's what I did! I can report that it was indeed freezing, but there were so many manatees going in and out of the spring, it was a dream come true for me! The manatee swimming is a regulated activity to keep them safe, though it's a pretty affordable experience, which you can book here!
1. Dry Tortugas National Park, Florida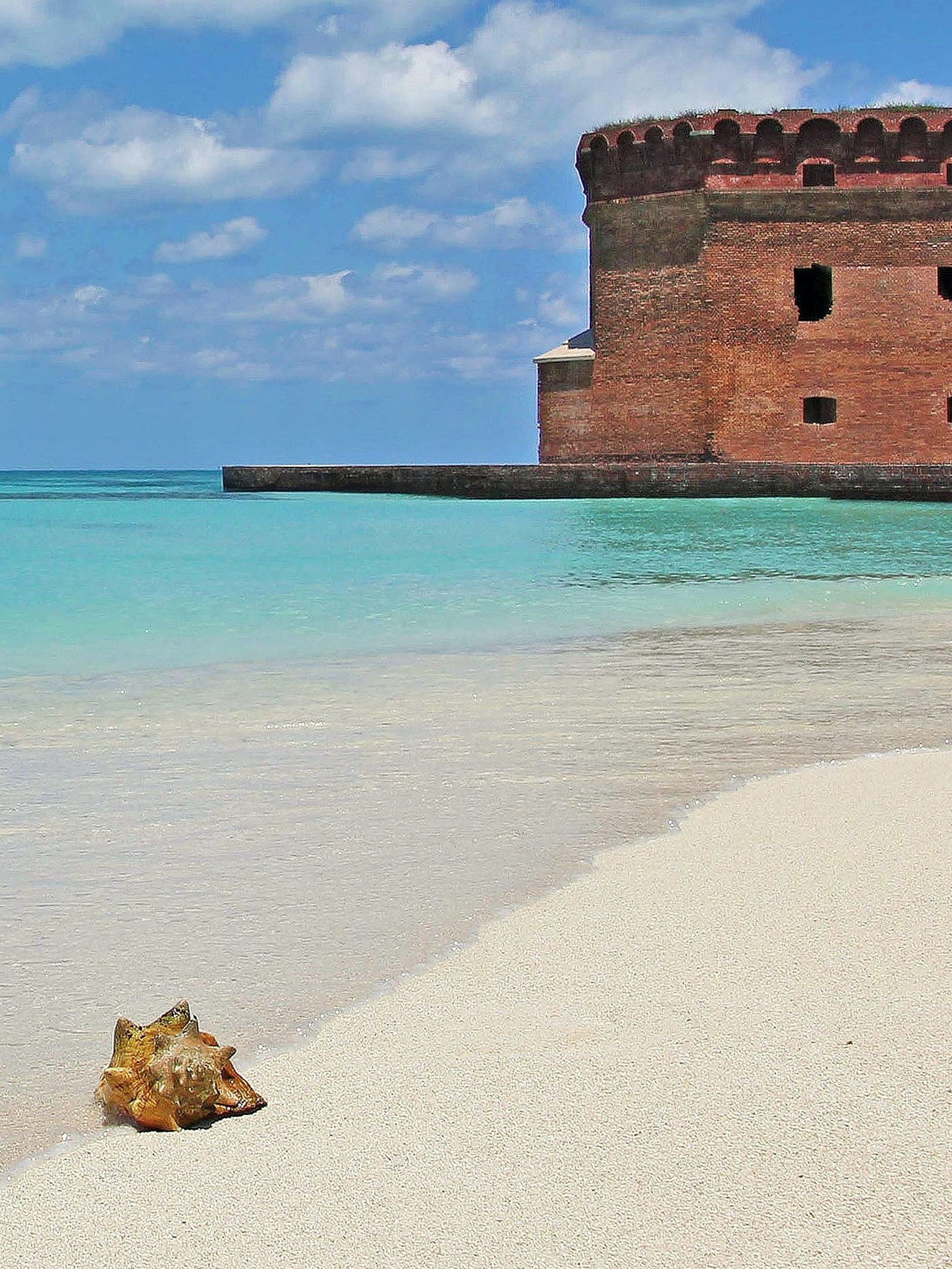 This 100-square mile national park is mostly open water, but it features seven small islands and some of the country's best snorkeling. The park contains historic Fort Jefferson, which can be accessed via boat or seaplane. It's a magnificent site that makes the perfect launching pad for all of your Dry Tortugas activities. It's also close to Key West, making it a great addition to any Florida Keys itinerary.
Check out the colorful coral reefs, or see if you can spot dolphins while you swim in some of the clearest, bluest ocean waters in the US.
***
There you have it: The 38 most beautiful places in the United States! Some of these may be no-brainers and some of them might come as a surprise. Let us know if you have any hidden spots that didn't make the list!