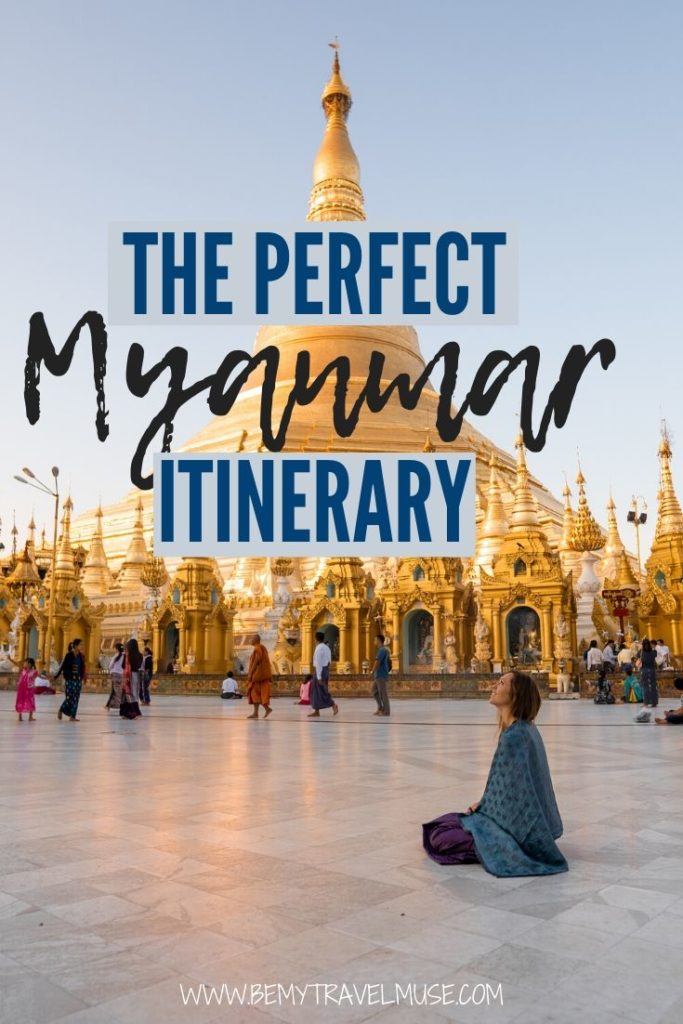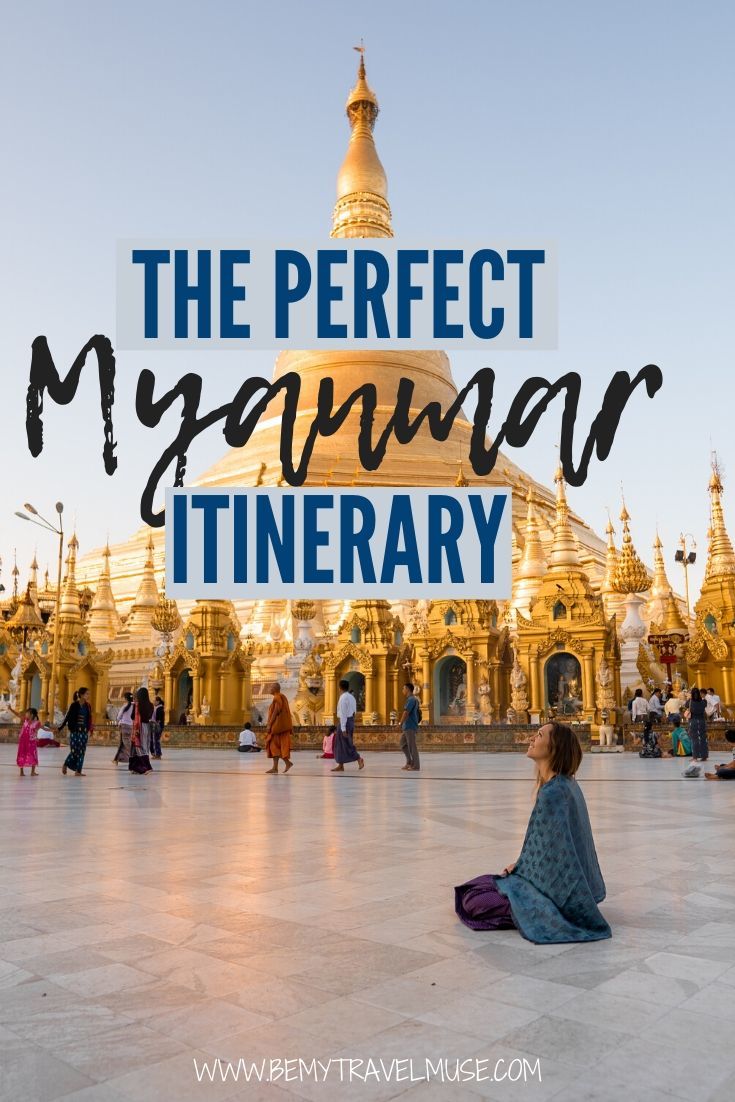 This post was originally written by Ryan Brun for BMTM in 2014. While much of what he wrote is still true and remains in this post, I visited again in 2020 and have updated the post as well as added in new resources and spots to see. Enjoy! -Kristin
Myanmar isn't a Southeast Asian country that is often on travelers "must see" lists, or planned for their great backpacking adventure. Which is a shame, because Myanmar is one of the most culturally preserved and exciting destinations in Asia.
Why isn't Myanmar on everyone's "must do" lists?
It honestly wasn't on my list until I was invited by a friend. Before traveling to Myanmar, I didn't know anything about the country except about how it was closed off from the world up until about a couple decades ago.
After backpacking through a large portion of Myanmar during their annual Thingyan Festival, I can without a doubt declare Myanmar as my favorite country in Southeast Asia.
Myanmar is a captivating and exciting country for many reasons. From floating villages, to valleys of ancient temples that beat out Angkor Wat, to multi-day jungle treks into mountain tea picking villages.
Ready to go yet? Awesome. Here's my itinerary on the best of Myanmar, from where to go to what to do from my own personal experiences, and a few key tips and tricks to know before you go:
Yangon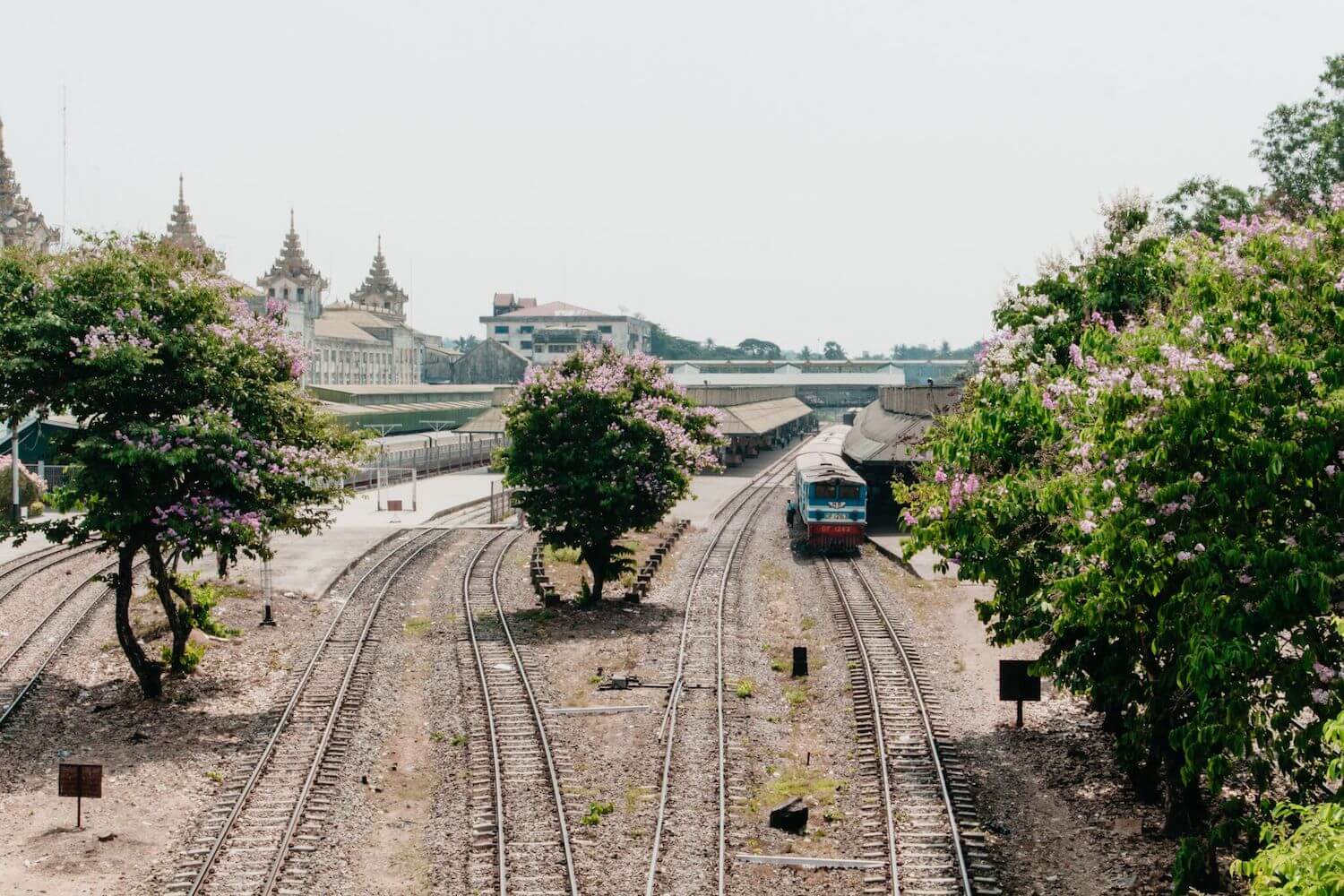 Yangon (former capital city of Rangoon) is the highest populated city in Myanmar, and most likely where you will arrive. It's the country's bustling economic capital filled with colonial-era buildings mashed up against modern high-rises and Buddhist temples.
On arrival, Yangon can feel just as overwhelming as a city like Bangkok or Jakarta, but take a deep breath, settle into a hotel, and go for a wander. Here in Yangon you'll get to experience the everyday lives of Burmese (people of Myanmar) who are usually too busy to try and surround you with goods to sell, but are happy to flash a smile. Explore the old and new of a fast growing city, and enjoy Yangon's endless opportunity for street photographers.
Stay: Hotel Shwe Yee is perfectly situated walking distance from Shwedagon Pagoda and has great breakfast!
Chinatown
Most of the accommodation will be centered around the market streets and Chinatown area, and this is a great place to eat for your first night as you take everything in. 19th and 20th Street are the hotspots, and though it can be crowded and a bit funky smelling, there are plenty of restaurants to have a big meal with ample people watching.
Shwedagon Pagoda (Golden Pagoda)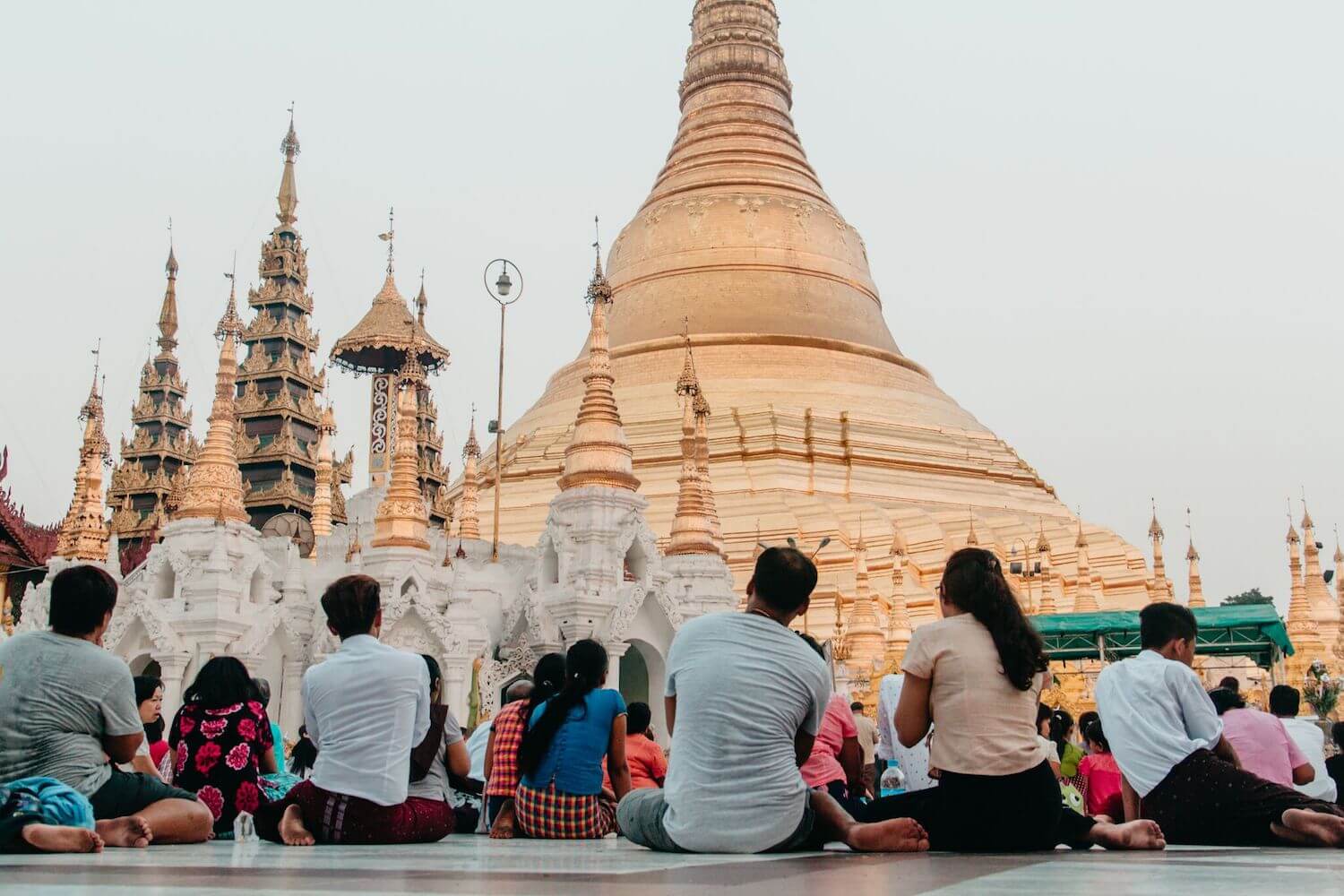 Shwedagon Pagoda is the most sacred temple in all of Myanmar, and a popular pilgrimage for Buddhists. Legend has it that this golden pagoda and complex was built more than 2,500 years ago, which theoretically would make it the oldest Buddhist temple in the world.
Colonial Markets
I love walking through markets – you can get a real sense of life in a country there. Especially when nobody bothers you! These sprawling, ornate ironwork markets date back to British rule almost 100 years ago and will be a good escape from the heat as well as the best place to buy clothes, bags, and other trinkets if you need anything. Bonus, the vendors don't chase you down like many other markets.
Quick Tips: Eat eat eat! Yangon will have the most diverse selection of food in Myanmar. Book accommodation ahead of arrival, hostels and hotels fill up fast, especially during holidays. Yangon will be the best place to get toiletries and supplies so stock up. Get a SIM card here if you want one (they are easy to find, and the airport has reasonable prices.)
Kyaiktiyo Pagoda and Golden Rock
East of Yangon is one of the top three most important Buddhist pilgrimage sites in Myanmar. Kyaiktiyo Pagoda is a massive golden rock barely balancing on the edge of an 1,100 meter tall mountain with breathtaking panoramic views of the jungle valley (and a heart-pounding ride to the top). To get to the pagoda, you'll need to head out early in the morning and take a bus to Kinpun village. From there you will be packed into the back of a truck with monks and Burmese locals.
If you feel up for the challenge, you can hike the entire way to the top from the village which will be a 5+ hour trek through jungle and mountainous terrain, but it'll be the ultimate way to experience the pilgrimage. Once at the top, buy a golden leaf and stick it onto the boulder (only men are allowed to do that)…just don't be the one who finally pushes it over the edge!
Note from Kristin: Women are not permitted to touch the rock but are permitted in the outer courtyard. I don't even have to tell you how I feel about that!
Stay: This hotel is 30 minutes away from the Kyaiktiyo Pagoda. There are also a few hotels located at the foot of the pagoda that are a lot more expensive.
Inle Lake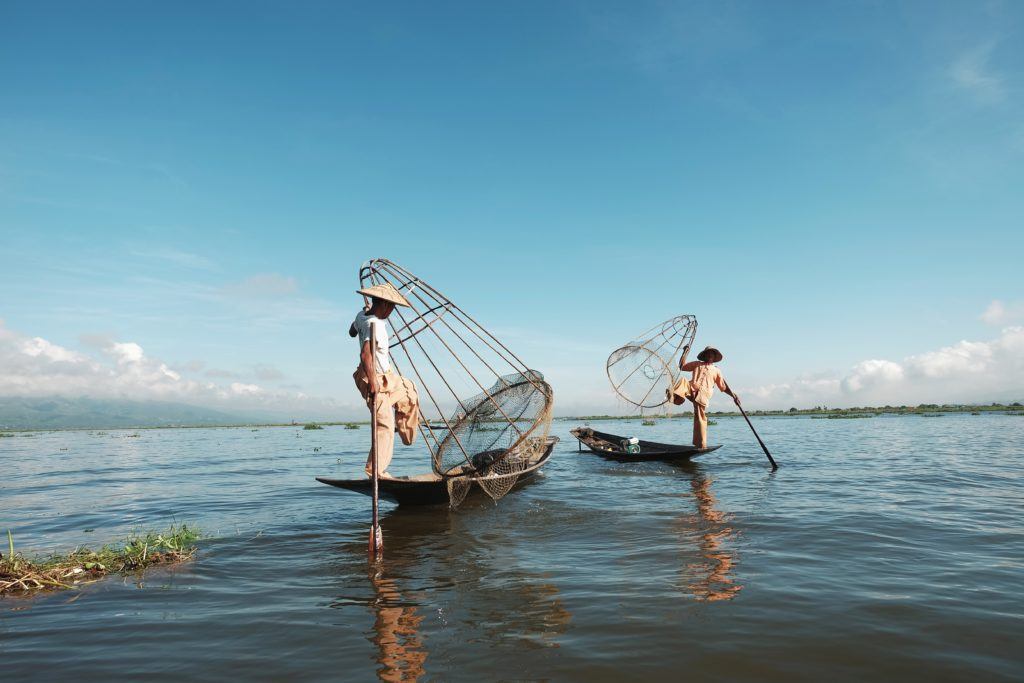 Inle was one of the most beautiful towns I visited in Myanmar, which is hard to choose because many are. But, let's just say, it was the most lush. About 9-10 hours north of Yangon by bus sits Inle Lake, a sprawling and beautiful natural contrast to Yangon tucked into a valley surrounded by green hills. It is a network of canals, irrigation waterways, farms, and a giant freshwater lake. It's a perfect escape after experiencing the bustling city life of Yangon.
Boat Ride through the Floating Villages
Once in Inle Lake, the most known attraction is the floating villages. It is essentially a neighborhood on stilts, where locals live in huts built above a network of marsh and grass waterways. Take a boat and see what life is like living on the water and relying off of food farmed in the grassland or fished. The scenery itself is beautiful, and it's relaxing sitting in the canoe cruising through the maze of houses watching children climb from one house to the next to wave you along.
Kakku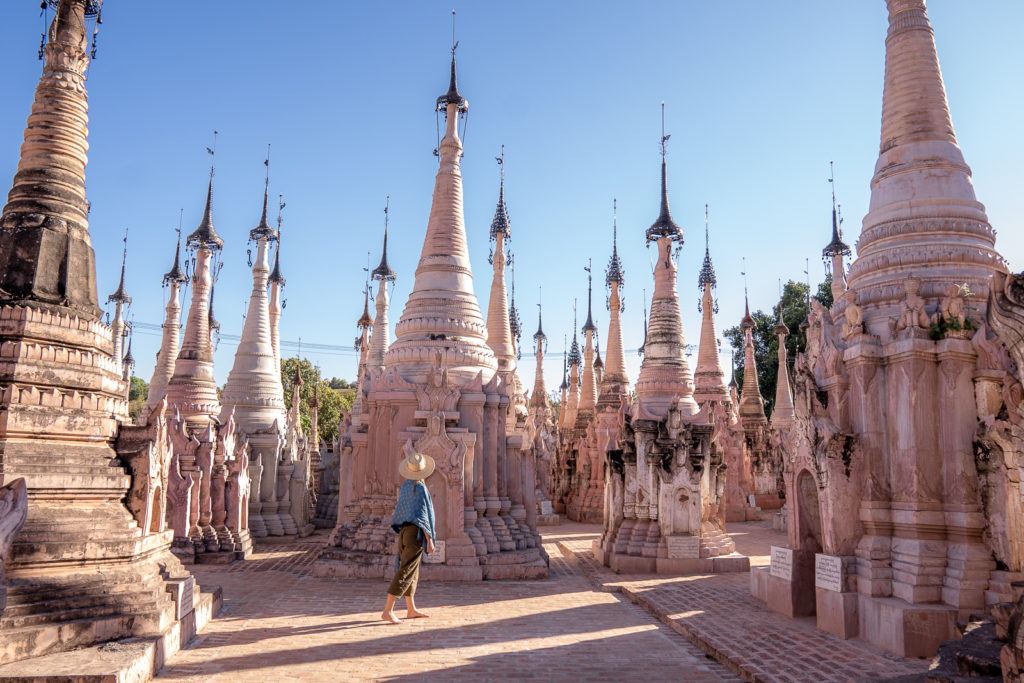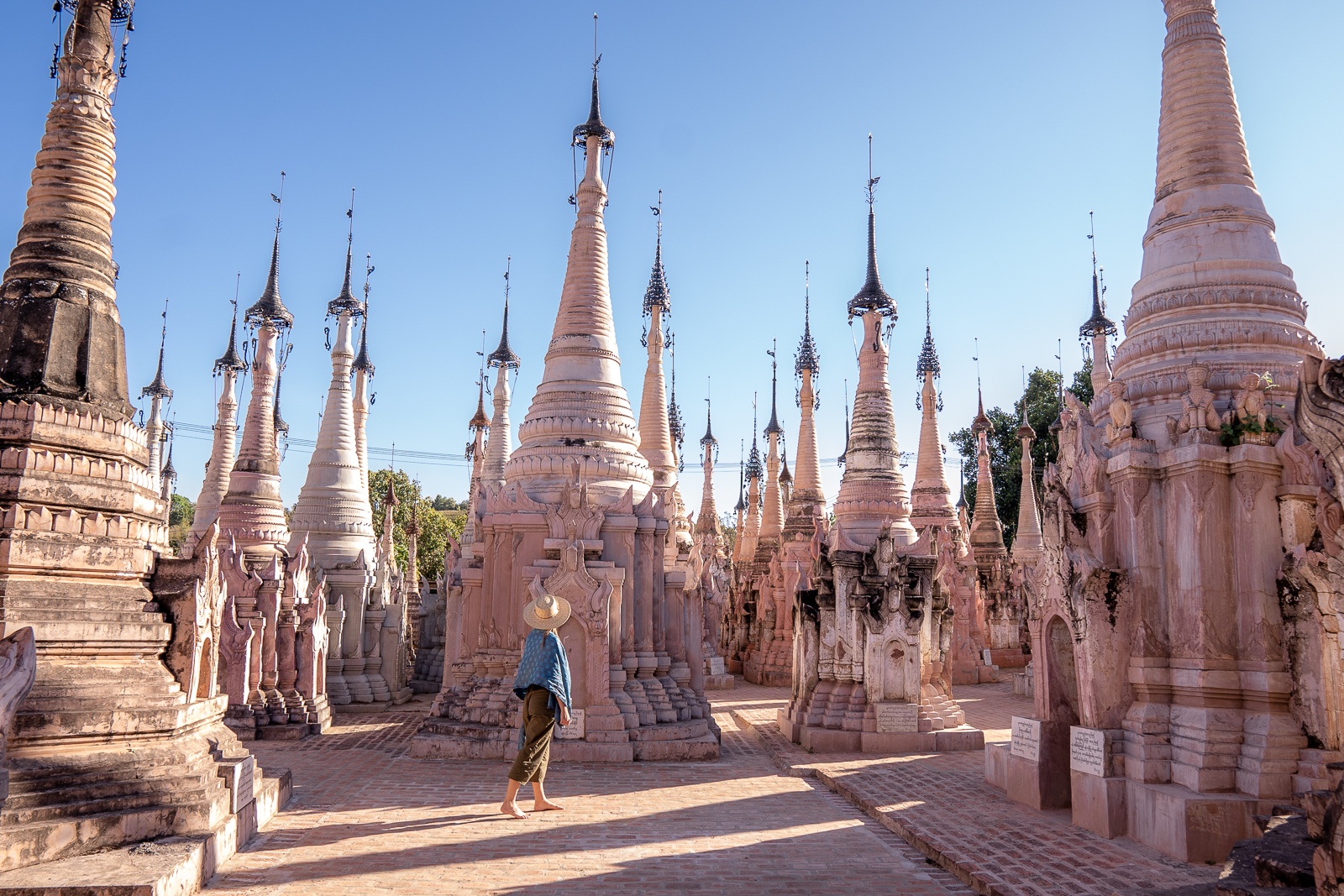 About an hour and 45 minutes from Inle, you'll find the pagoda forest of Kakku. Though it's a long drive, I found that it was totally worth it to get away from the tourist center of Inle and enjoy this gorgeous temple complex almost all to myself. More on how to get there and avoid the crowds here.
Trekking to Inle Lake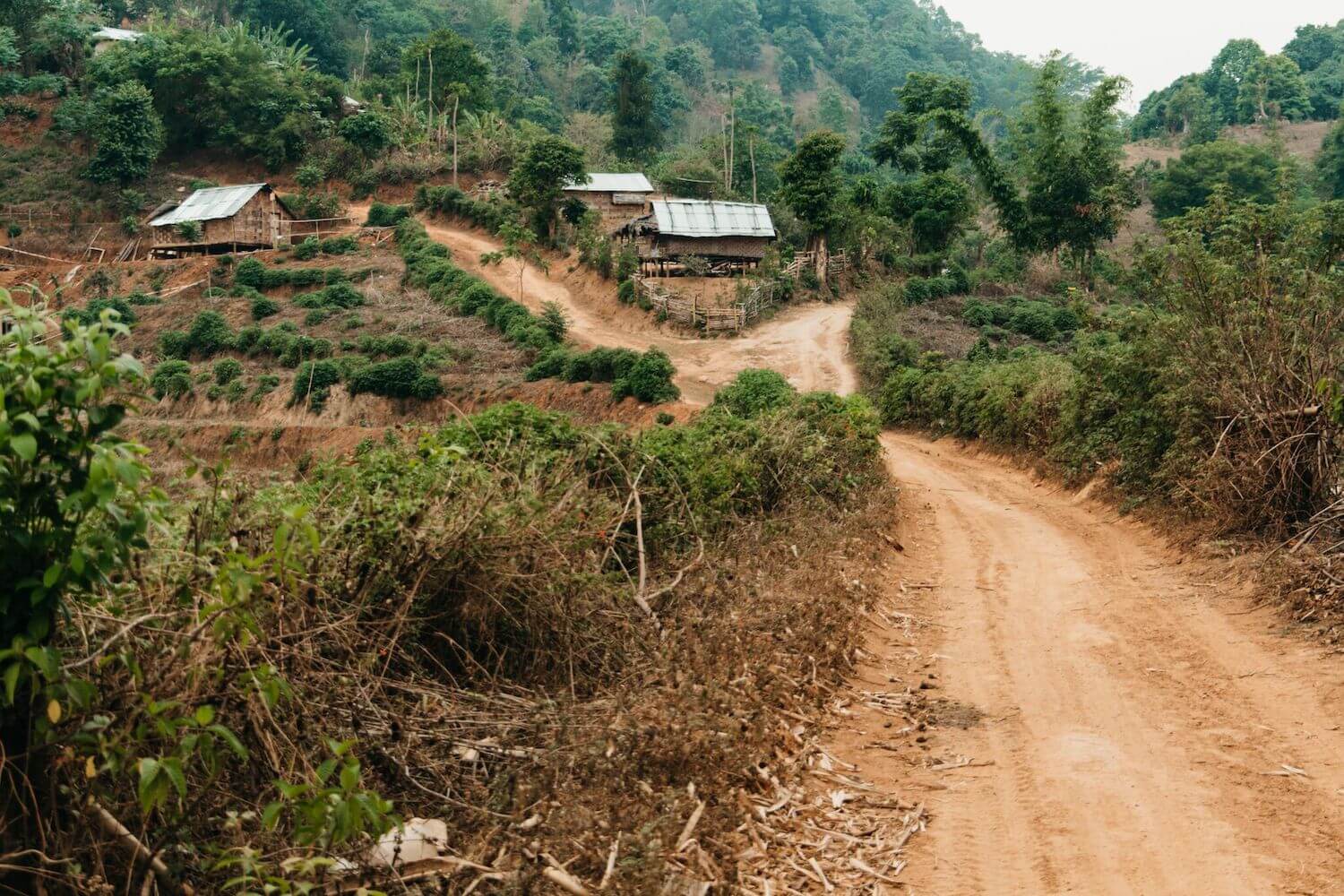 If you're trekking and outdoor inclined like myself, hit Kalaw first and do the 3-day trek to Inle Lake that takes you through valleys and small villages where you'll stay each night, experiencing rural Myanmar life. The cost is low, the views are spectacular, and the trek is life-changing. No hot showers, no electricity, no internet, just pure experiences with the nicest people on earth? Sign me up!
Quick Tips: Inle Lake is one of the more popular destinations so it's good to book accommodation ahead. Just outside of the town limits, there is a vineyard and winery that's worth a visit after a bicycle ride around the country roads.
Stay: Inle Cottage Boutique Hotel is an amazing value for the money, and the staff is so nice!
Bagan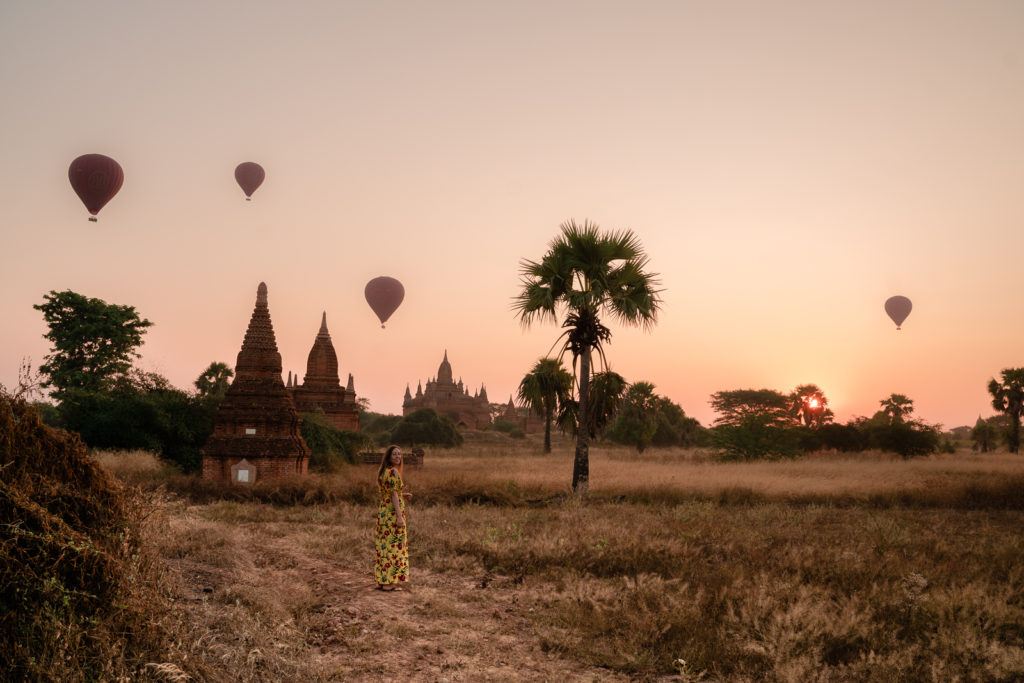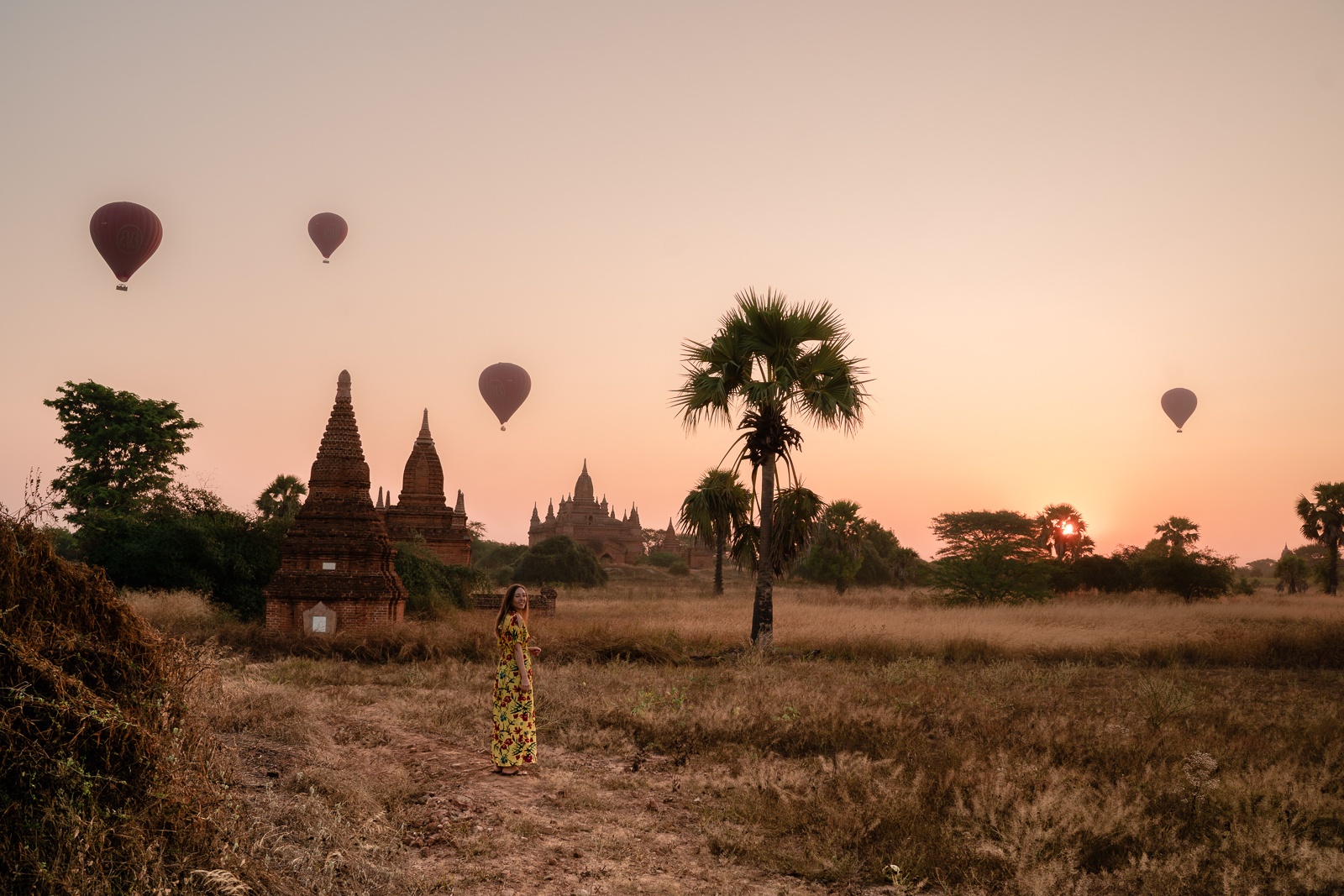 Bagan was one of my favorite experiences during my time exploring the country. Whether you hit Bagan before or after Inle Lake, it is still a must see when visiting Myanmar. Considered the Angkor Wat of Myanmar (but I think it's better), Bagan is a UNESCO World Heritage site and valley of more than 2,000+ ancient temples built between the 9th and 13th centuries, which included the golden era of Burma in the 11-12th century time period. During the summer months while I was there, the valley is arid and covered in rust-colored red sand, but in the monsoon season becomes a vibrant green jungle climate.
Temple Raiding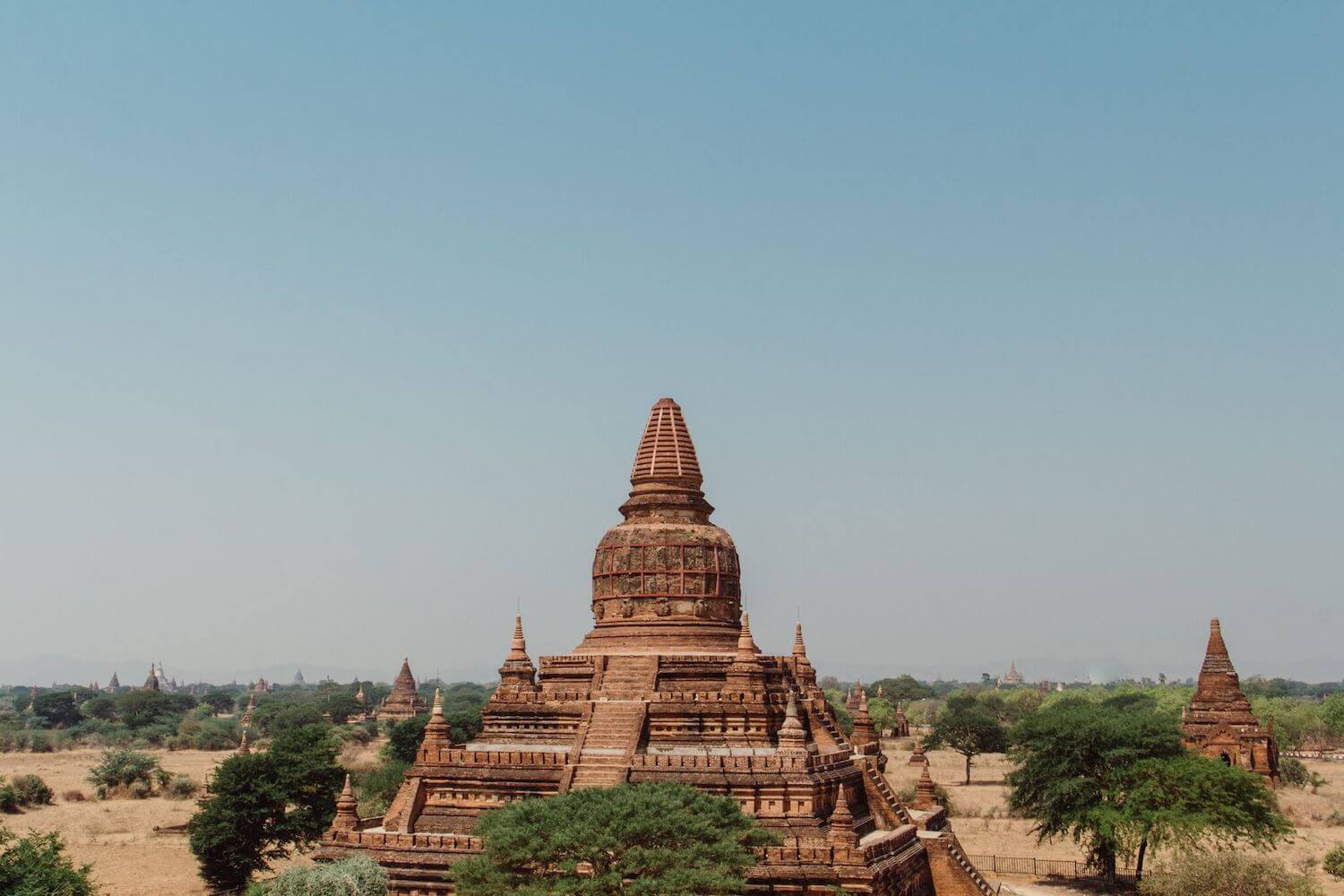 At times, we were surrounded by hundreds at the largest temples, and at other times, completely alone to crouch and crawl through narrow passages of empty temples. Rent a scooter or bicycle and cruise around to some of the 2000+ temples around Bagan – but there's no way you'll see them all! Get adventurous and go down some of the dirt roads to the smaller temples where you'll find yourself alone to explore, living out your Indiana Jones or Lara Croft fantasies. Scooters can be rented for $5-$10 a day and will make it much easier than bicycles to explore.
Quick Tip: From late 2019 it's no longer possible to climb any of the temples or pagodas for a sunrise or sunset overview. For the best places to catch sunrise and sunset these days, check out this post by Kristin.
Hot Air Balloons over Bagan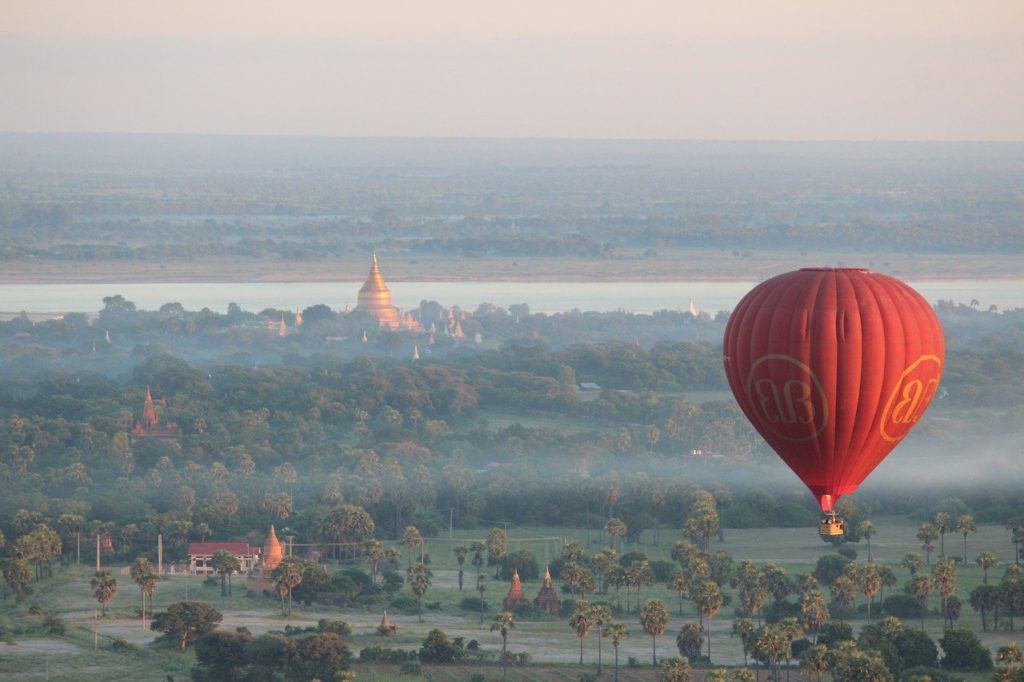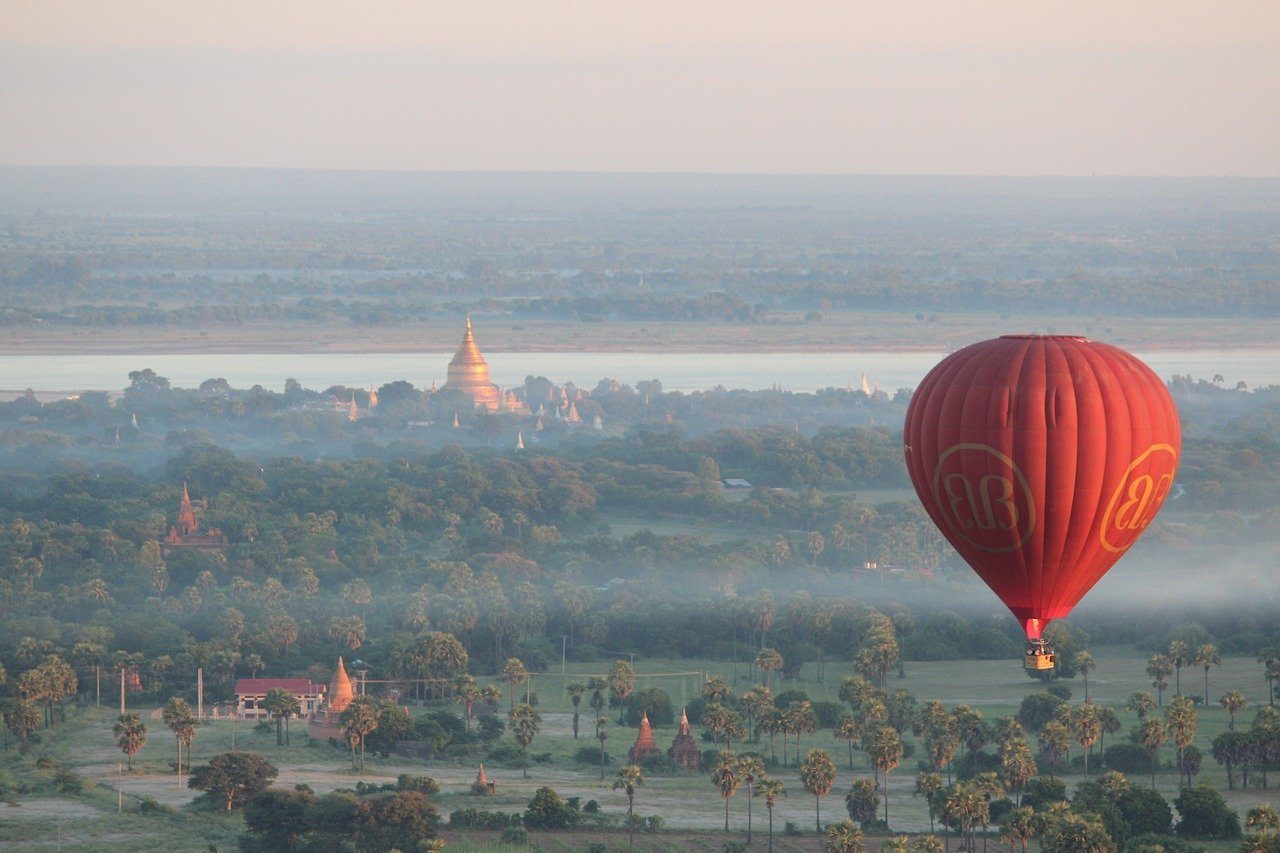 Now that the temples are closed, what's the best way to get that awesome overview? Jump in the hot air balloons! Just before sunrise you can take a ride up in a hot air balloon and see the entire valley change from purple to gold with ancient temples as far as the eye can see silhouetted against the horizon. The cheapest and best-reviewed ride we've found can be booked here.
Stay: You can get amazing balloon sunrise and sunset views at the Aureum Palace Hotel, though it's a pretty penny. To stay right in the heart of Old Bagan, I loved the Hotel @ Tharabar Gate.
Mandalay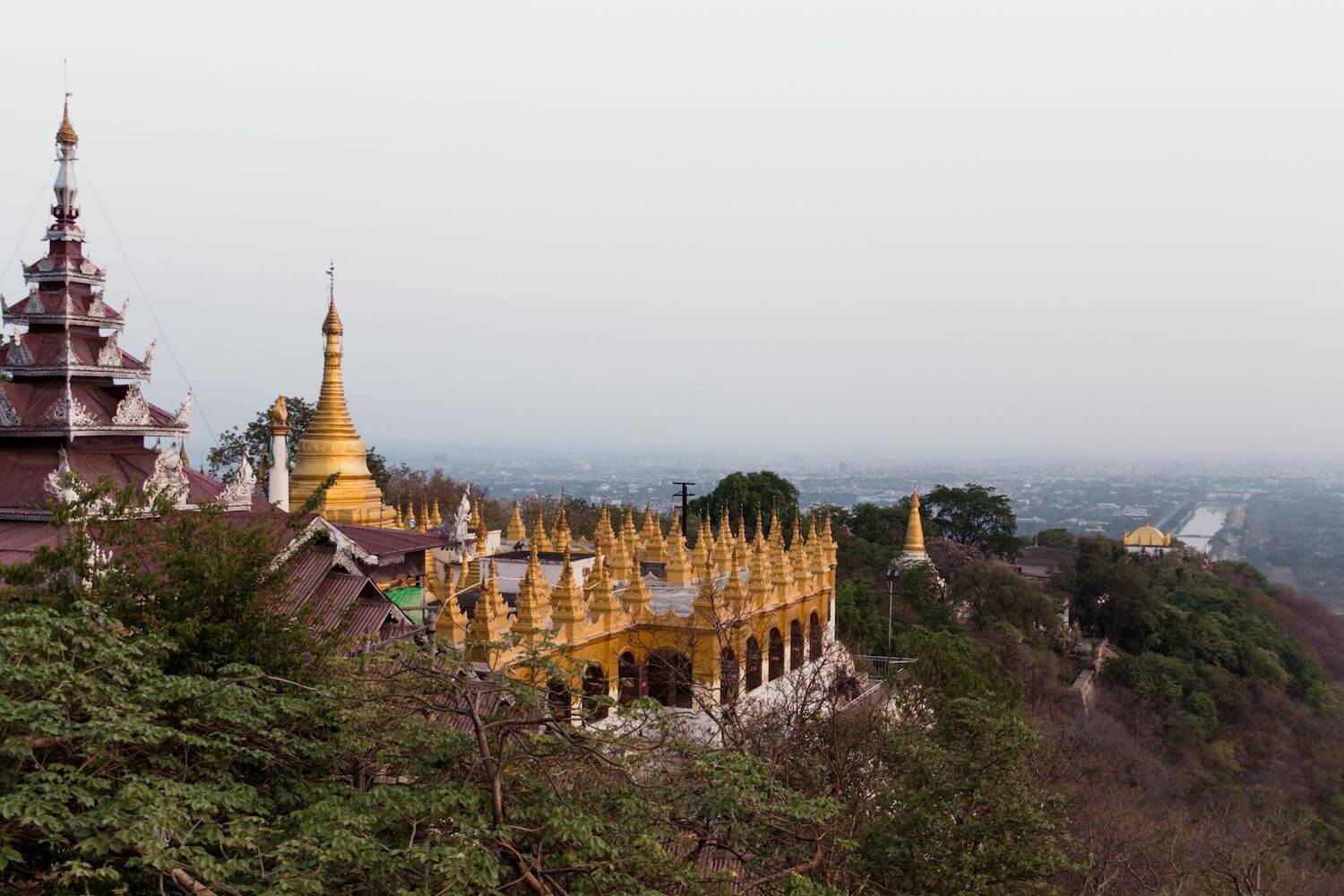 In central Myanmar, Mandalay is the second largest city in the country, and a good place to launch from for almost all activities and destinations. From Mandalay, you'll be able to reach Inle Lake, Bagan, and Hsipaw in the far north. Since it's another large metropolis, Mandalay will have plenty of delicious places to eat and a decent nightlife scene, with a couple swanky bars overlooking the river.
U Bein Bridge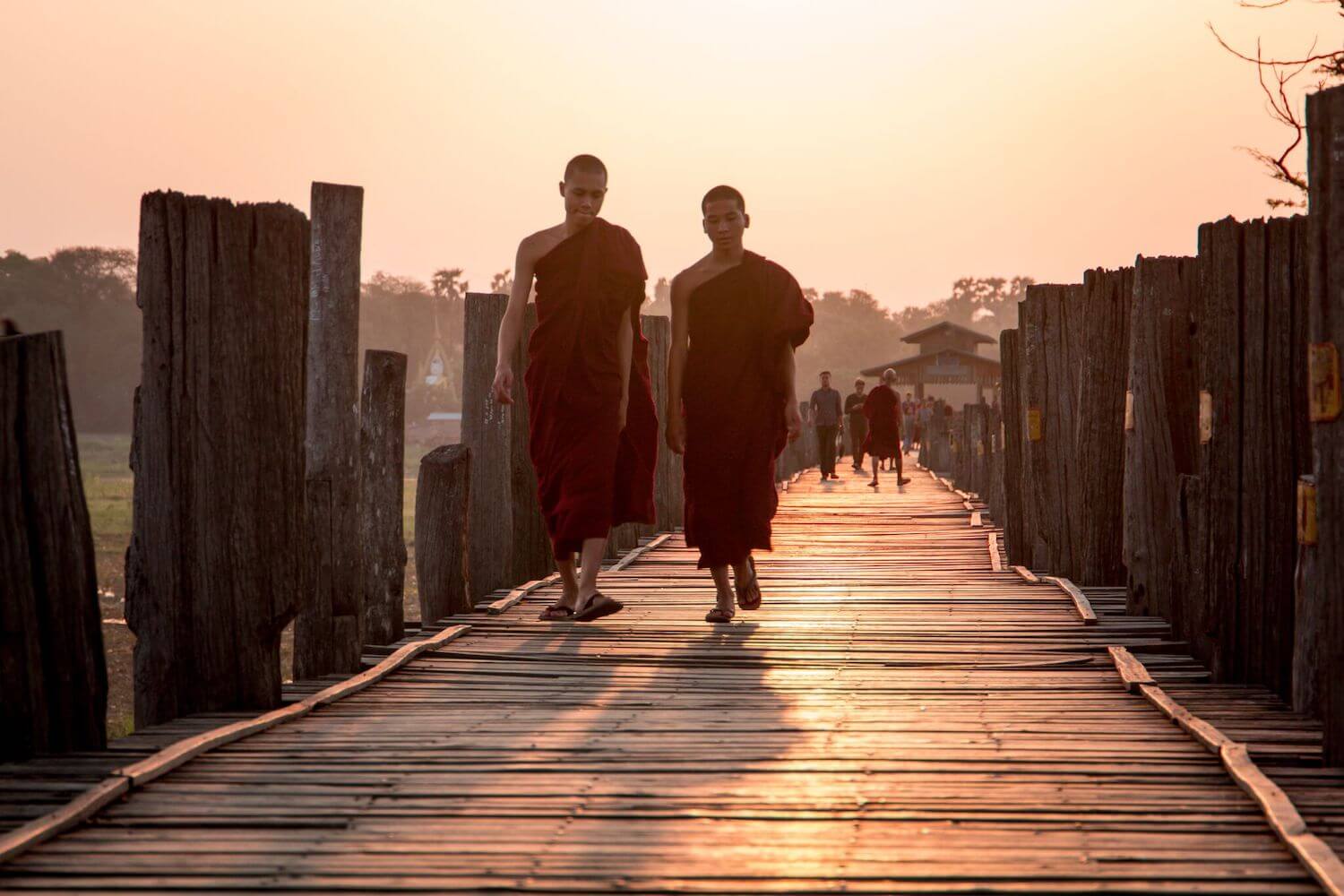 I'm sure you've seen the photos of silhouetted monks walking across a long bridge with a fiery orange sunrise. That, my friends, is U Bein Bridge. By far one of the best sunrises I've ever experienced (and I think it will be for you as well), U Bein Bridge is the world's oldest and longest teak wood bridge. I would have stayed there all day, but by 9am, it was swarmed with people, so make sure to arrive early! Just before sunrise, the monks follow the call to prayer and all walk across in their crimson robes to the temple across the river.
Mandalay Hill and Mandalay Fort
Get ready to break a sweat. I was panting by the time we reached the top, but it's worth the long walk up to Mandalay Hill to the temple perched at the top for an incredible view at sunset (and one helluva stair climb). In the city center and surrounded by a large moat, Mandalay Fort is worth checking out.
All the Temples!
Mandalay has an abundance of stunning temples, pagodas, and stupas to check out in and around the city. Check out the ancient capital, the amazing Hsinbyume Pagoda, and more. The best way to see it all is by car. You can find out more here.
Stay: Hotel Yadanarbon was in a great location, has a rooftop pool, and an amazing breakfast!
Hsipaw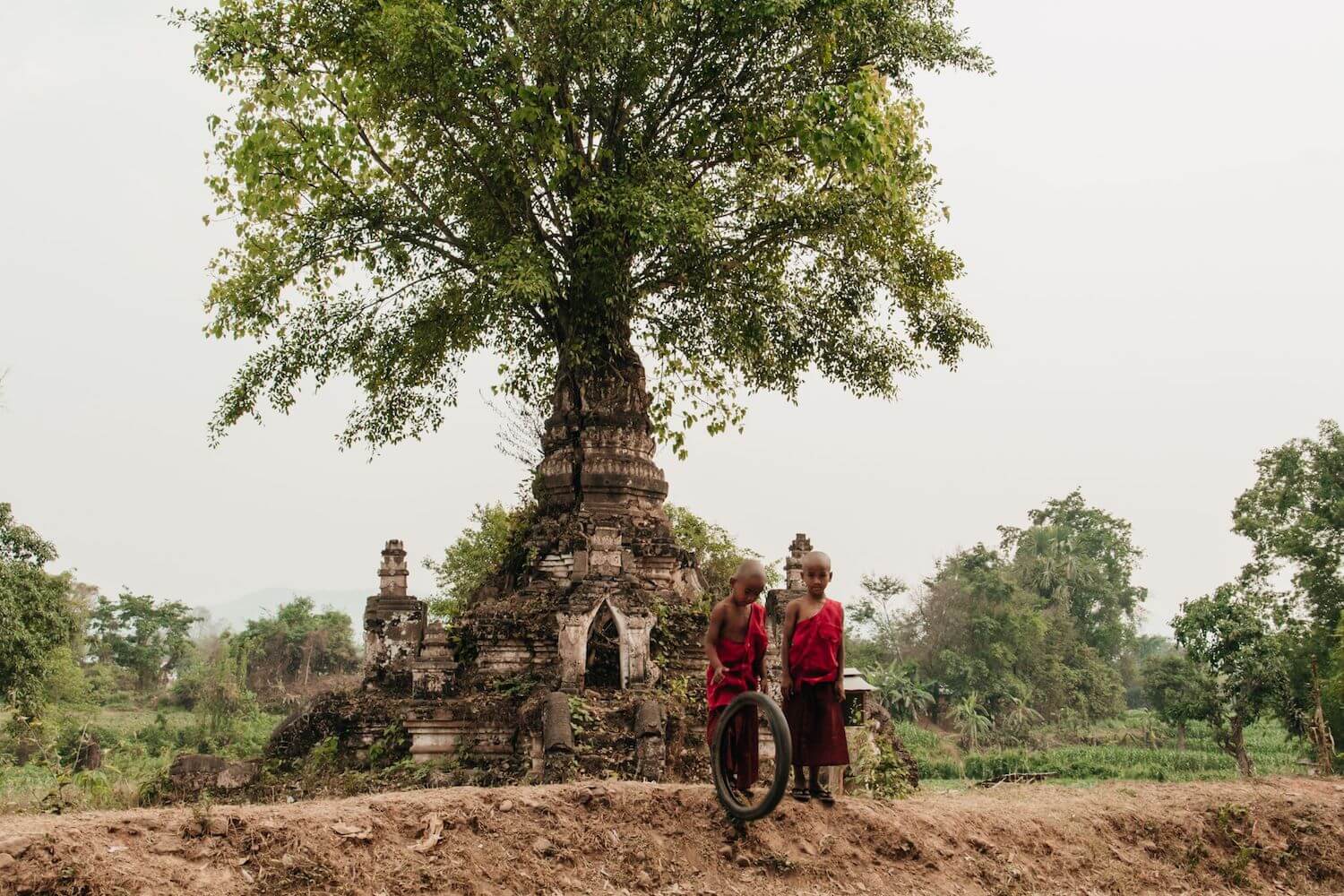 Oh Hsipaw, how I miss those days. Mountains all around, trees that grow out of temples, lush farmland, waterfalls, and the best tea you'll ever have — sound good? Hsipaw is the main township of the Shan State, and is located 200km northeast of Mandalay, perfect for anyone needing an escape into the outdoors. This will be the main destination for anyone wanting to do some serious multi-day trekking and to explore more untouched Myanmar in remote mountain villages.
We rented bicycles while in Hsipaw and explored for a couple of days. Though it can become quite hilly and rugged outside of town, every road you go down will have something fascinating to see. Don't miss the ancient temple complex and check out the stupa that has a tree growing out of it. Watch young monks play games, wander the vibrant fruit and vegetable markets, and relax by the river.
Goteik Viaduct and Train to Hsipaw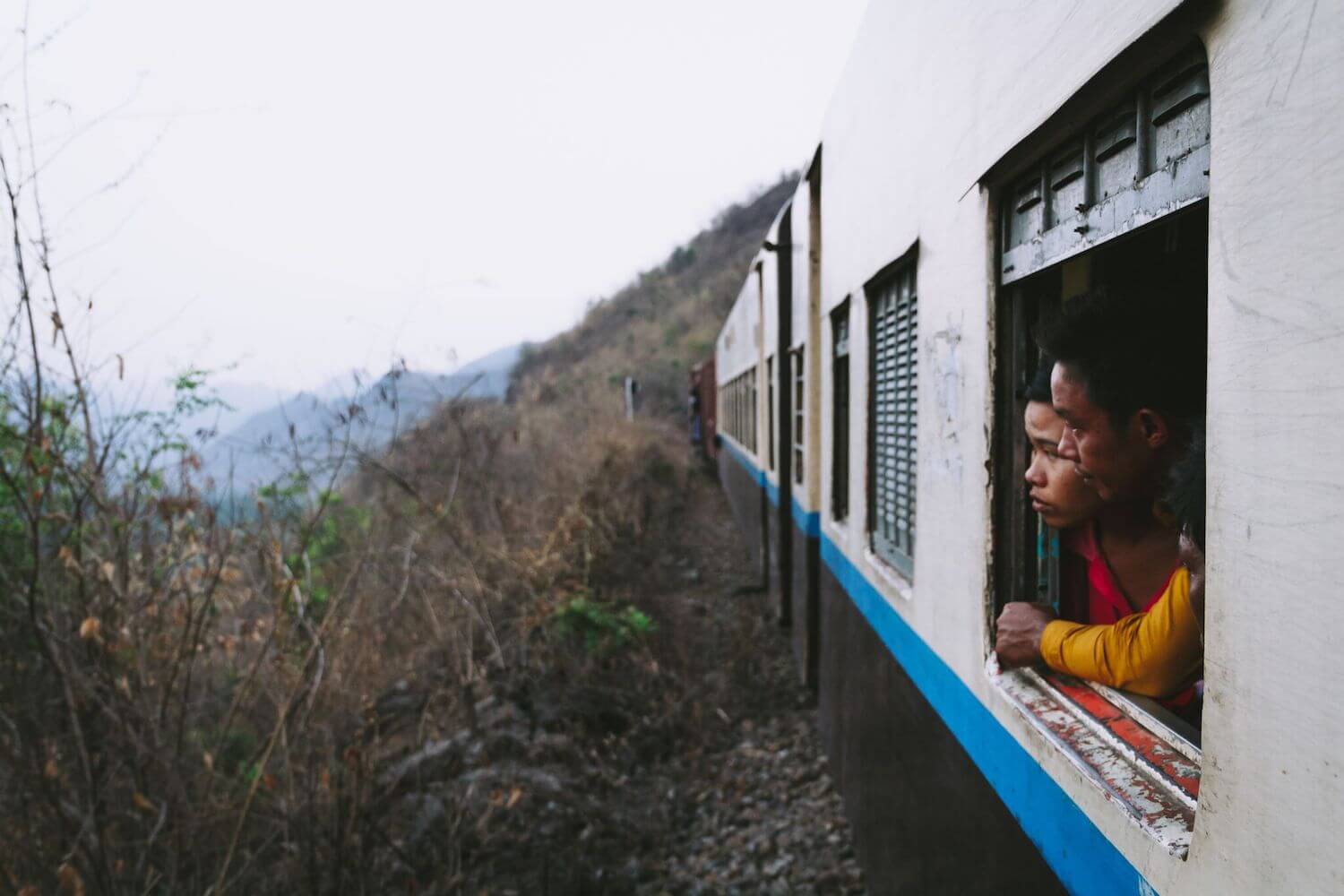 For someone who is obsessed with train travel, I had to do what is said to be one of the greatest train journeys in the world. This, above most else, should be on your list of must-do's in Myanmar. Along the 12 hour journey, you'll also cross the Goteik Viaduct, considered a world masterpiece in engineering and at one time the world's longest viaduct bridge at 2,260 ft long (and currently the highest in Myanmar at 335 feet!).
The old train to Hsipaw is a clunking and captivating journey that leaves Mandalay before dawn and takes you up mountains by zig-zagging its way forward and backwards, then down into lush valleys of rice and soy fields. Over 100 years old, it's a technological marvel of its time period, and the coolest mode of transport to get to Hsipaw.
Quick Tips: Purchase tickets at the train station days before, and try to get first class seats for 2,000 kyat ($2.00). We could only get second class seats, and 12 hours on wooden benches is doable but brutal.
Hiking to Mountain Tea Villages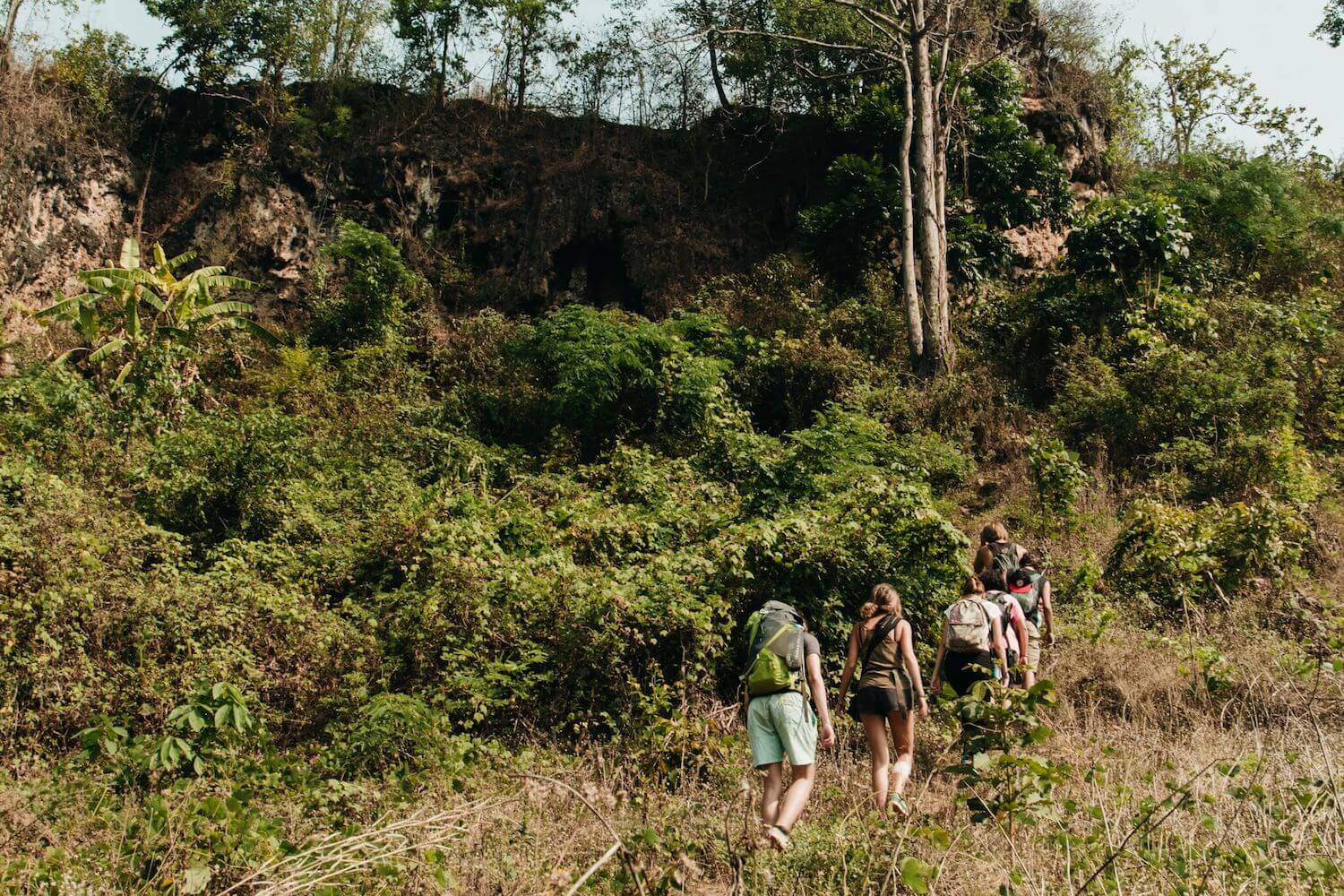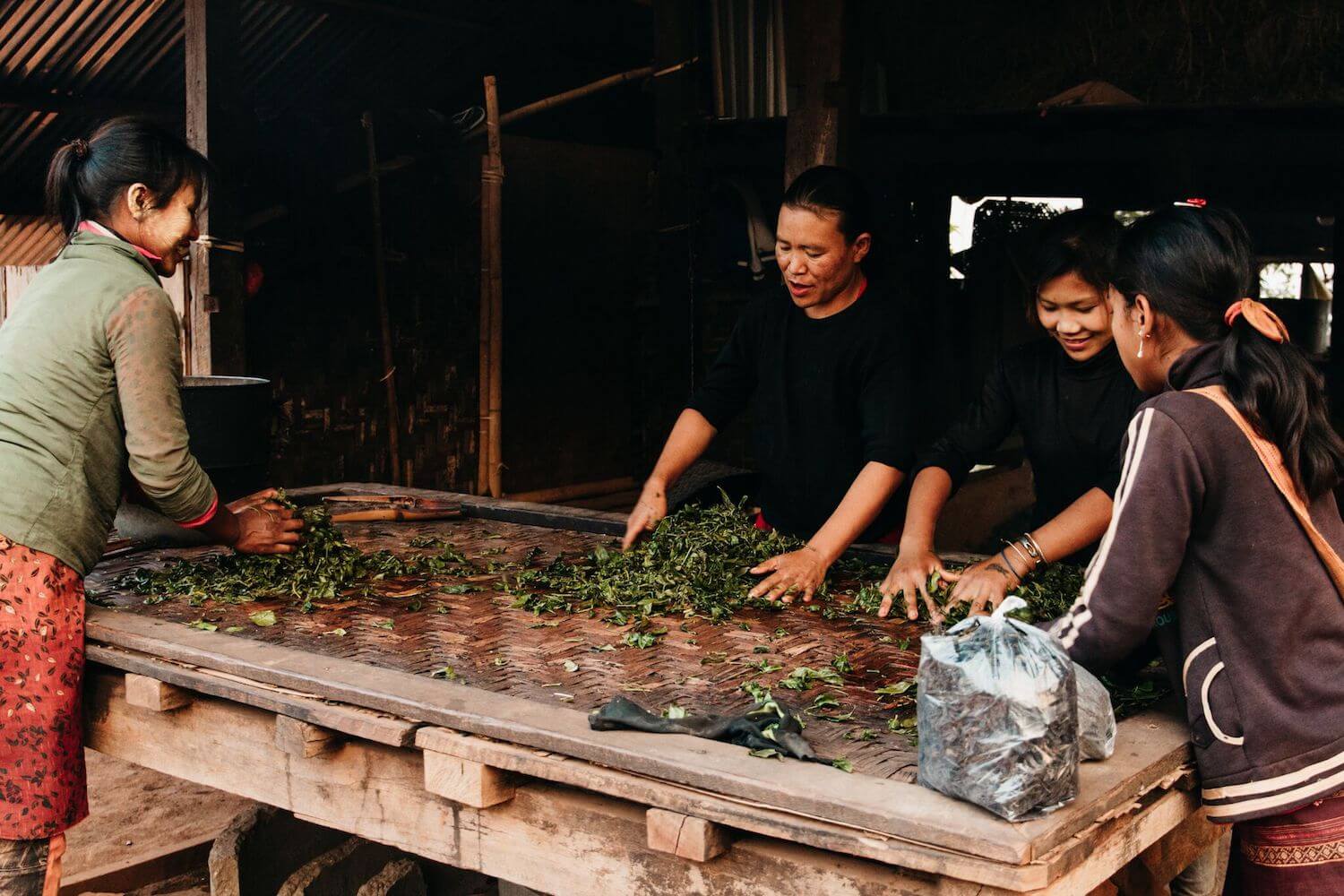 Hiking in the countryside was one of the best excursions we did in Myanmar. On the 2-3 day trek you'll meet rural farmers, tea pickers, and even rebel soldiers who are happy that you are experiencing their small world and sharing their everyday life. Don't worry, even the soldiers were the nicest people I've ever met. Plus, the tea leaves there are said to help with longevity in life, so drink away!
We stayed in a small traditional hut and ate home cooked meals with a local family, and I drank some rice wine with soldiers (shhhh). Our guide, Ax Sai, was extremely knowledgeable, spoke English very well, and even took us to some secret waterfalls after a scorching day of trekking.
Quick Tips: Wear a hat, sunscreen, and bring extra bottles of water and snacks. And proper shoes! Pack things like peanuts or apples that won't go bad in the heat. Look for Ax Sai, he's awesome.
Ngapali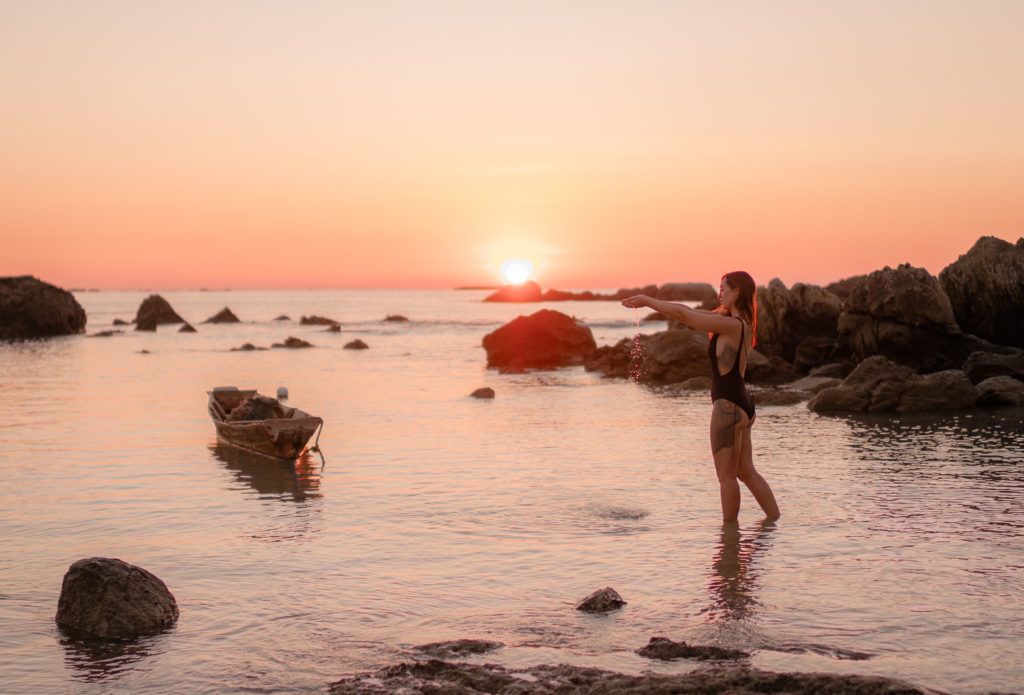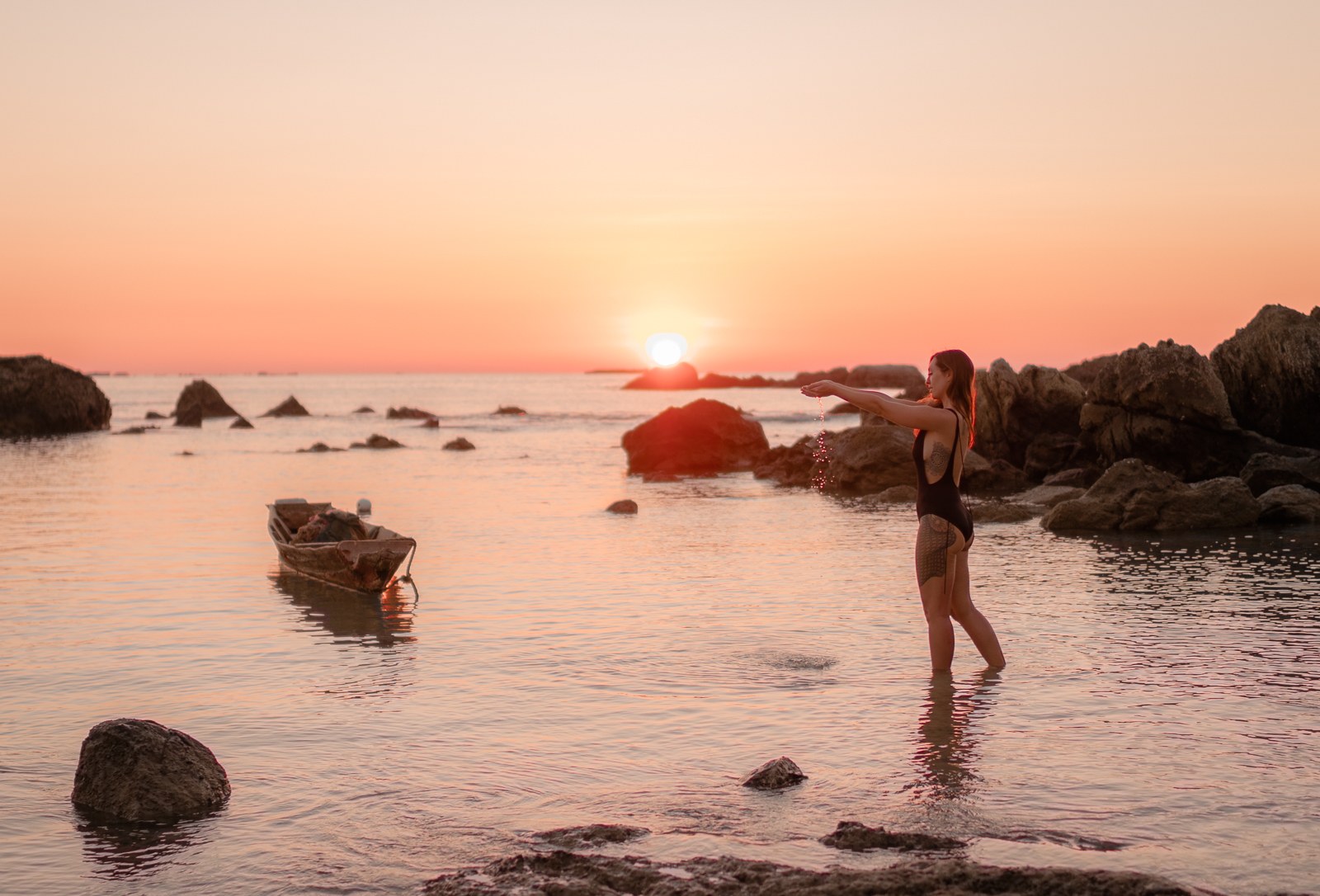 Myanmar has a beautiful coastline with white sand beaches and beautiful sunsets. As an added bonus, there are no buckets, all-night parties, nor fire dancers, which kill the peaceful ocean vibe for me! Ngapali is one of the loveliest beaches, though there are many down south worth checking out. You can read more about Ngapali here.
BONUS: Thingyan Festival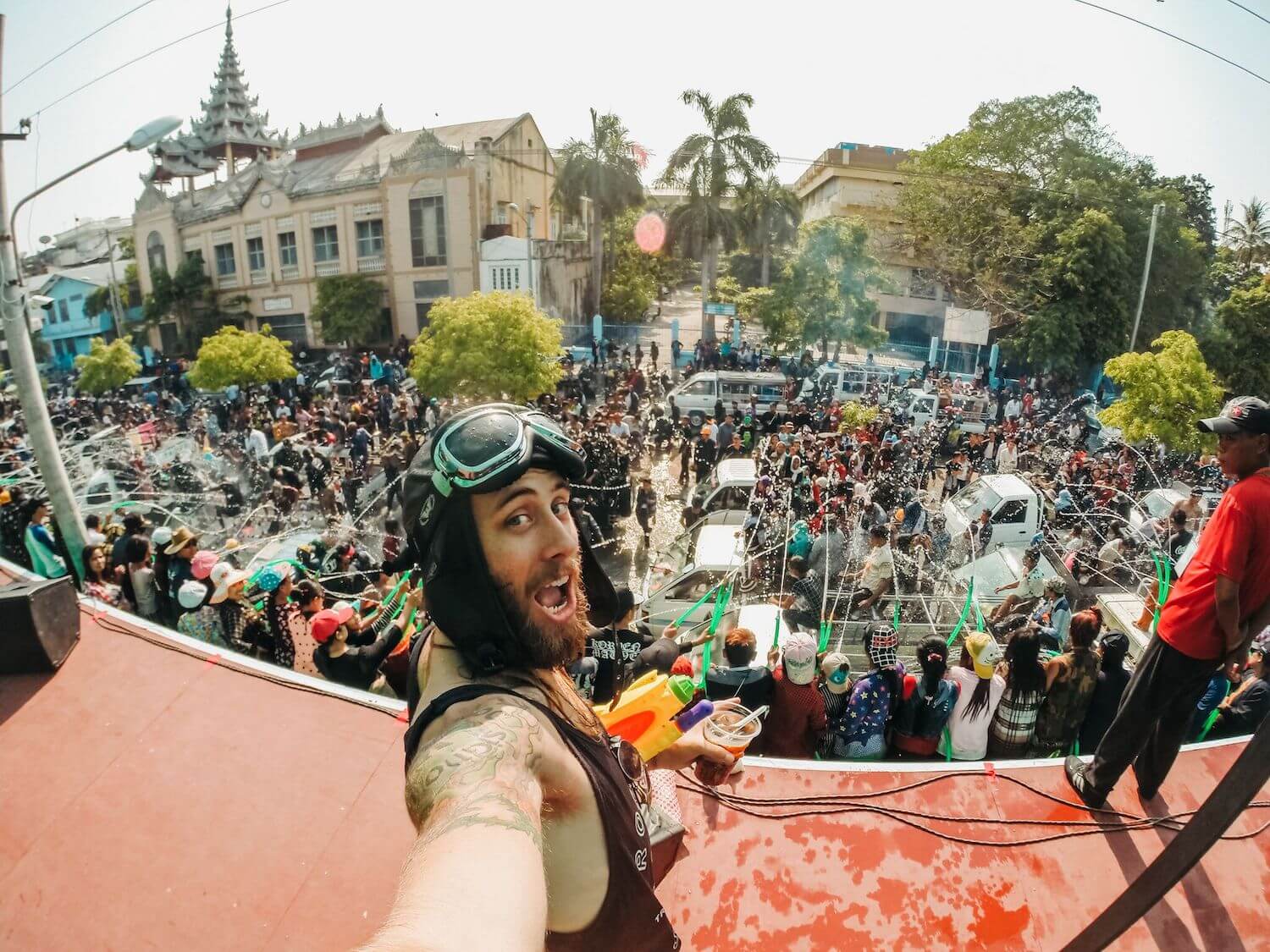 Thingyan Festival, or the New Year celebration for Myanmar, will most likely be one of the craziest experiences of your life. Thingyan is Myanmar's biggest holiday and a Buddhist celebration for the purpose of washing the previous year's sins away and beginning the new year with a clean spirit. With millions of gallons of water.
From my experience at Thingyan, it lasted the full week and there was no escaping the chaos. It's fun, but it's also exhausting, and after a few days you'll probably lock yourself inside. Luckily I had goggles after taking on the Rickshaw Run in India to protect me from the blasts to my face.
Quick Tips: Book accommodation and transport WAY in advance – everything sells out. Get a waterproof bag for money and phones. Don't carry your DSLR, it'll get destroyed. Remember, it's their holiday and there is no escaping it, so have fun and don't get mad. Bring goggles, they are a life saver (especially from eye infections). And buy the biggest damn water blaster you can find!
Arrival & Getting Around
Before Myanmar relaxed its tourism policies, getting visas for the country, let alone most everything else, could be a huge hassle. SIM cards used to be thousands of dollars, banks were scarce, and much more of the country was closed off to travel. Luckily it's become much easier now to travel to. I found it actually easier than a lot of other countries I've visited.
eVisa: For your Myanmar visa you'll want to apply for the eVisa, which takes a couple of days to process, and after approval, you will receive a government issued letter to print and show on arrival. There are only a few countries that don't need to do this, but if you're from the USA, be sure to apply for one and double check that all of the information is correct. I found out the hard way that being even one day off on your passport expiry date can mean being denied boarding for your international flight.
Buses: This was how Ryan mainly traveled through Myanmar. There are fancy VIP buses that are cheap and much comfier than much of Southeast Asia, with reclining seats, blankets, and snacks offered. Now that there is a main highway that runs from Yangon all the way to Mandalay, the road north isn't too dicey.
Train: I only got to ride the train in Myanmar once, but it was my favorite way to travel. Train travel is another good option and can be taken from Yangon all the way north to Hsipaw with transfers. My recommendation from experience is to book a 1st class ticket on the train which won't be much more expensive, and it'll save your back and bum from a lot of pain. I know from experience.
Private Taxi: During our time in Myanmar, we mainly took buses when we could find them, but occasionally had to hire a private taxi to drive us to the next destination because nothing else was available. These drivers have nice cars with air-conditioning, but can be quite the speed demons even on roads with sheer cliffs dropping off the side. Our driver had to stop to hose off the breaks because they were smoking. A private taxi will run around $40-$65 for a full day drive to another city.
Flights: Much of Myanmar is accessible via air travel these days, particularly for Mandalay, Yangon, Bagan, Inle, and Ngapali. I flew Air KBZ and thought it was great.
Wrap Up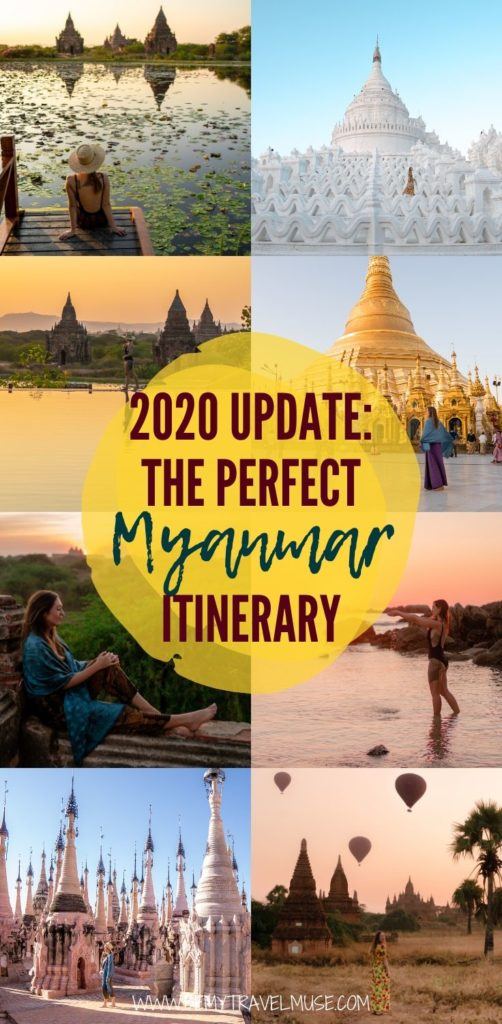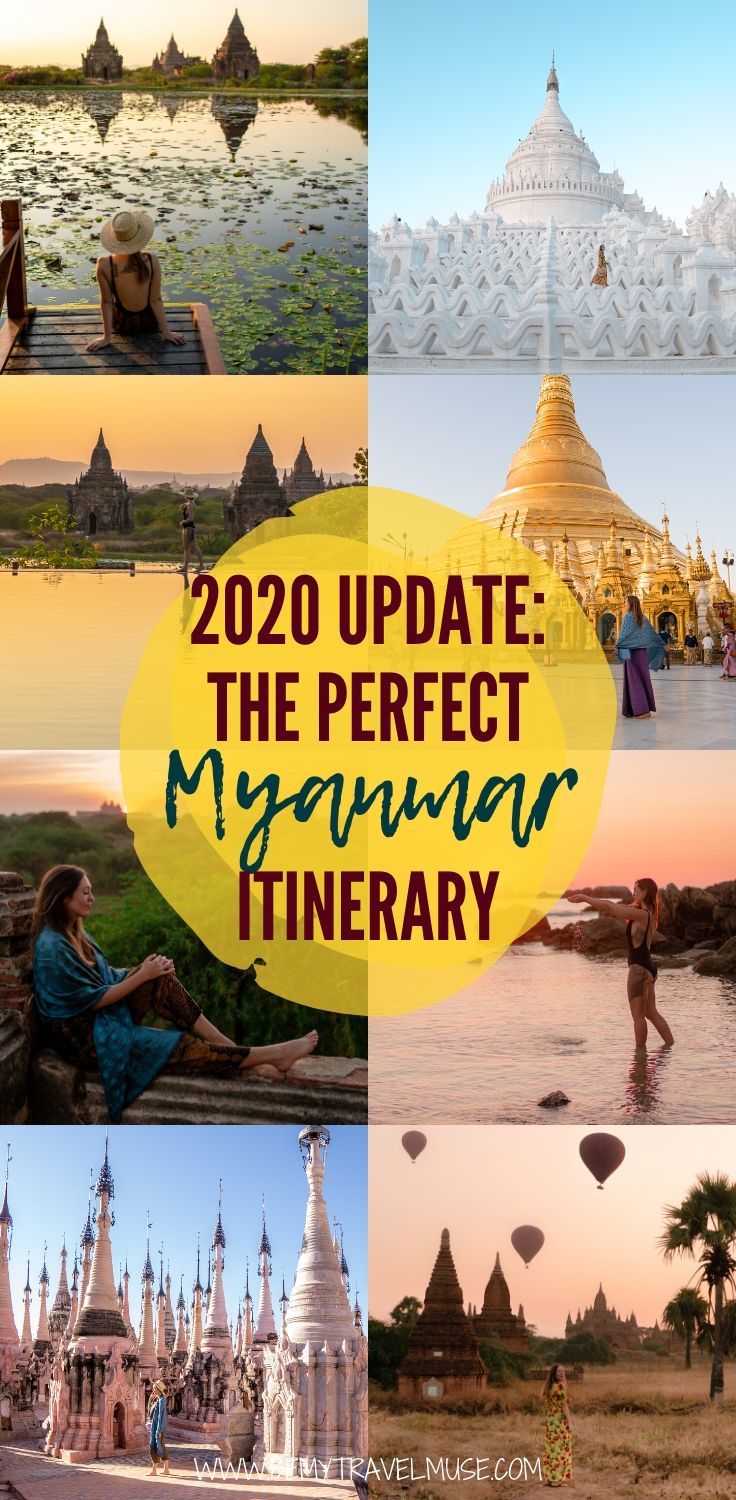 Myanmar isn't quite the wild east of Asia anymore because the country's relaxed tourism policies are spurring growth, but it was one of the most authentic cultural experiences I've had. Getting around Myanmar is much easier than it was even 3 years ago, and if you prepare before arriving by having visas and accommodation sorted, you won't run into many hiccups. With infrastructure improvements, WiFi and 3G/4G available almost everywhere, and banks in every town, there's not much difficulty in getting around.
But I can't forget the best part. The most memorable aspects of Myanmar are the people. Always smiling, displaying unending generosity, and not once did I feel I was trying to be scammed from every direction. This, combined with the culture and fascinating places to visit, made it my favorite destination in Southeast Asia. And it's bound to become your favorite as well.
About the Author
Ryan Brown is a corporate escape artist with a severe disdain for the mundane, an adrenaline junky, and a hammock addict. On his adventure travel blog, Lost Boy Memoirs, he shares his misadventures getting lost around the world through personal memoirs, photos, and videos. His mission is to experience cultures first-hand to break down barriers and to inspire YOU to escape your comfort zone. Not all who are lost need to be found.
*Some links in this post are affiliate links, which means that any booking you make through them supports us at no extra cost to you. We only recommend places we have stayed in and experiences that are priced right and well-loved.