South Lake Tahoe is definitely the energetic side of town and ideal if you want some action! It's even called the "Las Vegas of Tahoe." While known for the art scene, live music, casinos, and nightlife, this area is also surrounded by the outdoor attractions found at the Lake: skiing and hiking. During the wintry mornings, you are minutes away from ski resorts like Heavenly, Kirkwood and Sierra at Tahoes. At the crack of summertime dawn, you are steps away from several of Lake Tahoe's superb long-distance hiking trails, such as Mount Tallac and Desolation Wilderness. In the evenings, festivals and parties dominate the natural scenery and you'll get a taste of the South Lake Tahoe culture.
Are you in?! It can be overwhelming to pick the absolute best place to stay where you can step in on all the action and also get a good night's rest. That's why we have a list of 10 hidden hotels that you might otherwise not have found:
1. Fireside Lodge
Checkin: 3pm | Checkout: 10am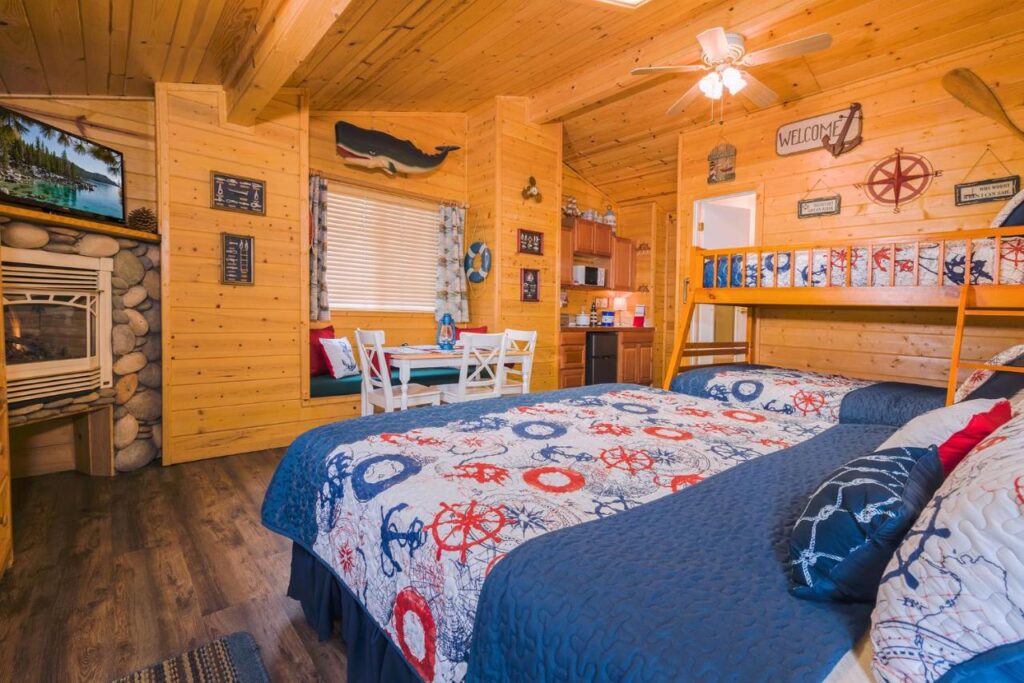 This up-beat family-vibe Bed & Breakfast is pet-friendly and has a daily happy hour plus complimentary bikes for exploring surrounding Lake Tahoe. But the most fascinating part is the personality of each room, each with a kitchenette: Moose Lodge, Field and Stream, and Angler Room are just a view of the themed lodges they offer! All are steps away from the cross country and snowshoeing terrain. A friendly gathering room has a library of over 200 movies.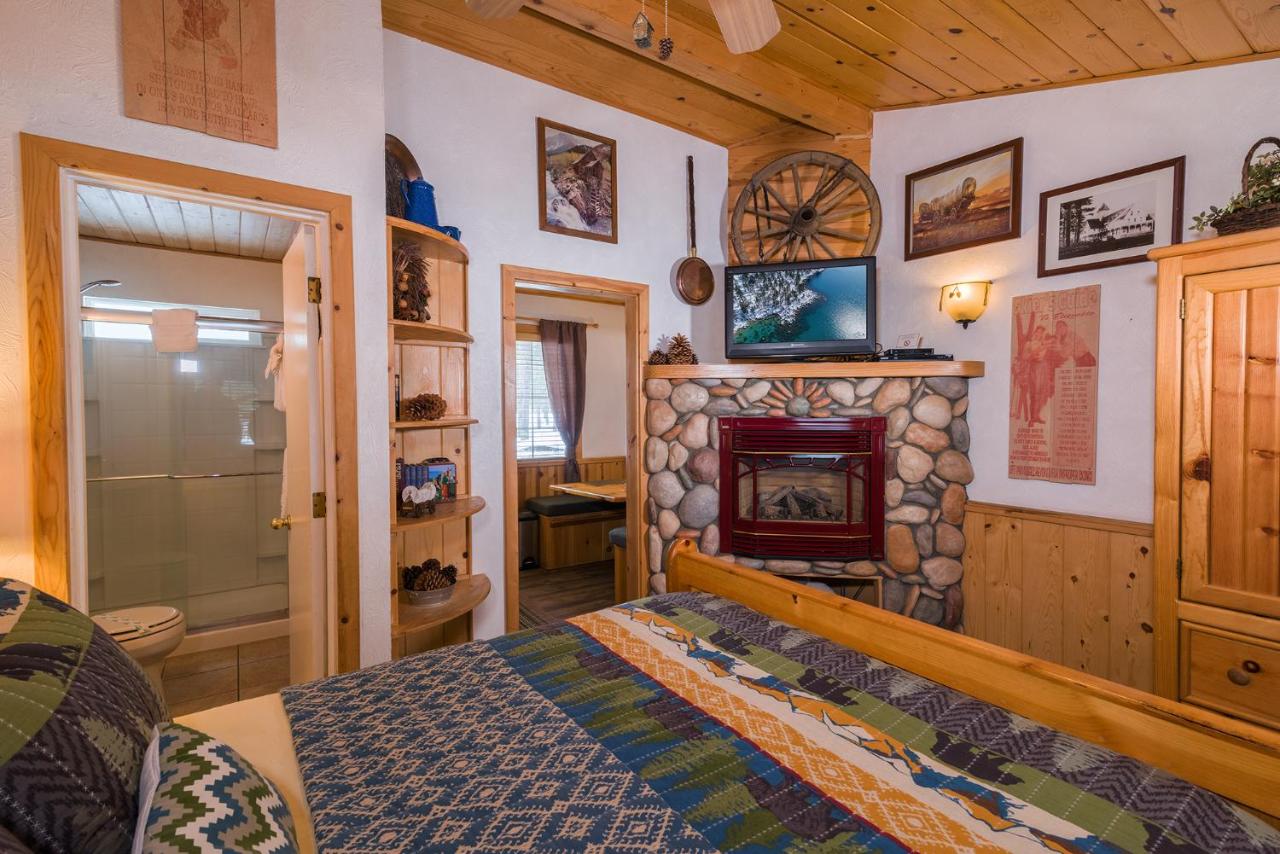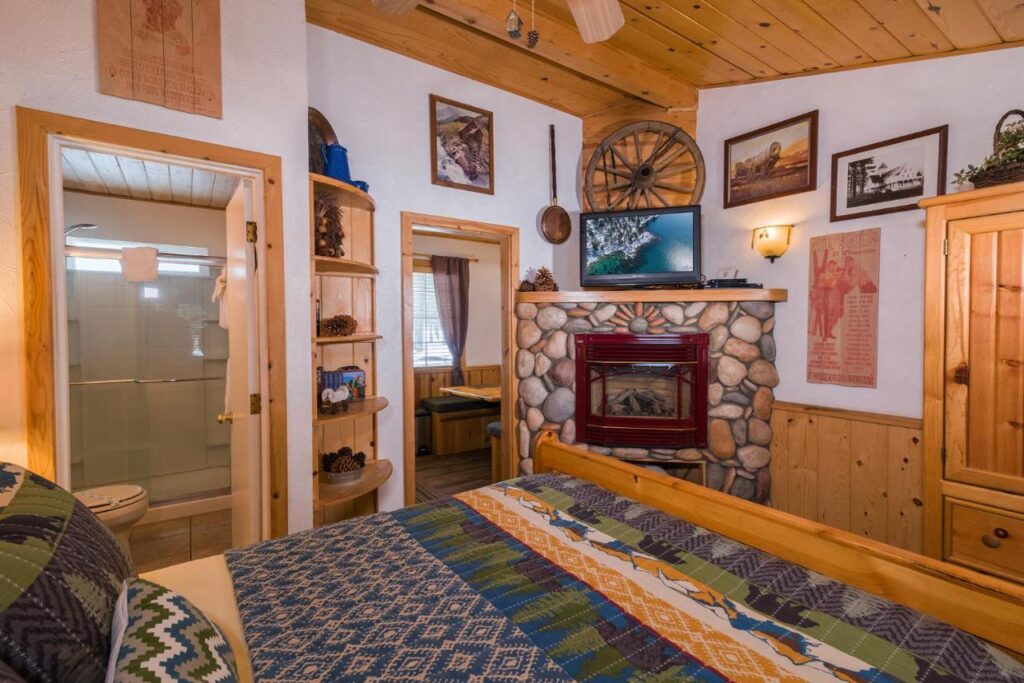 This warm, cabin-style rooms in a mountain lodge with free continental breakfast & marshmallow roasts also has nearby activities, such as fishing, dog hikes, and beach excursions, snowshoeing, skiing and cross country skiing.
2. Deerfield Lodge at Heavenly (Pet Friendly)
Checkin: 3pm | Checkout: 11am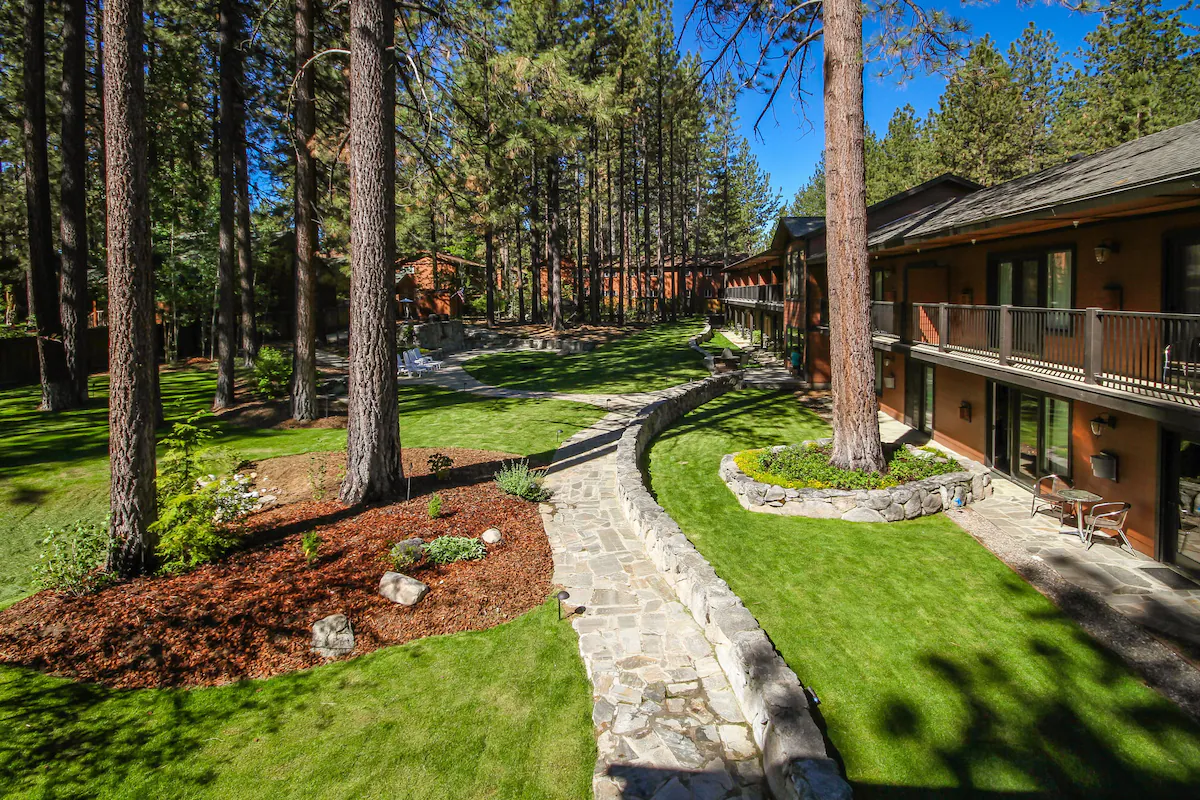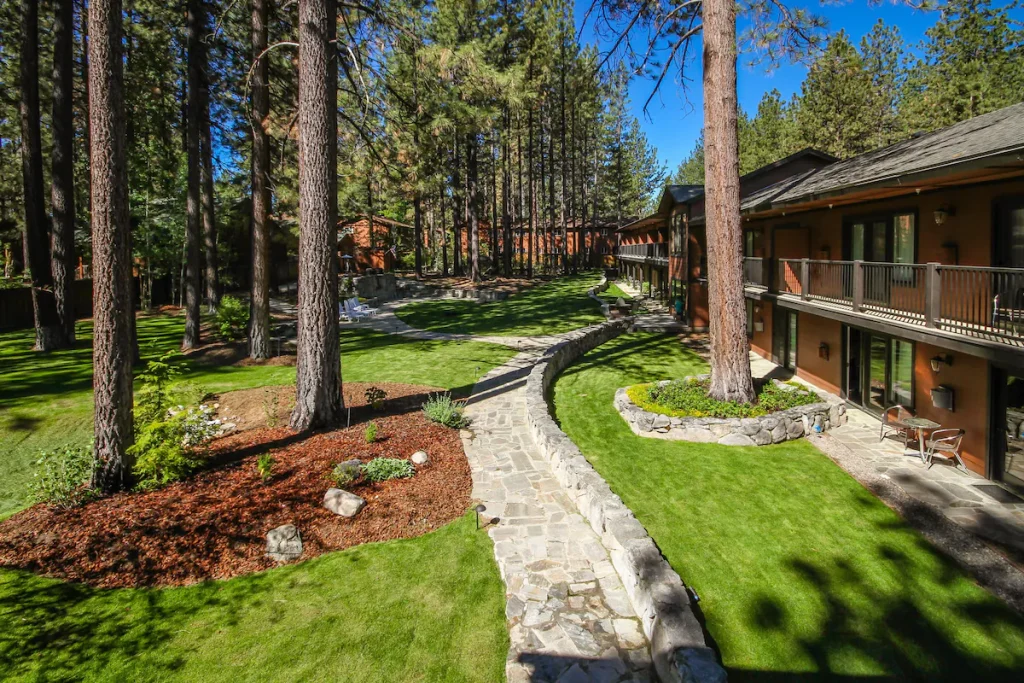 For some, it simply wouldn't be a vacation unless you brought your dog. Deerfield lodge not only allows 2 dogs per room, but they will also pet-sit for you. They are located in the woods and just a few minutes walk to the Heavenly Village Ski Resort.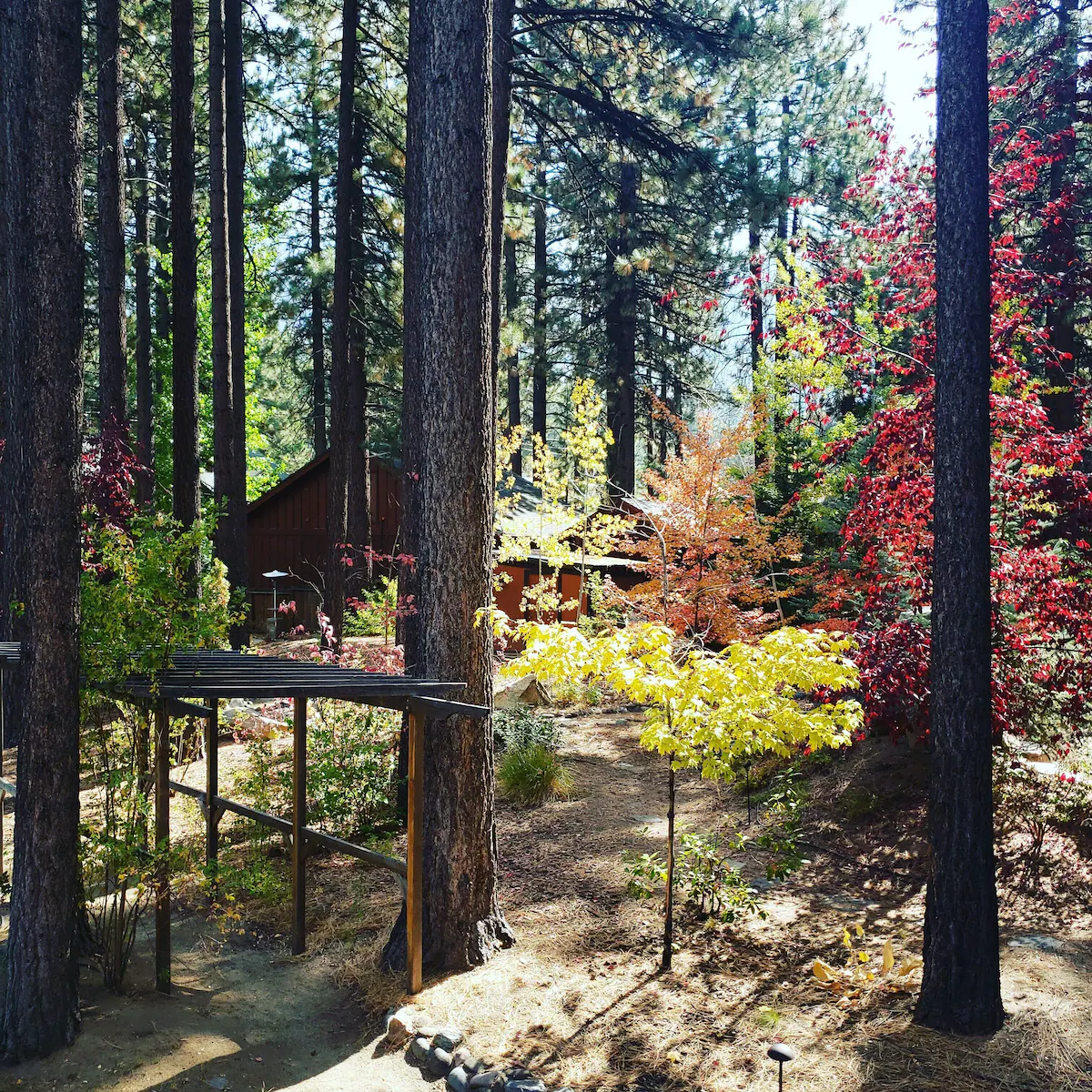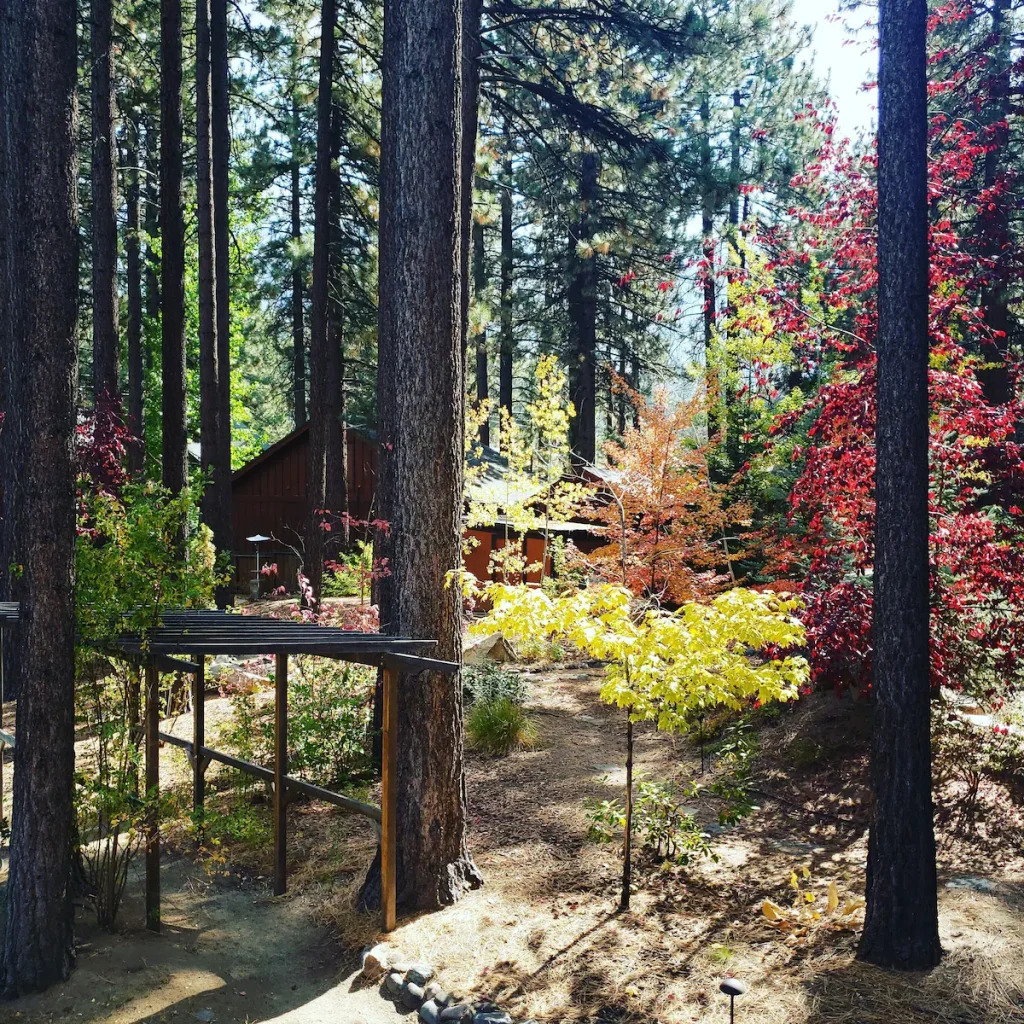 Fantastic service sets this boutique hotel apart from the rest. They leave tasty candy and snacks in the room upon your arrival, and the main lodge building always has a healthy spread. As for the accommodations, suites are decked out with fireplaces, kitchenettes, hot tubs and patios. Cozy and decorated with natural hues and earthy vibes, you are also surrounded by the woods. While you're tucked away in a peaceful haven, you are also just a few minutes walk to the Heavenly Village Ski Resort and the happenings in South Lake Tahoe.
3. Heavenly Valley Lodge Bed & Breakfast
Checkin: 3pm | Checkout: 11am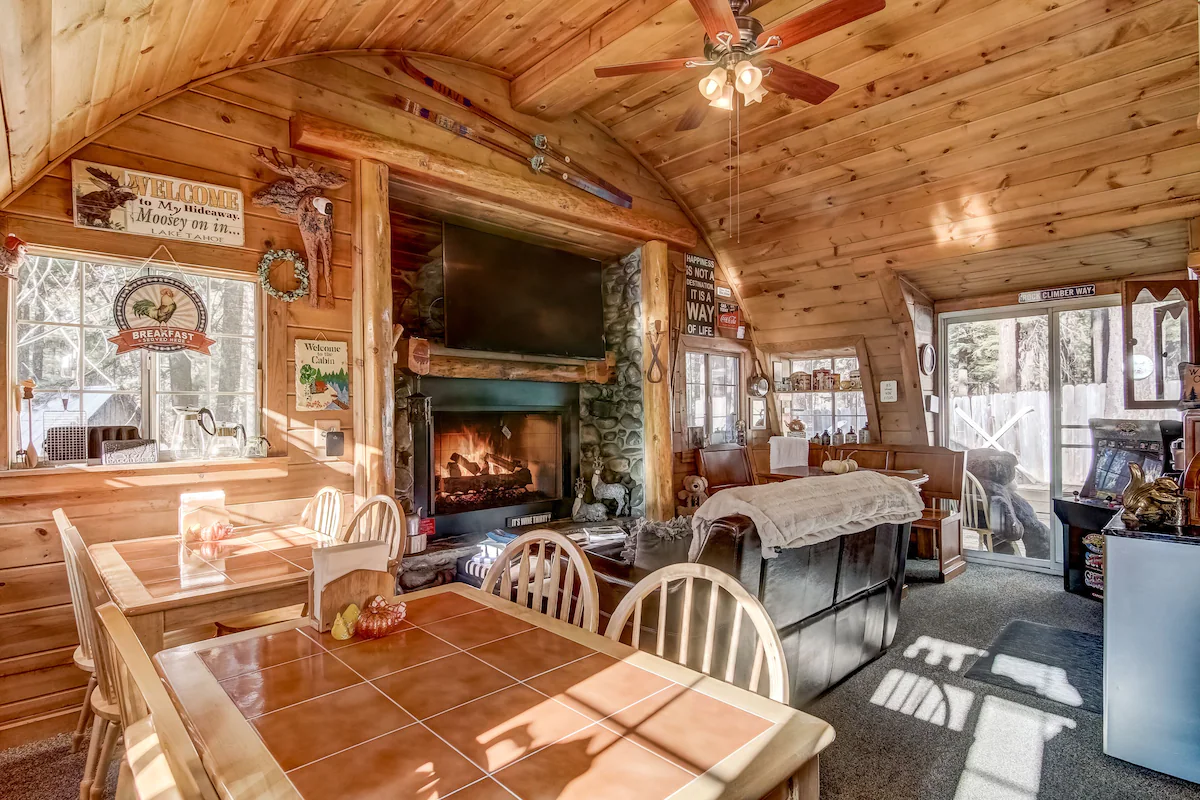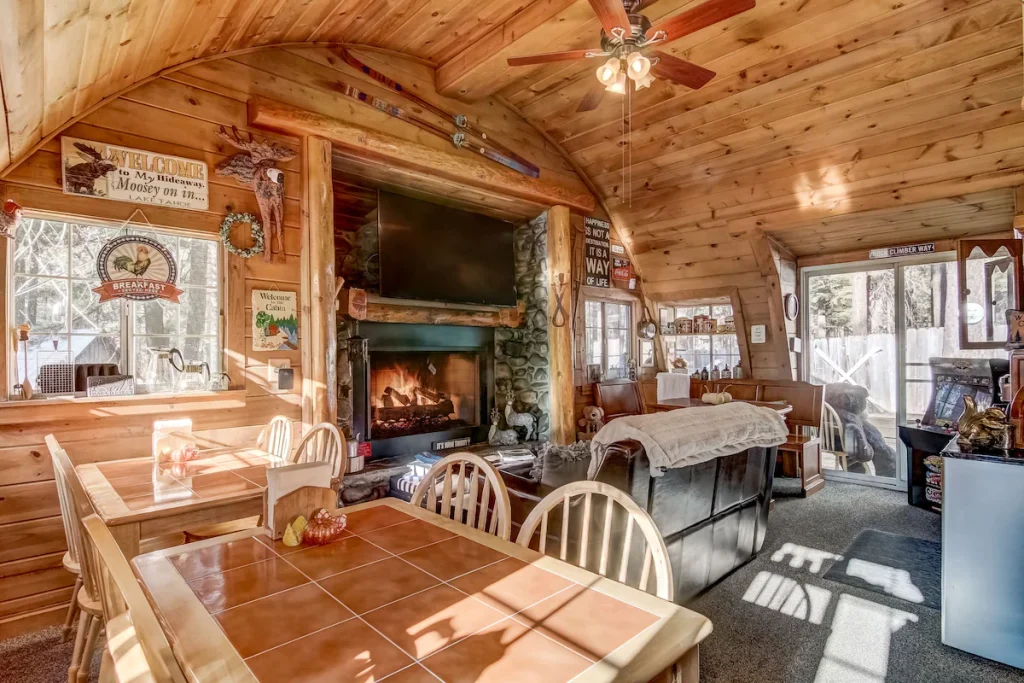 Heavenly Valley Lodge is surrounded by adventure like skydiving, parasailing, horseback riding, helicopter tours and gondola rides. It is not, however, a staffed bed and breakfast. Since COVID hit, they switched to automated check-ins. But, there are kitchenettes complete with a fridge, microwave and coffeemaker. If you're into outdoor dining, surround yourself by gardens at the fire pit, the barbecue grill in the picnic area, or on the large upper patio, or enjoy the view from the main lodge deck. They are minutes away from Heavenly Village, and a few miles from the Heavenly Mountain Ski Resort.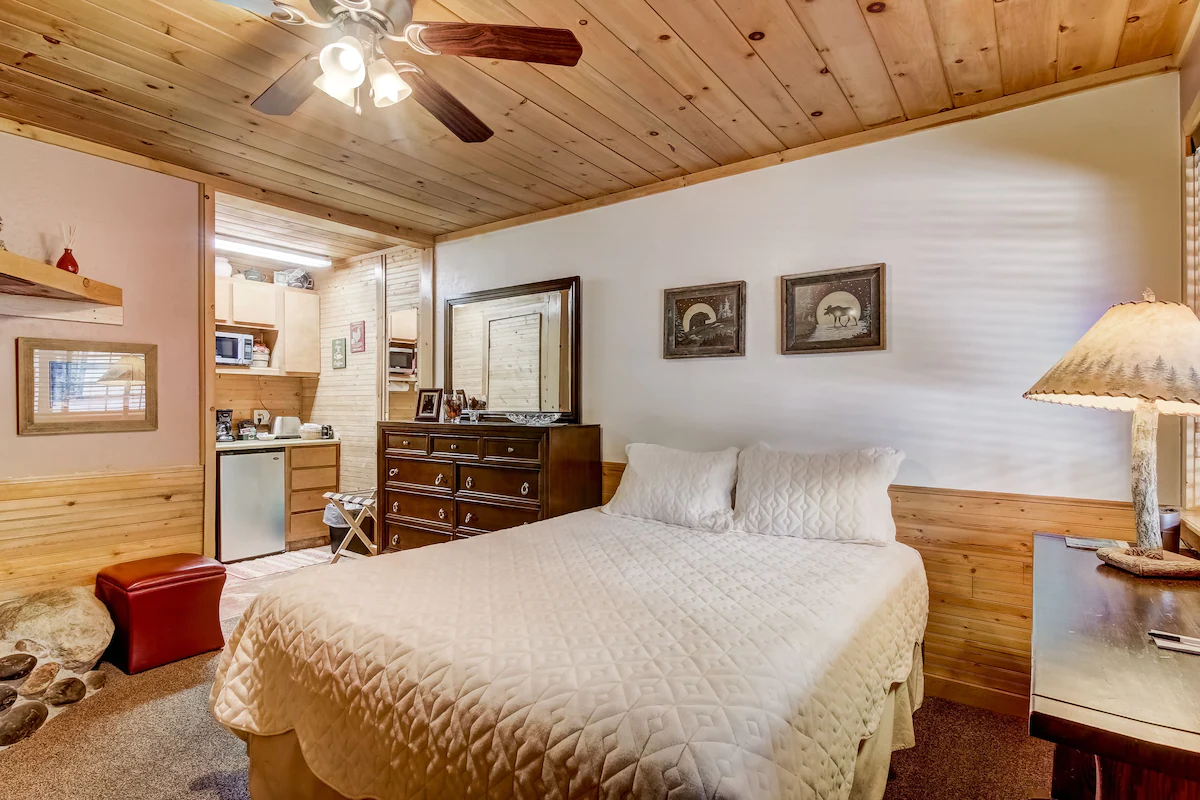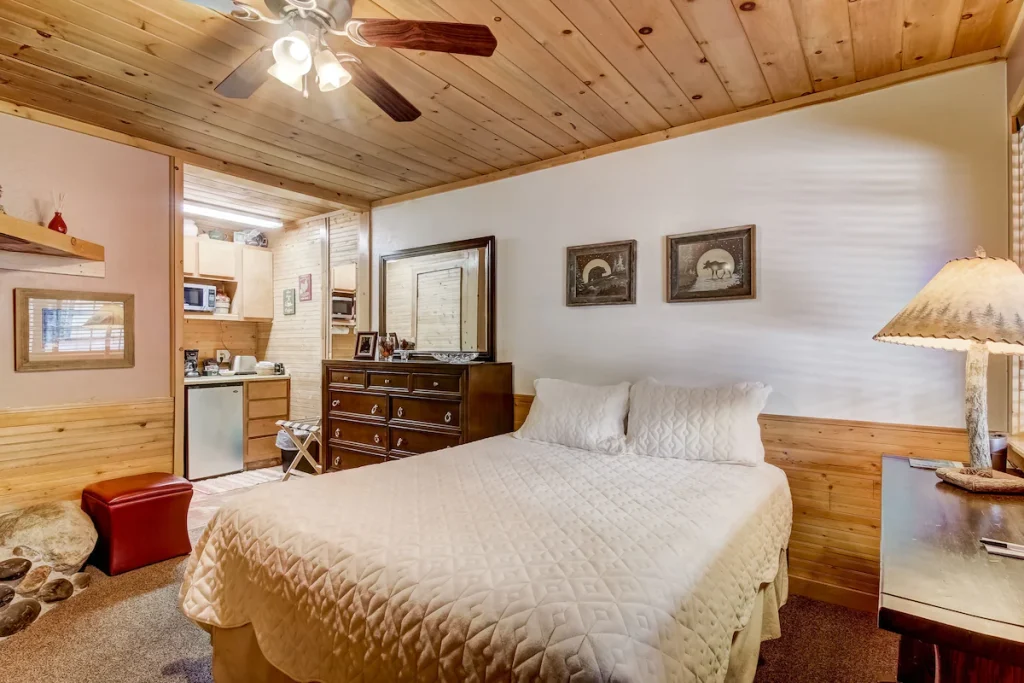 Guests have enjoyed the cozy, clean and simply decorated rooms, and the prime location to restaurants, describing the accommodations as very affordable.
4. Black Bear Lodge
Checkin: 3pm | Checkout 11am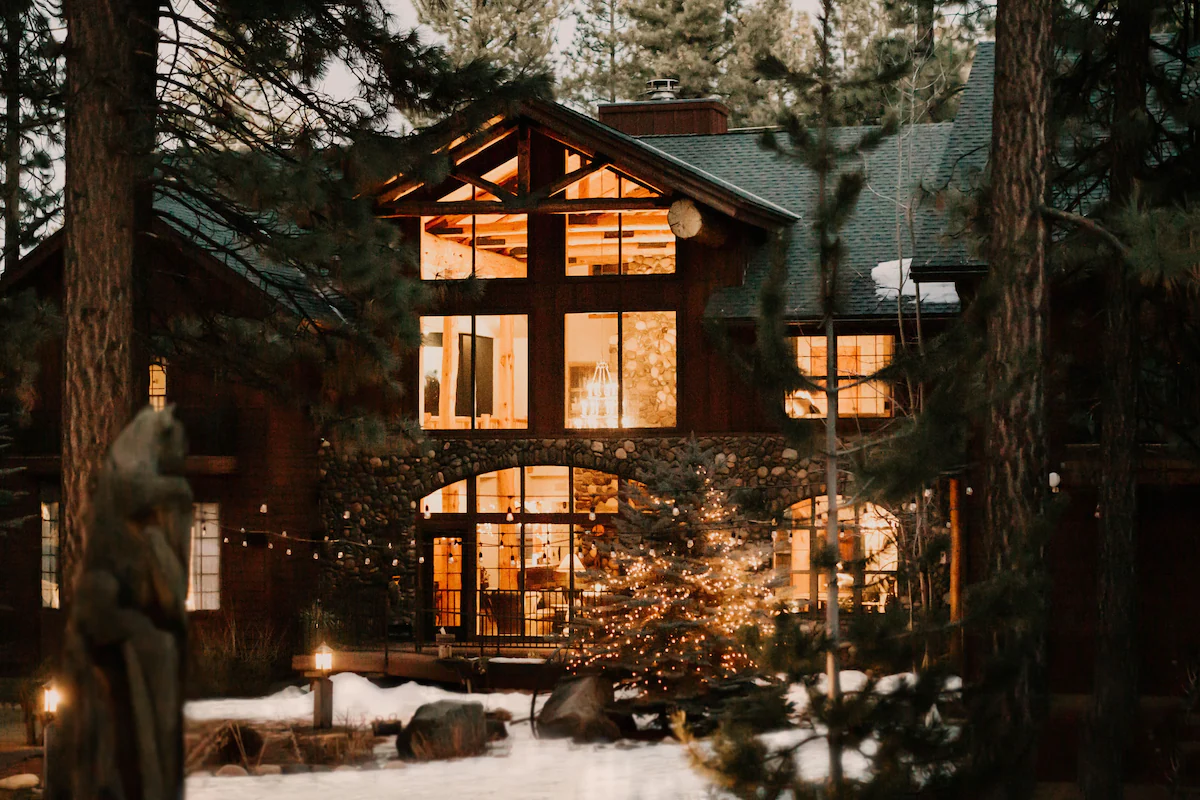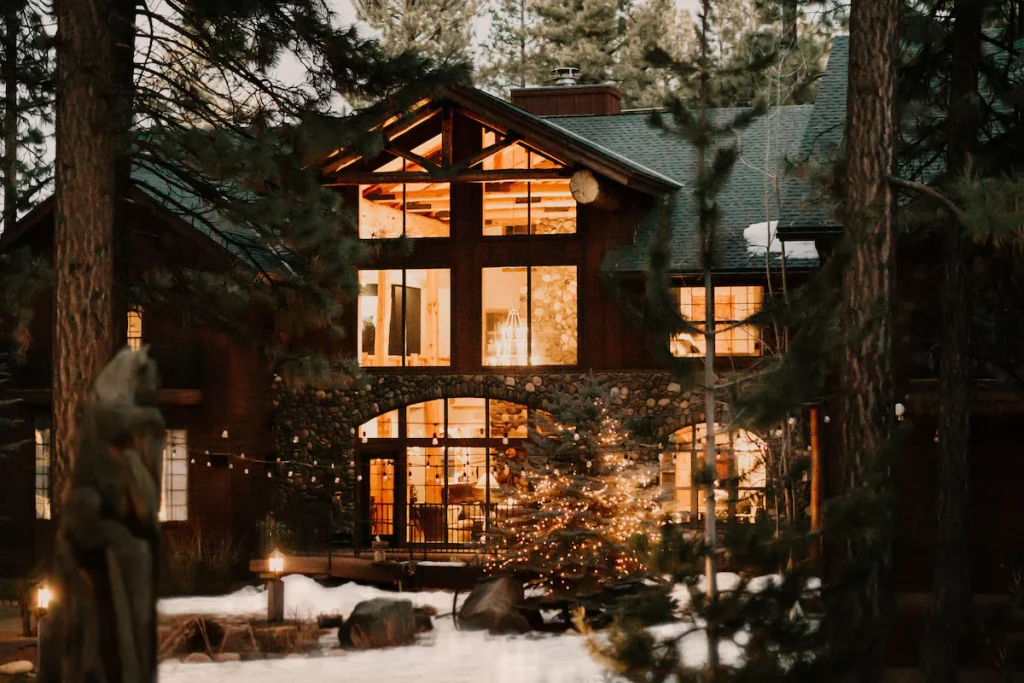 If you love the nightlife but still want a good night's sleep, Black Bear Lodge could be your answer. They pride themselves on being a quiet and cozy accommodation, maintained and run by a small and hospitable team that offers guests handmade goodies and locally roasted coffee. You can stay in either a cabin, a lodge, a room, or a suite, and then set off to explore surrounding Lake Tahoe. Local top-rated breweries, tap rooms and coffee shops abound, as do several restaurants serving authentic cuisine.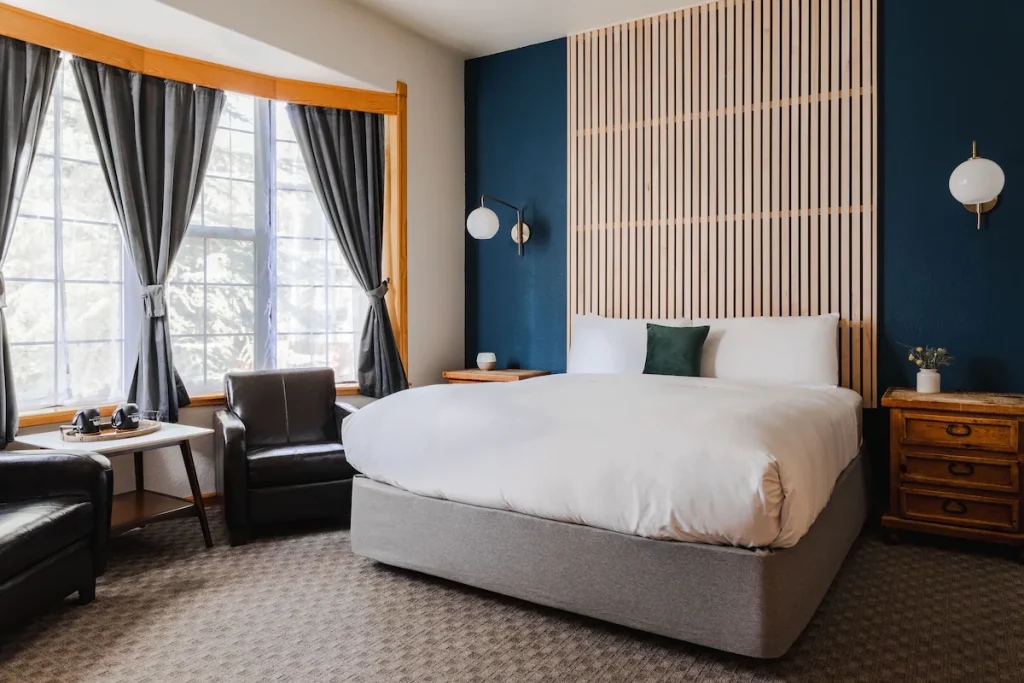 Lodging is tucked away in a pine forest and includes gas fireplaces. If you're traveling solo, your best bet would be to stay in a lodge room where you'll have plenty of space to spread out. The room includes pour-over coffee. There's a communal fridge and microwave, and also an on-site wine bar, lounge and out-door hot tub. If you'd like to have your own fridge and microwave, you might be happier in your own cabin! Pets are not allowed, and it is a non-smoking property.
5. Alder Inn (non-smoking)
Checkin: 3pm | Checkout: 11am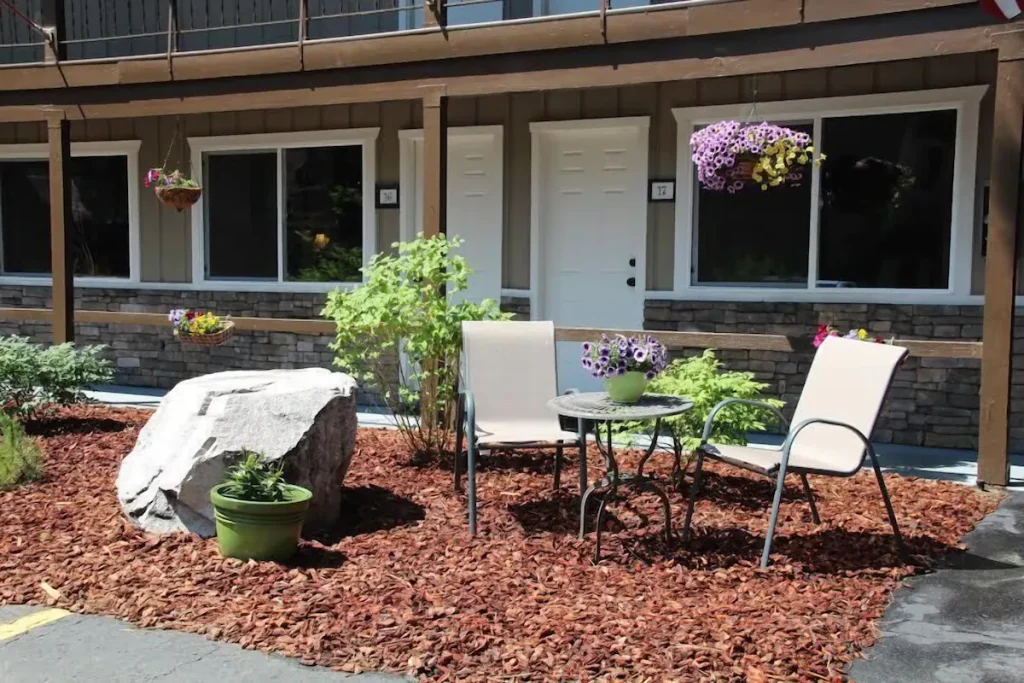 Situated 6 miles from the Lake Tahoe Airport and 1 mile from Heavenly Village, Alder Inn features colorful and uniquely decorated rooms that include spa bathrobes! They also have a year-round hot tub and a seasonal outdoor pool, plus a fire pit. They are family run with exceptional service. Their rooms, however, allow absolutely no smoking or vaping and you will be fined $300 if there is a trailing scent. So if you are highly sensitive to cigarette smoke, this would be a great option for you! They do have designated smoking sections on property.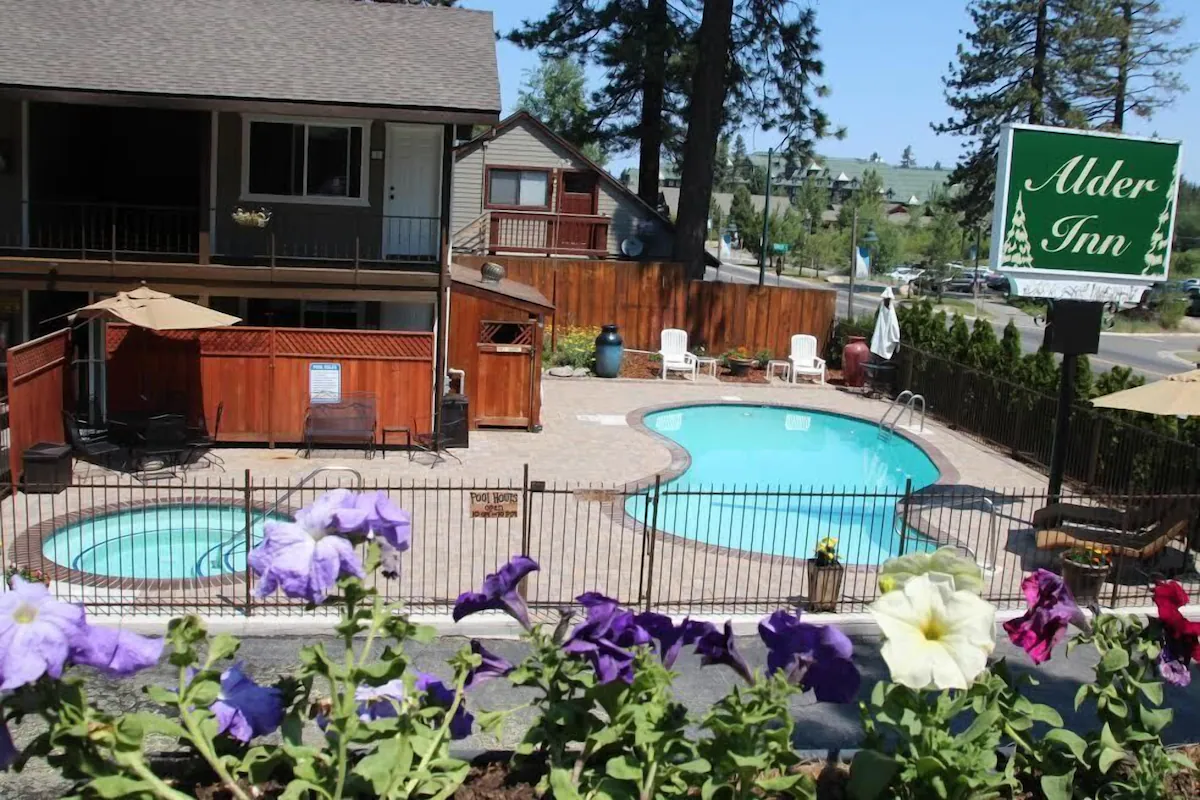 People love this hotel especially because of the clean-smelling rooms and prime location. Be sure to check out the Ski Run Farmers Market if you're there on a Friday from June-September.
6. The Coachman Hotel
Checkin: 4pm | Checkout 11am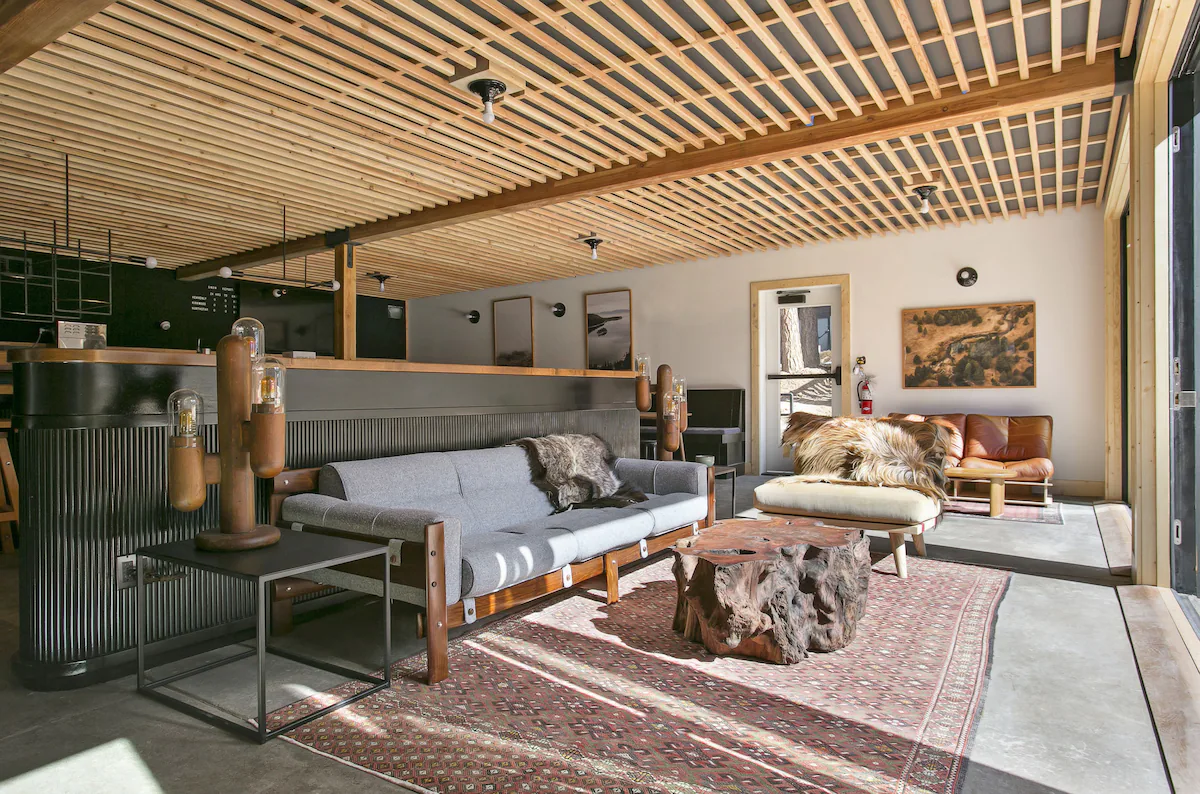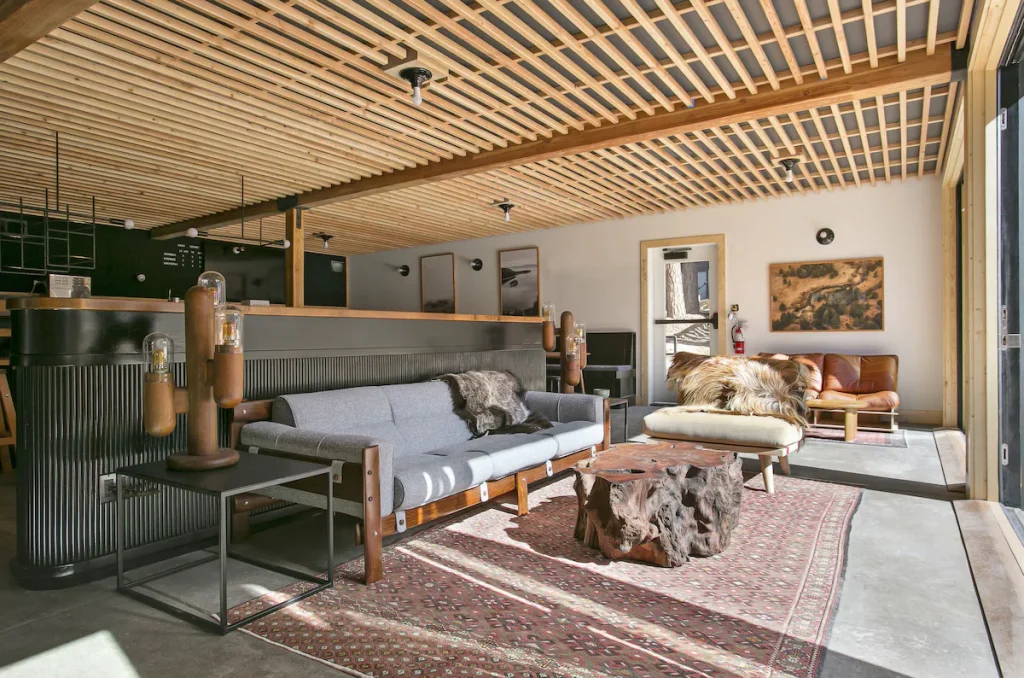 The hotel experiences set this hotel apart: Rooftop Yoga, Paint n Sip classes, and in-room massages, to name a few. The hotel is dog-friendly and they have a trendy bar. They are also a 5-minute walk from their private beach, and just a 10-minute walk from the Heavenly Mountain Resort.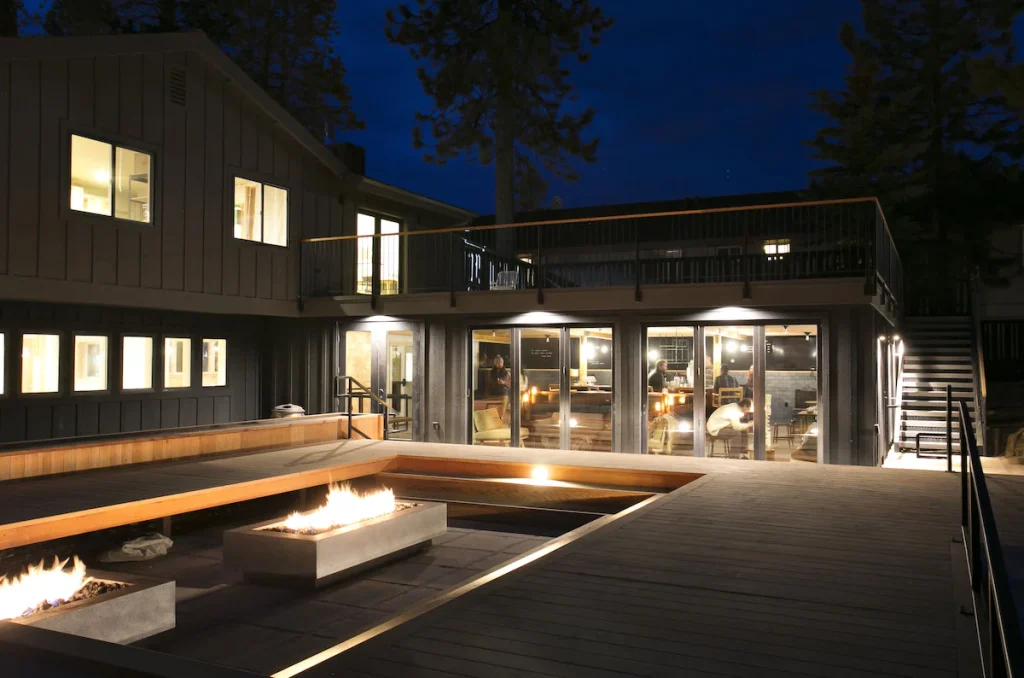 If you're looking for a unique experience and great staff, the Coachman has you covered: they even have heated toilet seats, and the communal kitchen makes it a great place to meet fellow travelers.
7. Basecamp
Checkin: 4pm | Checkout: 11am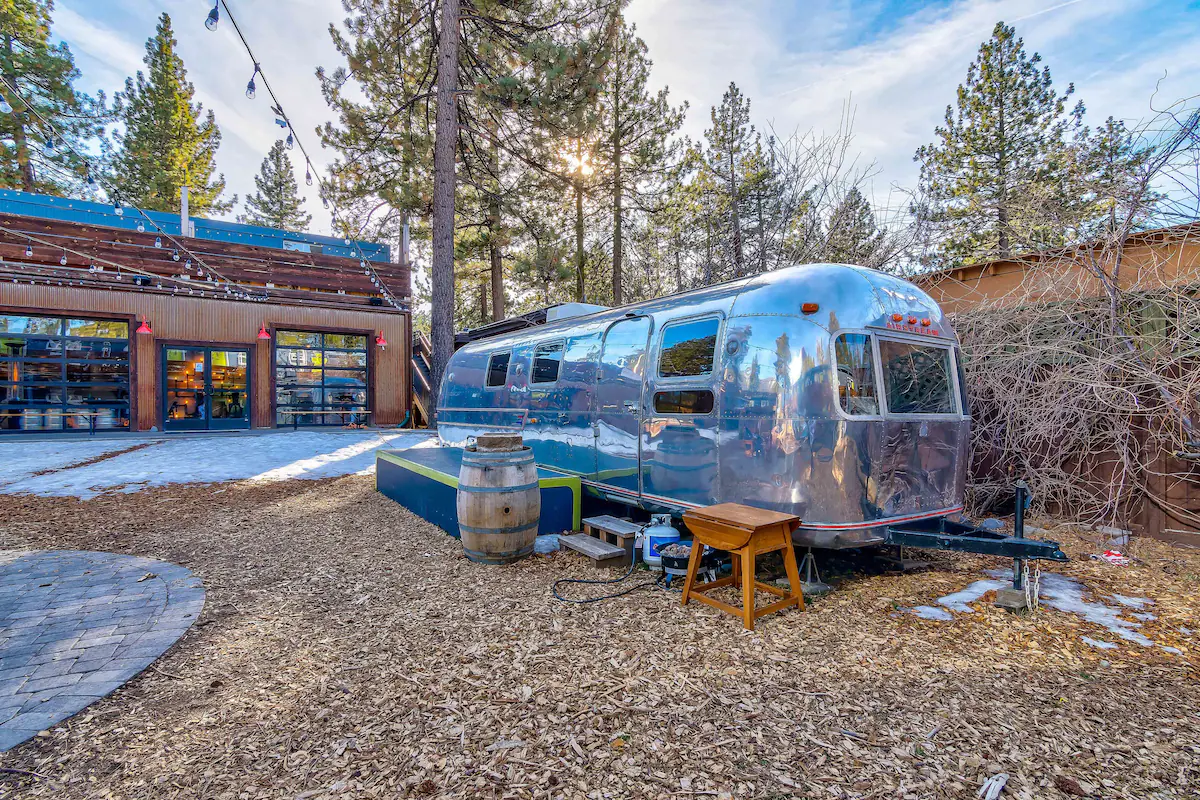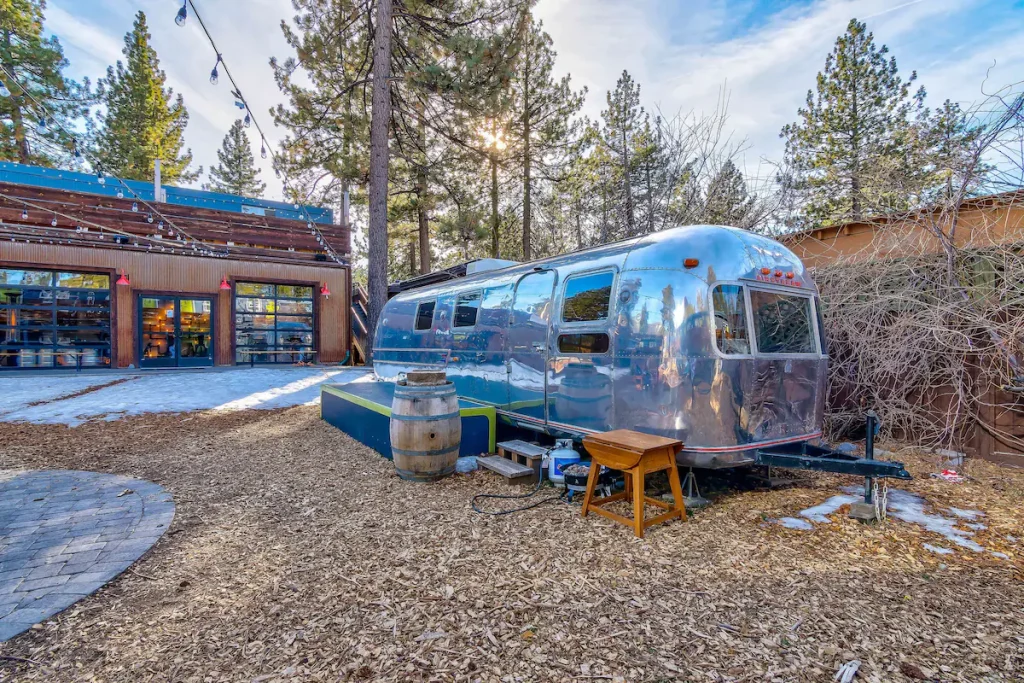 With rooms less than $100/night, you're sure to have plenty in the budget for the onsite beer garden, which features nightly live music! Not only capturing the essence of this destination, Lake Tahoe, this hotel is also considered the most family-friendly hotel in the area, so it would be a good place to get your solo traveling toes wet. Their local events include a movie and a film festival.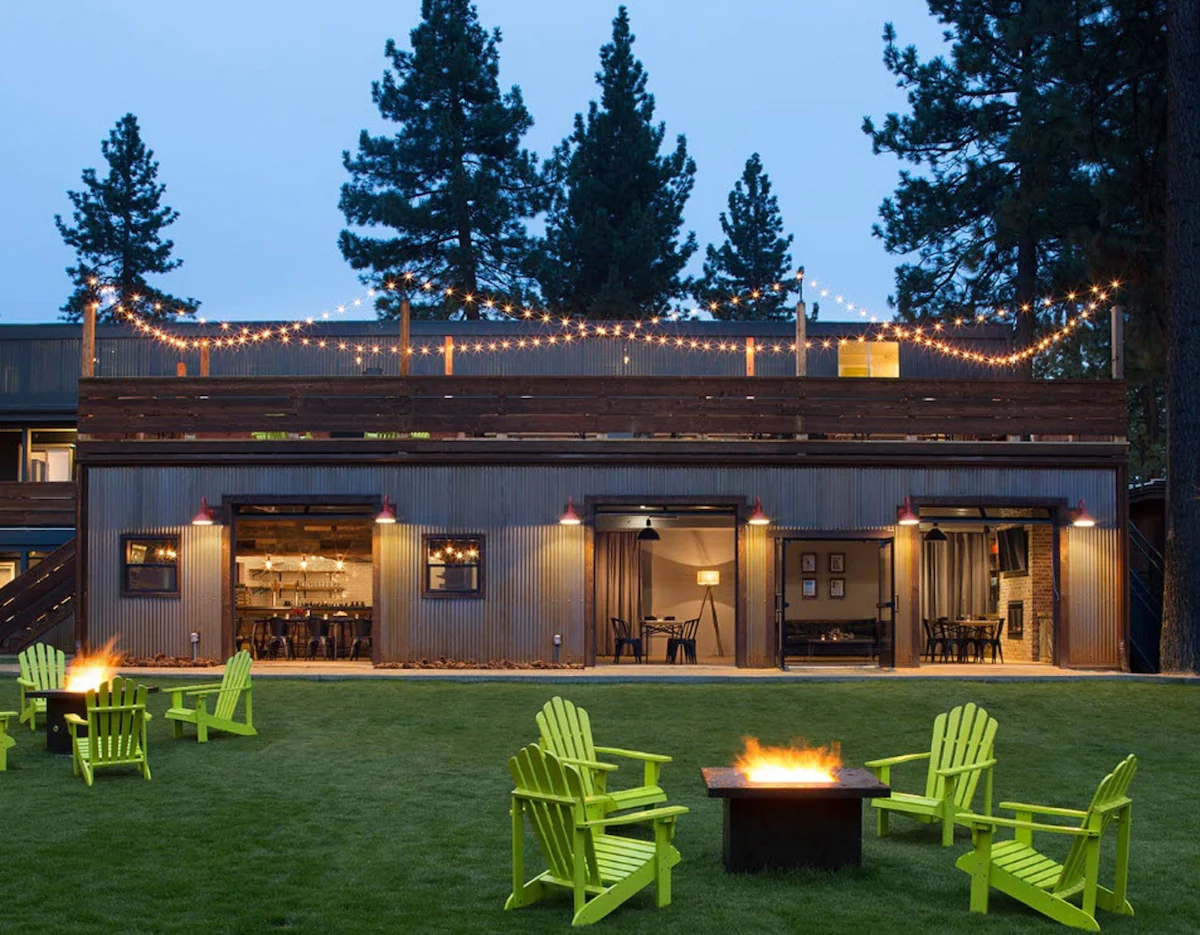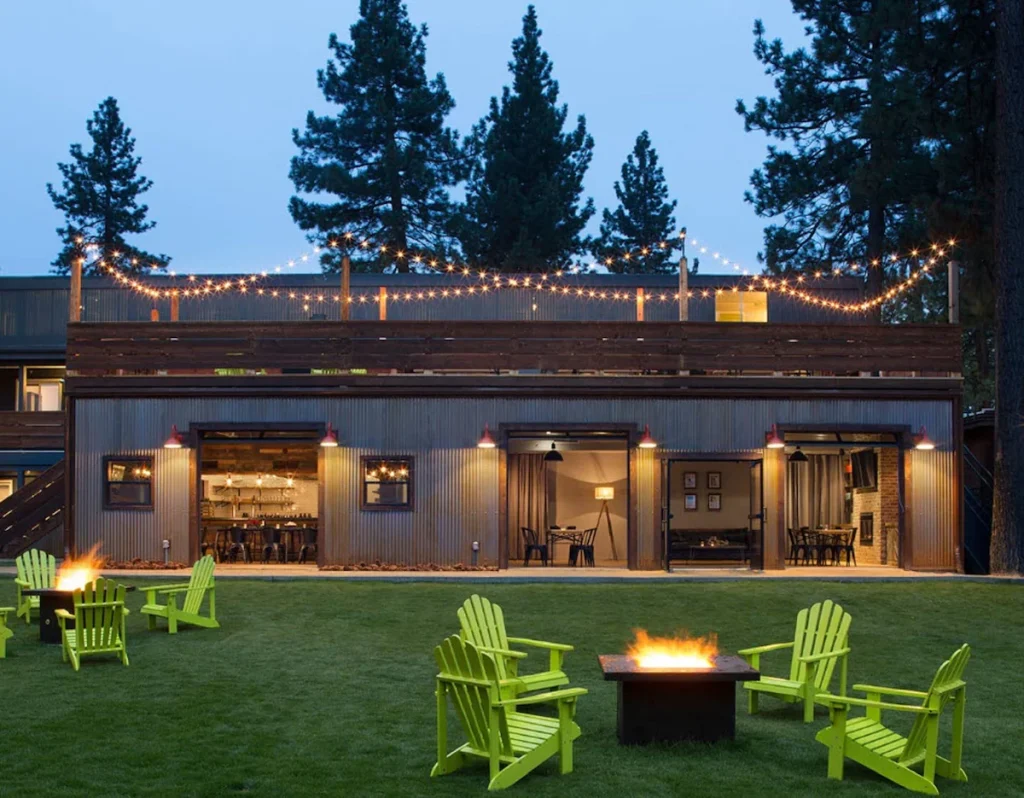 The "Great Indoors" room makes it feel like you're camping, but with all the luxuries of living inside. It is bike-friendly, comes with a rack for your skis or snowboard plus a mini fridge, and you have access to a lobby bar and fire pits.
8. The Landing Resort and Spa
Checkin: 4pm | Checkout: 11am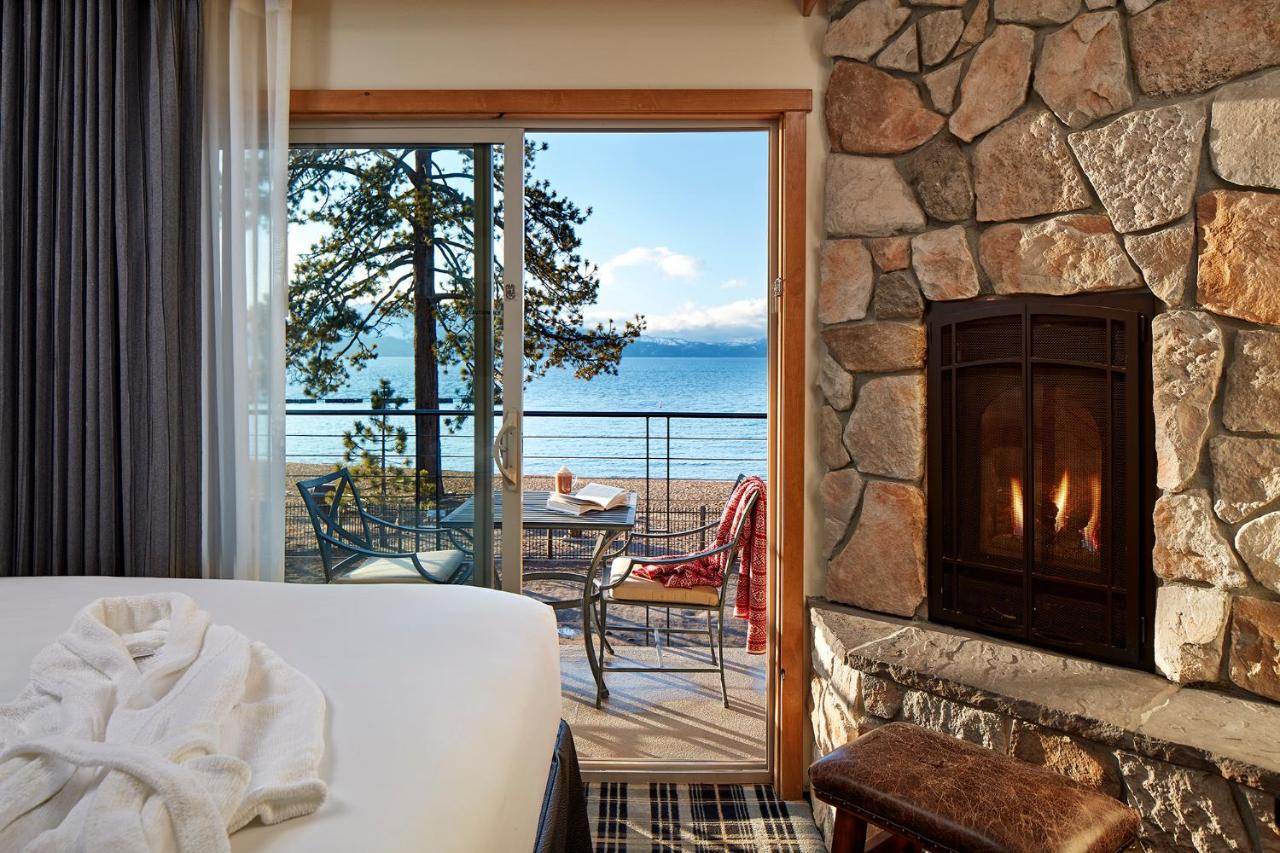 Dreaming of sipping your morning brew on a balcony overlooking Lake Tahoe? If you stay at The Landing Resort and Spa, your dreams will come true when you book their Premier King Suite with a Lake View. Here you'll find a stunning mix of modern and old-fashioned decor with a cozy feel all around. Some rooms even have fireplaces. All rooms have marble heated floors, adding to the luxurious ambiance.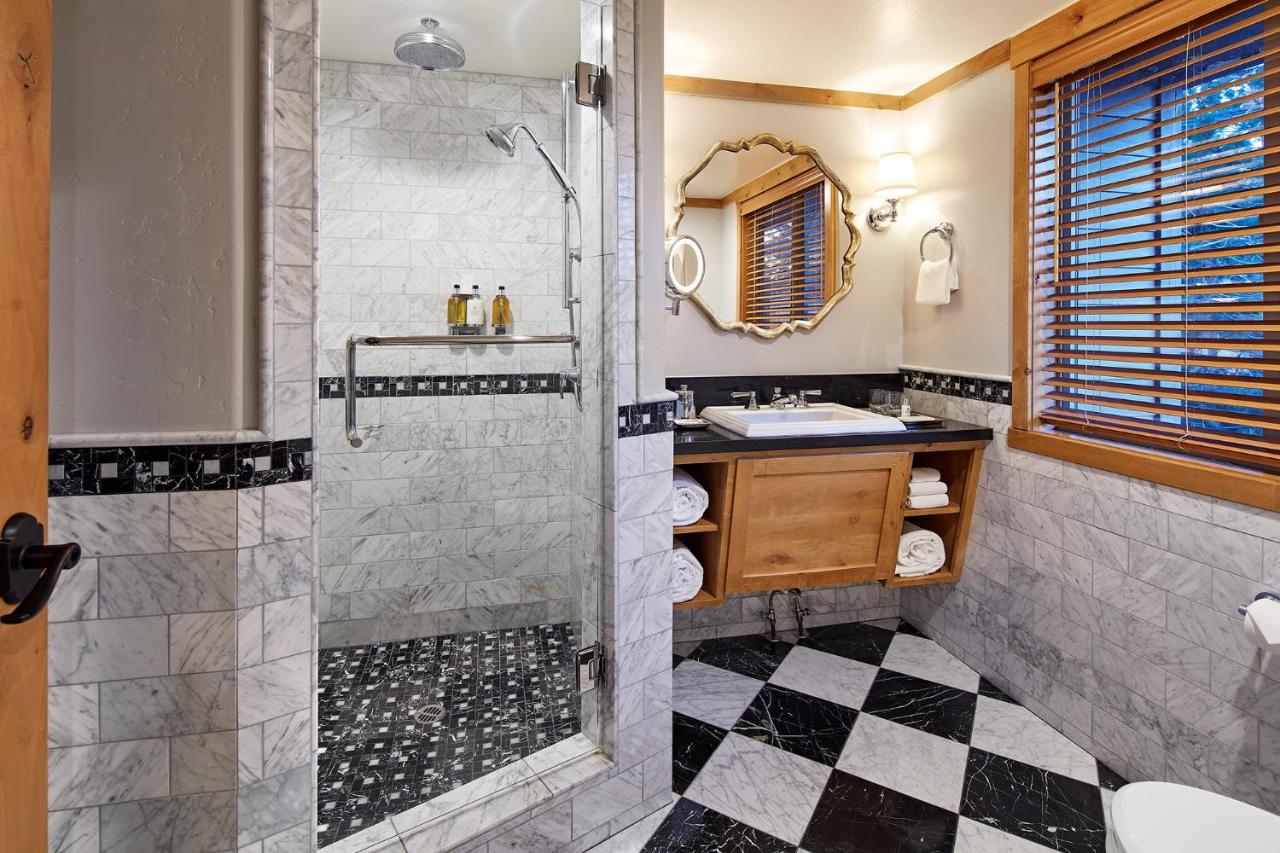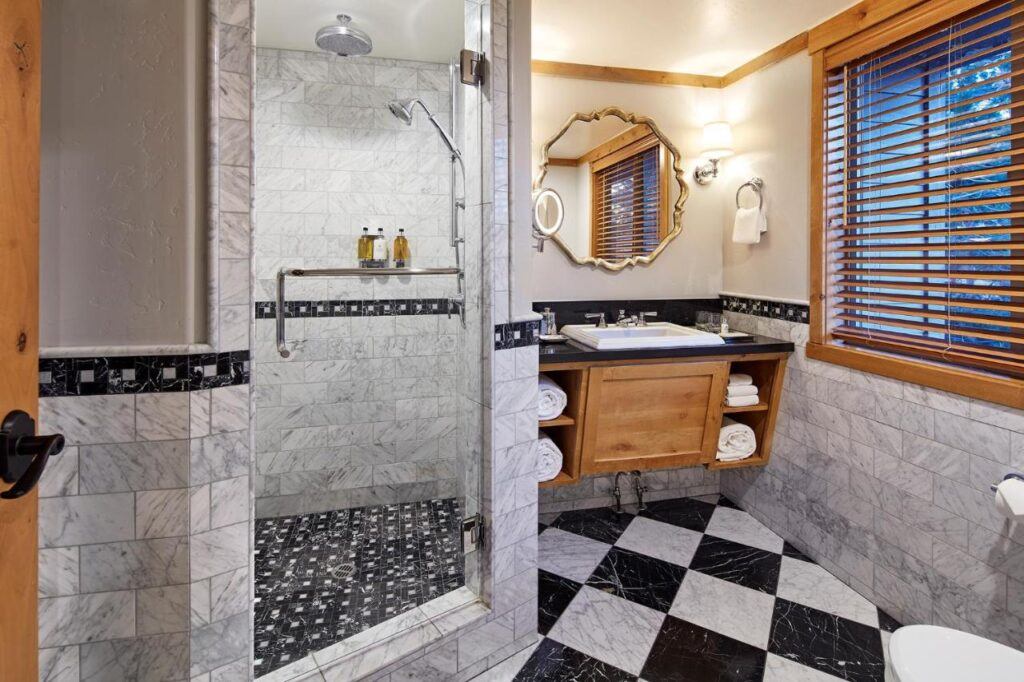 The Landing Resort and Spa's key features are the rooftop terrace, on-site spa, and even free transportation to the Heavenly Village and Casinos. Couples, solo travelers, and families all love this small hotel for its stellar location and amazing views.
9. Desolation Hotel
Checkin: 3pm | Checkout: 11am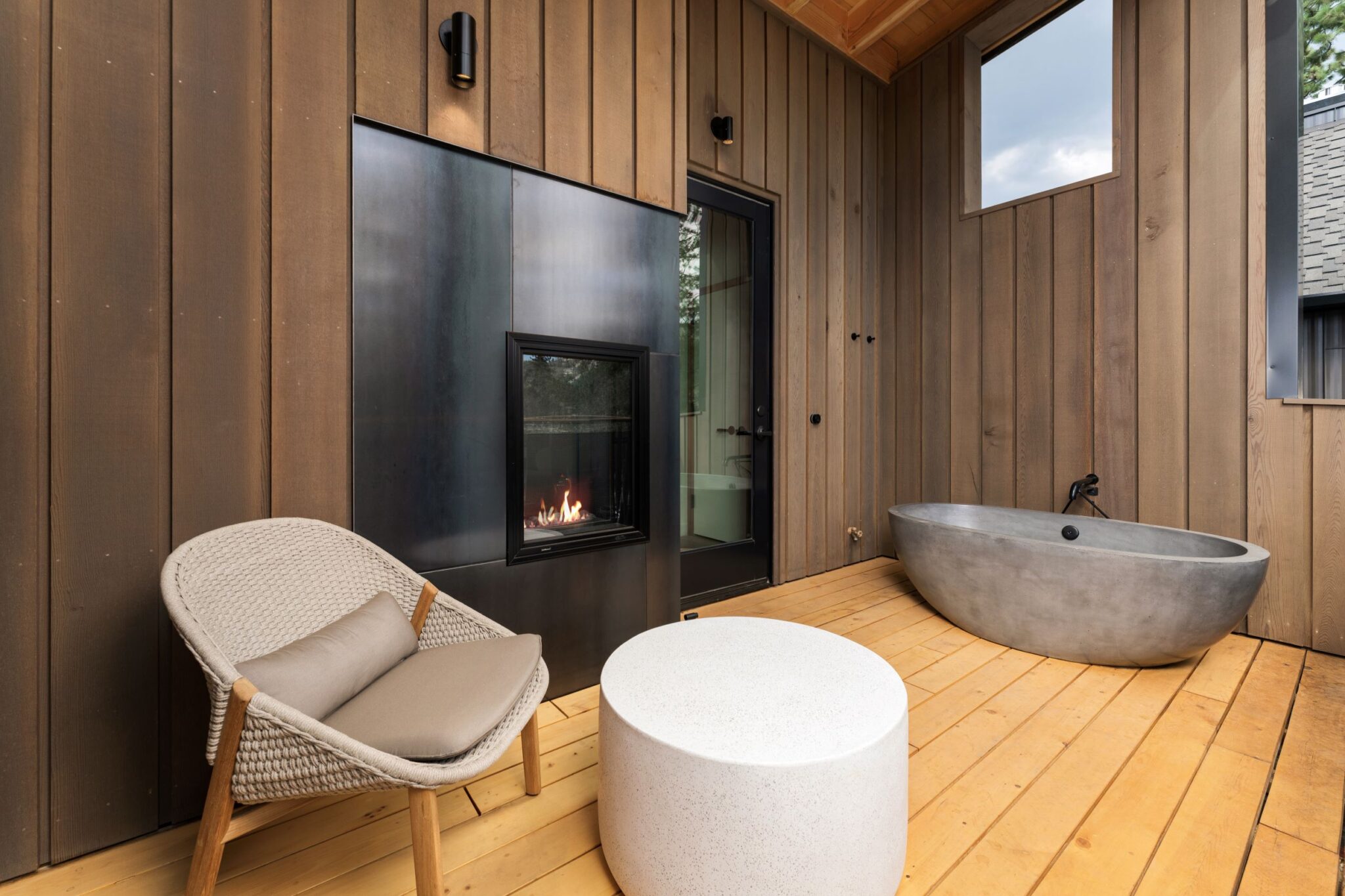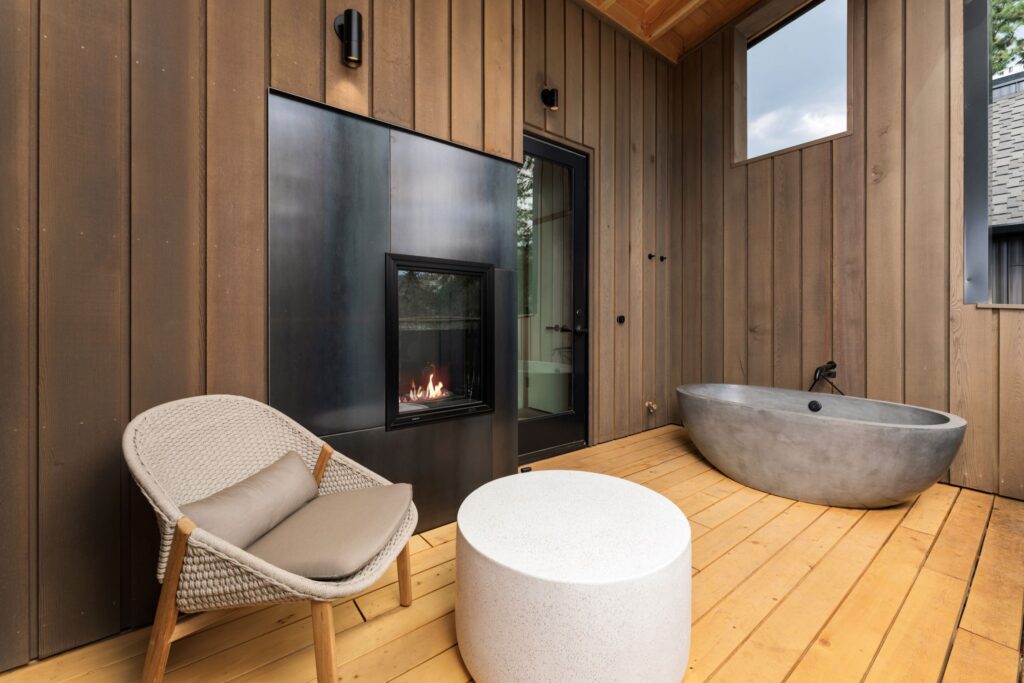 Out of the hotels mentioned so far, this one is perhaps the most ideal for a summertime visit. Though it has a warm and cozy vibe that works great for winter, the pool and free bike rental make it a fabulous summer pick. Each of Desolation Hotel's 21 accommodations feature Japanese soaking tubs on their private outdoor balconies and indoor fireplace, with spacious rooms ideal for families and small groups.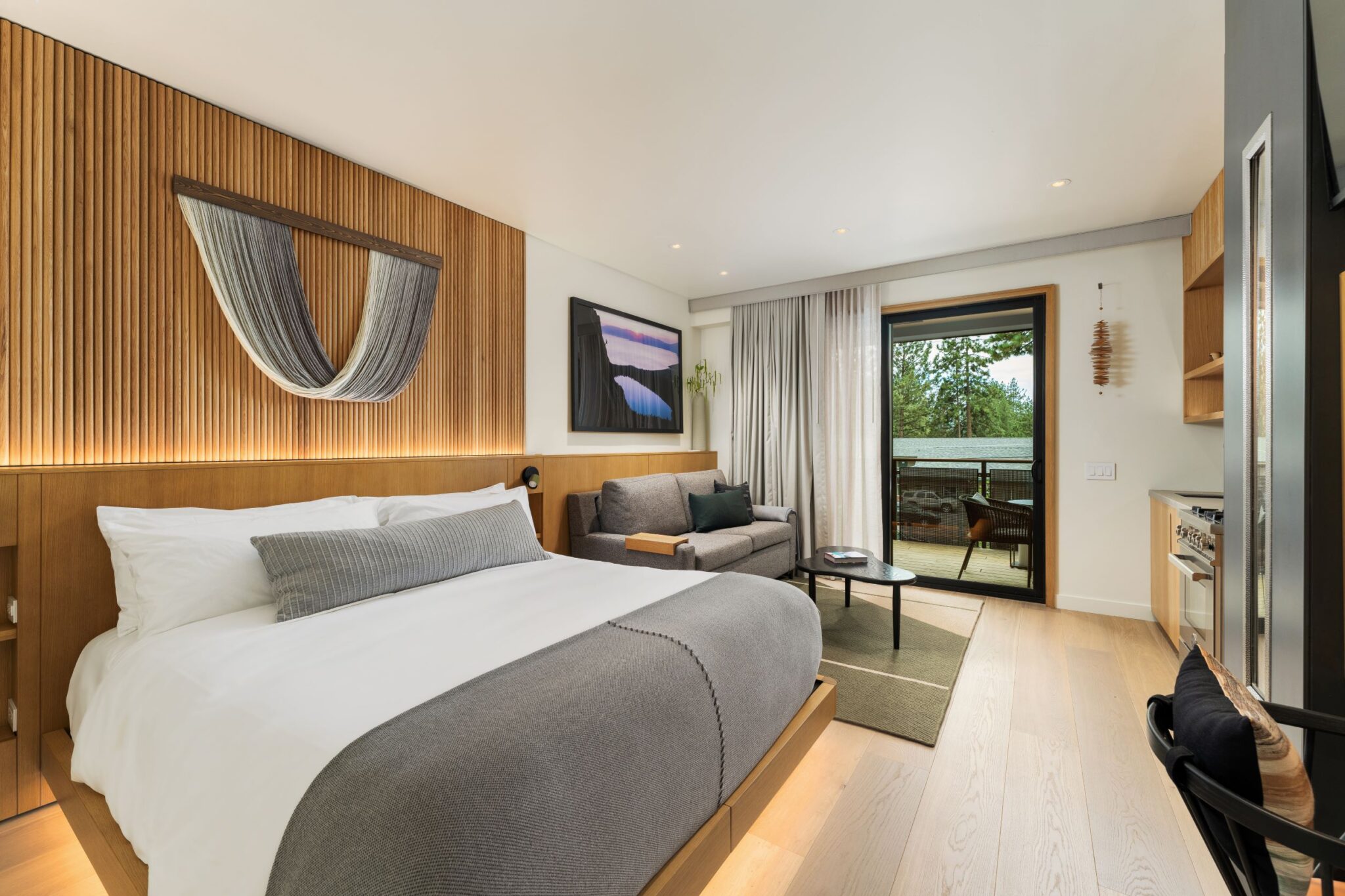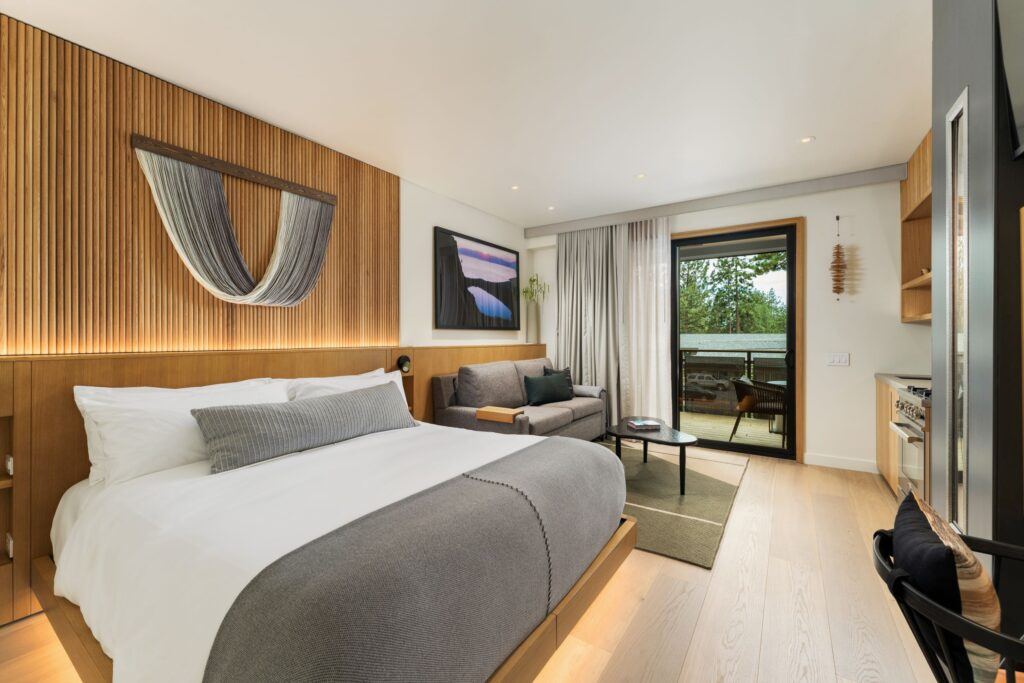 Desolation Hotel's restaurant, Maggie's, is a crowd favorite among guests and otherwise. There's also a spa that you can enjoy here, and the private beach is just a few minutes away. Guest reviews rate Desolation highly for its superb hospitality and excellent location.
10. Hotel Azure (Pet Friendly)
Checkin: 4pm | Checkout: 11am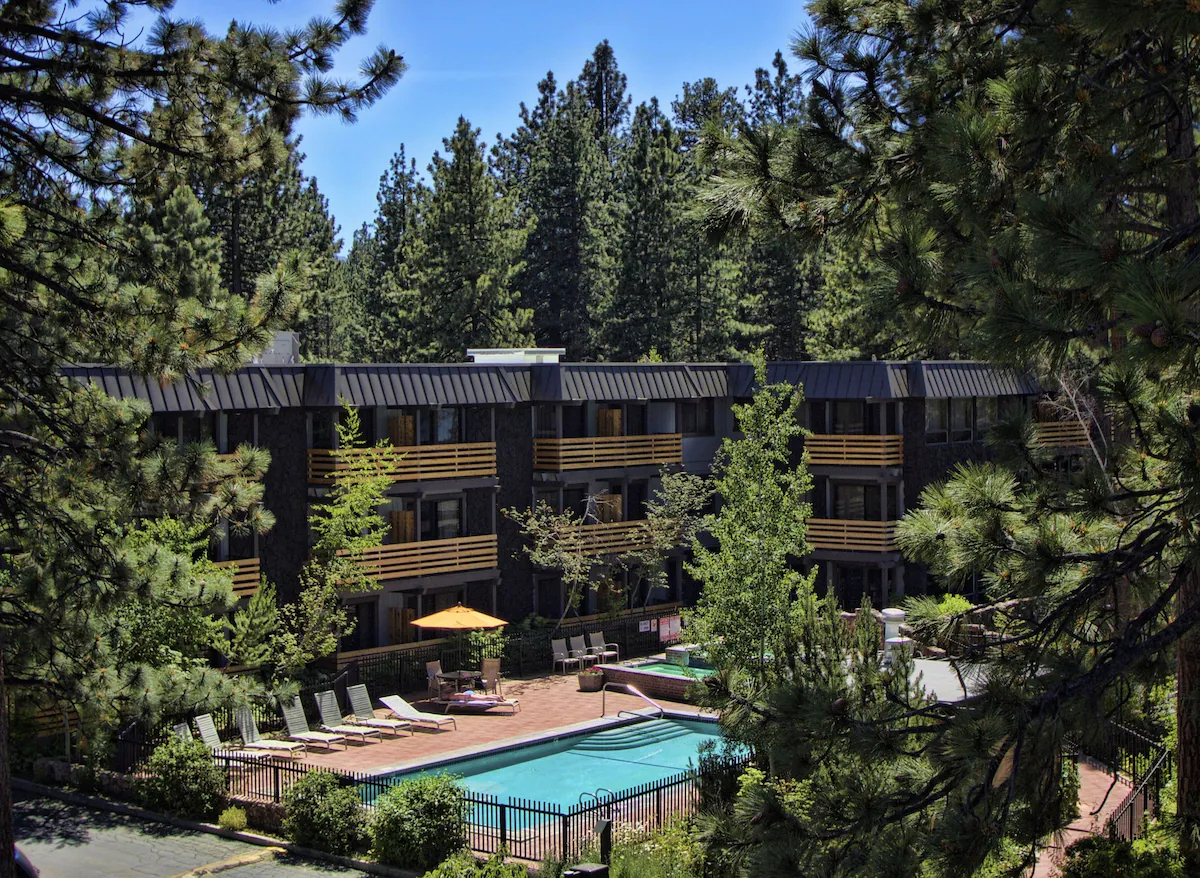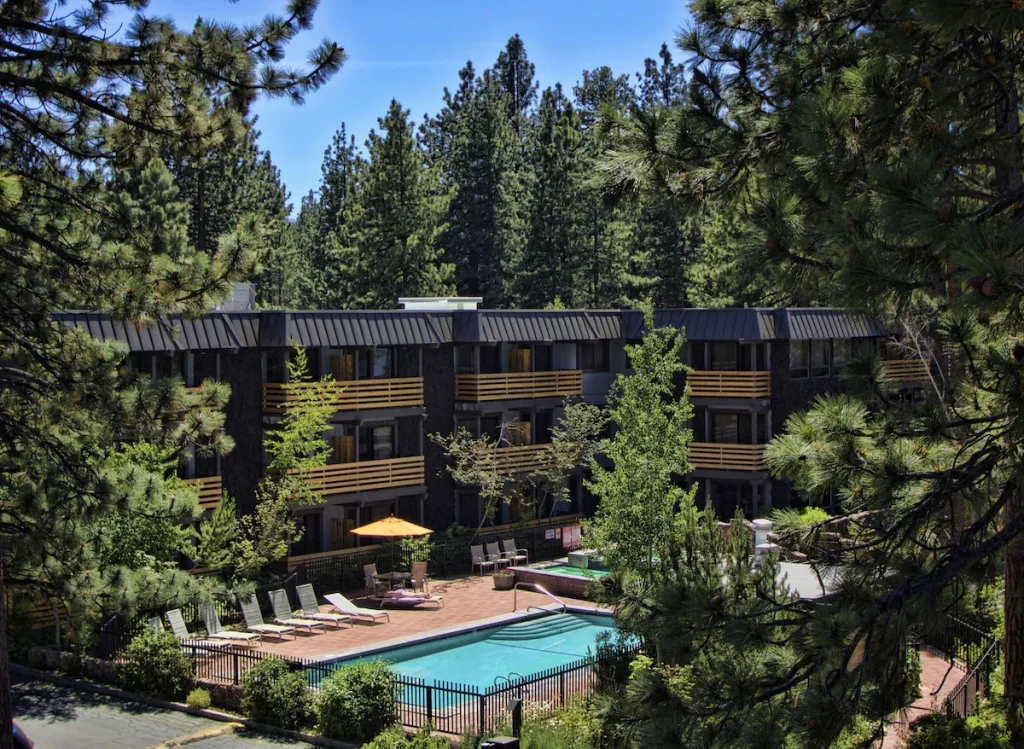 As one of the larger hotels on this list, Hotel Azure has a wide range of options for any kind of traveler. They range from small queen rooms to a quadruple room with wheelchair access. There's a restaurant here that receives rave reviews for its delicious breakfast options, and there's a large pool to enjoy in the summer months. The hotel also offers guests free bike rentals to explore the several miles of trails in the area.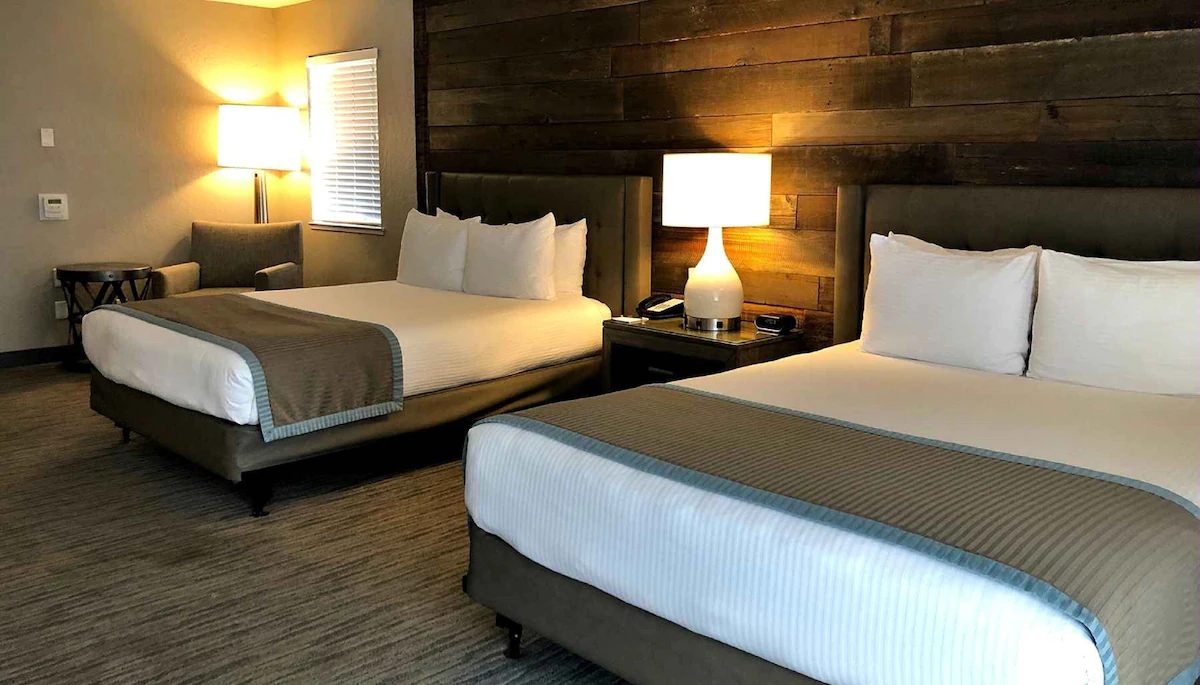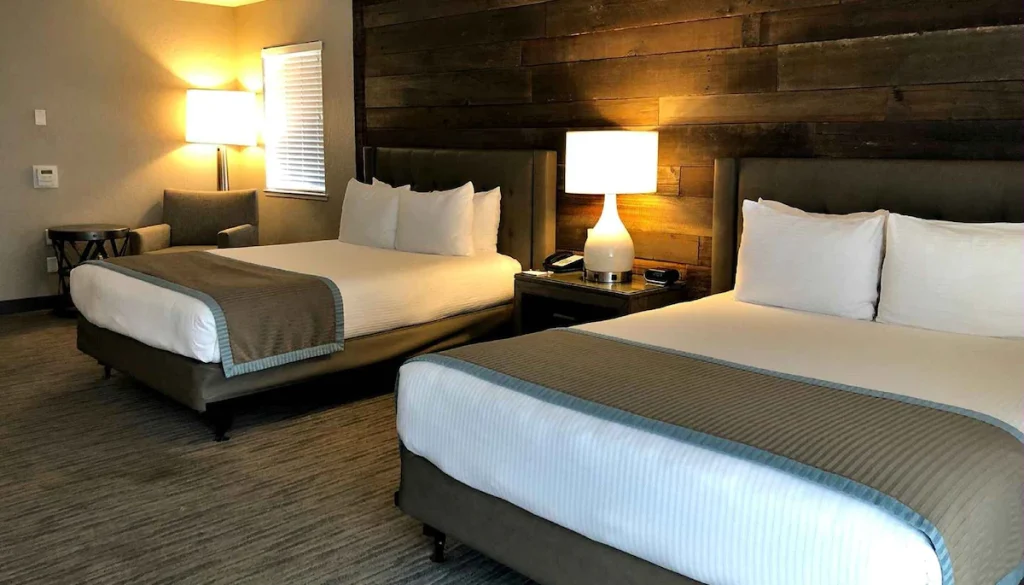 This is one of the most wheelchair-friendly properties on this list, with accessible rooms on both the first and the second floors of the building, plus handrails in the bathrooms of each room. It's also a pet friendly hotel and accepts families as well.
11. Hotel Becket (Pet Friendly)
Checkin: 3pm | Checkout: 11am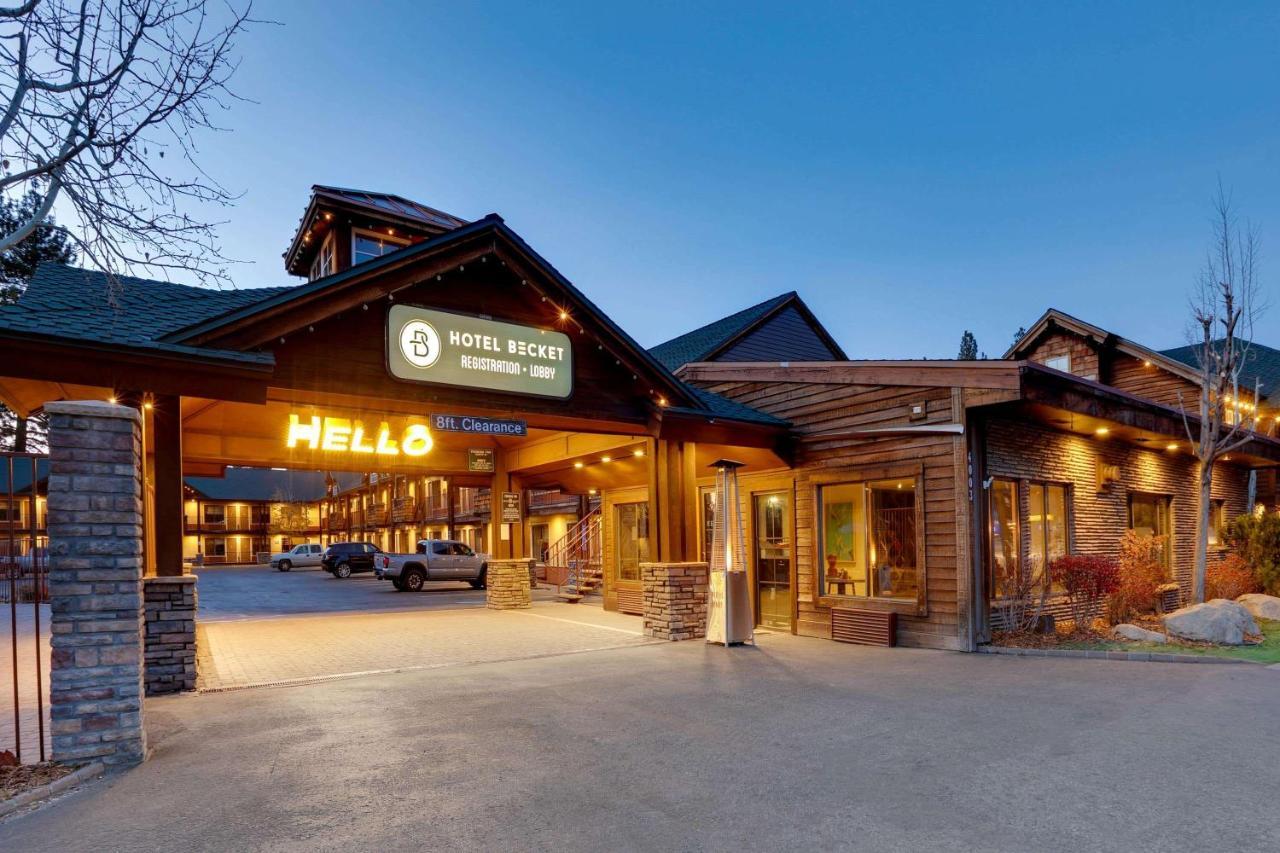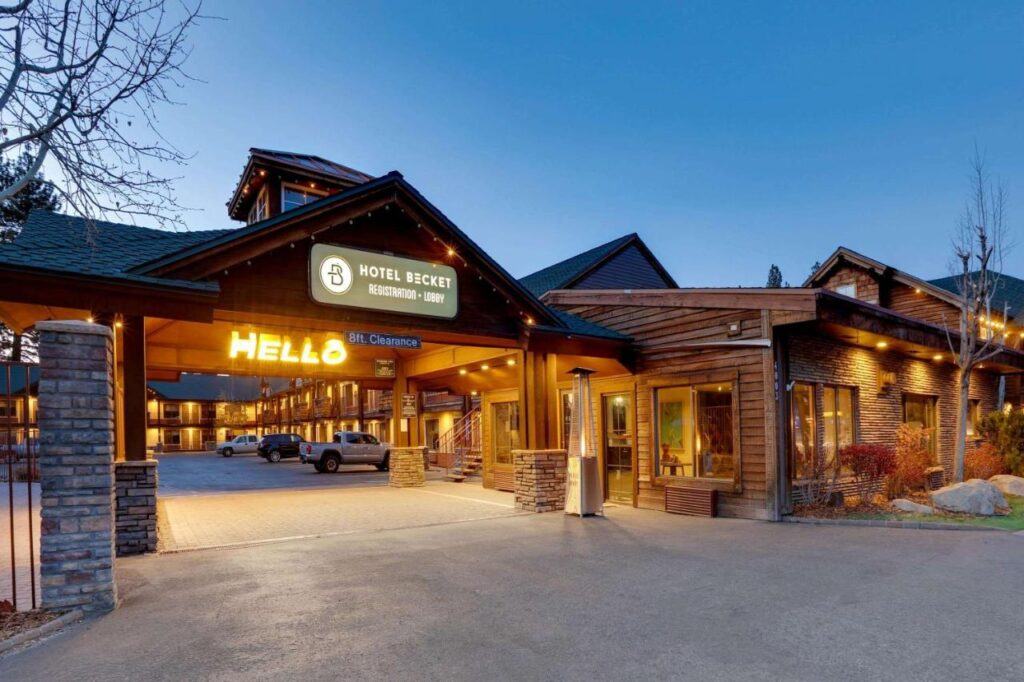 Get your eco-friendly on at this environmentally-conscious hotel. Made from recycled materials, this woodsy accommodation is located in the center of South Lake Tahoe, just a 5-minute walk from the Gondola and 2 minutes from Heavenly Village. On site you can get a taste of the American south at the Ten Crows BBQ where you'll find both original recipes, like sweet tea fried chicken, and vegan-friendly options. They are family-friendly and include a kid's menu.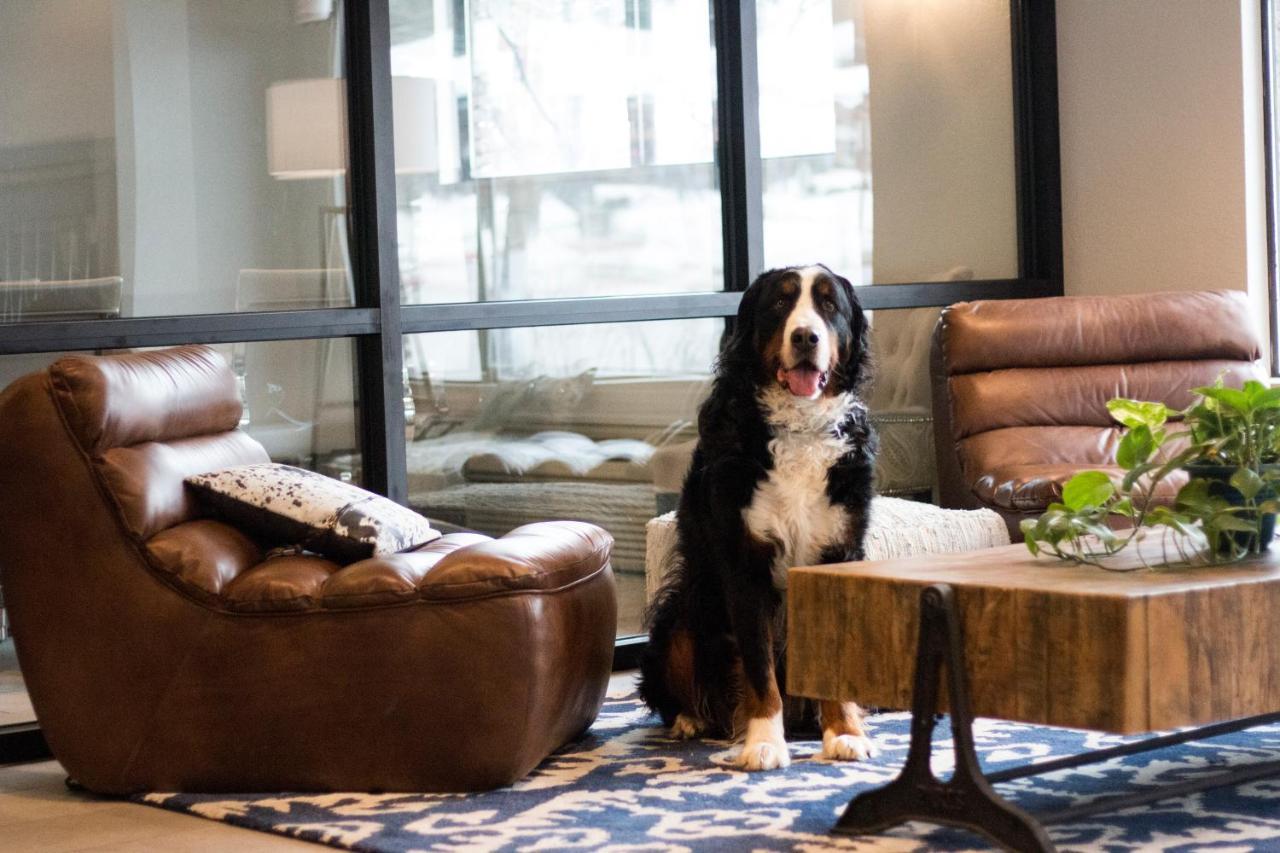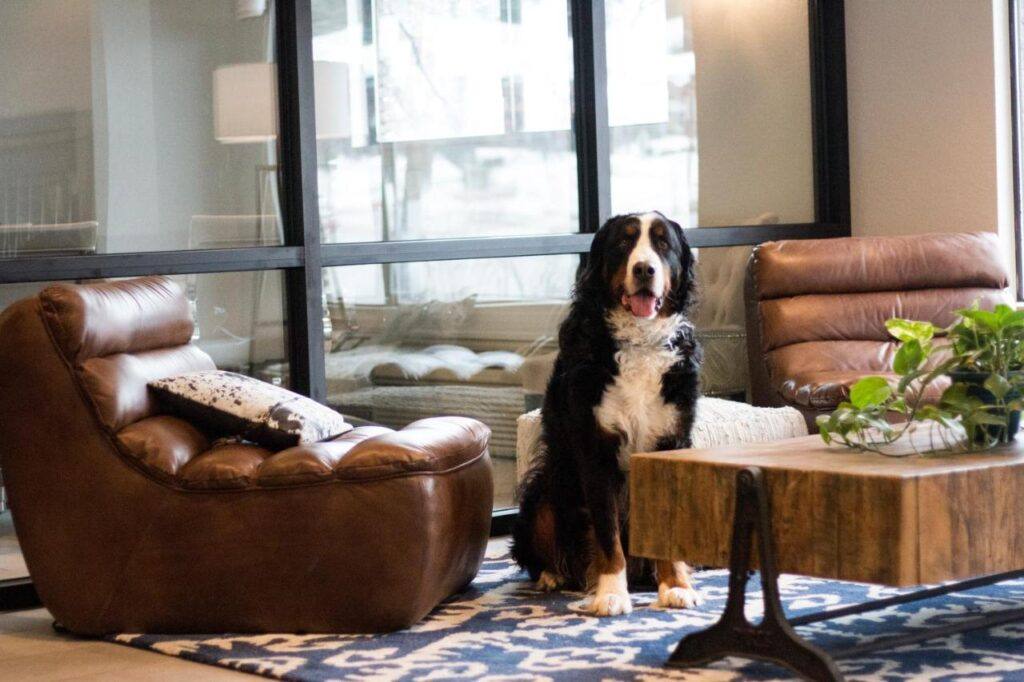 As for accommodations, be prepared for a cozy and chic suite with plenty of space to spread out (think: personal yoga practice). There is a pool and they welcome well-behaved dogs. They have two outdoor terraces, one of which has fire pits so you can meet fellow travelers over warm mugs of hot chocolate or s'mores.
12. The Elet Hotel
Checkin: 3pm | Checkout: 11am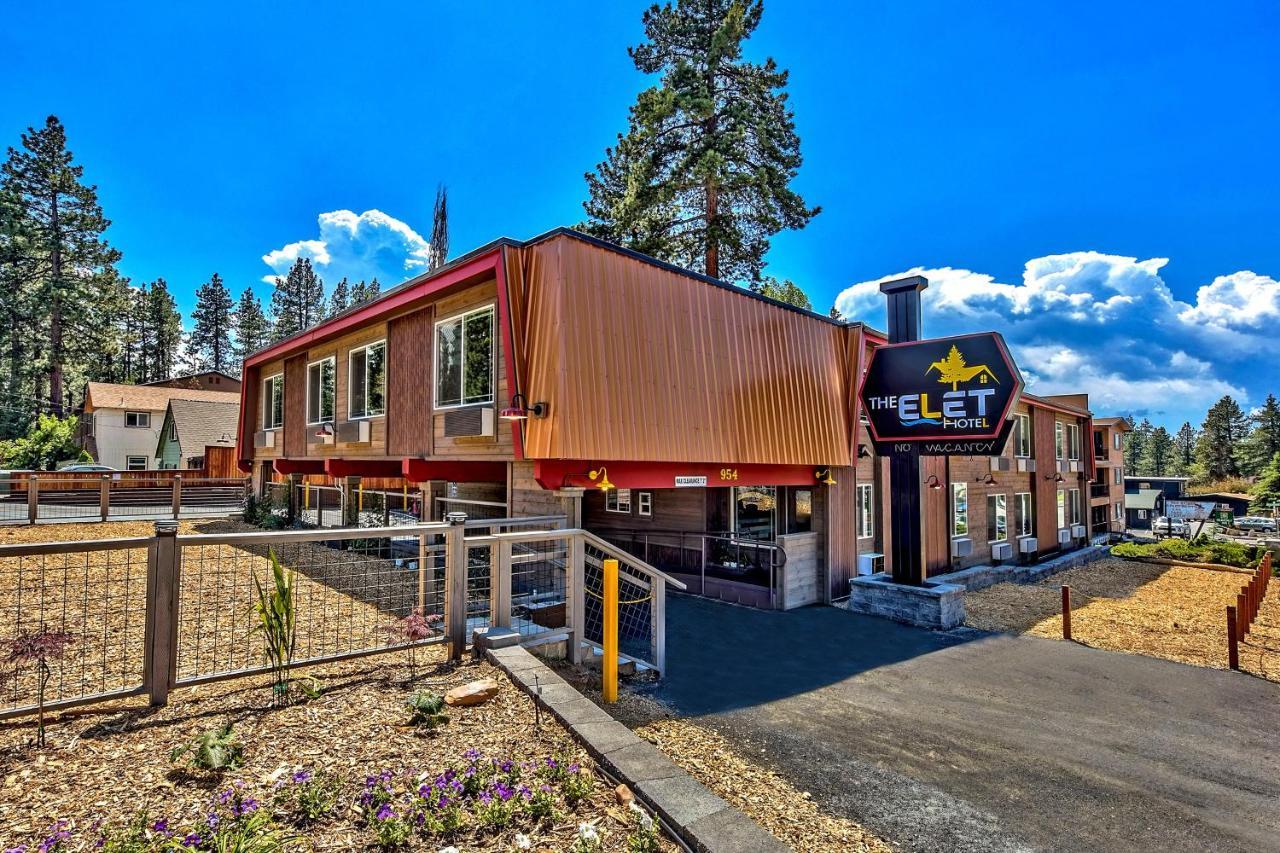 If you'd rather save your money for fine-dining, outdoor adventures and popular activities in Lake Tahoe, this budget-friendly hotel is modern and unfussy and located right in the action. The Heavenly Mountain Ski Resort is less than a quarter mile away, and you are a few miles from the South Tahoe Ice Arena and the Washoe Meadows State Park. Top-rated restaurants are scattered within walking distance, as are some popular Lake Tahoe attractions and landmarks: Balloons over Lake Tahoe and Emerald Bay State Park.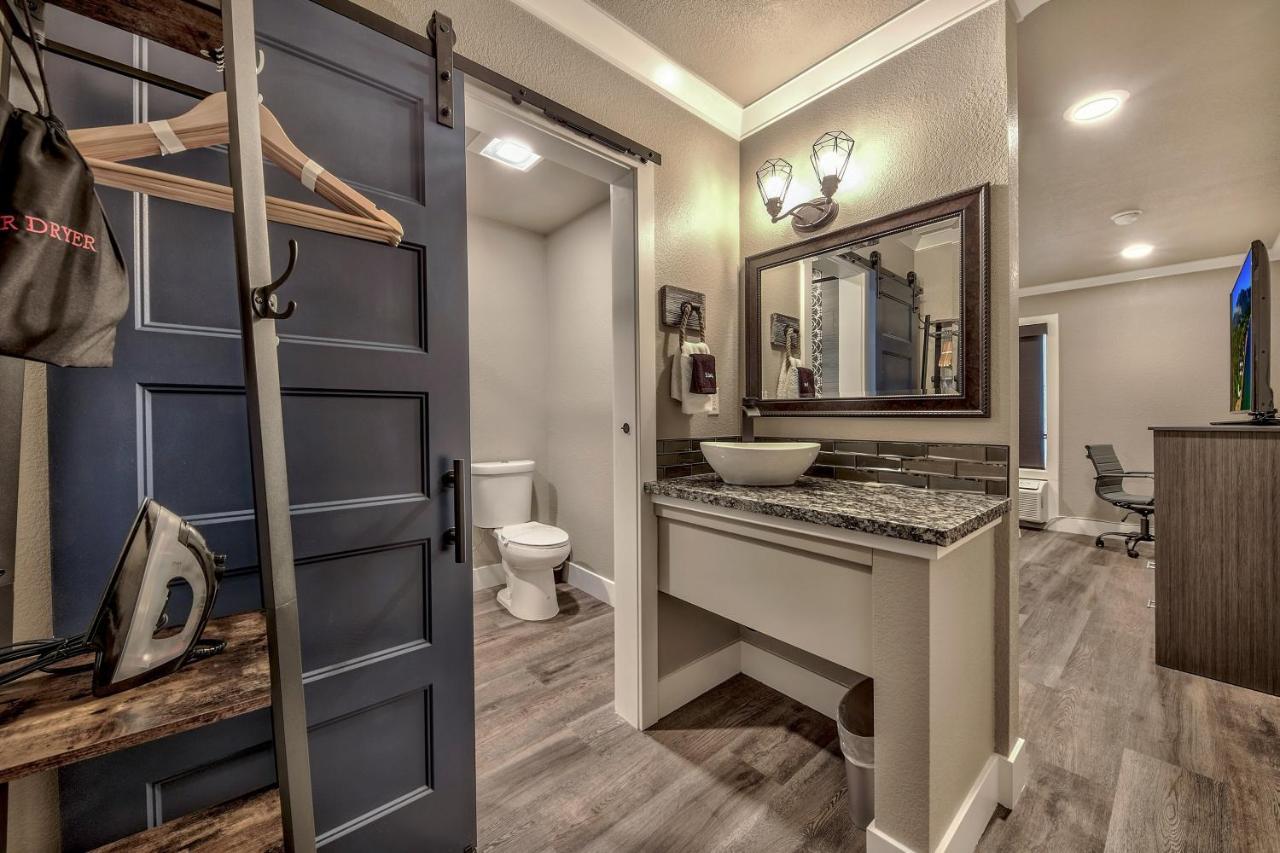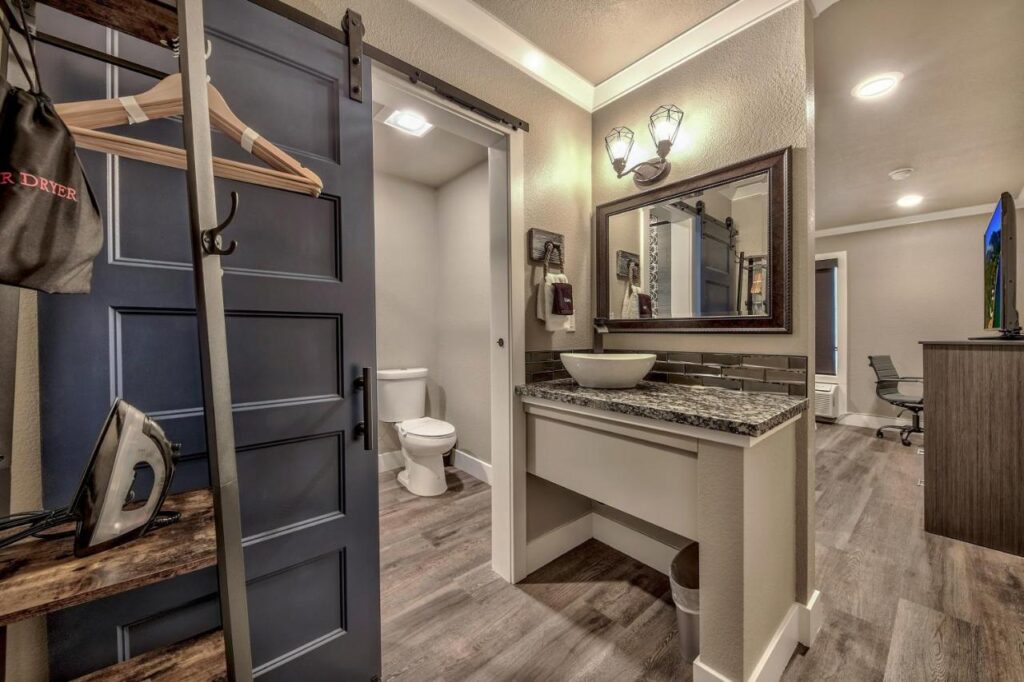 The rooms are neutrally decorated with earthy tones and come with coffee makers and microwaves. Some have full kitchens, including ovens, stovetops and toasters. Regardless of the kitchen accommodations, you will have a removed bathroom, plus a desk and a flat-screen TV. Pets are not allowed.
13. Station House Inn (Pet Friendly)
Checkin: 3pm | Checkout: 11am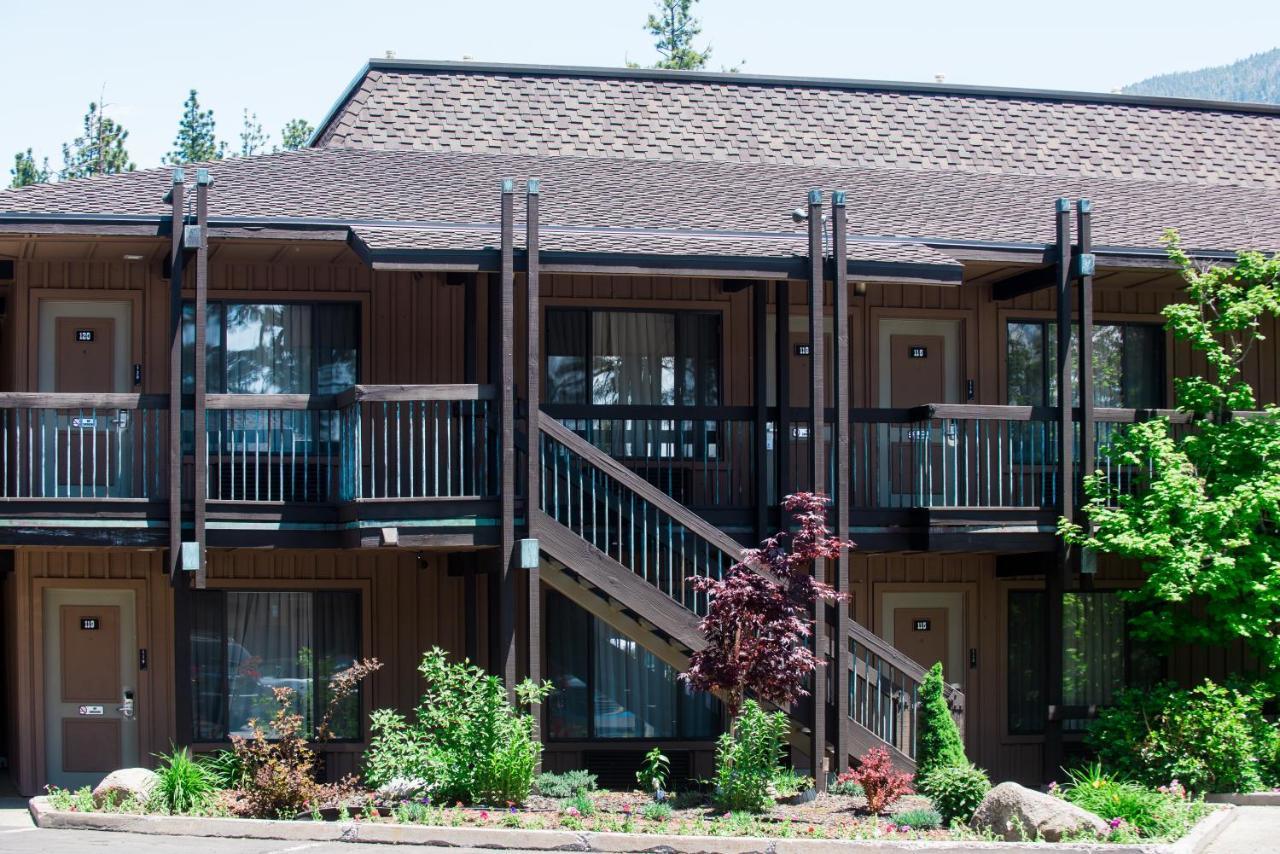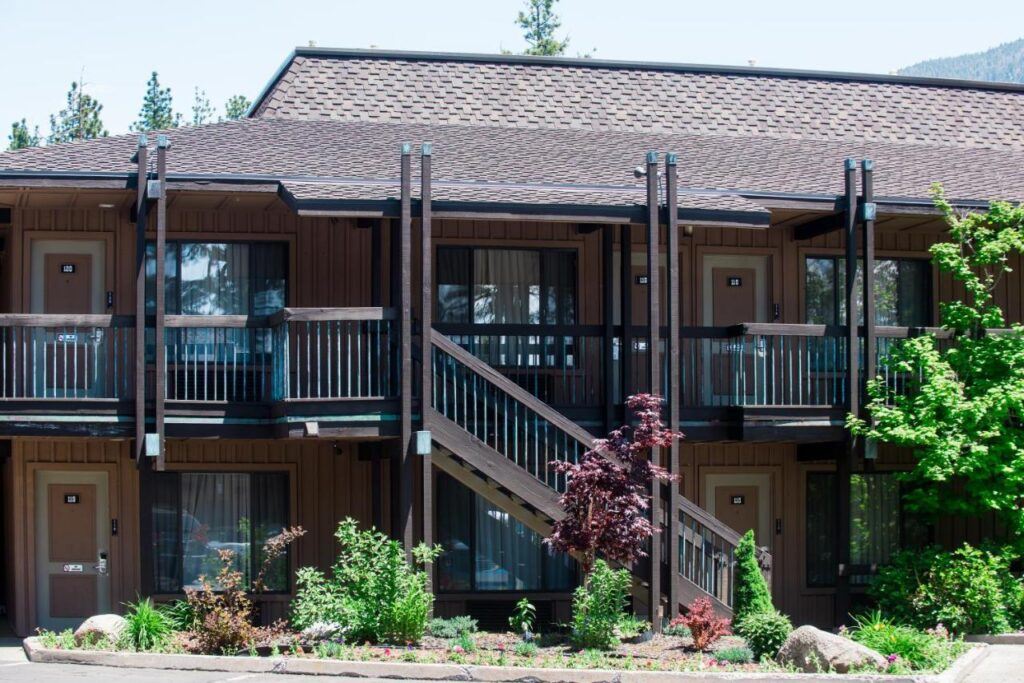 This rustic and intimate lodge is full of friendly energy and includes their own New Orleans-inspired steakhouse, Toulouse, which is open during varying hours every day of the week. They serve fresh and seasonal cuisine. The rooms are newly renovated and feature a ski rack and custom soaps and blankets. Accommodations include a flat screen TV, dresser and desk, safe, fridge and coffee maker. The bigger suites have a sofa and walk-in showers with a separate vanity sink.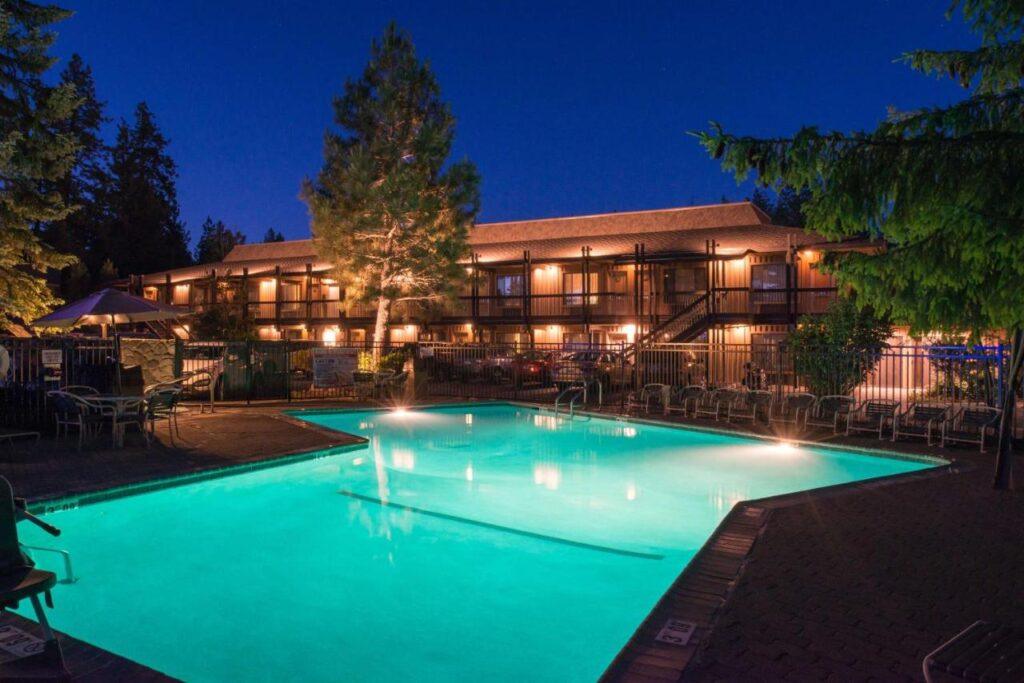 There's a seasonally heated pool with five cabanas, and if it's warm out, they'll host a lunch at the poolside (also seasonal). Free movies and popcorn happen every Friday, and you're within walking distance or a quick drive over to Lake Tahoe's top skiing, hiking and summertime lake activities. For a small fee, you can bring up to 2 dogs with you.
While any of these boutique hotels would be a good choice, hopefully our list helps you get a better feel of which atmosphere and activities best suits you and your upcoming solo adventure. Safe travels!
READ NEXT:
Pin me for later: