This post was written by Ashlea J. Russell:
Mexico City is an incredible, beautiful, historical, cultural titan – it's also enormous! Mexico City is the largest city in North America and the sixth largest in the world. And it's not just population that makes it huge, it's also sprawling covering an area almost double that of New York City.
The locals view the city as a collection of villages and neighbourhoods, known as barrios, each with a unique vibe and personality. So, when deciding where to stay in Mexico City, it's important to choose the area that best fits your priorities and is convenient to what interests you most. Picking the right area for you will make a major difference to how you experience this amazing place:
Roma: For First Timers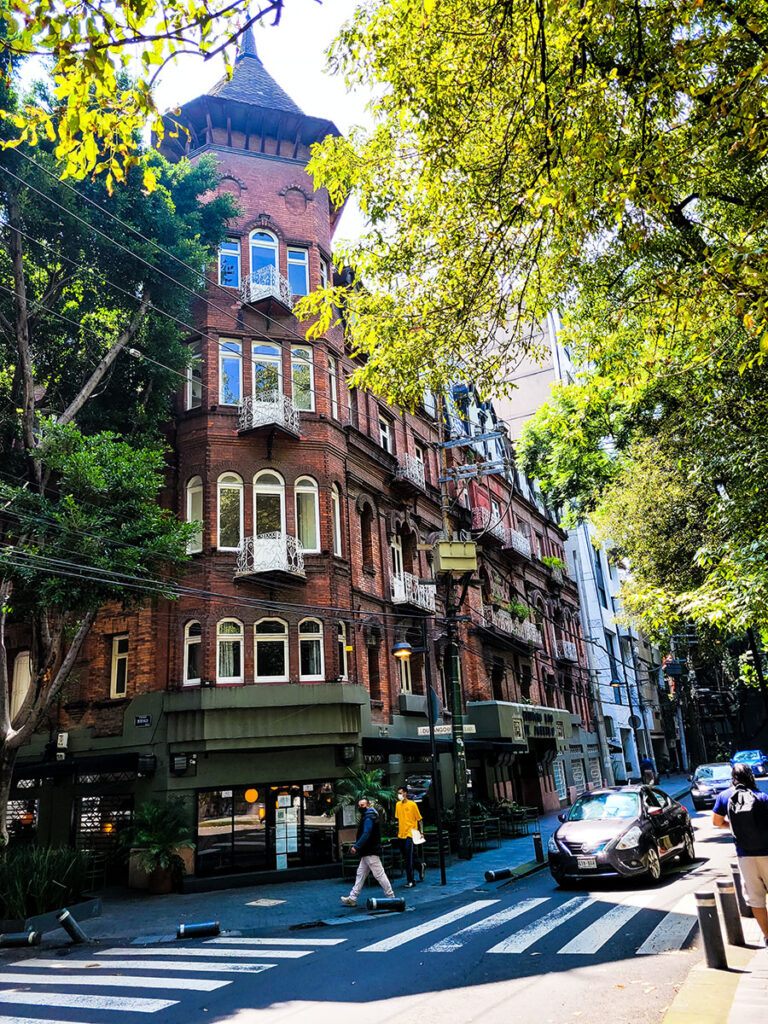 If your goal is to fall in love with Mexico City and never want to leave, then the best place for you to stay is Roma. This is where I stayed on my first trip to Mexico City and it was the perfect introduction.
As one of the safest areas to stay in Mexico City, Roma will put you immediately at ease. The buzzing patio scene, cafes on every corner, and stunning architecture means Roma appeals to a multi-cultural blend of locals and imports. With easy access to public transportation and Ubers, you are never far from the main attractions of Mexico City. This is the sort of place where you choose a favourite café to start your day, then wander the picturesque streets finding galleries and listening to music in the parks.
It costs a little extra to stay in Roma but it's worth it for how safe, gorgeous, and convenient it is.
Where to stay in Roma: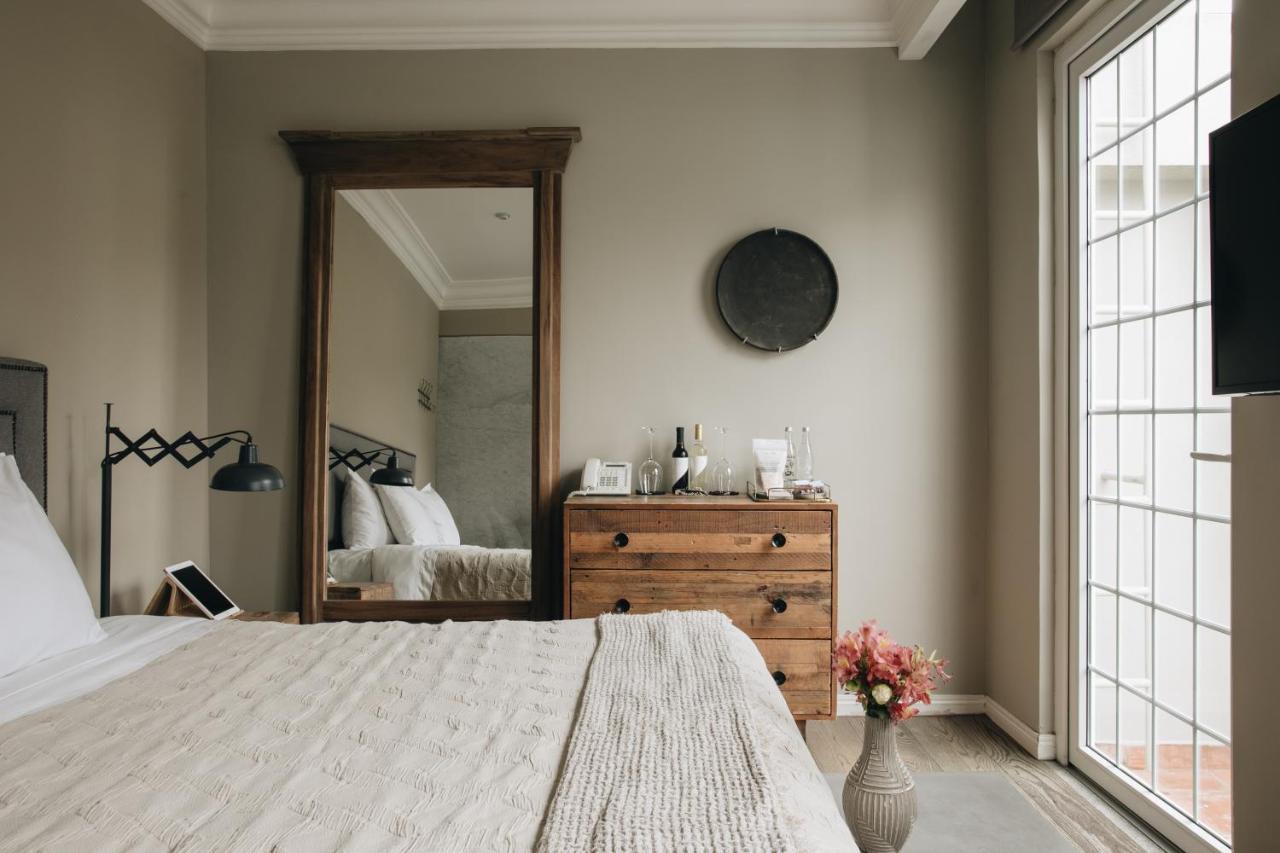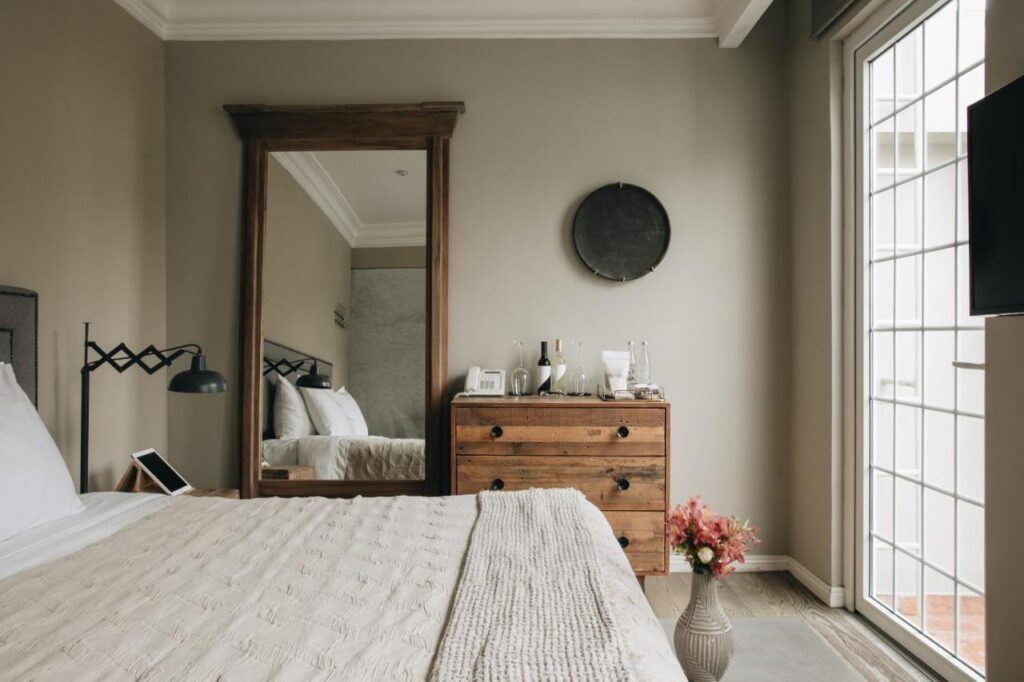 ($) The most cost-effective way to stay in Roma is in one of the many, beautiful serviced-apartments. Casa Romita has 25 spacious private apartments in a prime location, walking distance to Condesa, Reforma, and the best bakeries, beer gardens and cafes Roma has to offer. Starting around $75/night including breakfast, strong WiFi and a rooftop terrace.
($$) The Dib Experience is a stunning modern boutique aparthotel in a historic Roma building. The location is perfect, walking distance to the best cafes, restaurants and shops Roma has to offer. Starting around $200/night and including strong WiFi, a fitness centre and most suites have private terraces.
($$$) For those who want to spoil themselves, Nima Local House Hotel is peak luxury in Roma. Outstanding service, on-site spa services, and touches like live music in the courtyard bring in near-perfect reviews. Starting around $540/night includes complimentary wines, an incredible breakfast, and a premium location.
Condesa: For the Cool Factor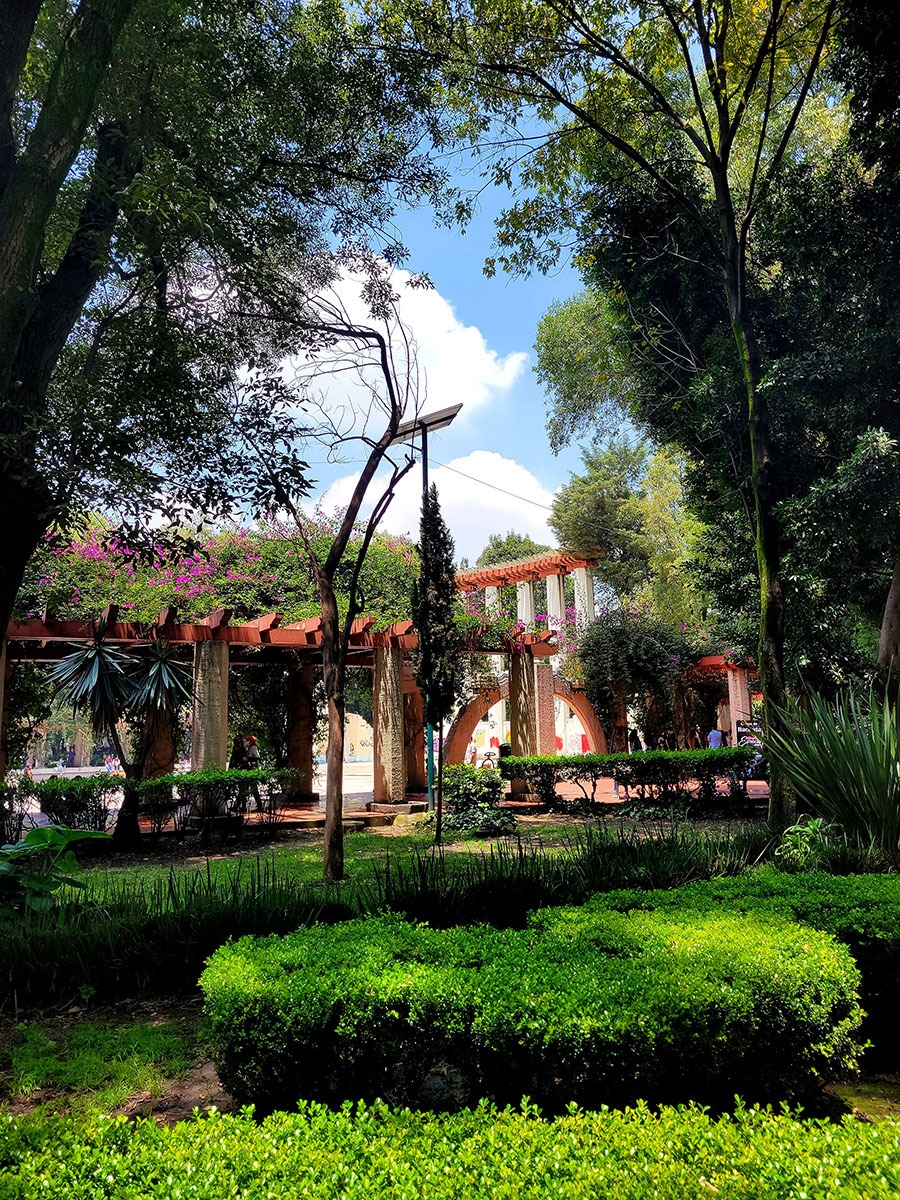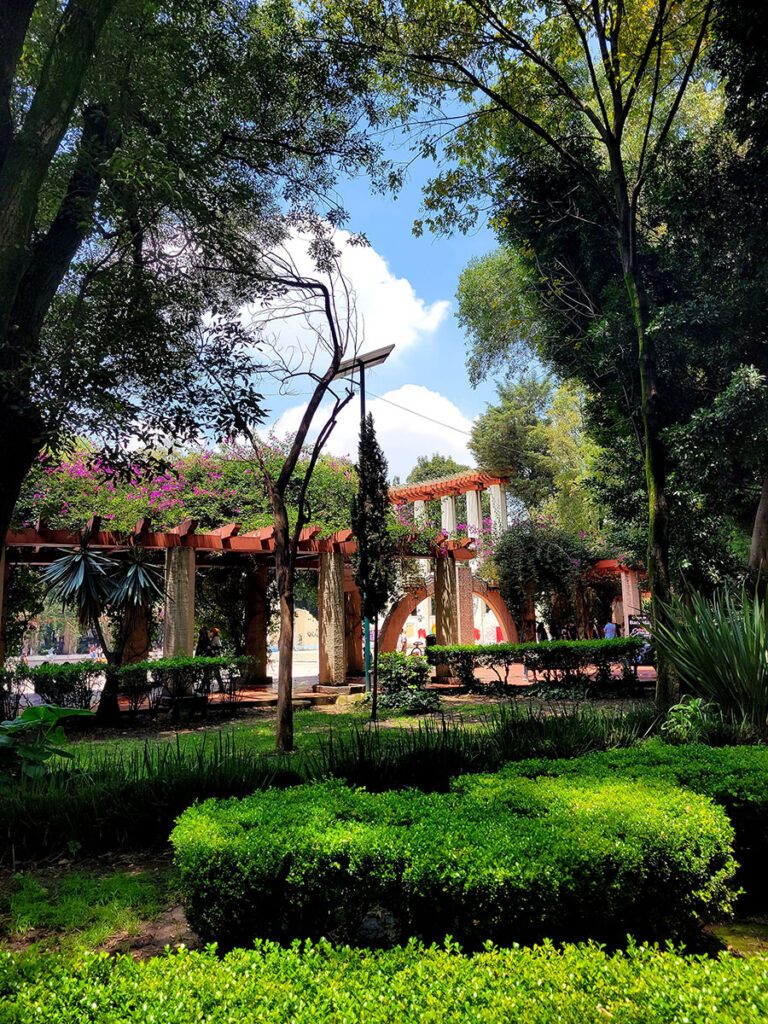 Arguably the centre of the Mexico City's culinary scene with incredible restaurants, bars, and cafes on every corner, Condesa, named for the countess who once owned the land, is one of the best places to stay in Mexico City.
Condesa is the trendier part of Mexico City with plenty of art galleries, green spaces, and shops to explore. The gorgeous tree-lined avenues make it so beautiful and relaxing to walk. Along with the Art Deco and Porfirian [a mix of French, Roman, Gothic and Moorish] architecture, it feels like you've stepped through a portal to Europe.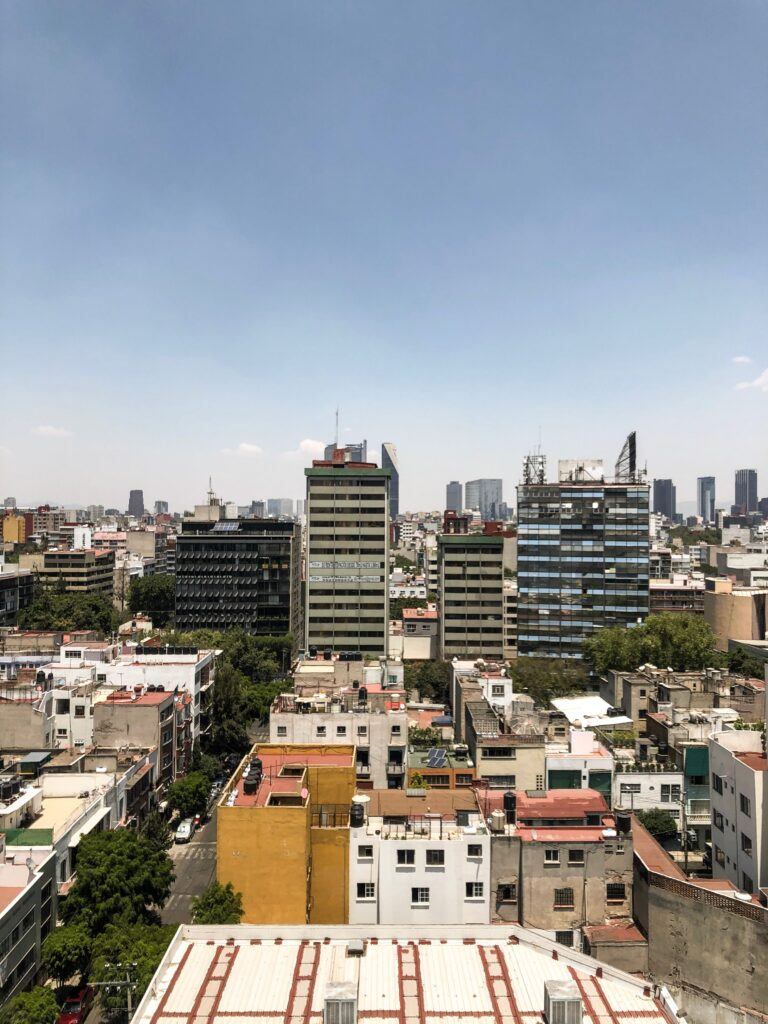 Sitting right next door, Condesa is the slightly livelier sister to Roma and is just as safe. It is incredibly walkable, so grab a flat white and hit the pavement and when you're ready for a rest, head to the relaxation garden in Parque Mexico for a nap in a hanging egg chair.
Where to stay in Condesa: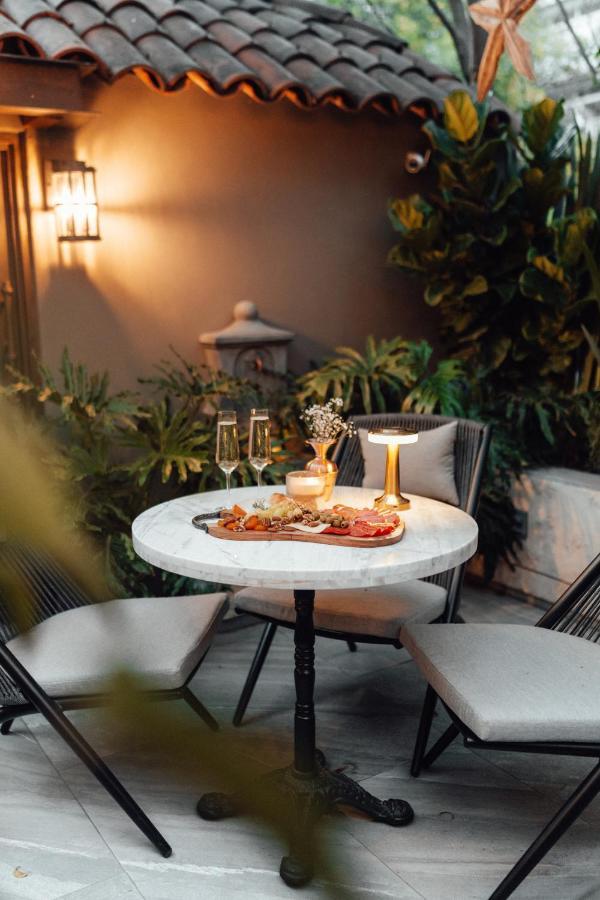 ($) Casa Pancha is the epitome of new school hostels in Mexico City. This gorgeous, chic hostel offers dorms, female-only dorms, and private rooms as well as a terrace, lounge, and concierge service. The location is great and walkable to Parque Mexico, Chapultepec Park and Roma. Bunks start at $30/night include a great breakfast and WiFi throughout.
($$) Casa Bis offers colourful comfort and is excellent bang for your buck. If it was located in Roma, it would probably cost two or three times the price. It's located walking distance from Parque Mexico, loads of restaurants, and one of the best cups of coffee in Mexico City at the Blend Station. Starting at $100/night including free WiFi and smart TVs.
($$$) For boutique 5 star luxury in Condesa, it's hard to compete with Casa Luciana Condesa. Only open since July 2022, this boutique hotel offers just 8 stunning rooms. Luxury is in the details and Casa Luciana has thought of everything from an urban spa to top of the line food and drink. Starting at $175/night including free WiFi, breakfast and use of the hot tub and other common areas.
Reforma: When You're Short On Time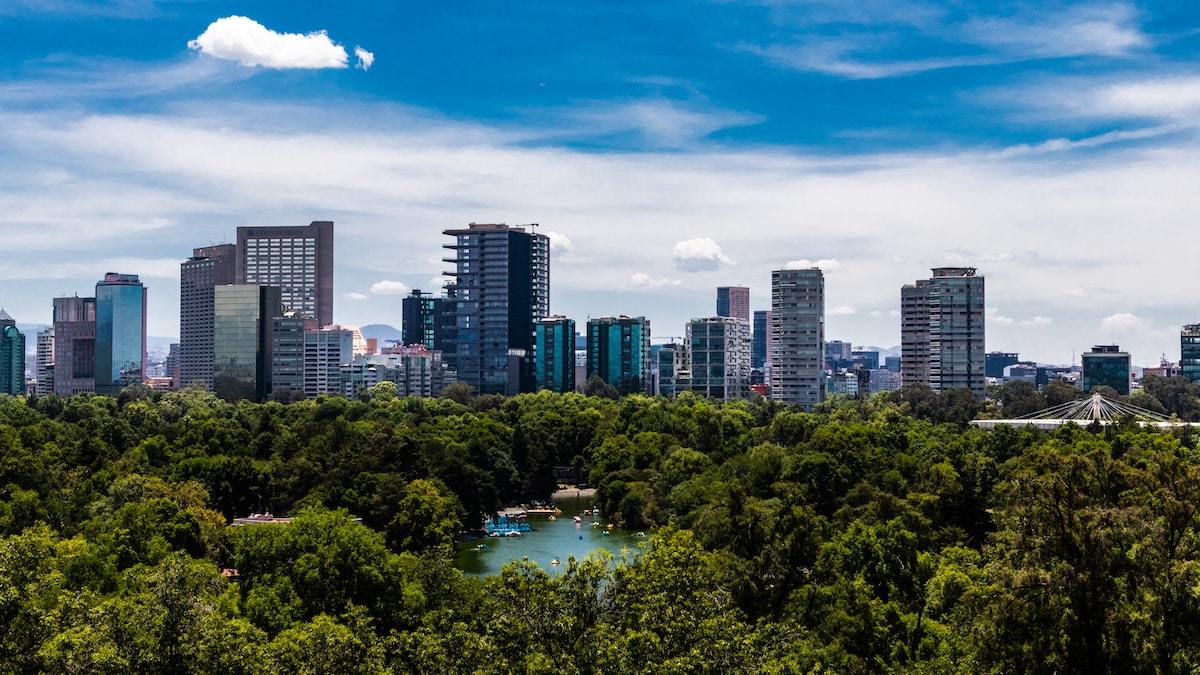 If you're visiting Mexico City but you're short on time Reforma is a perfect place to base yourself. Reforma is named for the Paseo de la Reforma, an impressive avenue that runs diagonally across the heart of the city. If itgives you "Champs-Élysées" vibes, then you're right on track because that's exactly what the Emperor asked for when it was designed.
Fantastic museums, beautiful restaurants, and cocktail bars galore make this the perfect place to stay in Mexico City for a weekend away. You'll also be within easy reach of the famous Chapultepec Park which is nearly twice the size of New York City's Central Park. It has museums, a lake, botanical gardens and even a castle, all inside the park!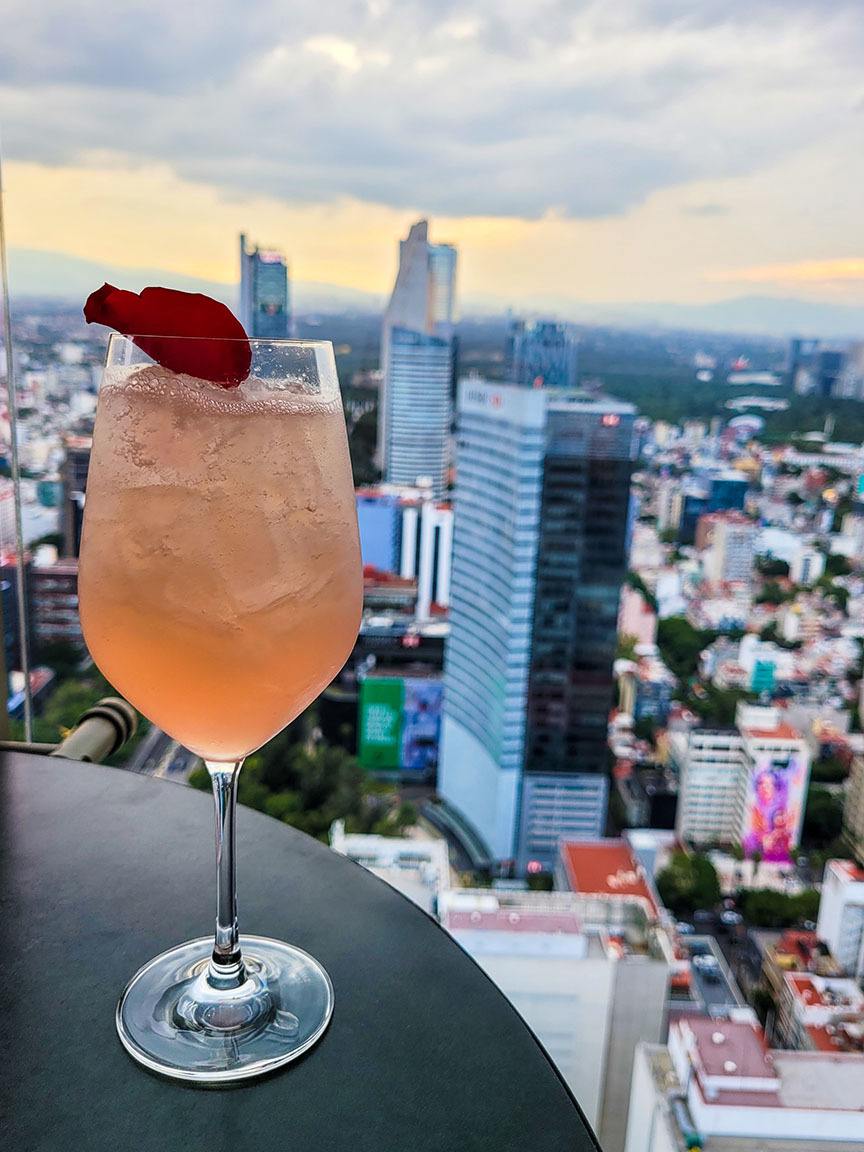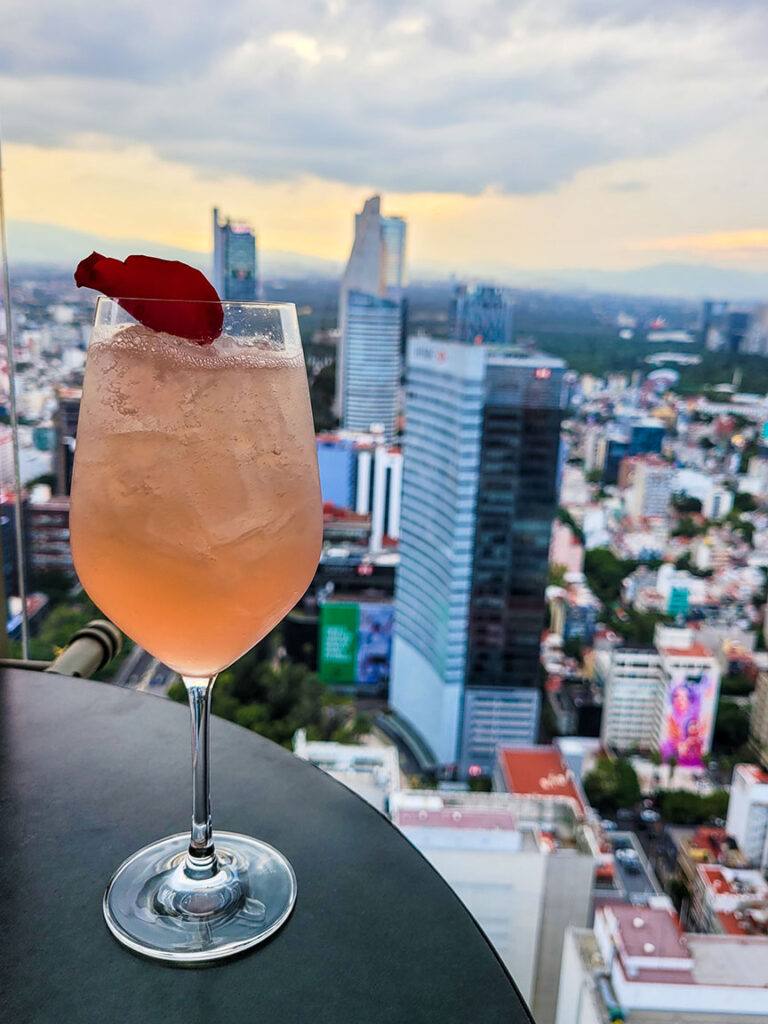 By night, if you head just south of the Paseo toward Roma, you'll find the nightlife hub of the Mexico City. Music pumping out of every doorway, street vendors selling kitschy tat and crowds of people sloping their way down the promenades. You'll also find the smaller area of Zona Rosa. While the LGBT+ community is largely accepted across Mexico City, Zona Rosa is the best area in Mexico City for the LGBT+ crowd as this is the gay neighbourhood. Here you'll find drag shows, gay clubs and karaoke bars bumping along into the wee hours of the morning.
Where to stay in Reforma: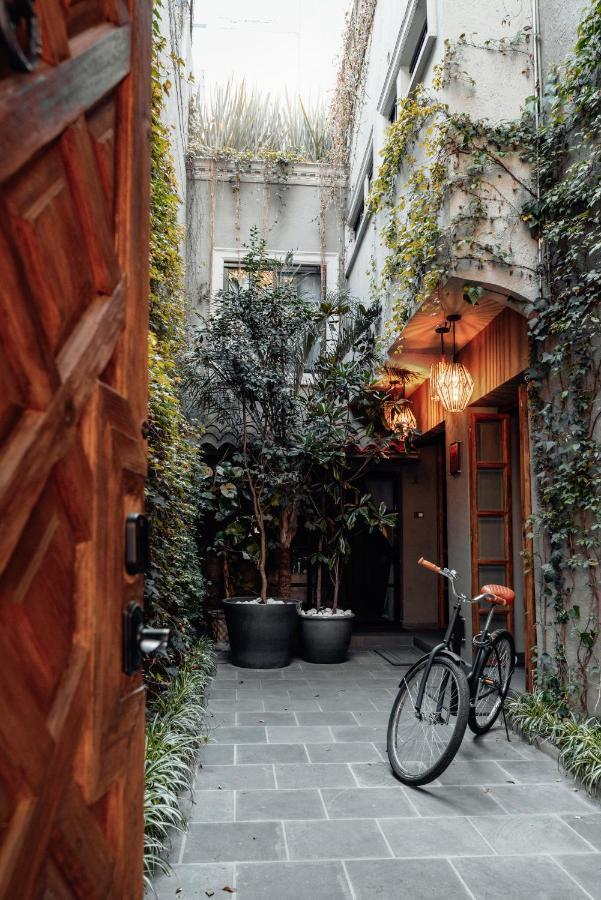 ($) Casa Kanabri Hostel Boutique is located right on Paseo de la Reforma about a 10 minute walk to the Angel of Independence. With the Paseo on the doorstep there is plenty of shopping, restaurants, and nightlife to choose from. A few minutes in an Uber will have you in the Centro Historico and a few minutes in the other direction is Chapultepec Park. The property itself is vibrant and cool with lots of interesting common space and a concierge service. Dorms start at $35/night and private rooms start about $10 higher and include free toiletries and free WiFi.
($$) Casa Lomah Hotel is a boho chic boutique located next to Parque Alameda, steps from Paseo de la Reforma and just over 5 minutes walk to the Palacio de Bellas Artes. Situated above some shops, you wouldn't even know it was there! The rooms are minimalist, spacious and comfortable and the rooftop terrace is the perfect place to hang out. Rooms start at $100/night including free WiFi.
($$$) One of my favourite hotels in Mexico City is Casa Emilia. This place oozes luxury and everyone is treated like a VIP. The focus here is Mexican luxury like an honour bar with Mexican wines, Mexican soaps and lotions in room and an incredible modern Mexican breakfast. The location can't be beat, just a short walk to the Angel of Independence and a quick Uber to Chapultepec Park. Rooms start at $165/night including breakfast, WiFi, toiletries, and honour bar.
Centro Historico: For the Budget Conscious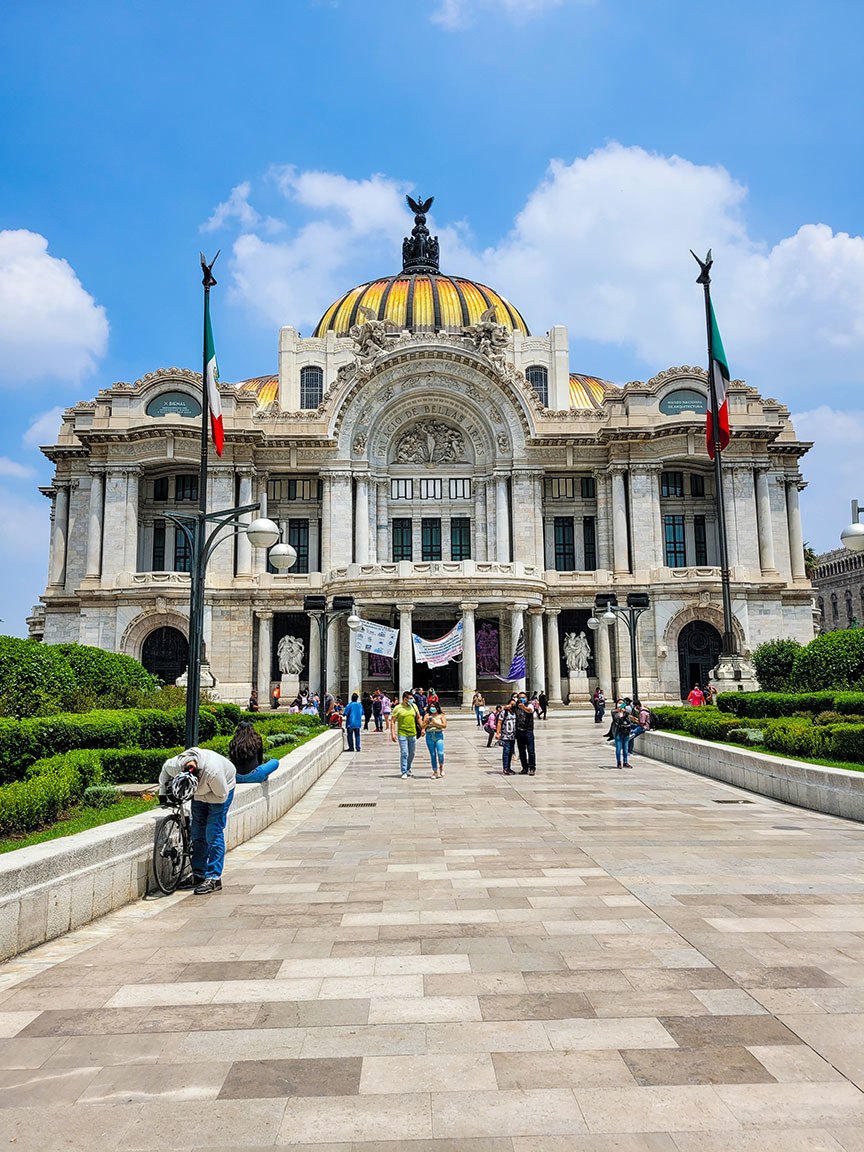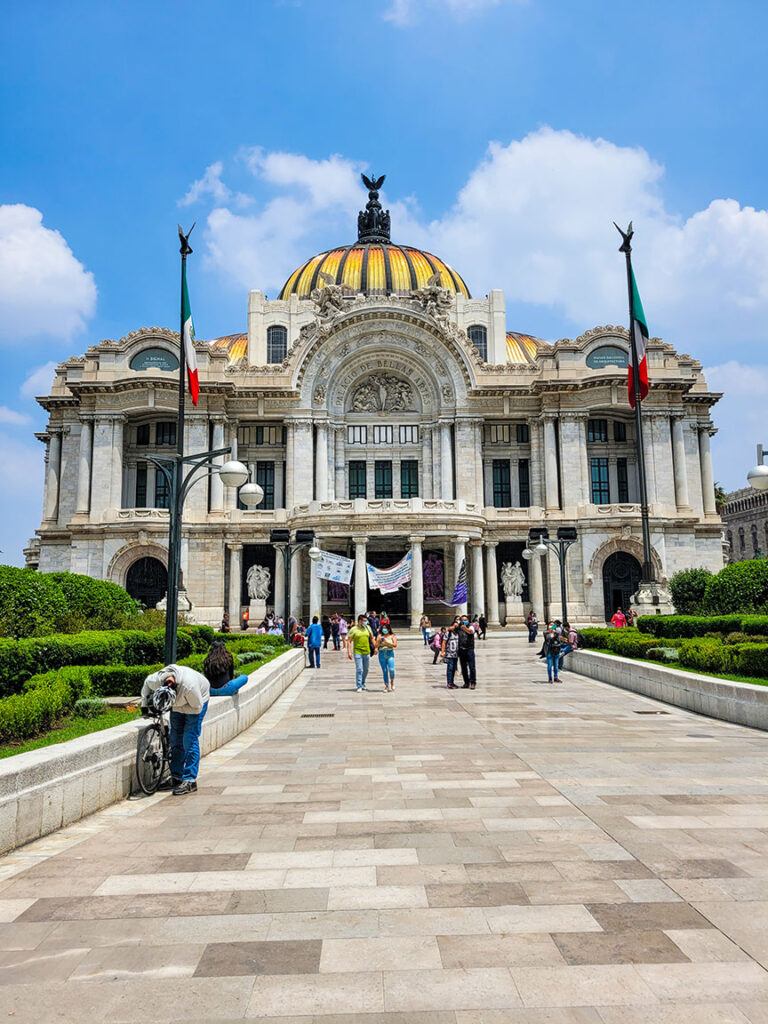 Any visit to Mexico City will include a visit to the Centro Historico which happens to be a great place to stay for anyone on a budget. Centred around the Zócalo, this area has a number of astonishing historical sites such as the Palacio de Bellas Artes, Aztec ruins of the Templo Mayor, and the National Palace of Mexico complete with Diego Rivera murals. It's so packed with historical importance it's been a UNESCO World Heritage Site since the 1980's.
The Centro Historico is what you would call "downtown Mexico City" and like most cities that means it's a busy area that draws all sorts of people so keep your wits about you, especially when walking around at night.
This area of Mexico City is very walkable because so many of the sights are close together. There are also fantastic rooftop patios overlooking the historic buildings if you want to get off the ground.
With a little research this is one of the best value places to stay in Mexico City. It can be a great affordable option for the savvy traveller and is well connected to the rest of the city by public transport and Uber.
Where to Stay in Centro Historico: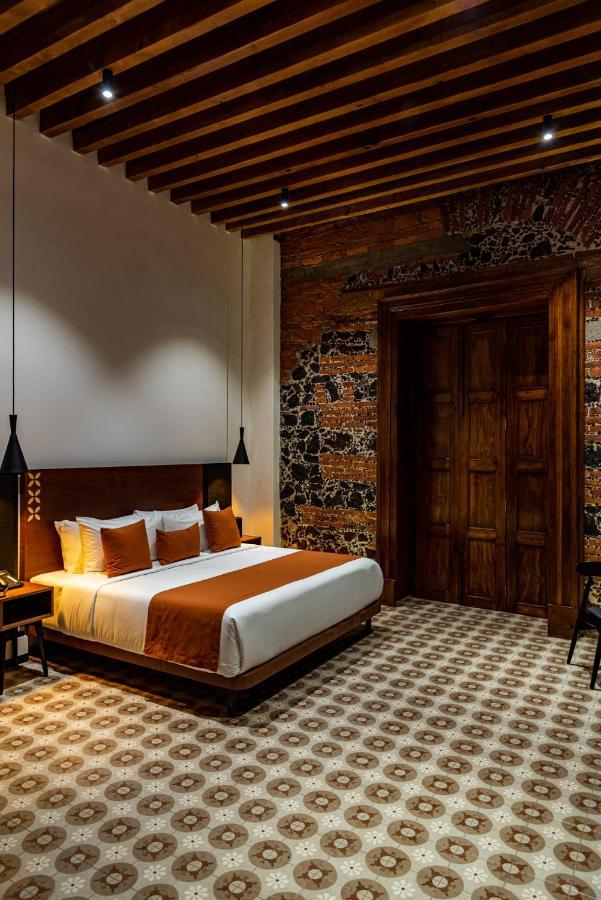 ($) If you want to be centrally located on a budget, Viajero CDMX Centro Hostel is the place for you. Just a five minute walk away is the impressive Metropolitan Cathedral, the Aztec ruins of the Templo Mayor, and the Zocalo. Walk a little farther to reach the Palacio de Bellas Artes and countless museums. The hostel has a bar, restaurant, buzzing shared space and 24 hour front desk. Mixed and female-only dorms start at $18/night and includes free WiFi.
($$) Hotel Flamencos is a Centro Historico favourite, located walking distance from the Zocalo, House of Tiles, and countless museums as well as shopping, restaurants and rooftop bars. They offer stylish, spacious rooms that are soundproofed (this matters in Mexico City because the streets get noisy very early in the day). They also have a fitness centre, bar, and free parking. Rooms start at $75/night including an excellent breakfast and free WiFi.
($$$) For luxury-seekers Casa de la Luz Hotel Boutique offers modern comfort in a 1500's building. Located a five minute walk to the National Palace, it has everything a history buff would love. The on-site restaurant is one of the best places to eat in the area with modern Mexican cuisine and an incredible cocktail menu but it's the service here that will keep you coming back. Rooms start at $250/night and include an excellent breakfast and free WiFi.
Coyoacán: For the Long-Term Visitor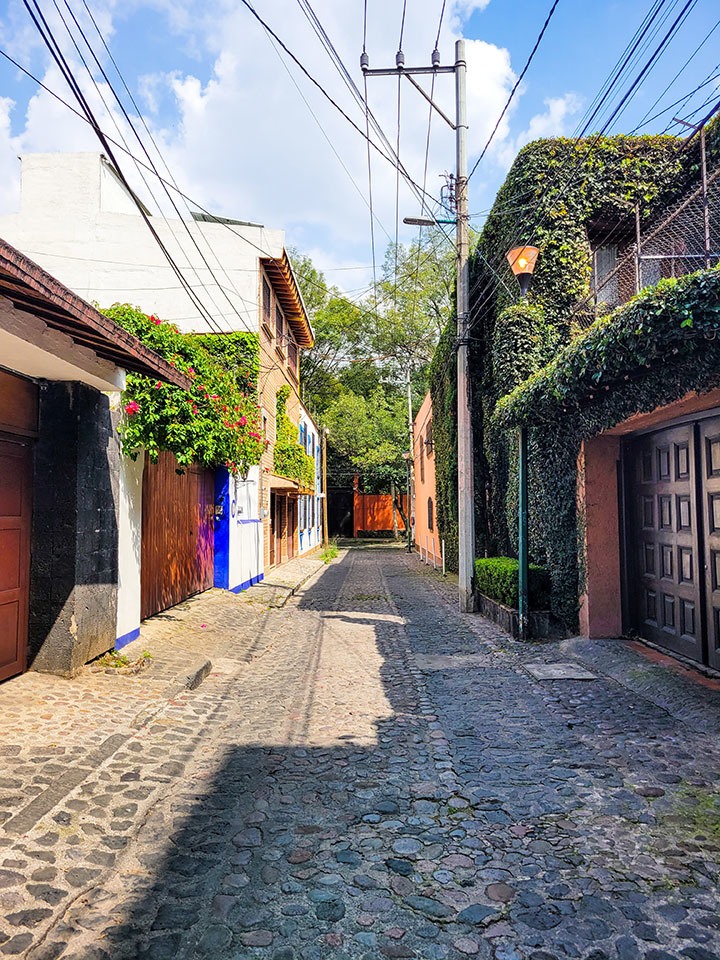 Coyoacán is one of the oldest areas of Mexico City and remained independent until it was eventually absorbed into the city in 1928. It is the artistic hub of Mexico City, popular with bohemians and creatives, and was the home of renowned Mexican artists Frida Kahlo and Diego Rivera whose house can now be visited as the Frida Kahlo Museum. It's also very close the UNESCO World Heritage Site of Xochimilco, where the colourful boats cruise through the canals.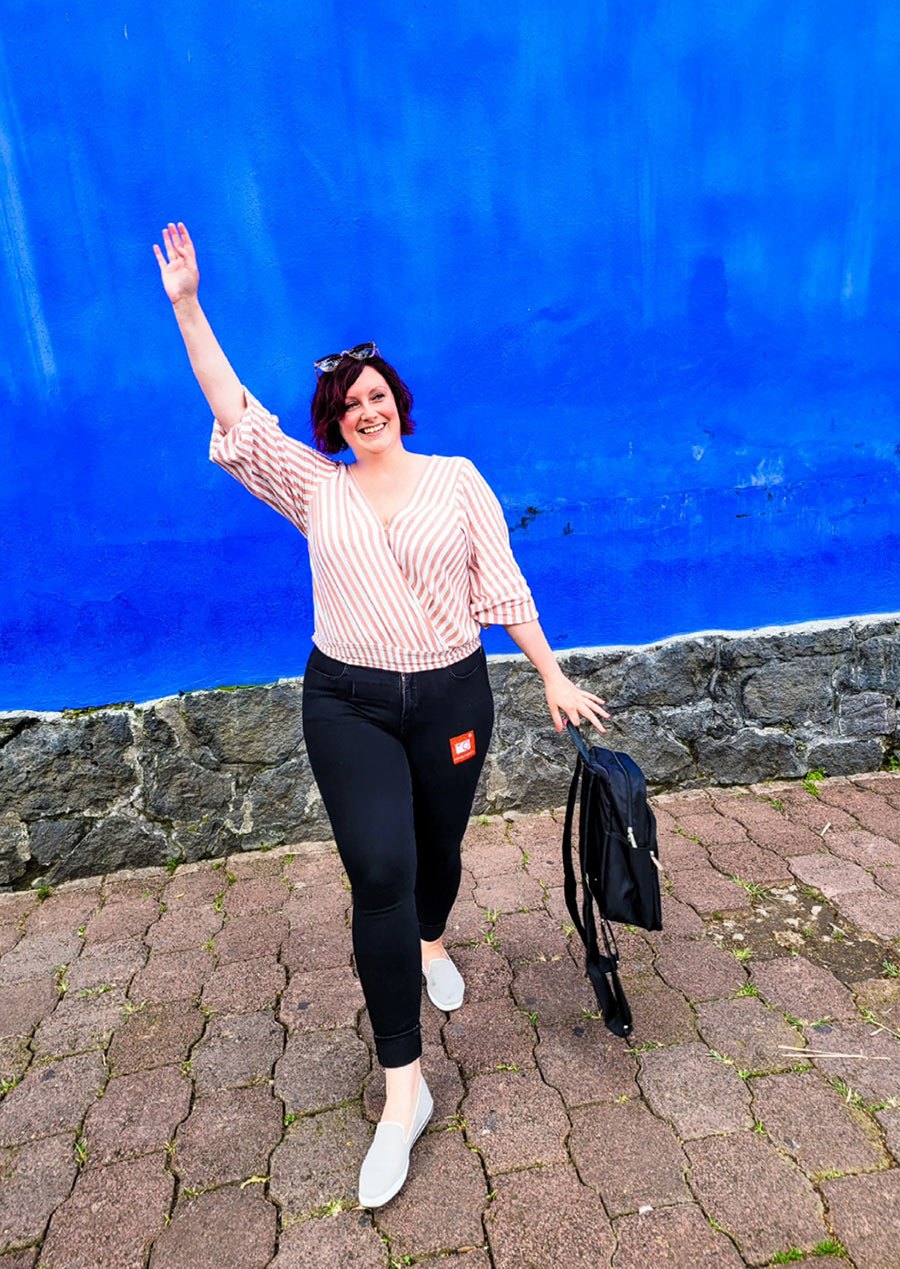 This is where to stay in Mexico City if you want to live like a local. The central garden is a popular spot for first dates and street performers. Everything from beatboxers to magicians to break dancers, there's always something happening. Local artists gather in the square to sell their works and the mercados are bursting with colourful wares. This is also the best area of Mexico City to explore terrific street food, especially elotes, and is home to the best artisan market in the city.
Coyoacán is located quite a ways south of the city centre, taking anywhere from 15 – 60 minutes to drive depending on traffic, and up to an hour on public transport. This means if you only have a few days you'll want to stay closer to the action and include Coyoacán as a day trip. But if you'll be around for a few weeks this is a great place to stay in Mexico City.
Where to Stay in Coyoacán: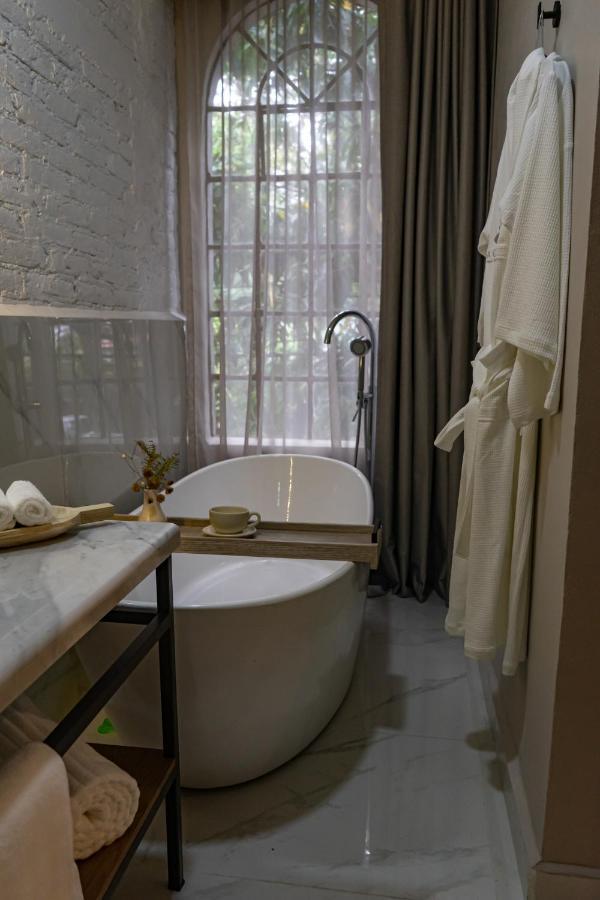 ($) Casa Real Coyoacán is an updated guest house that still has the traditional feel of the area. Less than a 10-minute walk to the heart of Coyoacán and 15-minute walk to the Frida Kahlo Museum. This spot will make you feel right at home. Rooms start at $56/night and includes WiFi and free parking.
($$) Don't worry, Casa Tuna is not named for the fish, it's named for the fruit of the prickly pear cactus which the Mexican call 'tuna'. This boutique hotel was designed with Mexico in mind. Mexican style and folk art is featured in each of the 12 rooms of this 20th century mansion-come-hotel. It is located right in the heart of Coyoacán, just steps from Centennial Garden and is perfect for exploring. Rooms start at $130/night and includes free WiFi and use of the shared lounge and courtyard.
($$$) Agata Hotel Boutique & Spa is an oasis in Coyoacán just a short walk from the Frida Kahlo Museum. Unassuming from the exterior, in typical Mexican fashion, but full of luxurious 5 star surprises inside. Spa treatments, an excellent restaurant, cozy bar and spacious rooms make this a true hidden gem. Rooms start at $240/night and include WiFi, a wonderful breakfast, and use of the amenities like the hot tub.
Polanco: For the Luxury-Seekers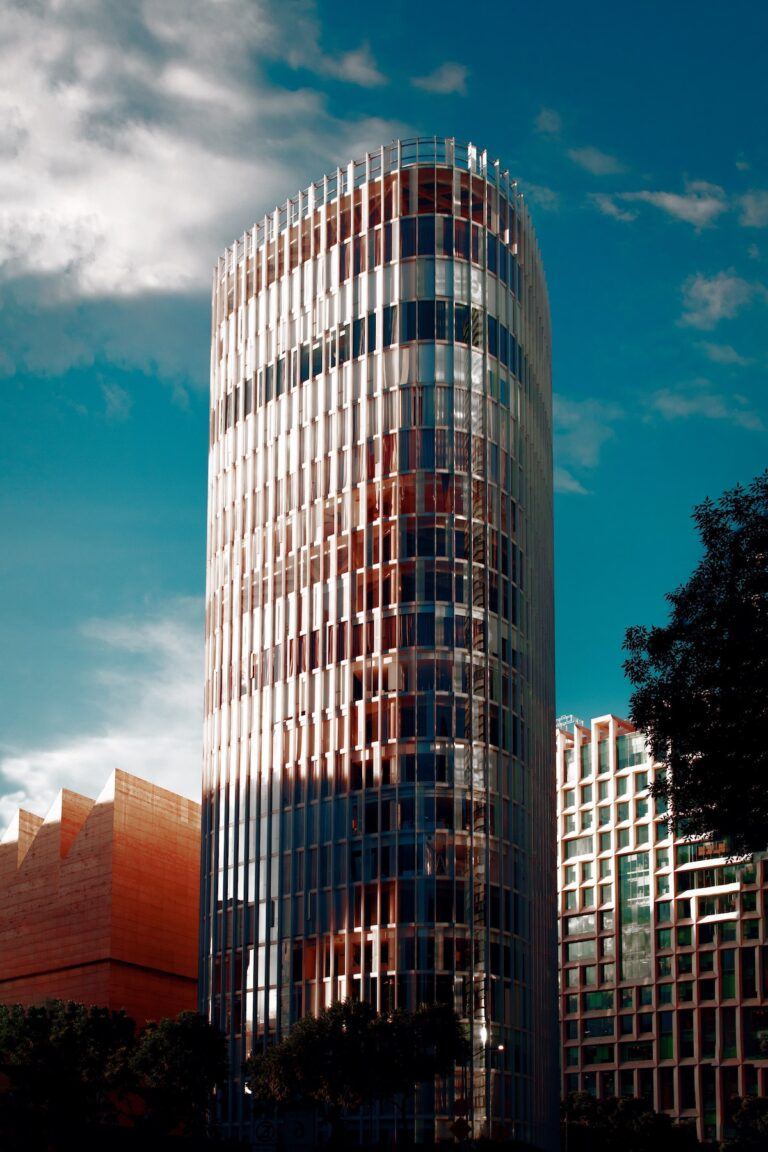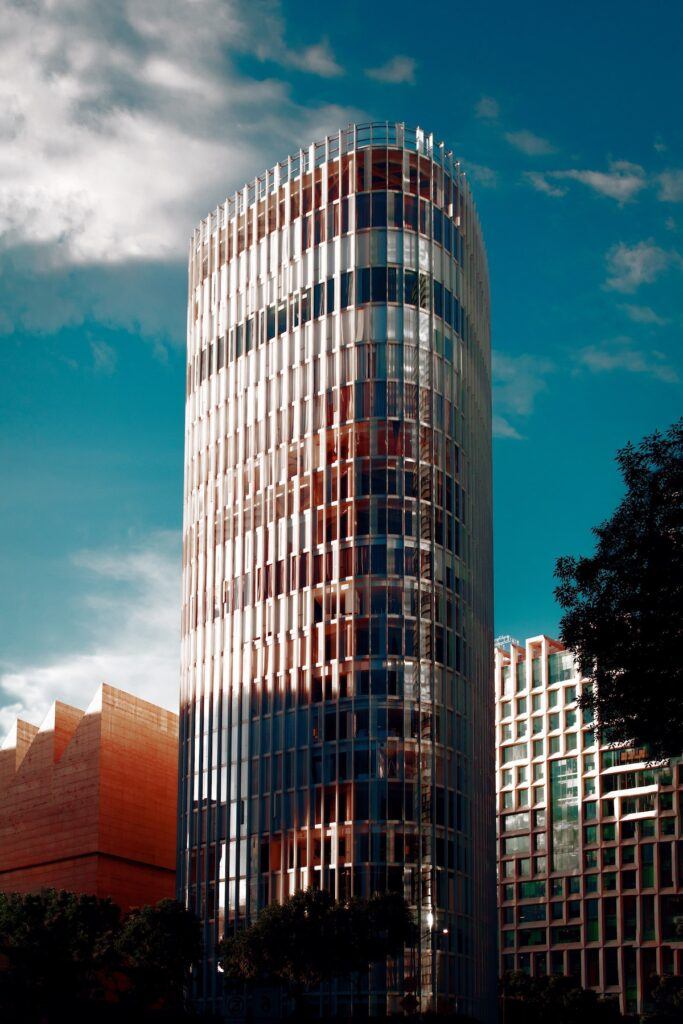 If you imagine Beverly Hills plopped down in the middle of Mexico City, you've got Polanco. This area of Mexico City is known for its effortlessly chic vibe and everyone and everywhere oozes money.
If high-end luxury is your taste, then Polanco is the place to be with 5 star boutique hotel accommodation and designer shopping like Louis Vuitton, Chanel and Gucci.
Avenida Presidente Masaryk runs through Polanco and is one of the trendiest shopping and restaurant strips in Mexico City.
This area of Mexico City is also where you'll find the picture perfect Museo Soumaya, a private collection art museum featuring a variety of works from Mesoamerican sculptures to Rodin.
If you're looking for an international luxury vibe then Polanco is perfect for you, but if that's not your speed there are other areas in the cities that would be a better fit.
Where to Stay in Polanco: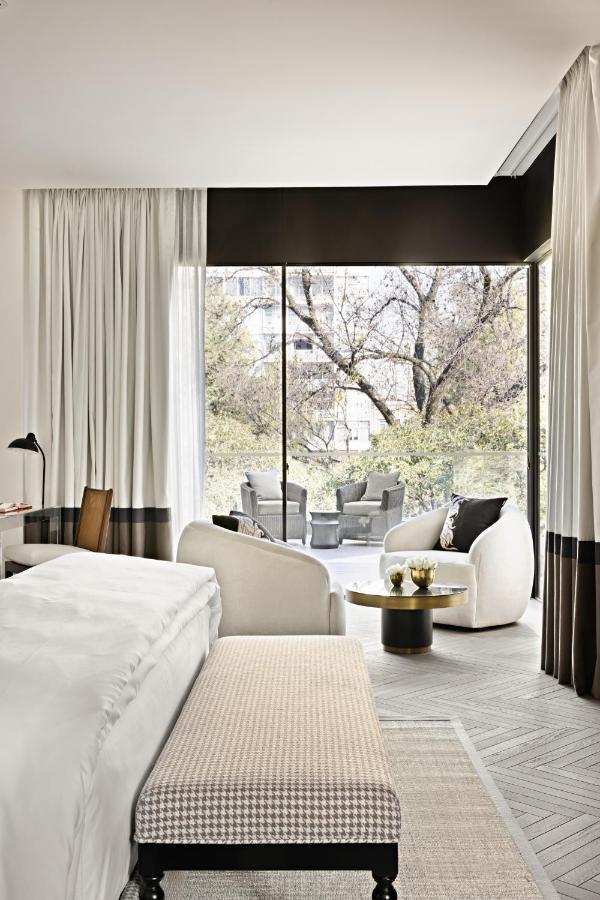 ($) Finding budget-friendly in Polanco can be a challenge, but luckily serviced apartment options make it possible. Grupo Kings Suites has been a staple of the serviced apartment scene in Polanco for over a decade. The apartments are incredibly spacious and well-equipped. Located right on Avenida Horacio, a popular shopping street, it's very walkable. Apartments start at $88/night and include free WiFi and parking.
($$) UTOPIC by Uliv is a unique modern concept. Gorgeous spacious rooms offer privacy but a bar, games room, garden, gym, and lounge give it a youthful and social vibe. Located in the south of Polanco puts this property in easy reach of Chapultepec Park and Reforma while also being accessible to all Polanco offers. Rooms start at $390/night and include free WiFi and use of all the amenities.
($$$) Casa Polanco Hotel Boutique has been making a splash in Polanco since it opened in the summer of 2022 and it's easy to see why. This boutique hotel promises the 'celebrity treatment' because what luxury is really all about is service and you won't have to lift a finger here. It has stunning terraces, on-site space, enormous pristine suites, a gourmet restaurant, and library bar. Rooms start at $756/night and include spa bathrooms, WiFi, a la carte breakfast and minibar.
No matter your interests, timeline, or budget there's a best place for you to stay in Mexico City and I hope I've helped to guide you. This incredible city has so much to offer that it's impossible to see it all in one trip so you might see yourself coming back time and time again.
About the author: Ashlea J. Russell is a Northern Irish-Canadian travel writer with more than a decade of experience in the travel industry and solo travel to 40 countries under her belt. These days she uses her expertise to write exclusively about Mexico on her blog She Roams About. Follow Ashlea's adventures around Mexico on Instagram.