So you've made it to Cancún, spent an entire day (or several) lying on the beach, and you're looking for something else to do on the Riviera Maya. Luckily, Cancún is a great base for getting out and adventuring in the area.
One thing you definitely won't want to miss out on is visiting the cenotes around Cancún. A cenote is a limestone sinkhole filled from underground freshwater rivers. They can be closed and cave-like, semi-open with cliff overhangs, or completely open, resembling a pond from above.
Intrigued? Here are my top picks for the best cenotes that are easily accessible from Cancún:
Cenote Chac Mool
This cenote is one part of a system of three separate cenotes that open to the same larger body of water and are connected by underground rivers. It's open on the surface, with rocky cliffs on one side. But it's the epic underwater caves that attract visitors and make it ideal for divers. Given that, it is not as spectacular if you can only see it from the surface.
Some dive tours, like this one from AcuatiCaribe, include dives through the two other connected cenotes, Kukulcan and Little Brother. The tour will take you down to see the haloclines and thermoclines, the layers of cloudlike substances where freshwater and saltwater mix and create neat optical illusions.
Cost: 250 pesos ($12.50 USD)
Hours: 9am to 5pm
When to go: The best time to visit for fewer crowds is in the morning. Also, as you go below the surface, the rays of the morning and early afternoon light are spectacular.
How to get there: The inland turn to get to Chac Mool is just about a kilometer after Puerto Aventuras, on the right. If you're taking public transportation, you can easily get dropped off at Puerto Aventuras and take a taxi to Chac Mool.
Pros: The three-cenote system is an amazing place to dive and a great bang for your buck.
Cons: You aren't allowed to take photos underwater.
Cenote Tajma-ha
This cenote got its name when cave divers used a clever play on words. Its deep and wondrous caverns had divers referring to it as the "Taj Mahal" of cenotes. As "ha" means "water" in the Mayan language, Tajma-ha sounds like a Mayan interpretation of "Taj Mahal."
Tajma-ha is certainly well suited for divers, especially those who have a lot of experience. It boasts a maze of tunnels, limestone formations, and huge chambers. For more information on diving in Tajma-ha, check out Koox Diving.
You'll find this cenote just 5 kilometers south of Puerto Aventuras; it is easy to access by car or public transportation.
Cost: 250 pesos ($12.50 USD) to enter; additional costs to dive, depending on which diving company you choose.
Hours: 8am to 5pm daily
When to go: This cenote is only popular among divers, so if you go just for a swim, don't expect to see too many people there. Anytime of day is fine to visit, so take advantage of the morning sun for a refreshing dip.
How to get there: 3 kilometers south of Puerto Aventuras, take a right on the inland-bound Avenida Tajma-ha. You'll find a sign for the cenote about 2 kilometers in. If you're taking public transportation, ask the driver to drop you off at Xpu-ha; from there you can either walk or take a taxi to the cenote.
Pros: It's one of the best dives in the area. If you're going for a swim, there won't be as many people there.
Cons: It is best suited for experienced divers, so if you're a beginner, this one might not be the best choice.
Cenote Chikin-ha
Chikin-ha is the biggest of three cenotes on the same property. It is open, with underwater caves, making it a stellar location for diving. Throughout the flooded caves, there are several small openings that let light in, changing the color of the water as you swim through.
Even if you don't go for the diving, Chikin-ha is next to two smaller cenotes, X'tabay and Ta'ak Bil-ha. X'tabay is an open cenote that is great for swimming, and Ta'ak Bil-ha is a ceremonial one that doesn't allow visitors to get into the water. All three of these are in a gorgeous jungle setting and definitely worth a visit.
Cost: 400 pesos ($20 USD) for all three on-site cenotes
Hours: 8:00am to 6pm
When to go: Get there in the morning to beat the crowds and take advantage of the relaxing atmosphere.
How to get there: Just a couple kilometers after Puerto Aventuras, turn right at the marker for kilometer 265 and follow the road until you get to the entrance. If you're taking public transportation, let the driver know you're going to Chikin-ha and you can get out at the turn and walk.
Pros: The diving is incredible and definitely worthy of your bucket list. The close proximity to other cenotes is also a plus.
Cons: This cenote is quite built up, as it's part of an eco-park, which isn't everyone's favorite thing. It's not a seemingly untouched paradise like other more remote cenotes.
Ruta de Cenotes
The Ruta de Cenotes is a stretch of highway between Puerto Morelos (about 30 minutes south of Cancún) and the community of Leona Vicario. The 40-kilometer stretch of highway goes inland from the coast and has over 60 cenotes along it. Many of these are privately owned and have higher entrance fees than the public ones. They're also much more built up and have more things to do, such as zip lines, ATV tours, and horseback riding.
Here are the best cenotes along the route:
Cenote Las Mojarras (aka Loma Bonita Park)
Named for the fish you'll find in freshwater cenotes and lakes, Las Mojarras is a large, open cenote with emerald water. It's one of the biggest on the Ruta de Cenotes and has a six-meter-high platform to jump in from. There are camping facilities on-site, along with bathrooms and changing areas. You'll also find a fun zip line that goes through the surrounding jungle and over the cenote.
Cost: 250 pesos ($12.50 USD) to swim, 950 pesos ($47.50 USD) for an ATV tour.
Hours: 9am to 5pm
When to go: Avoid going on the weekends. The best time to go is in the morning on a weekday. I suggest visiting this one first, because it gets more crowded than the others on the Ruta de Cenotes.
How to get there: Las Mojarras is at kilometer 12.5 and is the first cenote on the route.
Pros: The water is gorgeous and clear, so it's perfect for swimming and snorkeling. The surrounding jungle makes a picturesque scene, and the ATV and zip line activities are unique to this cenote.
Cons: The price is high compared to others that are similar.
Cenote Siete Bocas
Siete Bocas is a semi-open cenote with seven different access points from above, which allow sunlight to pour into the semi-underground pool. There are ladders leading down to the water, but you can also take a leap through one of the mouths into the depths. There are some massive stalactites in the cenote that are especially neat to check out.
Cost: 400 pesos ($20 USD).
Hours: 8am to 5pm
When to go: This one doesn't tend to get too crowded, so you can visit anytime during the day on a weekday and find few visitors.
How to get there: This one is at kilometer 15.5 of the Ruta de Cenotes. From there, follow the sign for Siete Bocas, which will take you 2 kilometers further inland on a dirt road, where the cenote is.
Pros: You may get the place to yourself, because it doesn't tend to get very crowded, which is always a plus!
Cons: The price is quite steep in comparison with other cenotes in the area, which can be a bit of a deterrent.
Cenote Verde Lucero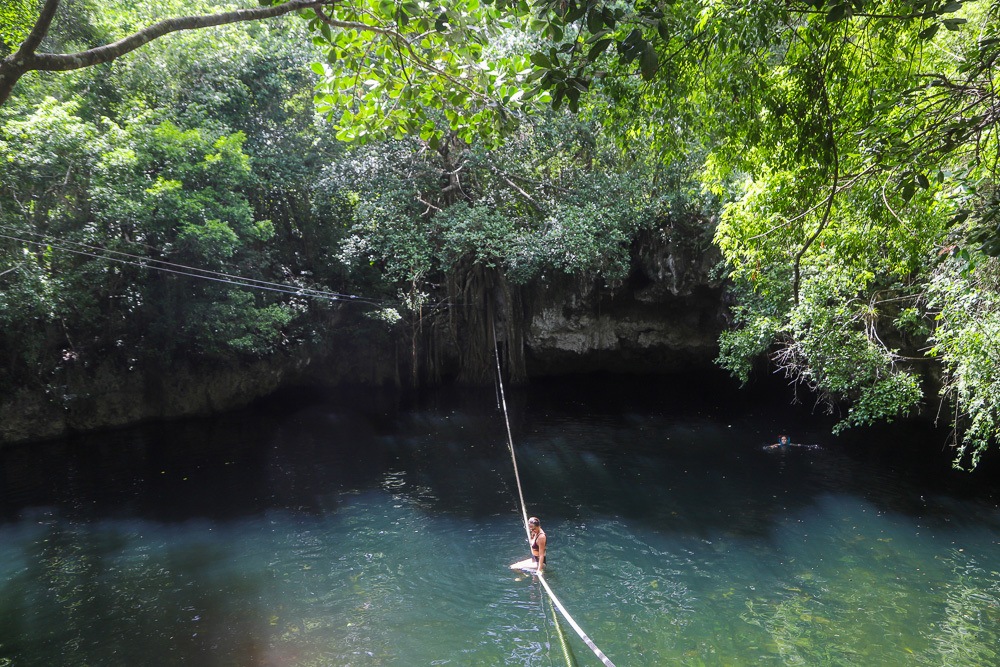 This cenote gets its name from its unusual green appearance. It's open, with kayaks, a swing, and plenty of room to swim and snorkel. This one is at kilometer 17 on the Ruta de Cenotes and stays relatively uncrowded, so visit any time of the day for a nice, relaxing vibe. There's also a zip line and a cliff diving spot for my fellow daredevils.
Cost: 300 pesos ($15 USD) to enter
Hours: 9am to 5pm
When to go: Anytime during a weekday is fine, but weekends tend to be more crowded.
How to get there: This one is at kilometer 17 on the route, just past Siete Bocas.
Pros: The unique green color is a nice change from the other deep-blue cenotes.
Cons: The price is quite high for what it is, which is a calm swimming hole.
Cenote Zapote
Zapote, located inside an eco-park with the same name, is a mostly open cenote, with some caves to explore and platforms to jump in from. There is also a zip line that goes above the water.
It is also one of the best along the route for diving, as it is known for its underwater stalactites (Campanas del Inframundo, or "Bells of the Underworld"). For more information about diving, check out Koox Diving.
Cost: 700 pesos ($35 USD) to enter the eco-park, which includes entrance to the cenote.
Hours: 8am to 5pm
When to go: Due the cost to enter, there are rarely large crowds here. Feel free to visit any time of the day, any day of the week.
How to get there: The turn off the Ruta de Cenotes for Zapote is at kilometer 19. From there, the Zapote Ecopark is 6 kilometers in.
Pros: The diving is incredible and a unique experience.
Cons: This is one of the most expensive cenotes I've seen. If you aren't diving, I'd say skip it unless you don't mind the price.
Cenote Kin-ha
This semi-open cenote is cavelike, with two large openings at the top to let light in. You have to climb down some stairs to get inside, and there are several wooden platforms to jump in the water from. If you're feeling adventurous, you can jump into the cenote from one of the openings above.
Kin-ha has another open cenote called Blanca Flor about a kilometer away, which is great to stop at too.
Cost: 400 pesos ($20 USD) to swim, 1000 pesos ($50 USD) for an ATV tour.
Hours: 9am to 5pm
When to go: This cenote gets pretty busy in the late morning and early afternoon, so it's best to visit in the morning right when it opens.
How to get there: At the same kilometer marker as Zapote (kilometer 19), there is a separate turn for Kin-ha, so follow the signs.
Pros: The cavelike vibe of Kin-ha is really remarkable, and it's full of fun activities. You could spend hours at both Kin-ha and Blanca Flor.
Cons: It has more of a hectic atmosphere, because it tends to get crowded in the late morning and early afternoon.
Cenote La Noria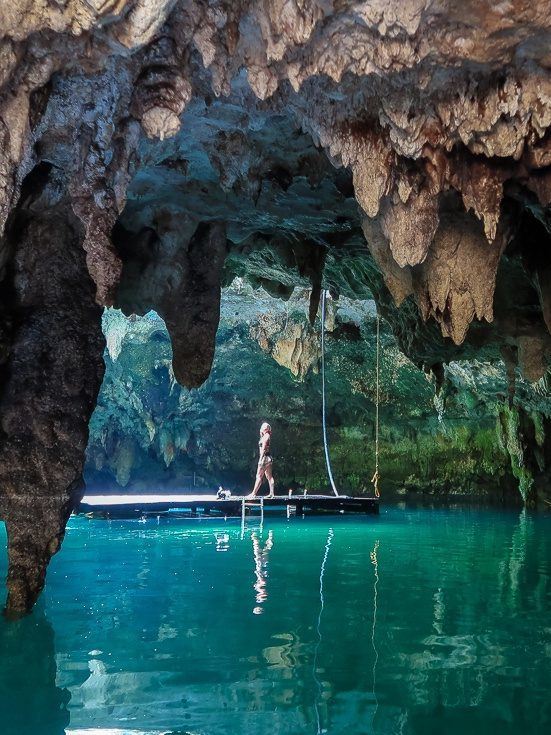 La Noria is a much more secluded and low-key semi-open cenote. It has beautiful turquoise waters that you can reach by climbing down the wooden stairs into the open cavern. The stalactites hanging from the ceiling make the place feel like you've stepped into the underworld, and they're close enough to the water that you can get up close to look at them.
La Noria is along the same road as Kin-ha and Zapote, but just a bit closer to the highway. It's great for a quick stop before or after an adventure at either of the other two bigger parks.
Cost: 200 pesos ($10 USD), although some sources claim non-Mexican visitors must pay 300 pesos ($15 USD)
Hours: 9am to 5pm, closed on Mondays
When to go: Anytime during the day is fine, as it doesn't tend to get very crowded. Consider visiting after going to Kin-ha or Zapote.
How to get there: At kilometer 19 of the Ruta de Cenotes, follow the signs for La Noria, which is before the entrances to Kin-ha and Zapote.
Pros: It's quieter, more laid back, and cheaper than most of the cenotes on the Ruta de Cenotes.
Cons: There isn't very much to do there besides swim and relax.
Bonus: Cenote Ik Kil
Even though this cenote is one of the most touristy I have ever visited, I still think it's one of the most beautiful. The water is about 26 meters (85 feet) below ground level, and the large opening at the top has vines hanging down from it, creating a mystical atmosphere.
The stairs around the edge of the cenote lead to a cool jumping-off point. Life jackets are recommended but not required, and there is ample space to swim around. Even though it's the furthest cenote from Cancún on this list (a 2.5-hour drive), it's a must-see while visiting this part of Mexico, and since it's close to Chichén Itzá and Valladolid, it makes a great day trip.
Cost: The entrance fee has two package options: Ik Kil Package 1 for 150 pesos ($7.50 USD) includes admission, plus a life jacket and a locker. Package 2 is 350 pesos ($17.50 USD) and includes admission, a life jacket, a meal (with five options to choose from), and a beverage.
Hours: 9am to 5pm; the entrance closes at 4pm.
When to go: If you want to avoid the inevitable crowds as much as possible, get there right when it opens. Even 10 minutes early is great. Tour groups get there around 11am, so try to get your visit in before then.
How to get there: Ik Kil is near the highway that goes from Cancún to Mérida and is only 3 kilometers from Chichén Itzá. The easiest way to get there via public transportation is to take a Chichén Itzá–bound ADO bus from Cancún and taxi to Ik Kil from there.
Pros: The place is gorgeous, and the price is reasonable. It's a definite must-see while visiting Cancún, Valladolid, or Mérida.
Cons: The crowds are intense from 11am onward. It's also quite built-up and developed so it doesn't have that same off-the-beaten-path feel that many other cenotes do.
Guidelines and Best Practices
Sunblock: Most sunblocks contain chemicals that are very harmful to the ecosystem of cenotes, lagoons, and the ocean. In fact, many of the chemicals in traditional sunblocks are partially responsible for coral bleaching. Yikes! Either omit sunblock, or opt for one that says "reef safe" or "eco-park friendly" on the label. These are mineral sunblocks and don't cause damage the way chemical ones do.
Rinsing off: At some cenotes, like Ik Kil, for example, you'll see an open shower area. Sometimes there are signs instructing visitors to rinse off before stepping into the cenote, but last time I visited the area, many of them didn't have a sign. Make sure to keep an eye out for these shower areas, so you can rinse off any residue on your skin from lotions, soaps, etc.
Leave no trace: Would you want to roll up to your chosen cenote and find a ton of trash there, floating around in the water? Of course not! Be mindful of everything you bring with you, and make sure not to leave any trash behind.
Respect the local culture: Cenotes were and continue to be, in some cases, places of worship for the Mayan people. As you can see above, with Ta'ak Bil-ha, these sacred sinkholes have a rich history and immense cultural significance. Keep this in mind when you visit, and be kind to the staff working there.
Bring cash: Some of the more popular cenotes have card readers, but the smaller ones will only take cash. Make sure to bring enough pesos for your entrance fee, transportation, and snacks.
Map
Compare car rental prices in Cancún here.
Pin me for later: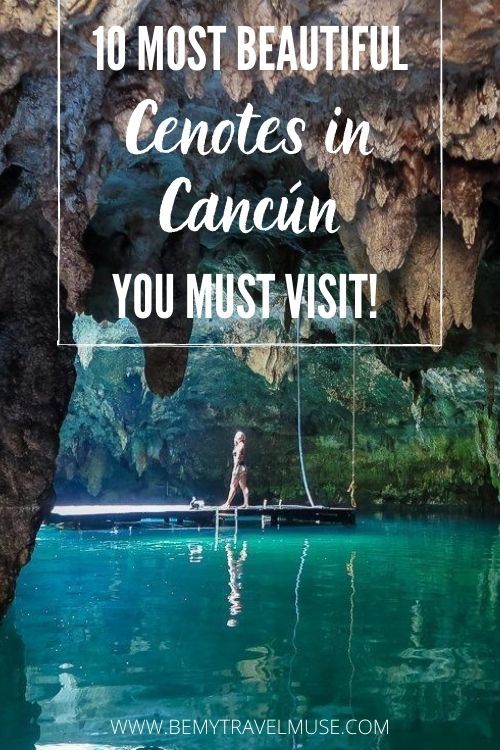 Visiting cenotes near Cancún is a wonderful way to get close to nature and learn about local culture at the same time. These are definitely worth visiting if you enjoy swimming, snorkeling, or diving. While there are plenty of other things to do in and around Cancún, I recommend making a stop at one (or all!) of these cenotes while you visit.
Want more cenote info? We also have a great roundup of Tulum's best cenotes and a complete guide to Gran Cenote!