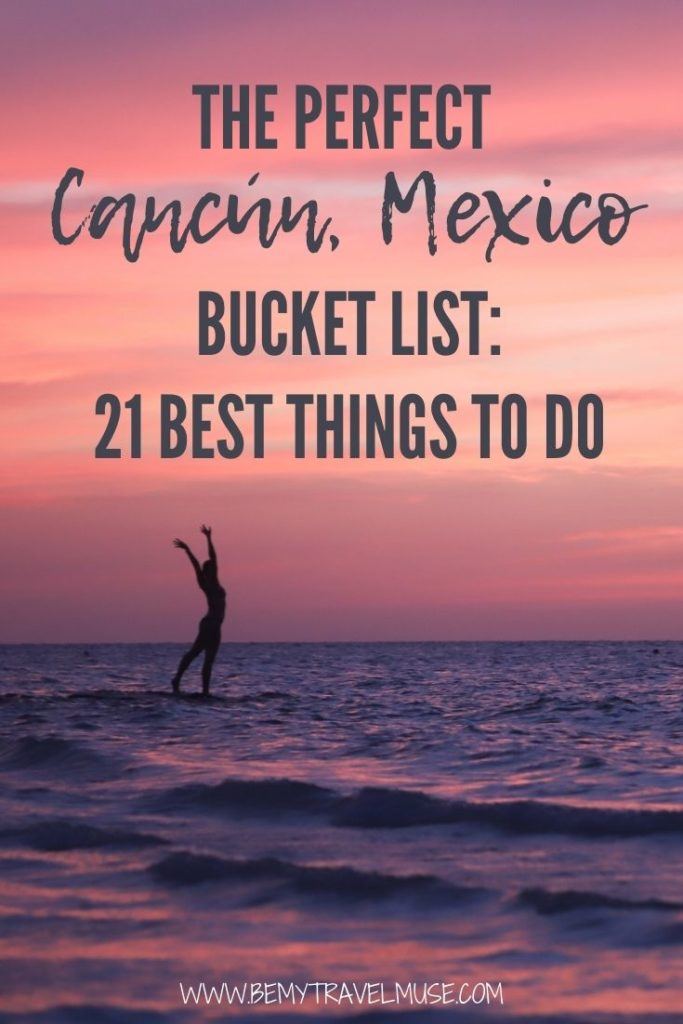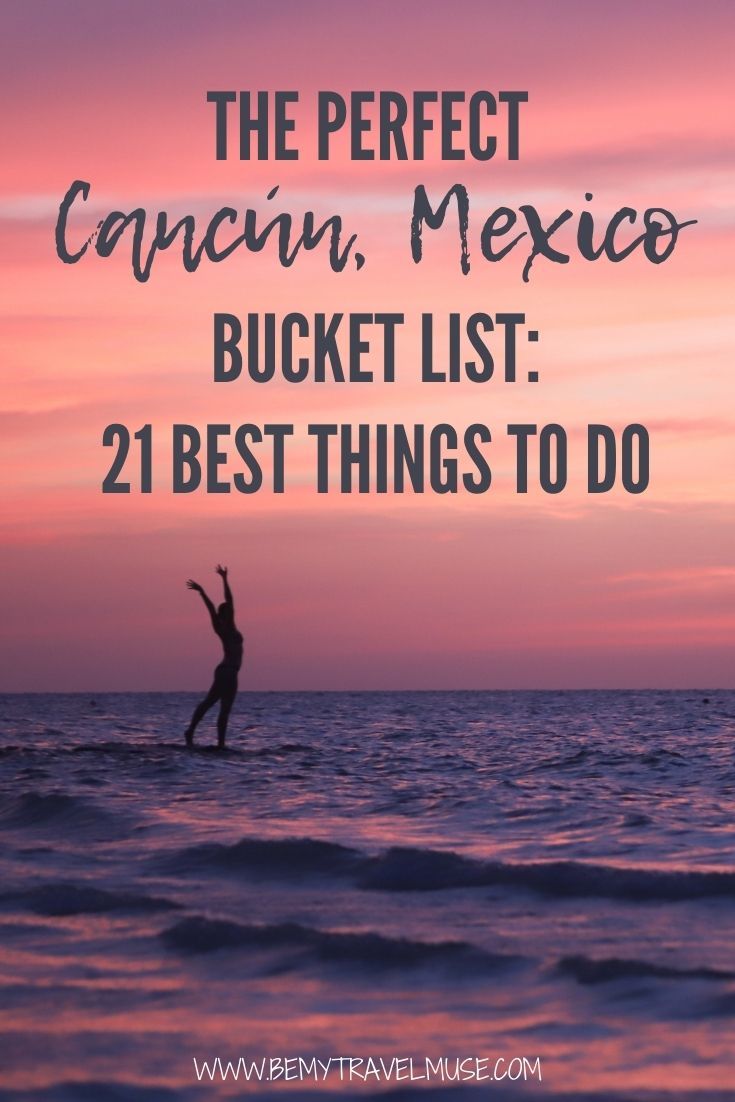 The Yucatán Peninsula in Mexico has quickly become one of my favorite places to visit that is close to home.
It's hard to think of a place that has this many things to do as the Riviera Maya does, mostly in the great outdoors. Where else can you swim with whale sharks, dip in cenotes, and spend the night in a jungle bubble all in one day? It's all possible in Cancún's surroundings.
Since the jumping off point for most people to explore this peninsula is Cancún, I'm here to share all of my favorite things to do in and around the city.
You probably don't need me to tell you that there are bars and nightclubs in Cancún, and that the hotel zone has all kinds of all-inclusives that you never have to leave, but this post is for people who want to get out and explore. Ready for an adventure? These are my favorite things to do in and around Cancún:
1. Beach it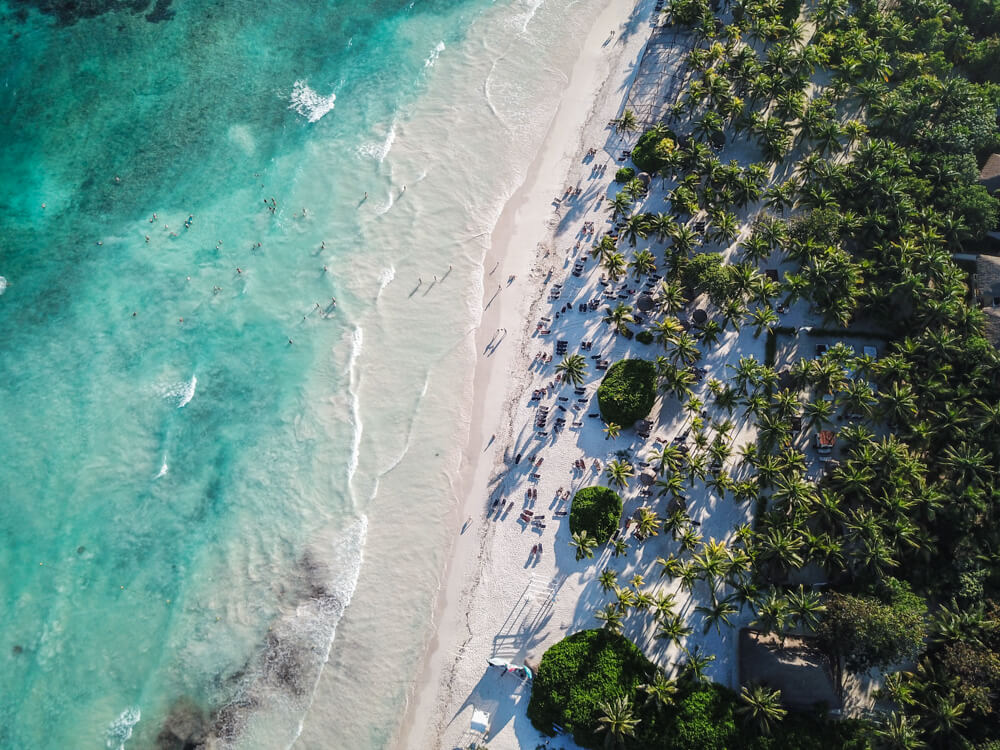 I suppose this one is obvious, but the beaches all around the Yucatán Peninsula are gorgeous. Think beautiful Caribbean water and perfectly white sand. The water is warm and there are so many beaches to choose from!
However, I'd be remiss if I didn't mention the Sargassum issue. It's a sulfuric-smelling seaweed that has plagued the Caribbean for 10 years now. The private and public sector work to remove the many tons from the beaches before most tourists wake up to swim, but sometimes they can't keep up.
This is an environmental issue thought to originate from pesticides and deforestation wastes washing out into the ocean. Yikes.
Will it ruin your enjoyment of the beach? Hopefully not! It does not have a season and it's hard to predict, but hopefully raising awareness can get us closer to dealing with the root problem.
2. Cancún Underwater Museum – MUSA
This underwater sculpture gallery provides a unique underwater experience off of Isla Mujeres' Manchones and Cancún's Punta Nizuc.
Manchones features nearly 500 sculptures at a depth of 8-10 meters, and Nizuc features 33 at a depth of 2-4 meters.
Their snorkel, diving, and glass bottom boat tours can take you to check out the sculptures, which seem to be the best — and maybe only — way to see them. Between you and me, when Alex and I visited we tried to swim to Punta Nizuc to see them, but it was farther, and stormier, than we had bargained for.
Though I haven't done it before, Alex spoke quite highly of diving in Manchones and it's now on my bucket list!
3. Swim with Whale Sharks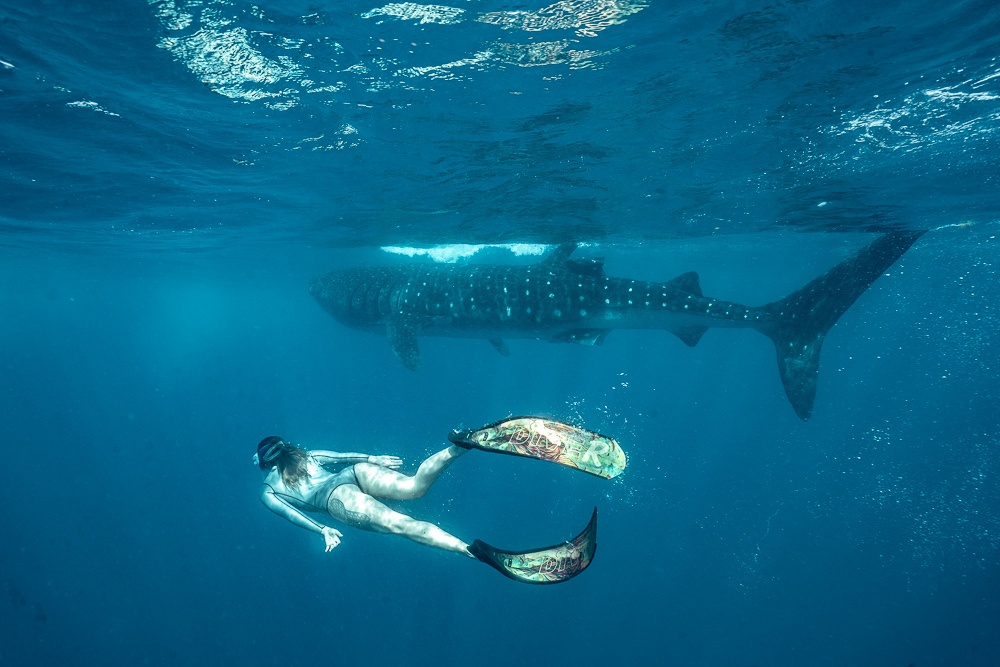 The majestic whale shark, the biggest fish in the sea, comes to Cancún to feed every year from mid-May through mid-September. The peak viewing months are June and July.
It is possible to see hundreds of whale sharks from the boat during peak times, though only 2 people, plus the guide, can be in the water with them at a time. We also got lucky and saw manta rays feeding right alongside them!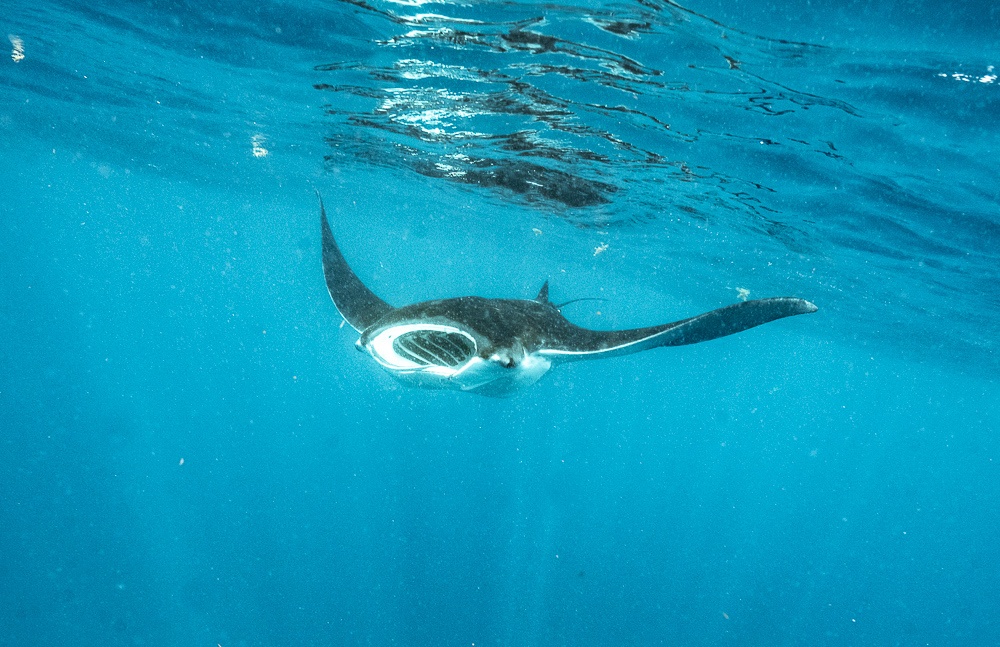 The nearest jumping-off point is actually Isla Mujeres, though most boats take off from Cancún. It can take a couple of hours on the boat in each direction to reach the whale sharks, and once you're in the water new regulations require that everyone wear a life jacket. To be honest that would ruin the experience for me, but if you have never seen a whale shark, simply being able to witness this amazing creature may make the life jacket a minor inconvenience.
It is a somewhat expensive tour (even more so if you take a private boat), but with so many whale sharks in the water, you're practically guaranteed a sighting. Plus, they don't feed them like they do in Oslob, Philippines, keeping it a more ethical encounter.
4. Swim with Sailfish
Most whale shark boat operators also take guests out to swim with sailfish – big, beautiful fish that look similar to striped marlin.
They come to feed during the annual sardine run, which runs from January to March. The rules are similar to the whale shark swims – only two people are allowed in the water at a time, and life jackets are required.
5. Dive in Cozumel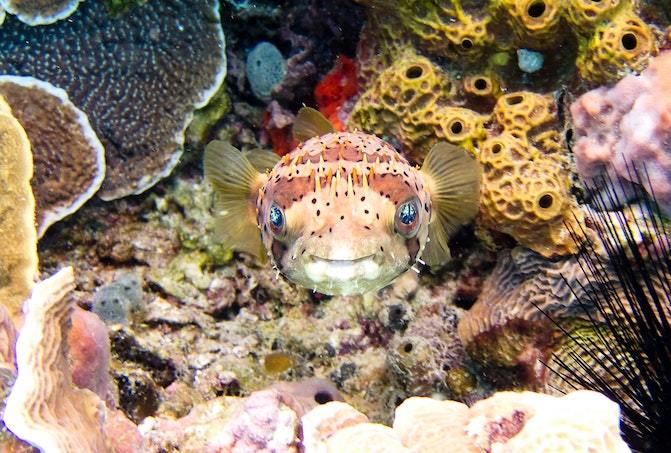 If you're a scuba diver, word on the street is that Cozumel is the best place to experience a reef wall dive in the area. It's also home to the second largest coral reef!
You can probably tell that I haven't done it, but have had it recommended enough times to me that it made the list (here's a tour that gets pretty good reviews). If you end up going, share your experience in the comments!
6. Go Cenote Hopping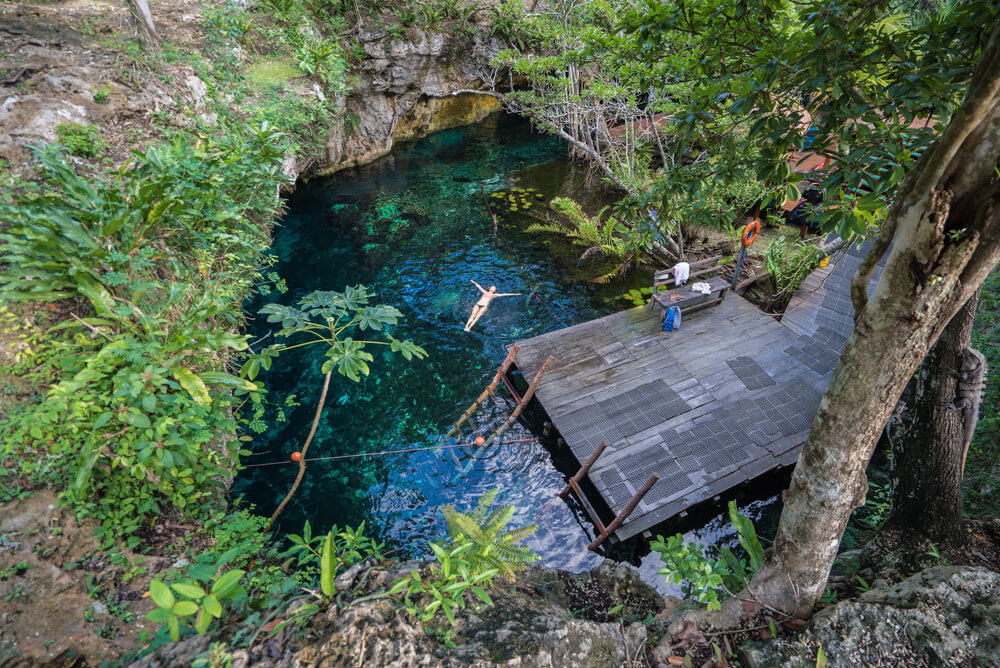 Cenotes — sinkholes in the jungle filled with crystal clear freshwater — are one of my favorite things about Cancún and its surroundings.
Some of the best ones are closer to Tulum, but don't despair because there are some beautiful, very clear ones closer to Cancún as well in the Puerto Morelos area. Here are some of my favorites:
La Noria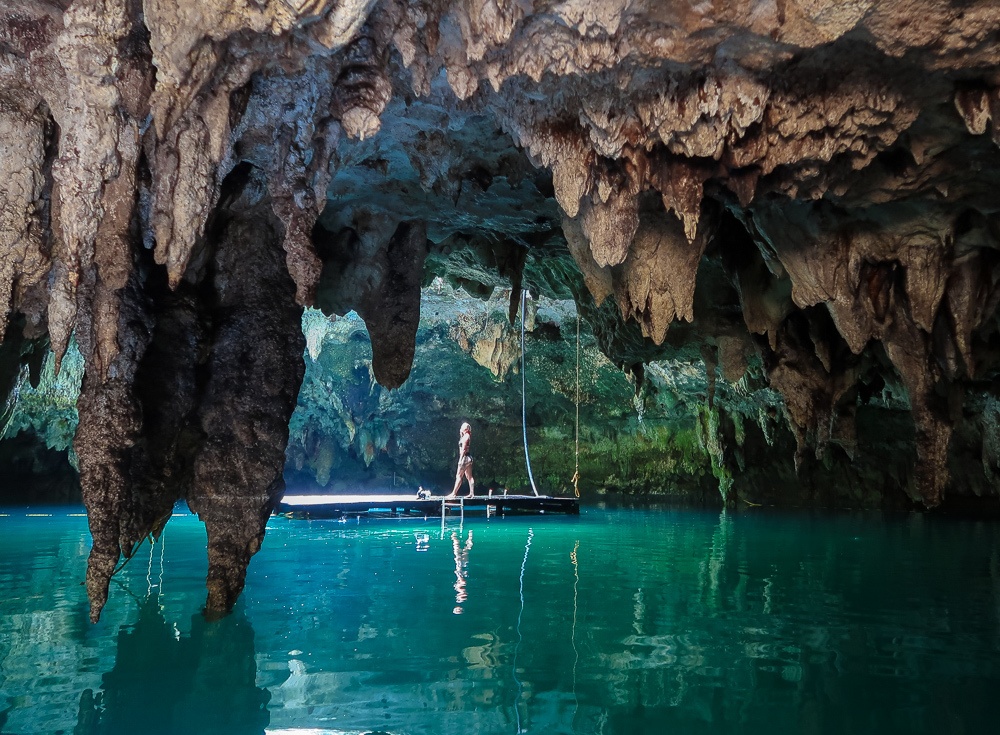 With a small hole in the ceiling to let the light in, La Noria's deep blue water and famous swing make this a photographer's favorite. Entry is 200 MXD.
Cenote Verde Lucero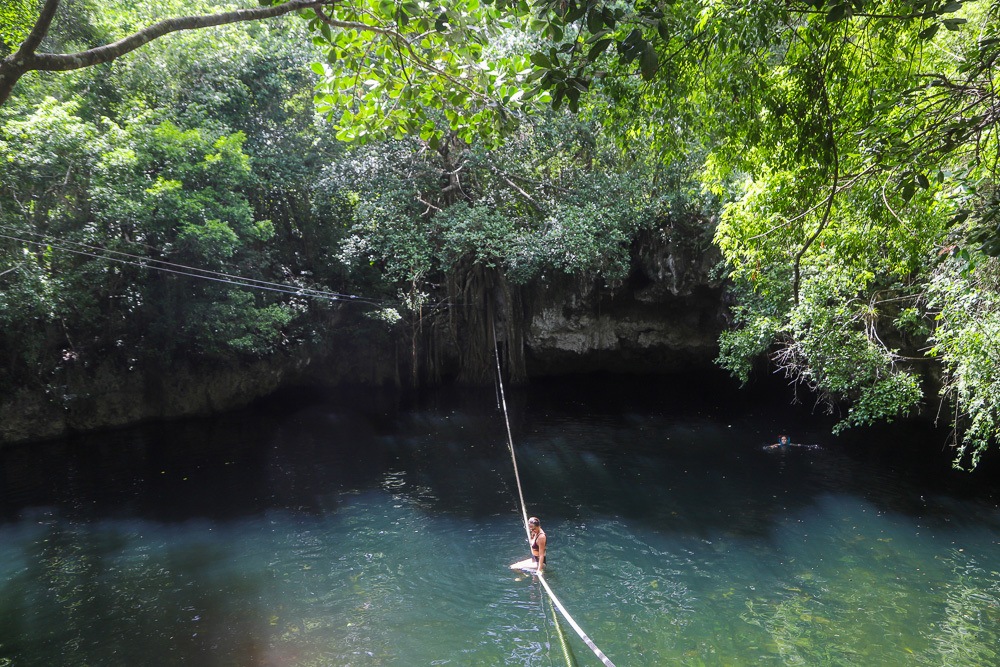 In contrast to La Noria's deep blue, Verde truly is green. This one features a swing, kayaks, and is open as opposed to in a cave like some cenotes. These two and Kin Ha are nice to visit, but at up to 300 pesos entry I wouldn't consider it worth it unless I didn't have time for the ones closer to Tulum. You can read more about those here.
7. Dive the Cenotes
I sincerely can't believe I still haven't done this! But as diving adventures go, diving a cenote has got to be one of the most unique.
Usually a technical diving license would be smart to have for a cave dive, but most operators in the area do not require them. That said, it's best to have experience before diving in this kind of situation.
I've heard great things about Cenote Carwash out of Tulum for diving. Be sure to go midday for those amazing light beams.
8. Visit the Mayan Ruins: Chichén Itzá and Tulum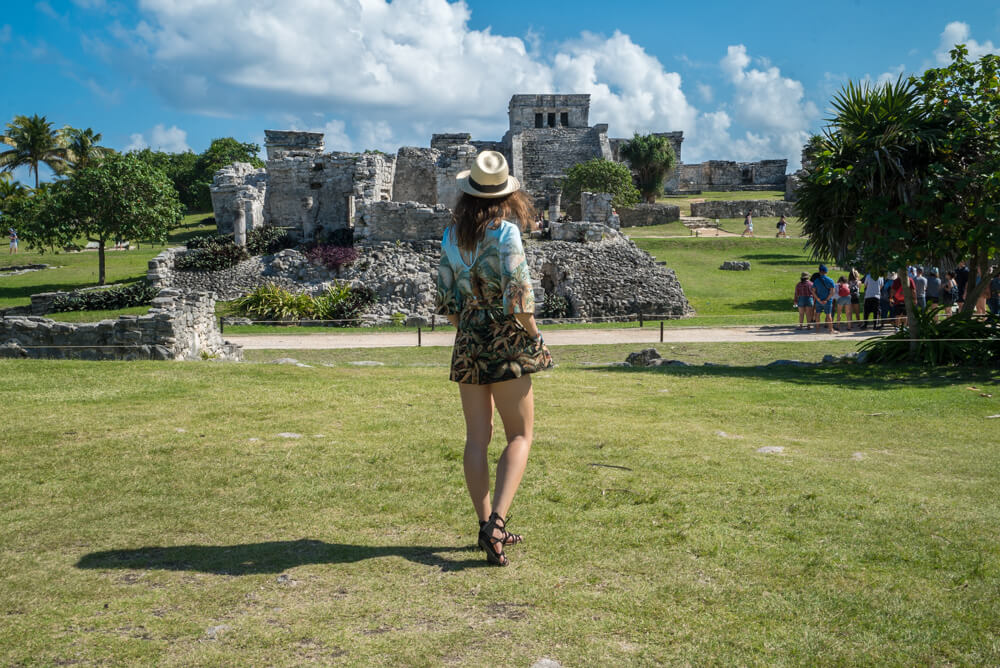 It's no surprise to me that the Mayans considered this area sacred and built some of their most impressive cities here.
The most famous is Chichén Itzá, but the ruins of Tulum are also worth exploring. I would plan on getting there very early, or later in the day to avoid the crowds and peak heat. As you can see from my photo above, I didn't do that and I had the regrets!
I visited these independently, but if you don't have a car, this tour gets great reviews and also visits the amazing cenotes in Valladolid, pictured here: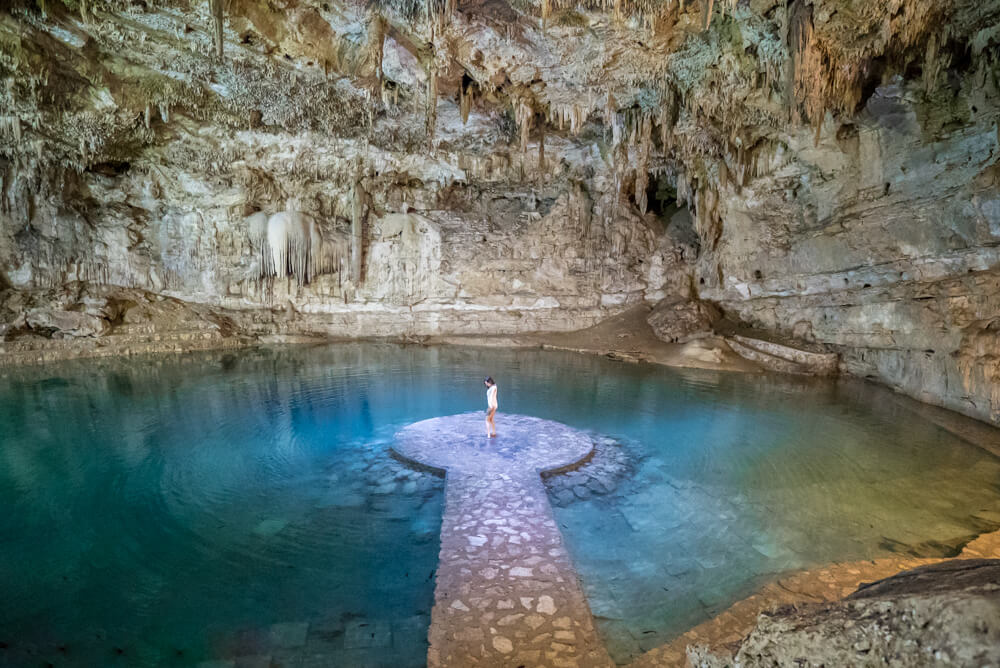 9. Museo Maya de Cancún
While we're on the topic, I've heard great things about this museum. Considering Cancún is such an outdoors destination, this is a nice rainy day activity.
It wasn't open when I visited due to the 'Rona, but hopefully it will reopen again soon!
10. Release Sea Turtles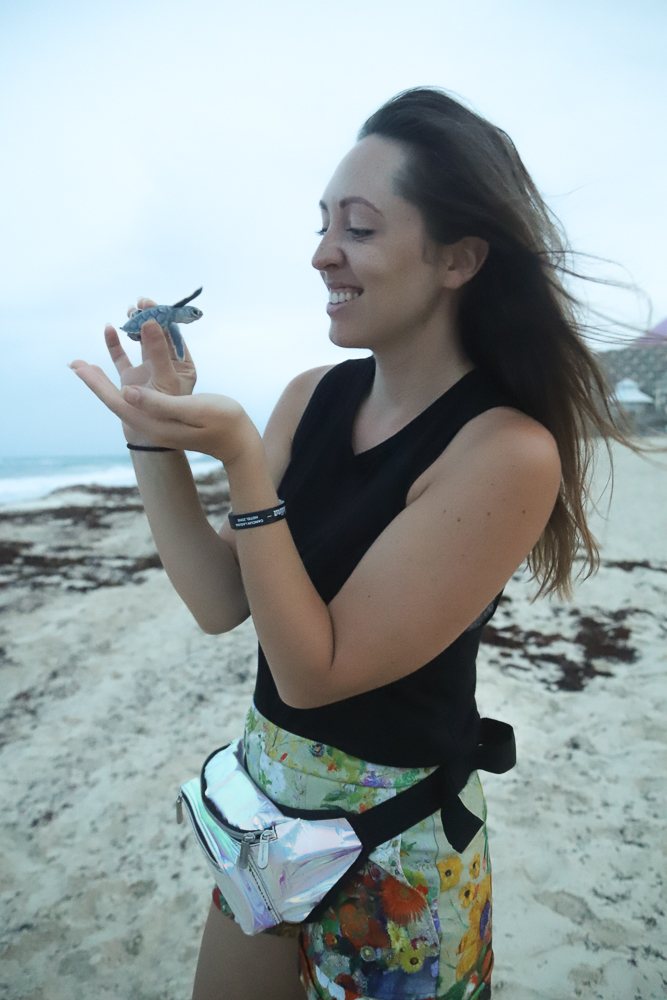 When it is whale shark season, it's also the sea turtle nesting season in Cancún! It runs from May to October, and several different types of turtles come and lay their eggs.
Cancún may not seem like an ideal nesting area, but sea turtles come to lay their eggs close to where they were born, so in order to keep the eggs protected until they hatch, most of the resorts in Cancún will collect them and keep them in a safer area of the beach for incubation. They typically let guests participate in their release in the evenings around 7 or 8 PM. Stick around for a bit longer and you may see mama turtles coming up to dig and lay their eggs.
Please give them plenty of space! And if releasing the baby turtles, be sure to hold them on their sides rather than on their bellies, where they hold their nutritional sacs meant to nourish them for their first three days out at sea.
Additionally, it may not be entirely necessary that you stay at the resort in order to participate in the turtle release. Alex and I visited the Marriott for dinner and then stayed for the turtle release, and nobody seemed to mind!
11. Eat All the Things!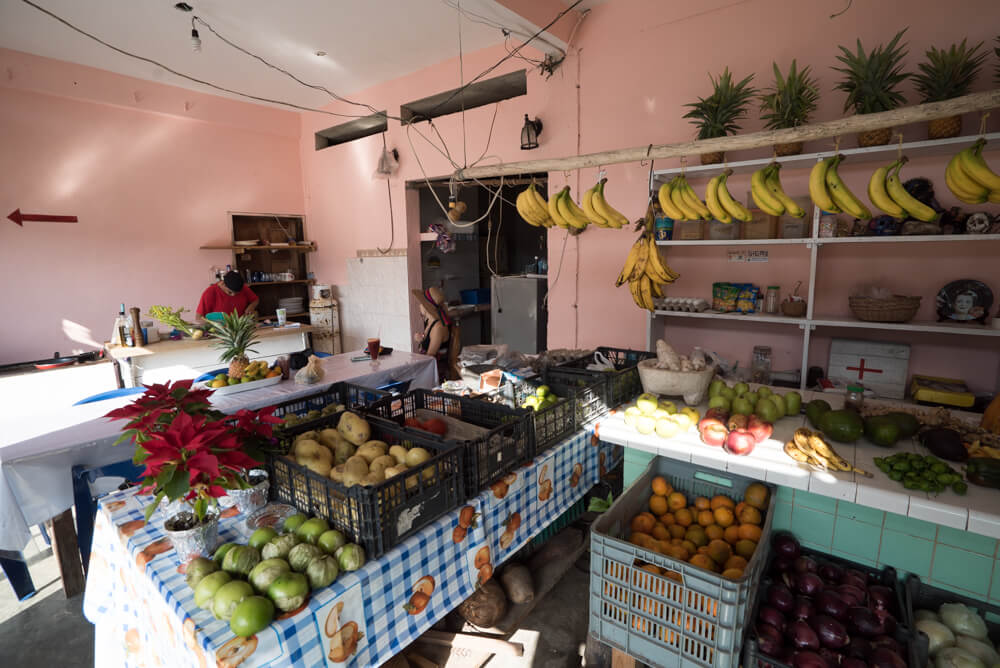 Mexican food is the best in the world and I will not hear otherwise!
Normally I'm at a loss for what to say or write about food. I am most definitely not a food blogger! But you can't visit Cancún without eating some delicious food!
Roadside tacos and fruiterias always feature at the top of my list, and you just have to be on the lookout for those. I like to pick the ones that are crowded with locals because that's always a good sign!
In the hotel zone, I can't speak highly enough of Umami, a Japanese cuisine-inspired restaurant. Kudos to Alex for the idea because I probably never would have thought to try something like this in Mexico, but the experience, the sunset, and everyone singing Sweet Caroline together as the fireworks went off was such a beautiful moment back in July 2020. It gave me a sense of normalcy again in this COVID world.
12. Stay in a Seashell in Isla Mujeres
How cool does this look?! This Airbnb was originally created as an artistic outlet for the owners, however they opened it up as a vacation rental and now you, and a few friends, can stay in your very own seashell house on Isla Mujeres.
Alex's picture from her birthday celebration there is pictured above, and now I'm jealous. (book it here, and get $35 off here!)
13. Stay in a Bubble in the Jungle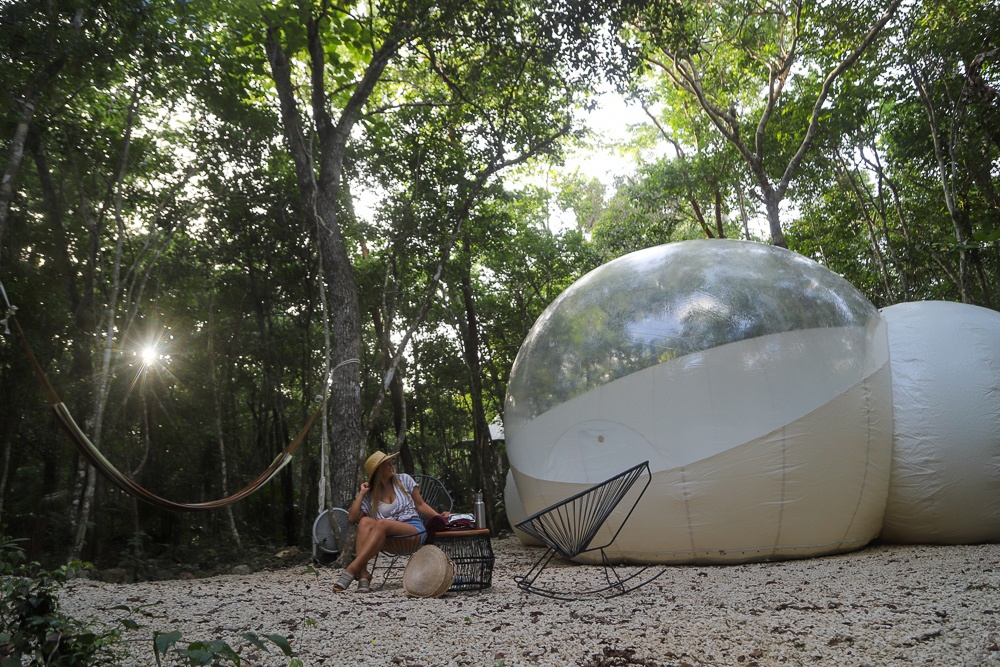 This little bubble on the Ruta de Cenotes was the perfect spot for an overnight. The grounds are gorgeous and obviously full of love, with amazing jungly animals and plants all around. They have their own little cenote to swim in as well.
The bubble itself is an experience. Not only do you get a chance to stargaze as you fall asleep, but you get to feel like you're sleeping out in the open in a jungle without the mosquitoes! (book it here, and get $35 off here!)
14. Try Temescal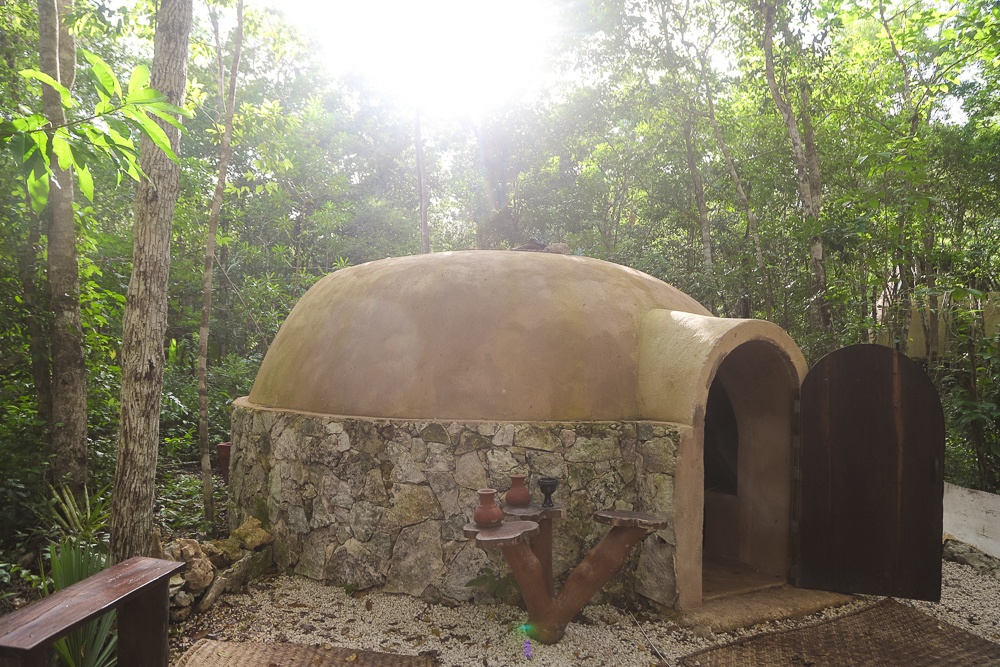 My first Temescal, or sweat lodge, experience was at a retreat on Mexico's West Coast in Sayulita. I was a bit scared to try it, but in the end felt it was quite a cleansing, spiritual experience.
They are not all created equal, as some are quite packed with people. Mine was not, and I think it felt a bit gentler as a result. I recommend contacting the owners of the bubble mentioned above as they have a Temescal (pictured above) on the property, and seeing if you can get your own group together to try it. Remember to always honor your body and if you need to leave, then leave and have a breather!
15. Hang in Holbox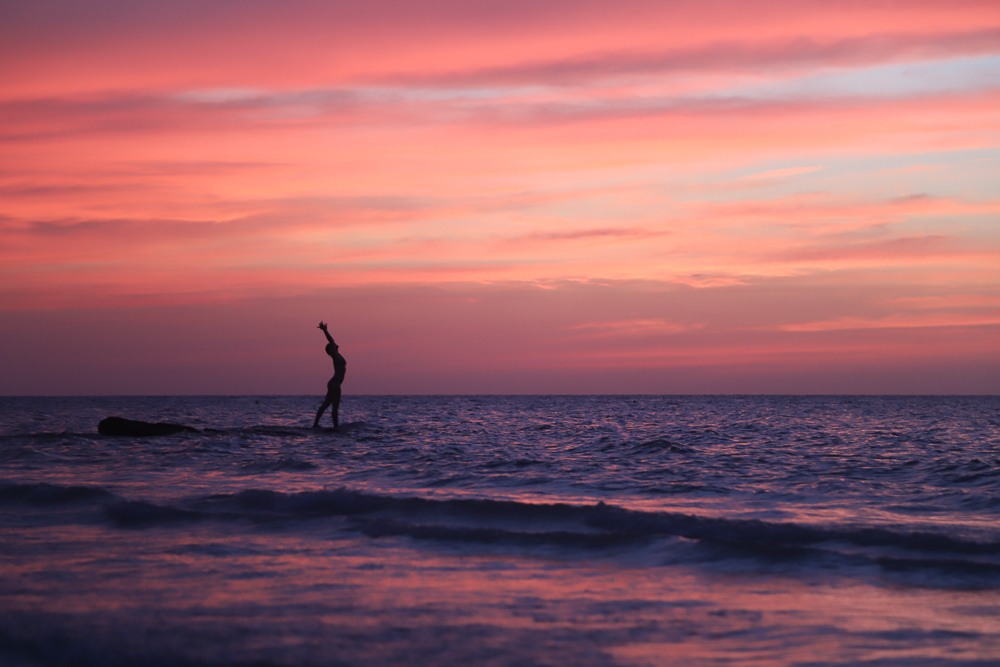 My favorite thing on this list, Isla Holbox, is magical. It's about a 2 hour drive from Cancún, plus a 15 minute ferry ride. You can catch some local transport, a taxi, a shared ride van, or you can drive your own car and park at one of the many lots charging anywhere between 50 and 100 pesos per day. Pro tip: the lot at the end of the road and to the left is a bit cheaper than the rest!
This island deserves its own blog post and is frankly, really difficult to leave. Alex and I were fantasizing about moving there pretty much from the moment we arrived.
It's just so laid-back, with green, bathwater temperature water, long white sand beaches, and disproportionately beautiful people. Somehow the sunsets were all amazing there, the people were so friendly, the style of many of the restaurants and places to hang out was so cool. I just loved drinking in every moment on that perfectly white sand.
It's hard to describe why it's so magical except for saying the vibe is on point. You have to feel it to understand it.
Stay: I recommend Tribu Hostel. Another place with the best vibe!
16. Swim in Bioluminescence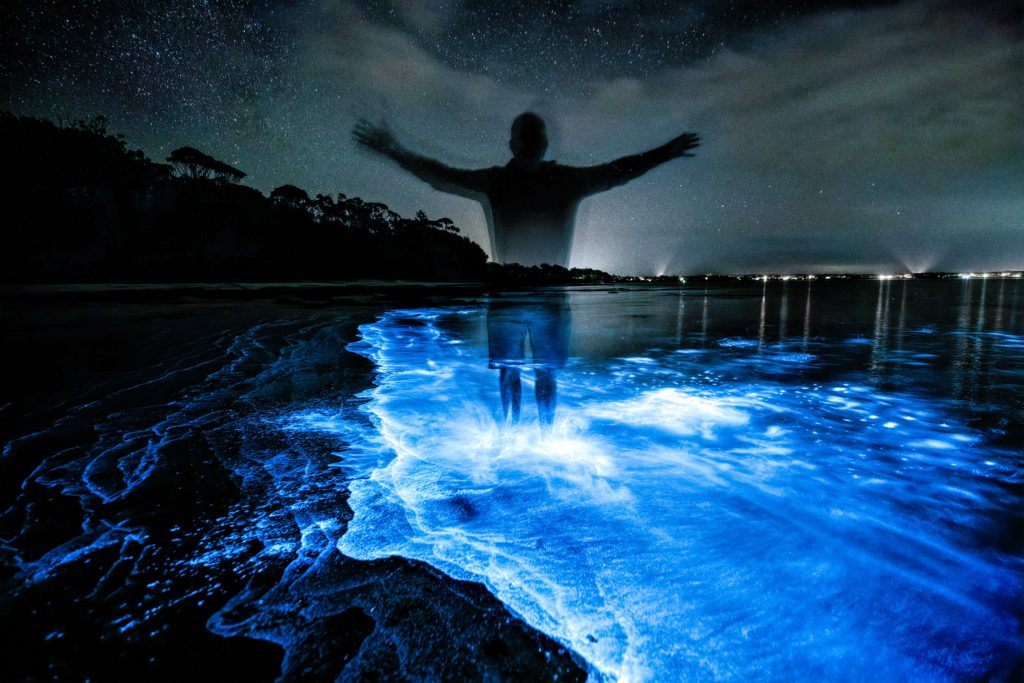 I'll never forget the last magical place that had bioluminescence – it was during my first month of traveling solo (the humble beginnings of this blog) in Cambodia. Ever since, I've wondered where my next dreamy encounter would be.
It took 7 years, but it was in the most perfect place I can think of – Holbox.
The bioluminescence, much like the whale sharks, come to play in the rainy season.
I loved going for nighttime swims in that perfectly warm water and casting Harry Potter spells with my hands with those magical blue dots following my every move. It's the closest this Muggle is going to get!
It's easy to see just by going out into the water, particularly on a new moon when the sky is darker. You'll have more luck spotting it away from the main hotel area's bright lights, but don't bring too many valuables out with you to leave on the beach while you swim. I'm not saying Holbox is dangerous, but I am saying that opportunity makes the thief.
17. Las Coloradas
Las Coloradas is a series of salt pools that, like many in the world, is dyed pink from the organisms in the water.
If you've seen drone photos or people swimming in the water, unfortunately that is no longer allowed. There is no more swimming, droning, or photographing with anything more than a phone. It's also a pretty long drive from Cancún at around 2-3 hours each way. That said, a photo with that amazing pink lake is unique and a different experience to most of what you'll see in and around Cancún.
The best way is to self drive, but if you don't have a car, this tour gets great reviews and will also take you to see the flamingoes.
18. Visit the Flamingoes in Rio Lagartos
Flamingoes sure do love salty, brine shrimpy water, and they love Rio Lagartos in particular from March to June. You'll have to take a tour to be able to see them. Bring a zoom lens as the boats, thankfully, don't get too close to the birds.
You can also catch them on Holbox, though Alex and I tried and didn't see any!
19. Check out Tulum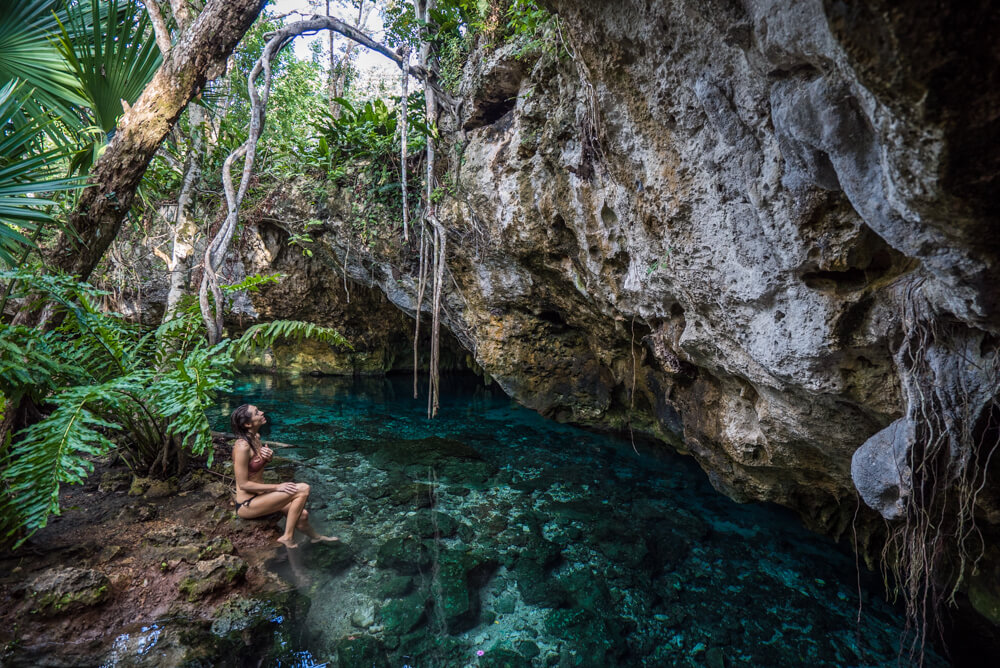 I know Tulum gets more touristy and hipstery by the year — although who knows these days — but I still love it!
The vibe in Tulum is much different than in Cancún. It's a bit more laid-back, with more yoga studios, açaí bowls, and green juice – you know what I mean?
Many of the best cenotes are in the area, plus the Tulum Mayan ruins and the next two things on this list.
Read about my favorite things to do in Tulum here.
20. Laguna Kaan Luum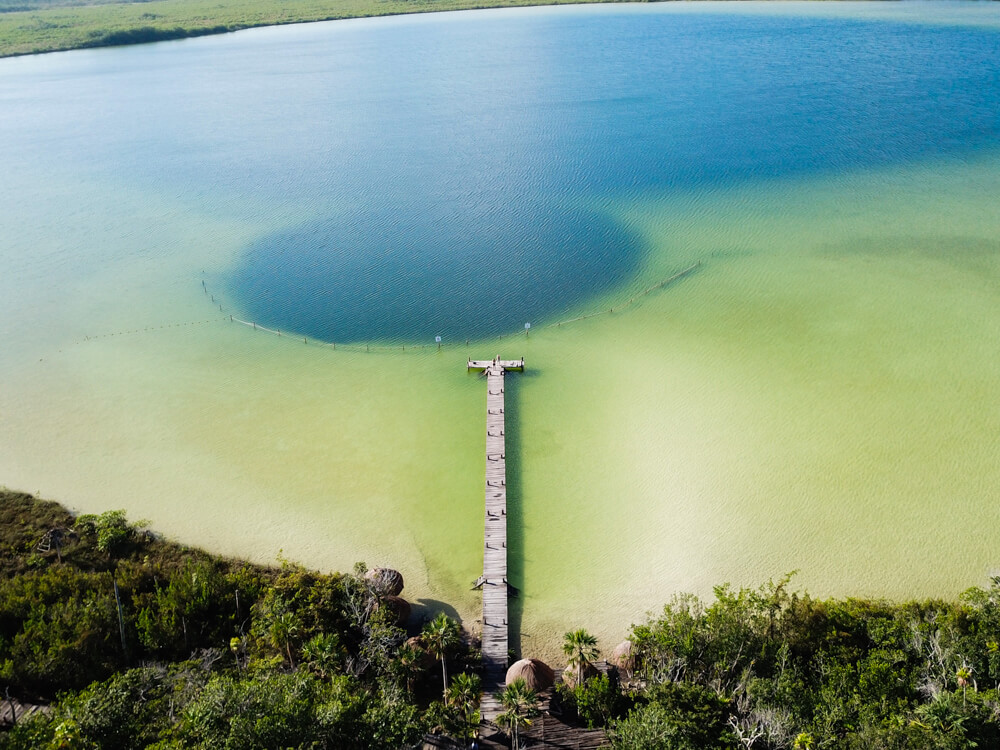 This lagoon is surrounded by jungle and quite honestly, more impressive from above – but you'll have to pay to fly your drone there!
I also noticed there are diving excursions that you can book as well as just hanging out and swimming.
21. Sian Ka'an Biosphere Reserve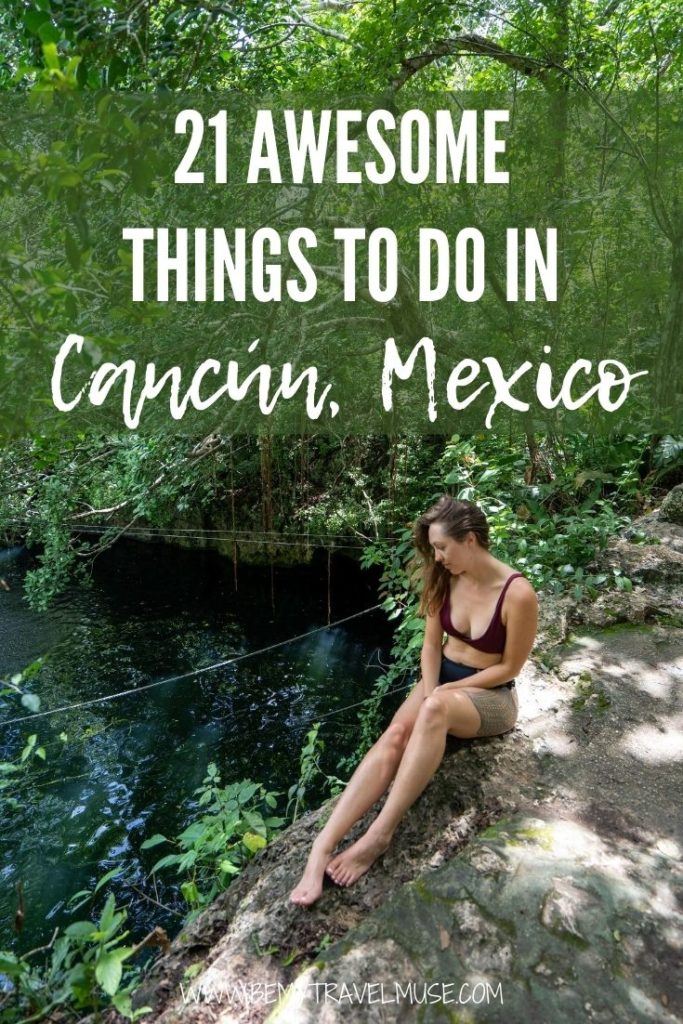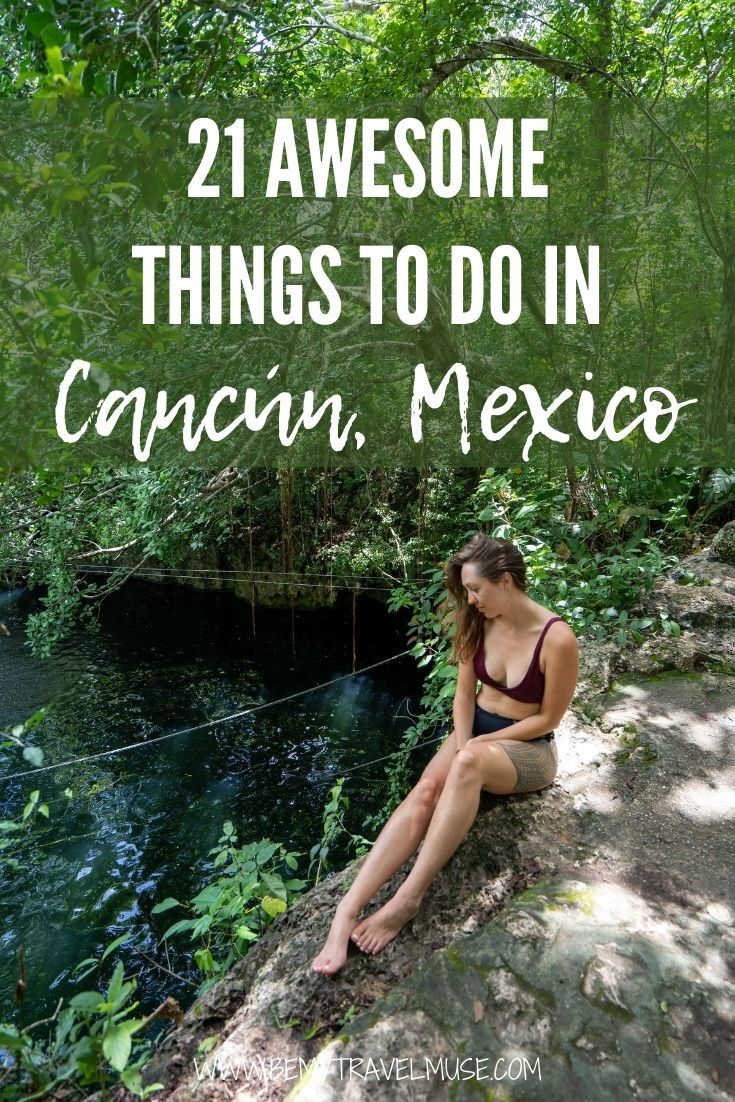 The first time I went to Tulum, a local guest house owner told me about this biosphere reserve with stars in his eyes. I truly wish we had had time to visit, because it sounds amazing.
It's a UNESCO World Heritage Site, and its name translates to 'gates of heaven'. Expect to see loads of birds, insects, fish, beautiful corals, and potentially even jaguars! Learn more about available tours here.
I can't wait to keep exploring this area and getting to know it better. Now that I've been in multiple seasons, it's hard to pick which is better since there are so many different animals to see and ocean encounters to have no-matter the time of year.
Cancún is the perfect jumping-off point for so many adventures, and I hope this post encouraged you to see more of it than just the hotel zone!
READ NEXT:
*Some links in this post are affiliate links that support this site at no extra cost to you.