Mexico often gets a reputation for being dangerous, especially for foreigners. After all, TV shows (I'm looking at you, Narcos) and movies tend to depict violence, drug cartels, and scams. This portrayal of the country as a whole is disappointing to me as an American who lives in Mexico, because it is so far from my experience. Is Mexico City safe enough for solo female travelers, though?
Mexico City is the most populated city in North America, at over 9.2 million residents. Keep in mind that New York City is not far behind, at 8.7 million. Like NYC, CDMX is a diverse mega metropolis. So yes, there is crime. However, visiting it is very possible to do safely.
Here are some essential tips for staying safe in Mexico City, particularly as a solo female traveler:
8. Get familiar With CDMX's neighborhoods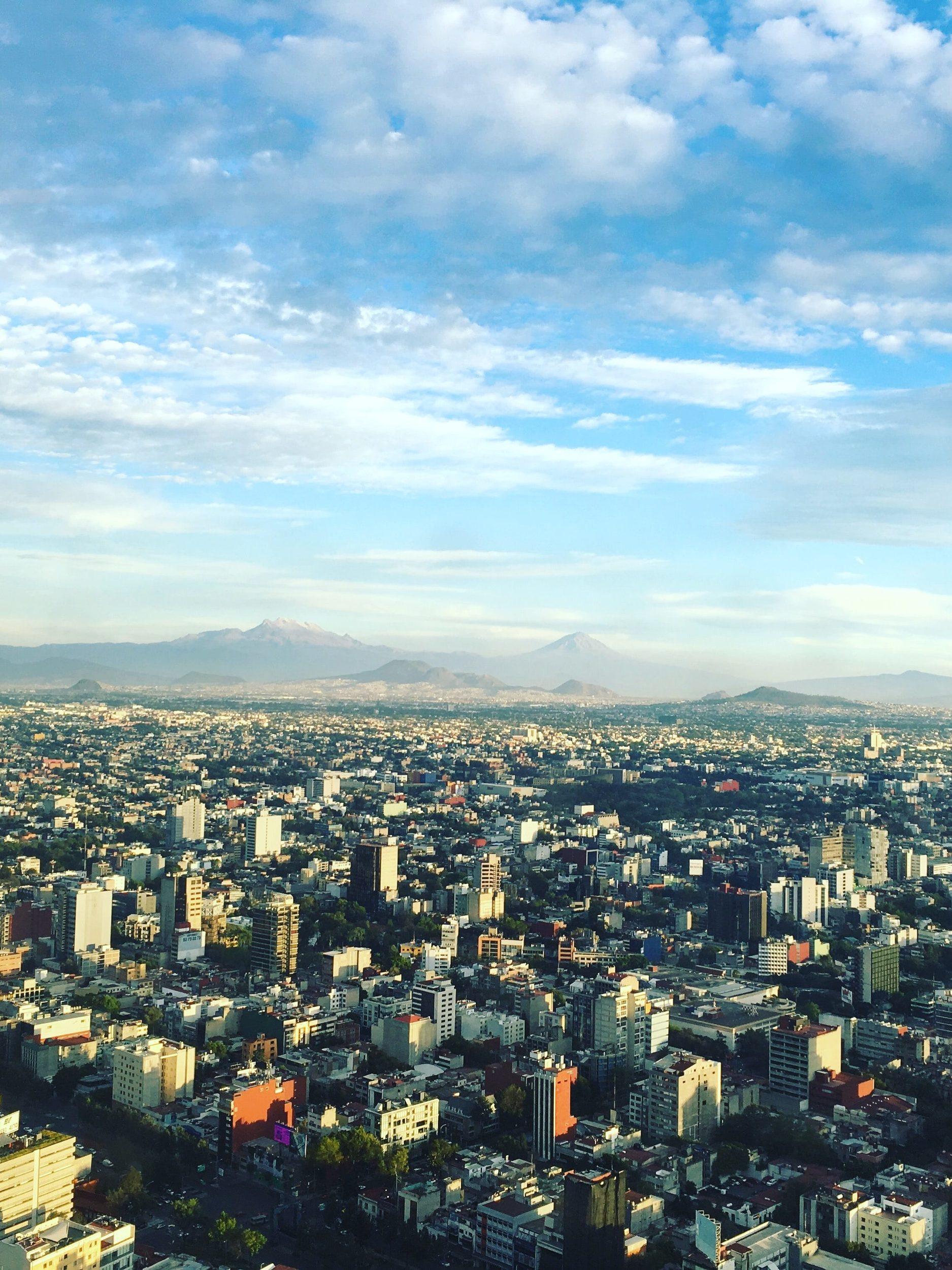 Being such a large city, it can be overwhelming to begin planning your trip here. Many of Mexico City's most hip and touristy areas are located next to one another, though, making it easy to get familiar with them.
Some neighborhoods to consider staying in are: Polanco, Roma, La Condesa, Reforma, Chapultepec, El Centro Histórico, El Zócalo, Juárez, and La Zona Rosa. These encompass a large area and are where many of the main attractions are.
Coyoacán and Xochimilco are two other areas on the south side where you'll find a lot of things to do and see. They're both a bit far from the other neighborhoods just mentioned, so you may want to split your trip by staying downtown for a while and in Coyoacán or Xochimilco for a while.
All of these neighborhoods are relatively safe for tourists, and I recommend sticking to them as much as possible. There are other areas of CDMX where you will likely stick out like a sore thumb and therefore become much more of a target for petty theft. One to avoid, for example, is Tepito, which is a large market that I so wish were safer to visit. However, many friends of mine have told me horror stories about Tepito and to avoid it at all costs.
A good rule to go by if you're unsure about a neighborhood is to ask about it before venturing there. Ask your Airbnb host, a local friend, or literally anyone from Mexico City if it's safe. This will give you a much more honest answer than any Google search, I promise.
In any of these popular tourist neighborhoods, it's important to avoid walking around at night, especially in El Zócalo and Centro Histórico. Similarly, the canals of Xochimilco are lovely during the day but tend to get a little seedy at night.
7. No Spanish? No problem.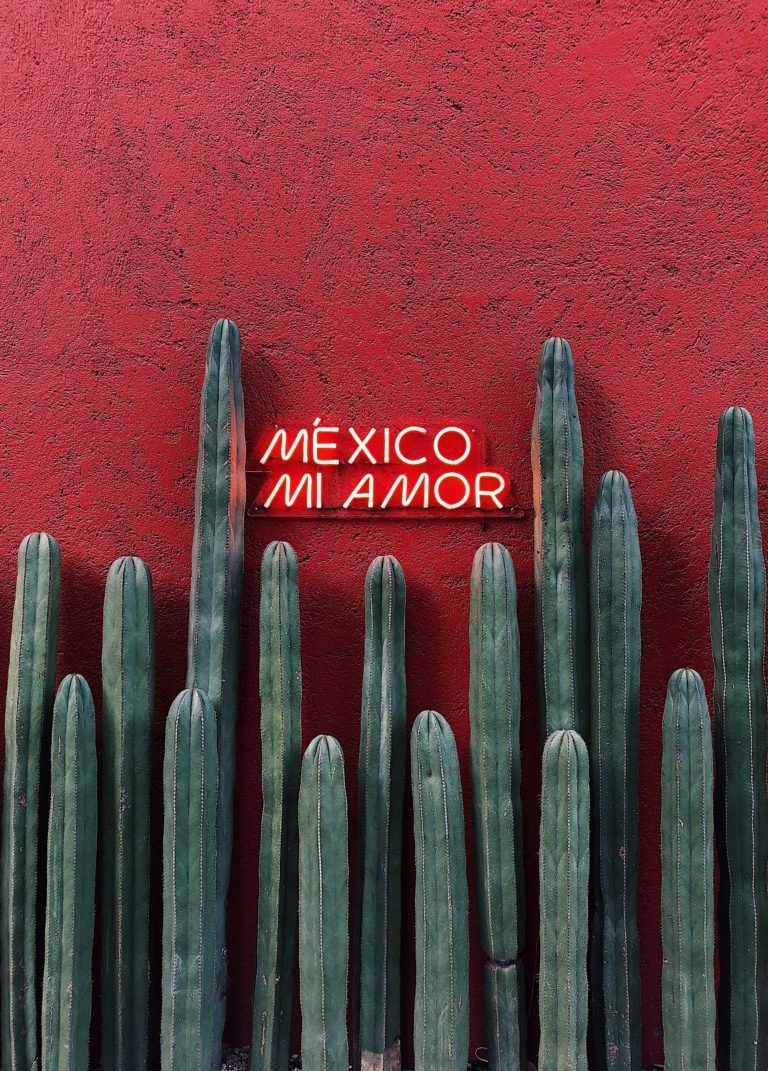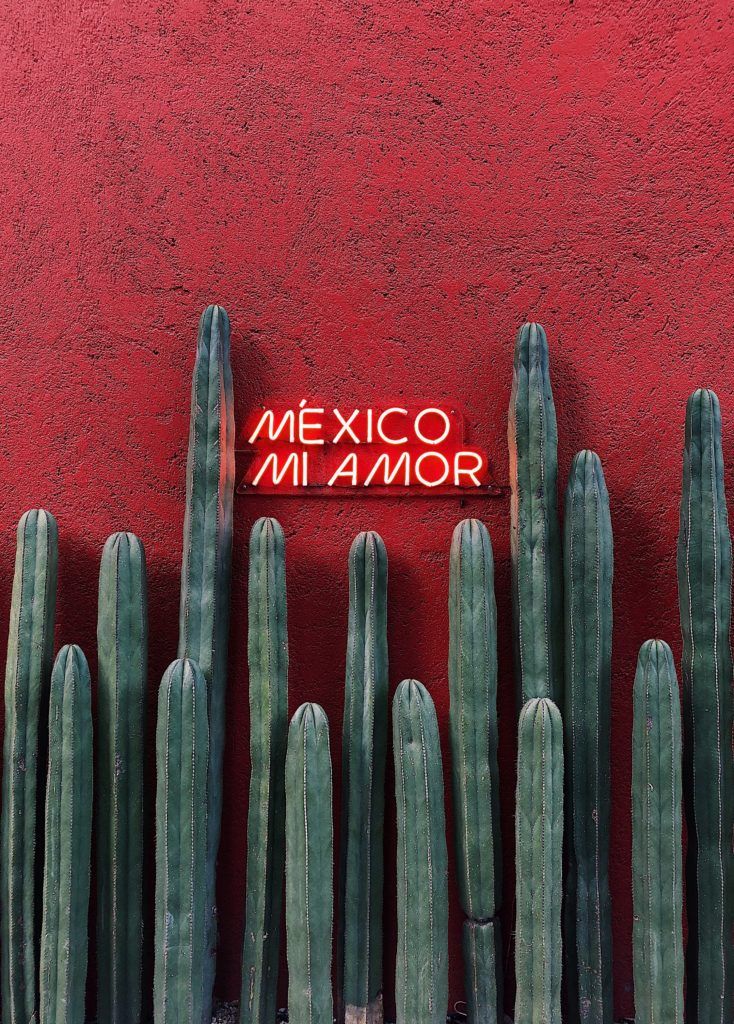 Well, not exactly. Anytime you travel to a place where English isn't widely spoken, there is a safety risk. After all, if you don't understand what people are saying to you or around you, you might not be able to recognize when danger is present.
That said, not being fluent in Spanish should not deter you from visiting CDMX, although knowing some certainly helps.
There are ways to stay safe in CDMX if you don't speak the language. One of them is to stick to more touristy areas, like the neighborhoods mentioned above. There, you'll find that restaurant staff, hotel staff, and other service people know enough English to lend you a hand if needed.
Another way to get over the language barrier is to prepare your smartphone with apps that can help you translate. Google Translate has a couple of features that are game-changing: One of them is the camera button, which allows you to hold your camera up to any sign, menu, or paper; then the app translates the text to English. There's also a conversation button that lets the app listen to what a person is saying and then translate it. Twenty-first-century technology, baby!
If you want to try your hand at Spanish, there are a few ways you can prepare ahead of time. While many people tend to lean toward apps like Babbel and Duolingo, I have found them to be helpful only for absolute beginners. If that's you, go for it! They can assist you in building a basic vocabulary. If you want to learn more about how to pick up a language more quickly, though, check out Nathaniel Drew on YouTube. He has several videos about language learning that are helpful and informative.
Having a few key phrases like thank you, please, can I have…? and help me! go a long way in a foreign country. Showing locals that you are making an effort builds trust, and that can be helpful for keeping safe.
6. Navigate public transportation like a boss…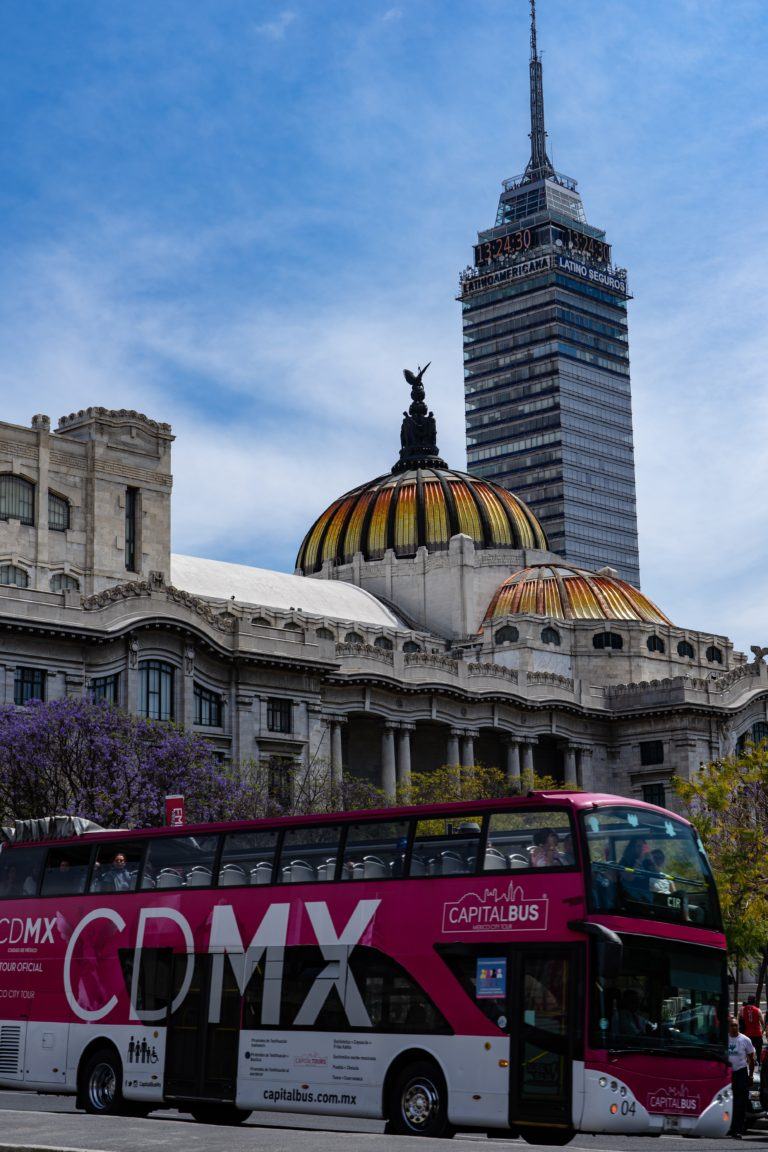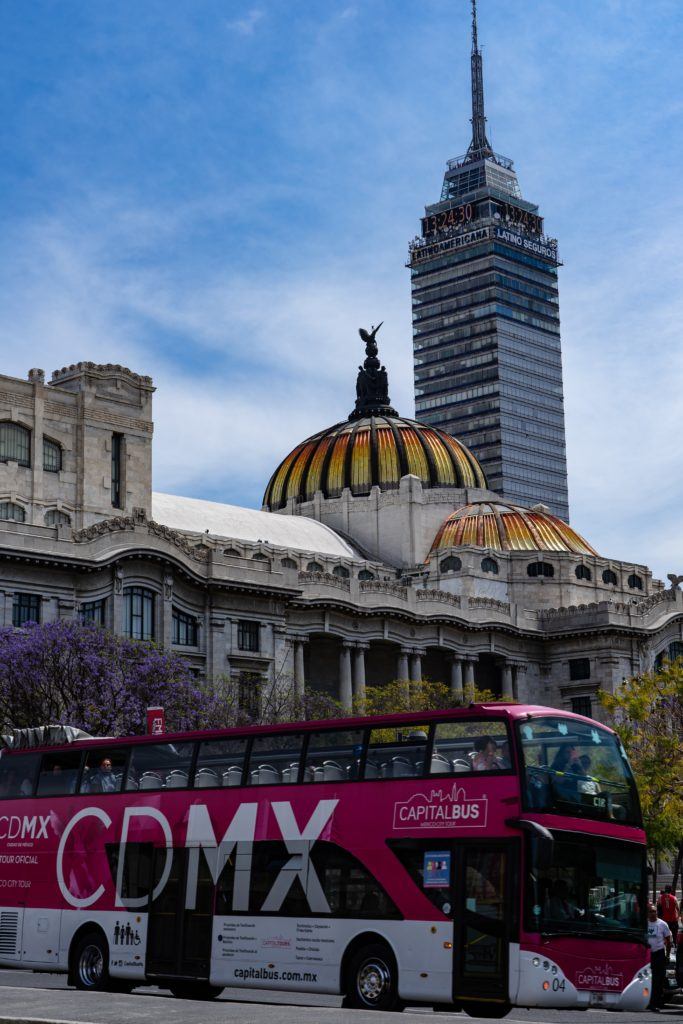 Before I visited Mexico City the first time years ago, I had heard about the metro system — and let's just say I was pretty afraid to use it. I saw videos on YouTube of extremely packed train cars and heard stories about women's horrific experiences.
I don't want to be a part of perpetuating fear, though, especially for solo female travelers, as I do think it is possible to navigate CDMX's public transport safely.
If you're a man, skip ahead to the next paragraph. This one's for you, ladies. Since the 1970s, Mexico City has had specific train cars and even entire buses that are exclusively for women and children. In most metro stations, you'll see a Zona Rosa (pink zone) on one end, where you can board women's-only train cars. While these are highly controversial because some women believe it normalizes gender-based violence, they are still a great way to stay safe while you navigate public transportation.
This might go without saying, but in general I recommend avoiding public transportation at night if you can. That isn't to say that Mexico City's public transit is totally seedy at night, but it will be more difficult to see where you're going, and it's safer to just use Uber to get around after dark anyway. Even people who have lived in CDMX for a long time choose to do this.
The Metro
Since Mexico City's streets tend to get incredibly congested, the metro is a viable option for getting from place to place quickly. It is mostly underground and consists of 12 lines. They run from the far north to the far south, and from the far east to the far west — so you can get almost anywhere using the metro alone. The lines are color-coded and have either a number or a letter associated with them.
The schedule for the metro is Monday through Friday from 5am to 12am, Saturdays from 6am to 12am, and Sundays and holidays from 7am to 12am. To ride the train, you have to purchase a metro card, which costs 15 pesos ($0.75 USD). From there, each ride costs 5 pesos ($0.25), and you can recharge your card at any station. That's incredibly affordable in comparison with other big cities in the US and Europe.
Always figure out your route ahead of time. I always use Google Maps, because the public transportation option tends to work flawlessly, even in Mexico City.
Metrobús
The bus system in CDMX has seven different lines, all numbered and colored in order to be easily identifiable. You can find a map online as well. Like the metro, the metrobús can take you nearly anywhere you want to go in the city. The buses operate from 4:30am to 12am Monday through Friday and 5am to 12am on the weekends and bank holidays. You can use your metro card on the metrobús — just make sure it's charged up beforehand.
A single ride on the metrobús costs 6 pesos ($0.30), except when going to the airport, which costs 30 pesos ($1.50). The metrobús is different than other Mexico City buses because it has fixed routes with already-established stops, unlike the combis (minibuses) which don't have an established route. This is a great option for getting around for first-time visitors, or anyone who feels a little iffy about public transport, because you can see where you're going, as opposed to the metro which is underground.
Tren Ligero
Also known as the Xochimilco light rail, this train is the best way to get to the famous floating gardens there. It's basically an offshoot of the metro, operating on a single line.
If you want to visit Xochimilco, take the metro to a Tren Ligero stop, and transfer to the light rail. The Tren Ligero operates on the same schedule as the metro but costs just 3 pesos ($0.15) per journey.
Other public transportation options include the Trolebús and standard buses. The Trolebús covers more ground and is cheaper than the metrobús, at just 4 pesos ($0.20) per ride, but like the metrobús, it operates on a fixed-stop, fixed-route system. The standard buses, however, are a different story. I don't recommend using them, as they can be unpredictable and follow different routes each time.
Stick to the metro, the metrobús, and the Tren Ligero if you can.
5. …But if not, try Uber!
Especially if you're trying to get around at night, Uber is often an excellent transportation option. Whether you're unsure about public transit or just looking for a more convenient way to navigate the city, Uber is surprisingly affordable and easy.
Keep in mind that the traffic in CDMX is pretty intense, though, especially during rush hour. If you can avoid traveling in the early morning or late afternoon, please do. If not, Uber can be a hassle if you absolutely have to go somewhere during that time. While your ride will cost the same, the time it will take to get from place to place will increase exponentially.
If your phone doesn't work in Mexico and you don't have a Mexican SIM card, taking an Uber might be tricky if you're relying on Wi-Fi. However, Mexican SIMs are relatively cheap and a great option if you think you might be Ubering often.
Foreigners who don't speak Spanish tend to prefer Ubers. The taxis in CDMX often don't use meters, and the drivers rarely speak English. That means that you have to negotiate a price before you get in the taxi, and doing so is tricky if there's a language barrier. Even if you do speak Spanish, the price you negotiate will almost always be more than it would cost to take an Uber.
4. Petty crime and how to avoid it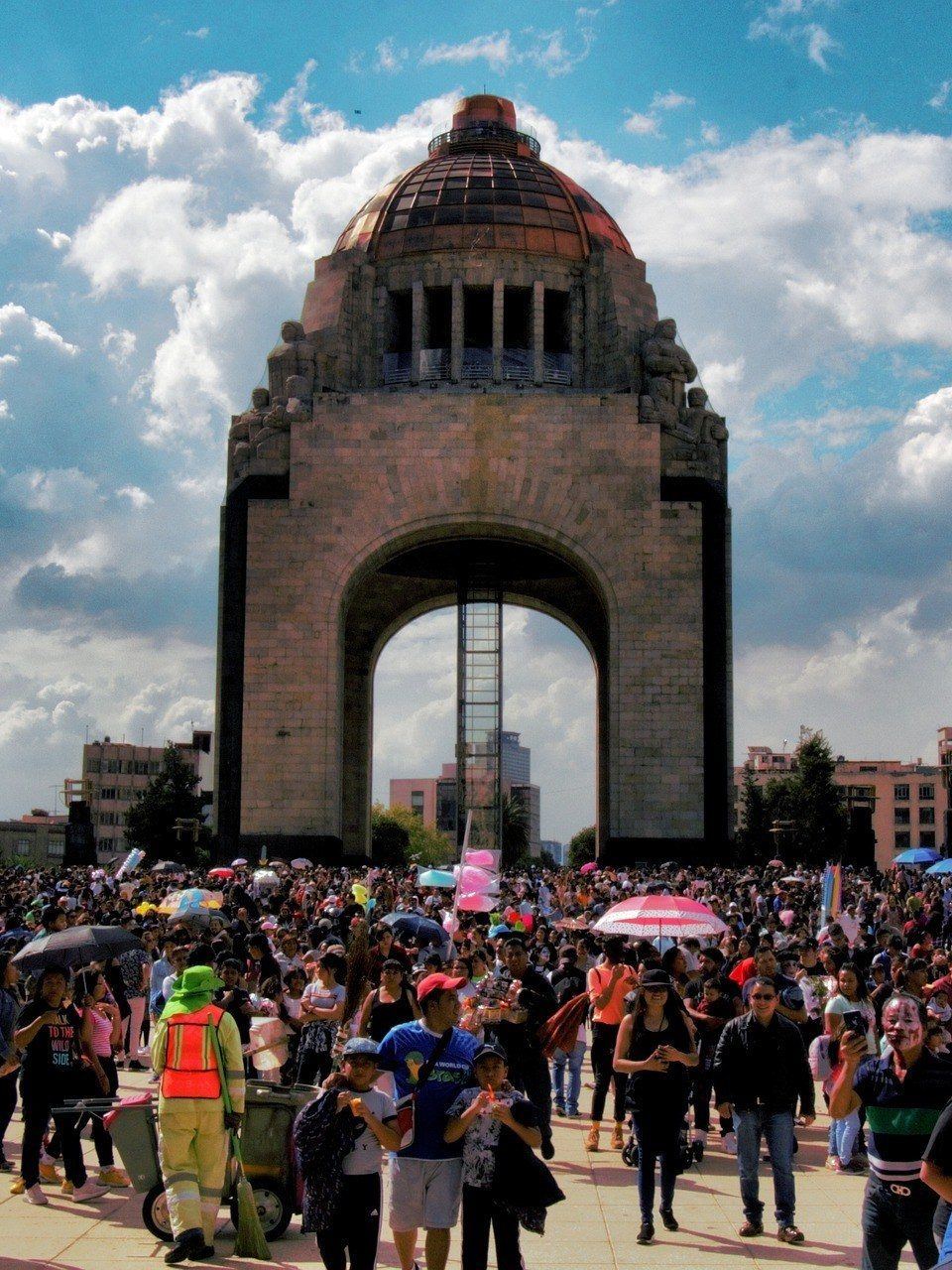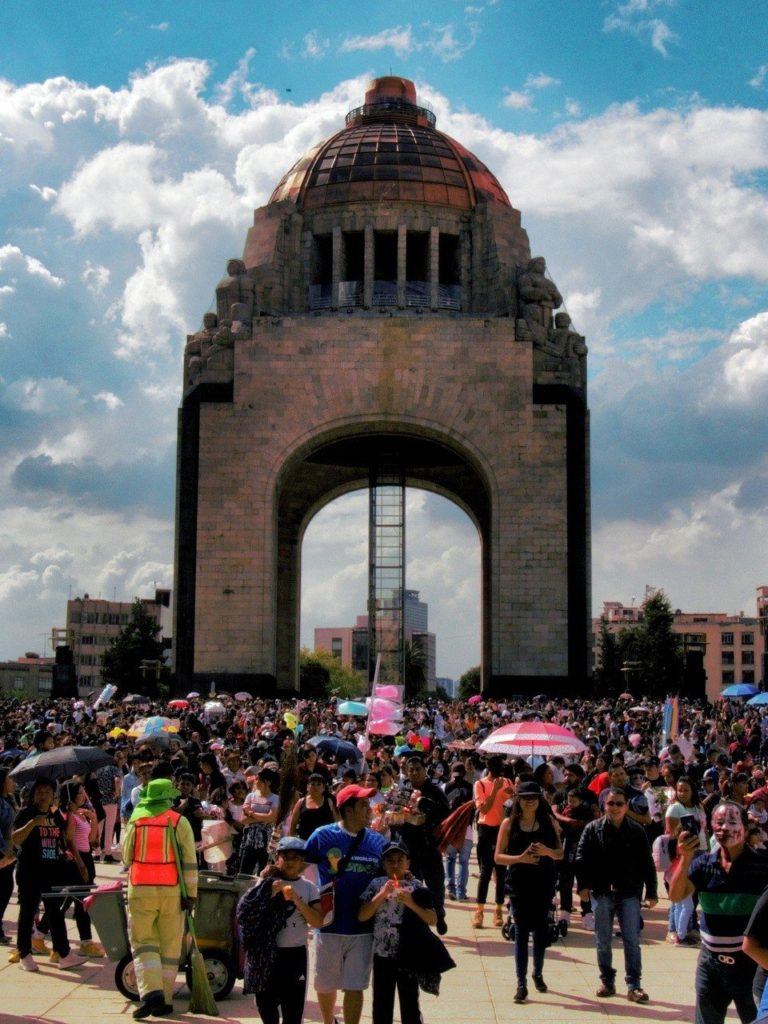 *sigh* Petty crime. While the main tourist areas are generally safe to walk around in, beware of pickpockets: they're everywhere, especially in crowded areas. The Zócalo is especially known for having a lot of them lurking about, most of them teens and even young children.
Another place to be extra careful is on public transportation. It's fairly common for pickpockets to ride the metro and buses, looking for opportunities.
You can avoid being robbed by keeping your valuables close to you and avoiding carrying anything in your back pocket or on your back. This is pretty standard advice, but you'd be surprised how many people get their phone swiped out of their back pockets. Some people advise keeping your things in your front pockets, but I honestly think pockets should be avoided in crowded areas in general, unless they have zippers.
A cross-body bag is a great option for keeping your belongings close to you while remaining hands-free — just make sure it has a zipper. Those are also more difficult for pickpockets to get into and/or steal. You can find cross-body bags that even have a little clasp by searching for "theft-proof bags" on Amazon. Of course, a money belt is a sure way to keep your things safe and secure. However, they aren't as convenient as a cross-body bag.
Another trick to consider is to carry a dummy wallet with some expired cards and a bit of cash in it. If you are ever in a situation where someone demands your valuables, throw the dummy wallet away from you and run the other way. I learned that trick while serving in the Peace Corps, and I've seen it work with my own eyes.
If you do get pickpocketed, having travel insurance will give you some peace of mind. World Nomads is the most popular company, which you can read more about here on the blog.
3. You're too bright to get scammed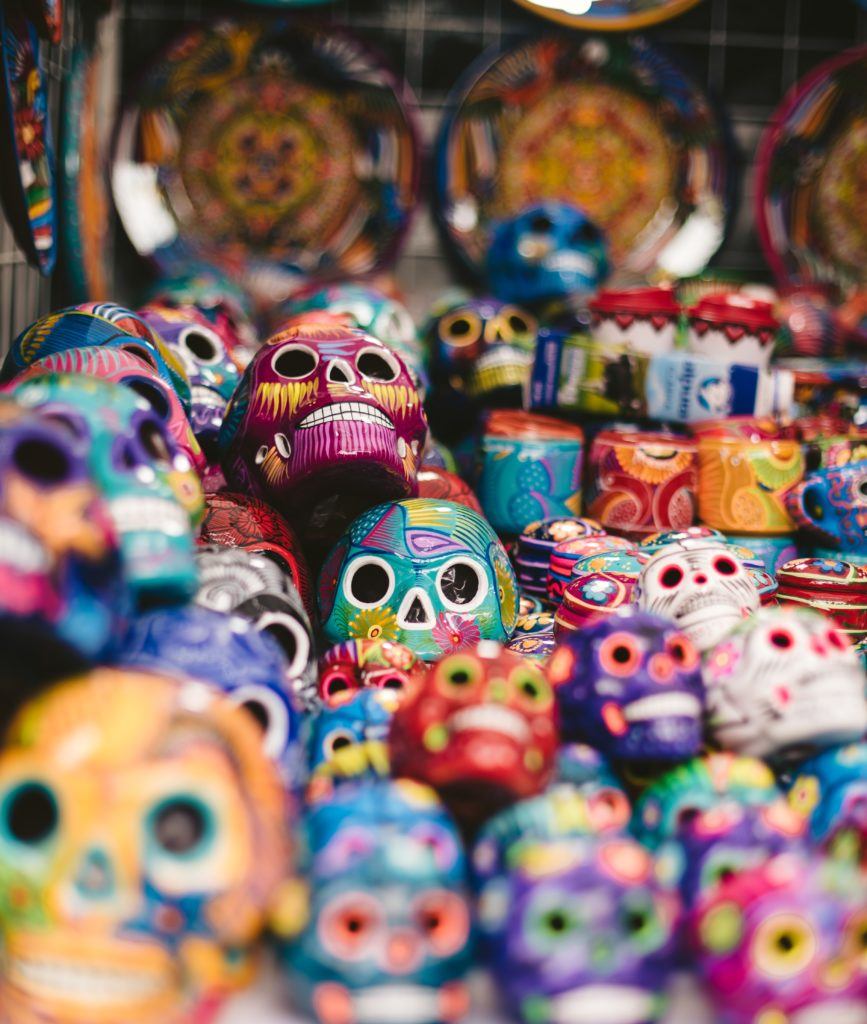 Like many places, Mexico City has its fair share of scams. No need to worry though, because they are all very much avoidable.
Fake taxis
Another reason to avoid grabbing a taxi on the street is that CDMX has many fake ones that temporarily kidnap people and take them to ATMs to withdraw money. This is called "express kidnapping" and is common in many big cities in Latin America. Even worse, these scam artists specifically target foreigners, because they assume they have more money.
To avoid these, I suggest avoiding taxis altogether in Mexico City. It's safer to call an Uber. But if you must take a taxi, make sure you take a picture of the license plate, or only take taxis that have been vetted by hotel staff or friends. Sometimes if you can get a reliable taxi driver's number, it can be a great way to get somewhere safely.
Sketchy ATMs
Some ATMs have a scanning device built in and/or they will eat your card. While these aren't very common, they do exist. To avoid them, only use ATMs that are inside banks. If need to withdraw money, avoid doing so at night, and make sure that nobody is lurking behind you. If it feels unsafe, it probably is.
Tour and rental scams
There are a decent number of dodgy tour operators that rent equipment to foreigners and later blame them for damage, expecting them to pay to fix it. I've heard of this happening in Mexico City with scooter, bike, and segway tours. To avoid that drama, do your research on any tour company that you're interested in. You can find plenty of tours on GetYourGuide, which is a reputable company and super easy to book through.
My lunch bill was how much?!
A common scam throughout Mexico in restaurants and bars is adding mysterious charges to bills and bar tabs, or they will already add the tip to the final price without making it very clear. The latter has happened to me a bunch of times in San Cristóbal de las Casas, and I've had friends point out that I already paid the tip without knowing.
To avoid this scam, just keep a careful eye on the bill before you pay. If you catch something, just point it out to the waiter; they might act surprised but will likely fix it for you.
Not-so-handmade souvenirs
Unfortunately, many of the seemingly handmade souvenirs sold in Mexico City aren't legit. Especially around the Zócalo and Centro Histórico, you'll find a lot of these fake handicrafts at astonishingly low prices. Many of them are made overseas (supposedly by slave labor) and then shipped to Mexico. They might appear to be from the same neat artesanías you'd find in the Mercado de Artesanías in Coyoacán, but they are just replicas.
If the price seems to good to be true, it probably is. Instead of falling for these souvenir scams, check out artisan markets like the one in Coyoacán, where you'll be able to buy directly from the artisans. While I wouldn't say that all of the souvenirs for sale in the historic center are fakes, so many of them are that it doesn't seem worth the risk.
2. Take care of your tummy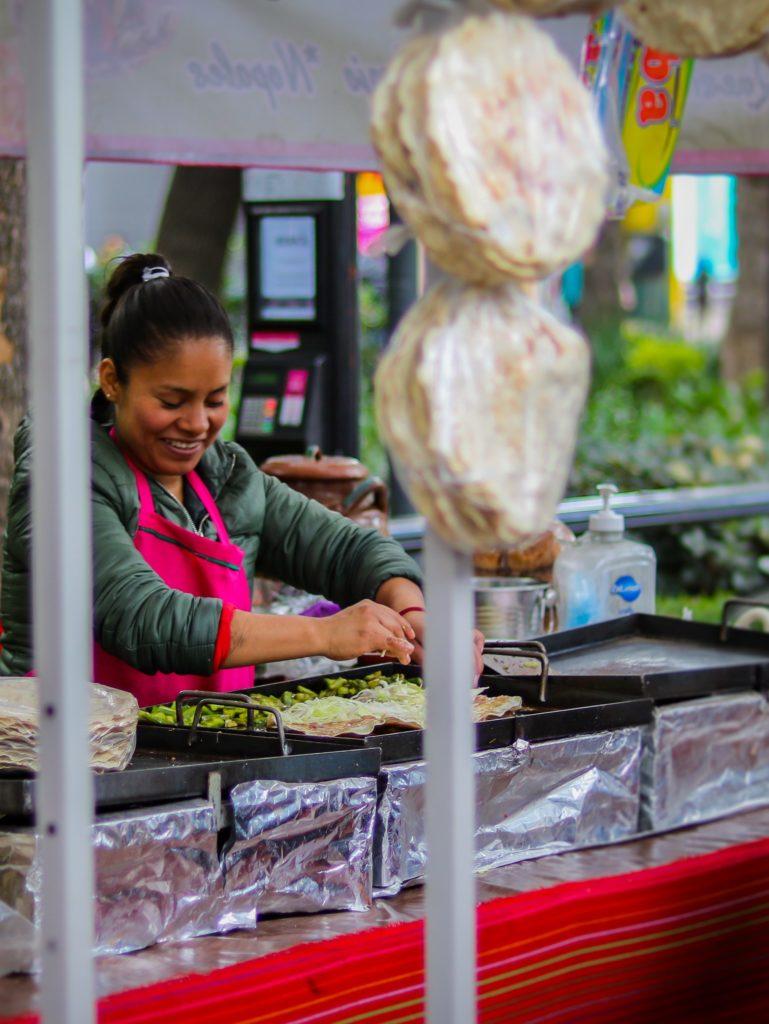 Do not by any means ever drink the tap water in Mexico City, or anywhere outside your home country for that matter. In Mexico, even the locals don't drink the tap water. Everyone has garrafones, or big water jugs, in their home. Because of that, you don't have to worry about ice or food being prepared with tap water because restaurants and bars always make ice with filtered water.
As far as avoiding a food poisoning disaster, your best bet might actually be street food. Whaaaaat? I know it sounds strange, but since street food is made to order more often than not, you're usually in the clear. Since the food stalls are so small, you'll be able to watch your food being prepared as well. I'm a vegetarian, so I can't give anyone a personal account of the meat quality in CDMX, but my carnivore friends have told me that the least-sketchy meat is actually at street taco stalls. In particular, the meat that is shaved off a big spit (called a trompo) is the freshest, because it's served right after cooking. Who knew?
The biggest risk for food poisoning is fresh produce that could have been washed with contaminated water, as opposed to filtered water. In many cases, you won't know for sure if the fruit and veggies you're eating are all right to eat. Don't fret though, because there are some signs that a place is A-OK. Restaurants and food stalls that are very busy, have a line, and have a high turnover usually mean that they have regular customers that keep coming back. That's a great sign that people aren't getting sick from their food.
You can also check out a restaurant's Google reviews to see if anybody has gotten sick there recently and complained about it. Sometimes these reviews will paint a grim picture of a place without reason, but it's better to be safe than sorry.
1. Travel solo like a pro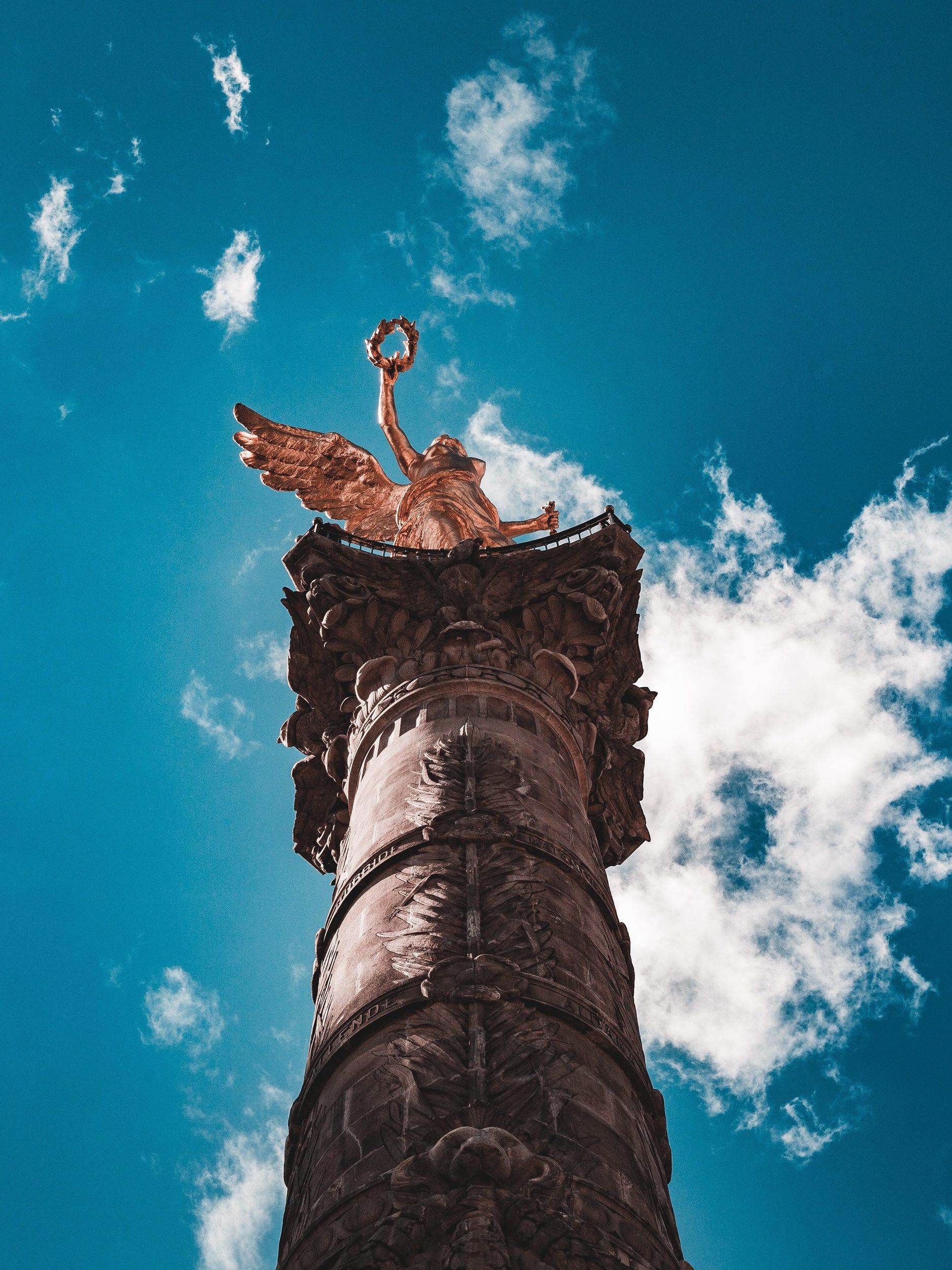 If you've made it this far, you've already heard nearly everything that you'll hear from people who tell you it's too unsafe to travel solo in Mexico City. It may surprise you, but I actually think that Mexico City is one of the best places to travel solo. I'm someone who very much prefers to see as much as I can while traveling, and I like to do so on my own schedule. Since there's so much to see and do in CDMX, I felt like traveling solo there was the only way to go, and I had a wonderful experience doing so.
That said, here are a couple things to keep in mind:
Where to stay
You'll see above that some of the most popular neighborhoods for tourists are also some of the safest. Any of those neighborhoods are fine to stay in, but there are a few that I think are best-suited for solo female travelers:
La Condesa and Roma: There are a lot of foreigners who live in these neighborhoods, so you're less likely to stand out. There are also a ton of Airbnbs that have gated entrances, which provides some peace of mind. (If you're unsure about that feature, just ask your host about what the access from the street is like.)
Polanco: Similarly, you're likely to be among other foreigners in Polanco. It's one of the most expensive neighborhoods in town, however, which can add up if you're not splitting the cost with a travel partner.
Reforma: Named for the long, tree-lined avenue that runs through the neighborhood, this area is a great option because it's so close to attractions. The avenue has a long bike path and is also one of the city's most pedestrian-friendly areas. It's well-lit at night as well, so nighttime crime is relatively low.
Click here for a detailed blog post on the best places to stay in Mexico City!
Street harassment
I feel like almost anywhere you go as a solo female traveler, this is going to be an issue. In my experience, there has not been a single place I've traveled to where I haven't been catcalled. Unfortunately, Mexico City is no exception to that. While you cannot control the actions of men on the street, you can practice caution with how you react.
I am not a fan of sites that tell women to dress a certain way or walk a certain way to avoid street harassment, so I will not be telling anyone what to do with their body. However, if you are catcalled on the street, it's best to ignore it as much as possible. Especially in a foreign environment, sticking up for yourself could turn dangerous. In my experience living in Mexico, it's always been better for my own mental sanity to just ignore them and keep on walking.
Public transportation
Like I mentioned above, there are measures in place on Mexico City's public transport that will allow you to ride in female-only spaces. That said, if you do end up on a regular train car or on a co-ed bus, there is a risk that you will be harassed, pickpocketed, or even grabbed. Try to avoid taking public transit during the most crowded times: from 7am to 9am and from 5pm to 7pm. This way, you might be able to get a seat and avoid brushing up against strangers.
Dating apps and socializing
I know a lot of people like to use dating apps like Tinder and Bumble to meet people while they're traveling solo. Apps can be a great way to get to know a new city from a local's point of view, and it can be fun to meet people this way. But it's important to exercise a lot of caution while doing so in Mexico City, just like it is anywhere else.
My rule of thumb for this is: if I wouldn't be interested in meeting this person in my own city, I probably won't be into it here. That's to say, if there are red flags, don't ignore them. After all, the way someone comes off in their profile could be totally different from who they are in person.
If you do want to meet up with someone while visiting CDMX, do so in a public place. Let your friends back home know where you're going and what the person's name is. It's not weird to ask someone's full name before meeting up with them. If they make it weird that you asked, that's a red flag.
Always make it crystal clear what you're looking for. If you're just looking to make friends, say so up front and stand your ground. I've made friends this way, so it's definitely possible! Many apps also have a specific feature for meeting new friends, so take advantage of that!
The same rules apply anywhere else when it comes to solo traveling and socializing as a woman in a foreign place. If you drink, do so responsibly and never leave your drink unattended. Always have an escape plan if things get weird (I left the gas on in the apartment, gotta go!). Make sure to keep your phone charged, so you can get an Uber home. Most of all, don't feel obligated to say "yes" to people and situations that make you uncomfortable.
Pin me for later: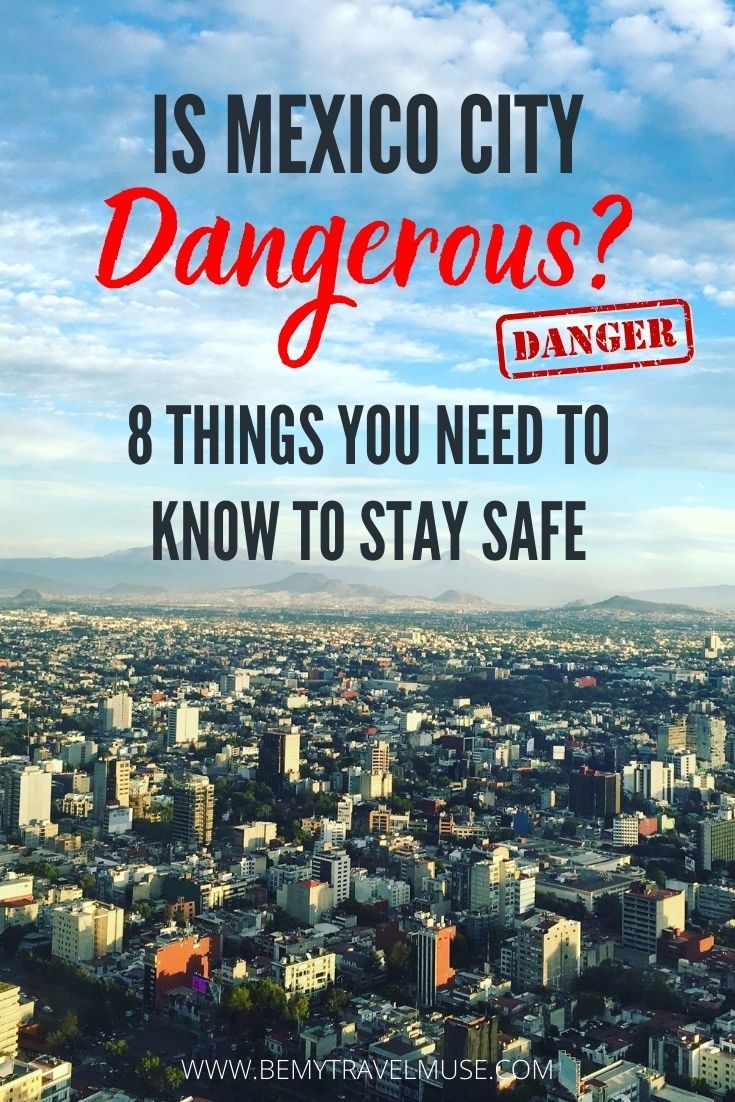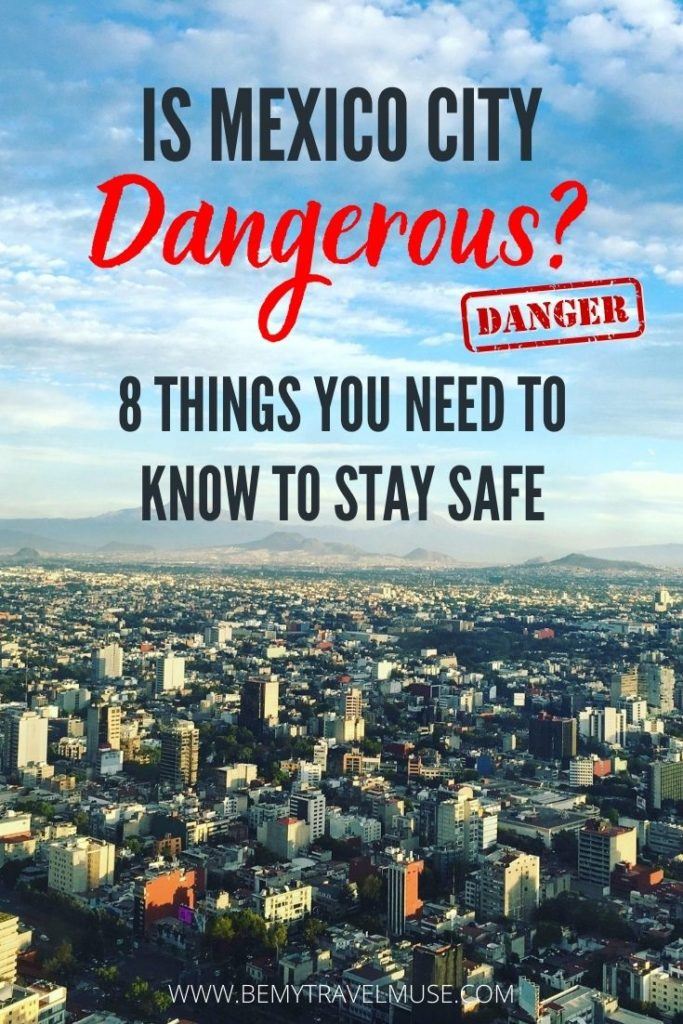 Mexico City is an incredible place to visit and shouldn't be on anyone's "too dangerous" list. With these tips, you can take all the precautions necessary to have a safe trip and take advantage of everything this incredible city has to offer. Remember, there's more to Mexico than meets the eye, and you never know what adventure lies around the corner!
About the author: Emily is a Mexico travel enthusiast based in San Cristóbal de las Casas, Chiapas. She is a part-time freelance writer for BMTM and part-time doula.