Finding accommodation can be a challenge for first-time visitors to Tulum. It can be tough to choose what area to stay in, and the big resorts here can be overwhelming. I love boutique hotels because they offer a more personal experience, with staff that genuinely want to take care of you and are able to do so because of the hotel's smaller size.
To help you find the best boutique hotel in Tulum for your needs, here's a list of 11 amazing options, with insight into why guests love each of them:
1. Hotel Muaré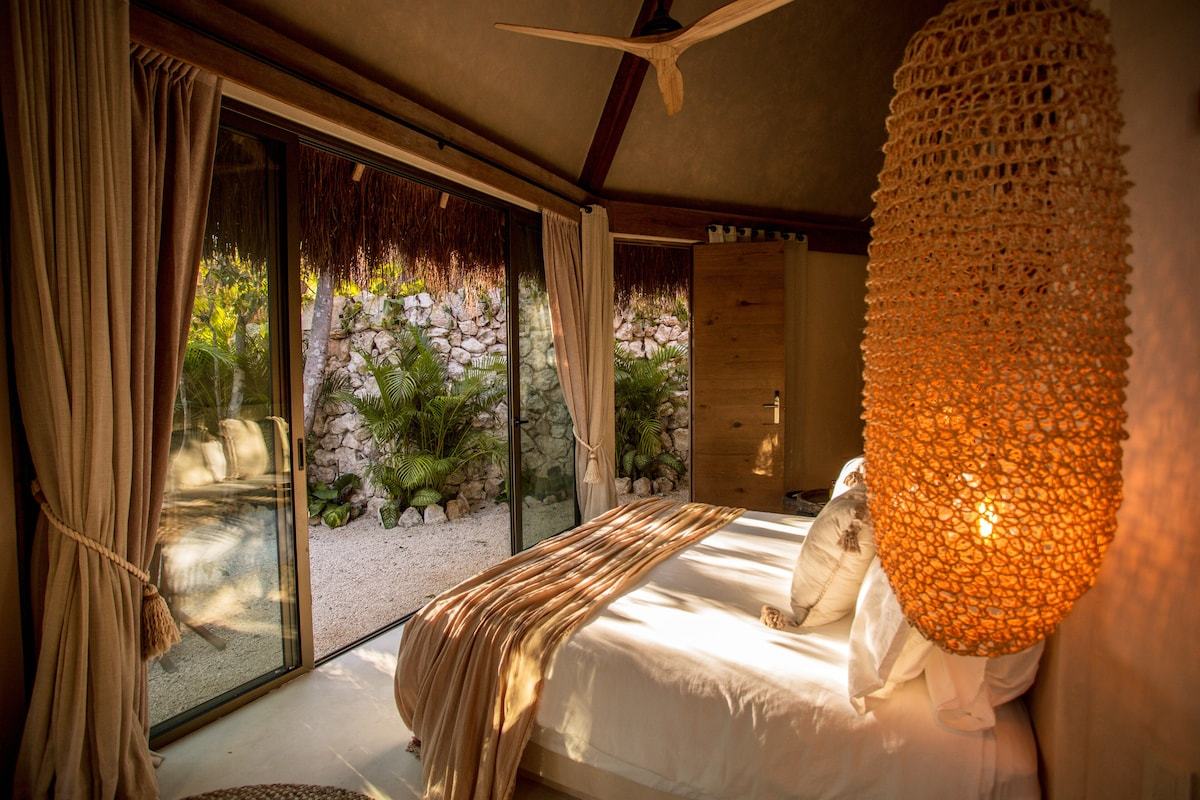 Tucked in the jungle about a mile from downtown Tulum is Hotel Muaré, a small property with some spectacular amenities and where the ambiance is on point. Each room has a private garden and plunge pool, which take Hotel Muaré to the next level of accommodations.
The attention to detail in the hotel's architecture is outstanding, with uniquely shaped rooms and interesting bamboo and concrete structures that Tulum is famous for. Guests have even left reviews saying the place looks even more beautiful in person than in photos.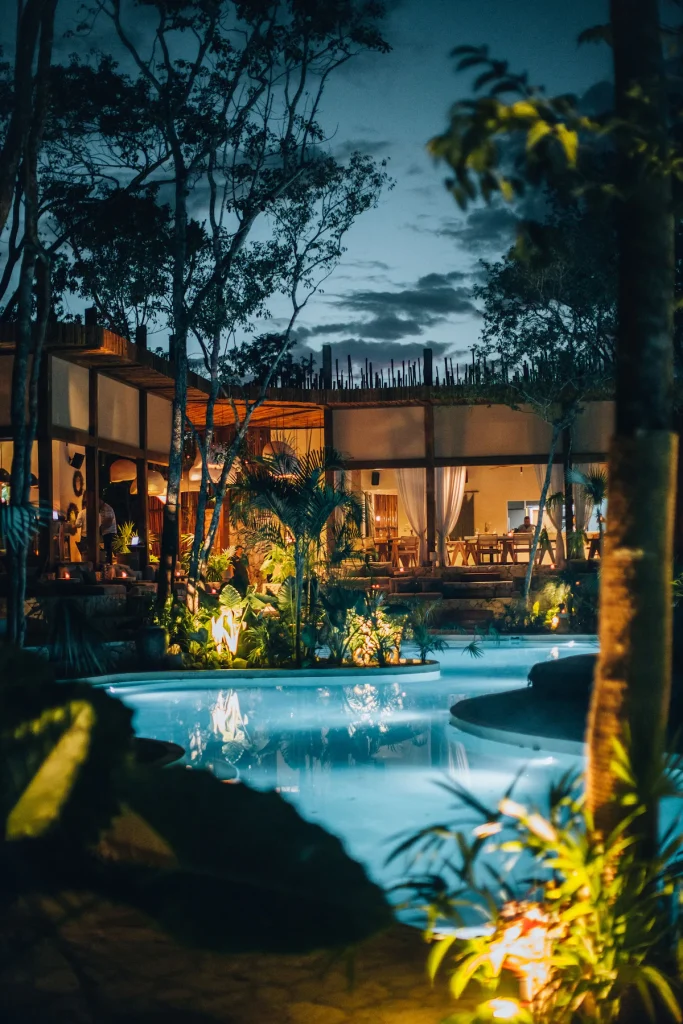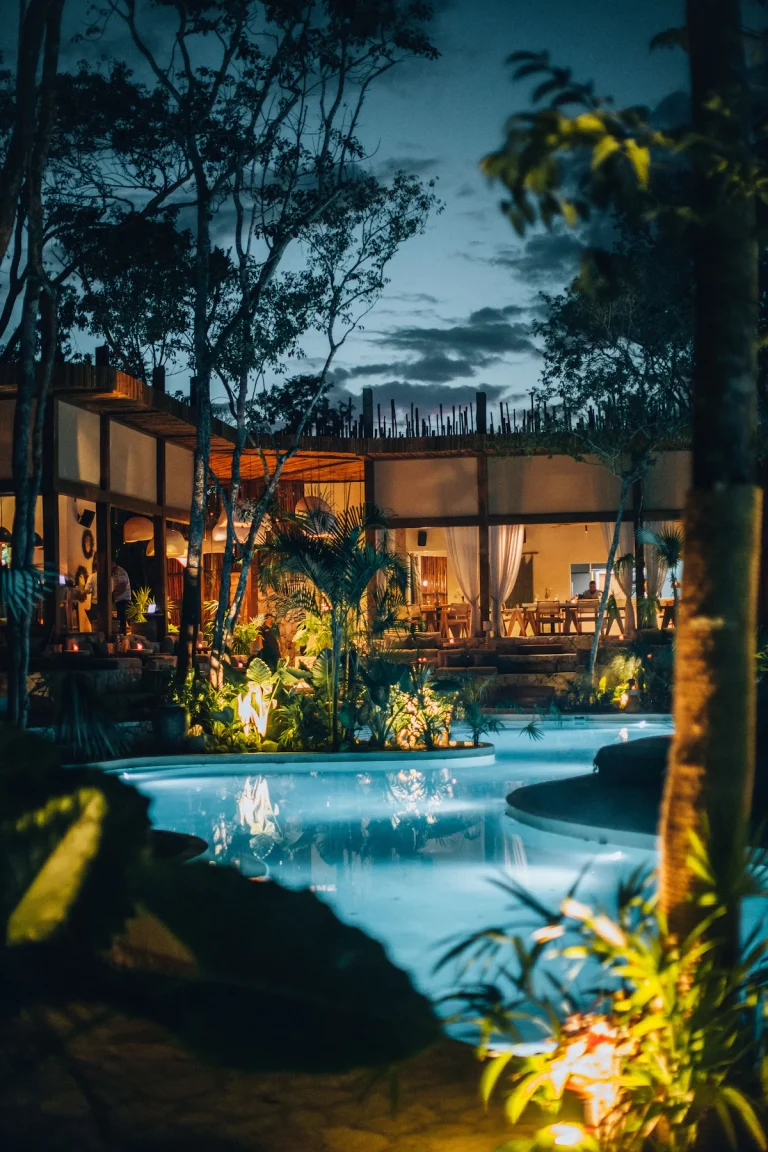 Hotel Muaré is also known for its spectacular service, especially in its restaurant, Gaudea. There's also a yoga and healing center on the property, which offers classes and treatments daily.
2. Aldea Xaan Ha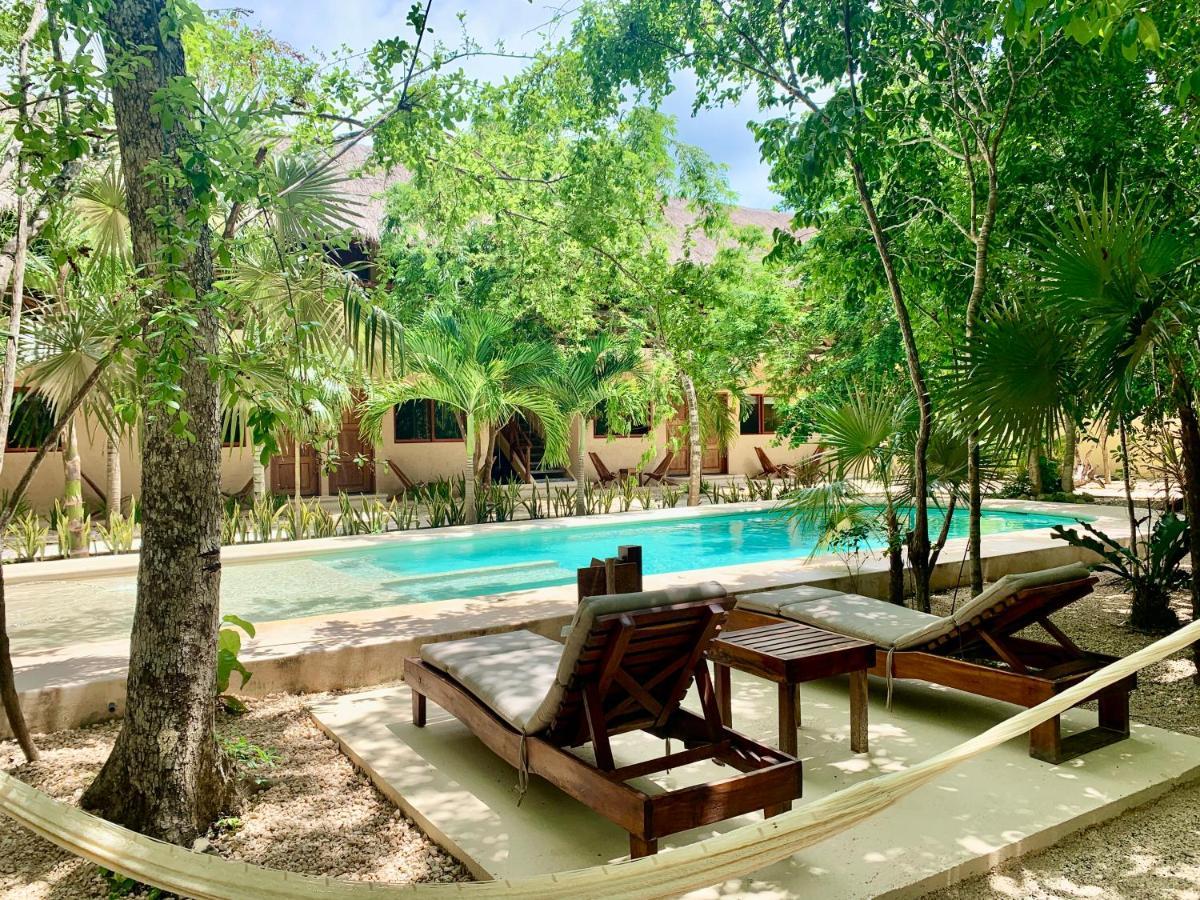 If you're heading to Tulum and hoping to stay in the heart of downtown, Aldea Xaan Ha is a stellar option. This condo-hotel has sleek and stylish full apartments, all of which face a large pool. There's a restaurant as well, which offers continental breakfast.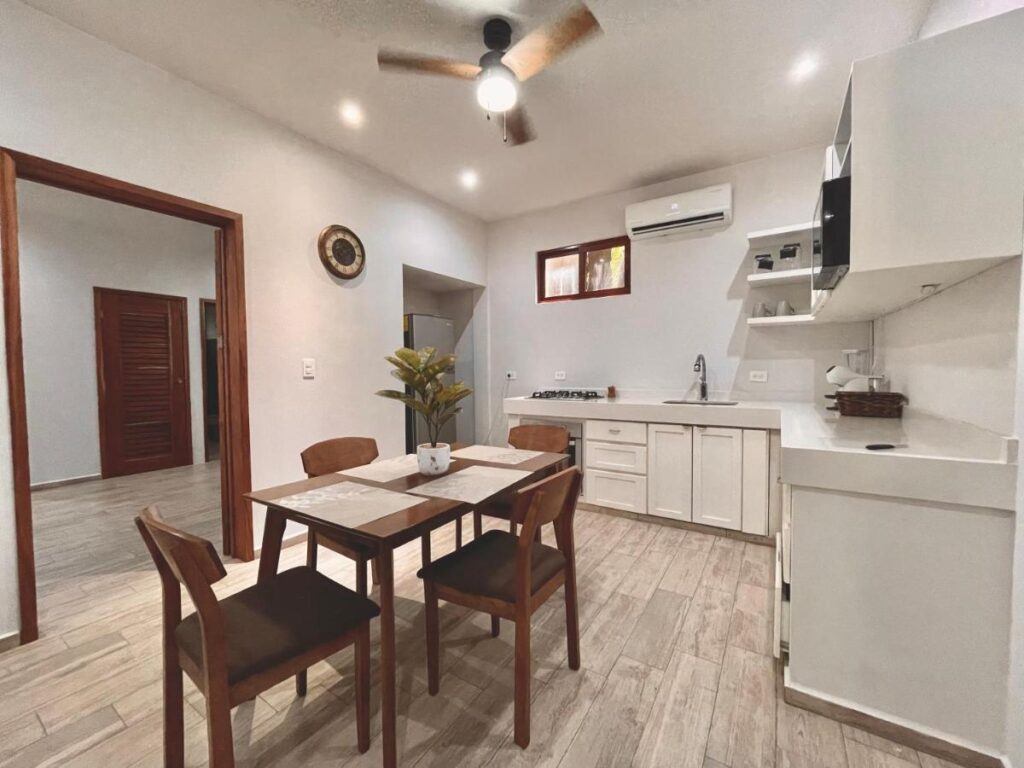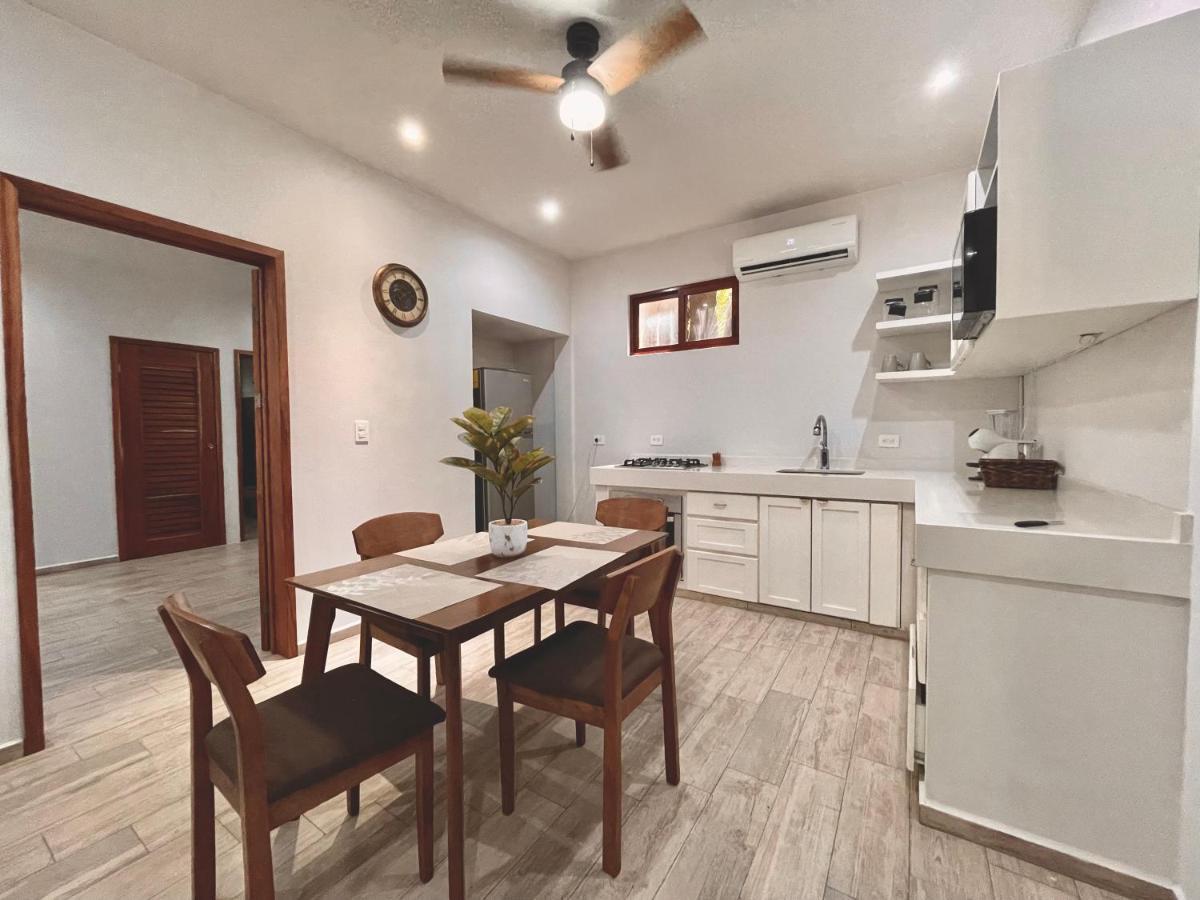 The resounding review from happy guests is that Aldea Xaan Ha is an incredible value for the money. Compared to other condo-hotels, you'll get much more bang for your buck here. Plus, the location is optimal for walking or biking downtown or to the beach.
3. Pacha Tulum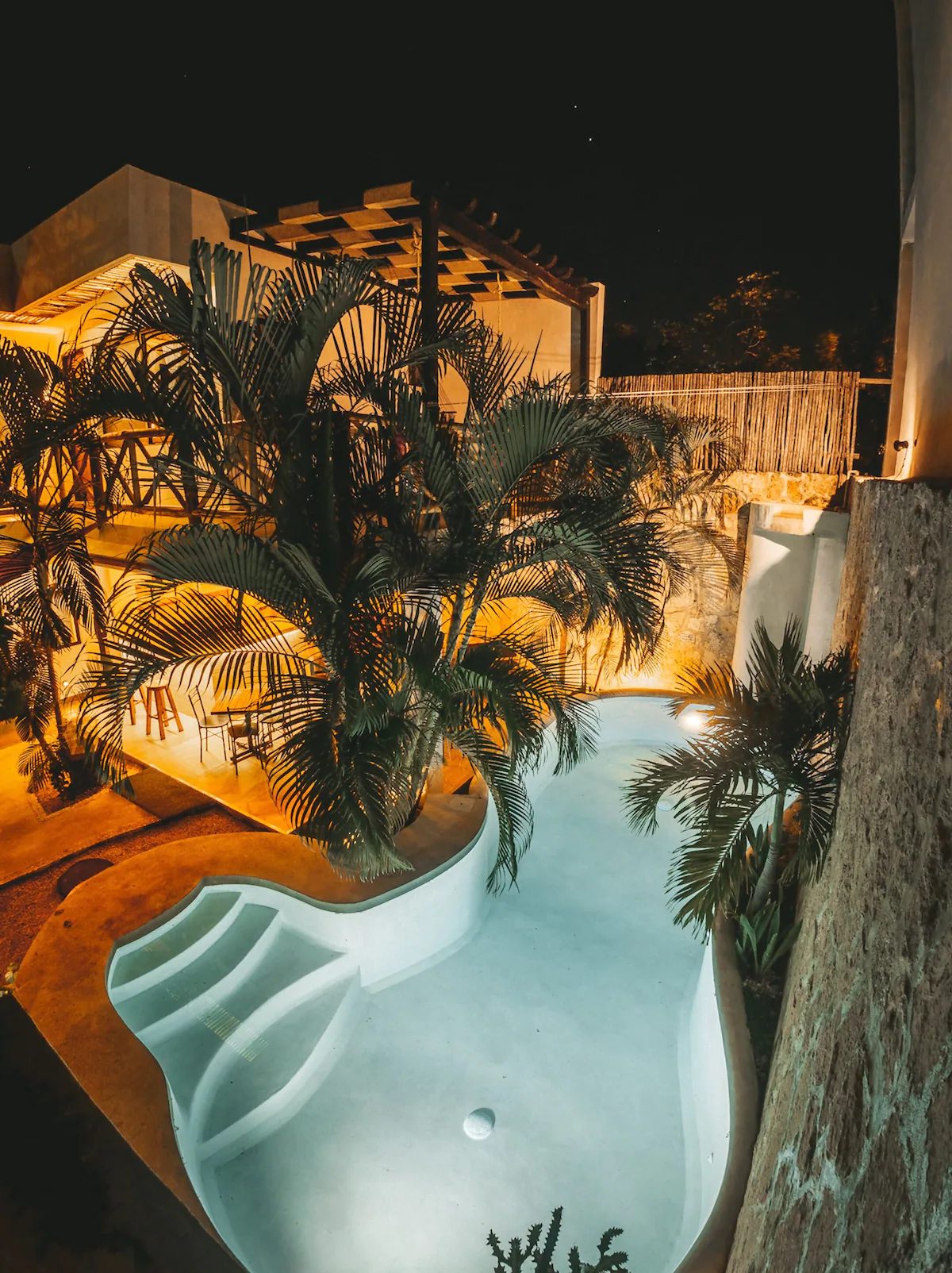 This is another great choice if you want to stay downtown. Pacha gets its fame from the above-and-beyond service offered by the staff. Almost every review mentions how hospitable, friendly, and helpful they are, which is a huge selling point.
You'll also have a choice of either standard or superior rooms; the latter have balconies overlooking the pool. You can also enjoy a delicious breakfast and then book a tour or diving excursion at the front desk.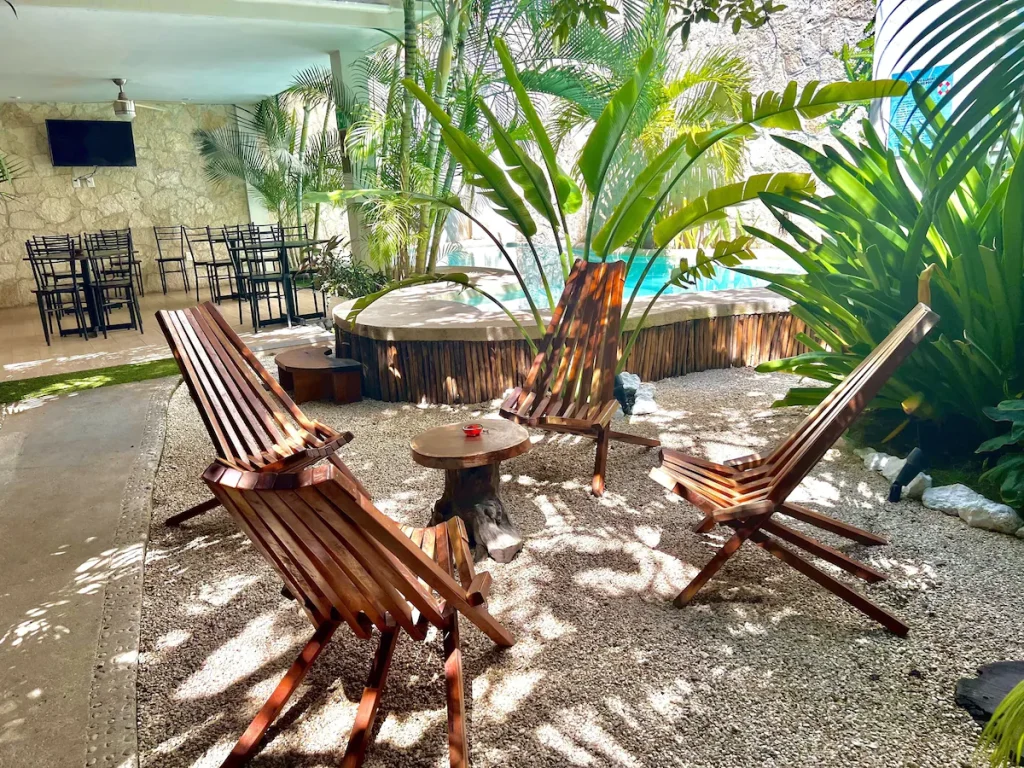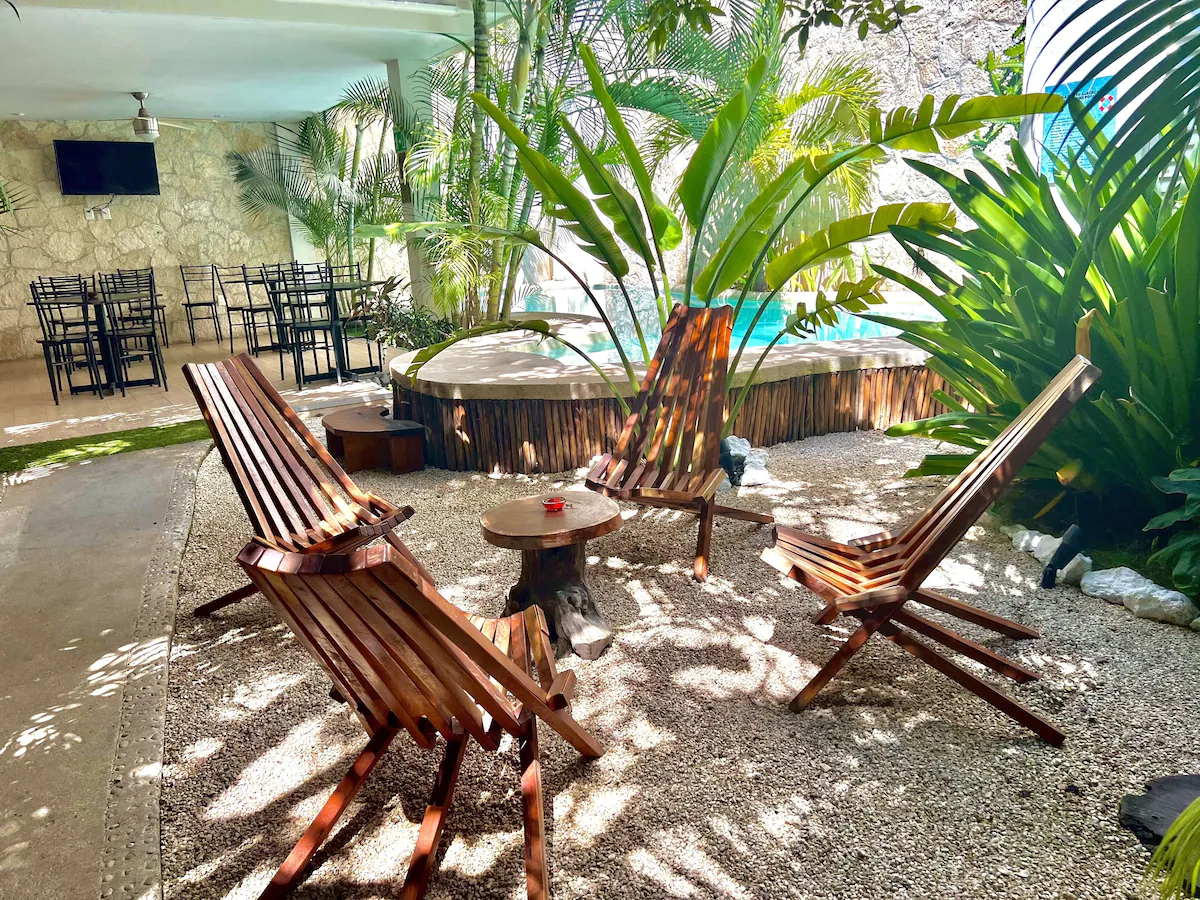 Pacha is a family-friendly hotel, which sometimes can be more challenging to come by among a plethora of adult-only accommodations in Tulum.
4. Lagoon Boutique Hotel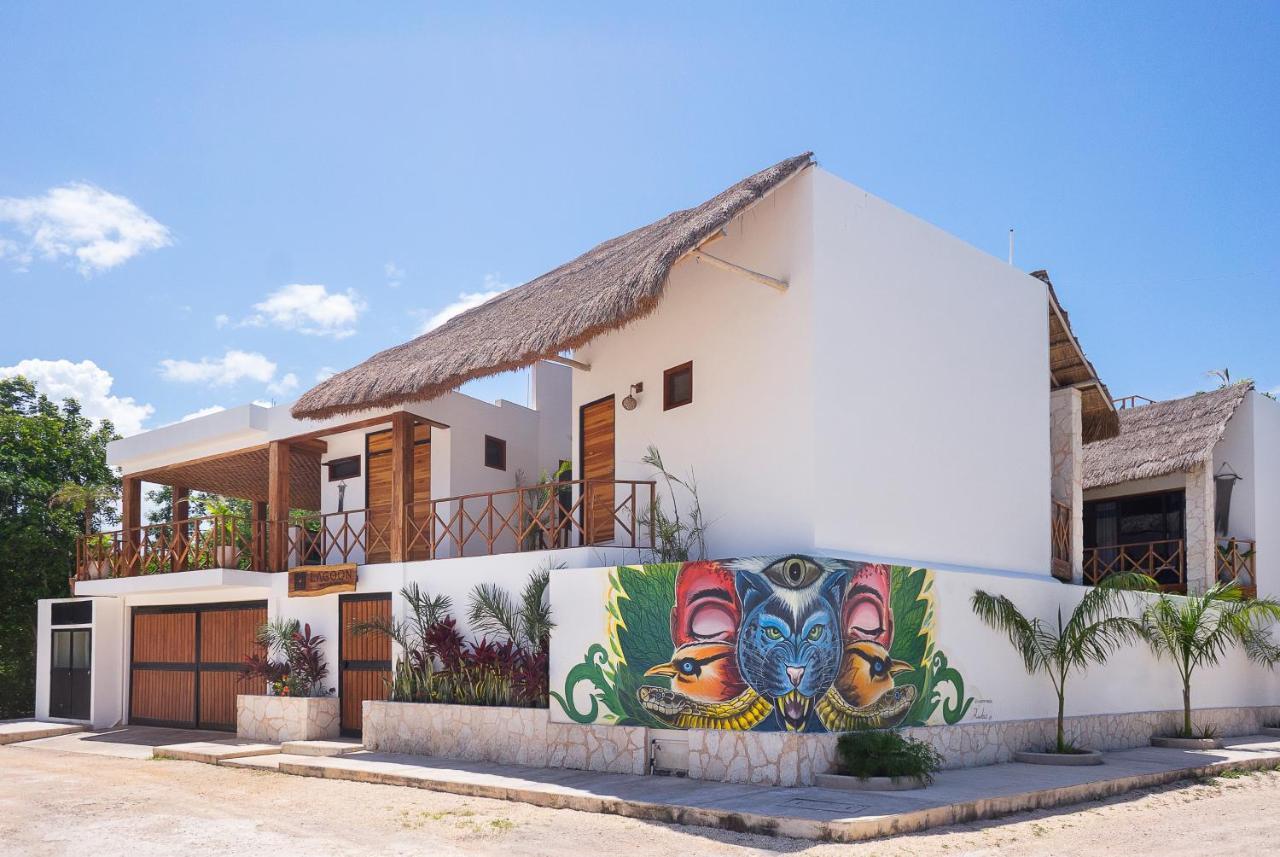 Lagoon Boutique Hotel is the ultimate place to relax in Tulum. It's tucked away in the jungle, about a 20-minute walk from downtown. Although many people come to Tulum to party, this small hotel offers a different vibe and the luxury of peace and quiet.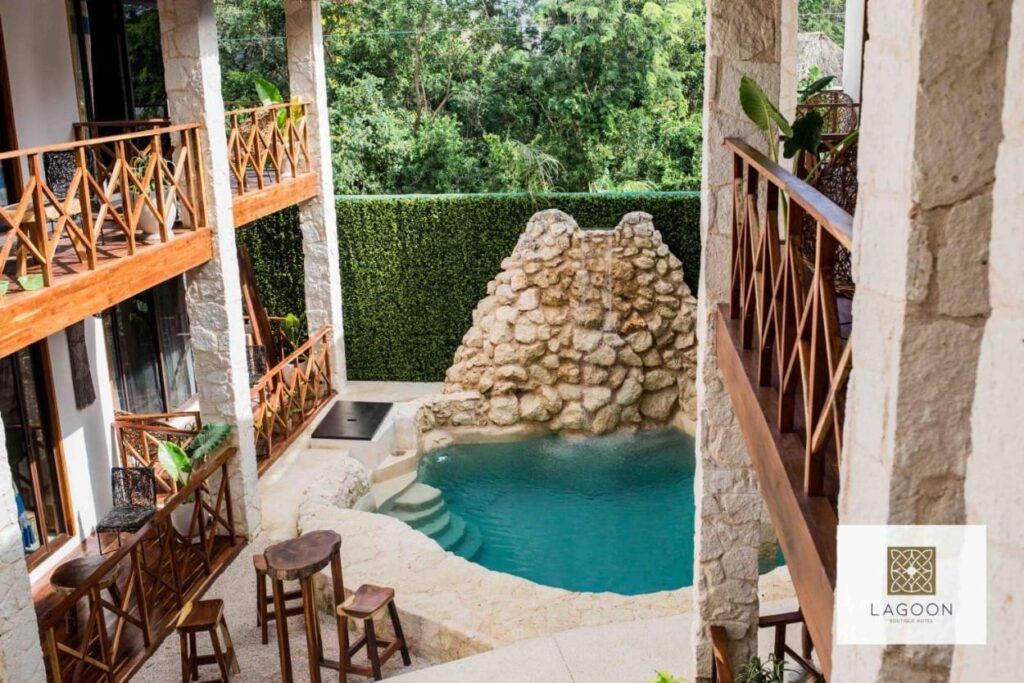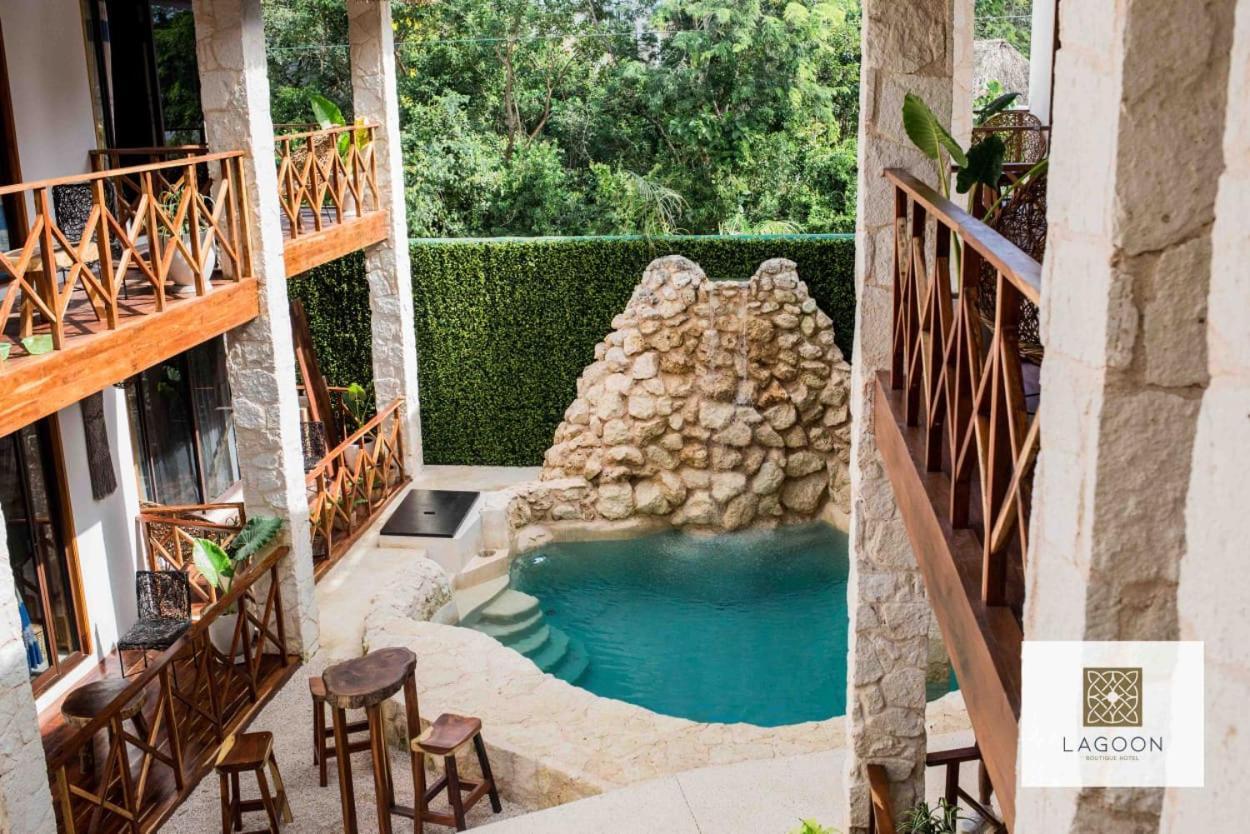 Guests report waking up to the sounds of birds chirping, even getting glimpses of colorful toucans. The hotel has two small pools, one of which is on the second story and offers a view of the jungle from above. Every room has a patio with a pool view, and you'll also have access to a shared rooftop terrace.
5. Little Gem Hotel
True to its cute name, this is indeed a gem. Located in Tulum's jungly La Valeta neighborhood, this boutique hotel is between downtown and the beach zone. This location offers the best of both worlds: easy access to the two main areas of Tulum, but in a quiet area, far from loud parties.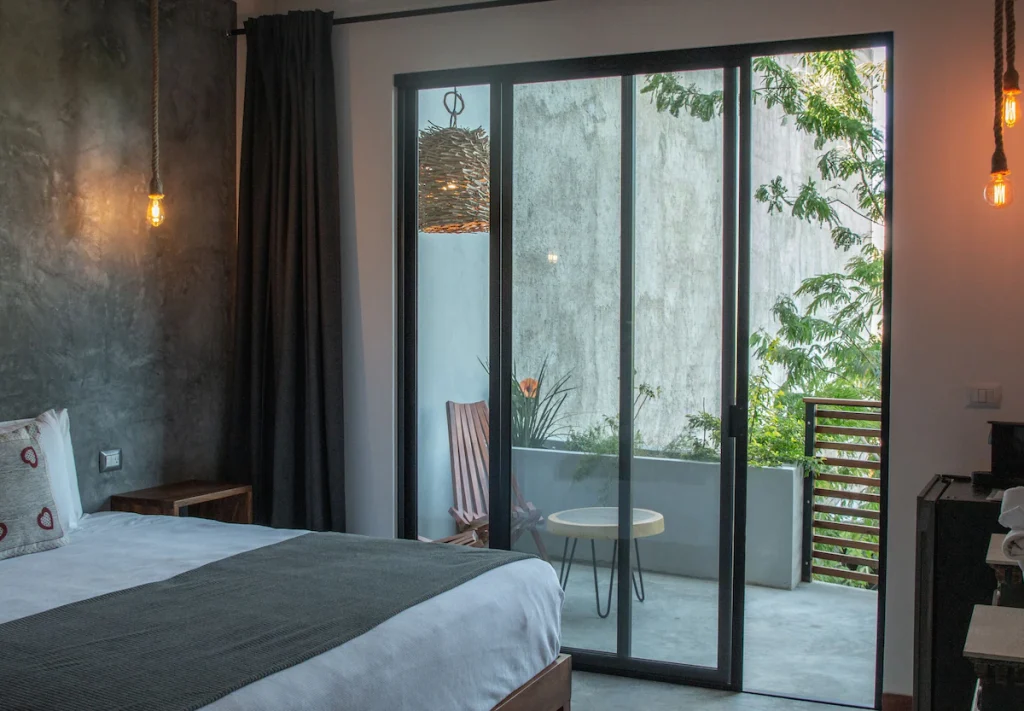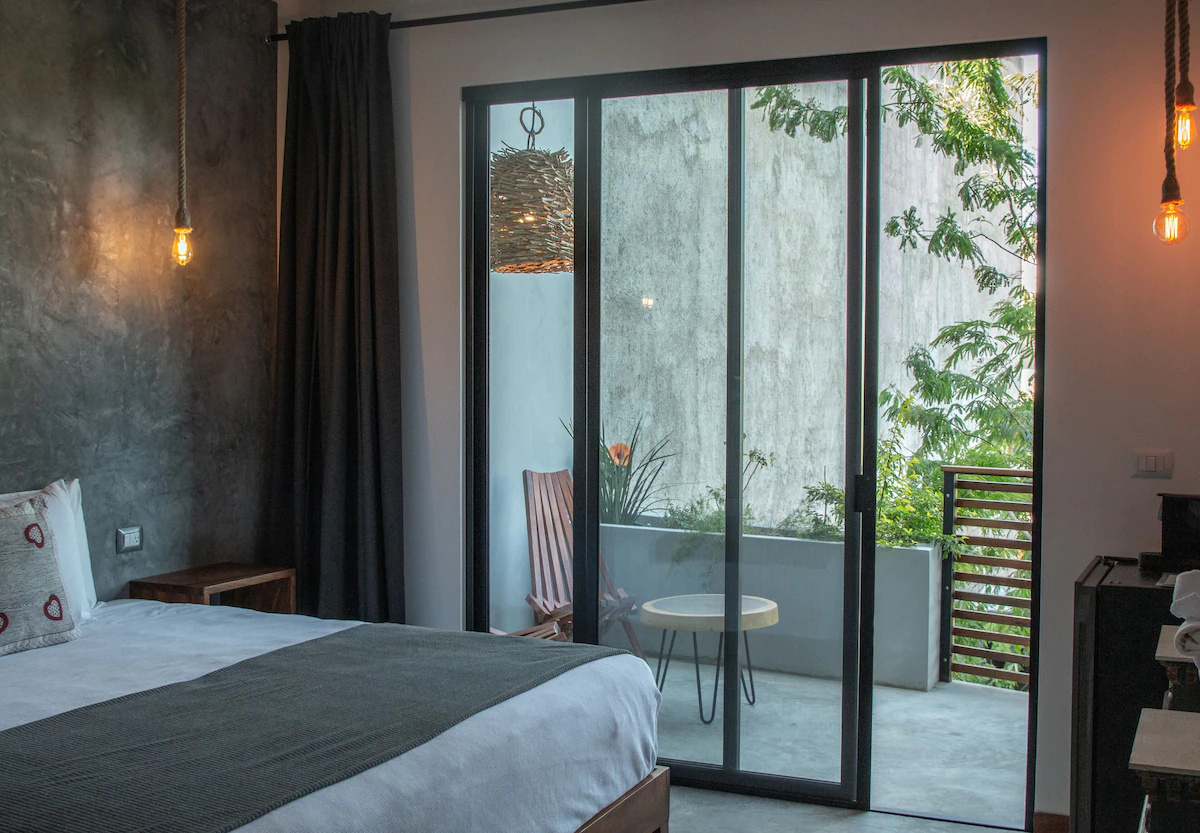 Little Gem offers guests a serene swimming pool and free rental bikes, which will come in handy considering the property's location. Reviews indicate that even when the hotel is fully booked, the common areas, particularly the pool, never get too crowded, which adds to the peaceful environment. Another added bonus: a la carte breakfast is available daily.
Little Gem Hotel is child-friendly and has designated family rooms that can sleep up to four people.
6. Eterna Tulum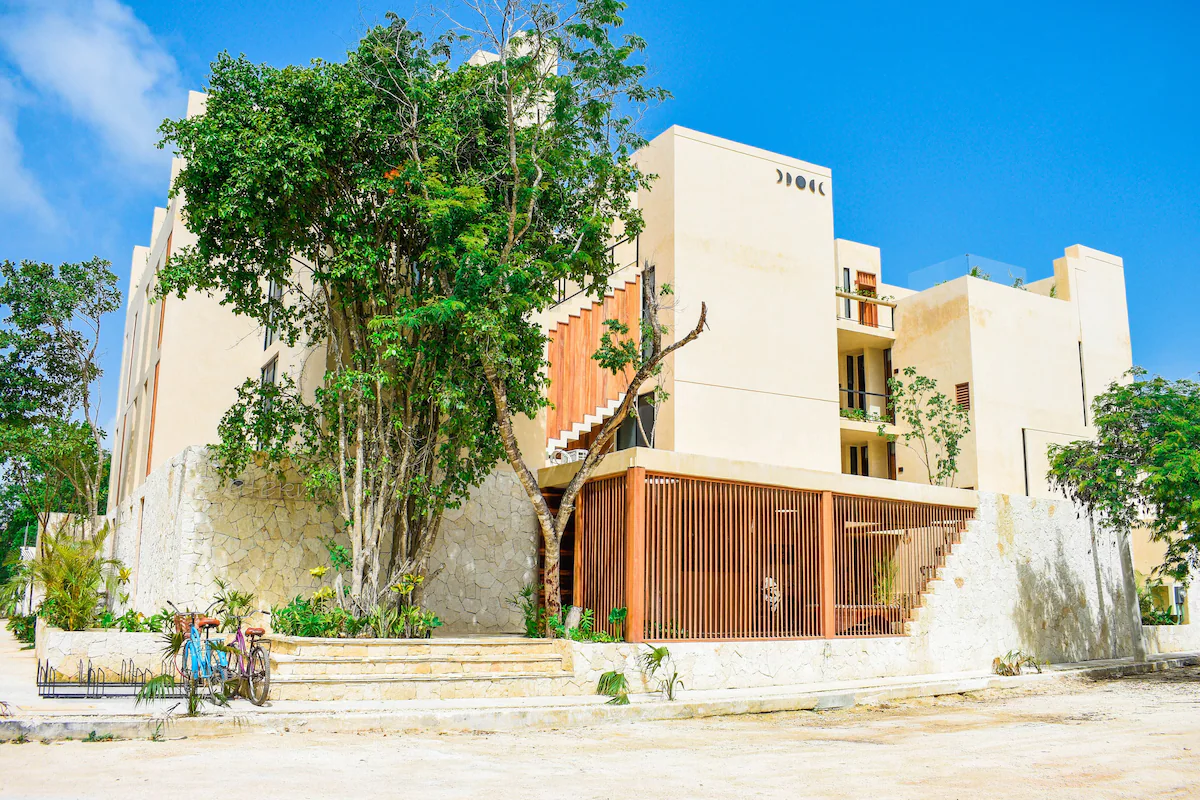 Eterna has the perfect blend of modern and cozy elements that might make you never want to leave. This small hotel is another great one if you're looking for a more secluded location far from the noise of the infamous party scene.
Eterna has some rooms with private pools, a luxury that many hotels don't have. There's also a delicious free breakfast served daily, which guests say is one of the best in Tulum.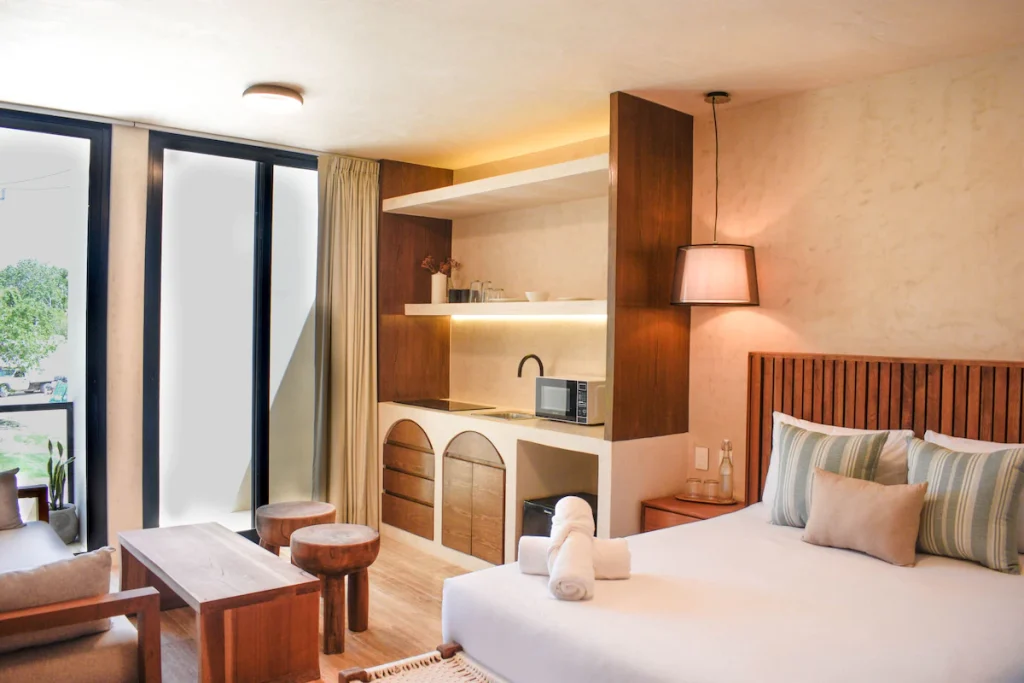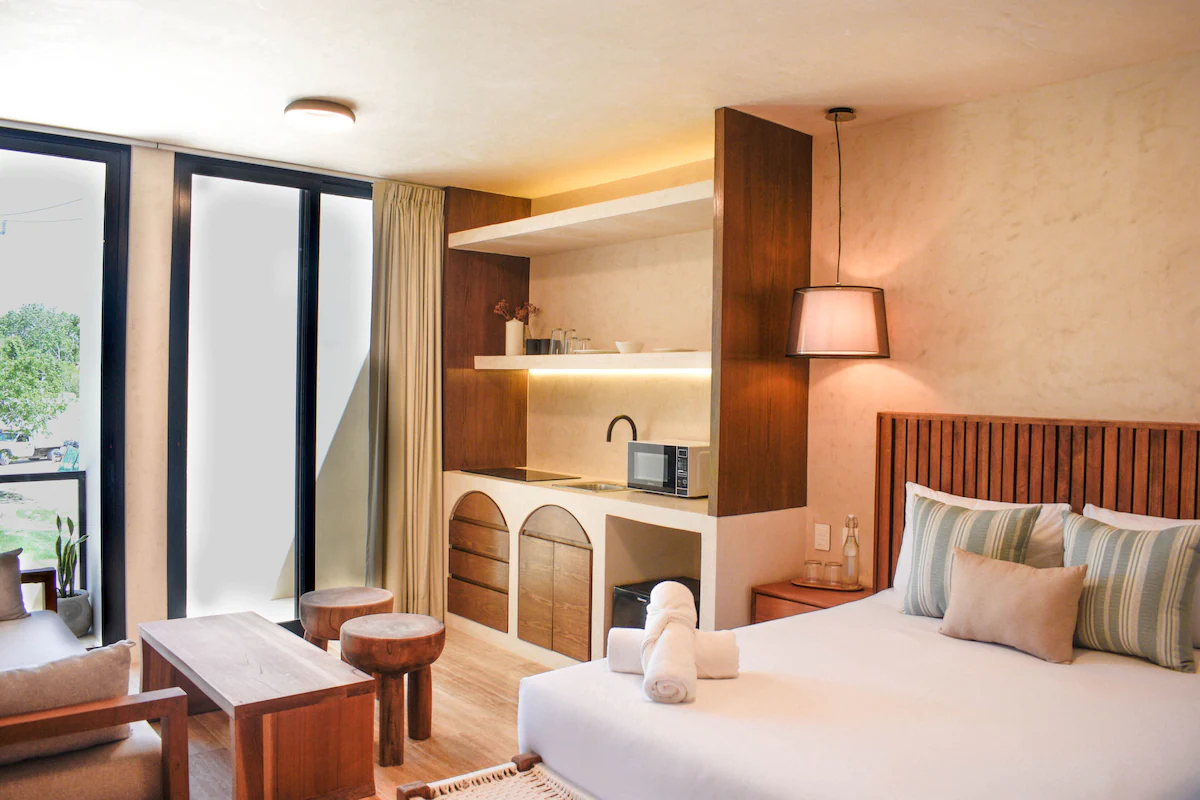 Though the rooms are beautiful and comfortable on their own, the common areas are also noteworthy. The terrace has gorgeous views of the jungle and plenty of space to soak up the sun. This pick is ideal for solo travelers or couples, as it's an adults-only hotel.
7. Era Hotel & Spa Tulum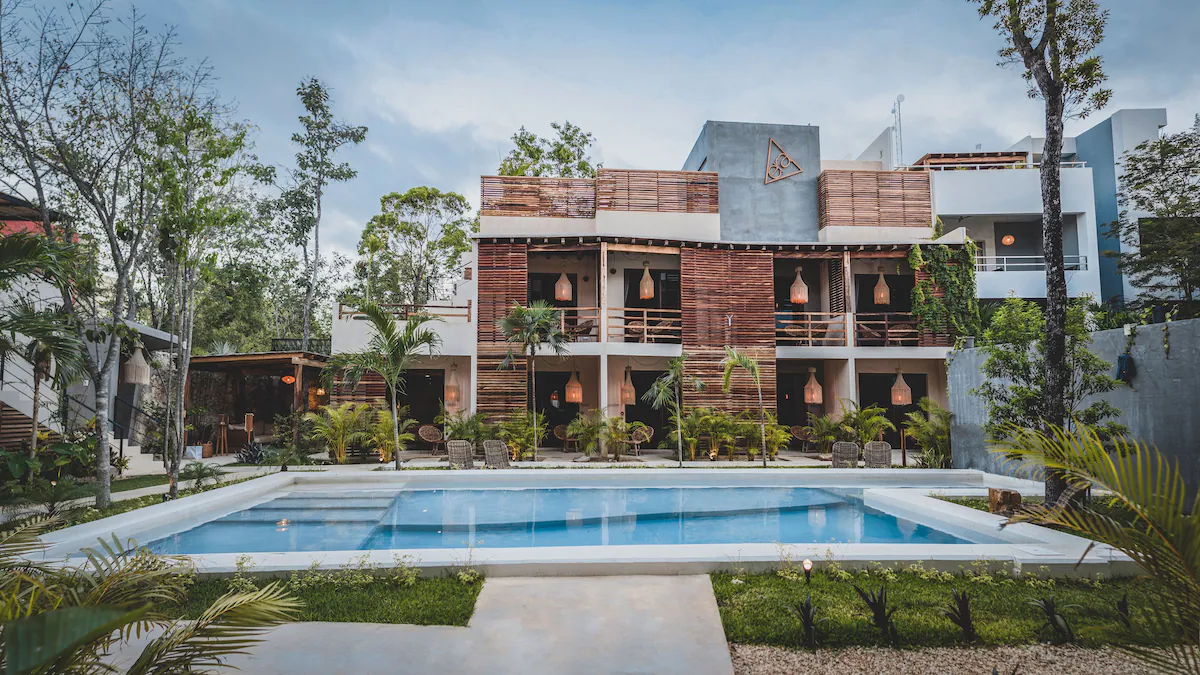 Featuring quintessential Tulum decor, complete with macramé details, lime-washed walls, and jute accents, Era Hotel & Spa has the vibe you'd expect here. The rooms are cozy, with neutral tones that enhance the calm atmosphere, and some even have large bathtubs to soak in. Family-friendly rooms are also available.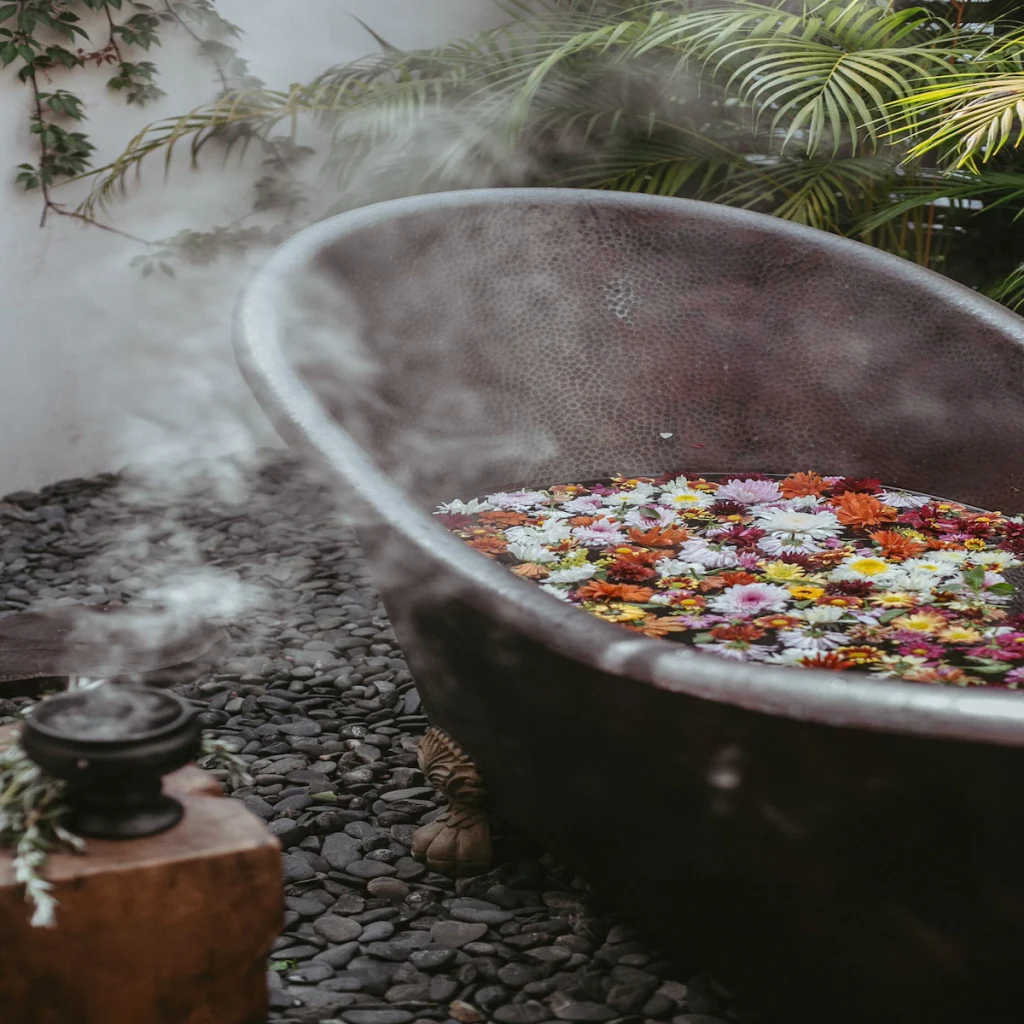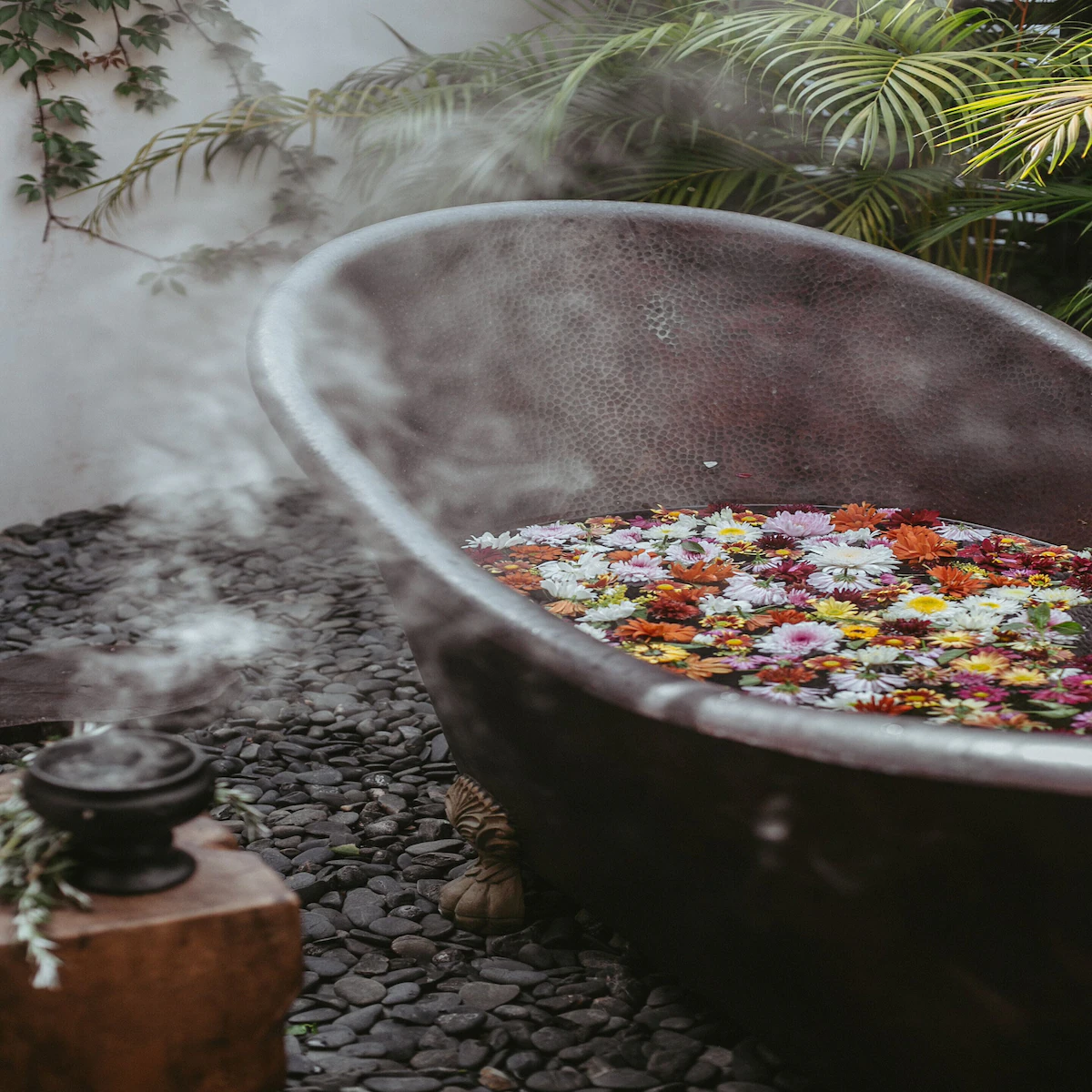 This small hotel and spa earns its place on this list because of its reputation for excellent hospitality. The staff are friendly and accommodating, not only the concierge but in the spa as well. Era even has free breakfast, which guests claim exceeded their expectations.
8. Pepem Eco Hotel Tulum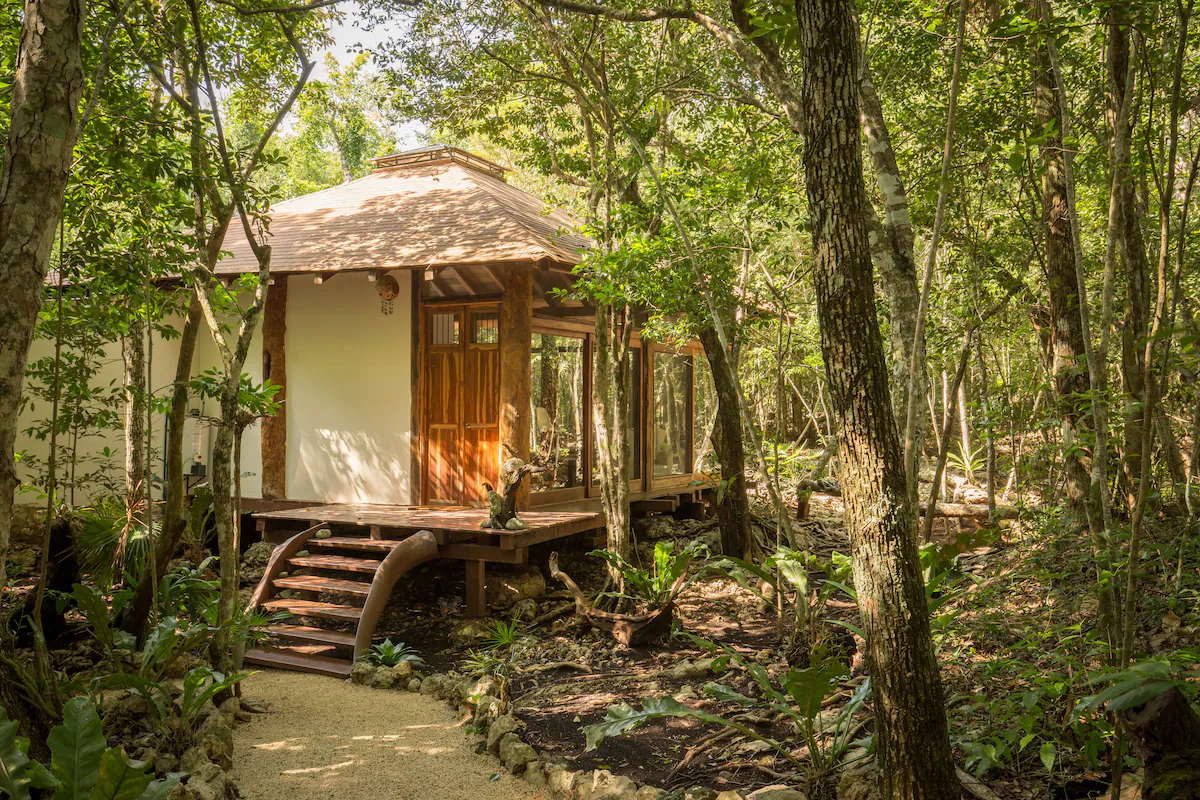 If you're dreaming of floating in a cenote without having to go too far from your accommodations, Pepem Eco Hotel is your ideal pick. Located just minutes away from Dos Ojos cenote (which made our list of the best cenotes near Tulum), Pepem fully embraces the beauty and adventure of the Mayan jungle. It's much further off the beaten path than other hotels on this list, but totally worth the journey if you're hoping to connect with nature.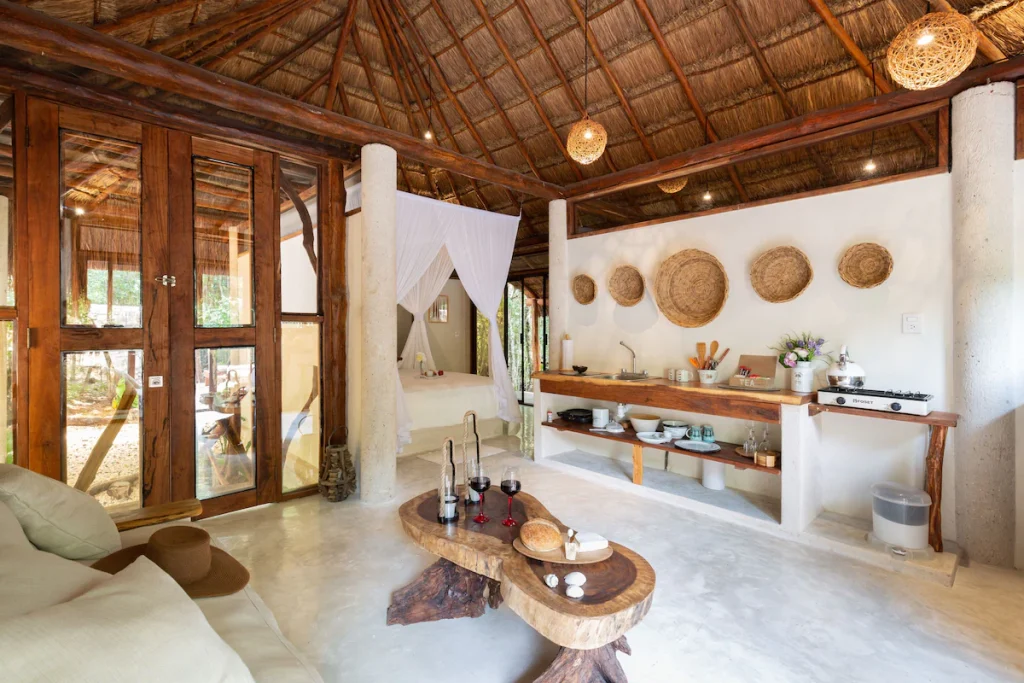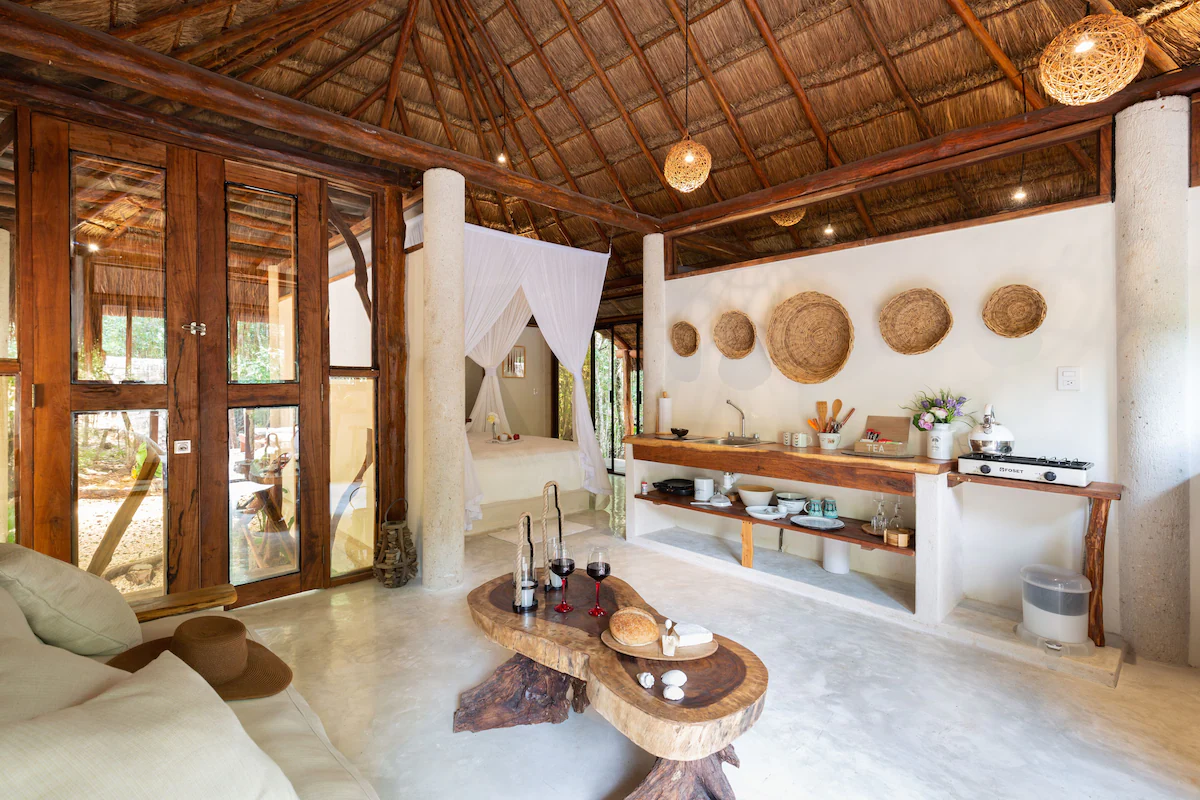 Not only are there jungle suites with private pools, but you can rent an entire eco-villa or small house, each offering the comforts of modernity while also being fully immersed in the jungle. There's also a free continental breakfast each day.
Since this property is also adults-only, it's best for solo travelers, couples, and small groups.
9. Layla Tulum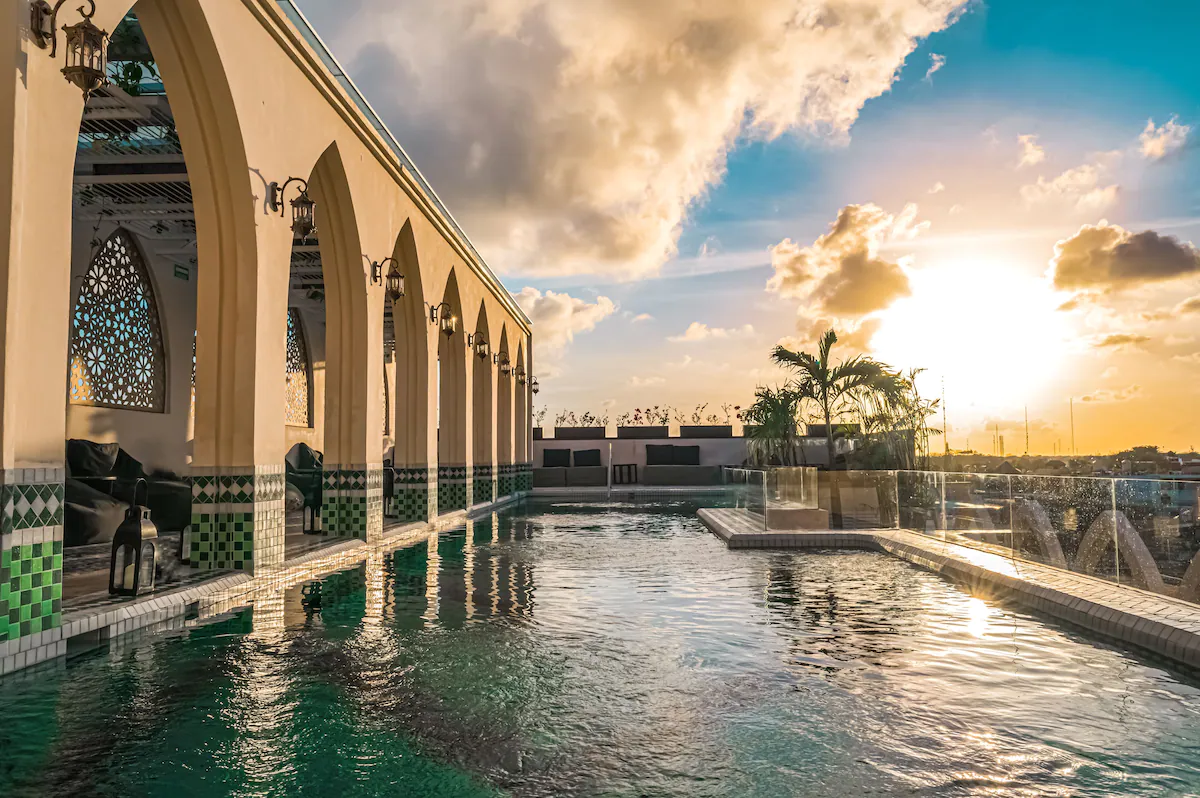 I love staying at small hotels with big personality, so Layla is at the top of my list for my next trip to Tulum. Boasting gorgeous Moroccan-inspired architecture and bright, colorful tiles, Layla has a much different look than other hotels here.
Not only does its style separate it from the rest but so does its slogan: "Come as a guest, leave as our family member." Those who have stayed here definitely feel the attention to hospitality, with many reviews highlighting the outstanding service of Layla's staff.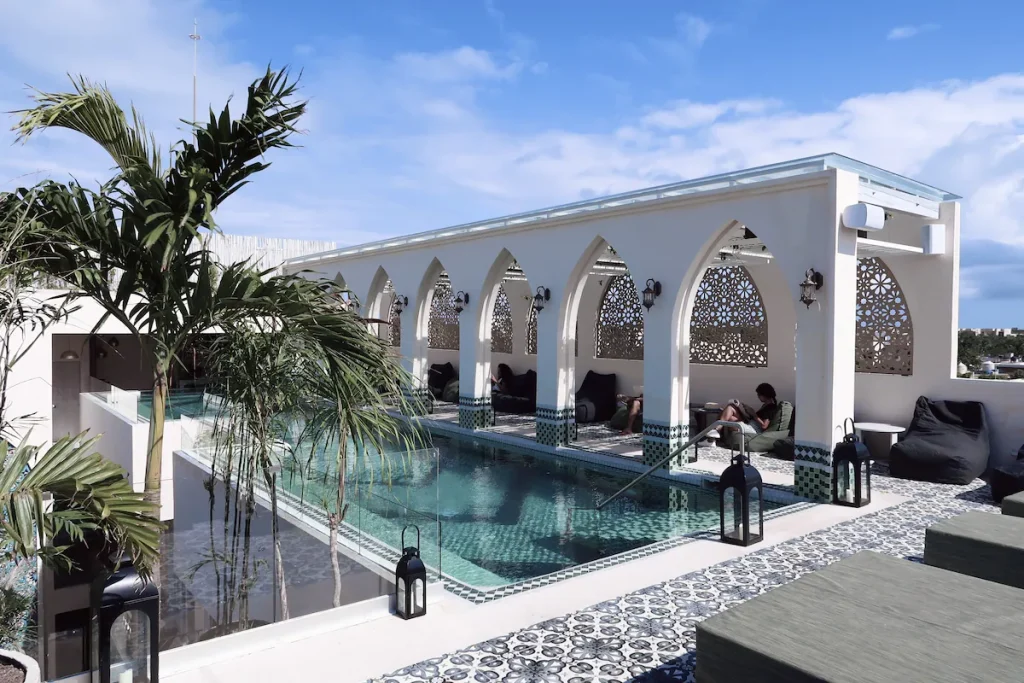 Layla is right in the heart of downtown Tulum, so it's ideal for travelers who want to be in the middle of the action. There's free breakfast too, as well as a rooftop bar that partygoers love.
Layla is an adults-only hotel, so it's best for solo travelers or couples.
10. LiveTulum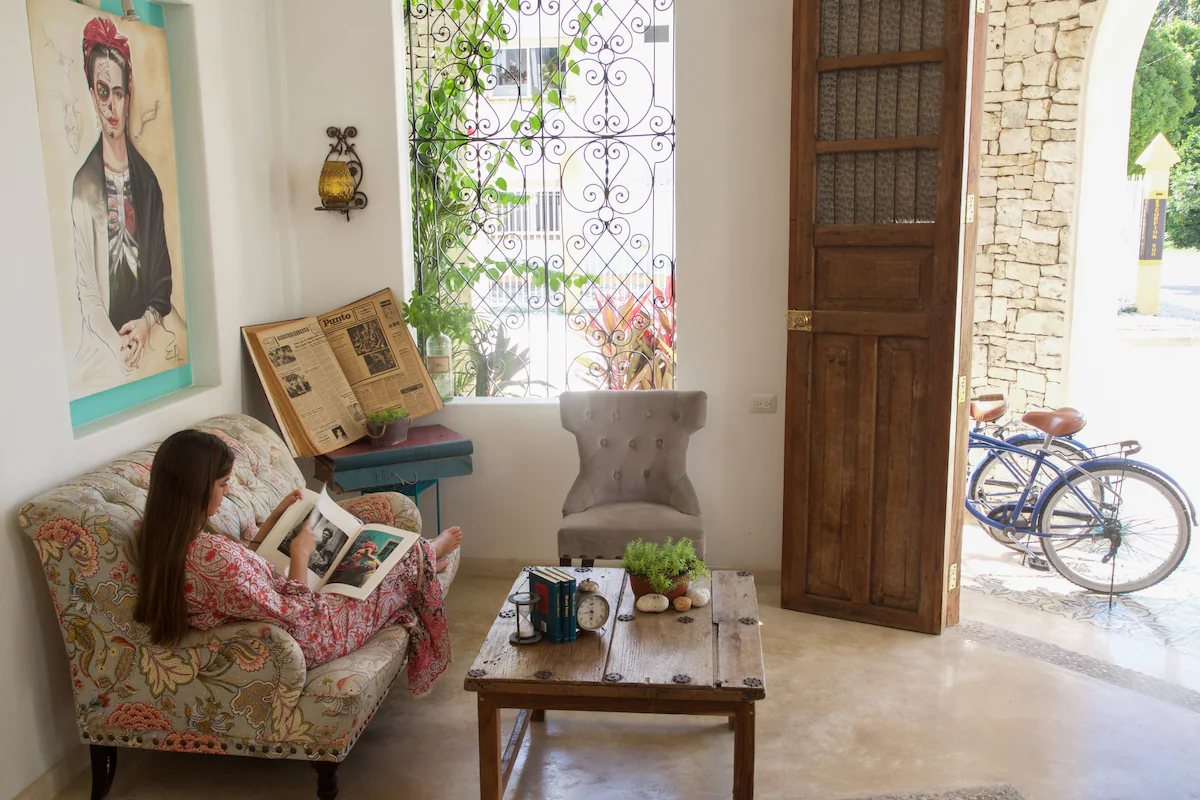 If you're looking for a homey environment and a fully equipped apartment for your stay, LiveTulum is a fantastic option. The kitschy decor, complete with Frida Kahlo paintings and colorful Mexican trinkets, gives the hotel a fun vibe. LiveTulum has a large pool, and many rooms have a balcony overlooking it.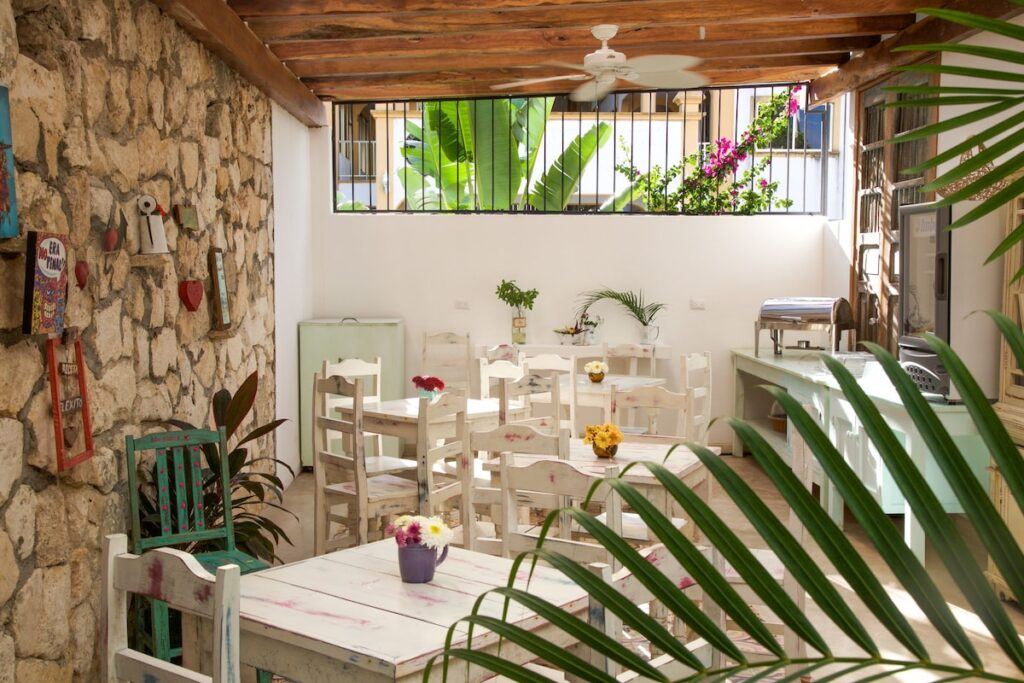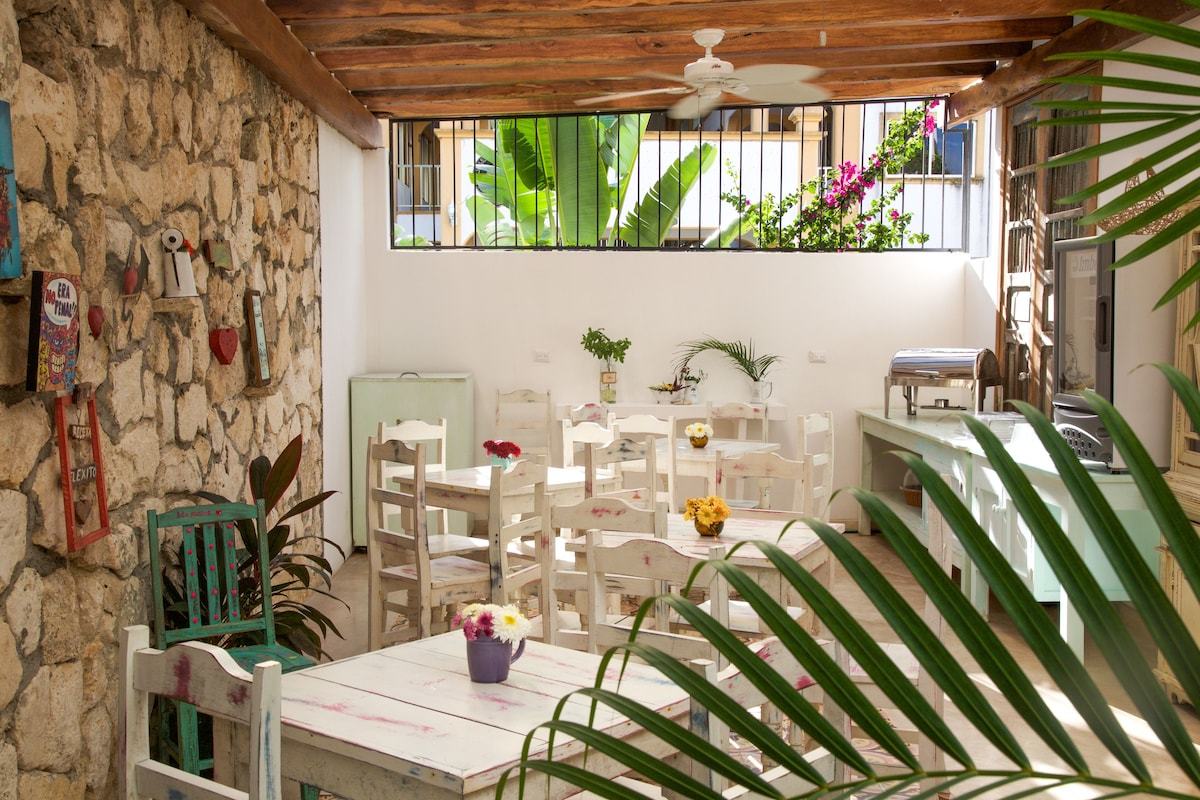 This is one of the best hotels in Tulum for families, as it also has a two-bedroom apartment and zero age restrictions for children. It is right in the heart of downtown as well, with easy access to shops, restaurants, and the main road to the beach.
11. Coco Tulum Beach Hotel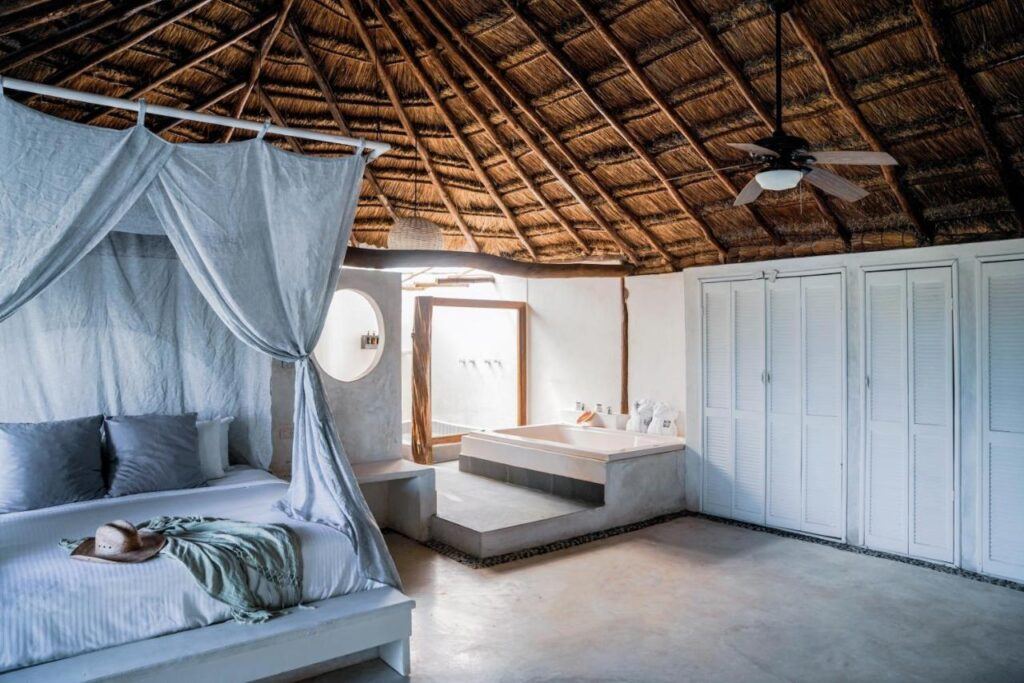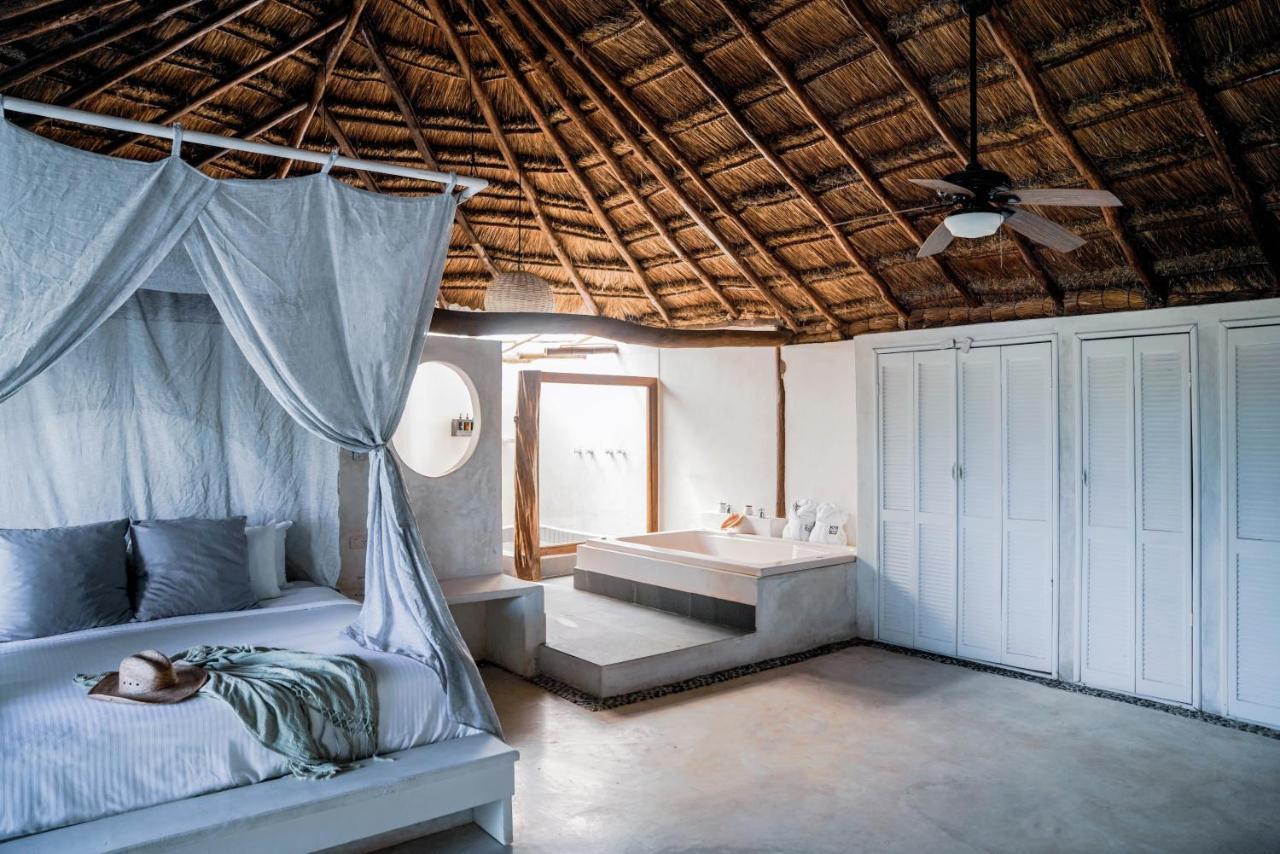 "Coco is a big name in Tulum boutique hotels, as they have four locations. The original location, Coco Beach, became Instagram famous for its bohemian white swings on the beach. Coco Beach itself is popular with solo travelers, friend groups and social couples. It is located right on the beach, and has the quintessential Tulum look, comfortable rooms and an on-site restaurant/bar, where you'll find the white swings. If you're renting a car in Tulum you're in luck, as they're one of the few hotels offering free parking for guests.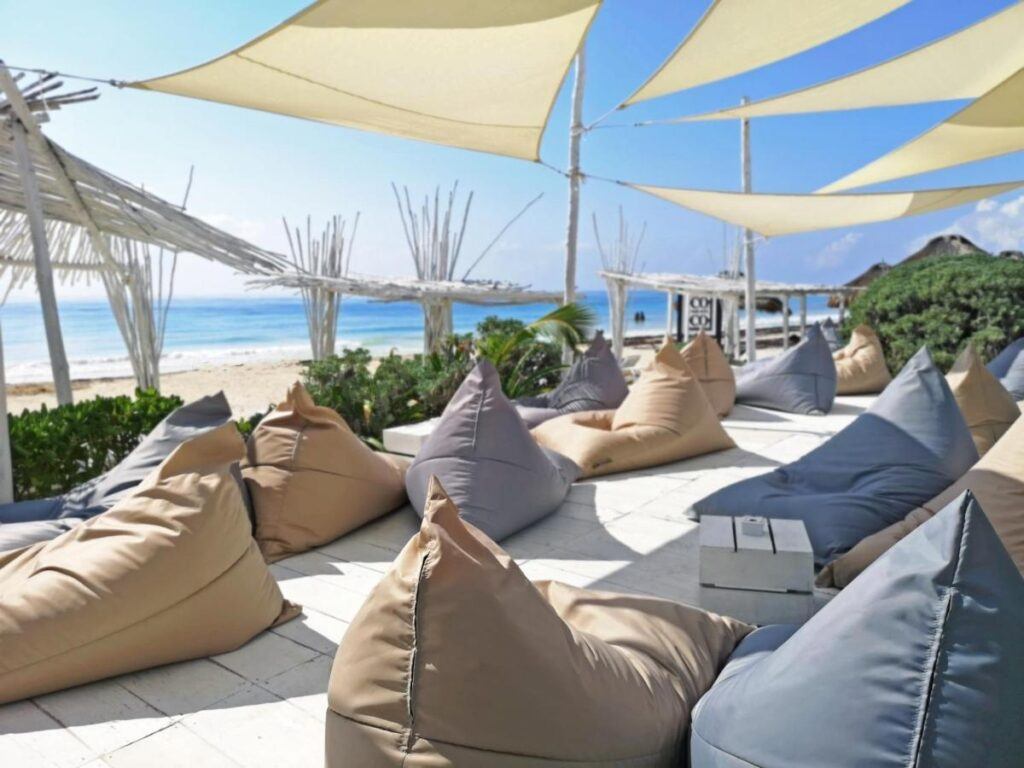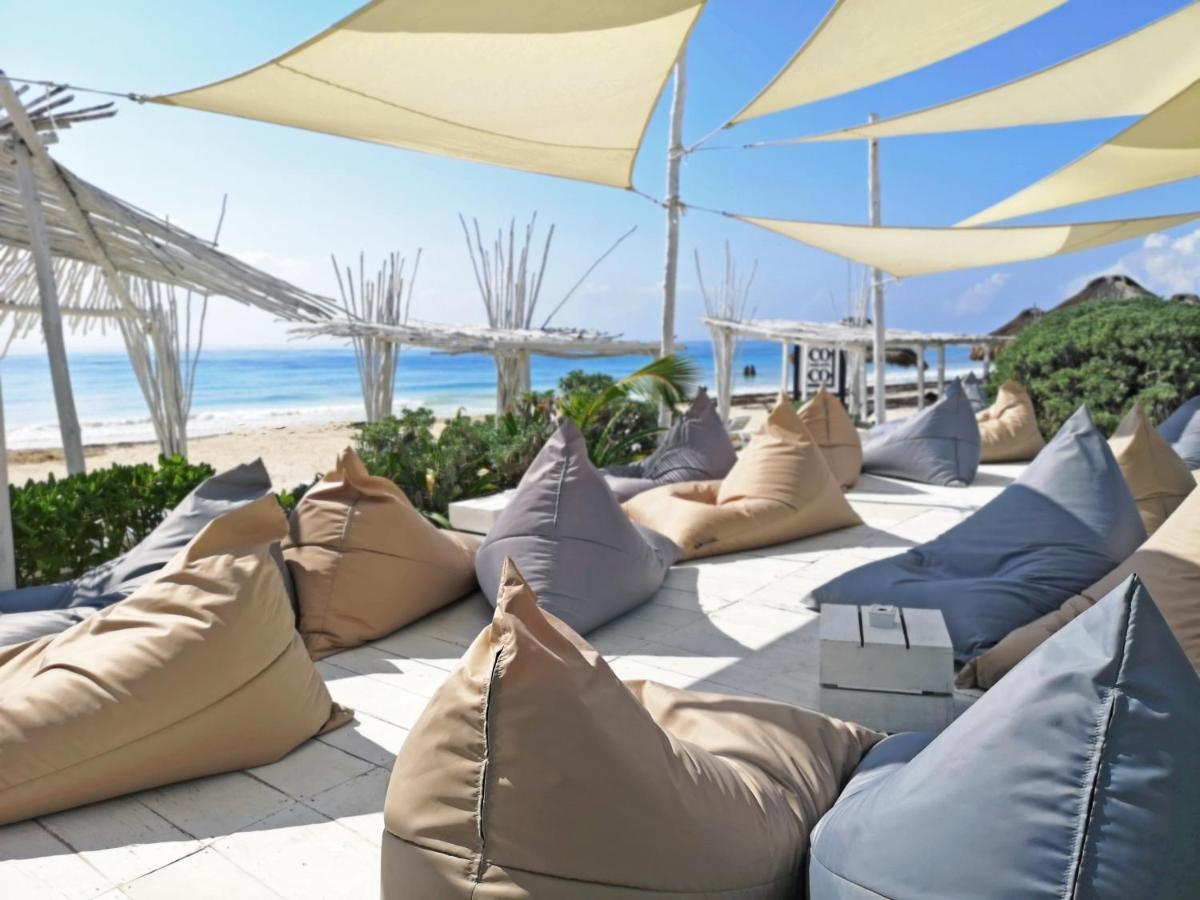 This hotel is right in the heart of all the Tulum action, so you're near many bars, restaurants, boutique shops, yoga studios and nightclubs. It's also within walking distance of the Tulum Ruins, and about 15-minutes by car from several cenotes, including Gran Cenote and Cenote Calavera." – Shelley of Tulum Travel Secrets
***
Now that you know where you'll be staying in Tulum, it's time to start planning your itinerary! We've got you covered with these ideas for what to do and where to go. Also don't miss out on this guide to El Gran Cenote, one of Tulum's most popular attractions.
*Some links in this post are affiliate links for products and services we personally use and love. Any purchase you make through them supports us at no extra cost to you. Thanks so much!