The plane glided overhead, me eagerly watching the landscape below as we made for Cabo, cerulean lagoon after rolling mountain populating the landscape of the peninsula.
One could see the entire width of Baja from the window seat. The mountains made way for washes, carved by water that used to roam through it in abundance, now literal wrinkles in time for wild mile after wild mile of that arid desert. Home to cacti, low bushes, and a surprising abundance of life both in the mountains and the sea, I was witnessing the rugged beauty of Baja California Sur unfold.
I had two weeks ahead of me to road trip through Baja California Sur in Mexico, beginning in San Jose del Cabo. We took this trip in November-December 2020, so this information is current with COVID regulations. The following is the itinerary, with some additional suggestions added in so that you can craft your perfect Baja Sur adventure:
1. Todos Santos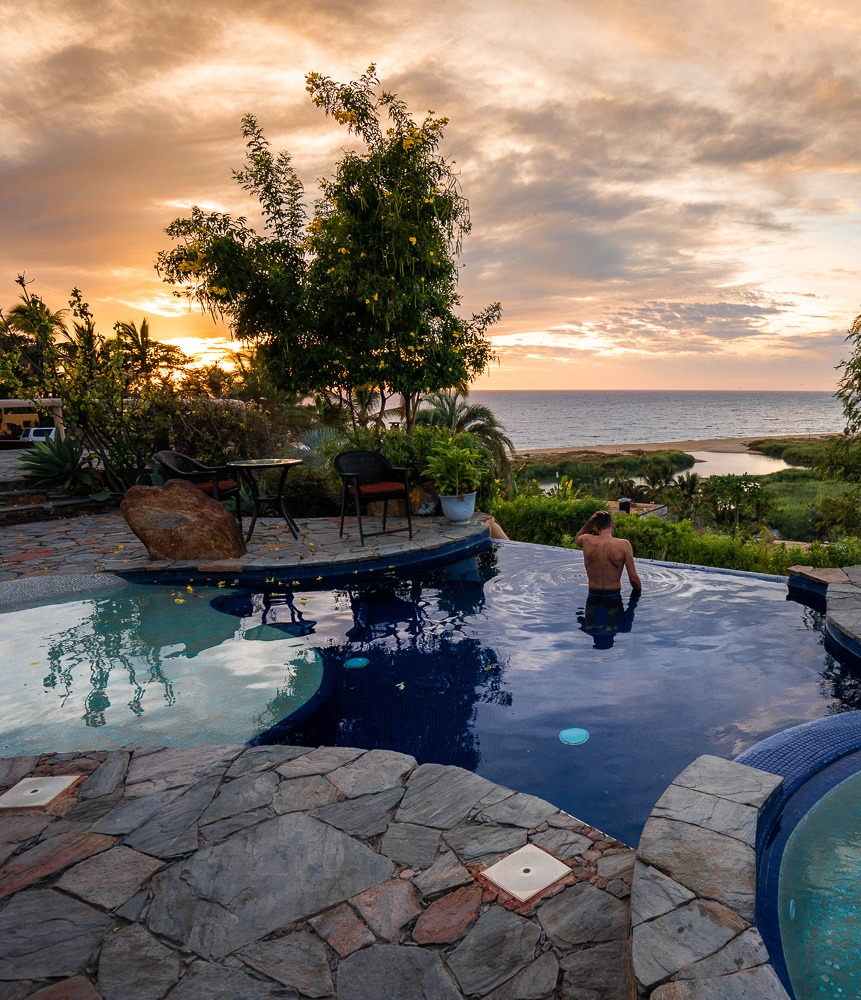 Upon landing in SJD, G and I picked up the rental car (more on avoiding scams later in this post) and immediately made our way for dreamy Todos Santos.
Translating to 'all saints,' — which is a nice name, no? — Todos Santos is a designated Pueblo magico, or 'magic town' in Baja. With its sweeping views of the Pacific and bird's eye views of whales breaching on their way south, this artsy little town fits its designation.
To be honest I just chilled the F out in Todos Santos. The beach isn't swimmable, due to big waves and rocks, but this is something you get used to in Baja. Book a place with a view and a pool and you're set (I loved this one!).
Things to do in Todos Santos: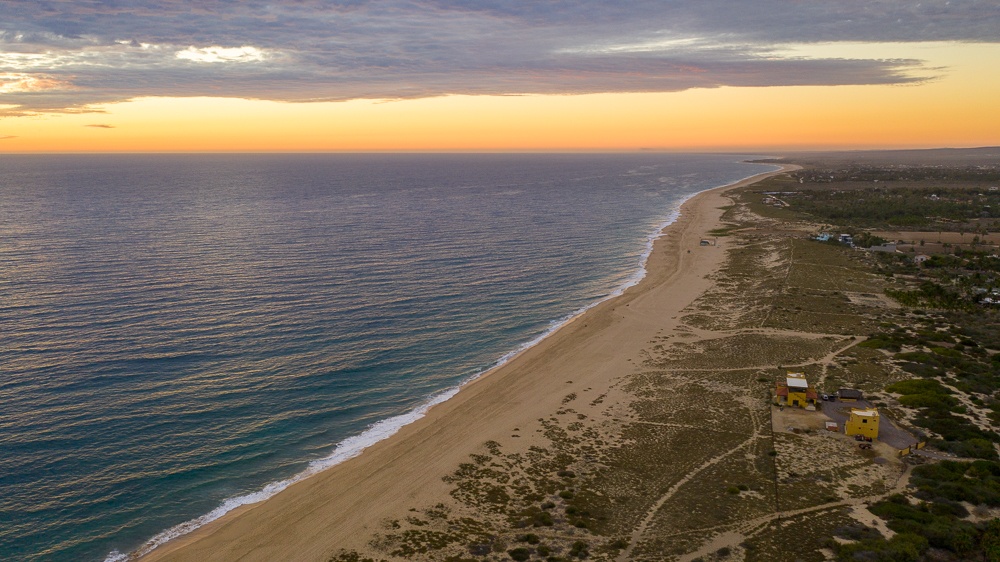 Hike the Sugar Port Trail: Get gorgeous views on this 2-mile hike along the coastline. Check the starting point here.
4×4: Want to access the wild side? The mountains are right there, too, and lots of fun 4×4 roading that those terrible rental cars can't do for you! Rent in town or take a Jeep tour and let someone show you the best spots.
Surf: Just south you'll find a surfing wave if you're into it, or consider hiking to palm beach for a lovely beach day.
Where to Eat in Todos Santos: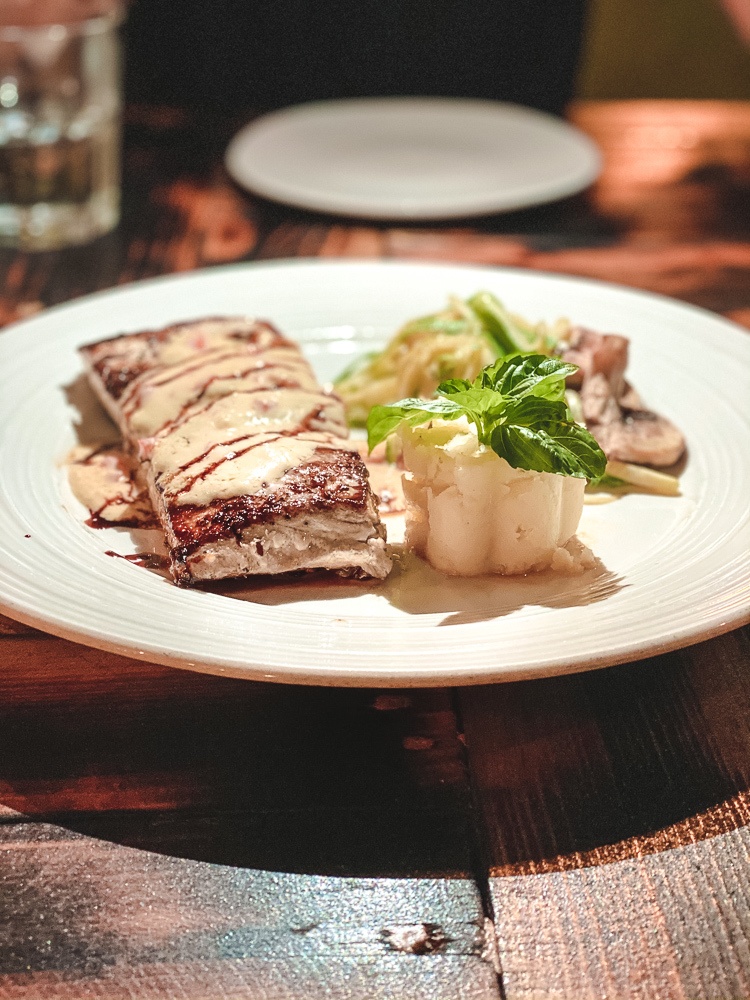 Seafood: Santos Pecados Restaurant & Bar, Todos Santos not only has amazing service, but amazing seafood! The tequila fish is to die for (and doesn't taste like tequila, don't worry).
Brunch: The vibe is on point at La Esquina Todos Santos. It's mostly outdoors, open-air and has veggie and healthy options as well as great breakfast. There's a farmer's market on Sunday, too!
Tacos: Tacos El Poblano in the evening for cheap al pastor and Tacos George's for fish tacos during the day. They're right next to each other with opposite hours.
Dessert: Baja tasty, near Santos Pecados, has amazing ice cream!
Where to Stay in Todos Santos:
The pool photo featured above was at Los Colibris Casitas, a gorgeous boutique hotel with plenty of privacy and awesome views. I loved the King Suite!
2. La Paz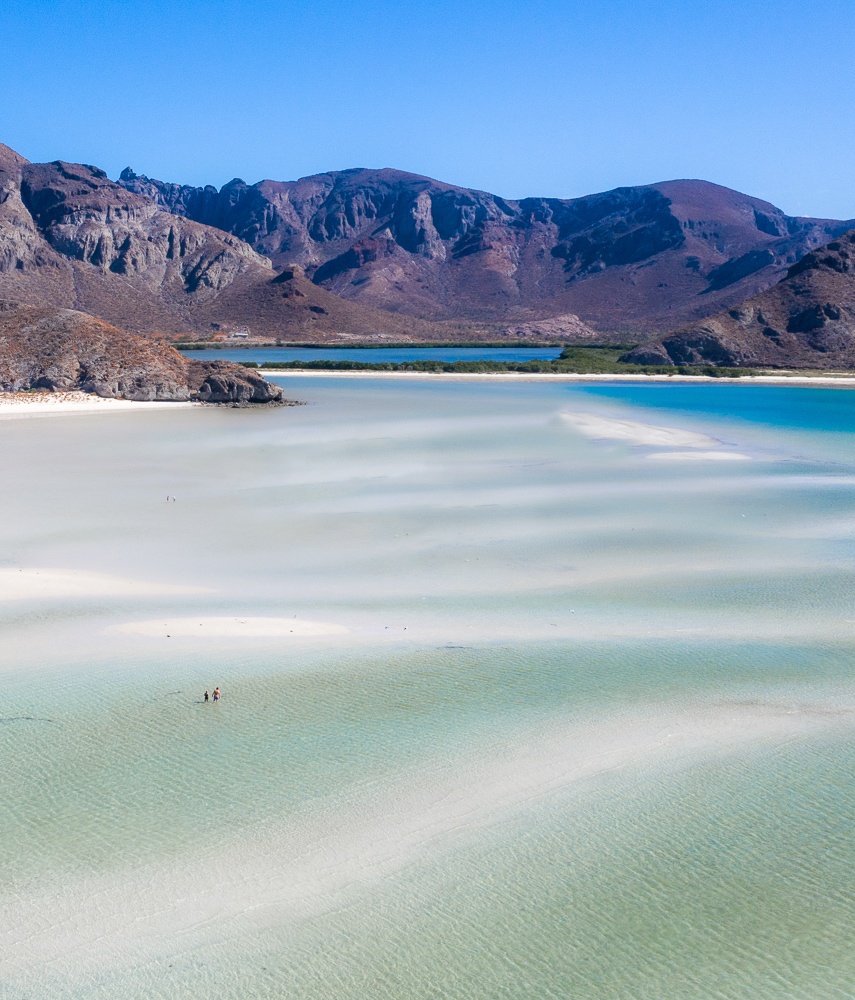 La Paz, meaning 'the peace' — also a nice name, right? — is the best jumping off point for the gorgeous beach pictured above and whale shark swims.
La Paz is certainly bigger than Todos Santos, and I recommend you follow all traffic rules perfectly because the police are out in full force, but once in town you'll see why people love La Paz. The Sea of Cortez is beautiful and it's perfectly positioned for amazing sunsets.
Things to do in La Paz: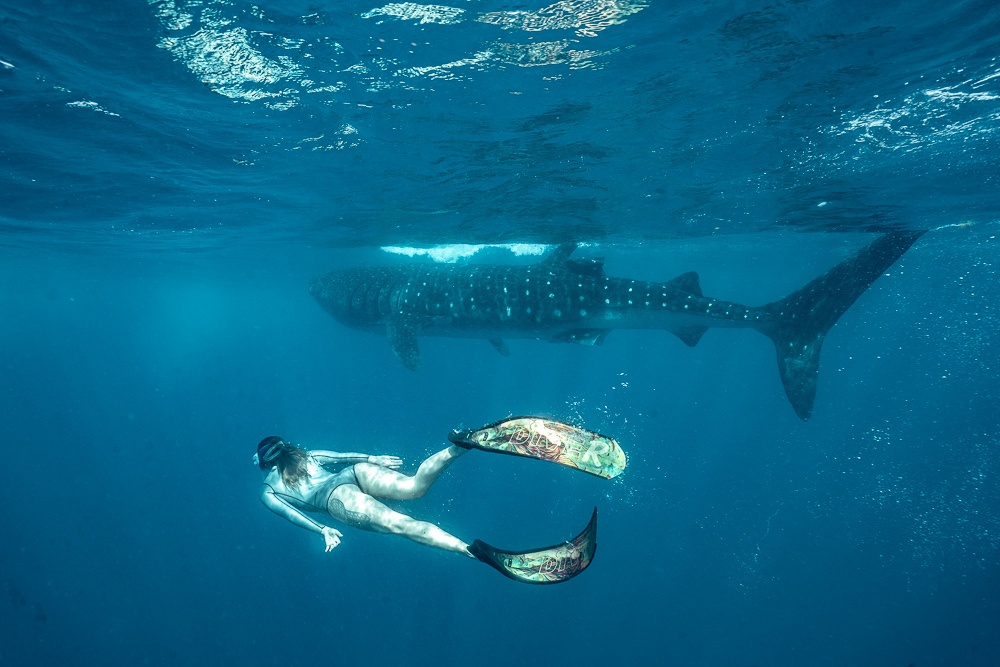 The Sea of Cortez is brimming with life, and depending on the season, you can swim with all kinds of amazing things out there. Keep in mind for Espiritu Santo you'll be required to wear a life jacket, which some people won't mind and others (like me) will mind a lot!
Swim with Whale Sharks: La Paz's whale-shark season runs annually from October to May. Unlike in Cancun, you don't have to wear a life jacket in the water if you're wearing a wetsuit. It's tightly regulated, and the only way to see them is via boat tour. It was too windy when we were there to go, but Alonso tours were so responsive, upfront, and helpful and friends of mine who went with them later loved them. If you prefer to book in English, you can do so here. (BTW both are much cheaper than some of the bigger companies, and both are good!)
Visit Isla Espiritu Santo: Swim with sea lions in beautiful bays on this trip. When I saw this island from the plane, I was dying to visit, but life jackets are required even in the water. I understand it's a regulation, but that would ruin it for me. If that wouldn't bother you, sign up to do it here. I've heard great things, and sea lions are so interactive!
Visit Balandra Beach: You'll need a vehicle for this one, or a taxi, however during COVID-19 there are capacity limits and once the beach fills for the day, they don't let anyone new in regardless of if people leave. Get there by 6-7am to get in, or, take a boat or jetski over from a neighboring beach. We found a tour guide on Pichilingue who just added us to his boat and dropped us off, then picked us back up five hours later for 500 mxp total for two people. Ask around, haggle, and find yourself a private stretch of sand – there's a lot of it, see below: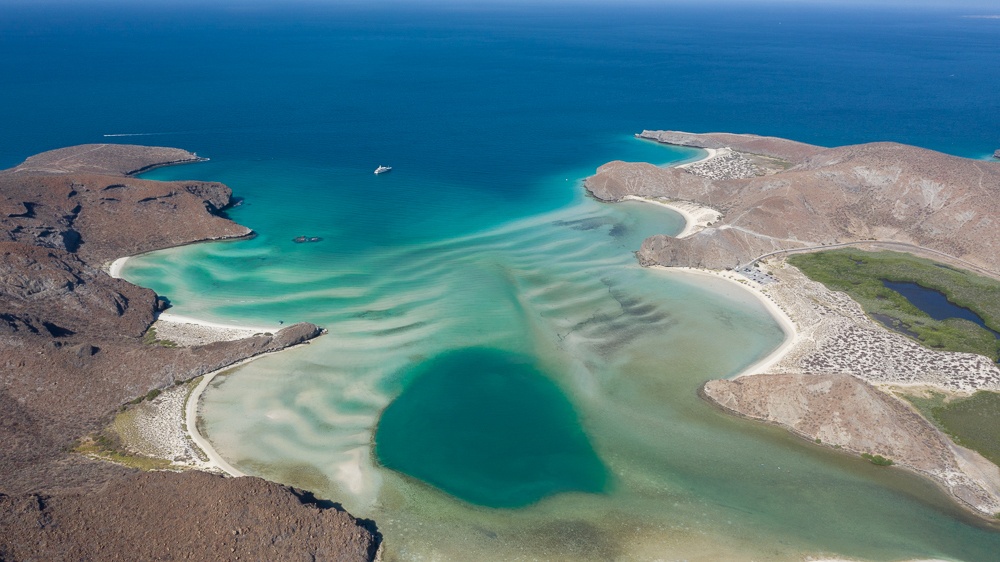 What to Eat in La Paz:
Bakery and BBQ: Vrentino Restaurant has delicious pies and cakes and their grilled fish and pulled pork were on point!
Where to Stay in La Paz:
Since we splurged a bit on other spots, we went budget in La Paz at Araiza Palmira, which was fine, especially for the price, but had I known strong winds would have meant we'd spend a lot more time inside, I would have booked Hotel Catedral with that awesome rooftop instead.
3. La Ventana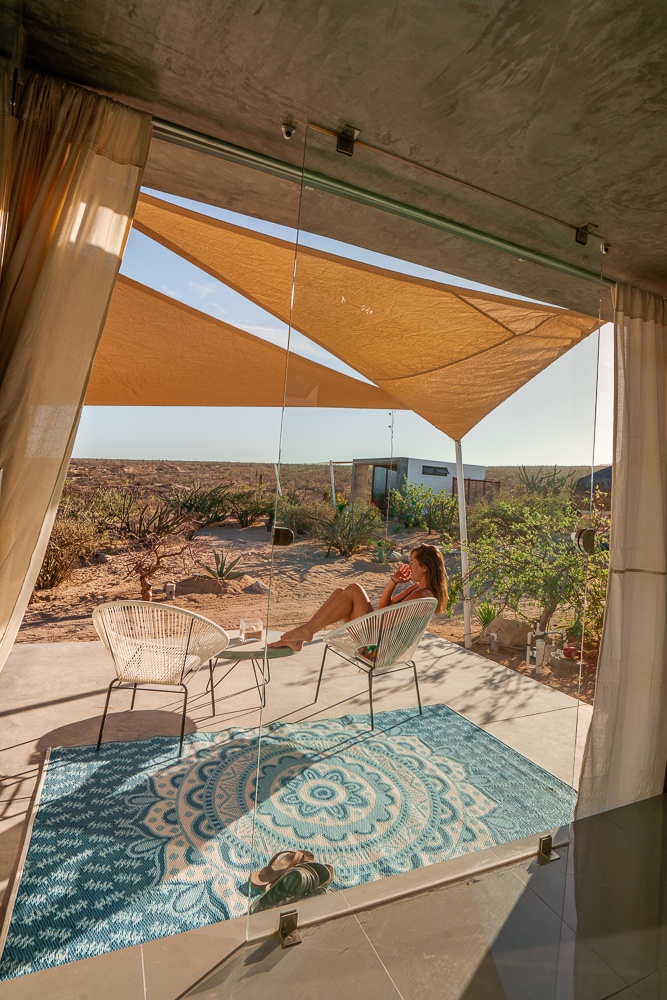 La Ventana is a favorite for kite boarders and lovers of the ocean. I heard it's so-named for the window of time in the morning before the winds pick up and create the perfect conditions for kiters.
There was a weeklong wind storm that foiled most of my plans for the sea of Cortez and Isla Cerralvo, which doesn't have the life jacket requirement.
Though I didn't see as much as I'd hoped, we nearly managed to get in with a HUGE pod of dolphins and we swam with sea lions as well. You can see some of it in the video below:
When the conditions are better, I've seen amazing videos with Orcas, Sperm Whales, and big fish. It's enough to make me want to try again!
Things to do in La Ventana: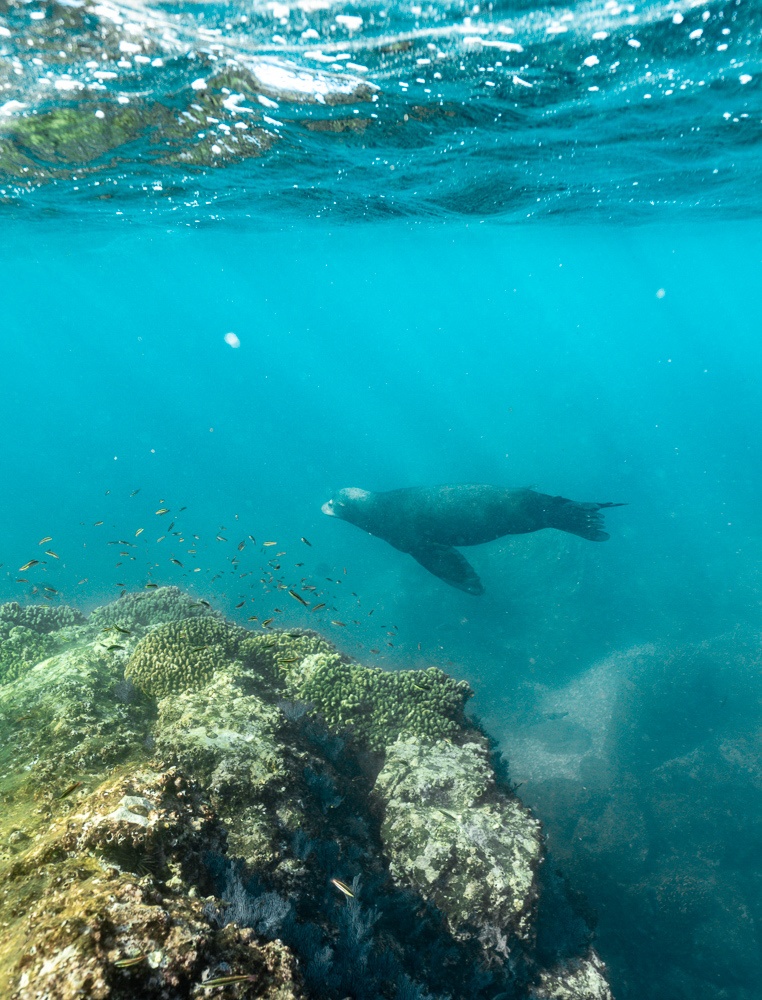 Snorkel and freedive: Isla Cerralvo is typically pretty good for swimming with sea lions and having better clarity than other areas closer to shore for snorkeling. Again, I got unlucky when I went, but we still swam with a few of these guys. It's best to book this directly with a boat captain, as hotels will double the price. Check out my where to stay section for help on getting a cheaper (and just as good) boat.
Kite Board: La Ventana is famous as a kiting spot. Don't know how? No worries, take some lessons from Girl on a Board.
Mountain Bike: This isn't so much my sport, but if you're into it, there are many trails through the mountains that frame La Ventana.
Check out the hot springs: They're right on the beach! Find them here. Be careful, some of the areas are suuuuper hot!
What to Eat in La Ventana:
Tacos: The best tacos I had in Baja Sur were right here. It's just a little yellow stand with a friendly female owner and 20-pesos taco heaven.
Seafood: Mariscos El Cone has yummy grilled fish and the portions are huge!
Pizza: If you want some pasta or pizza, San Siro – Risto.Pizza.Bar does it well!
Where to Stay in La Ventana:
I stayed at an Airbnb (pictured above) that was a little off the beaten path but beautiful and affordable. I loved the landscaping, the remoteness, the sunrise and sunset views, and the cool way it was constructed into little pods! Ask the host to help you book a boat excursion directly with a captain.
4. Santiago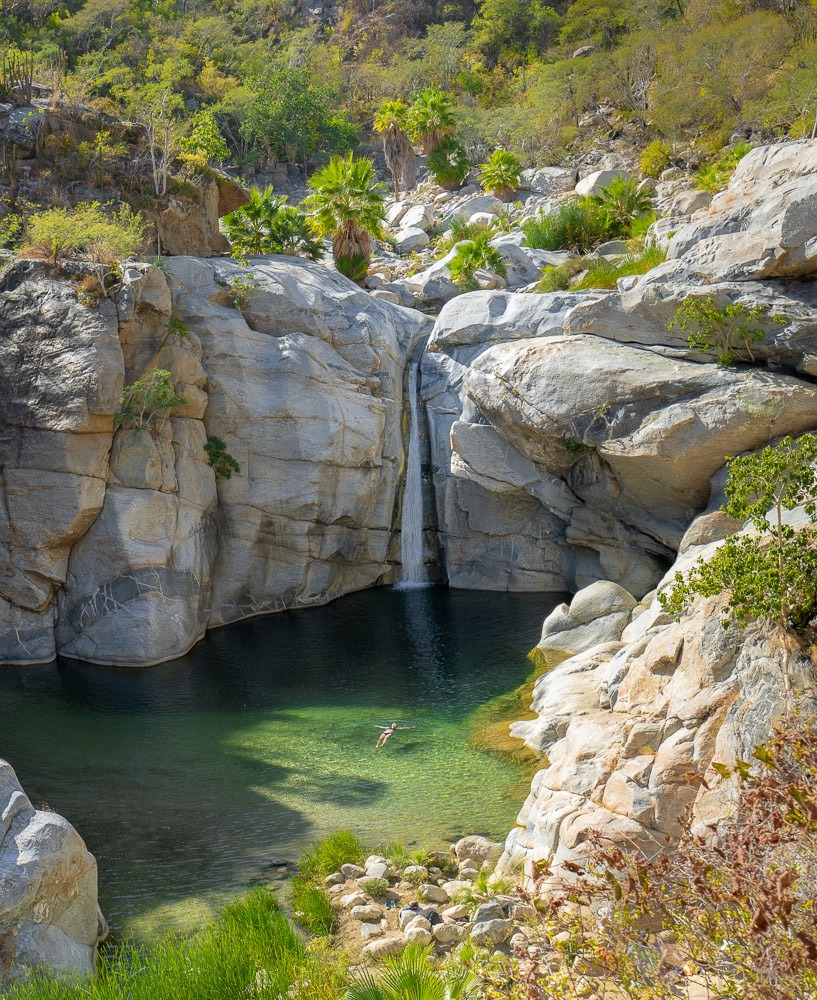 This desert oasis in the interior of Baja Sur was magical, and I highly recommend checking out the hot springs and the Canon de la Zorra. Consider spending the night, as well!
It's a dirt road for much of the drive out of Santiago, but it was passable in our chevy sedan rental. I know things can change after the rain, so reconsider this trip if it's been pouring lately.
Things to do in Santiago: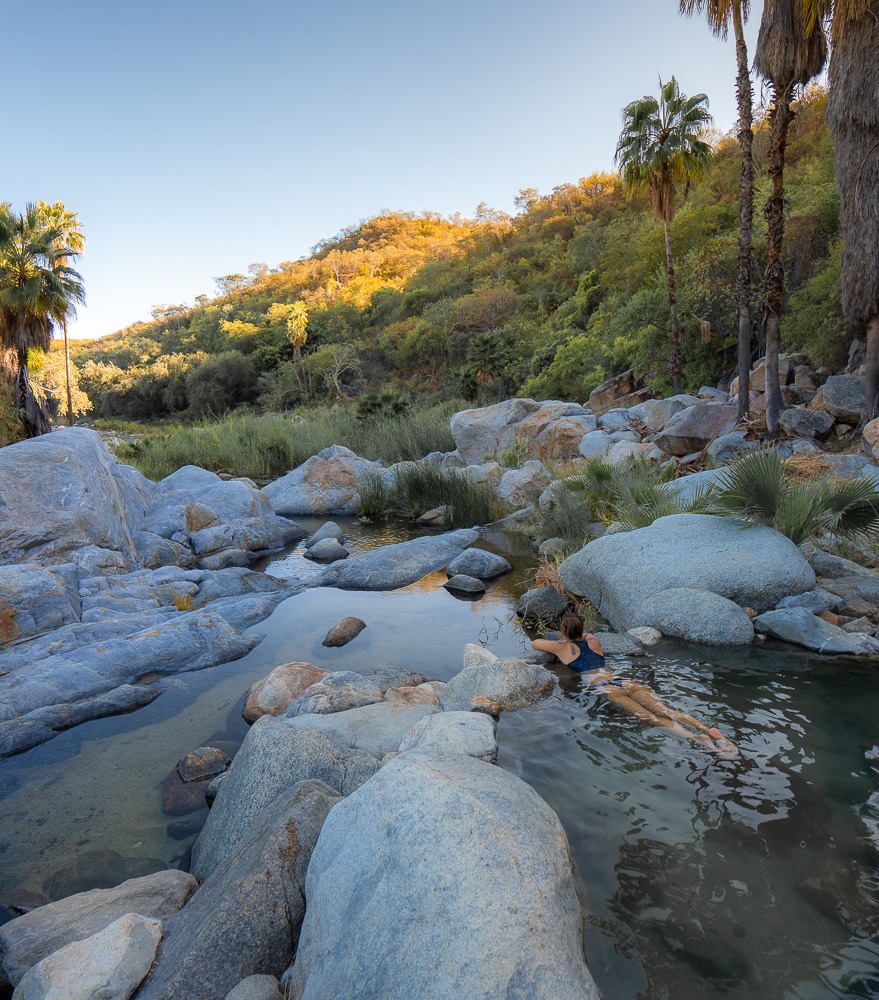 Sol De Mayo: The waterfall pictured above is truly magical. The water is crisp, there are several crystal clear pools of water, and bonus, there are little fish in there who will nibble your feet – hey natural fish spa! Entrance is 150 mxn per person via the Rancho Ecologico Sol De Mayo, which I recommend staying at, too!
Santa Rita Hot Spring: There are two hot springs in the area, but this is the prettier of the two. Access it via San Jorge. It's easy to hit both the waterfall and the hot spring in an afternoon! Entrance is 150 mxn per person, and you can camp here as well. Avoid visiting on weekends when it can get busy. It's also closed on Wednesdays.
Canyon tours: I didn't do this, so can't recommend a specific tour, but if you're down for canyoning and going through caves, you can book a tour in Santiago or nearby to do this!
Where to Stay in Santiago:
You can camp at the Santa Rita hot springs if you have your own gear, or you can spend the night at the Rancho at the waterfall on Airbnb. There's no electricity, but it looks like a wonderful experience and one I'd probably do next time!
5. San Jose Del Cabo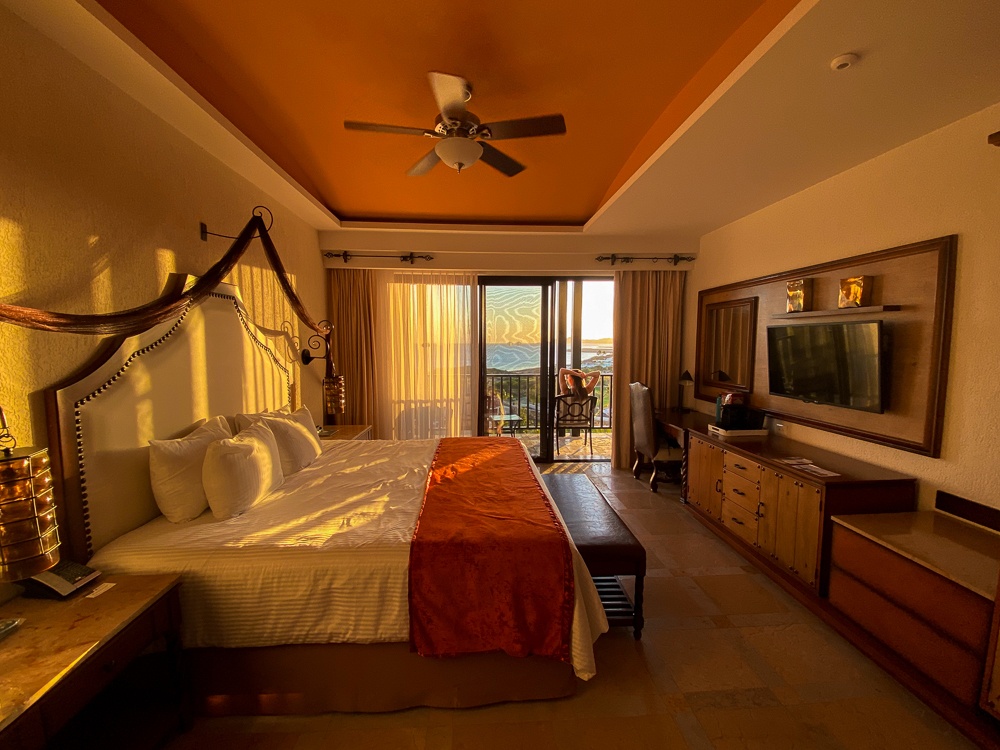 I have a confession to make, I stayed at an all inclusive in San Jose Del Cabo and I honestly loved it, though I felt torn, too!
My reason for going back down to Cabo was to swim with sharks out of Cabo San Lucas, but I don't find that Cabo San Lucas has many redeeming qualities, so I decided to book Garrett and I into a fancy hotel in San Jose with a gorgeous view. I honestly hadn't realized until after I booked it that it was an all inclusive!
The great part: How easy it was to just relax and enjoy the surroundings. We didn't have to think about anything, and I thought that the food was good. The bad part? All inclusive tends to inspire a lot of excess and therefore tend to be quite wasteful, I also didn't appreciate all of the plastic that they used in the hotel due to Covid. I'm talking everything from shampoo bottles to the device you use to order room service (that has to be torn out of the plastic to charge it anyways) were wrapped up. I really wish they wouldn't!
That said, for one night of bliss, we were super careful to only order what we would eat, and if you'd like the same experience, this is how I paid for it entirely in points, and this is where you can book at yourself.
Things to do in San Jose Del Cabo: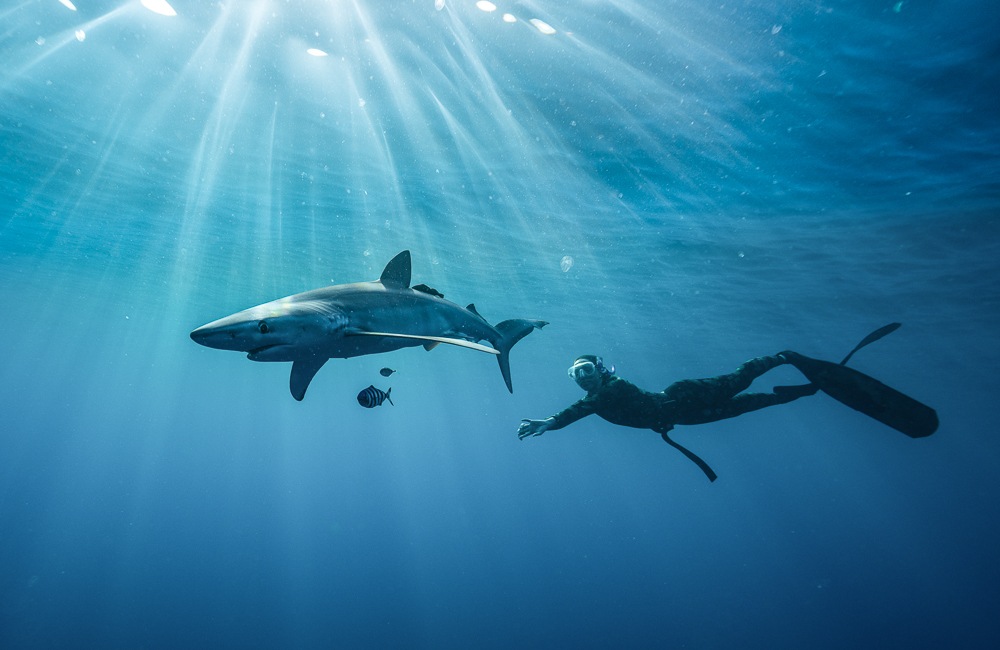 There's all kinds of sea life at the end of the peninsula where the Sea of Cortez meets the Pacific. At any given time of year, you could see whales, different kinds of sharks, Mobula rays, and more.
I recommend freediving with sharks with Baja Shark Experience, who also run Magdalena Bay trips (more on that later). The trip was a bit pricey, but totally worth it when we got to swim with a blue shark for over 2 hours!
Honorable Mentions: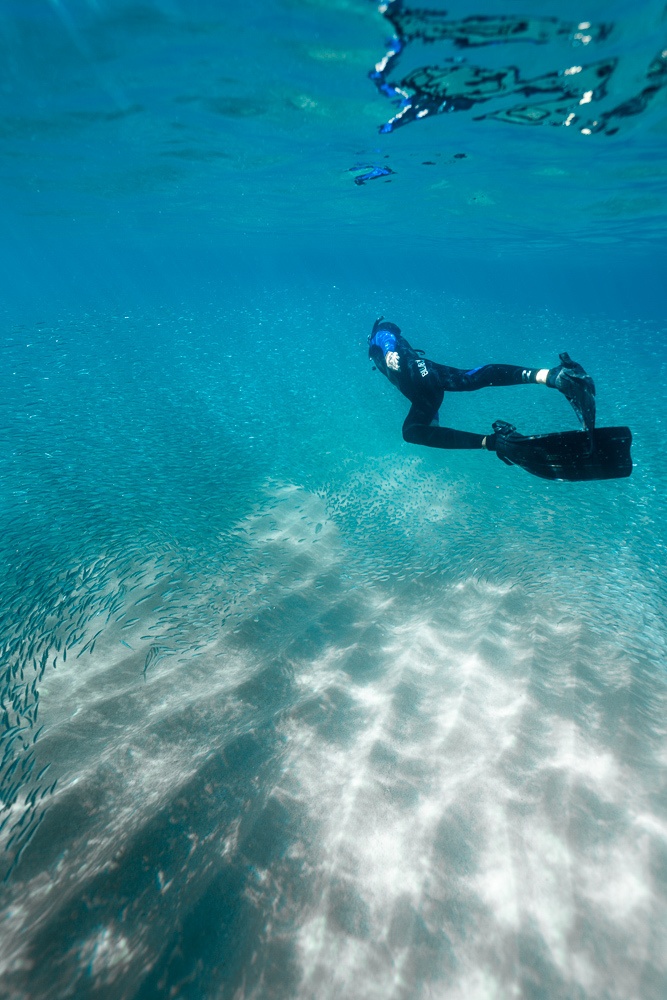 Our Baja California trip spanned 16 days and if we had been willing to drive a bit more, we could've headed north as well to see some beautiful areas. The following are some spots I will put on my trip for next time, and have heard great things about:
Loreto: This is the gateway for another beautiful national park, and word on the street is you don't need lifejackets there! By the way, I realize how obsessive I sound about life jackets, but anyone who feels very comfortable in the water and loves their aquatic adventures will relate and also care a lot about this!
Cabo Pulmo: Rumored to have the best water clarity in Cortez, Cabo Pulmo is loved by divers and snorkelers, however the winds were too heavy when I was there.
Magdalena Bay: This area is famous for the annual sardine run from the end of October, typically to the end of December. Then from December to May, you can see Gray Whales. This year we unfortunately missed both windows as a cold front ended it early, but you can still see Humpback whales, orcas, striped marlin, and sea lions! This is on my list for the future.
La Purísma: This is another desert oasis with a beautiful river flowing down at the mountains edge, there's only one place to stay and this is more for those of us who love rivers and paddle boarding, but I honestly would have loved to see this for myself.
Adolfo Lopez Mateos: Just north of Magdalina Bay, these dunes look like a fantastic sunset photo opportunity. I'm guessing you can take a sandboard down them as well, just be careful of the areas where there is vegetation growing, as there is an abundance of life out there!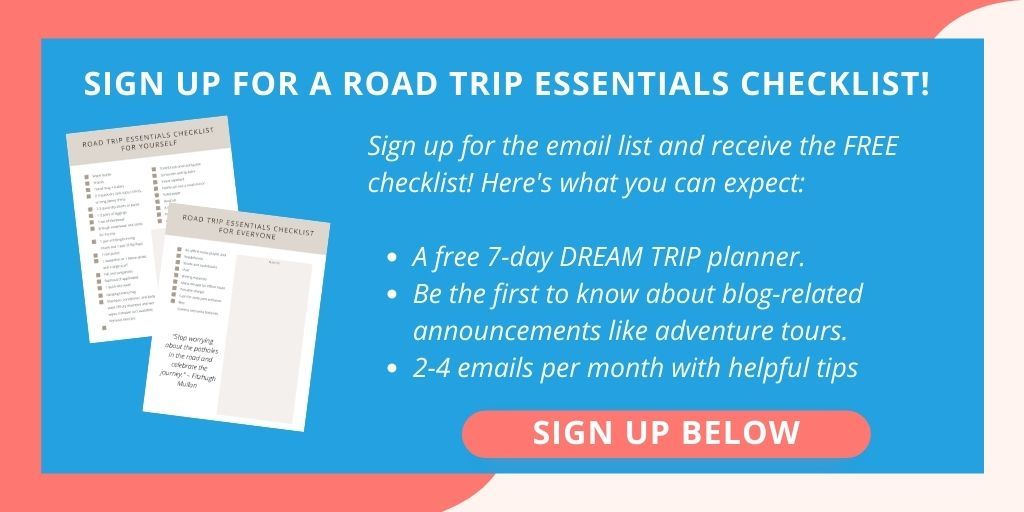 Renting a car at the airport in San Jose Del Cabo:
If you've ever rented a car before in Mexico, you'll know that what you see is not what you get in terms of the price online. Even if they promise that it includes all of the insurance, you will still arrive in Mexico only to be told that the insurance costs extra. I'm always prepared for this in Cancun, but an Baja Sur it's the worst, where the price can quadruple.
For this reason, I recommend not booking and paying for a car ahead of time, but rather haggling in person when you're there. Make sure that you get everything clearly in writing, do calculations for the currency rate, and film the car before renting. It's one of the more scammy rental experiences I've had – just Google any car rental agency down there and you'll see nothing but one star reviews. But if you know how to play the game you'll be fine. We were able to get a 16 day sedan rental from Sixt for $480, which wasn't bad!
The best way to get a good price is to take a van to Hertz or Sixt and negotiate in person, or only talk to the people at the actual labeled booths right near the exit of the airport. Always be willing to walk away.
It's annoying, but it's just the way it's done down there!
All in all, Baja has so many adventures, and there's something enchanting about the way the cacti stretch right out to the sea, and this road trip through Baja Sur gives you an amazing taste of it. Enjoy the starry nights, the calmness, and the amazing aquatic adventures!
*Some of the links in this post are affiliate links. Bookings you make from them support us at no extra cost to you. Thank you for supporting!