Gran Cenote is by far one of the most popular such attractions near Tulum. It has everything that makes a cenote magical: crystal-clear turquoise waters, jungle vines hanging down from rocky overhangs, vibrant green plants encircling the opening, and neat caves to explore. It's no surprise to me that this cenote attracts so many visitors. Here is everything you need to know before visiting this enchanting place:
What Is a Cenote?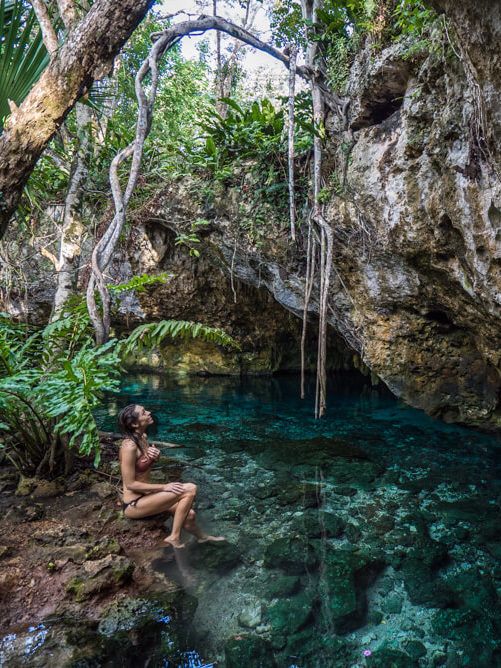 A cenote (seh-NO-teh) is a natural limestone sinkhole filled with freshwater from underground rivers. Some of the deeper cenotes have a halocline layer that separates the fresh water from salt water below. The Yucatán Peninsula is home to the longest underground river and cave system in the world! Due to erosion, the ceilings of these water-filled caves collapse, and we know these openings as cenotes.
Since cenotes are part of a vast system of underground rivers, many of them have caverns beneath the surface that are a diver's dream to explore. The deep, crystal-clear water makes for wonderful swimming and snorkeling as well. With rocky cliffs, hanging vines, and spectacular jungle views all around, cenotes are truly a treasure to visit.
There are three distinct types of cenotes:
Closed: Think underground swimming hole. Closed cenotes have a very small opening at the top where you can climb down into the cavern. There will be an open-air space that likely has stalactites hanging from the ceiling and even some bats. Some closed cenotes are pretty basic, with just a wooden deck, and some are more built-up, with stone platforms to sit on and jump in from.
Semi-open: Semi-open cenotes are similar to closed cenotes, except they have a more sizable opening at the top. They are underground and require stairs to get into. You might find cave pockets in these, and the light shining in from above is beautiful in the morning and mid-afternoon.
Open: An open cenote most resembles a pond or lagoon. It might have some rocky cliffs on the sides or rock overhangs, but most of the water's surface is exposed to light. This means that open cenotes have much more plant life growing on the bottom, which is neat to check out with some snorkeling gear.
So, which kind is Gran Cenote? It's open, with lots of rock overhangs and inlets. It has a few different sections, including a part that feels more like a cave.
Historical and Cultural Significance
Cenotes were and continue to be of huge importance to the Mayan people. They are the entrance points to the underworld, Xibalbá. For this reason, cenotes have been places of worship and ritual for centuries. Now that so many of them have become tourist hotspots, this important part of Mayan culture goes unnoticed.
Reasons to Visit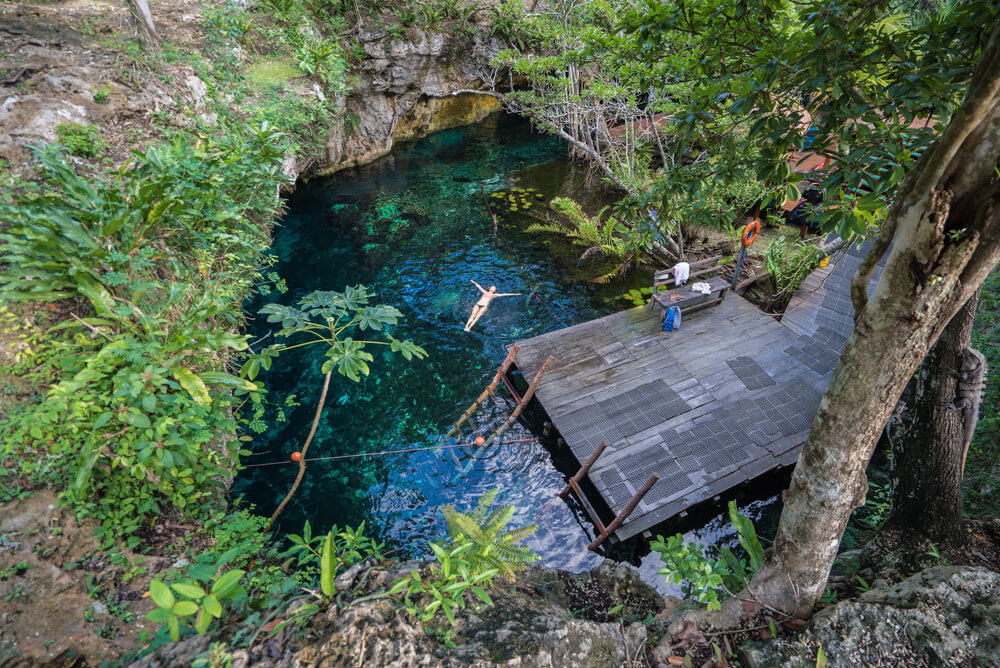 Gran Cenote has a bit of everything: a cavern to swim through, an open pool to float in, turtles to observe, and loads of plant life all around it. Here are a few reasons why you have to visit next time you're in Tulum:
Diving
While it isn't the most popular diving location in the area, it's still a great place to get below the surface of the water, as it has plenty of caverns to explore. It is part of the Sac Actun system, which is the largest underwater cave system in the world.
So much of the charm of Gran Cenote lies underwater, where you'll find incredible geology, including several stalagmites and stalactites. It's a novice-level dive, which is perfect for beginners.
Check out Koox Diving for more information on how to book your adventure.
Snorkeling
Gran Cenote is one of the best spots near Tulum for snorkeling. As soon as you peer into the turquoise water, you'll be able to see why. In the open areas of the cenote, there are plants growing on the bottom like an underwater garden.
If you go into the covered cave-like area, however, the scene slowly changes. As the water gets deeper, you'll see the rocky caverns below. The walls under the surface are decorated with neat geological patterns and plant life. You'll also see plenty of small fish and the famous turtles swimming about.
You can bring your own snorkeling gear, or you can rent it there.
Swimming
The clear water makes it an incredible place to take a dip, because you can see down into the depths. Even the shallow areas are a great place to swim, whether you're an experienced swimmer or not.
Like many cenotes, this one has a rope that passes through the deeper parts of it, which is nice to hold on to if you get tired of swimming around. If you don't feel confident about being in deep water, you can also rent a life jacket, which will allow you to explore more.
Turtles
There aren't many cenotes where you'll find freshwater turtles in the numbers that you'll find them here. Likely due to the amount of human contact they have daily with visitors, the turtles seem very unfazed by people coming in and out of the water. In fact, I've had turtles bump straight into me while I was snorkeling! Keep an eye out for the clumsy ones, folks!
It's important to avoid touching the turtles (on purpose), just as with any other wildlife. Seeing them up close is also a great reminder to leave no trash behind at the cenote — or anywhere else for that matter.
When to Visit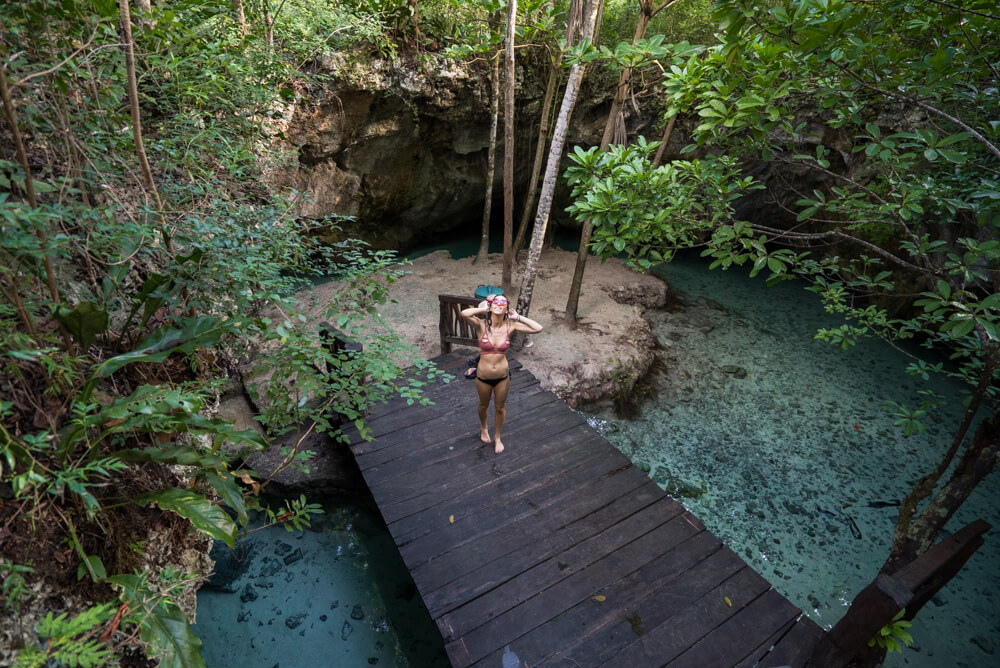 Due to its popularity, Gran Cenote is best to visit right when it opens at 8am. This natural wonder attracts hundreds of visitors a day, on average. Even though it's big in comparison to other cenotes, it still feels quite crowded in the afternoon during high season.
Another option is to stop by for a quick visit shortly before it closes. The ticket booth will stop selling tickets around 4pm, and the cenote closes at 4:45pm. If you get there around 3pm, the crowds will likely have dissipated, and you'll have plenty of time to explore.
Either way, avoid visiting Gran Cenote on a weekend when it is even more crowded than it is on weekday afternoons. Opt for a Monday or Tuesday for the best chance to have the place (mostly) to yourself.
How to Get There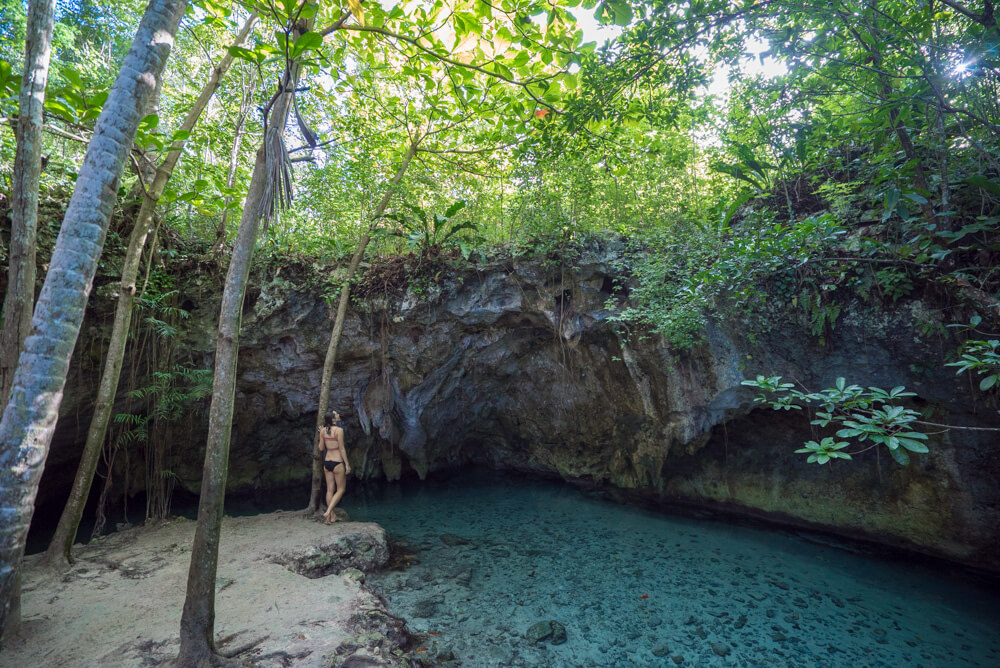 This cenote is one of the easiest to get to from downtown Tulum. It's only about 5 kilometers (3 miles) from downtown, which means you can easily bike there.
If you choose to go there by bike from downtown, head north on the Carretera Tulum-Chetumal, toward the entrance to the Tulum archaeological site. Take a left onto Highway 109 going to Coba (there's a Super Aki grocery store at the corner in case you don't see the signs for the highway). From there, it's a straight shot to the entrance of Gran Cenote, where there is a huge sign on the right-hand side of the road.
Taking a taxi to Gran Cenote is also easy and cheap. It should cost around 100 pesos ($5 USD) each way. You won't have to worry about finding a cab going back to downtown Tulum (or your hotel), because there are always a few waiting outside.
Another cheaper option is to take a combi, which is a white van used for public transportation. You can catch a Coba-bound combi at the corner of the main highway that goes through downtown Tulum (referred to as the Carretera Chetumal-Tulum) and Highway 109. The ride only costs 20 pesos ($1 USD) each way. On the way back, you can flag one down along the highway.
Important Details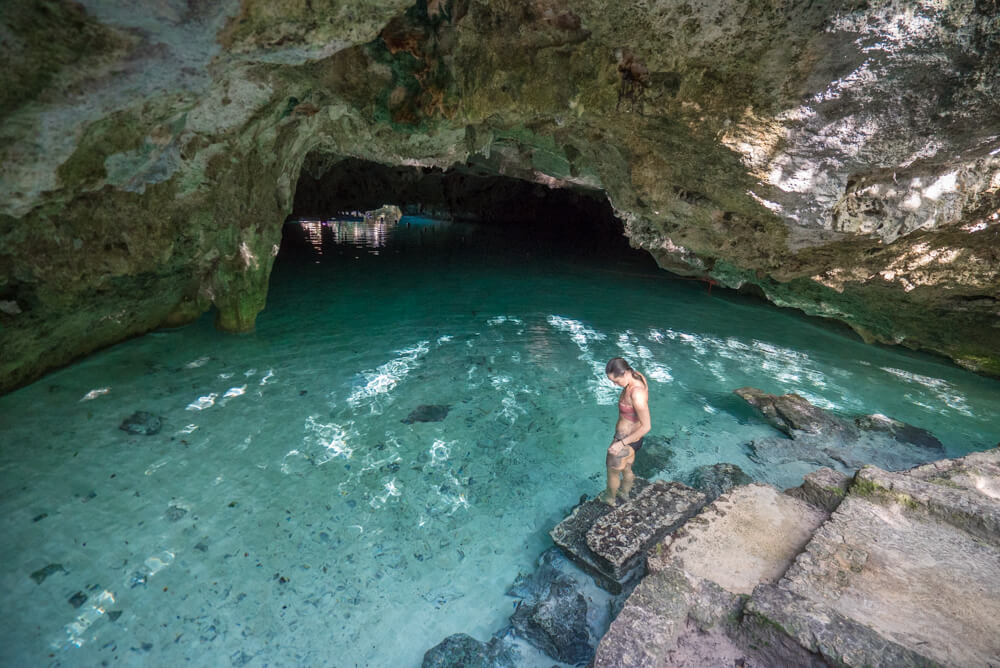 Cost: This is one of the more expensive cenotes near Tulum. Entry is 180 pesos ($9 USD), plus 30 pesos ($1.50 USD) for a locker, 50 pesos ($2.50 USD) for a life jacket, and 80 pesos ($4 USD) for snorkeling gear.
Sunscreen: Do not wear sunscreen into the cenote. There are showers outside where you can rinse off any sunscreen or bug repellent, both of which have chemicals that are harmful to the biome in and around cenotes.
Etiquette: As I mentioned above, cenotes were used for centuries to perform sacred rituals and have huge importance to the Maya people. There are signs at the entrance to Gran Cenote that explain what items are prohibited (most notably, alcohol and drugs). Please stick to the rules! They are there to protect the cenote.
Facilities: There are bathrooms, changing rooms, showers, and lockers at Gran Cenote. But make sure to bring a towel as they don't have them for rent.
Pin me for later: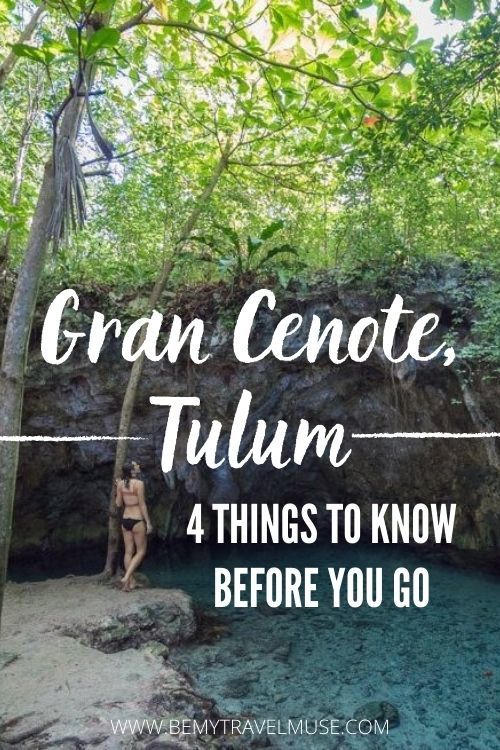 ***
There you have it! You're now totally ready to visit Gran Cenote and have the best time. Enjoy the gorgeous scenery, soak up the sun, and splash around in one of nature's most magical places.
(If you're staying in Tulum, check out our awesome guide to Tulum Airbnbs!)