An hour northwest of Puerto Vallarta on the west coast of Mexico, Sayulita is often called a pueblo mágico, or "magic town." It's a lively, hip beach town full of surfers and friendly locals cruising around in golf carts.
Often recognized for the colorful art strung above the streets, Sayulita is becoming an ever more popular place to visit thanks to its laid-back atmosphere, beautiful natural setting, and abundance of cool things to do. Here are some awesome activities to try there:
1. Art Peep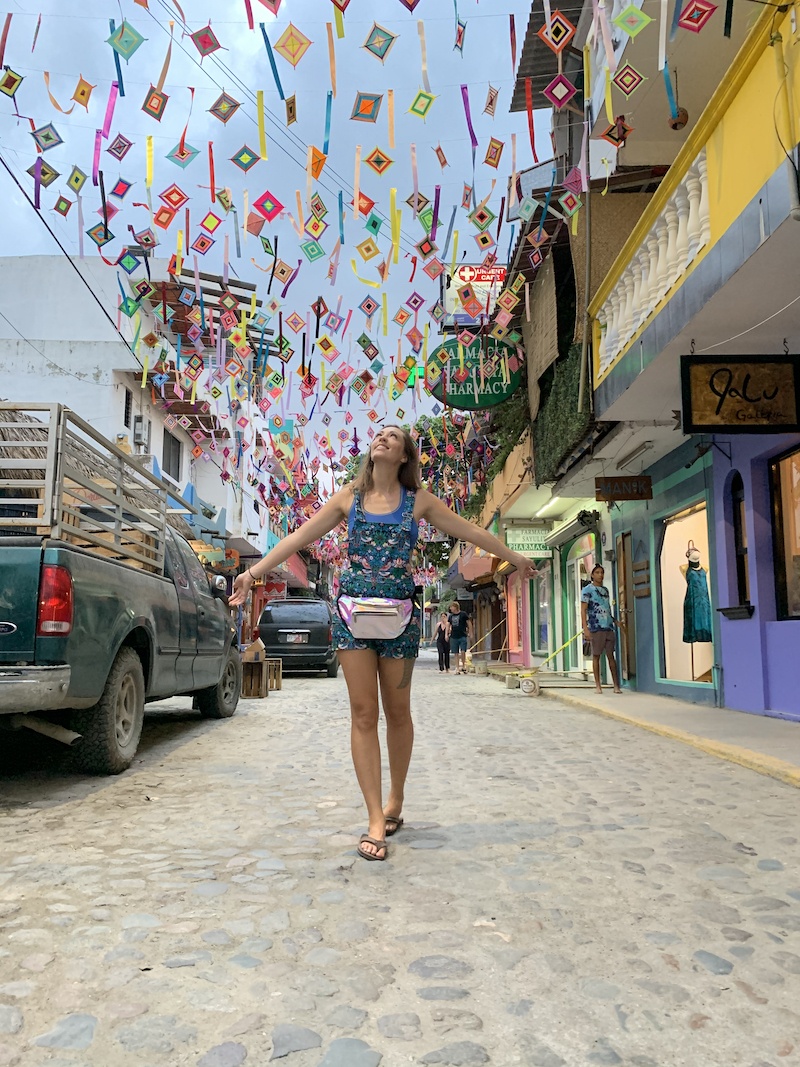 One of the best things about Sayulita is the art all around town. From the streamers hanging over little roadways branching out from the town square to the murals by talented artists, Sayulita is quirky and colorful.
I loved walking through town and finding new murals and streamers every time I went out.
2. Pamper Yourself
Getting a massage or spa treatment is significantly less expensive in Sayulita than it is almost anywhere in the USA or even in other touristy places in Mexico. A massage will run about $25-40 per hour here and you can also find good deals on facials and other treatments.
On the beach, you might find women offering massages, but you can also check out one of the many spas around town. 7 Spa comes highly recommended and offers a variety of massages and spa treatments to choose from.
3. Enjoy the Beach
Sayulita's main beach, where the surf waves are and plenty of hawkers and bars, was not my favorite part. But you don't have to go far to find quiet places to lay your towel down and go for a swim. I recommend turning right and walking up the beach until you find your perfect spot.
4. Learn About Huichol Culture
Long before Mexico was colonized by the Spanish, the area where present-day Sayulita was inhabited by the Huichol people who were descendants of the Aztecs. Many generations later, the Huichol people continue to wear their traditional red and white textiles and are incredible artisans. They are known for their intricate beadwork and art, which is sold around town.
One of the best places in Sayulita to learn more about Huichol art and cultural traditions is the Tierra Huichol Art Gallery. There you'll find colorful beaded art pieces inspired by indigenous cosmology. This walking tour of Sayulita and San Pancho provides the opportunity to admire the Huichol crafts on the streets.
5. Join a Yoga Retreat or Class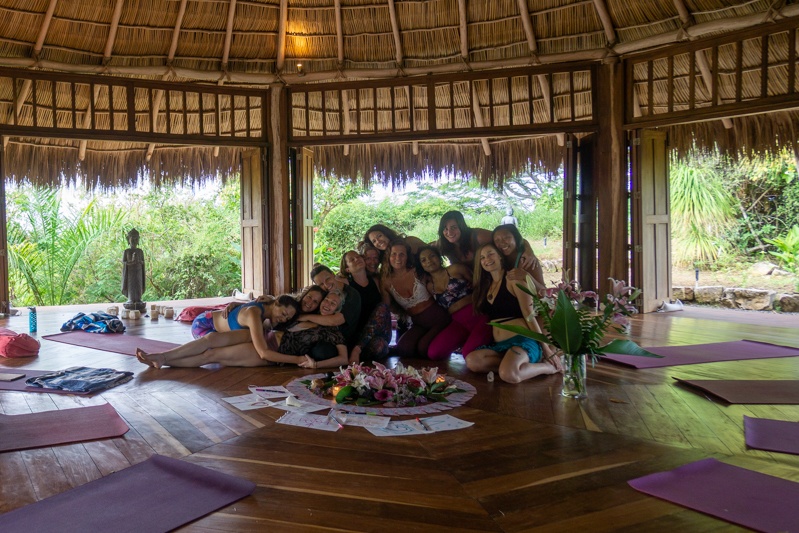 The chill, laid-back atmosphere of Sayulita makes the area a great place for a yoga retreat. While there are countless retreats ranging in length all around Sayulita, I adored Haramara, where you can choose the length of your retreat, stay in gorgeous cabañas, and enjoy clean, whole food prepared for you daily. The Haramara property grounds are simply stunning and would make the perfect setting for some much-needed rejuvenation. Depending on when you go and the accommodations you prefer, prices range from $215 to $390 per night.
I attended a weeklong women's retreat there and while I thought it was magical, it's important to know that the villas don't have walls. You're totally immersed in nature and will see many birds, butterflies, and even iguanas. There's no electricity, either, and nights are lived by lamplight. I never felt unsafe and loved the experience – get out of your comfort zone a bit!
Or, if you're simply looking for a few yoga classes, check out Paraiso Yoga, which offers between one and four classes per day in all different yoga styles. The studio even has a cool online deal where you can purchase seven days of unlimited yoga classes for just $55, which would be perfect if you're taking a weeklong trip to Sayulita!
6. Surf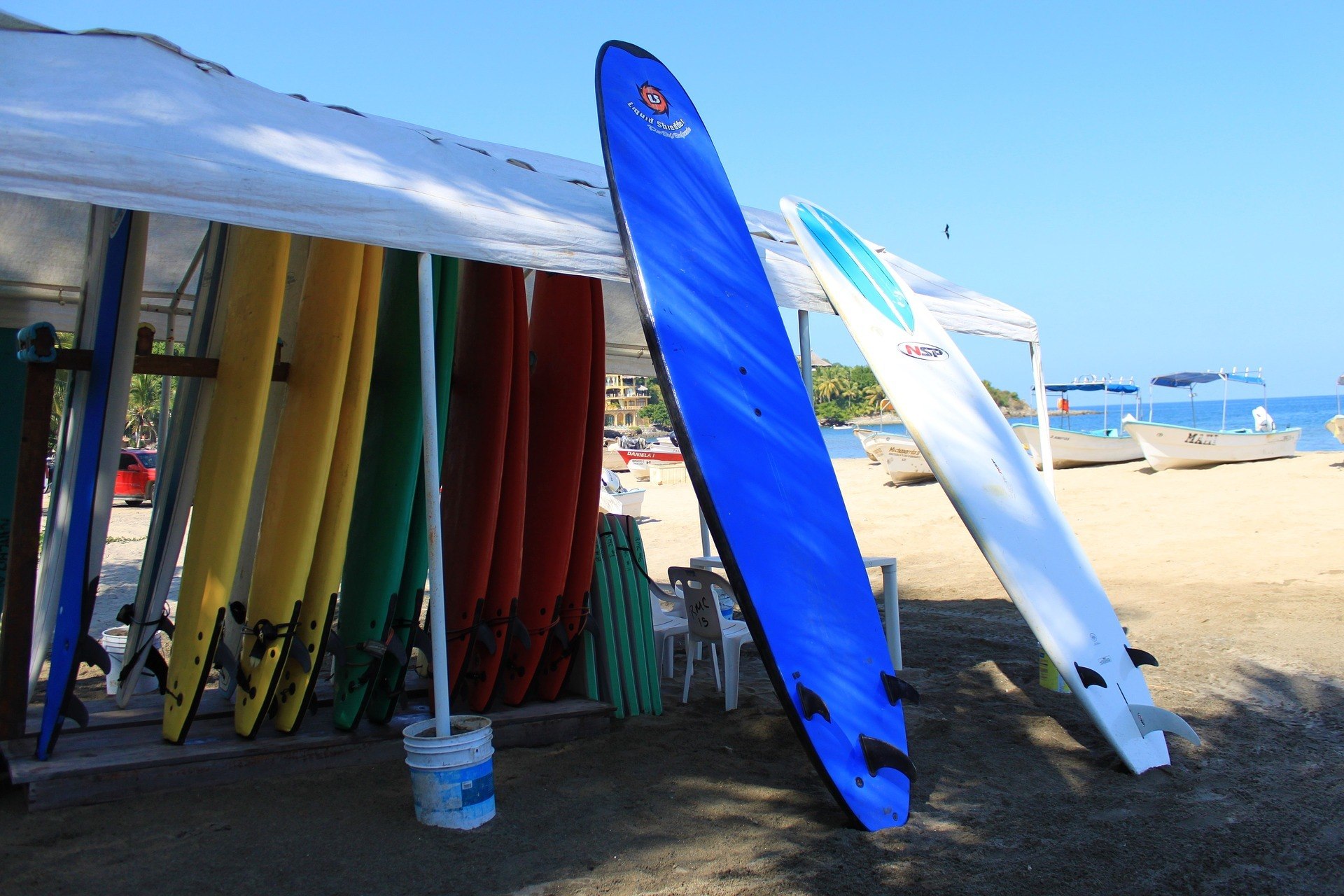 Sayulita is a surfer's paradise and is great for beginners. Taking a surf lesson is easy and fun, especially with one of the reputable companies in town. Lunazul Surfing, for example, is one of the best in Sayulita for board rentals, surf lessons, and surfing excursions to other spots on the coast. The family-owned company has been praised by publications like Travel + Leisure and Lonely Planet for friendliness, location, equipment, accommodations, and knowledge. For a 1.5-hour lesson, prices range from $45 to $65. If you want to get private lessons separately only with your group of friends or family, you can get them here.
7. Release Turtles
At one time, turtle eggs were a sought-after food item. After many years of being over-harvested, the sea turtle population has suffered a drastic decline. Campamento Tortuguero Sayulita is working hard to preserve these magnificent animals by releasing the recently-hatched turtles safely.
You can attend the release of the turtles at sunset between January and June or volunteer with the organization to learn more about their preservation efforts.
8. Islas Marietas Tour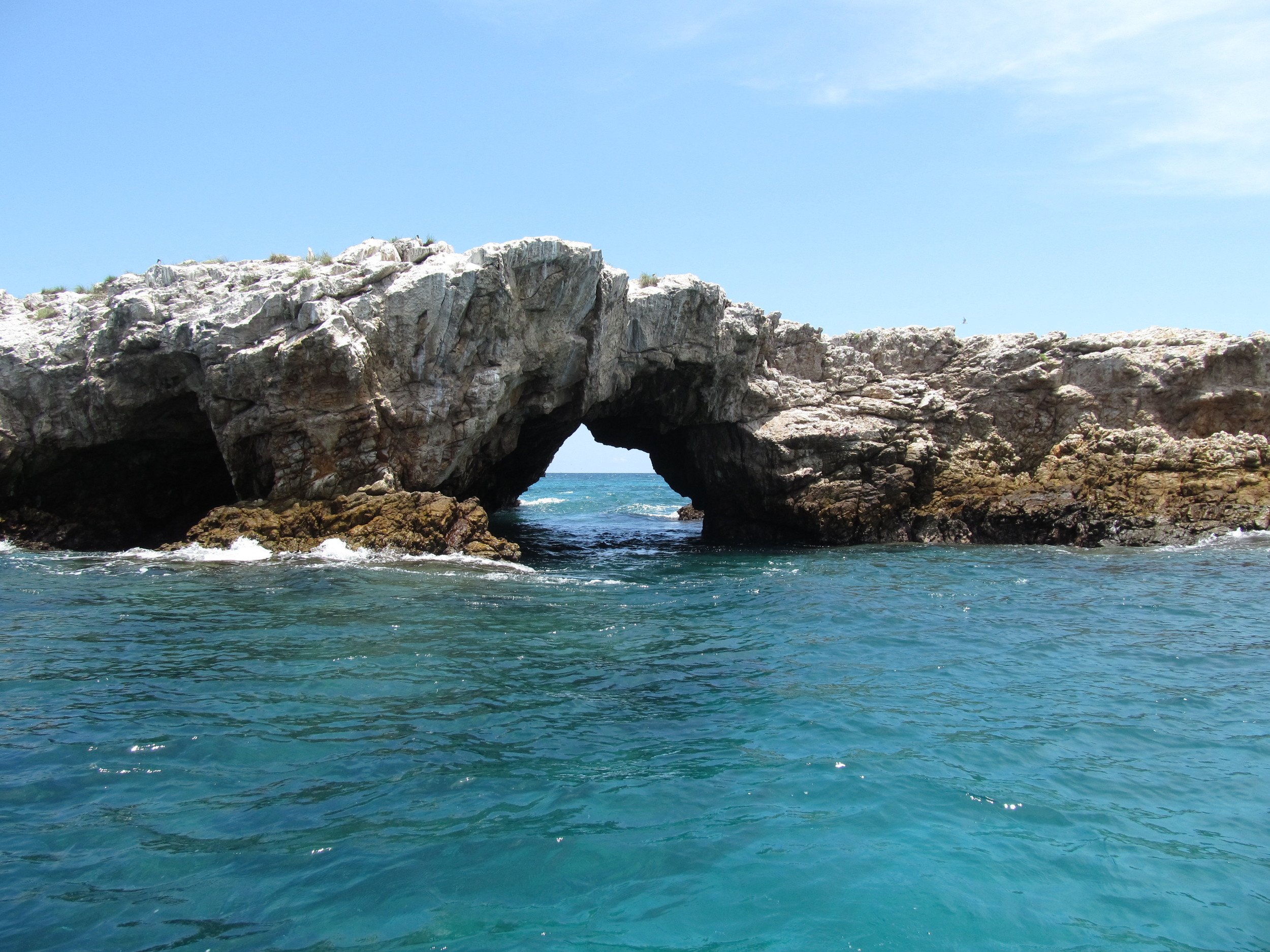 The Marietas Islands (Islas Marietas) are small, uninhabited islands off the coast of Nayarit, the state of which Sayulita is a part. Take a tour of the islands where you can explore clear waters, great beaches, and coves. Some tours include snorkeling and others include whale-watching, but most are only half-day excursions departing from and returning to Sayulita.
9. Go Whale Watching
Between mid-December and the beginning of April, you can expect to see whales off the coast of Sayulita. During this time of year, humpback, blue, and gray whales migrate to the area to enjoy the warm waters of the Nayarit coast. The most reputable company with the best ratings is La Orca de Sayulita, which has a strong focus on conservation.
You can book a tour here.
10. Jungle Hike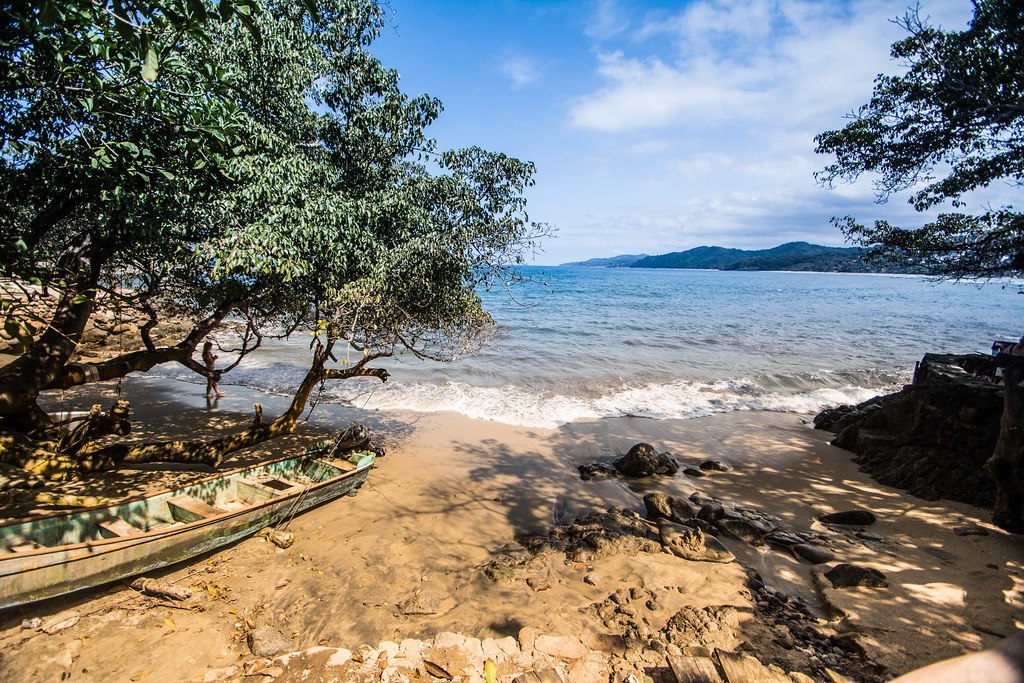 WildMex offers another cool activity: a jungle hike. Hike through the jungle from Sayulita to the neighboring town of San Pancho. This trek will allow you to get out into the beautiful natural surroundings of the area and see some cool flora, fauna, and wildlife. Plus, all the profits from these tours are used to create new trails and maintain existing ones! Book a spot on a group tour (where you'll meet some other cool travelers) for $85.
11. Horseback Ride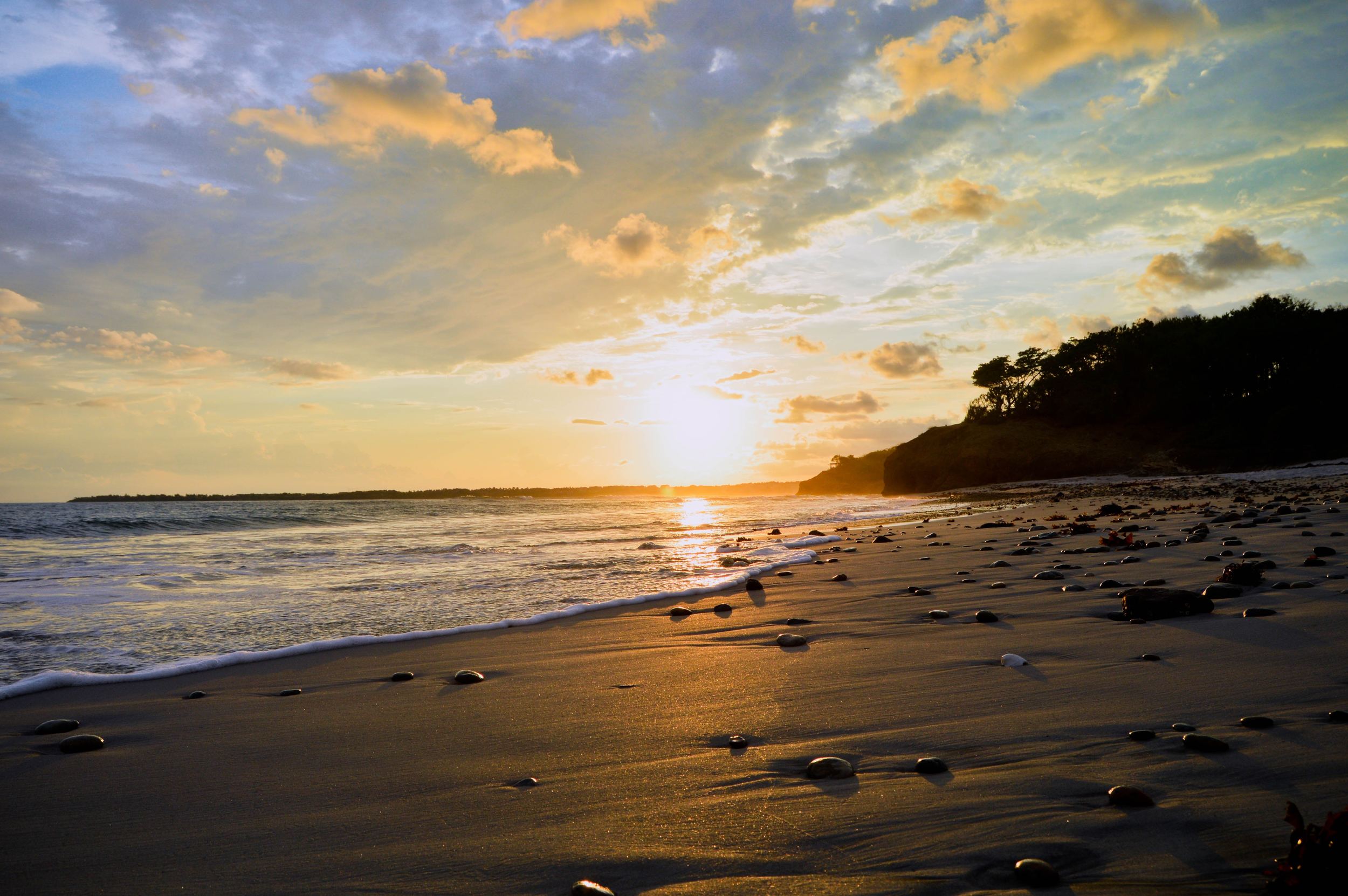 Hop on a trusty steed and ride through the jungle as well as along the beach to explore even more of Sayulita. The horseback ride itself would be a ton of fun, plus it is a great way to get out and about! Here's a tour that offers a quiet horse ride through the beach, jungles, and village of Higuera Blanca. You will also be escorted by cowboys during your tour, how cool is that?! Ride horses are distinguished by their calm character, being well-fed, and being kept in prime shape, so don't worry, even if it'll be your first time.
12. ATV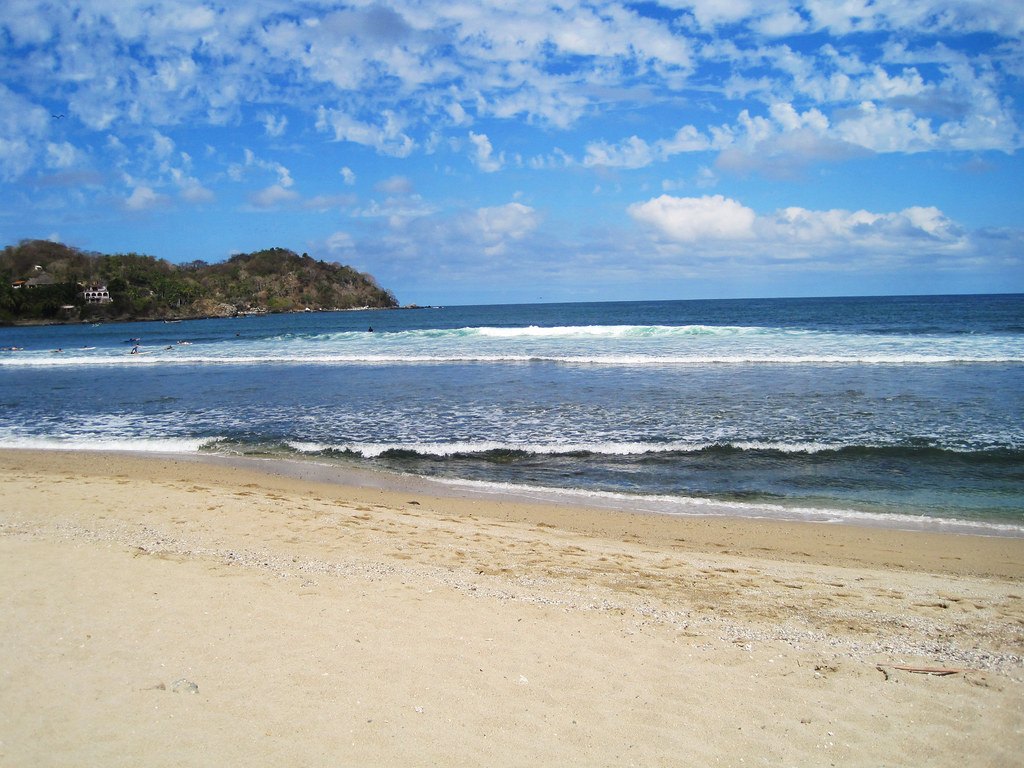 If you're really feeling adventurous, also take one of Rancho Mi Chaparrita's thrilling ATV tours, where you'll be splashing, crashing, and cruising through the ocean, jungle, and Sayulita town on a four-wheeler. A single ATV costs $112 for about a two-hour trip, complete with fruit and beverages. Beware, you might get muddy, but it'll be one awesome ride!
13. Zip Line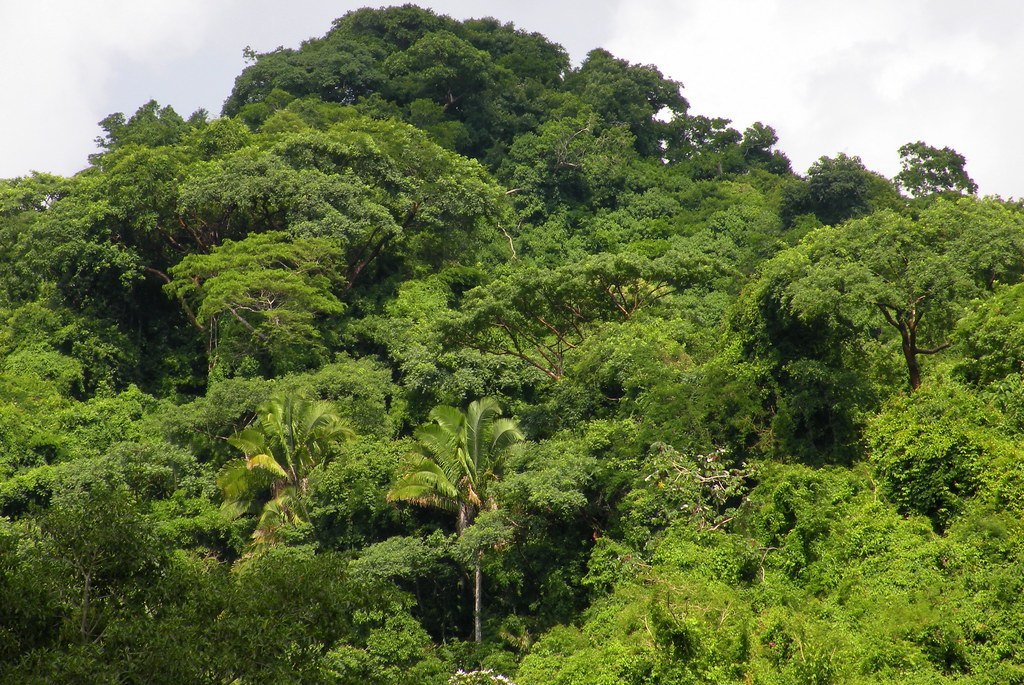 Among Tulum's other adventures is a jungle zip line tour with ocean view. With 10 zip lines and a suspended bridge on the mountains, you will spend 2 hours marveling at the incredible views of the jungle, mountains, and beach. The cherry on top? You get to enjoy a tequila tasting at the end of your tour!
14. Mountain Bike Through the Jungle
As you can see by now, there are plenty of opportunities to get your adrenaline fix in Sayulita. Another one of them is taking a mountain bike guided tour through the jungle. WildMex has guided tours that range from novice to expert, mellow dirt roads to Technical Singletrack.
These tours are an epic way to get your adventure fix while visiting Sayulita.
15. Shop 'Til You Drop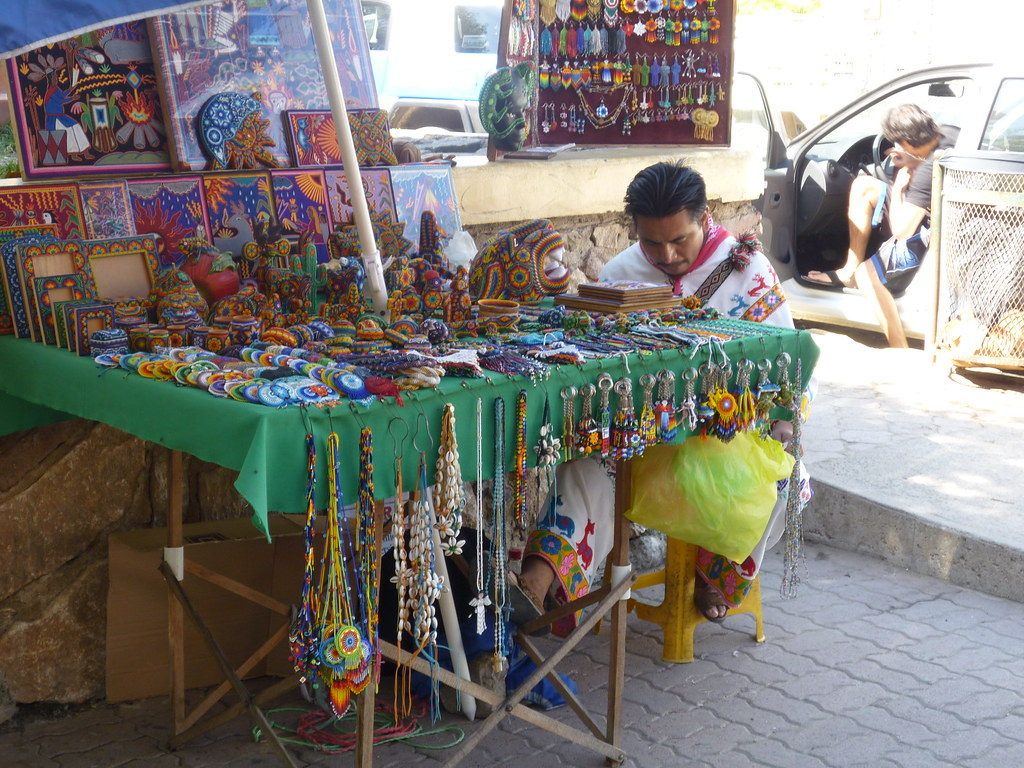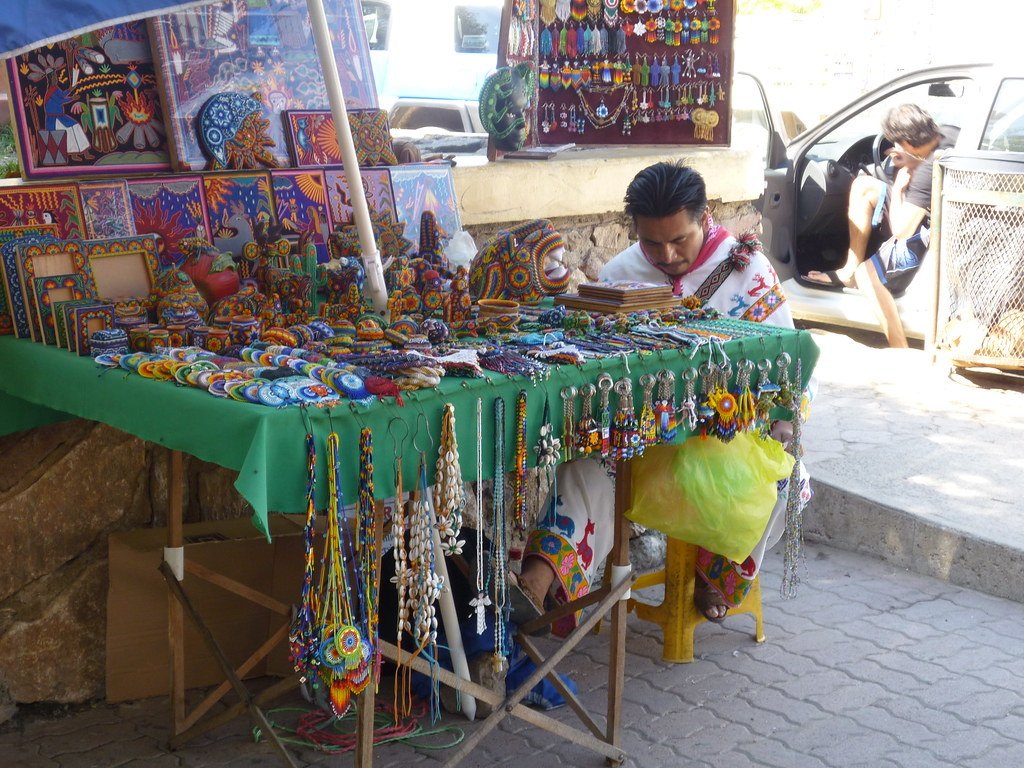 Back in town, Sayulita has a ton of great shopping options. There are plenty of stores all around town with cute, unique clothing options, though they can be pricey. For more of a local feel, browsing markets can be a fun activity to get a sense of the town, starting with Sayulita's riverside "hippie market" full of colorful, handmade goods and crafts. Stroll through rows of tables topped with fun, unique items, and pick out a pair of earrings or beach blanket to remember your trip by.
On Fridays, check out the Sayulita Farmers' Market, where local vendors sell delicious baked goods and other foods. Then, on Sundays, head over to the tianguis, another open-air market with clothing, textiles, and local artwork.
16. Watch Street Performers
Sayulita Plaza is known for almost always having street performers showing off various tricks. On any given evening in this main square of the town, you might catch fire dancers, jugglers, clowns, singers, and other performers. This is quite common in many places throughout Mexico, but Sayulita tends to attract some more out-of-the-box performers that you'll definitely want to stop and watch for a while.
17. Escape to San Pancho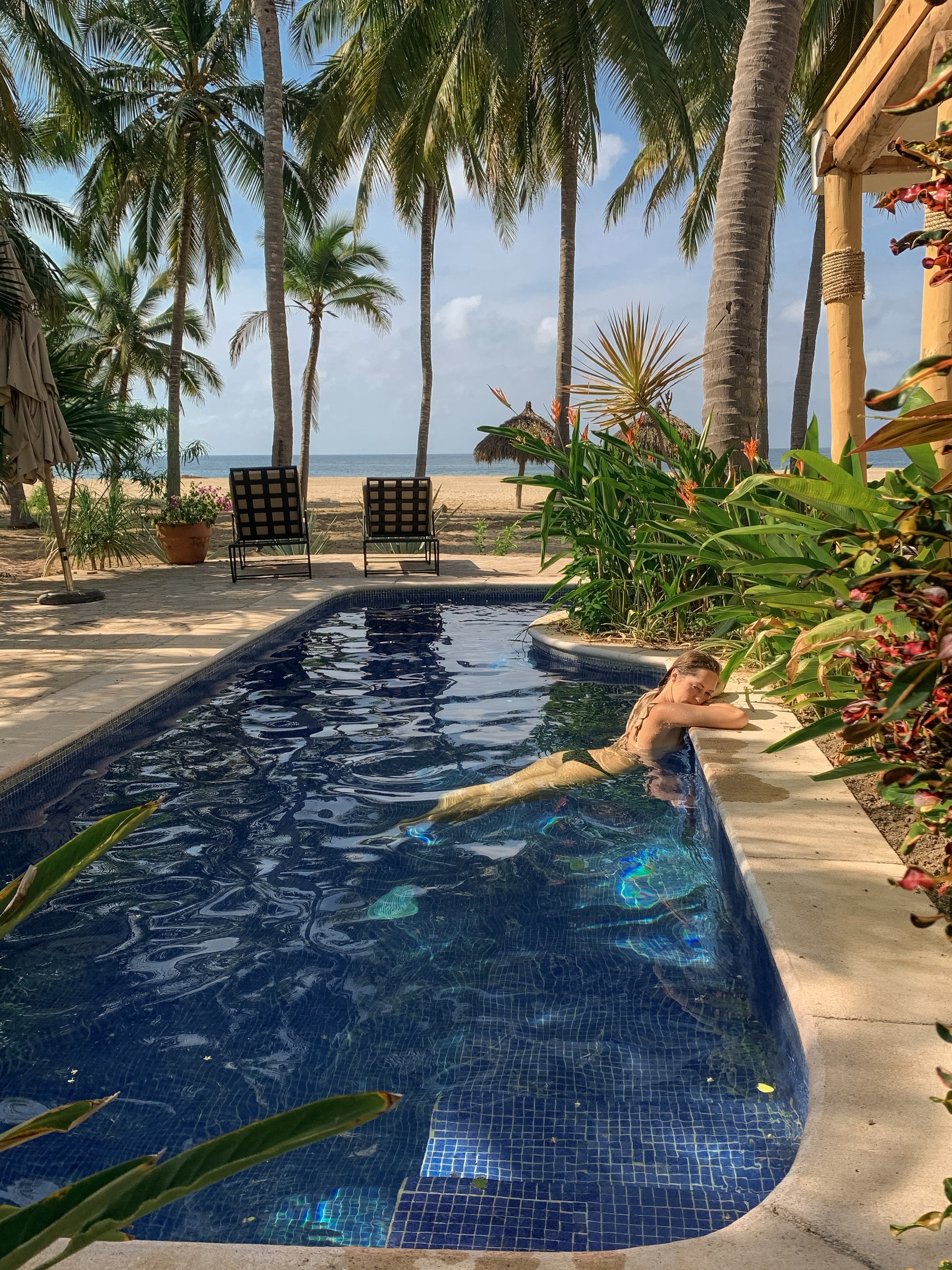 I admit, the first thing I wanted to do upon reaching Sayulita was leave.
From what I've heard, it has changed a lot in the past few years and morphed from a quiet, artsy hippie town to more of a tourist spot. It's perfect for those who want to drive around golf carts and party in bars, but that's not me. In time I did find the quieter, more beautiful parts of town and came to enjoy the surrounding areas, but I still liked Playa San Pancho in San Francisco, just a 20-minute drive north, much better.
If you want peace and tranquility and are OK with skipping the bars, head to San Pancho. I adored it.
18. Visit the Cemetery and Playa de los Muertos
You might be wondering why a cemetery is on this list, but hear me out. Cemeteries are hugely important in Mexican culture and are viewed differently than they are in many other parts of the world. Here, cemeteries are gathering places and are colorfully decorated to celebrate loved ones who have passed on.
The cemetery in Sayulita is unique because of how close it is to the sandy beach. In fact, the closest beach to the cemetery is called "Playa de los Muertos" or beach of the dead. Don't be alarmed as it's not the kind of spooky place you would expect.
19. Catch a Sunset at Monkey Mountain
Sayulita's beaches are surrounded by mountains on three sides, making it a great place to get out for a hike. The hike up Monkey Mountain takes about 2 hours and can be booked through WildMex Surf & Adventure.
The best part of this adventure is reaching the top of the mountain to watch the sunset over the ocean, so make sure to book the afternoon hike!
20. Explore Nearby Beaches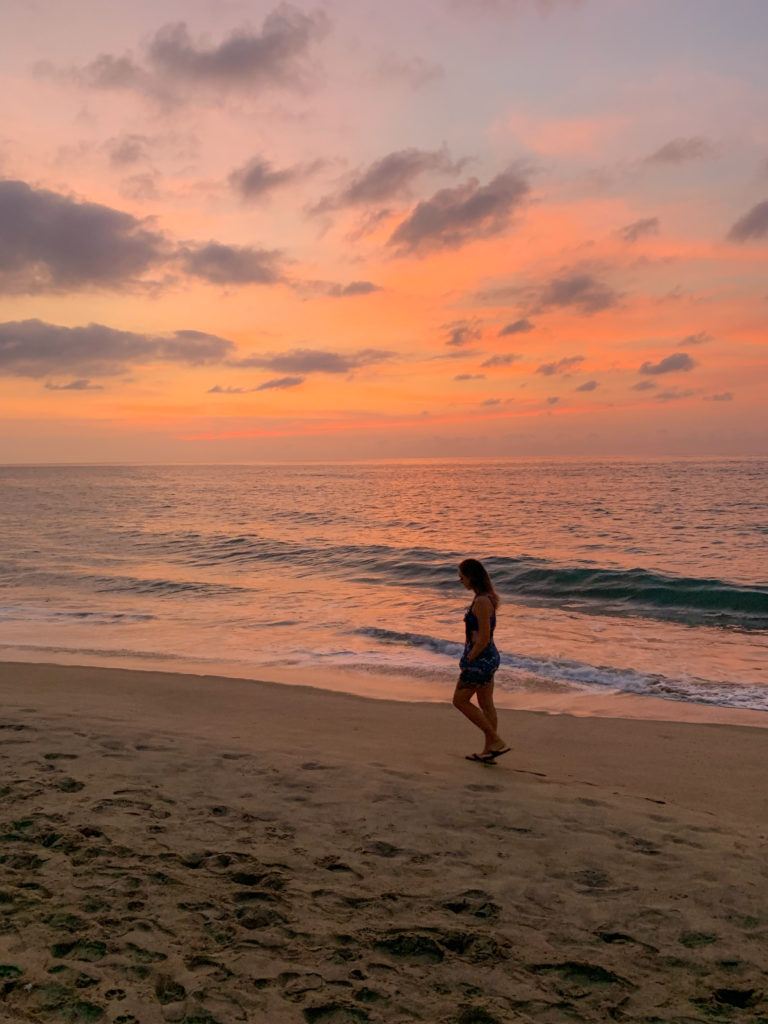 There are several lovely beaches nearby that you can take a long, hot walk, get lucky with an Uber (there are a few around!), or cruise over with a golf cart to:
Playa Escondida/Carricitos – Gorgeous for sunset.
Los Muertos Beach near Punta Sayulita.
Playa Malpaso near San Pancho (will need a taxi).
21. Eat
One of the best things about traveling in Mexico is the food, amiright? It's hard to beat Mexican food, even when comparing it to the rest of the world, at least in my Southern Californian heart. I adored the food in Sayulita, particularly the following:
Yah-Yah Sayulita Cafe: If you're looking for organic and delicious breakfast food and lunch bowls, plus amazing coffee. Vegan options available.
Organi-K: Acai and poke bowl heaven.
Maria's Fish Tacos: Always packed but always delicious. If you're not feeling fish or there's no space, there's a taco place right next door to the right (when facing the restaurant) that is just a counter to order from with some tables outside and DELICIOUS.
Getting There and Around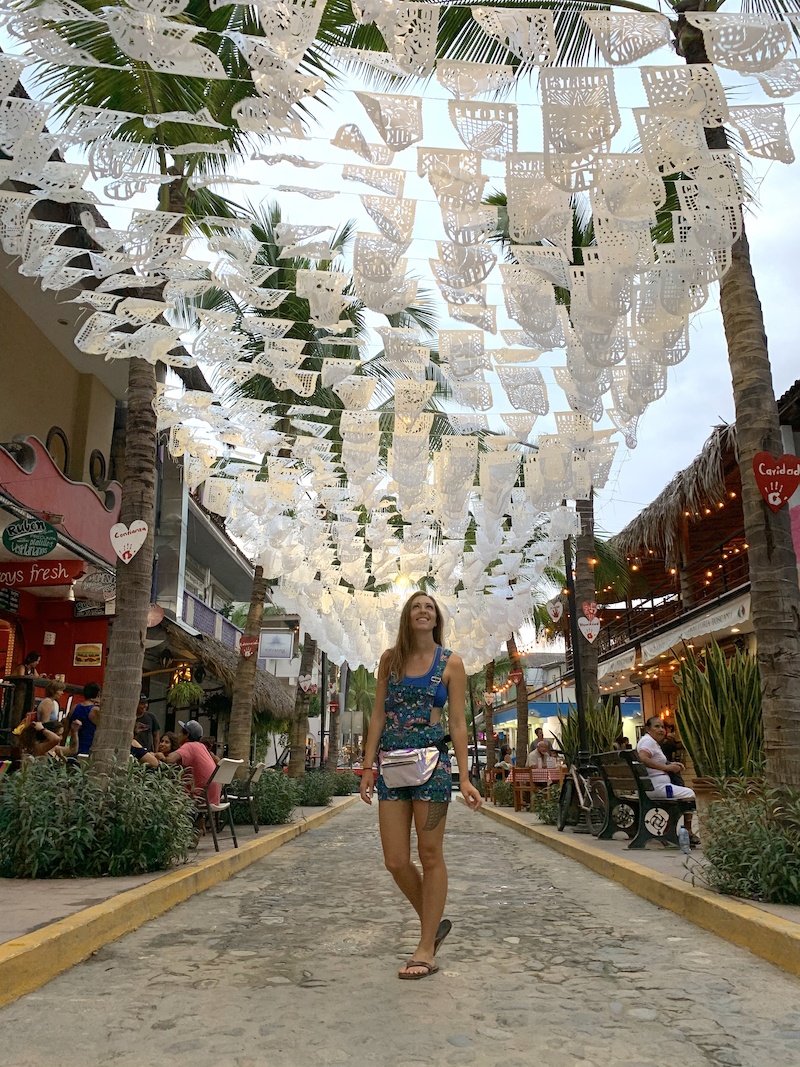 Getting to Sayulita can be simple and straightforward and doesn't have to be expensive. For most people, Puerto Vallarta airport is the starting point.
Private car: The most expensive option would be to take a private car or taxi from the airport to Sayulita, which takes about an hour, but why do that? For example, the shuttle that Haramara offers costs $90 one-way. There are better ways. If you are traveling in a group, a rental car might be a good option.
Bus: There is a public bus that you can take, provided that you don't have much luggage and can speak Spanish, for closer to one dollar. If that is out of your comfort zone, then I highly recommend Uber.
Uber: It only cost me about $24 to get into town using Uber. In order to do this, you're going to have to walk across the bridge to the other side of the highway. It's very easy to find, very obvious, and it's orange. You can't miss it if you look around for it after walking outside from the arrivals hall. Keep in mind that, once you cross the bridge, you won't be able to use airport Wi-Fi anymore, so this will only work if you are using a data plan, because it can be a bit chaotic and you might need to communicate with your driver about an exact pickup spot. Still, it would be cheaper to activate your daily $10 data than to take the airport taxi or a private shuttle.
Where to Stay in Sayulita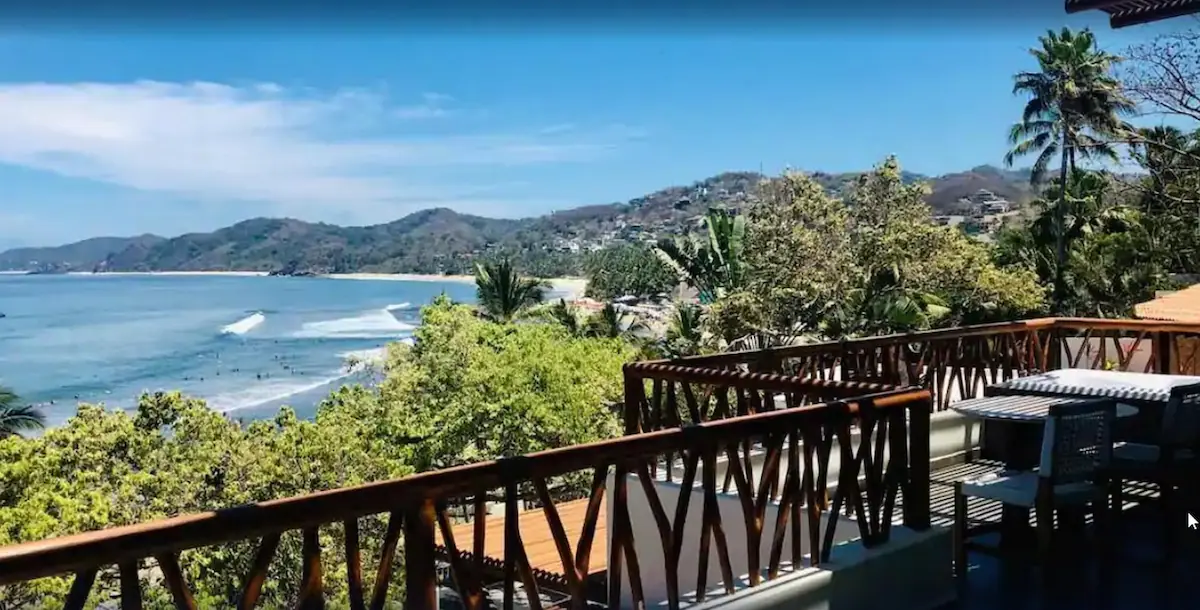 There are tons of chic and affordable hotels in Sayulita. Airbnb also offers plenty of choices, but can be hit or miss. Instead, check out this list of the best boutique hotels in Sayulita, which includes many that are locally owned and have incredible hospitality.
Packing for Sayulita
Not sure what to pack for Sayulita? I've got you! Here are the essentials that I would bring for a short trip:
Packing cubes for organization
An anti-theft purse for valuables and documents
A day pack for any excursions
Passport
Proof of accommodation and flight out of Mexico (it's best to have these printed out)
Immigration card (you'll get this at the airport upon arrival in Mexico — do not lose it!)
1 of each: solid shampoo and conditioner
1 reef-safe sunscreen for your face and body (3 oz. or less)
1 after-sun lotion (3 oz. or less)
1 mini face wash (3 oz. or less)
1 mini face moisturizer (3 oz. or less)
1 mini toothpaste (3 oz. or less)
1 anti-chafe stick (a lifesaver if you want to wear a skirt or dress without worrying about uncomfortable thigh chafing)
1 safety razor with 2-3 extra blades
1 menstrual cup (you can easily get other period products like tampons and pads in-country, if needed)
1 pair of tweezers
1 phone charger (plugs are the same in Mexico and the United States)
1 power bank (if you're going somewhere remote or will be traveling long distances on buses)
1 pair of wireless headphones
1 pair of jean shorts
1 pair of linen or cotton shorts
1 skirt (I love wrap skirts that can double as a beach cover-up)
1 light sweater or cardigan (for chilly or breezy nights)
2-3 tank tops (that match with both your skirt and shorts)
1 pair of biker shorts (for hiking, yoga, or other exercise)
7-10 pairs of underwear
2 comfortable bras (I like bringing one underwire, one non-underwire)
1 pair of pajamas
1 light scarf (for the plane and bus rides that get cold)
1 floppy beach hat (one that you can fold up into your luggage)
1 pair of sunglasses
1 pair of comfortable sandals (that you can also use on the beach)
1 pair of sneakers
***
Sayulita is a dream destination for solo travelers, especially those who want to branch out and make friends. It's definitely more of a party town than nearby San Pancho but has quiet nooks where you can find some peace as well. So, when are you heading to Sayulita?