This post was written by Emily Becker, a Mexico-based freelance writer for BMTM.
Playa del Carmen gets a reputation for being a party capital. While I think it deserves the title in many respects, there is also much more than meets the eye there. I lived just a couple hours from Playa for about a year, and made frequent trips there to visit friends, go to the beach, and explore what else there was to do besides going to the clubs. I was often surprised to find that this seaside party town is actually a great spot to connect with nature, hang out with locals, and learn about Mexican culture. The list below contains my favorite unexpected things to do there.
Things to Do in Playa del Carmen:
1. Playacar Beach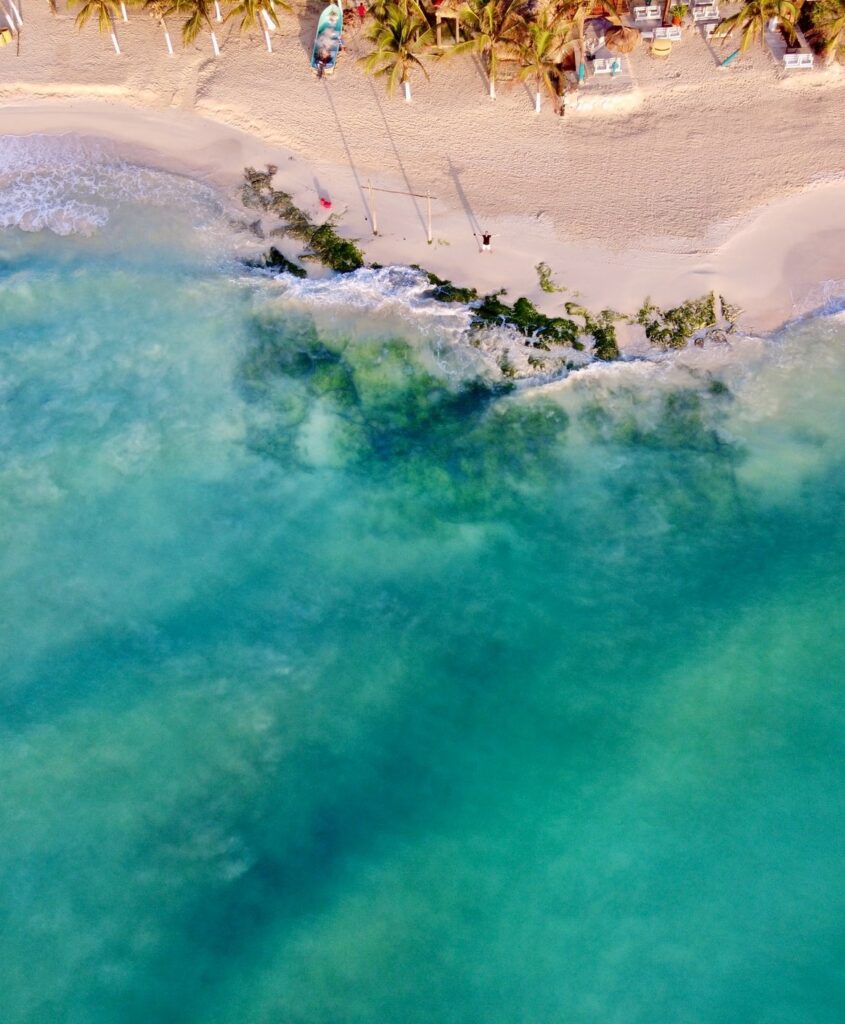 This is my favorite beach in Playa del Carmen, because it's a quiet escape from the busy ones near the Quinta Avenida (one of the main shopping streets). Playacar Beach has the same luscious white sand and clear waters of other beaches in the area, but with half the people or even fewer — and the further south you walk on Playacar, the less crowded it is. It's a public beach and there's only one big resort on it, unlike others nearby that are lined with hotels from one end to the other.
One of Playacar's big draws is the snorkeling there. You'll find a reef close to shore at the southern end; the shallow, calm sea is perfect for checking out the corals and sea life.
2. Playa Punta Esmeralda
Playa Esmeralda takes away the pressure of choosing between a beach day and a cenote day, because this paradise has both. There, a large cenote opens up to the ocean on one side. The crystalline water is an absolute dream, and the palm trees and white sand make it even sweeter.
You'll find Playa Esmeralda at the north end of Playa del Carmen. The best time to visit is during the dry season (December to March) because the water is calmer and more shallow. Get here early, because it tends to get crowded in the afternoon.
3. Río Secreto
The Riviera Maya (the area that encompasses Playa del Carmen, Tulum, and Cancún) has some of the world's longest underground rivers. These are what feed the cenotes, and within the cave systems created by the rivers there are some underground caverns that you can visit. Río Secreto is one of them, and it's definitely not someplace you want to miss out on.
You can access Río Secreto with a guide. You'll see massive stalactites and stalagmites along the way while you wind through the maze-like caves.
4. Parque Los Fundadores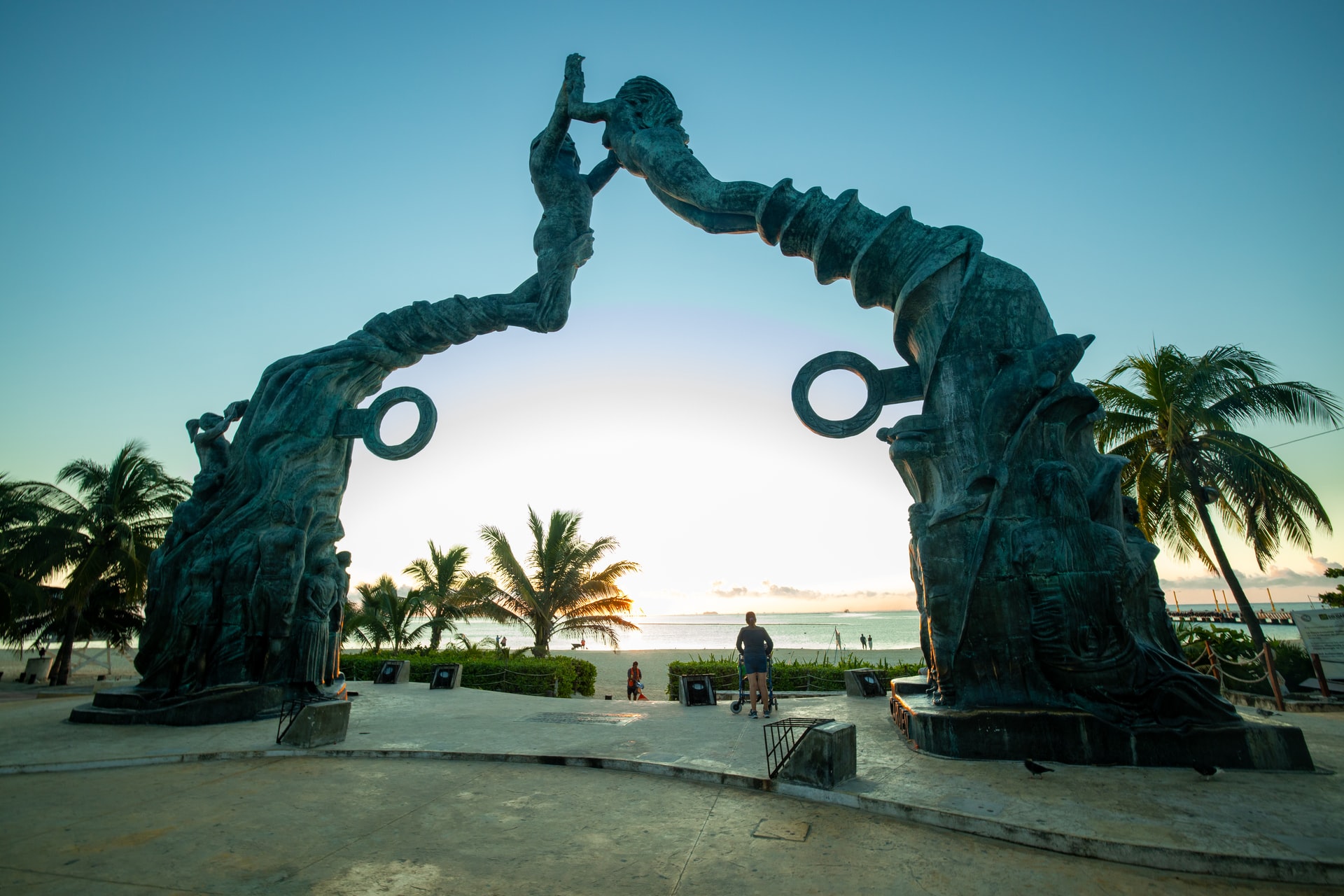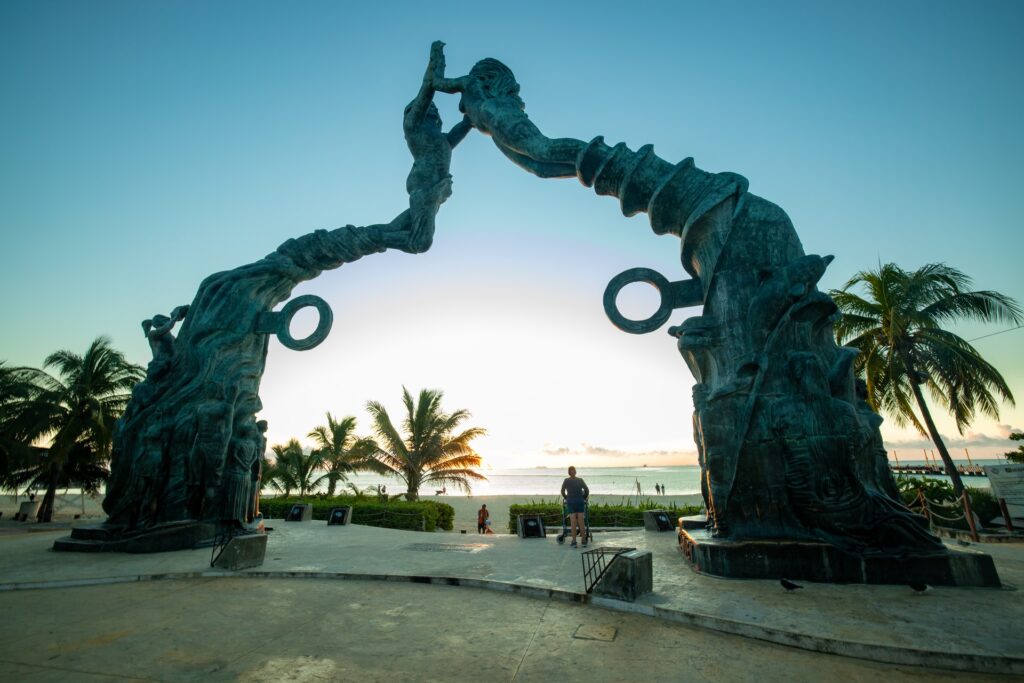 The large statue you see here, one of Playa del Carmen's most prominent landmarks, is a representation of a Mayan portal. The Portal Maya leads to Parque Los Fundadores, which is one of the city's first plazas. Head down a few stairs and you'll reach another popular public beach.
The statue is the perfect spot for a quick photo, and the beach behind it is a fun spot to people-watch or have a picnic. It gets crowded in the afternoons, so plan to check it out earlier in the day. I like this spot because there are a lot of street vendors who sell antojitos (snacks), like fresh fruit with chili lime salt, elote (grilled corn), churros, and more.
5. Cenote Azul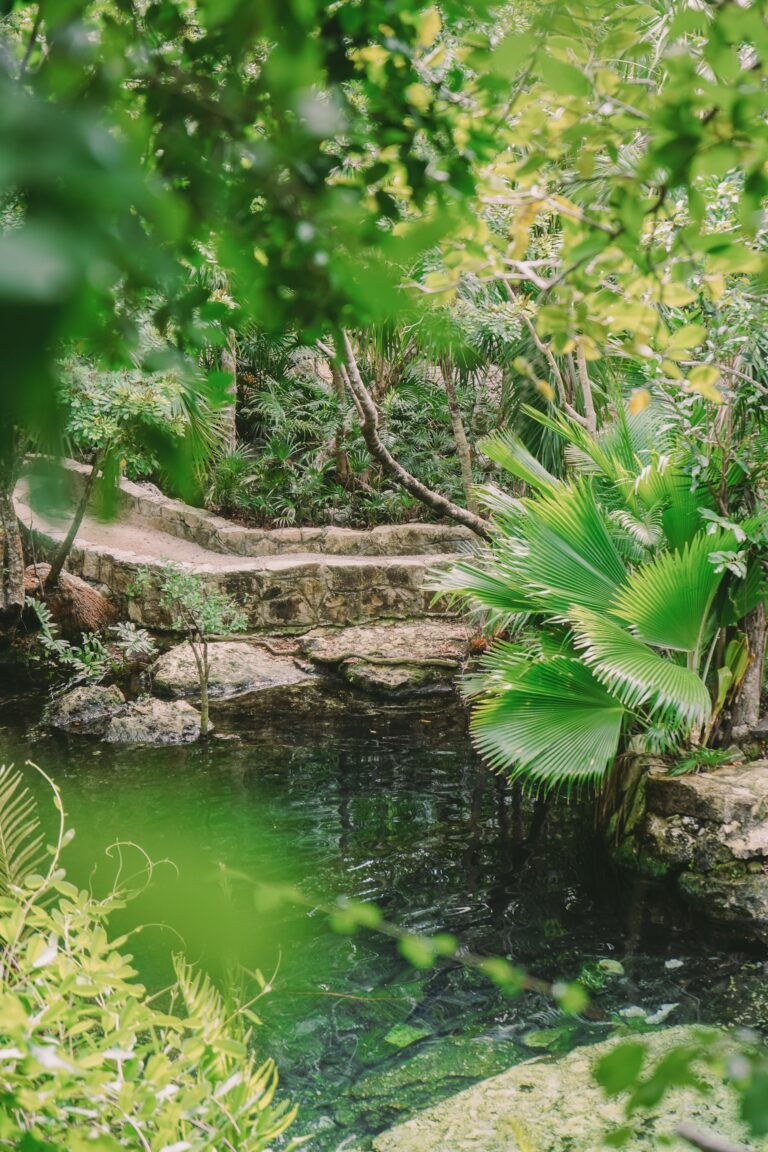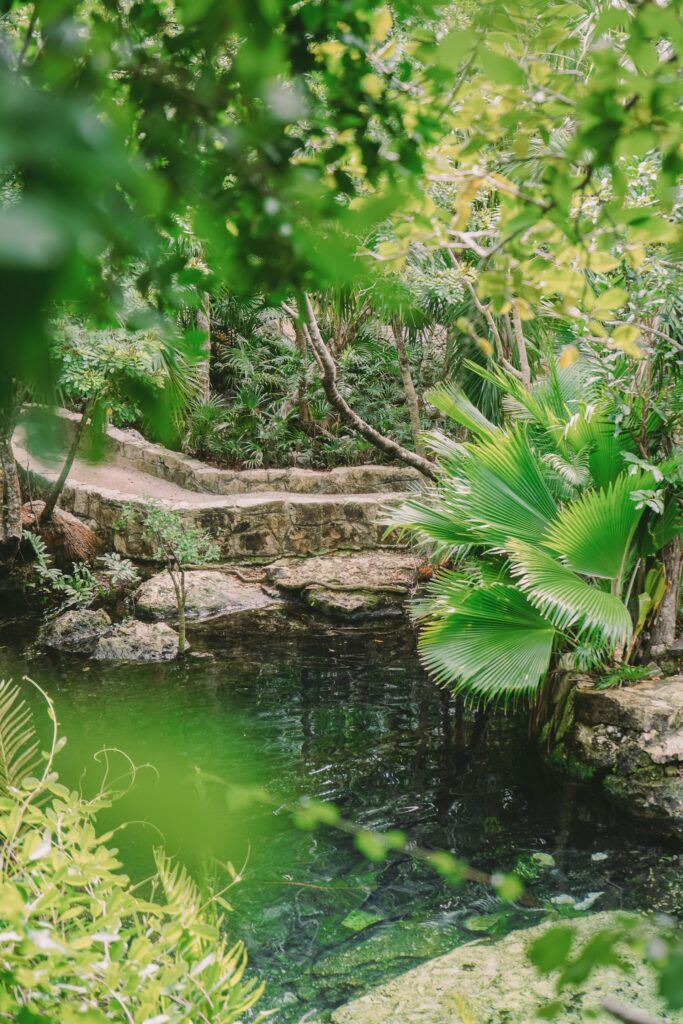 Just south of Puerto Aventuras (which is just a 15-minute drive from Playa del Carmen), you'll find Cenote Azul, an open cenote that resembles a pond, with cliff overhangs from which you can jump into the water. The water is so clear here that you can see several feet down into its rocky depths.
The jungly surroundings make this place feel completely removed from the busy streets of Playa del Carmen. It's the perfect place to go for a swim and take in the beauty of the Riviera Maya. Get there early (it opens at 8am) to enjoy the calm before the crowds arrive.
6. Parasailing
What's even more impressive than the Caribbean sea from the beach? Seeing it from the air! Soar above the turquoise waters of the Caribbean on a thrilling parasailing ride. From above, you'll be able to see the abundant reefs off the coast of Playa del Carmen, plus the endless stretches of white sand and palm trees. Book your parasailing adventure here.
7. Xcaret Park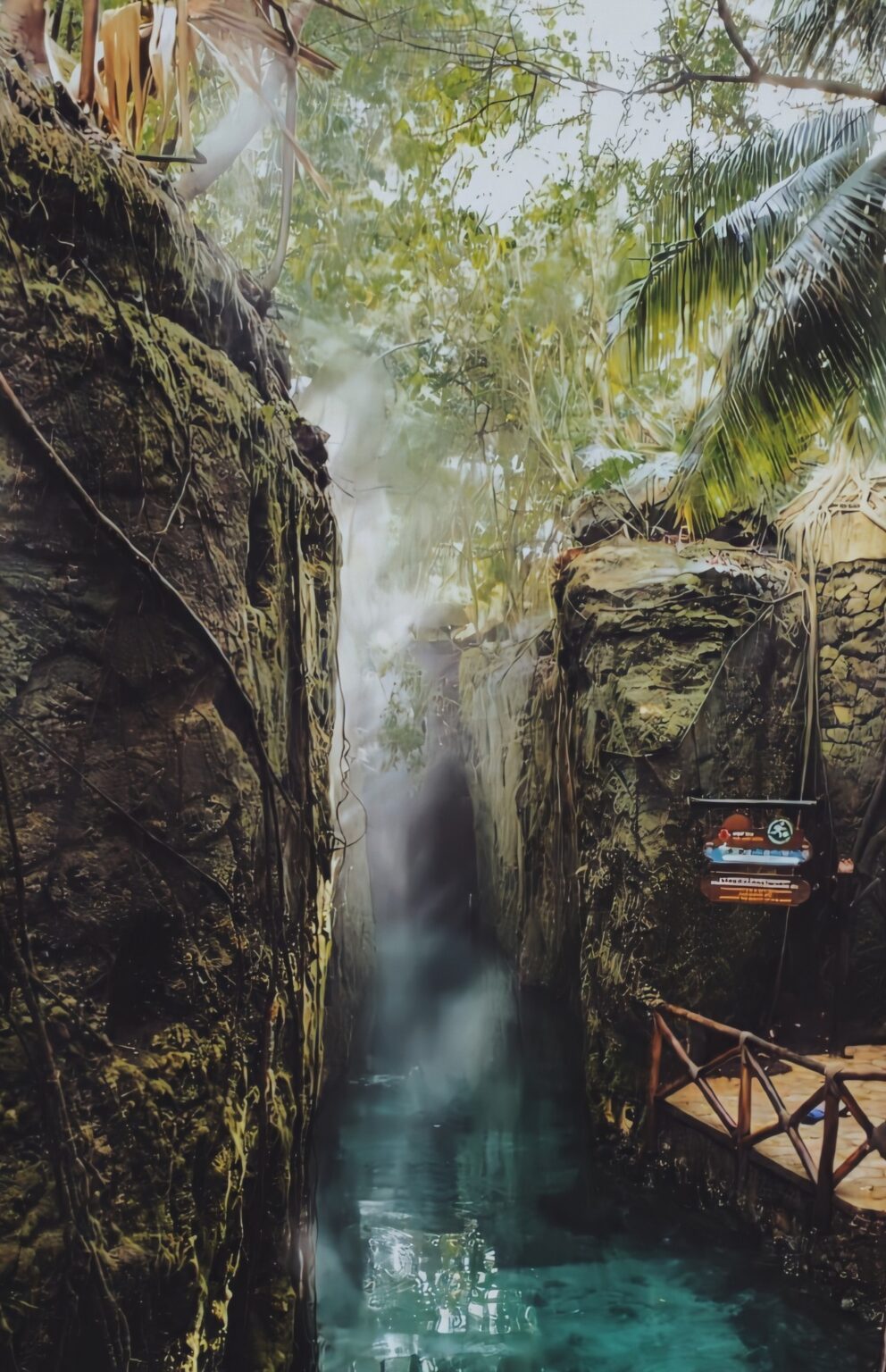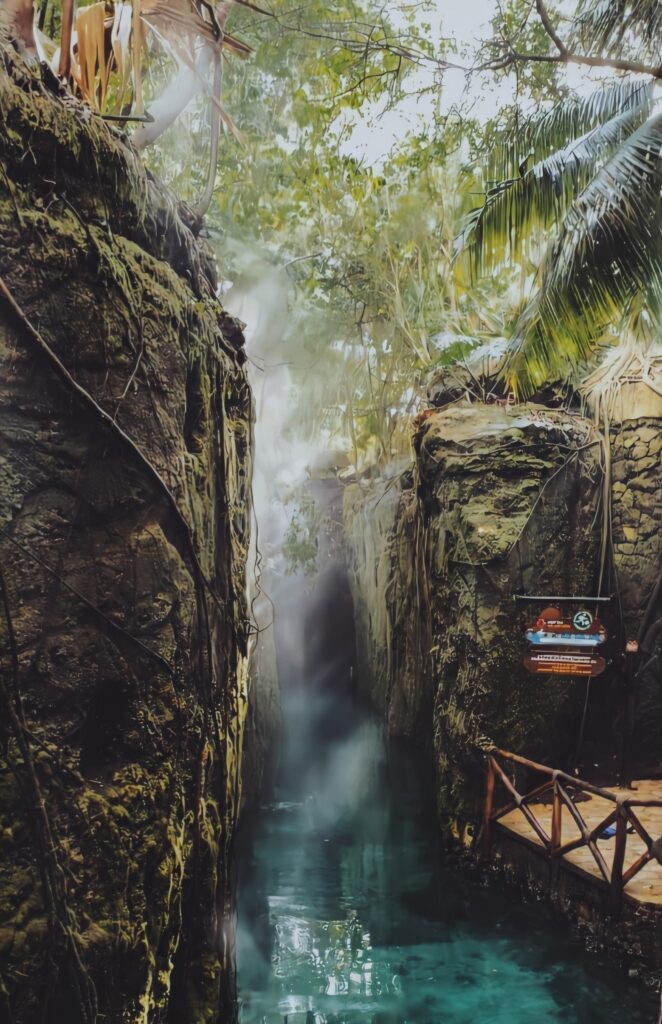 This is a theme park unlike any other. Tucked into the Mayan jungle, Xcaret combines the rugged nature of the Riviera Maya with adventurous thrills that are sure to get your adrenaline pumping. Here you can snorkel coral reefs, zipline through the jungle, hike through ruins, and more. Not only that but there are nighttime fire shows and other exciting events throughout the year.
The park also hopes to promote education around the sacred traditions of the Maya people. There are performances throughout the park that demonstrate centuries-old dances, stories, and even games. Get your entrance ticket to Xcaret Park here.
8. Street art tour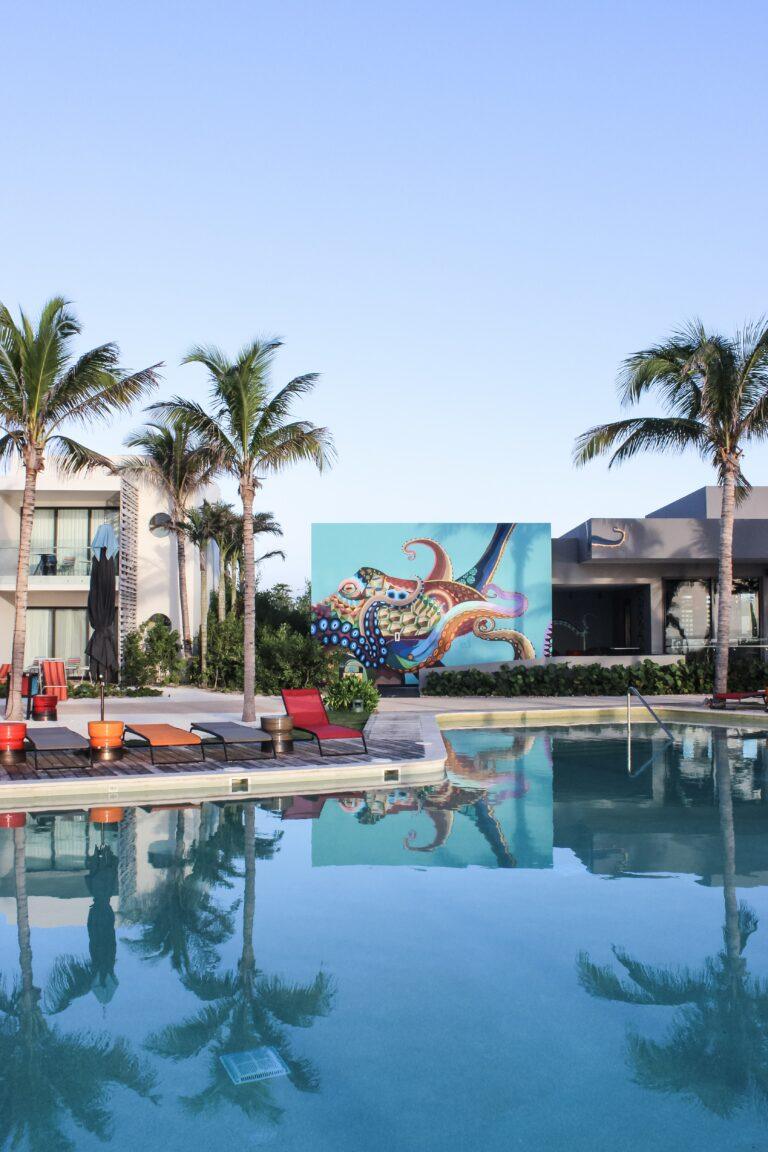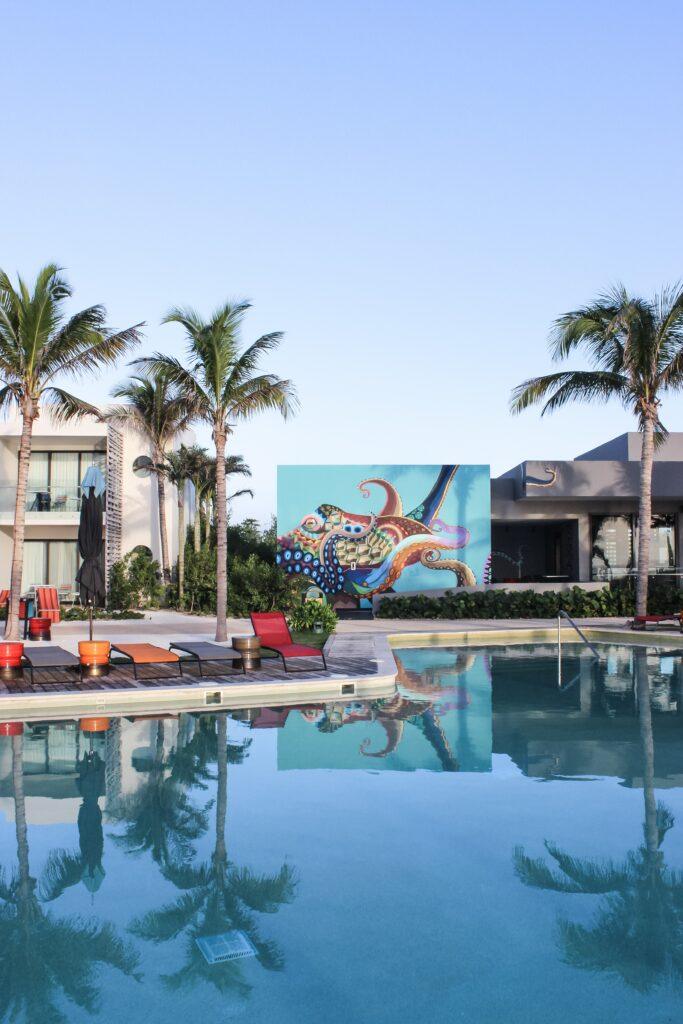 Artists from around the world travel to Mexico to leave their mark, and Playa del Carmen is no exception. The city is decorated with colorful murals around every turn, especially in the downtown area.
The best way to immerse yourself in the street art scene is hopping on a tour from Playa del Carmen Art Tours.
9. Paddleboard at sunrise
Since Playa del Carmen is on the east coast of Mexico, you can catch beautiful sunrises here. The absolute best way to take advantage of this is to do a sunrise paddleboarding tour, which takes you out to sea to witness the brilliant dawn colors. The tour is suitable for beginners, so no need to be a paddleboard expert.
10. Quinta Avenida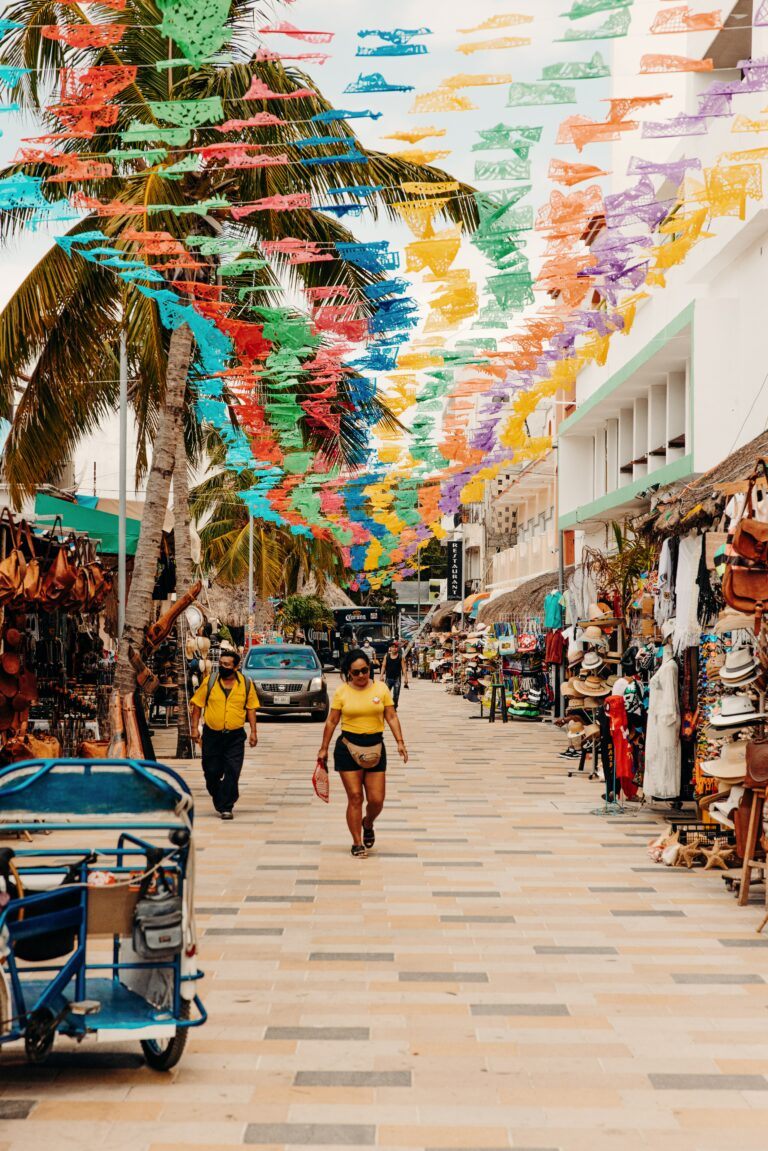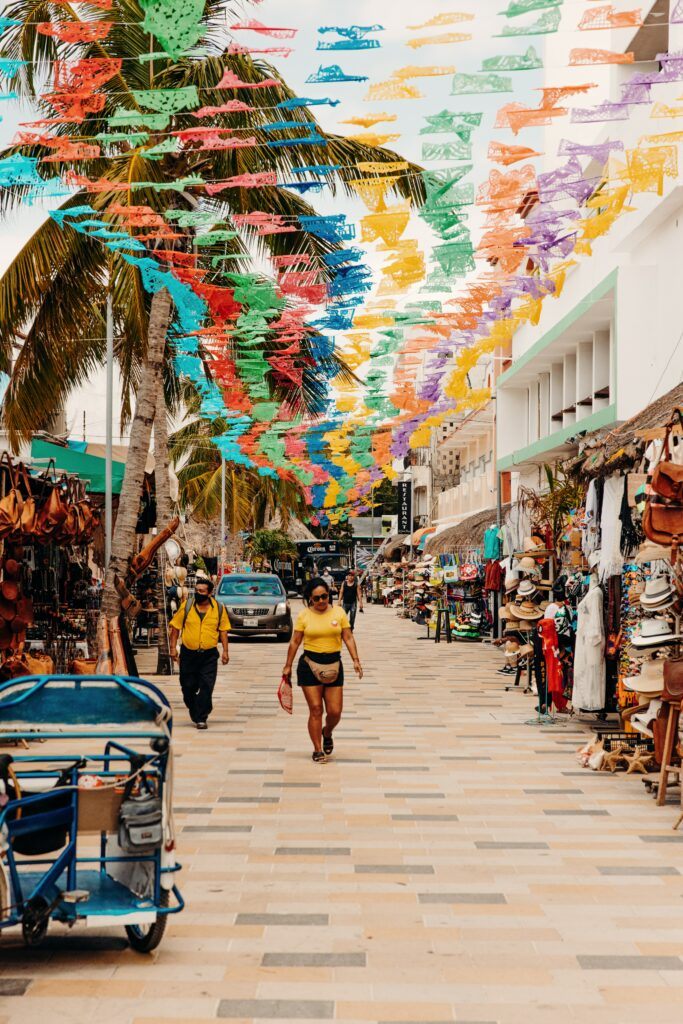 You really can't avoid Quinta Avenida, Playa del Carmen's busiest street, even if you wanted to. Most of it is pedestrian-only, which makes it a convenient way to get from one end of downtown to the other on foot. Along the way, you'll find lots of souvenir shops, cafés, restaurants, and bars.
Even if you didn't come to Playa del Carmen to shop, Quinta Avenida is where everything happens. Street performers regularly execute their talent there, and you'll see all kinds of characters out and about. Take a couple trips up and down this street and you'll get a feel for Playa instantly.
11. Swim with turtles
The Riviera Maya is home to both fresh and saltwater turtles, which live in the cenotes and in the sea. Spend a day swimming with turtles on this snorkeling tour, which will take you to a large cenote to check out freshwater turtles before heading to a bay to catch a glimpse of sea turtles. Double the turtles, double the fun, am I right?
12. Catamaran at Maroma Beach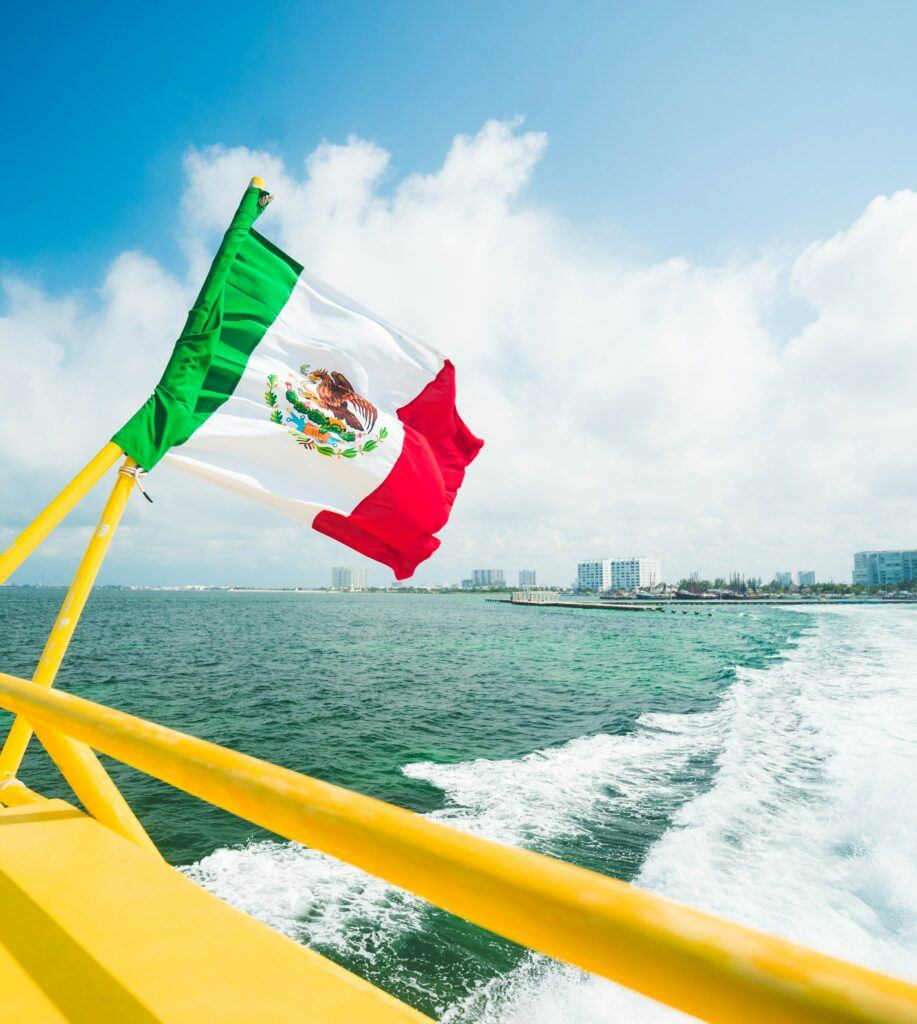 Hop onto a catamaran to check out pristine Maroma Beach on the Riviera Maya. You can't leave Playa del Carmen without getting out on a boat at least once, so it might as well be on this sweet catamaran tour, which stops at the Great Mayan Reef for a quick snorkel session, followed by a swim at Maroma Beach.
Day Trips from Playa del Carmen:
Cozumel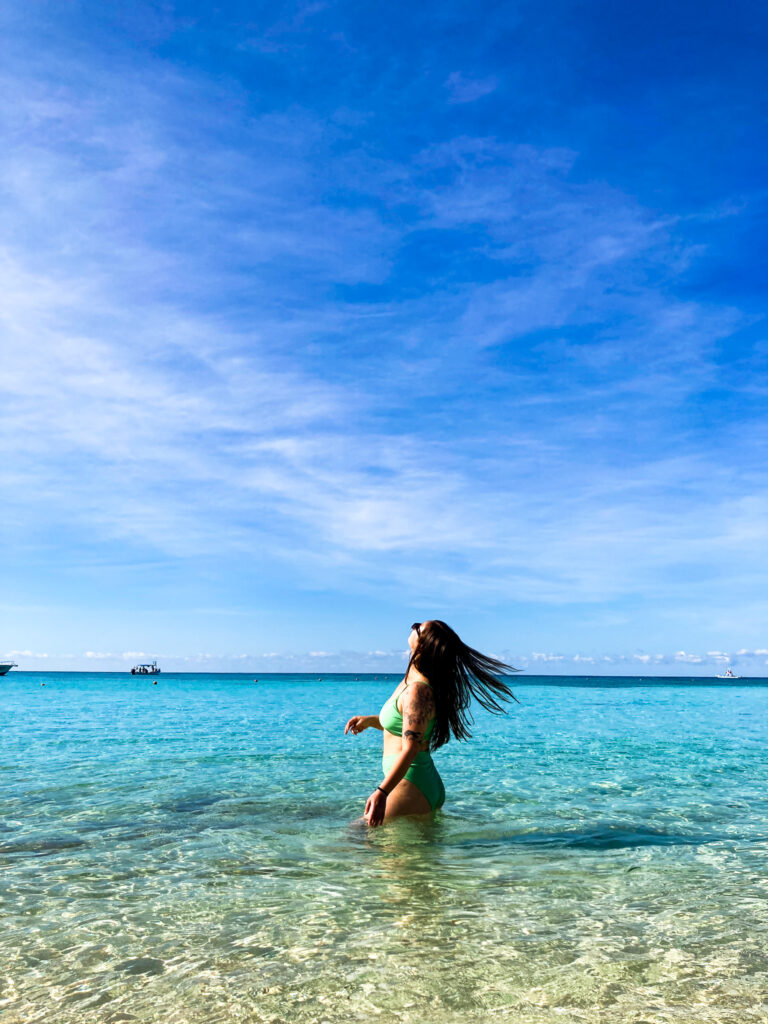 Cozumel is an island just a 30-minute ferry ride from Playa del Carmen. Although it's a popular stop for cruise ships, many visitors miss out on its incredible hidden beaches. I recommend renting a scooter or motorcycle (I did this for just $20 a day) and checking out the southern tip of Cozumel.
Once you get past the big hotels and head south, you'll find that much of Cozumel is undeveloped and still maintains its wildness. Playa Palancar is my favorite beach here, because of how removed it is from the touristy areas of the island. It's also close to the famous El Cielo reef, which you can get to via boat from Palancar for a snorkeling session.
Isla Mujeres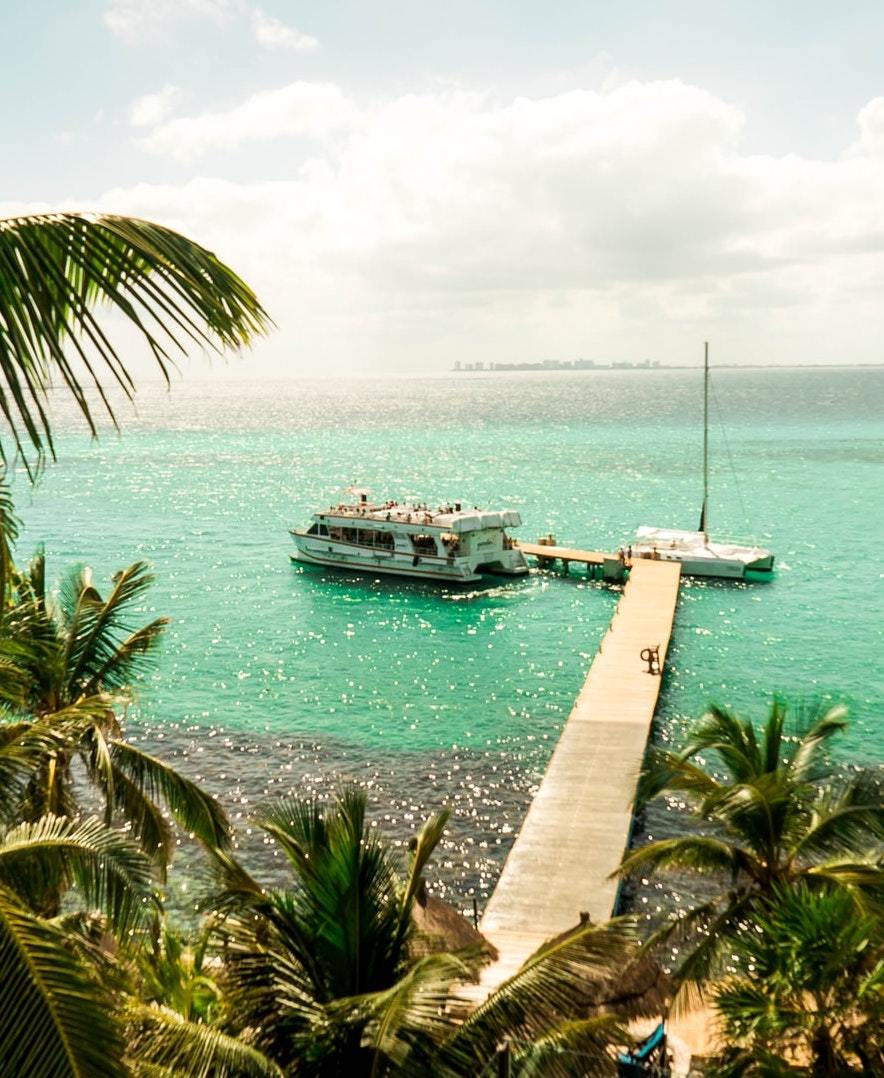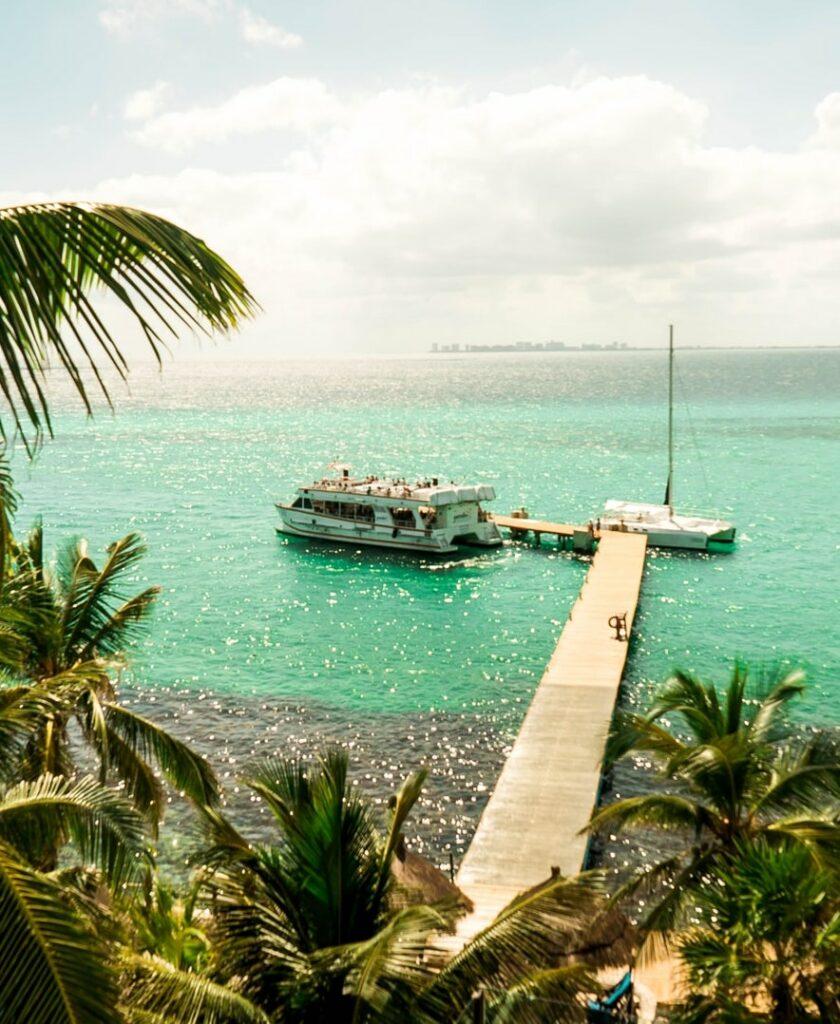 You can get to Isla Mujeres via ferry from Playa del Carmen, although it's quicker from Cancún. This island is long and skinny, with its main attractions on either end. On the north end is Playa Norte, a soft, sandy beach with warm, shallow waters, the ultimate spot to spend a lazy day in the sand. On the other end is Punta Sur, a rocky spot where you can hike around to different overhangs to get epic views of the sea, all while getting sprayed by the crashing waves.
Tulum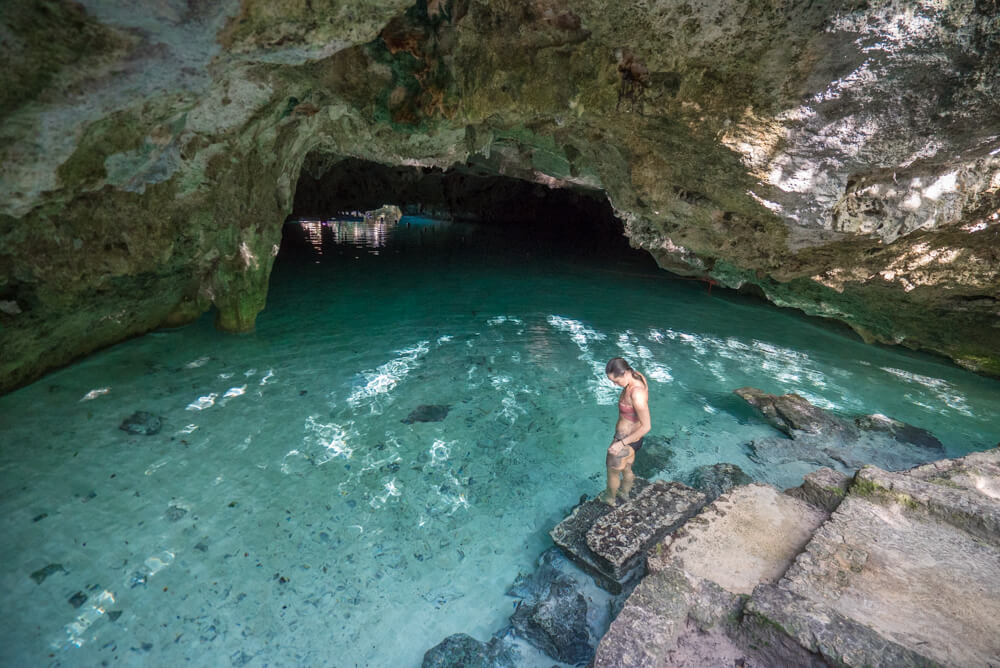 Although it has has changed a lot in the last decade and is close to overtourism nowadays, the cenotes in Tulum are spectacular and worth a visit. The beach is gorgeous as well, and the ruins definitely live up to the hype. There is a lot to do in Tulum, so a day trip is certainly in order.
Getting to Tulum from Playa del Carmen is quick and easy, taking around an hour. You can hail a colectivo on the main highway, Carretera Chetumal-Cancún, or take an ADO bus if you don't have a rental car.
Cancún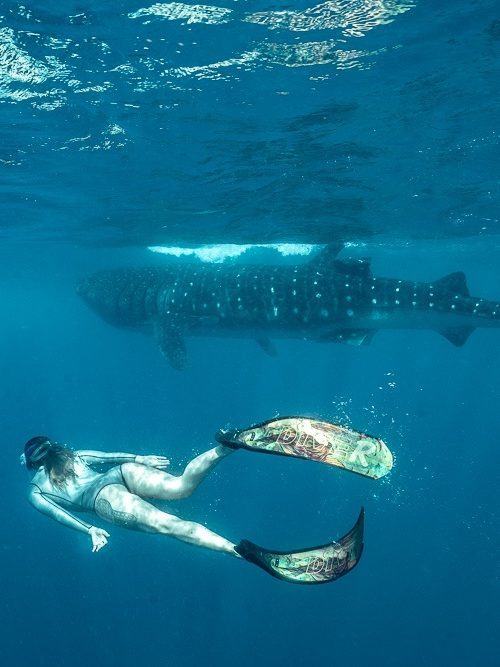 While it is a great base for everything there is to do in and around Cancún, staying in Playa the whole time you visit the Riviera Maya isn't for everyone. Consider making the day trip to Cancún to check out the cenotes nearby or book a whale shark excursion. Also, just north of Cancún lies Isla Blanca, which has flamingos on the lagoon side and an awesome, nearly deserted beach on the ocean side.
Isla Holbox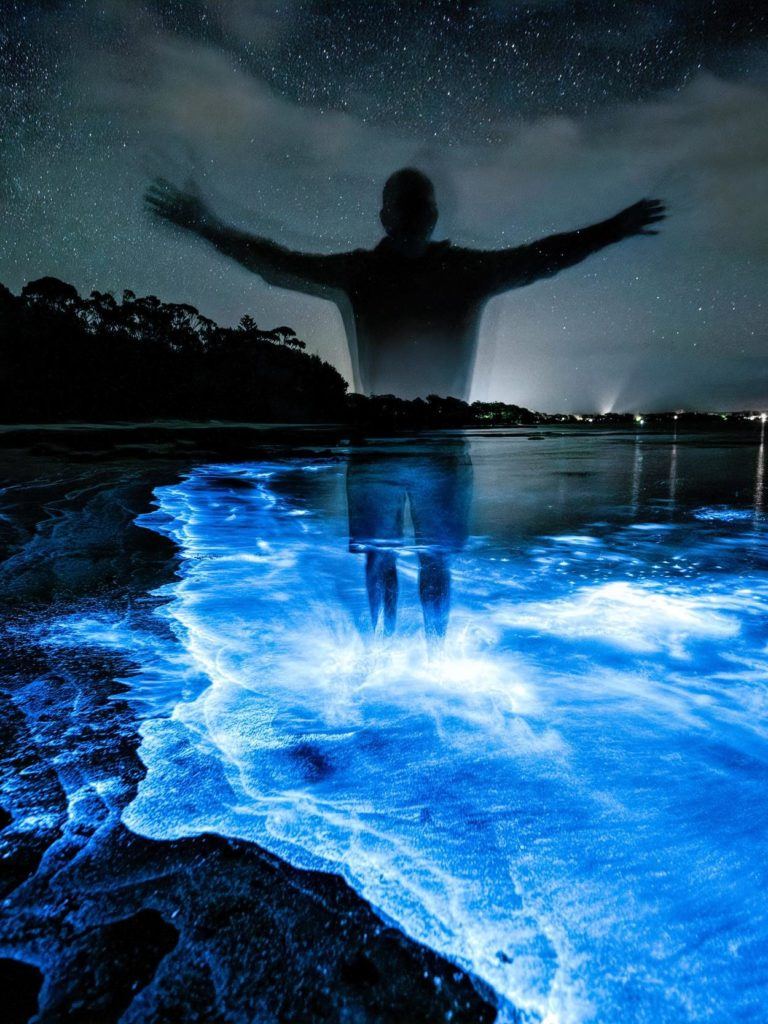 Maybe a day trip to Holbox from Playa del Carmen is only a tease, because you'll definitely want to stay at least a few days here. If that isn't possible, a day trip is still worth it. Holbox is a small island off the coast of Chiquilá, which you can reach by ferry. There are no cars there, which is one of the reasons why the island has maintained its serene atmosphere even as it has become more and more popular with tourists.
It's one of the best places in all of Mexico, let alone the Riviera Maya, to swim with whale sharks and see bioluminescence.
Where to Stay in Playa del Carmen
A huge plus for Playa del Carmen is that you can find affordable accommodations that are centrally located, without having to stay at an all-inclusive resort. These are my picks for budget, mid-range, and luxury stays in Playa del Carmen:
Budget: Bohème Estudio, $35/night
This bright studio is in an excellent location, just a seven-minute walk from the beach. It's in a more residential area, so you won't have to worry about party noise at night. Plus, the property has a sunny rooftop and a pool. Whether you're traveling alone or with someone else, this spot is about as good as it gets for just $35 a night. Book here.
Mid-Range: The Green Village Boutique Hotel, $80/night
With that perfect mix of industrial architecture and raw wood accents, the style of the Green Village Boutique Hotel is on point. This small hotel has a garden, rooftop terrace, and pool, and is just a few minutes' walk from the beach. It's only two minutes from Quinta Avenida but tucked away far enough from the noise. For just $80/night, it will give you the feeling of indulgence without breaking the bank. Book your stay at the Green Village Boutique Hotel here.
Luxury: Hotel Morgana by Iter Sensibus, $348/night
The jump from mid-range to luxury is a big one, but for some travelers it may be worth it. Hotel Morgana is in the heart of Playa del Carmen, just minutes from the beach. The chic atmosphere is Mexican luxury at its finest, with bursts of color everywhere and art decorating the halls. Here you'll find a rooftop terrace with a pool, and every room decorated with a different theme that reflects Mexican culture. Book your stay at Hotel Morgana by Iter Sensibus here.
Pin me for later: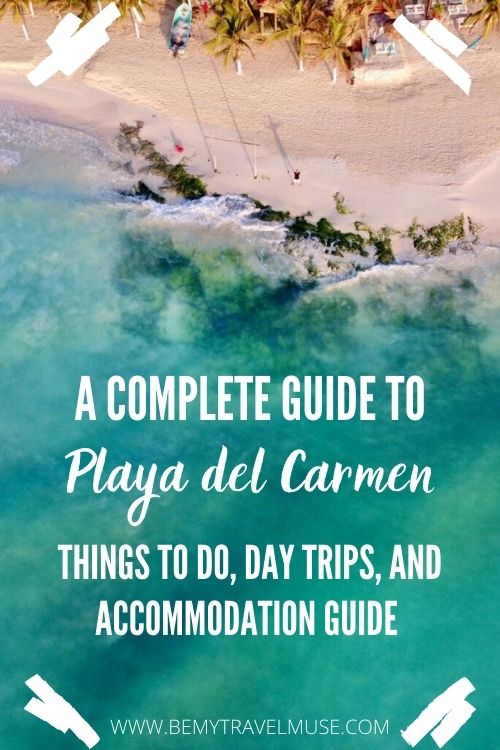 Ready to live out your tropical fantasy in Playa del Carmen? Now that you know what to do, where to go, and where to stay, you're ready to start planning your adventure to the Riviera Maya.
Let us know what you are most excited to do there!