If you've missed your chance to travel to one of our best places to visit in April in the USA, no worries! If the April showers deterred you from traveling, the promise of May flowers may be the inspiration you need. Like April, May is shoulder season for many destinations that get a big rush of tourism in the summer months. That means you'll be able to enjoy warmer temps and (hopefully) smaller crowds.
Here are my best picks for where to travel in the USA this May:
1. Kauai, Hawai'i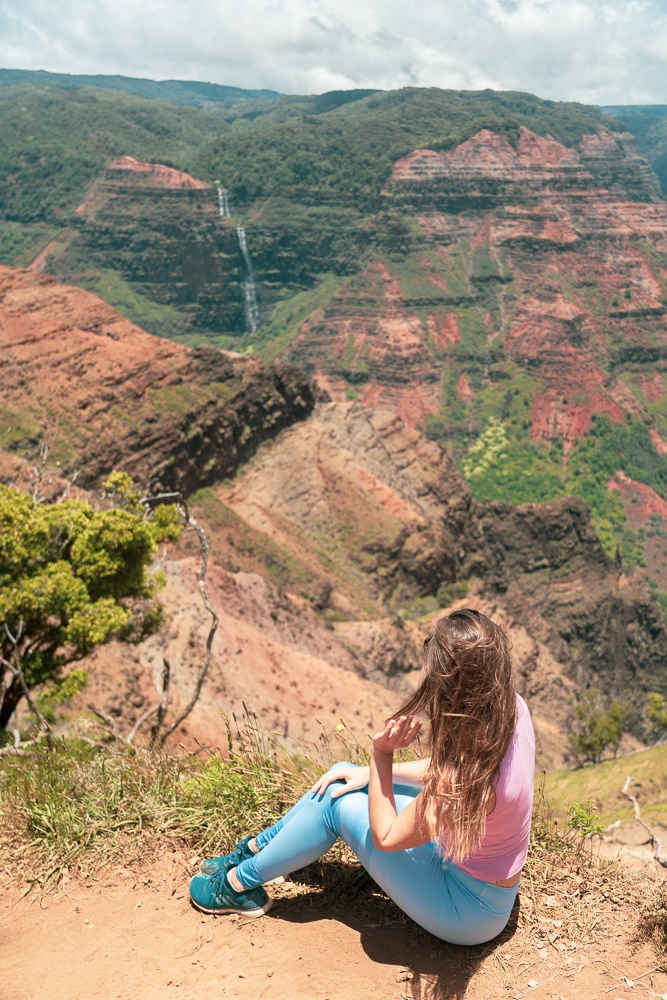 As the Hawaiian Islands transition from spring to summer, temperatures increase on Kauai during the month of May but remain relatively mild. Picture opening the windows in your seaside bungalow to let the salty breeze in during the day, keeping a fan going to keep cool at night. Kauai sees less rain in May than March and April, making for sunny days perfect for hiking, sailing, hitting the beach, and all the other exciting outdoors activities on the island.
May is part of shoulder season on Kauai as well, so you'll see fewer crowds and enjoy lower prices on accommodations. For more ideas on how to make the most of your trip to Kauai, check out this complete guide.
2. Kenai Fjords National Park, Alaska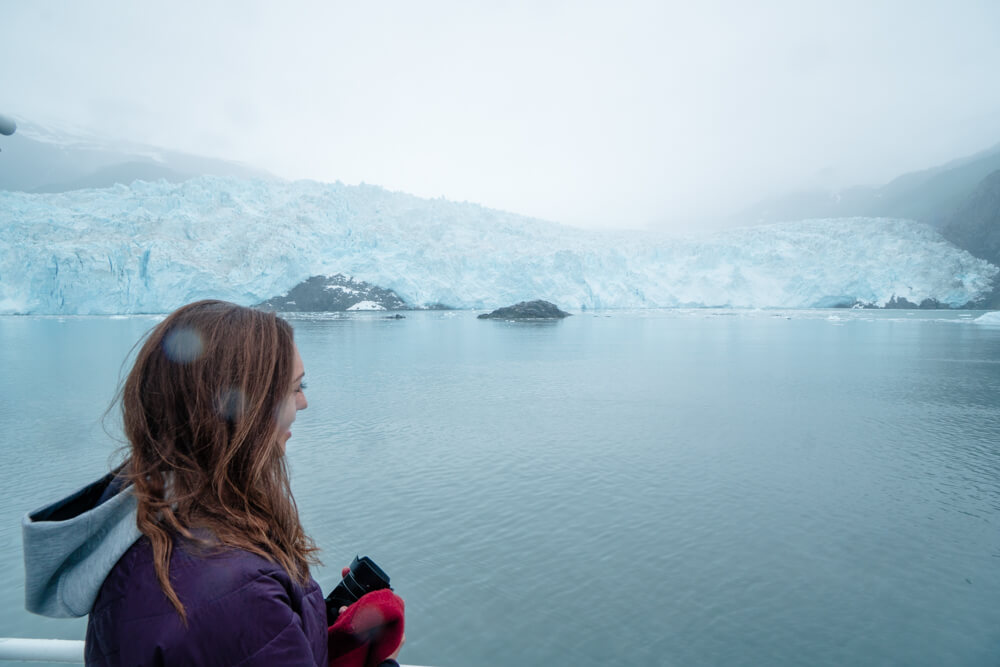 Near Alaska's capital city, Anchorage, Kenai Fjords National Park is one of the best places to visit in the whole US, let alone Alaska, during this month. The main reason is that you can see gray whales migrating from the south up to the warming waters off the coast of Alaska. Boat tours to see whales, sea lions, puffins, and other wildlife are also just beginning in May. Book your boat tour here!
The visitor center at Kenai Fjords National Park opens for the first time all year this month. The summer crowds don't begin until June, so an early May visit means you can enjoy the splendors of the park while it's still relatively quiet.
3. San Francisco, California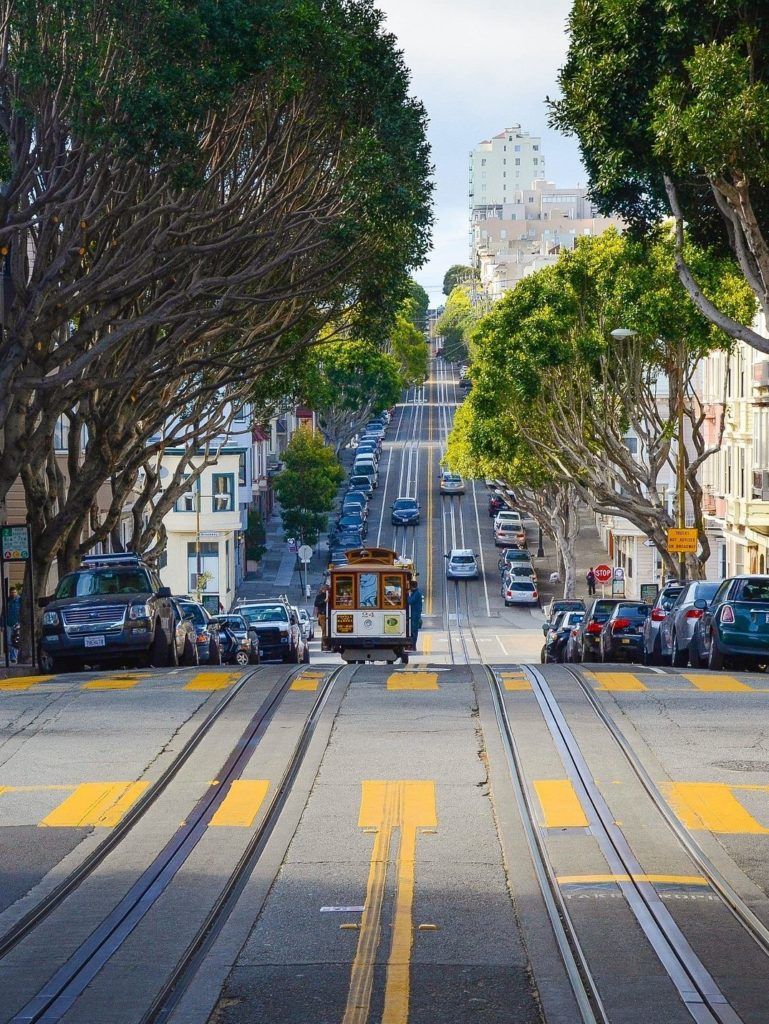 In May you can expect to experience some of San Francisco's best weather of the year. Sunny days with temperatures around the mid-60s make it just the right time to explore this hip and colorful city. Bring some layers to cozy up during chilly nights, though.
You'll see flowers in bloom throughout town, which will add a dash of whimsy to your trip. May is also an exciting month for festival lovers, as Carnaval in the Mission District falls on Memorial Day weekend, celebrating the city's rich Latin American and Caribbean culture.
May is also the ideal time to head out on a boat cruise to see San Francisco from the water. Soaking up the sun and enjoying the scenic views of the bay is a must-do.
4. Big Sur, California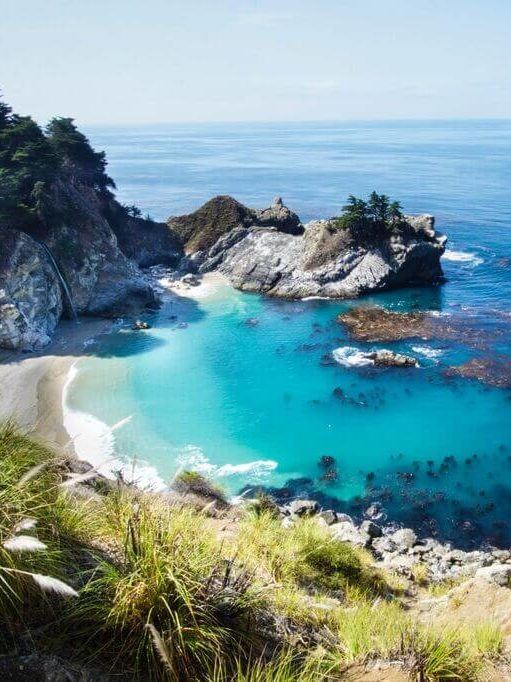 Visiting Big Sur in May means you'll be catching some gorgeous weather, right before it gets super busy with summertime tourists. If you haven't considered adding it to your California road-trip itinerary, this is your sign to do so.
The stretch of two-lane highway that winds along the rugged Cali coast between Carmel and San Simeon is what we know as the Big Sur area, and it offers some stunning views of the ocean, like the one at McWay Falls. Make sure to check out hidden gem Pfeiffer Beach, where the sand looks purple and the sunsets will take your breath away.
May temperatures are mild here, with blankets of fog moving in during the evening until dawn. This might make some travelers cranky, but I think fog is kind of beautiful and sets the scene for a sweet late spring/early summer adventure.
5. Las Vegas, Nevada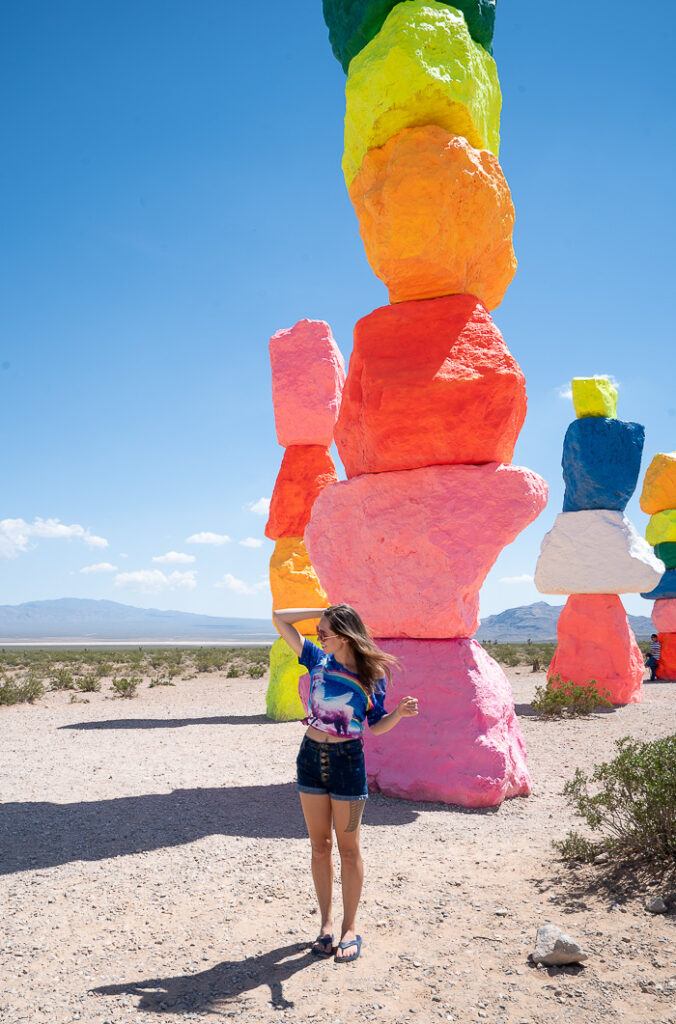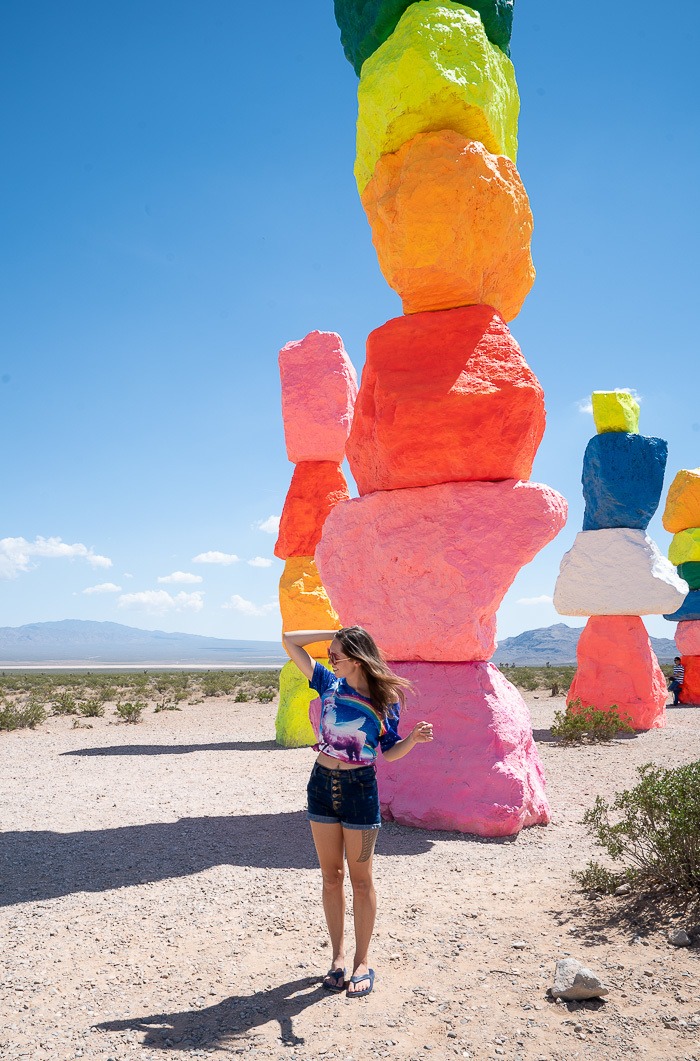 Vegas, baby! This glittery city gets quite hot in the summertime, so it's best to check it out in May, before the heat becomes unbearable. You get the best of both worlds here: a bustling city full of lights and entertainment, and natural areas with great expanses of desert as far as the eye can see. It can be your base for visiting Zion National Park, the Grand Canyon, or nearby Red Rock Canyon Conservation Area.
If you're up for it this May, consider road-tripping from Las Vegas to Reno for an unforgettable adventure full of quirky stops.
6. Canyonlands National Park, Utah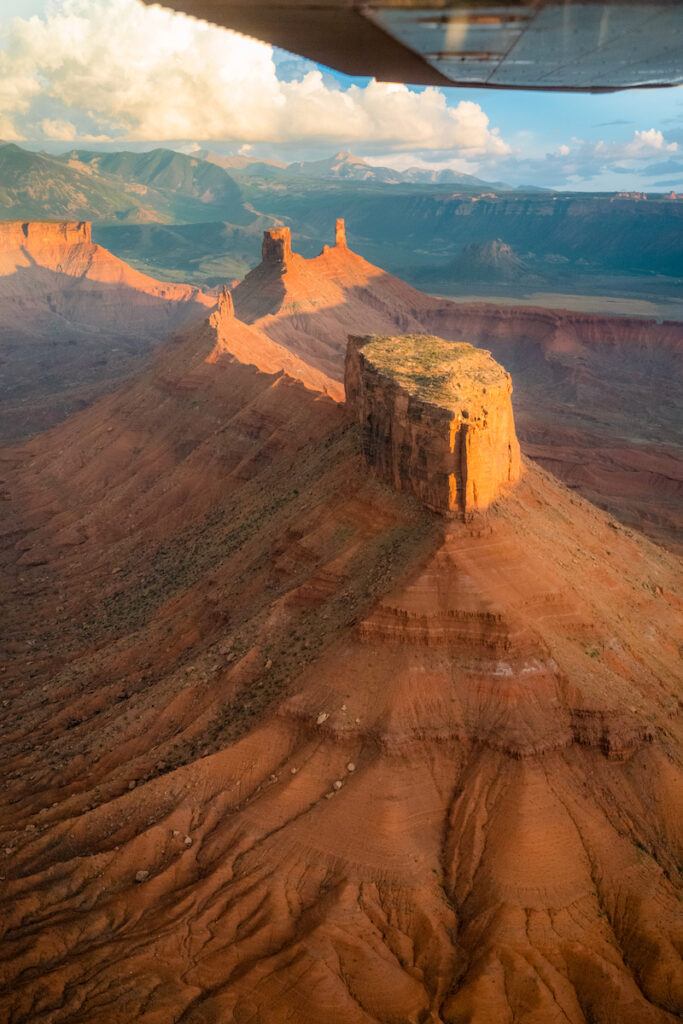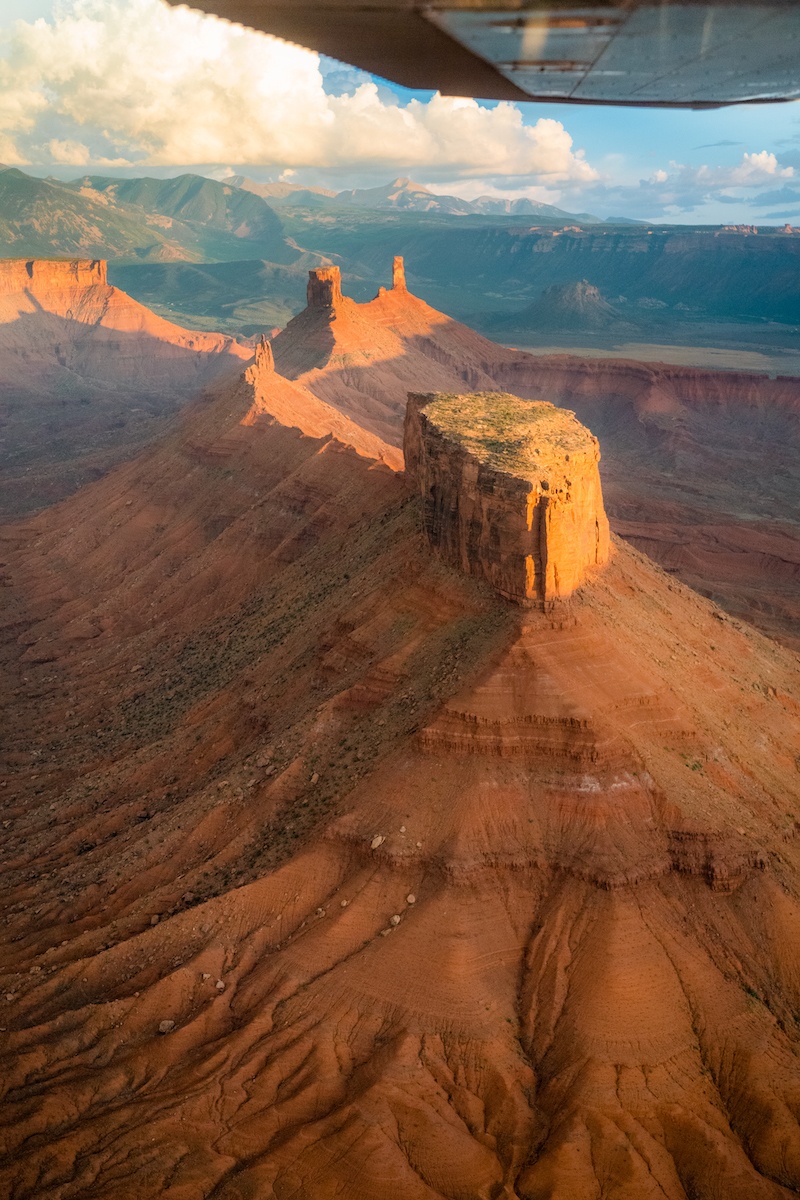 It's no secret that we think Utah is one of the most beautiful states in the US, so why not make it your chosen May destination?
Awe-inspiring landscapes make Canyonlands National Park one of the best places to bask in the state's beauty. May is a popular time to visit, because of the relatively mild temperatures (around 80 degrees during the day) which shoot up in the summer months, making it less than ideal for hiking. This month, though, you'll be able to enjoy warm and sunny days without being overwhelmed by the heat.
You can indeed hike or drive through Canyonlands National Park to see its vast natural beauty, but you can also fly over it and see the incredible rock formations from above. Add Canyonlands to your Utah national parks road trip itinerary this May — you won't be disappointed!
7. Havasu Falls, Arizona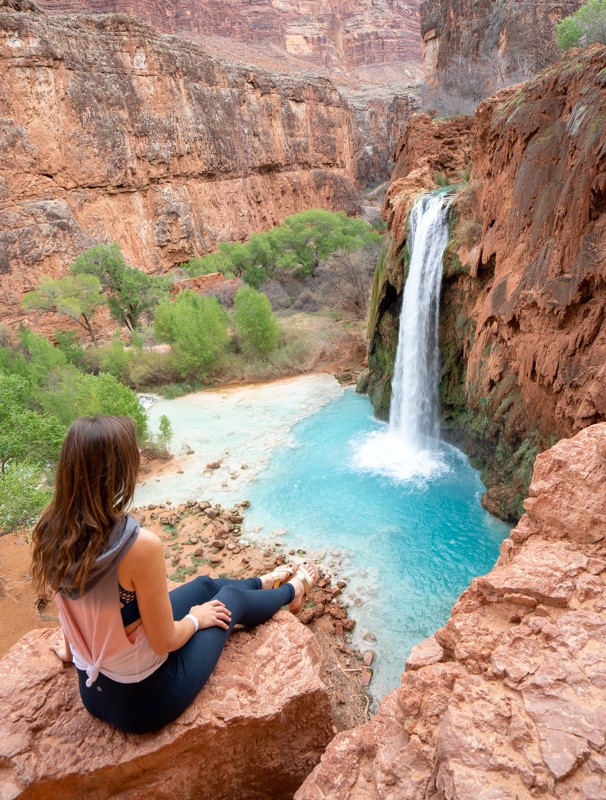 There's no wonder why Havasu Falls is at the top of our list of the most beautiful waterfalls in Arizona. Hiking there on the Havasupai Reservation is ideal in May, because it is warm enough to swim in the pools, it hasn't gotten totally buggy yet, and you'll visit just before peak season (it's interesting that monsoon season (late June-August) is the most popular for permits, because you would think that the high temperatures and even higher chance of rain should be deterrents).
You can find everything you need to know about hiking to Havasu Falls here, with details on permits, packing, and more.
8. White Sands National Park, New Mexico
Sure, White Sands National Park might be in the middle of nowhere in New Mexico. Don't let that deter you from visiting, though! This is one of the most magical places you can find in the US, hands down. It's usually very uncrowded.
Since it's so far off the beaten path, make sure to bring plenty of food and water with you. The sun can be quite harsh, especially in May, so bring sunscreen and a hat too, to shield you from those glaring rays.
What makes this place extra special in May is the abundance of purple sand verbena blooms that you'll find scattered through the soft white sand. These flowers smell a lot like gardenias and were used by native people as a mild sedative for years.
I know, I'm feeling like packing my bags and heading to the dunes myself, too. Find everything you need to know about visiting White Sands National Park here.
9. Black Canyon at Gunnison National Park, Colorado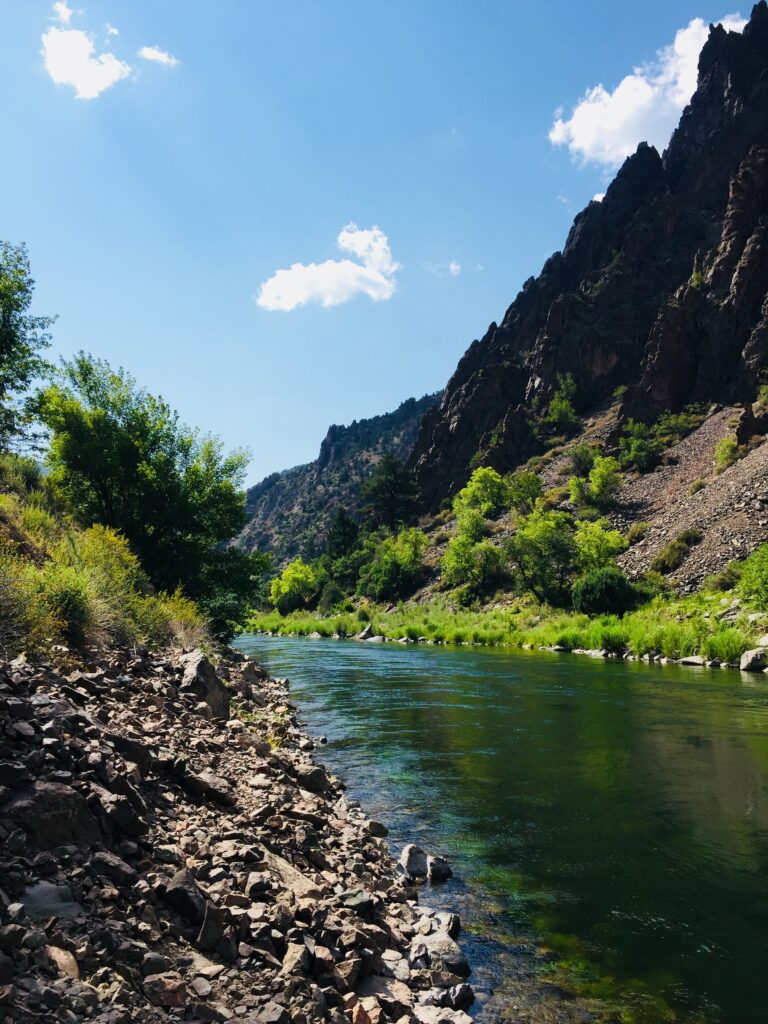 Beginning in May, both parts (the north and south rims) of Black Canyon in Gunnison National Park are open to enjoy. Like many other places on this list, this part of Colorado has the perfect hiking weather this month: just warm enough to bask in the sun, but not nearly as hot as the summer months.
A huge plus for Black Canyon is that it never gets too crowded, like some other national parks. You might be surprised that all this natural beauty hasn't been hyped as much, especially when you see the black cliffs from above at Chasm View! This national park is an awesome place to go rock climbing, kayaking, and rafting. You can also camp at one of two campgrounds in the park.
10. San Antonio, Texas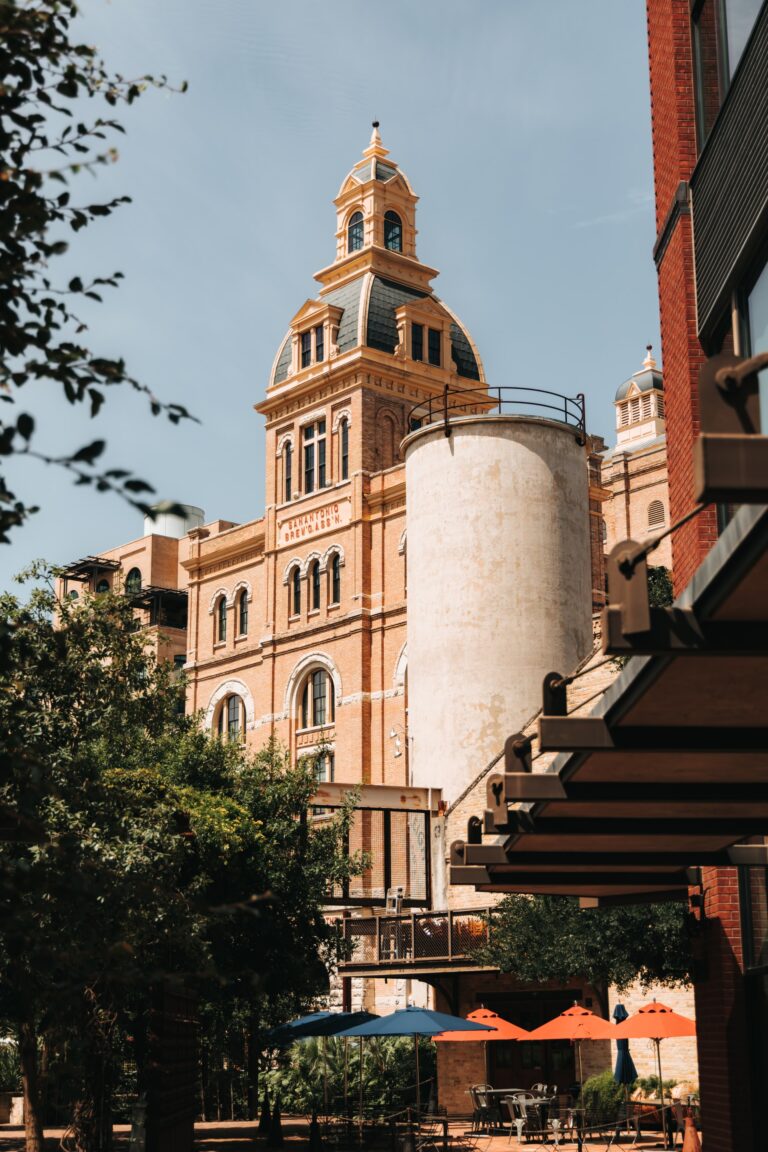 You've heard about the Texas heat, so I'll spare you the details of my sticky summers spent there. Sure, May temperatures are high in San Antonio, but it's much more breezy and less humid compared to the summer months, making it a great time to visit.
Stroll along the San Antonio Riverwalk, or tour the historic Spanish Missions UNESCO World Heritage site. Don't skip out on the amazing Mexican food either, because San Antonio is known for having the best tacos in the country (don't come at me, LA folks!).
11. New Orleans, Louisiana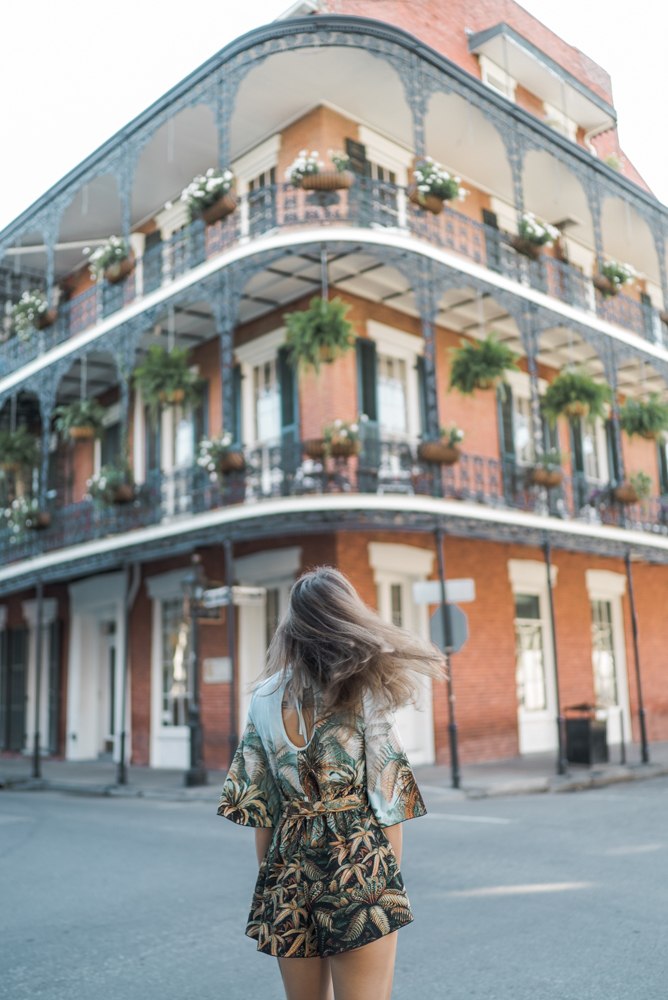 There's a reason why New Orleans makes our list of the best places to visit in spring in the USA. Especially in May, New Orleans is bursting with color from flowers in bloom throughout the city's parks. Plus, May isn't nearly as humid as June through August, and temps peak in the low 80s. It's an ideal time for getting out on the town and exploring by foot or taking a carriage ride through the French Quarter.
New Orleans has a magical charm that makes so many travelers return again and again. This guide to New Orleans will help you to start planning your Southern adventure.
12. Voyageurs National Park, Minnesota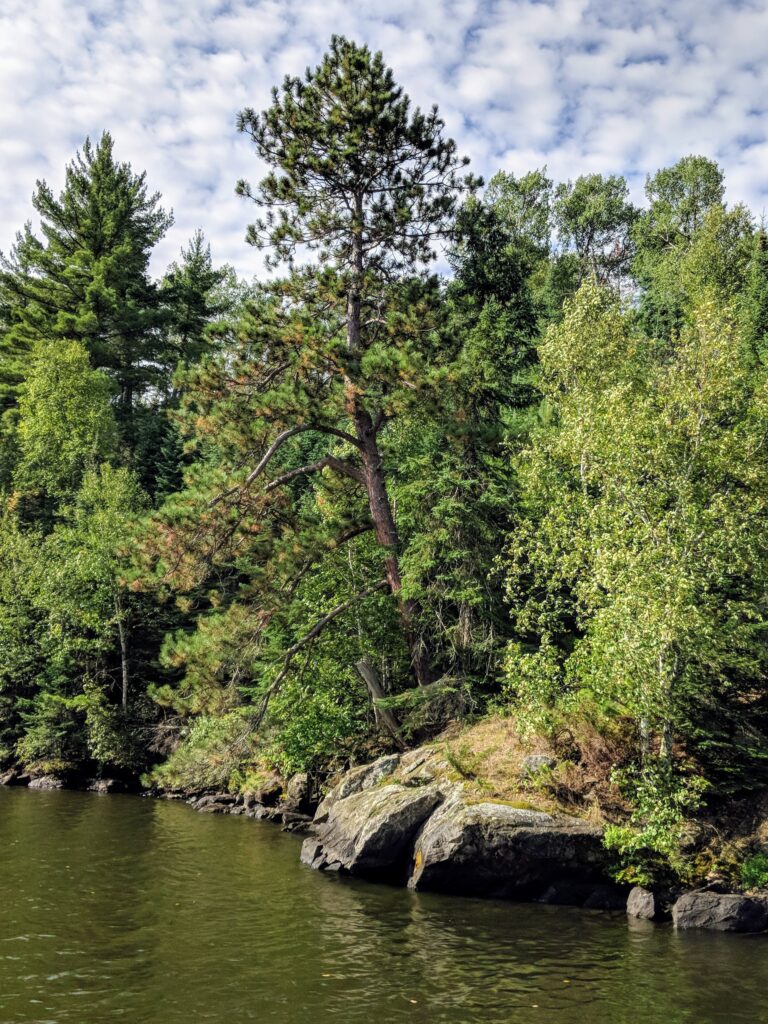 While some Southern states are in full summer mode, with warm temps and sunny days, Voyageurs National Park in Minnesota is just finishing its springtime thaw. As one of the lesser-known national parks, Voyageurs stays uncrowded even during peak season (May to August). That means you'll be able to find plenty of nature-filled solitude here.
If you visit Voyageurs in May, make sure to bring layers, as temperatures peak around the mid 60s during the day and drop into the 40s at night. All of the newly melted ice means that the lakes and streams in the park are at their most impressive and ideal for canoeing.
13. Milwaukee, Wisconsin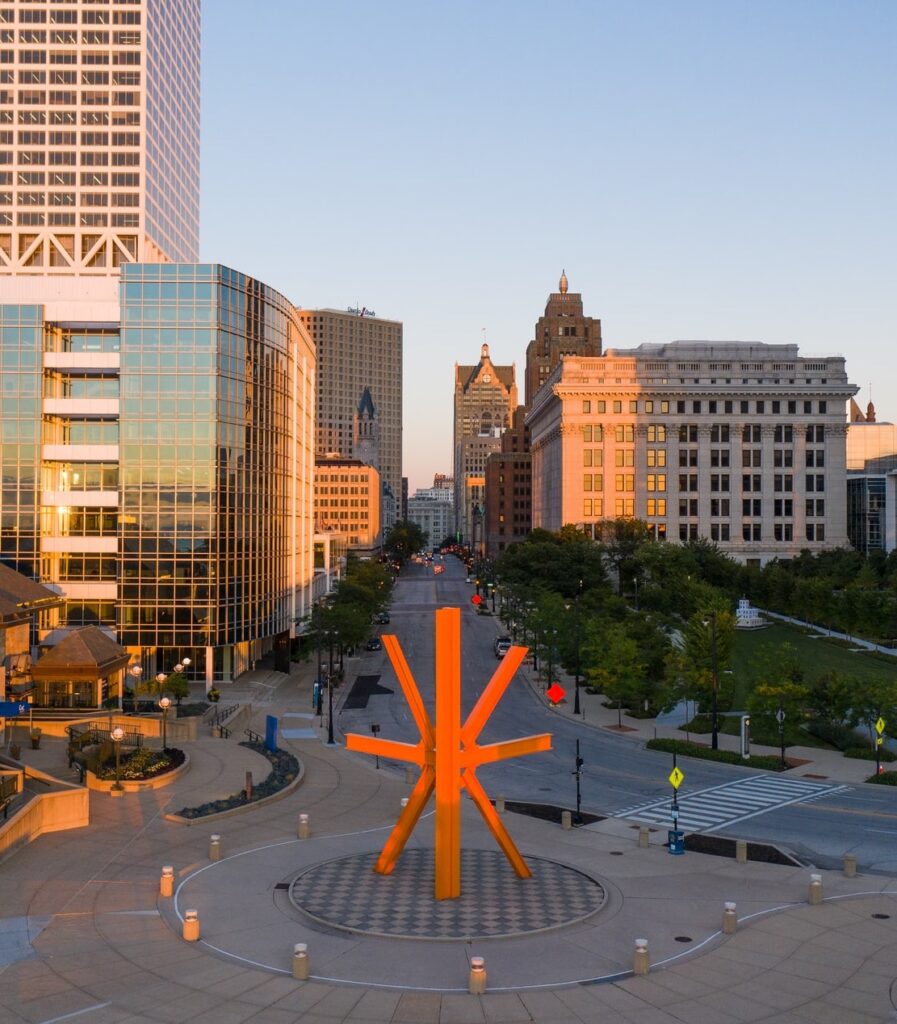 Sometimes I get the feeling that Milwaukee is living in Chicago's shadow, because the cities are so close together, but then I remember that Milwaukee has a flair of its own. Though it's small, there's plenty to do. Check out this interactive walking tour that functions as an adventurous scavenger hunt!
May is a fantastic time to check out this Midwestern gem. Highs are around 70 degrees during the day, the warmest of the year so far. Winters are frigid in the Midwest, so Milwaukee residents get excited about sunny May days, as summer is just around the corner. Farmers markets around town, like the New Berlin Farmers Market, start to open in May, and it's also a great time to rent a bike and explore on two wheels (make sure to ride along the lakeshore).
14. Holland, Michigan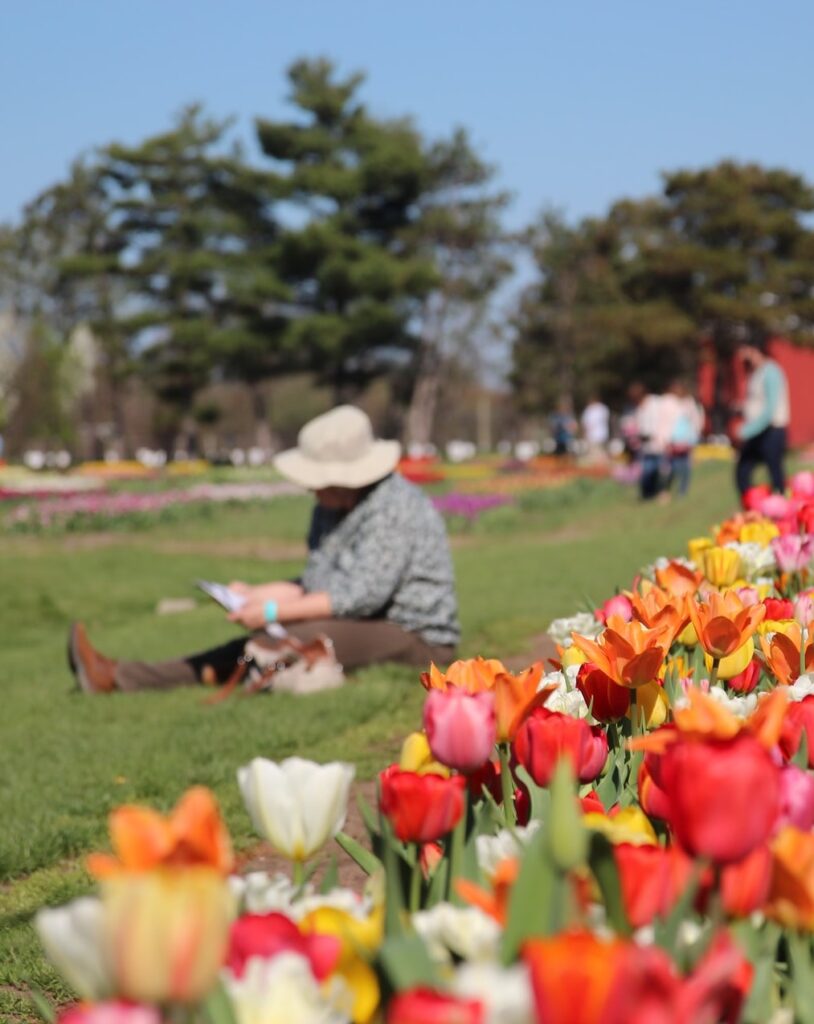 Although Holland, Michigan, is thousands of miles away from its namesake, it captures the essence of Dutch culture in a beautiful way each May by celebrating its heritage at the Tulip Time Festival. Throughout town, there are literally millions of tulips in full bloom: in the parks, in home gardens, and along the streets. Holland completely changes color this time of year, and it's truly magical for residents and visitors alike!
This charming Midwestern town receives the most visitors of the year during the month of May, so make sure to plan your trip well in advance, and don't be surprised by the crowds!
15. Louisville, Kentucky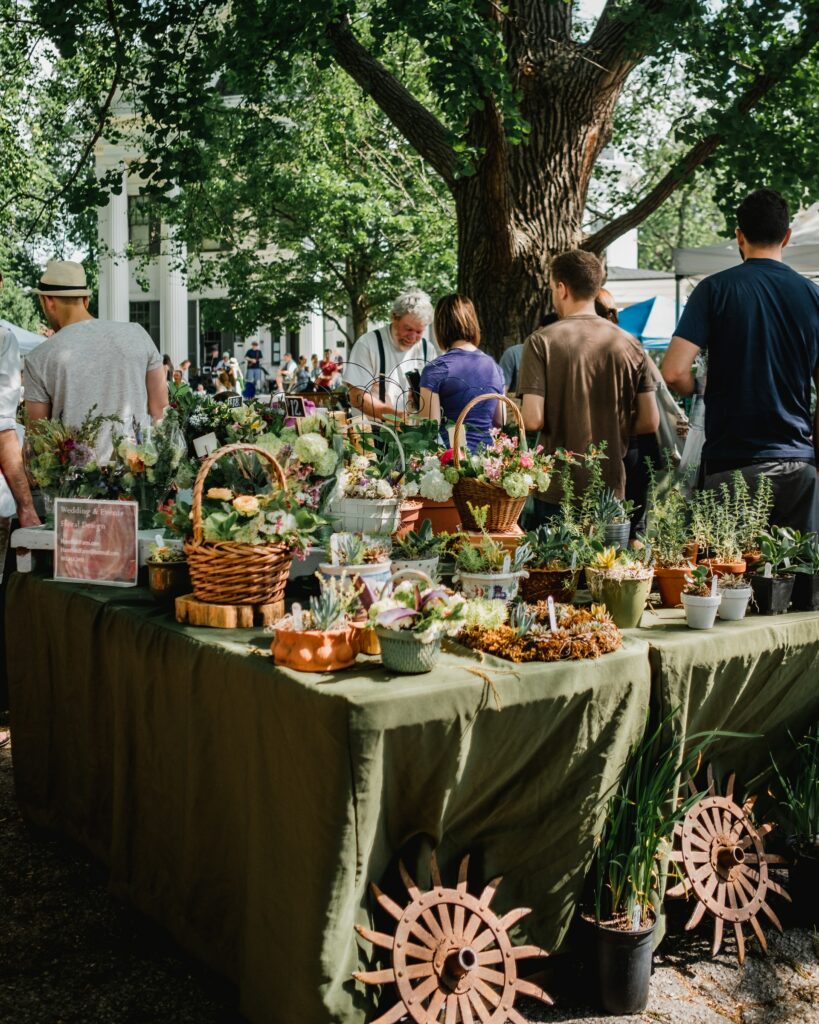 If you've read our Louisville guide, you know that this underrated city is truly a beauty. It's also one of the cheapest places to visit on this list, so if you're ballin' on a budget but still want to travel this May, perhaps Louisville is your pick!
You can visit any month of the year and have a great time, but there's no time like May, because of the Kentucky Derby. Even if you know nothing about horse racing, the derby is an iconic event at which you'll be able to get a glimpse of Louisville's unique culture and traditions. Make sure to book your flight and accommodations months in advance (if you can!), because this is the busiest time of year in Louisville.
16. Sevierville, Tennessee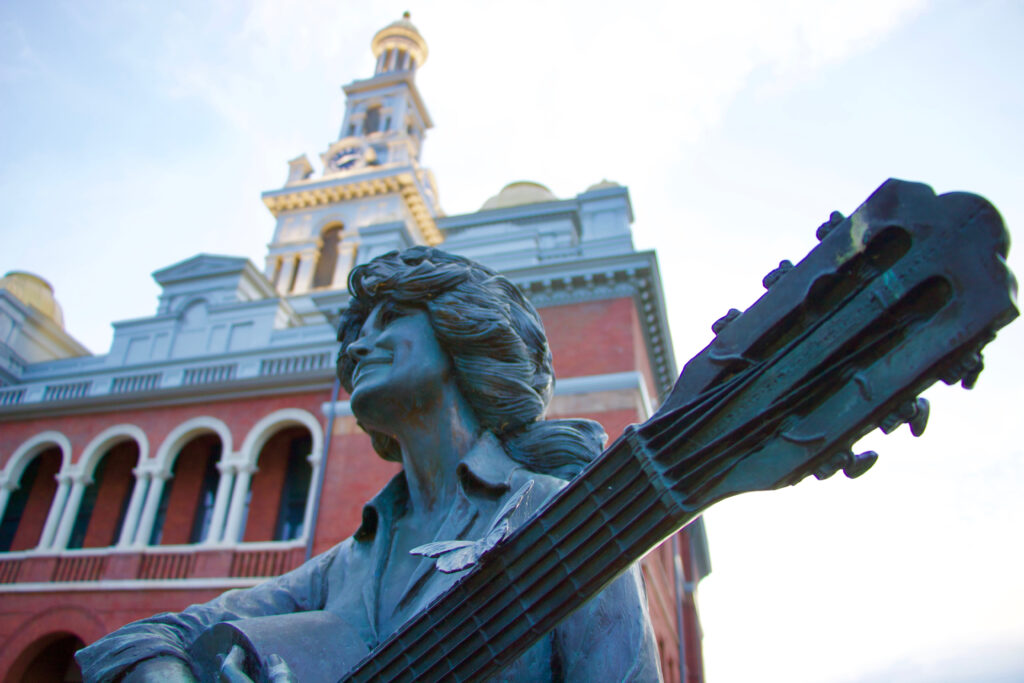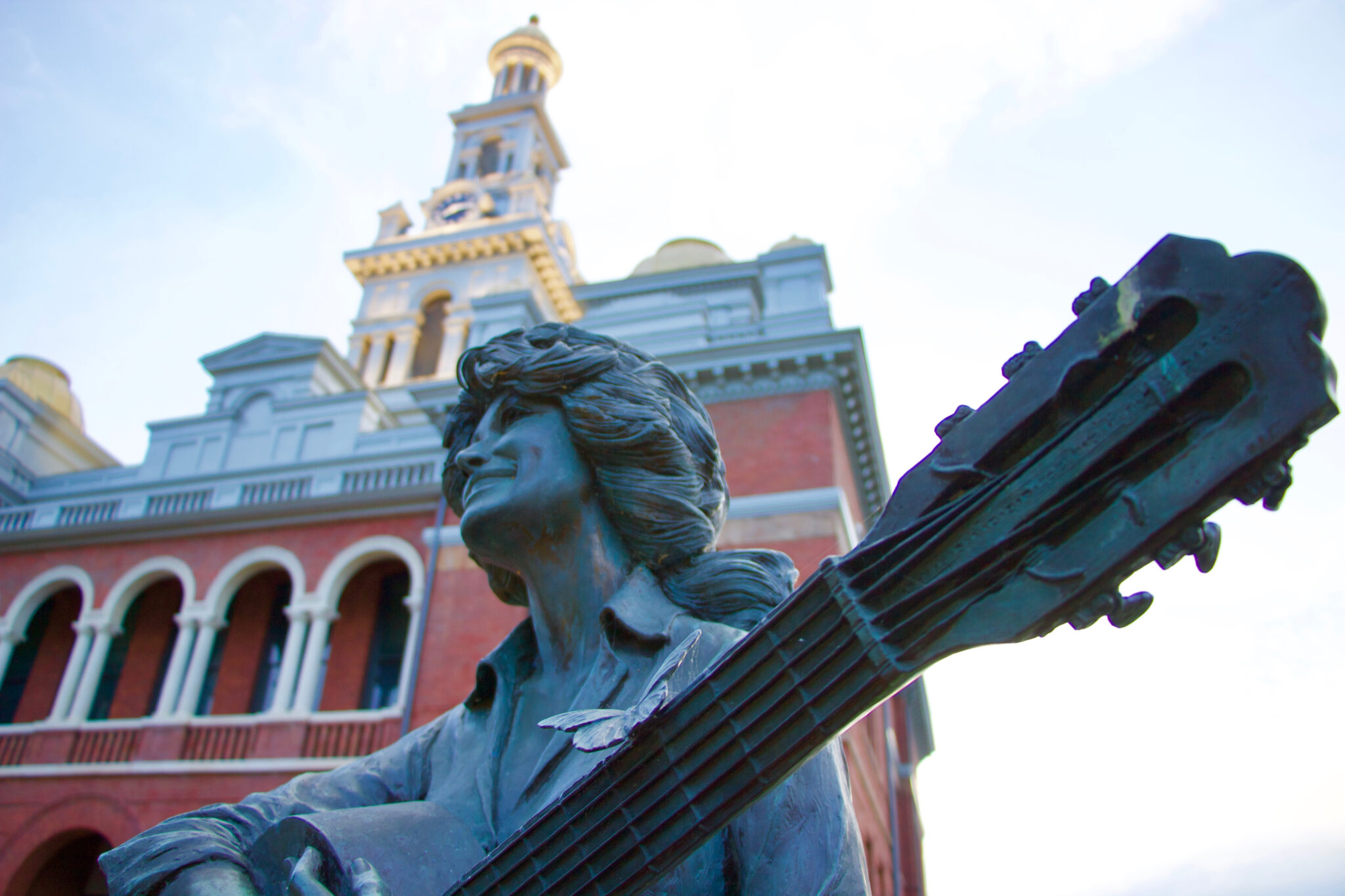 If you like the mountains and fascinating museums and landmarks, put Sevierville on your list. The Dolly Parton statue is here, along with car and aviation museums. Between general stories and eateries, there's also plenty of Southern hospitality. And, Sevierville is a great place to station yourself for exploring the Smokies! Must-do outdoor activities include the Forbidden Caverns, the swinging Bridge to Prosperity, and the mountain coasters!
If you can sneak a trip in May before the crowds start flowing in June, the weather will be in the low 70s, making it a great time to visit Tennessee. Hiking the mountains and visiting paved cities are also always a bit more pleasant when the temperature isn't scorching hot. As with the rest of the country, flowers are in full bloom!
17. Anna Maria Island, Florida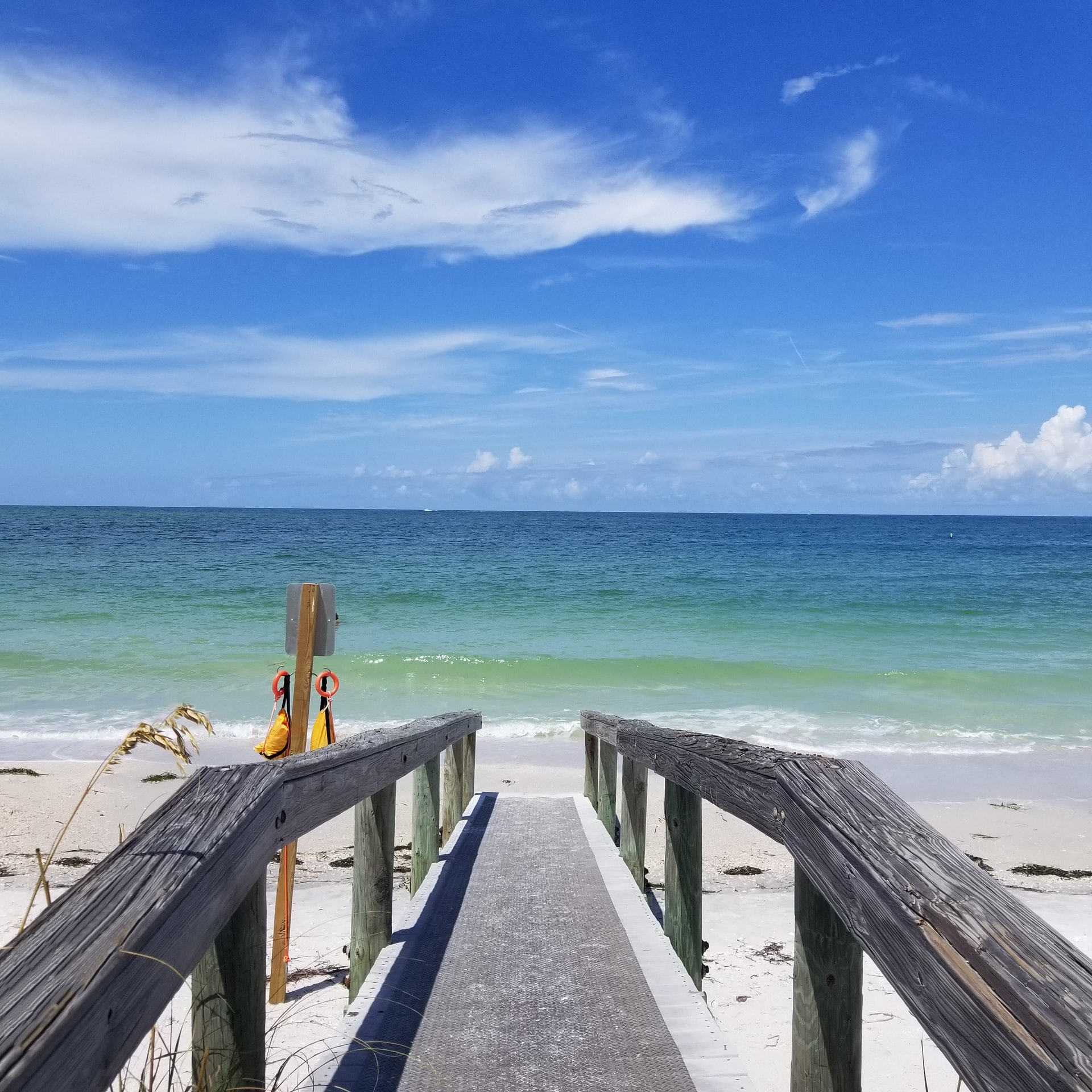 If you have been waiting for a glorious beach destination to travel to in May, this might be it! Anna Maria Island gets its first taste of summer heat toward the end of the month, along with a higher chance of rain as May progresses. However, early May promises highs in the upper 70s and low humidity, making it perfect beach weather.
Idyllic and laid-back Anna Maria Island has a timeless feel, because of building restrictions that don't allow high-rises. Instead you'll find quaint cottages and a far more residential vibe than other big beach destinations in Florida, making it a great place to relax and enjoy the beach if you want a more low-key vacation.
18. Everglades National Park, Florida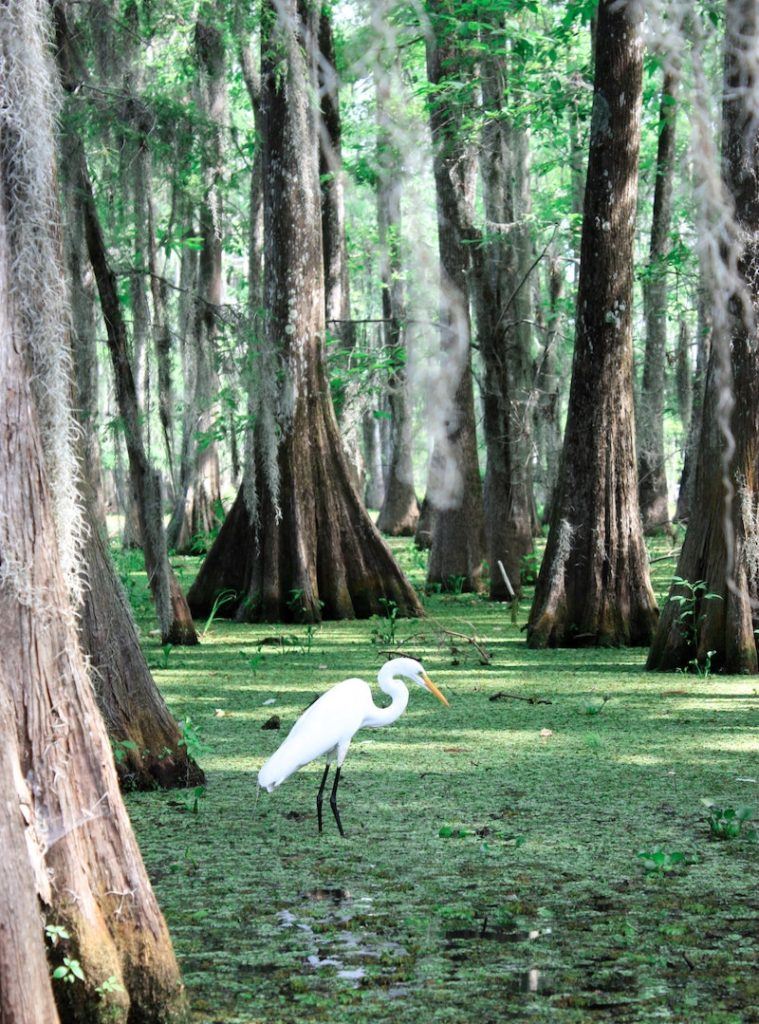 May marks the beginning of a long wet season in the Everglades, but don't let that deter you from going. Since the wet season is just barely beginning in May, there's still a chance that you'll have sunny weather with less humidity than the summer months. Plus, rainstorms are typically very quick, so you'll still be able to go looking for wildlife even if it rains.
Everglades National Park is home to some of the most biodiverse areas in the United States, so be prepared to see plenty of animals here, including the infamous Florida crocodiles. If you're feeling especially brave, check out this kayak eco-tour through the mangrove tunnels.
19. Atlanta, Georgia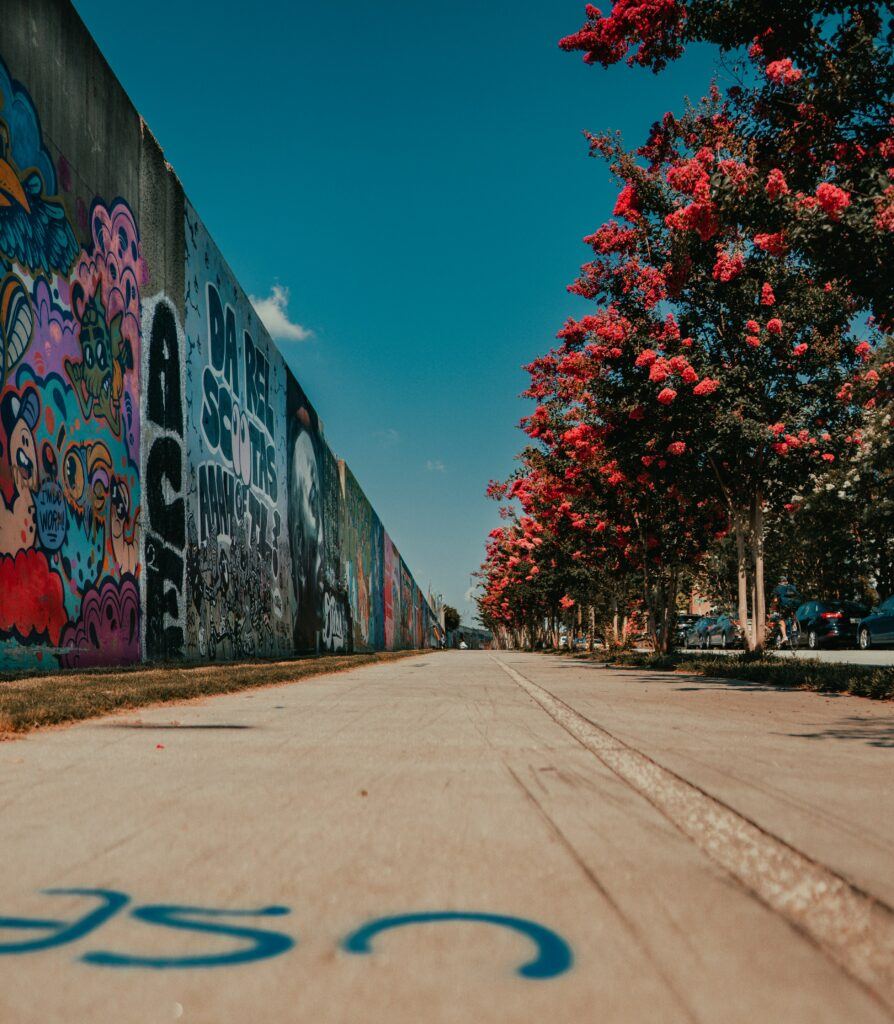 If you need a great budget trip, look no further than Atlanta, Georgia (we have a list of free things to do here). You can float down the Chattahoochee River in an inner tube, check out art museums and displays, visit nature preserves, trails, and animal sanctuaries, and go on the Tiny Doors scavenger hunt.
May is a beautiful time to be occupied in Atlanta's city streets because it's still shoulder season here, but the temperatures rarely dip into the 60s or exceed the 90s. It's normally pretty sunny with little rainfall, so you can spend a good bit of time outdoors.
20. Myrtle Beach, South Carolina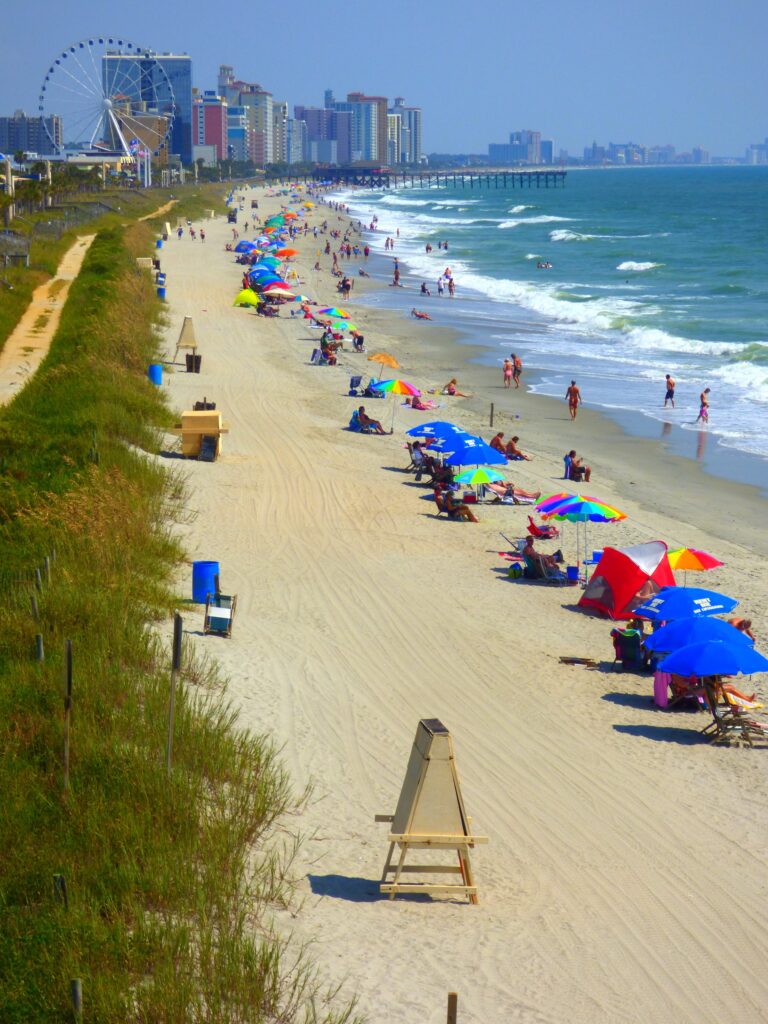 Myrtle Beach is one of the most quintessential East Coast beach towns in the US, and May is a wonderful time to visit. It's warm enough to enjoy the beach, but the summer crowds haven't begun yet. You'll enjoy cheaper accommodation up until Memorial Day weekend, too.
Festivals are in full swing in May, including the World Famous Blue Crab Festival, which is one of the largest festivals in the Southeast. Get your beach hat and favorite swimsuit ready, because Myrtle Beach is calling you this May.
21. Asheville, North Carolina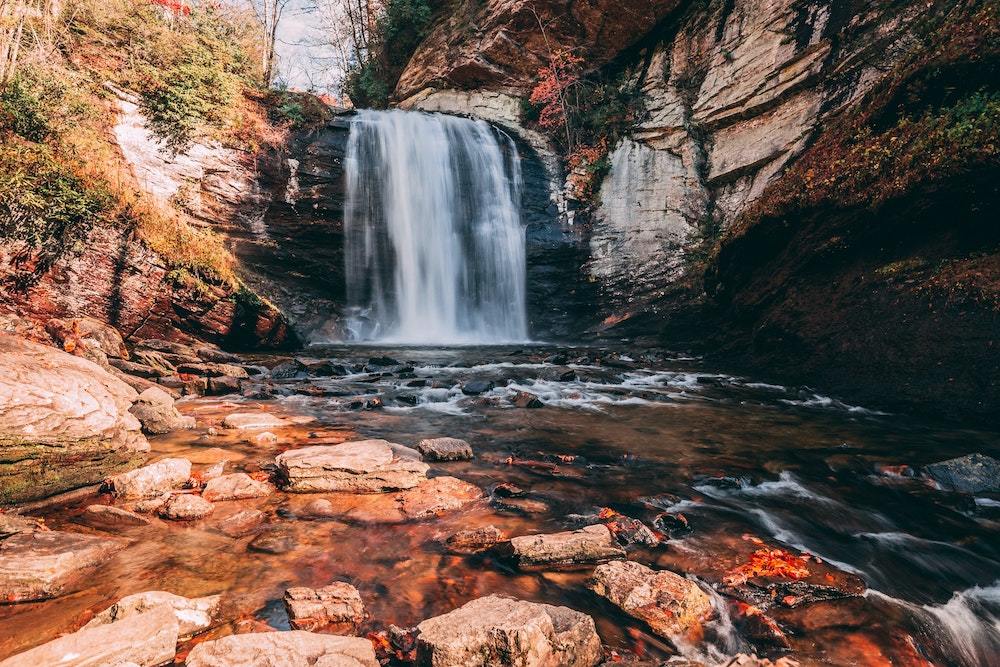 Asheville has the perfect mix of outdoorsy grit and the charm of a small Southern city. As one of the best cities in the US for budget travelers, this one is great if you want to stretch your dollar. It's an artsy place with a quirky atmosphere that makes it stand out from other cities in the South.
May is the ideal time to head to Asheville because it and surrounding mountains are in full bloom, and the mild warmth is just right for a hike on one of the many trails nearby. Another huge plus is that the farmers markets are open and offer local produce, which you'll also enjoy at Asheville's restaurants.
22. Charlotte, North Carolina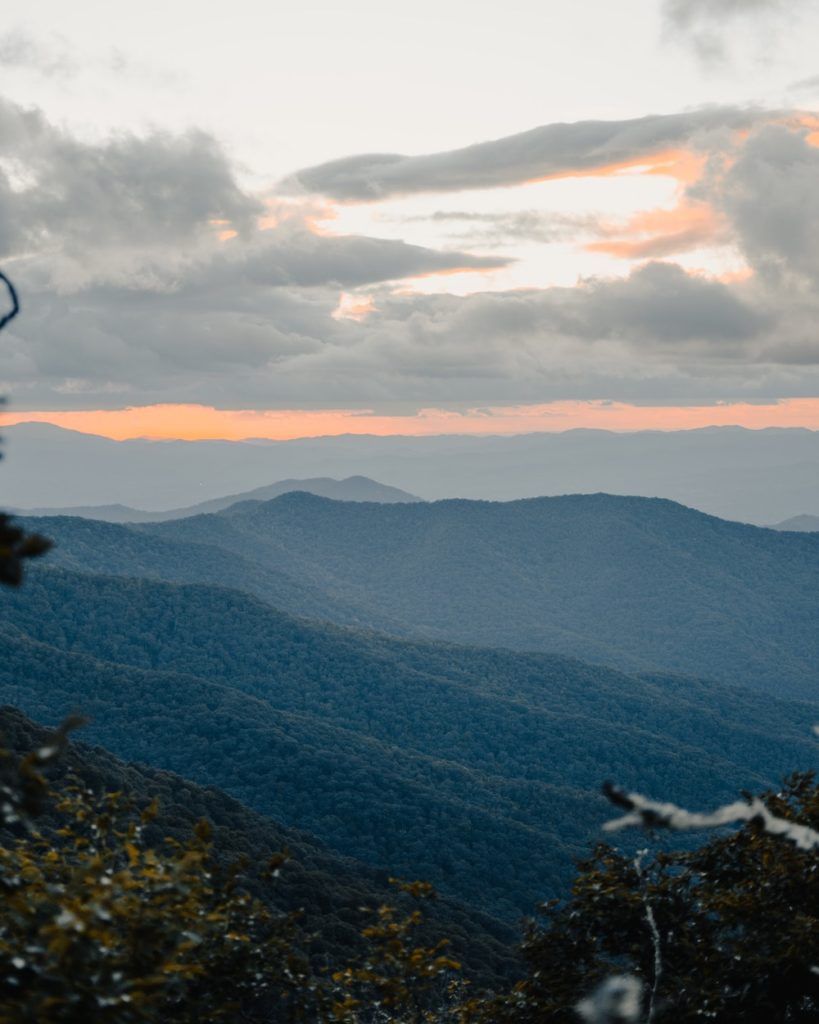 Springtime in Charlotte is magical, making May the best time to visit this lovely city. Temperatures reach the low 80s during the day; you should also come prepared for the occasional short rainstorm, especially if you visit at the end of the month. That said, Charlotte becomes very crowded during the summer, so visiting in May means you won't see as many tourists and prices will be lower for accommodations.
Spend an afternoon exploring Charlotte's historic Uptown neighborhood via segway tour, or wait until the sun goes down for a spooky ghost tour. Either way, you'll definitely want to take advantage of the warm weather to explore the city and learn about its rich history.
23. Virginia Beach, Virginia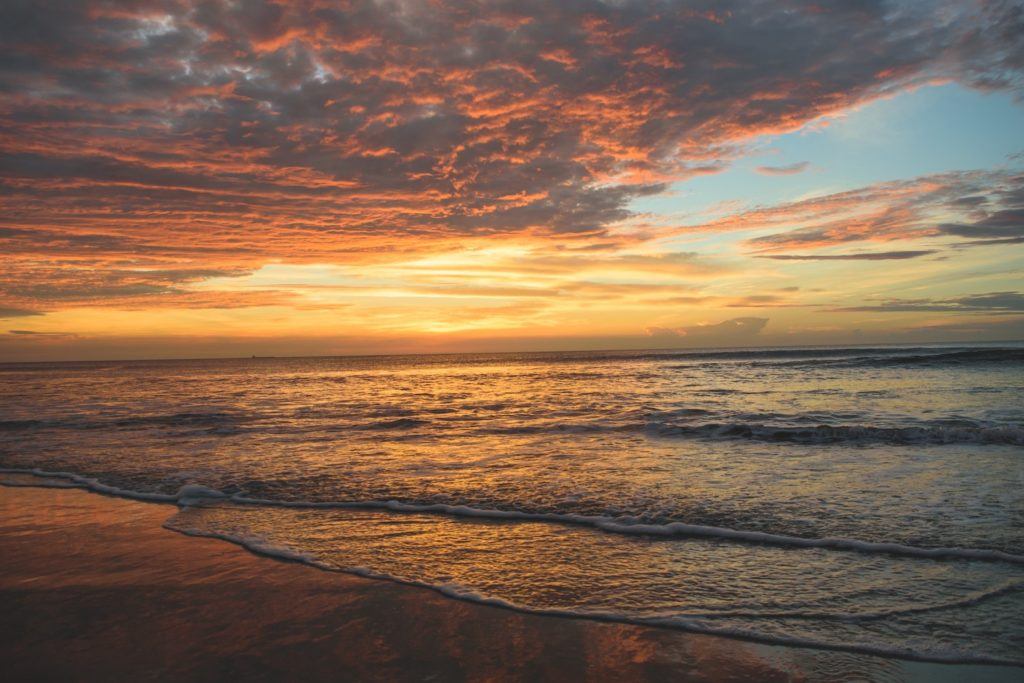 Virginia Beach comes alive in May, as the seaside city kicks off its epic festival season with the Atlantic Coast Kite Festival and Neptune Spring Wine & Food Festival at the beginning of the month. You can also catch the Pungo Strawberry Festival at the end of the month. I mean, what more do you need?
May is the ideal time to visit Virginia Beach, because, like other beach destinations, summer isn't quite in full swing yet and you'll get a head-start on the season. It's also a historical and cultural hub, with plenty of amazing restaurants and an epic boardwalk to explore. You can also learn about the city's past on this haunted walking tour.
24. Philadelphia, Pennsylvania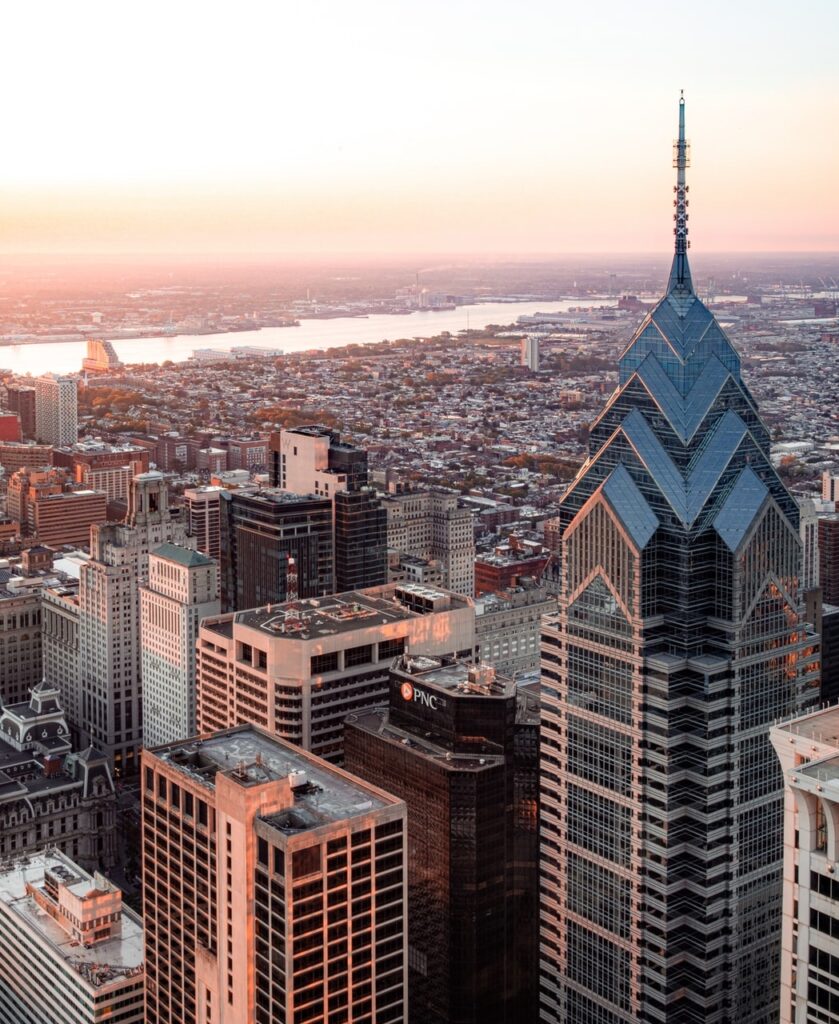 May is a great time to explore historic Philly, as it is just starting to warm up and it isn't full-blown tourist season yet. You'll be able to enjoy the city on foot, taking in the sights and smells of the quintessential Philly food trucks without having to fight the crowds.
Although May yields about 10 days of rain on average, you won't have to worry about getting soaked, because there are so many things to do indoors, like checking out the incredible museums. If you do get lucky with sunny skies, don't miss out on Philly's art scene on this walking tour.
25. New York City, New York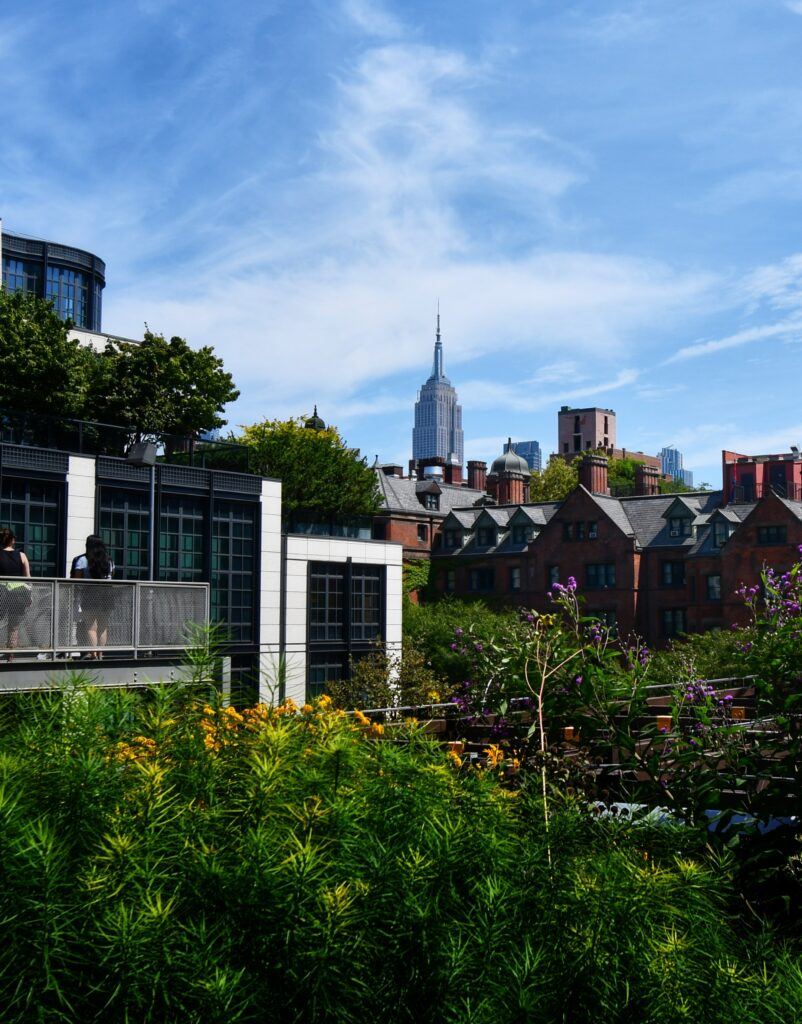 Last but certainly not least on this list is larger-than-life NYC, which is absolutely stunning in the late spring and early summer. That's why May is the best time to visit. Now that the trees are green again, you'll love strolling through Central Park, seeing all the people hanging out and having picnics. You'll also see tulips and other flowers in full bloom at parks throughout town.
There's always something happening in New York at any given time of the year, including plenty of free things to do. The colorful and flavorful Bronx Night Market is in full swing again in May, along with the Museum of the Moving Image, which reopens on May 1.
***
There's enough variety in this list to give anyone decision anxiety, but I can't think of a better problem to have than to be able to choose from among these destinations for a trip in May.
Are you hitting the road soon? Let us know which of these places you're most excited to travel to!