Imagine you're sitting on a balcony, sipping on a freshly made latte while sailing past an electric blue glacier. Suddenly, you spot an eagle resting on a piece of floating ice. Later that day, you see dolphins, whales, and sea otters jumping through the waves as the mist breaks to reveal snowy mountains and tree-coated islets. There doesn't appear to be anything around for miles, and it feels like it's all unfolding in perfect harmony. That all happened within one day on my weeklong Alaska cruise while my son napped on the other side of the door, and I will never forget those magical moments.
Now I never thought of myself as a cruise person. Would a big ship really be my ideal way to travel?
When Holland America invited me, my mom and I weren't sure it was for us. Would it be cheesy, crowded, and lame? We decided if we were to take a cruise, Alaska with its wild beauty would be the ideal place, so we went for it.
I had only been on a couple of cruises prior to this, wich were rather short and felt like a mixture between McDonald's and a frat party, to be honest. The experience on the Koningsdam sailing the Inside Passage to Alaska via Vancouver was delightfully different. It was mostly families, retirees, and some multigenerational groups like ours.
The food was great, the service was excellent, but best of all, the experience of sailing along the coast of Alaska was breathtaking. Here's everything to know before you book that cruise:
Itinerary – 7 Day Alaskan Inside Passage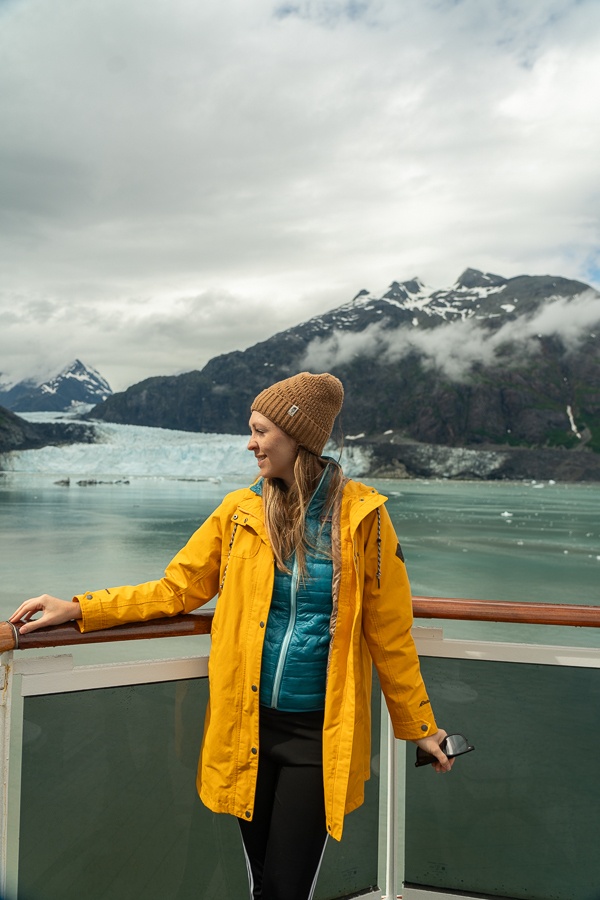 There are many Alaska itineraries to choose from, and they all offer scenic cruising with some variation in the stops they make.
What looked best to me was the departure in and out of Vancouver, which included the Inside Passage as well as Glacier Bay. It ended up being a great decision.
The first evening after departing Vancouver was already beautiful, passing by the islands outside of the city and all along the coast of British Columbia. It was just a taste of the beauty that was to come.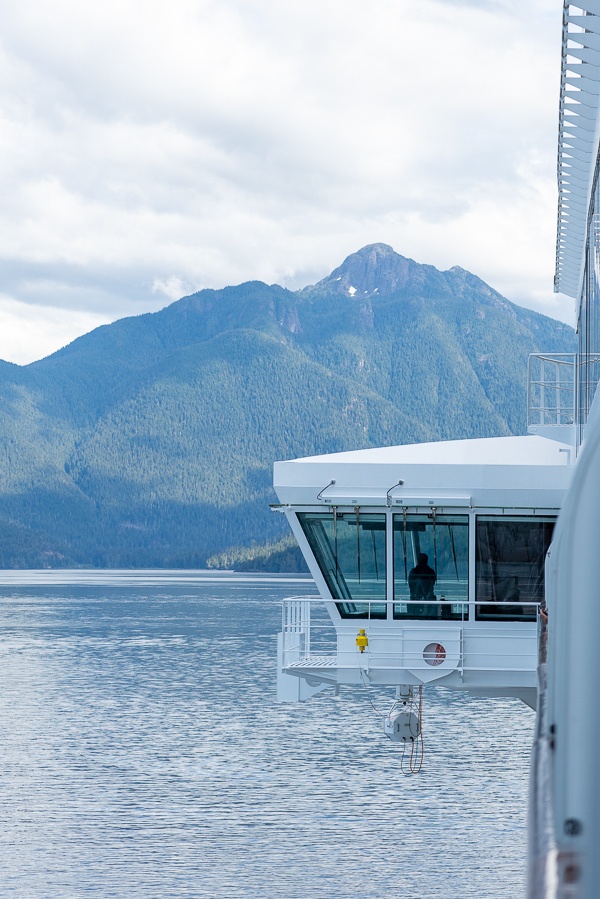 The next day was mostly about getting up to Juneau and was spent at sea. Of all the days on board, this was the least scenic, but I still saw whales from my veranda!
Juneau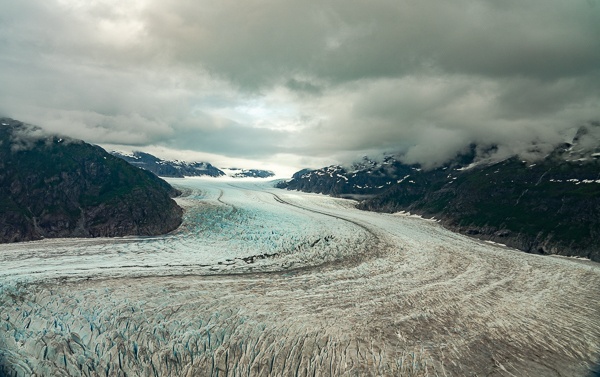 As would be a trend with the towns we visited in Alaska, Juneau had a charm to it, with historic, Wild West–style buildings and gorgeous surroundings. The downtown is mainly bars, restaurants, and souvenir shops, but there's quite a bit to do in the area. I opted for the helicopter trek of the Mendenhall Glacier, which was a fantastic decision (more on that later).
Skagway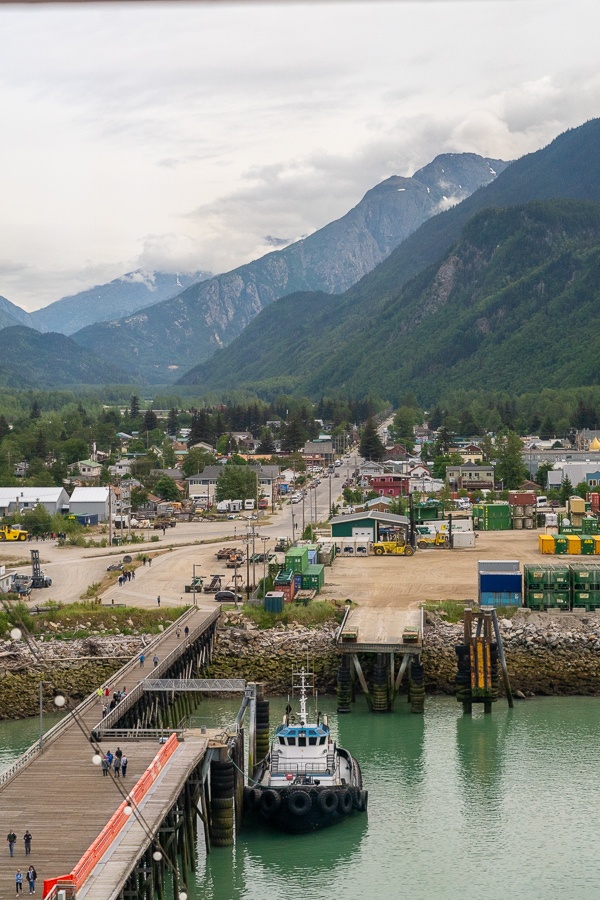 The next morning, we arrived in Skagway, another small, charming coastal town, and took the scenic railway as our excursion. Felix squealed with delight at the helicopters taking off right outside of our room on the ship afterwards.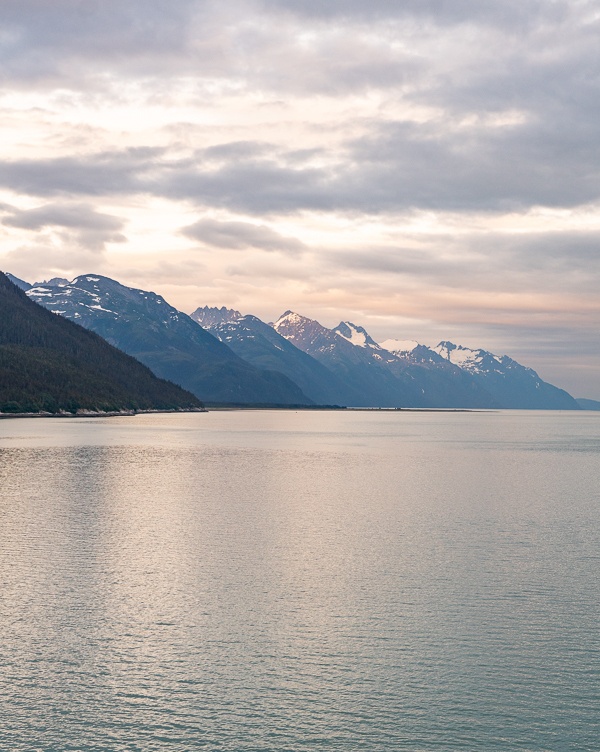 That evening, leaving Skagway was particularly beautiful, as we watched the sunset over the dramatic mountains with waterfalls cascading down. Since we had a baby sleeping inside, most of our evenings were spent on the veranda, which could not have been a better spot from which to experience the beauty of Alaska all throughout the cruise.
Glacier Bay National Park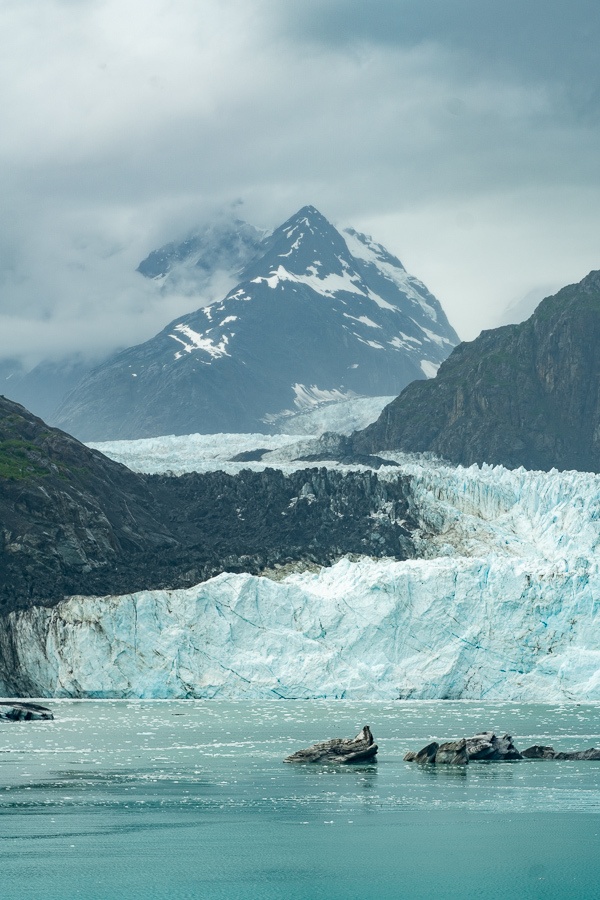 This was a highlight for us, as we spent the day cruising through Glacier Bay National Park. Though I've had the pleasure of hiking across part of a glacier in Wrangell St. Elias in Alaska and trekking on a few in Patagonia, this was still more glaciers than I had ever seen in a day.
As we made our way through, the weather kept changing, creating different lighting along the glaciers and providing incredible wildlife-spotting opportunities. I saw dolphins, whales, otters, and an eagle perched on an iceberg, all from our veranda.
Ketchikan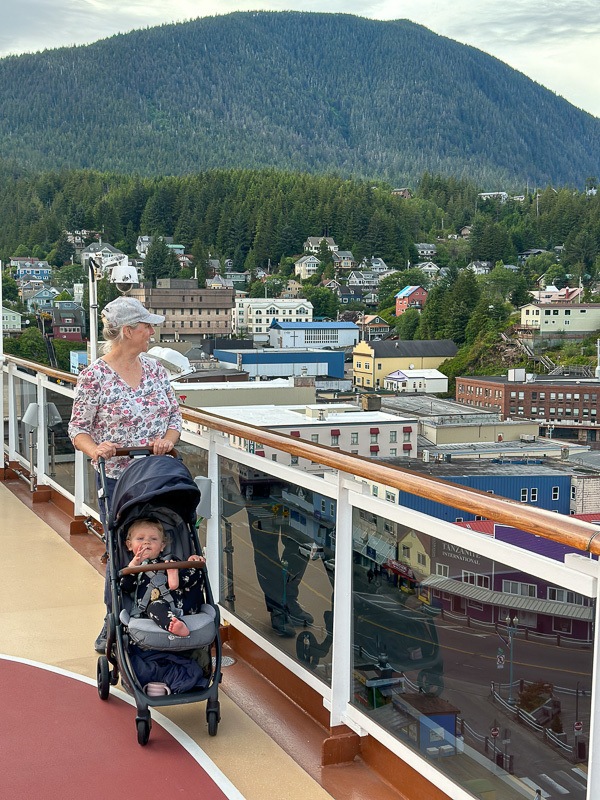 As we made our way back south, we stopped in Ketchikan, which was a nice contrast to the glacial landscape that we had been seeing. This is a great opportunity to explore the fjords, which we did by seaplane as our excursion.
Our Room on the Koningsdam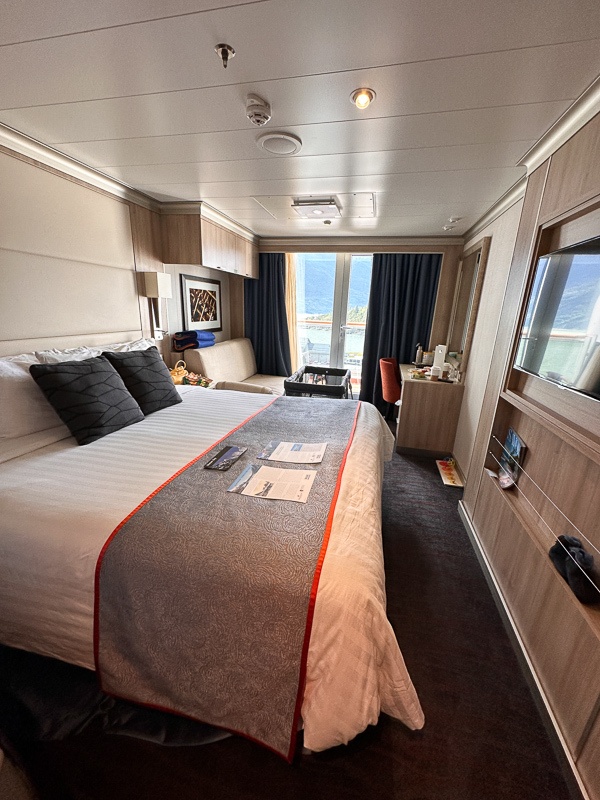 One of my concerns was feeling cramped in a tiny room with our stuff everywhere and all of the free space taken up by our travel crib.
The verandah room was spacious enough, though, with plenty of storage in the closets and drawers, as well as a space under the bed for suitcases. As long as we were good about putting things back in their place, the room was totally fine for the three of us.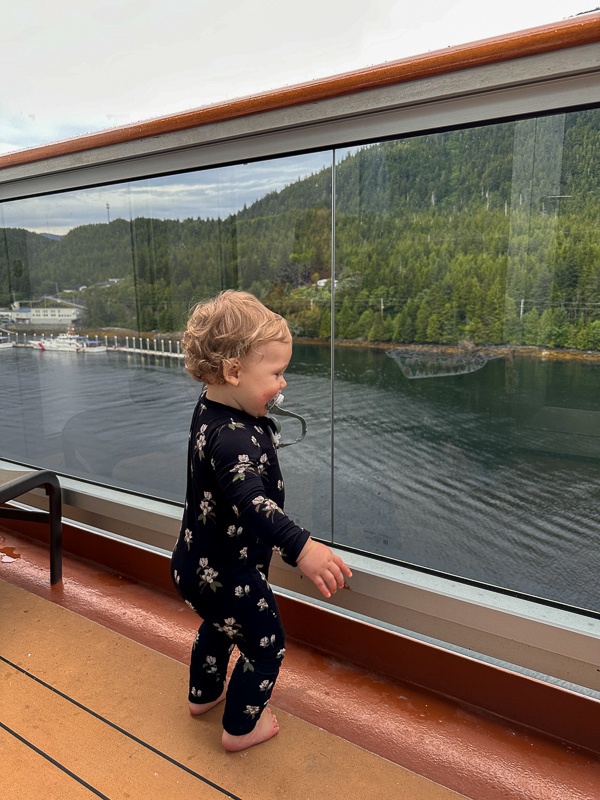 It also had a pull-out couch to sleep families, though I would imagine that squeezing four into one room would feel tight.
The balcony was also great and a frequent hangout spot of ours. It was safe for my baby to crawl around and enjoy, and my favorite place from which to spot wildlife. I preferred it to all of the common spaces on the ship since it was so peaceful and felt like my own little retreat.
The room was also serviced twice per day by two incredibly attentive staff members who always left towel animals for Felix.
Service
Speaking of the staff, they were amazing. Those in the dining room made a particularly great impression, remembering my son and always saying hi to him and bringing his fruit right away. Considering how many people they were seeing on a daily basis, I was impressed.
I also found each person we interacted with to be accommodating and patient, even when guests weren't particularly warm with them. I know from working in hospitality in the past that it's not an easy job, and they all did it especially well.
Food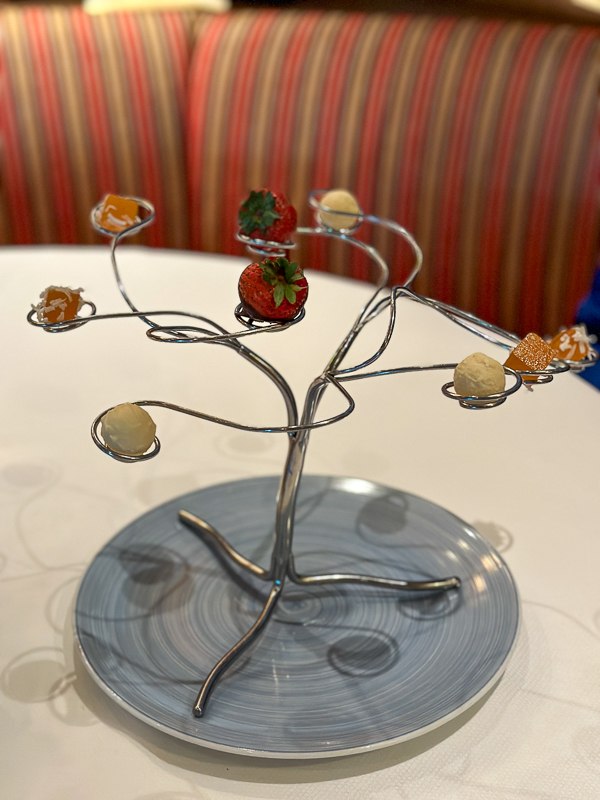 I was worried the food might not be great or healthy onboard. I'd encountered a lot of chicken nuggets and subpar burgers in the past on my brief cruise experiences. However, there was plenty of variety, and I was able to eat healthy and find plenty of options for my one-year-old as well (veggies, grilled meats, and fruit were always abundant).
Although they had a kids' menu, my son tends to just eat the healthier food that we eat, and we could get other food for him in the restaurant and Lido Market, and share what we ordered in the specialty restaurants.
Rudi's Sel de Mer
This is the highest-end restaurant onboard, with the smallest capacity — and also, of course, my favorite.
It's a tranquil seafood restaurant, and the halibut and steak special were both excellent. They also had lobster, crab, and other seafood delicacies available. I loved the apple crumble as well!
Tamarind
This Asian-flavors-inspired restaurant was my second favorite, with satay, curries, a nice tom kha gai, and orange duck. They were also very understanding and accommodating of our nut and soy allergies. Definitely get the yuzu cheesecake for dessert!
Canaletto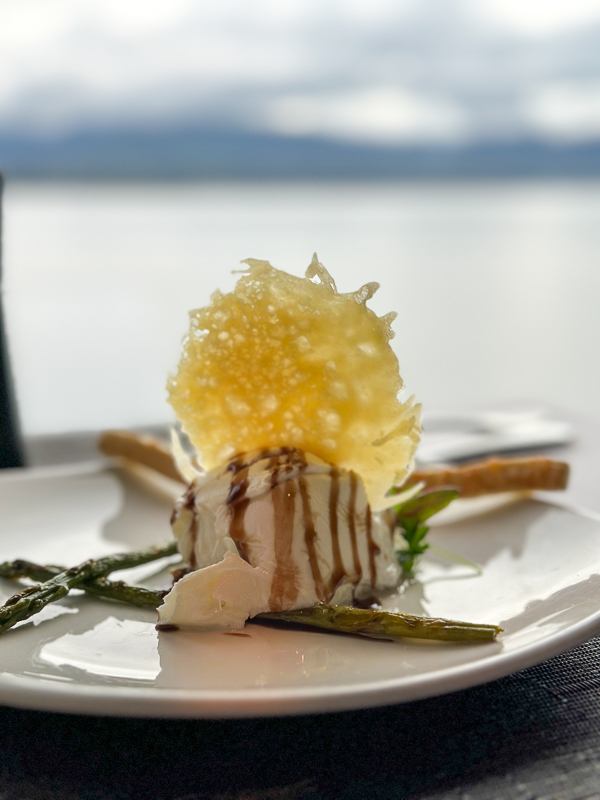 The Italian restaurant with seating near the windows offers sharing-style Italian dishes. It's a must-do if you're looking for higher-end pasta, meatballs, seafood dishes, and desserts.
Pinnacle Grill
This appeared to be the most popular restaurant. It offered surf and turf. If they have the lemongrass soup appetizer when you sail, definitely get it!
It is also open for lunch, unlike the other paid restaurant upgrades. I thought this was a steal, considering we got a nice steak and appetizers and dessert for only $15 each!
Lido Market
In market hall fashion, this was the place to go for variety, and it became our daily lunch stop. It had everything from a salad bar and roasted meats to sandwiches, sweets, and noodles. It could get a bit busy and overwhelming at times to be honest, probably because it had so much variety in one spot.
There were other options in the vicinity, including burgers and pizza near the indoor pool, but we didn't end up having those during our cruise.
Main Dining
Even if you don't upgrade to any of the paid dining options, the main dining room is honestly awesome. It had a different menu each day with plenty to choose from, like roasted chicken, New York steak, a vegan chickpea patty (which was my favorite thing), and plenty of roasted veggies, grilled fish, and chopped fruit for my son. (It also had a kid's menu with the typical options).
The staff were so great with my little guy, I was always happy to eat there, which we did for most breakfasts and dinners.
In-room dining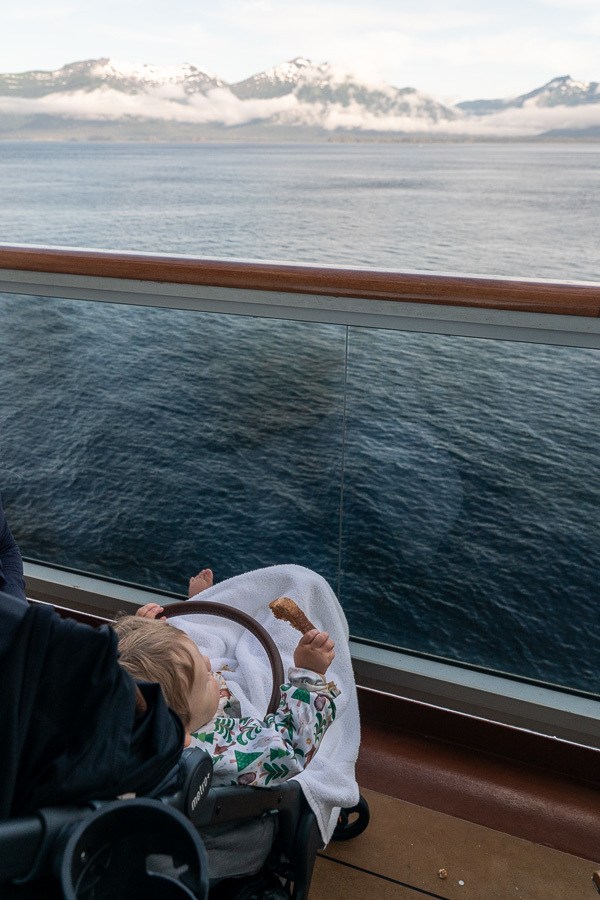 There's always room service too! I thought we would take more advantage than we did, but we loved the dining room so much, we went there more often.
Excursions
This is the part I was most looking forward to, and my excursions didn't disappoint.
Juneau Helicopter and Glacier Trekking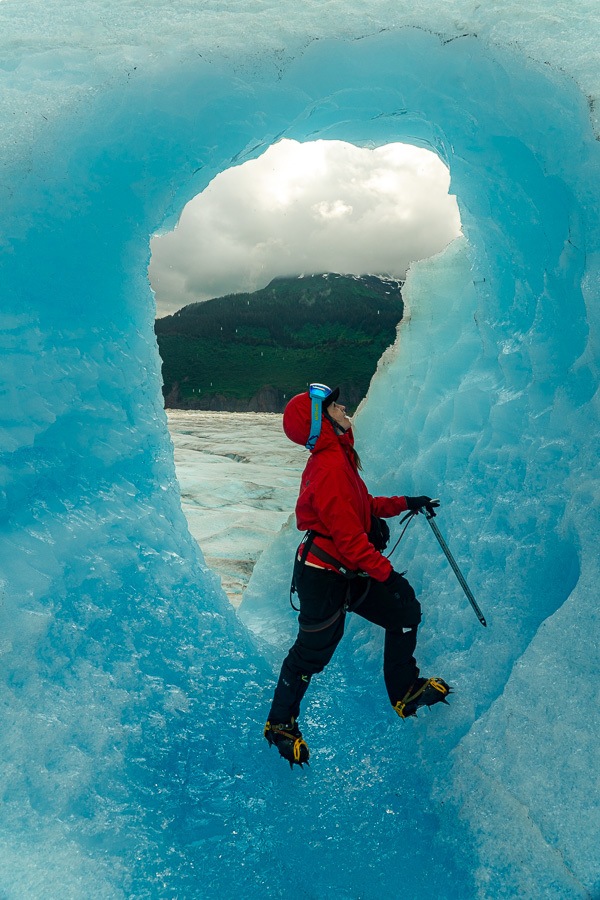 Do yourself a favor and book at least one scenic flight during your cruise, whether it's in Juneau or elsewhere.
The flight was beautiful, and the ice was wonderful to trek as well. I've been fortunate to trek on five glaciers now and take several scenic flights all around the world, but I had never combined the two. It was truly an adventure, which included scenes all around Juneau, crampons, and hiking on the ice for a few glorious hours. The guides were also happy to take pictures, which was helpful, since I did this excursion solo.
Skagway White Pass Railway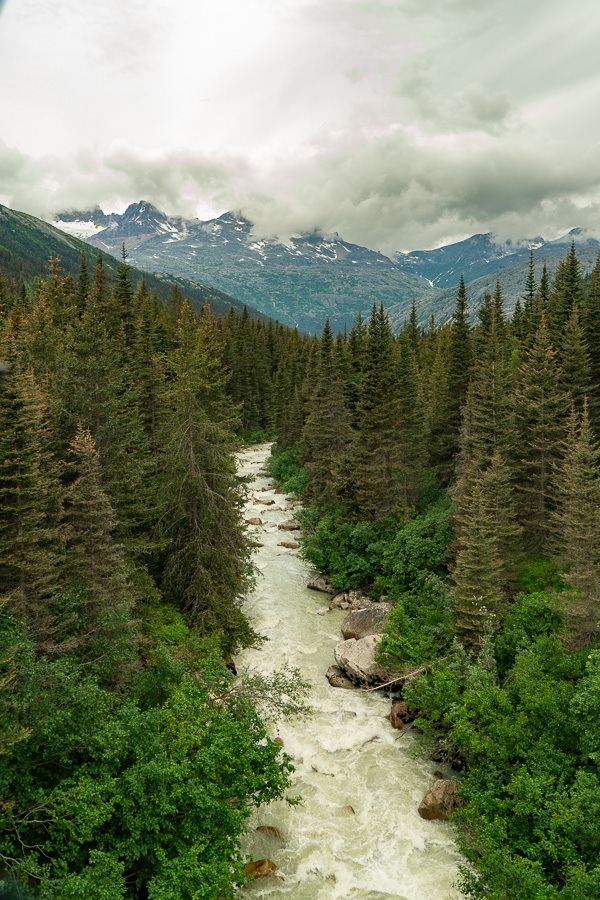 There are several options for the historic train, since it's the most popular thing to do in town. I found it a bit confusing and only ended up booking the excursion that just barely crossed the border into British Columbia before turning around, rather than going all the way into the Yukon Territory. Although my intention had been to go all the way, the trip was still beautiful, and probably long enough, considering we had my one-year-old in tow.
Many of the other excursions will take you all the way one way on the train and then use a coach for the way back. If you do this, be sure to ride on the left side of the train on your way up as it is the most scenic. We ended up being among the last to board the train, which I worried would mean we'd miss out on good seating, but we actually got to be in the front, and it wasn't too crowded up there!
The trip is narrated the whole way, and there are also platforms in the front and back of each car that passengers can stand on. I logged most of the trip out there.
Ketchikan Historic Wilderness Sea Plane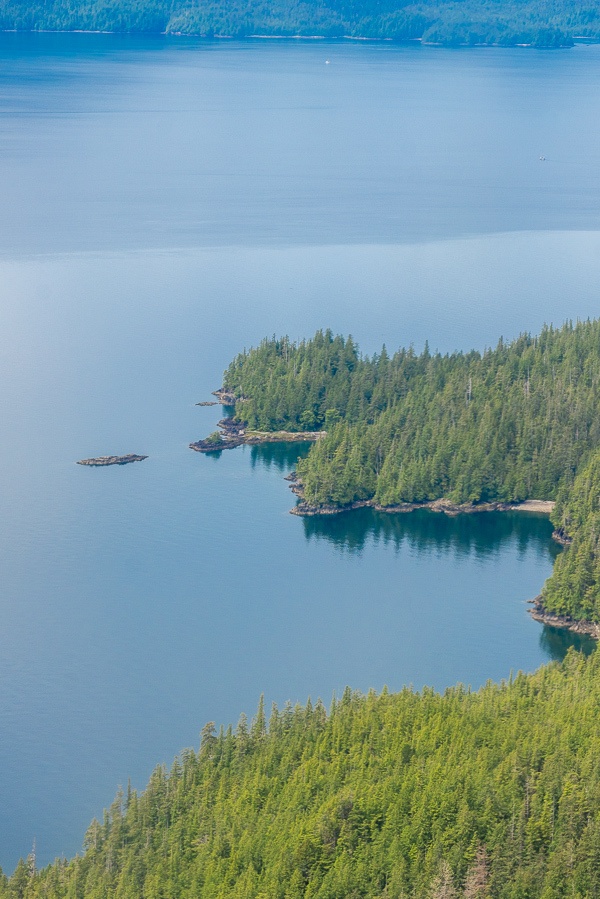 This is another splurge but so worth it! In contrast to the glacier flights, Ketchikan is more about the misty fjords and potential to see wildlife. We got lucky with a clear day and a nice, long flight with views of hidden mountain lakes, snowy peaks, and a bear and whale sighting that I wasn't quick enough to catch on the camera but loved seeing nonetheless.
Koningsdam: Ship & Amenities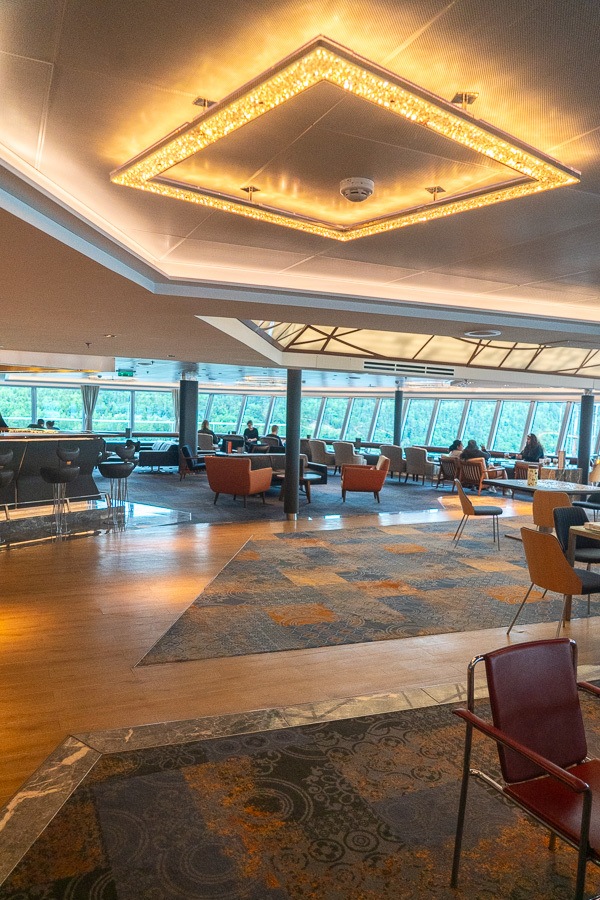 I have to be honest that the size of the ship (2,500 capacity, one of Holland America's largest) made me hesitate. I know for sure I'm not the kind of person who would enjoy the huge ships that have 5,000+ passengers, those big slides, and bellyflop competitions. But the Koningsdam was classy, with some shared areas we loved, particularly the Crow's Nest on the 12th floor, with a fantastic view all around the front of the ship, coffee, and couches for Felix to crawl on.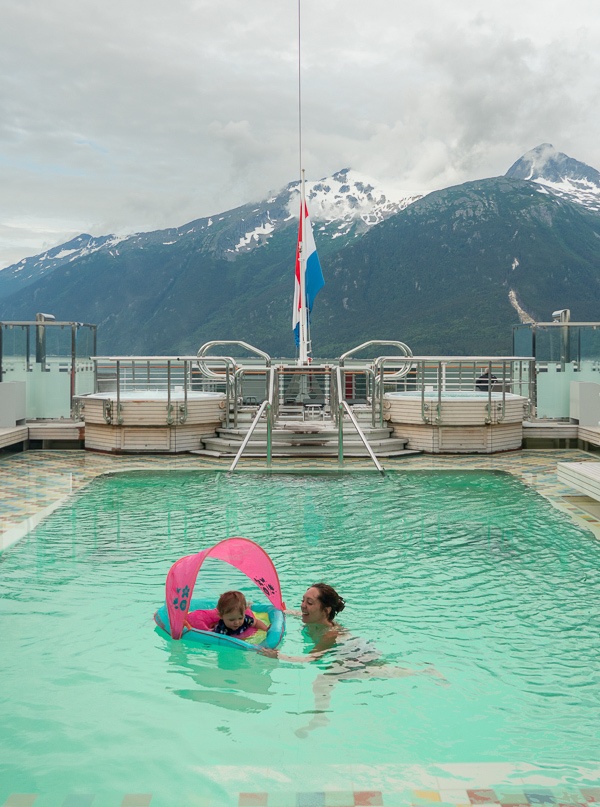 There were also two pools to choose from, including an indoor pool that showed movies on the giant screen in the evenings, and the outdoor pool at the back of the ship that was nicely heated and had two hot tubs as well. It wasn't very crowded, which made it perfect for us!
There was also a gym that had regular classes and plenty of machines to choose from. It was never too crowded, even though the ship was fully booked. There's also a spa, shopping, casino, a few live music venues, and a large theater.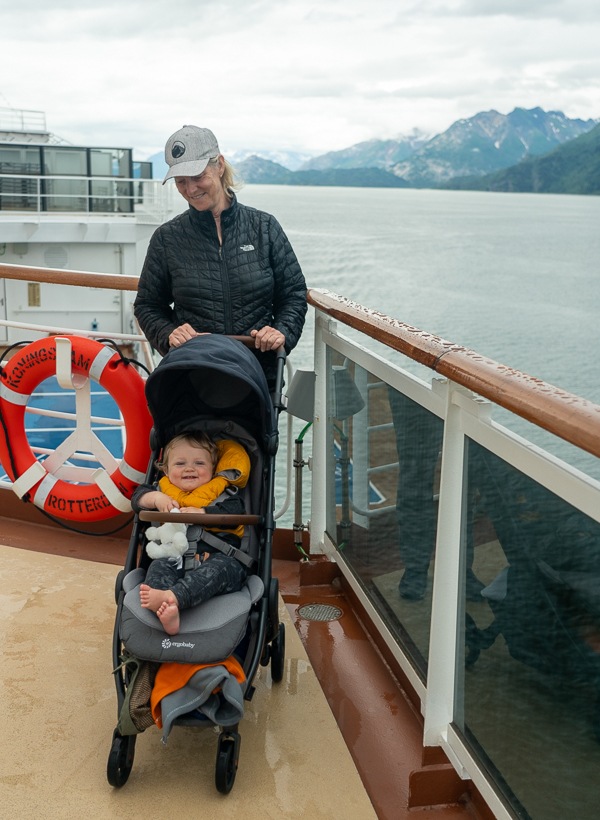 We also enjoyed the jogging track on the 11th floor for panoramic views. It was a great spot to get some exercise and take Felix for his beloved stroller walks with the ever-changing scenery.
Extras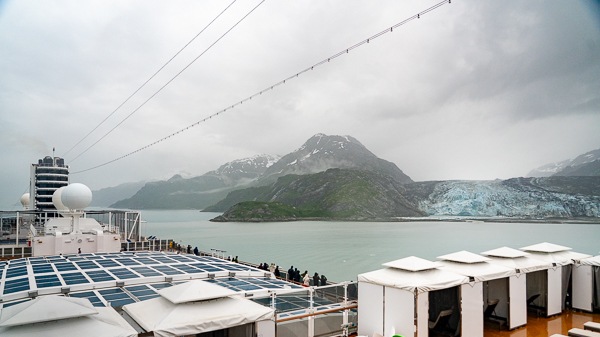 As I understand is common on cruise ships, there are some extras, like internet and drinks, that you can opt to pay for as a package. The Quench package included espresso drinks, smoothies, and water cans. Tea, tap water, and regular coffee are free.
To upgrade to the package that includes alcohol runs $55/day, or $60 for top shelf. I don't drink, so that didn't tempt me, though it could be a meaningful expense to add onto the trip, as is Wi-Fi, which was $229 for four devices and high speed for the week. One could just use one's cell signal in port and disconnect elsewhere, though.
Cleanliness
With so many people on board, this was another factor that I was a little worried about. Would it really be super clean? However, the guest-to-staff ratio seems to be about 2:1, which is pretty incredible. Everything always looked pretty well taken care of, and things were obviously being cleaned constantly. I regularly saw people servicing the bathrooms, our room got cleaned twice a day, and the pool was regularly serviced. It seemed like there was quite a lot of effort being put into everything feeling spotless.
Final Thoughts: Is it Worth It?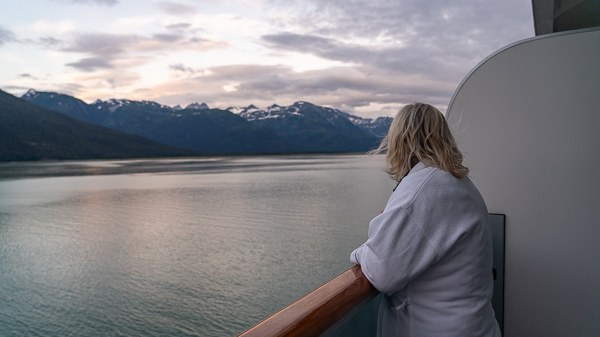 There was definitely a time in my life when I was all about taking small ships, cargo ferries, and local buses, and avoiding experiences like cruises. However, now with a young child, it ended up being such an easy, beautiful way to take a vacation. We didn't have to worry about logistics, food, cleaning up after meals (which can be messy with a one-year-old), or having things to do while he napped. Each time my son went down for his nap, sneaking out to the veranda with the baby monitor ended up being so lovely, with plenty of wildlife and scenery to take in.
The care that the staff put into making sure our boy was well looked after at our meals was above and beyond. People were always trying to make him smile, and the guests were nice to be around, as well. It wasn't a party atmosphere (although there may have been some of that in the evenings, which I missed since that was bedtime for my son), but rather a mix of people who were there to enjoy the scenery of Alaska.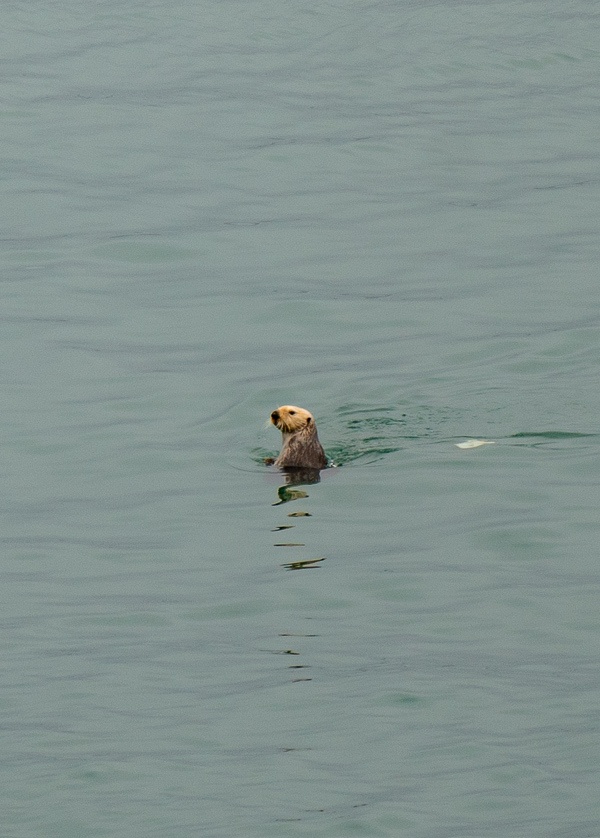 The only times things felt a bit busy to me were at the Lido Market at lunchtime and in the Crow's Nest when we were cruising Glacier Bay. I ended up really feeling that our veranda was the best place to view it all from, and I can't imagine taking a scenic cruise without one.
Maximizing your time by booking excursions in the ports is also important. That does make things cost a bit more, but it really does make this a bucket-list trip. I think with a veranda, excursions, and some of the higher-end dining, as well as making use of the ship amenities that appeal most to you, will make for a wonderful experience. Although I might never be the type to cruise-hop in the Caribbean, I have a feeling this won't be my last scenic cruise in some of the more mountainous, glacier-topped destinations.
You can book your experience with Holland America here!
*Thanks to Holland America for inviting me to experience this cruise. All thoughts on the amazing staff, beautiful Alaska, and delicious food are my own.