If you're dreaming of embarking on a voyage through the untamed beauty of Alaska, you're in for a wild ride – literally and figuratively.
As someone who's wandered through my fair share of trails and journeys in Alaska, I'm here to share some wisdom on how to make the most of your Alaska cruise from the best shore excursions to spotting wildlife and enjoying the cruise offerings as much as possible. These are 20 things I learned about planning and enjoying an Alaska cruise:
1. Embrace Layers Like Your Best Friend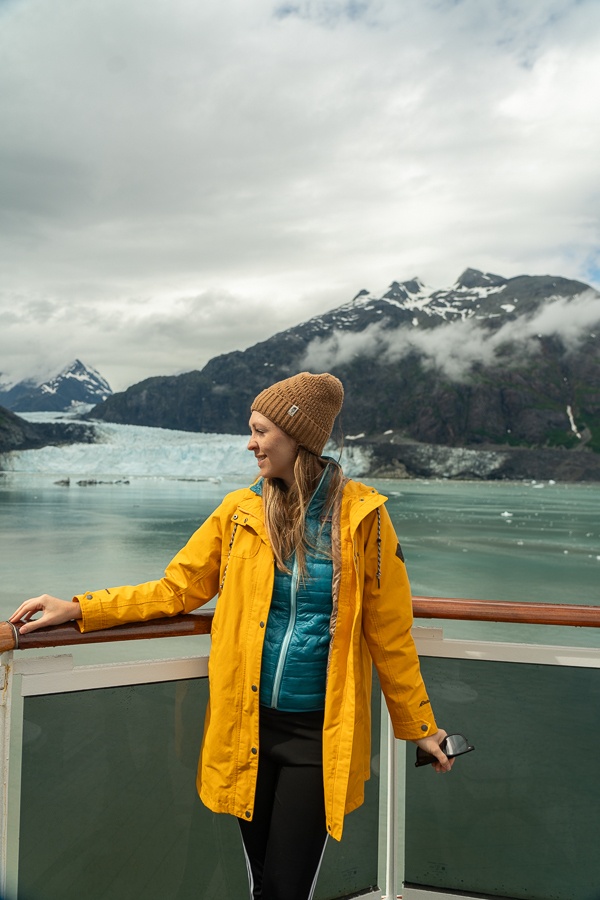 Alaska's summer weather is as unpredictable as life itself (and don't even get me started on the Alaskan winter). Pack layers for an Alaska cruise – think cozy sweaters, waterproof jackets, beanies, and versatile scarves. Some days might be sunny, especially down south, and others might be misty, like Glacier Bay is known to be.
You'll thank me when you're comfortably sipping hot cocoa on the deck as glaciers calve in the distance.
2. The Balcony Bird Catches the Whale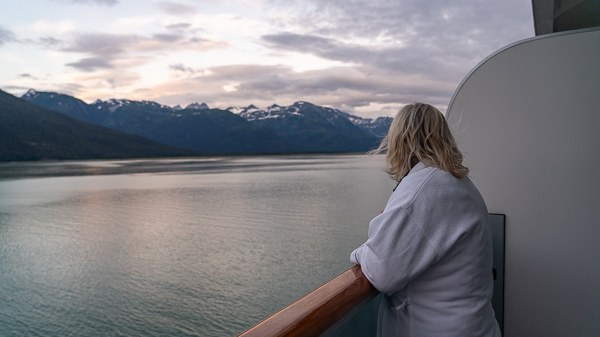 Do yourself a favor and book a balcony/verandah room. It's absolutely worth the extra cost. On no day was this more apparent than the day that we sailed through Glacier Bay National Park, when the observation decks and rooms with the biggest windows were full of other ship guests.
Since the ship goes into the bay then retraces its steps to leave, I opted to hang on my balcony and got to enjoy everything without having to try to find space with everyone else. I also saw whales, eagles, dolphins, and otters from the balcony. Since you can order 24/7 room service, on some days, it's the place to be!
Just remember to bundle up. The balcony can be a windy place!
3. Binoculars, Your New BFF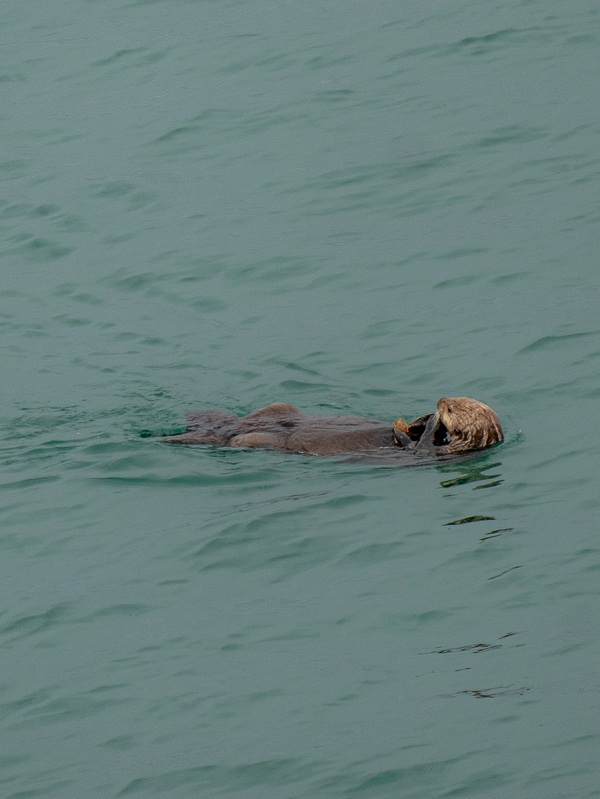 Pack a pair of binoculars. Trust me, those distant eagles and elusive bears will be so much easier to spot if you have a way of looking further into the distance.
I traveled with a telephoto lens to photograph wildlife (it's great for Africa trips, too), so that was essentially my binoculars, but I would have had a hard time seeing the details of the wildlife otherwise. There were certainly times when we could easily see whales and otters from our balcony, but we could actually see them up close with the camera or binoculars.
4. Don't Rely on Your Phone for Photos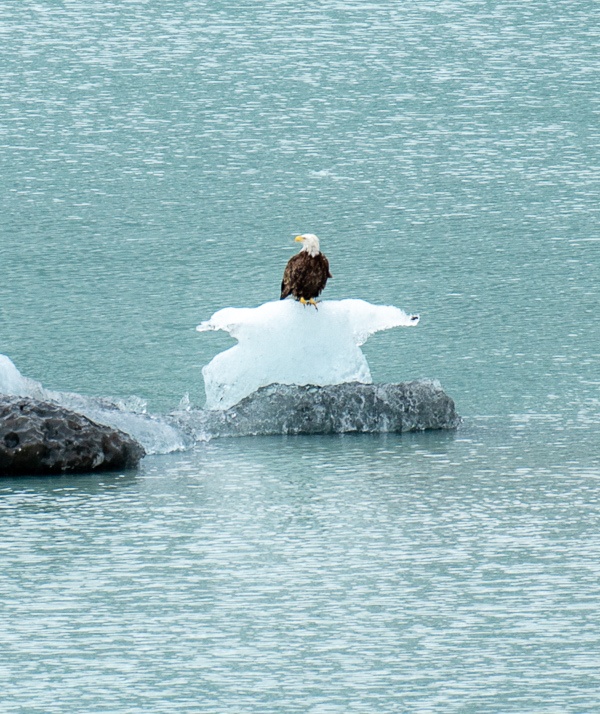 That brings me to my next point – although you can take great travel photos with a phone, it isn't going to be great for wildlife photography during your Alaska cruise. It can't possibly zoom in enough to photograph the wildlife well. If you're not too worried about photography during your trip, no worries, but if you want to come home with great wildlife photos, consider bringing a zoom lens or even renting one specifically meant for wildlife. This is a great camera to start with.
5. Book As Early as Possible
There are many cruises in the world where you're mostly staring at water and nothing else. For these, while nice, I don't think a balcony is a must-have. For Alaska, it really is! For this reason, book as soon as you know you want to go so that you can get the room type you want. We booked with Holland America and it was a great experience.
The same goes for shore excursions. The best ones tend to book up ahead of time. The more adventurous you're willing to be and the more strenuous the activity, the less it will be impacted.
Dining reservations for the more popular paid dining restaurants can also book out. We ate at 5pm since that's when my baby has his dinner, but anything around the usual 7pm dinner hour was booked out by the time I was looking (about a month before departure).
6. Disconnect to Reconnect
If you've ever cruised before, you'll know that internet packages on board can be pricey. Like hundreds of dollars pricey.
In Alaska, there's so much to do and see from the ship. Leave the constant buzz of technology behind and embrace the solitude of the wild. Your Instagram feed can wait. Besides, you can most likely connect to cell signal in the ports.
7. Choose Your Cruise Wisely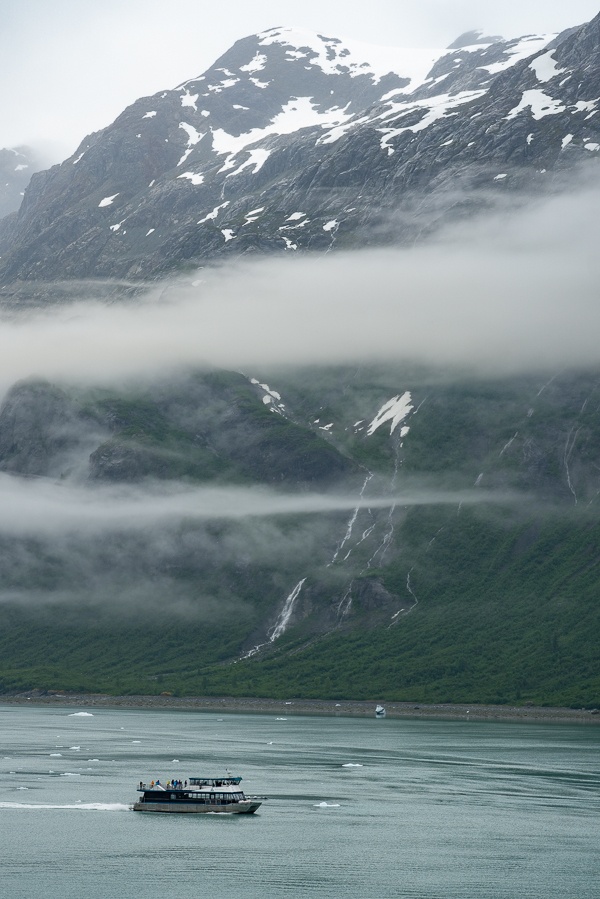 Research cruise lines and itineraries before you book. Some cruise lines cater more to the budget-conscious or the party crowd and others, like the one we did on Holland America, are less about belly flop competitions and more about savoring the scenery.
Each cruise itinerary offers a different flavor of Alaska, so choose the one that resonates with your desires the most. I opted for the inside passage out of Vancouver rather than Seattle since it meant more scenic days, and I was very glad to have made that choice even though getting to Canada was more of a hassle than Washington would have been.
8. Respect the Locals
Alaska's indigenous cultures have rich histories. Take the time to learn about them and the history of the state, which I think is an important step when visiting anywhere in the world. You'll see some stores post that they're proudly Alaskan-owned. Shop at those when you're in port.
Our Holland America cruise also had a speaker onboard of Alaskan Indigenous heritage, which was a great opportunity to learn more about the history of her people and Alaska's wildlife.
9. Take a Scenic Flight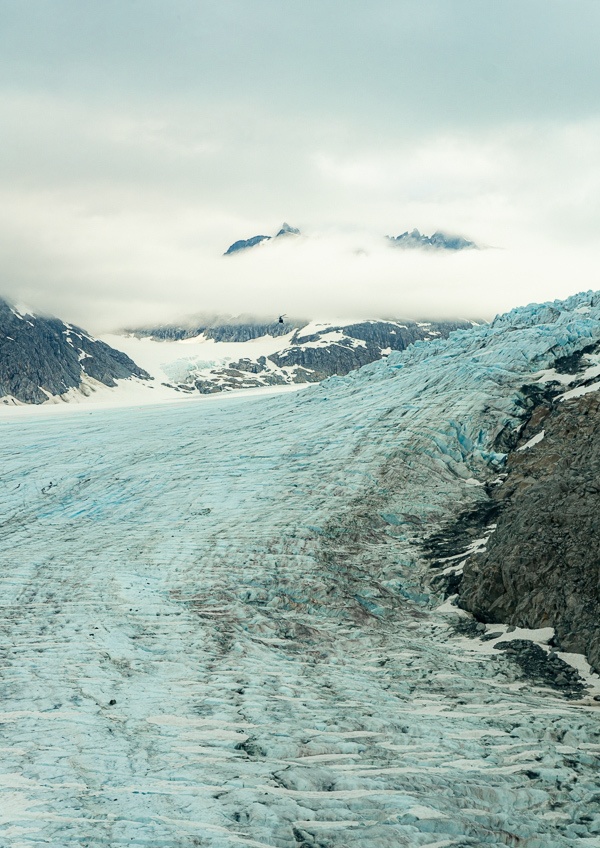 Whatever excursions you plan to do, make a scenic flight one of them.
You could book through your cruise, or you could book on your own (they can sometimes be cheaper). I can't recommend the Mendenhall Glacier helicopter ride and glacier walk enough, and the scenic flight in the fjords of Ketchikan was also wonderful.
10. Hike, Hike, Hike
If you're not as interested in shore excursions and would rather explore the nature on your own, put on your hiking boots and hit the trails! Alaska's national forests offer breathtaking hikes through old-growth forests, alpine meadows, and alongside pristine lakes. Some of my best experiences in the Alaskan wilderness have been on foot. I like to check the AllTrails app wherever I am to see what the best options are.
11. Capture the Midnight Sun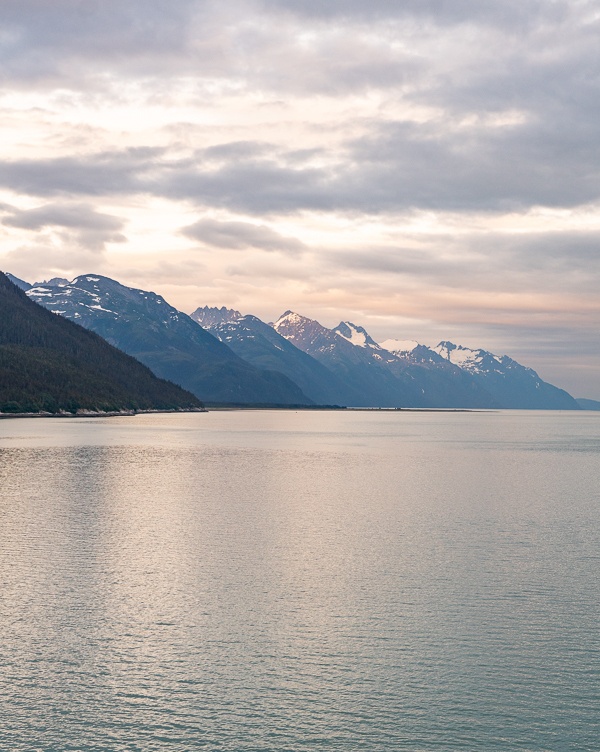 If you're visiting in June near the summer solstice, you'll have some of the longest days on Earth. Juneau gets 18 hours of sun on its longest day! Even if you visit later in the summer, you'll still get those sunsets that last for hours, making for some great photo opportunities.
12. Attend Onboard Naturalist Talks
Most cruises have knowledgeable naturalists onboard who offer talks about the local wildlife, ecosystems, and history. It's like having your own personal National Geographic experience.
13. Take Advantage of the Pools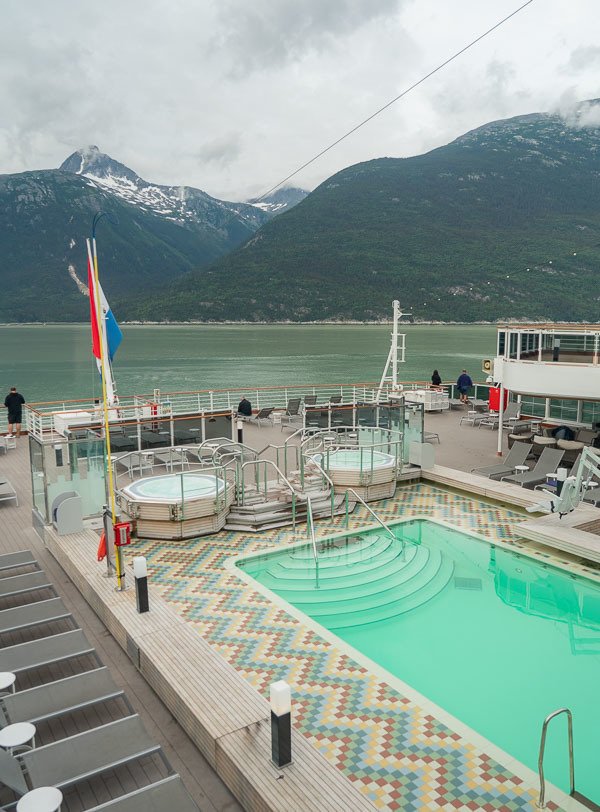 I imagine on the warmer cruises to the Europe in the summer or Bahamas, the sun decks and outdoor pool are full, but on an Alaska cruise, it's mostly the indoor one that was popping. However the outdoor one had the best views and was heated, so that's where we went for our swims!
Not all ships have indoor pools like ours did, so look at the Koningsdam with Holland America if that's your preference!
14. And the Jogging Track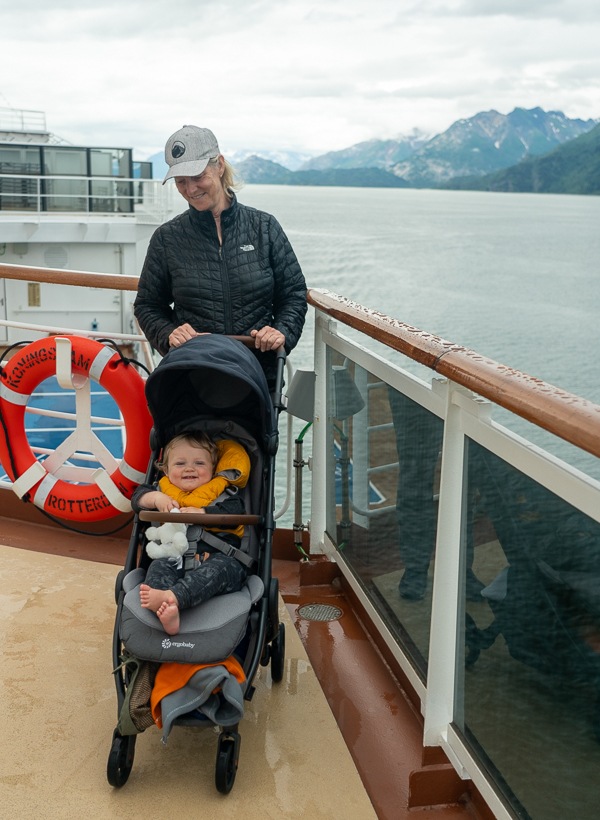 Since we had my baby along on the cruise, it was often the best activity to put him in his travel stroller and go for a walk around the jogging track. Normally this could be boring, but on a scenic cruise in Alaska where the view is ever-changing, it was one of our favorite ways to close out the evening after dinner. You don't have to jog to enjoy it – most people were just walking along like we were.
15. Consider May or September to Save Money
If the cruise you were hoping to take is fully booked, or is pricier than you were hoping for, you'll find cheaper fares if you're willing to go in May or September. As a shoulder season-lover, I'm all for seeing the changing leaves, which will probably already be turning in September. You've also got a chance to spot the northern lights, as peak summer doesn't have the dark skies required to see them.
16. Bring White Noise
If you're a light sleeper, you may want to bring along a white noise machine (I have the hatch for my son), or download a white noise app to your phone. The ship can be creaky, and on our last night, the staff was out in the hallways collecting baggage, which was kind of loud (understandable, but still, loud). I never traveled with white noise before having a baby, but now I'm realizing how useful it is to drown out noises that would otherwise keep us all up!
17. Is the Drink Package Worth It?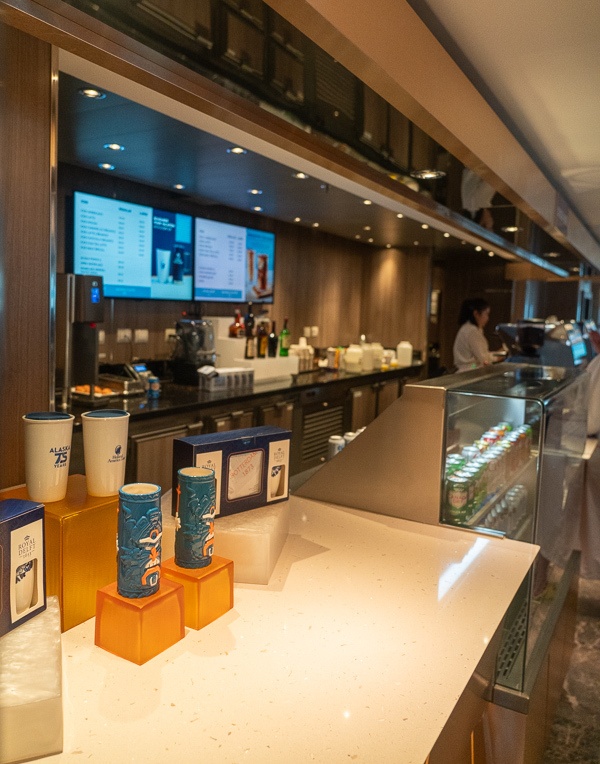 The drink packages onboard could make sense if you don't want to drink the tap water, which is safe to drink and honestly tasted fine, or think you'll be wanting more soda or booze than it would cost per day. When I added it up, you'd have to drink at least 5-7 alcoholic drinks per day to make the boozy beverage package make sense. Ultimately, it's not something I would get value out of.
You're often allowed to bring up to 8 liters of water in cans (not plastic) and some cruise lines allow a bottle of wine to be brought onboard. We were also gifted one in our room (though we gifted it back as we're not drinkers).
18. Fly into Port the Night Before
If you can swing it, fly into port the night before and spend the night. This was my intention, but after a snafu with United I didn't land until the next day at 11am when our departure was at 3pm. It ended up being fine, but I would have sweated it less had I landed the night before as planned. You never know what delays can creep up, causing you to miss boarding. It's just not worth it!
19. Try to Withdraw Money and Buy Essentials in the Ports
I wanted to tip our room stewards extra beyond the crew appreciation, and realized that I couldn't do it with a credit card. They offered cash advances on board, but with a 3% fee. It wasn't a huge deal, but it would have been better to withdraw in port instead.
20. Don't Forget Your Passport!
If you're cruising from Seattle, don't forget that you'll cross into Canadian waters at some point during your trip and will need your passport. I even had my son's birth certificate and a letter from his dad stating he could travel since he wasn't with us, but nobody asked for it in Vancouver.
We loved our Alaska experience more than I expected to. I didn't think I was a cruise person, but the variety of spaces to hang out in, the impressive food, and especially the service had me so impressed by our experience on Holland America.