You've heard all about cheap places to travel to in Europe, and other places in the world (even tropical islands). But what about the United States? Sure, you won't always find America on lists like these, but that doesn't mean that it doesn't offer affordable vacations.
This list is sure to give you plenty of ideas on where to go and how to save money while traveling through the United States:
Cheap Beach Vacations in the US
One amazing thing about the US is that there is a spectacular variety of beaches to choose from. For example, those on the East and West Coasts couldn't be more different, but each has something special to offer. There are plenty of cheap beach vacations in the US, but these two will give you the best value for your buck:
1. Ocean City, Maryland: $100/day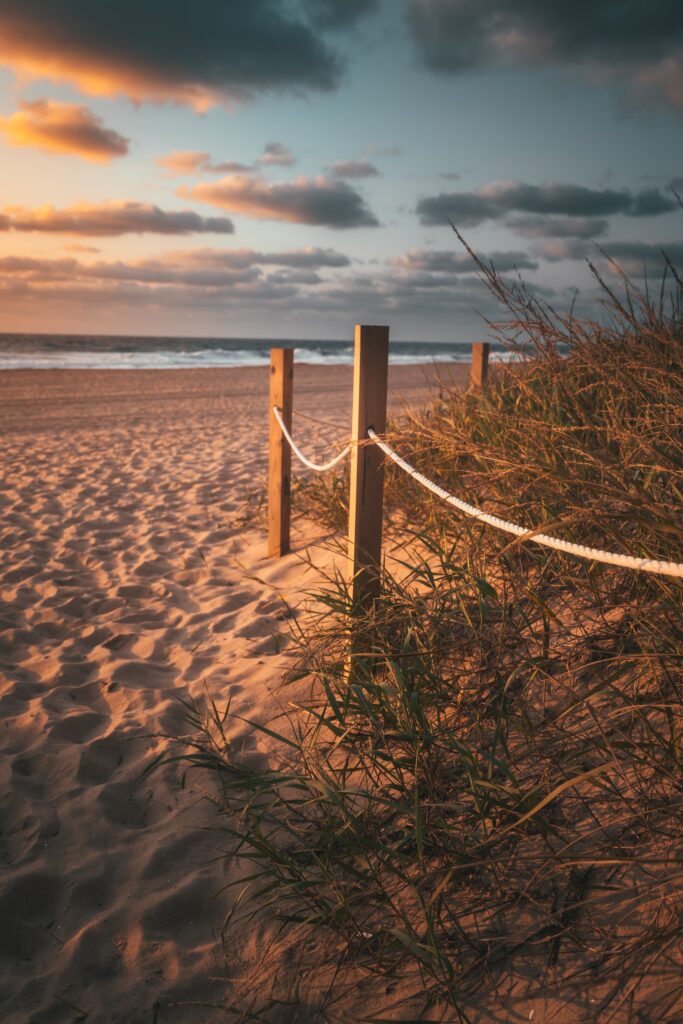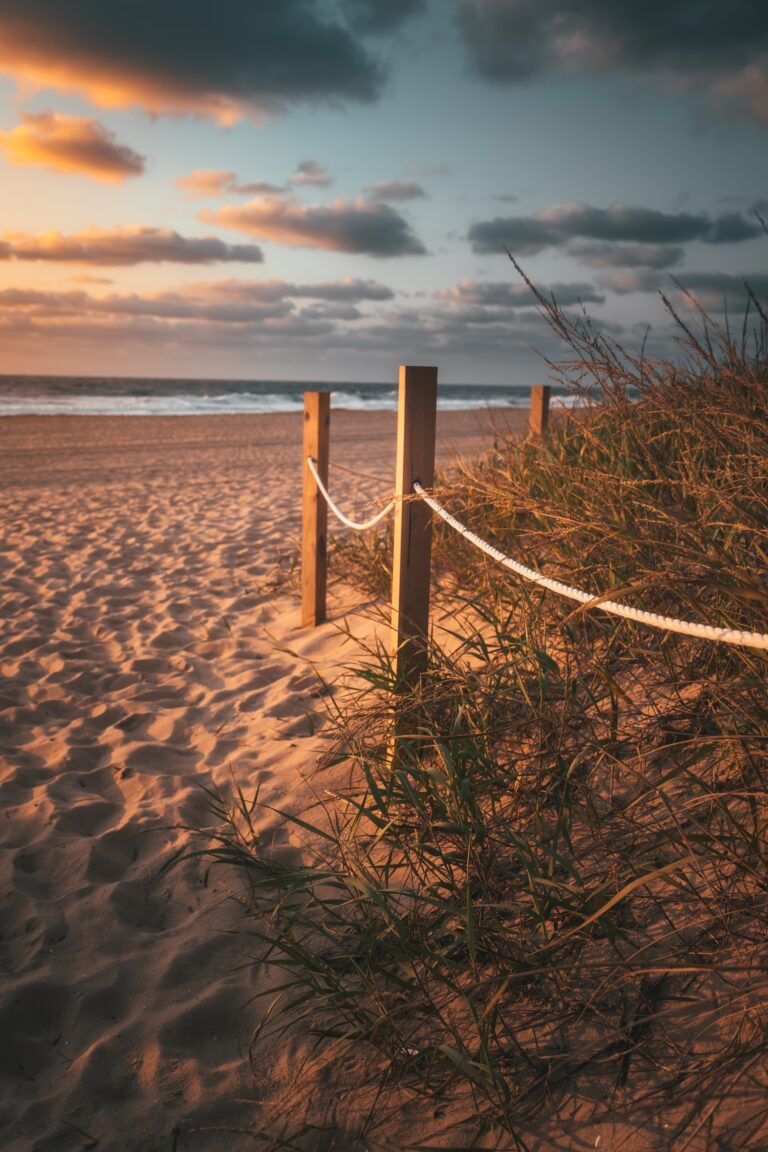 If Ocean City has flown under your travel radar, this is your sign to finally pay this charming East Coast beach town a visit. This is a great summertime destination that won't break the bank and will likely have you coming back year after year.
In Ocean City, you'll find a three-mile boardwalk with old-school food stalls and adorable cafés reminiscent of the 1920s. It's also just minutes away from Assateague Island, where you can see wild horses. Even in the summertime, you can find affordable accommodation here — just make sure to make your reservations well in advance.
Meals: $30-40/day, if you prepare breakfast on your own or have free breakfast at your hotel. You can find meals for $10-15, and many restaurants have lunch specials.
Accommodation: $30-60/night. Camping at nearby Assateague Island National Seashore is just $30/night per site from November 16 through March 14 and $50/night during the rest of the year. Beach Bum Inn has rooms starting at $60/night; while it may not be the fanciest place to stay, it includes breakfast and is right on the boardwalk.
Transportation: $8-32/day. The boardwalk tram is $4 a ride. You can also rent a bike at Bike World for $32 for four hours. Getting around Ocean City or between there and Assateague National Seashore is easy enough via public transit, without needing to rent a car.
Cheapest time to visit: From September to November, as the summer crowds are gone and fall temperatures are mild. You can also get a deal on camping if you go toward the end of November.
2. San Juan, Puerto Rico: $77/day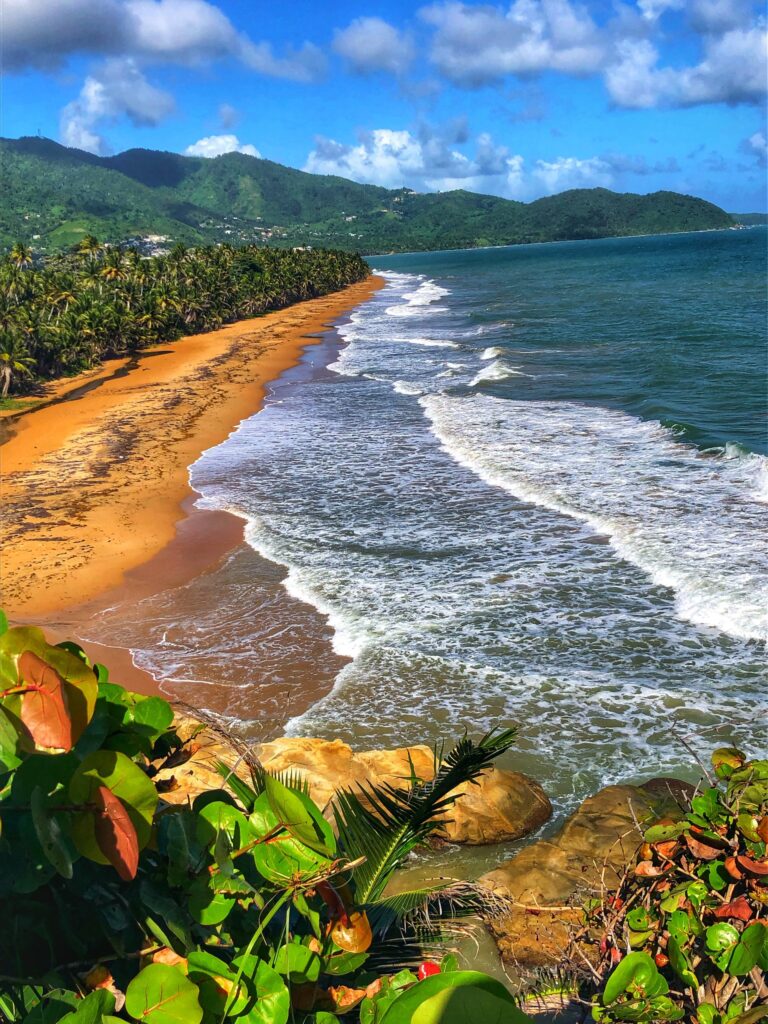 If visiting a tropical island has a high spot on your bucket list, San Juan might be the place for you. Not only is it stunningly beautiful, it's also one of the cheapest beach destinations in the US. If you avoid the big seaside resorts and hotels, you can find affordable accommodation here, and that's just the beginning of all the ways you can save money.
To cut costs on food, stick to the chinchorros (small food stalls), which you'll find on busy streets and in the markets. Meals here only cost $4-8! Most of the beaches in and around San Juan are free to visit, but you can also venture to other places inexpensively, like the El Yunque National Forest; you can book an excursion to El Yunque for as little as $55, which includes transportation to and from the city.
Meals: $20-30/day, if staying somewhere with free breakfast and going out for lunch and dinner.
Accommodation: $18-30/night, with the most affordable hostels offering dorm beds for around $18/night and some Airbnbs as low as $30/night for a studio.
Transportation: $15-40/day, if you use public transportation to get around or go to other cities. Renting a car in Puerto Rico may be as low as $40/day.
Cheapest time to visit: Peak season in San Juan is wintertime, so consider visiting between April and June, after the crowds have subsided and before the summer heat wave has kicked in. This is also the time when hotels are the least expensive and you can find more affordable flights.
Cheap City Vacations in the US
If you've been itching for an urban getaway, but don't want to spend an arm and a leg, you're in luck! Visiting some of America's best big cities doesn't have to cost a fortune. Cities are actually great places to find free museums and other attractions, and these are some of the very best for just that:
3. Chicago, Illinois: $150/day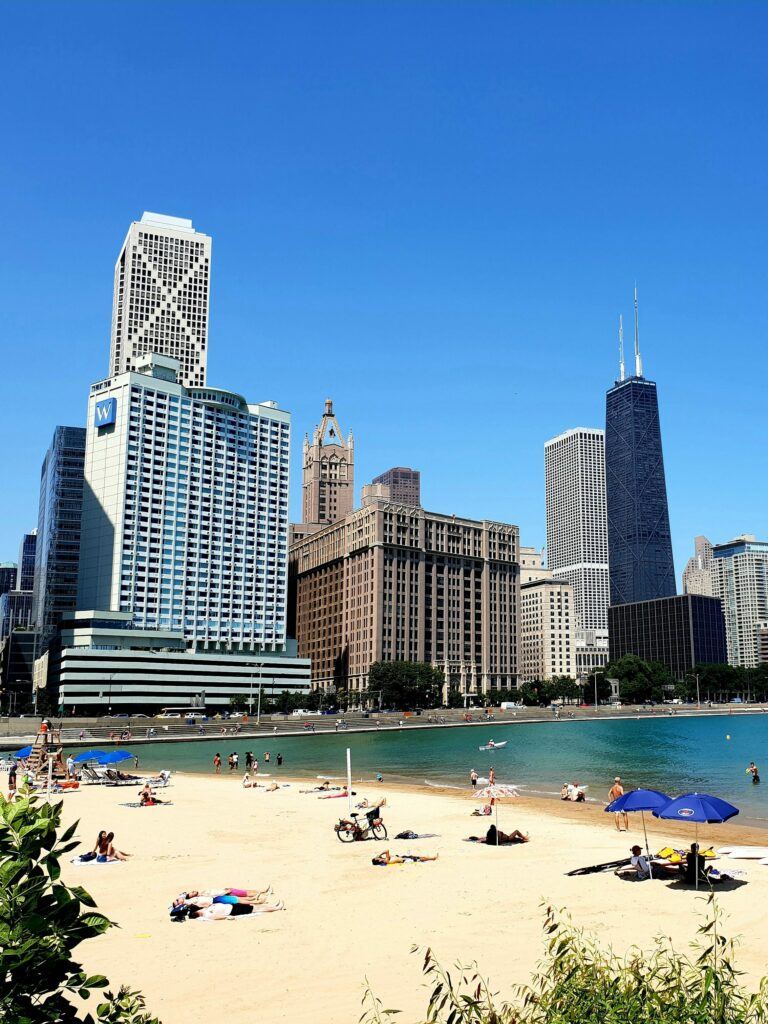 That's right, folks! Chicago is one of the best affordable vacations in the US, but you have to play your cards right. Although this booming metropolis has its fair share of glitz and glamour, there are numerous ways to save money when visiting the Windy City. First of all, there are tons of free things to do in Chicago, from the Garfield Park Conservatory to the Lincoln Park Zoo to all the beaches along Lake Michigan.
You can also save money on accommodation in Chicago by staying outside of the Loop (downtown). There are so many awesome neighborhoods to explore, so you won't miss out on the action by staying outside of downtown as long as you're close to a train stop. Taking the L train is the best way to get around town, and there's no need for a car here.
As a Chicago native, I can guarantee that you'll find at least one reason to come back to visit. If it isn't the vibrant international food scene, it'll be the museums or the skyline views.
Accommodation: Airbnb is your best bet for finding budget-friendly accommodation in Chi-town. Take this gorgeous apartment in the culturally rich Ukrainian Village, for example. It's just $60/night and has two bedrooms. Another great option is this vibrant studio on the northside in Uptown for $66/night. The key is to find a place outside of the Loop (downtown) but close to an L (train) stop.
Meals: A meal at a sit-down restaurant will likely run $20-30, so consider having a light breakfast (maybe even doing a grocery run for breakfast items) and having a less expensive meal once a day. There are lots of fast-casual restaurants, plus authentic Mexican taquerías throughout town. Restaurants are more affordable outside of the Loop. Plan to spend $40-60/day on meals.
Local transportation: The L or the bus can take you almost anywhere you need to go in Chicago. For just $10/day, you can get an unlimited pass that works for both the trains and the buses.
Cheapest time to visit: The most popular time to visit Chicago is during the summer, which is by far the best way to experience the city. However, if you don't book your accommodations ahead of time, it may inflate your costs. Aim to visit in late spring or early fall to still get the best out of outdoor activities without the higher summertime costs.
4. Nashville, Tennessee: $90/day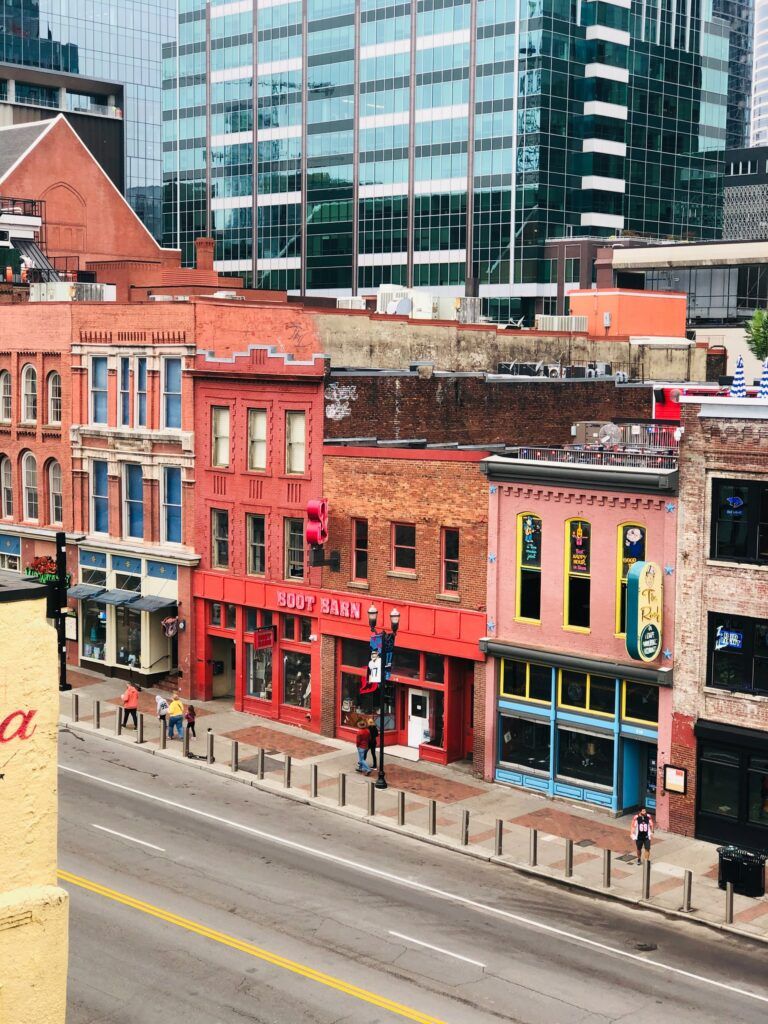 Nashville, aka the Music City, is an iconic destination that attracts its fair share of tourists every year for a full country-music immersion. Not only is it famous for its live music and nightlife, but it's a cultural capital well known for its rich history.
One of the best ways to save money here is to check out all the free things to do in Nashville. There is a variety of free museums to choose from, as well as free walking tours and even concerts. You can get from place to place on foot in downtown Nashville, saving you even more money on transportation.
This city is also an awesome place to go with a group of friends. If you do so, split a rental car and venture outside of the city to nearby parks, like Percy Warner Park or Radnor Lake State Park, for a break from the bustle.
Accommodation: Although Nashville is a tourist hot spot, there are still many affordable options for budget travelers. I found this charming guest suite for just $52/night and this hostel that has dorms for $40/night.
Meals: Portions at restaurants in Nashville are generous and prices are low. Budget around $30-40/day for meals.
Local transportation: The public transportation options are slim, so plan to use taxis or rideshares to get anywhere outside of downtown (about $15-20/day). You can get around downtown on foot.
Cheapest time to visit: November to March is low season in Nashville, as most people visit in the late spring and summer. Visiting in fall or winter means you can likely score a deal on airfare and accommodations.
5. Atlanta, Georgia: $120/day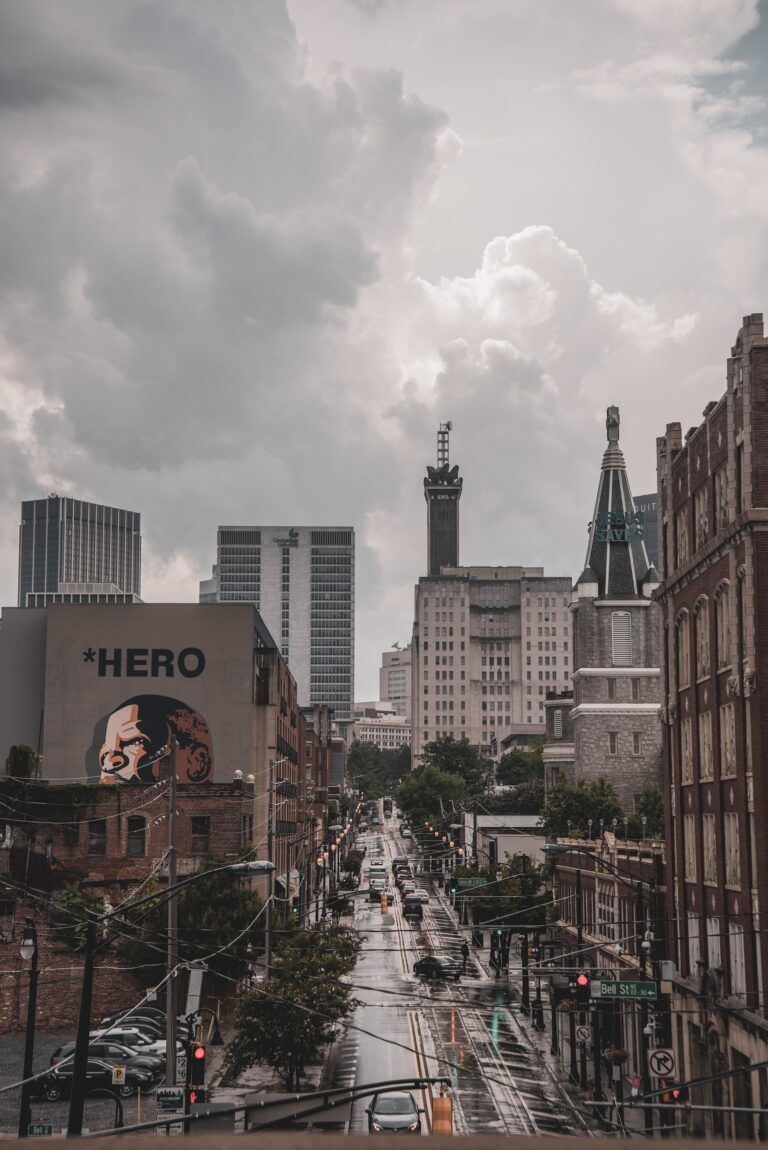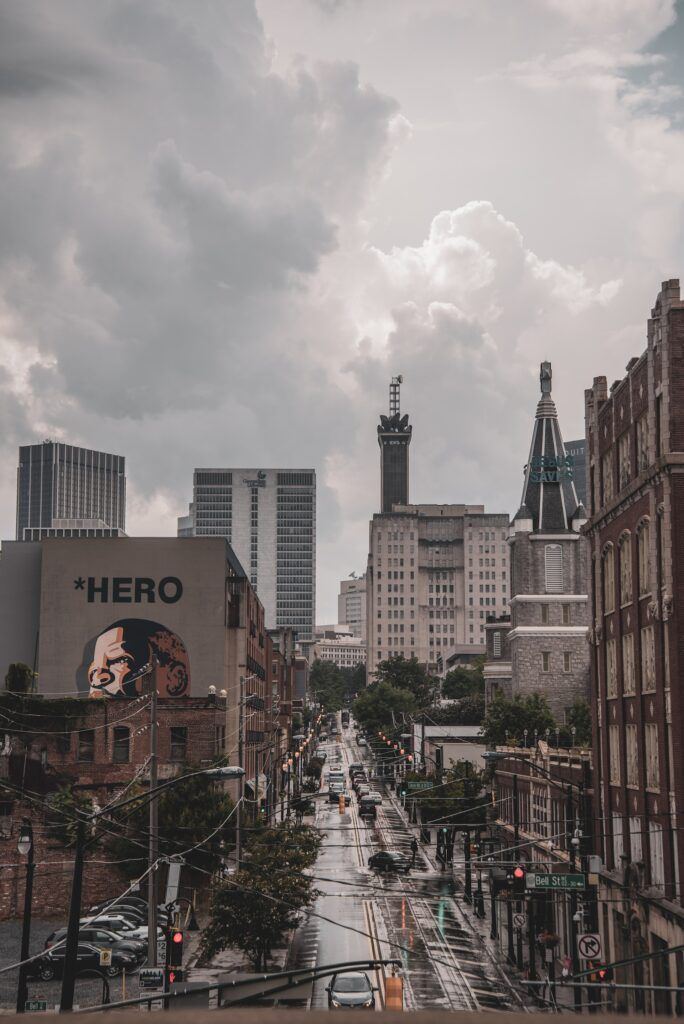 Atlanta is a city unlike any other in the US. It's one of the most culturally diverse, which you'll immediately notice if you're a foodie, as you can find cuisine from all over the world here. It's an incredible place to explore on foot; you can find free walking tours like the ones put on by the nonprofit organization Trees Atlanta. Plan on a walking tour when you arrive in town, so you can get acquainted. Public transport is also easy to use and affordable, so hop on the bus and get a feel for how locals move around.
Another reason why Atlanta is one of the best affordable vacations in the US is that there is an abundance of free things to do here. From museums to sprawling green spaces, you can spend your entire trip just taking advantage of the free activities.
Accommodation: My favorite pick for budget stays is this adorable tiny home near Grant Park for just $81/night. Another stellar option is this eclectic guest suite in the Cabbagetown neighborhood with lovely stained-glass details for $67/night.
Meals: I'm getting hungry just thinking about Atlanta's iconic food scene. Budget around $30-50/day for meals and treat yo'self!
Local transportation: You can easily get around Atlanta solely on public transportation, and at just $9 for a day pass, it's totally worth it.
Cheapest time to visit: Atlanta doesn't have a "high season" for tourism the same way a beach or national park would, so you can visit any time of year and find ways to save money. Generally speaking, flights around the US are more expensive around holidays, so avoid spring break, Christmas, and New Year's if you want to score a deal.
Cheap Camping Vacations in the US
Camping is generally one of the least expensive ways to spend a vacation, so it's no surprise that these places have made the list. Some national parks are more expensive than others to camp in, with high season prices at campgrounds almost the same as what it would cost to rent a hotel room. These two national parks are an exception, and are affordable to visit even during the high season:
6. Glacier National Park, Montana: $30/day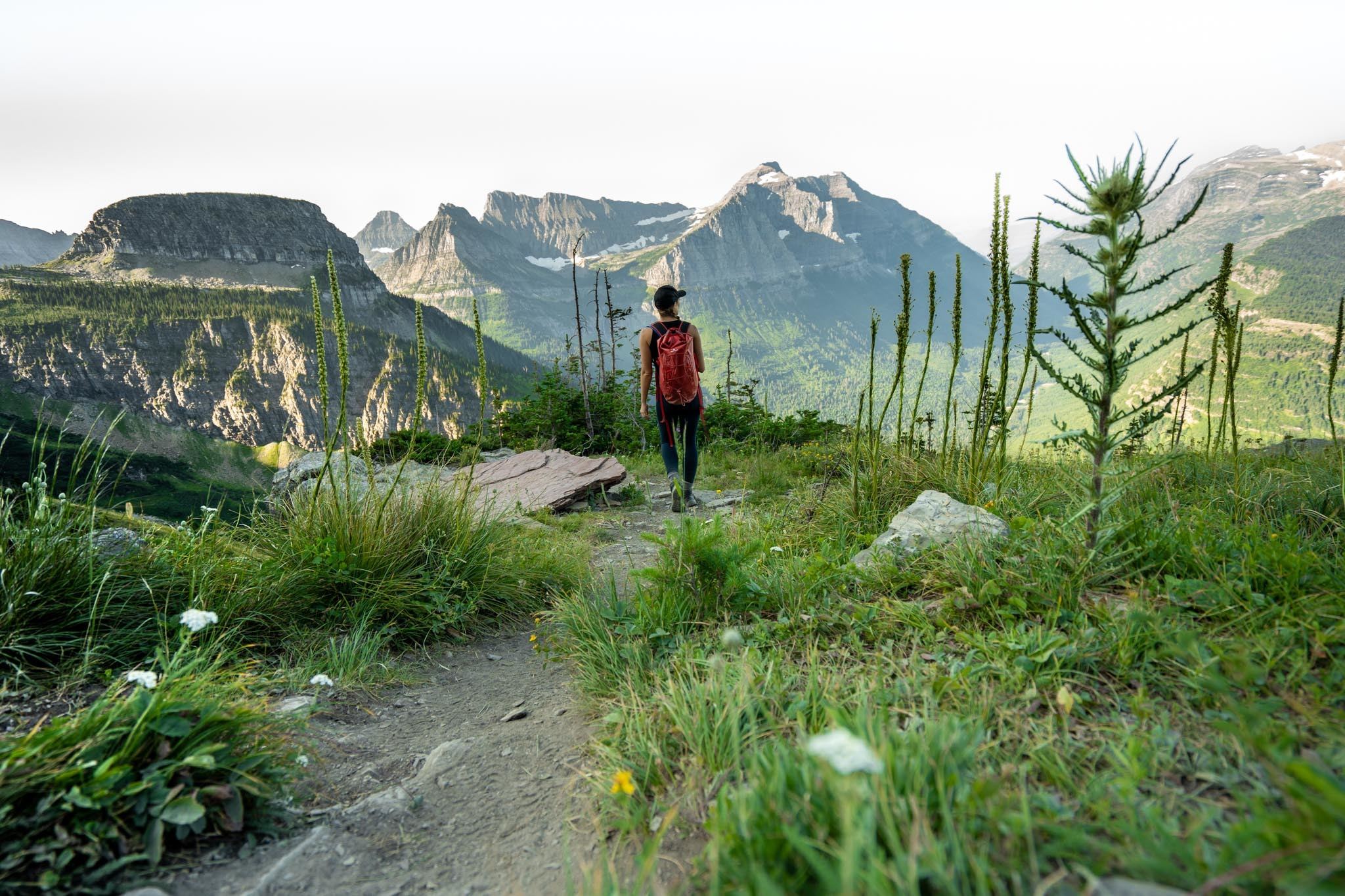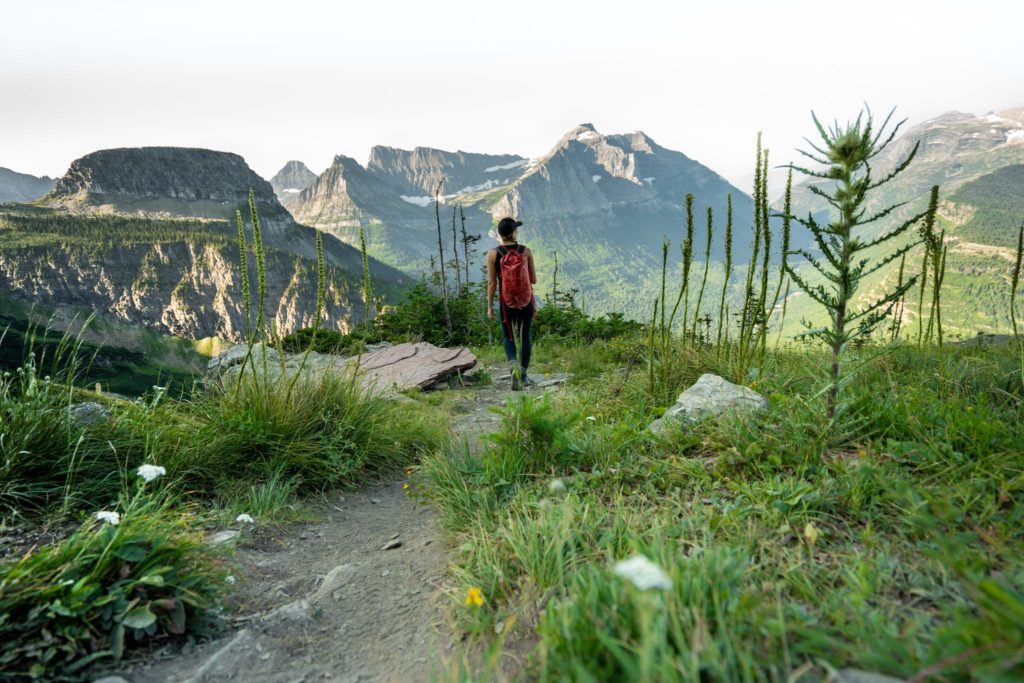 If you are looking for a remote camping trip where you can truly disconnect and be in nature, head to Glacier National Park in Montana. This spectacular place is one of the best places to go backpacking, whether you're with someone else or camping solo. It's a fantastic choice for budget travelers, because camping in the park is affordable and accessible, with 13 campgrounds available.
There are many incredible hikes in Glacier National Park. From daring climbs to spectacular viewpoints or simple loops, there's a great variety to keep you moving through the park. Find out what else you can do in Glacier National Park here.
Accommodation: Campsites throughout Glacier National Park cost $10-20 a night and are either first-come-first-served or by reservation.
Meals: Budget around $10-20/day for meals, whether you bring your own groceries and gear or stop at nearby restaurants for a bite.
Local transportation: If you're backpacking through the park or relying on the Going-to-the-Sun Road shuttle service, your transportation cost is $0.
Cheapest time to visit: The best time to camp in Glacier National Park is summer, which is high season. It's just as cheap to visit in the summer if you plan ahead of time, which means making reservations for your campsites as soon as possible.
7. Olympic National Park, Washington: $35/day
As far as national parks in Washington go, Olympic is one of the very best. Here you have a fantastic variety of landscapes to choose from: rugged beaches, gushing waterfalls, plunging valleys, towering peaks, and more. Not only are there some stellar hikes in Olympic National Park, but it's an ideal spot for a camping adventure as well.
There are 15 campgrounds in Olympic National Park to choose from. Some are walk-in only, whereas others require a reservation. Make sure to plan where you will be camping ahead of time, especially if you're visiting in the summer months, when campgrounds tend to fill up.
Accommodation: There is free camping available at Dosewallips Campground (walk-in only); more expensive sites go for around $30 a night. Find a campground here.
Meals: Budget around $12-25/day for meals, whether you bring your own groceries and gear or stop at nearby restaurants for a bite.
Local transportation: There is public transportation available between major points of interest in the park. Find schedules and routes here. Fares are only $1 each way, so you can plan on spending $2/day on local transportation.
Cheapest time to visit: Like most national parks in the US, the best time to visit is in the summer if you plan to camp. It's not the least expensive time, but you can make campsite reservations ahead of time to secure your spot.
Cheap Road-Trip Vacations in the US
Road trips are a fun way to spend a vacation, whether you're out on your own or with friends. Being able to drive from place to place gives you a different level of familiarity with a new place and also grants you more freedom to explore and change your plans as you go. Road trips can also be an affordable alternative to an expensive vacation if you plan accordingly. Make sure to check out this road-trip checklist before you hit the road:
8. Idaho Road Trip: $142/day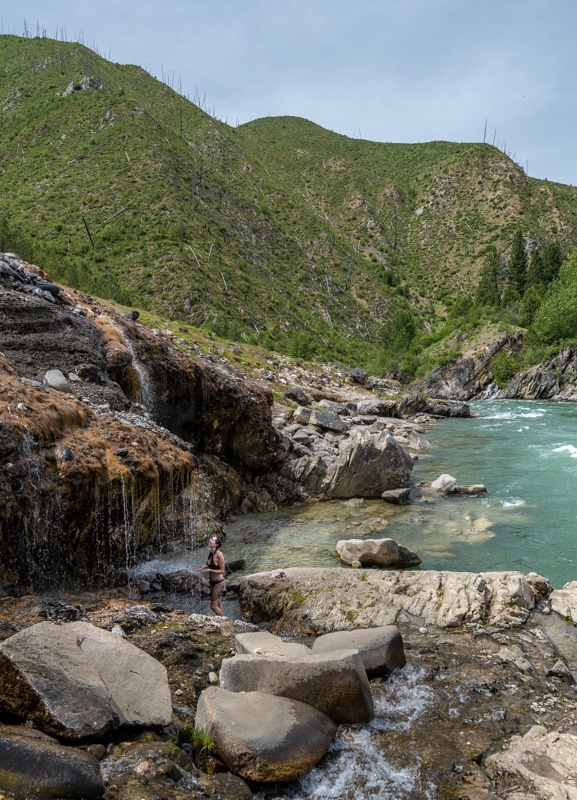 You've likely heard us singing Idaho's praises here on the blog before, as it's one of the most underrated states in the US to visit. If you have yet to explore here, consider taking a road-trip through Idaho, stopping at hot springs, waterfalls, canyons, and other natural wonders along the way.
If you're all about the hot springs, definitely don't miss out on Kirkham Hot Springs and all the others throughout Idaho. Other epic road trip stops include Box Canyon State Park and Twin Falls, which are both full of adventure.
Accommodation: You can camp for as little as $15 in the Boise National Forest, or stay in an affordable Airbnb like this yurt in the Teton Mountains, which goes for $80/night.
Meals: Restaurants are fairly affordable throughout Idaho, so you can budget $30-40/day on meals.
Transportation: You can rent a car at the Boise airport for as little as $50. Check out what's available here. Gas will of course depend on how far you go and how many days your road trip will be.
Cheapest time to visit: Road-tripping through Idaho can be fun any time of year, especially if you're planning to check out the hot springs. Most places are more crowded during the summer and therefore can be more expensive (hotel prices go up), so consider visiting in the spring or fall.
9. Southwest Road Trip: $143/day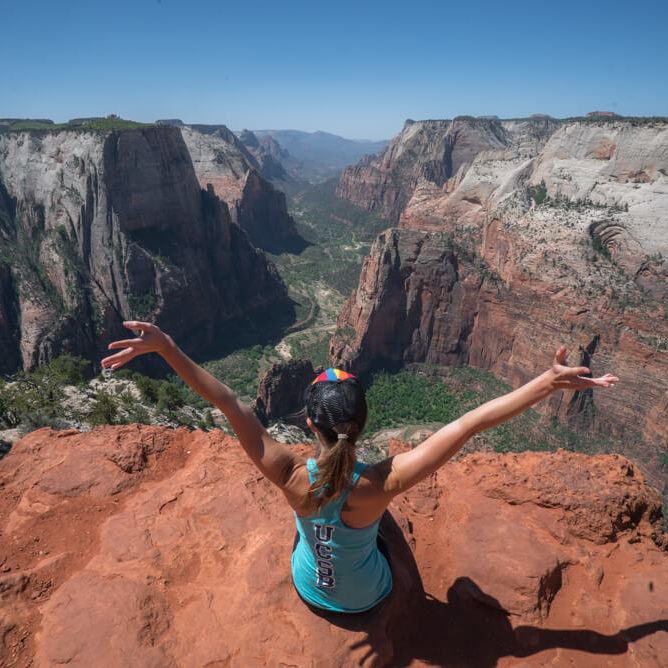 The American Southwest is by far one of the greatest places on earth for a road trip. From the bright-orange rock formations to the glorious baby-blue rivers, lakes, and waterfalls, this one is the ideal nature lover's adventure.
There are quite a few ways to do a road trip through the American Southwest, so this one might take some extra planning to squeeze everything in. We also have a detailed budget breakdown for what a trip like this will cost you.
The best part of a road trip like this one is that it allows you to choose your own adventure entirely. A great place to start is Las Vegas, but why not start in New Mexico or Arizona? Want to get far off the beaten path at White Sands National Park, or stick to the classics like the Grand Canyon?
Accommodation: For this trip in particular, the best way get the most out of the epic scenery is to rent a camper van. This will allow you to experience more of nature without worrying about finding a place to stay. Camper van rentals start around $125/day.
Meals: Do a big grocery haul and make all your meals in your camper van to save money. Budget around $15-20/day for food.
Transportation: Besides renting your camper fan, you'll have the added cost of gas. This will obviously be pricier than a regular vehicle, as campers are heavier and don't have great gas mileage. This expense will depend on how far you will drive, plus gas prices are always fluctuating.
Cheapest time to visit: You can do this road trip any time of year and have a blast. There isn't necessarily a best time to do it, although gas prices will have a huge impact on your budget and they can rise and fall dramatically at different times of the year.
10. Midwest Road Trip: $167/day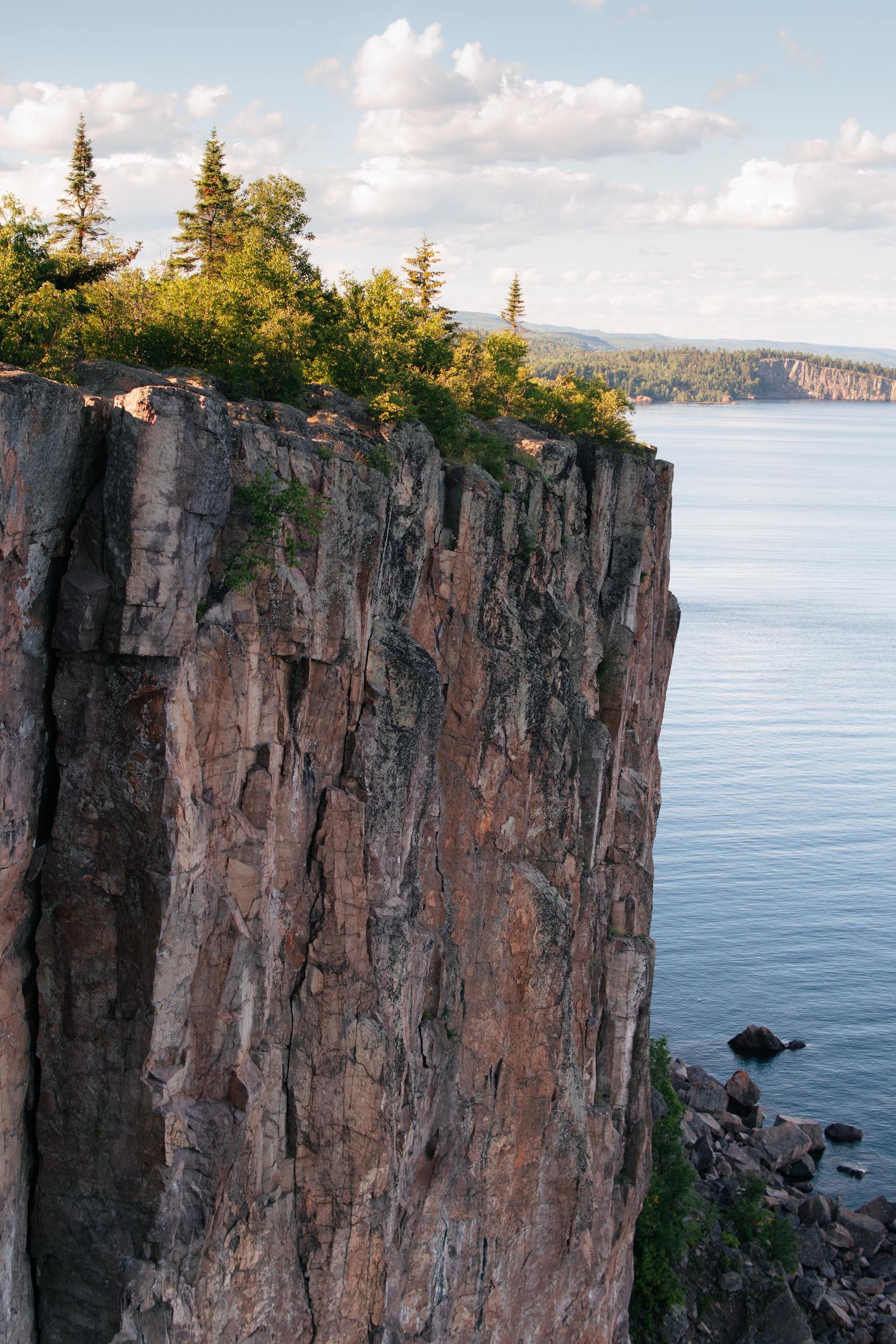 The American Midwest is full of hidden gems. From the gorgeous North Shore of Minnesota to charming Traverse City in Michigan, there's a lot to love about it. Consider an adventure through the heart of America, like any of these Midwest road-trip itineraries. Unlike the American Southwest, which you can explore any season, a Midwest road trip is best during the summer months when you can truly take advantage of the sunny weather and ample opportunities to get out into nature.
This is another one where renting a camper van makes a lot of sense. You can cruise along your desired route, stopping at campgrounds along the way to rest your head for the night. Having a camper fan rolls your accommodation and transportation costs into one, with the added bonus of making it easier to prepare your own meals, as you'll have plenty of space to store your groceries.
Accommodation: Camper van rentals start around $150/day in the Midwest. Considering that it's harder to find budget accommodations here, this price is pretty reasonable.
Meals: If you grocery shop and prepare your own meals, you can budget around $15-20/day on food.
Local transportation: Gas prices in the Midwest are generally lower than places like California and New York, but are higher in major cities. Keep an eye on gas prices before you trip to determine how much you will pay on transportation.
Cheapest time to visit: If you want to avoid higher prices during the summertime, opt for a late-spring or early-fall Midwestern road trip.
Pin me for later: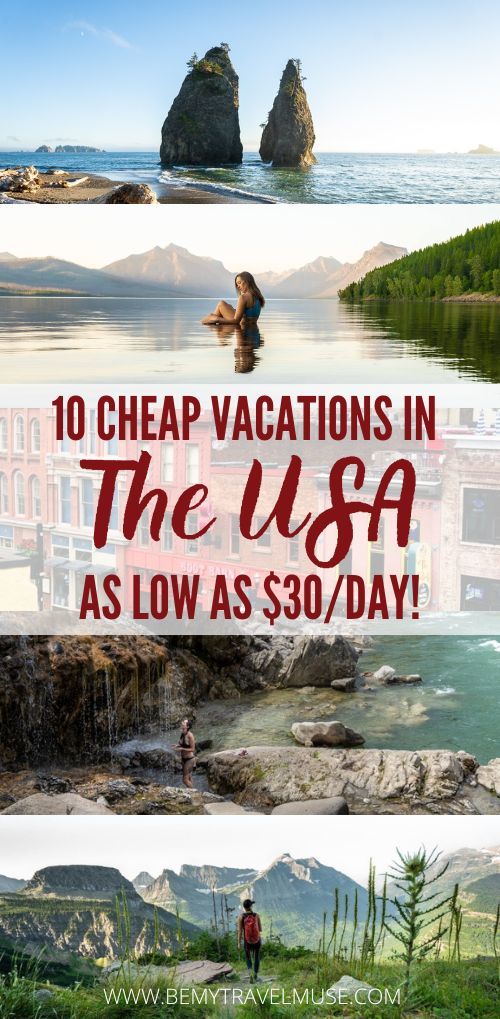 Although the US isn't among the cheapest places to travel in the world, I hope this list gives you some new ideas for where to travel on a budget.
Which one are you most excited to travel to?
*Some links in this post are affiliate links for products and services we personally use and love. Any purchase you make through them supports us at no extra cost to you. Thanks so much!