It's time to debunk the misconception that tropical island destinations are only for mega-luxurious vacations that cost an arm and a leg. In many parts of the world, it's actually more affordable to stay on a beautiful island as opposed to a big, bustling city. Sure, it might take a bit of out-of-the-box thinking to find places like this — or to find ways to save money in less budget-friendly destinations — but that's what lists like these are for. After all, don't we all deserve to disconnect from the world on a lush tropical island once in a while?
From North America all the way to the Southeast tip of Africa, these are the cheapest tropical islands to visit — and some may surprise you!
North America
1. Big Island of Hawai'i, USA : $113/day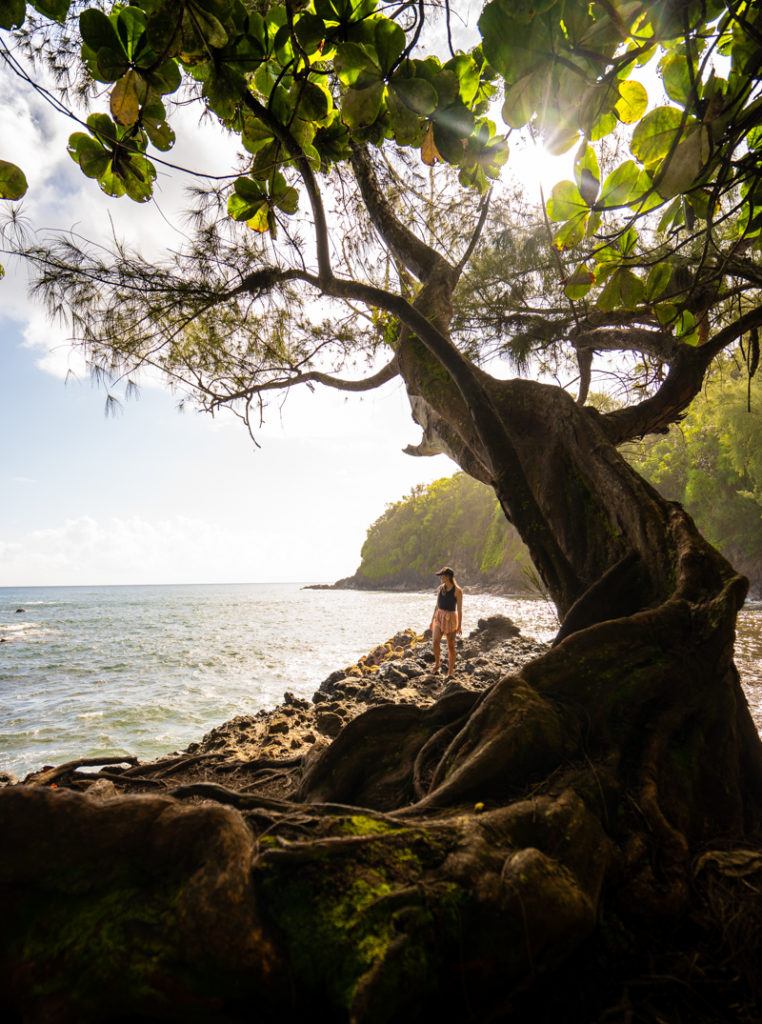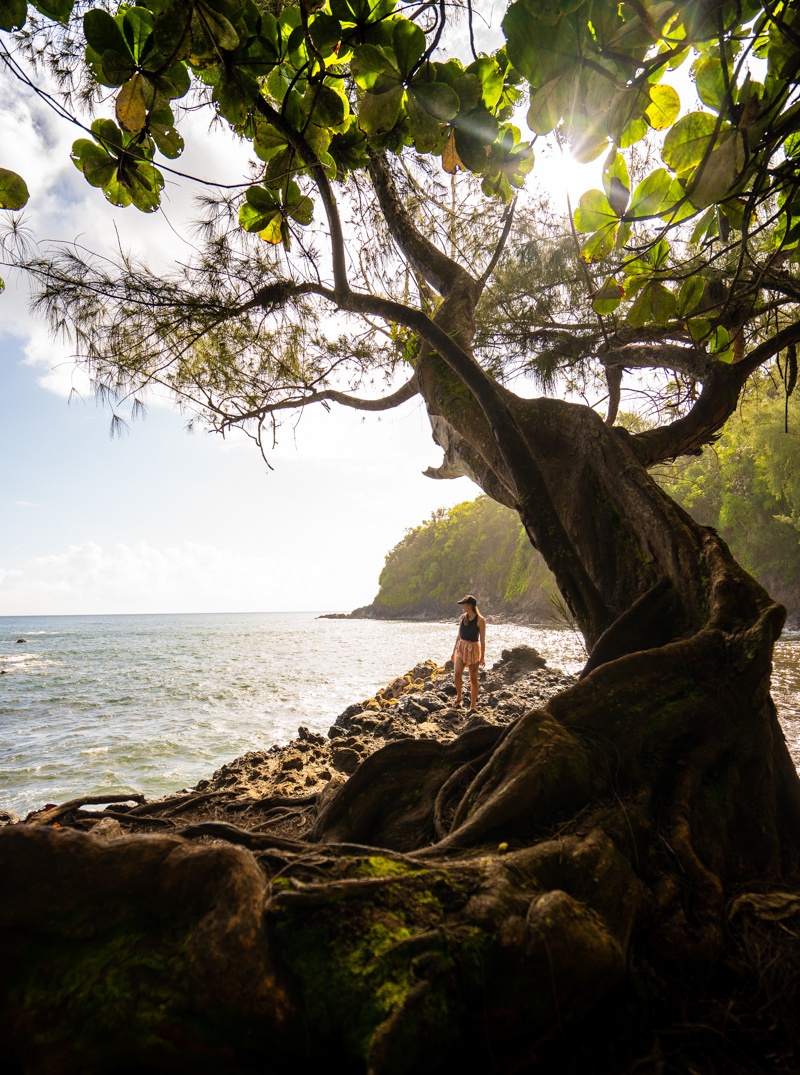 I know what you're thinking: Hawai'i?! Cheap?! But hear me out. You might be surprised at how budget-friendly visiting Hawai'i is, especially if you stay on the Big Island. Even if $125 a day sounds pricey, there are plenty of ways to save money when traveling to Hawai'i.
For starters, traveling to the Big Island during low season (February to April) will save you big bucks on accommodation and flights. Lower your costs even more by camping, which will only put you out $21/night; you can make a reservation here. You can also find lots of budget-friendly options on Airbnb, like this neat yurt for $76/night.
Making the most out of the incredible scenery is easy to do on the cheap, as many of the Big Island's best things to do are free or very affordable. Take Puʻuhonua o Hōnaunau National Historic Park, for example. It has fee-free days, and regular admission ranges from $10 to $20, depending on if you need parking.
Meals: $30-50/day, if you cook breakfast on your own and have two meals out.
Accommodation: $21-80/day, the cheapest option being camping.
Transportation: $0/day if you rely on the free public bus, $44/day for the cheapest car rental.
SIM card with data: $0/day if you already have an American SIM card.
2. The Bahamas : $89/day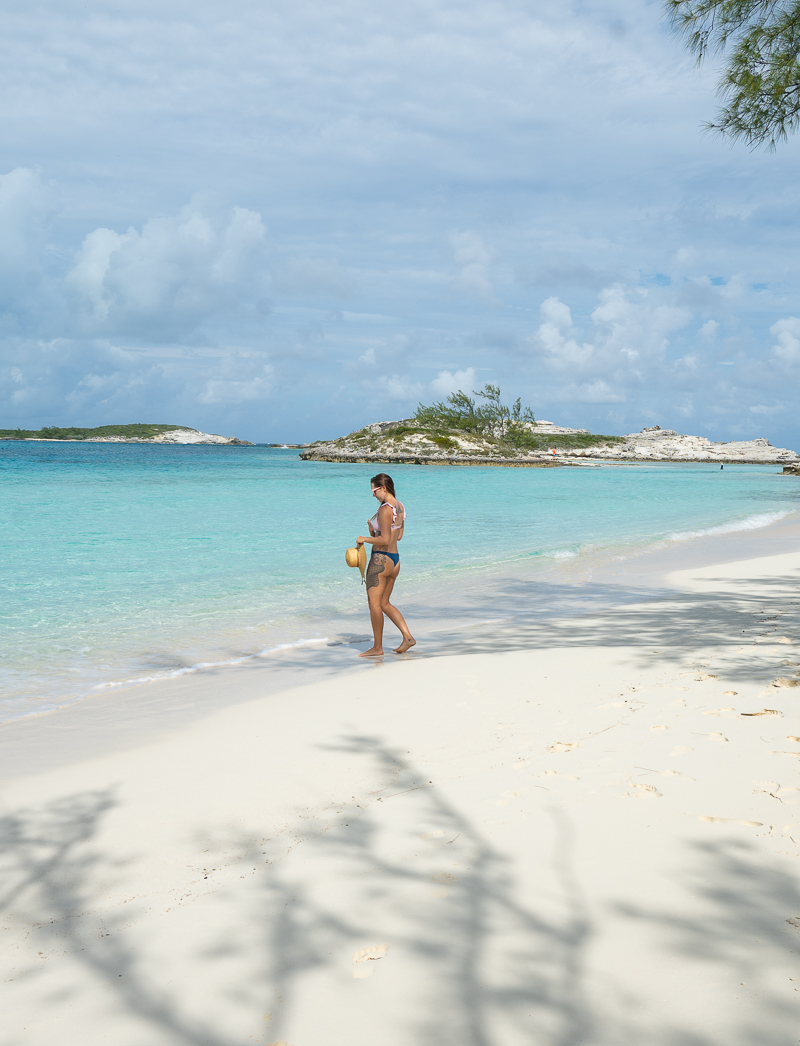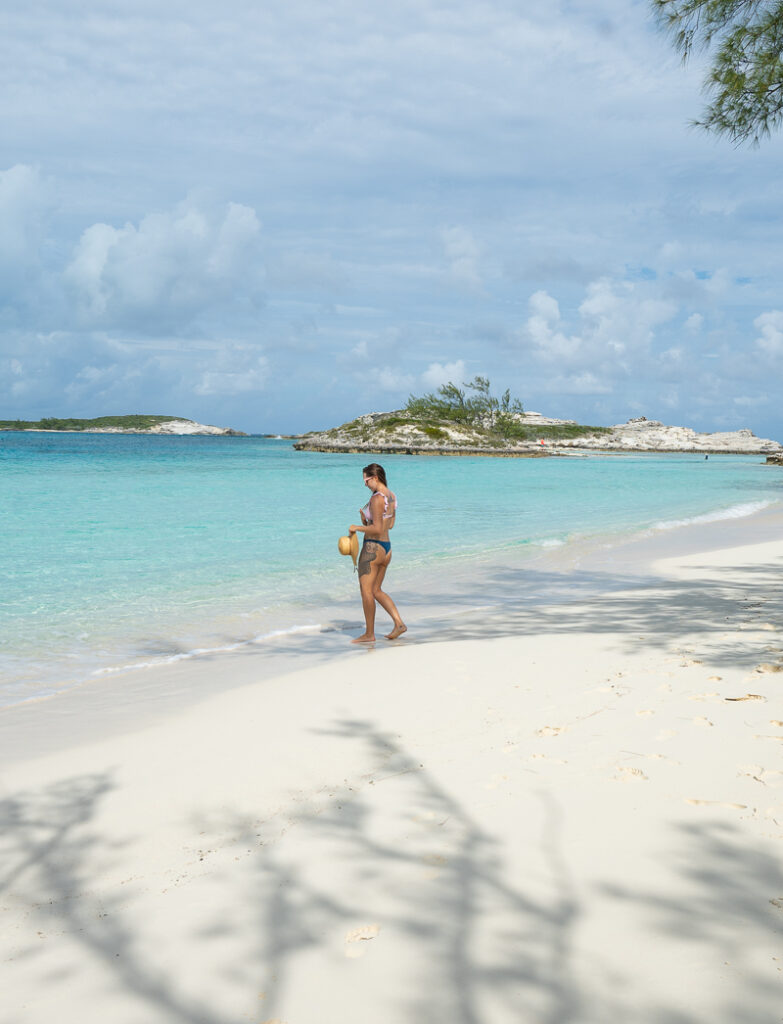 With 700 islands and over 2,400 cays, it's fair to say that there's something for everyone in the Bahamas. Whether you're planning to check out the vibrant city of Nassau or looking for a more laid-back spot like Staniel Cay, it's totally doable to visit on a tight budget.
While you're planning your trip, you might notice that popular excursions like swimming with pigs and nurse sharks can be pricey. A more affordable alternative could be kayaking through the Exuma Cays on your own and seeing the area's wildlife that way. You can rent a kayak with Out Island Explorers for just $50 for the whole day. Another awesome excursion is visiting Lucayan National Park, which costs just $5 for admission. Find more ideas for what to do in the Bahamas here.
Saving money on accommodation might seem like an impossible task, considering the abundance of luxury hotels throughout the islands. However, a little bit of creativity and an open mind can go a long way here. For example, this beautiful bedroom is available for only $36/night, and you might be able to ask your host about cheap attractions and restaurants.
Meals: $25-35/day, and take advantage of the generous helpings of seafood at fish fries and the food stalls at the Port Lucaya Marketplace.
Accommodation: $36-50/night; this unique tiny house is a cheap option at just $50/night.
Transportation: $5-20/day, if you just stick to one island and use the private minibuses (aka jitneys) or taxis to get around. Ferries and flights to other islands will set your budget back drastically, and renting a car is also expensive in the Bahamas (over $60/day).
SIM card with data: $3/day, with SIM cards for around $15 that are already loaded with plenty of data.
3. Puerto Rico, USA : $77/day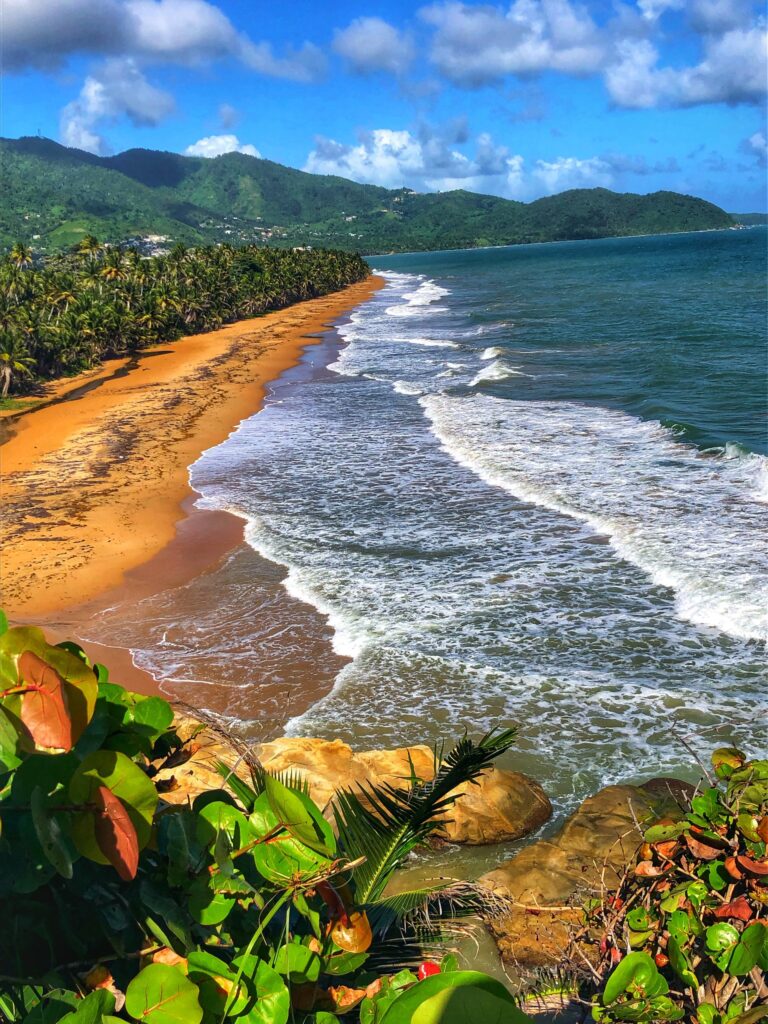 This Caribbean island is a paradise that won't break the bank. Like many destinations in Latin America, it's a breeze finding ways to save money in Puerto Rico, including avoiding big seaside hotels. You can find hostels and affordable Airbnbs easily in San Juan.
If you want to check out other places on the island, like El Yunque National Forest or tiny islands like Isla Culebra, you can easily catch a bus or ferry for cheap. In fact, the ferry from Ceiba to Isla Culebra is only $2.50. You can also book an excursion to El Yunque for as little as $55, which includes transportation to and from San Juan.
Puerto Ricans are extremely hospitable and generous. You won't have to pay big bucks for a filling lunch, and chances are you'll even have leftovers. For an affordable meal, check out one of the many chinchorros (small food stalls) in San Juan. You can find these on busy streets and markets; meals there typically cost $4-8.
Meals: $20-30/day, if you stay somewhere with free breakfast and go out for lunch and dinner.
Accommodation: $18-30/night, with the cheapest hostels offering dorm beds for around $18 per night and some Airbnbs as low as $30/night for a studio.
Transportation: $15-40/day, if you use public transportation to get around San Juan or to other cities. Renting a car in Puerto Rico may be as cheap as $40/day.
SIM card with data: If you're from the US, you won't need a special SIM card for Puerto Rico.
4. Isla Holbox, Mexico : $75/day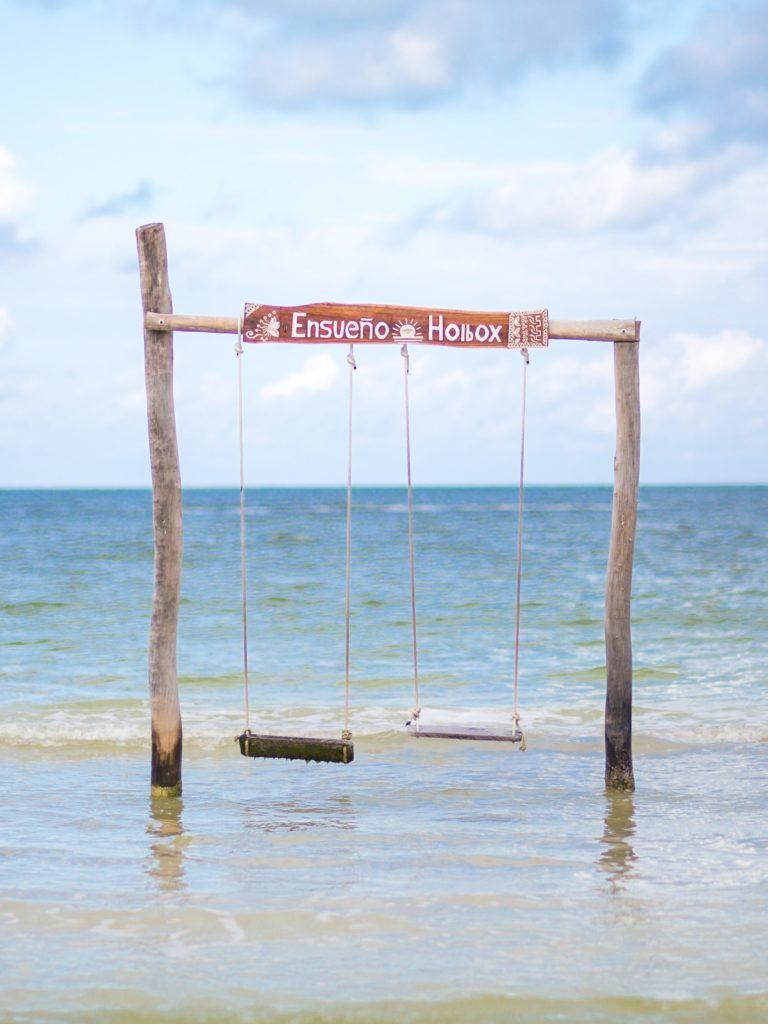 Isla Holbox never ceases to enchant me, and I would be lying if I said I was satisfied with visiting just one time. This is one of the many places I've gone back to in Mexico because of how beautiful and affordable it is.
Holbox is a small island off the coast of the Yucatán Peninsula, with calm shores and even a bioluminescent lagoon. There are no cars there (except for the occasional maintenance vehicle); locals get around via golf cart or motorcycle.
The island has become more popular in recent years and thus less affordable than it used to be, which is unfortunately normal for a lot of places in Mexico. However, it still remains quite accessible compared to other places like Cancún, Playa del Carmen, and Tulum, which are nearby. In Holbox you can still find inexpensive dorm beds, places to camp, and even some very affordable Airbnbs. The food scene is also relatively cheap, with taco stands and small beach shacks selling ceviche here and there for about $5 a meal. The restaurants and cafés are still more expensive than other places in Mexico, but you can expect to pay $10-15 for lunch or dinner.
If you think this is the cheap tropical island for you, don't miss out on this complete Isla Holbox guide for everything you need to know before your trip.
Meals: $20-30/day, if you stay somewhere with free breakfast.
Accommodation: $16-28/night, for a dorm bed or glamping on the beach.
Transportation: $0/day, as the island is so small you can easily walk anywhere you need to go. However, you'll have to factor in transportation to the island from Cancún. The bus from Cancún to the ferry port in Chiquilá costs around $20 each way. The ferry to Isla Holbox costs about $11 each way. If you're renting a car instead, check out this guide to renting a car in Mexico for budget tips.
SIM card with data: Telcel is the biggest provider; you can buy a SIM card for 150 pesos ($7.50 USD) and spend as little as 100 pesos ($5 USD) for up to two weeks of data.
5. Dominican Republic : $84/day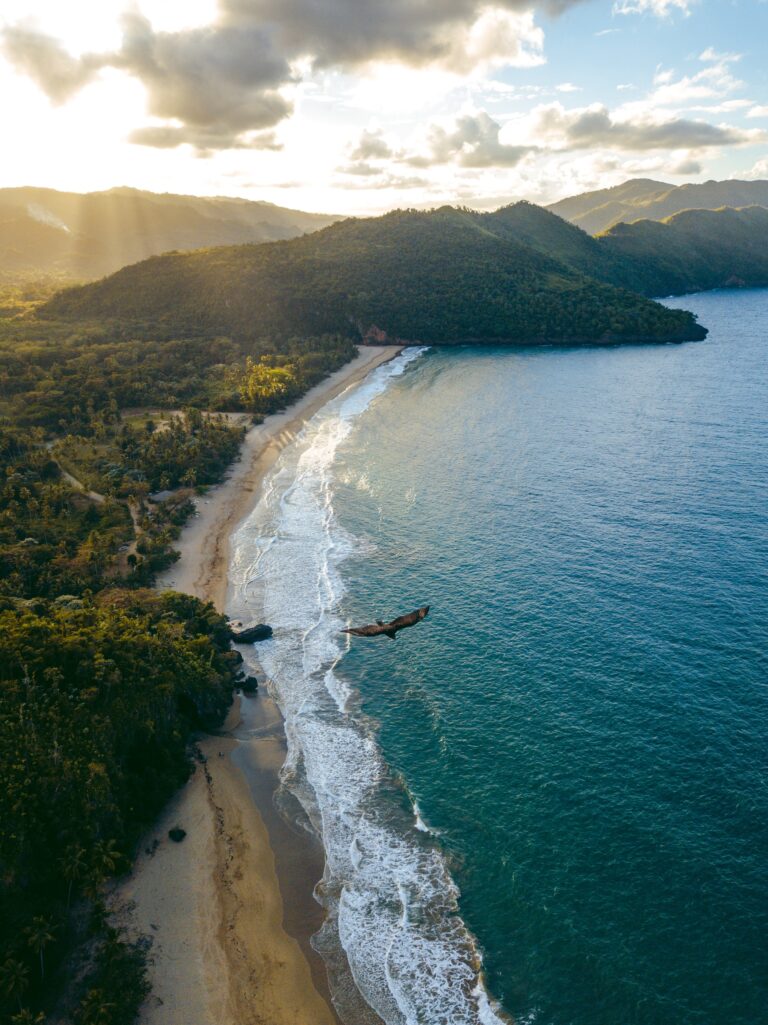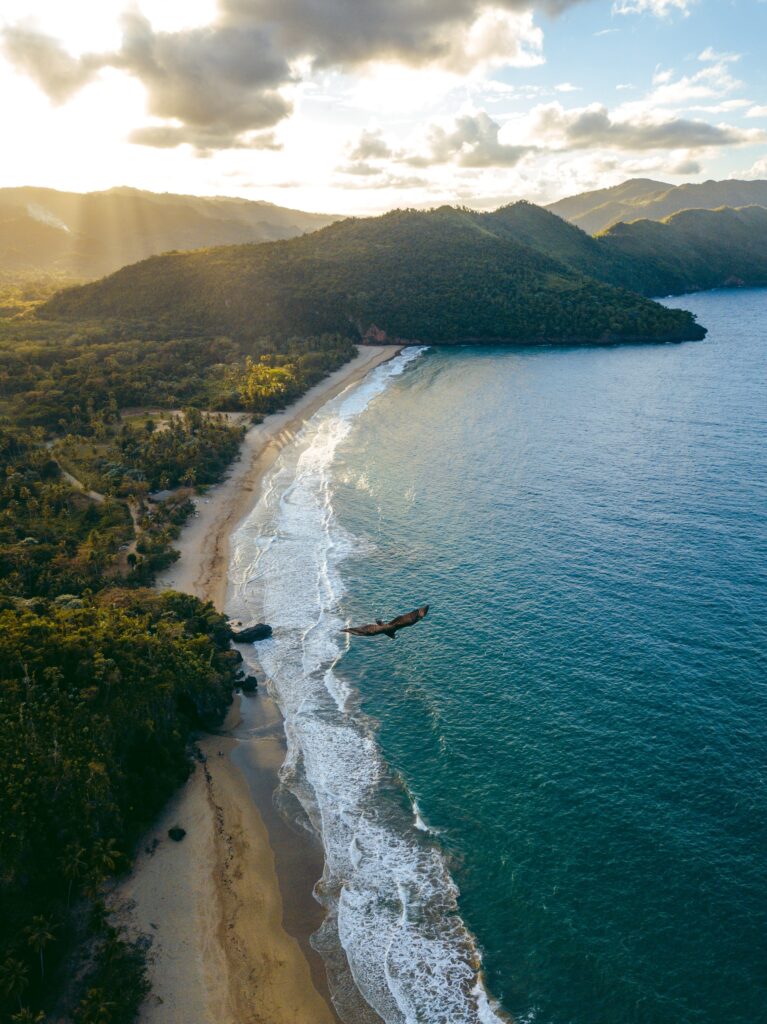 There's so much more to the Dominican Republic than the flashy resorts in Punta Cana. This vibrant Caribbean island nation has the perfect balance of laid-back beach vibes and lively Latin culture. The locals are warm and hospitable, always willing to lend a hand if you need directions or a restaurant recommendation for a cheap lunch. Not only that but the country is one of the cheapest destinations in Latin America if you play your cards right.
First, avoid Punta Cana if you want to save money in the DR. Opt for keeping your base in Santo Domingo, or even in a smaller town like Las Terrenas if you want a more authentic experience. Especially in the historic center of Santo Domingo, touristy restaurants might shock you with how expensive they are. Instead, try heading down a side street to find a more local joint for a home-cooked meal. Dominican food is incredibly rich and delicious, so you won't be disappointed.
Transportation from Santo Domingo to other parts of the island can be really cheap if you don't mind bopping around like the locals do. You can expect to pay around $10 for a bus ticket from the capital to Punta Cana, for example. These buses are cheap, so don't expect a five-star experience — prepare for a potentially cramped ride.
The Dominican Republic has gorgeous beaches, thick jungles, and quaint small towns where you'll get a taste for authentic island life. This one is for the adventurous traveler, for sure.
Meals: $20-30/day, by sticking to local favorites and avoiding tourist traps.
Accommodation: $20-$35/night, with hostels like Island Life Hostel as low as $20 for a dorm bed and free breakfast. Airbnbs like this beautiful off-the-beaten-path bungalow are around $35/night.
Transportation: $10/day, using public transportation; $50/day if you rent a car.
SIM card with data: $1-2/day, for a prepaid SIM card (that you can buy at the airport) with 28 days of data; it costs about $12 total.
South America
6. Galápagos Islands, Ecuador : $99/day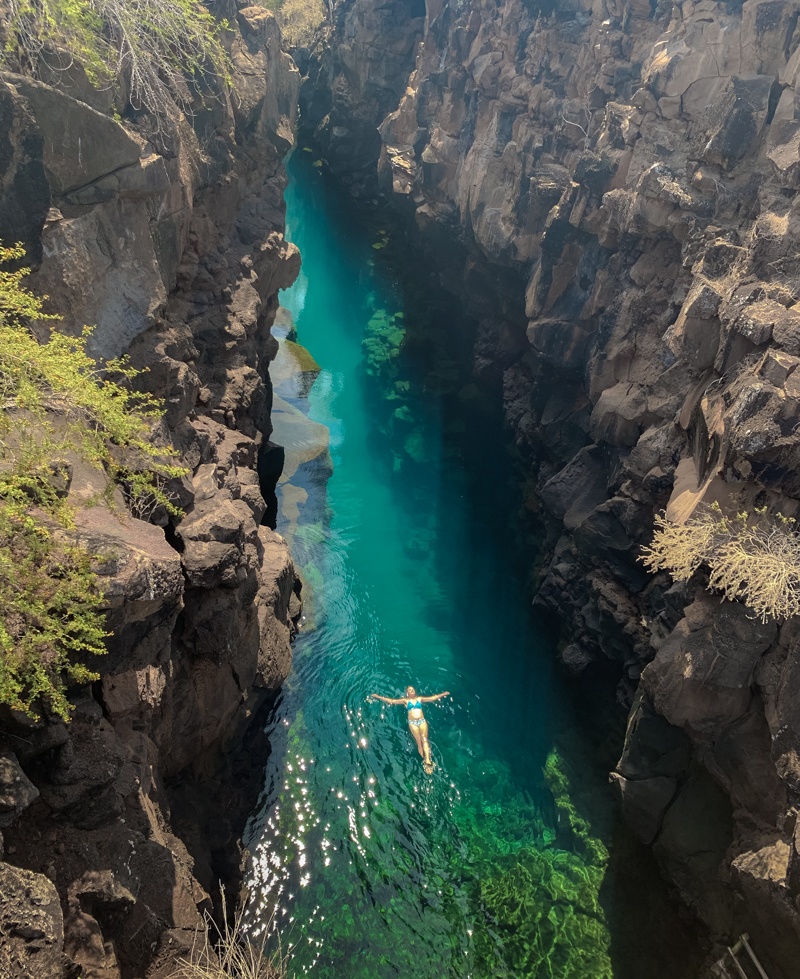 This one might surprise you. Long thought of a destination only suited for luxury travelers on fancy cruise ships, the Galápagos have earned a reputation for being a bougie place to visit. This certainly isn't the case, however. This ecological treasure trove can actually be very accessible to travelers on a budget, which is great news if the Galápagos have been on your bucket list for a while.
Although there are plenty of expensive hotels there, there are also a few budget options that are comfortable. If you stay on Isabela, for example, you'll find some of the cheapest accommodation in the islands, at around $18/night.
There are plenty of pricey excursions and diving opportunities in the Galápagos, but there are also enough activities that are completely free to keep you busy. You can swim in the lava-carved pools of Las Grietas, hang out on Tortuga Bay on Santa Cruz, hike to the Mirador Cerro Tijeretas on San Cristóbal, or bike the Wall of Tears on Isabela.
For more tips on traveling to the Galápagos on a budget, check out this guide.
Meals: $30-40/day, as seafood meals typically cost $10-15 per entrée.
Accommodation: $18-45/night, with basic rooms on Airbnb starting at $18/night, or hotels like Dolphin House that have great budget options.
Transportation: $30/day, if you plan to visit different islands via ferry.
SIM card with data: $2/day; you should grab a SIM card in mainland Ecuador for about $5, loading it with data as you go.
7. Islas Ballestas, Peru : $56/day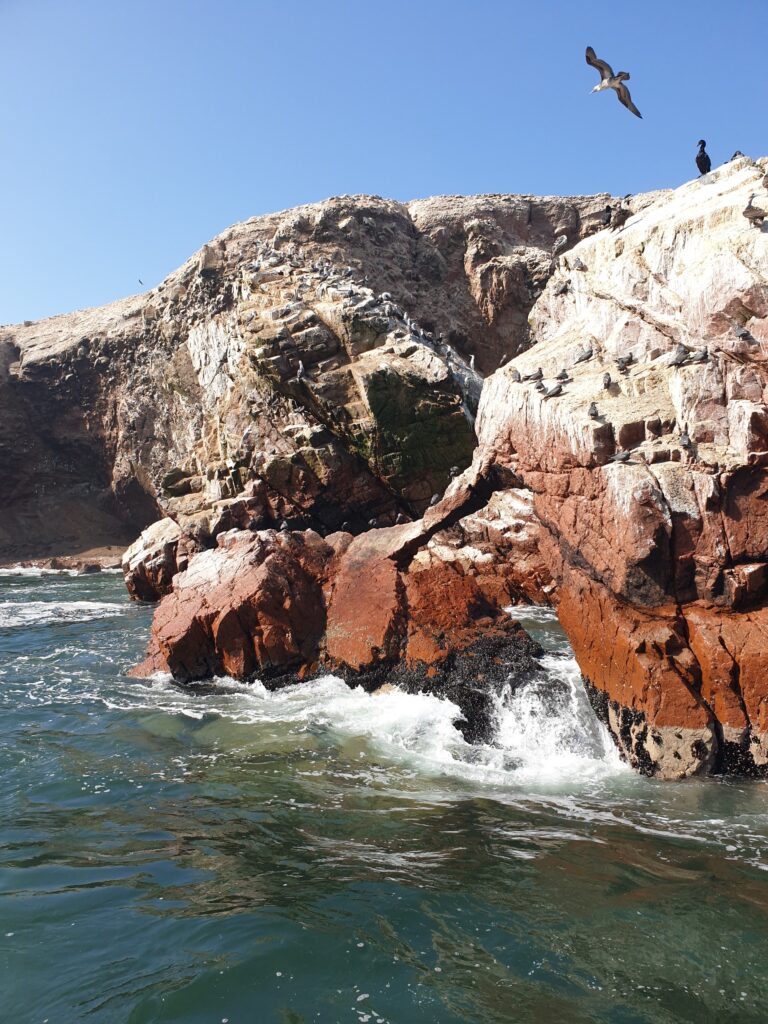 Many backpackers moving through South America tend to visit the Islas Ballestas, known as "the poor man's Galápagos," because of how much more economical they are in comparison. But just like the Galápagos, this chain of islands in the Pacific Ocean is teeming with wildlife, from migratory birds to seals and even penguins.
You can't actually stay on the Ballestas because they're uninhabited, but this is a big plus for many adventurous travelers who want to see unspoiled nature at its best. You can stay in the coastal town of Paracas instead, which has plenty of cheap accommodation. There are tours to the islands for as little as $12, which is an absolute steal!
Meals: $20-30/day, with delicious ceviche plates around $7 that make a perfect beachside lunch.
Accommodation: $6-23/night, with dorm beds for as little as $6 and private rooms in Airbnbs for around $23/night.
Transportation: $12-20/day, for transportation to different parts of the islands via boat.
SIM card with data: $1-2/day, as SIM cards in Peru cost about $1.50 and you can load data as you go.
Europe
Although no islands in Europe are technically in the tropics, these have warm weather year round, making them feel in many ways like tropical islands.
8. Poros, Greece : $89/day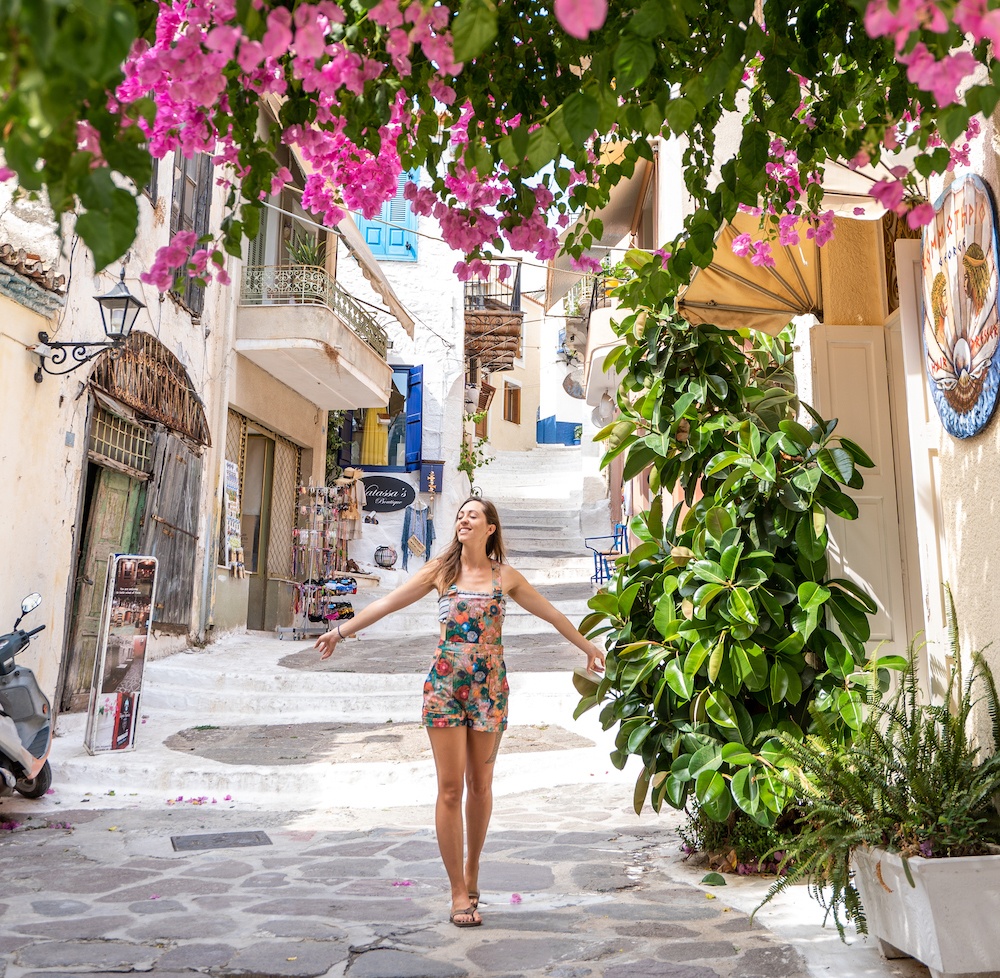 Greece is not only one of the best places in the world to island-hop but also one of the most affordable. Poros is one of the more low-key Greek islands, and also one of the cheapest. It has the pristine white buildings with blue domes and abundant bougainvillea flowers that you expect to see here, with a vibrant gastronomical scene that will make you want to eat your way through the whole island.
Poros is only a one-hour ferry ride from Athens, so you won't need to invest too much in transportation costs like you would if you were going to another island further away from the Athens airport. Plus, accommodations are cheap there; you can rent an entire residential home for $33 a night. To top it all off, a full three-course meal will only cost you about $15.
Compared to places like Santorini, which are more expensive and crowded, Poros gives you the opportunity to enjoy everything that the Greek islands have to offer without breaking the bank.
Meals: $20-30/day, if you make breakfast yourself and spend $10-15 on lunch and dinner.
Accommodation: $33-56/night; there are great options on Airbnb and hotels like Poros Hotel (rooms at just $56/night).
Transportation: $12-20/day, for taxis to places like Russian Bay or to rent a scooter or ATV to explore the island.
SIM card with data: $3/day, for a SIM from Vodafone that costs around $6 plus data.
9. Malta : $83/day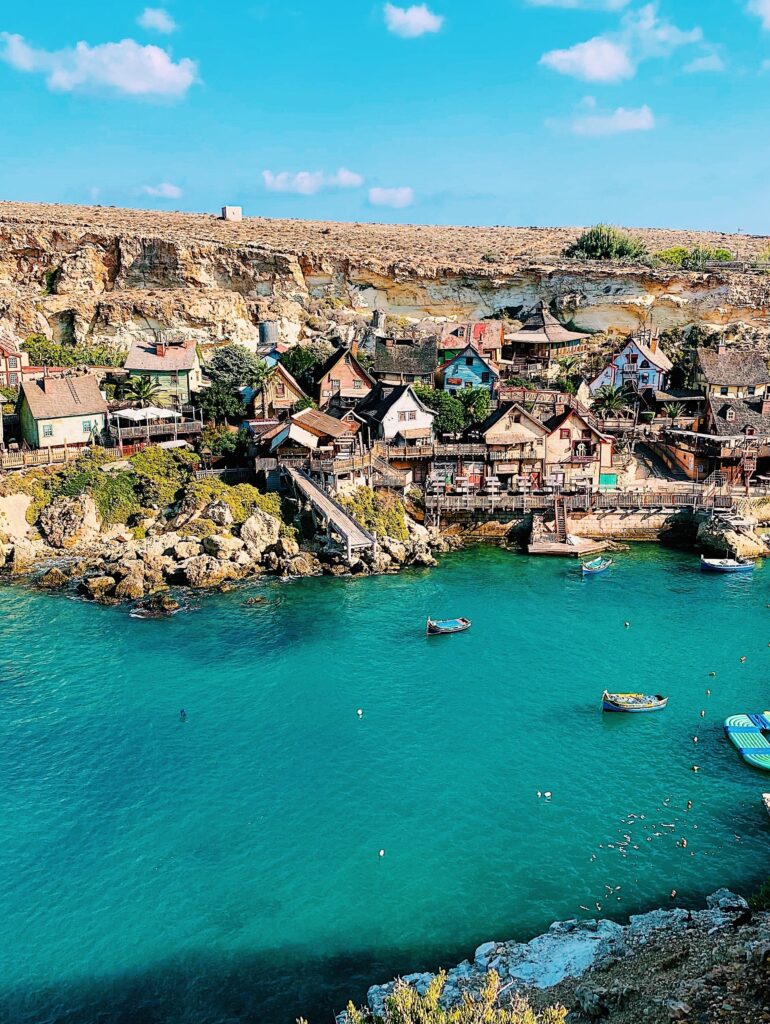 Cities with hilly cobblestone streets and hues of yellow painted on antique buildings contrast with turquoise seas and green mossy cliffs in Malta. Sure, the scenes here are distinct from the tropical islands of the Caribbean, but this European island destination is just as dreamy.
Maltese culture is a fascinating result of centuries of North African and European invasions and control, giving the nation its modern-day uniqueness. Here you'll find domes reminiscent of Middle Eastern mosques next to gothic-style buildings, and nearly every street bursts with color. And the best thing is that visiting Malta is incredibly affordable, especially in comparison with other destinations in Europe.
Here you can grab a tasty ricotta-filled pastizz for $1, take a city bus from one end of Valletta to the other for $2, and stay in a hostel for around $28 a night. During the summertime, prices go up , so plan to visit in the late spring or fall for the best shot at saving money.
Find a list of the best things to do in Malta here.
Meals: $25-45/day, if you stick to a cheap breakfast and cafés for lunch and dinner.
Accommodation: $28-31/night, with dorm beds as little as $28/night or an entire studio apartment for $31/night. Airbnb is the better option, as shared dorms are only slightly cheaper than a private room in a house.
Transportation: $2-28/day: if you take the bus, it's about $2 for a two-hour ticket to go anywhere. Scooter rentals can be as low as $28/day if you avoid the summertime and book in advance.
SIM card with data: $3/day, with a prepaid SIM card for around $10, plus data.
10. Tenerife, Canary Islands, Spain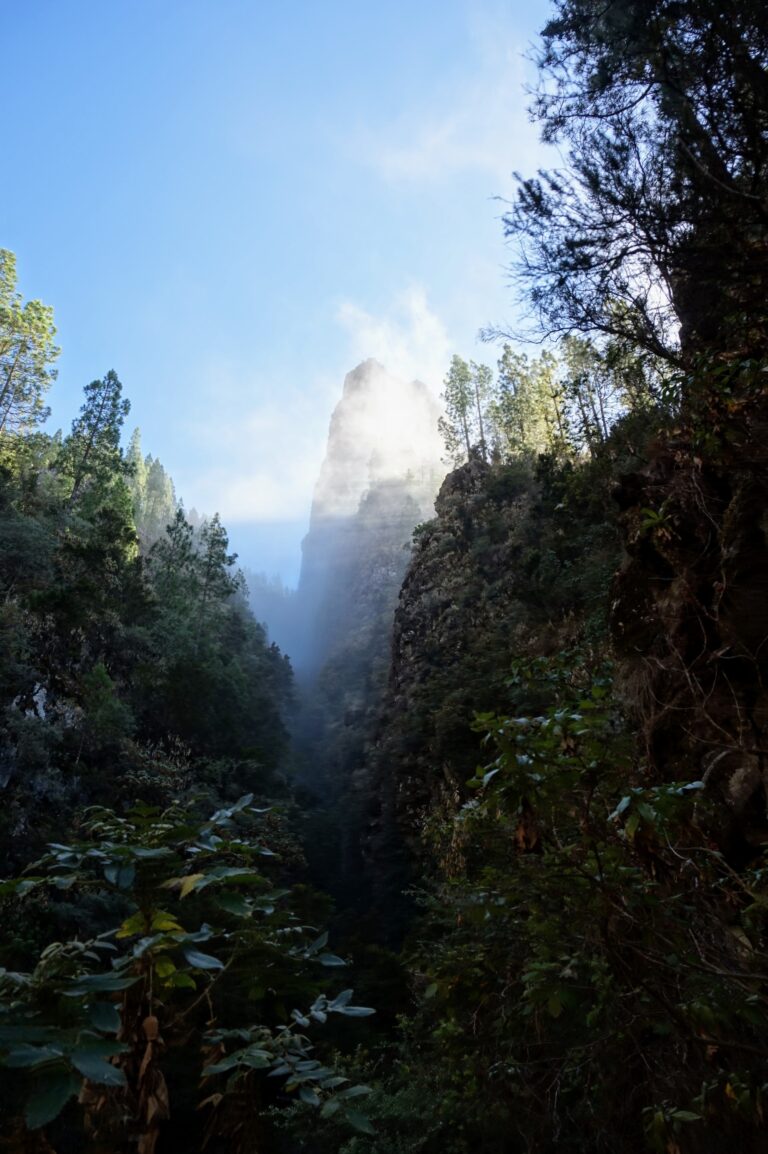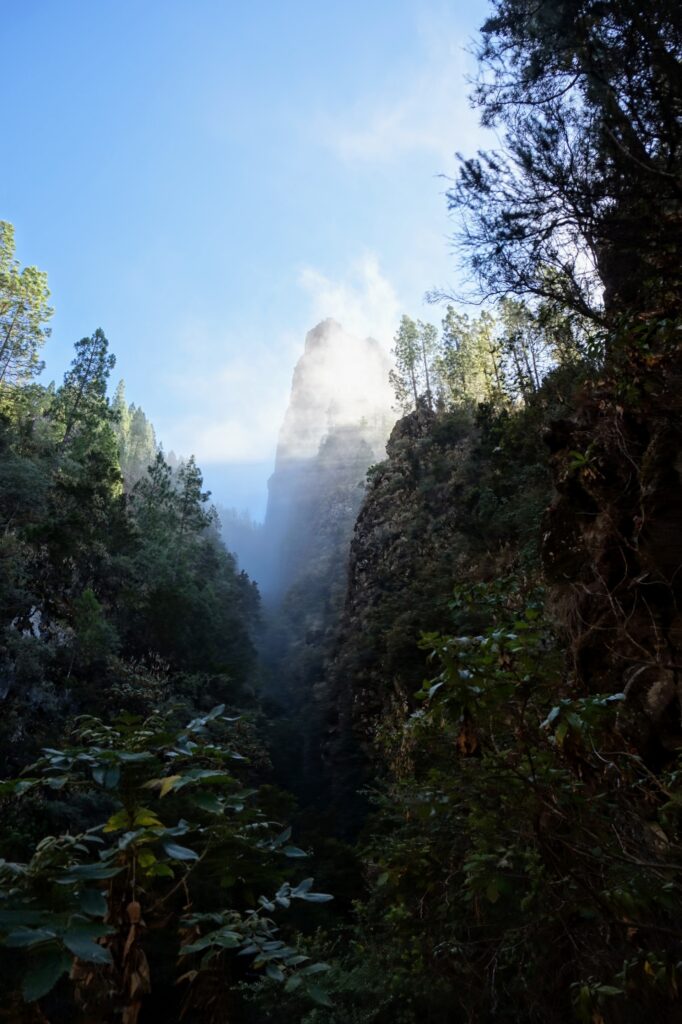 The Canaries are sunny, mountainous, and lush, with a brilliant mix of Spanish, African, and Arab culture that makes it a truly one-of-a-kind destination.
Tenerife is the largest of the Canary Islands of Spain, which are off the coast of West Africa. The island itself is made from a volcano called Mt. Teide, which is the tallest peak in Spain.
Here you'll find extremely cheap accommodation, with Airbnbs starting at around $15/night, a price that is nearly impossible to find on the Spanish mainland. Tenerife also has free activities galore, like visiting Parque Natural del Teide, which has a shockingly similar geology to that of Mars. You can also visit La Laguna and the Museo de Historia y Antropología for free on Fridays and Saturdays or see giant basalt rock formations at Acantilados de los Gigantes.
With such an eclectic mix of cultures, you can expect the food here to be incredible. Even better, it's super cheap, with two-course meals costing around $12. Eat, drink, and hang out on the beach to your heart's content without overspending.
Meals: $20-30/day, with fried fish plates as cheap as $7 and famous papas arrugadas con mojo (wrinkled potatoes with dips) for $3.
Accommodation: $13-25/night. If you don't mind being a bit further from the beach, in San Cristóbal de la Laguna, there's this cozy room for just $13/night or this adorable attic bedroom for $25/night.
Transportation: $5/day, if you use the buses (called guaguas) to get around the island. It will cost around $30/day to rent a car, with prices being lower in the spring and fall.
SIM card with data: $2/day, if you buy a $12 SIM card that includes 121GB of data from Movistar.
Asia
11. Koh Chang, Thailand : $33/day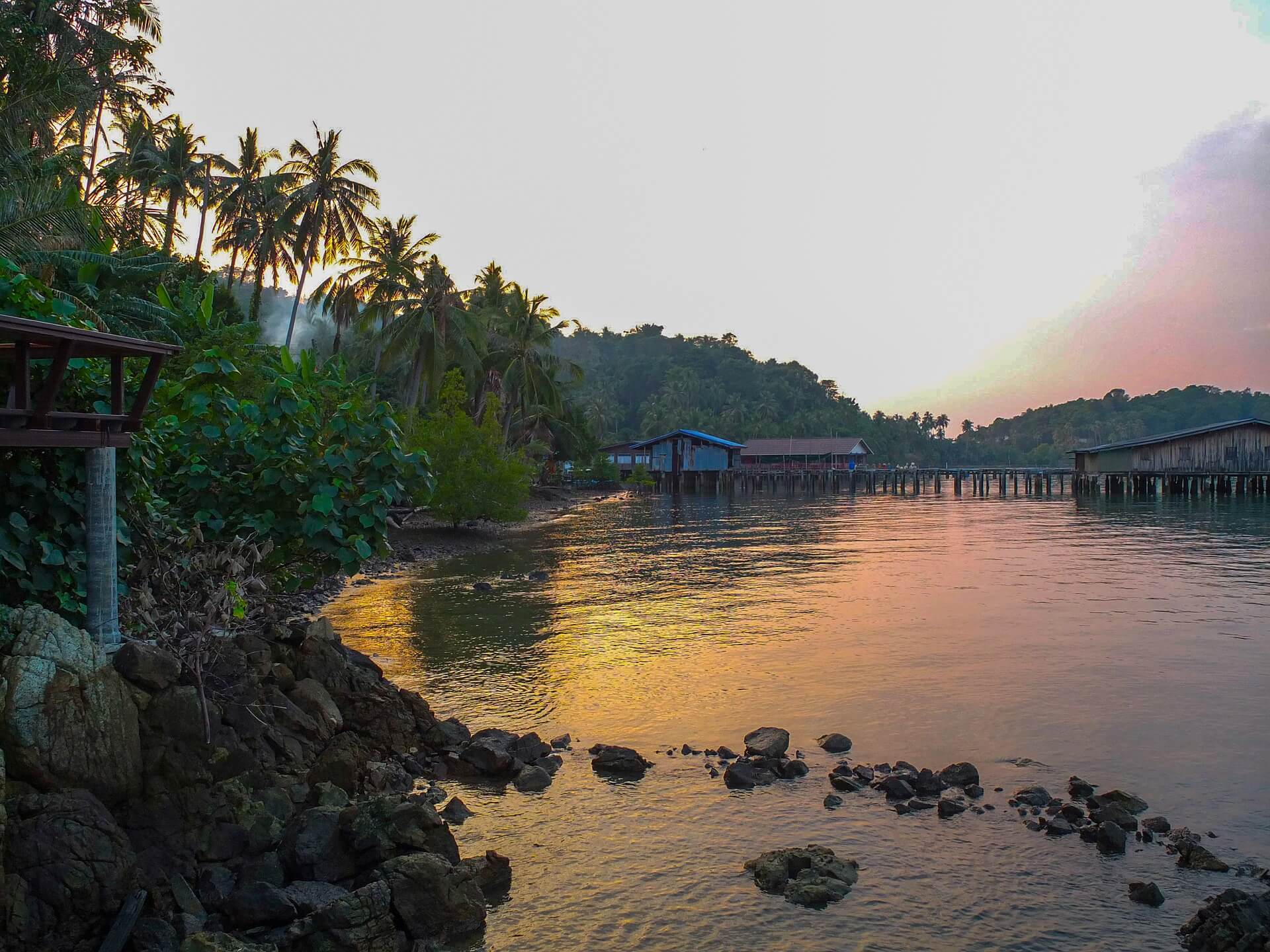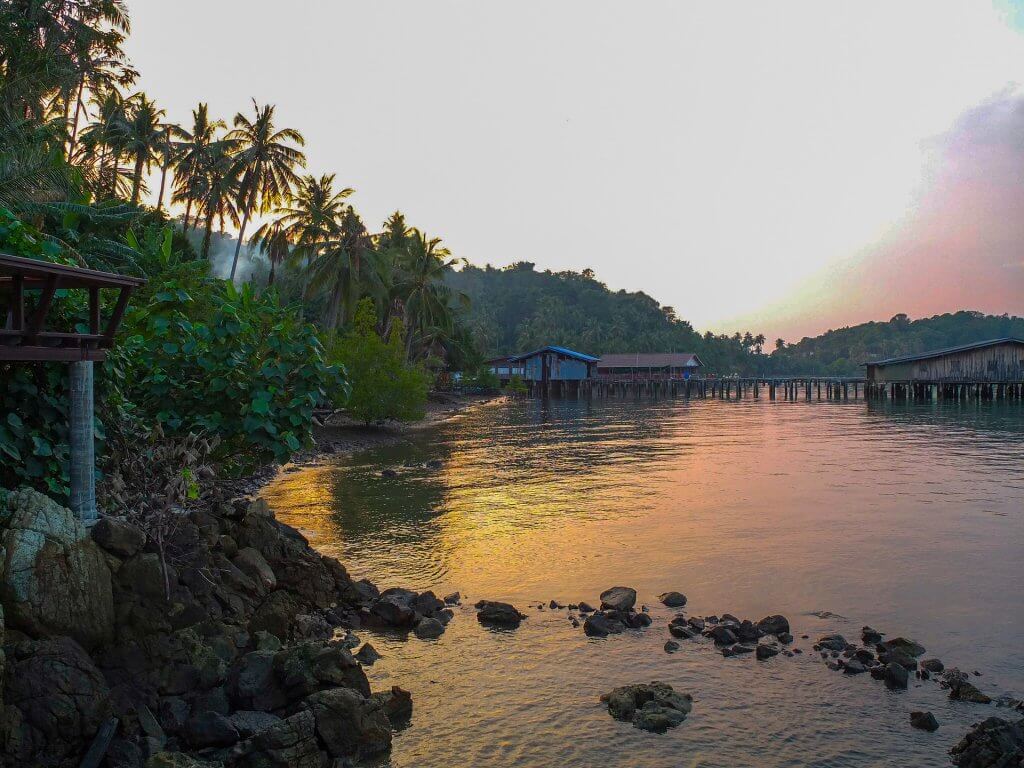 The lush green mountain jungles paired with the soft blue water below make it no surprise that Koh Chang is such a special place for so many travelers. Although it's the second largest island in Thailand, it's a bit more off the beaten path than other tourist hot spots like Koh Phi Phi and Ko Samui, but has become more popular in recent years.
Thailand is known as one of the cheaper destinations, so it's no wonder why the country attracts so many backpackers on a shoestring budget. I mean, I once stayed in hostel in Chiang Mai for $3/night, which blew my mind. Koh Chang is no exception and has a great selection of affordable Airbnbs and hostels, like this entire bungalow that you can rent for $26/night.
Attractions are also affordable on the island, and there's plenty of nature to explore. You can easily get to the Klong Plu waterfall via taxi or motorbike, or visit the Bang Bao floating village for the day. Another popular spot among backpackers is Lonely Beach, where you'll find cheap restaurants and accommodations galore. For more ideas on what to do on Koh Chang, check out this guide.
Meals: $10-20/day, as meals are famously cheap; if you stick to local delights like curries, noodle dishes, and street food, you could spend as little as $10/day on food.
Accommodation: $6-12/night, with dorm beds starting at $6/night at Cafe Del Sunshine, or stay in this bungalow for just $12/night.
Transportation: $3-10/day, if you stick to local transportation to get around. You could also rent a scooter for as low as $10/day.
SIM card with data: $2-3/day, with lots of options available.
12. Nusa Islands, Indonesia : $31/day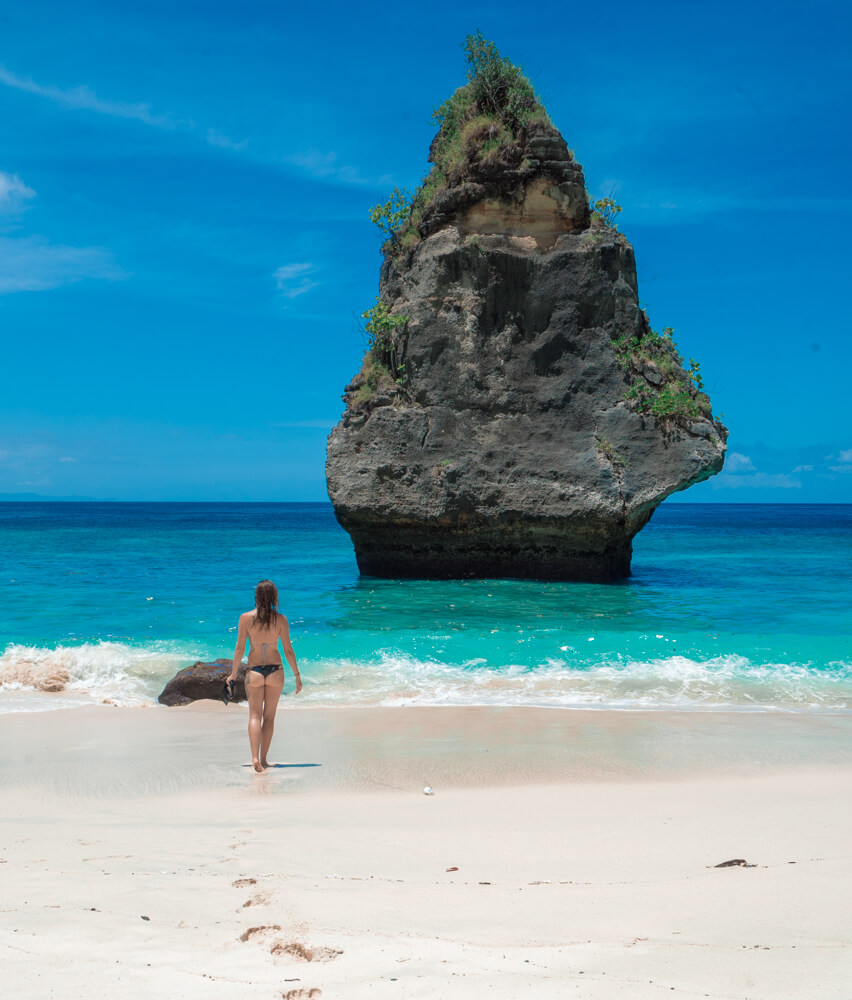 If you've been dying to go to Bali but are discouraged by overtourism, go to the Nusa Islands instead. Some people even say that this is what Bali looked like 30 years ago, which is enough of a reason for me. Plus, you can easily get to the islands from Bali's Sanur via a 30-minute boat ride.
There are three islands here that are all worth visiting: Nusa Lembongan, Ceningan, and Penida. The beaches here are pristine and the interiors of the islands feature thick jungles, mangrove forests, and waterfalls. You'll find breathtaking views on hikes throughout the islands, nearly all of which won't cost you a dime. Intrigued? Check out this full Nusa Islands itinerary for more ideas.
Accommodations in Indonesia are famously cheap, and the Nusa Islands are no exception. Considering you can have a gorgeous jungle bungalow for just $26/night, you can imagine why so many people never want to leave.
13. Coron Island, Philippines : $77/day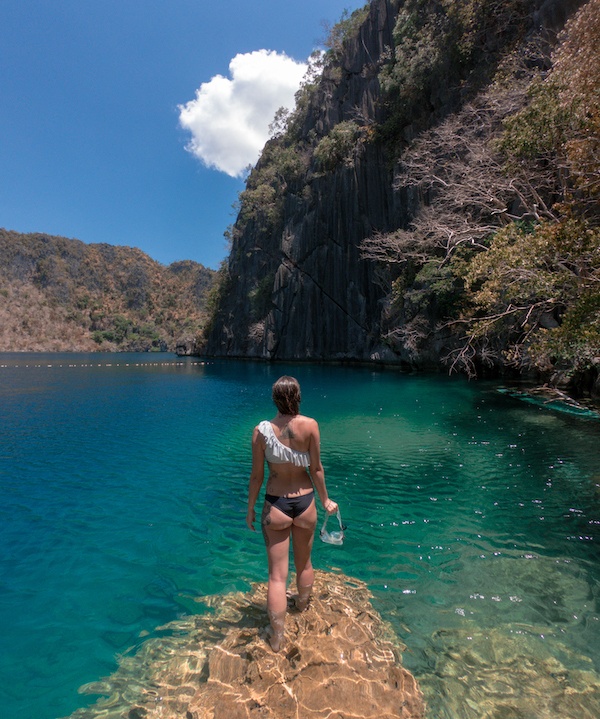 From the stunning lagoons to the picture-perfect beaches, Coron Island is sure to enchant you. It's a great spot to indulge in your island dreams without spending too much
If you are a snorkeling or diving enthusiast, Coron Island might already be on your bucket list for how popular it is. Like many well-known places, Coron Island does get crowded during peak season (January-March). Avoid the higher prices and hoards of tourists simply by avoiding a visit during this time.
You can find dirt-cheap accommodations in Coron Town, often the jumping-off point for island-hopping around Coron Island, as well as exploring other parts of the island itself. It's also quite affordable to eat here if you balance going to restaurants with trying street food delicacies like adobo and seafood platters.
Meals: $20-30/day, if you have a light breakfast and do either lunch or dinner at a street food stall.
Accommodation: $10-30/night, as Dayon Hostel's dorm beds start around $10; Airbnbs are around $30/night, like this two-person room with a bunk bed.
Transportation: $10-50/day, if you do any kind of island-hopping tours.
SIM card with data: $1-2/day, if you buy a prepaid SIM for about $2 and load data as you go.
Africa
14. Zanzibar, Tanzania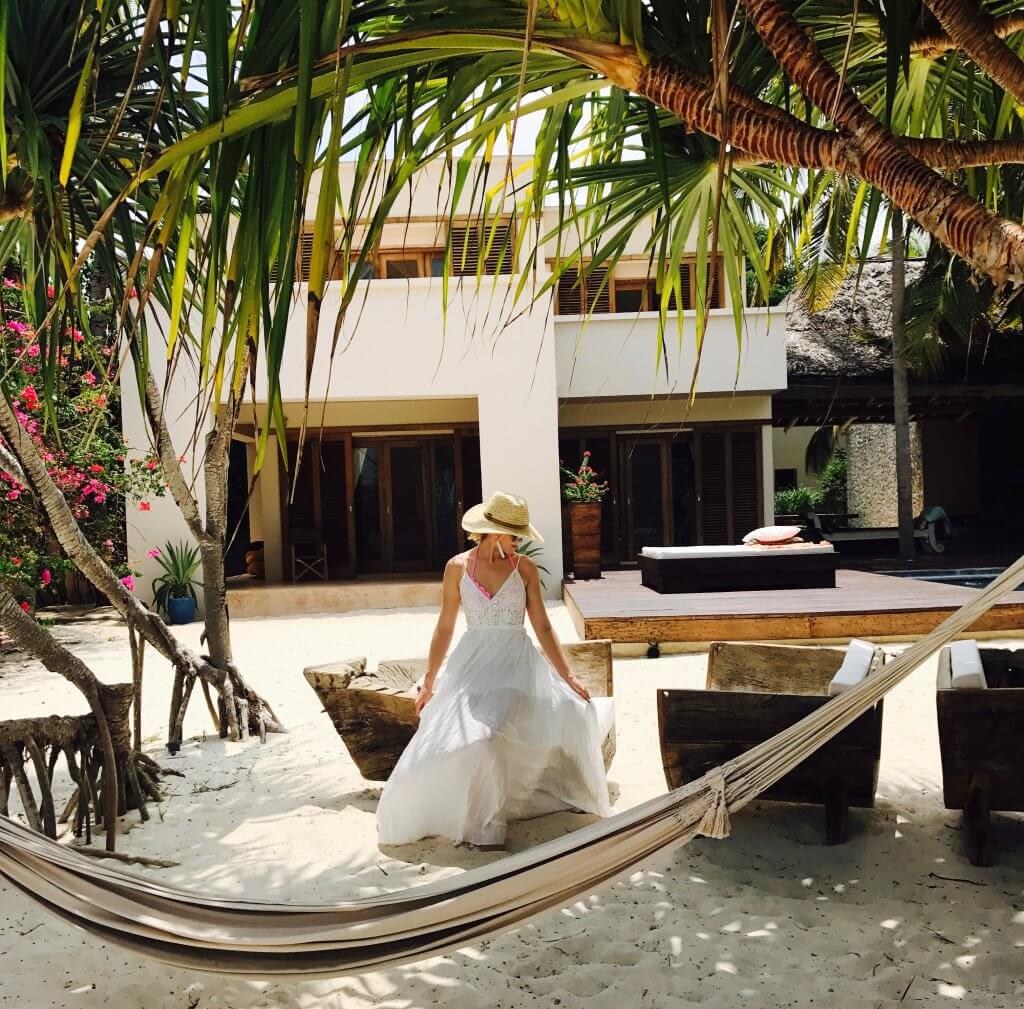 Many travelers only dream of visiting this African island paradise. It's not only a gorgeous, beachy haven, it's also incredibly rich in history and culture. Known as "the spice island," Zanzibar gets its fame as a star producer of spices like nutmeg, vanilla, and so much more.
Zanzibar's cuisine is bursting with flavor and you'll be able to try some of the island's best street food at the Foradhani Gardens night market, where you can get a meal for just a couple dollars.
Zanzibar isn't one of the cheapest places to visit in Africa, but it's still very affordable in comparison to other tropical islands. Especially if you stay in Stone Town and avoid the big beach hotels in Nungwi and Kendwa, you'll find that Zanzibar is very affordable for backpackers even. If you do want to stay near the beach, you won't have to shell out too much. Beachside bungalows are as low as $22/night on Airbnb, so why not spend a couple days with your feet in the sand?
Meals: $10-15/day, sticking to street food and beachside seafood shacks for affordable and filling meals.
Accommodation: $20-30/night, if you opt to stay in Stone Town try this private room in a beautiful house for under $20/night.
Transportation: $7-12/day, if you use Zanzibus shuttles to get between different cities.
SIM card with data: $1-2/day, with a Vodacom SIM card plus data.
15. Ilha de Bazaruto, Mozambique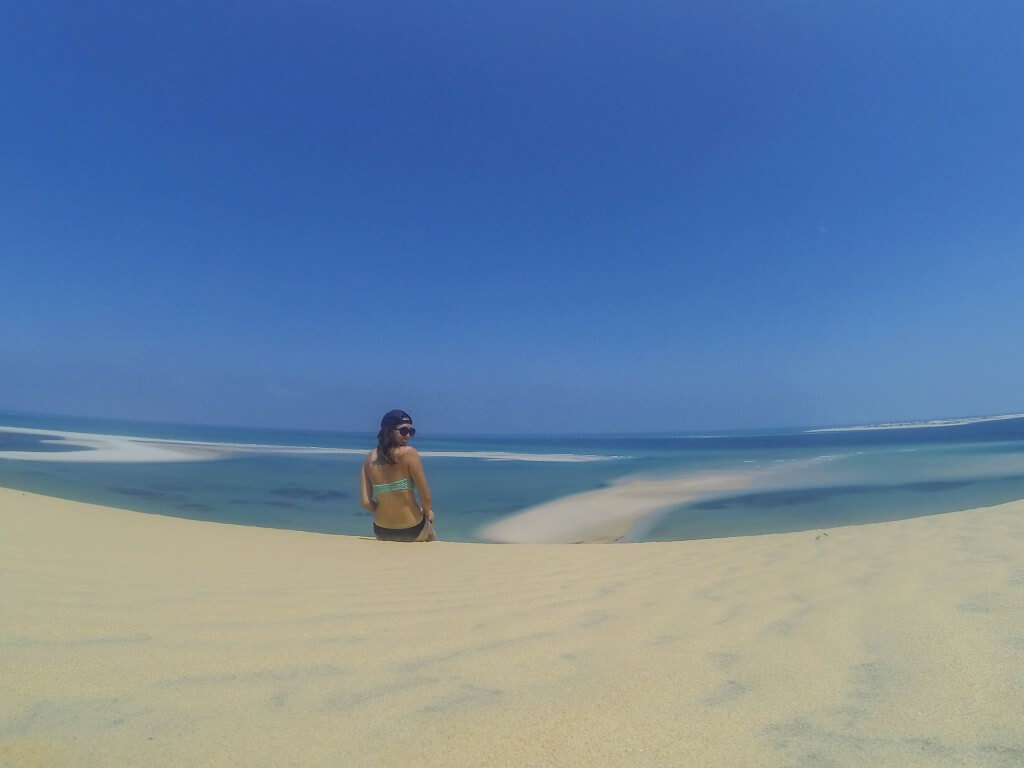 This sandy archipelago off the coast of southern Mozambique is virtually unknown to most travelers unless they've been to southeastern Africa.
So, here's the kicker: You can't actually stay on Bazaruto, as the population there is only about 4,000 and there are no hotels, hostels, or guesthouses. To visit, you can stay in Vilanculos and take a boat over for around $10 each way. Vilanculos is a sleepy beach town known for its shallow turquoise waters that go on for miles.
Bazaruto has five islands, actually: Bazaruto, Benguerra, Magaruque, Santa Carolina, and Bangue. You'll find brilliant expanses of white-sand dunes as far as the eye can see, with tons of marine life. Diving and snorkeling off the archipelago is popular, as you can see manta rays, whale sharks, dolphins, and even dugongs. Find out more about what to do near Bazaruto and Vilanculos here.
Meals: $10-20/day, if you grab a meal in the local market or at a beachside seafood stand. Restaurants are also reasonable in Vilanculos; you can expect to pay around $7-10 for a nice meal.
Accommodation: $14-30/night, with modest cabins available for $14/night and an entire house for only $30/night.
Transportation: $20/day, for transportation to and from Bazaruto.
SIM card with data: $1-2/day, with a Vodacom SIM card plus data.
Pin me for later: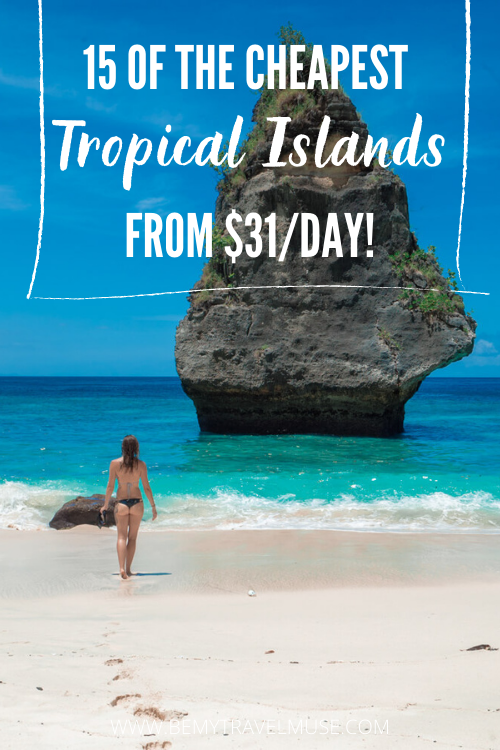 I tend to find that traveling on the cheap is more adventurous and down-to-earth, even if I'm not super strapped for cash. Often, looking for more rugged accommodation has led me to meeting interesting people and traveling more like a local, which I enjoy. After all, if you really want to get to know a place, as Anthony Bourdain's advised, "Sleep on floors if you have to. Find out how other people live and eat and cook. Learn from them — wherever you go."
What are your best tips for saving money while traveling to tropical islands? Let us know which places and tips we missed!