I figured that a road trip through the American Southwest would set me back quite a bit considering that the cost of campsites can quickly add up, plus all of the gas and activities. The United States is not a super budget destination, after all.
I was quite pleased to find that it was easy to save in some areas so that I could splurge in others. Gas in the US is some of the cheapest worldwide, there are tons of free camping options available, and the US national Park's pass is a steal!
To do my ten-day itinerary which is a variation on the Grand Circle road trip, as of this writing in May 2017, it would cost a total of $1,104 or $110 per day, including a camper van rental, food, gas, camping, plus a couple of optional splurge options below.
Note: It was definitely more expensive because I was solo. If you had just one other person, you'd be able to split the costs almost perfectly in half. If you had two other people along, take it down to one third and so on. The more the merrier (until you run out of room and start elbowing each other).
Here's the breakdown:
Activities – $95 or $869: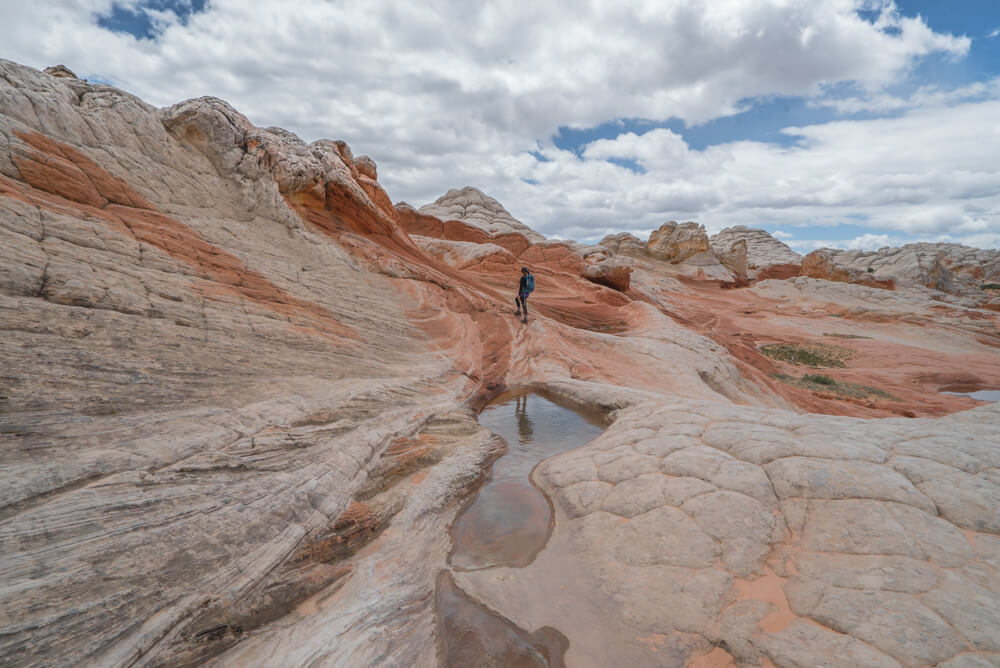 The US national parks pass is an incredibly good deal. Please do yourself a favor and just get one. For $80, you and the whole carload of people with you can get into any national park in the US for an entire year. When I compare that to the $91 daily fees in the Serengeti or what would it would cost for a family get to go to Disneyland instead, I really am struck by how good of a deal the US national parks are.
Simply buy it in person at any one of the national parks on this list. I bought mine in Zion.
Keep in mind that state parks like the Valley of Fire and Dead Horse State Park are not included with this national parks pass. For those you will have to pay between $10-$15 at the kiosk upon entry. They're worth it, though.
Since I saved in so many other areas for my trip, and also because YOLO, I decided to splurge as well. My helicopter flight to the Grand Canyon at sunset ($574) and the day trip to white pocket ($199) were both experiences that cost extra but were very worth having.
Transport costs – $837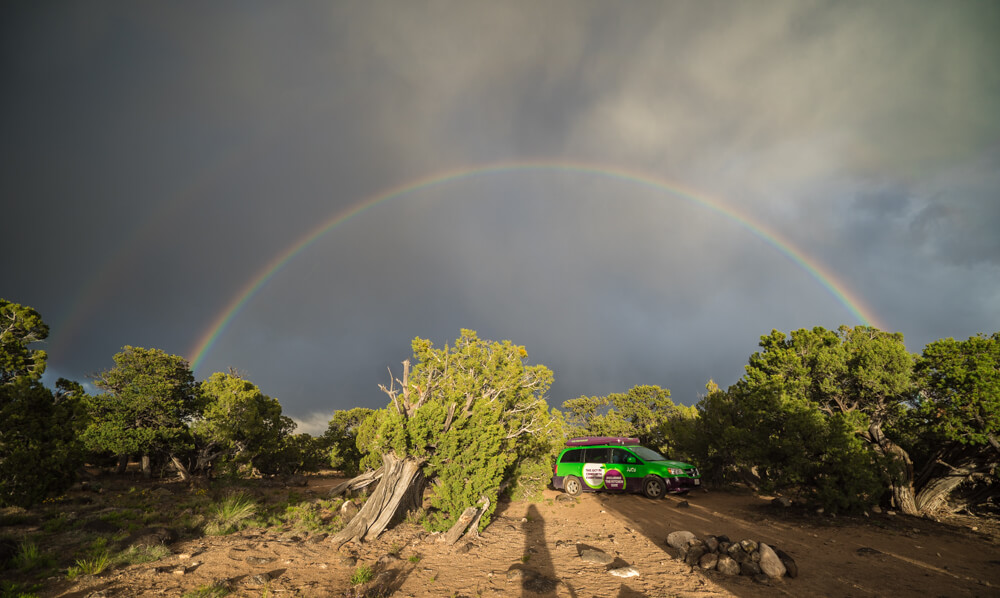 When I took this trip the average price I paid for gas was around $2.40 per gallon ($8.88/litre). For most foreign visitors, this is going to be pretty cheap compared to home. It even feel cheap to me coming from California where the prices are, on average, about a dollar higher per gallon.
Just remember, that the even though the gas is cheap, the distances are vast in the US.
I spent a total of $287 on gas and traveled for over 2000 miles in a vehicle with decent mileage.
The other issue is your wheels. How are you going to get around? If you'll be renting a car anyway, it's worth considering getting a camper van instead. The rate for mine was $55/night, which isn't bad if you'd have to rent a car anyway.
Then your accommodation apart from the van fee can be absolutely free. Here's how:
Accommodation – Free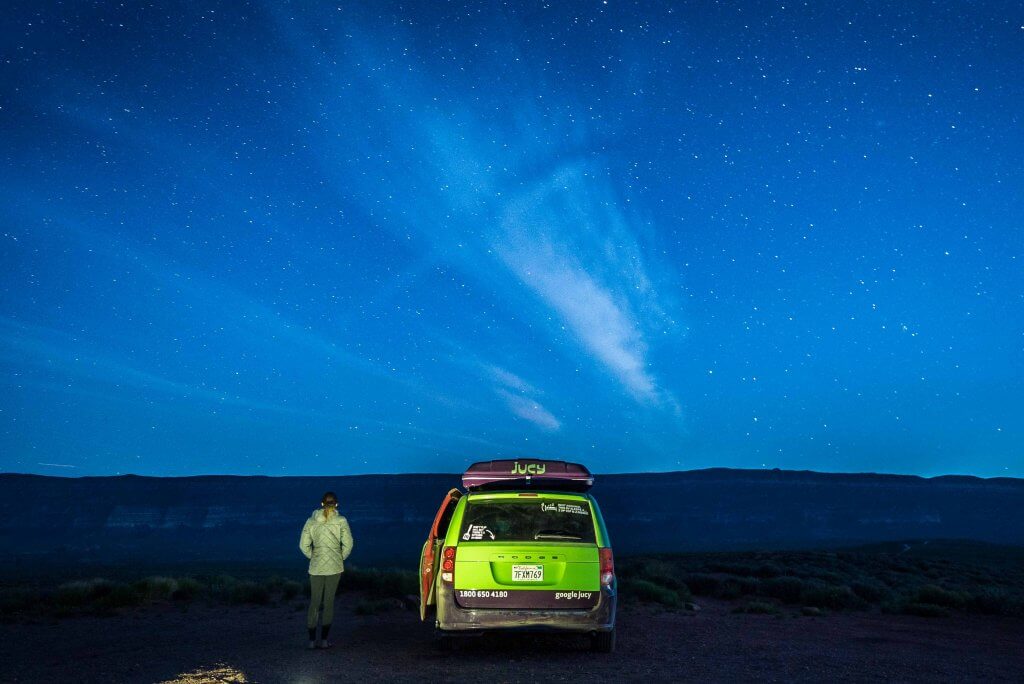 Apart from a couple of nights next to the entrance of Zion national Park where I paid $40/night for a campsite, I did not pay any camping fees during the nine days that I traveled around the southwestern US, and I did this completely legally!
What I hadn't realized before this trip is that there is a lot of Bureau of Land Management (BLM) land that is owned by the public out in Utah. That means that you can find free camping in these areas as long as you leave no trace and are not visible from the highway. This website is really helpful if you need some help finding options in your area.
Now I like a good deal as much as anyone, but the biggest reason why I tended to camp on BLM land was because it was in such beautiful settings. One night I would be on the rim of a canyon and the next I would be sleeping under a canopy of stars, waking up to a glorious sunrise, and taking in a view that went miles in every direction and did not show me another soul. The alternative is paying to camp in the parking lot just to have amenities. No thanks!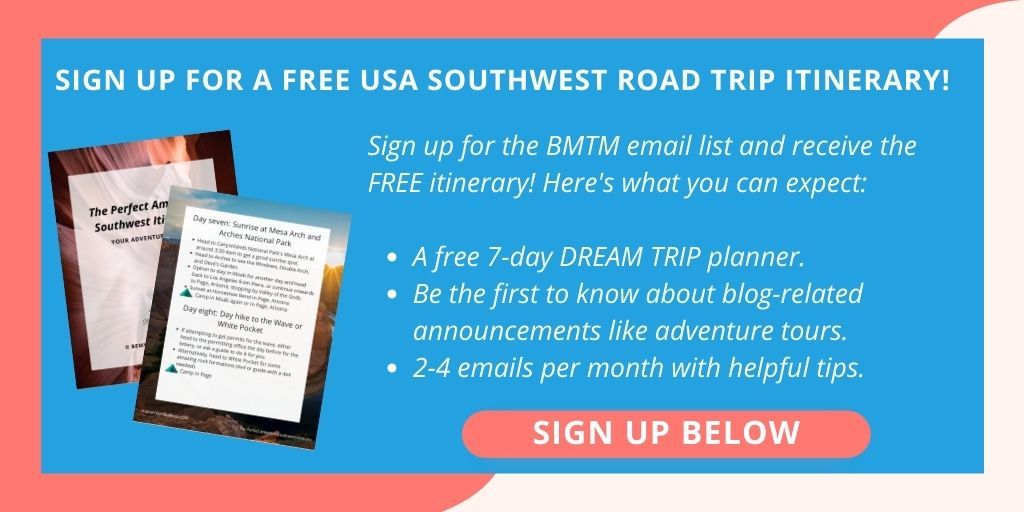 The only caveat is there are no services, no hook ups, nothing. By using the land you agree to leave no trace and pack waste back out with you. This is easy to do in a camper van with its own kitchen, sink, water, refrigerator, and solar panel to keep you powered up. It's like having a little moving home. I loved that I didn't have to set anything up like a tent, and that regardless of the weather, I would have a comfortable bed each night.
The other thing to consider is BLM camping is almost always down a dirt road. Watch the weather, and pay close attention to the roads because some of them are truly terrible and it's not worth getting stuck in sand or popping a tire. If one spot doesn't work out, there is probably another one not too far away.
Food – $162: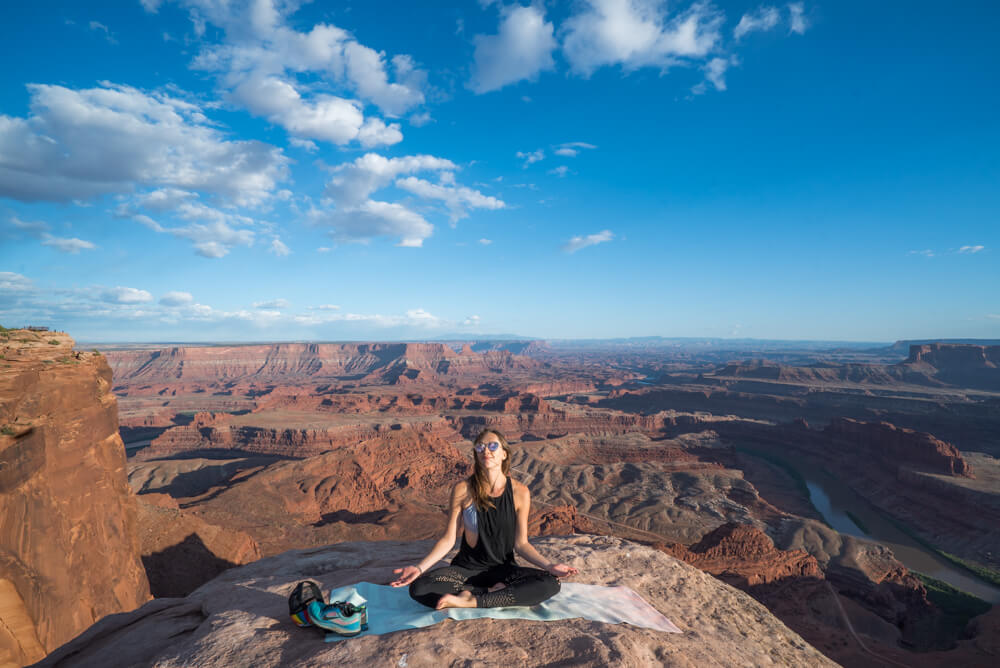 Restaurants and grocery stores in and around national parks tend to be more expensive, so if you can shop and plan ahead of time and have space for imperishables, do so in bigger towns.
I cooked all of the food that I ate during the camper van adventure as opposed to eating at restaurants. I loved being able to just pull up somewhere and look at the beautiful view while making dinner. In some cases I did pay more money for healthy and organic food at boutique grocery stores, but it wasn't much different than what I would pay back at home in California. For me, it was a moot point as food is a cost I would have anywhere.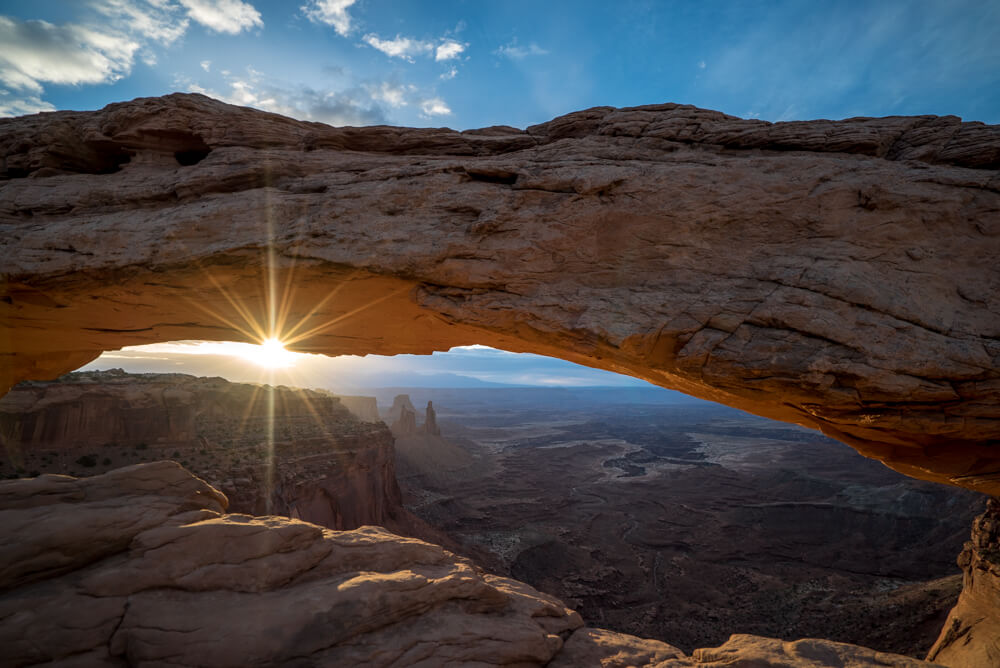 Give or take $1000 for a full van to do this trip, it's actually a fantastic deal, especially if you can get more than one person to join. The camper van that I had can actually sleep four!
The only thing I'm left wondering after doing this trip is why it took me so long to explore my own amazing back yard.
*Some of the activities and the van were provided to me at a media discount, however the post is adjusted to reflect the full price without discounts. All opinions are my own. Additionally, if you do book a camper van through my link, I will get a small commission at no extra cost whatsoever to you. Thanks for your support!