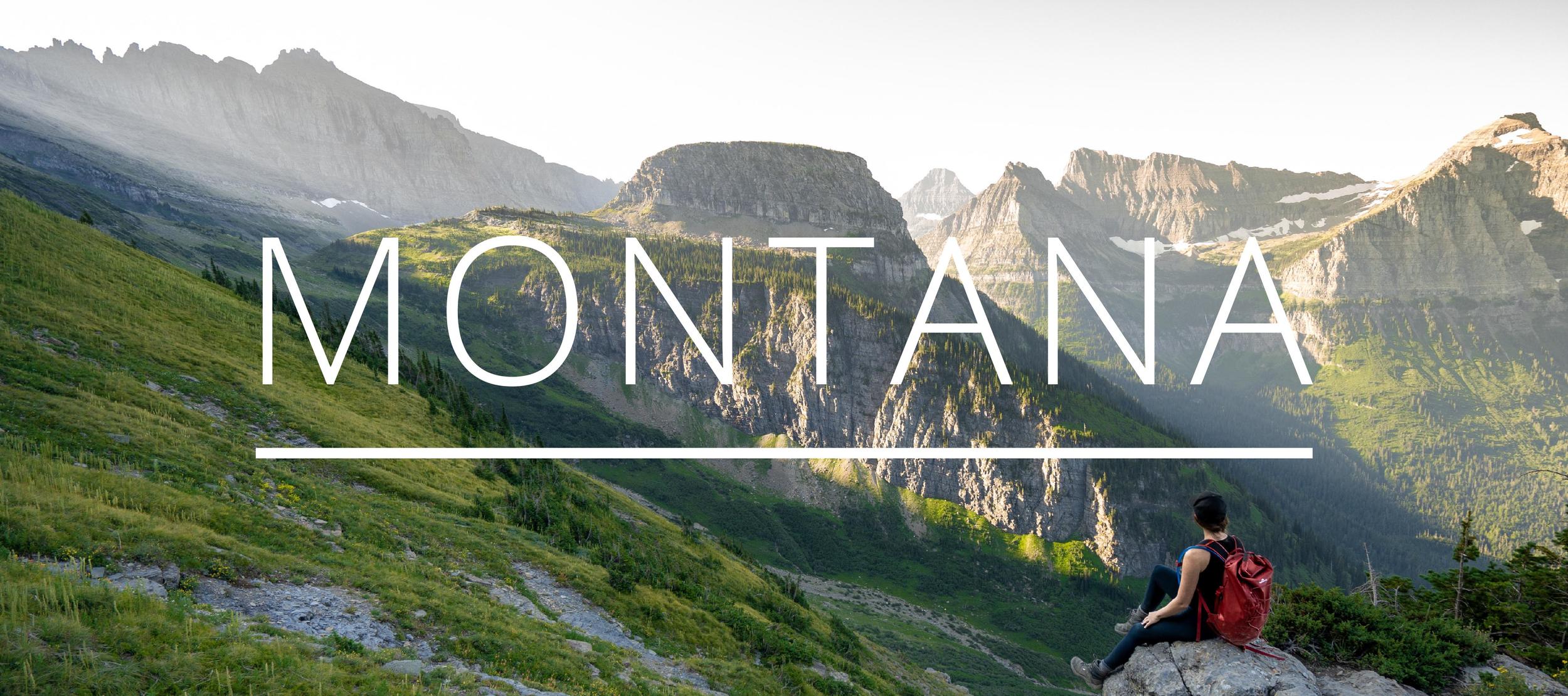 Montana is where the Wild West meets the big sky, glaciers, mountains galore, and scenery that is stunning in every season.
Full of National and state parks that are full of beautiful trails and adventures, Montana is a true American West experience. For outdoorsy types looking to see some of the best of the US, Montana delivers.
Where in Montana?

Montana
Accommodation
Budget Solo Travelers ($0 – $45): Free camping is available, as there is a lot of Bureau of Land Management (BLM) land that is owned by the public out in Montana.You may refer to this site to find options in the area you are traveling in. Hostels are really uncommon in Montana. Perhaps a better option is motels and inns, which cost about $30-$45 per night. 
Mid-range Solo Travelers ($54 and up): My favorite place to stay while in Montana was a well-equipped and spacious cabin in West Glacier Village, and there are over 300 Airbnbs to choose from! Mid-range hotels cost about $54-$70 per night. There are also some boutique hotels if you fancy a nicer room.
Transportation
Getting There: Montana is a big state. Some of the main airports are the Bozeman, Glacier Park and Missoula, with direct flights from cities all over the US as well as around the world available year-round. If you have time and enjoy long train rides, you can get to Montana from Seattle, Portland, and Chicago via Amtrak. A one-way train ride from Seattle to Montana costs $77. Greyhound offers bus rides from its neighboring cities. Driving into Montana from its neighboring states is generally fuss-free.
Getting Around: Montana is the 4th largest state in the US, and because the top attractions are mainly national parks, national monuments, and other natural areas, a car would be the best way to get around the state. It is also essential if you plan to get off the beaten path. At the airport and in the major cities, car rental agencies are widely available. Note that Montana is relatively rural, and the public transportation isn't what you'd expect to see in big cities, so allow plenty of time to get from one place to another. Uber is widely available and perfect for shorter trips
Food
Local Farmers Markets ($5 – $10): To save money, you can buy your own groceries at the local farmers markets and cook your own meals. Expect to find lots of fresh vegetables, cherries and huckleberries, both of which are Montana's specialties, along the roadside and during summer weekends in the towns in Montana. Otherwise, groceries cost about the same as they do in the rest of the US, dependent on the grocery store and whether or not you go for organic food.  
Local Restaurants & Bars ($7 – $25): There are plenty of great restaurants and bars to pick from! Some of the local favorites include Roadhouse Diner at the Great Falls, Buffalo Joe's Eatery & Saloon in Dupuyer, and Wandering Gringo Cafe at Columbia Falls. Expect to pay $7-25 for a full meal.
Things to Do
Lake McDonald: Lake McDonald is the largest and the most popular lake in Glacier National Park. It is characterized by its incredibly clear water, colorful rocks, and the mountains that frame it perfectly. Due to its popularity, I highly recommend Lake McDonald for sunrise or sunset for less crowds and more peaceful atmosphere.
Going to the Sun Road: This road is incredible in terms of views and the perfect way to see the park's main features. Wildlife is abundant, and during my visit, so were the wild flowers! Keep in mind that the road is also quite narrow, and can get very popular in the summertime. To avoid crowds, head there in the early AM or later afternoon. Note that it's closed in the winter.
Hidden Lake: Another popular spot in Glacier National Park, a way to ditch the crowds is to go after dark – it was the perfect spot for stargazing during my visit, and I had it almost all to myself! Glacier National Park is a dark sky park, so you can expect to see some insane Milky Way views, and if you are lucky enough, meteor showers!
Highline Trail: This was my favorite hike in Montana. The hike can begin at the loop or at Logan Pass. You can either hike it out and back, or go all the way to the loop and take a bus back. Keep in mind that the buses can be full in the summer and if you finish late, you might have to hitchhike back!
Spa Treatment in Whitefish: I was pleasantly surprised by the meditative side of Whitefish, Montana. It was the perfect place to be, after a few days of outdoor adventures in the national park. I did SaltBox Crystal Sound Bowl Meditation, as it is one of the few salt spas in the US. There are several other spa options available as well.
SUP on Whitefish Lake: With the water so clear and the sunset views so stunning, Whitefish Lake is perfect for stand up paddleboarding! Not a fan of SUP? The lake is also popular for fishing, kayaking and boating.
Bob Marshall Wilderness: Known by locals as the 'local' Glacier National Park, this wilderness area is only accessible by foot or horse, with over 2 million miles to explore.
Yellowstone: Yellowstone National Park's Montana side offers incredible wildlife sighting opportunities, beautiful hiking, and entry into one of the largest and most famous national parks in the US.
Arizona on BMTM's Instagram
This error message is only visible to WordPress admins
Error: Access Token for bemytravelmuse is not valid or has expired. Feed will not update.
There's an issue with the Instagram Access Token that you are using. Please obtain a new Access Token on the plugin's Settings page.
Error: Hashtag limit of 30 unique hashtags per week has been reached.
If you need to display more than 30 hashtag feeds on your site, consider connecting an additional business account from a separate Instagram and Facebook account.