When I breathed in I could feel the crisp air tightening and freezing around my nostrils. Sorry for talking about nostrils but this is always my telltale sign for when the weather is really, seriously cold. Anyone who is been in temperatures below -15°F knows exactly what I mean, right?
I had just been dropped off at the visitor center in Jackson, Wyoming, while the friend I was traveling with went off to ski for the day. There's no way I could be so close to the Tetons and not spend the day in the park, so I intended to set off and explore it myself.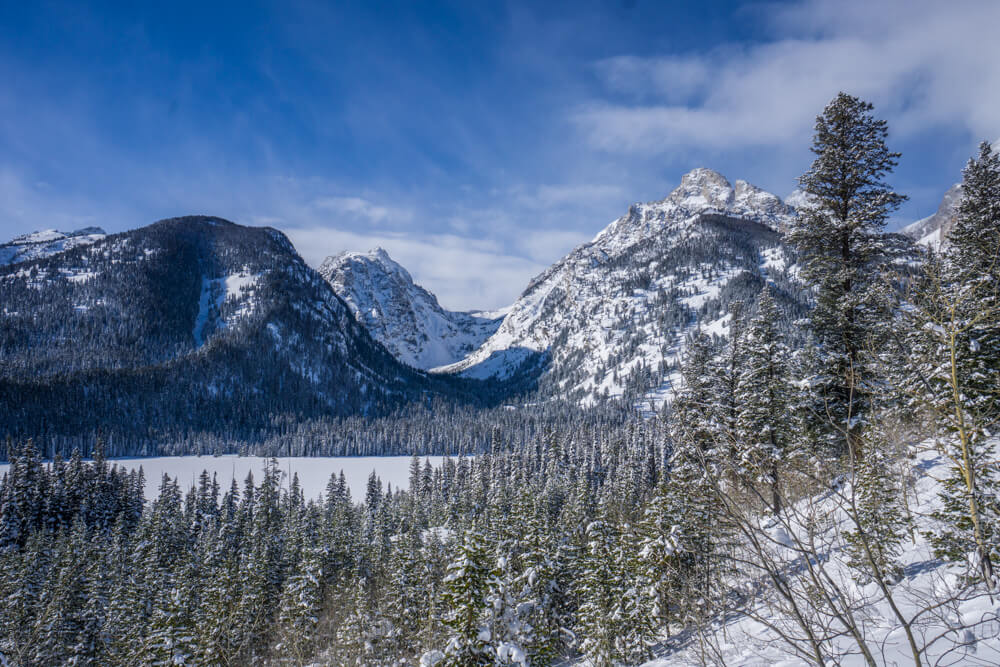 "There's no bus to the park from town," the lady behind the desk told me matter-of-factly.
I was crestfallen. My ride had already left and I didn't feel right about asking him to turn around and take me to the park, but at the same time how can you be so close to Grand Teton National Park and not go in?
"But you could hitchhike," offered the woman to her left, swiveling around in her chair.
"Great, perfect, excellent!" I responded, already practically halfway out the door, running to the mountaineering shop to rent some snowshoes and get on my way.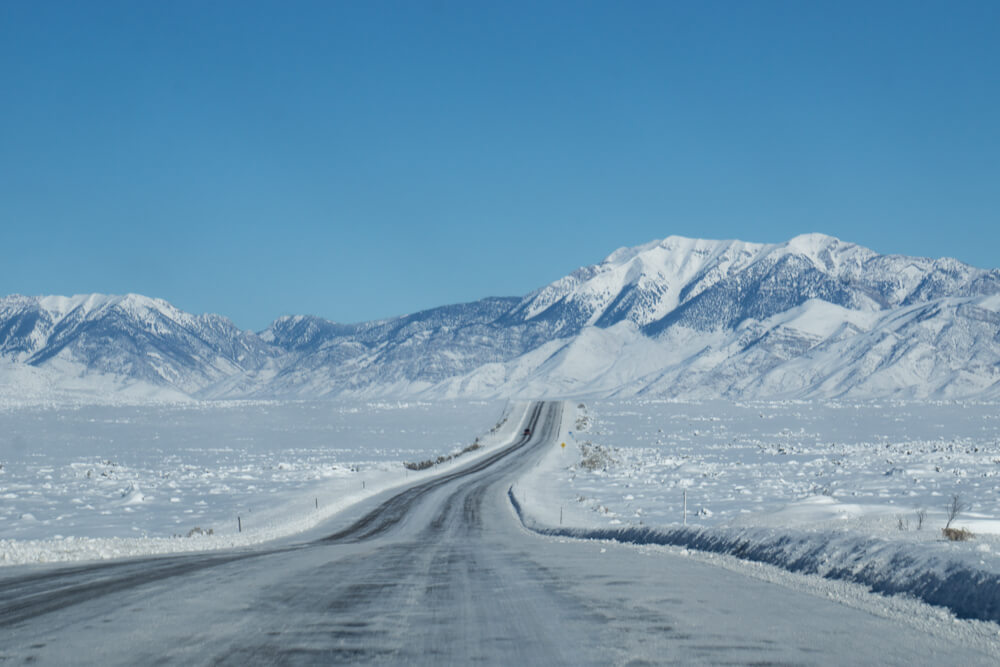 Hitchhiking had served me on every other continent (in Patagonia, China, even Mozambique), might as will give it a try in my home country.
Snowshoes in hand, it took all of five minutes standing on the roadside with my thumb in the frigid air to get a lift.
It was Roger, an elderly man in a red pick up truck who told me he's a retired state trooper. You couldn't ask for a better lift than that!
He would be driving out of his way by about 8 miles to take me to the trailhead, which he was happy to do. Nothing else on the docket for the day, he said.
We travel down the icy roads talking about the property he just bought and the trouble that heaters were giving him. When we came to the park entrance he handed over his season park pass and got me in for free, which escalated him to one of the best rides ever, and then we shook hands and I went on my way.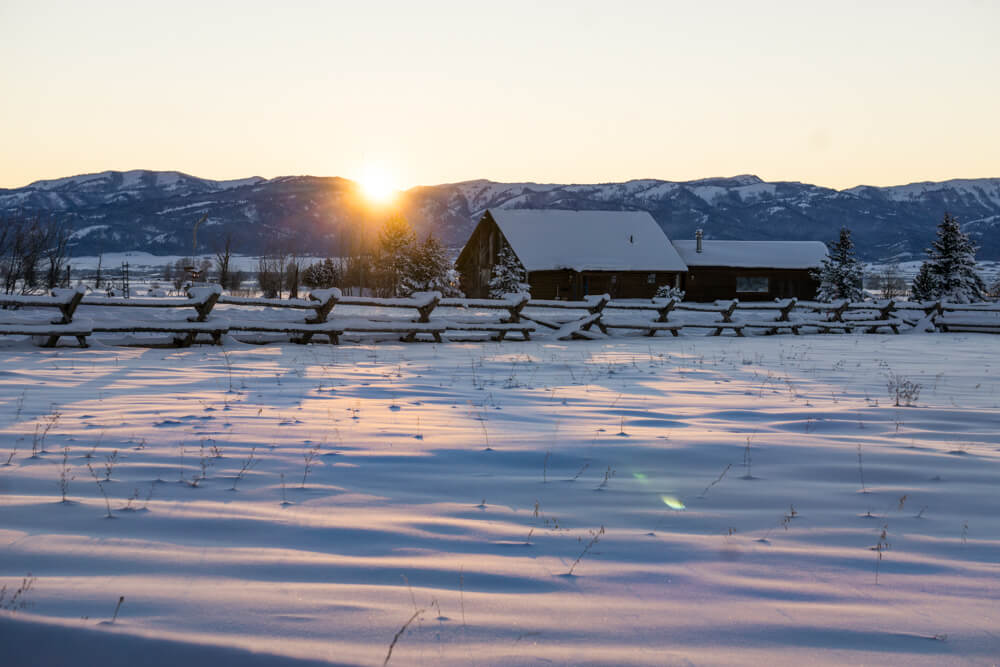 Tetons National Park was stunning on that crisp winter day, blanketed in white. The sun was shining and the sky was snowbird blue – perfect for snowshoeing.
The way that the sun caught a little tufts of snow as they fell down, pushed by little birds in the trees, made it look like pixie dust was falling down all around me. It was completely silent, perfection, really.
Every now and then I had to pause and look through the trees at the dramatic mountain formations, inching through the knee-deep powder, which looked a lot like meringue on top of a pie.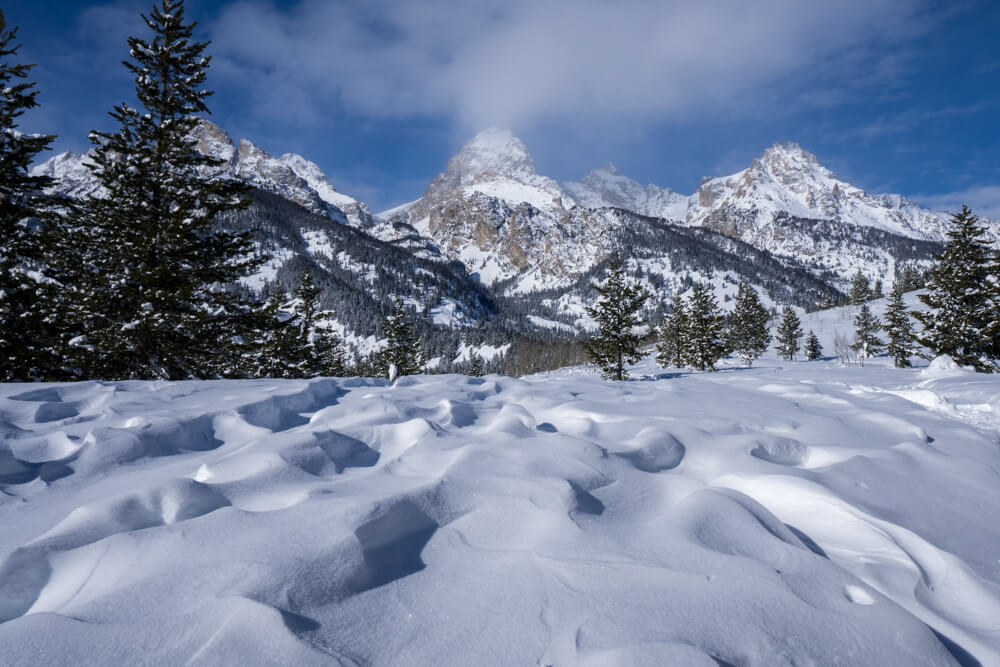 At this point in the winter, most of the park is only reachable by cross country ski or snowshoe. I strapped mine on and just kept going and going up and up.
I couldn't have designed it better myself, the Grand Tetons National Park is a sight to behold.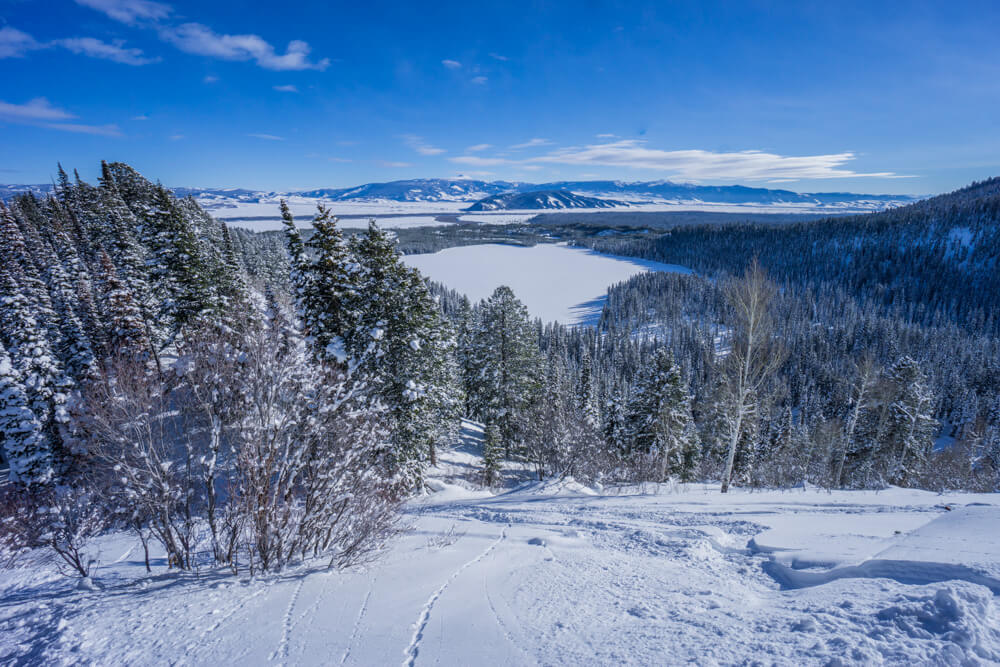 I started to worry that it had been at least an hour and a half since I had seen any people. The silence was lovely, yes, but I had to hope that it was possible to catch a ride back into town.
I came back to the parking lot and as a few people passed me on the trail I gingerly asked if they had any room in their car and if they were heading to town.
"Sure! Come on in, we got a space for you!" they replied.
How lovely!
On the ride back they mentioned they had seen moose in the morning and without any expectations or even the slightest thought, I exclaimed that I've been dying to see one.
"Guys, do you mind if we just make a little pitstop then?" The driver, mother to one in the car and aunt to the other, asked the boys in the car.
Of course they didn't mind, so we made our way for where they had seen some moose earlier in the morning and lucky me, there was a bull, chilling under a tree.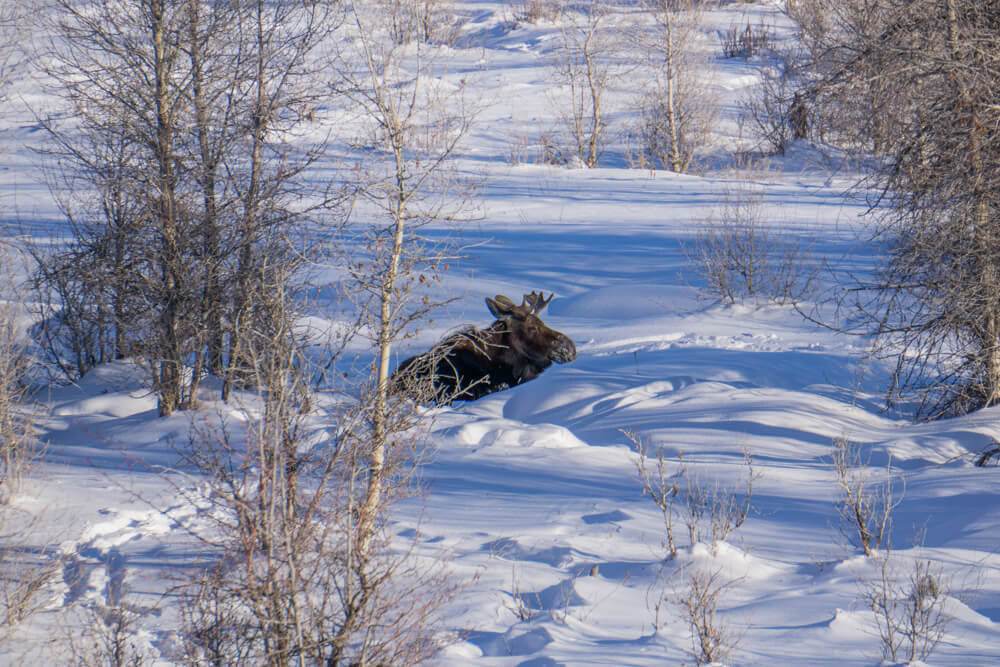 I'm grateful there was no bus, because just like every other time I've stood with my thumb up on the side of the road, I'm taught again that people are good, that random acts of kindness are not that random, and that regardless of where you are in the world, beautifully unconventional things can and do happen.