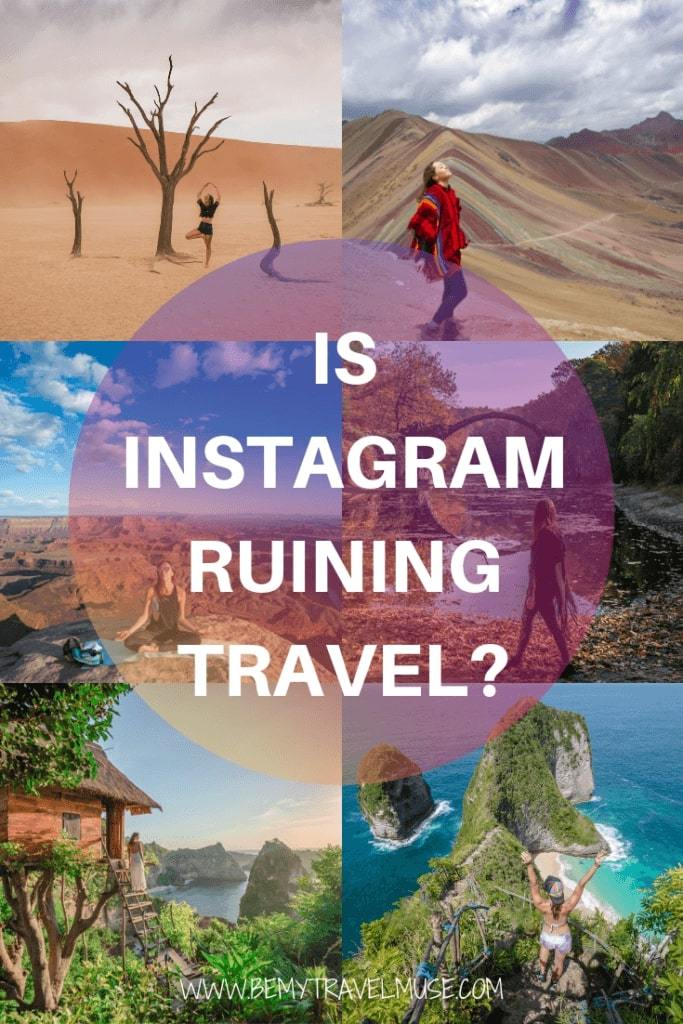 Is Instagram ruining the places we love? Is it taking away the richness, randomness, and original intent of travel? If you didn't get a thousand likes as a result of your post, does it even matter that you went?
Instagram has been credited with contributing to overtourism, narcissism, and a growing trend of fake and staged vacation shots. Are these claims legitimate? Let's investigate.
A Platform for Art
Instagram's original mission statement is to capture and share the world's moments. In a 2017 interview with Instagram's co-founder (who resigned a few months ago, by the way), he claimed that nothing has changed about the app, since we still use it on our phones, just like we always did.
I beg to differ, Kevin.
Instagram used to be about a genuine love for sharing what we experience. Lately it has become about faking it to make it.
Changing the Nature of Photography
Writing will always be my original love, but photography has become my favorite form of self-expression over the years.
I have photography to thank for pushing me to farther places, higher summits, more remote corners of the earth, and for helping me to fall in love with the night sky.
There's no way I would have woken up in the middle of the night multiple times to drive for several hours just to catch the early morning light if not for my love of photography. I didn't have any particular interest in the Moon cycles back then, and while I enjoyed the sunset, I didn't make it a point to see it nearly as often as I do now.
View this post on Instagram
My love for photography motivated me to come up with my own style of expressing what I see in the world, it has made me more confident with myself, my body, and has even empowered me to become an entrepreneur.
This medium is beautiful, and captivating, and I am so glad that cameras are becoming more accessible, that more people are taking an interest, and that a profession that once meant barely scraping by is the next rockstar dream job. Who knew? Six years ago, this was practically unthinkable but now, people make a living off of one little app: Instagram.
The Good
Instagram has given creatives a platform for sharing our work that doesn't require that we have agents or photography degrees. We can put forth our art and let the public decide how they feel about it, at least that's the idea, but it's not how it's been in practice. After all, we can't have nice things.
I used to find Instagram to be inspiring. It's how I learned about freediving with whales, the Salinas de Maras in Peru, which greatly influenced the itinerary for my first group trip to Peru, Lavertezzo in Switzerland, Saxon Switzerland, and probably countless other trips I forgot were originally inspired by Instagram. The same is true for you, right?
View this post on Instagram

But something changed. I can't pinpoint when it happened, but at some point opening my feed only made me feel worse and worse.
Is this an art form, or is it a series of staged photos, food spreads that will just get thrown away after the photo shoot, and a shortcut to try to get freebies? Are we bartering our self-esteem for likes? Are we hedging our art for the possibility of 15 minutes of fame? Are we throwing ourselves on the mercy of the algorithm for our sense of worth?
The Bad
A recent study called #StatusOfMind by the Royal Society for Public Health and the Young Health Movement in the UK has shown that anxiety and depression has increased by 70% in young people over the past 25 years. That's massive when you consider that over 90% of 16-24 year olds are active on social media.
The report includes "a table of social media platforms according to their impact on young people's mental health. YouTube topped the table as the most positive, with Instagram and Snapchat coming out as the most detrimental to young people's mental health and wellbeing."
View this post on Instagram
A deeper look into the report shows increased stress over body image, fear of missing out, cyberbullying, with no real action taken, a decrease in sleep, and an increase in anxiety and depression.
How did we get here? Well, anytime something is good, it will eventually become too good to be true. People will always find a way to exploit it.
How can you appear more popular than you are? Join groups of people who agree to comment on each other's posts in order to trick the algorithm into pushing yours up (AKA comment pods). Want to grow quickly? How many loop giveaways do you see on the feed these days? Have you heard of a super like – where you can pay big influencers to like your posts so that you look like you're in the inner circle? What about courses on becoming a success on Instagram that scam people out of $500 a pop, coming from someone who bought followers?
A study by anti-fraud company Sway Ops estimates a single day's worth of posts tagged #sponsored or #ad on Instagram contained over 50 percent fake engagements. They also "found that out of 2,000 posts, an average of only 36 sponsored posts made per day contained no Instagram pod activity, fake comments, fake likes or uneven ratios of bot followers to engagements". Whoa.
Is this art anymore?
The Ugly
I find myself yearning again for how traveling used to be. Gosh it's not that long ago, but the landscape of travel has completely changed since Instagram came out and influencers started to appear.
I slept in $2-5/night dorms for almost 2 years, took the cheap way everywhere, and never really imagined pitching fancy hotels in exchange for likes. I'm so glad that I got to experience this before the dawn of Instagram. The Wi-Fi was bad, people sometimes took pictures with their phones, Snapchat didn't exist, and Instagram stories didn't either.
Back then traveling seemed to have a different quality. It was about getting lost, it was about seeing how far you could go on a dollar, it was about taking the local cargo ferries and passing your glasses around while sitting for nearly 24 hours on hard wooden benches. I didn't care about getting the 'gram, I just cared about going one more day.
But lately places have been getting overwhelmed with overtourism. People seem to want to go to all of the same places and take the same pictures. How many times have you seen Cappadocia, a riad in Morocco, or the flamingos in Aruba?
I'm not immune. I go places specifically because I want to get the photo that I think people will love on Instagram. It's why I went to the treehouse in Nusa Penida. Sure, I wanted to see it for myself, but I also knew it would blow up on Instagram. Is that what Kristin six years ago would've done? Who even am I?
View this post on Instagram
Now I find myself refreshing to see if there are more likes. On the days that a photo of mine blows up, I'm like, this is great! People like me! On the days that it doesn't, to be honest I'm crushed:
View this post on Instagram
I know it's not just me who feels this way, social media is designed to keep us craving this approval, coming back for more for the possibility of more likes.
But lately the algorithm has changed again, and barely anyone sees what I post anymore. I never joined any comment pods so I don't have a way of pushing up my engagement, and I honestly don't want to. I don't want it to be fake. But sometimes I wonder, is my art worthless now? Do people not like it anymore? I put so much into this app and building this account. So much effort, and literally blood sweat and tears, who am I if I don't do this anymore?
It's not a style anymore but a way of life. We are buying our self-worth and the currency is likes.
I Just want this Bubble to Burst
Maybe it sounds insane to want something to disappear that I put so much work and effort into, but I feel like Instagram completely changed the way we travel and share, and not for the better. It also impacts the way we feel about ourselves. My self-esteem rises and falls with likes and I know I'm not the only one. It's designed that way, and it's an evil monster we're all complicit in feeding.
For my part, I'm not sure what to do. But I'm taking a break for a little while. I want to evaluate how I come across with everything that I put out there, including the blog, videos, everything. I don't want it to be about the likes, I want it to be about the gift itself. Because caring about the social media engagement, a fake algorithm that I'm comparing myself to, has been a recipe for self doubt and stress, and that's not why I got into this.
I didn't get into this to ruin the places that I care about. I didn't get into it to ruin an art medium that I love, and still want to share as a form of self expression.
I still think that photography is a beautiful way of sharing how we see the world. I didn't do it to copy anyone else. I did it because I love it. I still want to share that love and I still want to teach other people how to make the medium their own – how to take command of how they portray themselves and draw the same worth out of it that I once did, and still do, when I forget about the likes and focus on the art.
I'll see you guys in 2019. For now, I just want to put down my phone, and find the love of the art again.
What do you think? Are you over Instagram?