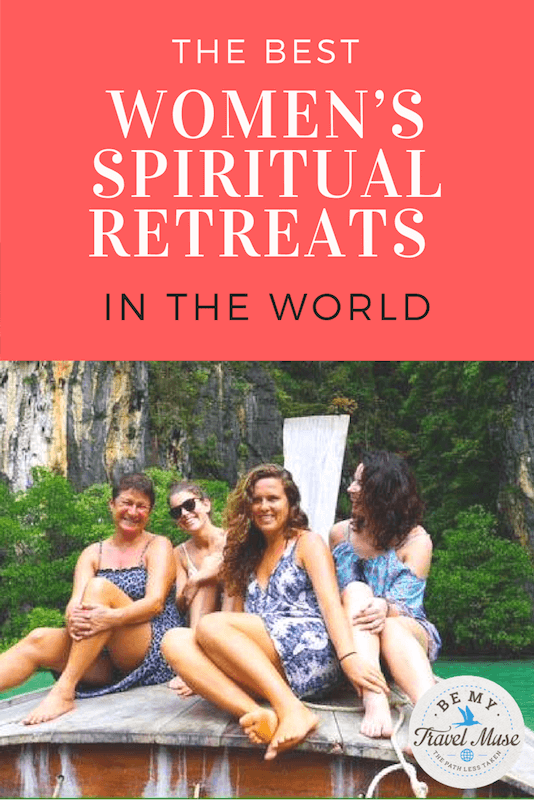 Spiritual travel has become an important part of my mix when I'm out on the move. Being outdoors is awesome, dancing the night away is wonderful too, but it's those places that leave a lasting impression, change you a little bit for the better, and open your mind that can really be the ones to make the benefits of a vacation last a lifetime.
If my experiences around the world have taught me anything, it's that spiritual travel occurs in many forms, from meditation retreats, to festivals, to places you never even expected.
For this post I have teamed up with Camille Willemain from This American Girl to share a few of our favorite spiritual travel experiences from around the world that are perfect for female travelers:
Camille's Suggests: The Tantric Way – Isla de Ometepe, Nicaragua
Ready to feel more empowered, authentic, and fearless than you've ever felt in your life? Don't be put off by the word "tantra," this is not your stereotypical spiritual sex get together. Rather, the Tantric Way is a deeply transformative journey for facing your own shadow, deconditioning shame, approaching relationships consciously, and learning to collaborate in community.
It digs into the true essence of tantra, weaving together Osho meditations, dance exploration, breathwork, sharing exercises, and so much more. This three week immersion is not for the faint of heart, but it will undoubtedly change you. Courses take place at Isla de Ometepe, Nicaragua. Find more on them here. 
Kristin suggests: Wat Suan Mokkh 10 day silent meditation retreat – Chaiya, Thailand
This meditation retreat is rooted in Buddhism and is centered around silent meditation. It lasts for 10 days, includes basic accommodation on the concrete bed with the mosquito net, and vegetarian meals for a donation of 1000 Thai baht (about $60). The meditation manly takes place in the sand meditation hall and in the coconut forest around the retreat grounds.
It occurs every month at the end of the month and when I went on New Year's Eve, I found that it was an amazing way to ring in 2013. I won't sugarcoat it, this type of retreat is tough. It shows you all of the things you need to work on and how to deal with the things that come up in your own mind. It's also an incredibly effective exercise in learning how to deal with negative thoughts and emotions. Ready for a challenge? Go in with an open mind and an open heart and you may be amazed at the results.
Camille's Retreat: Jungle Goddess in Costa Rica and Koh Yao Noi, Thailand
Jungle Goddess Retreats, created and led by yours truly, are an invitation to awaken your wild, expressive, playful, joyful inner child. I created these unconventional retreats from the belief that yoga and meditation are only part of the transformation journey. Through my own experiences traveling the world, I know that connecting with foreign places can be the most profoundly healing thing of all.
These retreats offer a one of a kind opportunity to experience the magic of a destination, look deep within yourself, and develop genuine sisterhood. It's like if the deepest ceremony and the most fantastic vacation came together and had a baby. Expect nature adventures, connection with local culture, deep and playful yoga, ecstatic dance, women's circles, authentic intimacy, and a tremendous amount of love. The next Jungle Goddess retreat takes place February 24th – March 3rd, 2017 in Krabi, Thailand, on a hidden gem of an island. 
The Rest is a farm in Neiu Bethesda located in the Karoo in South Africa. I stayed there years ago and it wasn't just the profound silence and quietness of the bush have made an impact, there was just something special about The Rest as a spiritual place, in addition to Paula who was building a center for workshops at the time. She has a background in dance therapy and though she took over her parents farm several years ago, she never lost her love of helping people to grow and find their highest selves. Now she has combined the two by hosting retreats in a little round building on her farm with an open roof that was bilt by hand using materials that naturally occur on the farm. Check out more about the retreats here. I highly suggest making it part of your South Africa road trip!
Run Like a Girl – Costa Rica
Adventure junkies, nature lovers, and trail runners, listen up! If you want to experience nature untouched by most humans, challenge yourself mentally, physically, and emotionally, and bond with a like minded group of people, Run Like a Girl is right up your alley. Located in stunning, sacred, nature sites, these retreats make off the beaten path travel accessible. Trek the Inca trail in the Sacred Valley of Peru next Fall or visit their hidden secret Chakra Lodge up in the mountains of Costa Rica for yoga and nature adventures. You can count on unforgettable scenery, empowering physical challenge, loving support from the team, deep personal growth, and local knowledge. Find more here. 
Kristin suggests: Burning man – Black rock city Nevada
Though Burning Man is many things, it is principally an arts festival that is created by the participants. It's all about radical self reliance and radical self expression. Everything that you will use in the desert, from showers to food has to be brought in by you. This allows for some amazing creativity by the attendees, and includes musical acts as well as workshops that are sure to change you if you let them. I always say, after attending the last five Burns, that it is whatever you want it to be and whatever need it to be and more.
Camille Suggests: Soul Seed Gathering – Lake Atitlan Guatemala
When women come together and share their wisdom, powerful healing unfolds. This is the idea behind Soul Seed Gathering, a collective festival for women at various locations around the world. Though Soul Seed Gathering is far from your typical festival. Consider it a gathering point for women from around the world to participate in sacred ceremonies, practice yoga, eat nourishing food, be immersed in nature, learn from powerful native traditions, and weave together their unique individual gifts. The next Soul Seed Gathering will take place at the end of January 2017 at the stunning Lake Atitlan, Guatemala. Get more info here.
With all of the varied options out there in all corners of the world, plus more and more women traveling solo and looking for immersive and growth-promoting experiences, spiritual retreats catering to women can be found on just about every continent. Do any of these tempt you? Have you found a retreat abroad that you loved?