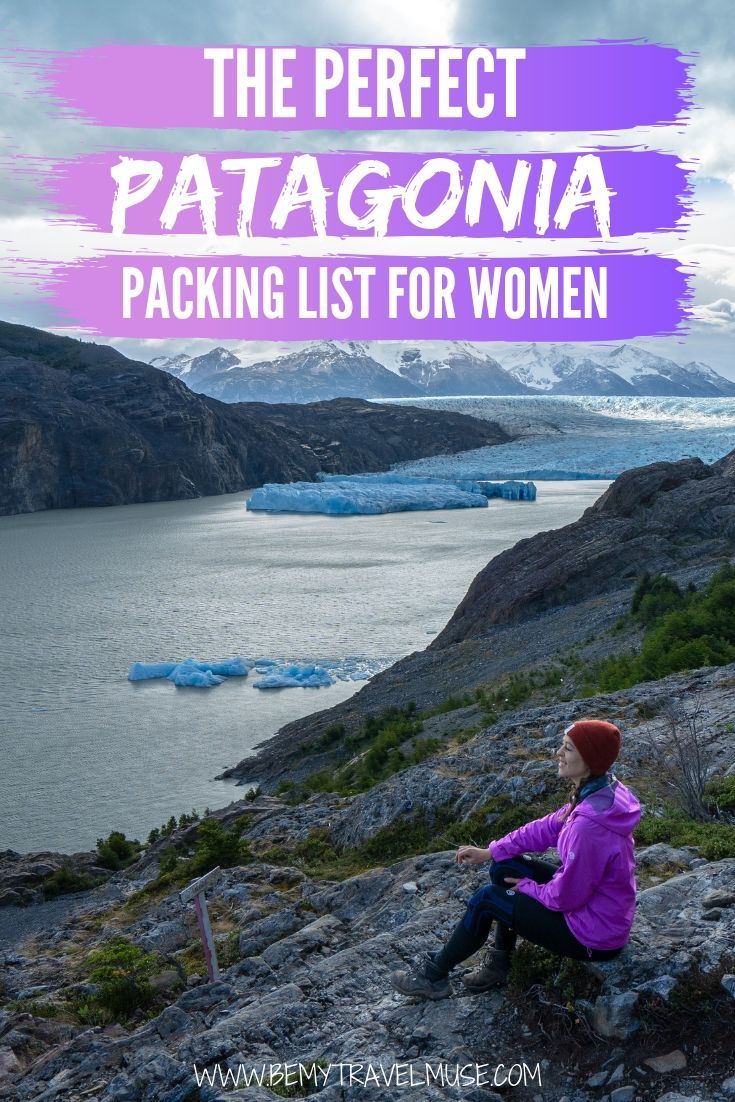 So you've decided to go on the trip of a lifetime to Patagonia – good choice, you won't be disappointed! Maybe you've heard a thing or two about the weather? About how it's pretty intense and unpredictable?
Not to worry! I've got you totally covered with this packing list and the best part is it doesn't cost a fortune:
Here's what's on my Patagonia Packing List:
3 pairs of leggings (I brought dark ones, I wish I'd gone the patterned route. Don't make the same mistake that I did)
1 old hoodie for nighttime wear and under your jacket for when it's really cold
A couple of sports bras, and enough undies for a week
Toiletries – the usual shampoo, face wash, deodorant, and conditioner, knowing that you can refill things like soap and Pantene on the road.
Travel Insurance – Don't hike without insuring yourself!

Click on this kit for easy shopping!

That's my basic packing list, though we need to talk about backpacks and other essentials, too! First, let's talk about what kind of weather to expect:

Weather

Wind, clouds, glaciers, it's what Patagonia is all about!

I did not understand nor fully appreciate how truly, certifiably, insane the weather can be in Patagonia until I experienced it for myself. I had been told that the wind is so strong there that it can push you over, and I had even seen photos of people leaning into the wind. I still didn't fully understand that it *actually* happens, and often.

The best way to deal with this is by crouching down to the ground if it gets super strong, using hiking poles to stabilize yourself if it's light enough to keep hiking in, lining your backpack with trash bags instead of using rain covers, which will just blow off, and using rocks to tie your tent down in addition to the stakes.

It rains a lot in Patagonia too, which is totally fine, as long as you're prepared for it with the waterproof gear mentioned in the list above.

This is also why there were so many rainbows all the time. It's the reason why the clouds are so unique and interesting there as well. If you have the right stuff for the weather you can actually enjoy it, but if not you could be miserable.

Backpacks: 

Bring the right pack along

When considering the size you need, evaluate if you'll need to put a tent, sleeping bag, and food inside. If you're on a trail like the W or O in Torres del Paine and your tent is already set up for you, then you don't need much more than a 35L backpack for your water, camera, and personal items. However if you're backpacking for multiple days and bringing all of your own food and equipment, you'll need something closer to 70L. Check out my backpacking checklist or click the image below:




Go to a store that allows you to try the packs on with weight in them (I like REI in the US), or if that's not available to you, order multiple bags online and return within the time window. Something like this bag is perfect for hiking and for traveling. If you want more options, I have a list here of the best multi-day hiking backpacks on the market.

Also keep in mind that if you do overnight hikes, you'll want to be able to store whatever you're not bringing with you in town. Most places understand and are happy to store bags, as long as you stay with them before and after your hike. For this I'd bring a duffle bag that folds down easily in your backpack.

Shoes:

Trust me, you'll want serious boots

I strongly suggest going for waterproof, at least ankle-high hiking boots meant for rocky terrain if you plan to hike while in Patagonia (and you should!)

When hiking in the past, I've often just used the same shoes I would wear in the gym, but in Patagonia, I was glad every single day that I brought hiking boots.

There were many times when I trudged through mud that was ankle deep, walked through running water, and climbed on sharp and jagged rocks. Such is the terrain in Patagonia and waterproof boots with some real tread are the safest and most logical option for that kind of hiking. I highly recommend these boots – they're cute and waterproof, with good tread, ankle support, and they're meant to keep your feet warm in cold climates!

Clothing:

Pack as light as you can manage

This is where I always spend less in my travel wardrobe, because travel clothes are loved hard and die quickly.

For hiking shirts, I still had some of my ski underwear, basically thermal shirts and long johns, with me from skiing and they actually came in really handy in Patagonia. It was supposed to be summer there but it is cold next to glaciers and we got snow at the end, too (which was actually really wonderful.)

Otherwise, it was mostly leggings for hiking that I didn't care about because those rocks are sharp and jagged and will tear everything. I also brought a couple of tunic dresses that I could put over leggings for wanting-to-look-nice situations. Otherwise it was mostly utility since my Patagonia trip was about the great outdoors (I'm guessing yours is, too).

That's what's in my backpack for Patagonia, and I was super happy with all of the products that I brought along. I stayed comfortable even when it was raining and windy, and was able to enjoy two full months of hiking and playing in the wilderness in Patagonia.

Pin me!

*Some links in this post are affiliate links. Any purchase you make supports this site at no extra cost to you. Happy hiking!