As Patagonia pops up on the radar of more travelers, the once unknown parts get uncovered and the wild places become just a bit less wild.
But there's one route that fewer people know about, with gravel roads, a rural way of life, and some of the most impressive glaciers and mountain tops on planet Earth.
I'm speaking of the Carretera Austral in Chilean Patagonia, Ruta 7, a road that not many travel down and yet it's one of the best adventures in Patagonia.
I traveled all along this 1240km (≈770-mile) road for two weeks, stopping to hike and explore the glaciers, painted mountains, and marble caves. These are some important tips to prepare for your trip, and the best things to do and see all along the Carretera Austral:
Things to Know About the Carretera Austral Before You Go:
Driving Conditions: Much of the road is gravel, however there is construction going on at any given time. This probably isn't the best route to take if you're on a time crunch, as it can be slow going at times.
Weather can be unpredictable, as is the case in all of Patagonia, so plan on heavy wind, rain, potentially warm weather, and everything in between.
Packing: For my full Patagonia packing list, click here. If you plan on hiking in Patagonia (which I hope you are, it's amazing!) here are some important things to know.
Remoteness: This part of Chile is quite rural. It was only in the 80s that this route was completed, connecting towns that were previously only reachable by boat. Wi-Fi is limited as are grocery stores. If you have a car and wish to cook, which is possible in most refugios, go shopping in Puerto Montt before you take off. Most of what you will find along the route are small shops with avocados, bread, tomatoes, onions, some preserved meats and cheeses, and pasta. Otherwise, lamb (that famous Cordero Patagonico cooked on a spit) and steak are typically on offer in the towns. Know that if you are driving in from Argentina, you will not be able to bring any produce, meat, or animal products in with you. They take this quite seriously at the borders.
Accommodation: While hotels and refugios are comfortable, don't expect anything too fancy and make peace with the fact that in some towns, you won't be able to book until you arrive. They run anywhere from $20-$100 per night. There is camping available all along the route. In towns expect to pay between $5-$10 per night with access to a shower and kitchen. Free camping is also an option along the route.
Espanol: This trip will be much easier if you can speak at least a little bit of Spanish. For the most part, the locals along the way will not speak English. I found this was true in much of Patagonia and South America in general, which is great, as it provides an opportunity to learn!
Modes of Transport on the Carretera Austral: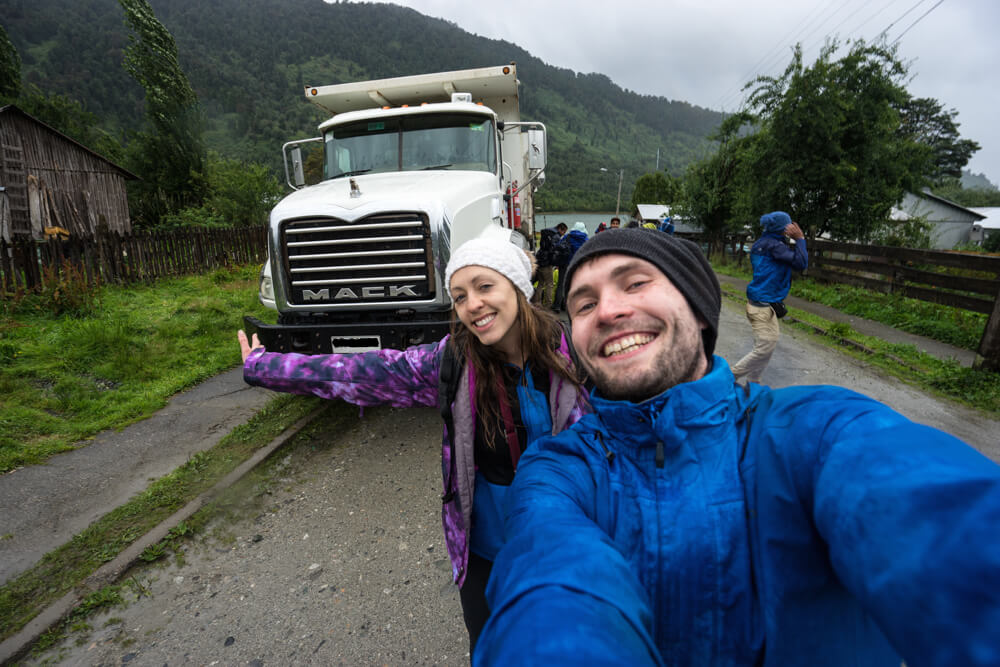 Car rentals: Most tourists who travel along the Carretera Austral choose to rent a car, picking up in Puerto Montt, or Coyhaique if you're short on time, and dropping off at their chosen end point. You will of course have to pay for the privilege of not returning the car to where you got it, but it will save you considerable time. While the most expensive, this is by far the most convenient option.
Buses: There are buses that run along the route, however they are infrequent and will often fill up in the previous destination, meaning they do not stop in the next town. Most buses only run a few times or just once per week.
Hitchhiking: This is how I traveled along the Carretera a few years ago. This is actually a right of passage for young Chilenos and you'll see plenty of hitchhikers along the road regardless of which mode of transport you choose. If you happen to have a car, consider giving a few rides, it's a very common thing to do in Patagonia. You can read more about my hitchhiking tips here.
Bicycle: Ready for a challenge on this mountainous, gravel road? If you choose to go this route, make sure your bike is ready to handle the rough roads and that you're happy to cycle in all kinds of weather. Hats off to you, this is a true adventure!
The Perfect Carretera Austral Itinerary:
Puerto Montt: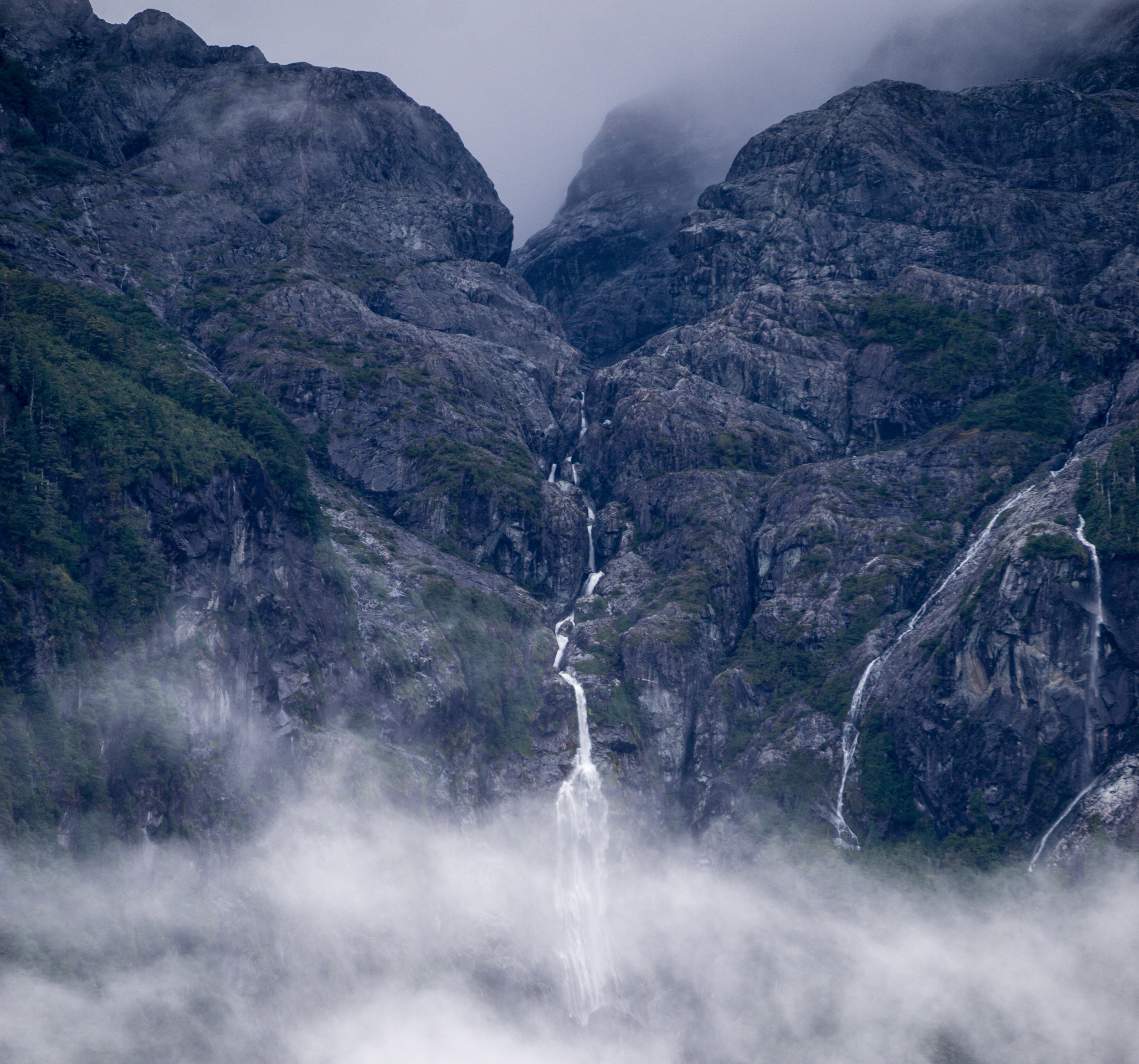 Most Carretera trips begin in Puerto Montt, which is a surprisingly dangerous city without many redeemable qualities to it. However this is where you'll catch the ferry to Chaiten, which is the jumping off point for a few impressive national parks.
The ferry ride itself is stunning. Make sure you bundle up because you'll want to be out on the decks enjoying this one as you pass through the many fjords and waterfalls on the way. The journey takes about 10-12 hours and you'll want to show up plenty early to board – give it at least an hour.
Companies that offer this passage change from year to year and it's possible to show up to the port/bus station and buy the ticket the day before you go, which is what I did. If you'd rather book ahead of time, you can do so here.
Chaitén: Pumalín Park and Corcovado National Park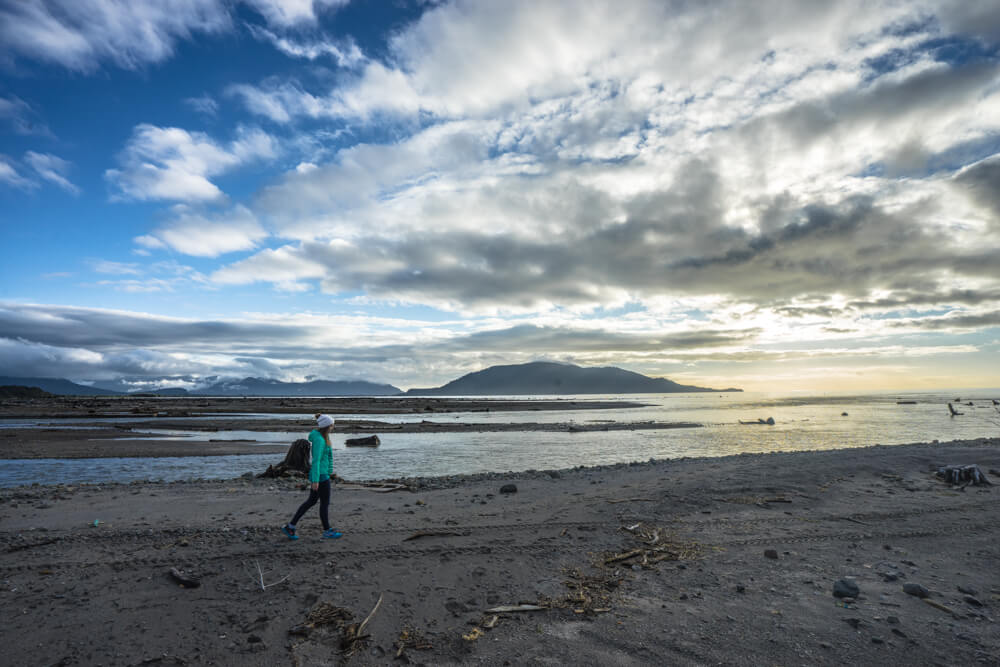 After the ferry, you'll end up in Chaitén, a town that was all but destroyed by a volcano in 2008. While everyone survived, as the town was evacuated in time, the evidence is still everywhere from the beach covered in volcanic ash to the houses still partially buried by the mud and debris.
While the town is quaint and cute, the main things to see are outside of it. I regret that I didn't explore Pumalín and Corcovado, as the locals expressed that both were lovely. If you have a car and some time, then be sure to walk through the temperate rain forests and marvel at the moss-covered trees. Both parks have camping and cabin options. Additionally, you can hike the Chaitén volcano, which is a steep but short climb that can be done in a few hours' time.
Futaleufú
Futaleufú is the rafting capital of Patagonia. Though it's about a 2 hour+ deviation from the Carretera Austral, it's worth stopping by if you're looking for an adrenaline rush. Join a one day rafting adventure, or join a hiking tour that takes you to stay in a dreamy looking treehouse. I wish I'd done this last time I went!
Puyuhuapi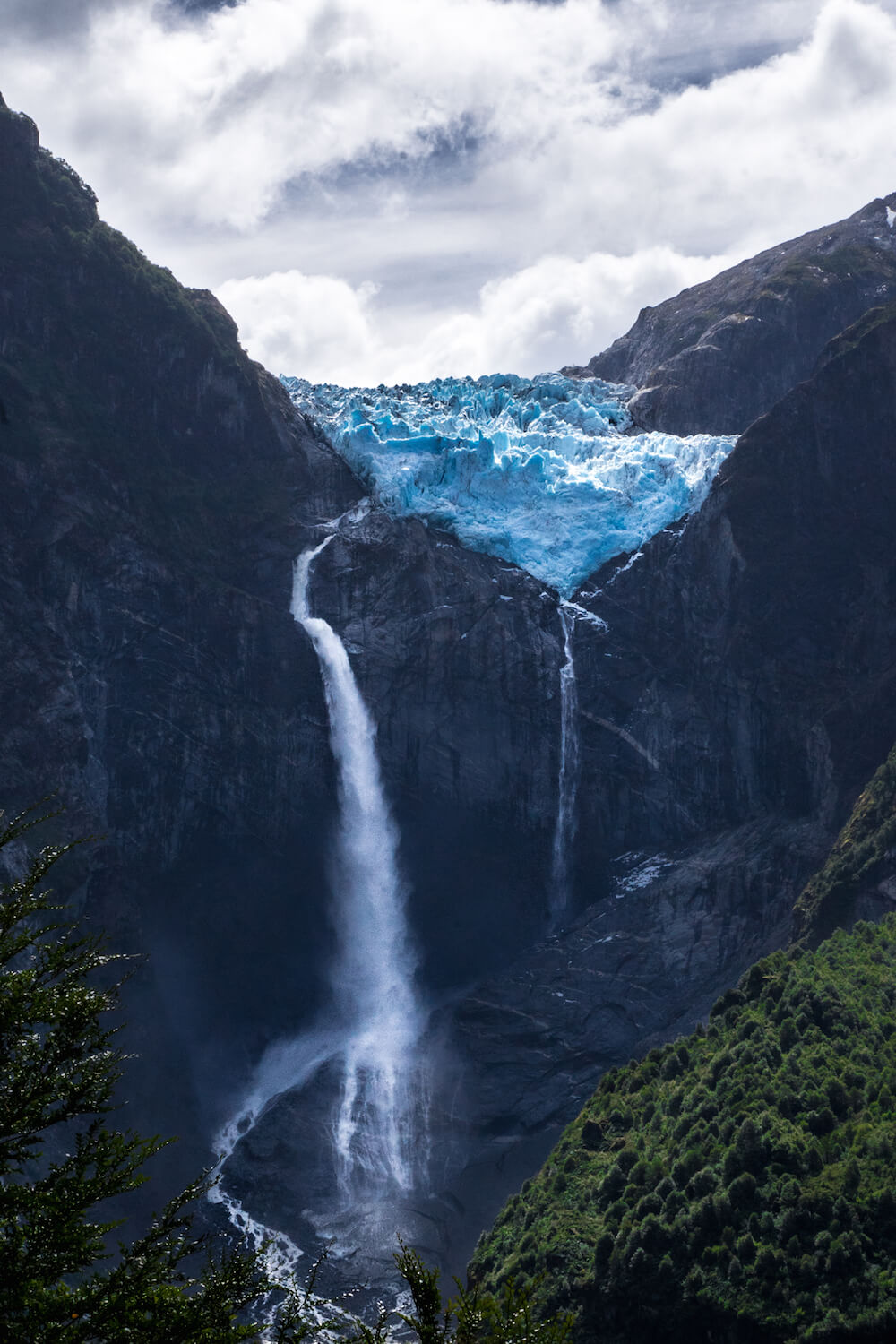 This was my favorite stop on the Carretera, though I loved almost all of them, mostly because of its picturesque location on a lake, which is perfect for sunset, and of course, the Queulat hanging glacier.
The higher walk to the glacier viewpoint at Queulat National Park is a fairly easy hike over a hanging bridge and through what will most likely be a quite muddy, however magical and mossy, forest. The viewpoint at the end is the cherry on top as you view the amazing hanging glacier. There's a lower walk as well that takes you to a farther viewpoint, which is perfect for lunch and a good place to catch the boat through the lake to get a closer look at the glacier, if you fancy it.
Without transport, you'll have to hitchhike to the park, but it's worth the hassle.
I recommend spending at least a couple of days in Puyuhuapi before moving on. It's so calm and quiet, I just adored it.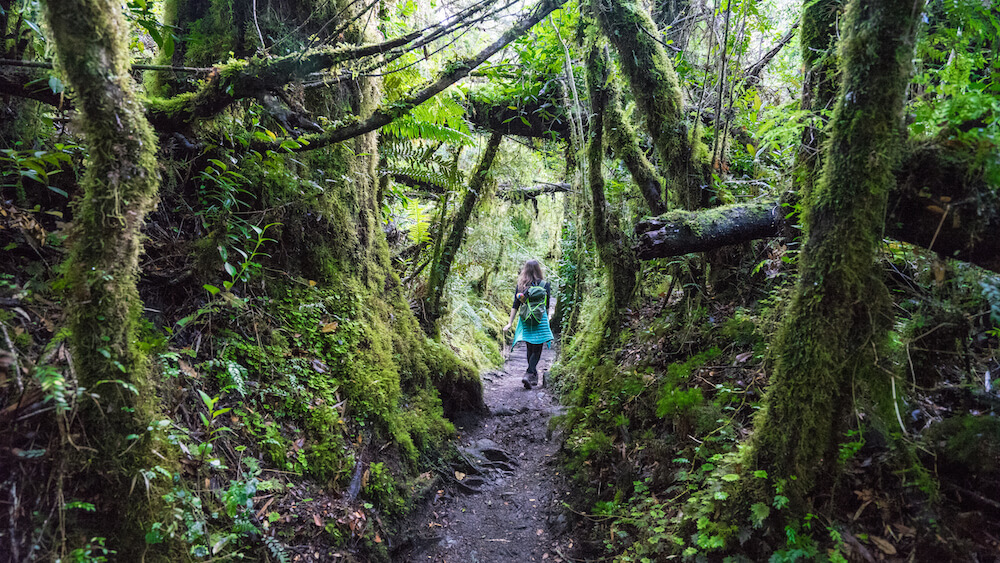 As you make your way to Coyhaique, leave time to stop into the Bosque Encantado (enchanted forest) for some gorgeous mossy trees, similar to the ones you saw in Queulat but still worth seeing to break up the drive.
Coyhaique
Welcome to the first bigger town that you would have seen in days. This is a great place to stock up on any supplies you may need, use the internet, enjoy the pizza and craft beer scene if that's your thing, and then get the heck out so that you can enjoy the smaller towns again.
Villa Cerro Castillo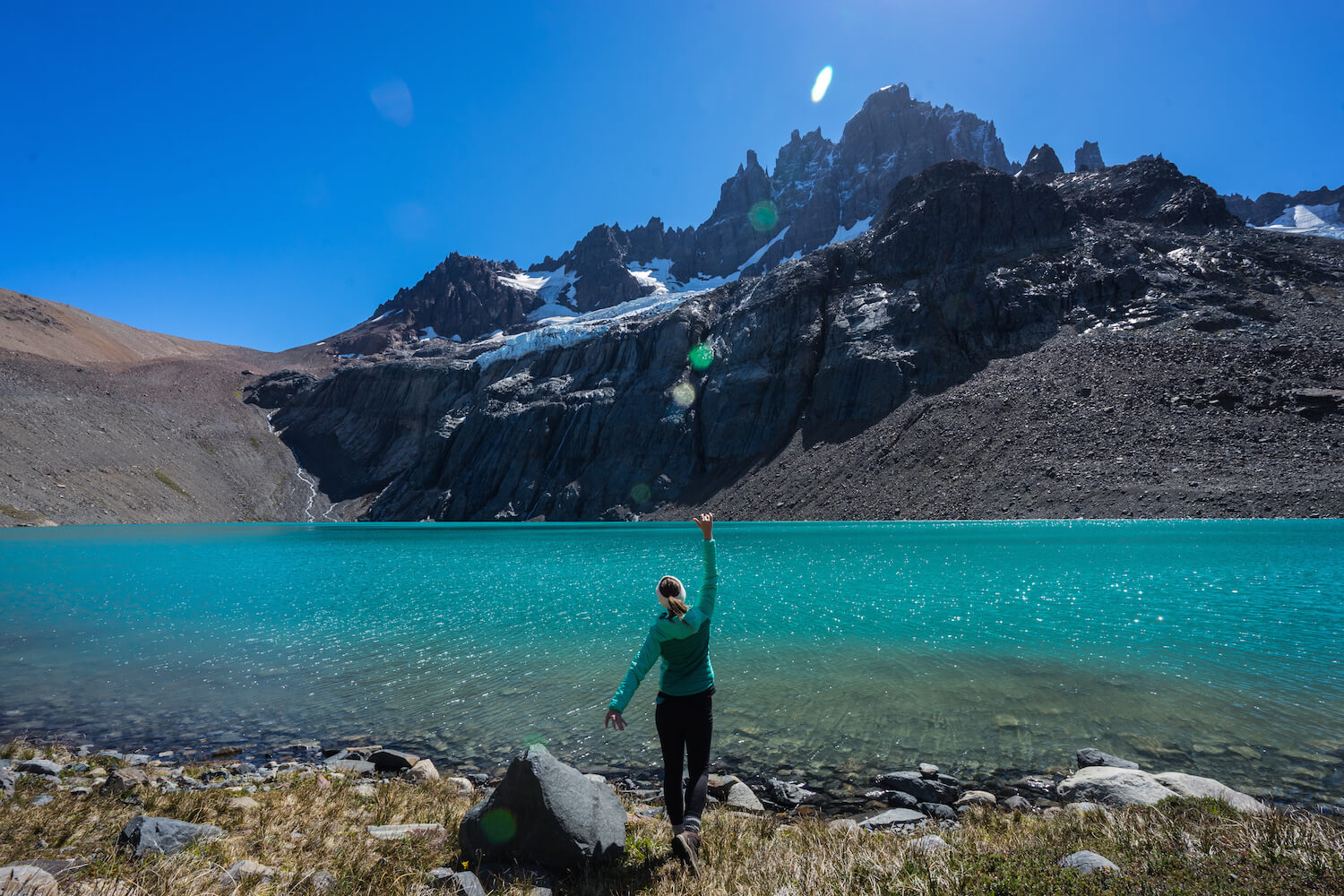 This tiny town was so welcoming and lovely. I'll never forget the family I stayed with when I went, in a tiny little shack for a room, but the friendliest people you could hope to meet. You can read more about the story here.
Be sure to do the hike to the Cerro Castillo while in town. Though there's a multi-day hike from as far back as Coyhaique, you can also do it as a day hike from Villa Cerro Castillo along what used to be the emergency route. It's steep, and you should budget most of the day for it, but the views are spectacular the entire way and the lake and glacier at the top are a stunning indication of what's to come as you progress south.
Puerto Rio Tranquilo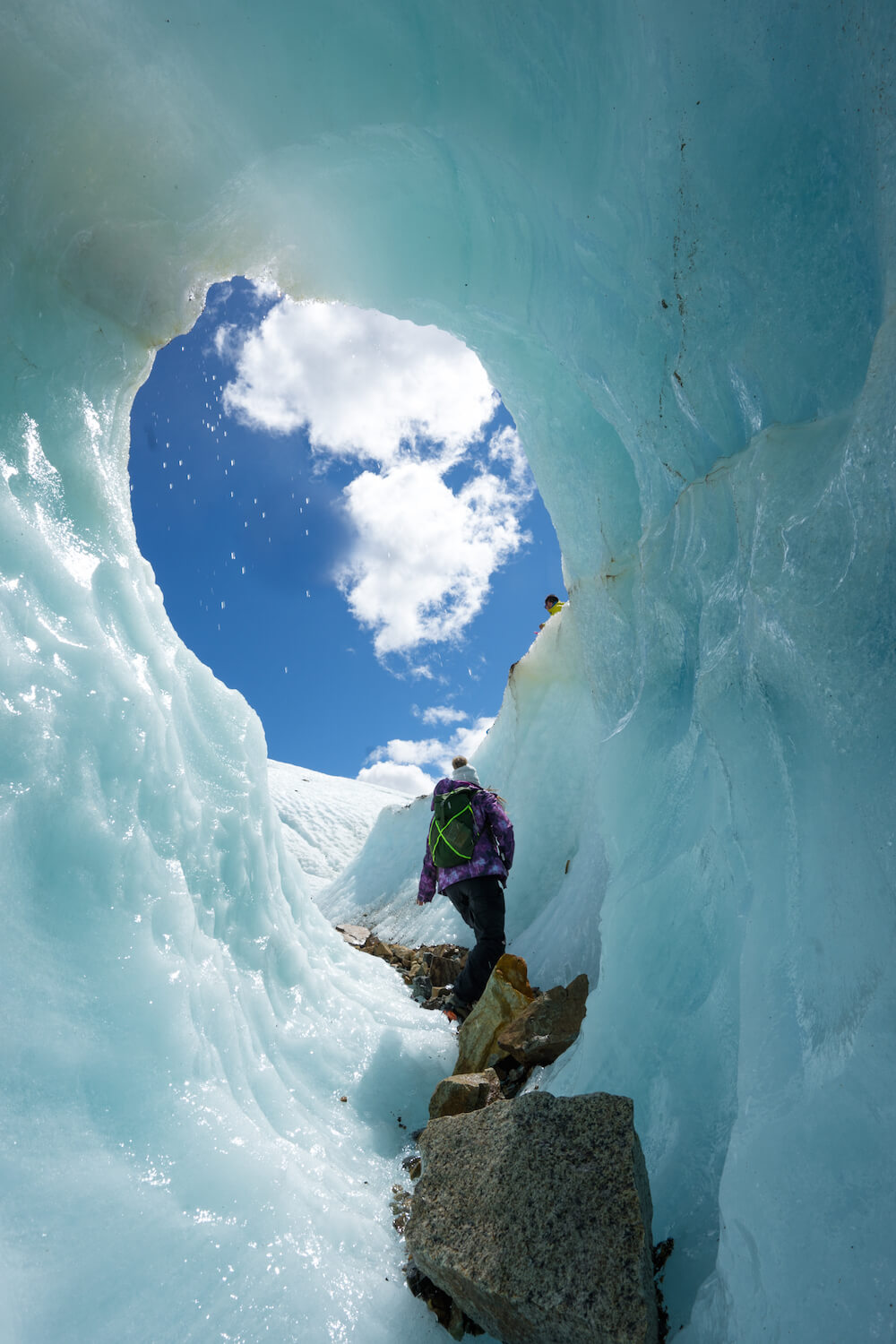 This was another favorite stop for me, as this town has so much to do! I absolutely loved the glacier hike on the Exploradores Glacier, which has many gorgeous caves and ice formations that I have never seen on a glacier since. I didn't realize it back then, but this is a special and unique glacier. It's also only been a tourist option for a few years, which I find pretty cool.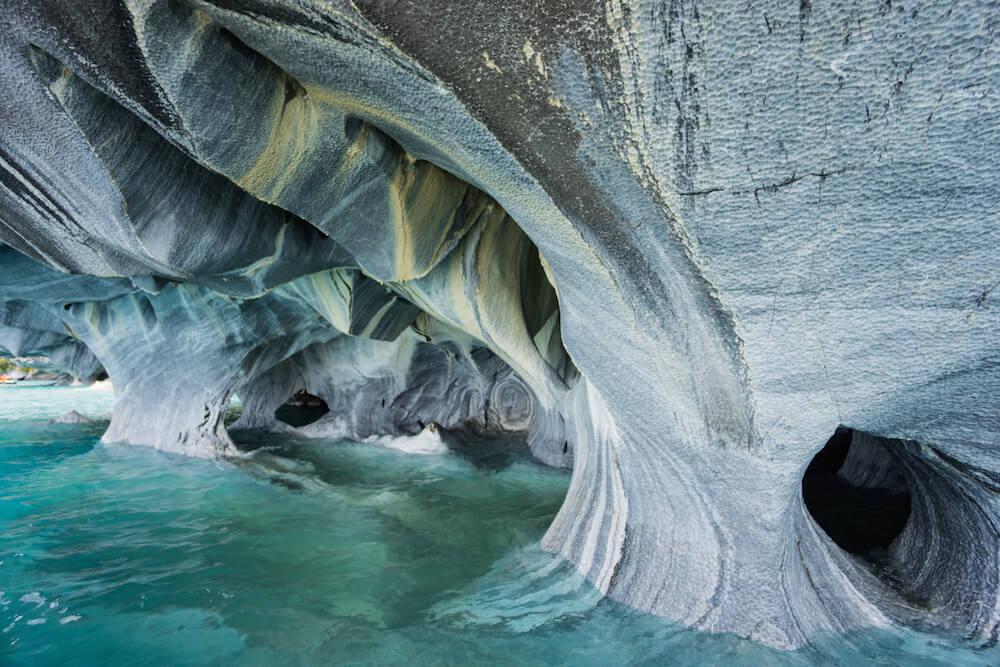 Be sure to take a boat to the marble caves as well to see the patterns swirl in the rock over the baby blue colored water. This only takes a few hours and is a pretty cheap little trip, and so worth it. For both of these activities, it's possible to show up and book in person the day before. You can read more here.
Parque Patagonia and Cochrane
This was a gorgeous drive from Puerto Rio Tranquilo to Parque Patagonia via Cochrane, winding by the Baker River.
At the time that I visited, the park had just been established. Due to lack of transport since I was hitchhiking, I didn't get a chance to check out this park but I sure will next time I'm in the area. The hikes look incredible.
Journey to El Chaltén via Villa O'Higgins
From here, you have a choice to make in terms of route. For anyone with a car, it makes the most sense to cross over into Argentina and continue down to El Chaltén, as the more you progress south, the longer you'll have to drive back up to cross over into Argentina.
If you're hitchhiking or on a bicycle, then I highly recommend continuing down to Villa O'Higgins. The town is lovely and quiet, and from there you can take a boat, which stops by an impressive glacier on the way, stay overnight at a farm, then walk to El Chaltén. It's quite the adventure that few people do! I particularly liked being able to take a boat up to a glacier on a ferry with so few people. That kind of intimate experience is harder to come by elsewhere in Patagonia.
You'll most likely have to carry everything you have if you go this route, though sometimes it's possible to get a ride or take horses for part of the way. You can read more about how to do that here.
El Chaltén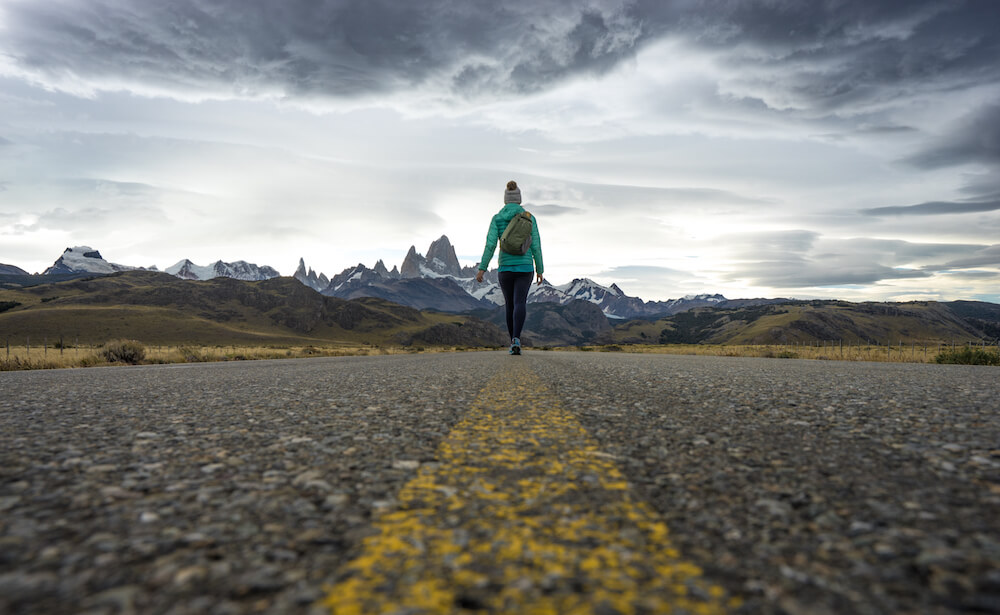 By now you will have come to the end of the Carretera Austral, and though it may be a bit overwhelming at first to be back in a more major town with, like, real roads, you're in for a treat, because the trekking capital of Argentina has so many amazing hikes that you'll be occupied for weeks if you try out most of them. I have a full guide to hiking in El Chaltén here with everything from day hikes to the 4-day Huemul Circuit.
From there, stop by El Calafate to see the massive caving Perito Moreno glacier, and onwards to the incredible Torres del Paine National Park in Chile.
For more on my ideal Patagonia itinerary, including the amazing things to see off of the Carretera Austral, click here.
Map
Here's a full map of the trip for your reference, though I highly recommend having the app maps.me downloaded, with the full Carretera Austral map already plotted out before you go given all of the time that you'll be spending offline on the Carretera. Embrace it!
I hope this helps you to craft an incredible adventure on Patagonia's Ruta 7, one of the least-visited parts of Patagonia, but also one of the most magical. If you discover any more amazing spots, please share with us in the comments below!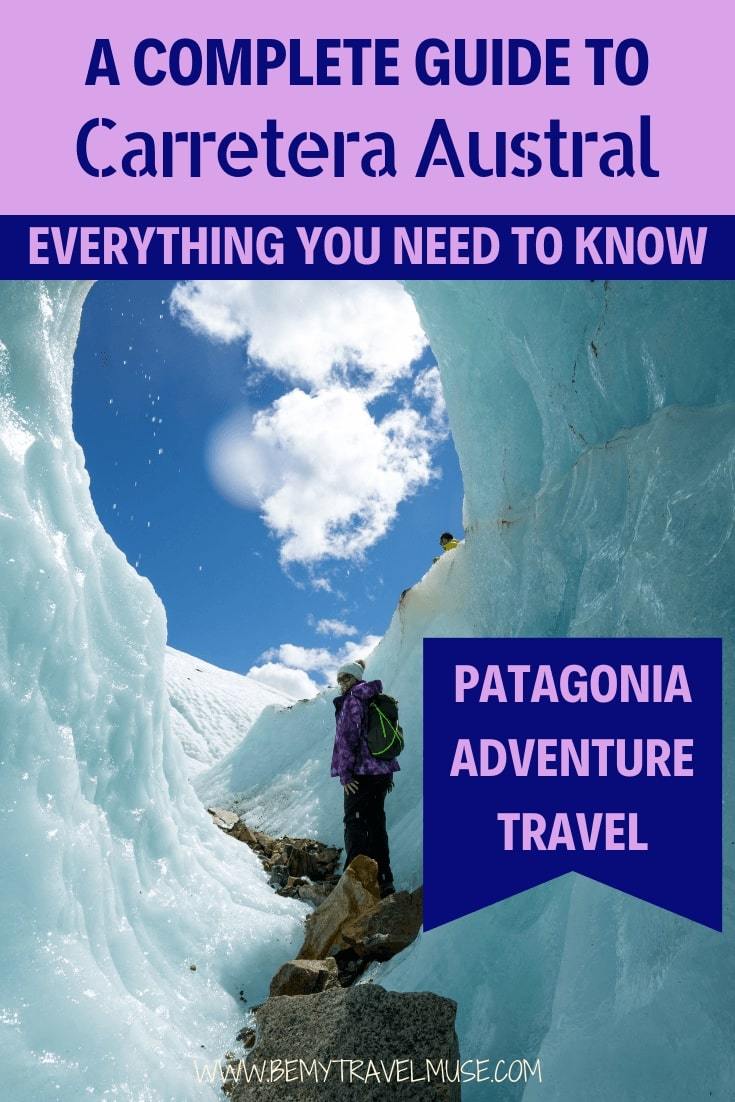 Read More: