Queulat isn't home to Patagonia's most famous glacier, it does not command the visitor numbers that many of its more Southern counterparts do (thank God), and it's not the biggest nor the bluest – not by a long shot.
None of that matters, though, because it looks like this: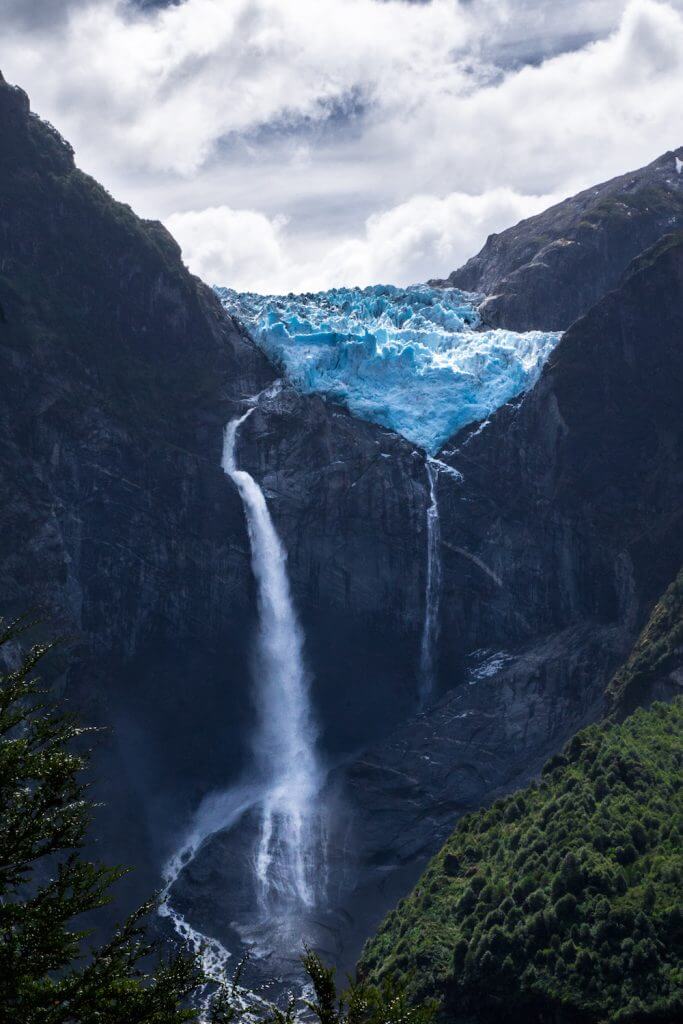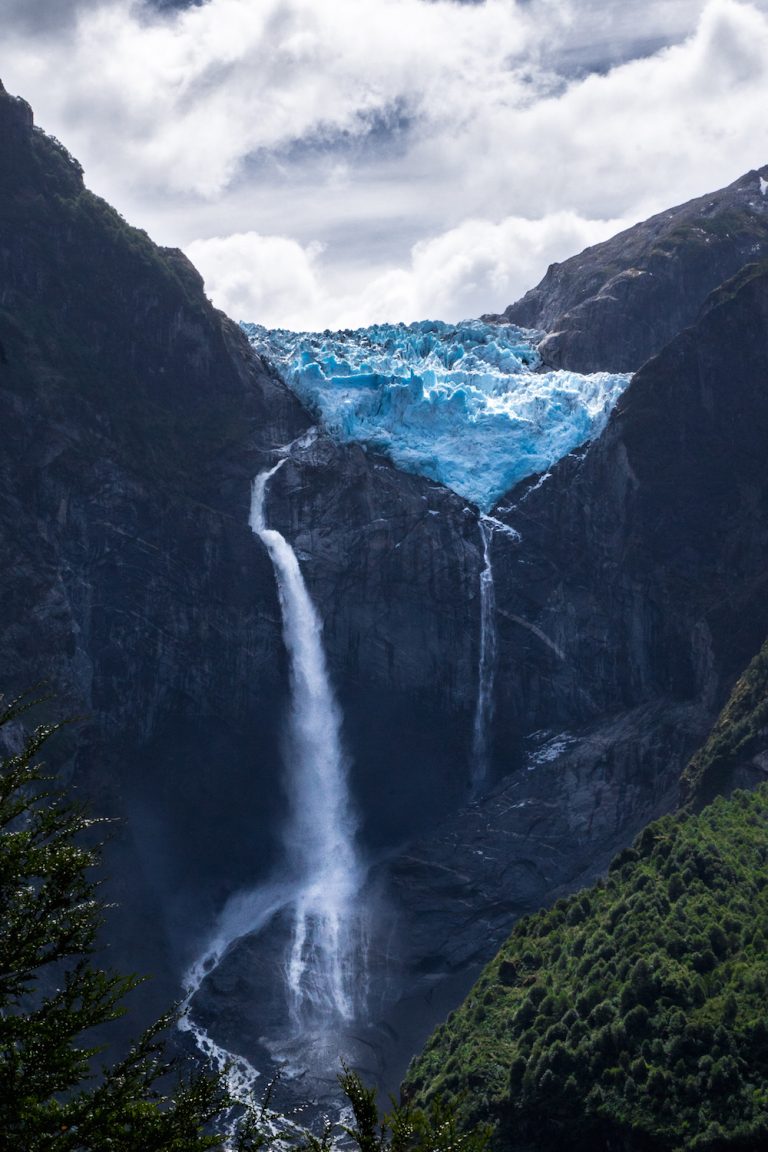 I'm still not over it. I will probably never get over it. This hanging glacier was awe-inspiring.
Now if you've followed along so far on my Carretera Austral journey, you might imagine that this isn't something you can just hop in a tourist bus and access. Nothing there is that simple.
You can, however, hitchhike your way there, from the nearby town of Puyuhuapi, so that's what I did.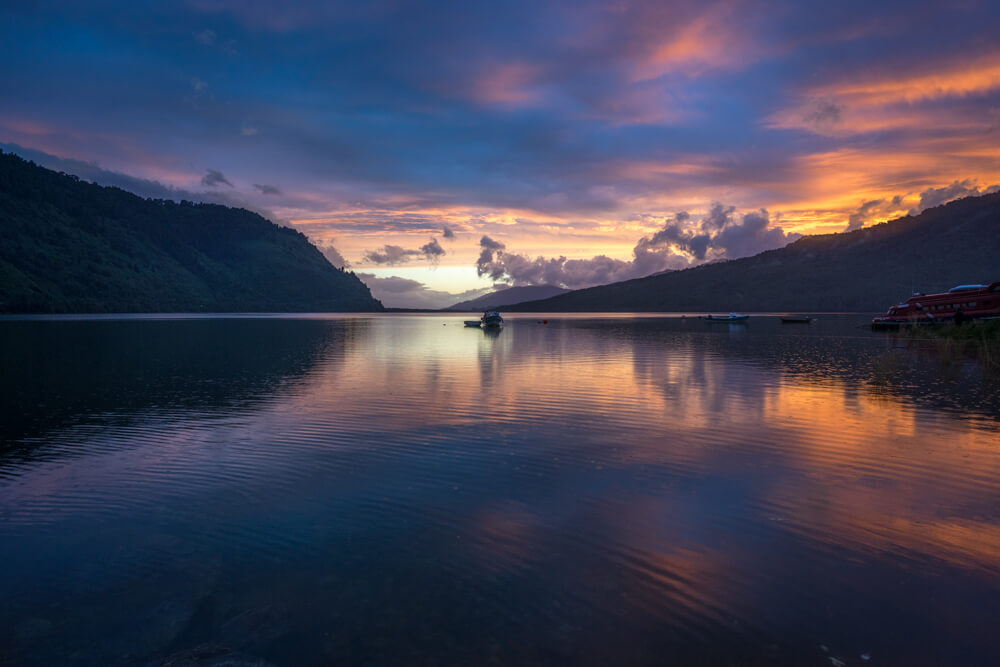 Back in Bariloche, my first stop in Patagonia, the Italian couple who I shared the car rental with told me about this place, and told me where to find a park ranger who could take me on his way to work. I went to the hostel they told me to find him at, asked nicely, and the next day, was in the car on the way to see this amazing glacier.
If you don't have a car or a method for getting there, you can find a ride pretty easily by hitchhiking on the side of the road (it's how I got back to town after, too).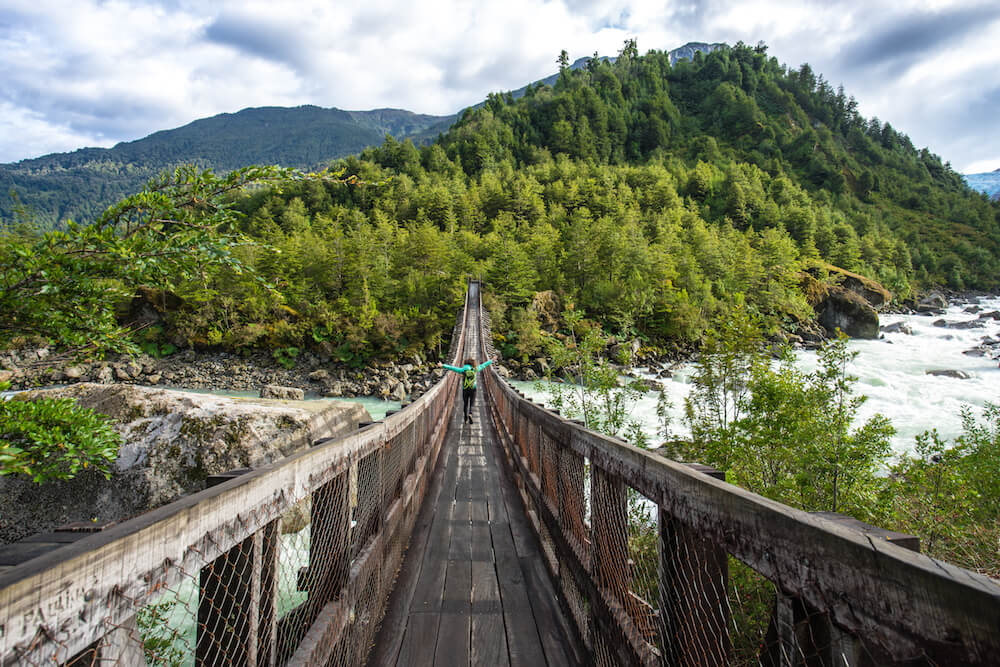 The walk up would normally be an easy one, through a fairly dense forest of vines and and leaves the size of a slightly chubby toddler.
It's not that long, and not too steep, either. But both Steve and I felt like it was taking us forever. Why? My feet kept getting stuck.
Don't be fooled by the fairy glade-esque look of it, because this trail was muddy AF.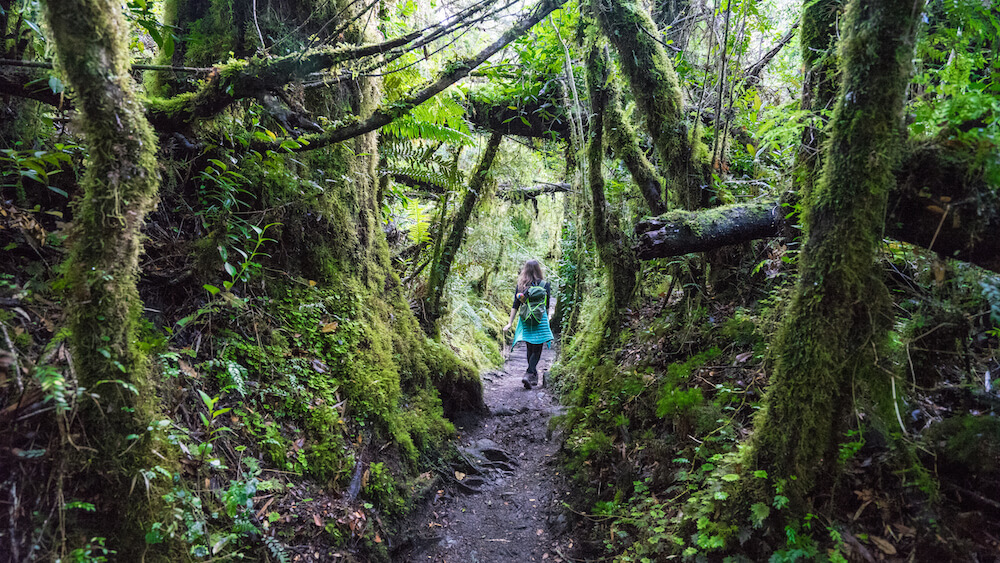 I learned in Patagonia that you can make one of two choices regarding the mud: Wear waterproof hiking boots so that you can trudge through the mud and water like a champion, or try in vain to jump from rock to rock on the trail and ugly cry when you miss and a foot goes thigh-deep into a puddle.
Make the right choice. Go for some sturdy shoes. This has been a PSA.
Oh and here's another tip: Go early in the morning. Queulat national park doesn't receive the tourists that the parks in the South do, but it still gets a lot by local standards and the viewing platform is small and the trails narrow.
You can camp in the park overnight if you wish, and if you're heading south on the Carretera Austral anyways, this might not be a bad call. That way you can just continue south from there and you're sure to see the glacier in the early AM before many visitors arrive.
When Steve and I were there, it was just us at first, going up the path and finally arriving at the viewpoint for the hanging glacier. It far, far exceeded my expectations.
Nothing I saw on Google images had done this place justice. It was mostly just phone photos that were poor quality, so seeing how magnificent Queulat actually was was quite the surprise, actually.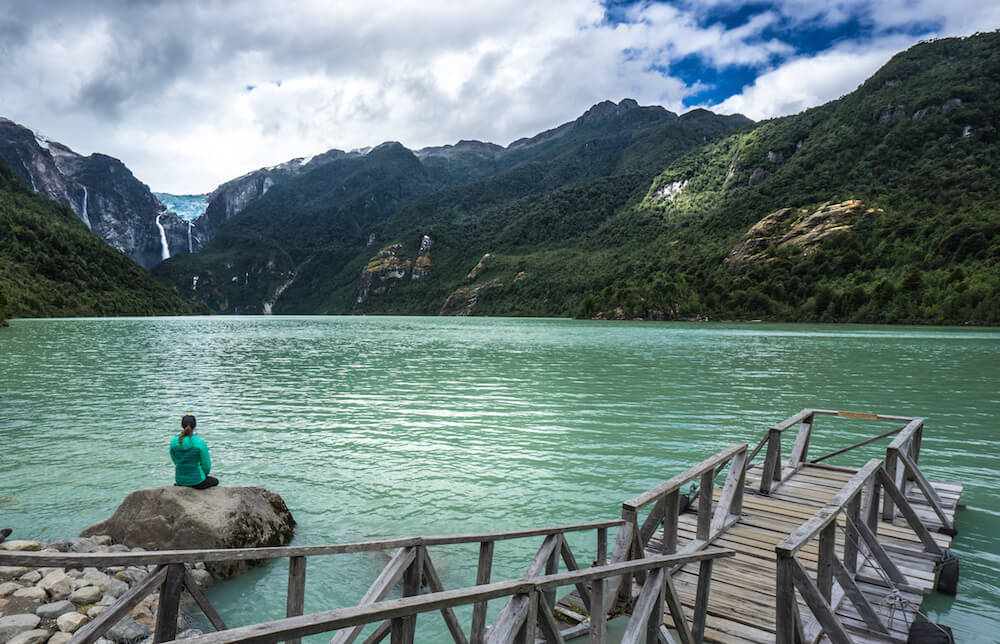 Once the viewpoint got crowded (mostly with Chileans on package tours), Steve and I headed down to the lake for another view and lunch (Side note: I am so glad that avocado is such a big part of Chilean cuisine. I basically had an avocado sandwich that day with a bit of Turkey), while a few people rented kayaks and took boat tours out to the moraine of the glacier. I didn't because I had seen it from above already, and it was glorious.
Queulat might not be Patagonia's biggest, bluest, or the most famous glacier, but it was my favorite by far.
Do it yourself:
Get in: Hitchhike or drive. Minivans sometimes go back and forth offering paid rides for 2,500 CLP. It's also possible to walk, but it's 22km each way from Puyuhuapi to Queulat National Park.
Costs: Park entrance for foreigners is 4,000 CLP (about $6).
Sleep: Either camp at the national park or rent a room in town for around 28,000 CLP for a nice private room