Do you dream of traveling to Easter Island? Are you in search of that humbling feeling that overcomes you as you stand and marvel at the giant Moai statues, towering above us mere mortals? When I went there in April of this year, that's most certainly what I was after.
It really is as incredible as I always thought it would be to see the Moai in person. Though nobody knows the story entirely, since almost no original descendants of the Rapa Nui people are left, the story of the Moai is one of incredible human ingenuity and suffering and it's a profound experience to walk among them and wonder about their stories.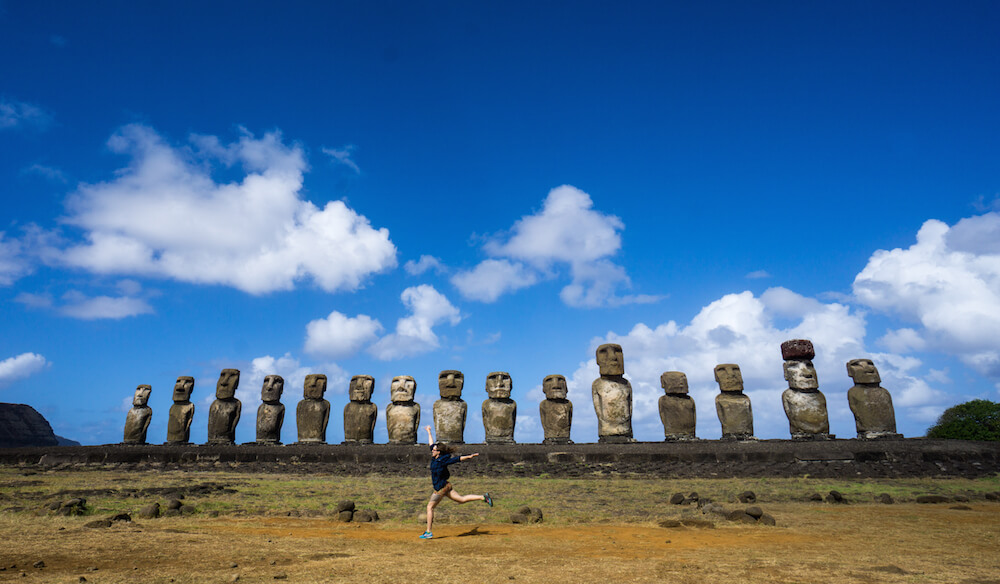 Ready for a walk into the past? Here are the secrets for traveling to Easter Island cheaply and easily:
First, a little history
On Easter Island, locally called Rapa Nui, the Moai statues represent a mostly-lost civilization that suffered from some sort of climate change or vermin, causing them to run out of resources. In an effort to appease their ancestors in hopes of returning to prosperity, they carved giant Moai out of volcanic rock and somehow carried them to the edges of the island, all without the benefit of knowing how to work metal. We still don't know how they did it. The largest one around today is an astounding 33 feet tall weighing over 82 tons!
In time as the situation grew more desperate, the people lost faith in these statues and battles ensued, including toppling over the Moai of rival groups. Most have been raised and put back in place but some are still laying facedown in the grass.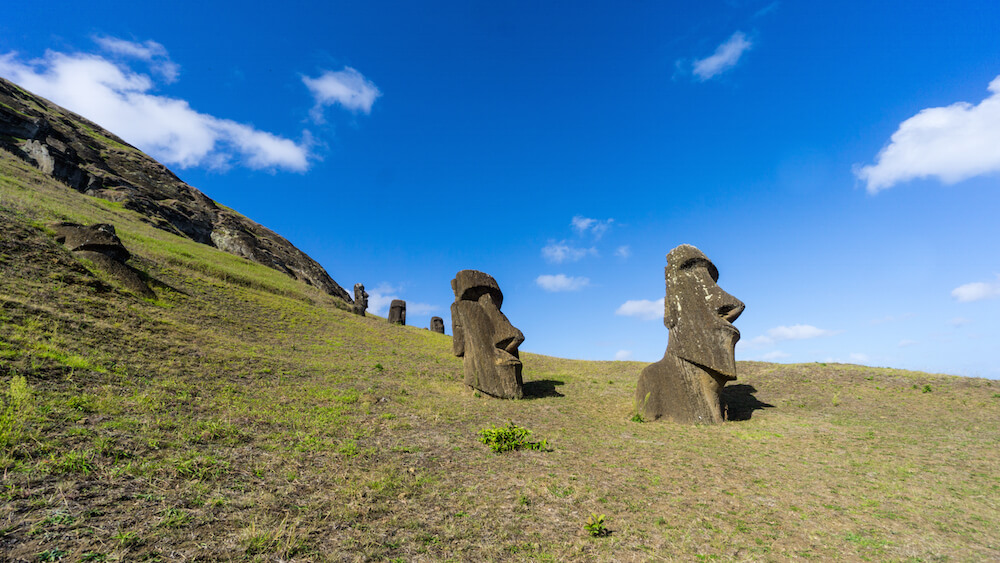 You can still see the quarry where several statues are partially finished on the island. It almost looks like the Moai decided to have a party and some drunkenly stumbled down the mountain on their way to the sea.
These days, the relics remain on an island where almost all of the original inhabitants have gone extinct, including the trees, animals, and original ethnic groups. It's creepy and beautiful at the same time.
How to plan independently and save money
Tours to Easter Island aren't necessary, and will cost you way more in the long run. It's almost impossible to get lost, and even if you did, the island is only 164 square kilometers so you can't go too far astray!
Here's how to do it on your own:
Flights: There's only one plane from one airline that goes to and flies back from Rapa Nui daily and it's operated by LAN departing out of Santiago, Chile. I suggest playing around with different dates on Google Flights then booking directly with LAN once you find a good deal. I booked my flight just two weeks before getting on the plane for $600, flying economy one way and business class back! Typically, a round-trip flight will cost $450 on the very low end and closer to $700 on the high end.
Food: Your biggest cost-saver will be bringing your own food to Easter Island. Almost all of the food on the island will be brought over on the very plane you fly over on, so why pay a premium when you can just bring your food yourself for way less?
LAN allows you to check up to 25 kilos per person for free when flying to Easter Island, so get an extra bag or box and fill it up with veggies, dry goods, powdered milk, oatmeal, potatoes, wine, and anything else to help you get through the week. By planning out my recipes ahead of time and shopping in Santiago I was able to eat for an average of $4.50 per meal, plus wine.
When I did need to supplement my meals, I bought fish from the local fishermen for around $8 per person or bought empanadas at the small shops around town.
*Note: You can only do this if you bring the food from within Chile. There are super strict laws in Chile around fruits and vegetables and anything you bring from home will not be allowed in, so be sure to do your shopping in Santiago.
Accommodation: You can also save a bunch of money by staying in a cabana owned by a local on the island. They're easy to find on booking.com (here's the one I suggest) and Airbnb (plus, here's $35 off for you!), can often accommodate six or seven people for around $50+ per night, and most importantly, they come with a kitchen so that you can cook all that food you brought along with you.
It's also common practice for the cabana owners to come and pick you up from the airport, which is always nice after a long flight.
If you're traveling solo, there are also hostels and individual rooms on Airbnb, and camping is also an option. Just keep in mind that the cheap stuff books out much farther in advance.
Getting around: You really don't need to take a tour to explore Easter Island. There are plenty of car, scooter, and quad rental places in Hanga Roa (the main town) that you can make use of to take yourself around to the various statues and the beach, on your own time, and in many cases, without other tourists around. Unlike those on bus tours, you'll be able to spend as long as you want at the various sites.
By normal standards, the rentals are pretty expensive at $40 per day for a motorbike and upwards for quad bikes and cars. That said, you can usually haggle on the car rentals and if you really maximize your time with the motorbike, you can see most of the things that are far away from town in a couple of days and rely on a cheaper push bike rental for the rest of your time there.
Ask at the people working at the rental place that you end up choosing to show you where the sites are on a map. In lieu of that, check this one out.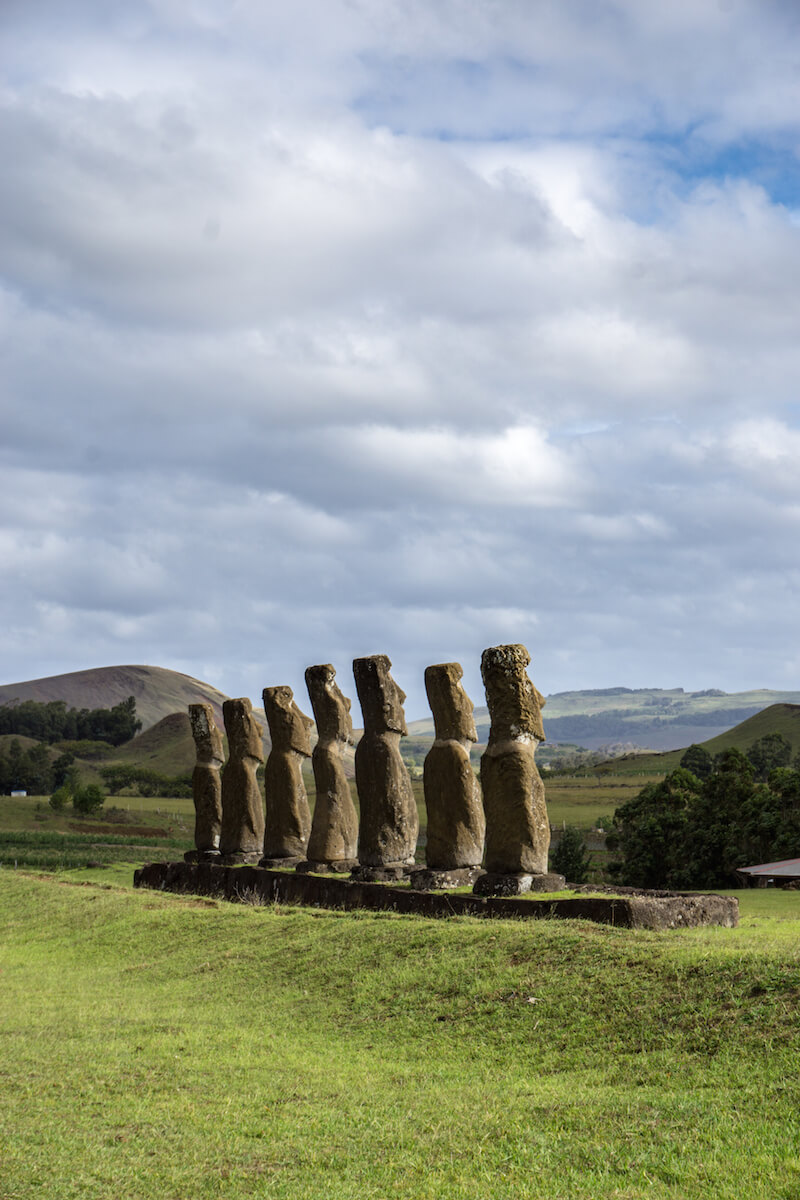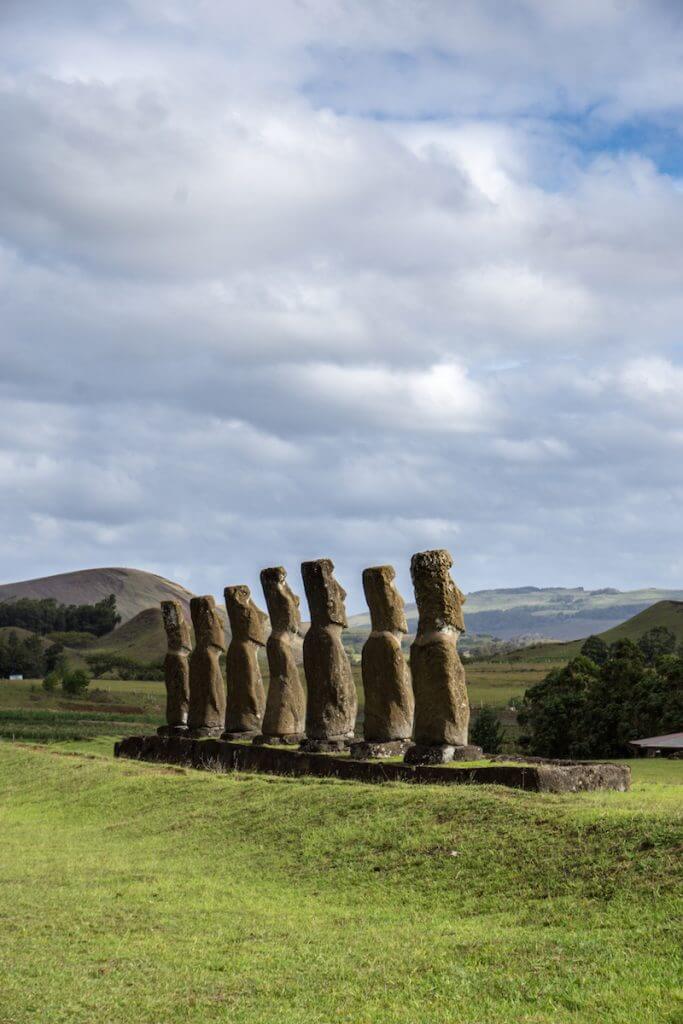 National Park Tickets: The fees for the national park are steep for foreigners at the equivalent of $60 USD, imposed by CONAF, Chile's national park services (though there has been some conflict over whether they should have the right to do so, that's the policy for now).
You will only be checked by rangers at two of the sites: the Orongo crater at the Bird Man museum, which I could have lived without, and at the quarry. The quarry is probably the coolest site on the whole island, so as painful as it is, I'd suggest that you cough it up and buy the ticket. You can buy it when you land or at the CONAF office.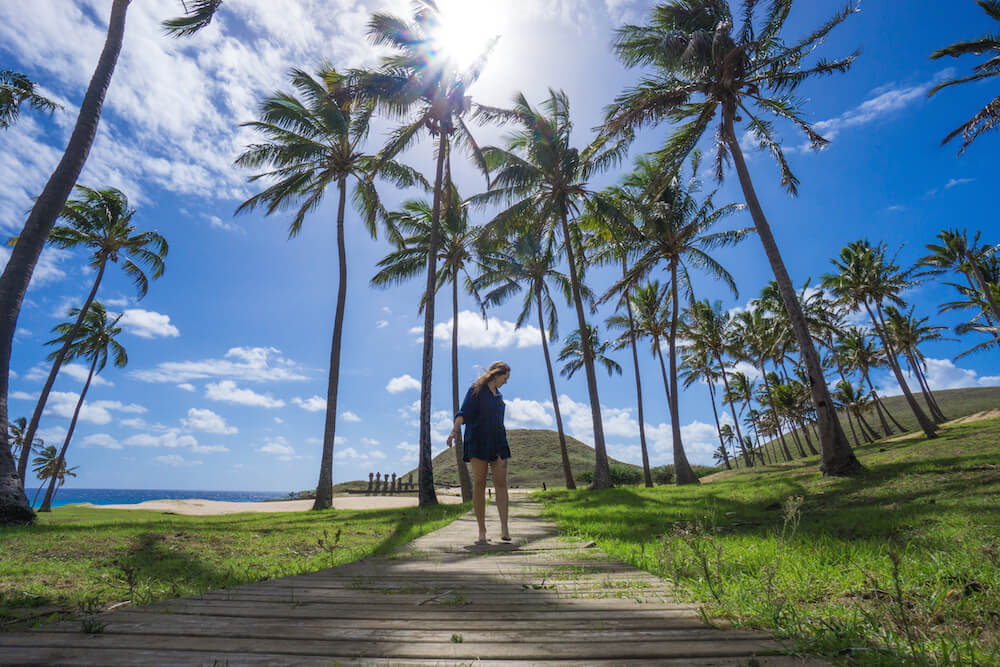 Here's how to avoid the crowds 
There are specific times when tours stop at each of the archaeological sites in order to get them with their best lighting. It's still a good idea to visit them at those times as well, but also to stop by again during the off times and to stick around after the busses leave. They're usually there for 10 minutes, max.
Ahu Akivi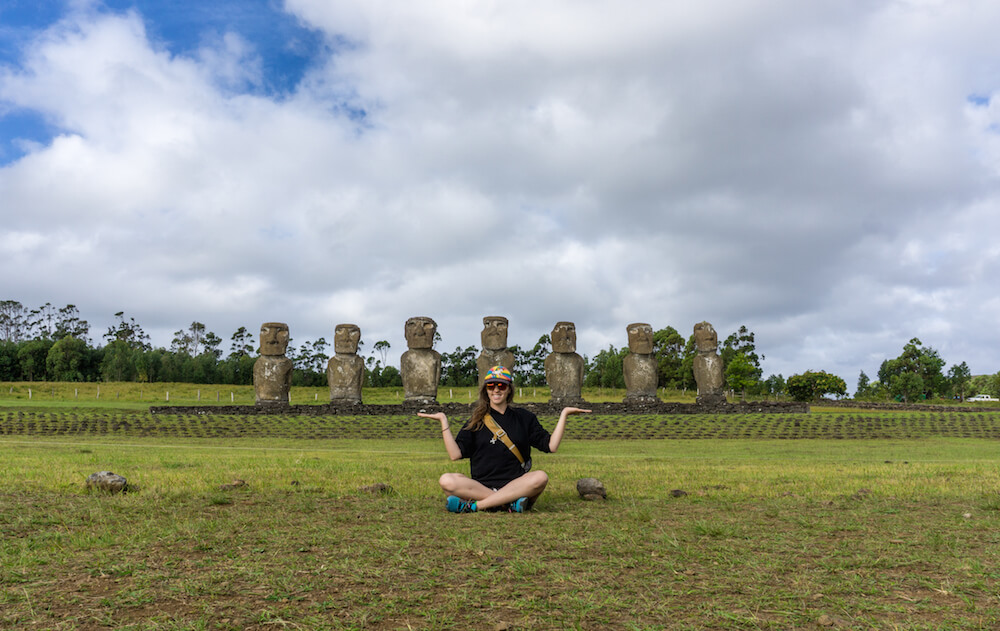 These seven identical statues face sunset during the spring equinox, and their most popular visitation time is during golden hour. when the light shines on them. get there slightly before or stay after, and the busses will mostly be gone.
Ahu Tongariki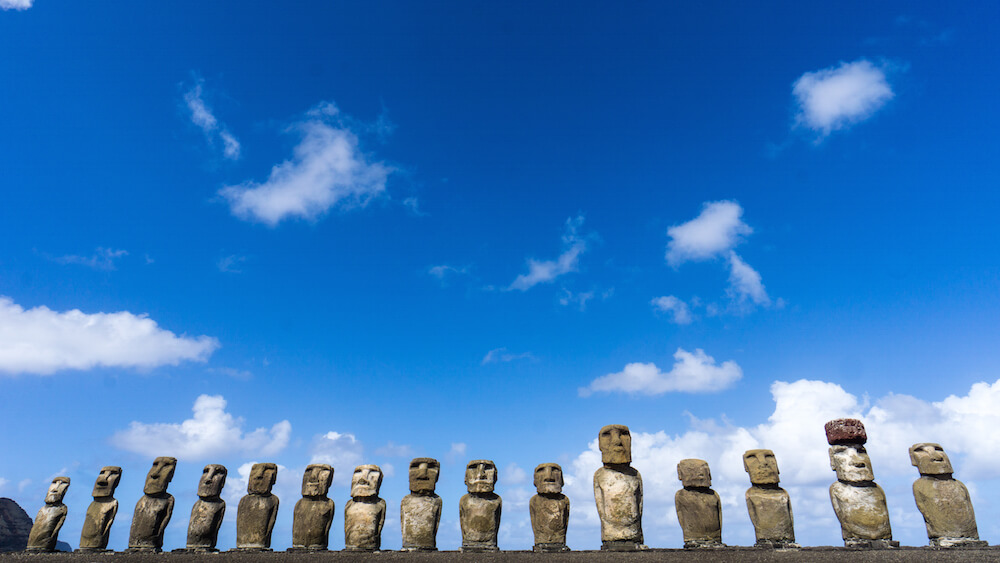 This is the biggest collection of Moai and also features the largest statue on the island. All were toppled over in the past but have been re-erected. During the summer solstice they face the sunset, but the most popular time to see them is for the sunrise since the sun rises between them. If you visit at any other time, almost nobody will be around.
Rano Raraku
It's popular to visit Rano Raraku, the quarry I keep referencing, right after visiting the Ahu Tongariki in the morning. It's when they are in their best light. That said, I visited them in the afternoon and enjoyed the peaceful atmosphere. This is one of two places where you'll have to show a receipt for your national park fees, and you're only allowed in once.
Ranu Kau volcano and Orongo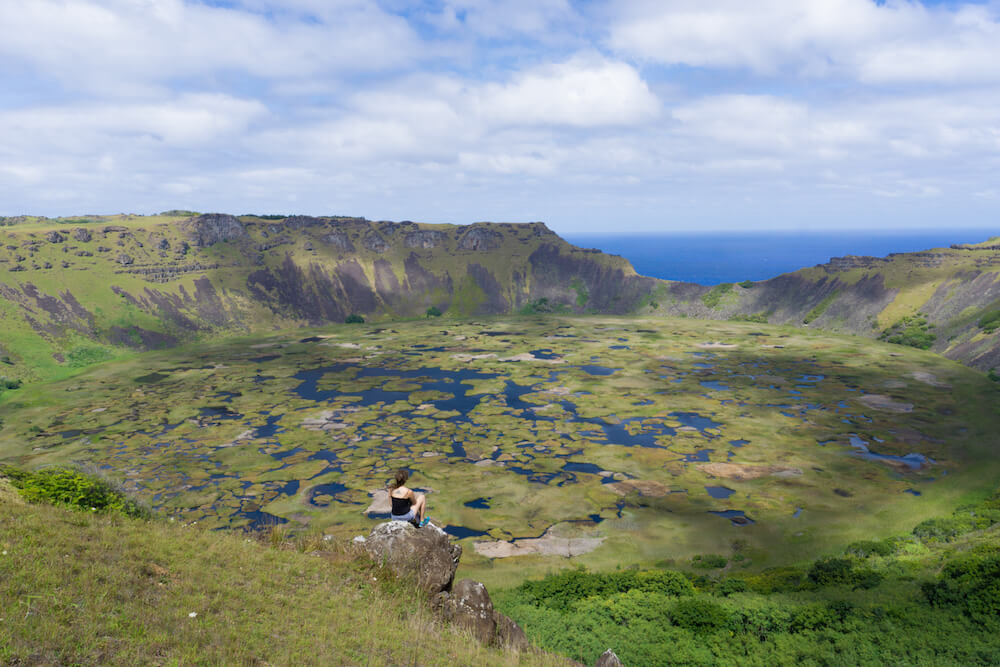 This volcano crater is one of the most famous on the island and you can drive your motorbike right up to it. The best time to visit is when it's sunny so that you can see the blue sky reflected in the pools of water at the base. It's also possible to hike up to it from the CONAF station.
There's also the ruins of Orongo and the story of the bird man inside the museum, which also requires that you should your receipt for the national park fees. It's an interesting story worth reading about.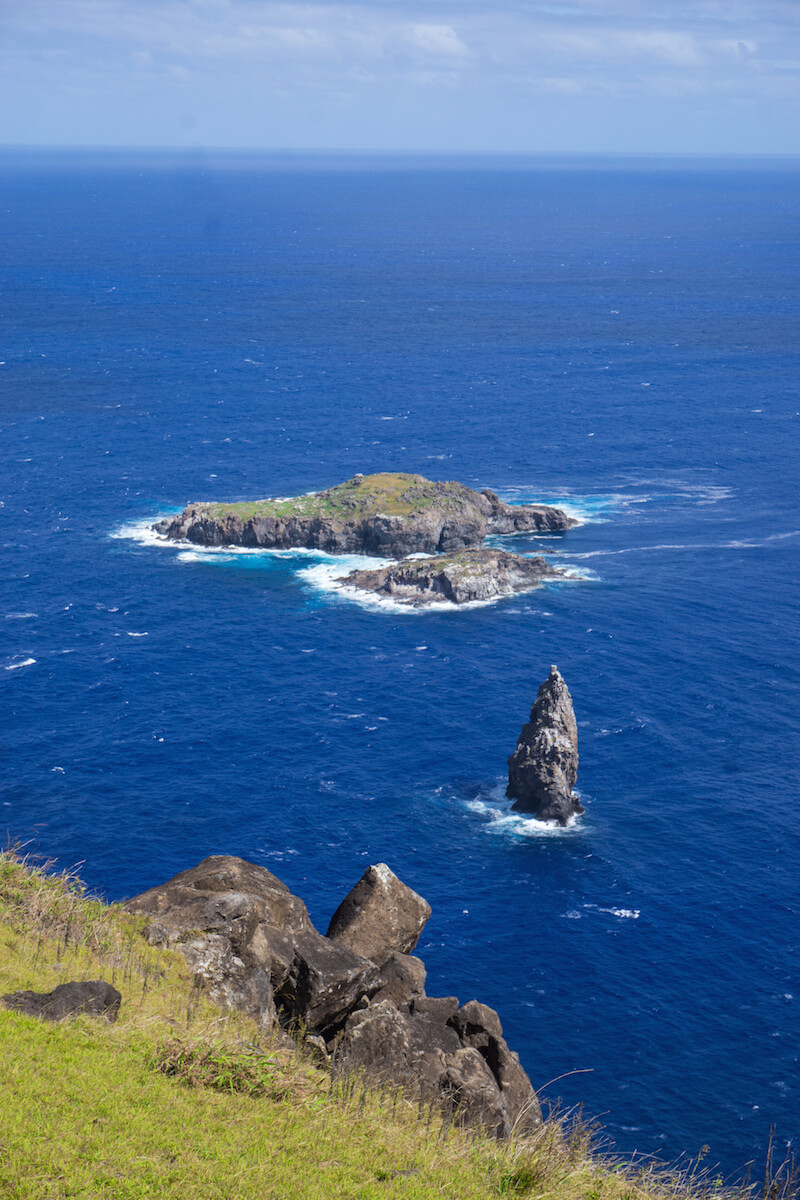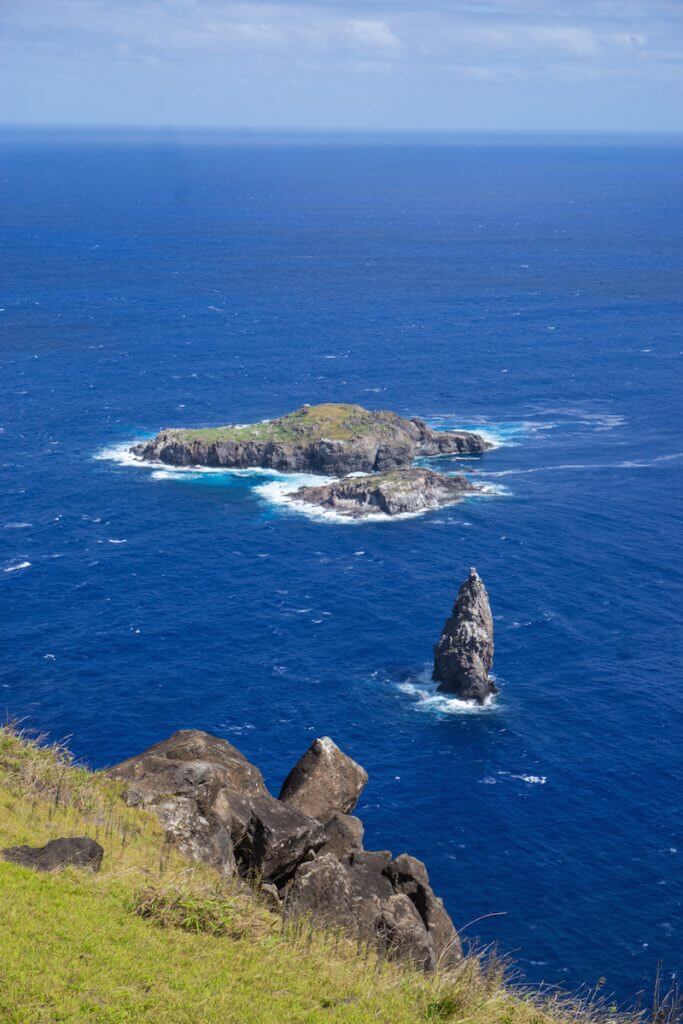 Ahu Tahai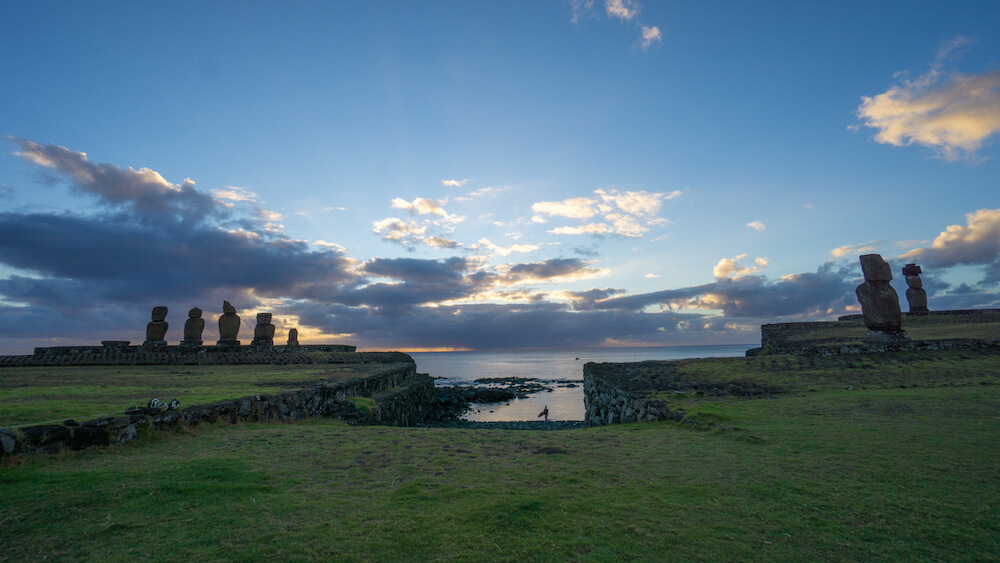 Located just next to Hanga Roa, these are the easiest to visit as you can just head over on foot if you're staying in town. Though beautiful all day, they draw a crowd at sunset.
There are plenty of other statues all along the perimeter of the island. some you can drive to and some you can only get to on foot. The above are the most famous, but you can visit the others, often without anyone around, as you drive along the island and pull off periodically to explore.
What else can you do on Easter Island?
What if you have a few days on Easter Island? I actually had a full eight days there, mostly because the flights got really expensive for any shorter length of time. I did a lot of relaxing, but otherwise, enjoyed the beach and diving as well:
SCUBA Dive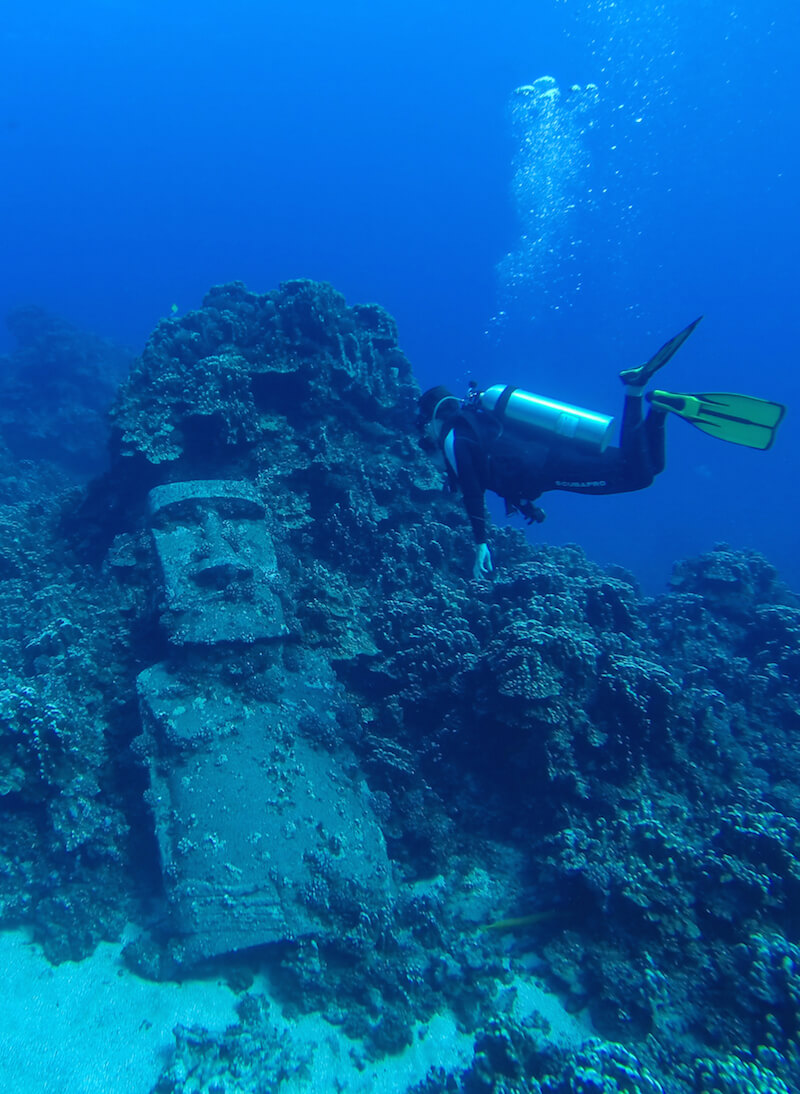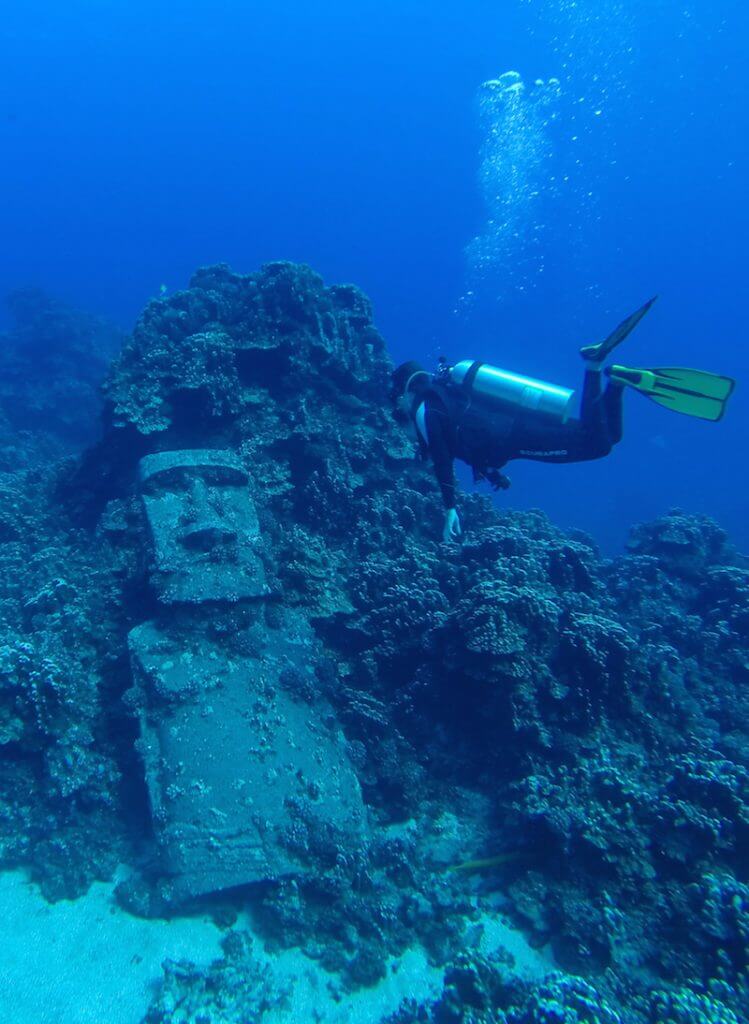 The reefs off of the island are nice, but not world-class like they are in Indonesia or Borneo. You can, however, get your selfie with this guy.
It's actually an old movie prop, which did make it less cool for me, but still an experience nonetheless.
Surf
Those who remember the documentary, 180° South, will recall that surfing is a big sport on Easter Island.
If you want to give it a try, keep in mind that the coastline is mostly volcanic rock, and the waves break very close to them, so this isn't ideal for beginners. You'll also want to bring your own board as rentals are usually just the huge foam boards.
Beach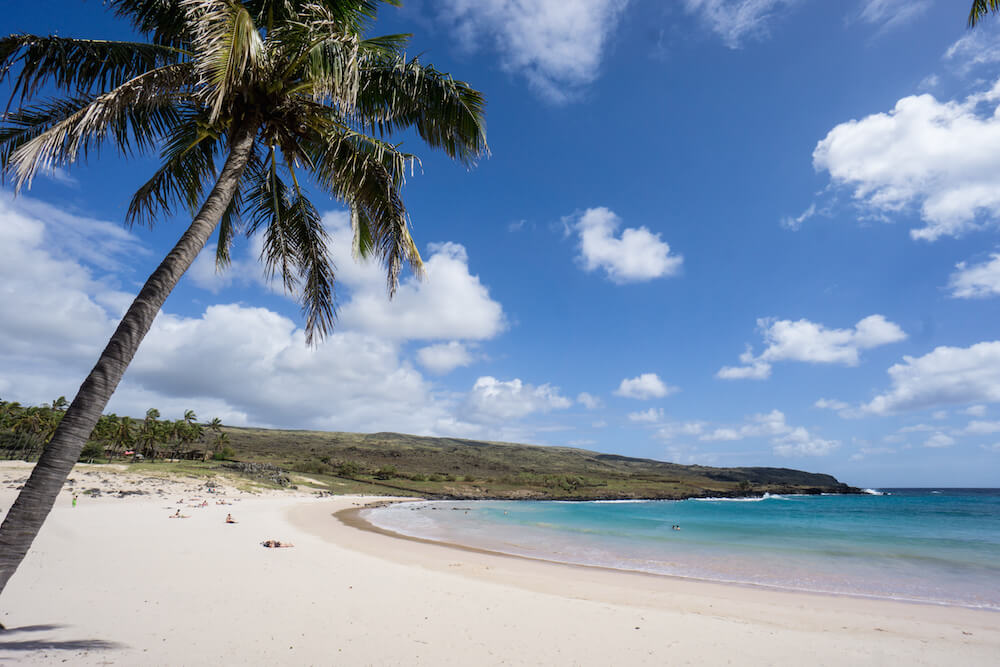 Easter Island's beach is really nice, with white sand and gentle waves. It's on the opposite side of the island from Hanga Roa, where most visitors stay, so you'll need transport to get there somehow.
If you're on the island for a while, though, this is a great way to spend a whole day.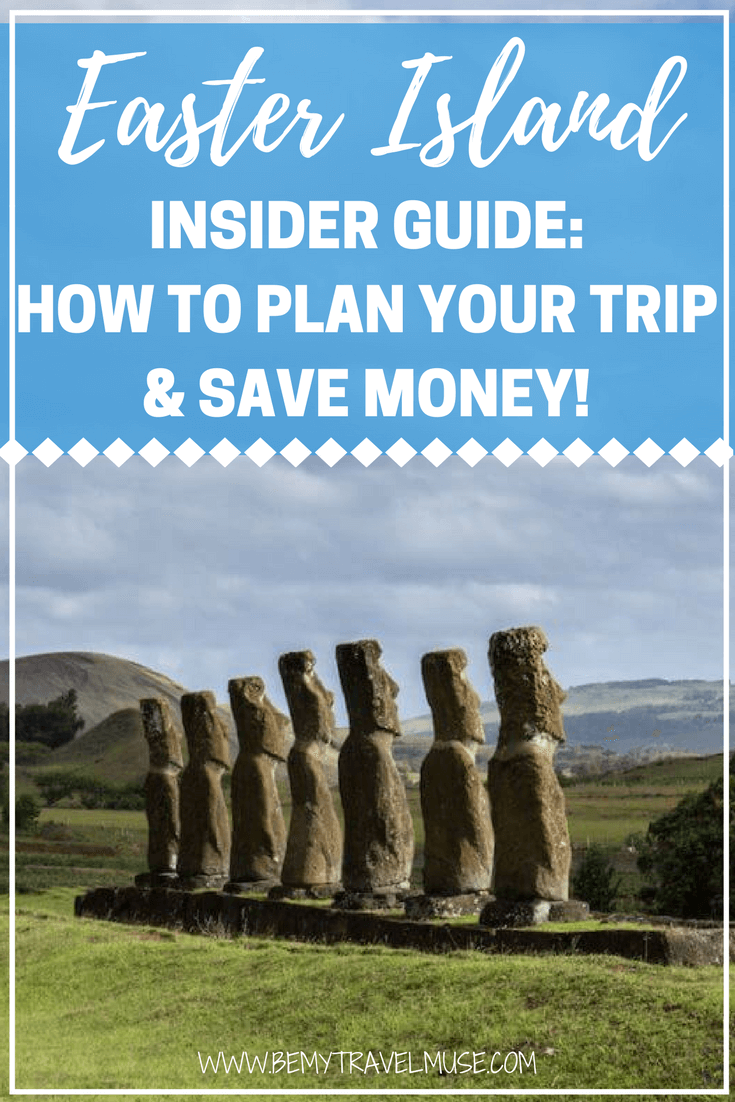 Those are my best tips on how to travel to Easter island independently. It saves you money, gives you more freedom, and thankfully on Easter Island, it's pretty easy. Happy travels!