The San Pedro de Atacama desert in Northern Chile is famous for a few good reasons: It's the driest desert in the world, has some of the best viewing for stars in the night sky, and it's full of otherworldly-looking canyons, lakes, and landmarks.
Though there are tours to all of the major sites, they lack the kind of flexibility that I wanted for star-gazing and watching sunrises and sunsets from out in the wilderness. It seemed the best option to really get to know the desert was to go camping there.
I couldn't find any kind of itinerary or help on the web prior to planning my trip, so I figured that I'd make the resource! Here's everything you need to know about where to go and how to get ready for camping in the San Pedro de Atacama Desert:
First: The Vehicle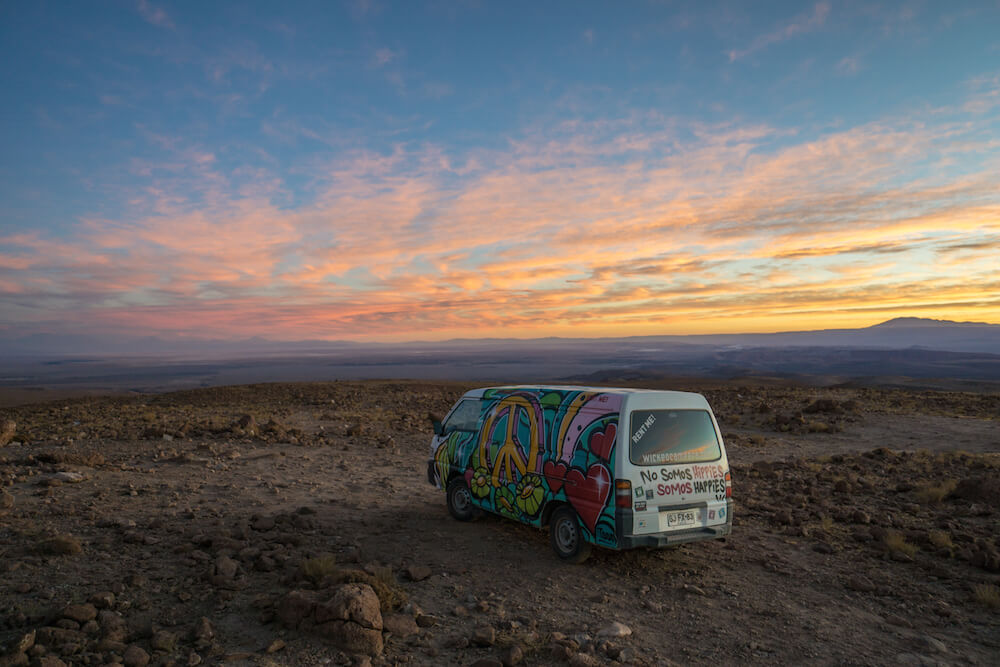 The best way to get around is in some kind of camper van or 4×4 car with a roof tent, or a pickup truck that you can stash your own tent in (I don't believe there are tent rentals available in San Pedro). I chose a Wicked camper van because it offered me everything I didn't have already: Wheels, cooking equipment, a place to sleep, and comfort in the cold desert.
If you go this route, double check everything when you pick up the van, particularly that everything you need is there in case you get a flat tire. My van was missing a few things and I'm so glad that the friend I was renting with and I checked first. Once I was on the road, I didn't have any problems at all.
*Note that almost all of the vehicles will be manual rather than automatic.
Costs
A camper van or rental is not a super budget option. However, a rental can be as cheap as a mid-range private room and tours would be, especially if you opt for a larger car and share it with several people. Wicked's 3-person rental would be really cramped with three people, though, so just keep in mind that the more people who join the group, the less sleeping space you'll have. Buy and cook your own food instead of eating in town and that will help as well.
Each of the natural areas has an entrance fee. They can run anywhere from 2000 to 15000 Pesos per person. Whether you're on a tour or independent, you'll have to pay these.
It's also always wise to have travel insurance. It's the desert, after all.
Where do you camp?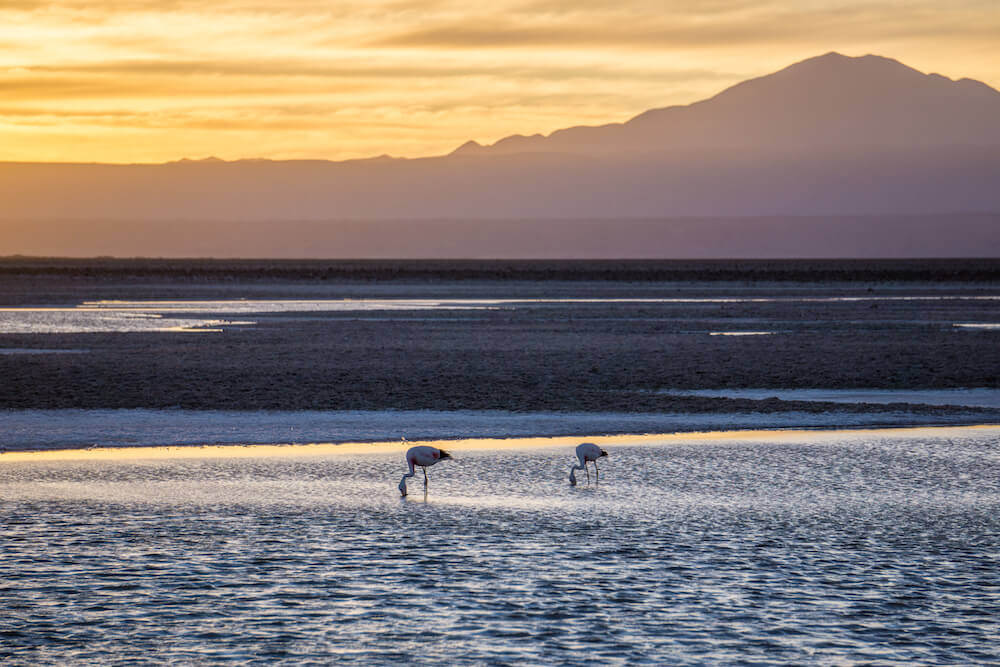 In the San Pedro de Atacama desert, most people free camp. In a lot of places I've visited that's not allowed but out there in the desert, it's totally fine.
The park entrance at the Valle de la Luna allows campers (more on that below), and there are plenty of places where you can simply follow car tracks off the road and find a nice, totally secluded spot for the night. It's how I found some amazing sunset spots.
A word of caution: Sometimes the ground is soft and it's easy to get stuck, so only pull off if it's clearly safe to do so and you can see that the land has been flattened and/or there are clear tire tracks.
Does it get cold?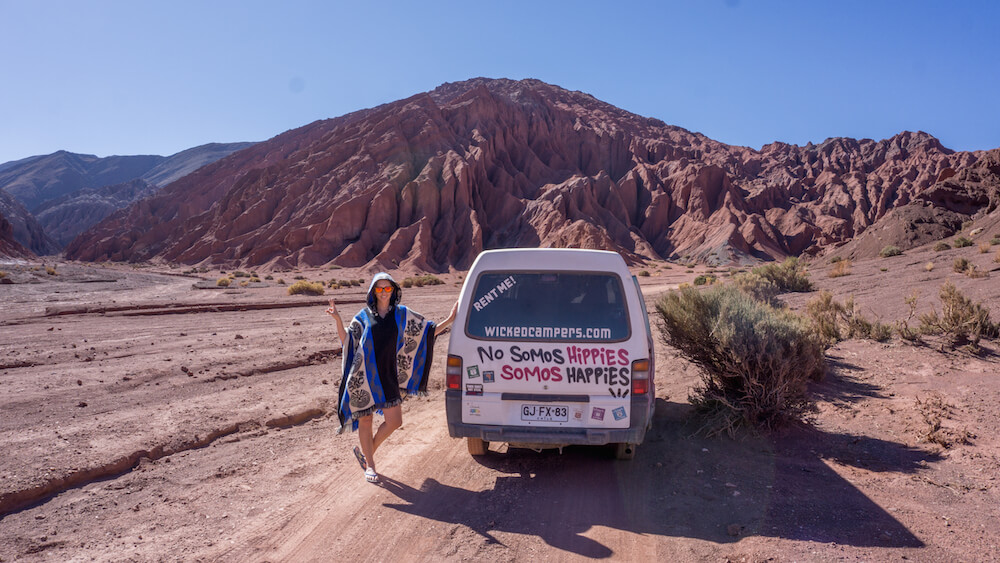 It's hot during the day but pretty cold at night out there. Sometimes the camper van companies offer blankets, and sometimes they don't. Luckily, there are tons of Alpaca products all over the region and blankets always make a nice gift, so if you have to buy some, you can. It's wise to bring a hat and gloves as well, as the desert gets really cold at night.
Stock up on plenty of water in town before you go, since you can't exactly refill easily in the driest desert on earth. I also suggest plotting your points as labeled GPS coordinates in an offline map, like maps.me, as cell signal can also be hard to come by out there.
Home Base: San Pedro 
This little town looks like it's straight out of an old western movie, and it's the only place in the vicinity where you can fill up your gas tank, so keep that in mind when out exploring.
Chances are good that you'll fly into Calama, the nearest airport, or bus into this town and spend at least your first night here before heading out on your camping trip. It's a good place to stock up on groceries and get acclimated to the altitude. Since your camper van has a sink, cooler box, and stove, I suggest buying enough food for at least two days at a time each time you pass back through the town to fill up your gas tank.
The town did have some redeeming qualities, but you're better off getting out and exploring as soon as you can. It's better out there!
Find all ranges of accommodation in town here.
Valle de la Luna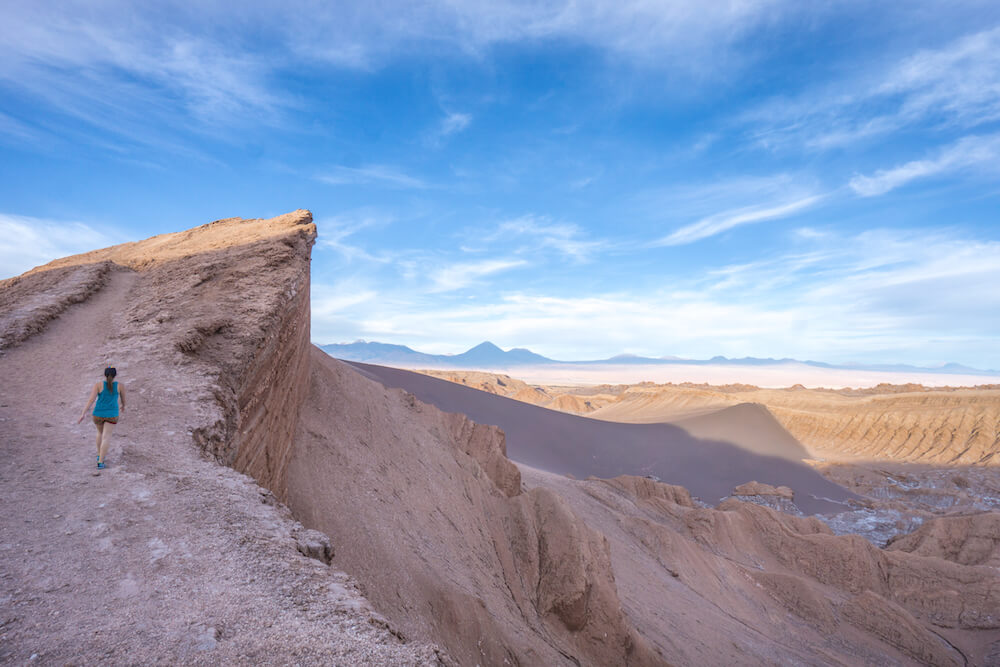 Wind and water have carved the Valle de la Luna, or moon valley, into jagged peaks and valleys all throughout the park. There are giant sand dunes all around as well, and a very salty ground that somehow looks like snow even in the driest desert on earth.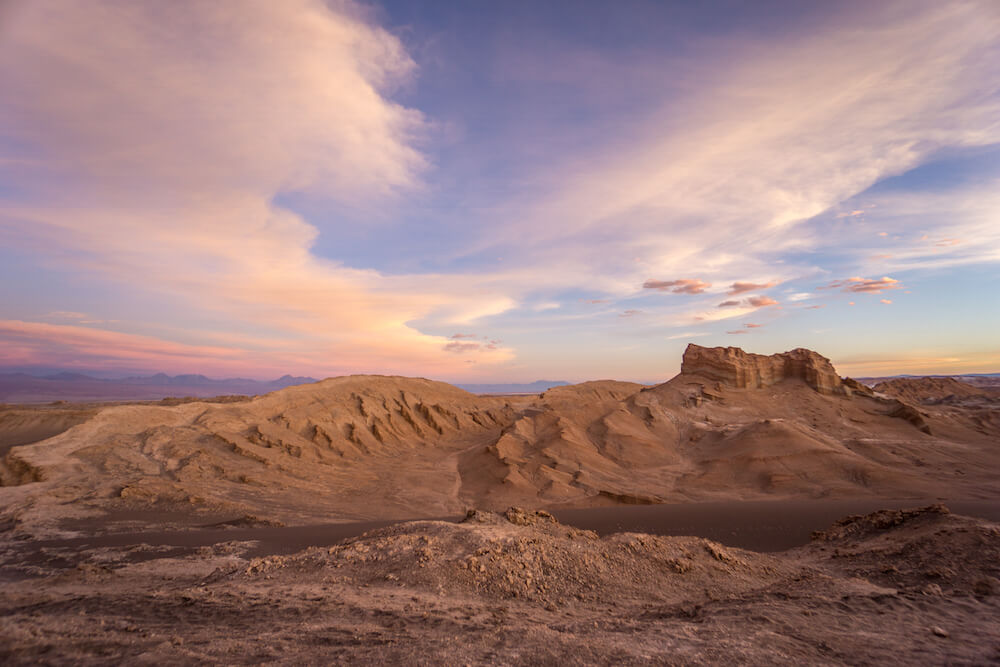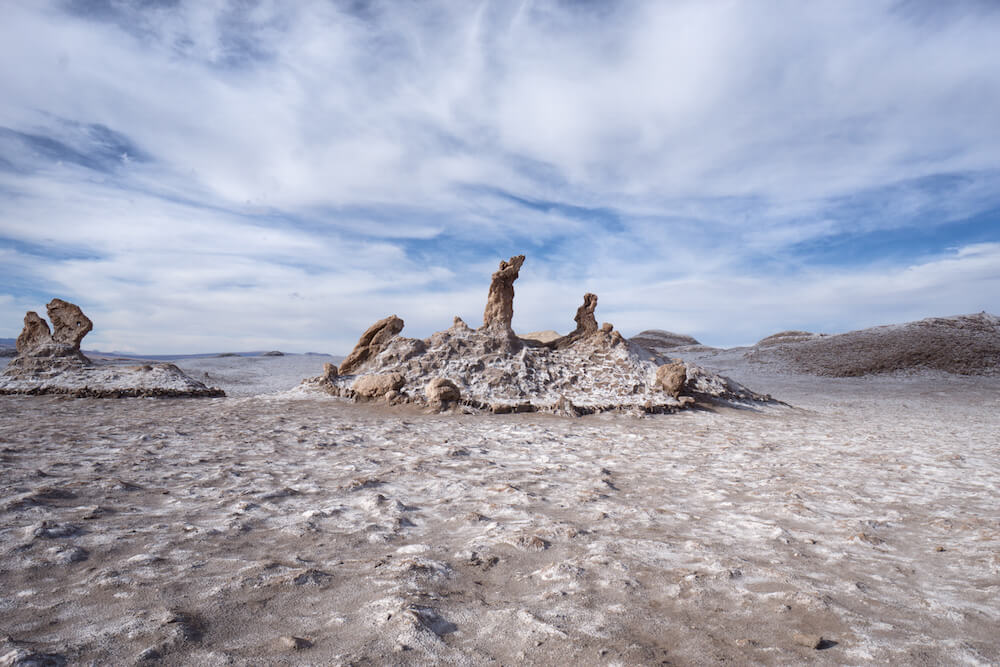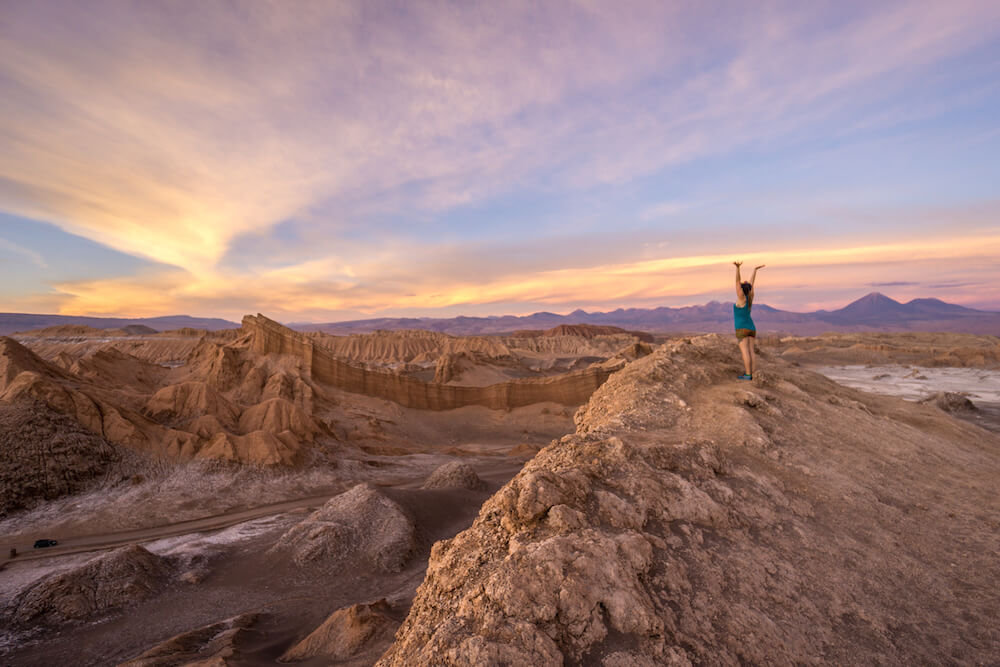 This is THE place to watch the sunset. There are plenty of tours running through, but by being able to go when you want to, you can catch the whole sunset without having to worry about making it back to your bus. That's priceless.
Lagunas Altiplanicas (inc. Laguna Miscanti and Miñiques)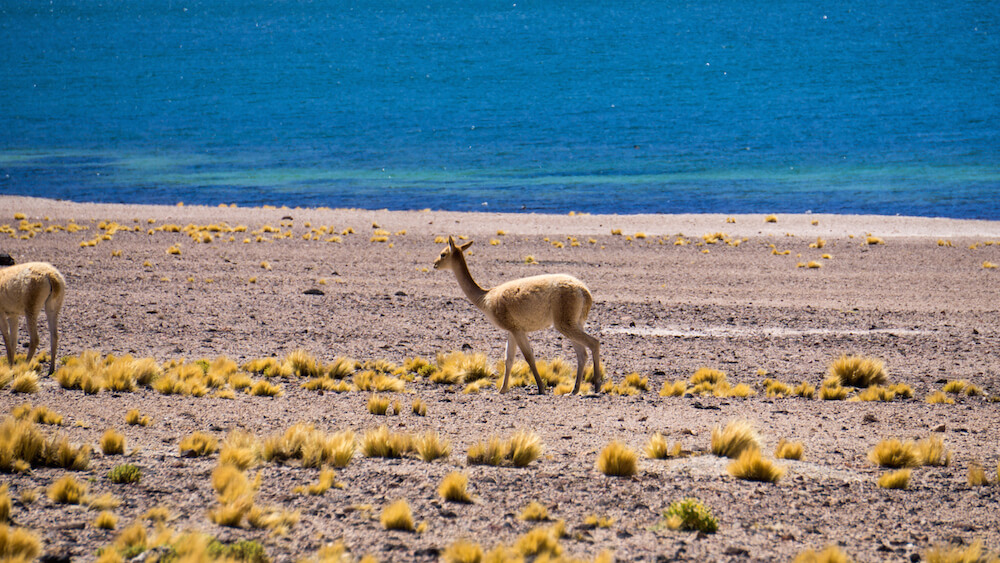 Laguna Miscanti is a heart-shaped, dark blue lake that sits above 4000 meters. If you're trying to level up in altitude, this is at a lower elevation than much of the other attractions, believe it or not, so it's a good spot for your second day.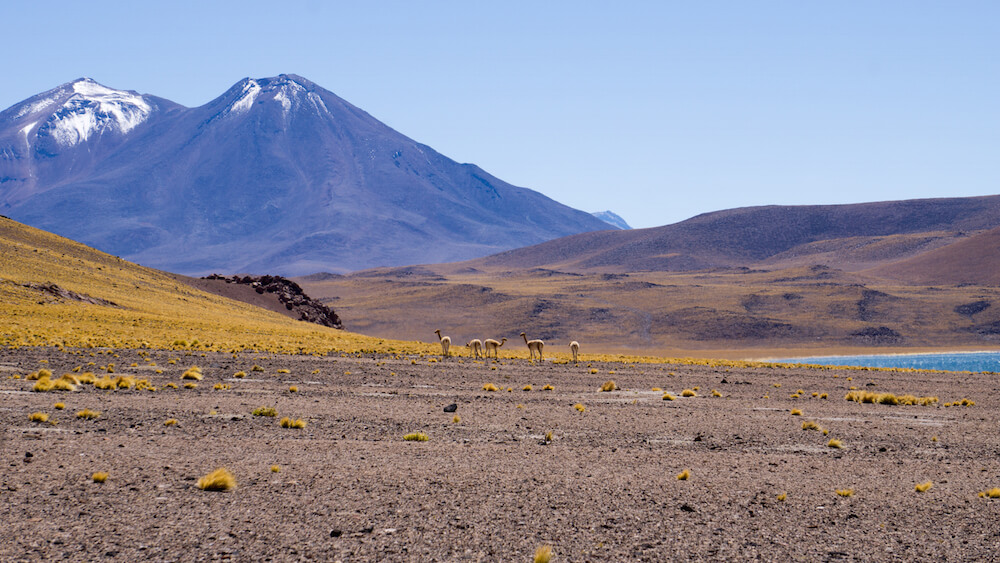 The drive out from San Pedro takes several hours along mostly-uninhabited desert with a few settlements here and there. The grasses that grow all along the way glow a bright yellow and though it sounds desolate, it's absolutely gorgeous to watch as the landscape changes.
Piedras Rojas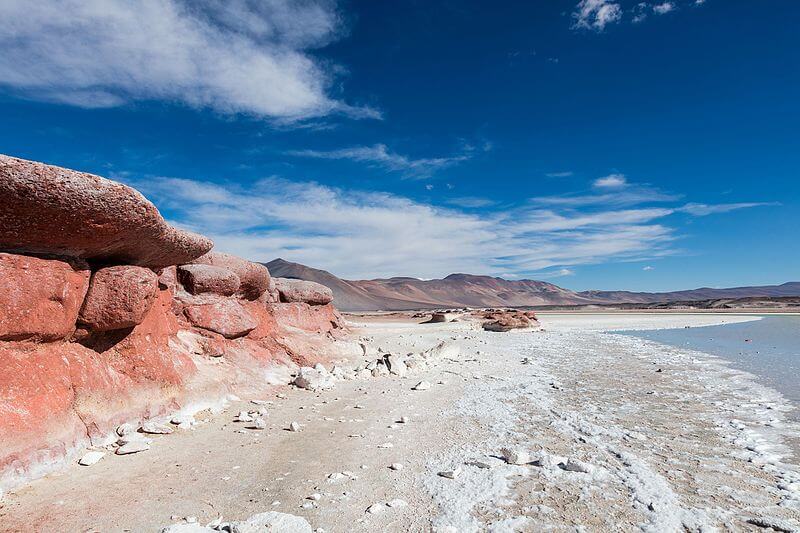 If you turn towards Aguas Calientes after visiting the lakes, you'll see a famous site called Piedras Rojas.
Unfortunately, I didn't have the intel before I went and had no idea this was there until I came back to town towards the end of my trip and started looking at the advertisements in the tourist agencies. It looks amazing and it's nearby. Please don't make the same mistake that I did! Go there!
Laguna Chaxa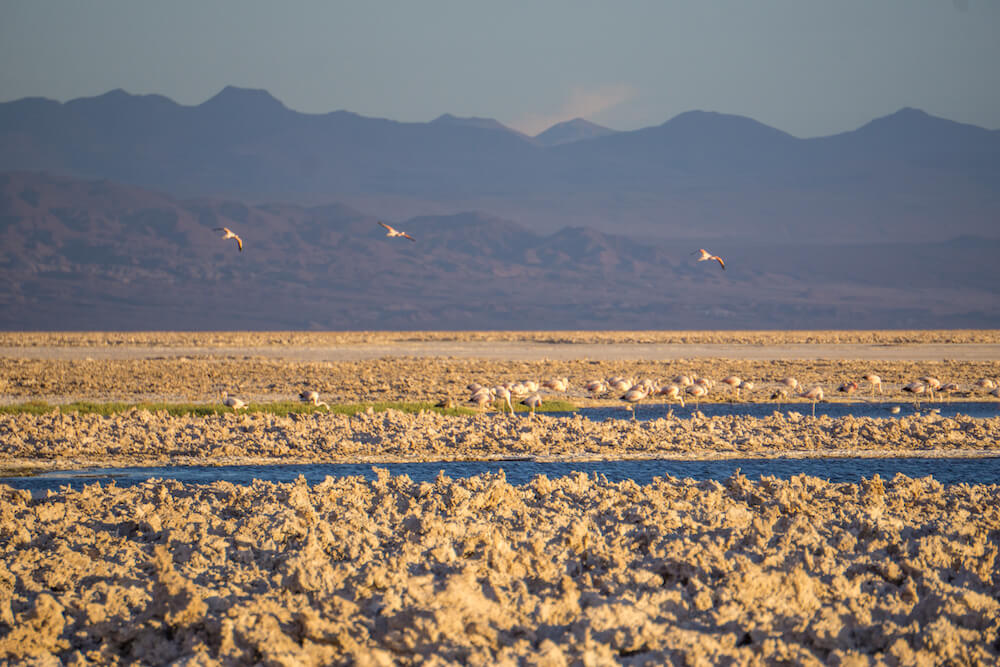 For sunset in the area, you can't beat Laguna Chaxa in the salt flats. This is where the flamingoes come to perform their nightly ritual of feeding in one lake and flying over to the other as it gets dark. It's quite a display.
This is actually a series of a few lakes with a lovely trail running through the salty, jagged soil. It's surprisingly soft and with the sunset colors, a real treat.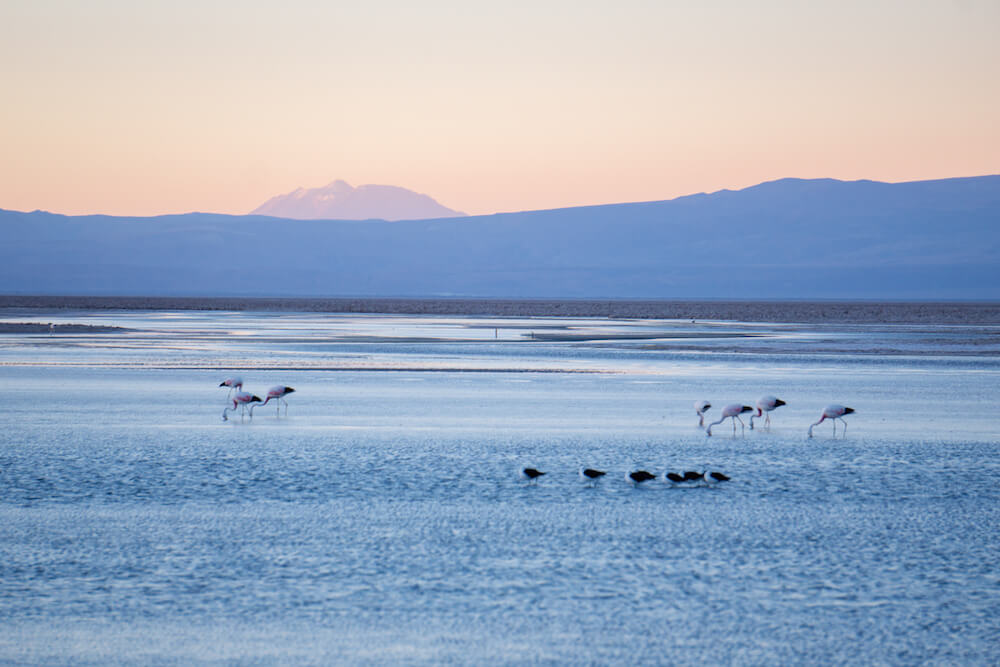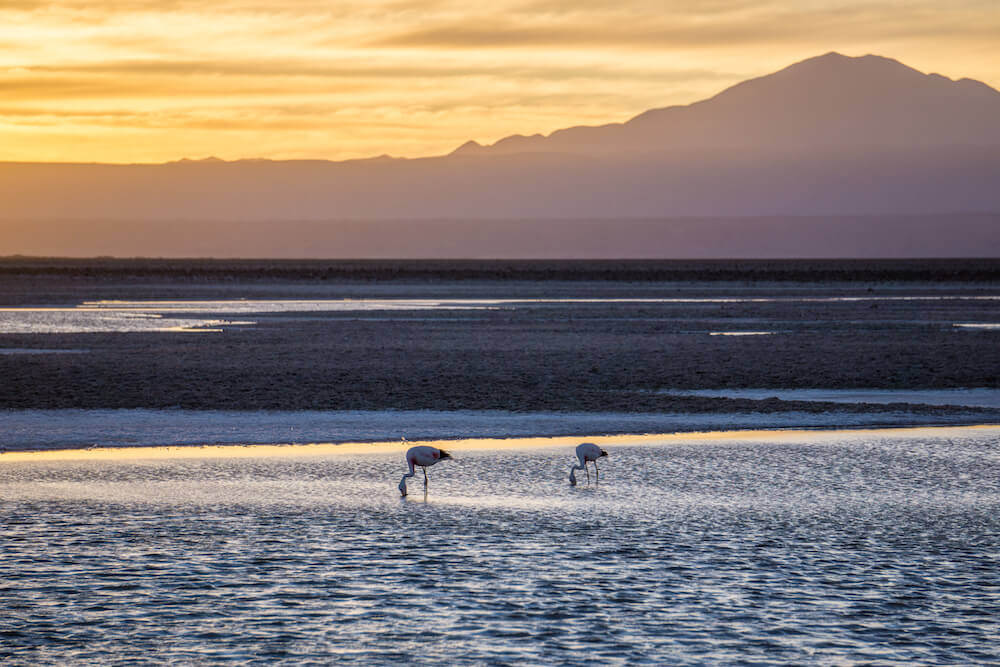 I was able to find a place to camp right at the turnoff for the lake where some trucks had been moving the earth around. The milky way that night was the clearest and most magnificent I've ever seen.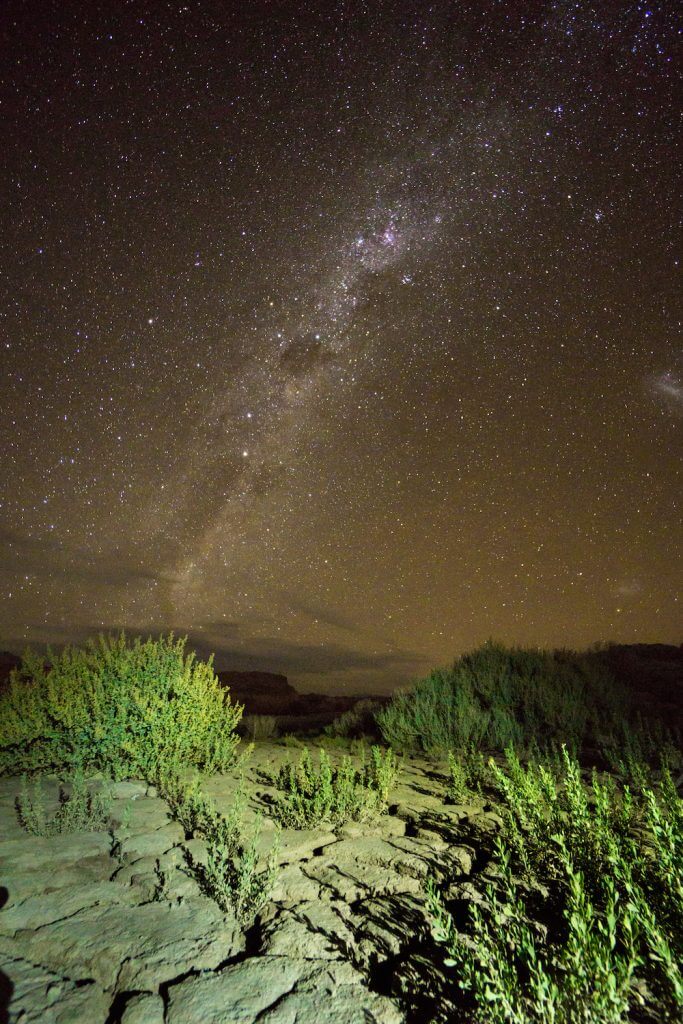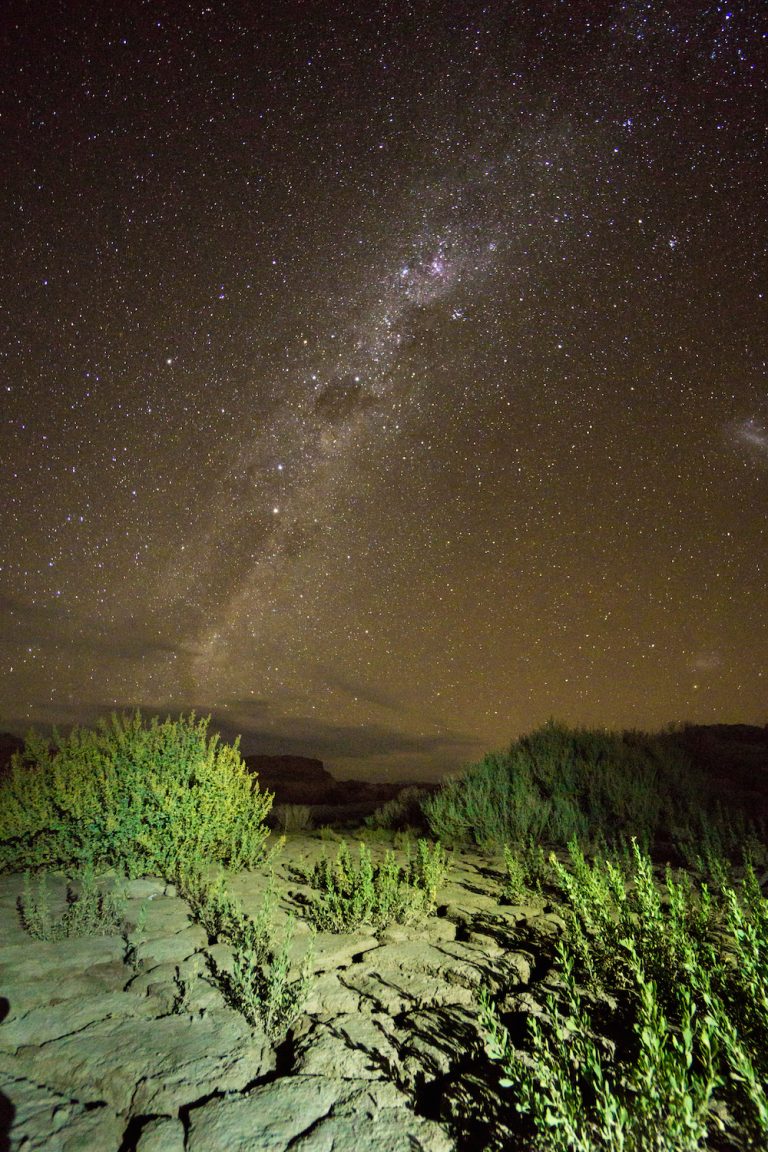 There are a few other lakes over there such as the Laguna Cejar, which you can swim in. It's so salty, you'll float just like the dead sea. The entrance is the equivalent of $20 US, however, so I decided to bypass that for something that sounded more relaxing, the hot springs.
Termas Banos de Puritama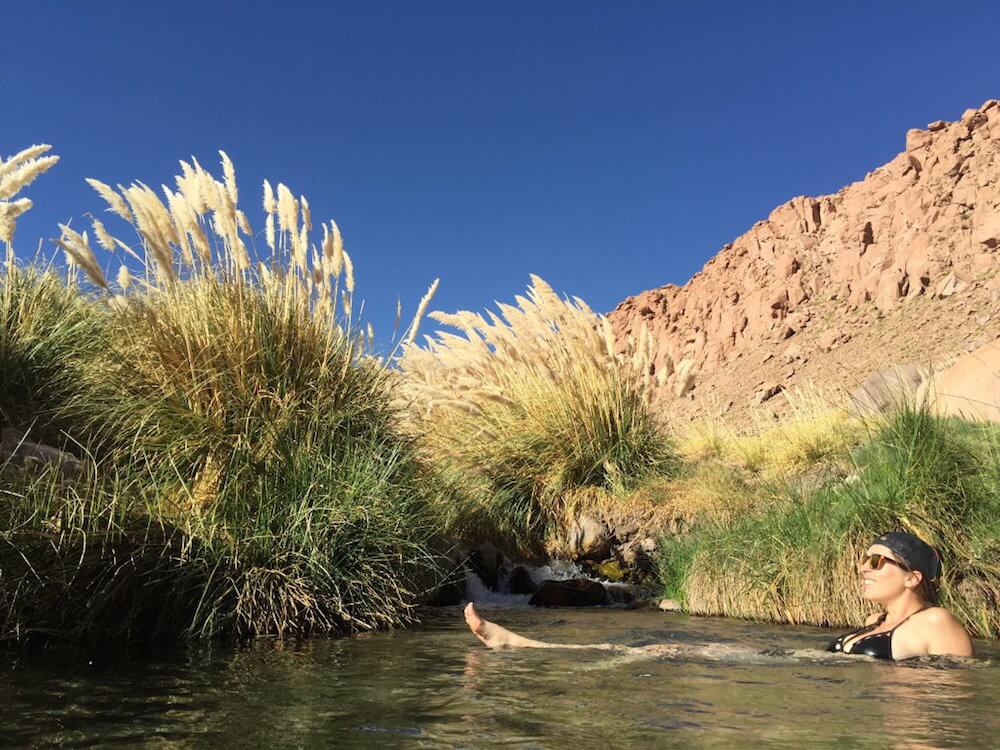 The Puritama hot springs are expensive as well, at 15,000 CLP (USD $25). If you go after 2pm, the fee drops by half, but the wind will be stronger than it would be in the morning.
The baths aren't scalding hot, but rather lukewarm, and as you move farther from the top/the source, they cool off more and more.
Still, if you've been in a camper van, it's a nice hippie shower and the pampas grass growing all along the pools is so mystical and lovely.
Geysers del Tatio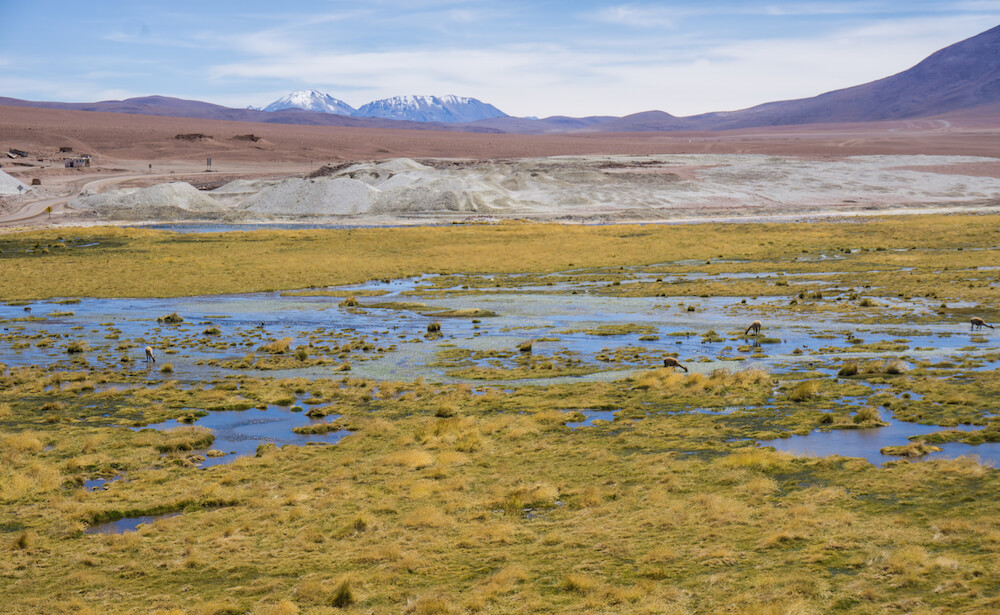 Most people take a tour up to the geysers for sunrise, when they're the most active.
I headed up just after sunrise and missed the crowds, while also enjoying the animal sightings along the way. The geysers are still bubbling after the sun rises, and at 4,200 meters in altitude, it's really darn cold up there while it's still dark.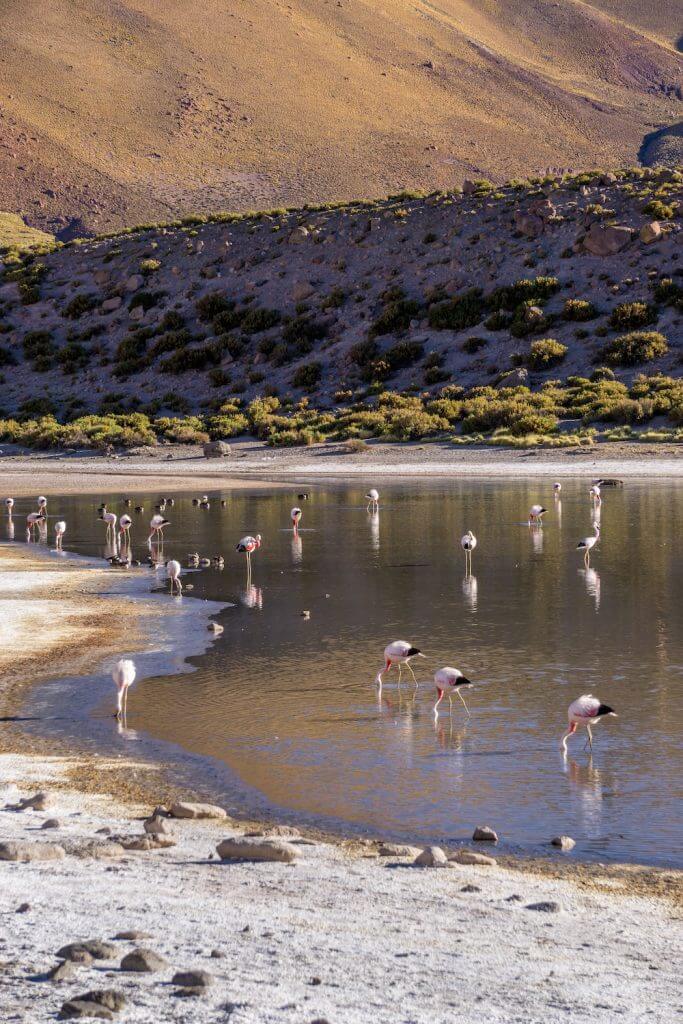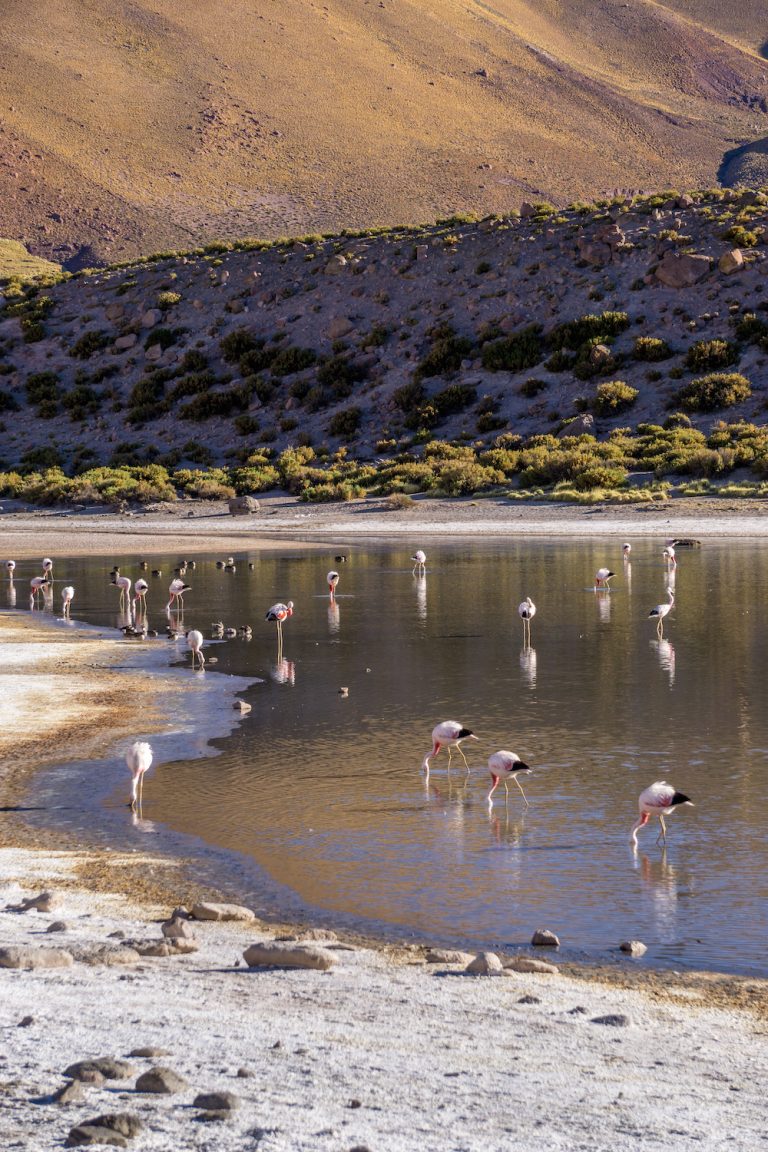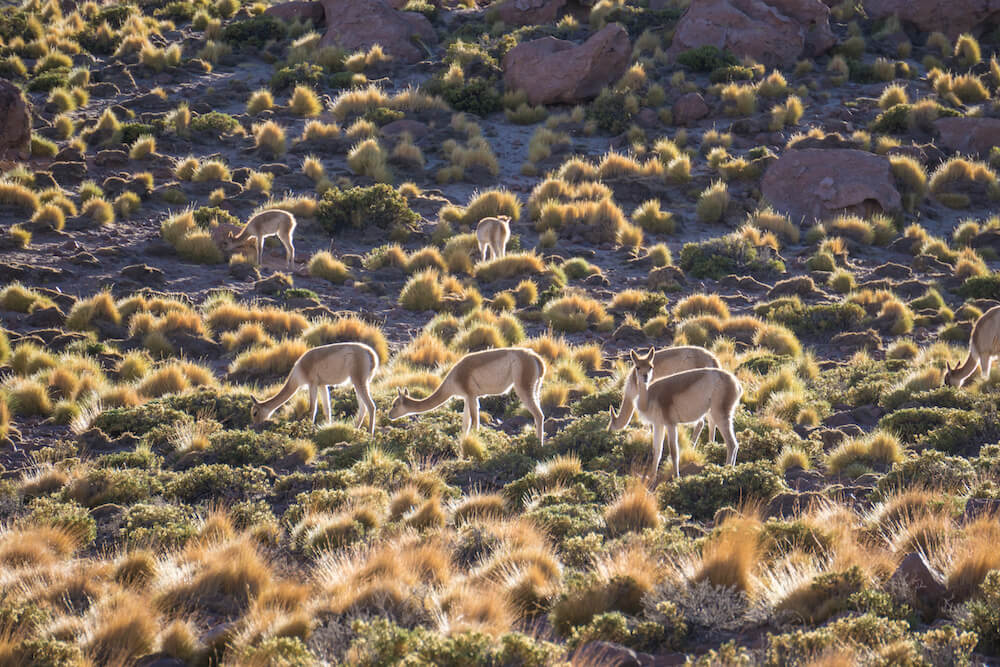 Bonus, there are also hot springs at the geysers, and if you can brave the cold long enough to change and jump in (and more devastatingly, back out again all wet), the pool isn't very crowded and the water is much hotter than at the Puritama hot springs.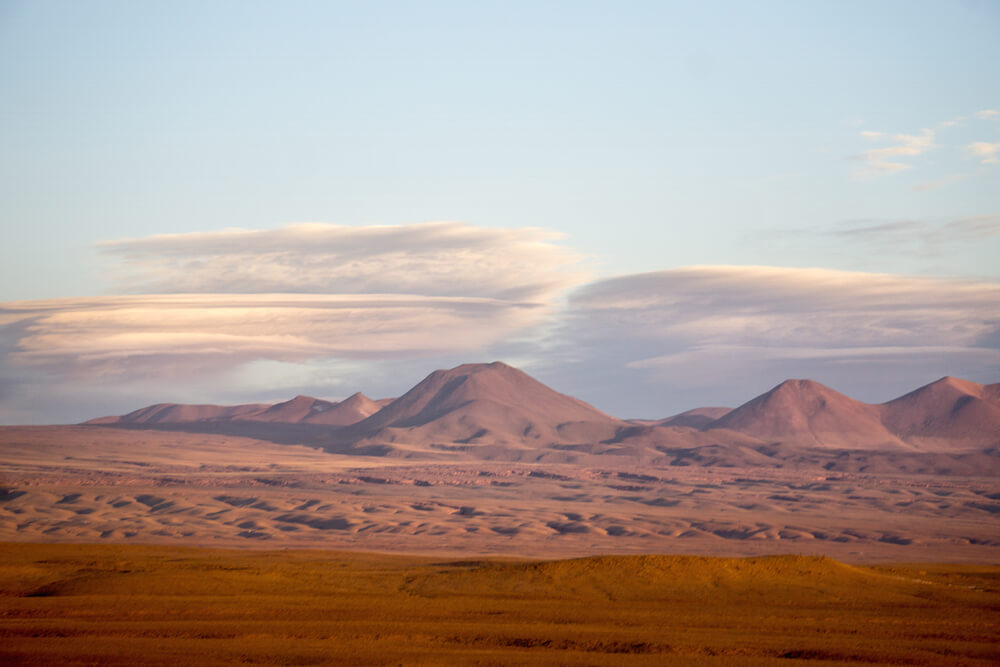 *Note: If you drive a normal, non 4×4 car from the hot springs to the geysers, you cannot stay on the same road. You'll need to go back to the fork in the road and turn right towards the geysers.
Valle del Arcoiris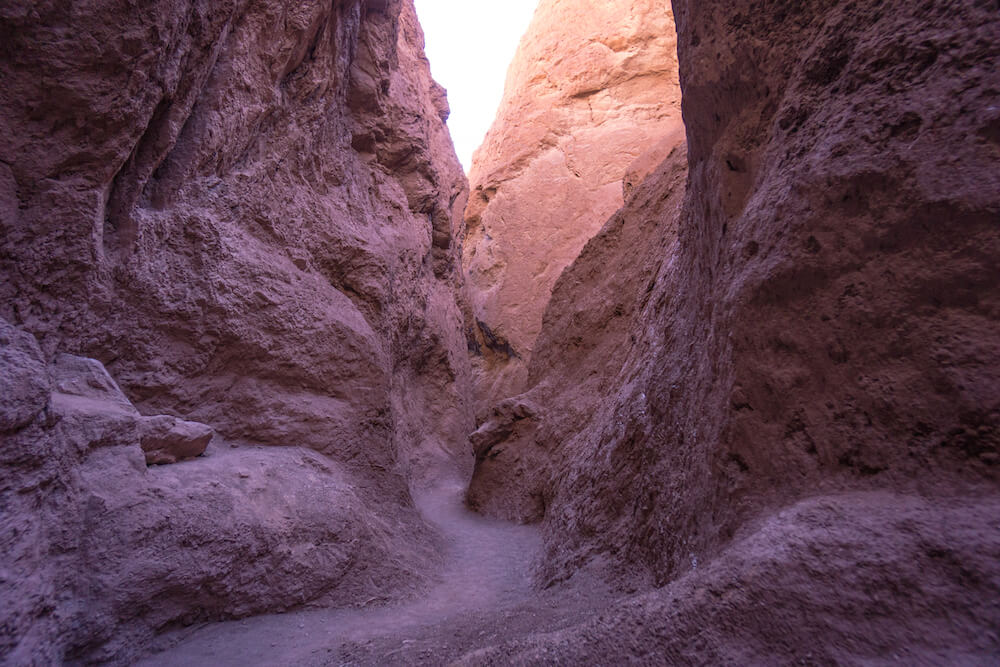 The Rainbow valley (in English) isn't very high on the tourist radar, so it's easy to get this all to yourself and it's not too far from the town of San Pedro, either.
There are a few dirt roads running through the valley, which has red, black, white, and green mountains running all through it.
If you do see a tour car there, I suggest following them to see what they're checking out. You can find plenty of rewards by climbing through the rocks and caves!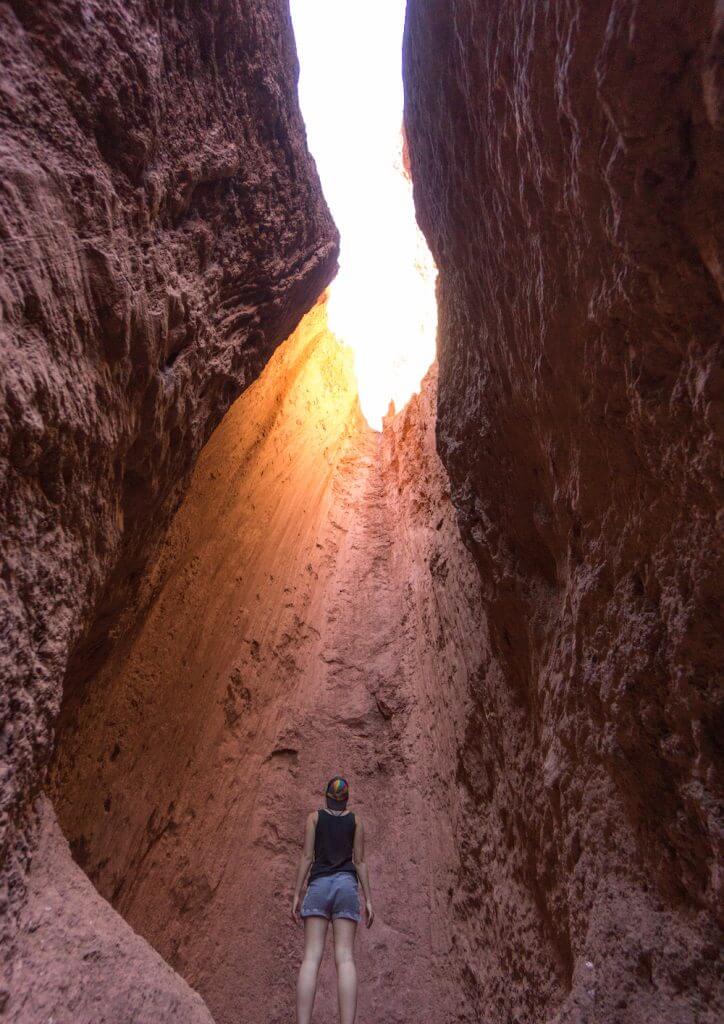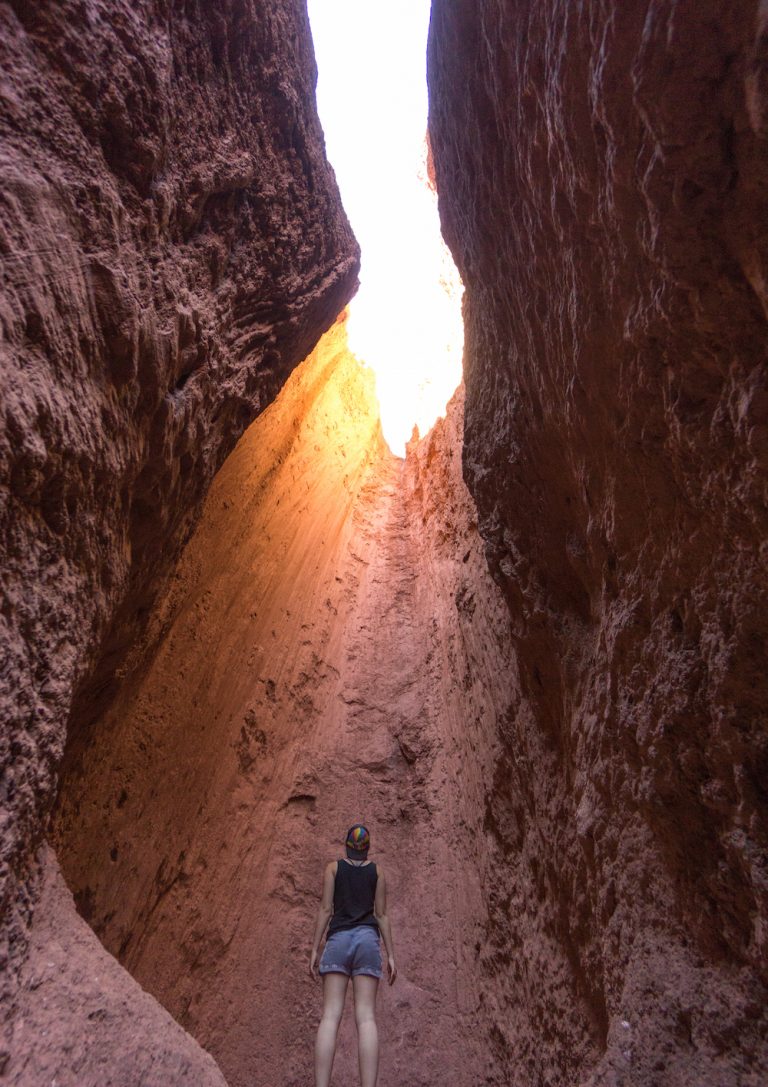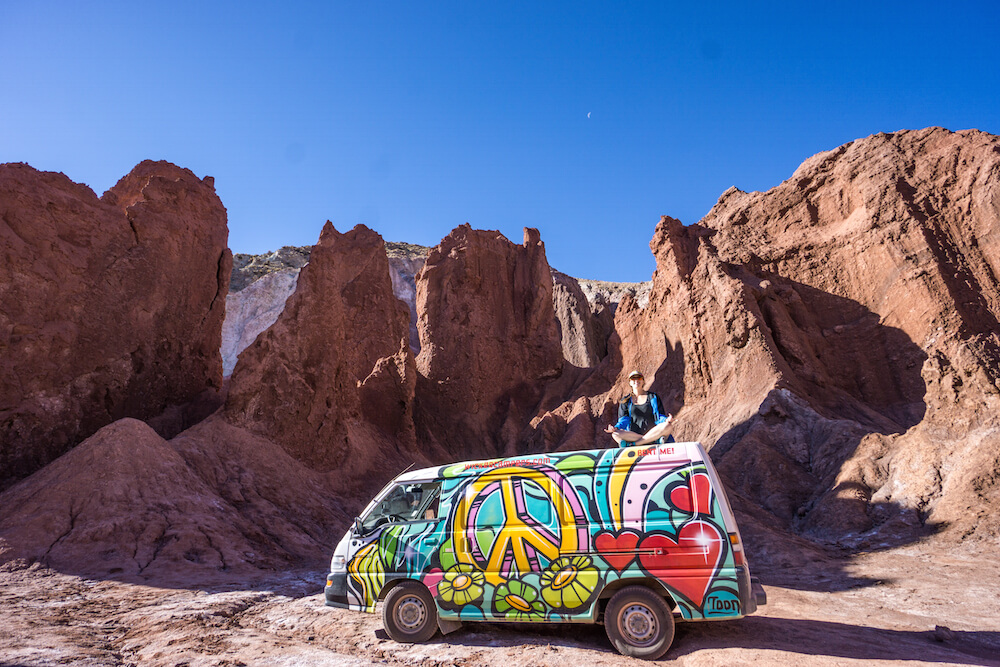 Sunset at Valle de la Luna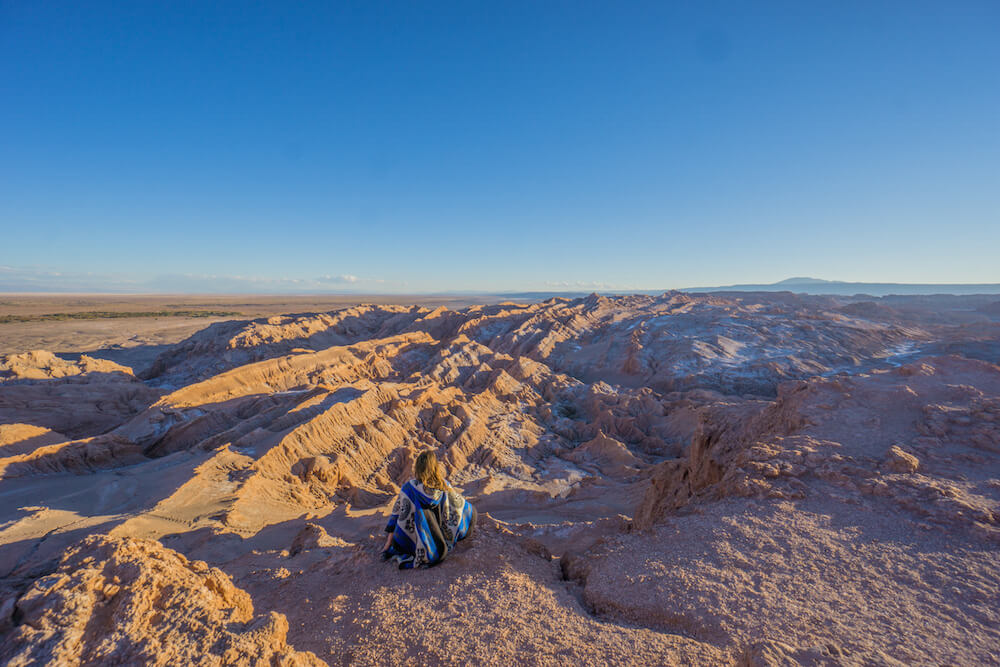 There are two ways to see the Valle de la Luna. The method mentioned earlier in the post, and this one, which is just off of the main road before you get back into town. There's no entrance fee and all you need to do is pull off to the shoulder to catch the sunset. This was night four of my four-day camper van rental and, though with more time and a 4×4 there was definitely more to see, this was a great sampling of the San Pedro de Atacama desert, a place I can't imagine experiencing any way other than by camping.
The roads have hardly any other cars, the landscape is beautiful and it's a definite advantage to be able to pull off whenever you want and to have the solitude under those stars that camping affords you.
The map below has all of the points plotted out on it. As I mentioned before, it's best to plot these by coordinates then save on an offline map since signal isn't always available out there:
Happy camping!
*This post was brought to you in collaboration with Wicked South America. Opinions shared of the van are my own – your trust always comes first!