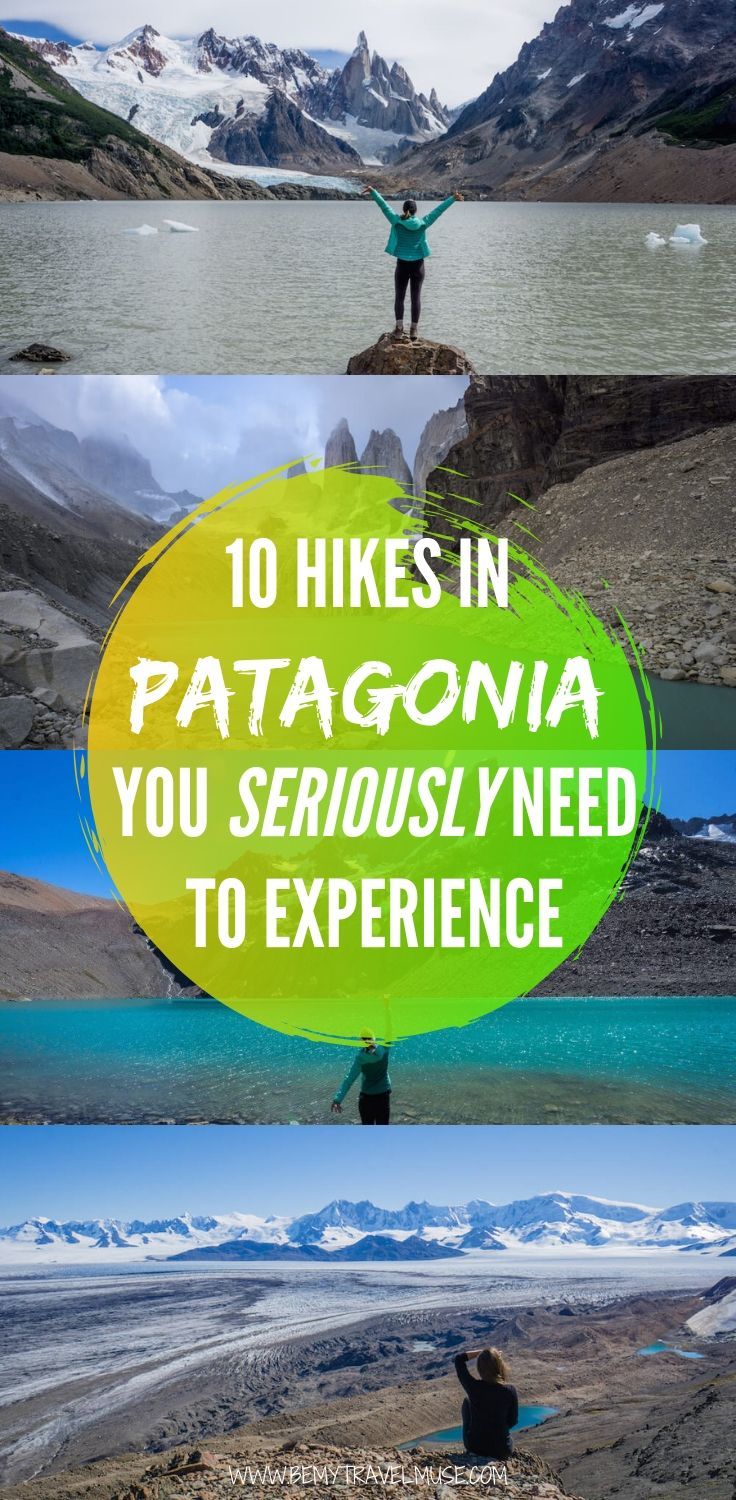 Patagonia is for hikers. Though the weather is crazy, the region is remote, and trails can be rough, it's one of the most impressive places to do long-term treks thanks to all of the crazy rock formations and glaciers. Seriously, there are a lot of both.
I spent 2 months in Patagonia, hopping between Argentina and Chile, and I don't even know how many glaciers and waterfalls I must have seen during that time. I stopped counting. That's how incredible the scenery in Patagonia is.
After doing countless hikes, these are my top ten favorites for those exploring Patagonia, in order from north to south:
Tronador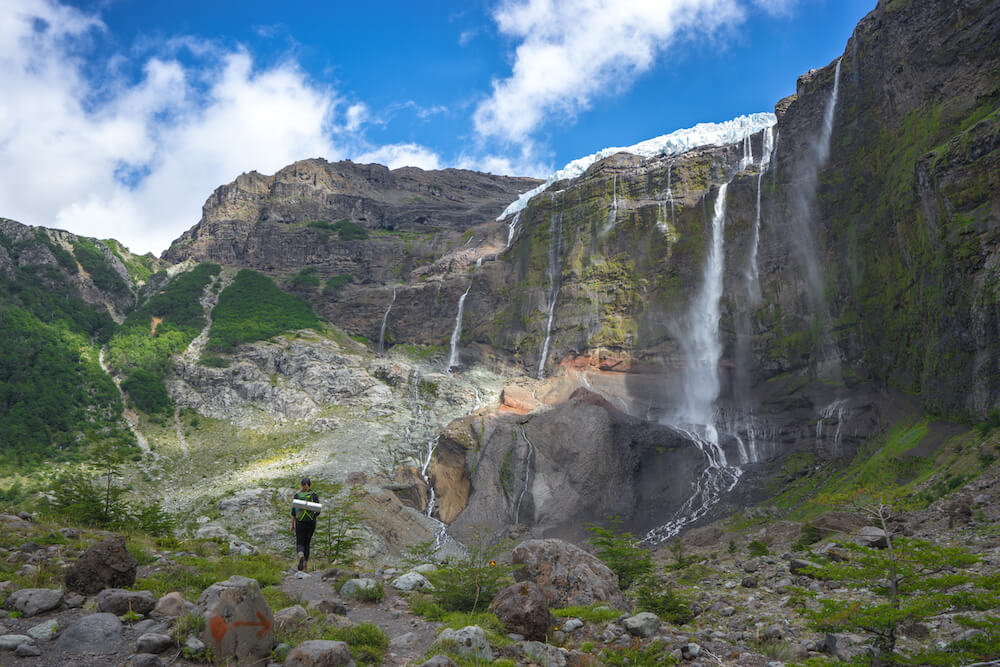 Difficulty: Medium
Length: 36km, overnight
At the north end of Patagonia in Argentina, the Tronador hanging glacier trek is an excellent introduction to the region. If you're starting up there like I did, don't miss this hike. The trail starts after a 2-ish hour bus ride from the nearby town of Bariloche, popular for skiing in the winter.
The beginning runs through a forest and is pretty easy until getting to a steep and winding portion called the caracoles. After that, the climb is mostly on rock and though long, the trek is not extremely difficult. There's a refugio at the top where you can sleep for the night (book ahead in Bariloche at Club Andino!), or tote your own tent and camp. Watching the stars over the glacier is truly a spectacular sight. Read more about Bariloche and the hike here.
Refugio Frey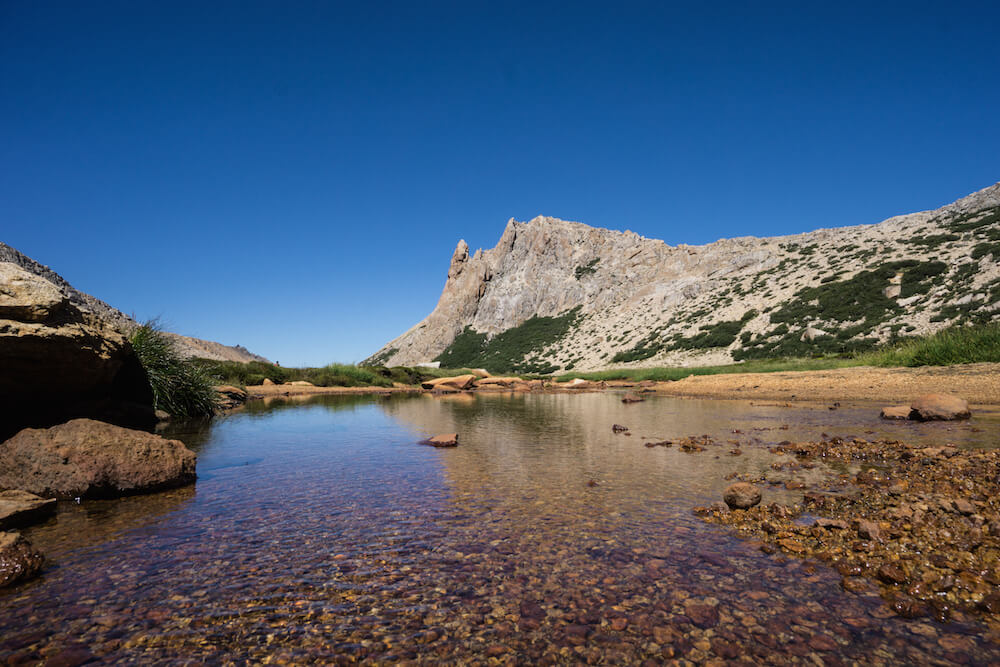 Difficulty: Medium
Length: One day
The time it takes to do this hike and the difficulty can really vary, since there are several ways to get to the Refugio Frey. You can take the ski lift up to the Condor lookout then boulder for a few hours, straight up then straight down, in order to reach the refugio, or you can take the forest path, or some combo of the two.
I love bouldering so I bouldered in and walked through the forest path back out, creating a loop. This hike is doable in one day but beware the steep and narrow path to the boulders for those who don't like heights. It even had me shaking a bit and I don't mind them at all!
Cerro Castillo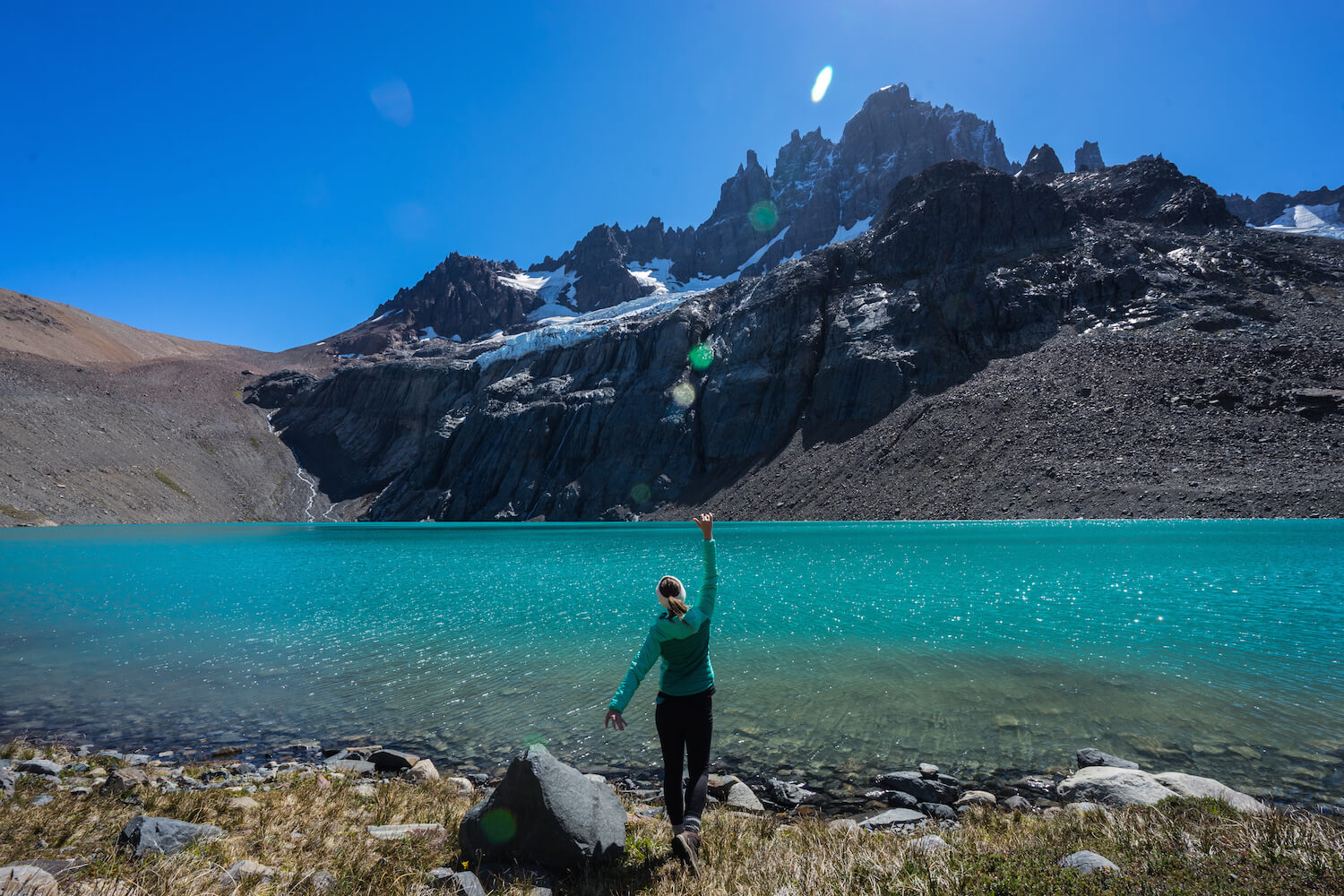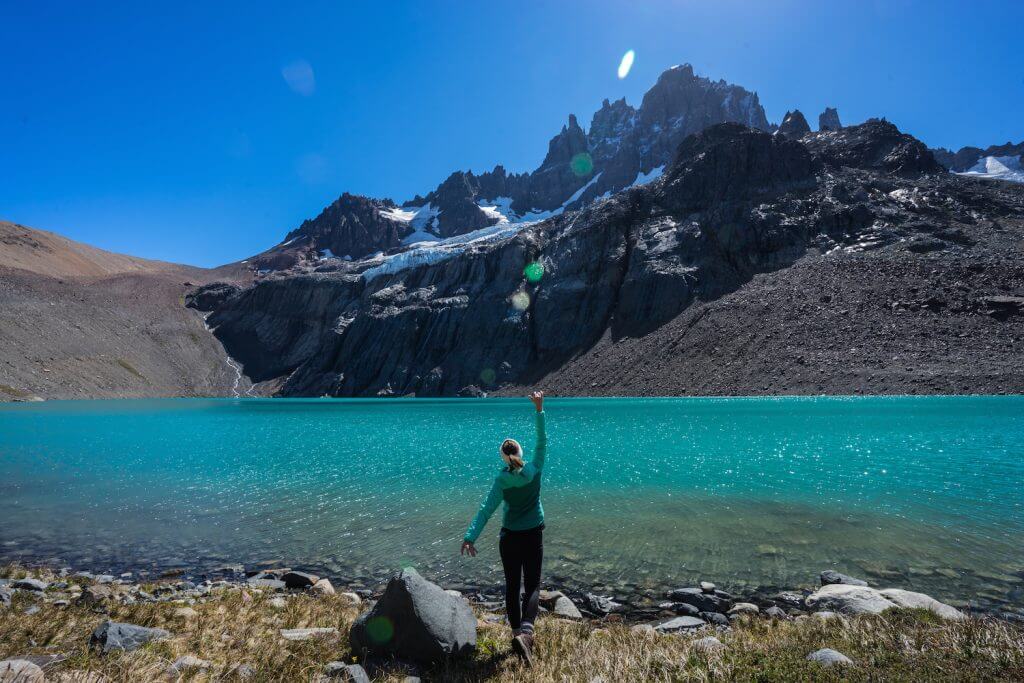 Difficulty: Medium
Length: One day
This used to be a multi-day trek from just outside of Coyhaique along the Carretera Austral, but these days they've opened up the 'emergency route' from the town of Villa Cerro Castillo that sits just at the base, and allow hikers to go up the steep trail that takes only one day.
The Cerro Castillo, with its aqua-blue glacial lake and black rocks covered in white glacial ice would be a treat in and of itself, but the views in every direction of the painted mountains and canyons that lead to and away from Villa Cerro Castillo are absolutely stunning as well.
If you find yourself here, meet a gaucho and go on the hike. It's an excellent way to spend a day.
Exploradores Glacier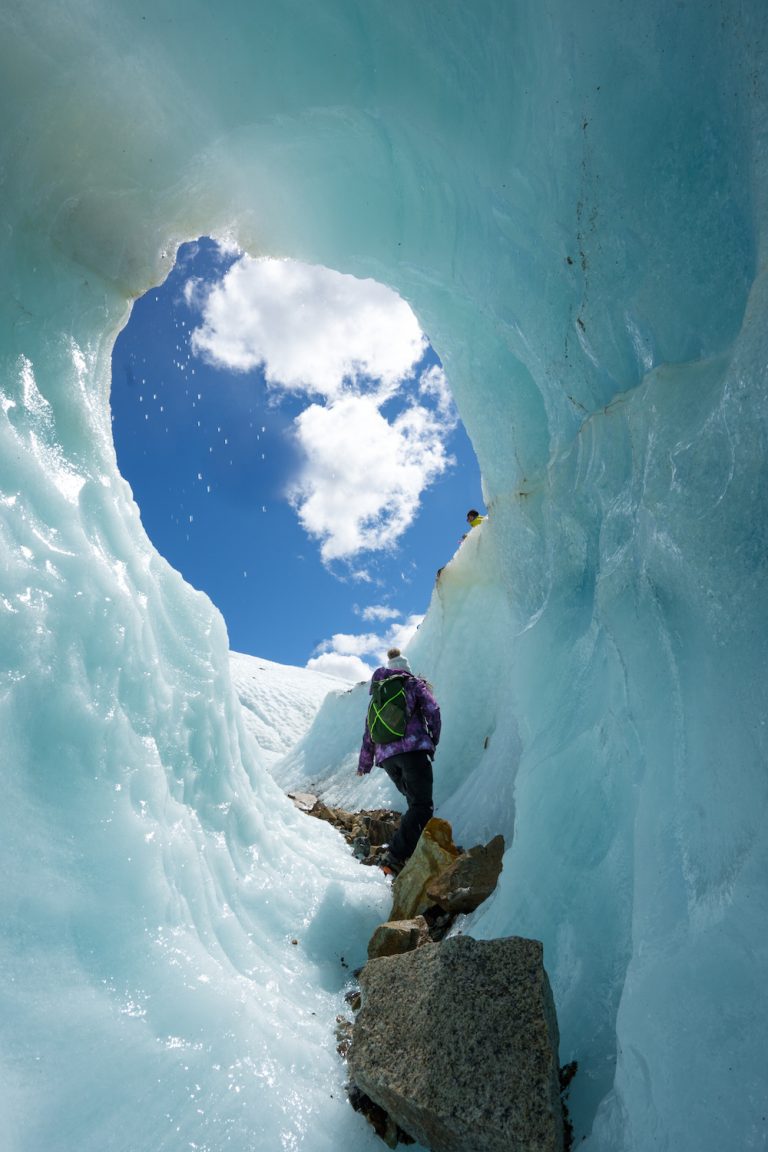 Difficulty: Medium
Length: Depends – full day of trekking for at least 8 hours
Part of what makes Patagonia exciting is how recently certain parts of it have been made accessible. It wasn't even until the late '80s that one could drive all the way down the Carretera Austral, the mostly gravel road that runs through Chilean Patagonia. Towards the end of it, you'll find Puerto Rio Tranquilo, the gateway to the Exploradores Glacier.
A local there who runs the tours told me that he only became aware of the glacier over the past five years, and that tours on it have only been going for the last couple. They last several hours and it requires climbing over rocks on the glacier moraine for quite some time before reaching the ice, but once you do, you'll see ice caves galore. More on how to do it yourself here.
From Villa O'Higgins to El Chaltén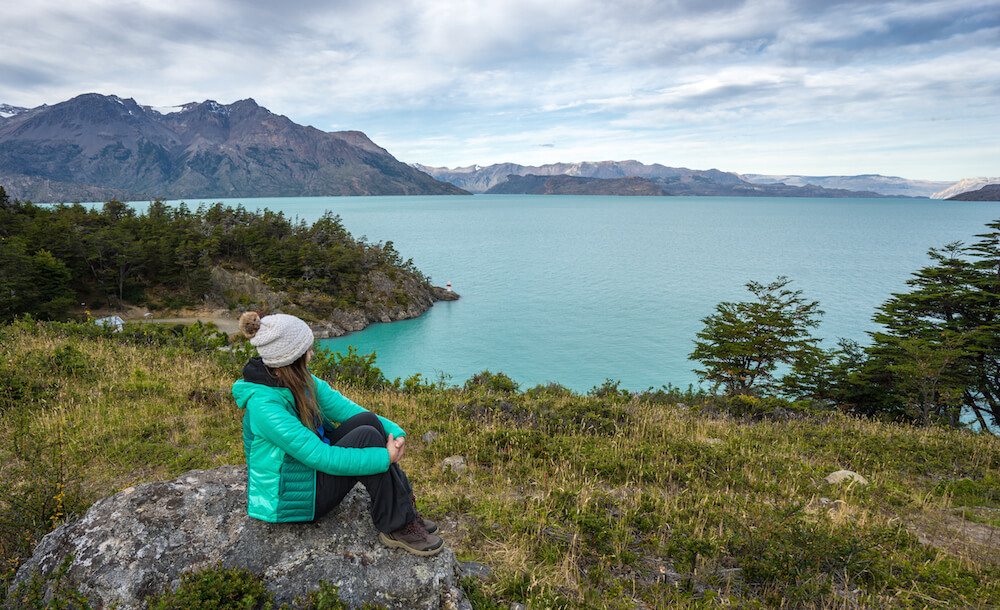 Difficulty: Easy
Length: Depends – 2 or 3 full days
This isn't a typical hike, per se, so much as walking between two countries in no-man's land. That makes this one of the most unique hikes in Patagonia and one you won't see many others on.
This hike sits at the very end of the Carretera Austral, and requires a boat ride, which stops by the gorgeous O'Higgins Glacier, then goes onward to the most remote farm in Chile. Overnight there then get ready to hoof it for 22km into Argentina through no-man's land.
Once you cross into Argentina, you have the choice to take a boat or to walk an additional 15km to where busses (or cars, if you fancy hitchhiking), can take you into the town of El Chaltén. Keep in mind you'll be carrying all of your stuff with you for this one, so while it's mostly flat, you'll be loaded up and trudging through mud. If you want to give it a try, you can read all about the crossing here.
The Huemul Circuit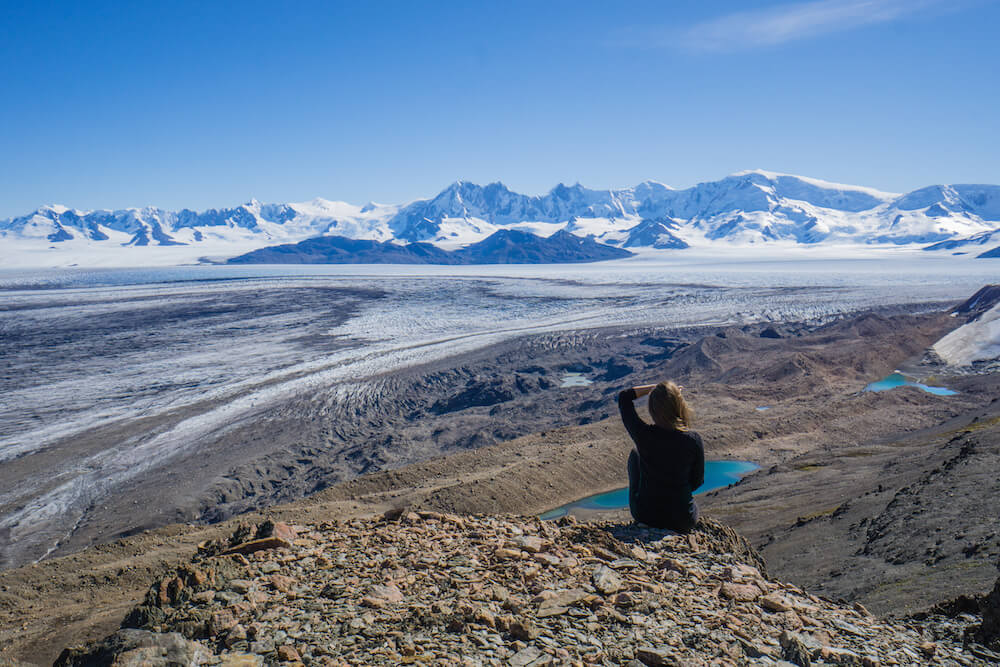 Difficulty: Strenuous
Length: 63km, 4 days
I won't sugarcoat it, this is one of the toughest treks that I did in Patagonia. Parts of it are straight up and parts of it are straight down. For much of it, there is no real trail and it's necessary to navigate by GPS. You'll also need to bring a harness along to pull yourself across two rivers. This one ain't for pansies!
All that said, this is one of only five trails in Patagonia that you can see the Southern Patagonian Ice Field from, and this view is worth it. Also, this is one of the least-crowded trails in all of Patagonia and while you won't find any services or well-maintained campgrounds along the way, this is the real Patagonia and it's incredible. Read more about the glacier lagoon and the Huemul Circuit here.
Fitz Roy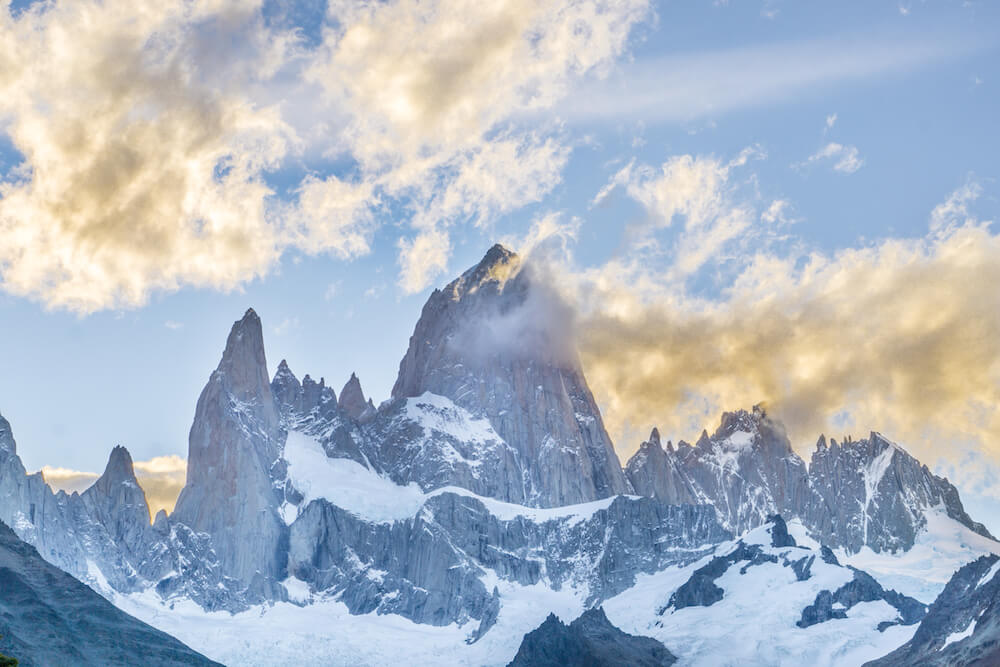 Difficulty: Mostly easy, then strenuous
Length: Full day
Do you recognize those rocks? This famous formation is on the label for Patagonia clothing, and is probably one of the most recognizable sights in Patagonia. Though this is a very famous trek, it's definitely worth climbing to the top, despite the crowds, to see the Fitz Roy.
You can start the trek from the town of El Chaltén. Most of it is flat and lovely, until the final hour of the trek which is straight up a rocky trail. It will be strenuous, but it will also be worth it! Read more on the Fitz Roy (and the Torres noted below) here.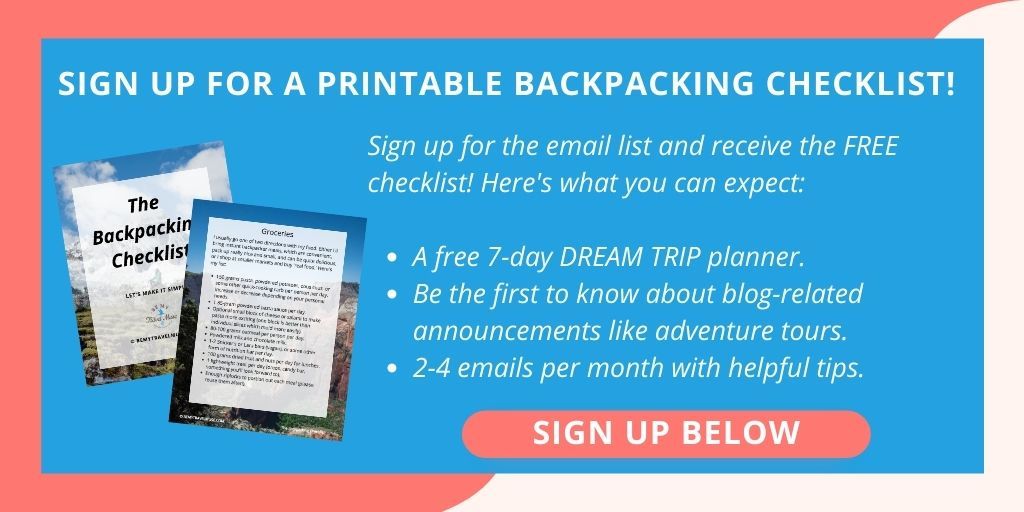 The Torres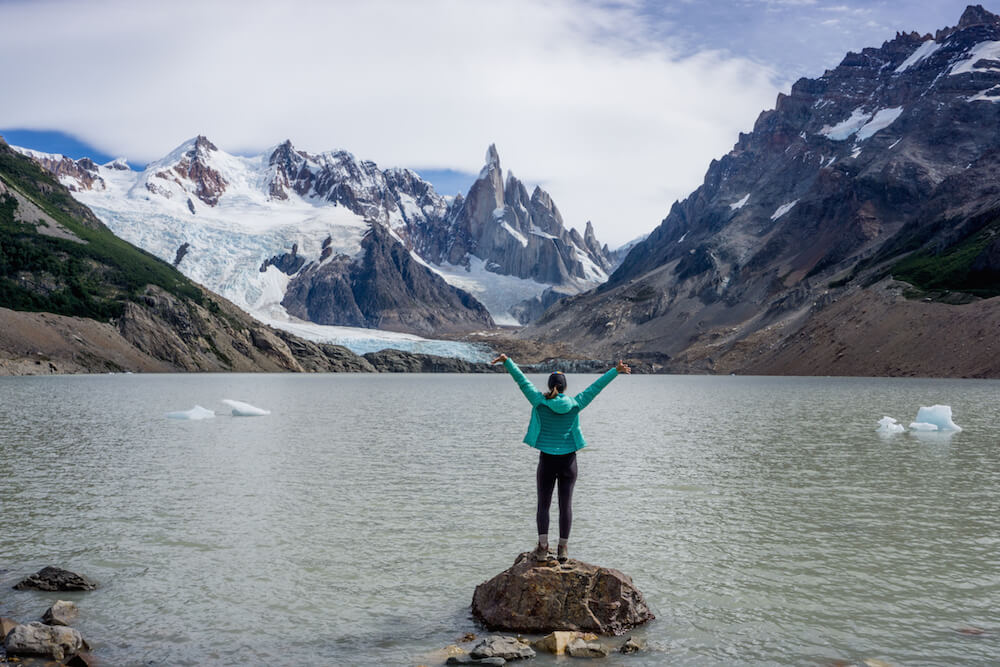 Difficulty: Easy
Length: Depends – full day of trekking for at least 8 hours
Finally, an easy trek that you can take from the town of El Chaltén without having to plan an overnight or sore muscles the next day! I say above that the length depends because it's possible to combine the Fitz Roy and the Torres to make it an overnight hike, or if you're fit enough and leave early enough in the day, it's possible to hit them both and return back to town for dinner.
Though the trek is mostly flat, it's long, so make sure that you bring along lunch and plenty of snacks!
Las Pumas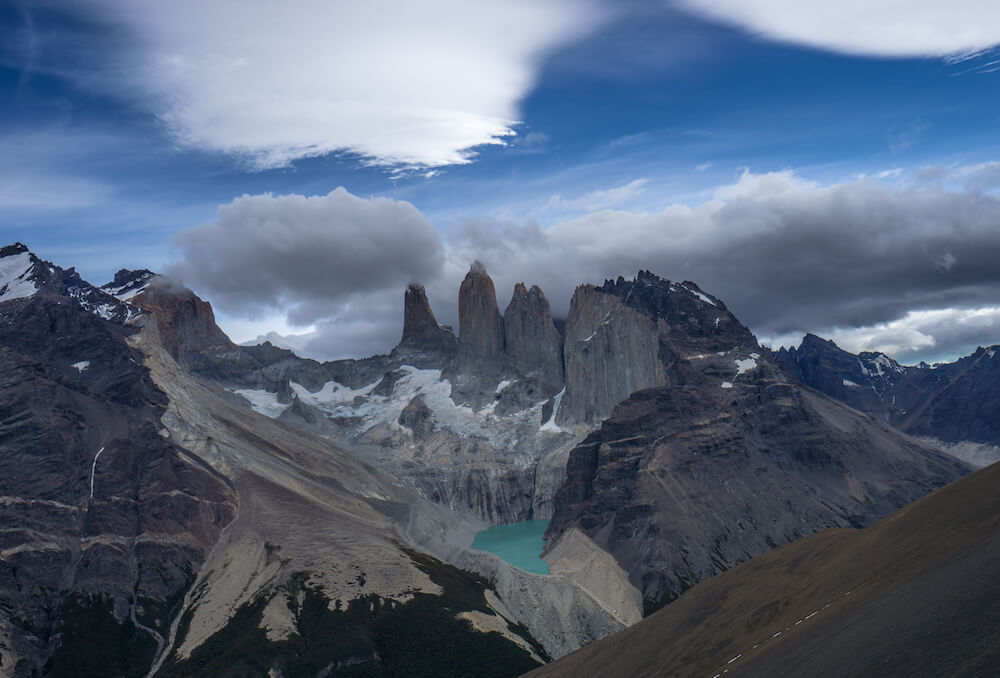 Difficulty: Strenuous
Length: One day
This is yet another trail in Patagonia that will have almost nobody else on it, but this time it's not just due to the difficulty (by the way, this is a very steep trail on rock that just goes straight up and can experience some seriously heavy wind), but also due to the fact that it's private land. It belongs to the Hotel Las Torres but if you stay with them, you can take horses part way up and down (recommended to save your knees), and you get a view of the towers that almost nobody else sees.
The Circuit in Torres del Paine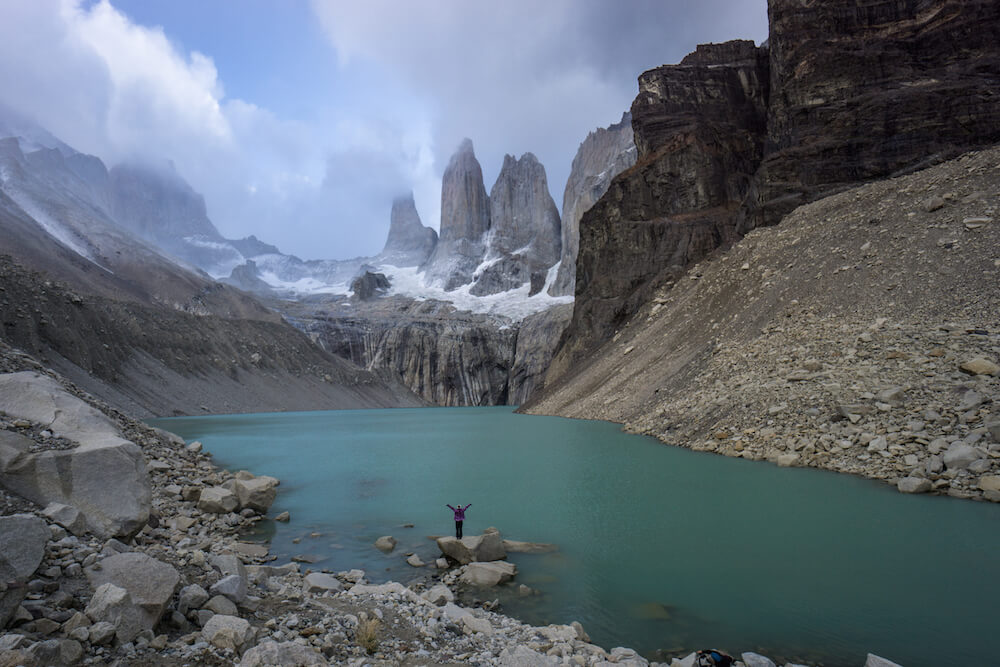 Difficulty: Medium
Length: 120km over 8 days (avg.)
The crown jewel of long hikes in Patagonia, Torres del Paine is great to work up to if you're going from north to south like I did. Each year this park gets exponentially more popular as trekkers discover that Torres del Paine in Chile is a worthy adventure, full of changing landscapes and a glimpse of the Southern Patagonian Ice Field, especially from the full O circuit.
The trek takes about 8 days, give or take, and goes in a loop. If you're short on time, it's also possible to hike what's known as the W, which shaves three days off of the trek and still shows you some amazing views, but none of the ice field, which was a special treat. Read more here on how to prepare for Torres del Paine and for 2019, I'm offering a women's tour there! Click here to read more. If you'd rather not do 8 days, here are a few day hikes in Torres del Paine worth checking out.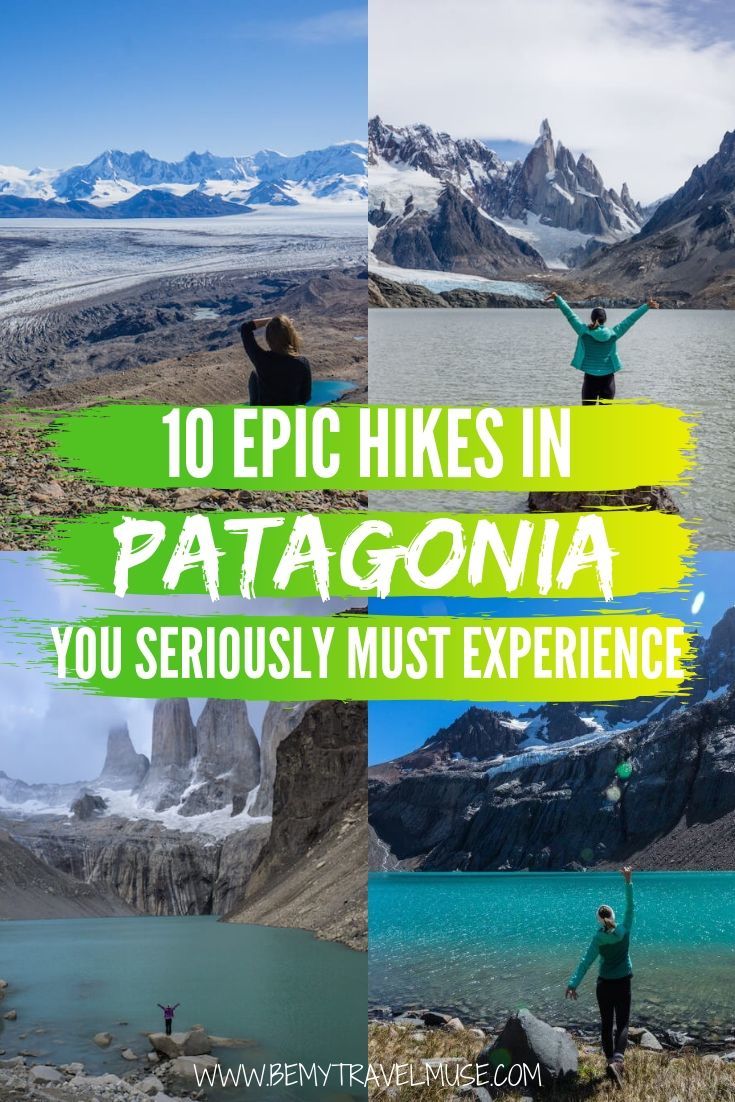 ---
So are you convinced yet to head to Patagonia? Though it's not the easiest place in the world to hike, it's definitely one of the most picturesque and impressive.
If it's your first time hiking through, be sure to check out my guide to trekking in Patagonia, read up on what to pack, and check out my itineraries for one week, two weeks, and one full month in Patagonia.
Happy hiking!