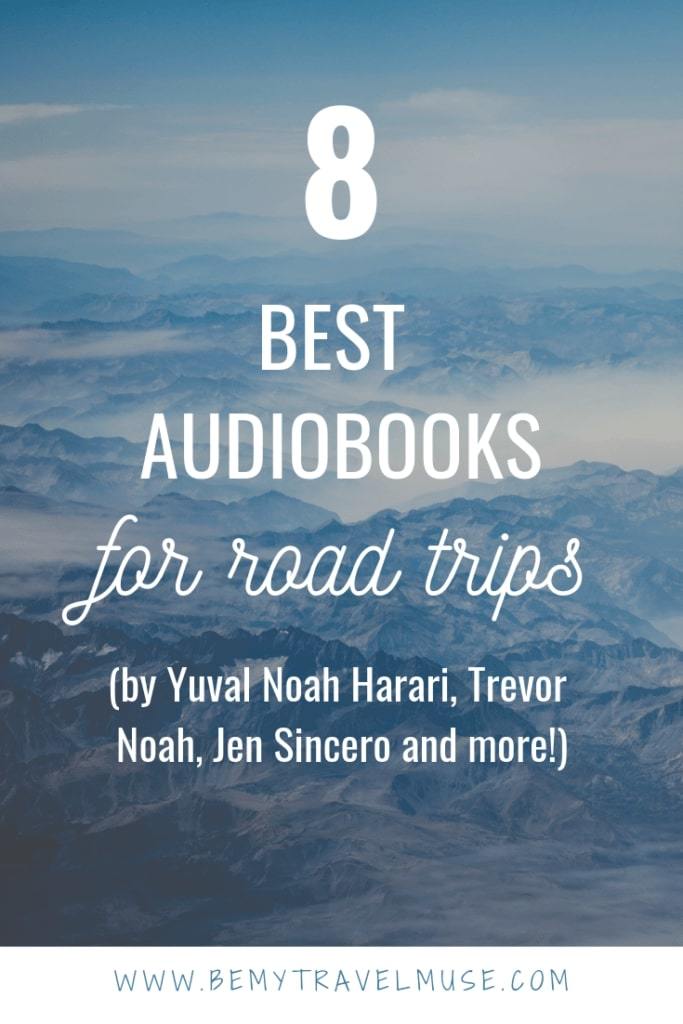 Roads trips can be one of the best ways to travel – the freedom, the sights, the opportunity to pull off and stop whenever you want – it's such a great way to get to know a place. Of course, it comes along with long stretches of time spent in the car, which can be both a blessing and a curse.
Music is a great way to pass the time, of course, but you'll get tired of your playlist eventually. I've come to find that one of the best ways to maximize road trip time is to listen to audiobooks. My favorites are the ones that teach me something while entertaining me at the same time.
The following are such good audiobooks for road trips, I've listened to each one at least twice:
1. Sapiens: A Brief History of Humankind
by Yuval Noah Harari
This is one of the best audiobooks I have ever listened to. It really puts modern society into perspective, particularly how short of a time we have been living in societies with culture, laws, and farming. For most of our existence, we were hunter gatherers who, if we could make it out of childhood, lived pretty laid-back, well-fed lives. It's insane how many things we consider as absolutely true these days that did not exist for most of humankind's history. Almost everything we base our lives on are social constructs and agreements, like economics, romance, and religion. For these reasons this book might offend some people but I think the author does a good job of laying out bare facts.
This is the only book on this list that I could turn around and listen to immediately again, just to go over the parts that I missed before, or consider them with the benefit of having already finished the book. I love it when I come out of a book with even more questions than I had before. This one will get you thinking! You can listen here.
2. Born a Crime
by Trevor Noah
This is the story of Trevor Noah who was born and raised in South Africa during the apartheid years. With a black mother and white father, he was quite literally born a crime during the forced racial segregation in his home country. While this led to a difficult upbringing, in true Trevor Noah fashion he tells the story with humor and relatability.
What I love most about this book is that he performs the whole thing himself. I think a lot of the effect and humor would be lost if read visually rather than listened to as an audiobook. I've listened to this one twice and was thoroughly entertained both times. It's also a great one to listen to if road tripping through South Africa! You can listen here.
3. You Are a Badass
by Jen Sincero
I love audiobooks narrated by the author themselves, as is You are a Badass: How to Stop Doubting Your Greatness and Start Living an Awesome Life by Jennifer Sincero. The entirety of the book is devoted to motivating you to make changes in your life and to feel confident in doing so.
This is great for people who feel that they are at a turning point of sorts, but it's also a great read for absolutely anyone. Even if things are going great, I feel fired up after listening to this book. It was my companion for part of my American Southwest road trip and I did, in fact, feel more encouraged to be a badass. Check it out here.
4. The Four Agreements
by don Miguel Ruiz
The Four Agreements is a short audiobook that I like to listen to at least once a year, if not more often than that. It's a gentle reminder of how to be a better human in the world and how to be more conscientious with your interactions with others.
I don't want to ruin it by telling you what the four agreements are here, but I can share that they have to do with realizing the power of your words, how easy it is to influence others, and how important it is to be gentle with yourself if you want to achieve great things. You can listen to it here.
5. The Power of Now
by Eckhart Tolle
Performed by the author himself, who almost sounds like a mythical being on the audio, I really like the reminders of this book to be in the present moment. This is also a good one to help you show up better in relationships and to recognize when the negative aspects of your personality (we all have them) are taking over your better judgment.
I particularly like the question-and-answer portions of this book, because at least the first time you listen to it, much of what he says could be completely new concepts and it's not always easy to take what he says without feeling a bit offended. However with some time and reflection, everything he says is clearly true and helpful. These are mostly Buddhist concepts but they are explained in such a way that is easy to understand from a Western background. This is one of the best self-help/growth books out there. I listen to it every new year. Check it out here.
6. Anna Karenina
by Leo Tolstoy
This is an incredibly long audiobook with dozens of storylines, and yet it somehow remains engaging. This is considered by many to be one of the greatest literary books of all time, with themes of love, treachery, family, and struggle in imperial Russia.
You can also tell that the performer, Maggie Gyllenhaal, has so much passion for the material and she does an incredible job with the narration. She makes this audiobook what it is. You can listen to it here.
7. Cosmos
by Carl Sagan
Another long one, but a good one. If you're into the stars, or just want to learn a little bit more about astronomy, this book by Carl Sagan, one of the most famous astronomers of our time, is a fantastic listen.
It doesn't just deal with astronomy from a scientific perspective, but delves into the nature of our planet and human beings as we discover ourselves. It's almost trippy to consider life from an outside perspective. You can listen to it here.
8. Four Hour Work Week
by Timothy Ferriss
This book will make the most sense for those who are self-employed or want to become self-employed. Though I seriously doubt Tim Ferriss truly works only four hours per week, this book does a great job of explaining how to be more effective with your time and how to dictate work to others, along with saving money and pursuing more freedom.
I know that Tim Ferriss is not for everyone, and some people get annoyed by how simplistic he makes things sound in this book, but I think he makes a lot of points that are worth taking to heart instead of resisting. This is one of the most influential books I've read in terms of business. As a bonus, if you like this book I highly suggest the Tools of Titans by the same author.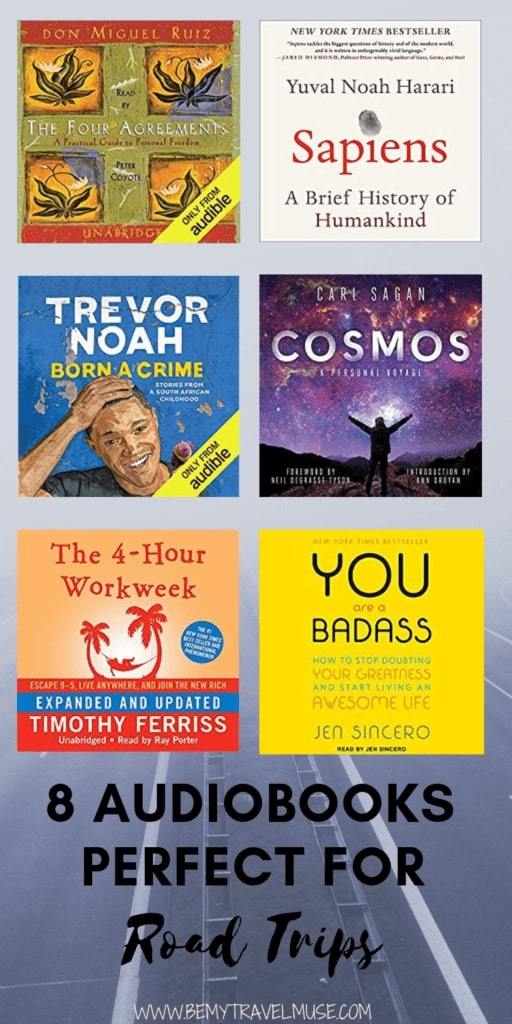 I've been on the road a good amount lately, and given how many audiobooks I've polished through, I'm happy to share that these are the best of the best (that I've found so far).
If you have any favorites to add, let me know in the comments. I need more!
*Some links in this post are affiliate links. Any purchase you make through these links helps to support this site at no extra cost whatsoever to you. Thanks as always for your support!