In May of this year, I managed to fly from Rome to Los Angeles, via Abu Dhabi, Singapore, and Tokyo, then back to Europe again for $593. I didn't use credit card points, didn't use mileage credit, and didn't score some kind of deal that isn't readily available to the public. You can get this kind of deal, too.
Here's how:
Sign up for the right newsletters: 
It was a dark and cold December in Berlin, and I laid in bed scrolling through my emails. I'd been attached to my computer all day. I go through periods of work and play – opening my computer when I wake up and working, sometimes six days per week for 16 hours, until closing it and going to sleep. These long hours make those times I take off for a month in Africa to sleep in a tent possible. 
Given the deep relationship my computer and I were carrying out those days (Oh my God! I just realized my longest and most dedicated relationship is with a computer named Simon), I was checking every email, which meant I saw the Mighty Travels news right when it came in:
'Mistake fare' from Rome to Los Angeles via Singapore for $397.
The timing was perfect. My sister was due to have her baby right around then, and I would be at my home base in Europe anyways, so a jaunt over to Rome would be cheap and easy. Besides, I need very few reasons to go and eat gelato and after visiting nearly every other country in Southeast Asia, it was high time to visit Singapore. 
I sprang for it and booked a flight with a 6-day layover in Singapore departing May 1, then posted the news to my Facebook fan page. Several months later when I landed, a reader who attended my Singapore meetup told me she'd booked the very same flight after seeing my post. We ate stingray and danced the night away together.
Next was sorting out my flight back from LAX to Europe. That fortuitous email came through a few days later when Norwegian Airlines released a series of sales for their direct flights from LA to Copenhagen. I scored one for a mere $196.
Yes, a direct flight. From Los Angeles to Copenhagen. I still can't believe it's that cheap.
This isn't a one-off situation, either. Norwegian also released fares for under $300 from Stockholm to Bangkok in June and regularly has dirt cheap options between major airports.
Flexible? Search Broadly 
There are a couple of reasons why I flew so cheap: I was able to jump on the deals quickly, booked five months prior to the travel dates, and I magically needed the exact dates that had availability. Basically, the stars aligned. Then a unicorn rode by. With a rainbow sparkly tail.
Barring that kind of dedication to airline newsletters and perfect timing, there are other easy ways to get good deals, which recently became much easier thanks to the Kayak.com/explore function. Simply input your home airport and select a region of the world, as specific as a certain city or as broad as the entire world map, and watch it come back with deals for your selected date range, which can also be very broad or specific: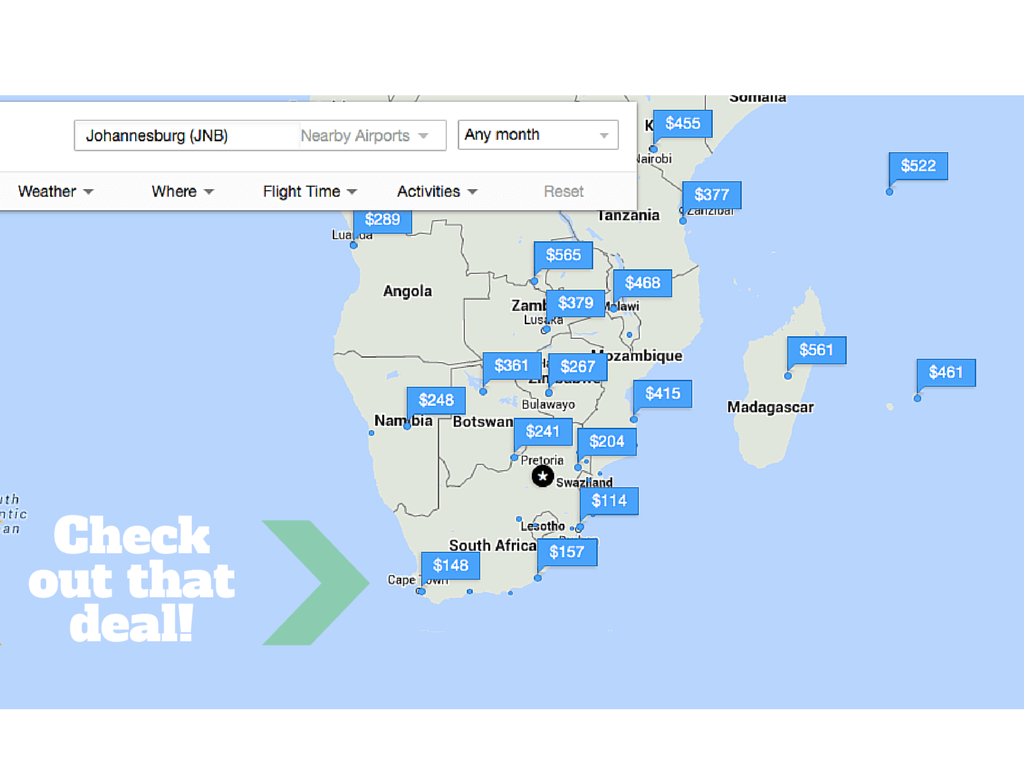 It's fun to play around with, just to see how cheap a vacation to a place you may not have considered before can be.
Book from Another Location
For my trip to Johannesburg from Berlin in January, I used a flight search tool called Adioso, which works under a similar pretense. I had to be a bit more specific for this trip in order to fit my needs, choosing South Africa in January, though my exact dates and specific location in SA were flexible.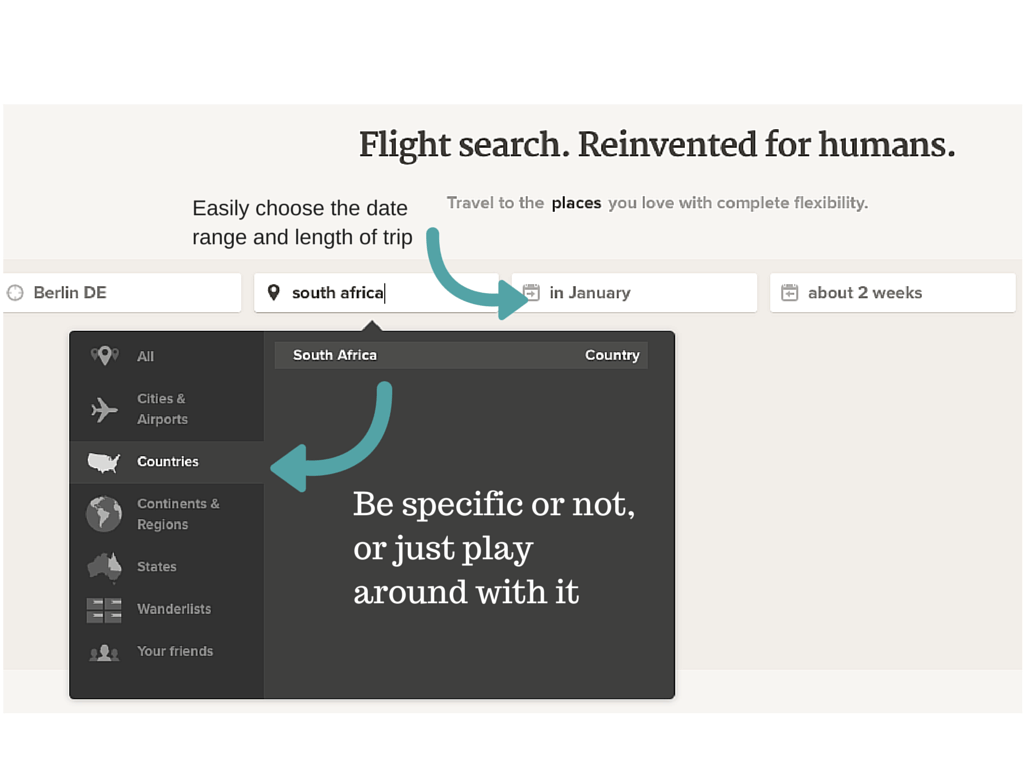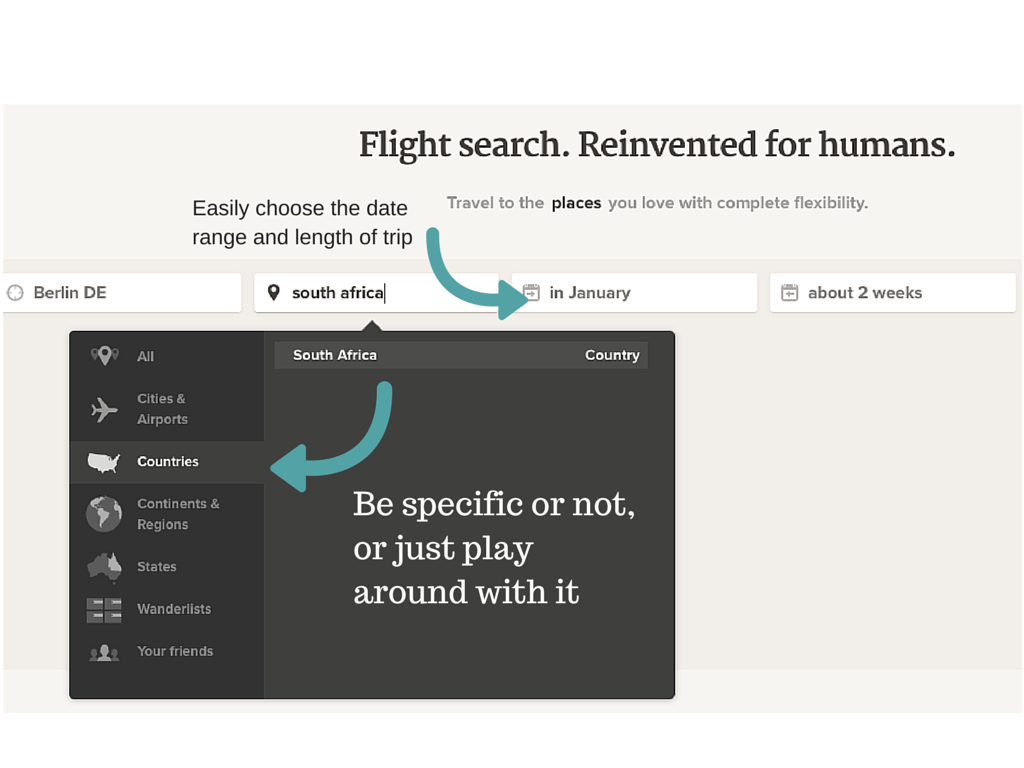 The flight ended up costing me €400 one-way, but only if I booked it through the German version of Expedia, which Adioso re-routed me to. Once I switched over to English and USD, the price shot up considerably. Using a combination of words I knew through context and Google Translate, I booked the ticket on the German site.
When flying into or out of a country abroad, consider checking the price in the local currency as well as whatever your home currency is, and chances are the price will be different.
The Reality of Flying that Much
Now for the reality check: The deal was a good one. That much is undeniable. But the travel days were very long and my body was in a state of perpetual jet-lag for over two weeks when I took my RTW trip.
The flights from the 'mistake fare' were all with Etihad Airways, or their partner airlines (key wording there). The flight from Rome to Abu Dhabi was operated by Alitalia, which is in the running for worst airline ever in my book. There was no inflight entertainment system and my chair was broken. It wouldn't stay up and kept sliding back into a reclined position.
It was really fun when the guy behind me didn't believe me and kept pushing my chair back up as a form of protest. I've never come so close to slapping someone on a flight as I did that day.
From there, the layover in Abu Dhabi was a full 5 hours. The flight on Etihad to Singapore was glorious since they might be the best airline ever with plenty of amenities, great entertainment, and nice food, but I had 24 hours of traveling before I got to Singapore and passed out. Six days later, I repeated with a long layover in Tokyo en route to LA. Six days after that, I did 14 hours to fly back to Europe.
The flight from Berlin to Johannesburg was a similar story – on a mediocre airline, Ethiopian, and with two layovers. A word to the wise: Don't layover in Addis Ababa if you can avoid it.
Cheap fares are not always convenient. That said, I got a bunch of mileage for not a lot of money, which is always helpful when you fly as much as I do!
Have you ever scored a super cheap international flight? Leave your tips below!