Quick note: This post should have come before the last one but due to some internet issues with uploading the photos, I had to flip flop them. Back to the chronological order, guys!
After a couple of gorgeous weeks hitchhiking along the Carretera Austral in Chile, it was time to bring my time along the Ruta 7 to an end.
Though the accommodation was basic, the WiFi barely worked, the ability to speak Spanish was a basic necessity, and the gravel road meant hours of traveling to go even short distances, there's a special quality about this part of Chile that doesn't exist elsewhere.
The people are humble, open, and curious. The landscape is unmatched in its rugged beauty, and the remoteness and desolateness of it all meant a truly off the beaten path experience that most foreigners don't get to have in Patagonia (though if you read the rest of my posts on the subject I tell you how!)
It takes someone intrepid and in the know, and that's what I liked the most about it.
Villa O'Higgins
The town of Villa O'Higgins, named after General Bernardo O'Higgins who lead Chile's independence movement from Spain, is a sleepy, incredibly peaceful little town at the end of the Carretera Austral. From here, most people either take a boat onwards to Candelario Mansilla, truly one of the most remote parts of South America, or turn back several hundred kilometers towards Chile Chico in order to cross into Argentina.
There's no way to take a car any further, but since Steve and I were just on foot, we elected to do a couple of day hikes in Villa O'Higgins, simply because it was such a pleasant place to be, and then hoof it onwards.
There I experienced my first parilla (BBQ) when a couple of locals whom we'd met at a sunset spot invited us to join, speaking Spanish very slowly for me so that I could understand. It was a really nice way to finish off the adventure that was the Carretera Austral, full of hitchhiking adventures and gauchos.
The boat and O'Higgins Glacier
A boat runs from the town of Villa O'Higgins to Candelario Mansilla, a small farm at the edge of the Lago O'Higgins, a few days per week. It costs roughly $100 to take the transport and also to stop at the glacier. Since this is such a remote part of South America, it's a rare chance to be on a boat that visits a glacier and isn't positively packed with tourists.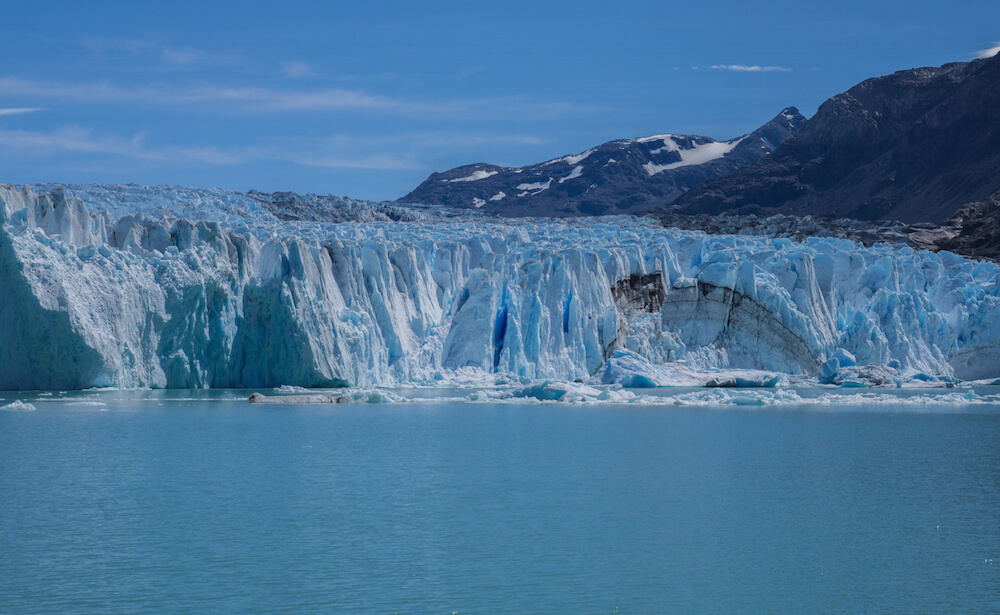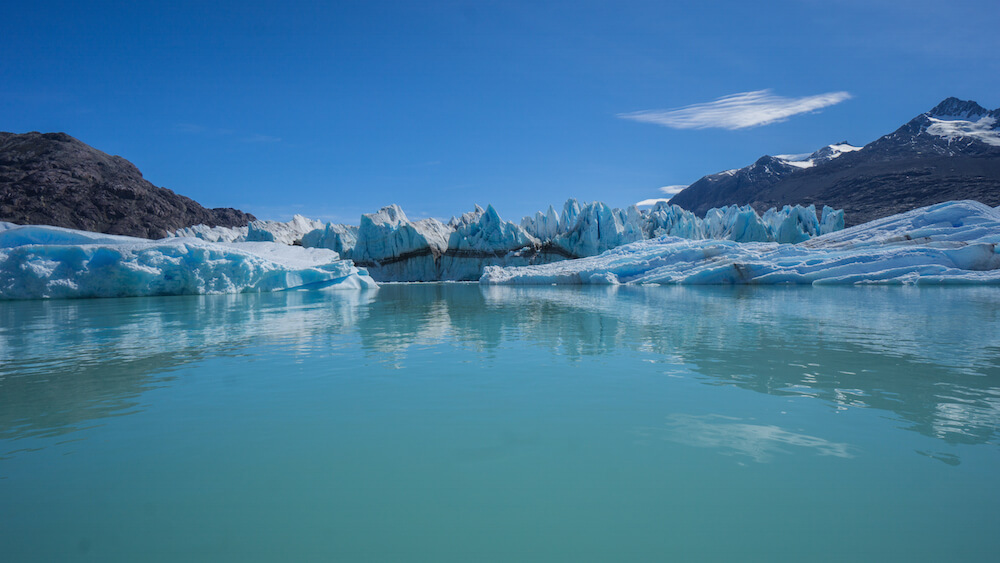 Plus, as a bonus, you get a glass of whiskey with some 10,000-year-old glacial ice inside. Who doesn't love that?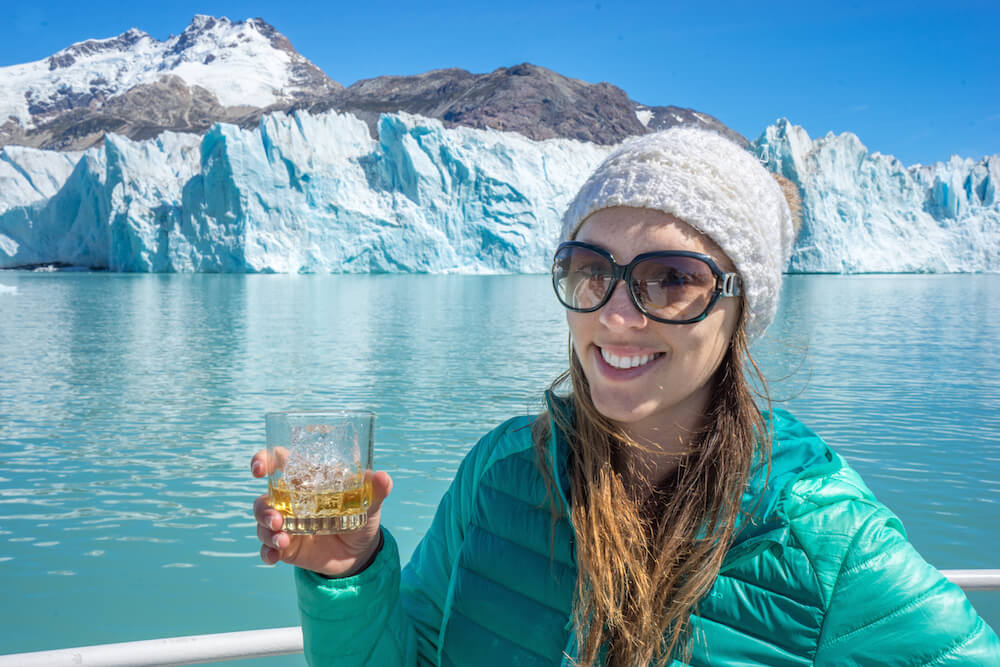 The boat takes a few hours in total before docking at the Candelario Mansilla farm which doubles as a campground and guesthouse. This is where you can make a deal with the local gaucho to have his horses take your bags onward the next day. The only catch is, this is all dependent on him actually being there and wanting to have his horses work that day.
I didn't get so lucky.
He came in around dusk as we were eating dinner (by the way, definitely get the dinner at the farm, it's so good and cheap!) and said that the horses wouldn't be available. My heart sank. I had a 70L backpack full of all of the things I had taken to Finland and Austria with me, plus an additional 10 kilos or so of tech equipment. I figured altogether it was probably about 20 kilos (like, almost 45 pounds guys). I didn't think there was any way that I could carry that the 22 kilometers (13.7 miles) all the way into Argentina.
For 10,000 CLP, he offered to take the bags partway in his car. That would leave 6 kilometers left to carry the bags. With no real choice in the matter, I simply had to do it (but I really didn't want to!)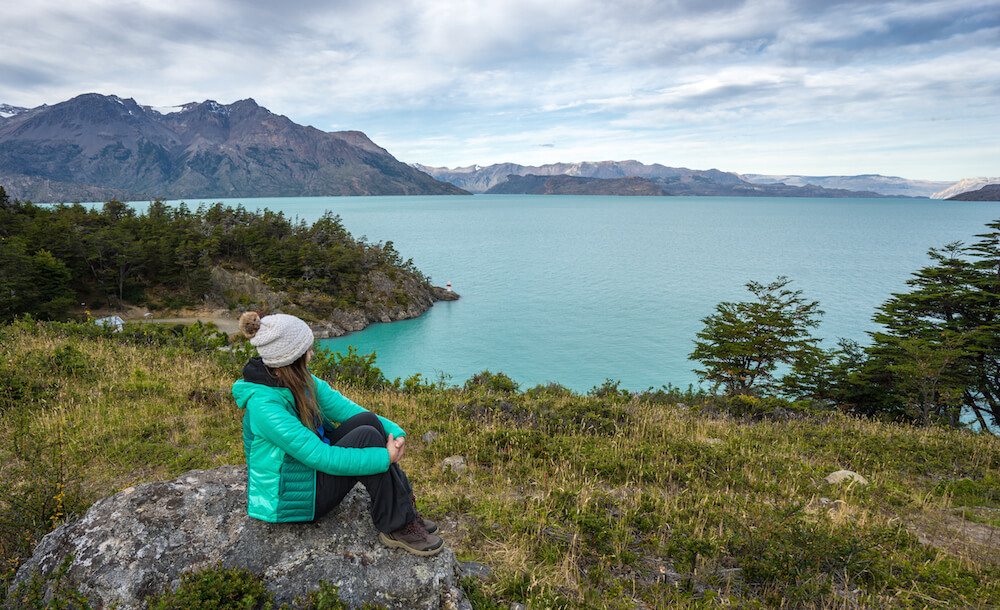 No-Man's Land
I awoke early the next morning, left my big bag in the barn for the gaucho to take it in his Jeep, and got to walking with the morning sun and dew still on the leaves. In about ten minutes I was at the border post to leave Chile. I still remember the words inscribed across the entrance as I walked in:
"Though grave is my loneliness, stronger is my devotion to my country,"
(or something like that, given my rough Spanish abilities).
This is the most remote border post in Chile, but an important one as it's an area that has been disputed in the past between Chile and Argentina. Word on the street is that the residents at the farm and Villa O'Higgins are not only honored for being willing to live in such a remote area, but are given a monetary incentive to do so.
Though it was absolutely gorgeous, you could not pay me to live at the end of the world.
The hike thereafter can only be described as a trek through no-man's land. It's neither Chile nor Argentina. It's like being in two places at once, literally.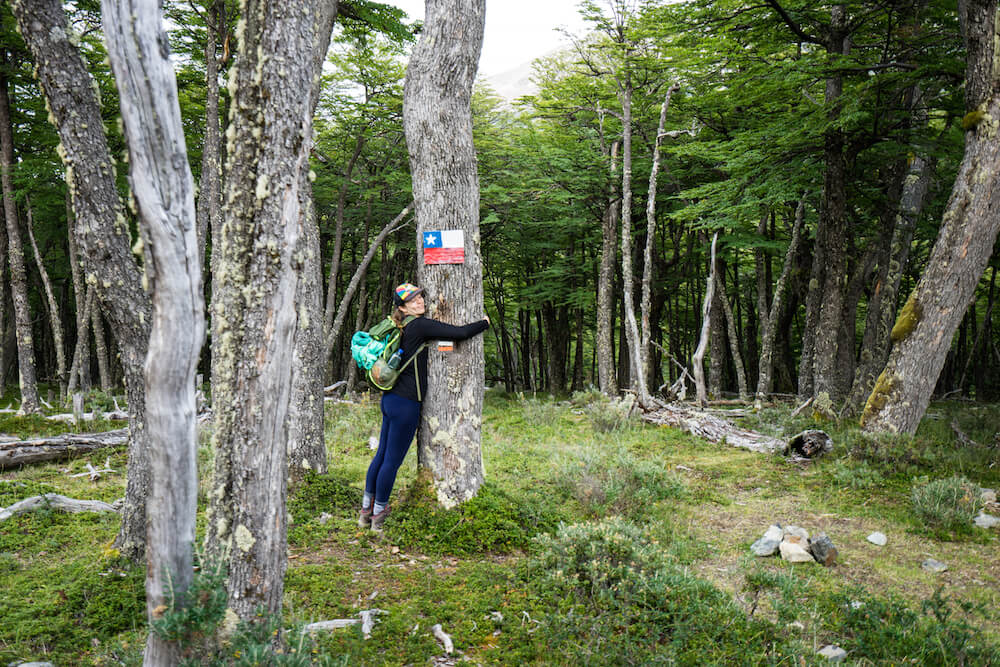 At some point the trees that bear Chilean flags come to an end, and there's a sign welcoming you to Argentina. That's where we ended up meeting the Jeep to pick up the bags for the onward journey.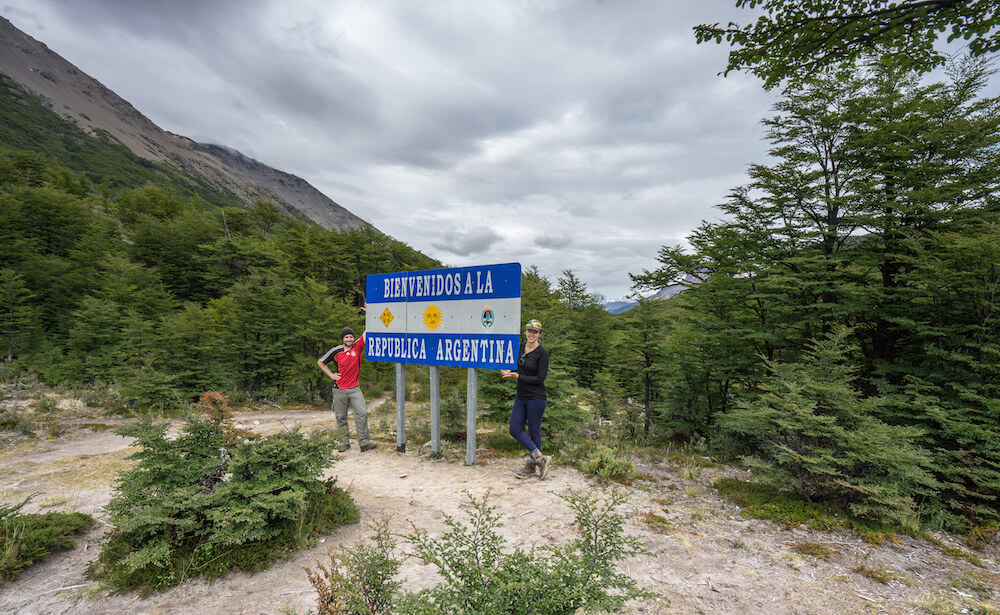 Unfortunately for me, what lay ahead was the forested part of the trail. Before it had been a gravel road but it made way for a lot of ups and downs, tree roots on the narrow trail, and lots of super dense mud.
Imagine lugging 20 kilos on your back and front through calf-deep mud and trying not to fall on your face. That was a real challenge, and after a few much-needed periodic breaks, I can't tell you how excited I was to finally see the Fitzroy.
Entering Argentina
This is a unique view of the Fitzroy as it's a view from the back, totally different to the iconic view that you see on the Patagonia brand labels and post cards, and from the town of El Chaltén. There's even a small campground at the border patrol station, right on the lake.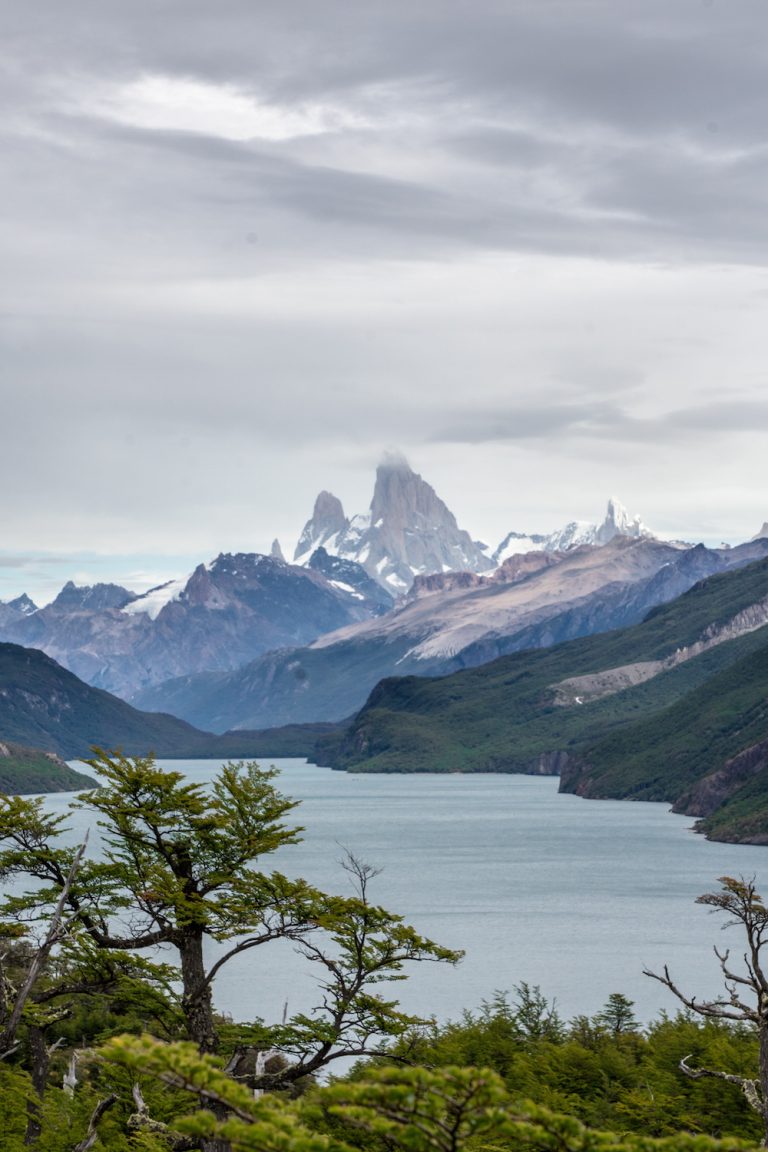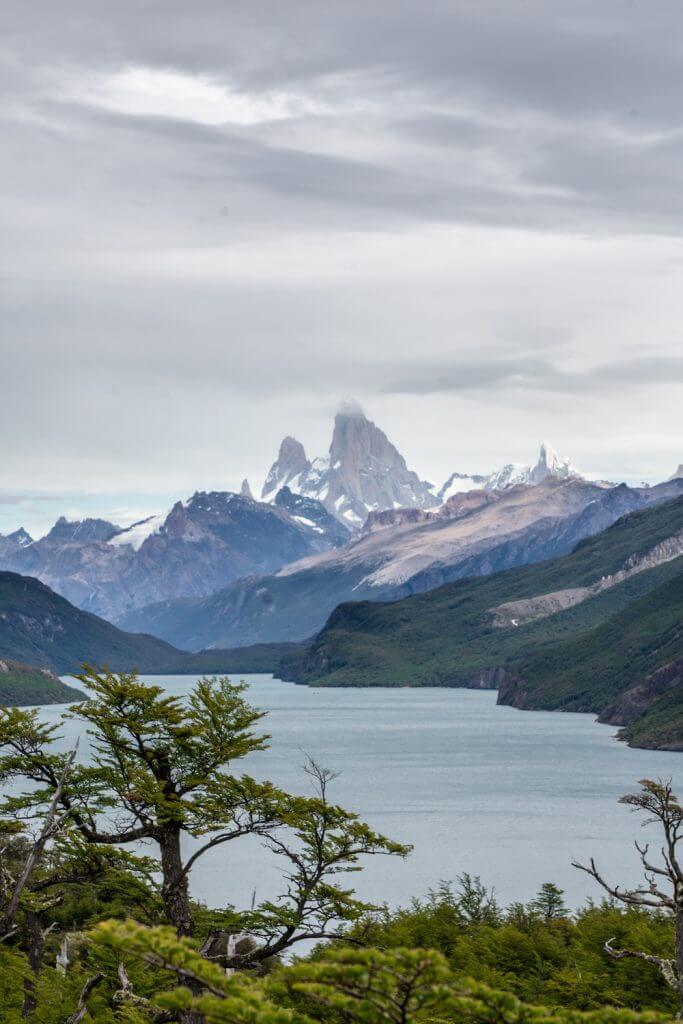 Some people trek an additional 15km around the lake to get to a bus that can take them to El Chaltén, but by then, I was happy to fork over the $20 for the boat across the lake. This is a truly outrageous price all things considered, but I was also outrageously tired by then.
From there it was a hitchhike into El Chaltén, where I'd take on the Huemul Circuit, the most difficult hike I've ever attempted.