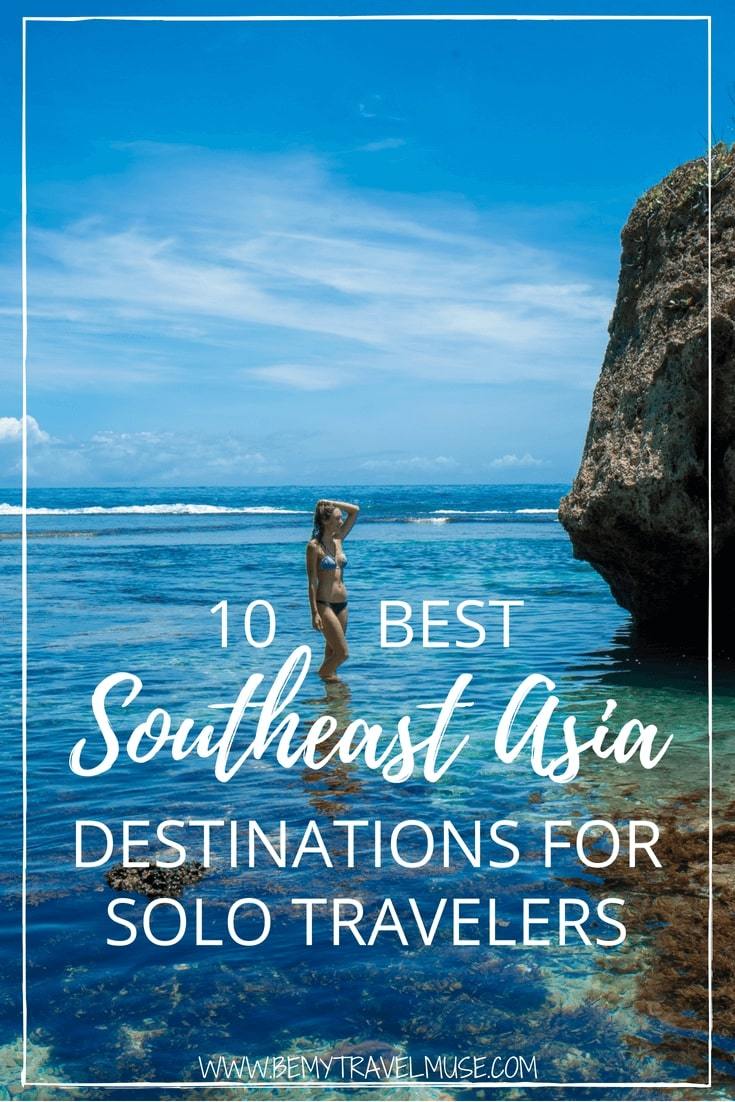 Solo traveling can seem daunting for first time or even experienced solo travelers. There's always the question, will I meet people?
Luckily solo traveling in Southeast Asia in general is usually easy. It's a great place to get started on the solo travel journey due to the cheapness of traveling there, the ease with which one can get around, and the friendly locals and fellow solo travelers.
All that said, some places are more ideal than others. After spending a cumulative 3 years now traveling in the region, I've done a fair amount of recon and base my recommendations on the ease of meeting others, the wealth of activities, and the feeling of safety and comfort. With those factors in mind, these are the most friendly places in Southeast Asia for solo travelers:
1) Kuta Lombok, Indonesia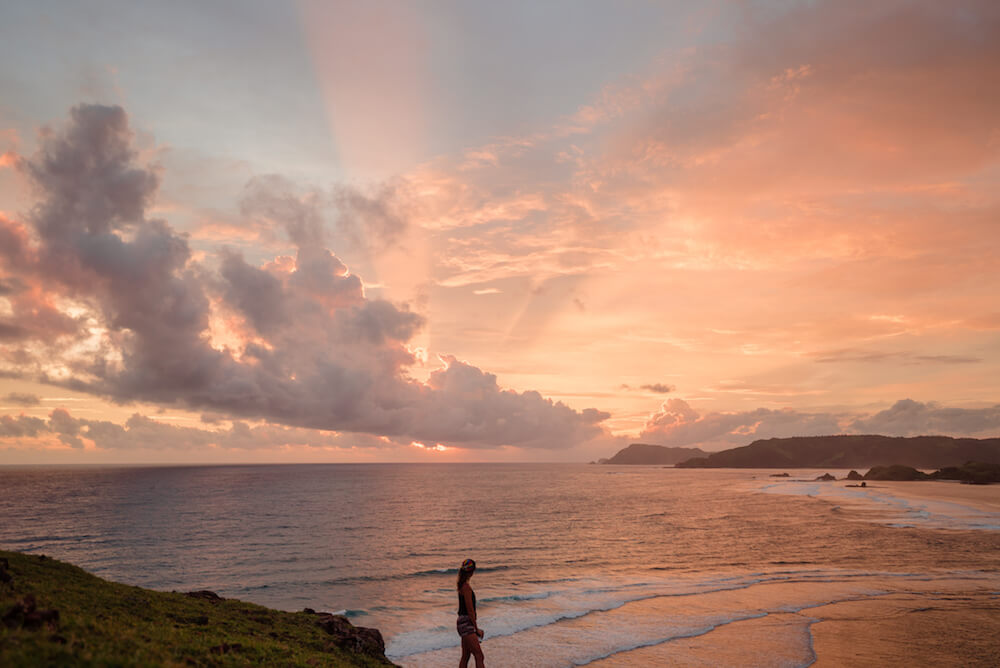 Kuta Lombok is nothing like its loud, seedy neighbor, Kuta, Bali. This laid back surfer town is super chill, and it's the perfect jumping off point for some incredible beaches. Though still pretty quiet and laid back compared to Bali, which I find hectic, Kuta is the most popular hangout on Lombok which makes it great for solo travelers.
Meet people by taking a surf class, head to Mana Yoga for a yoga class, join a waterfall tour, or just hang out in one of the many cafes. For more on Kuta, check out my full guide here for the best beaches, hotels, and restaurants.
Book your stay on Kuta, Lombok here!
2) Siargao, Philippines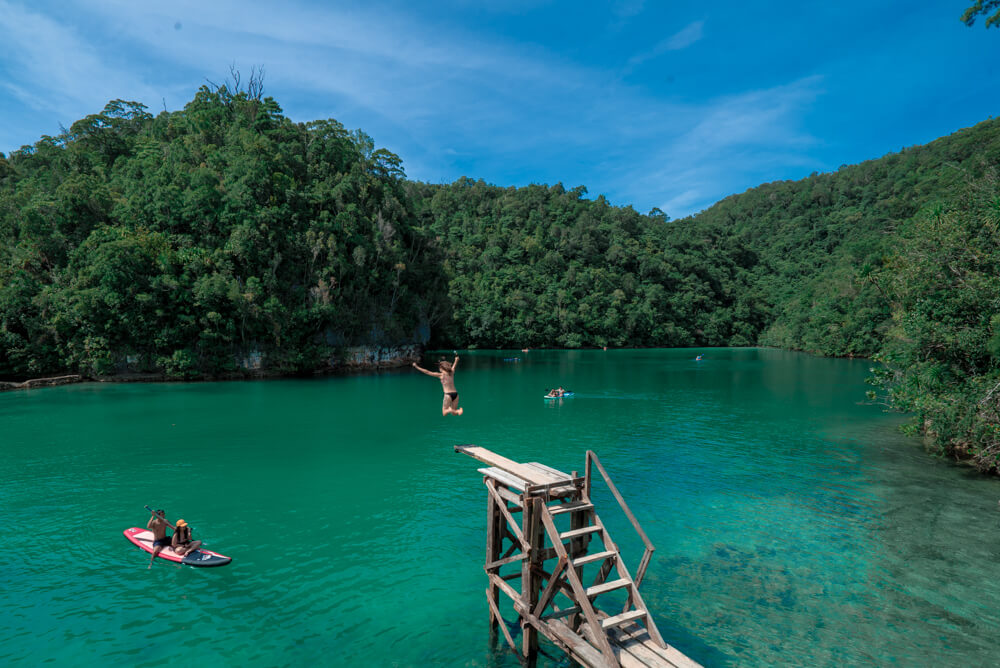 Like Kuta, Siargao is a surfer town and whenever a place attracts people for a sport or shared interest, it tends to bring in a lot of solo travelers. Even if you're not into surfing, there are plenty of activities in Siargao from Sugba Lagoon, to the rock pools and the joy of just getting on a motorbike and going for a ride.
I met other solo travelers on day trips and we hung out thereafter, exploring different parts of the island and enjoying the endless coconut groves. Read more about the best things to do in Siargao here.
Book your stay on Siargao Island here!
3) Phong Nha Ke Bang, Vietnam
This town is so small, there's really only a few places to stay, and most visitors congregate in the evenings at Easy Tiger Hostel regardless of where they lay their heads. A group was easily formed the night I arrived to motorbike around the park the following day. We departed the next morning flying like a V in a gaggle eight strong.
What also really stood out to me was how many friendly waves, smiles, and peace signs we got from the locals as we drove by. It's so nice to feel so welcomed somewhere you've never been before.
Book your stay in Phong Nha here!
4) Pai, Thailand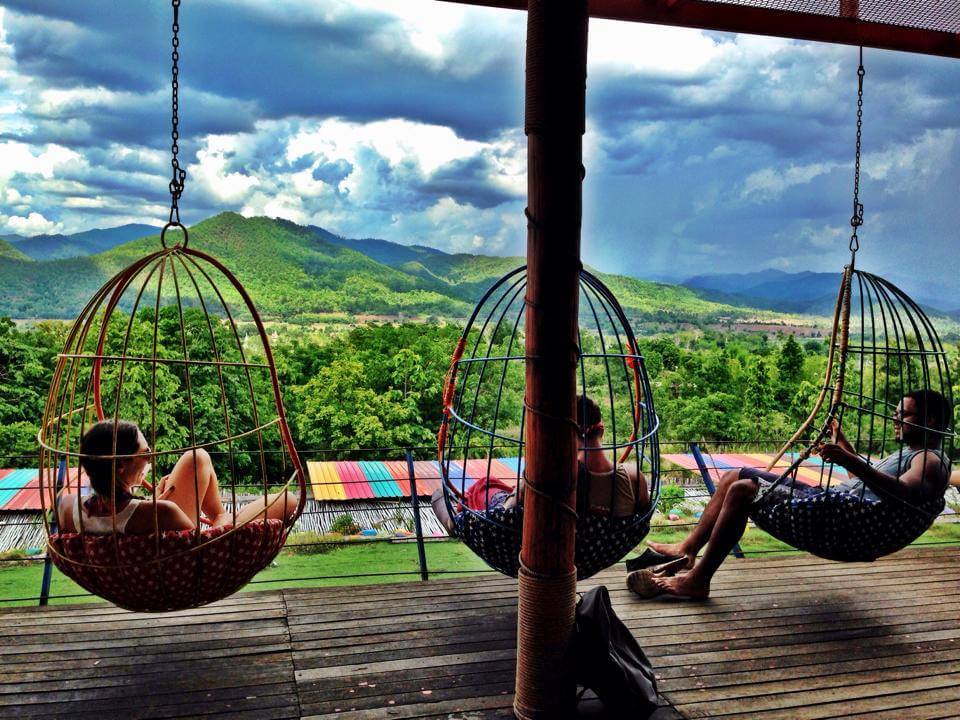 One thing that makes me love Pai so much is how many interesting, spiritual, and fun-loving people I meet there. Jack Kerouac might call them Dharma Bums.
It's hard not to love a place where local kids are jumping into the waterfalls right after you, where Thai Captain Jack Sparrow hangs out under a bridge, and the local beauty is still wild yet accessible. There's reason why I have been back twice in the past two years – it's just a nice place to be.
Pai hotels and hostels.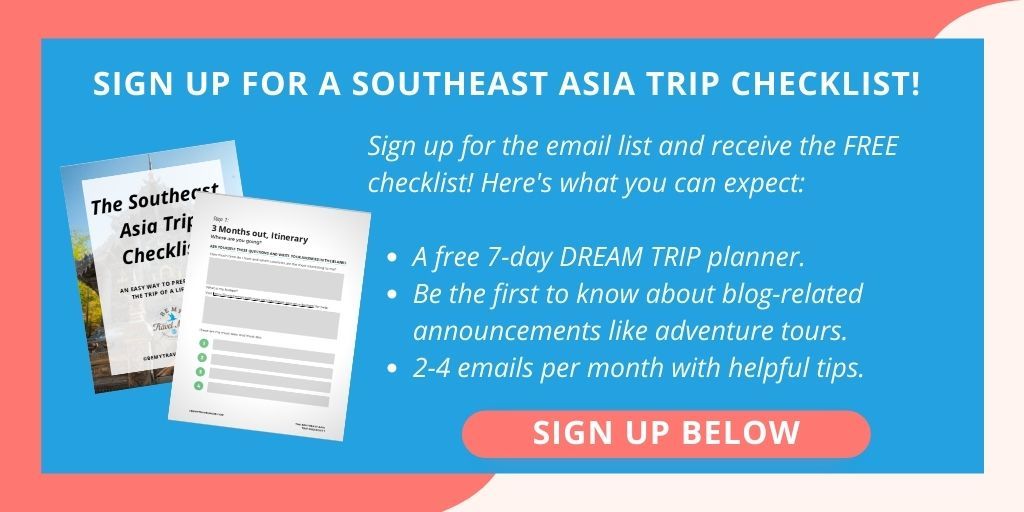 5) Gili Air, Indonesia
I've been to the Gilis off the coast of Lombok three times now and each time I have a blast. Gili Trawangan is the most popular and has a well-deserved reputation as a party island, but its neighbor Gili Air gives you a bit more room to breathe. It has a more chilled out vibe while still being social. This small island also has gorgeous beaches and vibrant under-water life. Though more of a tourist island that doesn't offer much local interaction, it's a nice stop to relax and have some fun between trekking in Java or climbing Rinjani in Lombok.
The beaches are clean, it's not as couple-oriented as other beach destinations, and whether your pleasure be learning to free dive or dancing all night, you can find both there.
Find Gili Air accommodation here!
6) Chiang Mai, Thailand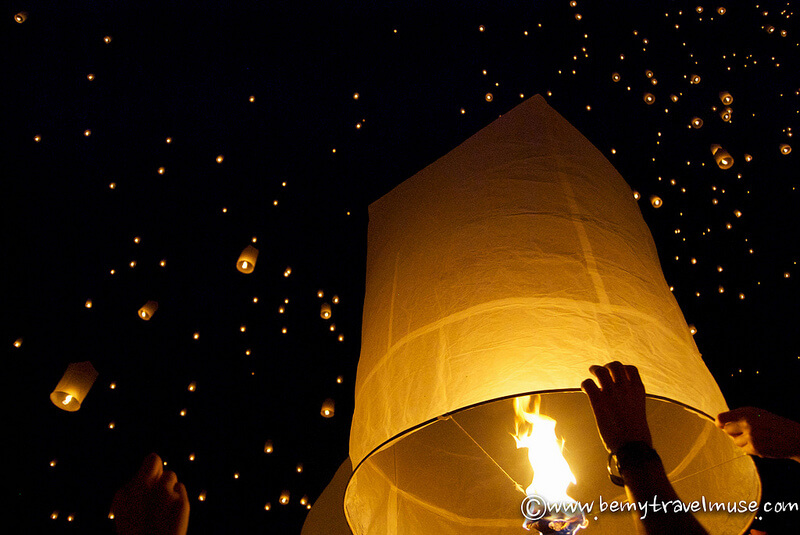 Thailand's northern capital is fantastic for many reasons: Great food, gorgeous temples, it's super cheap, and it attracts lots of travelers. Every time I visit Chiang Mai, I easily meet a cool group of people to explore with.
It's also the perfect jumping off point for lots of activities in Thailand's north, many of which are off the beaten path. I suggest starting in Chiang Mai, building up a crew, and going on adventures together around the north. This list is a great place to start.
Book your stay in Chiang Mai here! There are also a lot of great options on Airbnb.
7) Lonely Beach, Koh Chang, Thailand
Lonely Beach isn't as lonely as it once was, but the "last cheap Thai island", easily accessible from Bangkok, is a great place for solo travelers. People tend to stay in Koh Chang longer term as it's a laid back and enjoyable atmosphere with white sand beaches in some areas. Locals are still all smiles, reminiscent of the nation's nickname. It generally feels like a friendly place with open people.
In low season, usually only one of the bars is busy, meaning just about everyone you might have seen around or met previously is likely to be there. For those who want a Thai island experience without the crowds or cost, give Koh Chang a try.
Find Lonely Beach accommodation here!
8) Siem Reap, Cambodia
Pretty much everyone traveling through Cambodia makes Angkor Wat a major part of their itinerary. Thanks to the awe-inspiring Angkor Wat temple complex, it's a bustling town with expats, tourists, and locals. I stayed at a particularly social hostel there and made friends quickly, and only on my first week of indefinite travels.
What I noticed about Cambodia was the travelers I met there were mostly on long journeys, moving through the country slowly. They tended to have interesting stories and I loved running into people I knew from Siem Reap over and over again as I traveled through the country. This city will always hold a special place in my heart thanks to all the positive memories.
Here are my recommended Siem Reap hotels and my favorite hostel
9) Tioman Island, Malaysia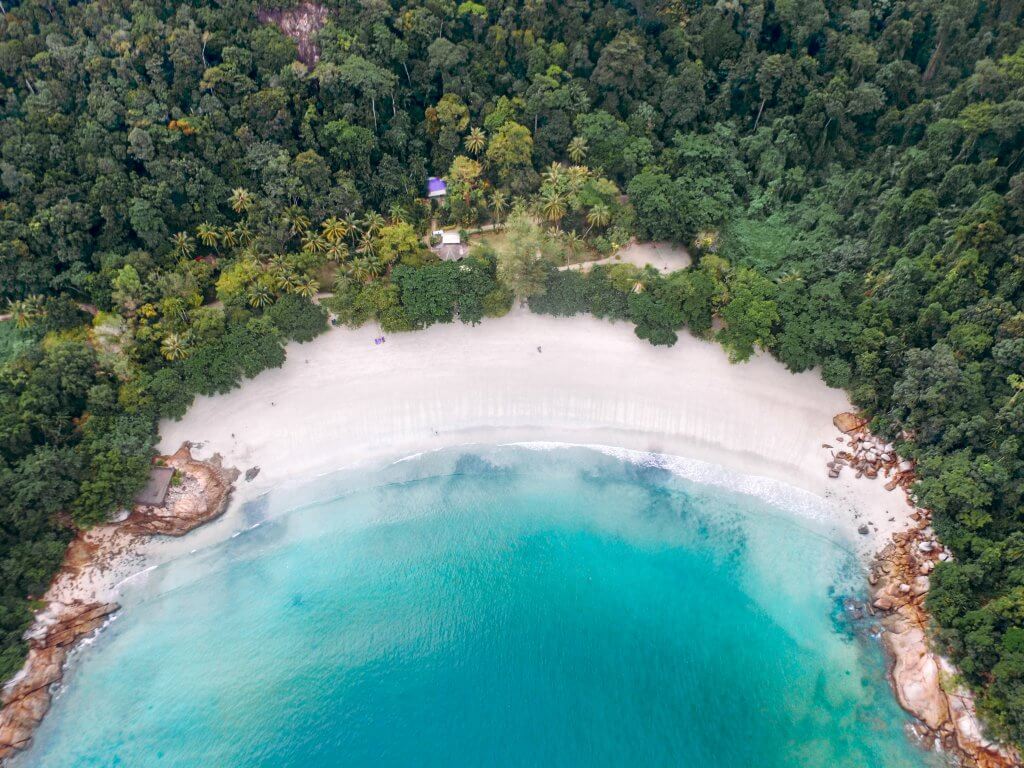 Places known for diving and snorkeling tend to be great for solo travelers. Divers will travel just about anywhere, even alone, to try a new spot. I always find the number of friendly people one could meet in a place popular for diving is just a little bit higher. Tioman is one of those islands, with its crystal clear water and colorful shallow reefs.
For more of the best places to visit in Malaysia, check out the Malaysia Itinerary.
10) Luang Prabang, Laos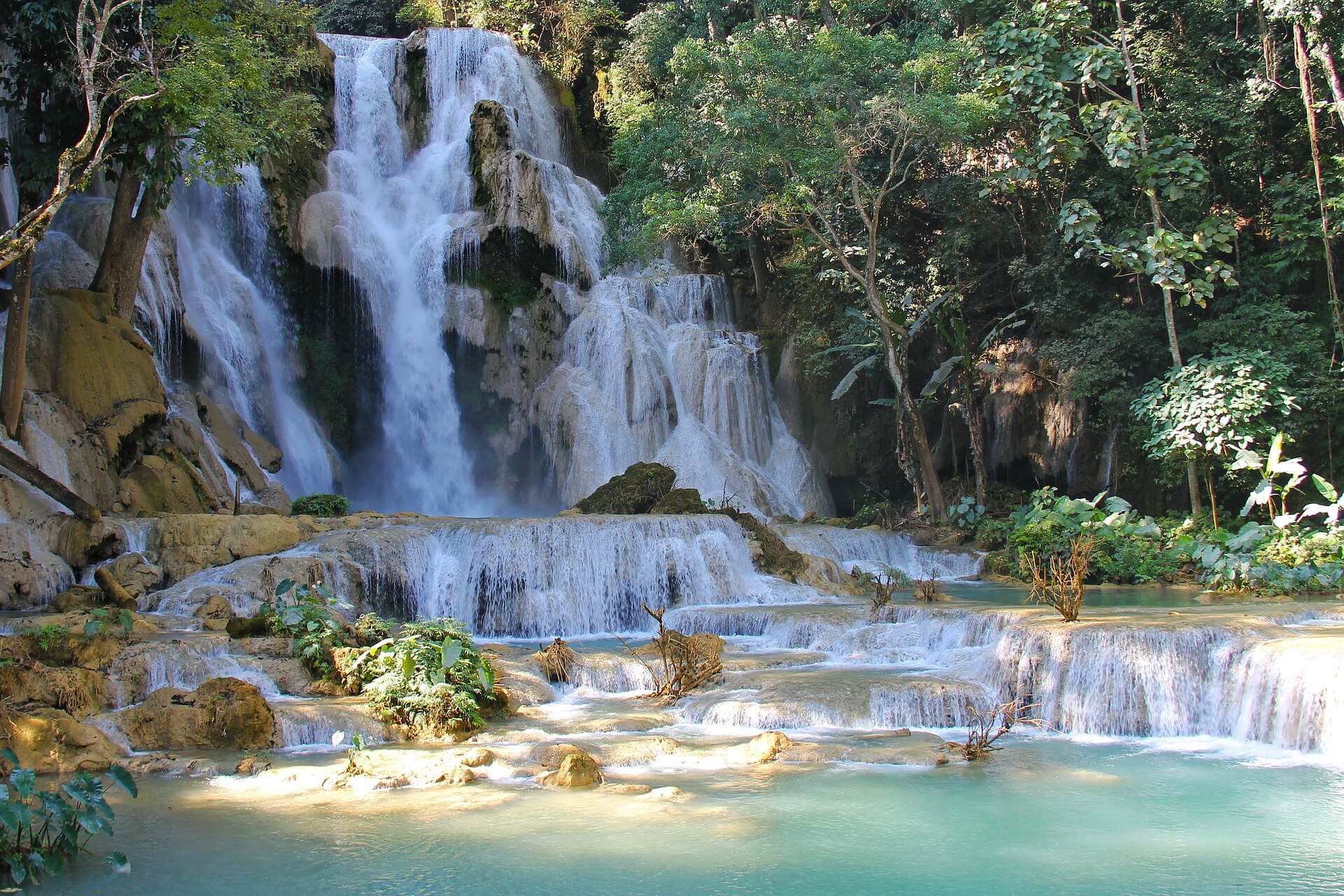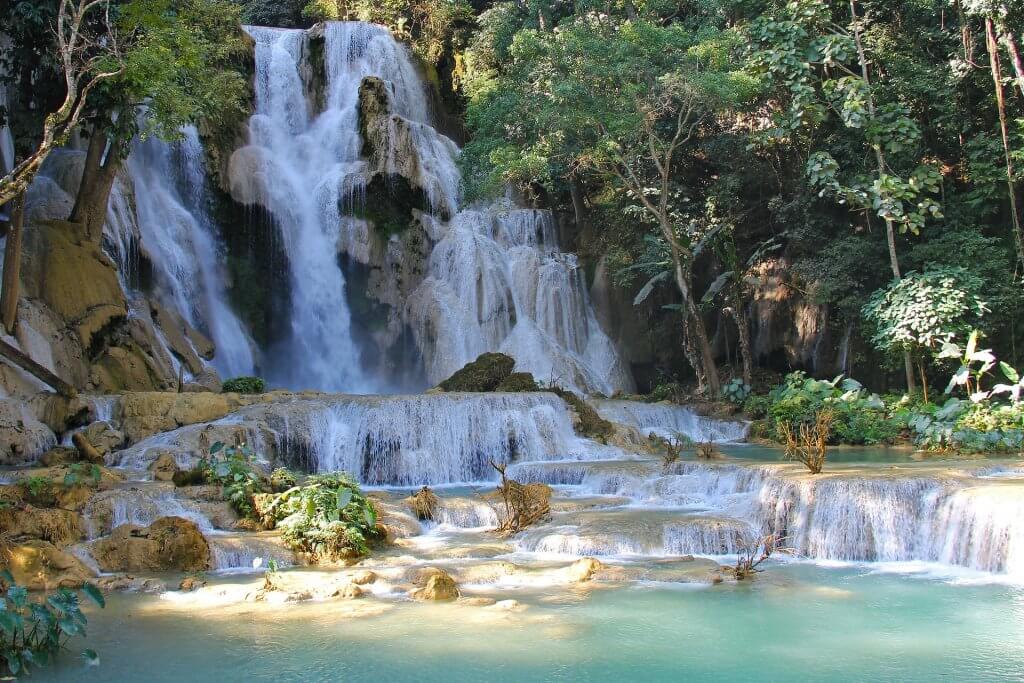 It's incredibly easy to meet people in Luang Prabang, Laos. Even if you have your own private bungalow, which is common, the bars and restaurants are a prime place for meeting others.
It's one of few places in Laos where you can stay out past 11 if you head to the bowling alley, and it's got a wealth of cool things to do like taking a sunset cruise down the Mekong River, or heading to the aquamarine blue waterfalls just outside of town. The mix of French and Laotian cultures lends itself to interesting architecture and food, too.
Book your stay in Luang Prabang here!
Those are my favorite places for solo travelers and, after traveling solo for a month or longer in each country in Southeast Asia (except for Myanmar but it is on my list), these are the ones I enjoyed the most.
Each year, a new place pops up in Southeast Asia that's all the rage, so I also suggest talking to other travelers when you're on the road, and to leave a bit of room for serendipity in your itinerary so that you can take their suggestions.
After all, Southeast Asia is full of exciting new adventures, and the best way to experience them is on your own.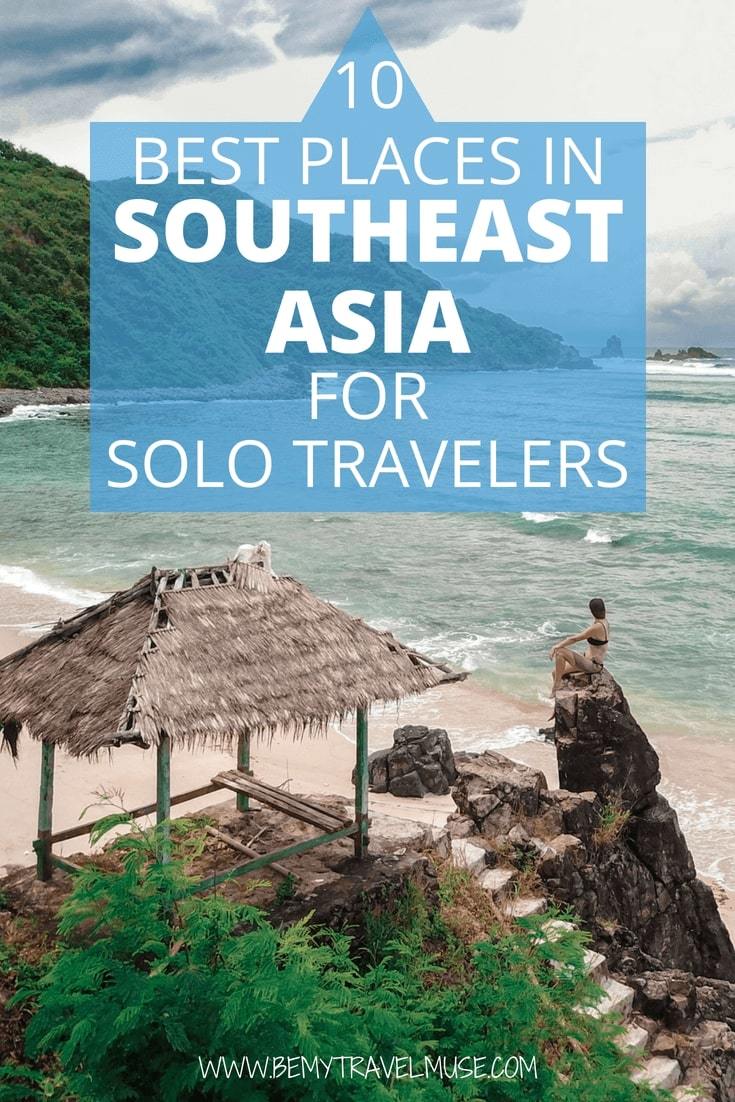 Read next: