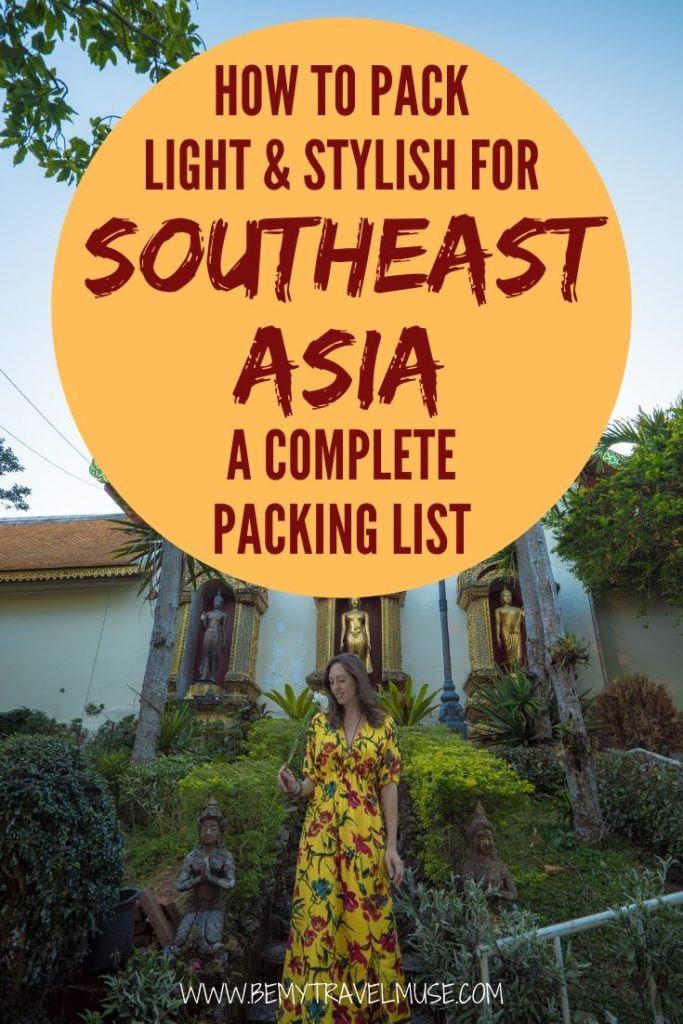 2022 Update: After a combined 2.5 years in Southeast Asia spread out over multiple visits and every time of year, this is my revisited, more fashionable, new and improved Southeast Asia packing list.
I've read about packing lists ad nauseam on the interwebs. They usually consist of various clothing options and toiletries, but lack the hindsight of someone who has been traveling around with her turtle shell (that would be my 35L backpack) for the long haul.
After over two years of traveling in Southeast Asia, in all times of year, in various climates, and doing activities from diving to hiking, you might appreciate knowing what has turned out to be completely essential, and what I ended up ditching.
This is the essential guide to packing for Southeast Asia:
1. Gear
The right gear will make your journey 100 times easier. For your main backpack, I highly recommend testing them out with weight in person. Everyone's different so what others swear by may not necessarily work for your body. Traveling in Southeast Asia will involve walking with all your gear on you at some point and I noticed that the size of my backpack determines how much I pack with me, so definitely think this one through. Here's what I recommend for packing for Southeast Asia, plus some additional gear that you will need on your trip:
If you plan to pack carry-on only, Pacsafe Venturesafe EXP45: This is a very simple and straightforward backpack with all of the awesome anti-theft technology, and I especially like that it opens up like a suitcase.
If you need that extra space, PacSafe Venturesafe Exp55: Pacsafe is known for their anti-theft technology. For this bag, I like that it has locking zippers.
Packing cubes: This has been one of the best investments I've made (at pretty low cost, at that) in my peace of mind and organization. I don't have to dig through a mess of clothing to get to anything else in my pack – I simply take the cube in and out as needed and keep dirty clothing on one side, clean on the other. It also makes it possible for me to be able to fit everything into a small pack.
(Tip: roll your clothing and stack side-by-side in the cube to conserve even more space)
Pacsafe bag protector: I've often found myself in dorms that did not have lockers. When you find yourself in $2 accommodation, sometimes the amenities, as it were, are lacking. In these cases, I find that I have more peace of mind when I can lock up my valuables. Simply slip the rain jacket that came with your pack over the bag, then slide the Pacsafe over it and lock it.
Pacsafe crossbody bag: Perfect for easy access to things like your wallet, phone and passport. I love this Pacsafe Citysafe CX for its anti-theft technology and simple, yet stylish, design. Plus, the size is just right!
A dry bag: You are in Southeast Asia, after all! Encounters with water, be it rain or ocean, is inevitable. A dry bag is also great for island hopping, or when you want to go for a swim but do not have anyone to look after your belongings.
2. Travel insurance
Though healthcare services in Southeast Asia can be cheap for minor issues, if you have an issue SCUBA diving, break a limb while trekking, or come down with an illness like dengue fever (not uncommon in SE Asia and there is nothing you can take to prevent it) and need to be hospitalized, you're looking at some hefty bills. Travel insurance is not very expensive and can help you get home or to a country with better medical care if you need to. It can also pay for a loved one to come to you.
3. Bank account that doesn't charge foreign transaction fees and refunds ATM fees
I can use any ATM I want, regardless of the fee it charges. I don't have to worry about it, because my bank refunds all ATM fees at the end of the month – even foreign ones. What's more, I am not charged foreign transaction fees. This amounts to a good $20, minimum, each month that I am saving. That's a big chunk of change when you consider that $6 is the typical cost of a guesthouse room in Southeast Asia.
I use Charles Schwab, and have always found them to have great customer service. I've heard others say they like using PayPal. Do some searching before embarking on your trip and see what bank could work best for you.
4. Clothing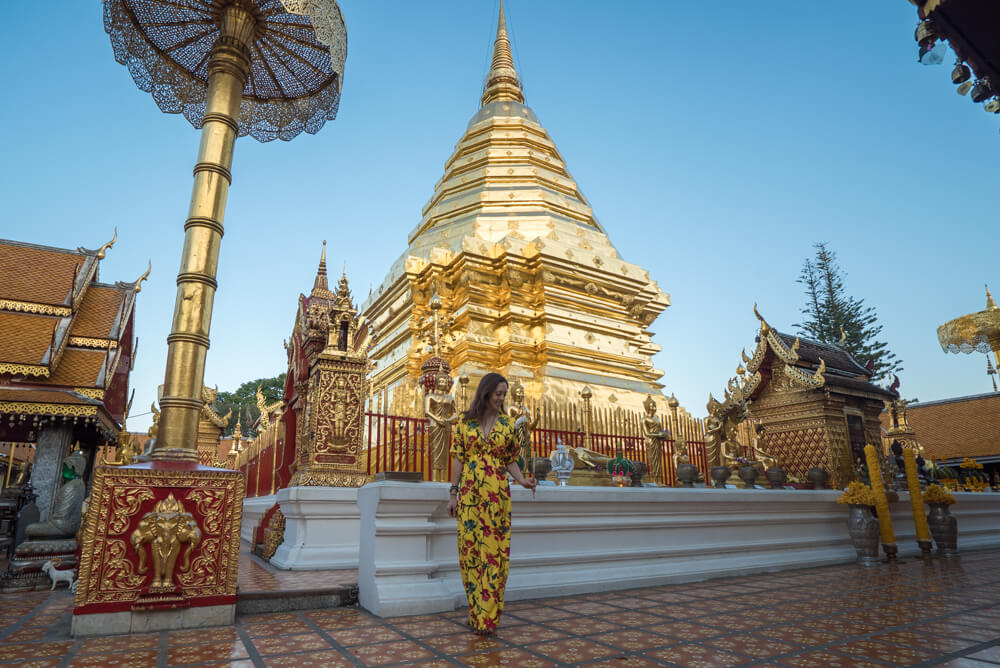 Keep in mind that in Southeast Asia in general, people tend to dress conservatively. It's best to cover your knees and shoulders when possible, and not to show excess booty or cleavage. You'll also need to be covered up to gain access to temples. On beaches, it's disrespectful to go topless. This is especially true in Malaysia and Indonesia which are majority Muslim. Here's what I tend to wear:
3-4 tank tops or light shirts
2 lightweight shirts with sleeves
2 pairs of lightweight cotton pants bought in Southeast Asia
2 pairs of shorts, at least one with pockets that button or zip (easy to carry money and a key on a night out)
a scarf for covering shoulders (buy in Southeast Asia)
a fleece (if traveling up north during the winter or trekking. It does get cold!)
1-2 hats for sun protection (I wear one in transit)
10 or so pairs of underwear and 2 bras
2-3 bathing suits
All of the above fit into my packing cube. I highly recommend the roll-and-stuff method!
5. Toiletries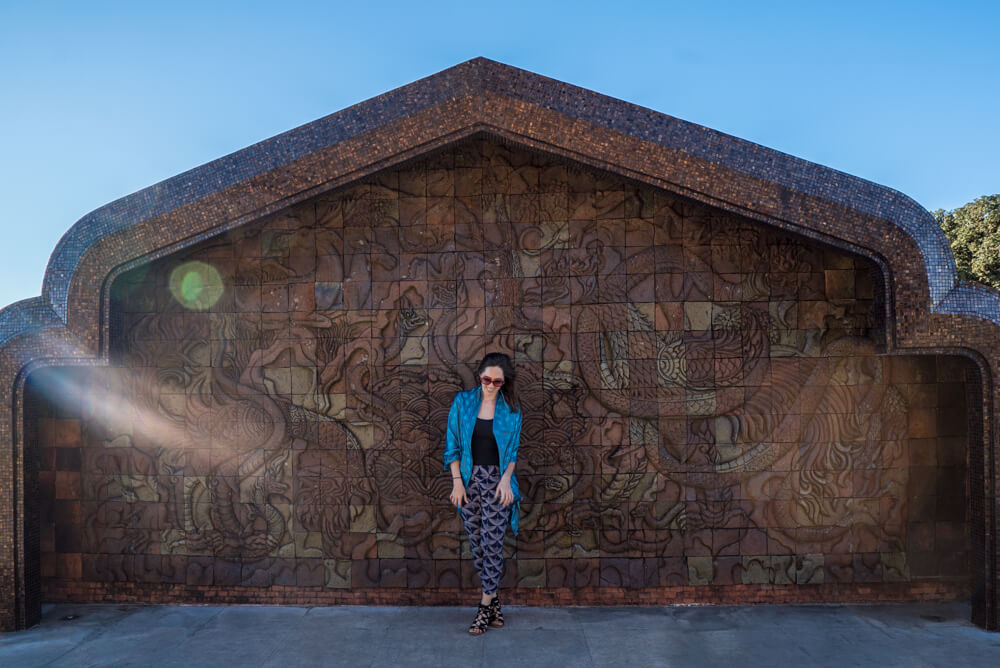 While most toiletries are easily replaced in major cities, it is rather difficult to find Venus razors, Secret Clinical Strength Deodorant (if you're a sweaty mess like me, which Southeast Asia tends to bring out in people), and the like.
In addition, a DivaCup is a helpful investment. It's a more environmentally friendly and less inconvenient way of dealing with the monthly visitor we ladies have all come to know and loathe.
I bring pretty much the same toiletries everywhere. When traveling in Southeast Asia, consider ditching the makeup and embracing your own skin. It's going to be so hot and humid, your makeup isn't going to last, anyway! Basic toiletries are easily replaced in most major cities, so just make sure to stock up before heading somewhere remote. Here's what I bring, and everything on this list, except for the microfiber towel and razor, is environmentally friendly:
6. Electronic Gadgets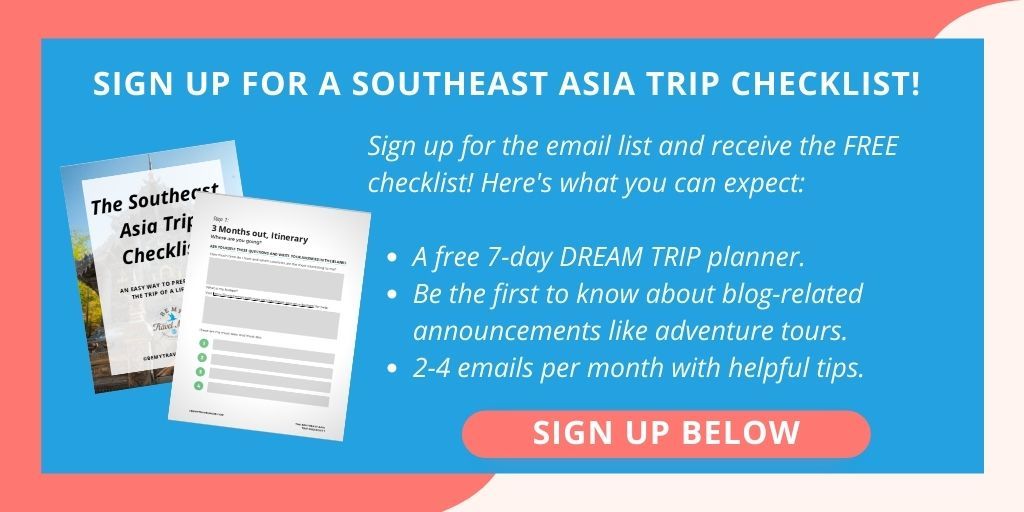 I travel around with a pretty ridiculous amount of camera equipment. It takes up its own backpack and it's heavy AF. If you're not obsessive over photography and shooting video like I am, I highly recommend just bringing along a small mirrorless camera (this one is fantastic) and packing carry-on only. Everything mentioned here fit into a 35-liter backpack and messenger bag until I expanded my electronics.
Unless you need to do a lot of typing or photo editing, consider just bringing a tablet along. At the very least, bring along an unlocked phone so that you can get local SIM cards. They've saved me in many a pinch when I was lost or needed to order an Uber, communicate with friends, or call my guesthouse.
7. Others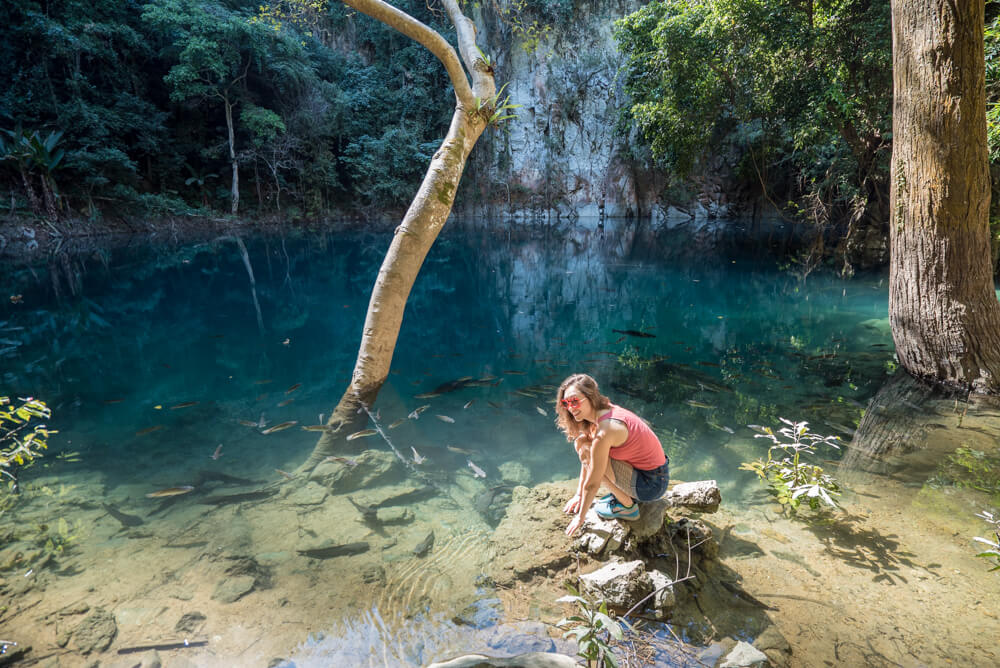 Here are a few things that may slip your mind, but definitely good to have:
Buy it there:
Tiger Balm – I foolishly bought this amazing camphor and menthol cream at a specialty store in California for $12, only to find it in Cambodia for $1. It helps ease mosquito bites far better than cortisone cream, and soothes muscle aches.
Some Clothing – Don't overdo it and bring too many clothes with you. They are cheap in Southeast Asia and can be found in almost every night market for just a few dollars. You'll lose plenty of items to the laundry service (they'll get lost in the shuffle and you simply won't notice), get holes in them, or might just end up changing your mind about what you want to wear.
Leave room for cheap purchases on the road. You'll fare better in the Southeast Asian climate, too!
Most Toiletries – No need to load up on shampoo and soap. They use these things in Southeast Asia, too.
Leave it at home:
Jeans – Just don't bring them. They never dry, will make you entirely too hot, and are likely to chafe in the humidity. None of these are pleasant things.
Laundry line – I never used mine. It's so cheap to have laundry done for you, and takes so much less time. There's not much use in taking an hour here and there to hand-wash clothing in a shared dorm sink, find a place to hang them up, and wait around until it's time to take them down.
Sleeping bag liner – I ditched mine three weeks in. It took up too much space and never presented a value. It won't protect you against bed bugs. Only knowing how to check for signs of them can help you.
Mosquito net – They're available where needed at hostels and dorms on the road.
Packing Like a Minimalist:
I managed to pack carry-on only for the entire first year that I traveled in Southeast Asia. This video shows how I make everything fit, and a few more explanations about important things to bring with you (and what to leave behind):
I hope all of the above helps you to be more efficient with your packing for Southeast Asia. It can be confusing figuring out what to bring when it's your first (or real talk, even your fifth) time somewhere. Thankfully I've made enough packing mistakes to have learned the ropes at this point.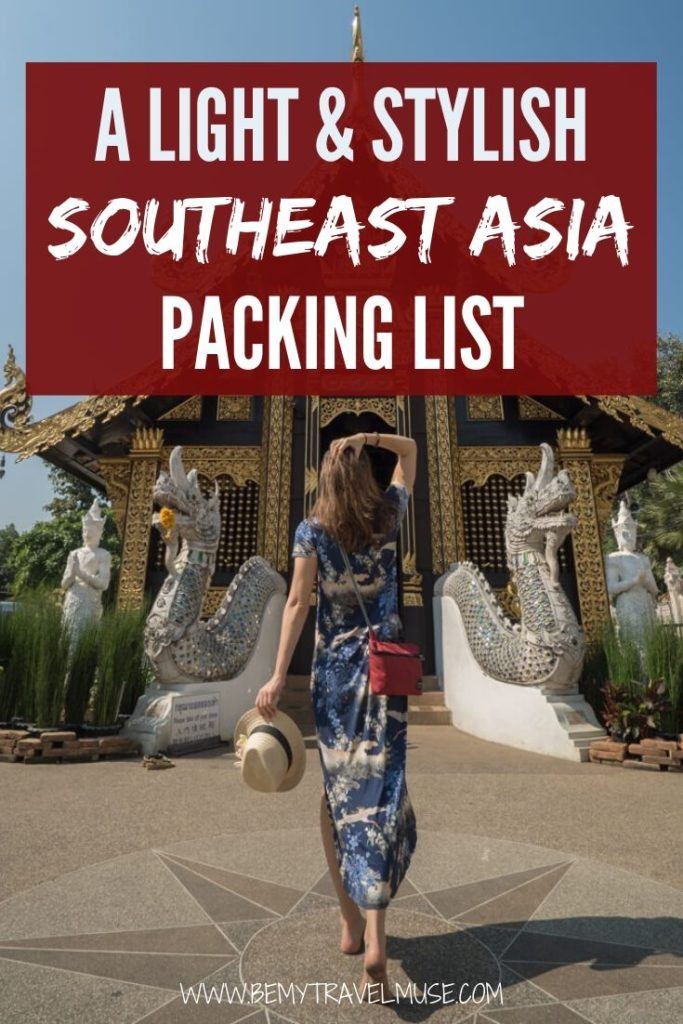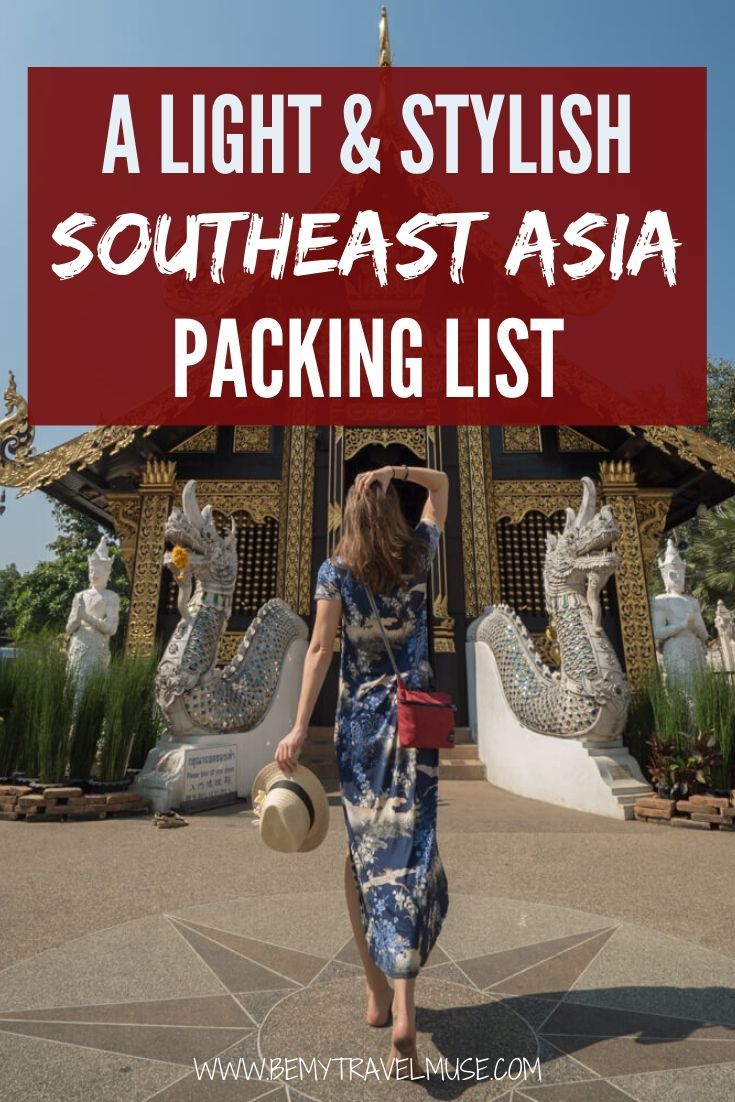 READ NEXT:
*These are affiliate links which earn me a small commission if you buy through the link. If this post has helped you, and if you want to support this site, please consider making your purchase through these links. Thank you!