Big Bear Lake is a mountain resort town in the San Bernardino mountains that frame Greater Los Angeles.  Most people go there to ski and snowboard in the winter months, and to enjoy the fresh mountain air in the summer time.
A few years ago, thanks to an uncharacteristically warm winter, the cabins were so discounted in Big Bear that I made my way up from Orange County with a few friends just for the weekend. I hadn't been for well over a decade despite it being only 100 miles away from where I lived for most of my life.
We got lucky, and snow fell halfway through the weekend.
It was beautiful.  Each flake looked like a crystal, kissing my face and bringing back childhood memories. I hadn't seen falling snow in 15 years, seriously. Most exciting of all, it was Doc the Husky's first time encountering snow, and he took to it like a natural.
We returned to our rental cabin only to realize that the best sled area was right next to us.  The unexpected falling snow had blanketed the perfect route, just for us.
This wasn't a trip I would ordinarily have thought of taking.  Most of the time, I want to get far, far away when I travel.  That weekend helped me realize that appreciating what is close to home can create cheaper, more accessible, and more frequent vacation opportunities while also helping me to appreciate my surroundings and support my community.
Big Bear Lake Overview
Getting there: From Greater Los Angeles, take the 210 East to the 18 North to get to Big Bear Lake.
Staying there: Book a cabin through a private renter or property management company. Look for deals during the low tourist seasons.
Eating: Most cabins offer kitchenettes.  There is a Von's grocery store off the main road.  I'd suggest cooking meals as opposed to eating out, as service is particularly slow and bad in Big Bear Lake (after sampling 4 different restaurants, I can say this with certainty). Though everyone who's been to Big Bear seems to rave about this Nepalese restaurant.
Night Life: There really isn't any.  The closest thing to night life is a bowling alley that serves Pabst Blue Ribbon on tap.  Classy.  Bring some board games.
Things to do at Big Bear Lake in the Summer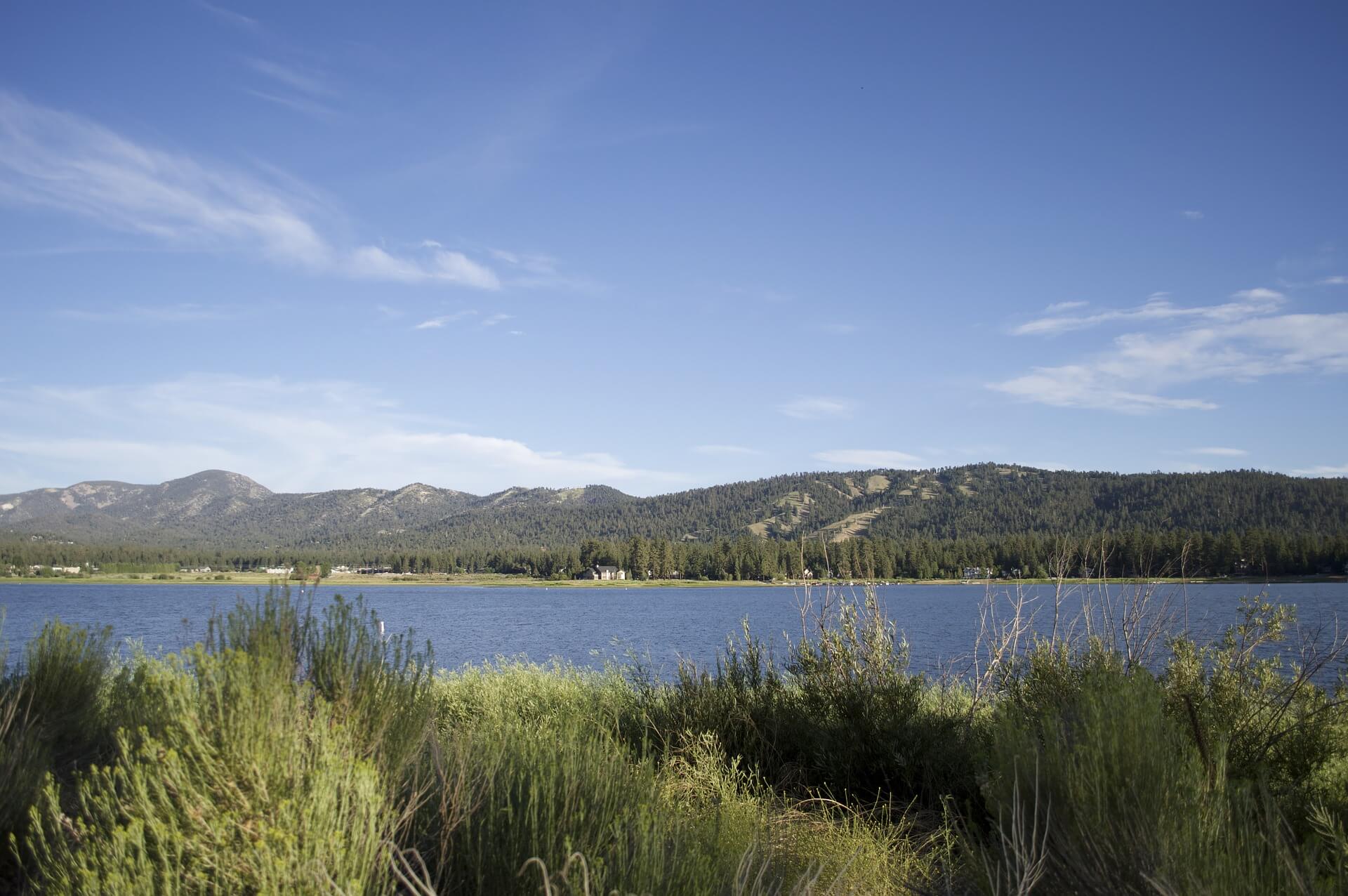 Watersports: Best known for its lake activities in the summer, the 7-mile-long Big Bear Lake is where the fun is. For everything from swimming, fishing, kayaking, canoeing, to paddle boarding, and parasailing, there's something for everybody. There is also a really cool alpine water slide, where riders get splashed into a 3.5 feet deep heated pool, making it an exhilarating $2 ride, especially after a hike!
Hiking: There are so many incredible hiking trails to choose from! For a moderately challenging hike, check out Castle Rock Trail, a 2.7 mile long hike that is right off Highway 18. The trail starts off slightly steep, but it gives you amazing view over the lake. If you are up for something more challenging, opt for the Cougar Crest Trail, a 5.4 mile long hike that starts off at Highway 38. This trail could easily take half a day to complete, but take your time and bring food and snacks for a rewarding picnic lunch over the amazing view at the peak. For a leisure stroll, check out Woodland Trail, a 1.6 mile lightly looped trail that takes less than an hour to complete. This interpretative loop also offers 20 numbered signs with detailed description.
Check out all of the trails available near Big Bear Lake here.
Camping: Big Bear Lake has many  campgrounds and RV parks, so if you plan to spend the night, consider camping out – gear is available for rent, and the facilities are great. Serrano campground is the most popular area for both tent and RV camping.
Things to do at Big Bear Lake in the Winter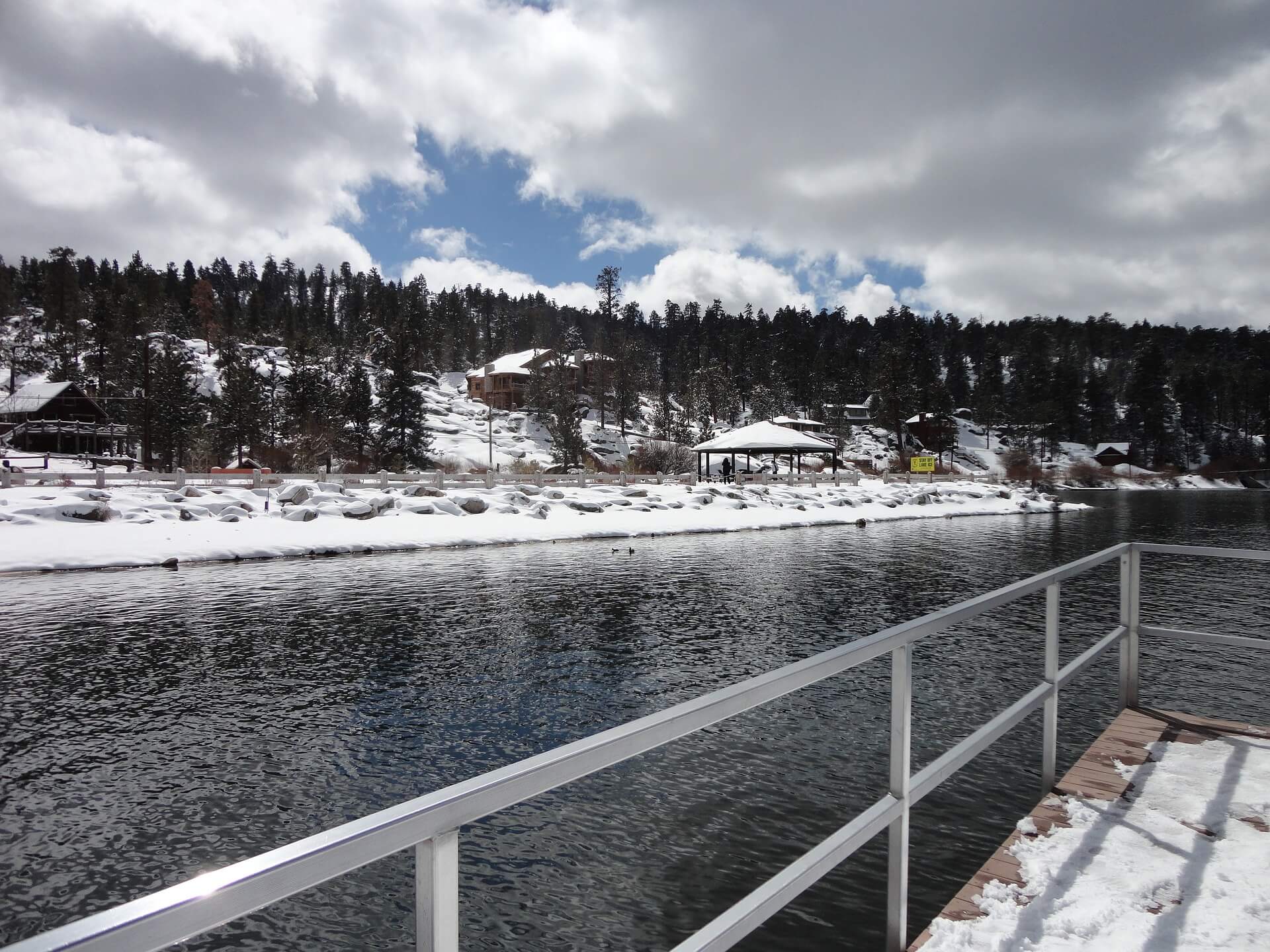 Skiing & Snowboarding: Big Bear Lake has been a ski town since 1925, It is perfect for skiing enthusiasts of all levels, in fact, many come to Big Bear Lake to learn to ski for the very first time. There are two mountains to choose from – Snow Summit and Bear Mountain, though I'd say go for both if you can, since there's a shuttle between the two.
I've only started learning how to ski and snowboard (super late to the party, I know), so I might not know exactly what to do with the 200 acre winter playground that offers various pipes, boxes, rails, logs, tanks, and more than 100 snow features. But if you are thinking of sharpening your snowboarding skills this winter, Big Bear Lake is one of the best options near Los Angeles – so much so that Olympic gold medals holder Shaun White, who grew up skiing at Bear Mountain and Snow Summit, recently acquired a minority state in one of the resorts at that area!
Snowshoeing & Sledding: If skiing and snowboarding are not your cup of hot chocolate, snowshoeing could be a blissful way to enjoy Big Bear Lake in the winter. For a unique snowshoeing experience, do it at night, under a full moon. Check out Open Air Big Bear's Facebook page for more details. For a place as popular (and potentially crowded) as Big Bear Lake, snowshoeing is a great way to find some peace and quiet.
You can also go sledding at night for a thrilling ride, just make sure to bring your helmet and goggles along!
Year-round Activities at Big Bear Lake
Helicopter Ride: The rides are available all year round, and each season a completely different landscape.
The Village Spa at Big Bear Lake: A girl's gotta treat herself! I counted a 18 different treatments available at the Village Spa at Big Bear Lake. After all that hiking or skiing, there's no better way to end your weekend trip to the Big Bear Lake than with a relaxing massage or spa treatment.
While Big Bear might not be as highly regarded a mountain destination as Mammoth, Lake Tahoe, or Squaw Valley, what it does have going for it is the ease of getting to it from greater LA. Plus, it's got its own charm, beauty, and reasonably good skiing and summertime lake activities.
So when all you have is a weekend, consider heading closer to home.