Ever since my son was born, flying with a bit more space, especially on long-haul flights, has become more important.
Not only do we sleep better when we can fully recline, but the service is always better, and having space for my now one-year-old to move around is essential.
I used to think business class flights all cost $10k+ and were out of my reach, but with a combination of finding good deals and moving mileage points around, it's been possible to fly business 4 times (and first class once!) this year on our longest flights. Here's how I do it:
Mileage Transfers from Credit Card Points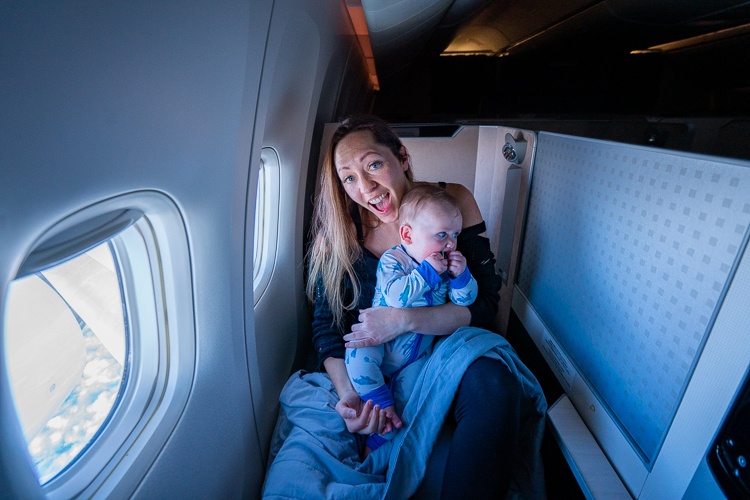 Over the years, I've found one of the best ways to get great value with points and miles is to have a credit card that partners with several different airlines and allows mileage transfers. I used to be loyal to United, but their redemption values have been terrible lately for business class, so it's much better to have points with some of the key banks I'll mention in this post, rack up points spending in the categories that certain cards reward the most, then transfer the points.
Sometimes, airlines even offer better than a 1:1 ratio on transfers. I once got 1.5 miles per points on Emirates, possibly the best airline ever, this way!
Here are my favorite cards and how I use them:
Capital One Venture X:
Current signup bonus is 75,000 points when you sign up through this referral link and spend $4000 in the first 3 months.
Right now, this card is my favorite since they offer 2x points in ANY spending category, plus a whopping 10x points on hotels and rental cars and 5x on flights when you book through their portal. They'll also price match, so do some recon before booking to make sure it's the best price.
Most cards just offer one point per dollar spent outside of their key categories, so this is the card I reach for the most lately when I'm buying anything day-to-day like baby items, groceries, clothes, or really anything that isn't travel or business related (more later on my favorite cards for those categories).
The minimum spend to earn the bonus miles is also very reasonable at $4,000 within the first three months. The other perks are great as well:
Hertz President's Circle Membership (We got upgraded to a 4WD vehicle, which would have cost almost double, thanks to this on our trip to Namibia!)
Priority Pass airport lounge network membership
Global Entry/TSA Precheck $100 credit
$300 travel credit (this offsets the $395 fee making it more like a $95 fee)
Access to the Capital One lounge network which is small, but growing
How I'd use the signup bonus: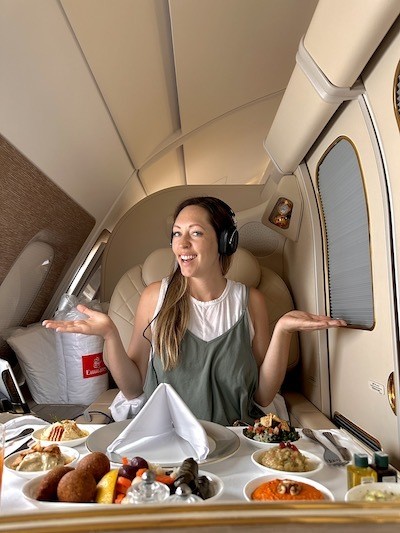 It's easy for me to share how I would use the sign-up bonus because this is exactly how I have already used it. With the bonus plus miles plus the miles I got from regular spending, I was able to book one of the best business class seats in the sky from San Francisco to Singapore on Singapore Airlines by doing a 1:1 points transfer directly to Singapore Airlines. That's nearly 16 hours of flying on one of the best airlines in the world.
Capital one is also partnered with Air France KLM, British Airways, Emirates, Etihad, Eva Air, Finnair, Qantas, Turkish Airlines, Virgin, Wyndham, Aeromexico, Air Canada's Aeroplan, which is great for any Star Alliance redeption, Cathay Pacific, Avianca, and TAP.
This card, and the others on this list, will also let you offset travel purchases when you convert the points to a cash value. For example, 30,000 points can offset a $300 flight. This might make sense if you can't get a miles transfer between partners, but I find this is not as good of a deal. In my Singapore Airlines example, 110k points would be worth $1100 using this method, however the Singapore Airlines flight I booked using miles has a $5000 list price.
Chase Ink (Business Owners)
I've had the Chase Ink for over 10 years for a reason – they make earning points that can be transferred to some of the best travel partners out there extremely easy for business owners. Plus, several of their cards offer a signup bonus but don't have an annual fee! It's a win-win.
Their signup bonus on the Business Preferred is currently a whopping 100,000 points when you spend $8000 in the first 3 months. They offer 3x points on travel, shipping, internet and phone, and digital advertising costs. For anyone who runs Facebook, Instagram, Google, or TikTok ads, this is huge. Their other cards offer up to $1000 cash back.
Here's what I love about it:
3x points on all travel nomatter how you book it.
3x points on social media and search engine ad spending.
Low annual fee of only $95 (quite generous considering the big signup bonus) or $900 cash back on other cards.
How I'd use the signup bonus: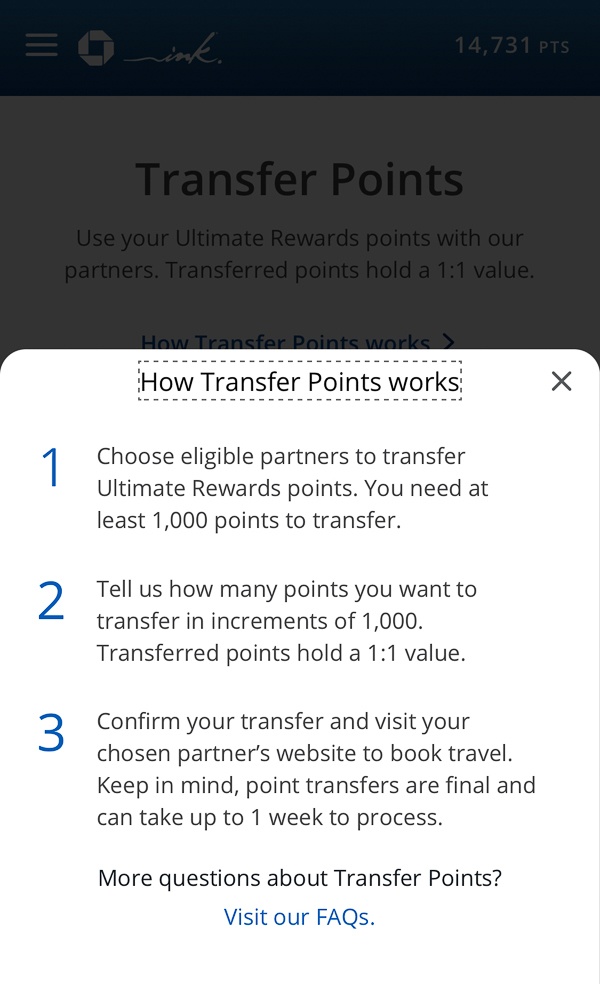 On our flight back from Cape Town to San Francisco, business class points deals were hard to find, but economy deals weren't! We scored THREE tickets for 30k miles each on United, one of Chase's partners, and still even earned United mileage and PQP and PQF (some of their measurements for retaining status) even on these free flights.
Chase is one of the only banks out there to partner with United on 1:1 transfers, so this is a big perk. You may notice there are some usual suspects that partner with just about every card, like Emirates and Singapore airlines, but Southwest and United aren't partnered with everyone, so if you fly these often, it's great to have a Chase card.
They are also partnered with Air France KLM, Virgin Atlantic, Aer Lingus, Aeroplan, British Airways, Emirates, Jet Blue, Iberia, IHG Hotels, Marriott, and Hyatt.
American Express Platinum
This is one of the absolute best travel cards out there for people who are on the road a lot. I don't have it ranking higher on this list because the annual fee at $695 is quite high, but if you use the card right, which I'm about to explain, it's worth it. Plus, they're currently offering an 80,000 mile signup bonus.
Although I don't use it for every purchase since I can get 2x points from the Capital One Venture X, I definitely use it to book flights since they offer 5x points when you book directly with the airline. This is an amazing value (and it's ALWAYS better to book directly. If you use a third party and have any issues or delays, the airline won't work directly with you and will force you to call the travel agent – no bueno.)
They also offer 5x points on hotels booked through their portal, but Capital One offers 10x. For this reason I would use Amex for flights and Capital one for prepaid hotels.
If you get the Capital One, is it still worth holding onto the Platinum? Maybe. Here are the other perks:
Airport Lounge access (with a major caveat, see below).
Priority Pass membership
$200 Airline credit – Pick an airline for the year and checked bags and other fees up to $200 will be refunded.
$15 monthly Uber and Uber Eats Credit
Free Walmart+ ($12.95 monthly value which includes free Paramount+)
$240 Digital Entertainment Credit (up to $20 back on Disney+, ESPN+, Hulu, The New York Times, Peacock, SiriusXM, and The Wall Street Journal.)
$200 credit on fine hotels booked through Amex
Discounts on some premium flights (I've saved 30% on business class flights when paying cash this way!).
$300 Equinox credit.
They are also partnered with Emirates, Singapore Airlines, Aer Lingus, Aeromexico, Aeroplan, Air France KLM, ANA, Avianca, British Airways, Cathay Pacific, Delta Skymiles, Choice Privileges, Etihad, Hawaiian Airlines, Hilton, Ibera, Jet Blue, Qantas, Virgin Atlantic, Qatar Airways, and Marriott.
I use all of the benefits other than the Equinox as we don't have one in Reno, so the fee has paid for itself. However one big change they recently made that I'm not a huge fan of is their policy for their airport lounges. The lounges are available in many major US airports and are often even better than airline lounges, however due to their popularity and the way the lounges were impacted during peak revenge travel, you're no longer able to bring anyone with you for free. You can add a family member to your account, in which case they'll get their own card for spending, for $195. Otherwise, pay $50 for adults and $30 for each child over 2. It's a big bummer that might see me canceling our card when Felix turns 2.
If you don't travel as much and don't think the fee would be worth the perks, their gold card offers 4x points at supermarkets and restaurants/food delivery, and 3x points on air travel with a $250 fee.
You'll notice I'm not mentioning any specific airline credit cards, and that's because having points that are flexible has had way more value for me lately. A lot of airlines are jacking up the miles needed for their flights, so being flexible has been much better for me. That said, some airlines offer great deals from time to time, and if you know you want to go to Alaska this summer, for example, an Alaska Airlines card might make sense for you.
All of these cards offer some travel insurance and no foreign transaction fees. Don't even consider travel cards that don't!
How to Earn Points Fast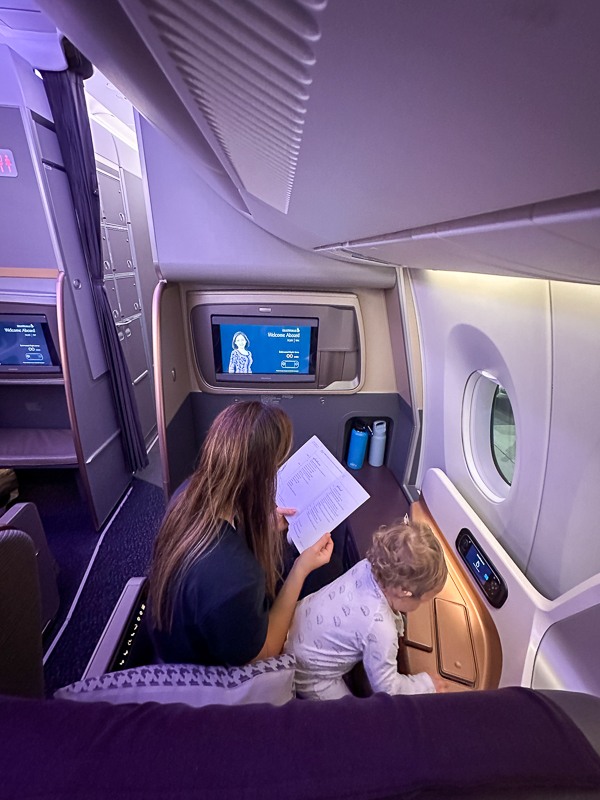 Earning points quickly is all about using the right card for the right purchase. I use the Amex for booking flights, Capital One for everyday purchases, and Chase for my cell phone, Internet, shipping, I would definitely use it if I ran ads, and I use it for most travel purchases that aren't flights or hotels. Sometimes perks also change, so take a look from time to time. I once used the Amex to pay $1500 in hotels, then realized I only got 1 point per dollar. Ouch!
Additionally, when shopping online, it's a great idea to install a toolbar from the airline you like flying the most. I currently go between a United and Southwest Google Chrome extension, which automatically tells me if the company I'm about to purchase from offers a mileage bonus. This is a great way to double dip on travel bookings like hotels if you won't be getting the Capital One card or can find a better deal on booking or hotels.com. I get 3x points on travel with the Chase Ink, plus 1 additional mile on United or Southwest per dollar spent, for example.
Before going crazy getting miles on a certain card, make sure they have a transfer partner you want. They're all different, so if you know you want to fly Qatar airways to Windhoek from San Francisco, for example, you'll be able to get those miles on Amex but not Chase. That said, sometimes partners will also have the flights.
Not Enough Miles? How to Find Cash Deals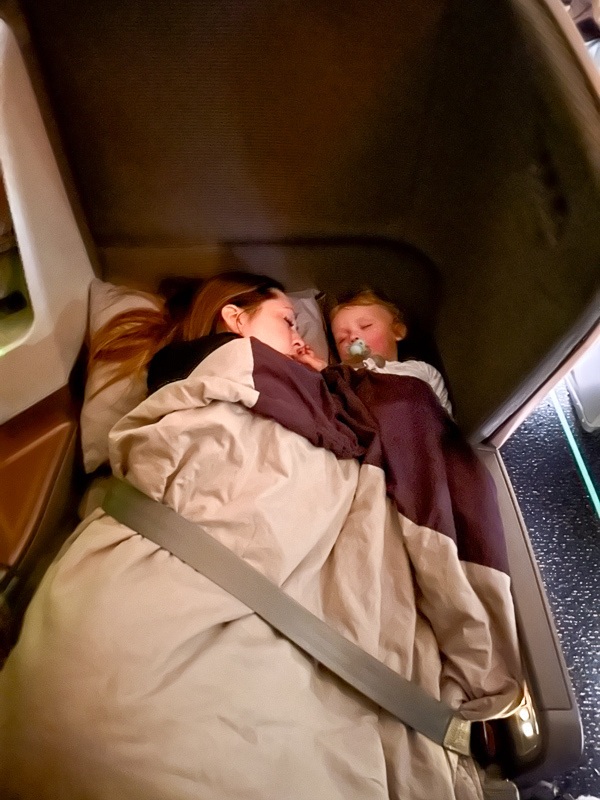 Although I used miles to book the Singapore Airlines flight, found a deal for 90k miles each for our flights home from Japan, and used miles to book my upcoming first class flight to Cape Town with Emirates, I didn't find a great deal to get us out to Japan in January, and we paid cash to fly home from Indonesia, as well.
I have an upper limit of $2500 that I'll pay for an international business class flight, and I was surprised by how many deals I could find just by looking at the right time.
For our flight on Japan Airlines out to Osaka, I was coming up empty handed until I searched through American Express' travel portal. They offer flight deals on premium cabins, and I found tickets for 30% off the normal retail price. It felt like a score, so I bought them.
Since I booked through Amex, I also got 5x points per dollar that I spent on them. Since the Platinum card also offers a Fine Hotels and Resorts benefit, I booked us at the Prince Gallery Kioicho Hotel in Tokyo for $200 off as well. I used both my 2022 and 2023 benefit to get a combined $400 off our 3-night stay.
For our flight back from Indonesia, I just happened to be in the United app and saw a flight from Jakarta to San Francisco for $1700 in business class, when economy was $1400. It looked like a mistake fare, so we booked it right away. This flight also helped me retain status with United since the PQP (premier qualifying points, which are one of the ways to get status) on cash business class flights is huge.
I get that not everyone has time to browse flights like I do (It's how I get my kicks…what's wrong with me?) so signing up for a deal finder is a great way to save money. I have been using FareDrop (read my FareDrop review) and it has great deals in business class if you opt for the Global membership.
Buying Miles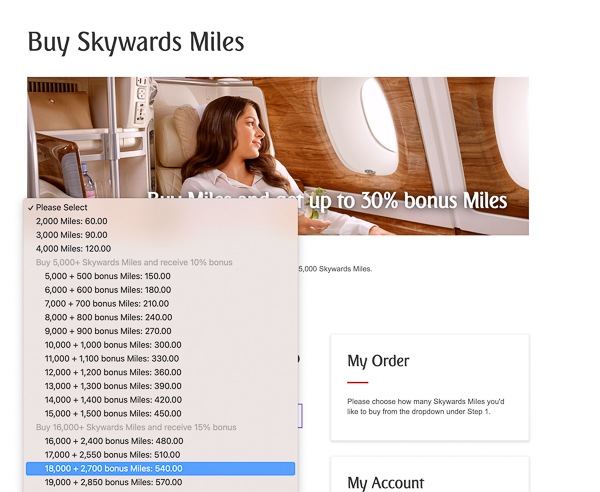 From time to time, I've also bought miles. If flying one of the classically expensive airlines like Emirates, outright buying a business class flight is usually out of my price range, but buying miles isn't. It costs USD $30 per 1,000 Miles and you can buy up to 100,000 or 200,000 Skywards Miles in a year, based on your membership tier. Every now and then, like right now, they offer a bonus.
For example, I paid 187,000 miles for a first class flight from San Francisco to Cape town. I had the miles for it, but if I hadn't, let's say I had 100k points I could transfer from Amex, Capital One, or Chase and needed to buy the difference. That would cost me about $2000 with the current 30% bonus offer, plus the $1200 Emirates now charges as a fuel surcharge on mileage bookings. Is it cheap? No. But is it a great deal for nearly 25 hours of flying first class on a ticket that costs $14,341 face value? Absolutely. Plus, using the Capital One, I'd get 2x points per dollar spent or 3x on the Chase Ink.
This is a good method if you need some miles to get over the hump, but probably doesn't make sense as a means to buy the entirety of your ticket. I also wouldn't buy and hold miles since airlines have been devaluing their points like crazy lately.
Although I don't manage to fly business for every flight, it sure makes jet-lag, and traveling with a baby, so much easier being able to do it for most of our long haul flights. It takes a little time to find the deals, but it's been so worth it!
By the way, if you sign up for any of these cards through a link on this post, I'll get a referral bonus. Thanks for supporting!