Is FareDrop worth it? I've been using the Global Pro for several months now, and friends, I have thoughts.
The following is everything you need to know before choosing to pay for the annual membership.
What is FareDrop?
FareDrop is an airline fare deal finder that functions as an app, website, and/or email newsletter. You may have heard of it from Kara and Nate, the well-known YouTubers who created it.
There are similar fare-finding services out there, like Scott's Cheap Flights, and a few others I've tried over the years. I have to say, though, that I really like the functions and interface of FareDrop.
Depending on the membership you choose, you can get domestic deals (free), domestic plus international (Global), or domestic, international economy, and business class fares (Global Pro).
How Does FareDrop Work?
First, you'll select which airports you want to save as your main hubs. You can select up to 10, which is more than almost any other deal finding service I've used.
If you're like me and there are several airports you could fly out of, this is a great feature.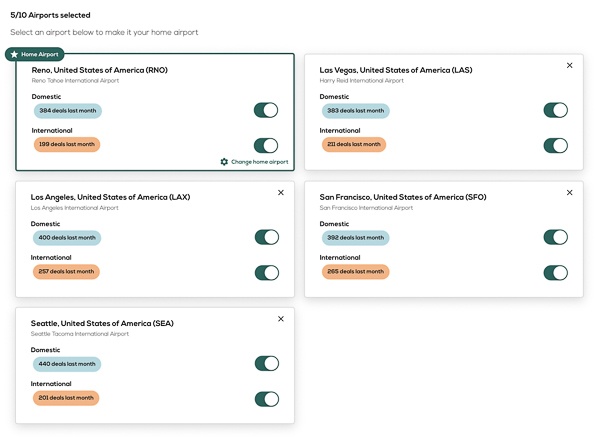 You can also select which time of year you're interested in and/or area of the world. You can get more specific and set a max budget, choose only direct flights, only lay-flat seats in business class, and omit low-budget airlines.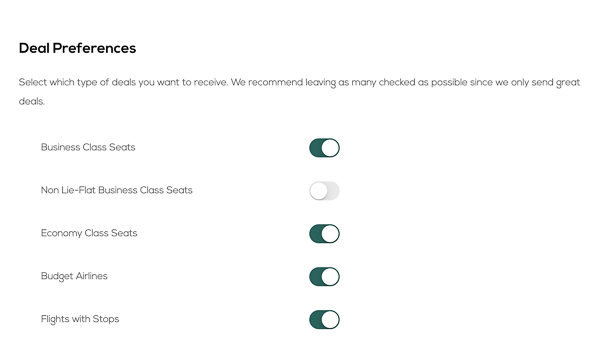 Only want to see summer deals to Europe in lay-flat businesses class seats with a max budget of $3000? Set your parameters and see what it comes back with.
Obviously, the more broad you can be, the more deals you'll get. Since I'm interested in potentially anywhere at any time depending on the deal, I leave it pretty broad.
So far I've been impressed by the deals I'm seeing out of my closest, smallest airport. I normally struggle to come up with options from here and often have to get to a more major airport to go abroad. FareDrop has done well with finding me more options than I have time to plug and search.
Is it Worth it for Business Class?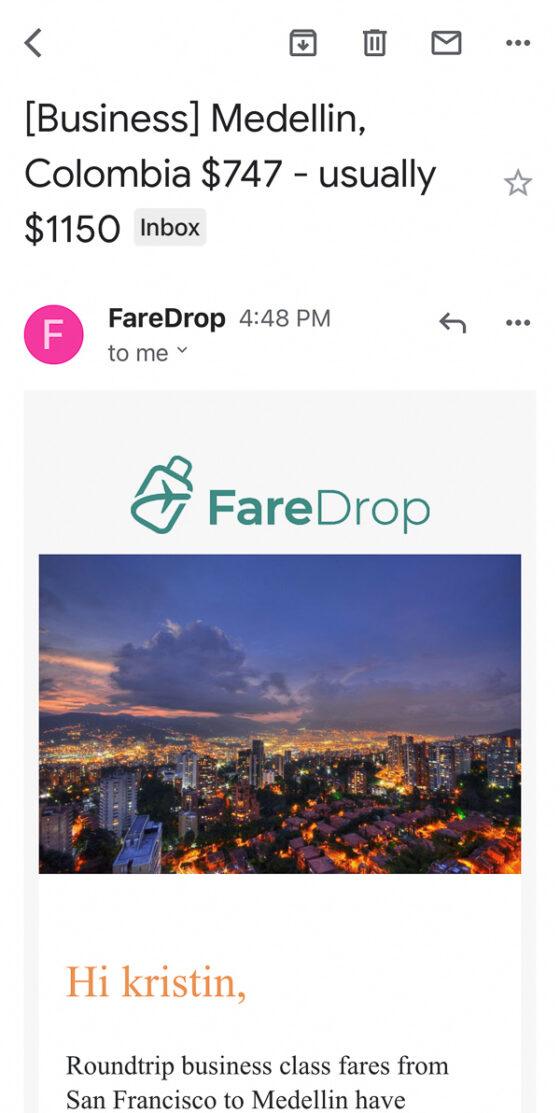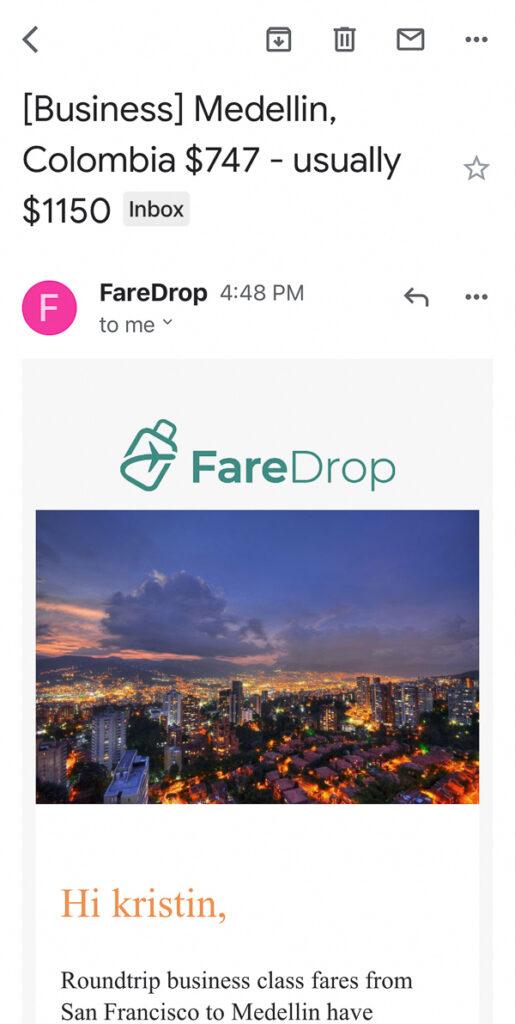 I love flying business class, but I don't love paying for it.
I used to think the only way to fly business was to use miles, since some tickets can cost upwards of $10k. But it doesn't always have to be that way, and sometimes, business deals aren't that much more than coach. If I can fly business for $1k or more than coach, that's a great deal, and I jump on it. It's how I ended up paying $2k each to fly to Osaka from San Francisco on Japan Airlines and home from Jakarta to LAX on United Polaris.
FareDrop Global Pro has also managed to find me a bunch of options for under $3k to fly business round trip to Europe, in lay flat seats only (a selection criteria I have turned on!) including from my small home airport, Reno Tahoe, with just one short layover in Seattle. It would have taken me a long, long time to search out that deal on my own, trying a bunch of different airport combinations until I found a way.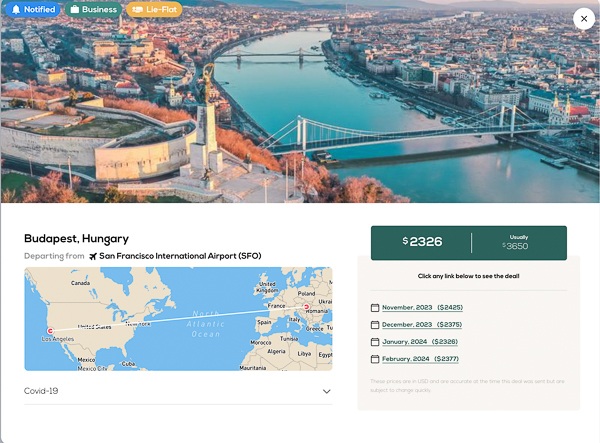 I like to combine these searches with their DailyDrop travel hacking newsletter, which sends daily info on points deals, great signup bonuses, and ways to maximize miles. Between the two, it's helping me find a lot more opportunities to upgrade my travel experience.
Downsides of FareDrop
There are a few minor downsides worth considering. Often, the deals are available for a brief time and may be over by the time you log into your interface and see them. That's just the nature of fare hacking, regardless of which service you sign up for, and you can opt to turn on push notifications if you download the app, and/or get email notifications so that you never miss a deal. That said, if you have a lot of airports selected and have wide parameters like I do, that's going to result in a lot of emails.
Sometimes the cheap flights are not the flights you would want to take. They might have a long layover or multiple legs whereas the direct flight is still expensive. I find this is the case when I try to book with mileage as well – by saving money I often have to take a less ideal route.
It's also usually a specific set of dates the deal is available for. If you need specific dates, you may not be able to find the deal anymore by changing them around.
Some deals are great, though. They are the exact deal you want, where you want, and when you want. They are just a bit less common.
If you're being super specific, you'll get fewer notifications and you'll also see fewer deals. Still, if you just need one great deal and FareDrop finds it for you, it's worth it.
So far, I'm seeing lots of deals to Europe, Australia, and North and South America, but haven't seen as many to southern and eastern Africa. This also appears to only be a relevant service for those flying out of North America.
Final Thoughts on FareDrop
As already mentioned, I've tried quite a few airline deals programs in the past, and have found some great flights as a result, but they usually have limitations. They often don't let me pick more than one departure airport, don't have business class deals, and usually lack the specificity I want with my searches. FareDrop has more functionality than I've found before.
I'm also liking the deals FareDrop is finding, particularly from my small home airport. I typically don't book international travel from here since it's so pricey, and these deals have been surprising in a good way.
For the price, which is $0 for the domestic-only plan, $49 for the international + domestic plan, and $99 if you want business class included, if you really plan to travel this year, it's a no-brainer. I've already saved hundreds of dollars, and if I find the right business class deal, it'll be thousands.
The more flexible you can be, the better it'll work for you, but even with more specificity, you can still find great deals.
*I earn an affiliate commission for any purchases you make through the links on this page. I only promote products and services that I personally use and love. Thanks for your support!