Dreaming of a luxurious getaway but don't want to break the bank? You can have your cake and eat it too, when it comes to finding the cheapest overwater bungalows in the Maldives.
It's true that the Maldives isn't one of the cheapest destinations in the world, but you might be surprised at the deals you can find. I wanted to take the guesswork out of the equation for you, and to see for myself if it's really possible to stay in an overwater bungalow for a decent price here. Get ready to indulge in a slice of paradise without emptying your pockets!
1. Reethi Beach Resort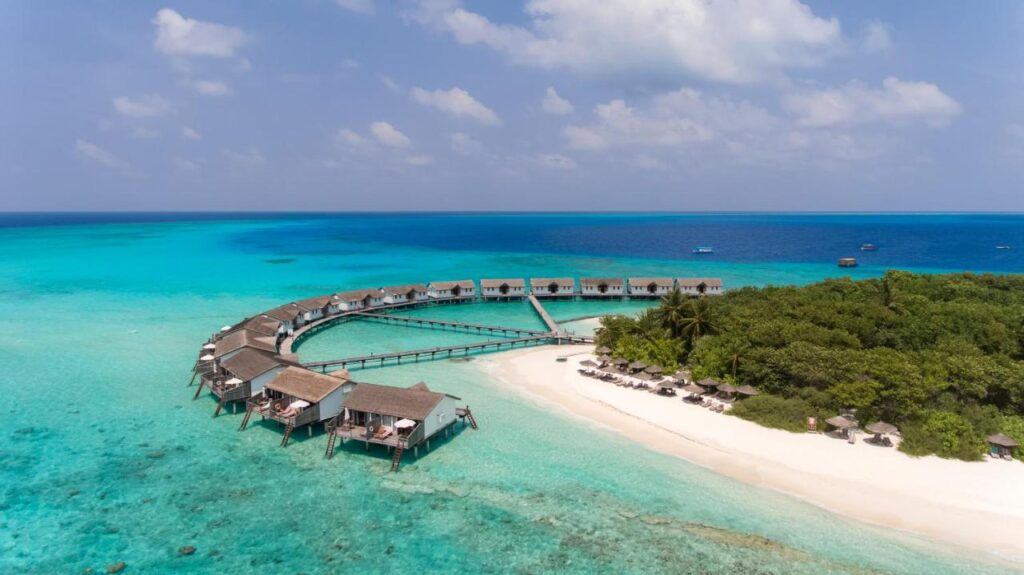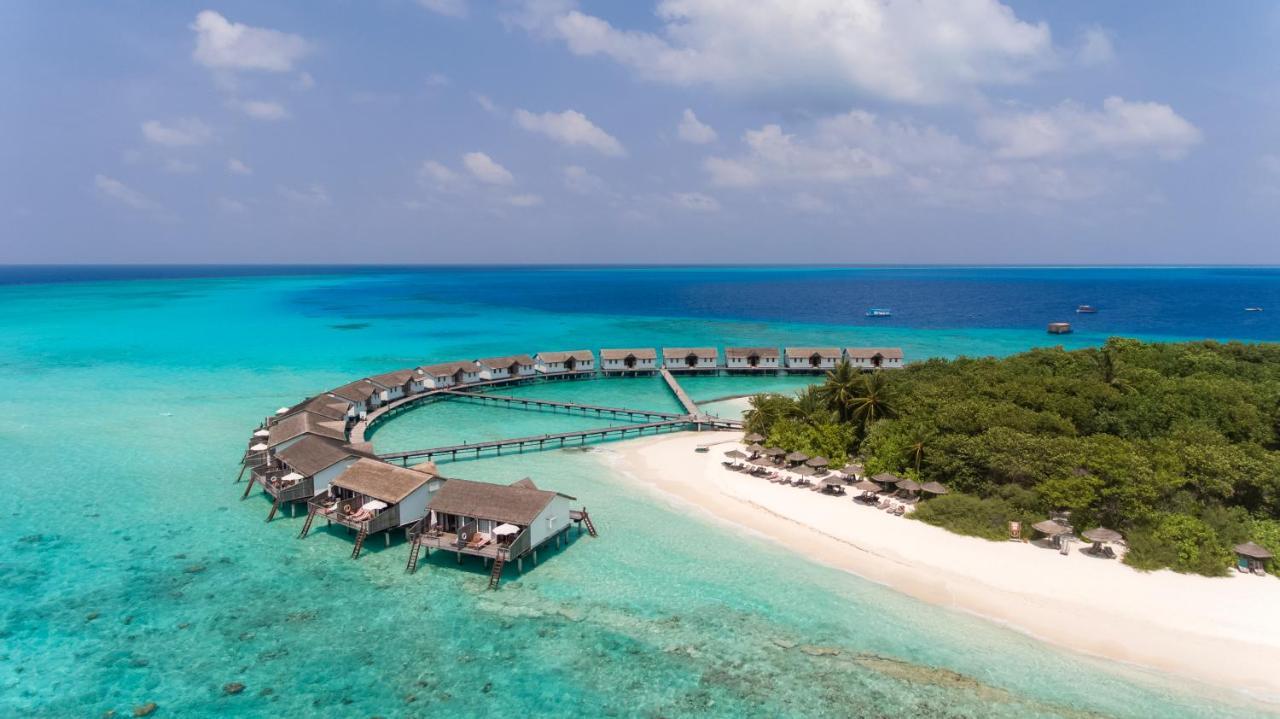 You might recognize this from my post about the cheapest overwater bungalows in the world. Nestled within the UNESCO Biosphere Reserve of Baa Atoll, Reethi Beach Resort is far more than just an affordable option; it's an eco-conscious paradise. Built and designed to have a minimal impact on the environment, it promises not just luxury but sustainability too. The overwater bungalows are constructed from traditional Maldivian materials, lending an authentic touch to your stay.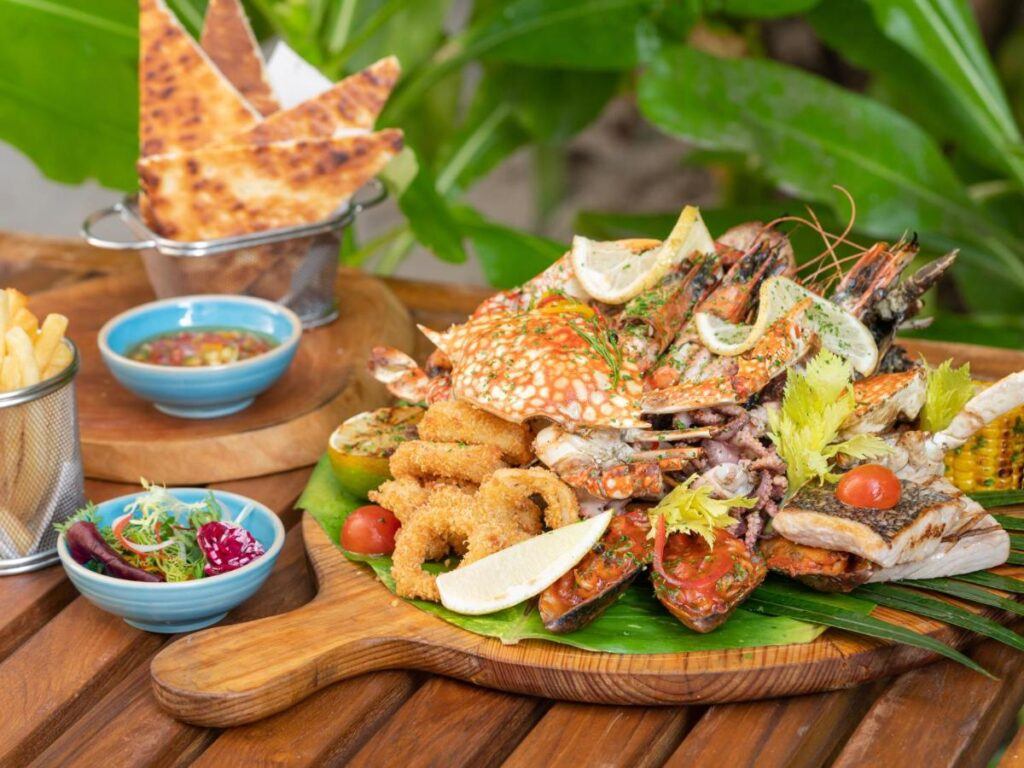 Its location in one of the world's richest coral reef areas means you have direct access to unbelievable snorkeling and diving opportunities right from your bungalow's wooden deck. Let's not forget the five restaurants and five bars on-site as well, offering culinary delights from around the world. Whether you're into water sports, fine dining, or simply basking in nature's beauty, Reethi Beach provides a remarkable mix of luxury, adventure, and sustainability—and at a relatively reasonable price. The Water Villa starts around $278/night.
2. Drift Thelu Veliga Retreat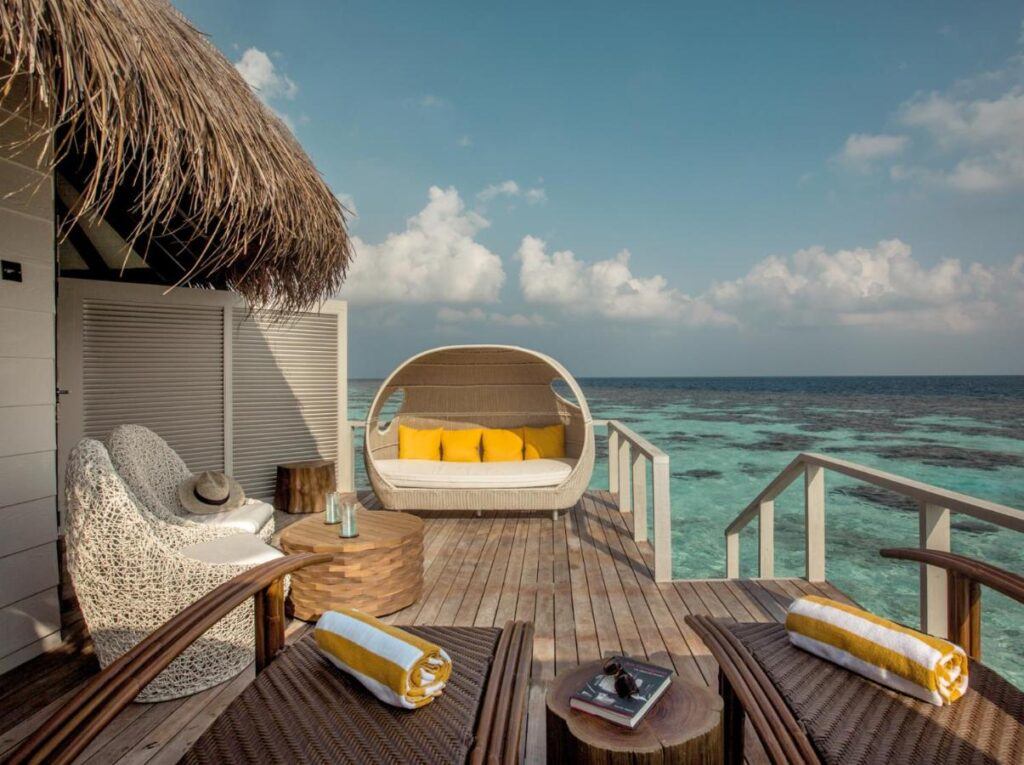 If intimacy and exclusivity are what you crave, Drift Thelu Veliga Retreat is your sanctuary. This boutique escape in the South Ari Atoll stands out for its intimate setting, with only 30 overwater and beach villas. Imagine waking up to panoramic ocean views, then walking mere steps to enjoy snorkeling in your own private coral garden, followed by sipping cocktails as the sun sets over the azure horizon.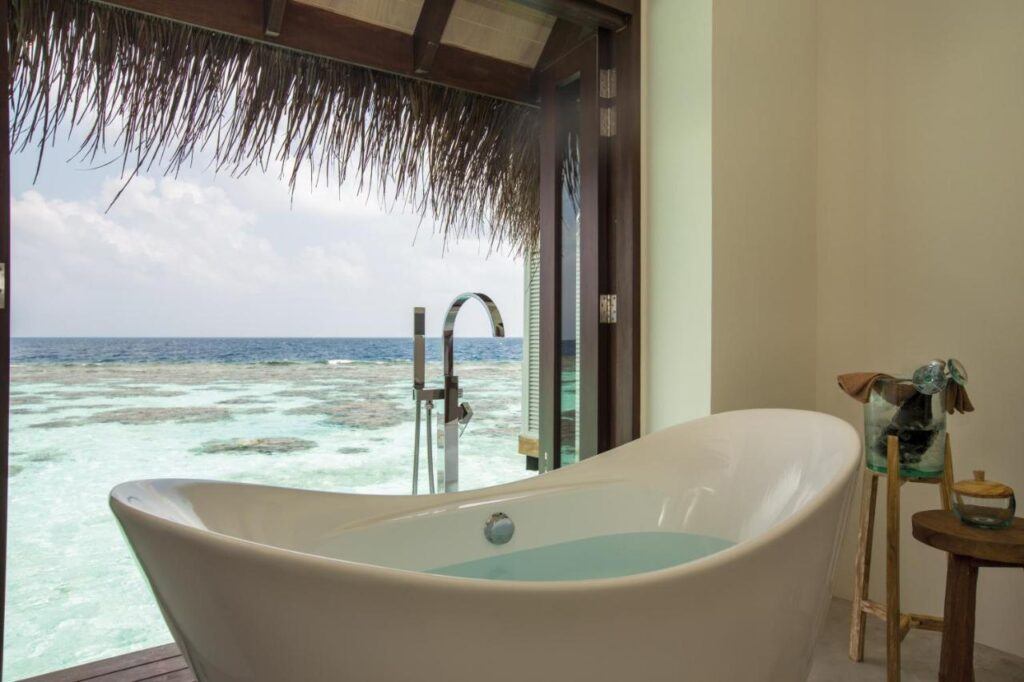 Whether you want an adrenaline-pumping diving session or a languid day on the beach, this hideaway ensures that your needs are met. What's more, its size lends itself to highly personalized service. It's the ideal destination for honeymooners or anyone looking to escape the hustle and bustle.
Rates at Drift Thelu Veliga Retreat provide an reasonable yet luxurious slice of paradise that feels like your own secret island. The cheapest overwater bungalows here start at just $430/night, with breakfast included.
3. Meeru Maldives Resort Island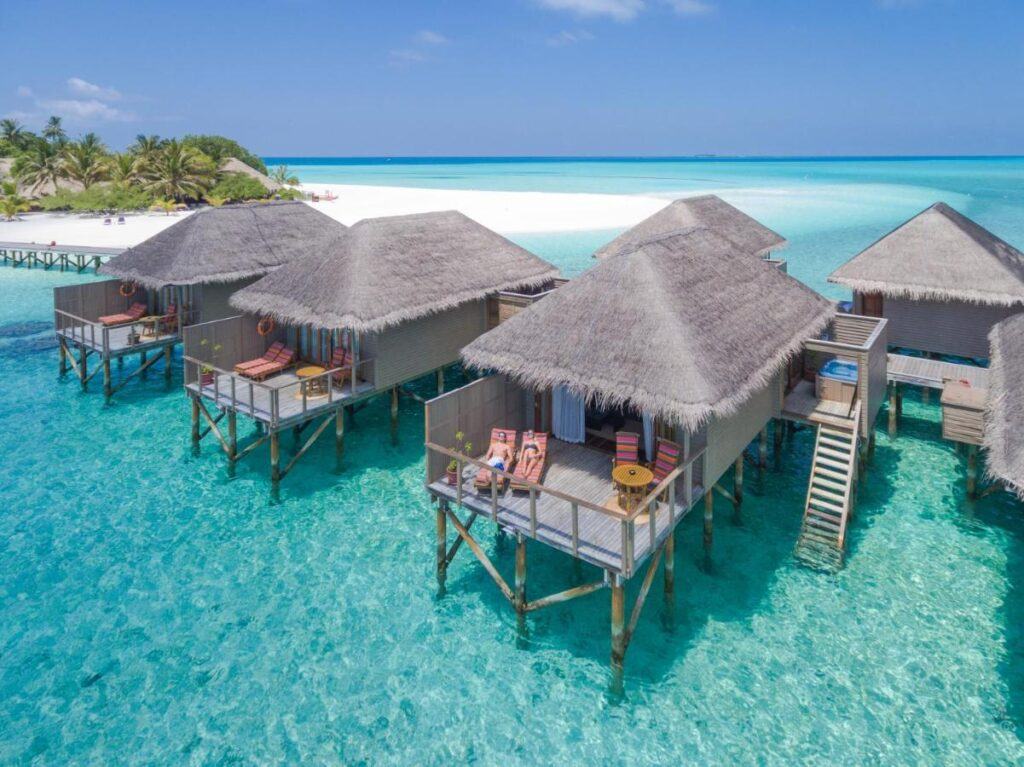 Meeru Maldives Resort Island is another sanctuary that proves luxury doesn't always have to cost a fortune. Situated on a 90-hectare island in the North Malé Atoll, Meeru is a 55-minute speedboat ride away from Malé International Airport. Once there, you'll be swept away by the sheer variety of experiences available. From Garden Rooms to overwater Jacuzzi Water Villas, the property caters to all tastes and budgets.
Unique to Meeru is its "adults-only" areas, perfect for couples seeking a quiet retreat, though there's also a plethora of family-friendly amenities for those with kids in tow.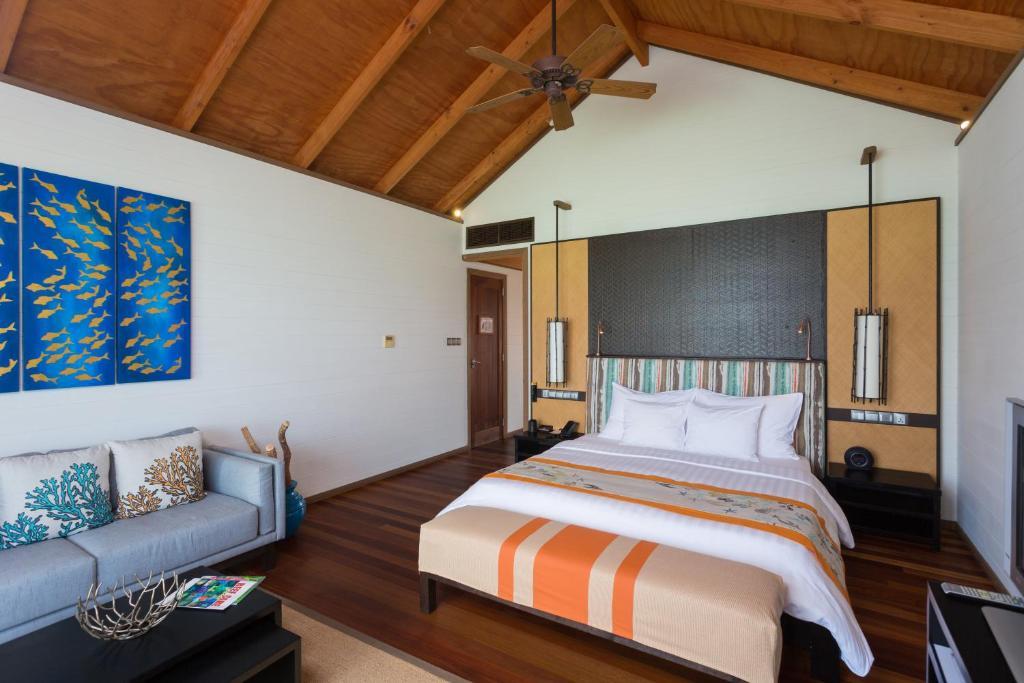 Meeru also offers two freshwater swimming pools (including one just for adults), four restaurants, and an indulgent spa experience that contributes to a holistic vacation. Whether you want to snorkel in the turquoise lagoon, sample international cuisines, or simply unwind in your private Jacuzzi, Meeru offers an unmatched range of included amenities at an unbeatable value. Here, the overwater bungalows start around $550/night, which isn't exactly "cheap," but compared to other mega-resorts, the price is quite reasonable.
4. Reethi Faru Resort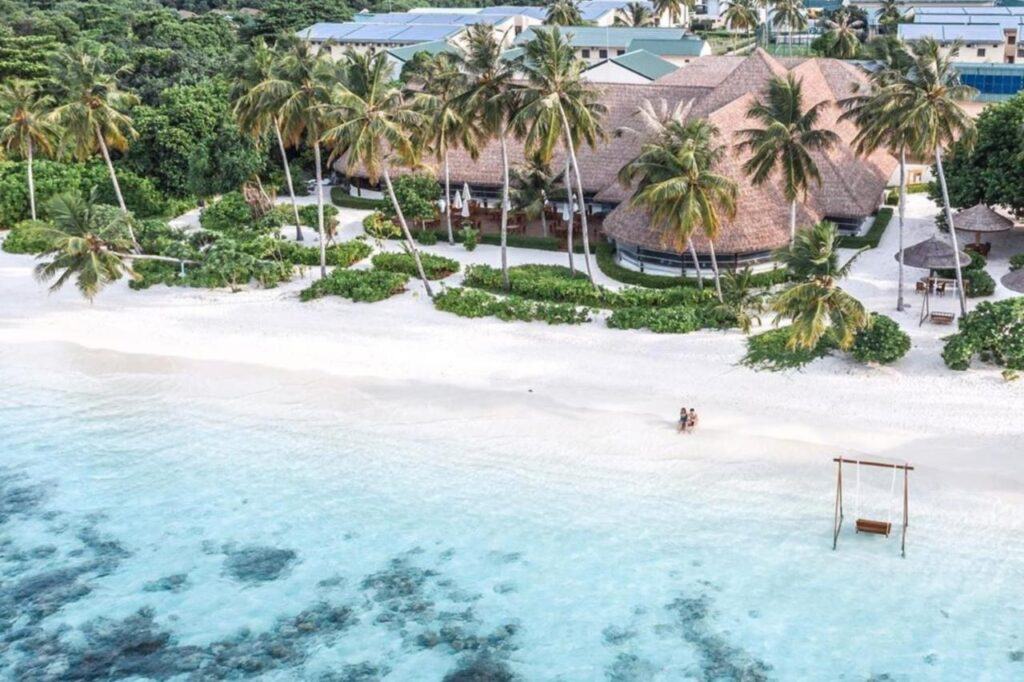 When you're craving that iconic Maldivian experience without breaking the bank, Reethi Faru is an idyllic choice. Tucked away on the secluded, pristine island of Filaidhoo in Raa Atoll, this lush eco-resort embodies the perfect blend of comfort and sustainability.
While many overwater bungalows can cost upwards of $1K per night, the ones here start at just $420, making the dream of "affordable luxury" a reality. But don't mistake affordability for lack of amenities. Each villa is a sanctuary unto itself, adorned with traditional Maldivian craftsmanship and modern conveniences.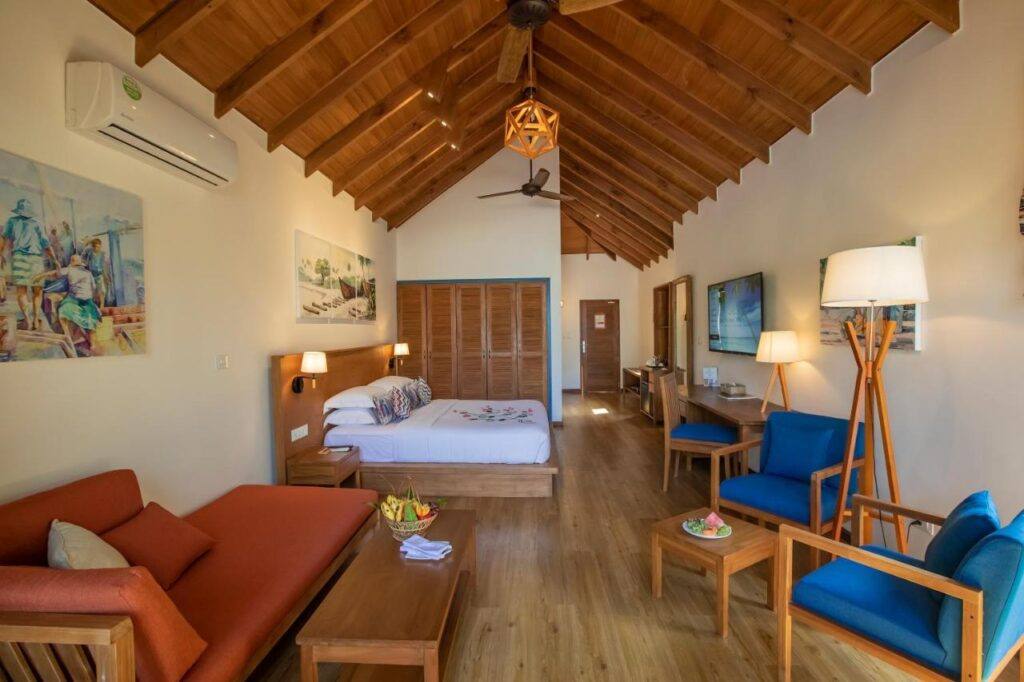 Offering activities ranging from sunset fishing trips to yoga and meditation, this property caters to both adventure-seekers and serenity-lovers alike. Culinary enthusiasts will also appreciate its half-dozen eateries featuring both local and international cuisines. Top it all off with an array of water activities that give you a chance to become one with the crystal-clear sea, and you've got yourself a fulfilling, budget-friendly Maldivian getaway.
5. Cinnamon Velifushi Maldives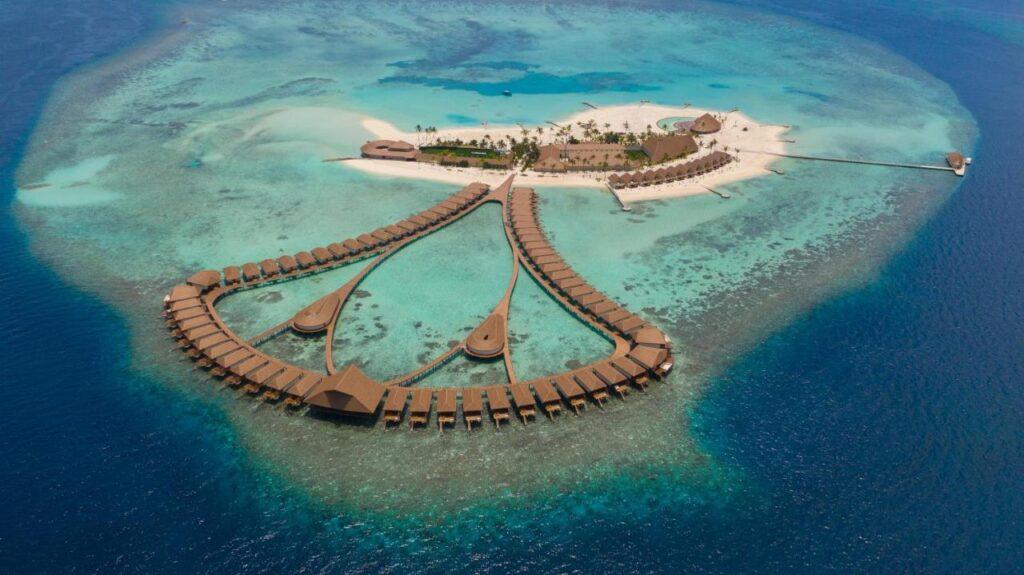 Imagine stepping out of your luxurious overwater bungalow onto a private deck overlooking a shimmering lagoon. That's just another day at Cinnamon Velifushi Maldives, a retreat that combines intimacy with grandeur. Situated in Vaavu Atoll, this property distinguishes itself with a vibrant underwater world teeming with coral reefs and diverse marine life, making it a snorkeler's paradise.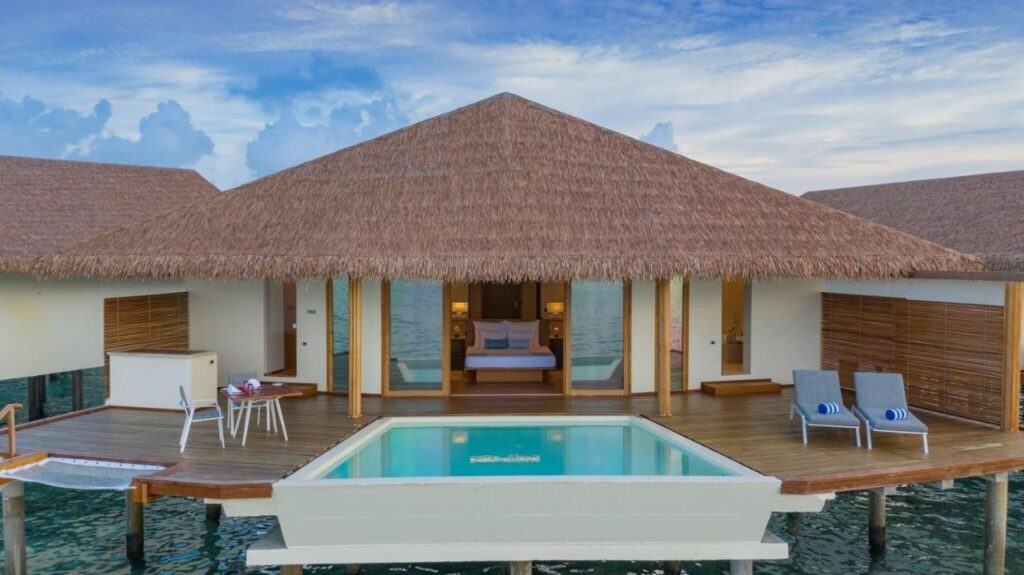 What sets Cinnamon Velifushi apart from other affordable Maldivian escapes is its dedication to providing a full-bodied luxury experience. From international dining choices that sweep you off to various corners of the globe to a spa offering signature Balinese and Ayurvedic treatments, the resort exudes a sense of refinement. A unique feature is the "Meeru Bar," where you can sip on cocktails while submerged in a pool. It's the ideal place for those who want to keep their days as fluid as their evenings.
Though the nightly price of around $715 might not seem reasonable, the rate includes breakfast, and there are several all-inclusive options as well.
6. Cocoon Maldives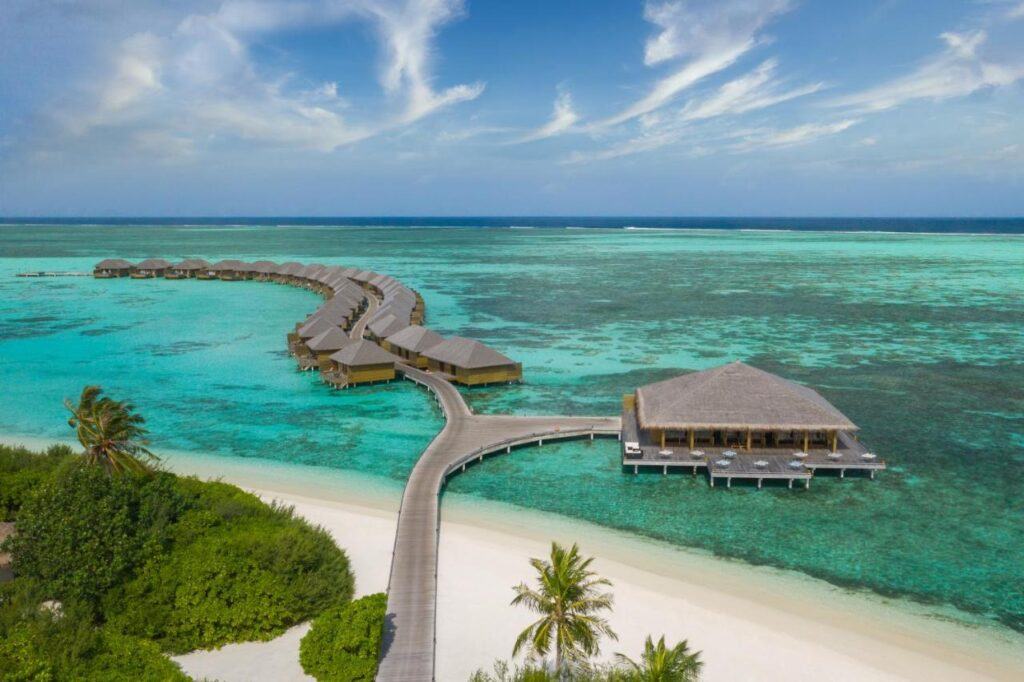 When it comes to blending modern design with natural beauty, Cocoon Maldives is in a class of its own. Located in the stunning Lhaviyani Atoll, this luxurious yet budget-friendly resort offers an all-inclusive experience that won't break the bank. With an average nightly rate of around $600, you're getting far more than just an overwater bungalow; you're getting an all-encompassing experience that includes delectable meals, delicious drinks, and a host of water activities.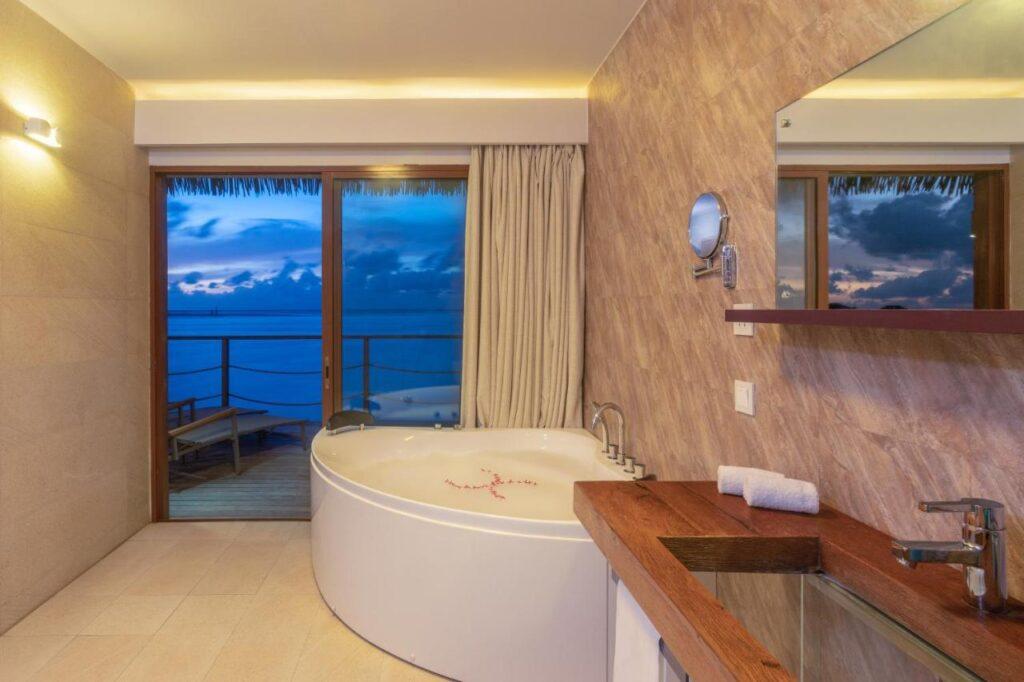 This Italian-designed hotel breaks away from the typical Maldivian architectural style, introducing a sophisticated, minimalist touch that's refreshing and original. As you indulge in flavors from around the world at the Manta restaurant or bask in the rays by the infinity pool, you'll quickly understand why it has been winning the hearts of savvy travelers. To top it off, Cocoon Maldives takes sustainability seriously, with an on-site marine biologist and a range of eco-friendly practices.
7. Kuramathi Maldives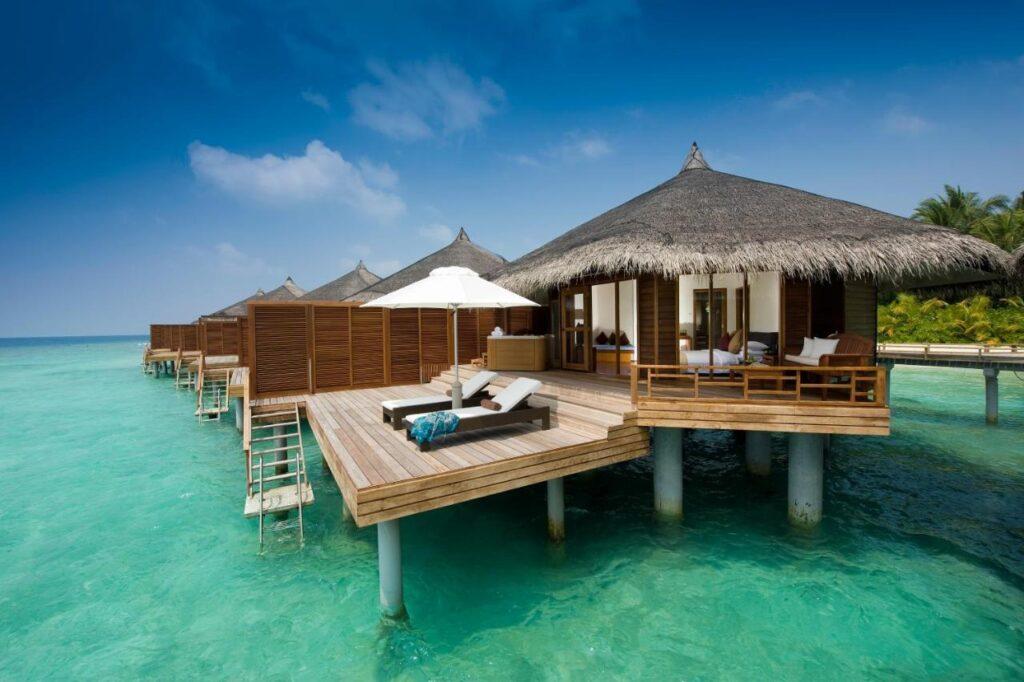 Nestled in the Rasdhoo Atoll, Kuramathi Maldives gives you more than just a room — it offers an experience steeped in natural beauty and curated luxury. With an all-inclusive price of around $640 per night, Kuramathi exceeds all expectations, treating guests to an array of sumptuous dining options across its nine a la carte restaurants, serving cuisines ranging from Thai to Mediterranean. This is the place for those who like choices: imagine yourself snorkeling in the house reef in the morning and relaxing at one of the island's 17 bars by the afternoon.
Despite its size and abundant amenities, the property remains keenly sensitive to its stunning natural surroundings. The island's lush interior is a biodiverse paradise, and the resort runs eco-conscious programs, such as coral planting, which guests are encouraged to join.
8. Furaveri Maldives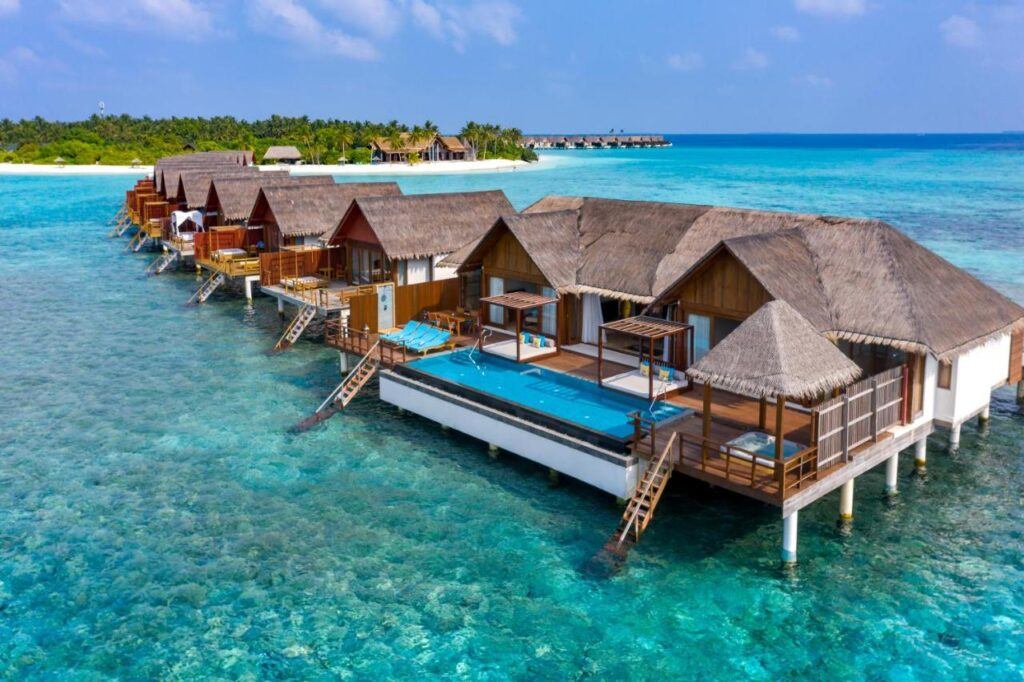 If you're dreaming of an overwater bungalow experience in the Maldives but your wallet is whispering for moderation, Furaveri Maldives might just be your utopia. The ocean villa rates begin around a reasonable $560 per night, so you're looking at one of the most affordable yet luxurious options in the Maldives.
Don't let the budget-friendly label deter you: Furaveri Maldives doesn't skimp on the amenities. Located in Raa Atoll, it offers the quintessential Maldives experience, from white-sand beaches to turquoise waters filled with an array of colorful marine life.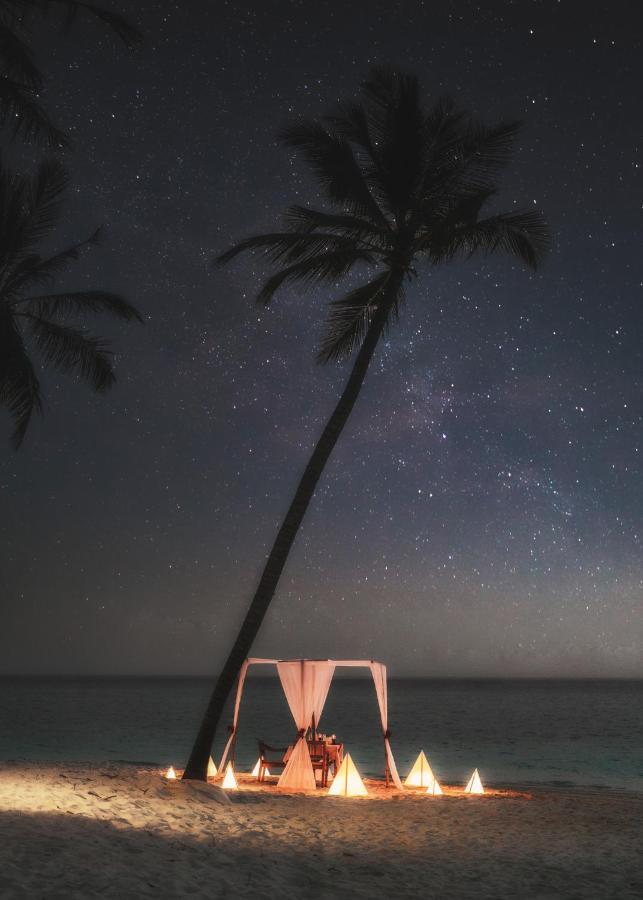 You won't just be staring at the ocean — you can dive right in with activities like snorkeling, windsurfing, and even big-game fishing. The resort is also home to an outstanding spa, and you can wind down the day with a massage as the sun sets over the ocean. Furaveri balances affordability with luxury, proving you don't need to break the bank to experience the sublime beauty of the Maldives.
9. Coco Palm Dhuni Kolhu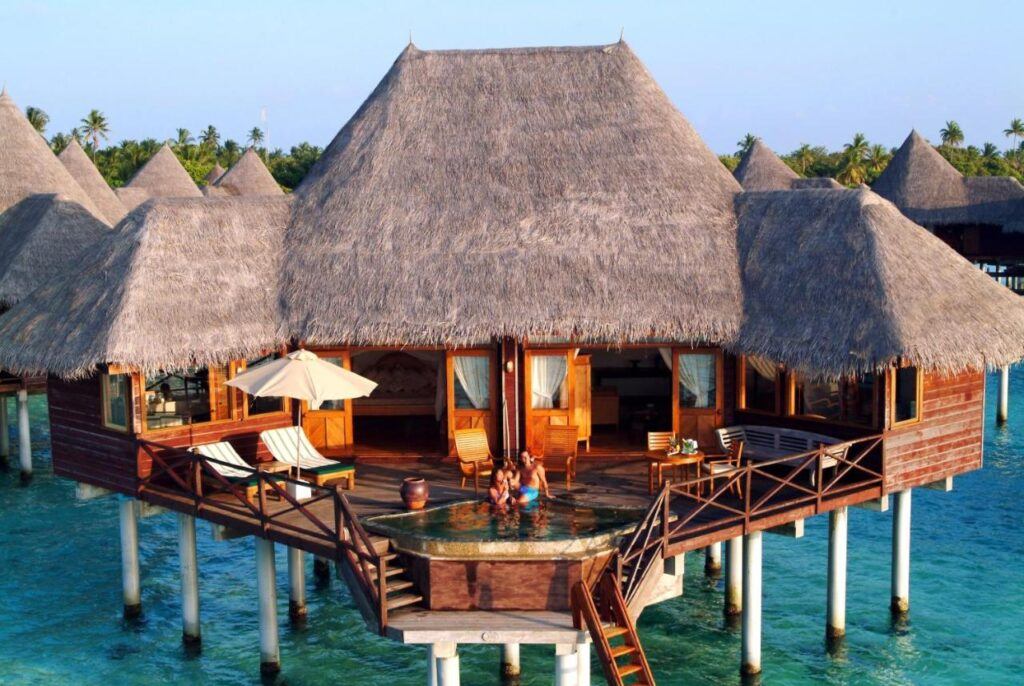 Are you ready for an eco-friendly retreat that pairs luxury with sustainability? Welcome to Coco Palm Dhuni Kolhu, a haven where rustic bamboo furnishings meet modern comforts, creating an ambiance that's both tranquil and sophisticated. Like Reethi Beach Resort, this one is in the lush Baa Atoll.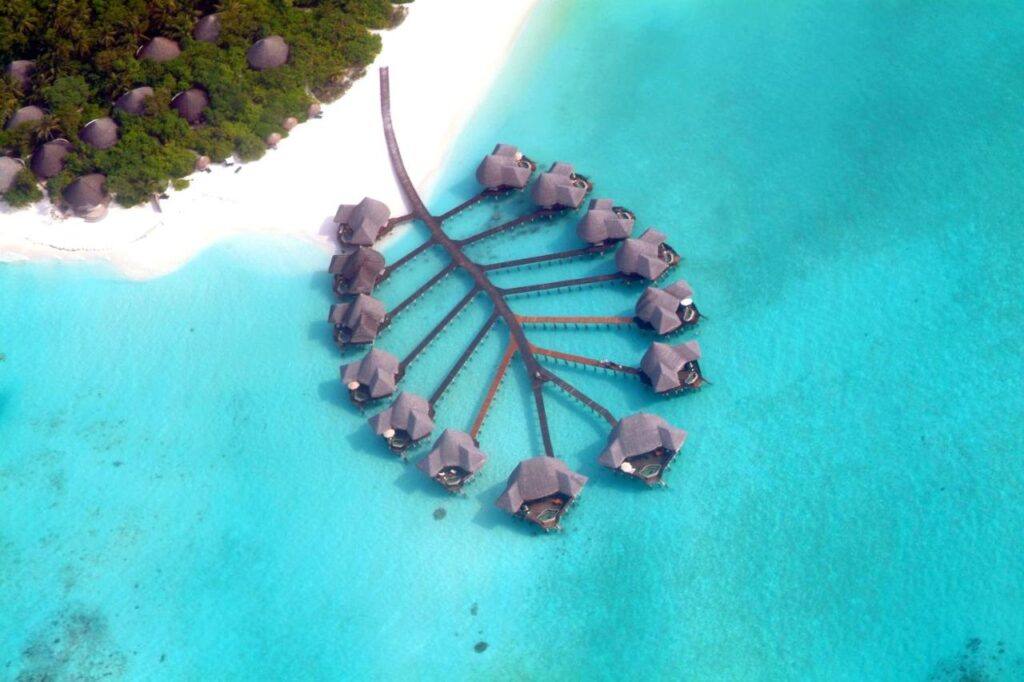 The overwater villas offer an idyllic setting where you can savor the symphony of gentle waves and tropical birds right from your sundeck. When you're not soaking in your private plunge pool or snorkeling among vibrant coral reefs, indulge in holistic treatments at the Coco Spa.
With rates around $650 per night, this is an affordable way to experience lavish comfort while contributing to eco-friendly tourism.
***
The Maldives might be synonymous with luxury, but that doesn't mean you need a celebrity's bank account to enjoy it. With everything from eco-friendly sanctuaries to all-inclusive wonders, you're sure to find a slice of paradise that fits your budget. So go ahead, book that dreamy overwater bungalow you've been fantasizing about. After all, why should Instagram influencers have all the fun?
So, which of these heavenly retreats are you booking first?