Tahiti is the first stop when you come to French Polynesia. Many tourists consider it to be a pass through on their way to Bora Bora, but I think it's worth exploring more.
Tahiti has lush jungles and abundant waterfalls, plus opportunities to swim with Humbpack whales, and witness the world's heaviest surf wave – Teahupoʻo.
I admit, I didn't think much of Tahiti the first time I visited, but after staying and exploring more, I have come to appreciate that Tahiti has a lot to offer. I have rarely seen an abundance of so many waterfalls, and with enough that if you're willing to hike over rocks and through rivers, you can get one all to yourself.
It is worth spending a few days, or maybe just one, to see the jungly interior. If you do, these are some of the best things to do in Tahiti:
22. Stay in an Overwater Bungalow (or on the Beach)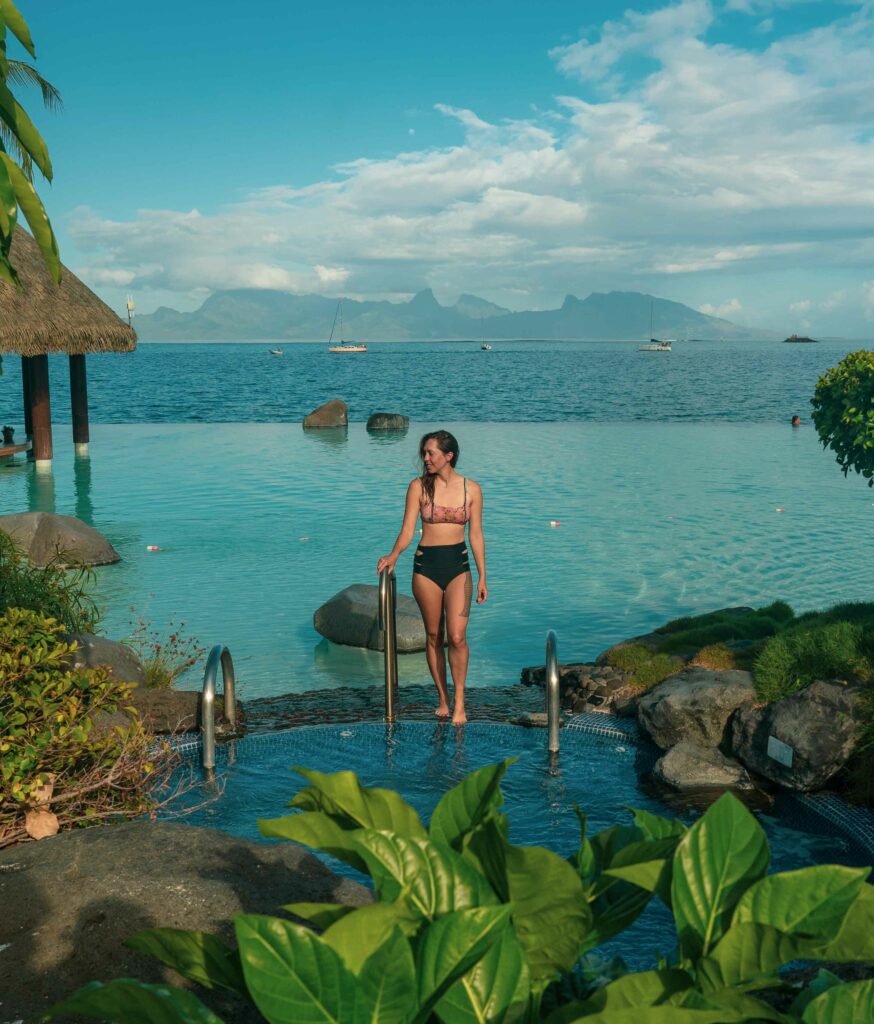 I've stayed in many places on Tahiti over the years and while there is plenty of variety, the Intercontinental Tahiti Resort and Spa has the hands-down, most beautiful view. Their pools are reminiscent of a lagoon with sandy bottoms and salt water, it's perfectly situated for the sunset over Mo'orea, and you can see outrigger canoers paddling by all day long.
The rooms are comfortable as well, with gorgeous views: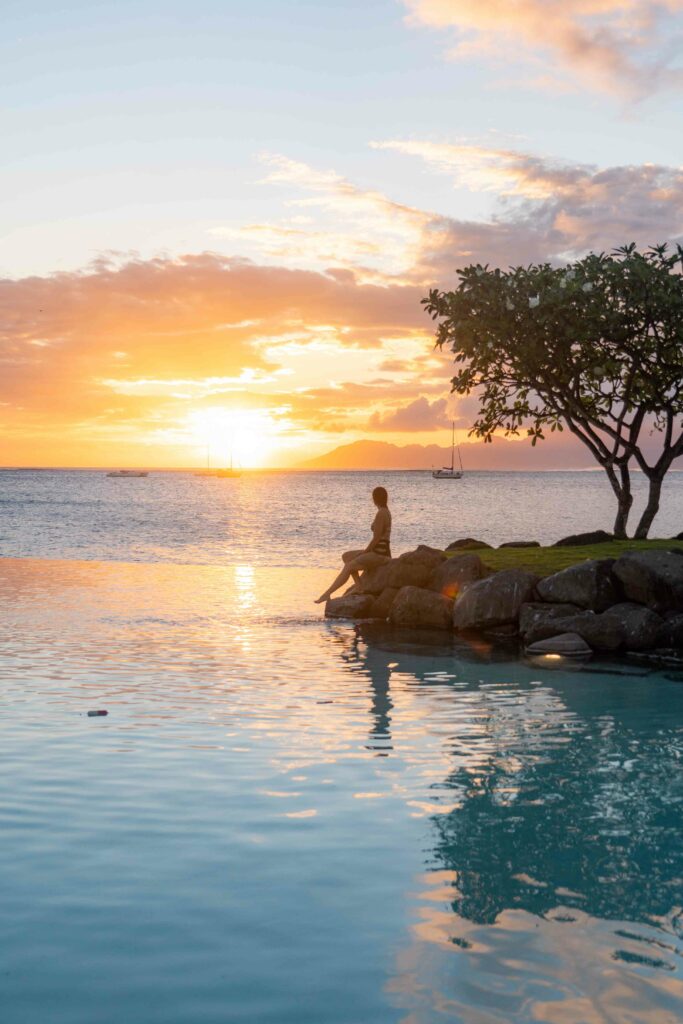 Their breakfast is also spectacular, with tons of options from an entire table devoted just to cheese, to another with fruit, eggs cooked to order, and of course all kinds of delicious French pastries. You can book it here.
*Full disclosure, Intercontinental offered my stay FOC. The positive review is my own.
21. Half-day Tahiti Tour
If you are in Tahiti as a stop-over like so many other travelers, make the most of the little time you might have with a half-day tour of the island. You'll get a lay of the land and stop at some of the island's best spots, all in just 4-5 hours. See Tahiti's botanical gardens, the Grottos of Maraa, and other notable sites with an experienced local guide who promises to make the most of the little time you have.
20. Papeete Market
Whether you're coming in by plane or cruise ship, you're going to pass through the capital, Papeete. At the market you can find local fruits, veggies, vanilla, and can see people playing music. Eating there is cheaper than in other parts of the city, and it can be a good place to buy souvenirs. You're also pretty close to the pearl markets. It's open every day: Mon: 5 AM – 6 PM, Tues-Sat: 4 AM – 6 PM, Sun: 3 AM – 9 AM.
From there, you'll make your way south past Fa'a'ā and down to the next stop.
19. 'Ārahurahu Marae
This one's a quick stop off of the main road, about half a kilometer down a dirt road, to some old Polynesian ruins.
Most of the statues are replicas, but much of the grounds is authentic. The best way to get a good sense of it is to go with a guide because there are not many signs, but if you're just popping by on your way around the island, it will give you a bit of history.
18. Maraa Grotto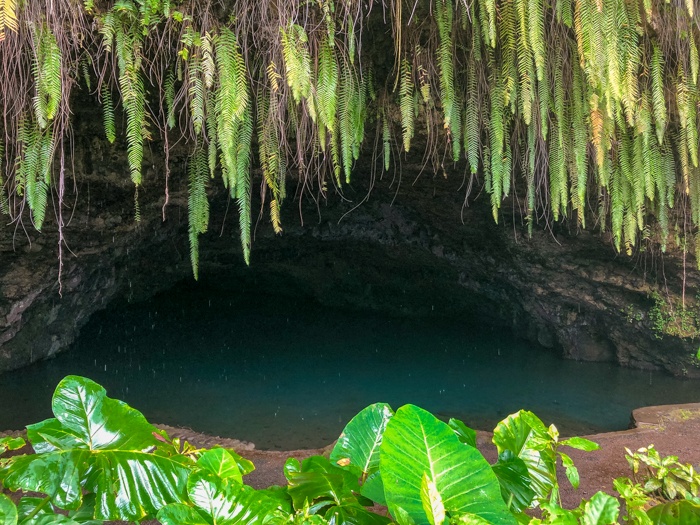 I have no doubt this place used to be cool. It looked absolutely beautiful in photos, which is what motivated me to visit. It's pretty easy to access, is well-marked, and is just off the road. It's also free to visit, which is a plus.
However it's totally blocked off! I believe, due to falling rock, you can no longer walk up to the grottos and instead have to view them from behind a fence. That kind of ruins it for me, although there was a guy there who kept offering to let me take pictures of him and his tattoos, which I politely declined.
17. Water Gardens Vaipahi
From there the next major stop is the Water Gardens, which are also free.
You can walk through the palm forest, check out the lotuses, and there are even some waterfalls along the trails, which range from 1-2.5 km long. Bring bug spray! That advice goes for all of Tahiti.
16. Teahupo'o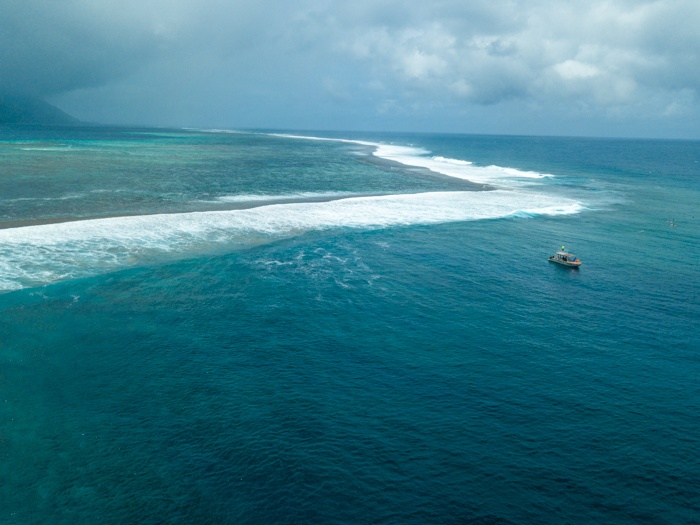 Teahupo'o is one of the world's most famous surf breaks – the one you've seen on dorm walls (or was that just me going to school in California?), and in surf videos. It's known as the most dangerous break in the world due to the unique combination of size, power, and speed, not to mention it breaks on a coral reef. If you're there at the end of August, you can catch the Tahiti Pro Teahupo'o surf competition.
In case you're not ready to shred that way, you can see from the shore with binoculars, or take a water taxi over from the town by the same name. We just flew the drone over to get a closer look, which felt like cheating but also like winning.
From there you'll need to backtrack a bit back to where the island narrows and feeds back into the larger circle. Heading north you'll pass by a couple of roadside waterfalls. They are not that amazing, I would suggest you keep going or make it a very quick stop. You can't miss them.
15. Faarumai Waterfall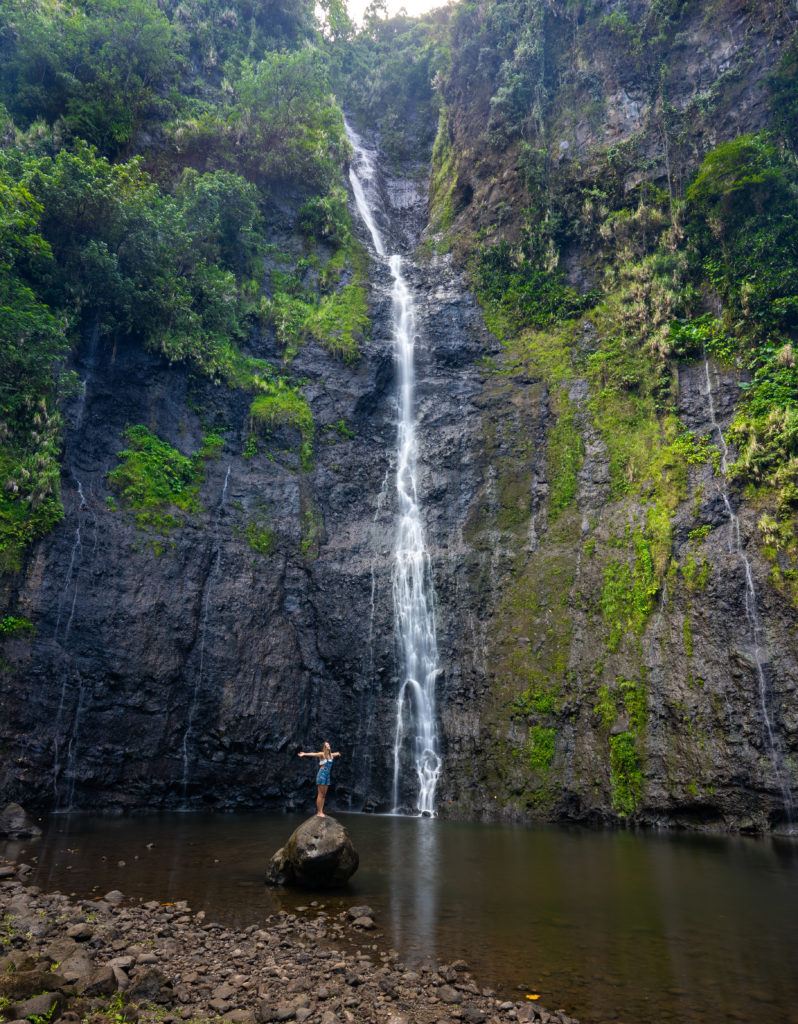 When you pull off for this waterfall, you'll notice that there are three others in the same area, all of which are big and beautiful. At the time of this writing, only one is open due to rockfall at the other two trails.
Like most of this list, they are free to visit and not much of a deviation from the route, so it's worth pulling off to see if they're open when you visit. They look best after rainfall.
14. Papeno'o Valley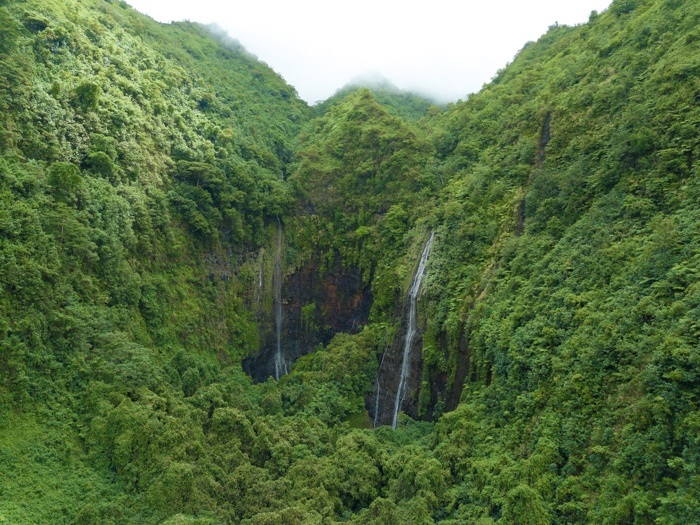 This is where Tahiti really shines. The uninhabited interior of Tahiti is full of waterfalls, the famous Lac Vaihiria, impossibly green jungle, and jade-colored water.
Most people book a 4 x 4 tour to see this part of Tahiti, as it's not possible to go all the way unless you have a 4 x 4 vehicle. While you can book those at the airport, they are all stick shift.
That said, we were able to book an SUV and still get pretty far into the valley. There are plenty of trails with waterfalls that you can hike to if you're feeling adventurous, or just drive as far as you're comfortable and take in the amazing views.
The best way to make sure that you see everything is probably to book a 4×4 tour (here's a list of the best-rated ones on Tahiti). However if you can drive a stick, and are feeling adventurous, it's fun to do independently.
Hikes
13. Mount Aorai
This is the third highest peak on Tahiti at 2066 meters tall and though it's a tough, slippery hike, the reward is stunning. There are sharp drop offs and breathtaking views all along the way.
The trail begins at Le Belvedere restaurant, a fantastic spot for views, and continues upward for 5.5 miles. Since low-hanging clouds often compromise visibility, more time, two days, is often necessary to complete the hike.
There are apparently huts along the way, but this is one might be best organized with a local guide, unless you're feeling particularly adventurous.
12. Te Pari
This trail is in the southernmost part of Tahiti and is only accessible by boat. Taking you along the coast and into the dense uninhabited jungle all the way to the Te Pari Cliffs, the Te Pari trail is one of the best ways to see what untouched Tahiti has to offer.
Along the way you'll find the Vaipoiri Cave, Queen's Bathing Pool, lava tubes, and even some white sandy beaches. Since this is such a rugged adventure, it's best to tackle the Te Pari trail with an experienced guide. You can book a full day guided Te Pari adventure here.
11. Fara'ura Valley
Known as the "valley of waterfalls," the Fara'ura Valley is one of the best places in Tahiti to hike. There are four waterfalls, plus natural pools to swim in along the well-marked trail. Along the way you'll see lush vegetation with plants that you won't see anywhere else in the world. Enjoy the incredible views, cooling off with a dip in each of the hidden pools along the trail.
10. Fautaua Waterfall
This is supposed to be one of the most famous and beautiful waterfalls in Tahiti, inclusive of a somewhat long but nice hike to get there.
Nowadays, you're required to obtain a permit before hiking to this waterfall. You can get it at city hall in Papeete, but there's a catch, as it's only open on weekdays until 5 PM. So if you're only there over a weekend, unfortunately you won't be able to go to this waterfall, as word on the street is there is a gate preventing you from continuing. This is what kept me from visiting Fautaua.
9. Marae Arahurahu Temple & Waterfall
The Marae Arahurahu Temple is a restored ancient place of worship which is surrounded by beautifully landscaped gardens. The site has a magical and serene atmosphere and there's a trailhead at the edge of the gardens which leads to a breathtaking 100-meter waterfall. To get to the waterfall, you'll proceed through thick jungle for about 1.5 miles. The whole hike should take about an hour, depending on how long you plan to hang out at the waterfall.
8. Swim with Sea Creatures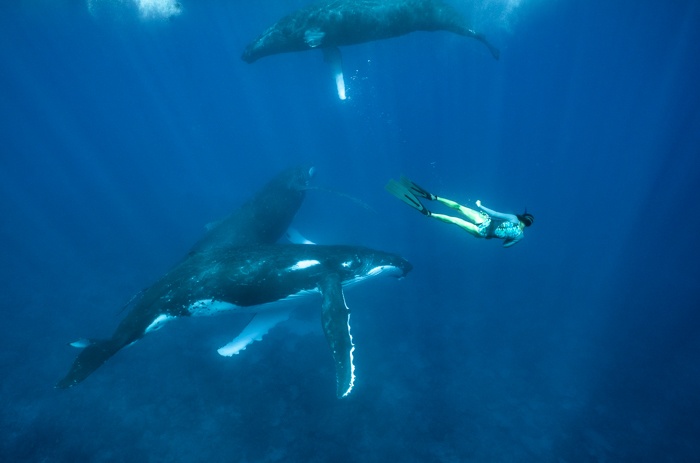 French Polynesia experiences several migrations throughout the year. In the months of August through October, humpback whales migrate through and Tahiti and neighboring Mo'orea – two of the best spots to swim with them. You can read more on swimming with whales here.
There are also many stingrays and sharks in the area. Both are friendly and amazing to swim with. You can also see turtles and all kinds of colorful fish on both diving and snorkeling tours, almost all of which take place in nearby Mo'orea.
7. Private Humpback Whale Swim Tour
If swimming with humpback whales is on your Tahiti bucket list, private tours are available with a marine biologist and cameraman who are experts in finding these incredible creatures. These tours are available from mid-July to mid-November with Tahiti.com.
6. Moorea Ocean Adventures
Another great option for whale swimming is booking with Moorea Ocean Adventures. This company offers humpback whale swims from July to November, including honeymoon tours and half-day or full-day tours. Moorea Ocean Adventures only offers private tours for groups of 6 or less, so you're sure to have a more personalized and safer experience. This is also to the benefit of the marine life as smaller groups are less likely to scare or disturb the animals.
5. Pop over to Mo'orea
Tahiti's neighbor is stunning and also easy to access via ferry from Papeete. This is where more of the snorkeling and diving excursions take place. While it can be done as a day excursion, do yourself a favor and spend some time on Mo'orea as well.
4. Sea scooter snorkeling
If you're scratching your head wondering what on earth a "sea scooter" is, you're not alone. With the help of this small-yet-mighty device, you can easily propel yourself through the water as you explore reefs and check out the marine life under the water's surface.
This tour will take you on a snorkeling adventure in Temae Bay with the help of a sea scooter. With the added power of the scooter, you can get around more easily and cover more ground; more fish and corals to see!
3. 4×4 safari tour
Seeing the best of Mo'orea requires a 4×4 vehicle as the terrain can be wild and rugged in the island's interior. Consider a 4×4 safari tour that takes you to the island's best spots: Magic Mountain, the crater of the old volcano, and many more. The tour includes a stop at a distillery to try locally-made juices and liquors as well.
2. Kayak the Lagoon of Mo'orea
This is a kayaking adventure unlike any other. Why? This one involves kayaks that are totally transparent! On this unique tour, you'll be able to see stingrays, blacktip reef sharks, and other amazing marine life up close as you gently paddle through the Lagoon of Mo'orea.
1. Beaches
As you drive on the southeastern part of the island there will be several places where you can pull off and explore some black sand beaches.
There's also a public beach at Mehana Park, which you will pass before the grotto coming down from Papeete.
Pin me for later: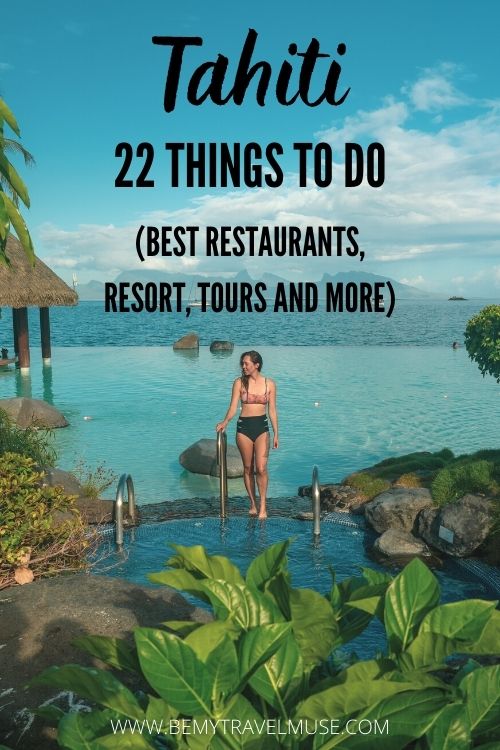 I hope as you make your way to Bora-Bora or wherever your next destination is in French Polynesia, you'll give Tahiti a proper exploration. If you only have one day, my favorite of all the things mentioned here was the Papeno'o Valley and sunset at the Intercontinental. Even if you don't end up staying there, head over for dinner and watch the gorgeous sunset unfold.