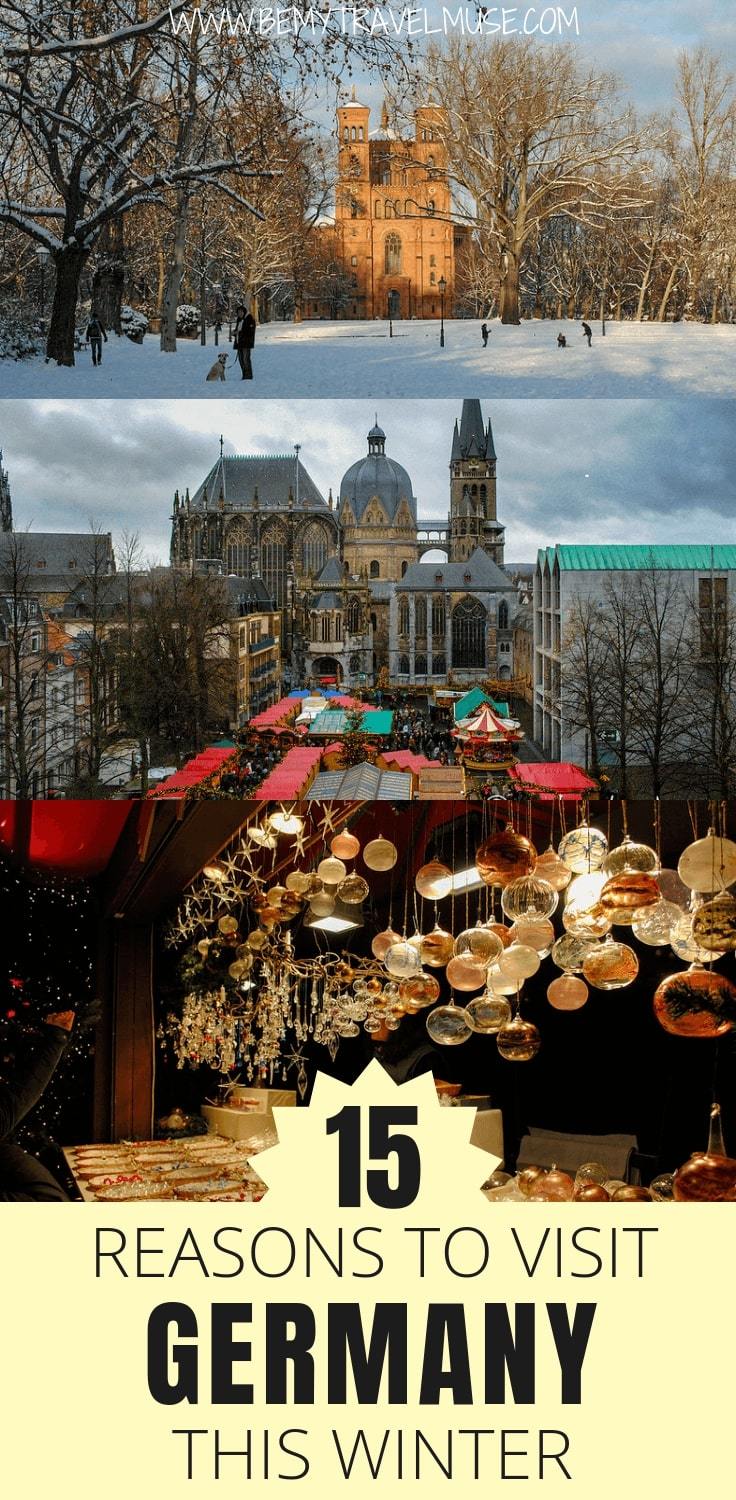 "It was magical, this snow globe world" – Sarah Addison Allen
When I told local Berliners years ago that it was going to be my first winter in Germany (and really, in life), they reacted by saying things like,
"It's so horrible! It's SO cold!"
"You're going to hate it! It's so dark and your nose is going to freeze off!"
"Haha, that's going to be funny. Your first winter and you chose Berlin?! Silly girl."
They had me terrified, and yes, it is pretty dark here. However if you think of it like a Batman comic book then it becomes kind of cool and edgy.

And fairly magical, too.
Yes, it's also pretty cold, but what I've come to realize is the cold isn't so bad. With the right clothing and layering, it's just fine.
Besides, if I had left, I would have missed all of this amazing, delicious, incredibleness that is the German winter. Here are 15 reasons why you'll want to visit Germany in the winter, too:
1) Berlin
The first major snow of the season in Berlin was magical. The skies turned blue, the kids grabbed their sleds, and good vibes were felt all around.
There is so much to do in Berlin, regardless of the season and the weather, that I've made it my home for the past five years. This quirky and gritty city is like an onion with endless layers. Though the autumn and the summer are the more popular months to visit, here's a list of amazing things to do in the winter in Berlin.
2) Christmas Markets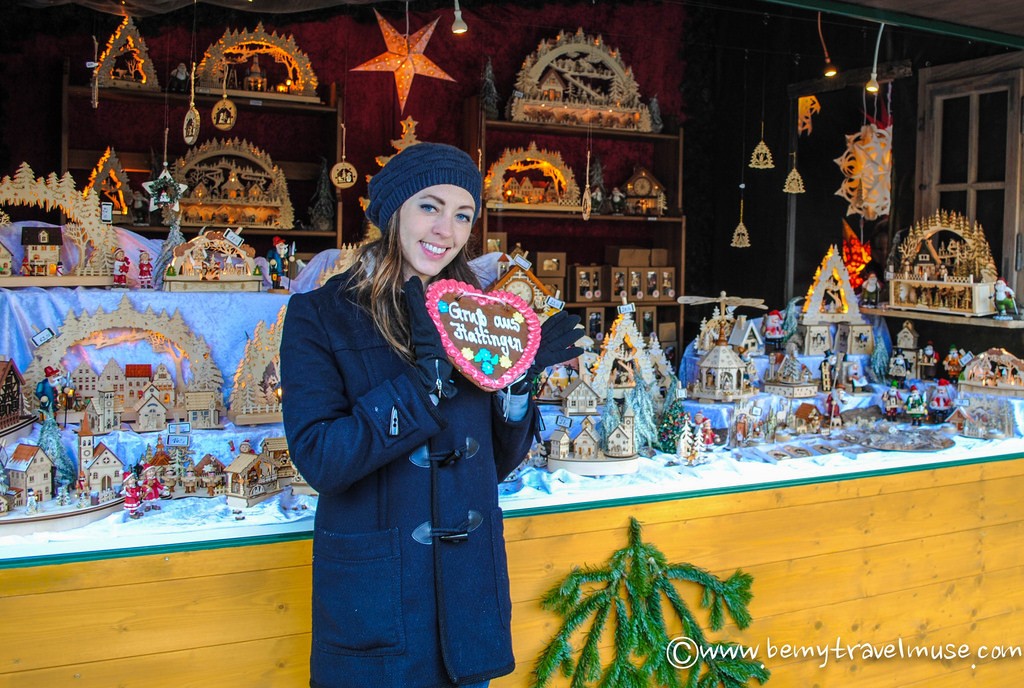 I didn't know how I'd feel about Christmas markets, because I'm usually team Grinch, but they turned out to be really festive, fun, and quite delicious as well.
What I love the most about the Christmas markets in Germany is how well the traditions are kept alive. For instance, it was lovely to see a woman dressed as Frau Holle shaking out a pillow case which is meant to symbolize snow falling at the Hattingen Christmas Market, and meeting locals dressed proudly (and rightfully so!) in olden-style clothing at the end of the Miner's Wintermarkt, as part of the procession called the Mettenschicht at Düppenweiler. Germany's Christmas markets are not only festive and fun, but also a great way to take a closer look at the locals' cultures and traditions. Plus, they have excellent food and beverages.
They also vary quite a bit region by region. In Cologne, there's a more traditional market with a gorgeous light display on the Kolner Dom, In Berlin, there's a Japanese Christmas market every other year, and in Hohenzollern castle outside of Stuttgart, there's even a chocolate market.
For a full listing of Germany's best Christmas markets, check this post out!
3) Gingerbread of Aachen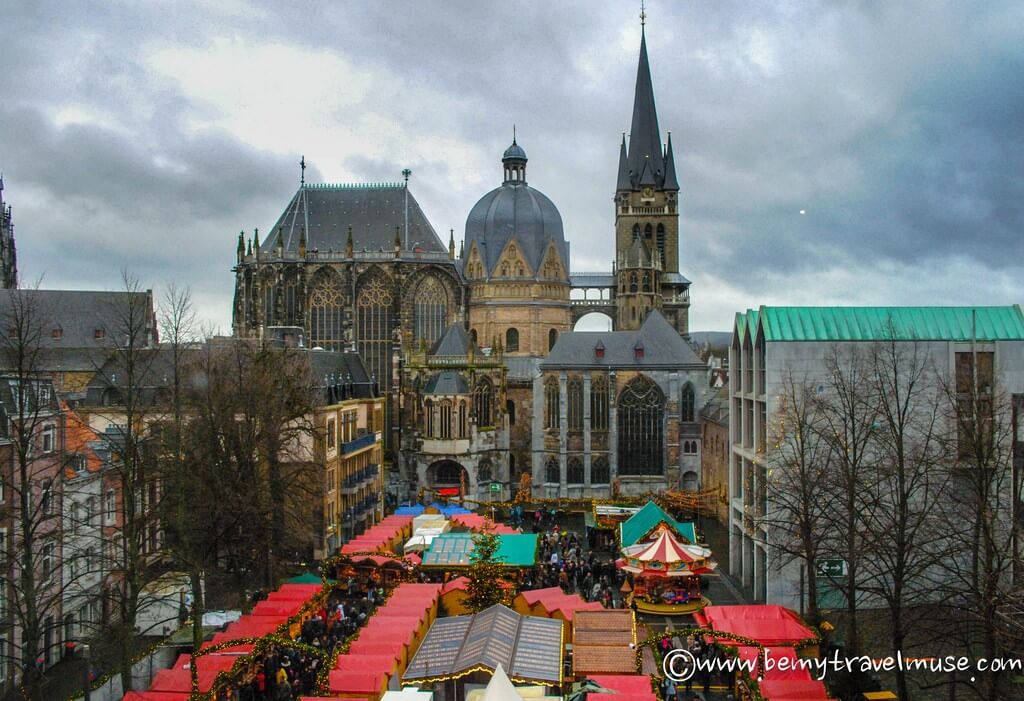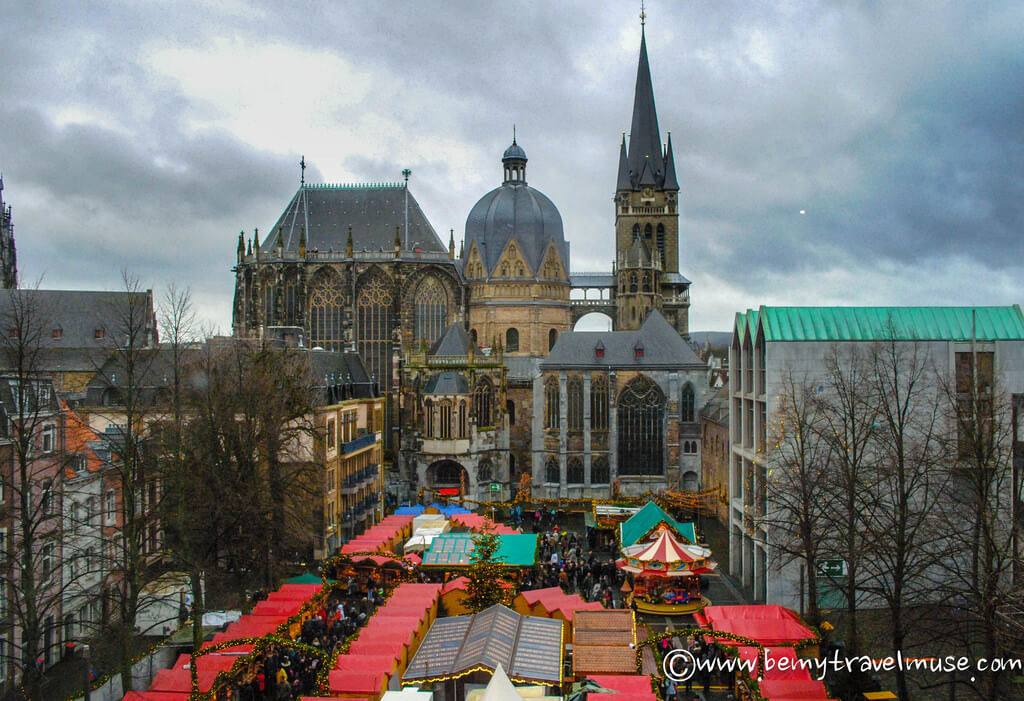 Aachen Christmas market is my absolute favorite. Starting from November 23 – December 23 every year, the market welcomes visitors with beautiful lights and irresistible gingerbread aroma.
The Aachen bakeries are famed for their gingerbread and marzipan bread that are exported to all over the world. However, at the Christmas market, they are freshly baked and taste even better! You know they take their gingerbread seriously when there's literally a 6m tall gingerbread man mascot at the market. Delicious mulled wine, a warm, perfectly-spiced, amaretto drink that's highly addictive, is also sold at the market.
Additionally, the cathedral in Aachen is intricate and gorgeous. As a fan of architecture, and art history, I was amazed.
Book your accommodation in Aachen here!
4) Black Forest
Having associated the Black Forest with terms like 'magical, mystical', and delicious (the cake, I mean!) my whole life, I was still blown away by just how much of a winter wonderland the Black Forest can be.
I enjoyed walking through the forest and admiring the snow-covered pine trees, but if you are looking for something more on the adventurous side, the Black Forest offers various slopes and rinks for skiing, snowboarding, as well as hiking.
I highly recommend driving along the Panoramic route, assuming the roads are safe to drive and you feel comfortable, and stopping in the small towns along the way. Sasbachwalden is a favorite of mine. They're particularly well known for their wine and cake.
Book your accommodation in Black Forest here!
5) Dazzling Light Displays
Germany does Christmas right. Pictured here is the Christmas market at the Cologne Cathedral.
Most major cities in Germany will have beautiful Christmas lights displays at the bigger Christmas markets, but be sure to check out the one at the Botanischer Garten in Berlin as well, which is next on the list!
6) Botanischer Garten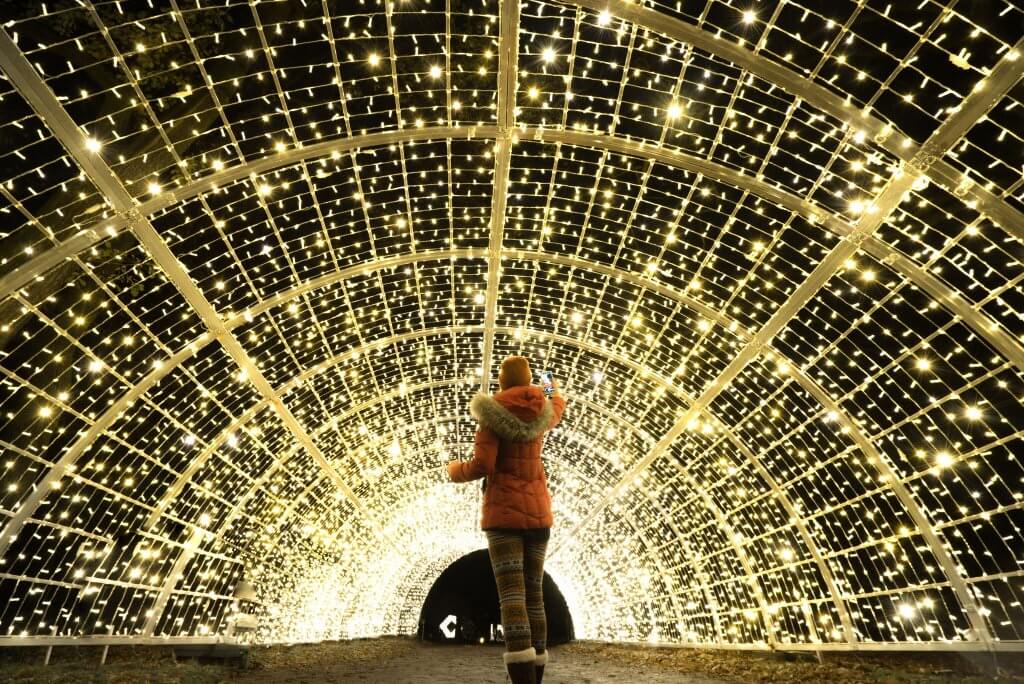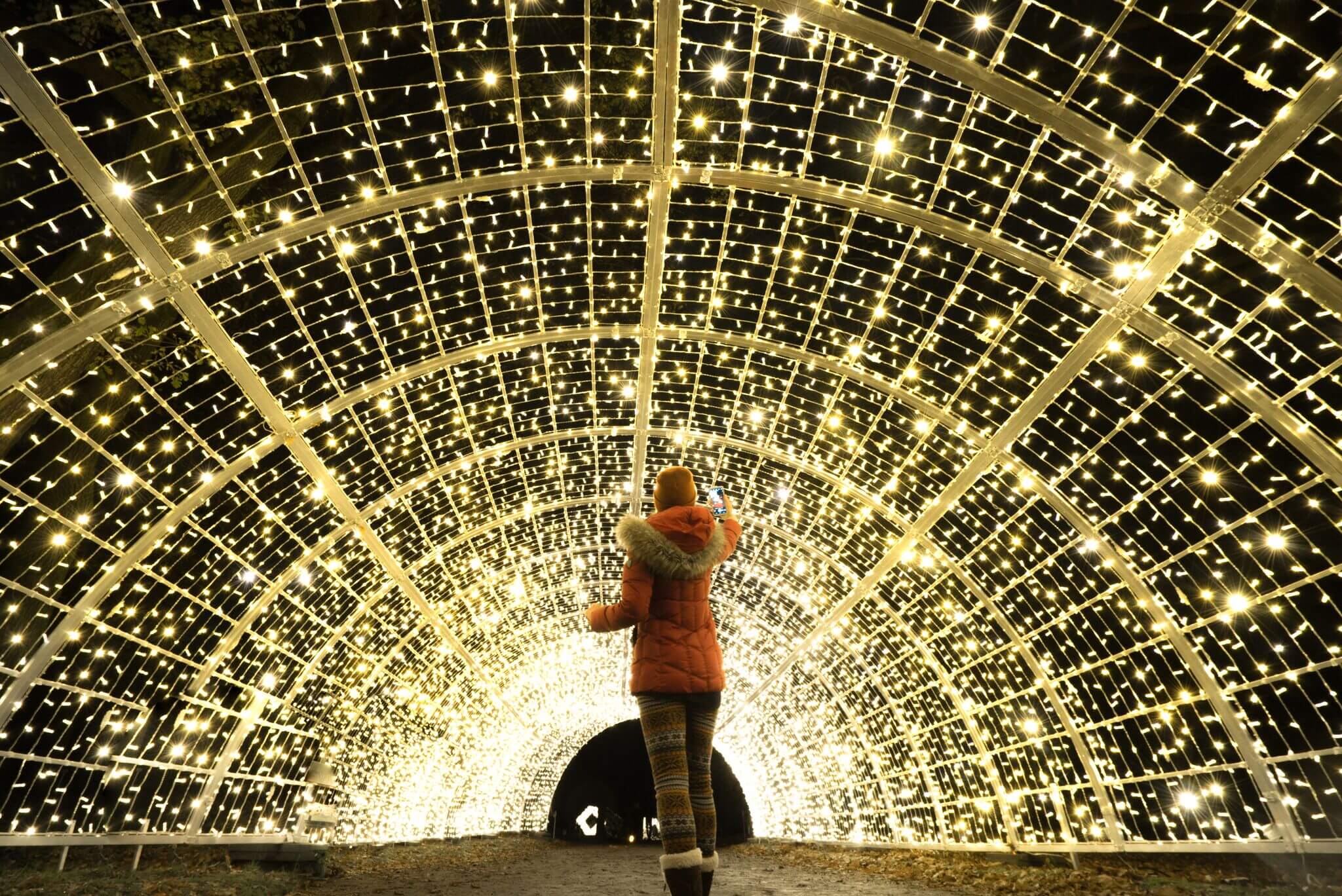 Inspired by London's famous Royal Botanic Gardens at Kew, Berlin's very own botanic garden now lights up every November – December, making the area a beautiful winter wonderland. The route is about 1.5km, where visitors will walk through and past several light displays, illuminations, and 3D figures. There's also regional food, open fire, and even an ice rink at the garden for ice skating enthusiasts.
The entrance fee is on the pricier side, but it's a great spot for anyone who's into photography! It's open from 16 November 2017 to 7 January 2018, open daily from 5pm to 9pm (closed on 24 and 31 December). Admission is €14.5 –€19, depending on the dates.
7) An Awesome Ice Rink at Zeche Zollverein in Essen
Zeche Zollverein is a museum, an event venue, and one of the only coal mines in the world that's declared as a UNESCO World Heritage Site for its beautiful architecture. Each winter, you can ice skate on its long ice rink and enjoy delicious meals at its restaurant. A full-day ticket to the ice rink is €7, though if you are short on time, you can purchase the evening ticket for €5 and enjoy the light installation and even better atmosphere for 2 hours before it closes.
You could also take a closer look at the beautiful architecture and learn more about the mining history by joining a tour. English guided tours are available on Saturday, Sunday and public holidays (except for 24, 25, and 31 December) at 3pm. The 2-hour long tour costs €6. You can book your tickets here and check the schedule here!
8) A White Christmas
If you grew up somewhere without winter like I did, then you've never had a white Christmas. Finally experiencing one was something really special.
Though Bavaria's Alps are probably the most dreamy and famous place to enjoy winter, you can enjoy snow anywhere in Germany, if you get lucky!
9) Snow Coated Castles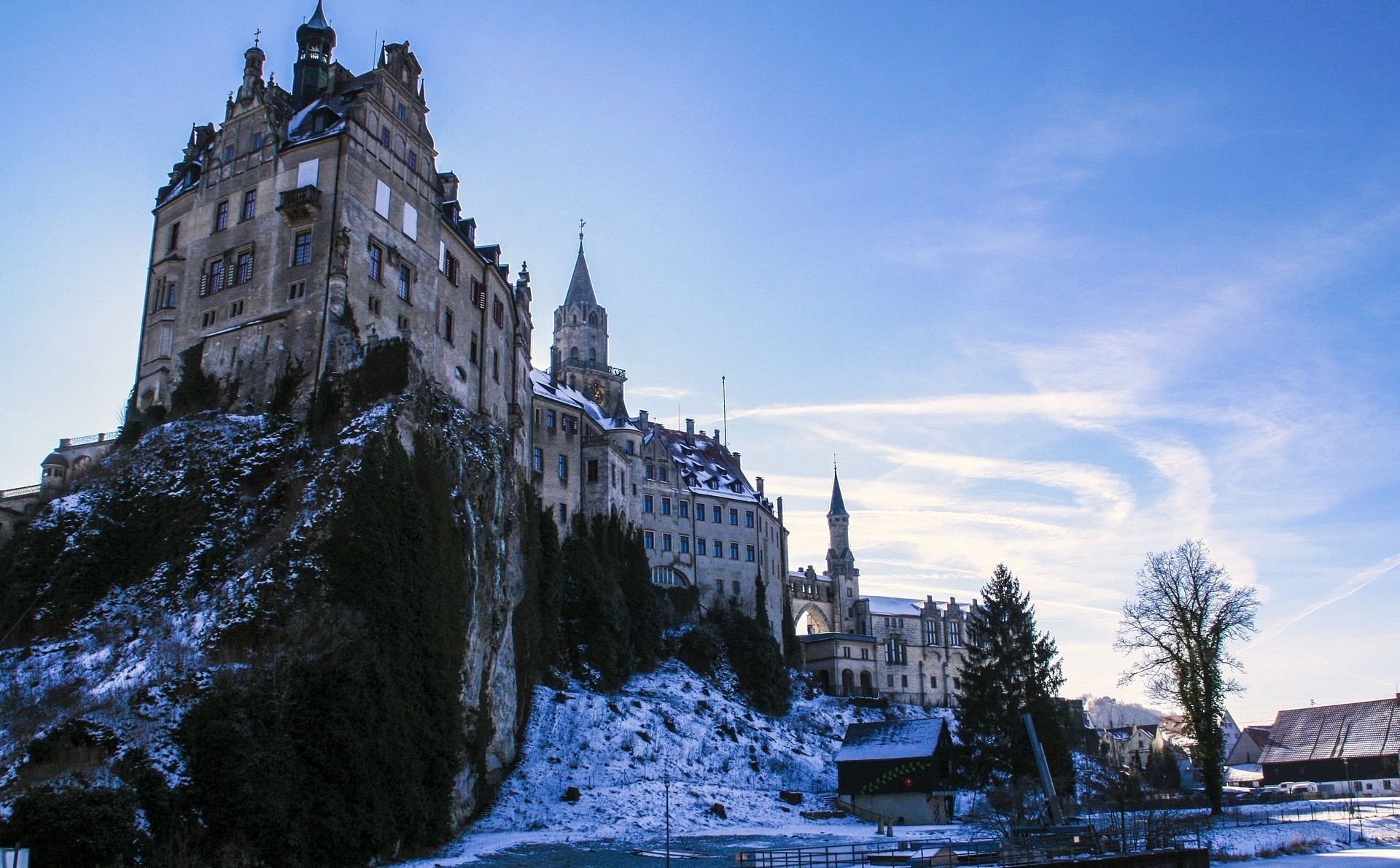 Germany is the fairytale castle capital of the world. The already stunning castles look even more magical in the winter, and have you really been to Germany in the winter if you have not seen a castle and have a little Frozen moment yourself?
The Hohenzollern Castles are easily the fairest castles in all the land, and are the ones I'd recommend prioritizing for dreaminess and fewer crowds, whether you want to see them from afar or up close. If you have more time, check out 12 other magical castles in Germany.
10) Winter Sports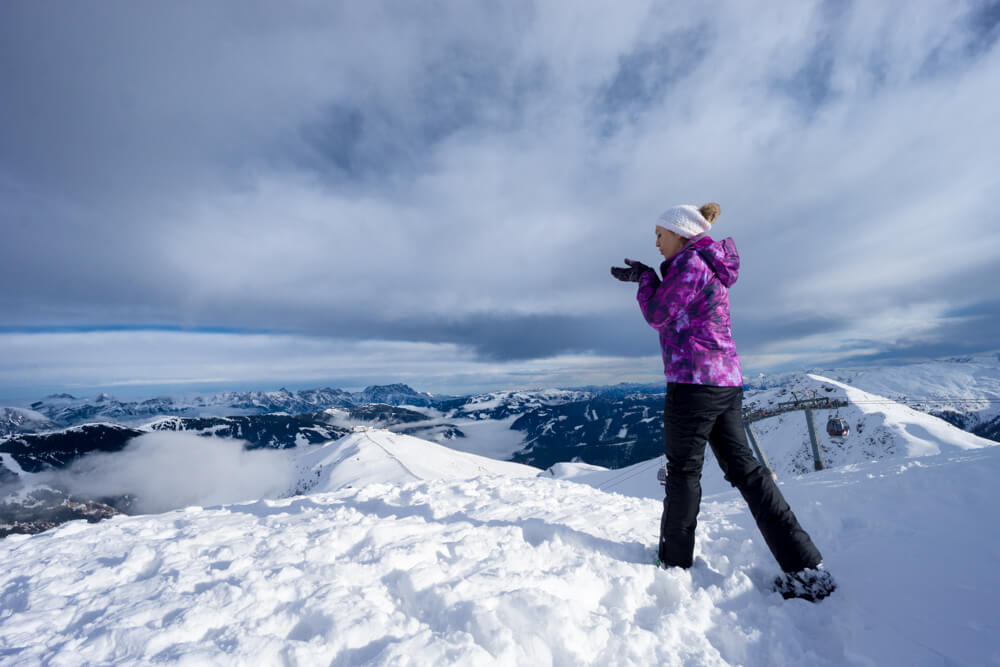 Germany has groomed some of the best skiers and ice hockey players out there, so it's no wonder that there are plenty of winter sports opportunities in the country.
Every winter, the locals spend their free time skiing, snowboarding, snowshoeing, snow hiking, and ice-skating. If you are a winter sport enthusiast, you are in for a treat! Some of the best places for winter sports include Zugspitze, which is the highest mountain in Germany, as well as Belchen, and Harz Mountains.
11) The Berlin Treehouse
A former dump, bordering the old Berlin wall, and a symbol of Berlin's counterculture, the treehouse is a sight in the winter.
When the wall fell, Osman Kalin who built this inventive abode was threatened with eviction (the building wasn't exactly up to code, and the land wasn't exactly his), but thanks to the neighboring church deciding to give him the land, and the rallying neighborhood protesters, he still lives there today.
12) A Snowy Saxon Switzerland National Park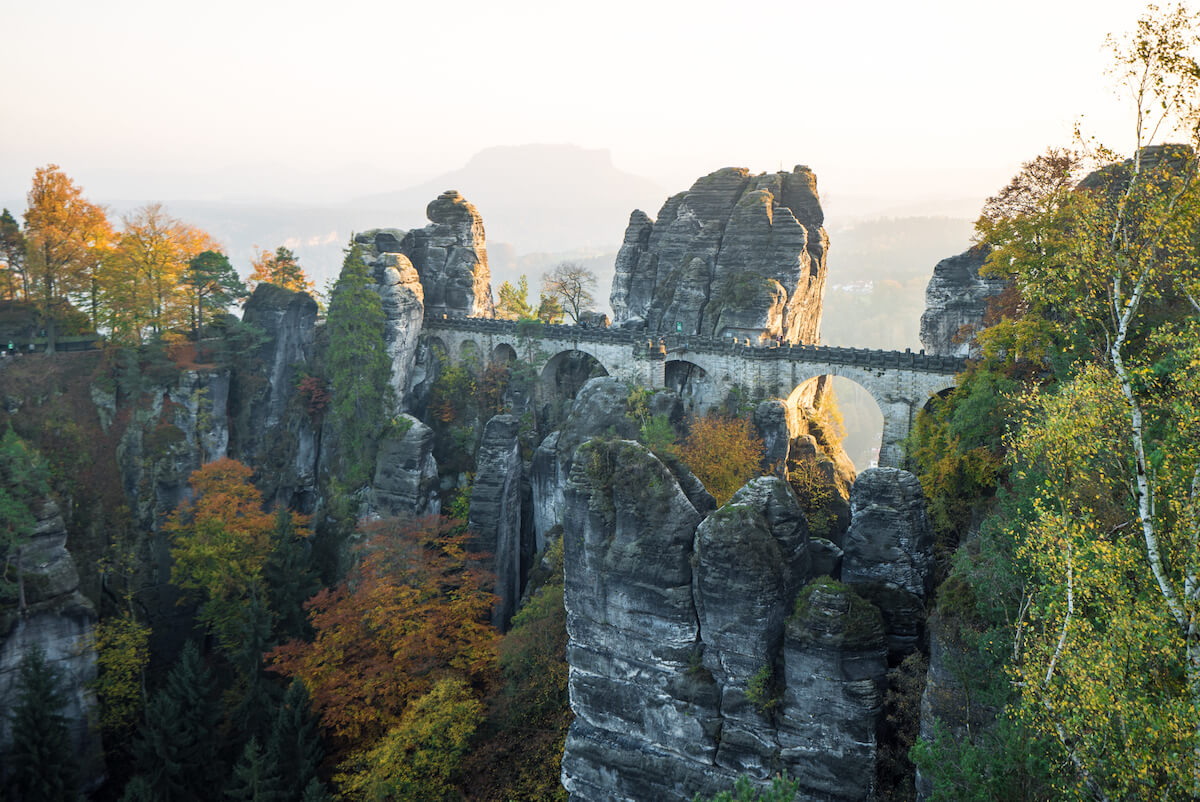 I am beginning to think that places that are good in the fall, are mostly also good in the winter. There are many national parks in Germany that are great for winter, but to me, Saxon Switzerland stands out. The hikes there are lovely and moderately easy, and the iconic Bastei Bridge looks stunning in white.
What's more? There's apparently the other side of the bastion that's exceptionally peaceful and tranquil during this time of the year. There are extended sauna hours, ice-time bowling, and a beer garden that turns into a winter lounge with a fireplace. Talk about cozy!
13) Spas and Saunas
To enjoy the spas in most of Germany, prepare to strip. No, I am not being cheeky (omg the pun). Most spas in Germany are textile-free atmospheres. Vabali Spa in Berlin is a big space with a variety of saunas that are perfect for muscle aches or just relaxing self-care day.
I was slightly skeptical and thought it would be strange to go to a coed naked spa, but this is completely normal in this part of the world, and it actually felt freeing and comfortable! The atmosphere is respectful and upscale, even though everyone is sitting around completely naked.
There are saunas and pools, as well as massages in most spas in Germany. I highly recommend the sports massage, and the 95°C sauna if you can handle it. It's so good!
14) Visit Hamburg's Reeperbahn Christmas Market
Looking for an alternative Christmas vibe? Hamburg's famous red light district plays host to the Santa Pauli Christmas market each year, full of sexy and erotic gifts, strip shows, and mulled wine of course! Due to the erotic nature, it's adults-only. I haven't personally been but I can only imagine it's quite the experience! You can read more here.
15) Paraglide at Zugspitze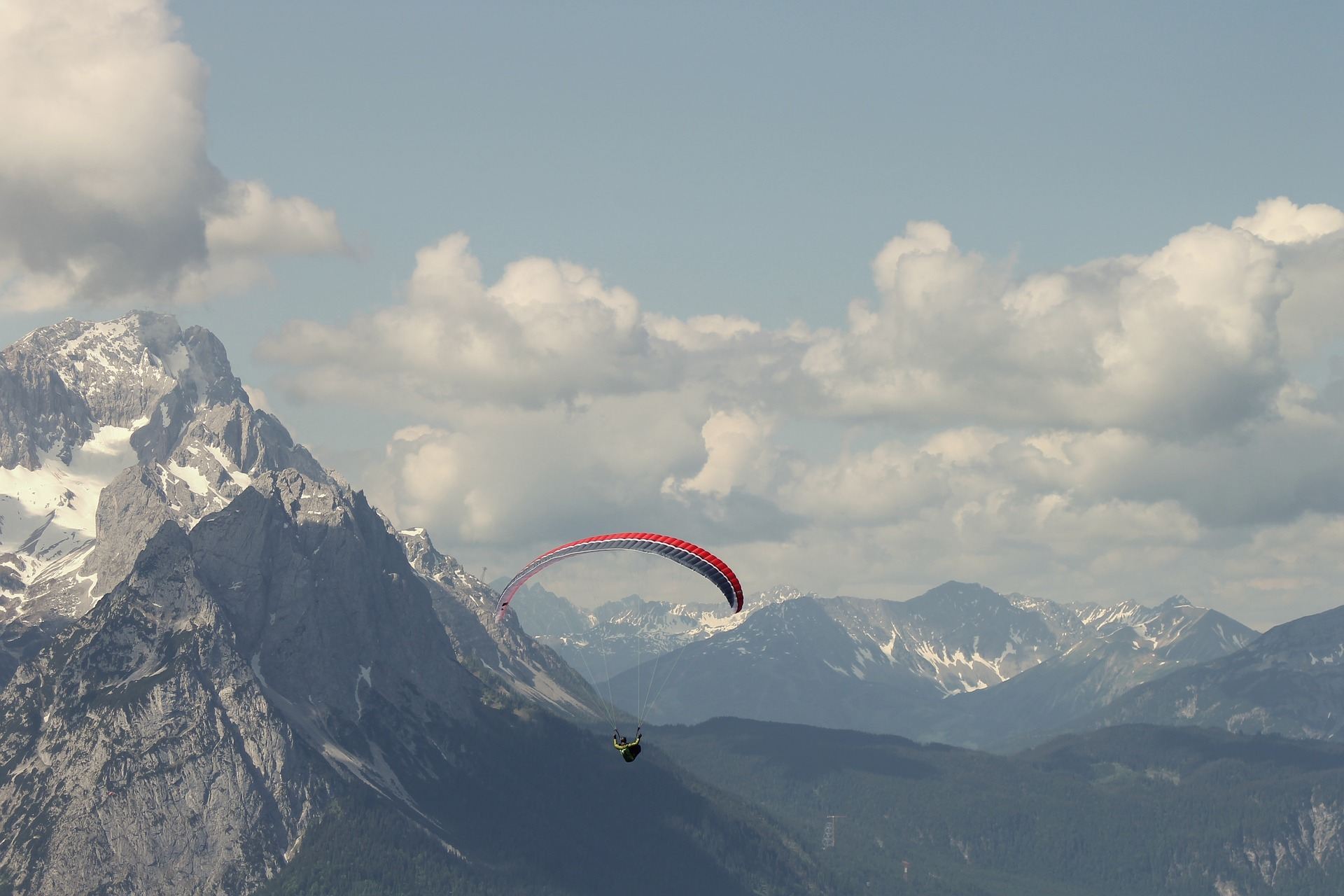 Paragliding in the Alps can be awesome at any time, but there's something particularly beautiful about doing so in the winter months. Zugspitze in Bavaria is Germany's tallest mountain, and a popular place for paragliding. You can read more about how to book here.
I'm glad I didn't listen to everyone who told me to run, not walk, away from the winter in Germany. It has been snowy, beautiful, and honestly tons of fun.
If you're considering visiting Germany in the winter, but aren't sure if you should, then let me make it an easy choice for you: do it.
Where are your favorite winter wonderlands?
Read Next: