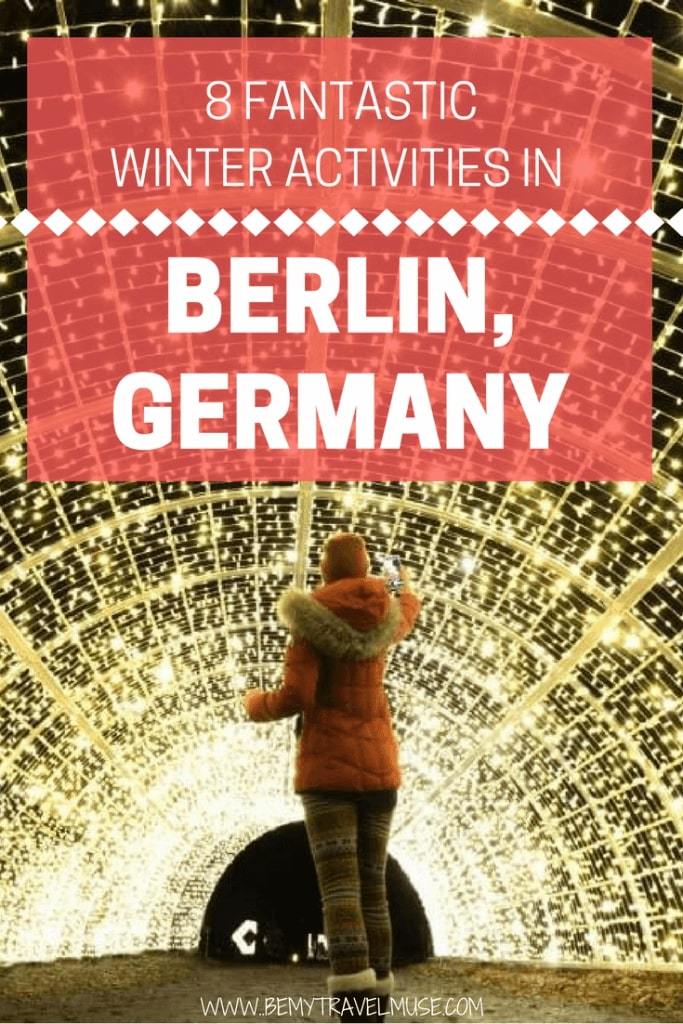 So you're coming to Berlin in the winter and have no idea what to do? Are you second-guessing yourself, wishing that you had picked the summer?
Summertime is fantastic in Berlin but it is also when it is the most crowded here and it can get damn hot. Plus, it's very rare to encounter air conditioning in this city.
The winter gets a bad rap because it can be dark and very cold, but it just comes down to dressing for the weather and finding activities that are better enjoyed when it's cold outside.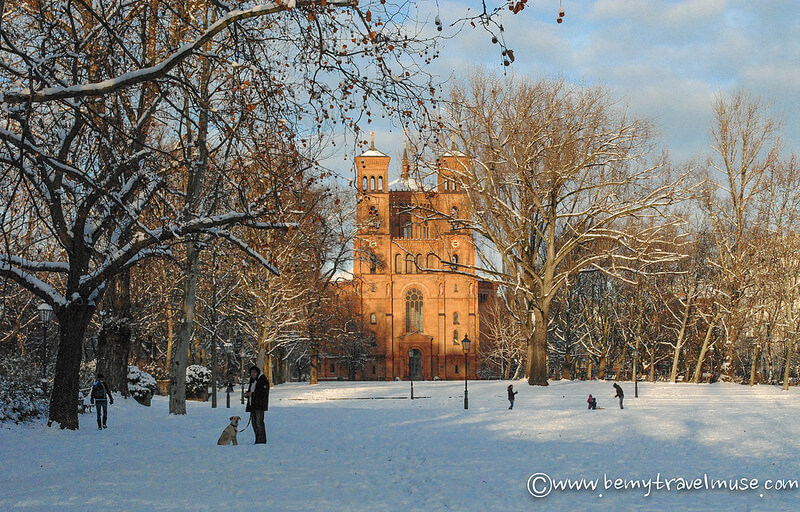 This list of some of the best things to do in Berlin during the winter is here to help:
Things to Do in the Winter in Berlin
Vabali Spa
I really enjoy Vabali for muscle aches or just a relaxing self care day. It's a big place with a variety of saunas from 70-95°C (over 200°F) and pools with different temperatures from just above freezing to 45°C. I like that it has an upscale and respectful vibe even though everyone is sitting around completely naked. That's right, in order to enjoy this spa you must be naked.
I thought it would be strange at first to go to a coed naked spa, but this is normal in this part of the world and it felt so free and comfortable that my apprehension wore off pretty quickly. I've been back three times, and find it particularly nice in cold weather. The massage therapists are really good as well! Get the sports massage, and go for the 95° sauna if you can handle it. It's so good!
When: Year-round
Opening hours: Daily from 9am to 12 am (closed on 24 and 31 December)
Address: Seydlitzstraße 6, 10557 Berlin
Admission: 2 hours for €25.50 or €45.50 for a day pass
Christmas Markets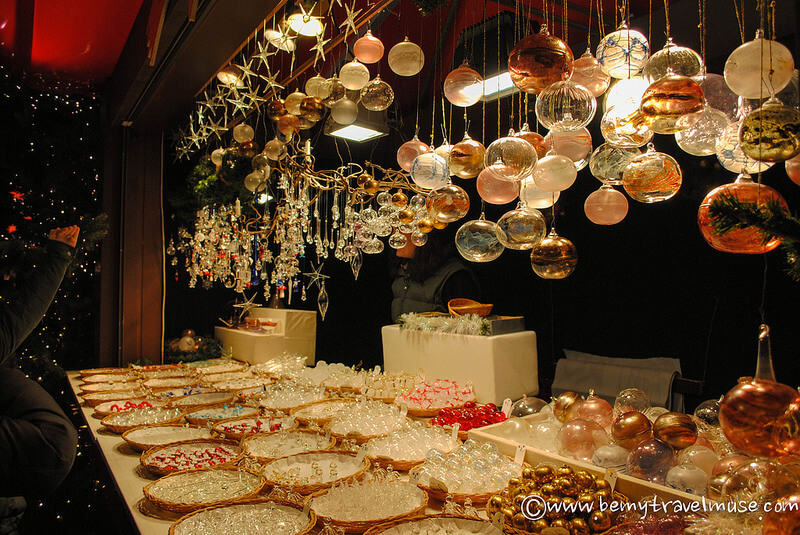 We can't talk about the German winter time without talking about Christmas markets! They are fabulous all over the country, but Berlin might have the most unique and quirky ones, including the Japanese Christmas market and various other fun themes.
I didn't think that I would enjoy the markets all that much but they really do have fantastic food, drinks, and even if you're not that into Christmas, it's fun to walk around and see what people have made for sale. It's a cultural experience! You can see many of them on this Berlin Christmas walking tour.
When: Depends on the market, but start looking for them in November
Opening hours: Some are all day and some are in the afternoon/evening
Address: Citywide
Admission: Usually free
(Check out the best German Christmas markets here!)
Tiergarten
While a popular BBQ and cycling spot in the summer, Tiergarten is perfect for an enchanting stroll in the woods in the winter, as the entire area falls into a quiet and snowy slumber. Tiergarten pretty much feels like the movie Frozen sans the annoying songs. There are also a quiet, romantic cafes nearby that are much rowdier biergartens in the summer.
Also around the same area, from November – December, one of Berliners' favorite Christmas markets, Winter World on Potsdamer Platz, opens for business with free admissions. It is the earliest Christmas market in the city, starting from the 3rd of November until the end of December, so if you are as excited about Christmas as I am already, head down to Tiergarten. Hang around for the live DJ and après-ski party in the evening.
When: 3 November 2017 to 31 December 2017
Opening hours: Daily from 10am to 10 pm
Address: Potsdamer Platz, 10785 Berlin
Admission: Free!
Thinner crowds at the popular spots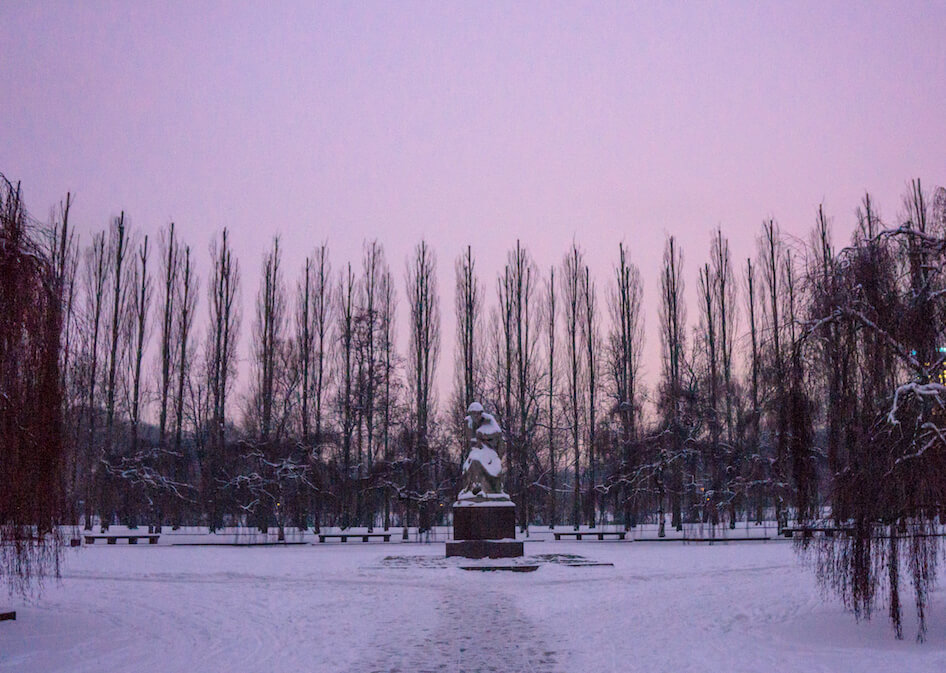 In the summertime you can count on throngs of other people around my favorite neighborhood, Kreuzberg. However in the winter the crowds are way smaller. Plus, it's really beautiful with everything covered in snow. Kreuzberg is also an awesome place to see street art, which you can peruse on this walking tour.
Now to be honest, it doesn't snow all that often in Berlin, but when it does it looks magical.
The following free things are nicer and less crowded in the winter:
Kreuzberg treehouse
Soviet memorial (shown above)
Volkspark Friedrichshain – great for sledding!
Botanischer Garten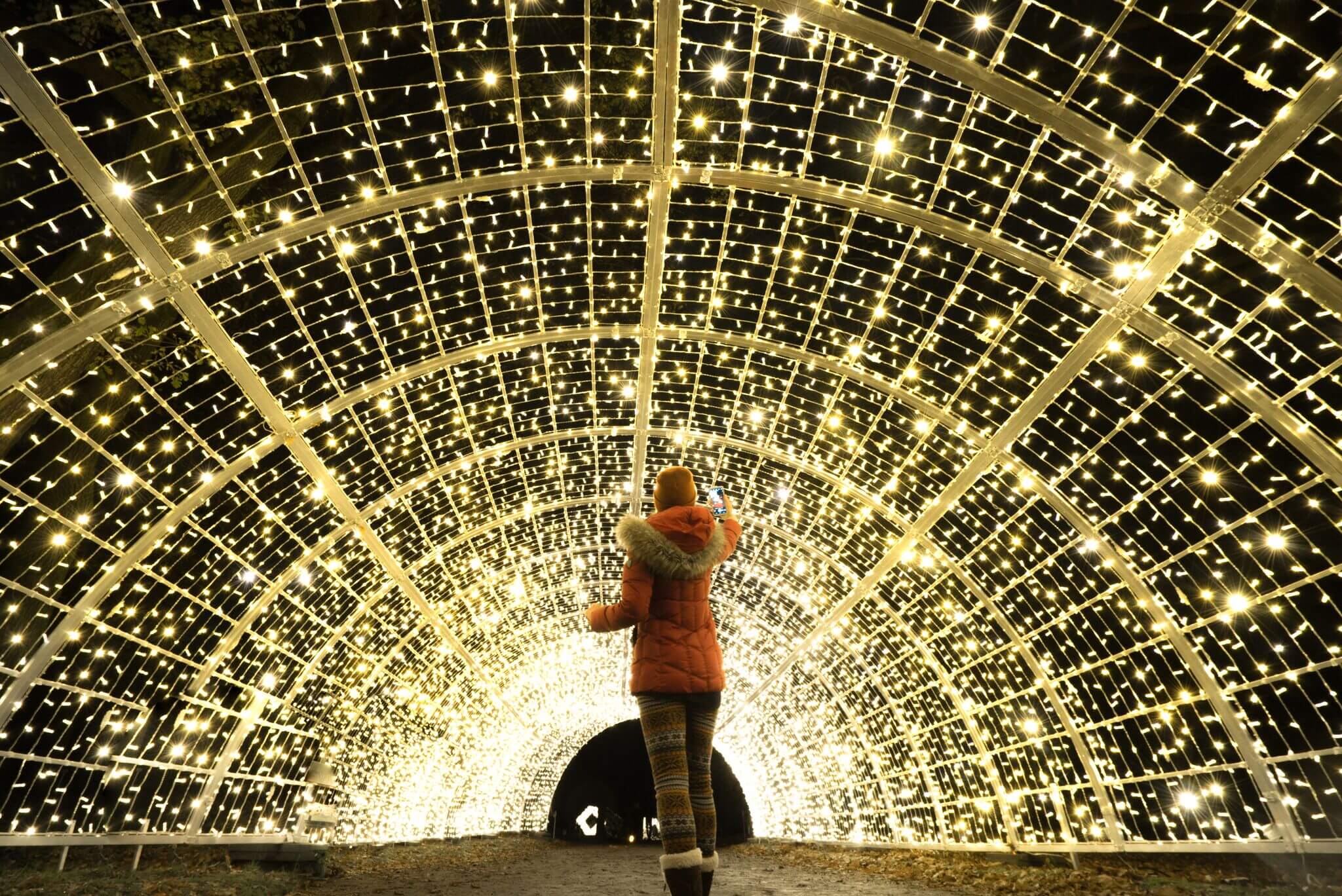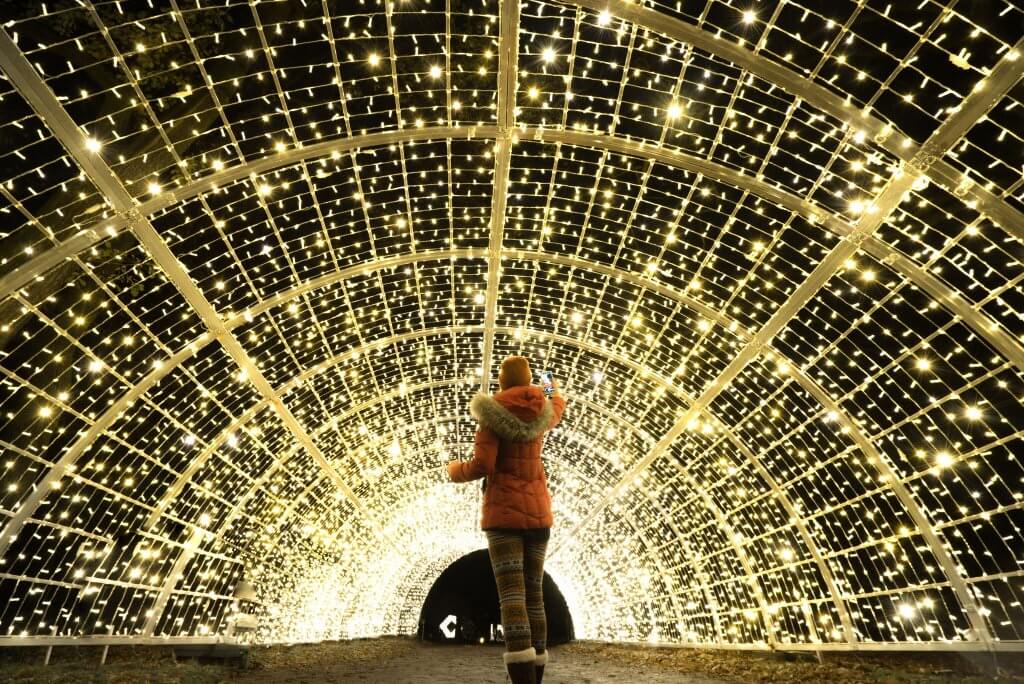 Inspired by London's famous Royal Botanic Gardens at Kew, Berlin's very own botanic garden now lights up every November – December, making the area a beautiful winter wonderland. The route is about 1.5km, where visitors will walk through and past several light displays, illuminations, and 3D figures. There's also regional food, open fire, and even an ice rink at the garden for ice skating enthusiasts.
While I wouldn't bat an eye at the price anywhere else, it feels expensive for Berlin. Still, it's a great spot for those who love photography and if it's in your budget, a worthy way to spend an evening.
When: 16 November 2017 to 7 January 2018
Opening hours: Daily from 5pm to 9 pm (closed on 24 and 31 December)
Address: Königin-Luise-Straße 6-8, 14195 Berlin -Lichterfelde
Admission: €14.5 – 19 Euro, depending on the dates
Berlin Horizontal
If you want to do some sightseeing without all that walking, and want to keep things fun and quirky at the same time, book a ride with Berlin Horizontal, a sightseeing tour company that offers rides around Berlin on a bed, rickshaw style. It's a little bit on the pricier side but surely a unique way to see Berlin. Just be ready to get stared at, but hey, it could be fun being part of Berlin's attractions, no?
When: 3 November 2017 to 31 December 2017
Opening hours: Daily from 2pm to 10pm (with precipitation free weather)
Fees: €45 Euro for 1 hour for 2 people
Wintertraum am Alexa
What's better than a Christmas market? A Christmas market that comes with a carnival! Wintertraum am Alexa is a carnival-themed Christmas market that offers all kinds of roller coaster, bumper cars, Ferris wheels, and more. It is perfect to visit with a group of friends for a fun night out. Try visiting on a weekday, as the place is filled with families and teenagers on the weekend.
When: 24 November 2017 to 28 December 2017
Opening hours: Monday to Friday from 2pm to 10 pm, Saturdays and Sundays from 12 to 10 pm
Admissions: Free
Babylon
Away from the cold, snuggling up in a vintage theatre, watching silent films with live orchestra music; does that sound like a dreamy idea? Babylon Berlin opens daily and offers free entrance on Saturday midnights. The cinema also preserves the only cinema organ in Germany. A Babylon experience is like a step into a different era. It is perhaps not the on the list of most tourists in Berlin, but that's exactly the point sometimes, right?
When: Year-round
Opening hours: Check the website for the program
Address: Rosa-Luxemburg-Straße 30, 10178 Berlin, Germany
Admission: From €4
Those are a few awesome things to do in one of the quirkiest cities in the world. Plus, though Berlin is gritty, with a nice layer of snow or the lovely cracks in the frozen river Spree, there's a charm and quietness to it that you can only get in the winter.
Come for the mulled wine, and stay for the peace and quiet.
READ NEXT: