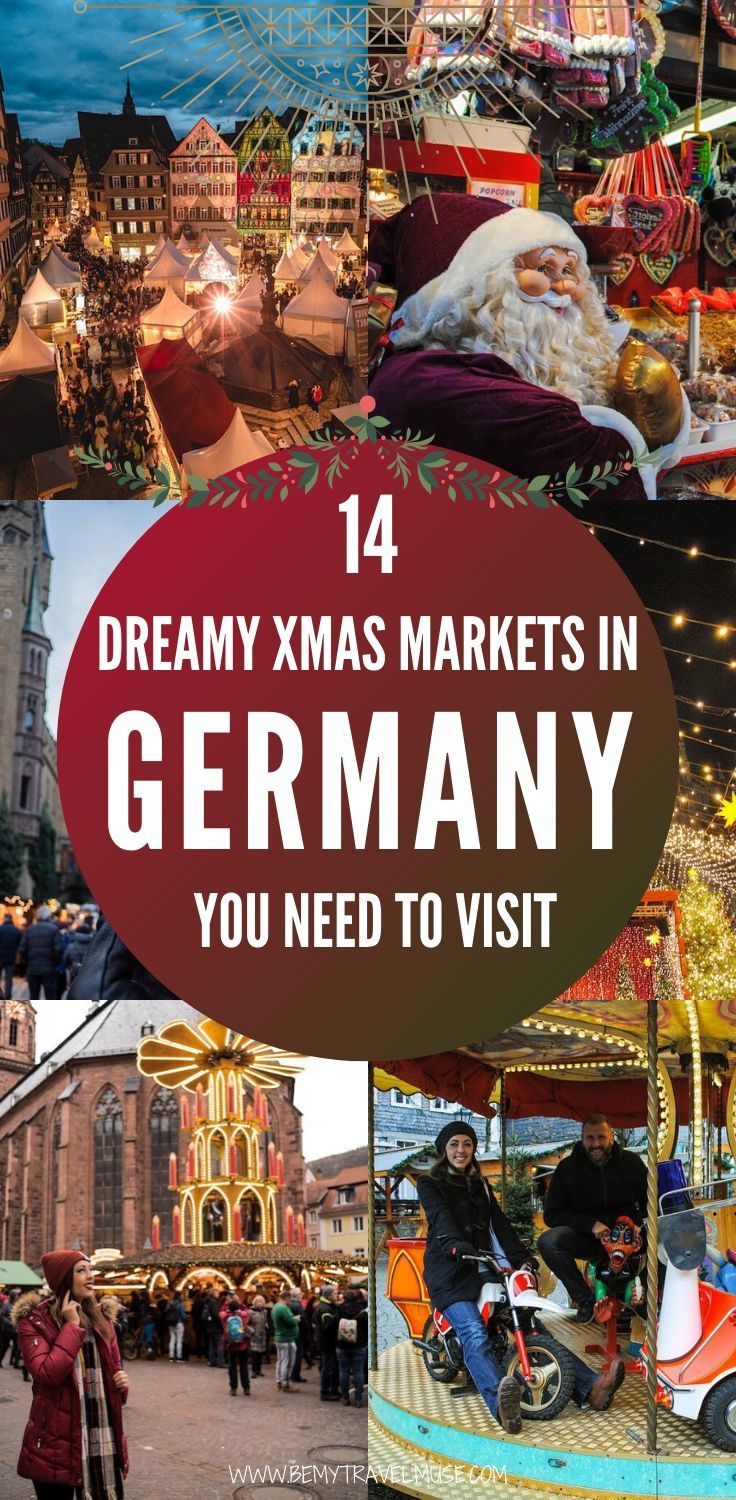 During the first two years of my travels, I'd been largely Christmas-free. I was in Thailand the first year for the holidays and following that, in the Philippines, but in a slightly remote area without any organized celebrations. That was just fine with me, as I had started to get a bit jaded about the buy-buy-buy nature of the holidays and had started to be more team Grinch than team Santa.
Then I moved to Germany. Something about the cultural experience with the delicious food and beautiful lights totally flipped my approach to Christmas, and I feel in love again. I've traveled all around Germany's Christmas markets from small towns to big ones, from medieval-style markets to modern ones selling modern wares.
Somewhere between the kinderpunsch and gingerbread, I started to love Christmas again. At this point, I've been to about 30 markets, and these are the best ones:
1. Bad Wimpfen
Bad Wimpfen is almost too cute for words. The town itself is adorable with the exposed beam buildings and quaint decorations reminiscent of the olden days, and the market makes it light up even more.
As you wander up and up through the cobblestone streets, meandering down into courtyards, it seems like the entire old town is in on this Christmas market. They had live music, handmade wares in decorated stands against the backdrop of the old church and decorated buildings, and lots of sweets for sale. Though still popular, this was slightly less crowded than some of the other markets. This one is my personal favorite (so far).
How to get there: It's a 2-minute walk from Bad Wimpfen train station
When: Friday – Sunday from November 30 – December 16 (specific opening hours here)
Cost: Free
2. Tübingen
You guys, Tübingen's Christmas market is all about chocolate! The chocolART Christmas market is Europe's largest chocolate market and boy does it deliver! Stands sell chocolate in every form imaginable – hot chocolate, spicy chocolate, vegan chocolate (yay!), chocolate cake, chocolate spread, chocolate covered fruit, and chocolate booze. If it exists in chocolate form, you can find it at chocolART.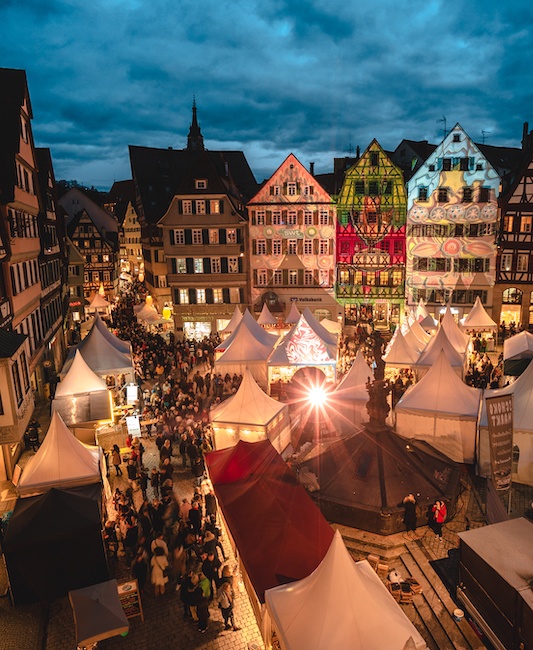 This is a popular market, so I highly recommend getting there early and staying until the lights come on at night in the town square, projecting designs onto each of the adorable buildings. I adore this little town at any time of year but at Christmas it becomes a chocolate delight!
How to get there: It's a 10-minute walk from Tübingen Hbf
When: December 3 – December 8 (specific opening hours here)
Cost: Free
3. Heidelberg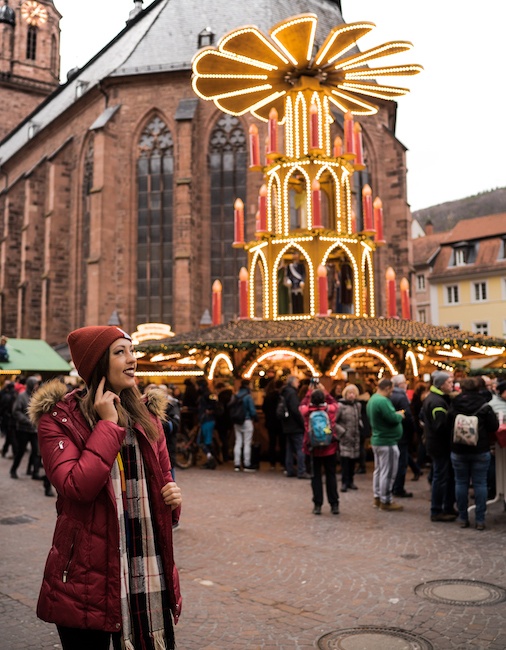 There are so many reasons to visit Heidelberg – the castle, the Philosopher's Way, the adorable old town, and even the university. In the winter time, they've even got several Christmas markets! My favorite is in Heidelberg's old town, which is already famous for how picturesque it is, so just imagine it covered in lights! I recommend getting there while it is still light out and hiking up to the castle for sunset and then walking down into the market.
This one goes for several blocks and has different pockets to explore. At night, the buildings have colorful lights projected onto them as well.
How to get there: Take the train or no 33 bus from Heidelberg hbf to Heidelberg-Altstadt station
When:November 26 – December 22 (specific opening hours here)
Cost: Free
4. Hattingen
Hattingen is the first Christmas market I ever visited. It was also the smallest, but what I loved about it was the traditions kept alive throughout the town. Each hour, a woman dressed as Frau Holle shakes out a pillow case which is meant to symbolize snow falling. It did result in a bunch of feathers stuck in the cracks of the cobblestone sidewalk, but the kids around town sure loved it!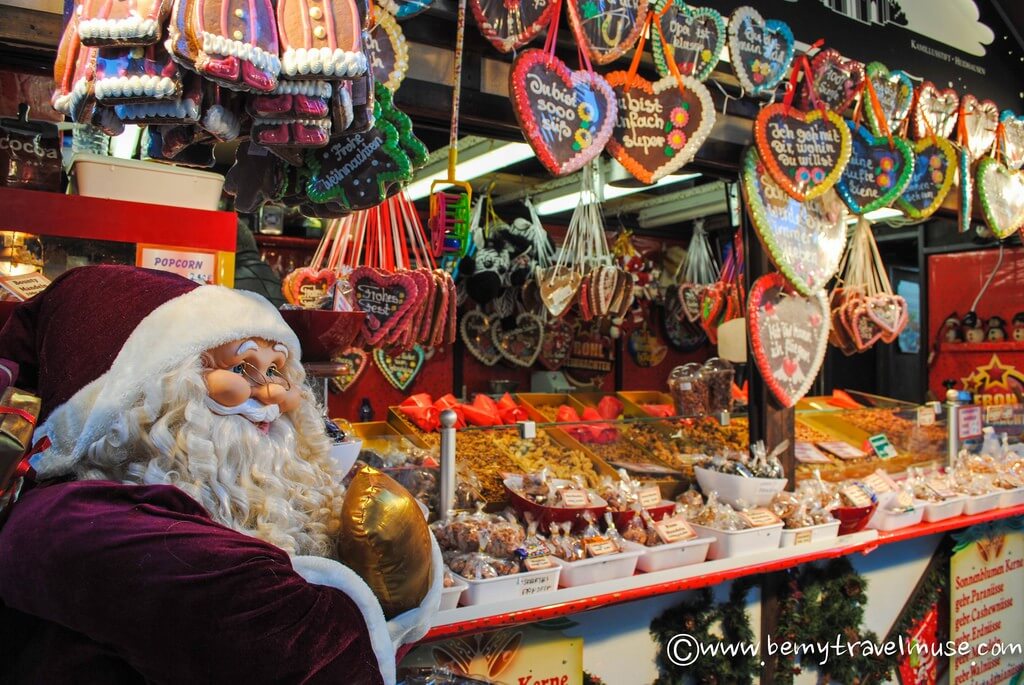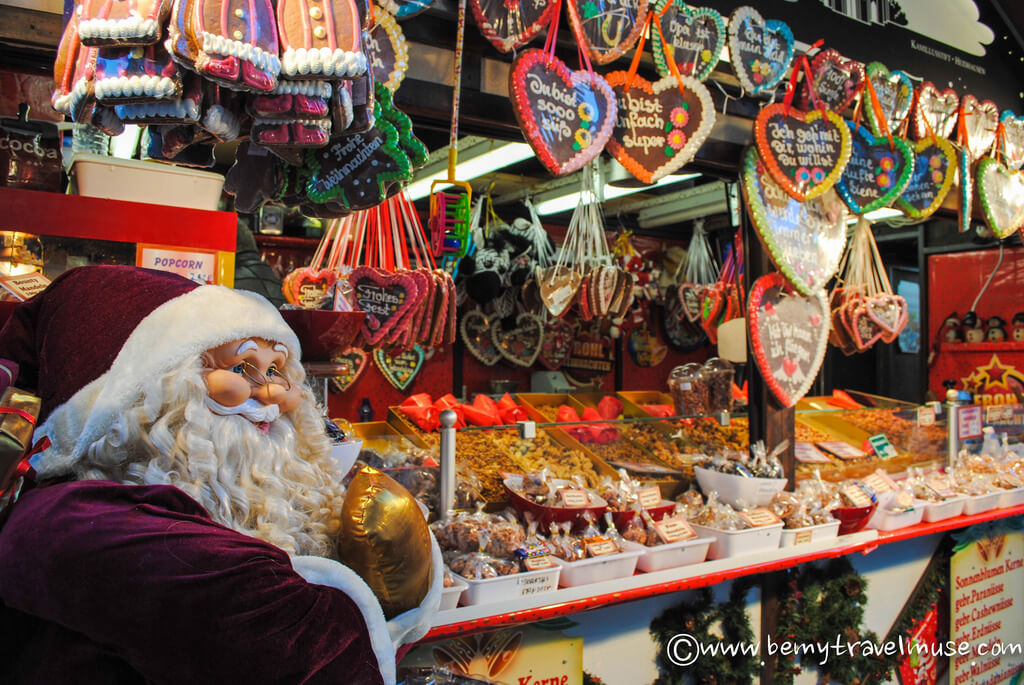 What I found particularly appealing was the friendliness of the locals, including the operator of the merry-go-round who humored me and my giant Hungarian friend by letting us take a ride around. It was also my first taste of Gluhwein (mulled wine) which was served in a little boot. How could that not leave a lasting impression?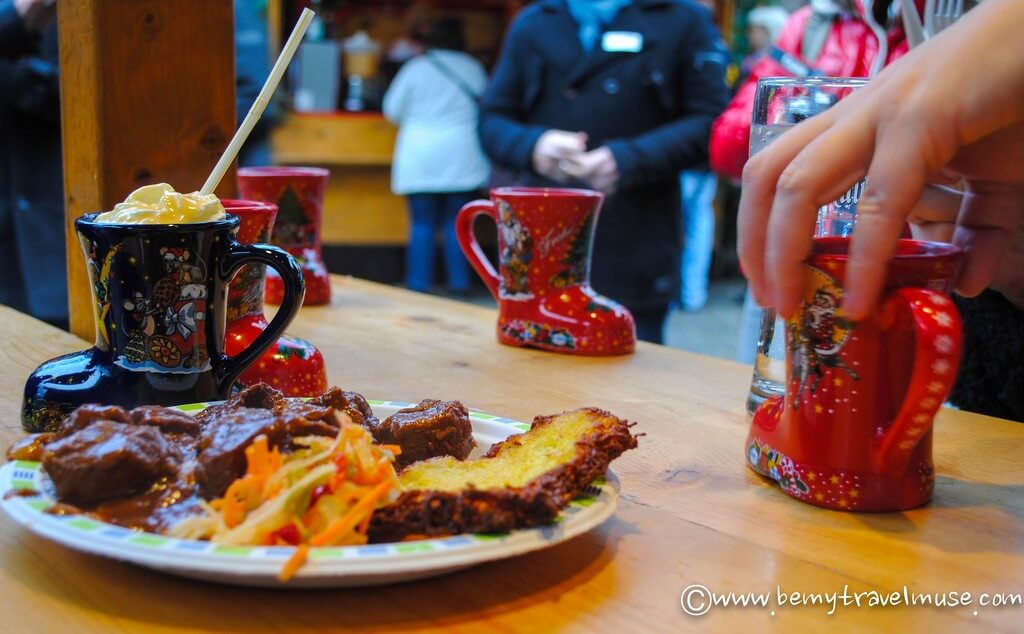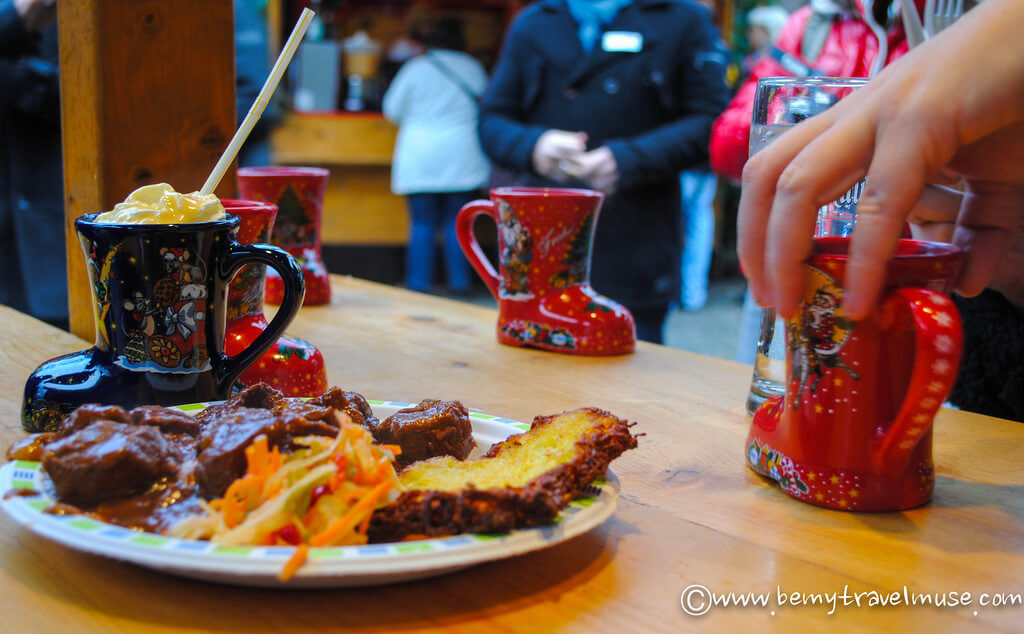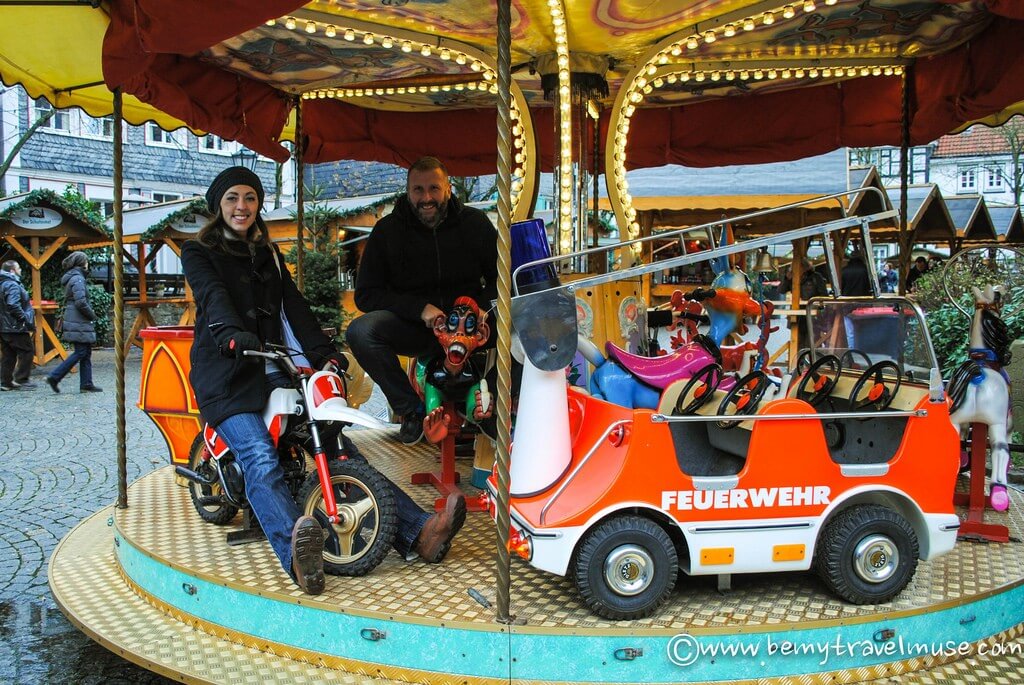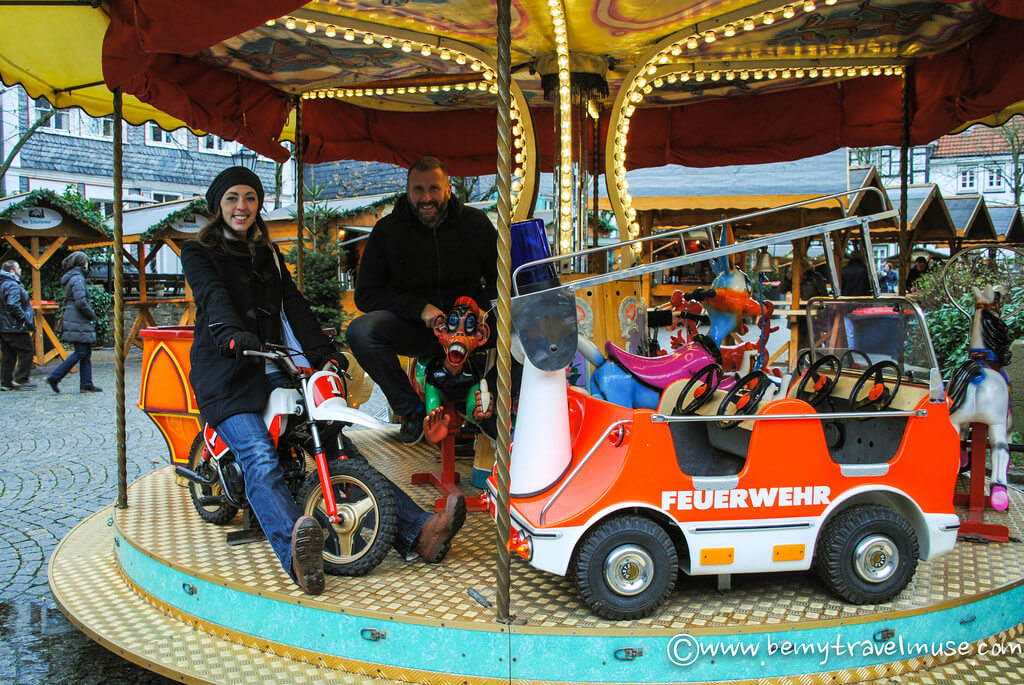 How to get there: Take the train to Hattingen train station
When: Thursday – Sunday from November 26 – December 23 (specific opening hours here)
Cost: Free
5. Essen
Essen's light display is what I'll remember most about the Christmas market. Compared to others, there was much more room to walk around and enjoy the sights without constantly bumping into someone else or pushing through narrow walkways.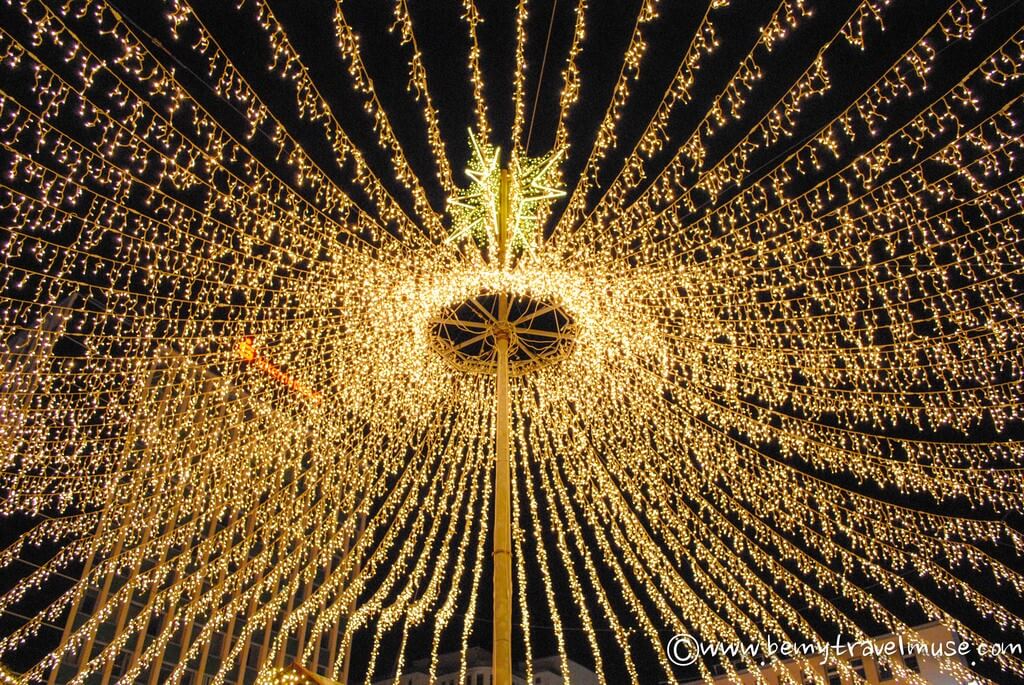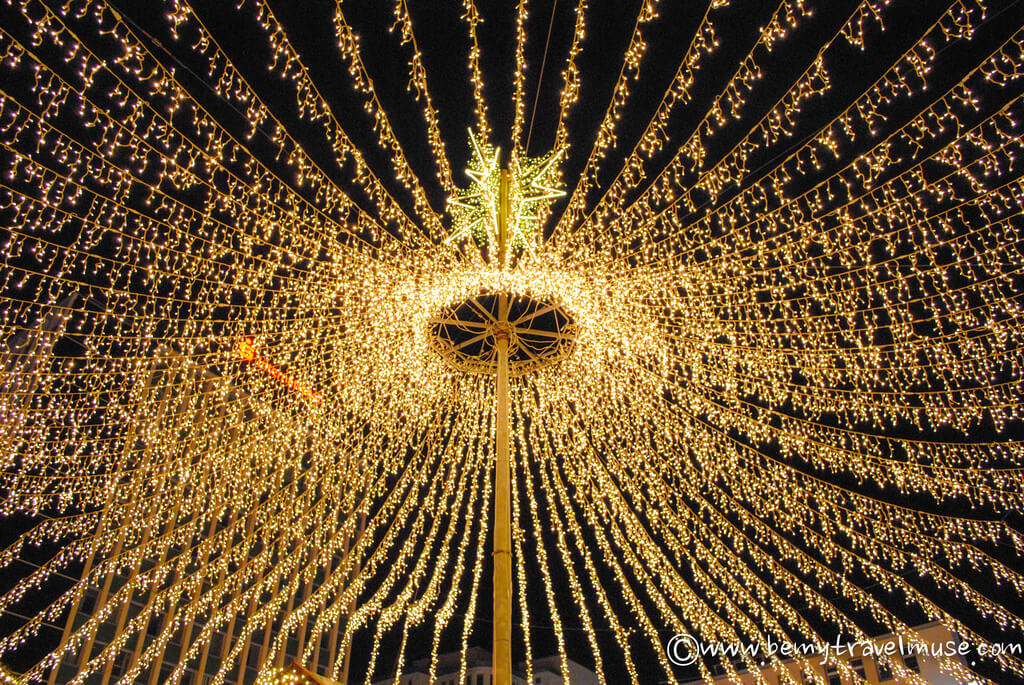 Though it took place in an outdoor shopping mall, which took away from the magic a bit, it's a trade-off for me because it's a bit less crowded and claustrophobic. I also highly recommend checking out the Zeche Zollverein Coal Mine Industrial Complex nearby. It's a converted coal mine that is now a UNESCO World Heritage Site. It doesn't sound exciting but it's quite interesting to take a look inside, and they have an ice skating rink for Christmas! You can read more about that on the best things to do in Germany in the winter.
How to get there: Take the train to Essen main railway station
When: Friday – Wednesday from November 13 – December 23 (specific opening hours here)
Cost: Free
6. Siegburg
This market was quirky and quite different from all the rest. In what was the smallest town visited on this trip, this particular market has a medieval theme – and they keep to it! Everything from juggling performers, harpsichord players and fortune tellers were about, all dressed to the theme.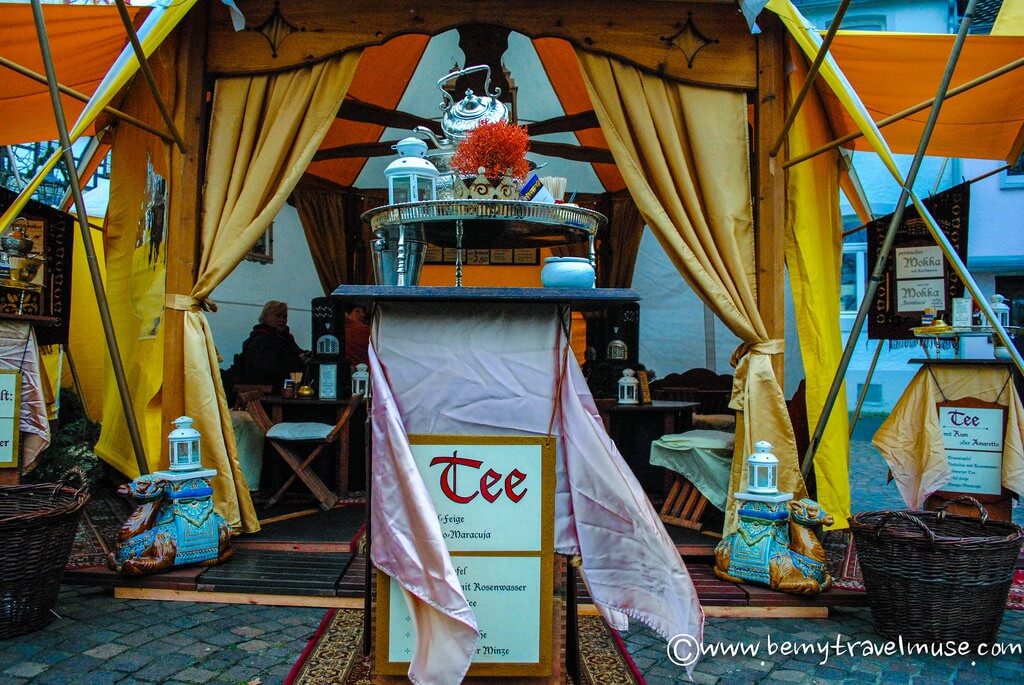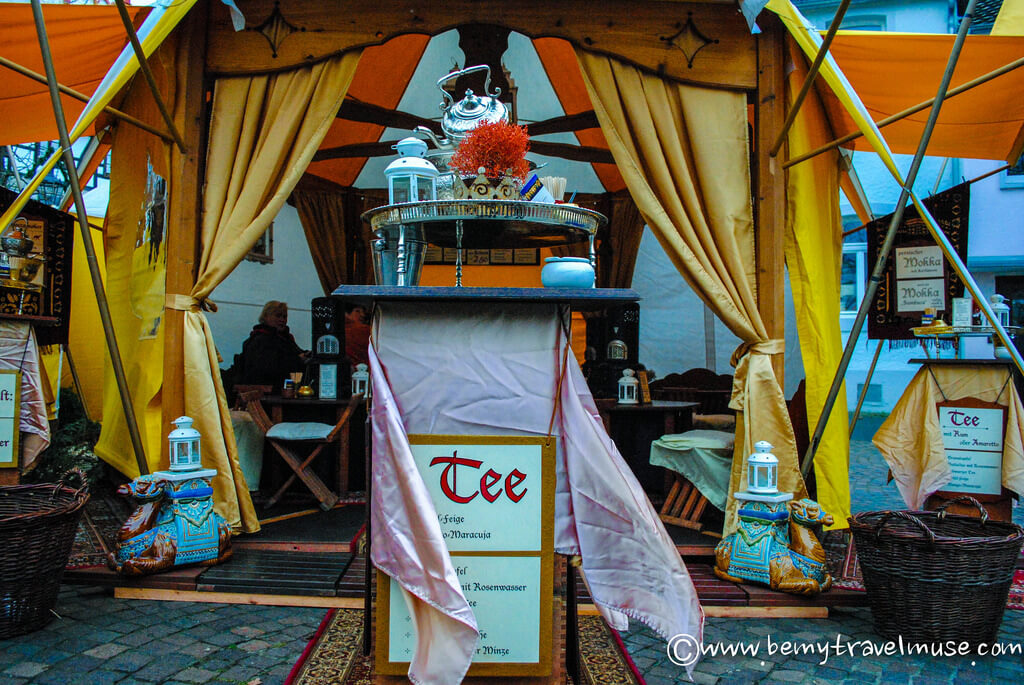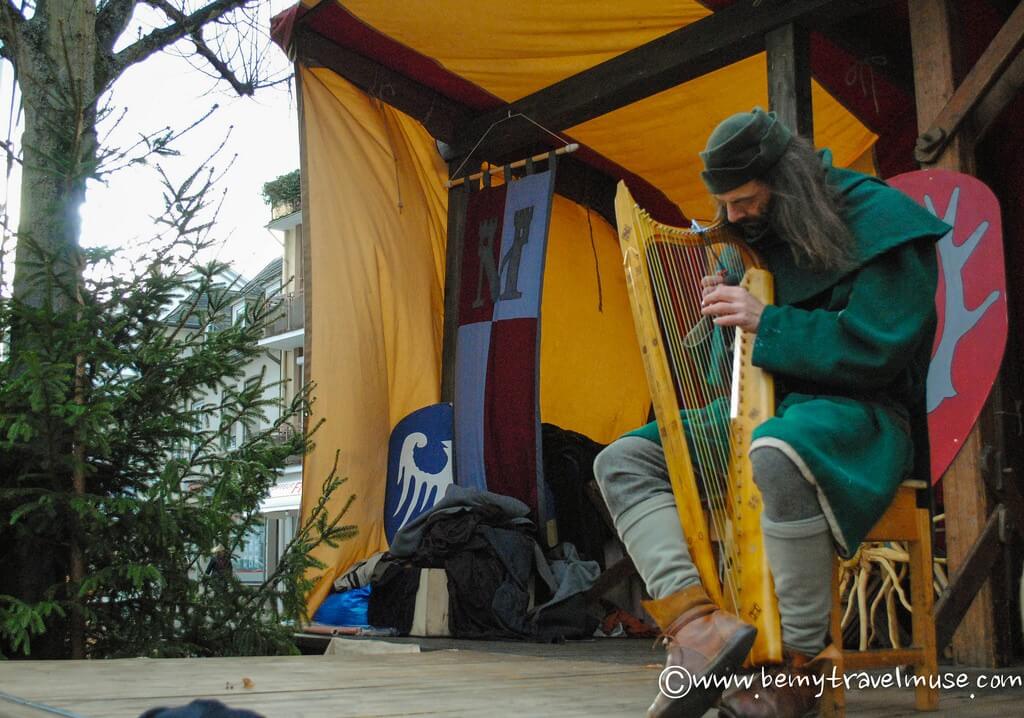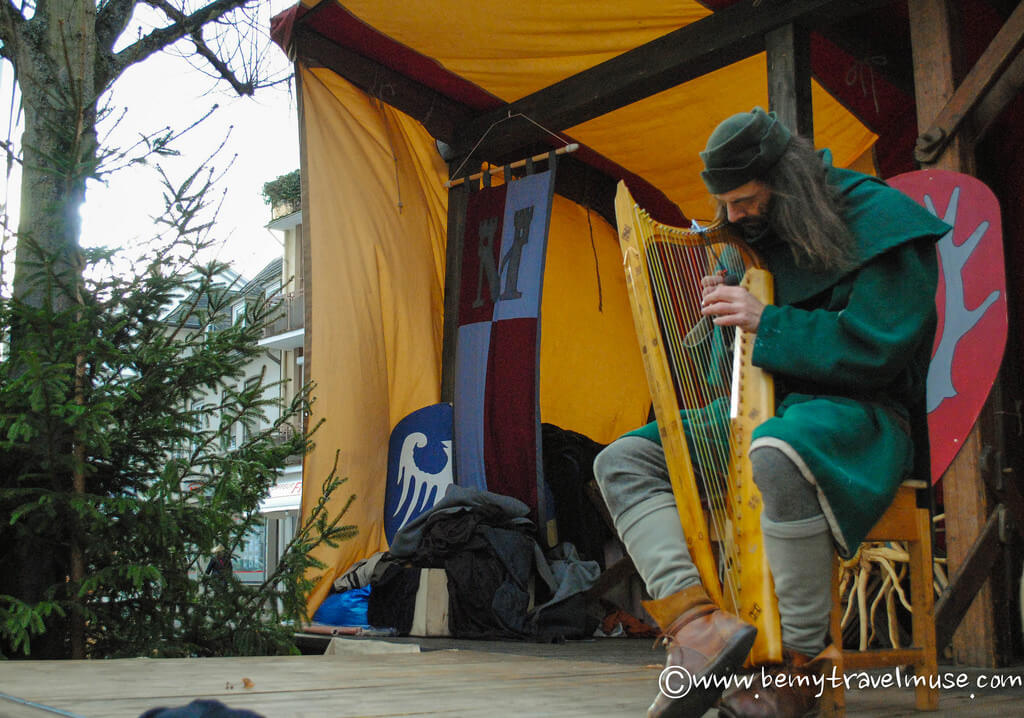 It felt a bit like a Christmas-themed renaissance fair, with whole pigs roasting over spit-fires, mulled wine served in clay mugs, and hollowed out cow horns and flower garlands for sale. As a kid, I would have loved this place to pieces, and as an adult, I still had a profound appreciation for it. Apparently at night, the market is decorated with candles. Out of all the markets, this one keeps to the medieval theme the most.
How to get there: It's a 5-minute walk from Siegburg train station
When: Thursday – Sunday from November 23 – December 22 (specific opening hours here)
Cost: Free
7. Cologne
Given it's a big city with lots of famous markets, prepare for crowds in Cologne. That said, the biggest and best Christmas tree I saw, framed by the beautiful Kölner Dom (Cologne Cathedral), made for such an impressive sight that this one sticks out in my mind the most.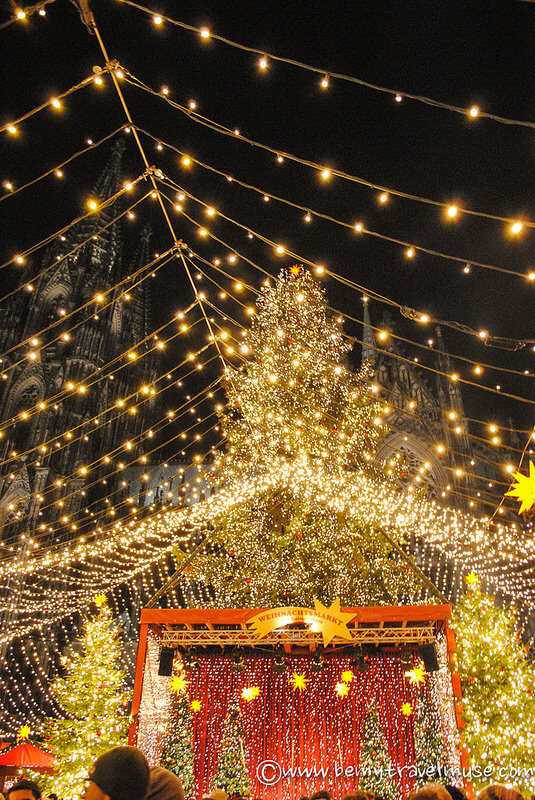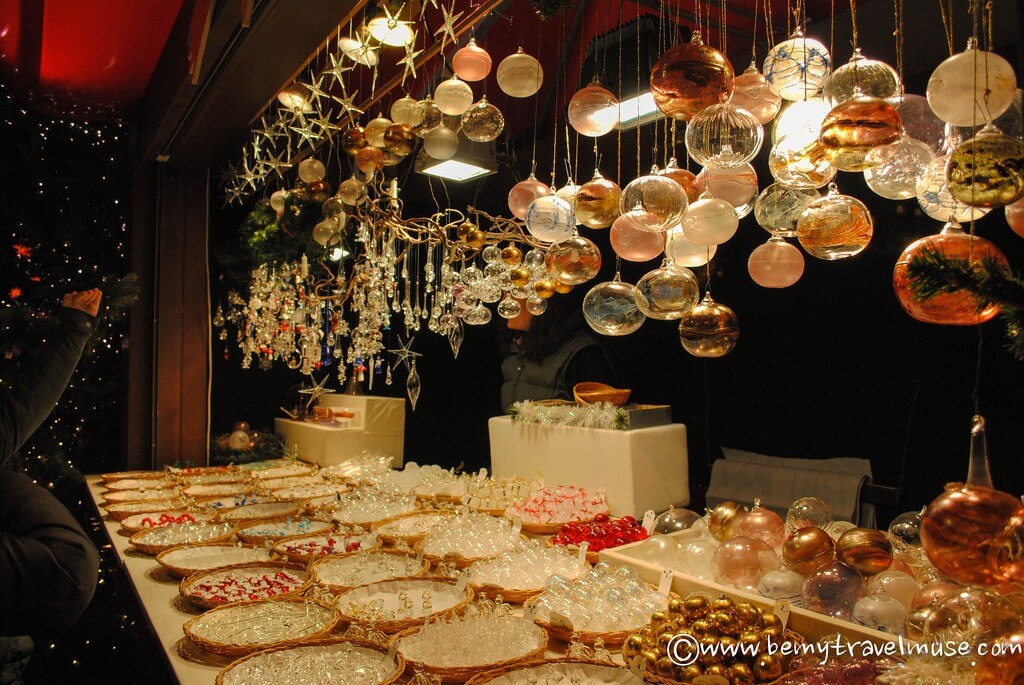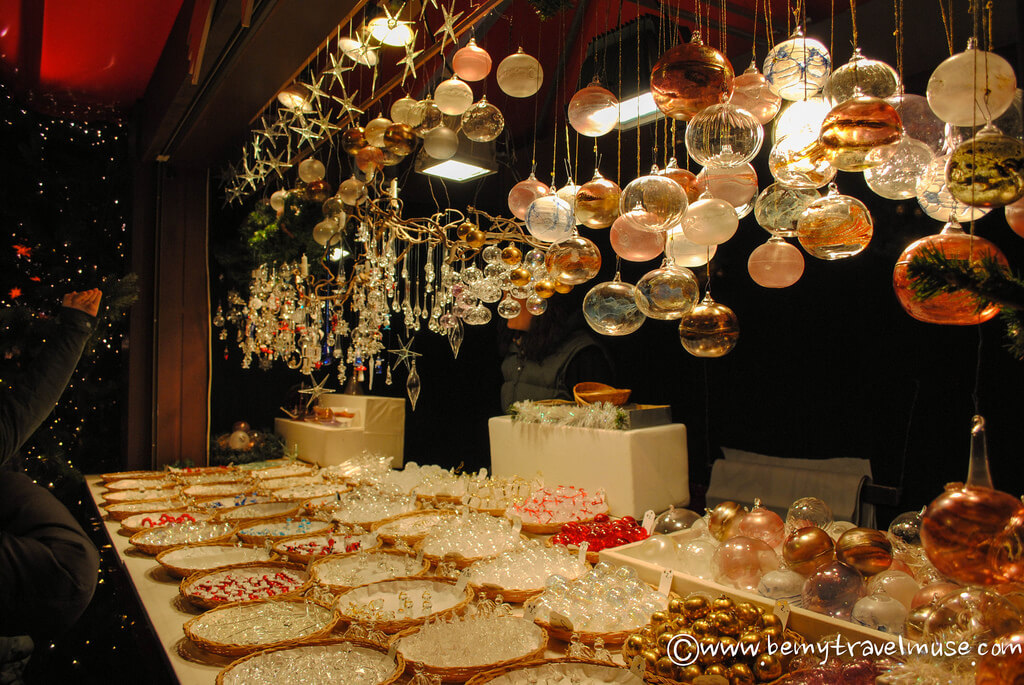 Plenty of markets are within walking distance of each other in Cologne, making it an easy place to do some Christmas market hopping. Some are chocolate themed, some are elf-themed, and some are a bit more modern, selling practical Christmas gifts and beautiful ornaments, though you can expect to pay a price premium on such things.
How to get there: Cologne Cathedral – Roncalliplatz next to Cologne Cathedral; Cologne's Old Town – Between the Heumarkt and the Alter Market in the old town; The Angel's Market – In the Neumarkt close to the city centre
When: November 24 – December 23 (check the specific dates and opening hours of each of the markets here)
Cost: Free
8. Aachen
Famous for gingerbread, Aachen is one of my favorite Christmas markets, not to mention towns in general. The market is famous for having the best gingerbread in all of Germany – at least that's what they say. I thought it was full of really good food, too.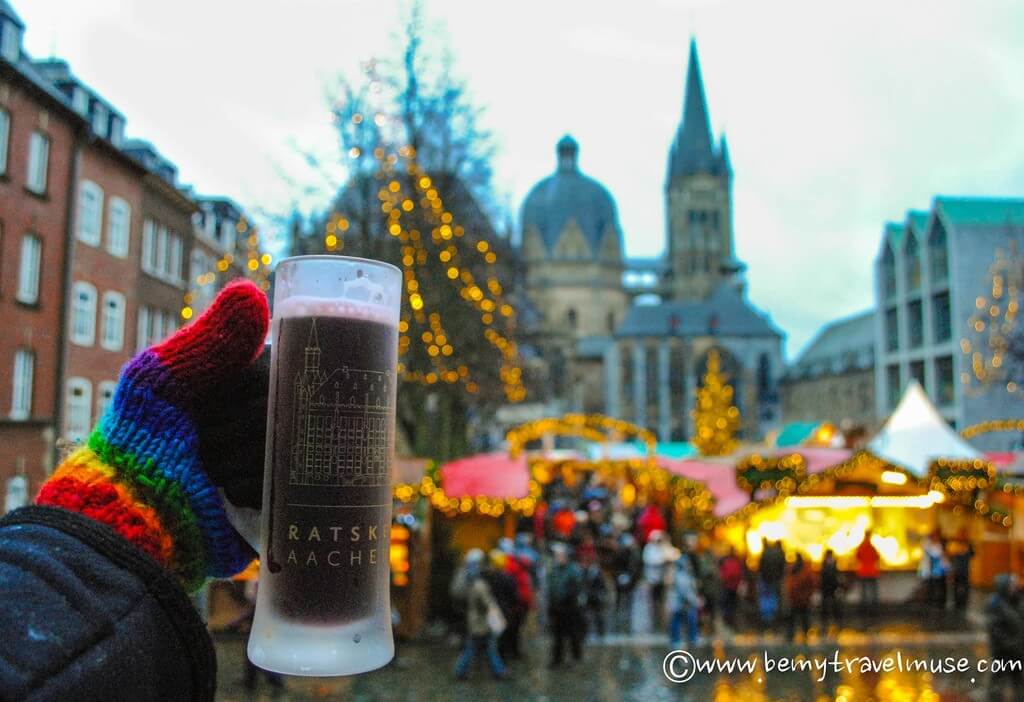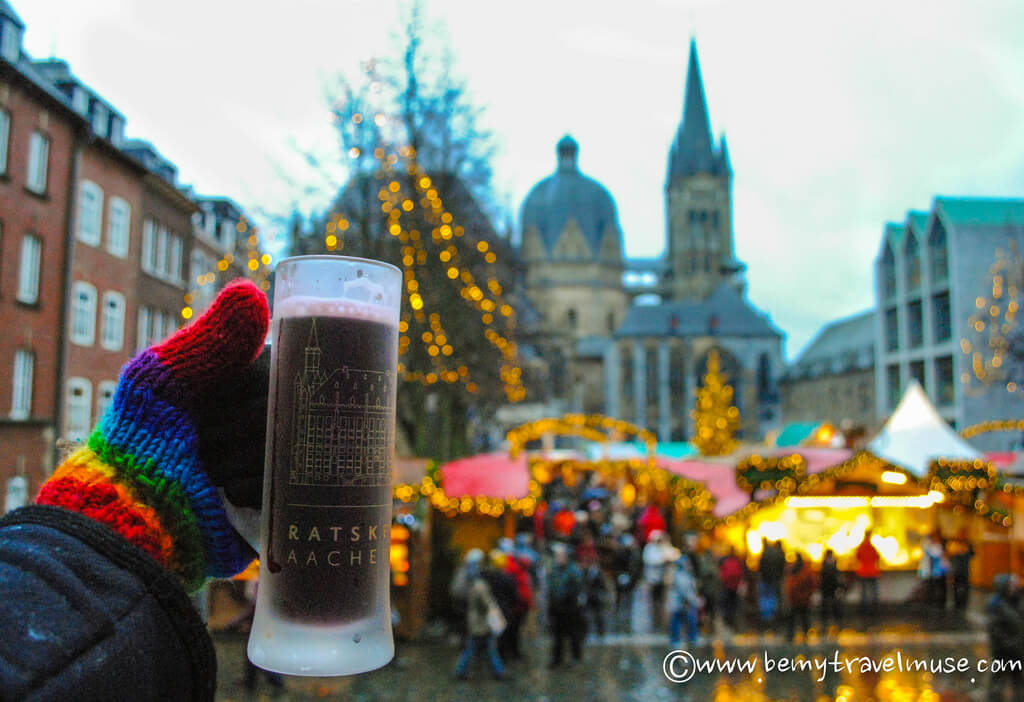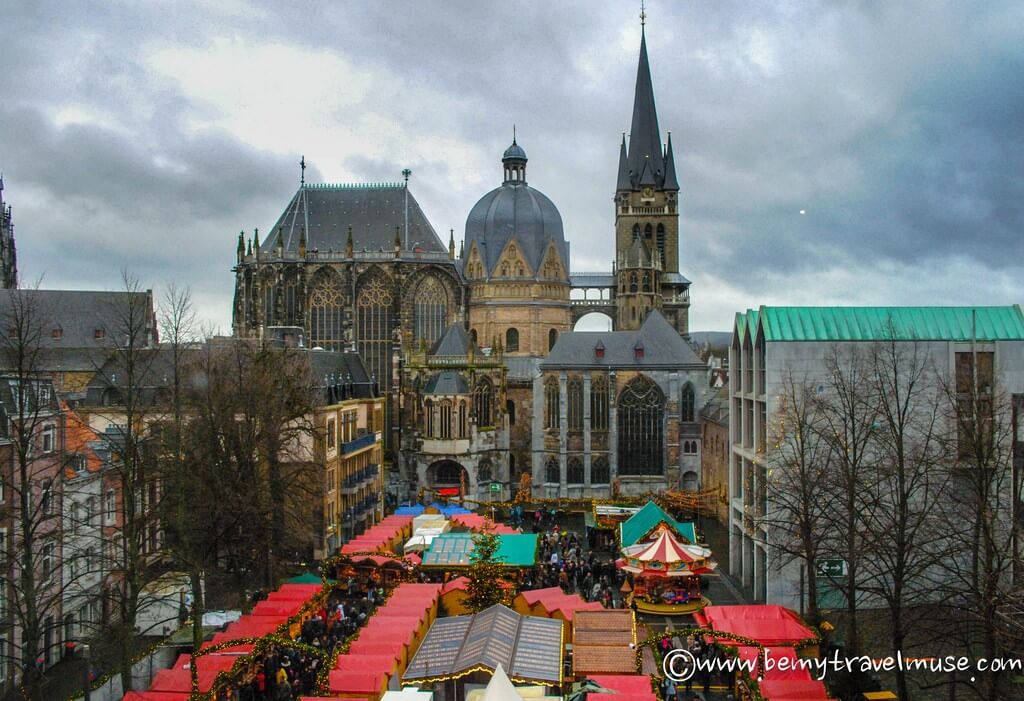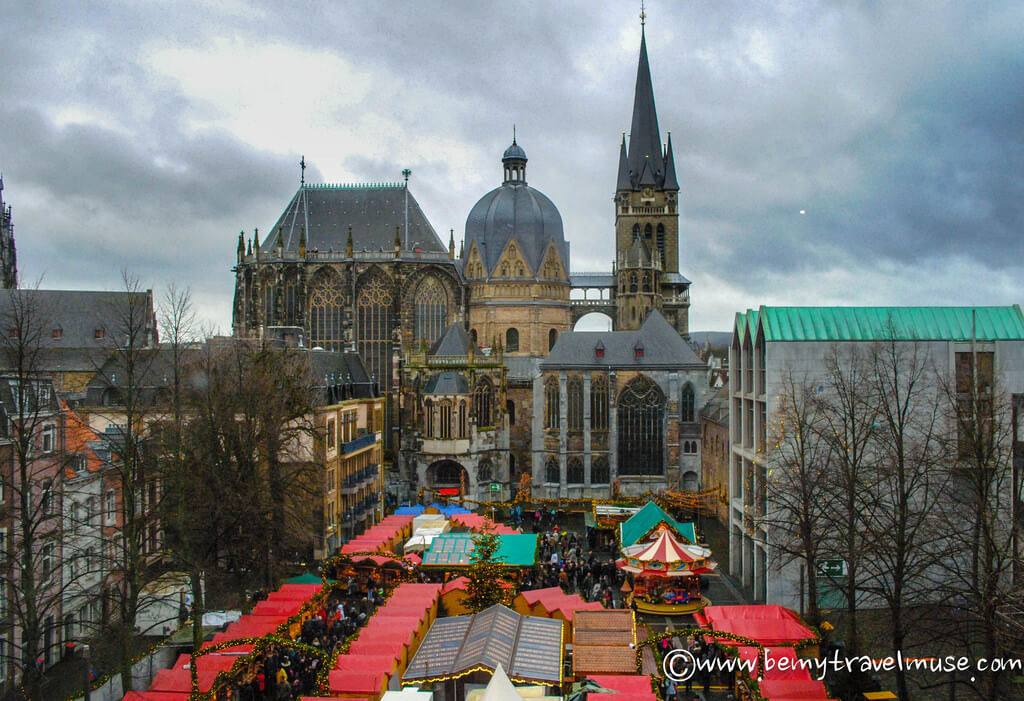 What really blew me away was the cathedral in town, covered in golden mosaics and impossibly high and intricate stained glass windows. It took my breath away and made me dizzy from constantly looking up, jaw gaping open from the beauty above me.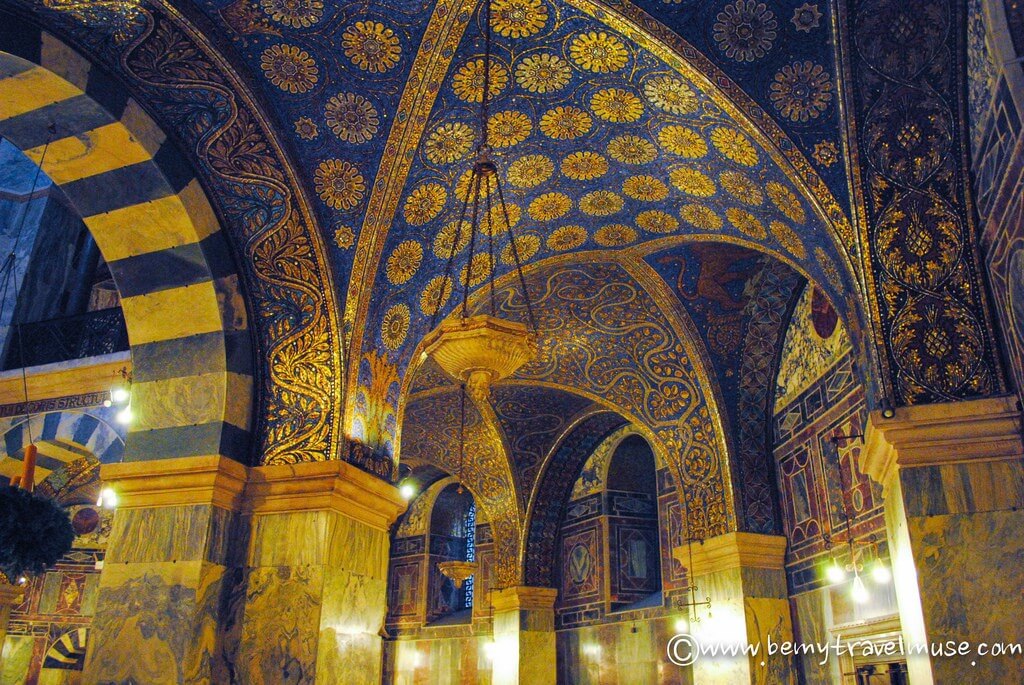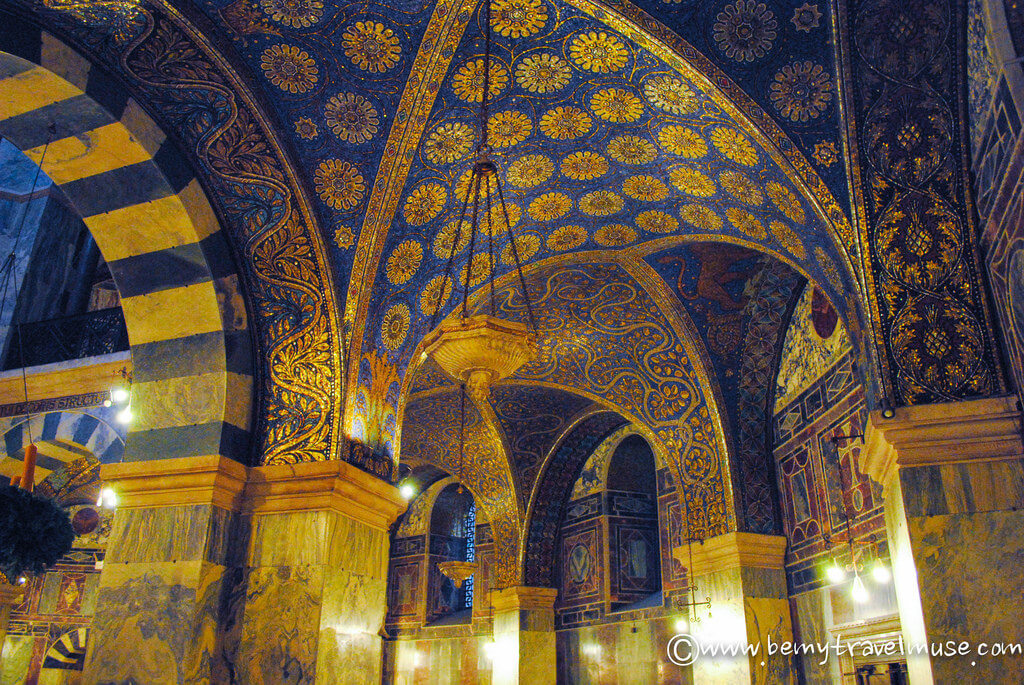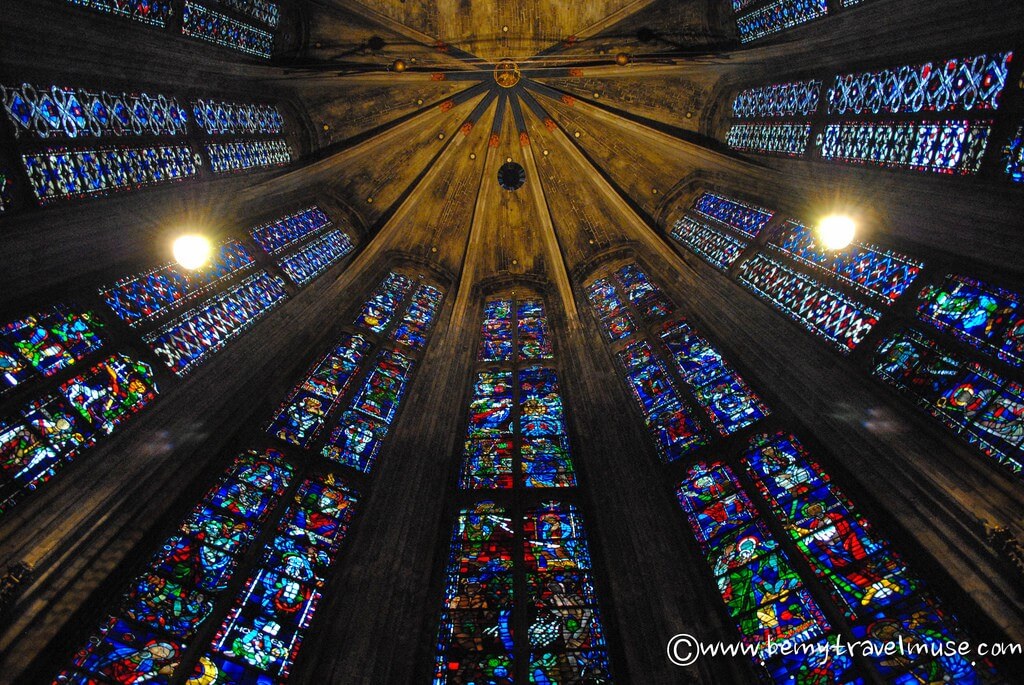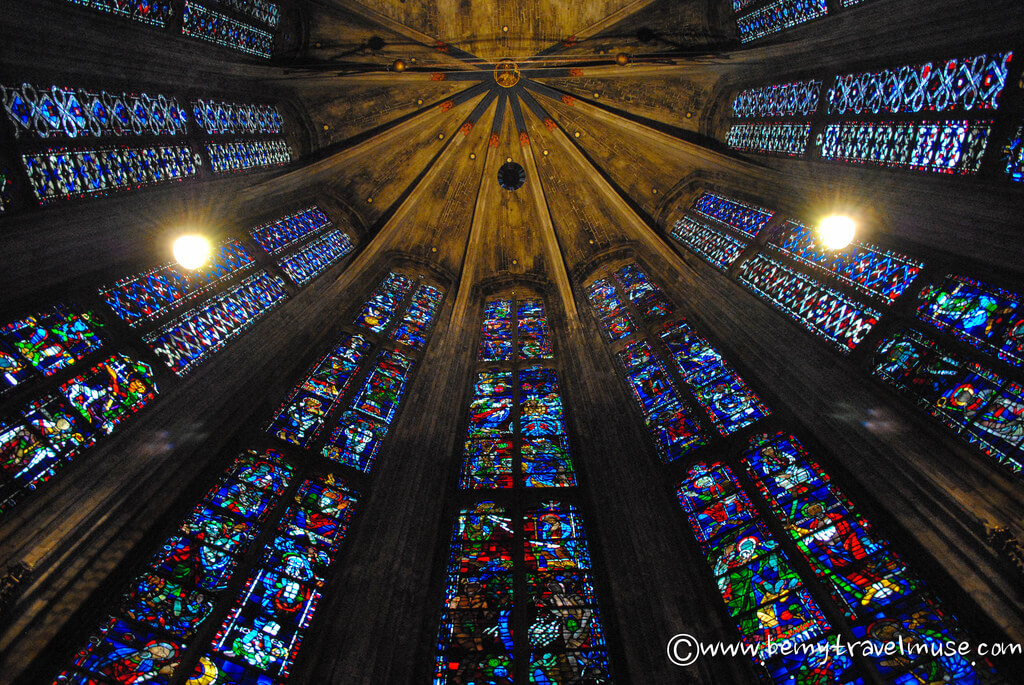 I also absolutely loved the cathedral. Definitely take a look inside if you'll be visiting the Aachen Christmas market. The mosaic ceiling is gorgeous, and the stained glass windows are impressive as well.
This is a market I'd bring my family back to. It was lovely.
How to get there: Take the train to Aachen train station
When: Daily from 11AM – 9PM from November 23 – December 23
Cost: Free
9. Ravennaschlucht
Nestled in the Black Forest, this Christmas market is located underneath a gorgeous archway bridge that lights up in rainbow colors, changing every 10 minutes or so. There's a brook running behind the market as well, decorated with a nativity scene. This one is small and intimate, and also popular, but super magical.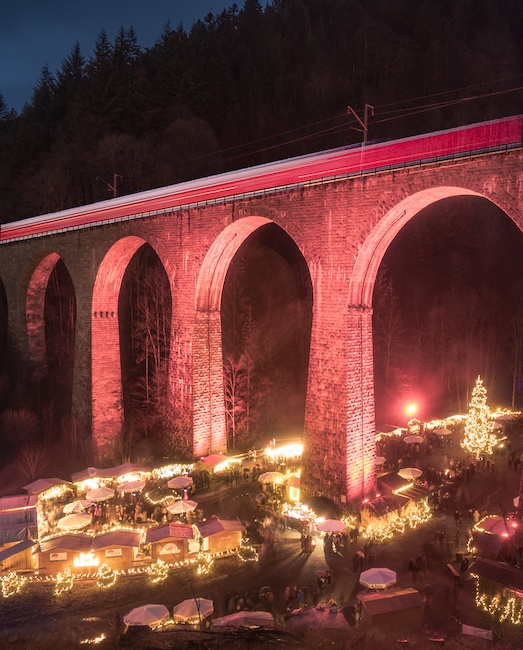 The booths at this market have some of the more unique items for sale that I've seen, including sculptures, a conversation with St. Nicholas, and Christmas wraps in tortillas. I didn't expect that at what appeared to be such a traditional market from first impressions. Be sure to climb up the hill above the market to get the view pictured above, and watch as the train runs by every 10 minutes or so.
How to get there: Take the free buses from Himmelreich or Hinterzarten station
When: Friday – Sunday from November 30 – December 23 (specific opening hours here)
Cost:3€ on Fridays or 4€ on Saturdays and Sundays
10. Hohenzollern
I truly feel that, amid stiff competition, Hohenzollern is the fairest castle in all the land. It's beautiful from afar, and you should see it (here's how) but it's beautiful up close at Christmas time as well when they host the King's market.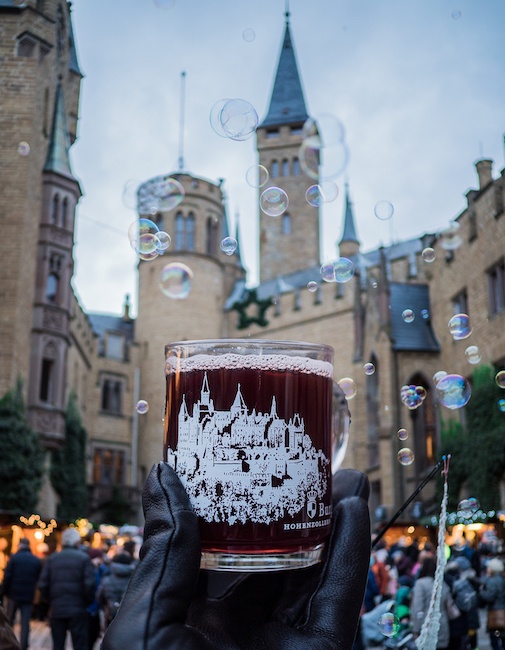 The castle is closed for the market on the inside, so plan on spending the entirety of your market experience in the courtyard, which reminds me a bit of Hogwarts. You'll see stalls with roasted chestnuts, handmade items like carved wooden St. Nick dolls and teddy bears, and ornaments. This is a market that kids will love thanks to the bubble man and a dressed up Saint Nicholas with elves. Though it's the most expensive one on the list, this market is worth checking out, especially since it's one of the only ones that takes place in a castle!
How to get there: Self drive, or take the shuttle bus from Hechingen train station
When: Thursday – Saturday from November 29 – December 8
Cost: 10€
11. Esslingen
This is by far the largest medieval market I've ever been to! If you're like me when I was a kid, obsessed with princesses, going to Medieval Times for my birthday, and loving the Renaissance fair, you'll love the sheer size and variety of this one.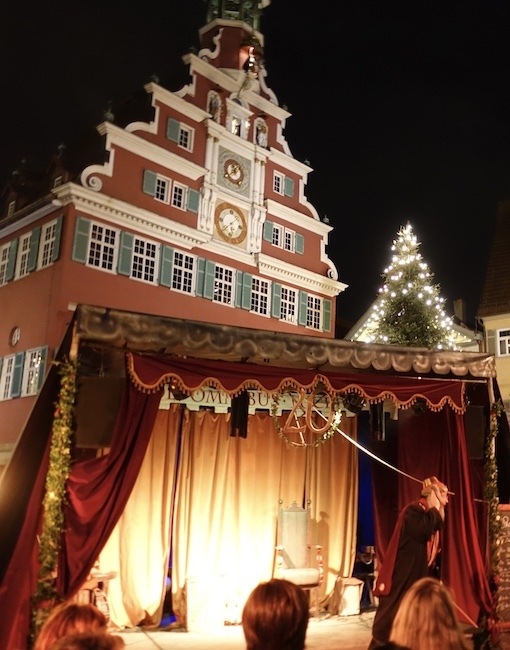 They had an entire area with old-school games like archery and axe throwing, and food and drink that was inspired by the times as well, including vegan bread and curry (okay maybe the curry was a bit out of place). These are the perfect markets to buy handmade wooden items, or leather and fur if you're into it.
The medieval market in Esslingen must be one of the biggest ones in Germany. It's certainly the largest medieval Christmas market I've ever been to, and I loved the variety.
Getting there: It's a 5-minute walk up Berliner Str from Esslingen train station
When: November 27 – December 21 (specific opening hours here)
Cost: Free
12. Ludwigsburg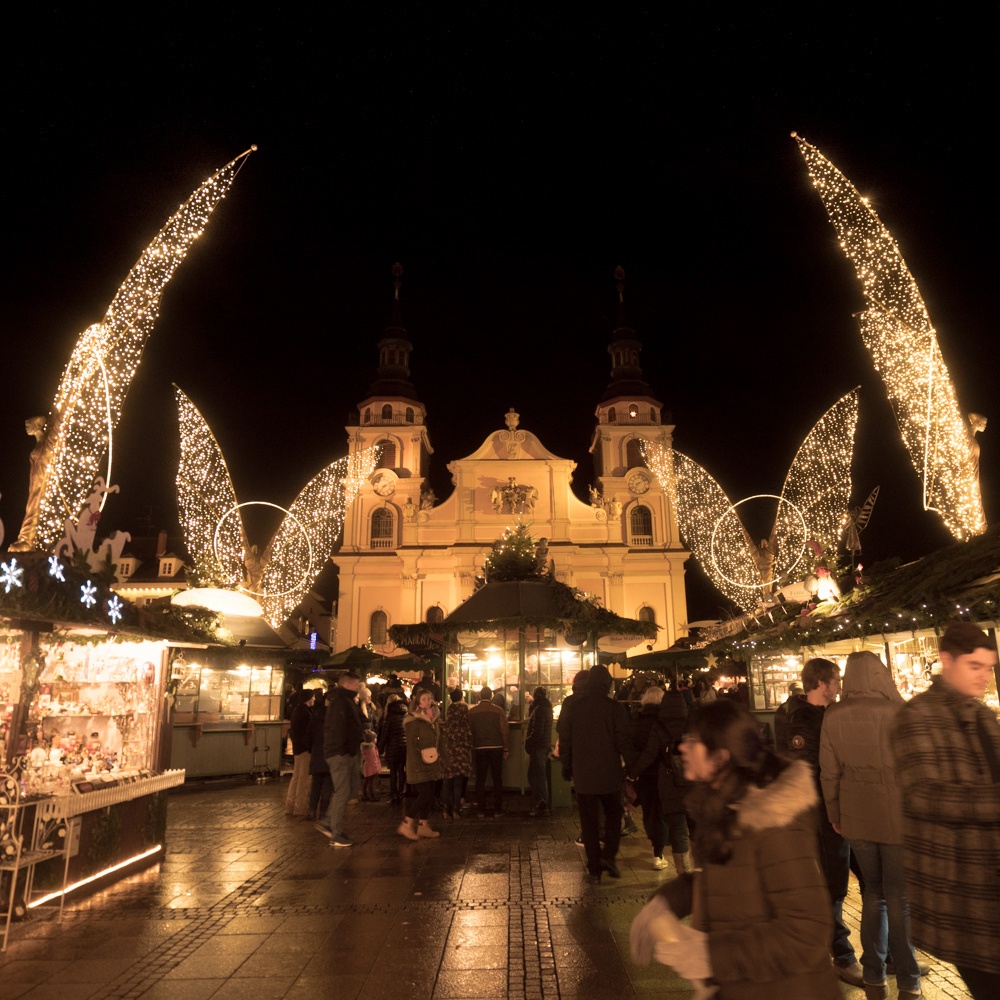 If you love beautiful Christmas lights then you'll love the baroque market in Ludwigsburg, just 20 minutes north of Stuttgart. The town lights up with golden wings and in the main market square, four golden angels fly over the Christmas market facing in each direction. This was one of the most beautiful markets I visited and it's quite convenient to reach as well.
There's a merry-go-round for kids, lots of stalls with lights, knits, ornaments, and of course mulled wine and food. It's only about 15 minutes from Stuttgart, so be sure to stop by.
Getting there: It's a 10-minutes walk from Ludwigsburg station. Golden wings will light your way
When: November 27 – December 23 (More info here)
Cost: Free
13. Düppenweiler
This little town is probably not on the radar of very many (if any?) tourists. It's a tiny market but what struck me was how incredibly proud the locals are of their heritage. It's a former mining town with a little tour of the mines put on by local volunteers.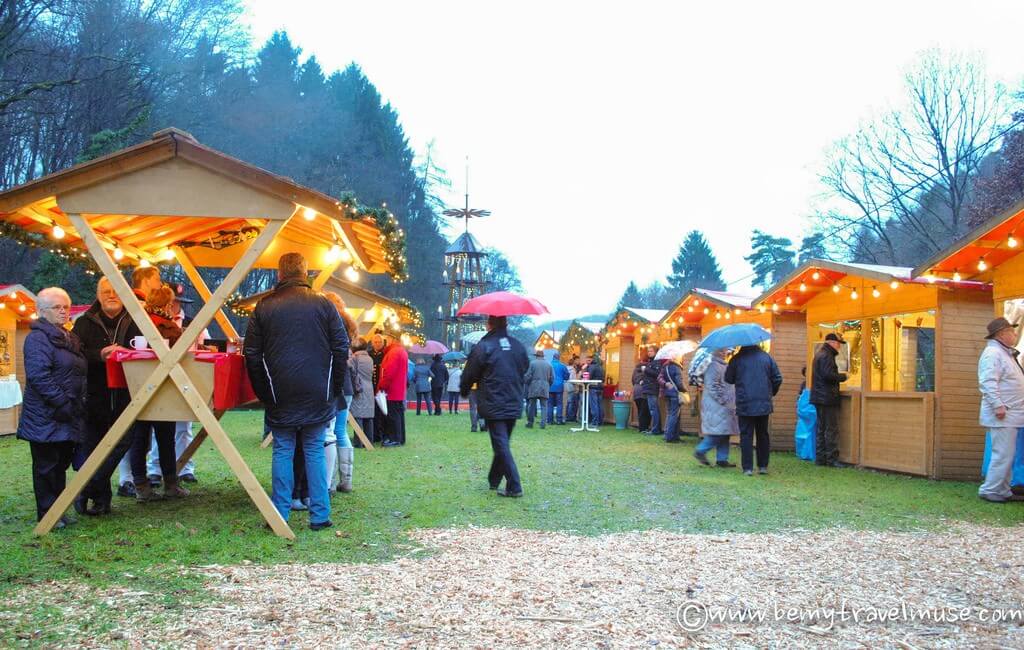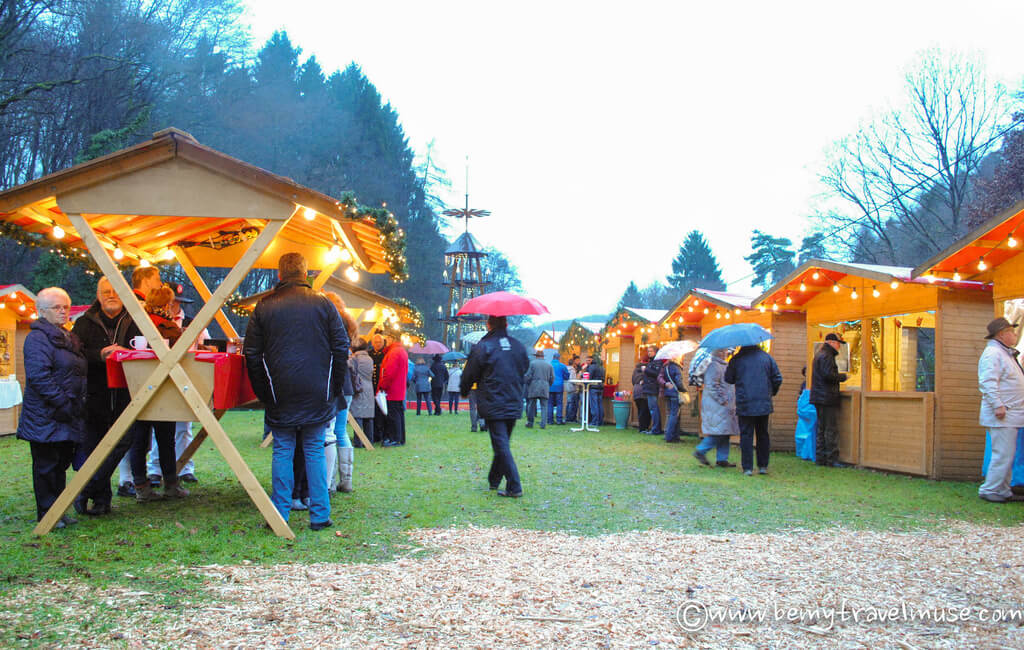 What made it stand out for me was the procession called the Mettenschicht – a name given to the last shift worked before Christmas. Town locals dressed up in olden-style clothing and marched up a tall, spinning, circular structure that stood at the end of the Miner's wintermarkt. Then they proceeded to the old church and closed with a speech and feast.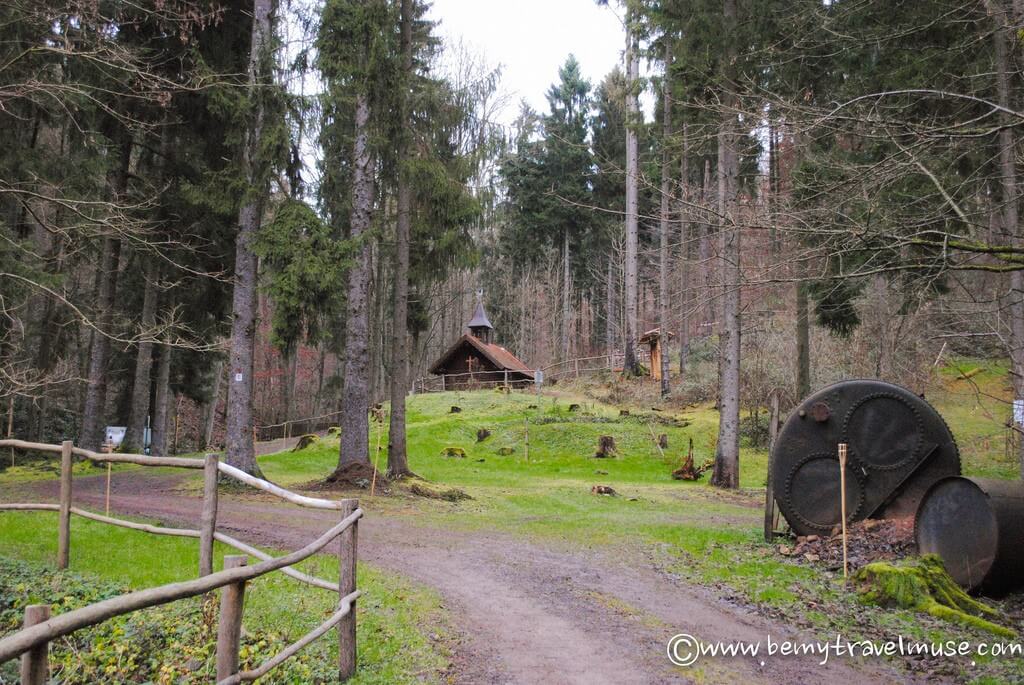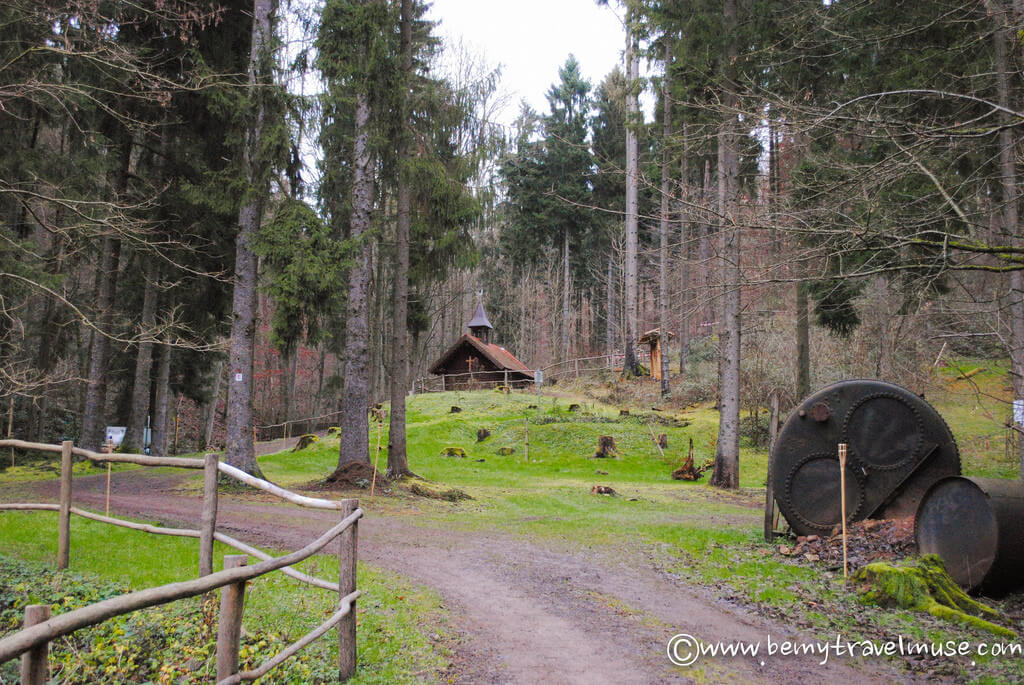 I also couldn't believe how sweet the locals were. They were incredibly welcoming, offering us free drinks!
If you went here without speaking with the locals and/or attending the ceremony, you might wonder why I listed this one, but thanks to how willing they were to involve foreigners, I was touched and this one really stands out.
How to get there: Drive. Here's the exact location
When: 3PM – 7PM from December 15 – December 16
Cost: Free
14. Stuttgart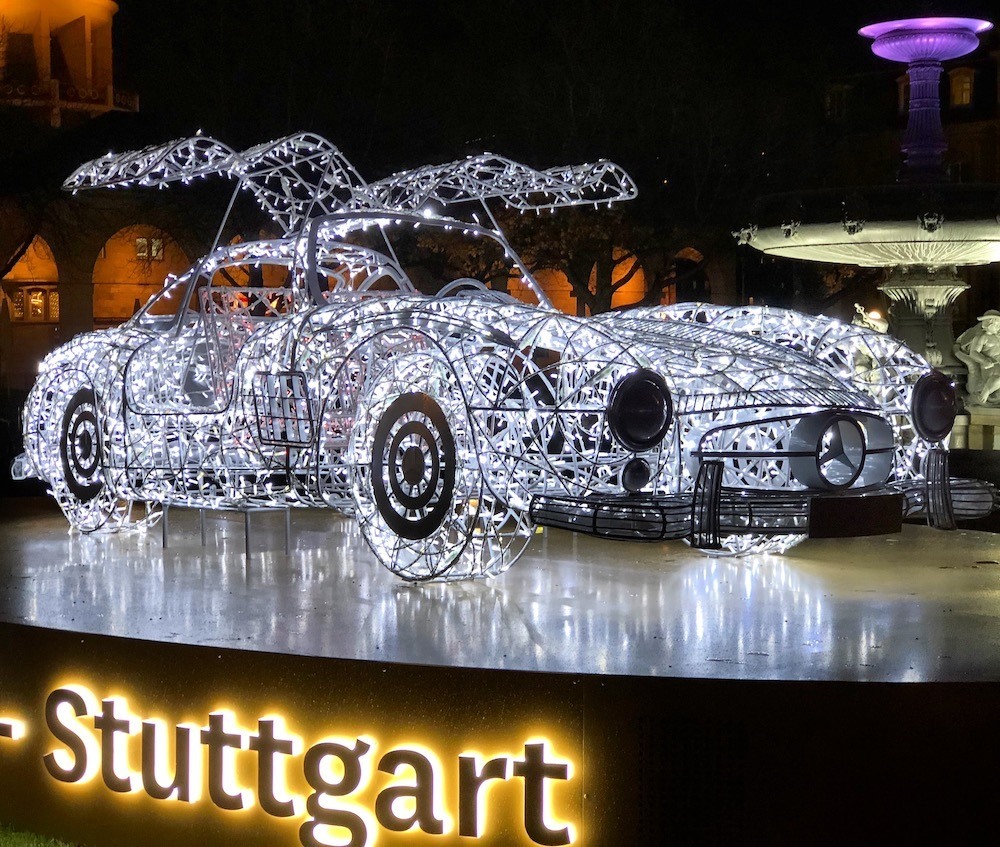 Located at the Schlossplatz stop on the U-bahn, Stuttgart's main Christmas market is known for all of its dazzling lights. There's a giant Christmas tree, an ice skating rink, blocks of stalls with lightup stars, ginger bread, and food and drink, and even a light up Porsche and Mercedes.
Cost: Free
Getting there: Schlossplatz is the closest station.
When: Daily from November 28 – December 23 (specific opening hours here)
What are some of your favorite Christmas markets around the world, or in Germany? Let me know in the comments!
Read next: